Disclosure: This post may contain affiliate links. If you click on a link I may make a small commission at no extra cost to you. You can read the full disclosure here.
Last Updated on April 1, 2023 by Chris Panteli
Apps Like Mistplay
Getting paid for playing games almost sounds too good to be true, doesn't it?
Yet, awesome apps like Mistplay allow you to do exactly that.
You get to have fun playing games and earn rewards simultaneously. Cash, gift cards, and other exciting rewards are available for playing games on your mobile device.
Android users have already earned millions of dollars worth of rewards from the Mistplay app. These other apps, like Mistplay, can open the door for you to earn even more.
Recommended: Mistplay Review: Worth It?
What Is Mistplay
If you've read a Mistplay review before, then you know Mistplay is an app that rewards gamers for doing the thing they love, playing games.
Rewards are earned by playing mobile games, making in-game purchases, and completing challenges.
Mistplay members can choose to redeem rewards for lots of big brands. That includes free gift cards for Amazon, Prepaid MasterCard, Google Play Store, and Uber.
Since 2015 Mistplay has paid out over $23 million to all members.
Sorry Apple fans, Mistplay games is only available on Android. Don't worry, in this list, there are lots of apps like Mistplay that you can use as well.
Recommended:
17 Apps Like Mistplay
If you want to make extra money online, then these 17 apps like Mistplay are excellent places to start. Whether you want to play a long game or quick money-playing games. There is something for everyone.
Game developers work hard to make appealing apps that will get gamers coming back. That's great news for you as you can easily earn free money and find a new game to love.
1. App Nana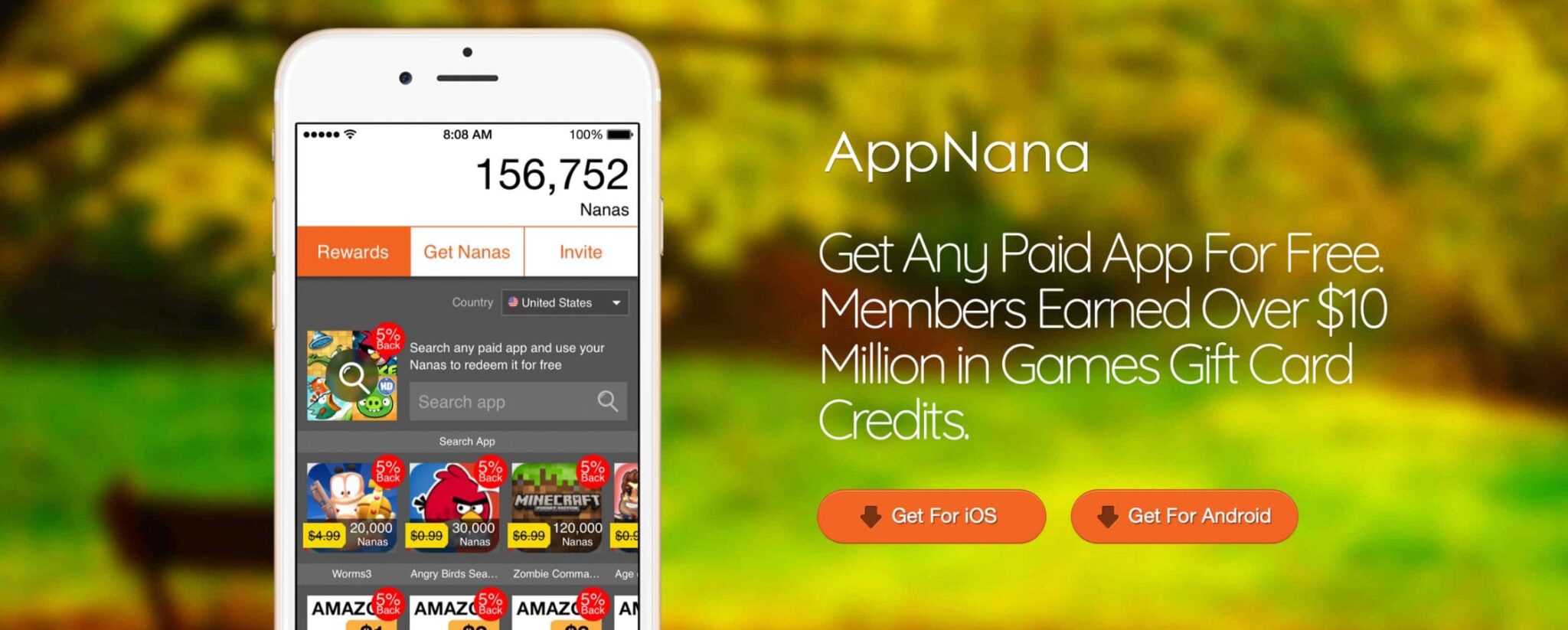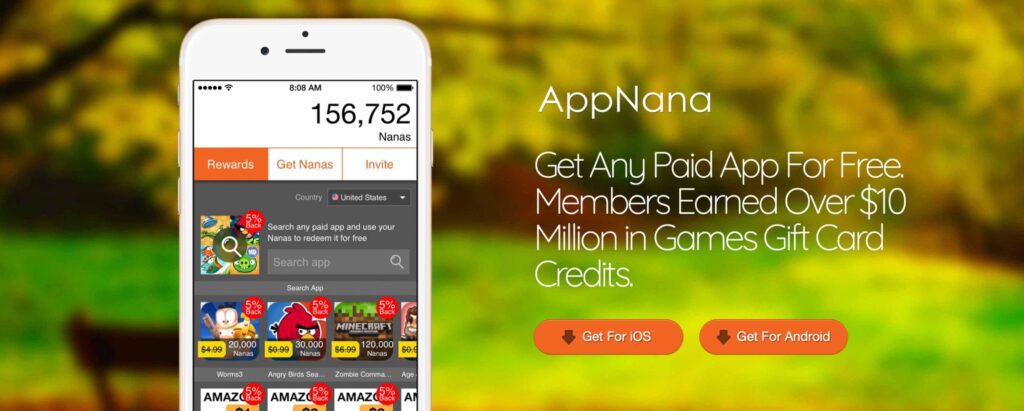 App Nana users can enjoy playing lots of awesome games whilst earning great rewards.
Start by downloading the App Nana app from the Play Store or App Store. Next, download apps and earn Nana's (points).
Those points can be redeemed for gift cards including Xbox, Amazon, Google Play, and iTunes.
Bonus points can be earned for logging in daily and referring friends.
2. AppStation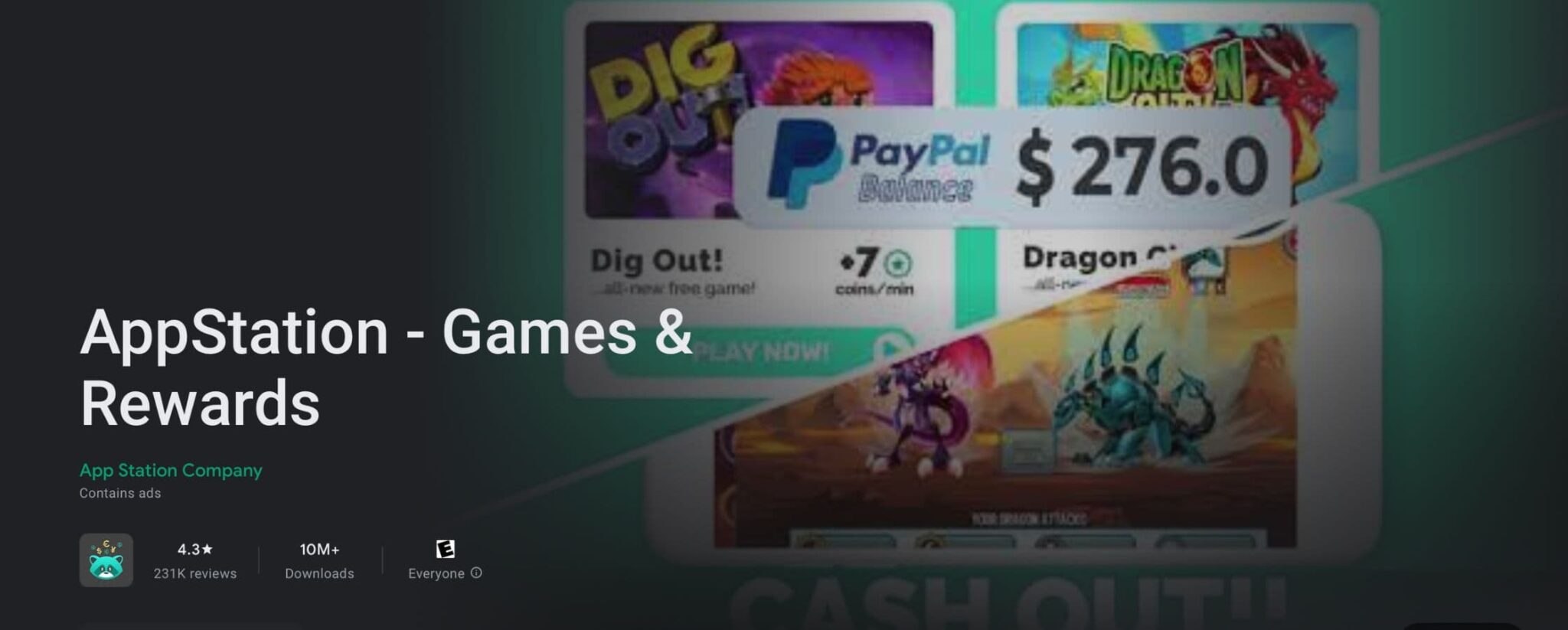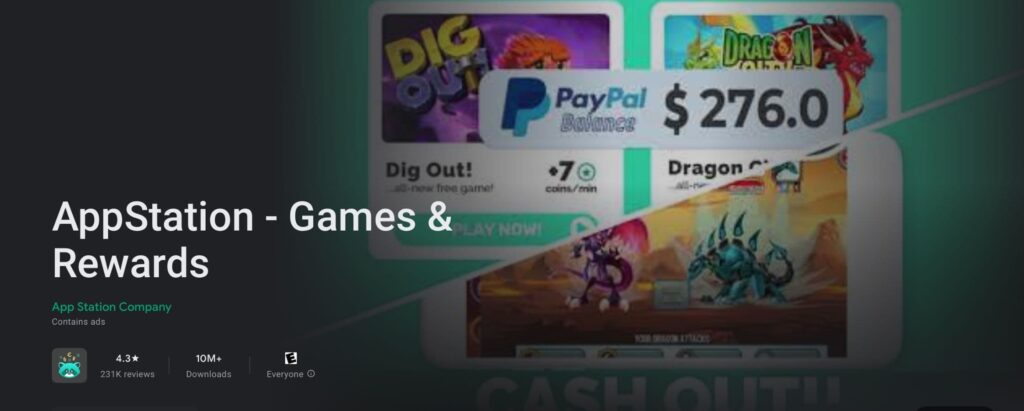 Sorry Apple users. AppStation is a free app that's only available on Android.
AppStation gives out rewards for playing games on your mobile, completing challenges, and making purchases.
Every minute you play you are rewarded with coins. The good news is that when you join you get 4444 coins for free. That means your first payout won't take long at all.
There are a ton of rewards to choose from including PayPal cash, steam codes, gift cards, and more.
To earn more coins, make sure to invite friends to play and play games that pay higher rewards.
Recommended: AppStation Review | Is it worth it?
3. Bananatic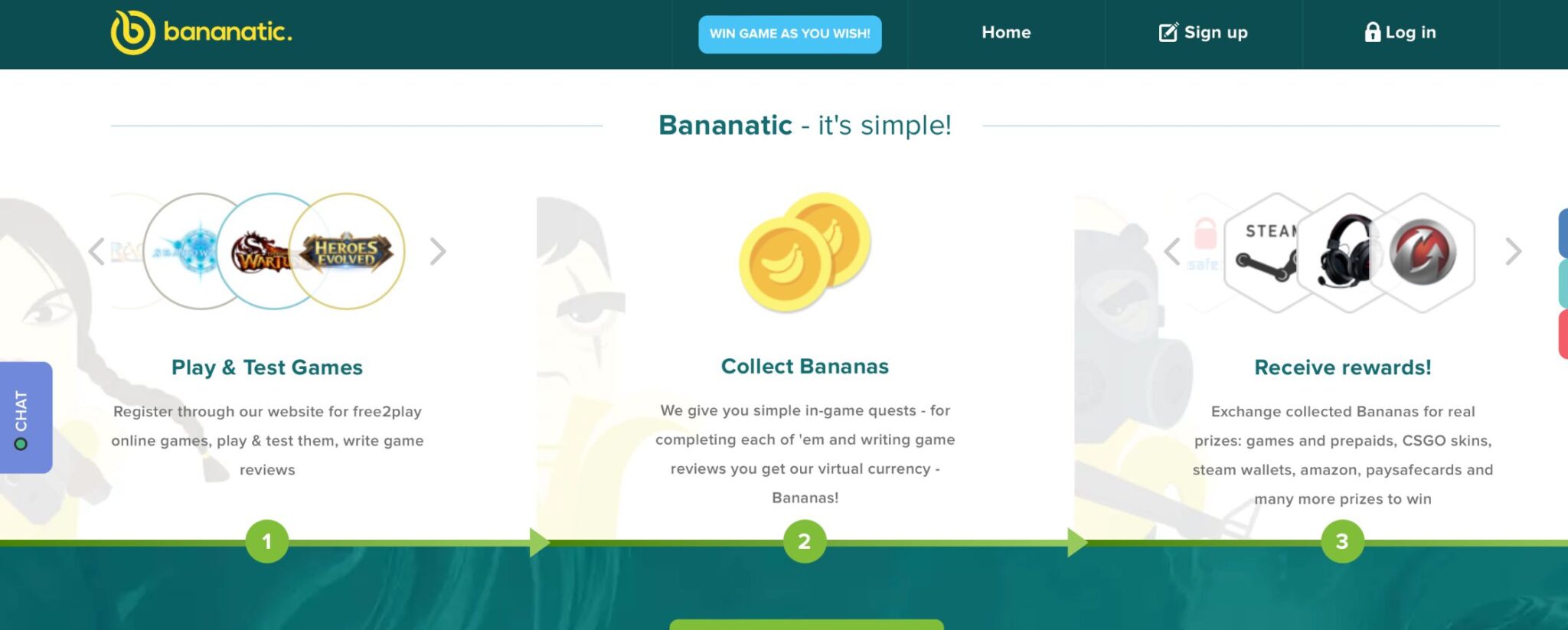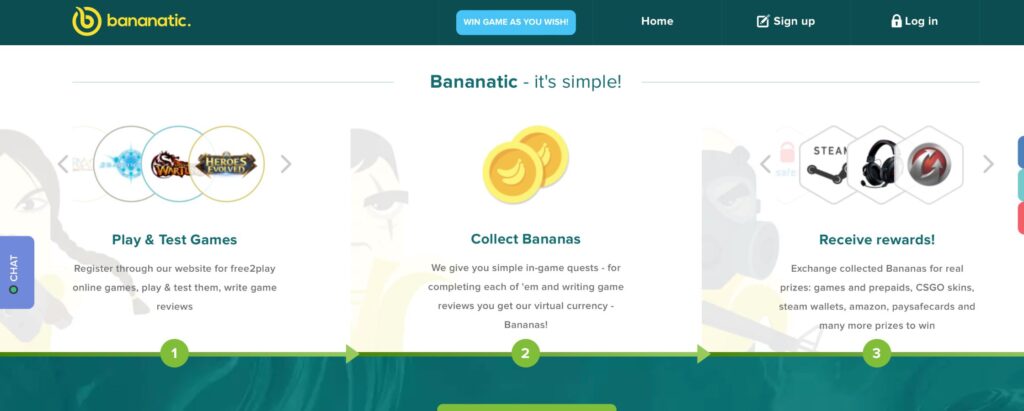 Bananatic is a little different from the other gaming apps listed. To earn rewards, you can play games for free, but you're also asked to write reviews of them too.
Nearly every game genre you can think of is represented on Bananatic. RPG, action, MMO, and simulation are a few examples of the types of games you can choose to play.
When you play and review a game or complete in-game challenges, you earn bananas. Extra bananas can be earned by watching videos, sharing social media content, answering surveys, and leveling up.
Don't worry. You won't actually receive a bunch of bananas. These are virtual bananas that can be exchanged for some incredible rewards.
Rewards available include more games, CSGO skins, Steam Wallet credit, PayPal cash, and Amazon gift cards.
4. Blackout Bingo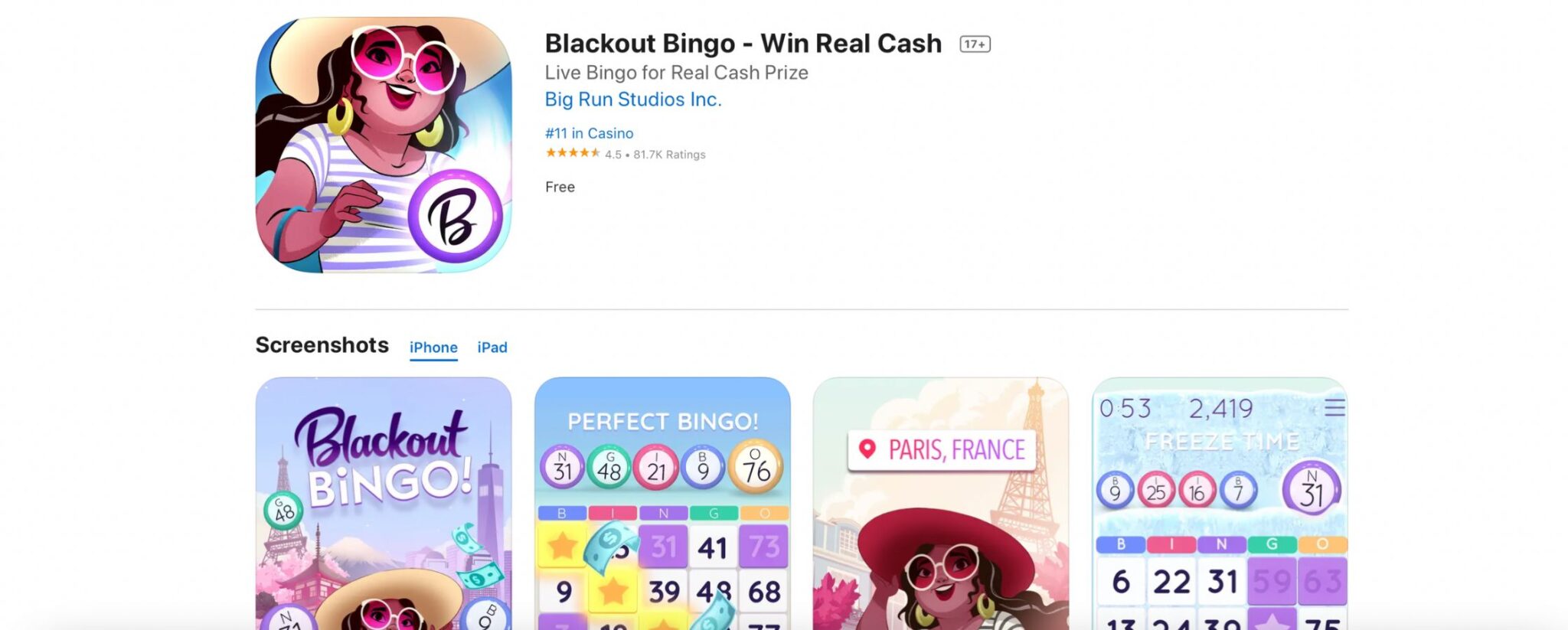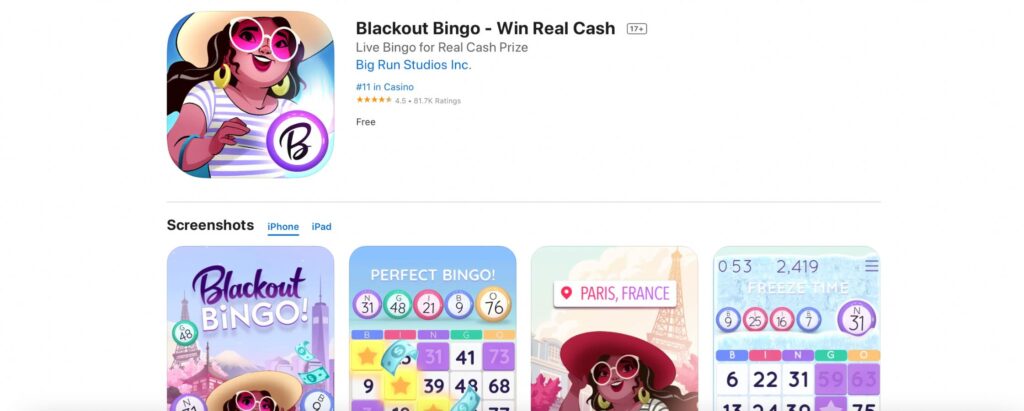 Bingo fans will be delighted to learn that Blackout Bingo can be downloaded from the Play Store or App Store.
It's not just bingo that you can play. Other games include blackjack, Yahtzee, and solitaire.
Not only can you win by playing games, but extra bonuses can be earned for logging in daily and weekly. You can win real cash playing Blackout Bingo.
5. Coin Pop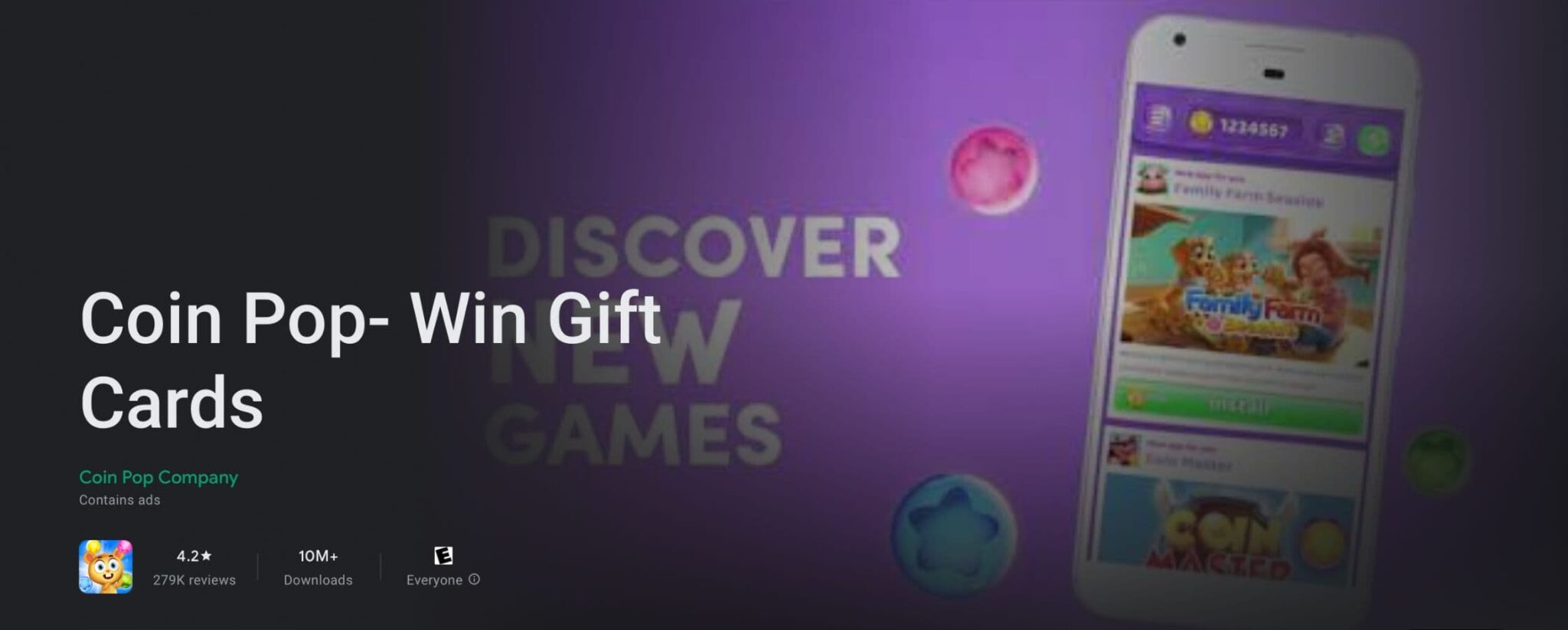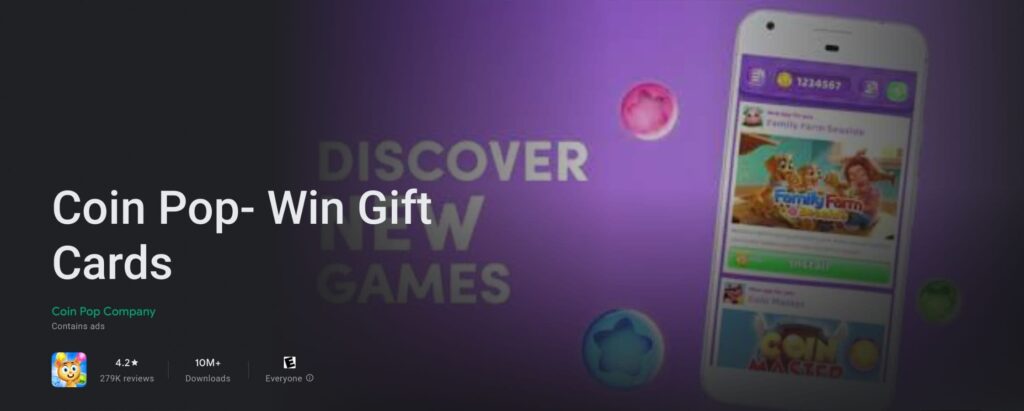 Coin Pop is currently only available for Android users. The free app can be downloaded from the Play Store. With more than 10 million downloads so far, it's safe to say that Coin Pop is popular.
Once you've downloaded the Coin Pop app you can play games from categories including arcade, adventure, strategy, casual, and more.
You earn coins based on the time spent playing each game. Once you've earned enough coins, then you can cash out. You can request cash to be paid to your PayPal account. Alternatively, you can claim a gift card for big brands including Amazon, PlayStation, Google Play Store, Starbucks, and many more.
6. Drop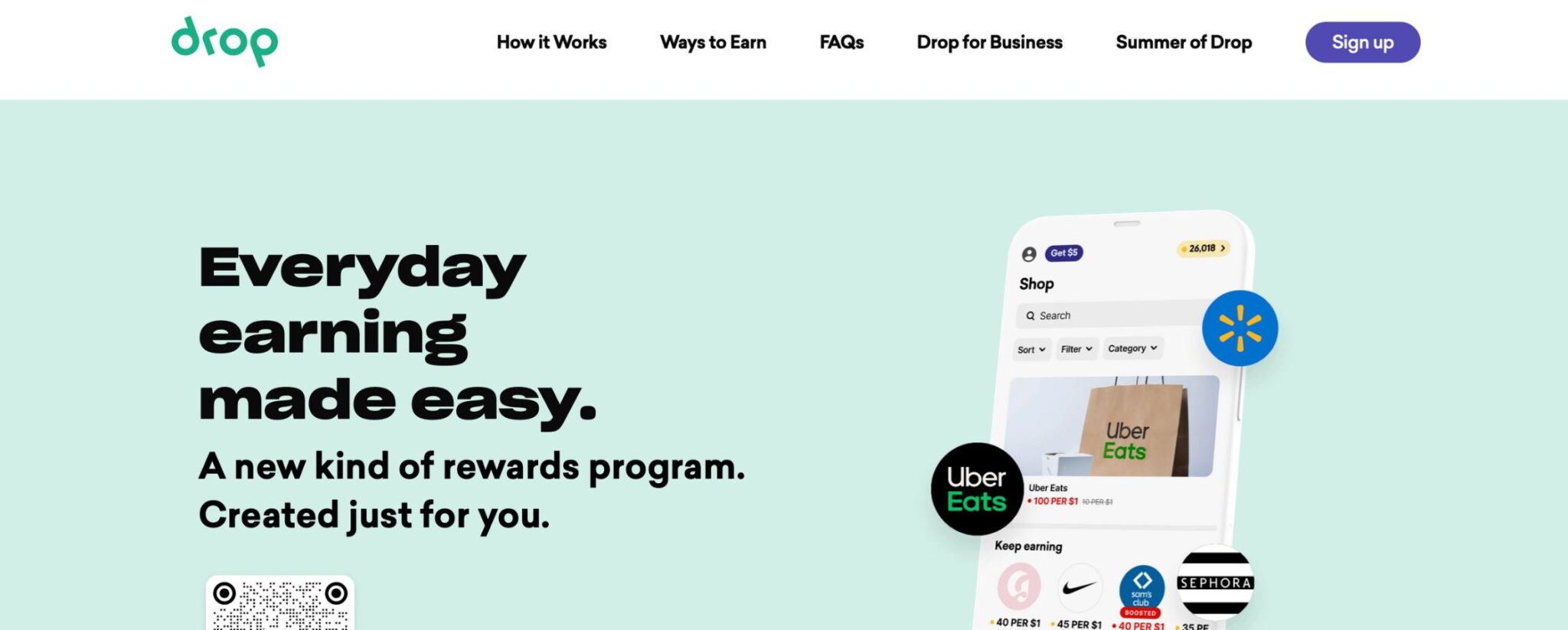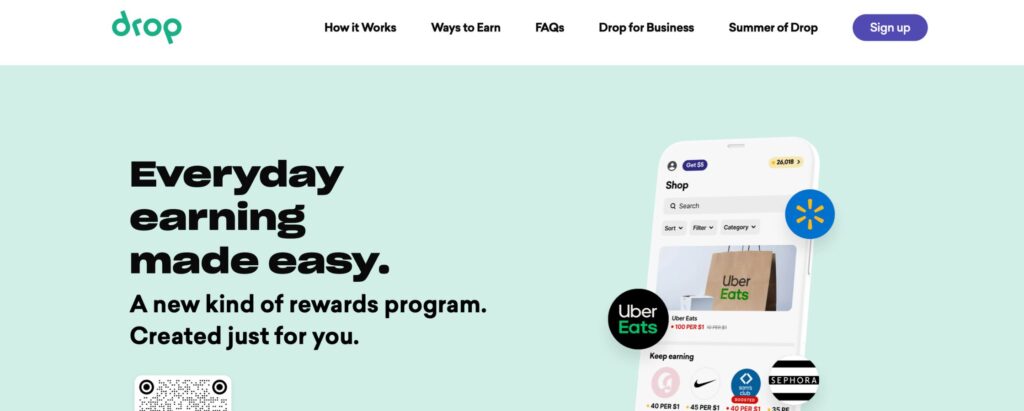 Drop members can earn epic rewards just for playing games. Start by downloading qualifying games from the App Store or Play Store. Next, play the games and complete in-game tasks. Now you get rewarded with Drop points that convert into rewards.
You can claim gift cards for big brands including Amazon, Nike, and Uber Eats. Is shopping not your thing? No problem. Why not get yourself some free crypto, donate your earnings to charity, or enter one-off contests for the chance to win big.
Not only do members of Drop get rewarded for playing games, but you earn even more rewards for shopping, answering surveys, and friend referrals.
Drop is super simple for cashback lovers. Simply link your credit and debit cards, then every time you use them at a participating retailer your cashback is automatically credited.
You can download Drop for free on the App Store or Play Store. Drop also has a browser extension you can add to Chrome, Firefox, or Safari browsers. That way whether on mobile or desktop you can always earn maximum rewards.
7. Flash Rewards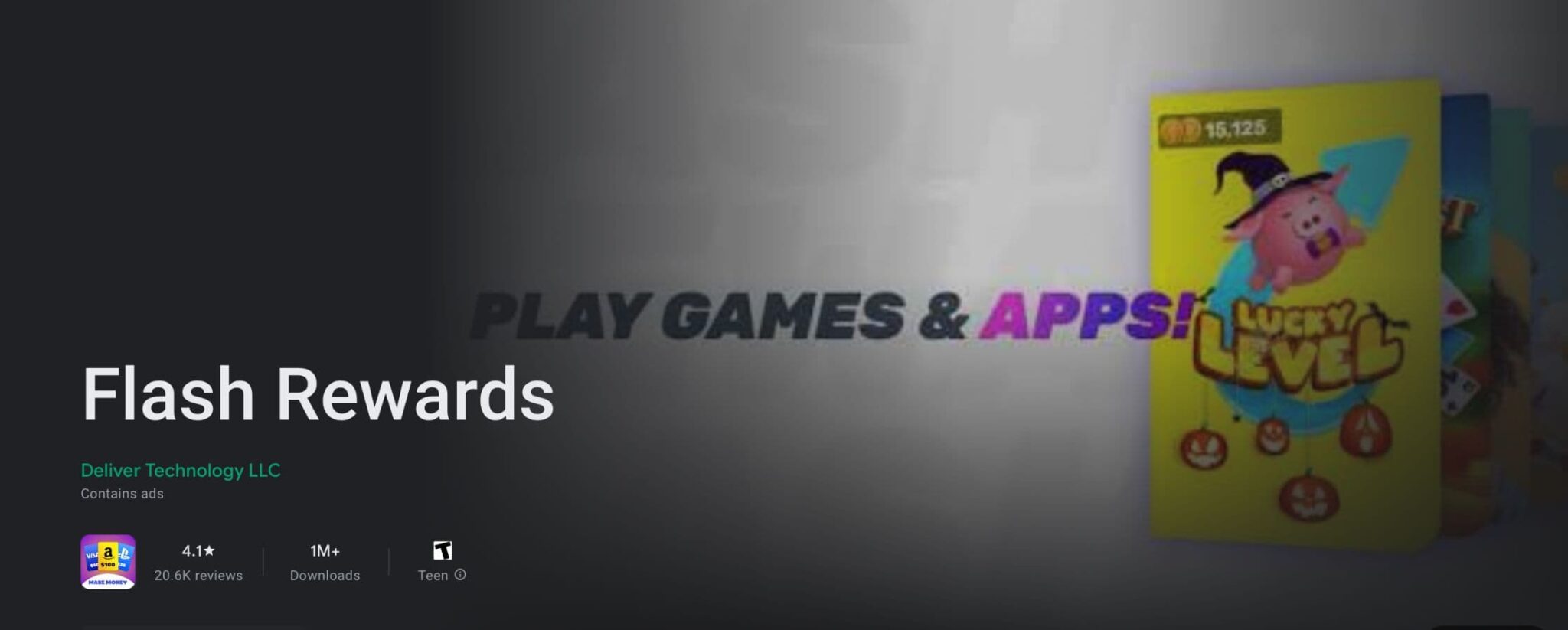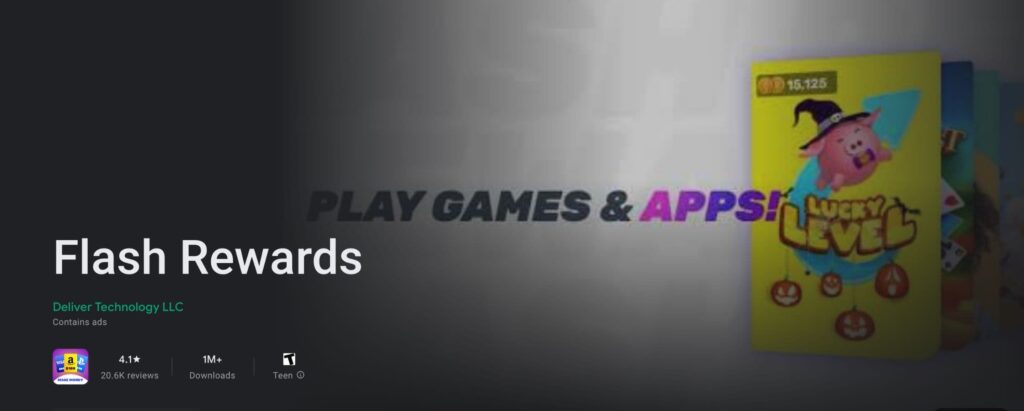 Flash Rewards is free to join and a great way to earn by playing games on your mobile.
When you play one of the many awesome games that are available you earn coins. Coins are awarded based on how long you play. That means the more you play, the more you earn.
Logging in when you have a few spare minutes will help boost those earnings.
Rewards can be exchanged for lots of major brands. Amazon, Nike, Nintendo, and Starbucks are a few of the big brands you can claim rewards for.
Download Flash Rewards now on the Play Store or App Store.
8. Gamee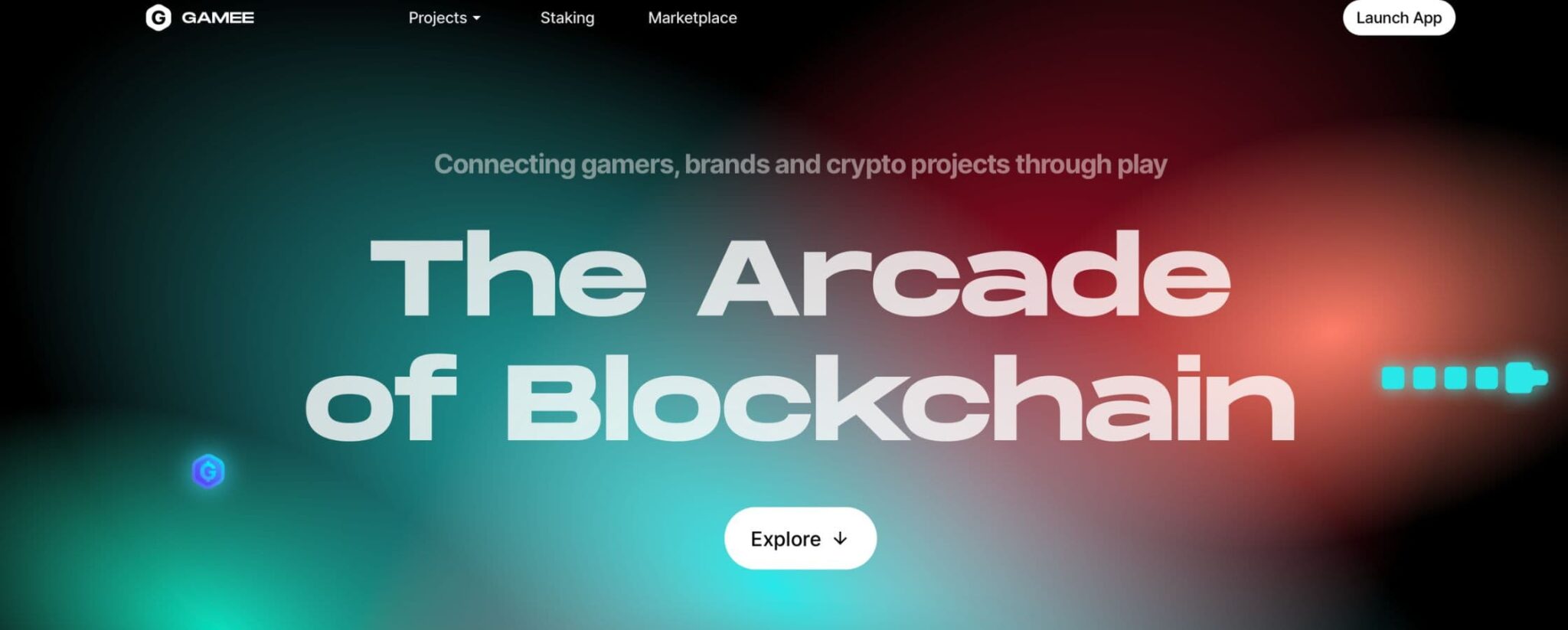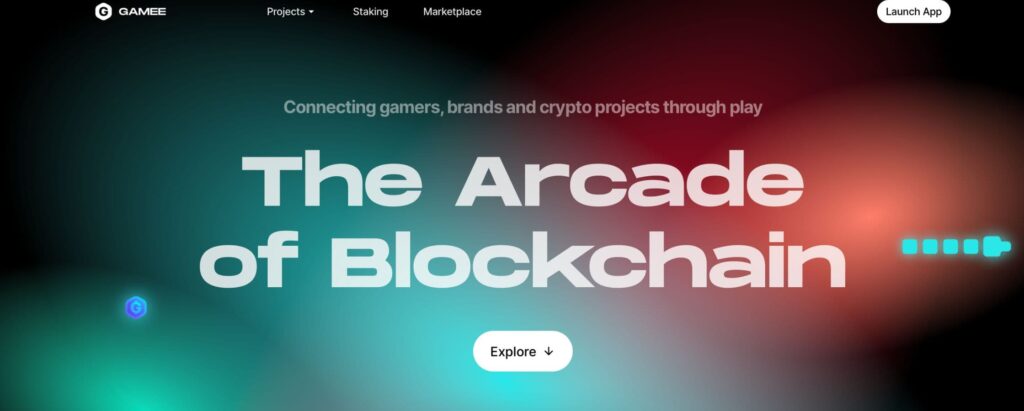 Do you enjoy playing a new video game? Are you strongly interested in crypto and NFTs?
Answering yes to these questions means you must check out Gamee.
Gamee is an innovative platform seeking to unite gamers, brands, and crypto projects. You play games for free and win real money via the app.
Alternatively, Gamee gives you the chance to earn crypto or NFT rewards. New entrants to the crypto or NFT markets use Gamee as a gamified launchpad to boost engagement with their new digital currency offering.
Users of Apple and Android can download Gamee for free from their respective app stores.
9. Gamehag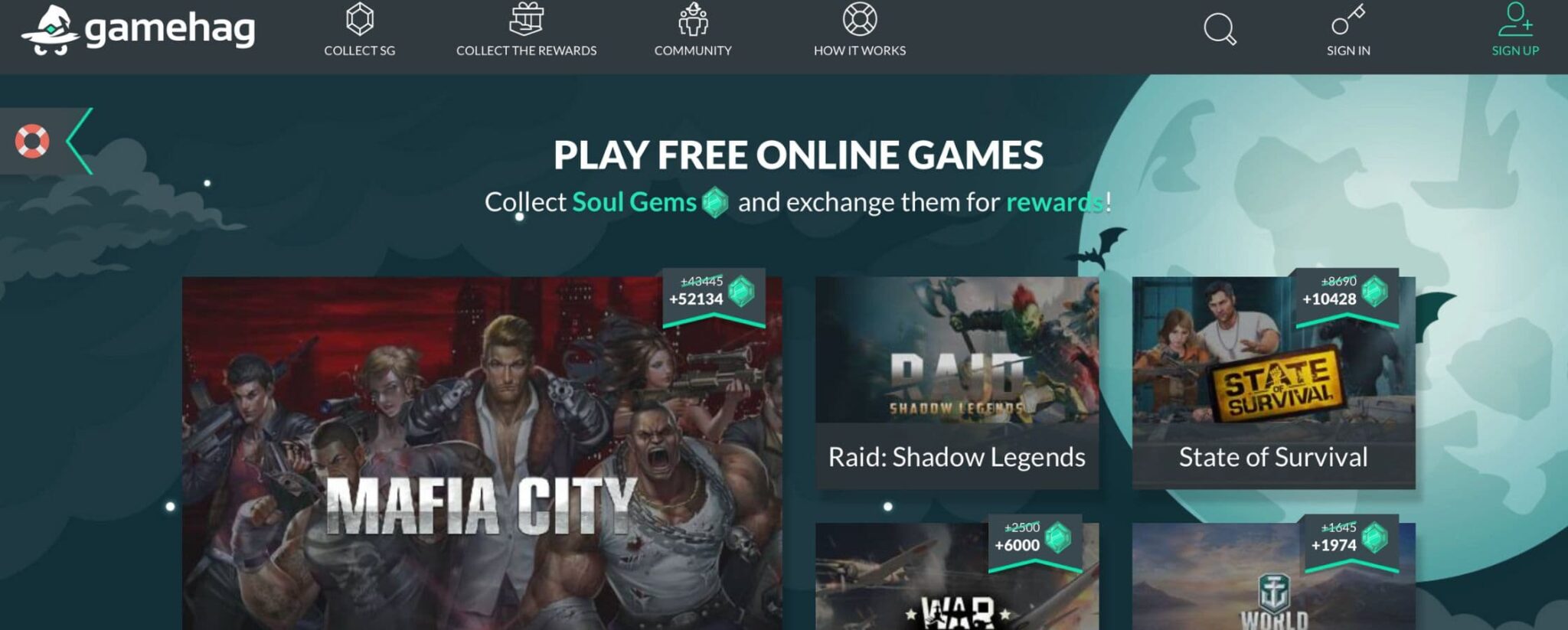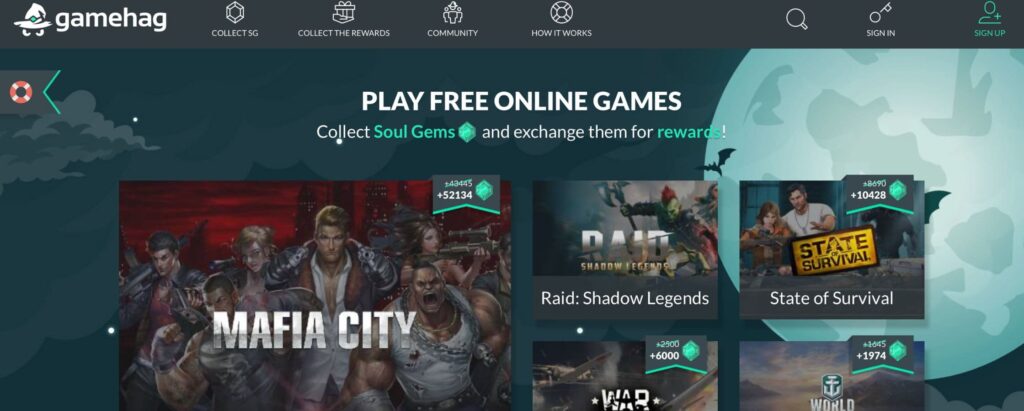 Gamehag is a Mistplay alternative that is for serious gamers. There are hundreds of amazing games you can choose to play including Mafia City, Raid: Shadow Legends, Final Fantasy XIV, and League of Legends.
When you play games and complete challenges you are awarded soul gems (points). Once you've earned enough soul gems you can claim your rewards.
Soul gems can be swapped for crypto, gift cards, MasterCard, steam codes, or used to buy more games.
Recommended: Gamehag Review | Honest Deep Dive
10. Kashkick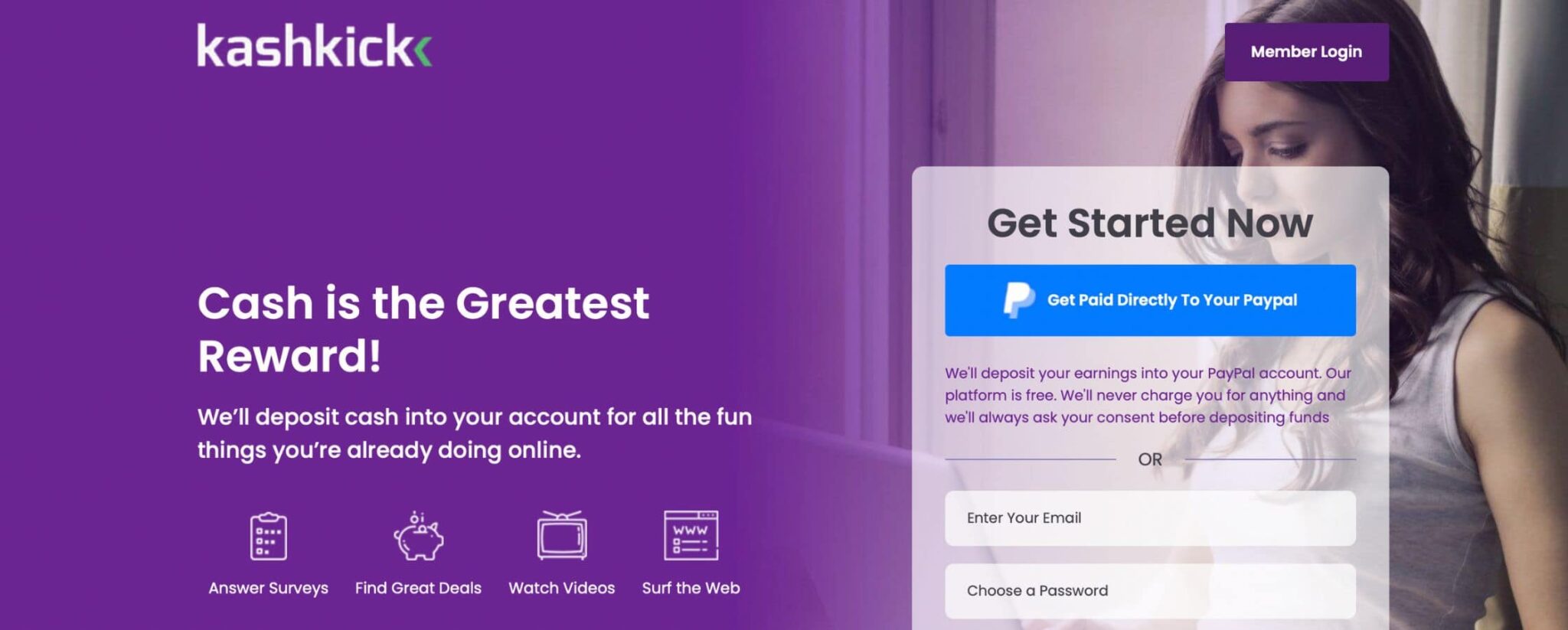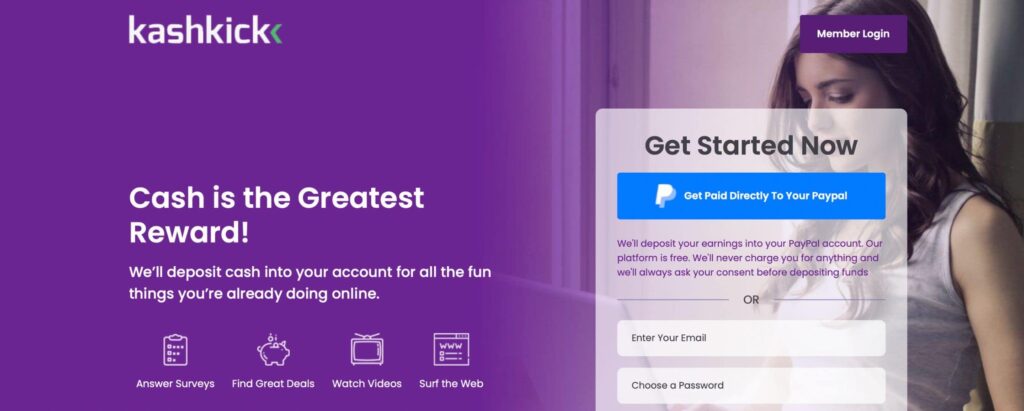 Kashkick rewards members with cash in exchange for playing games. Additional rewards can be earned by completing surveys, watching videos, and surfing the web.
Once you've earned at least $10 you can withdraw your cash to PayPal. There are no fees to become a Kashkick member and you can start earning straight away.
11. InboxDollars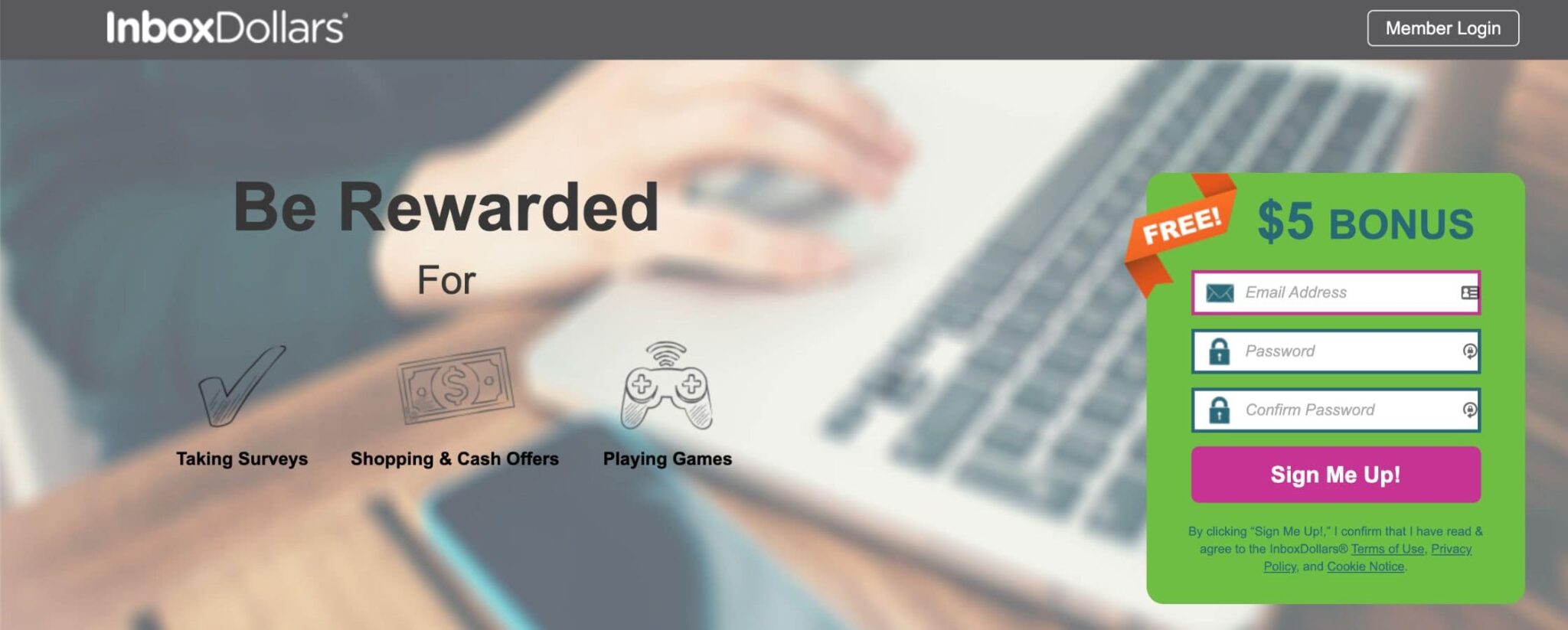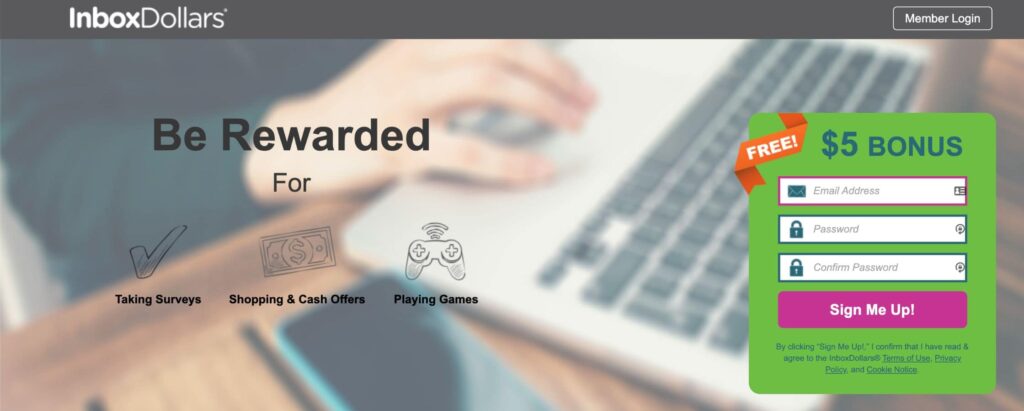 InboxDollars rewards members with cash in exchange for completing tasks. You can earn by watching videos, shopping, completing special offers, and completing surveys.
Importantly, you can also earn rewards for playing games.
InboxDollars has an extensive games library that you can choose from. That way, you can always find something to play that fits in with your schedule. Maybe you have a few spare minutes on your lunch break. You can hop on and play a quick game that pays you rewards. When you have more time, you can play harder games requiring more effort.
Gamers can choose games from the Arcade Games Online library or the WorldWinner Games library.
Arcade games include cards, strategy, action, and word games. WorldWinner Games gives you the chance to play tournaments for cash prizes. Games available include poker, casino, and wheel of fortune.
New members of InboxDollars can claim a free $5 welcome bonus. Sign up now and start earning.
Recommended: InboxDollars Review: Ultimate Guide
12. Lucky Day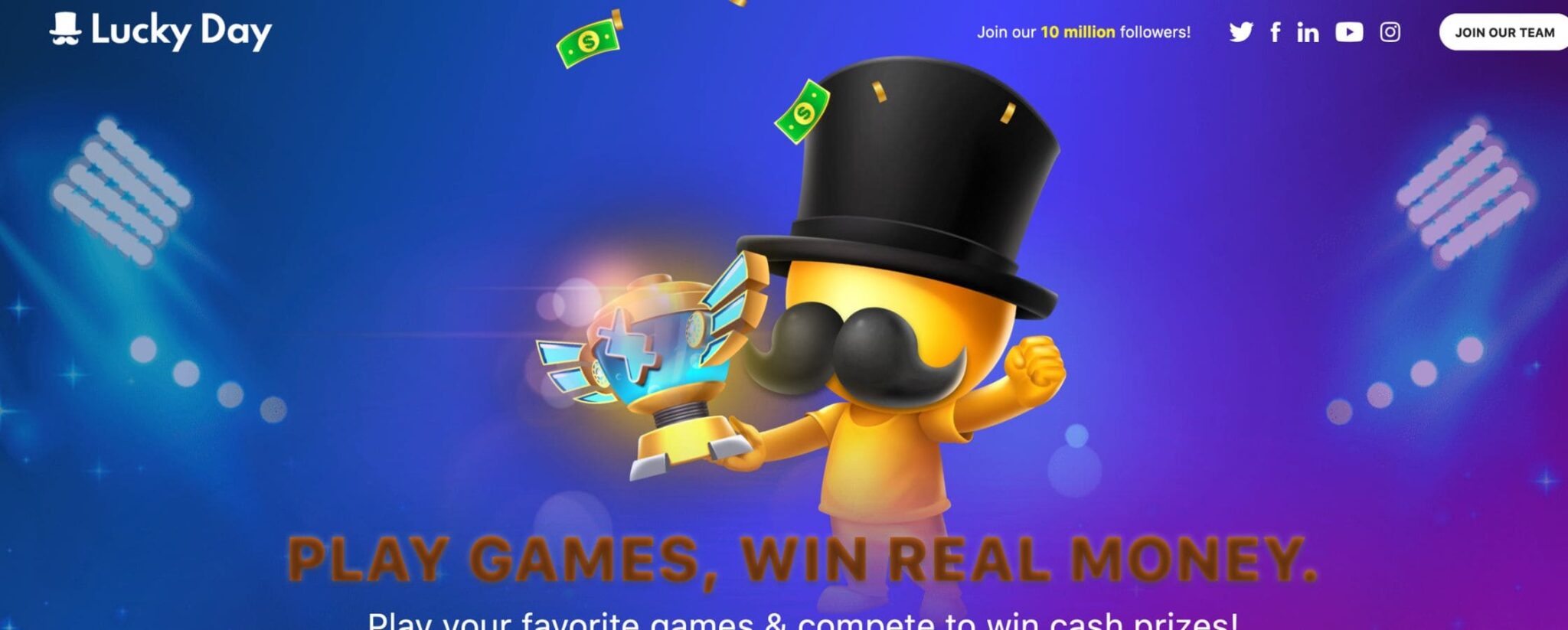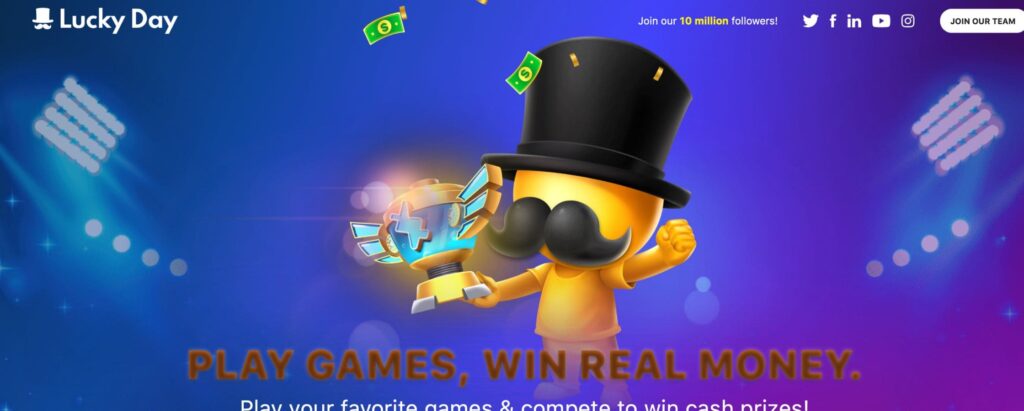 Lucky Day is a great mobile app for anyone that loves playing games of chance. Play daily scratchers, lotto, raffles, and loads more fun games.
Winners can claim a cash prize that will be paid directly to their PayPal account. The cash reward can be as much as $10,000 or more. Other prizes include gift cards for leading retailers.
13. MyPoints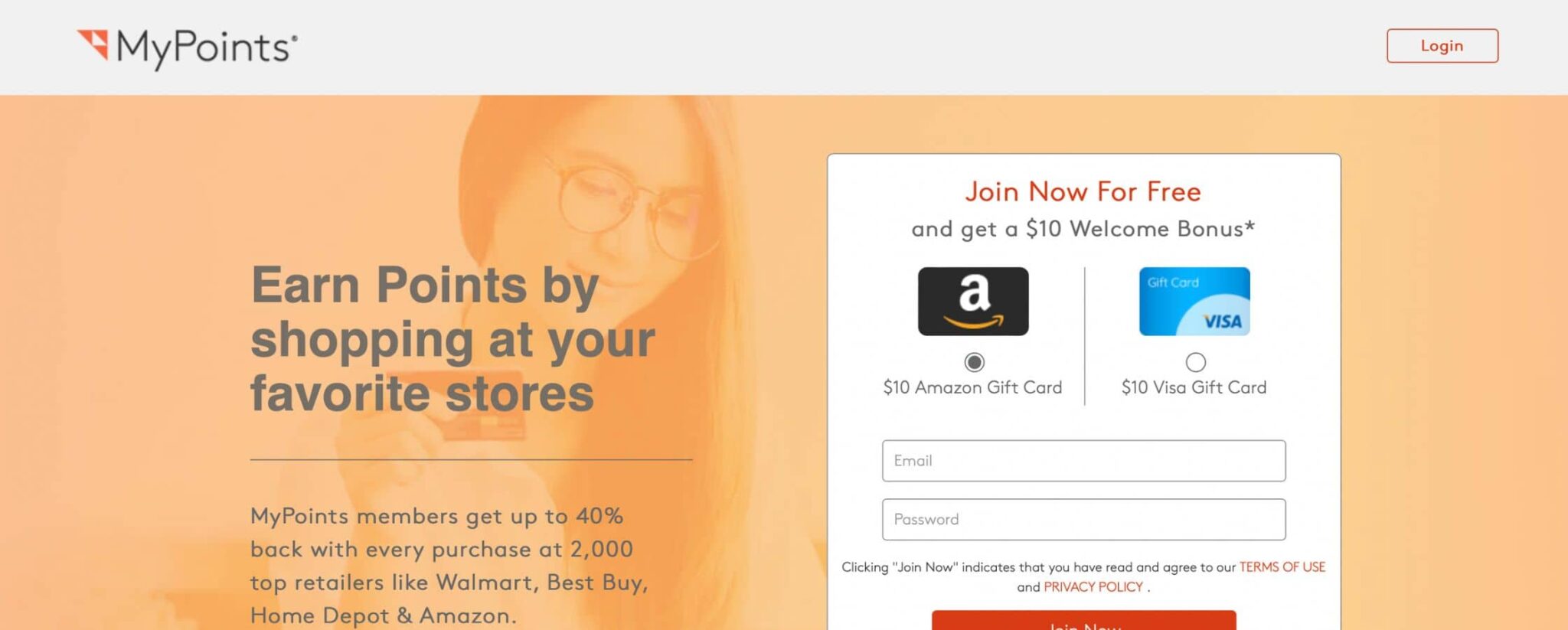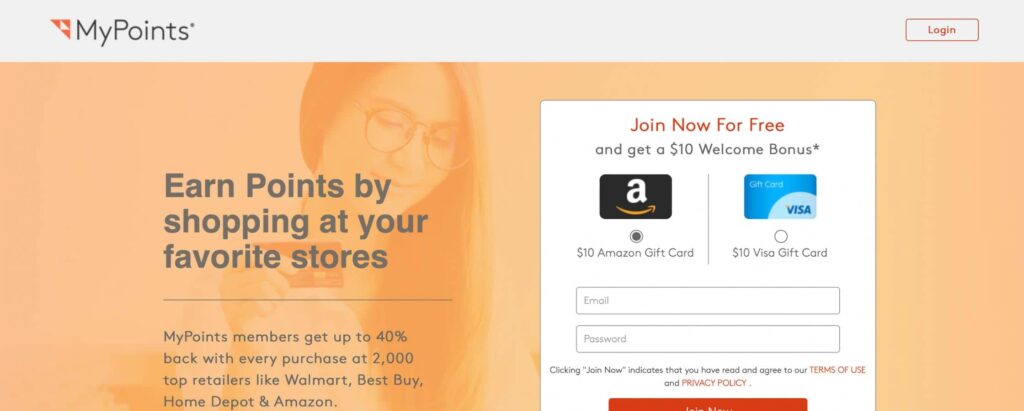 MyPoints is a reward site that's paid members big rewards for over 25 years.
Gamers can earn by playing popular games including Angry Birds, Bejeweled, and Scrabble.
Extra rewards can be earned on MyPoints for answering surveys, shopping online or in-store, and completing special offers.
Join MyPoints now and get a free $10 welcome bonus.
14. Rewarded Play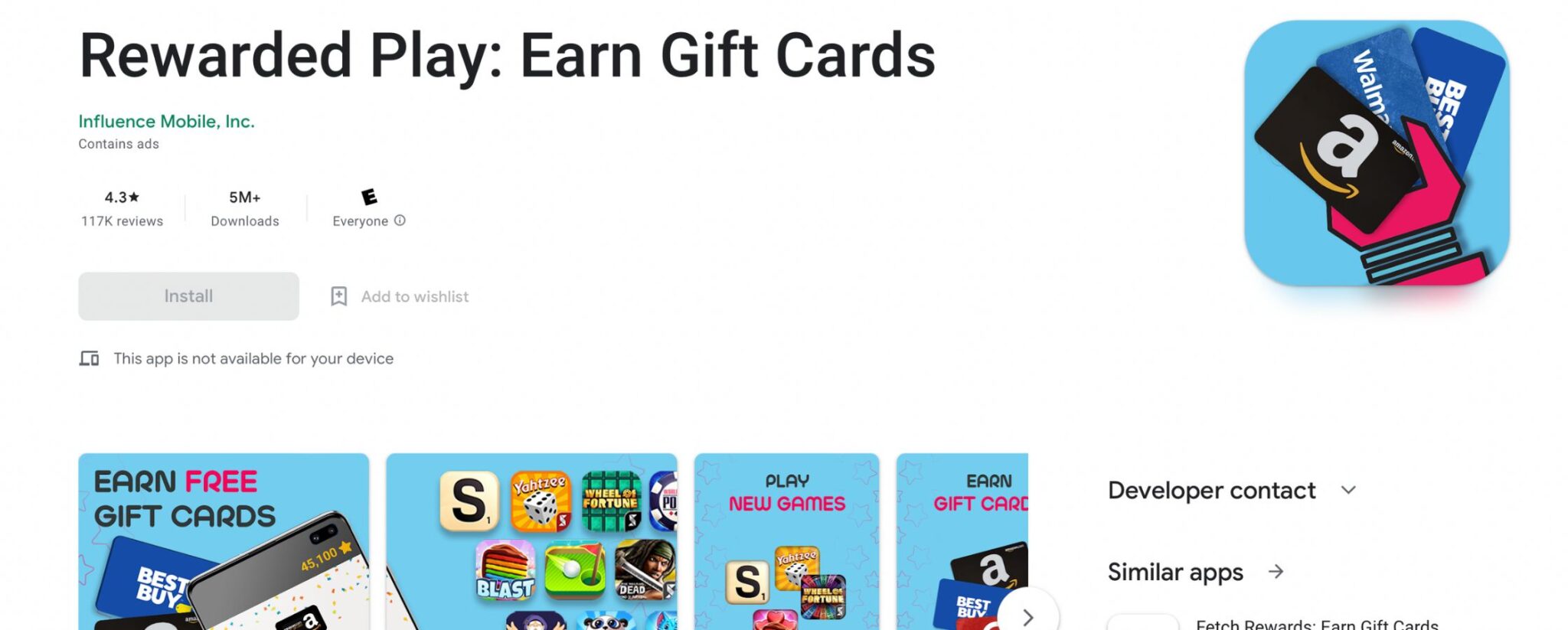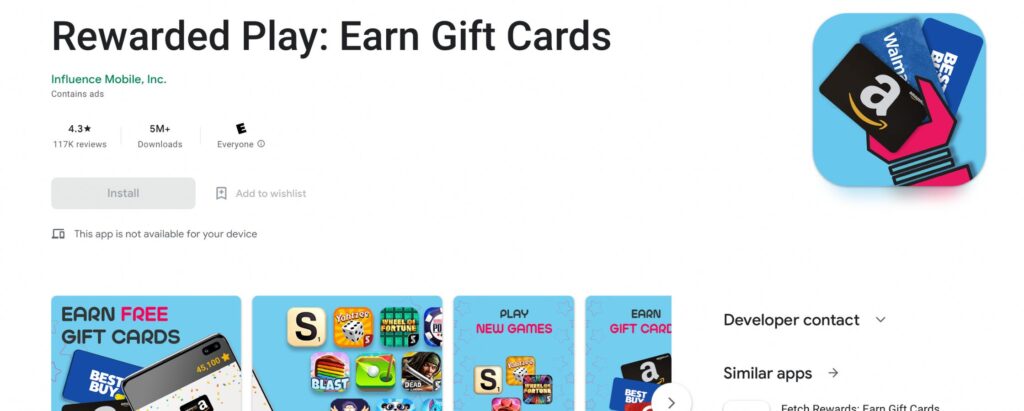 Rewarded Play is free to download from the Play Store and you can earn epic gift cards just for playing games.
Games are free to play and thanks to mobile technology you can play anywhere. That means any time you've got a few minutes to spare you can log in and earn some rewards.
Top games available to play include Solitaire, Mahjongg, and Yahtzee.
Every time you play a game, earn player experience points, watch a video, or make a purchase in the game app you earn points.
Every point you earn adds up to a prize. Choose from top rewards including an Amazon gift card, Best Buy, and Target.
15. Rewardia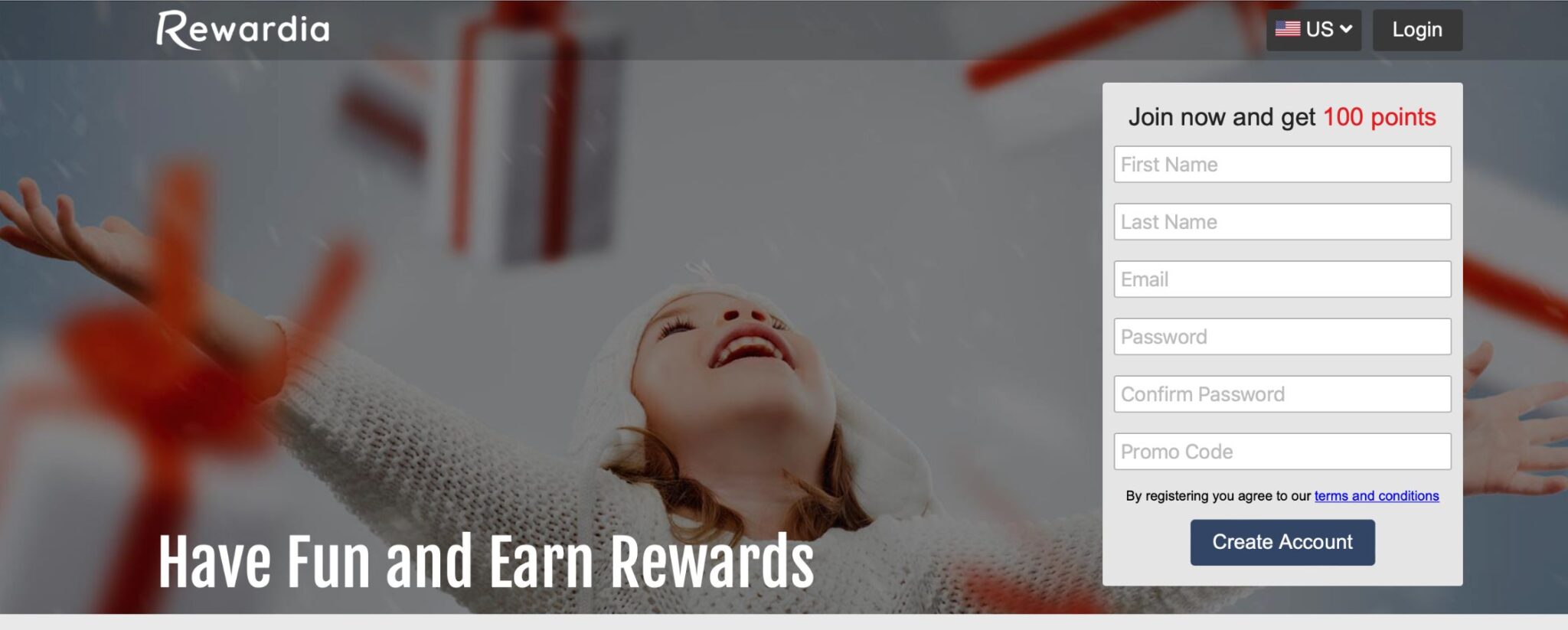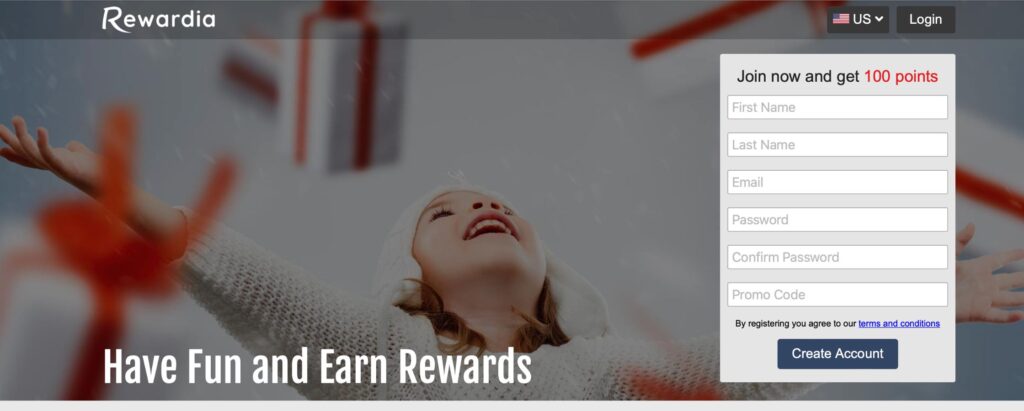 Rewardia is free to join, and you can earn cash or gift cards by playing games, answering surveys, watching videos, and more.
Points are given for completing challenges and spending time playing games. Rewardia offers games for everyone including Sudoku, scratch cards, and attention games.
Once you've earned enough points you can claim your reward. Gift cards can be claimed from as little as $5 for Amazon, Macy's, Gap, Home Depot, and hundreds more.
2000 points have a value of $1. That means for the minimum gift card reward of $5, you need to earn 10,000 points.
If you prefer you can claim cash to be paid directly to your bank account. Cash withdrawals must be for a minimum of $50.
New Rewardia members can get 100 points when signing up.
16. S'more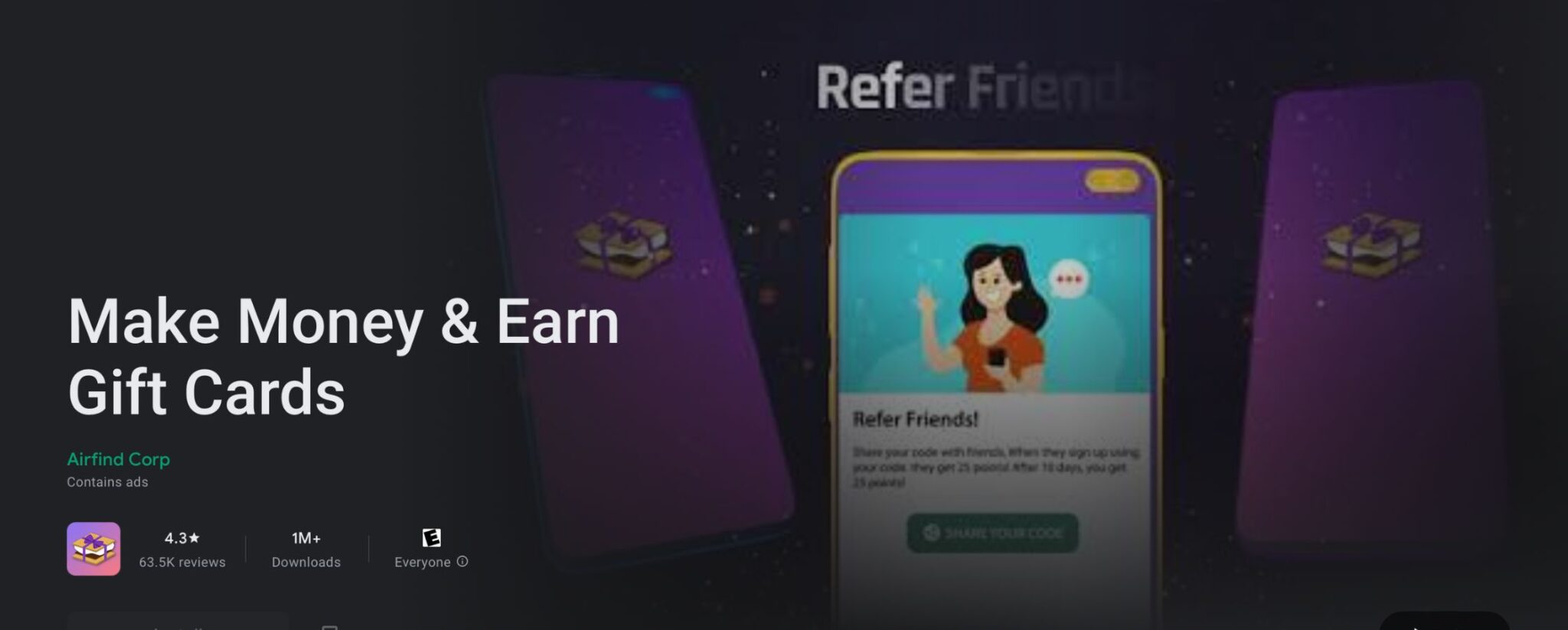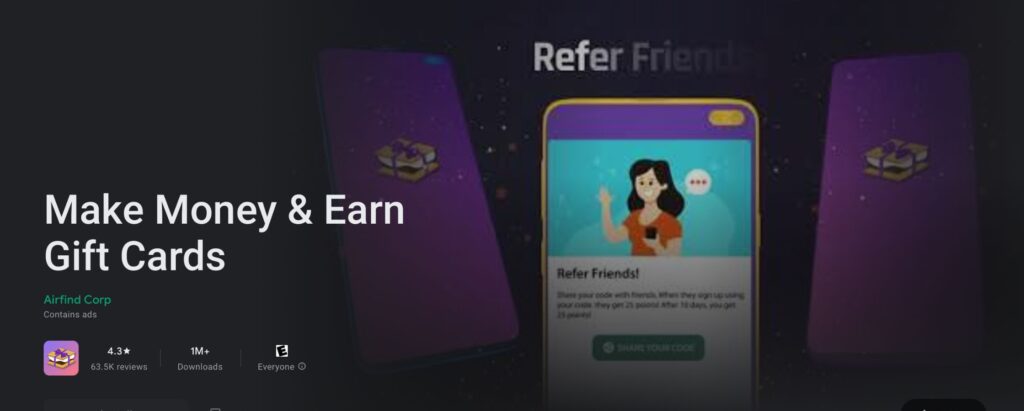 Probably the easiest of all the apps listed is S'more. This innovative app lets you earn rewards from your lock screen. You don't even have to open your phone if you don't want to. Earnings are given in exchange for displaying ads on your lock screen.
However, you aren't going to earn much cash that way. Plus, you're here because you want to play games.
Logging into the S'more app reveals lots more ways to earn. Playing games, downloading apps, and completing other offers all reward you with bonus points.
Points can be exchanged for a ton of awesome gift cards. Amazon, AMC Theaters, Starbucks, and Target are a few of the big brands you can get gift cards for.
S'more is only available for Android users via the Google Play Store.
17. Swagbucks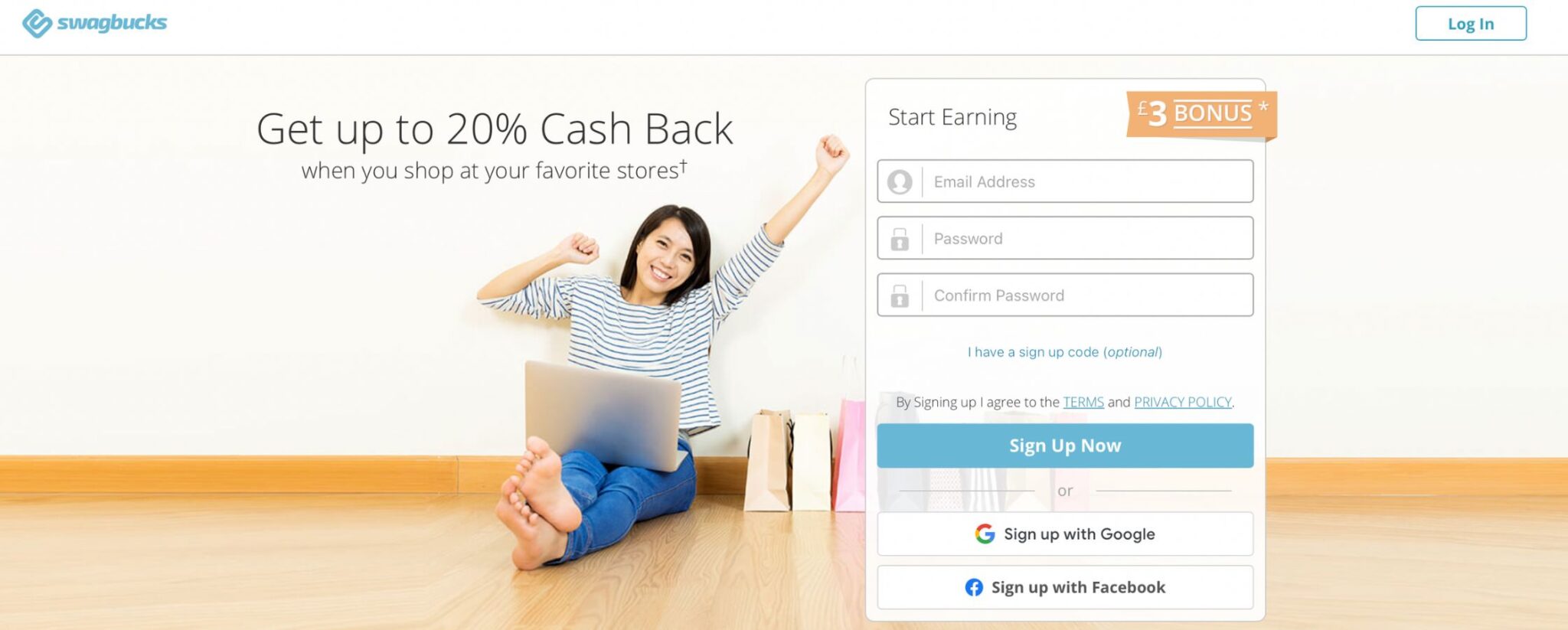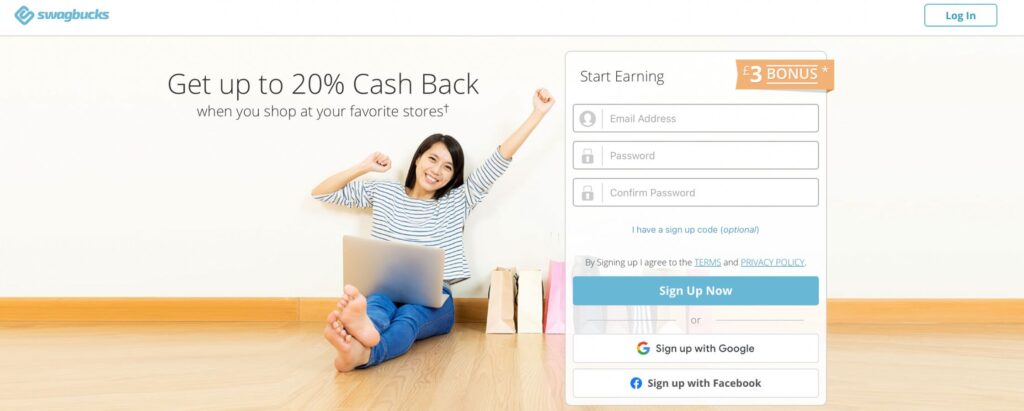 Swagbucks is one of the internet's ultimate reward sites. There are several ways to earn rewards on Swagbucks including playing games.
Bejeweled Champions, Trivial Pursuit, Wheel of Fortune, and Solitaire Rush are just a few of the most popular games you can play and earn rewards for.
Other ways to earn on Swagbucks include:
Watching videos
Surfing the web
Answering surveys
Shopping
When you're ready to redeem your points, you can choose from a wide range of retailers. PayPal, Amazon, and Walmart are some of the gift card options.
Join Swagbucks today for free and get a $10 welcome bonus.
Are Apps Like Mistplay Legit
All the apps like Mistplay that are listed here are legit.
You can be confident your data is secure, and you will be paid rewards as promised.
Signs an app is legit include lots of user reviews (including negative reviews as no app is perfect), a history (not a brand-new app), and visible contact details for the developer.
If you're in doubt, then always trust your instincts and don't download any app you're concerned about. There are plenty of legit apps available like the 17 listed above.
Recommended: Long Game Review: Gamified Savings
FAQs
What apps pay you the most money to play games?
All the apps listed here plus Mistplay, pay a cash reward or other rewards such as gift cards simply for playing games. There is no limit to how much you can earn; it simply depends on how much time you have to play. 
That means that not one of these apps pays more than another. You simply need to spend time playing on the apps that you want to and redeem those sweet rewards.
Are there any other gaming apps I can make extra money from?
Yes! To earn extra cash, check out other apps like Mistplay including App Flame, Cash Alarm, Fetch Rewards, and Solitaire Cube.
Recommended: The Best Finance Apps to Save, Invest, and Track Your Money
Apps Like Mistplay