Disclosure: This post may contain affiliate links. If you click on a link I may make a small commission at no extra cost to you. You can read the full disclosure here.
Last Updated on April 1, 2023 by Chris Panteli
Cash App Games That Pay Real Money
Every day people spend an average of 1 hour and 24 minutes playing mobile games, that's almost 10 hours a week.
If you're one of the 294 million people in the US that's estimated to own a smartphone, then you probably have at least a couple of games you like to play when you have time.
Not only will you have some games on your phone, but you likely have at least one digital wallet. Cash App is one popular digital wallet that has an estimated 36 million users.
Why am I telling you all this?
Cash app games that pay real money are a thing. You could be earning some much-needed extra cash just for playing games on your mobile. Let's dive in and learn more.
What Is Cash App?
Cash App is a mobile payment platform that allows users to send and receive money. Since its launch in 2013, the free Cash App has added tons of innovative features that users can't live without.
Users can send or receive money instantly from anyone.
You can get yourself a Cash App debit card. The card is fully customizable, has no fees, is accepted everywhere, and comes with built-in discounts.
Auto-invest is another top feature that you can use to manage investments in stocks or Bitcoin.
Recommended: 17+ Awesome Money Earning Games
17 Cash App Games That Pay Real Money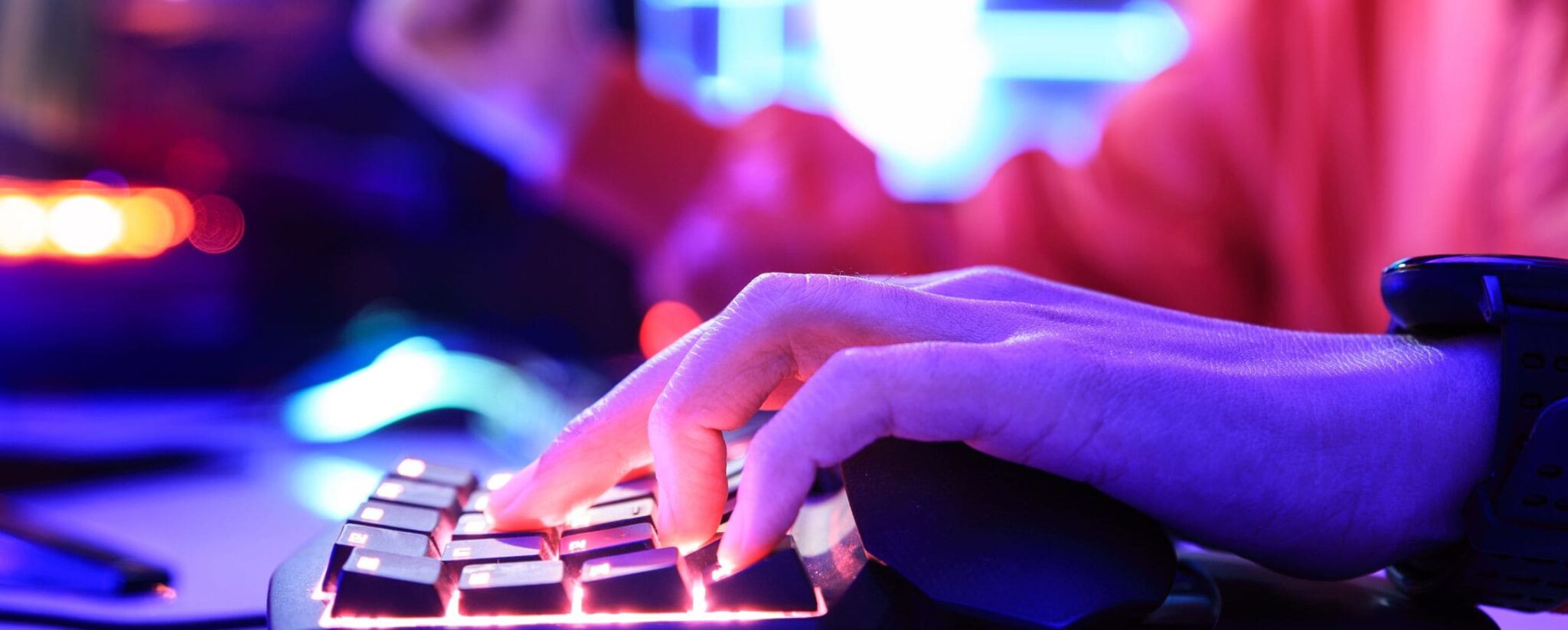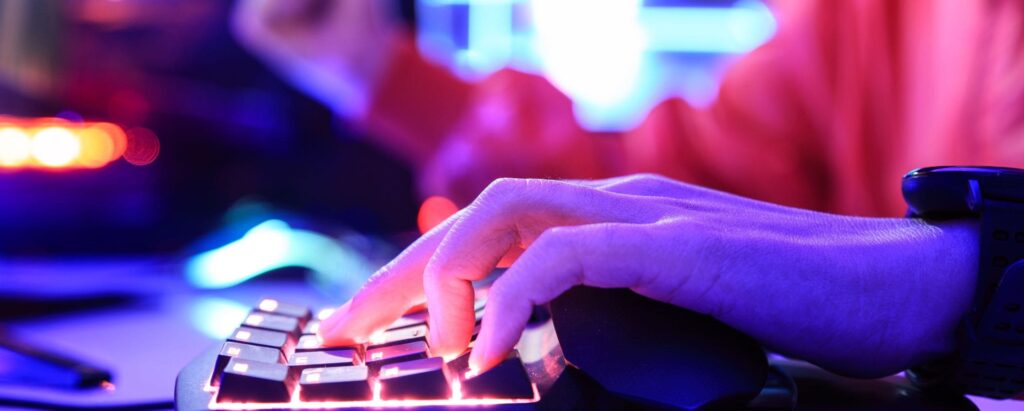 If you find yourself spending hours enjoying mobile games, why not play games that will pay you at the same time?
These 17 Cash App games that pay real money are bags of fun, easy-to-install, and pay-you real cash.
1. BingoCash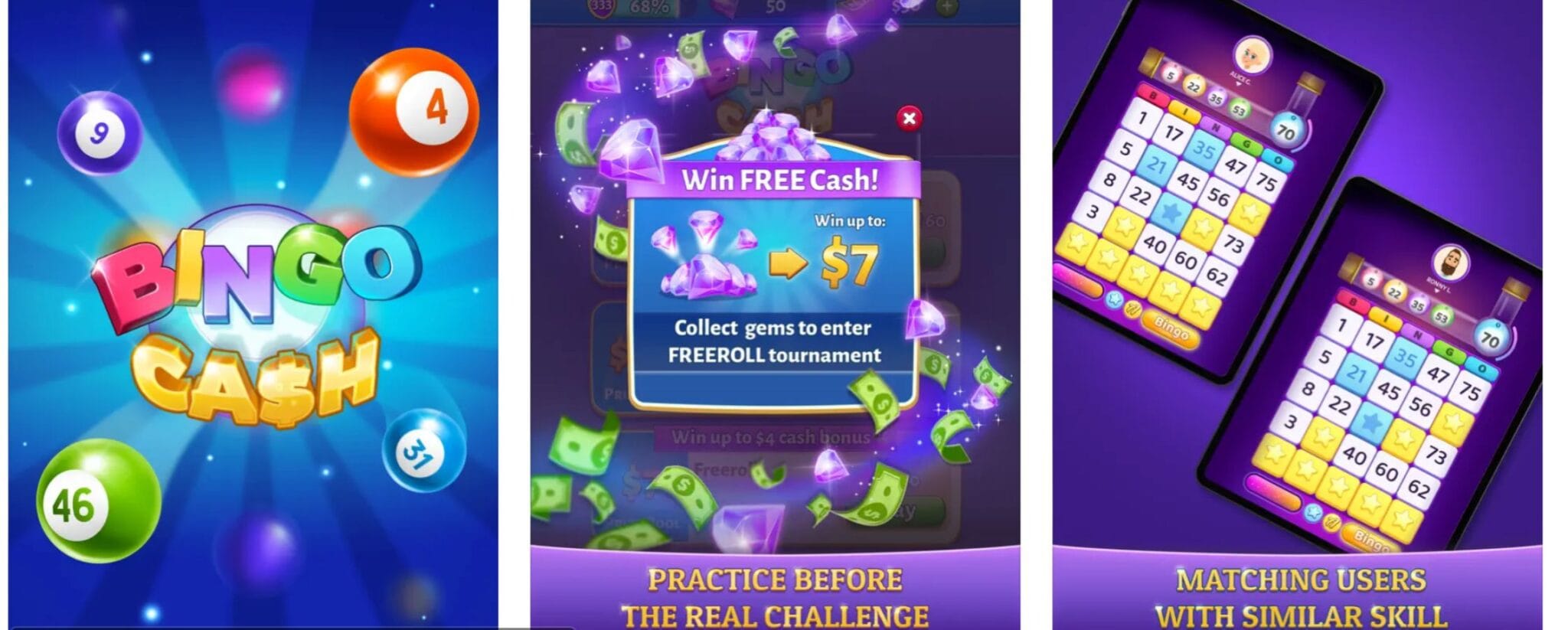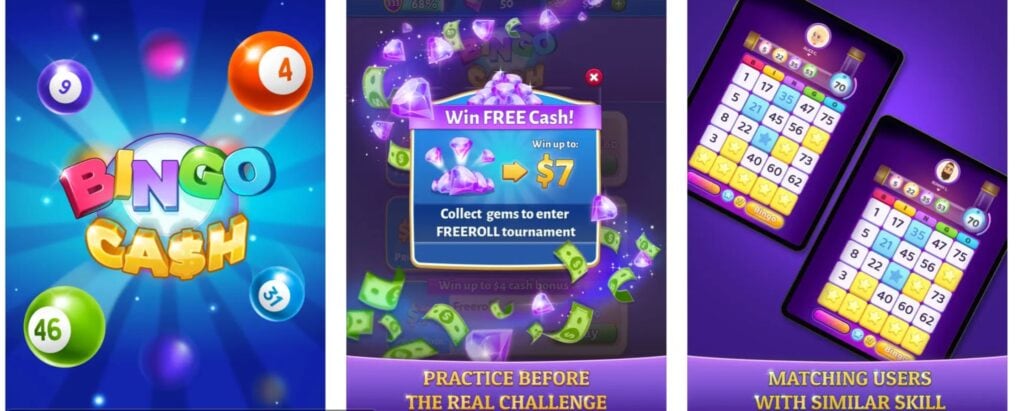 Bingo Cash is a legit online bingo game that offers users the chance to win prizes; including cash! You can download the game on the App Store – where it's been downloaded more than 17 million times worldwide.
This is a legit bingo tournament game that lets you compete with other users and have the opportunity to earn up to $83 per win – which is pretty insane! Currently, the cash tournaments are not available in AZ, AR, IA, LA, DE, SC
2. SolitareCash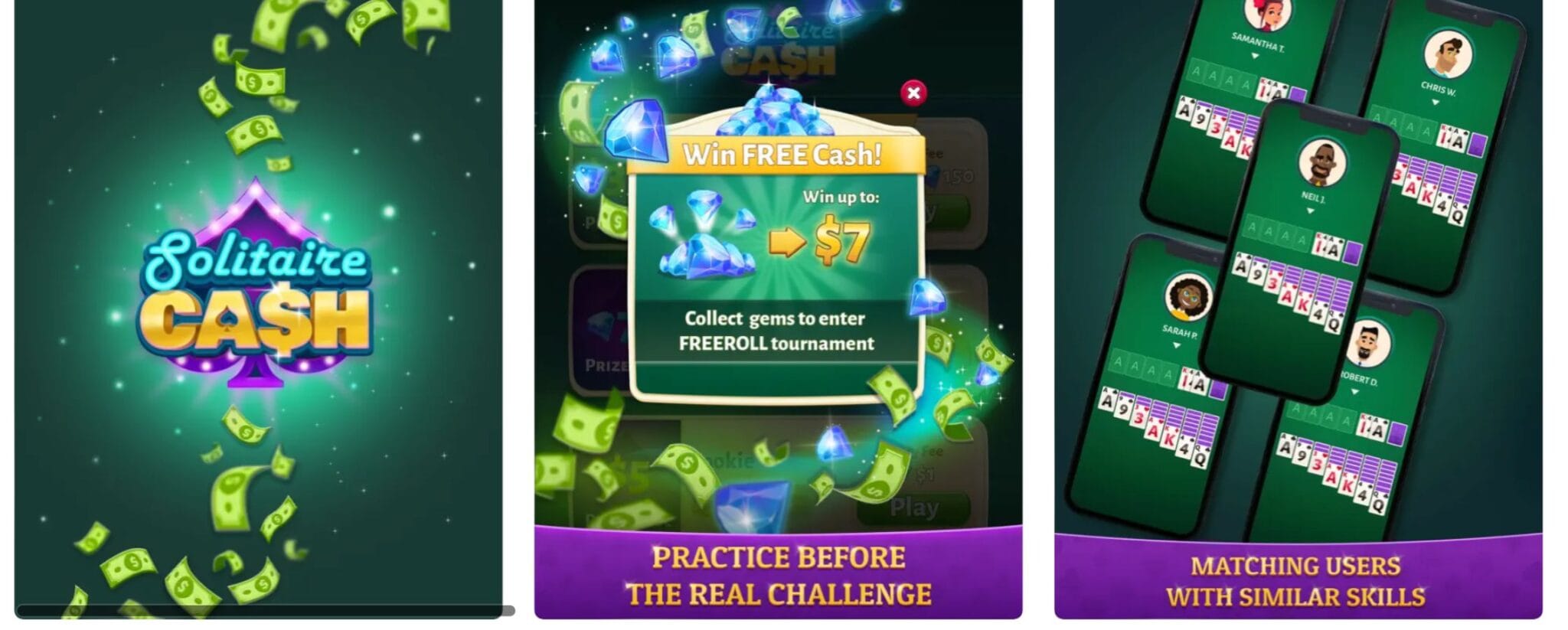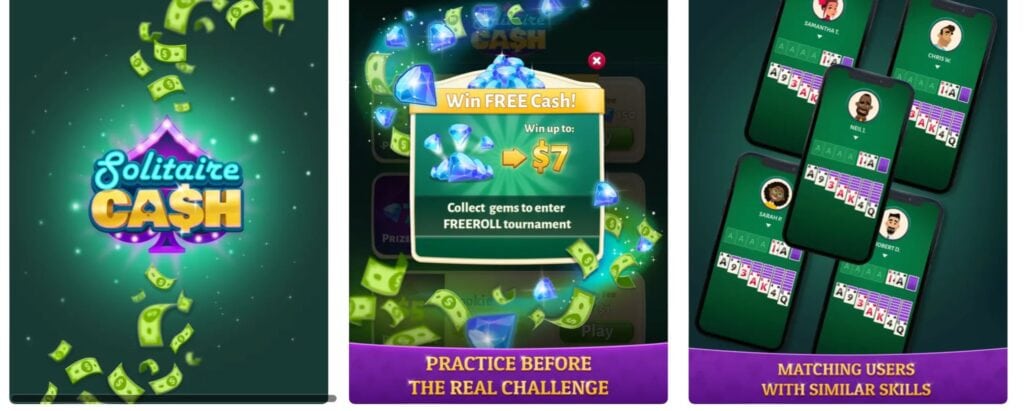 Solitaire was always a game my mom would suggest I played when I was bored! Well, unlike the single-player analog game, Solitaire Cash brings this popular concept kicking and screaming into the modern day! And so what makes it so great?
Well, with over 4 million downloads and a plethora of 4 & 5-star reviews, Solitaire Cash is free to download and play! And not only can you enjoy a whole host of prizes with the free tournaments, but if you deposit cash, then you have a chance to win real mullah; up to $83 per win! Note, that cash games are not available in AZ, AR, IN, IA, LA, ME, MD, SC, MT & SD.
3. Bananatic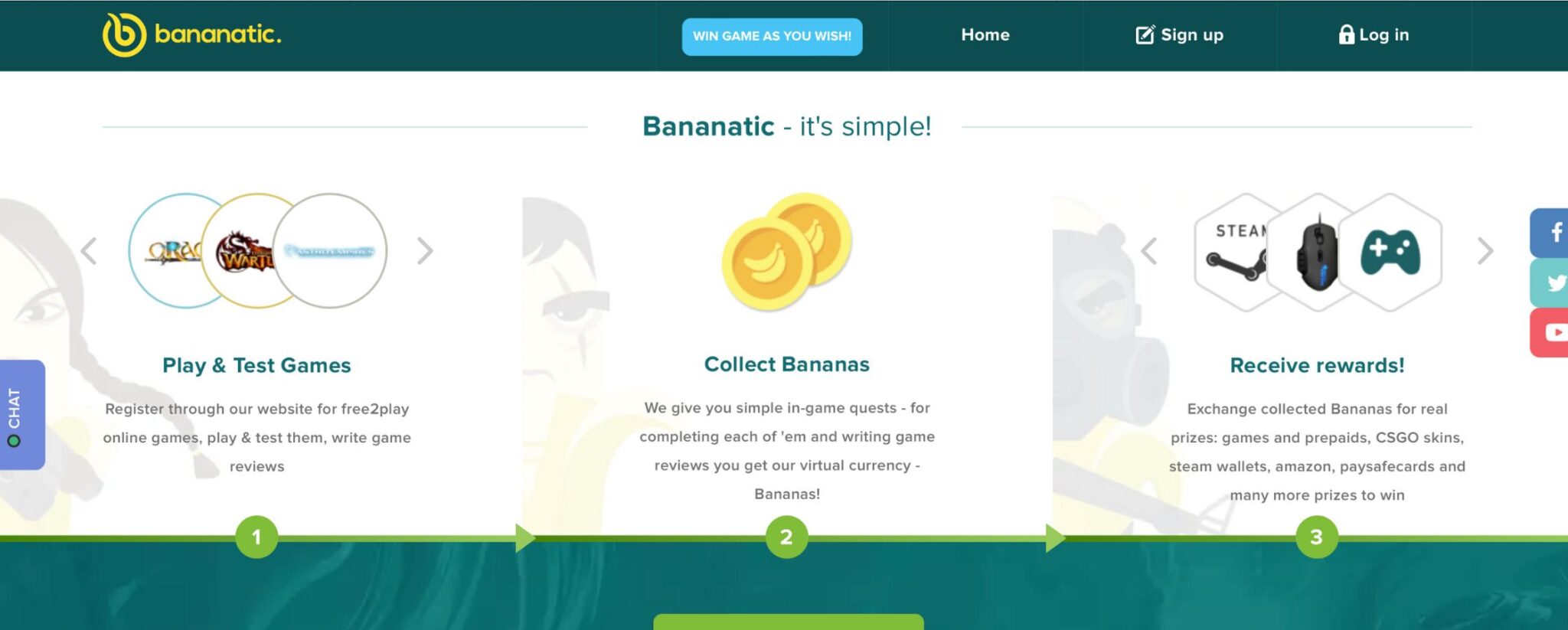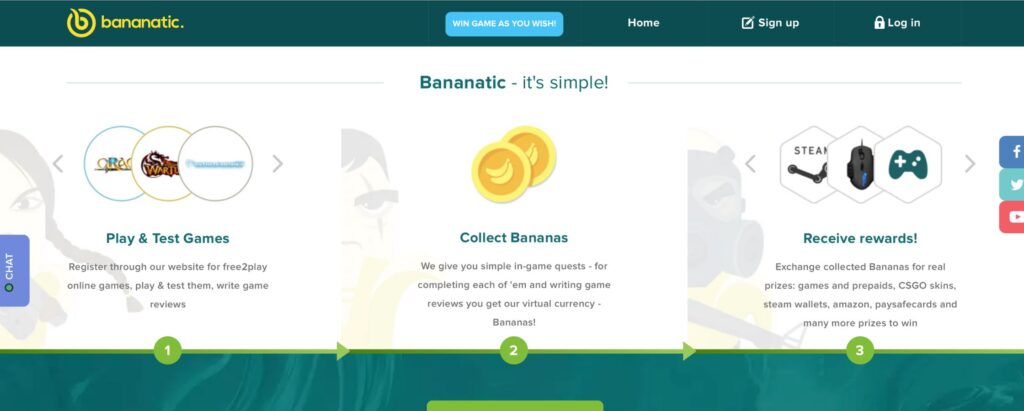 Bananatic is fantastic for gamers that want to earn rewards for playing games. You can join Bananatic for free, play games, collect bananas (don't worry, these are digital, not real), and collect your epic rewards.
Over 4 million users of Bananatic have earned rewards totaling more than $500,000.
How does Bananatic work?
To get started you must create an account. You can either use your email address or log in with your Google or Facebook ID.
Now you can play and test games to earn rewards. Extra rewards can be earned by answering surveys, writing reviews, completing quests, and earning experience points.
Points are given as bananas. Once you've earned enough bananas, it's time to claim your rewards.
There is a huge range of rewards to choose from including:
Amazon
Game currency, e.g., V-bucks for Fortnite
Steam Wallet
Games and Prepaids
CS:GO Skins
Gift Cards for top retailers like Google Play and Steam
Digital keys
Another innovative way to spend your bananas is by betting them to win big rewards. Bets can be made for items such as a Steam key, Visa Prepaid Card, and an Amazon gift card.
There is so much cool stuff on Bananatic that it would be easy to miss something. Thanks to the busy forum you can get all your questions answered. Plus, you may find out about things you would've missed otherwise.
Bananatic has a massive games library that you can choose games from. Action, strategy, MMO, fantasy, sport, and sci-fi are a few of the gaming categories you can browse.
Top titles you can play include Star Trek Online, FIFA Online, World of Tanks, and WSO Poker.
4. Blackout Bingo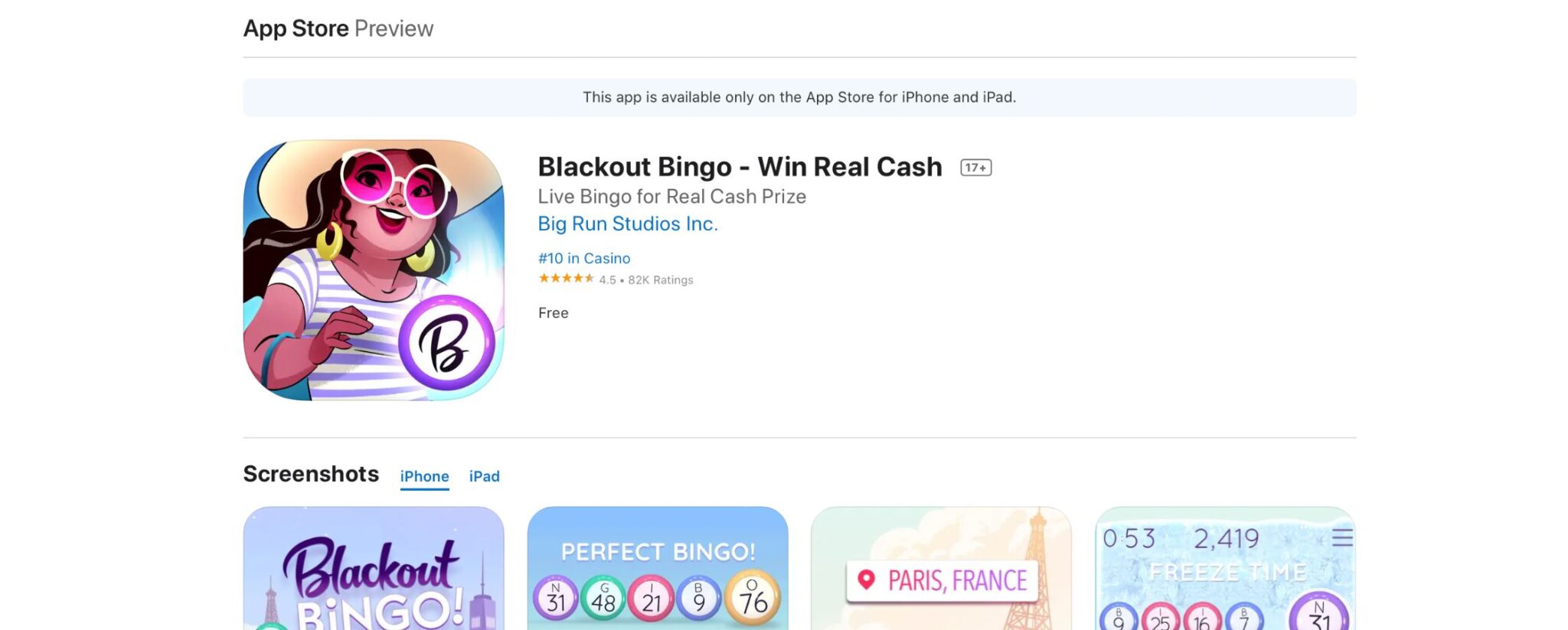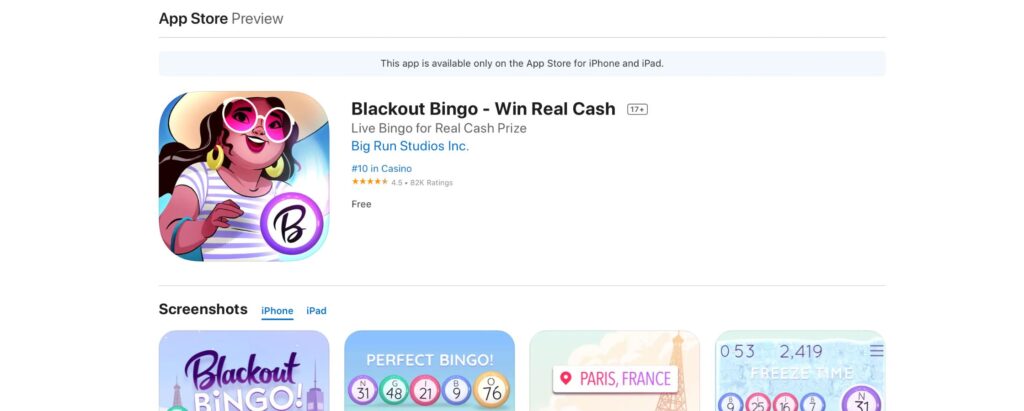 Blackout Bingo is a free mobile game app that can be downloaded from the App Store or Play Store. Players have the chance to win a cash prize and other incredible rewards.
Games you can play include bingo of course, but also:
Yahtzee
Solitaire
Blackjack
To get the most out of Blackout Bingo it's best to play often. That way you can earn daily and weekly rewards. Plus, free boosters and power-ups.
Blackout Bingo was created in 2019 by Big Run Studios. The gaming studio works hard to create fun mobile games that will keep you playing and give you the chance to win big cash prizes.
5. Blast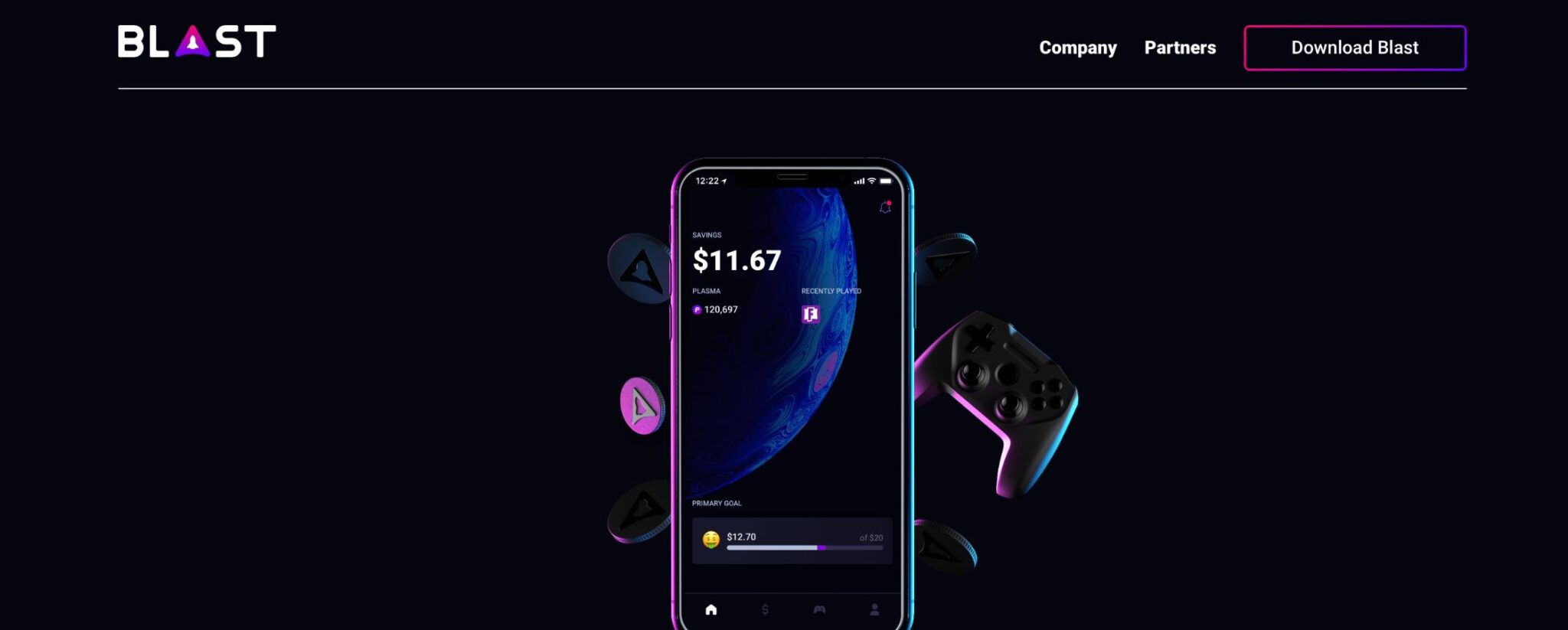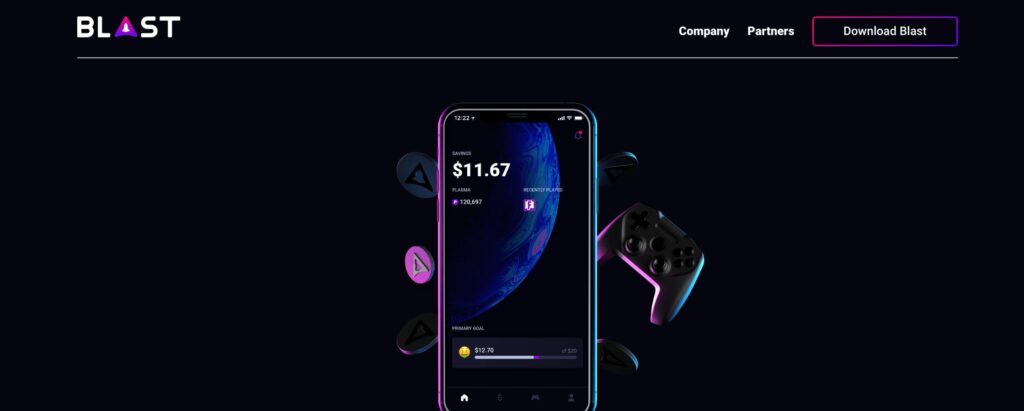 Blast is an innovative app that seeks to connect gamers and savers. By playing games, completing missions, and carrying out other gaming activities you can boost your savings balance.
To use Blast, you must download the free app from the App Store or Play Store. Next, link your checking account with your Blast savings account.
Every time you play or complete challenges, a small amount of cash is transferred from your bank account into your high-yield Blast savings account. The amount transferred can be as little as 1¢.
Games that you can play to earn on Blast include Fortnite, PUBG, Overwatch, and CS:GO.
6. Brain Battle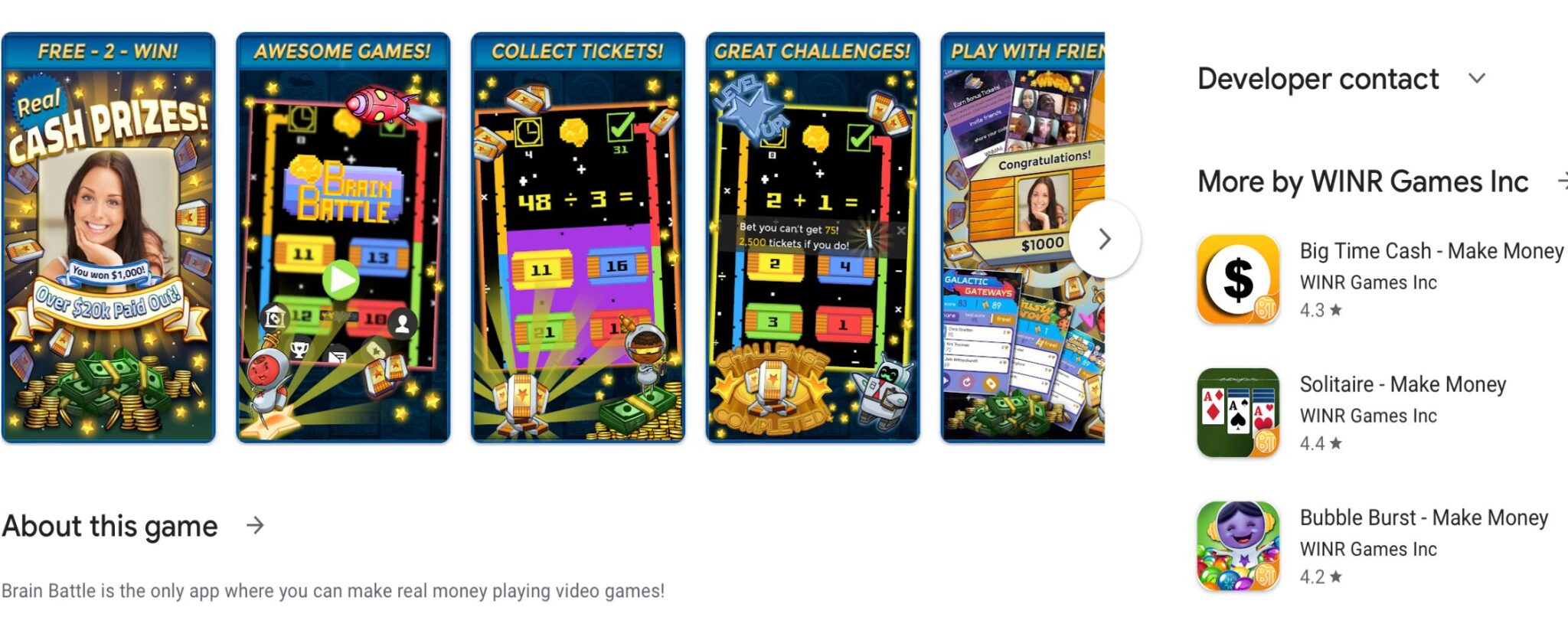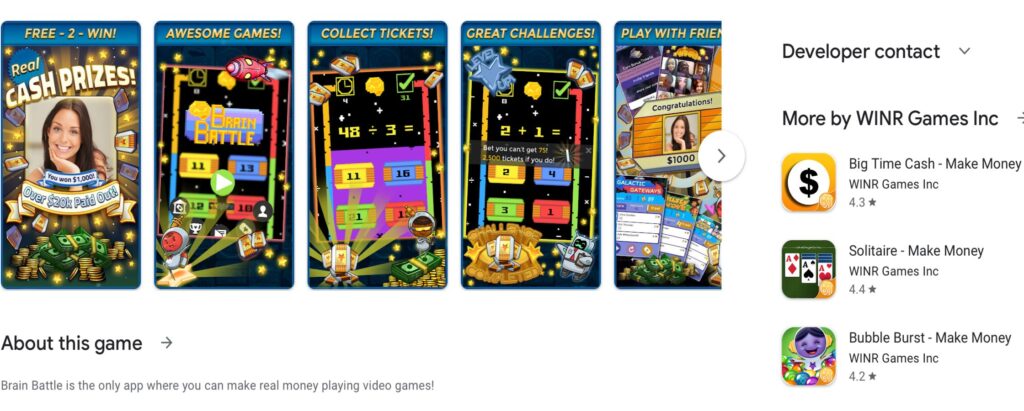 WINR Games has developed many top mobile games including Brain Battle. You can download Brain Battle for free in the App Store or Play Store.
You must be a fan of math-based games for this one as players have to conquer the game by completing math problems. Your addition, subtraction, multiplication, and division skills will all be tested. Plus, it's against the clock!
Every time you play, you get at least one ticket. The more tickets you earn, the more entries you get for the prize draw that could see you win big cash prizes.
WINR Games operates the games by collecting advertising revenue, then paying out to winning players a portion of that revenue.
The neat thing about games like Brain Battle is you can play anywhere. Download the game and you can solve math challenges while commuting to work, during a break at school, or when you're waiting for a movie to start. The more you play, the more you could win!
7. Cashyy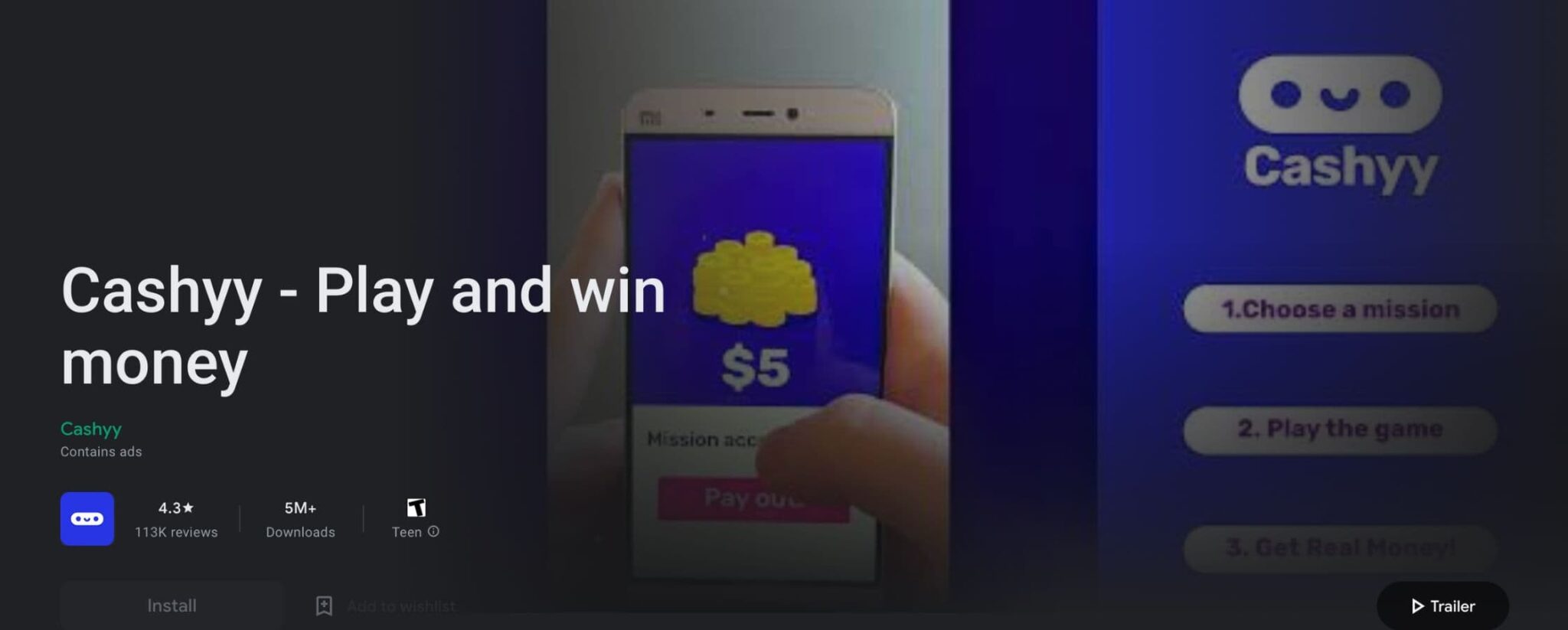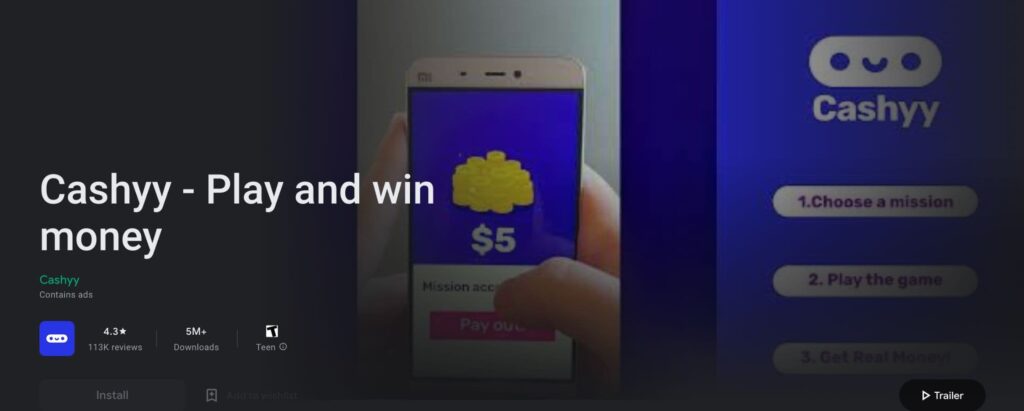 Cashyy is a completely free app, it doesn't even have ads. The app is only available on the Play Store, so Apple-only users will need to skip this one.
To earn on Cashyy is super simple. You can play games, complete missions, and win coins. Every day there are new games and missions you can play to win more rewards.
Cashyy has an extensive games library covering all kinds of games. Action, adventure, casual, and strategy games are all included.
When you're ready to cash out your coins you can claim gift cards or cash. Cash will be paid directly to your PayPal account. You could then transfer that money to Cash App if you want to.
If you want a gift card, then you have a big choice. Gift cards can be claimed for lots of big brands including:
Amazon
Google Play
Nintendo
PlayStation
Steam
Walmart
Xbox
8. Coin Pop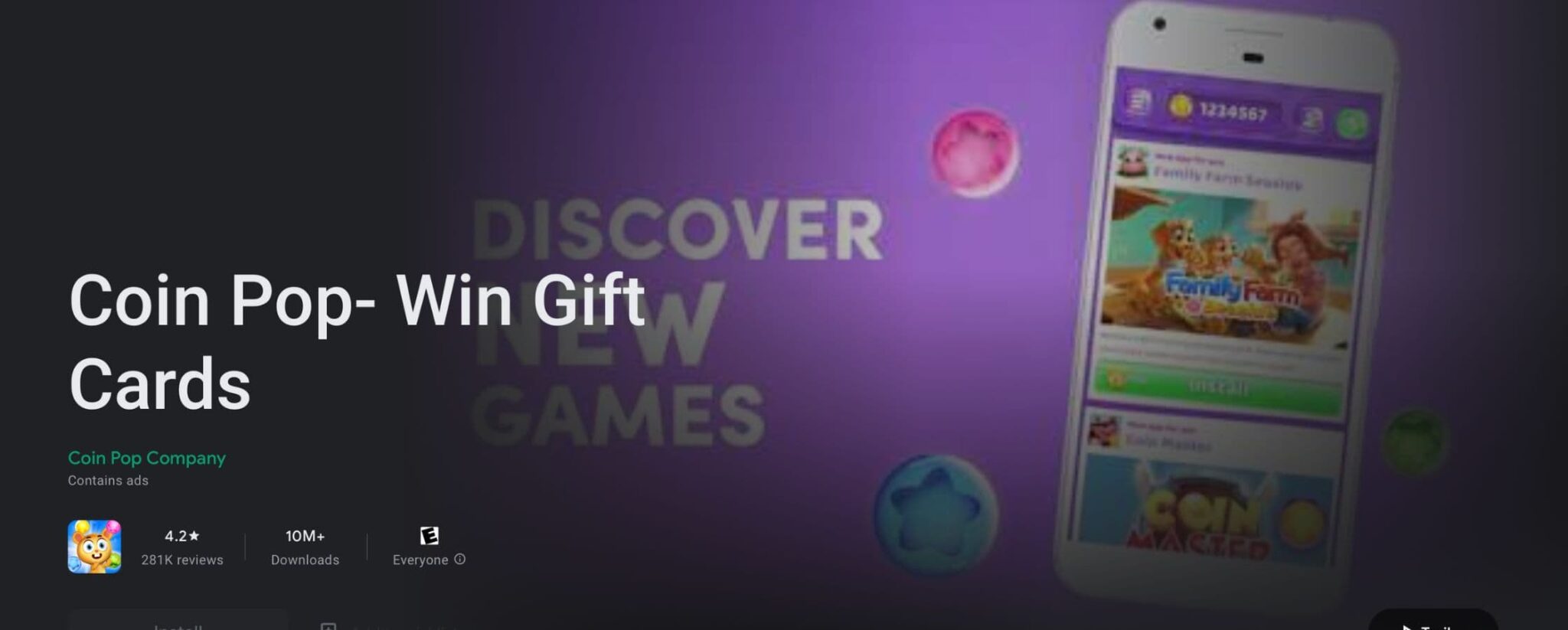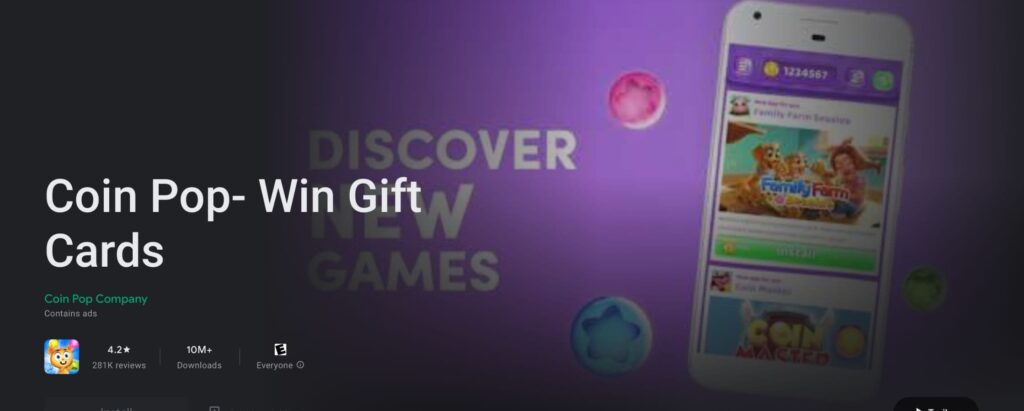 Coin Pop is free to download from the Google Play Store. Not only is the app free, but there are no ads, in-app purchases, or deposits required. You can simply enjoy playing the games you love uninterrupted. Plus, you earn rewards for playing.
Rewards are earned by playing games. The more time you spend playing, the more coins you earn. Games can be chosen from a superb selection of games covering everything from arcade to adventure to strategy.
When you've got enough coins it's time to claim those juicy rewards. Cash can be requested that will be paid straight into your PayPal account.
Prefer a gift card? No problem, Coin Pop offers gift cards for:
Amazon
Google Play Store
PlayStation
Starbucks
Zalando
And lots more!
What are you waiting for, player? Download Coin Pop today and start earning immediately.
9. Dominoes Gold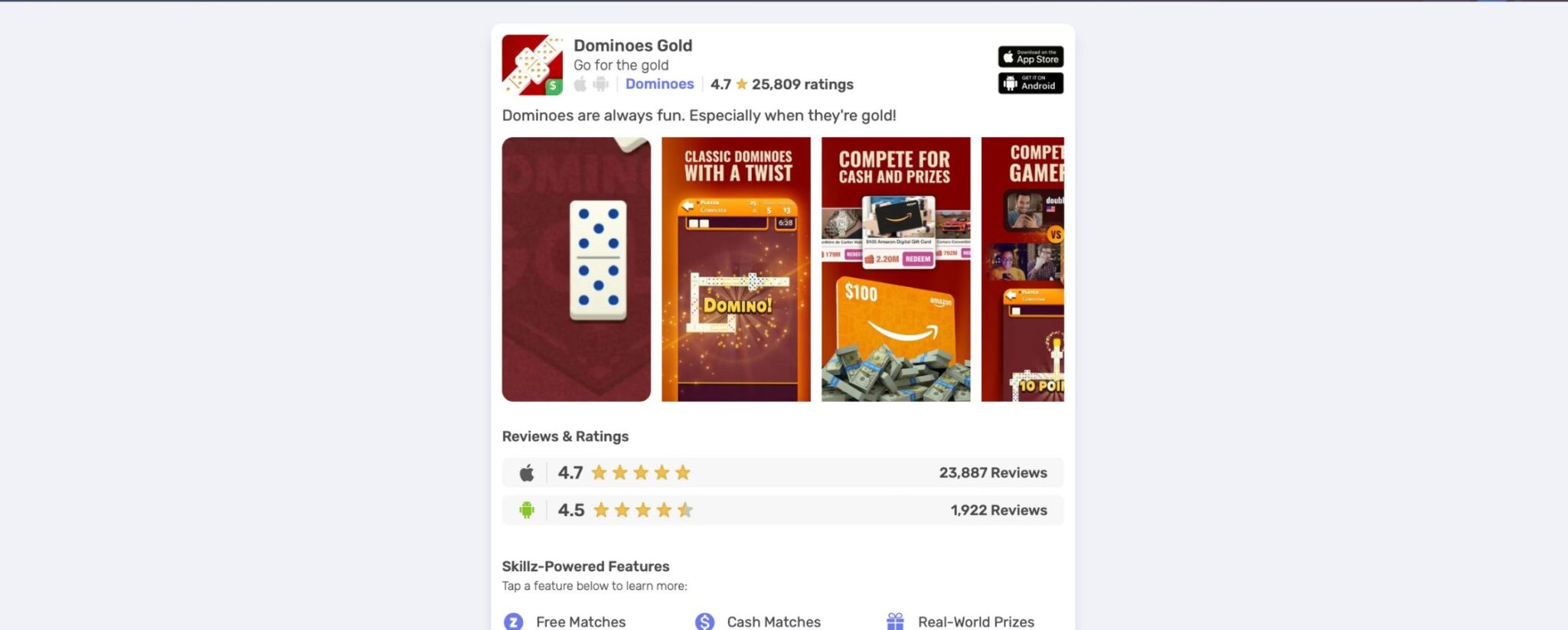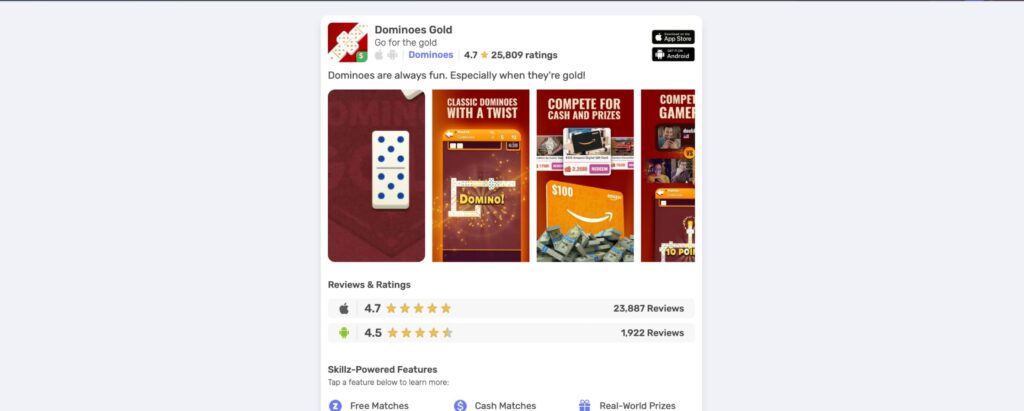 Headquartered in San Francisco is one of mobile gaming's most innovative gaming platforms, Skillz.
Skillz continually showcases compelling mobile games that players keep coming back to. Not only are the games captivating, but players can win mouthwatering rewards.
One of the epic games available on the Skillz roster is Dominoes Gold.
Dominoes Gold can be downloaded for free from the App Store or Play Store.
To win prizes you can play dominoes against the computer, or other players, or enter competitive cash tournaments.
10. GameHag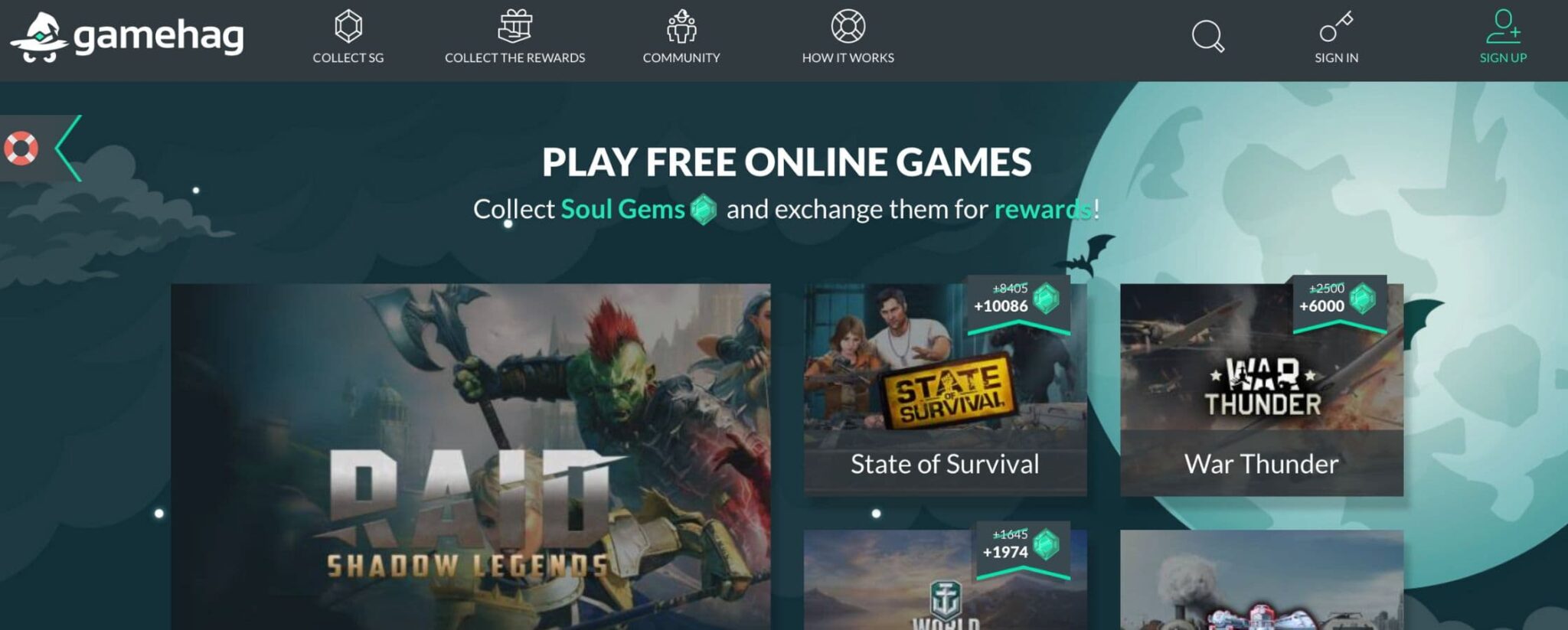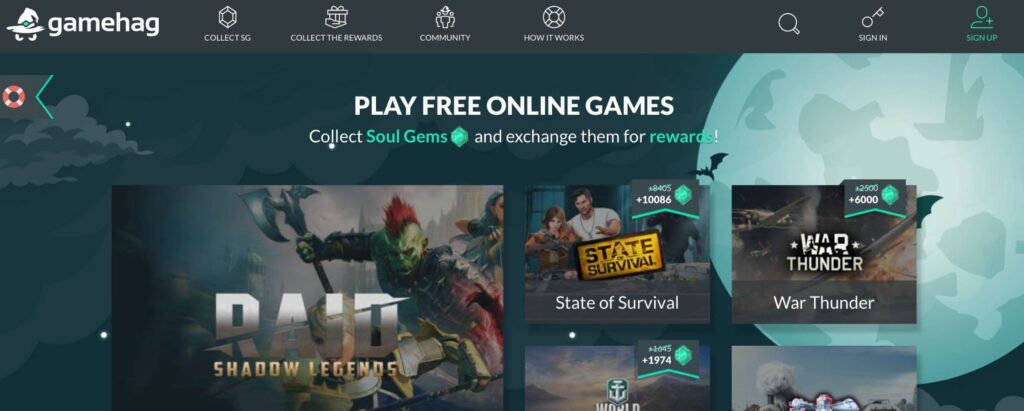 GameHag offers members the chance to earn rewards by playing games either on their mobile device or desktop.
By playing games, completing challenges, and other tasks you earn Soul Gems. These Soul Gems can be exchanged for epic rewards when you've earned enough.
First, let's mention some of the mind-blowing games you can play on GameHag. Fancy a long game? You could play top MMO games such as Star Trek Online, Final Fantasy, or Second Life.
Are Arcade games more your thing? GameHag has got you covered. FIFA, Playerunknown's Battlegrounds, and Disney Heroes: Battle Mode are some of the top arcade titles you can play.
These are just a few suggestions of the hundreds of games that you can play.
GameHag players collect Soul Gems the more they play. Those Soul Gems can be redeemed for top-tier rewards including gift cards, skins, in-game currencies, and much more.
11. Inbox Dollars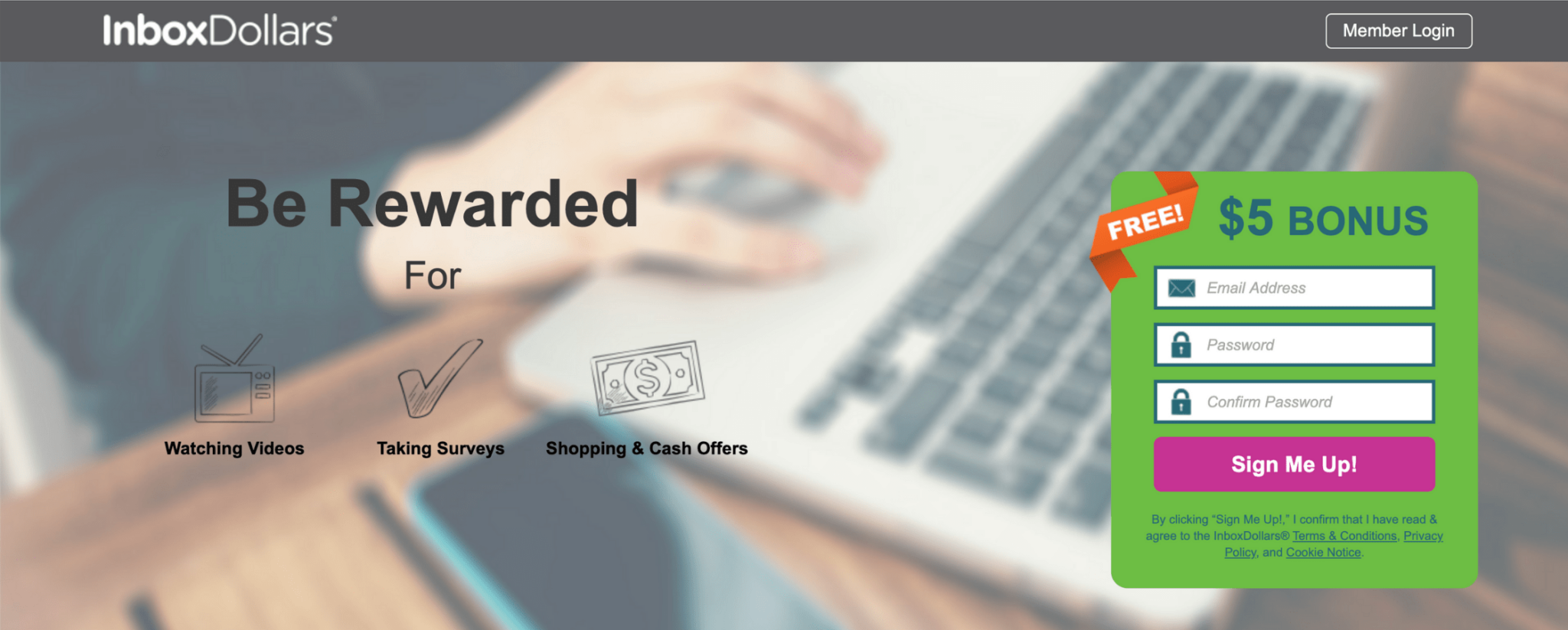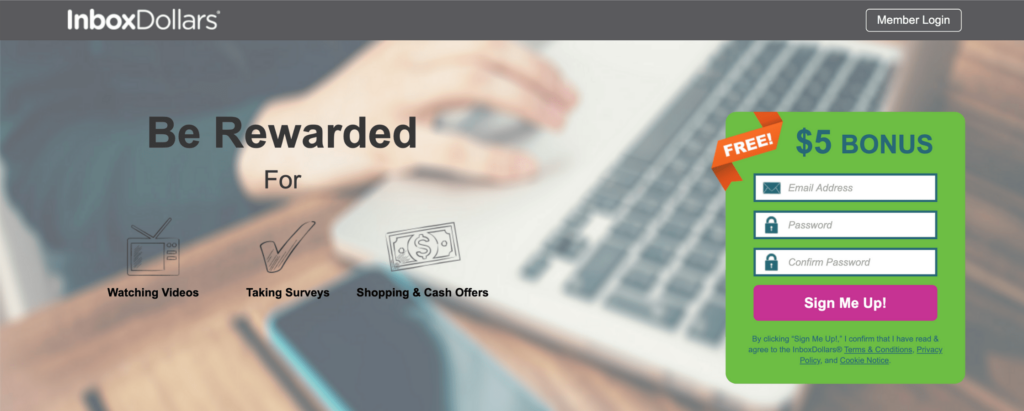 Inbox Dollars is a Get-Paid-To site that offers a variety of ways to earn including playing games. It costs nothing to join Inbox Dollars and right now you can get a free $5 when you sign up.
You can choose from a wide selection of games available in two different games libraries.
First, there is the Arcade Games Online library. This extensive library includes card games, strategy games, word games, and more.
You've also got the WorldWinner Games library. This one includes Poker, Wheel of Fortune, Casino games, and many more top titles. Plus, WorldWinner Games features tournaments with real cash prizes available.
These two game libraries mean you will find plenty of games to play.
You can also earn more rewards on Inbox Dollars by completing the following activities:
Answering surveys
Watching videos
Reading emails
Completing offers
Shopping online
Rewards can be paid as cash straight into your PayPal account. Alternatively, you can claim gift cards for big retailers like Amazon, Starbucks, and Sephora.
Recommended: InboxDollars Review: Ultimate Guide
12. Mistplay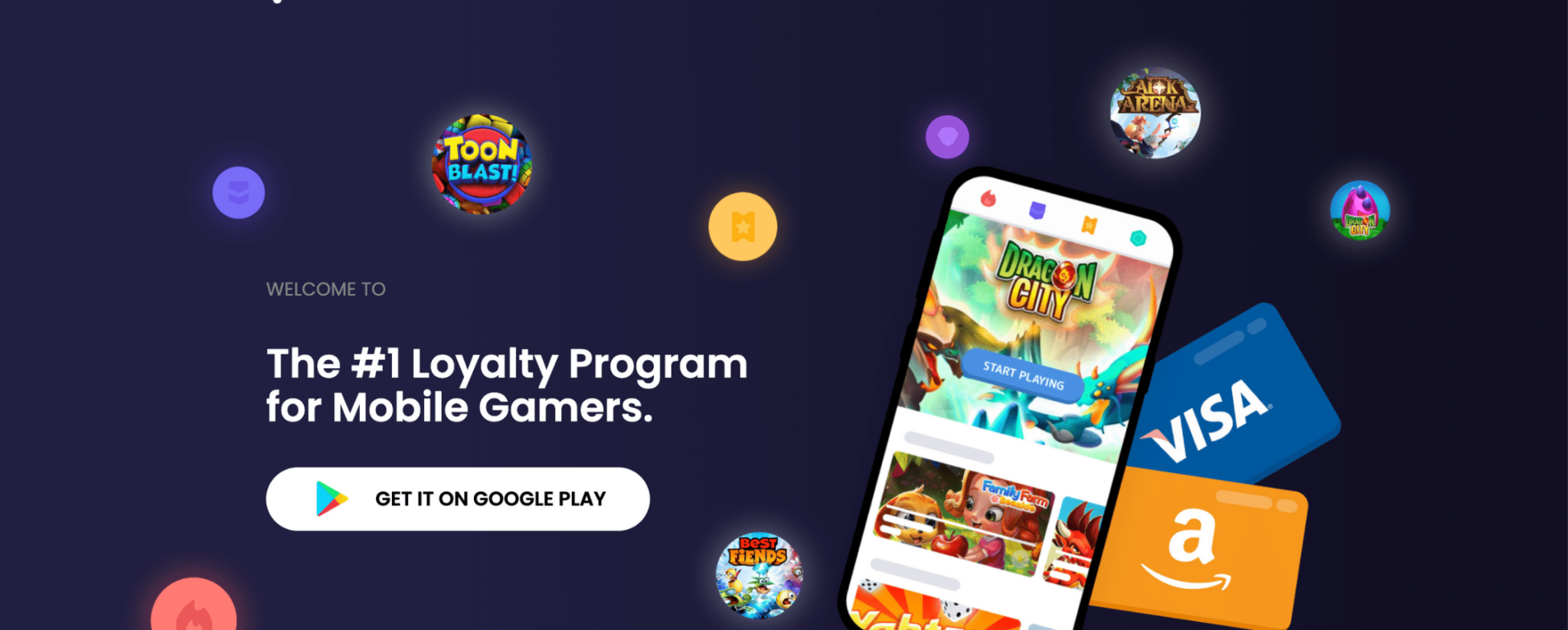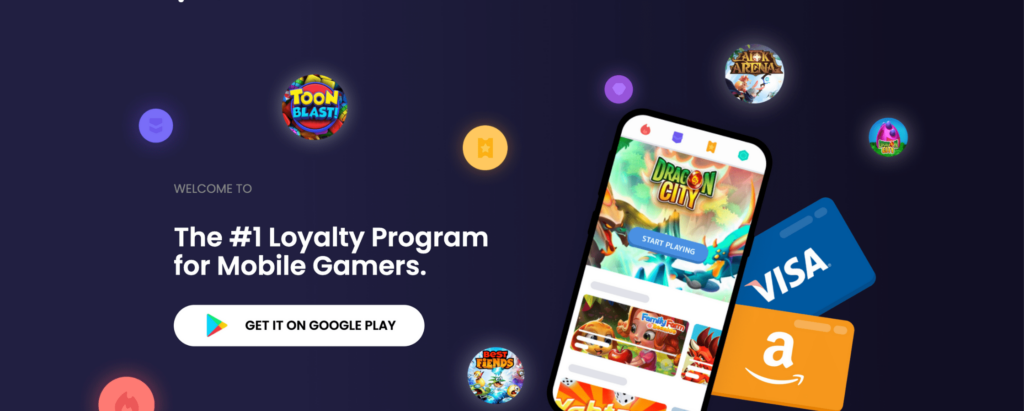 Sorry Apple fans, this one is not for you. Mistplay is available for free on the Google Play Store only. Android users can download the Mistplay app today to start earning cool rewards for playing games.
Once you've downloaded Mistplay you can choose from an extensive game library.
Solitaire Cruise, World Series of Poker, Harry Potter: Hogwarts Mystery, Mahjong, and Township are examples of the fun games you can find on Mistplay.
You could easily lose hours playing these games. The good news is you're earning rewards for playing.
Mistplay works by rewarding players with gems for playing games. Additional gems can be earned by leveling up, completing challenges, and making in-game purchases.
When you've earned enough gems, you can cash them out for some sensational rewards. Gift cards can be taken for lots of big names such as Amazon, Prepaid Mastercard, Google Play, and Starbucks.
Recommended: Mistplay Review: Worth It?
13. Pogo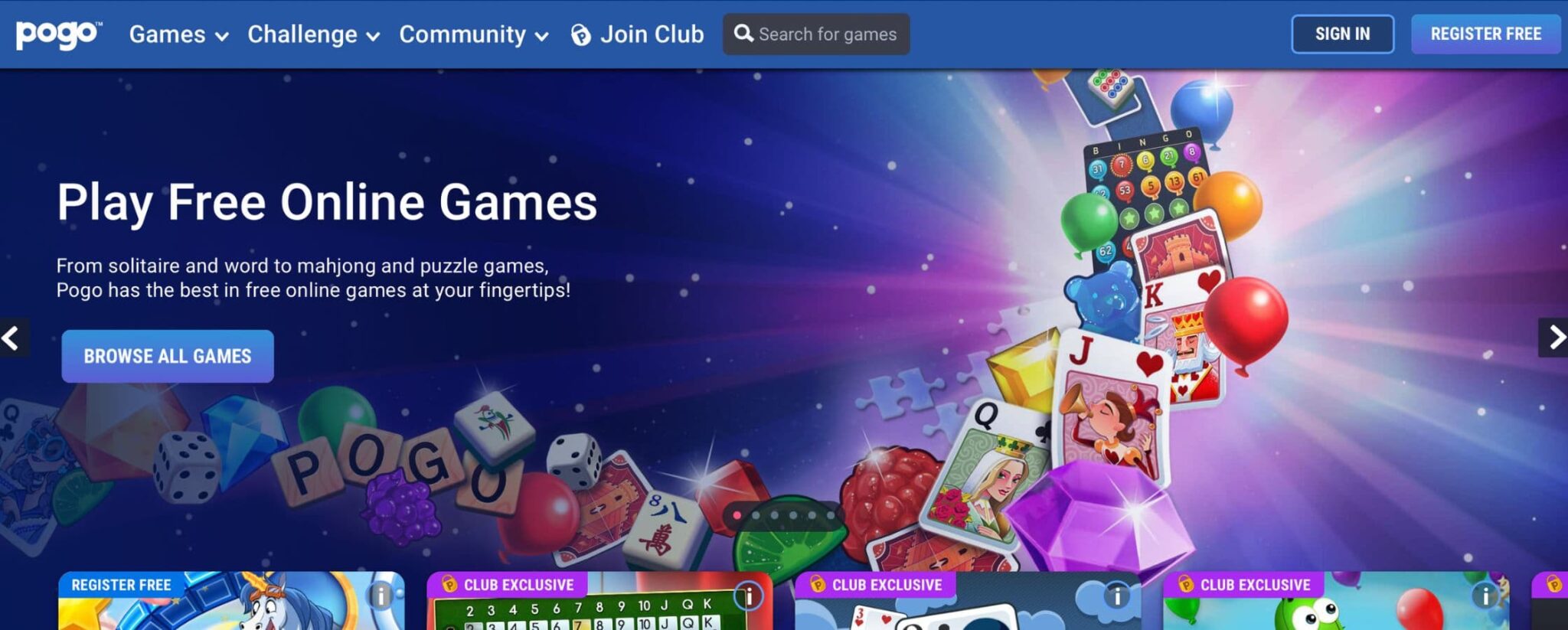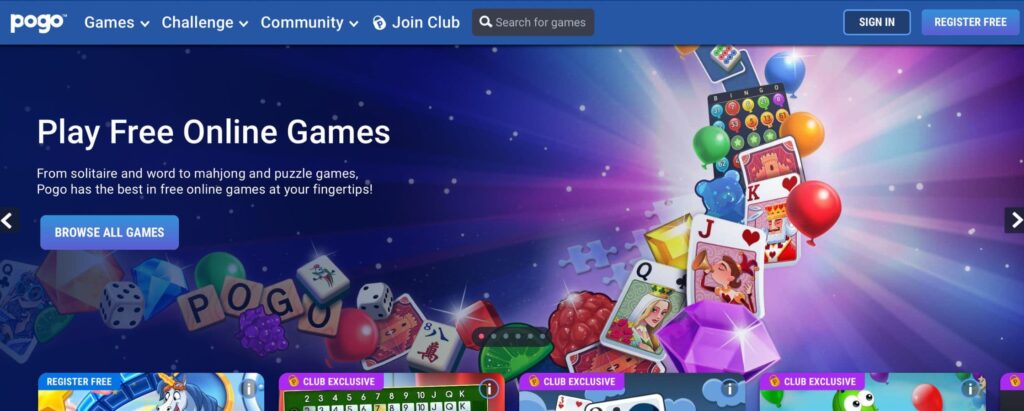 Pogo lets you play a multitude of games online straight from your web browser. There is also a Pogo app available for free in the Play Store.
There are hundreds of games to play. Mahjong Sanctuary, Trivial Pursuit Online, Claire Hart Classic, and Double Deuce Poker are a few of the many addictive games you can enjoy on Pogo.
Pogo has a free version and a paid version. The free version lets you earn points and enter prize draws.
Upgrading to Club Pogo gives you the chance to enter tournaments, earn extra points, and access to additional games. Plus, Club Pogo is ad-free and offers a full-screen mode.
By playing games often, you earn tokens. The more tokens you earn the more entries you get into the various prize draws with top prizes of up to $1000.
14. Pool Payday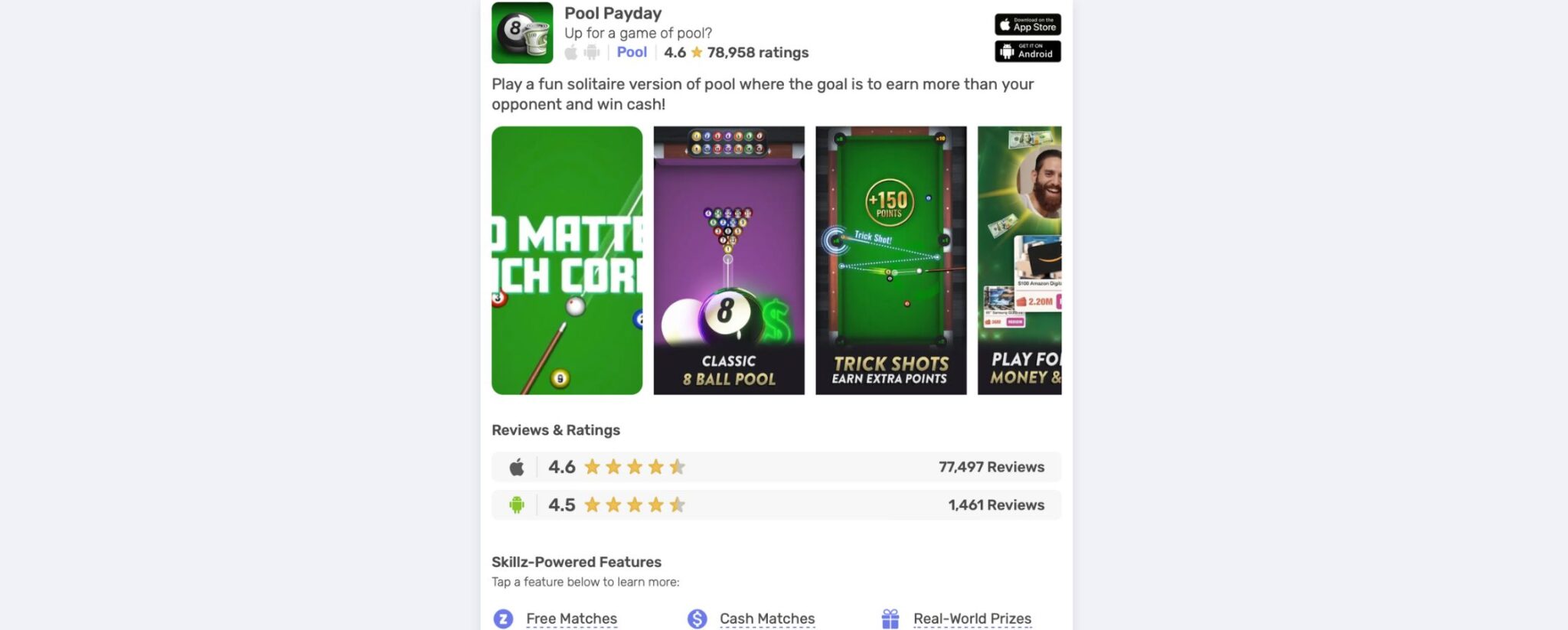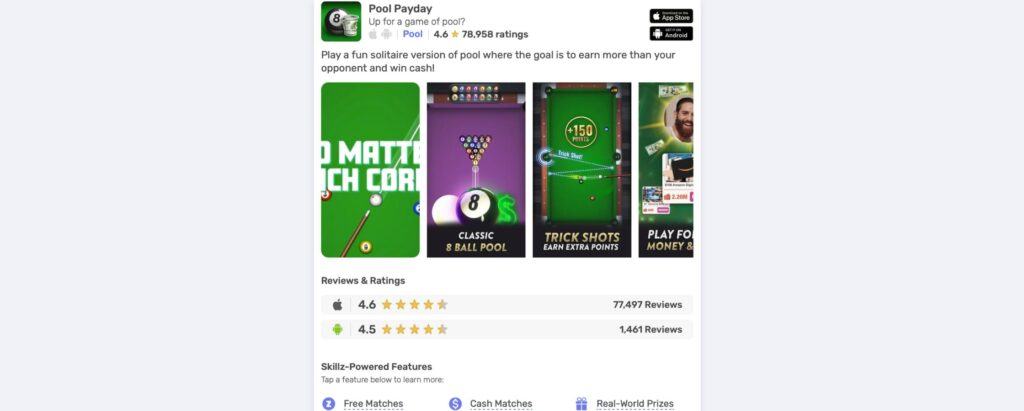 Pool Payday is a must for anyone that likes pool and the chance to win cash prizes.
Developers Hidden Pixels Games have made the online version of pool super easy to play thanks to using an overhead view. Lining up the cue ball is straightforward and makes trick shots easier to pull off.
To download Pool Payday head to the App Store or Play Store. The app is free to play, and you can practice your shots in offline mode.
Once you've sharpened your pool skills it's time to take on real opponents for the chance to win cash.
When playing a real opponent, the winner is the one that scores the most points. Points are earned by taking shots. Bonus points are earned for trick shots, speed, ball positioning, and calling pockets.
Cash prizes can be paid by PayPal or Apple Pay.
15. Swagbucks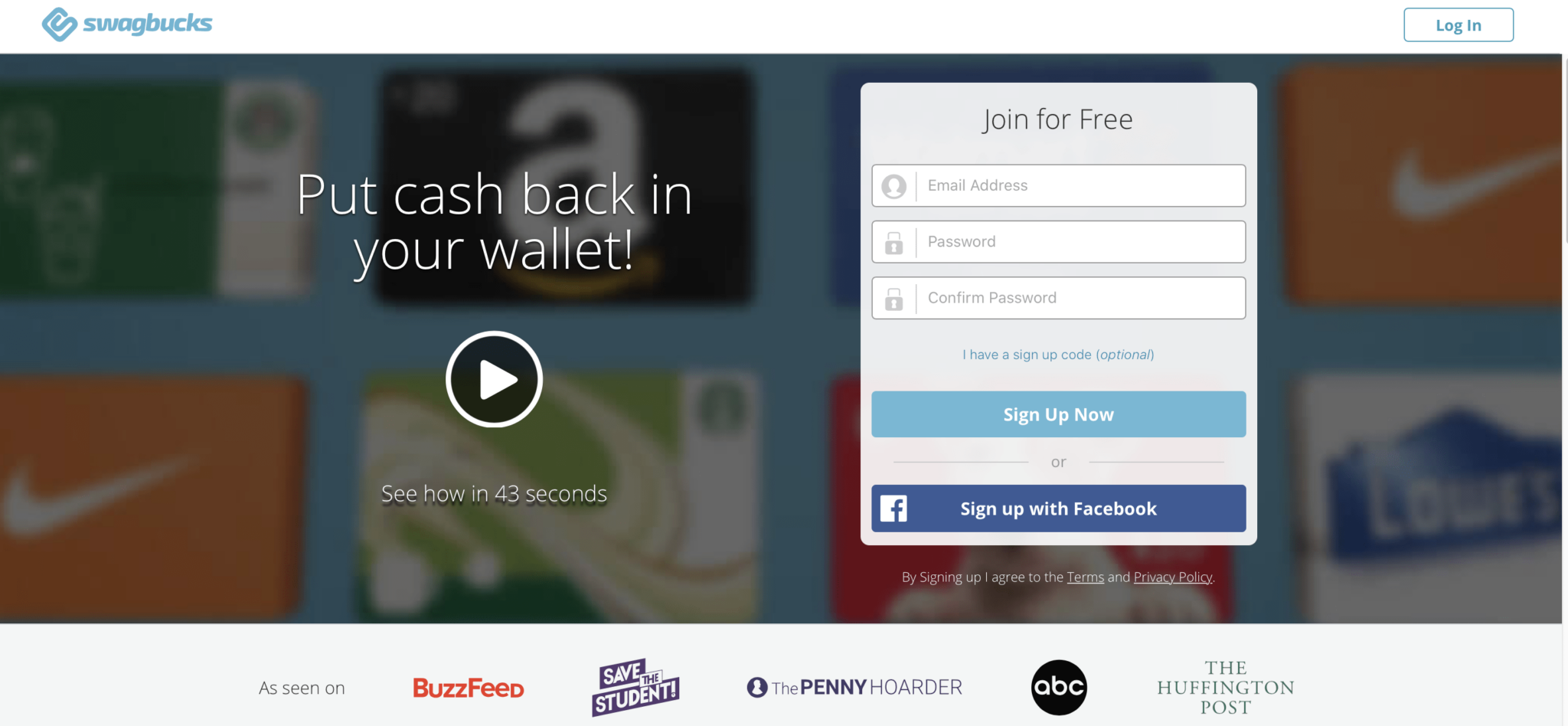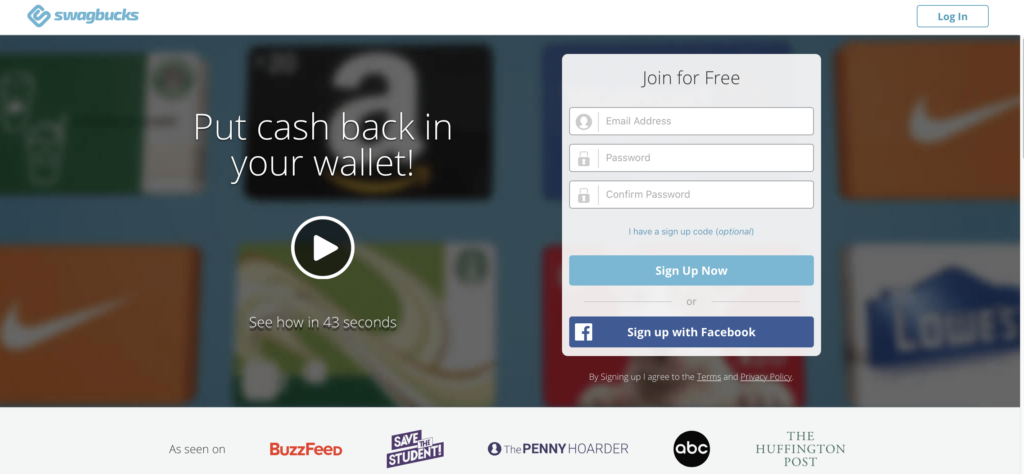 Swagbucks is one of the internet's top Get-Paid-To sites. Membership is free and you can earn a $10 bonus just for joining.
Once you're a member of Swagbucks your goal is to earn as many points as possible by completing tasks.
One of the fun tasks you can do to earn rewards is playing games. Swagbucks has an extensive games library that includes games for mobile or desktop.
Solitaire Rush, Bejeweled Champions, Mafia City, and RAID Shadow Legends are some of the top titles you can play.
Every time you play a game you earn Swagbucks. These Swagbucks can be swapped for big prizes when you're ready to cash out.
Rewards can be taken as PayPal cash or gift cards. If you choose a gift card, then you have a long list of options to pick from. Amazon, Walmart, Crypto, Mastercard, and Google Play are some of the exciting gift card options you can choose from.
Swagbucks gives you lots of extra ways to earn. If you need a break from playing games you can answer surveys, watch videos, and complete special offers. You can also earn cashback by shopping as you normally would and get coupons to save even more money.
16. Wild Casino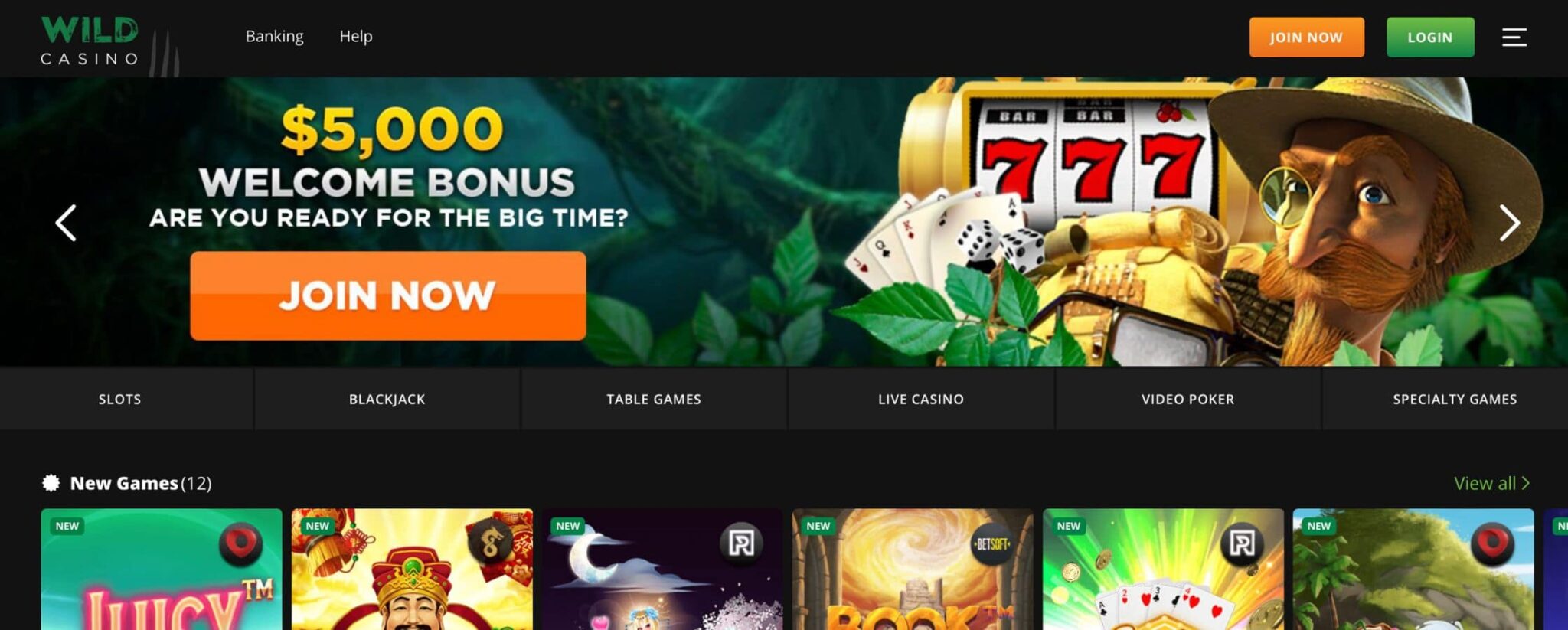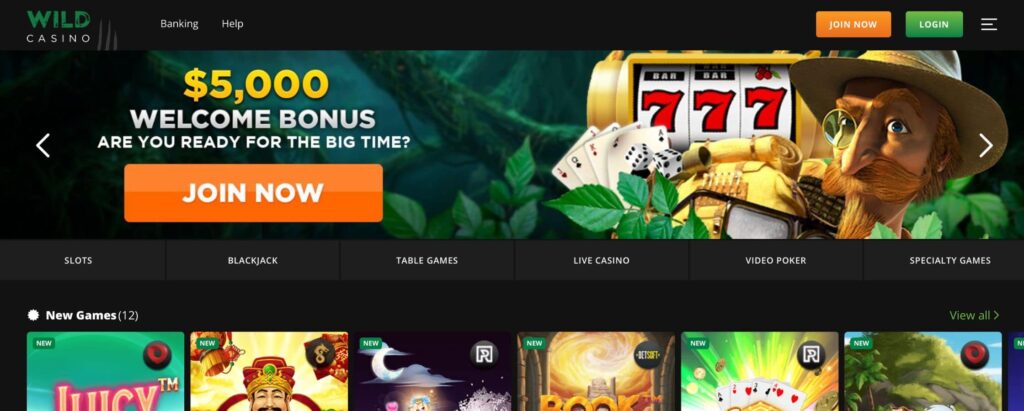 For over 25 years Wild Casino has provided lovers of online casino games the chance to win big cash prizes.
All the great casino games are covered here including Poker, Blackjack, and Slots. Fancy something a little different? Try your hand at other money-playing games like Keno, Space Invasion, or Viking Crown Destiny.
Winnings can be withdrawn using a variety of methods. Check, crypto, and bank wire transfer are all options to receive your money.
Deposits can be made using crypto, a credit card, debit card, bank wire, or money order.
Remember that all forms of gambling can be risky. Never play with more than you can afford to lose. If you find yourself struggling, then check out these gambling resources that are available for anyone struggling with gambling.
17. 21 Blitz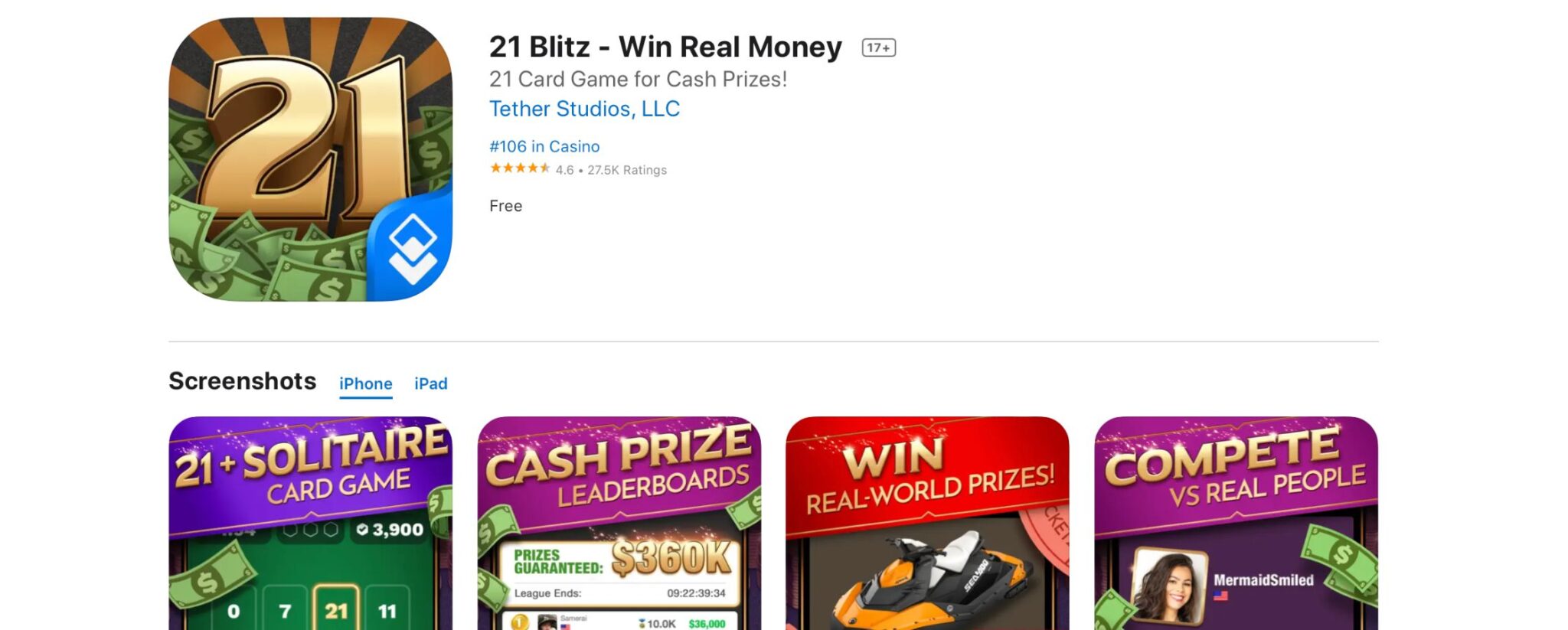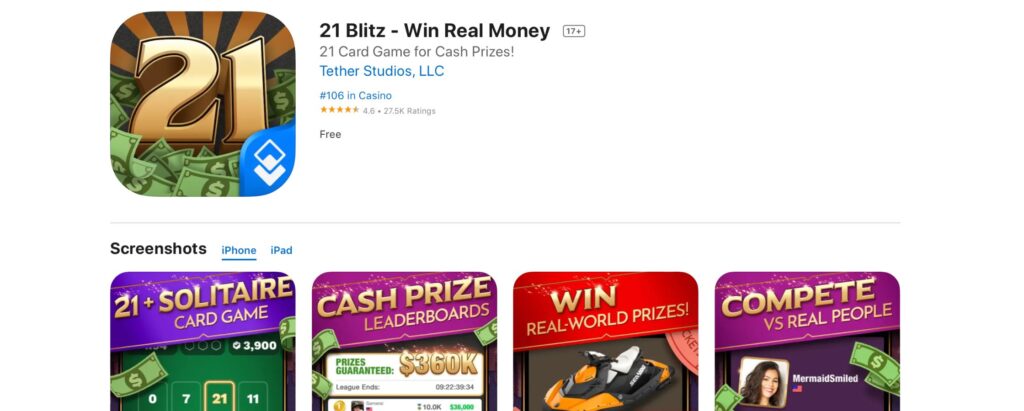 Tether Studios is one of the world's leading developers of mobile games. Browsing the App Store or Play Store will reveal many awesome titles that have been released by Tether.
One of the Tether games available in both mobile stores is 21 Blitz.
21 Blitz is described as blackjack meets solitaire. Players can enjoy fast and furious action against the clock.
Players can enjoy game time alone, but to win cash prizes you must enter tournaments against other players. You can play head-to-head matches or multiplayer. The cash game is designed to match players of similar skill levels. That means you always have a fair chance of winning.
Winnings can be withdrawn at any time. Plus, if you get your friends to play you can earn a sweet referral bonus.
Do Games Pay Real Money To Cash App?
To put it simply, no. There are no games that currently offer Cash App as a direct payment method.
You may be thinking, then why are you talking about Cash App games that pay real money? That's a fair question. If you're looking for a Cash App game, then you won't find any. However, you can play lots of video games that reward you with cash.
First, there are lots of fun cash games to play online that offer epic rewards including real cash, gift cards, and other special offers. By playing those games you can boost your income and have fun too.
If you take a cash reward, this is usually offered as PayPal money, direct deposit, or other online payment platforms like Venmo. Cash App isn't available, but once you've got your cash by your preferred means, then you can simply add it to your Cash App balance.
Is Cash App Secure?
Cash App is extremely secure, but scammers are constantly trying to steal users' money and data using increasingly innovative methods. So, how safe is Cash App really?
You can have confidence your money and data are safe. That's because Cash App uses the latest encryption and fraud detection technology. Every piece of information is encrypted and sent to Cash App servers securely. That's regardless of whether you are using private or public Wi-Fi or data service including 3G and 4G.
Two-factor authentication makes it harder for scammers to steal your log-in details. Just make sure you log out whenever you use Cash App on a device that's not yours.
You can enable the security lock feature that secures every payment made using Cash App. Each time a payment is attempted you must enter your Cash App passcode for verification.
Scams and phishing attempts are common online. Make sure to only reply to messages from addresses you trust. Cash App will never ask for details like your Social Security Number, passcode, or to make a payment. If in doubt, always contact Cash App support first for advice. You can also block and report users you suspect of being scammers.
FAQs
How can I get cash fast?
Look for apps that pay bonuses and have low payout thresholds. Swagbucks gives you $10 when you sign up. Once your points are ready to redeem you can get PayPal cash or gift cards.
Are these games legit?
Yes! All the games listed are legit and reward you with real cash or gift cards.
What games pay real money to your Cash App?
There are no games paying real money to Cash App. Instead, you can play any of the games listed above and earn cash or prizes. Any cash paid to your PayPal or bank account could then be transferred to your Cash App.
What app gives you free money?
Lots of apps give you a free sign-up bonus. Check out InboxDollars and Swagbucks for those now. 
Many other apps pay cash for referring friends. For example, 21 Blitz will pay you a reward for any friends that sign-up using your link. Always check when joining any site to see if there are rewards for friend referrals.
How else can I get extra money online?
One of the easiest ways to get extra money online or free gift cards are from cashback sites. Extensions like Capital One Shopping can be added to your browser. That way when shopping online you earn rewards automatically.
Do PayPal games pay real money?
Most games that pay cash for rewarded play offer PayPal as an option. Don't forget you can send money directly from your PayPal account to your Cash App if you want to.
Recommended: The Best Finance Apps to Save, Invest, and Track Your Money
Cash App Games That Pay Real Money