Disclosure: This post may contain affiliate links. If you click on a link I may make a small commission at no extra cost to you. You can read the full disclosure here.
Last Updated on October 23, 2022 by Chris Panteli
Passive Income Ideas
Passive income is the dream of many but seemingly always out of reach. Well, earning a true passive income may be the reality of a few lucky individuals. The millionaires who live off interest payments from their already established fortunes. This is passive income in it's truest form.
To quote bankrate.com a passive income is a source of revenue that continues even after the work is complete. What a dream hey? Unfortunately, the internet is crawling with empty promises of passive income. At least in the sense many of the suggestions require substantial work before the fruits of the labour can be enjoyed.
This isn't to say it can't be done – far from in fact. I myself enjoy real passive income (albeit small amounts) from investments, apps and market trading. There is a long way to go before I can really start enjoying the 'income' part of a passive income. Unless you have substantial wealth or the ability to devote substantial time to these endeavours – the passive income will be small – at least initially.
The aim of the game is to explore a number of different approaches and see what works for you and what doesn't. Over time you can exploit the strategies that are performing best and hopefully reap in the rewards of your efforts. Eventually, you will be in a position where several income streams are paying you for little or no effort. You can begin your passive income Upswing now with these 7 ideas to get you started.
Get $5 For FREE Right Now
Signup to the greatest rewards platform on the internet and earn a $5 welcome bonus…
Earn more with cashback on all your purchases, watching videos, playing games, and taking surveys. Some users can make an extra $200+ per month!!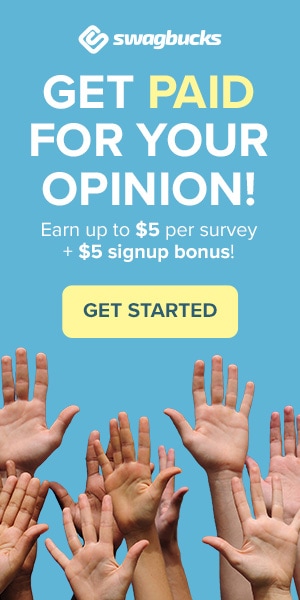 Looking to make an extra $100 each month? You could put it towards your emergency fund, or just add it to your money-making arsenal!… So what are you waiting for? Give these a try:
Survey Junkie – All about surveys – pure and simple. It is one of the most established and trusted survey sites and has a number of different payout options available.
Swagbucks – Earn free gift cards and cash in exchange for the points you earn. You can also get rewards for searching the web or watching videos. They also have fabulous cashback offers!
InboxDollars – Earn cash for your everyday online activities, including watching TV, taking surveys and shopping. Sign Up for free and get a $5 welcome bonus.
Not so Passive
The first four ideas are more income-generating – at least initially. They do require some work but can be easily implemented. These ideas will grow your funds and can then be funnelled into the much more passive options. Over time you can focus your efforts on what works best.
User Testing
This is one of the most exciting opportunities currently available to make money online. The premise is simple – you test websites and apps and provide feedback on your experience. Companies are constantly striving to improve their services and will pay research companies to deliver quality user feedback.
Almost all testing sites will require a few things before you can start:
Good internet connection with access to either the Safari, Chrome or Firefox web browser
Smartphone with either iOs or Android
Webcam and microphone
The ability and confidence to provide self-commentary whilst performing tasks online
I have been using two main sites and can personally vouch for both – UserTesting and Userlytics. Both have regular test opportunities and quick payouts. You can expect on average to earn $10 per test which will take approximately 15-20 minutes. However, there are some longer tests you can apply for that pay $60 or even $90. This is one of the least passive income options, but also one of the highest paying. Also, it becomes quite easy and a lot of fun once you get the hang of it.


Sell Photos
Firstly, the need for stock photos from websites and designers is high and varied. You can take photos of almost anything (which most of us do all the time anyway) and sell them to stock photo sites.
Shutterstock pays 25 cents per download, with a tiered set of raises to 33 cents, 36 cents and 38 cents per download as you reach the $500, $3,000 and $ 10,000-lifetime earnings milestones.
Read the 14 Best Apps To Sell Photos And Make Money
eBook
Are you a frustrated fiction writer? Or perhaps an expert in your field? Well sharing your passion or knowledge with the world could provide you with an incredibly lucrative passive income stream.
Admittedly, this one will take some considerable time, effort and no doubt skill to pull off. The days of needing hard to come by publishing deals are over. Although the market for sell published work has become overcrowded in recent years (1.68 million in 2018) the earning potential is still huge. According to The Guardian the average self-published author makes around $1,000 per year.
The beauty of the self-published eBook is, however, the purity of the passive income it generates. Once all the hard work and effort has gone into its creation nothing else is then required. Just sit back and wait for sales. Kindle Direct Publishing is a great place to start.
Cashback
This one is passive in the sense that you don't need to do anything you aren't already doing. However, that thing is spending money. Perhaps counterintuitively this passive income stream does require an outgoing before you see the benefits.
Cashback is a simple concept – you spend your hard-earned cash on the things you would normally spend on – but via the cashback service you are using. The cashback site gets a commission from the company you have purchased from – and they pass a small part of this commission back to you. It's a win-win really and over time can seriously add up. You can put this extra cash you otherwise would have spent back into your arsenal of passive income streams.
The average amount of cashback depends on the retailer or service you are using – but you can expect anything from 1-10% – sometimes higher. If you are in the UK then I personally recommend Quidco and for US residents, you can't go wrong with Ibotta.
Read 11 Best Cashback Apps To Save Money
Very Passive
The following three passive income ideas are really where the magic happens. This is when you can begin to enjoy the fruits of your labor – and watch as the money start's to roll in.
I would recommend putting some seed cash into these income streams to get the ball rolling – and then over time top-up with earnings from the previously suggested sources. That way you give yourself a head-start and will be able to grow your passive income more quickly and reach financial freedom.
The passive income dream is very possible but it can only be realized if you act – and there's no better time than now.
Auto Investing
It may seem like the worst possible time to invest with regards to the current state of the financial markets. The coronavirus has decimated the FTSE100, S&P500 and other indexes and portfolios throughout the world.
To others though, the opportunity to make substantial gains is now. Buying the dips and riding the markets back up may well be a strategic play to applaud. However, without experience and an appetite for risk – investing on your own is probably not an option for most.
This is where Auto Investing or Robo Advisors play their part. The Auto Investment platform will allocate funds on your behalf and can be based on predetermined risk profiles. This way you don't have to worry about too much account monitoring and yet still achieve above-market returns in the long term.
Remember the key to success is allowing the markets to do their thing, and that means time. The markets will also move cyclically and you must ride the highs and the lows. Overtime (at least 5 years) however, you should see decent returns. The S&P500 has returned on average 10-11% annually between 1926 – 2018. Moneyfarm is a great UK option and Betterment for US residents.
As a further recommendation – UK residents may wish to consider low-cost tracker funds with Moneybox – whilst taking advantage of tax savings using your ISA allowance. I've written more about that here.
eToro
In a recent post, I discussed the world of online trading and the emergence of social trading platforms. This is a gateway to the complex and often complicated forex and CFD trading industry. It allows inexperienced individuals to gain market exposure whilst embarking upon their educational journey.
eToro is the market leader for such platforms – and provides a feature called CopyTrader – whereby users can follow successful traders and piggyback on their success.
Many traders have outperformed the S&P500 consistently over a number of years. There are a number of strategies you will need to utilise in order to make well-informed trader selections. If you are diligent in your choices and monitor your portfolio, then there's no reason why you can't enjoy some lovely, bank-beating returns.
You can read my eToro Ultimate Beginners Guide here.
eToro USA LLC; Virtual currencies are highly volatile. Your capital is at risk.
Peer to Peer Lending
This passive income stream has exploded onto the financial landscape and offers some really nice returns. It does require tying your money up for the duration of the loan term – but is a nice way to diversify your earnings.
P2P is simply the process of individuals lending their money to other individuals and businesses, via the lending platform, in exchange for an interest payment.
The rates of returns that can be achieved vary from platform to platform. Also, the risk factors associated vary from loan to loan within these platforms. Therefore, you should always do your research on each individual loan and the loan provider before investing.
The best know P2P service is probably LendingClub. They have a $25 minimum investment and historical average returns of 4-7%.
I personally recommend PeerBerry and have used them myself for a couple of years now. They offer a buyback guarantee meaning the loan originator will buy back loans in full with accrued interest if a borrower is over 60 days late. This is a fantastic feature for peace of mind with this type of passive income investment.
PeerBerry currently has an average annual investment return of 13% – which again is fantastic and could prove extremely lucrative in the long run.
As you can see from the image below I have fallen slightly short of this average, but not by much. These are great results – imagine being able to achieve nearly 10% on $120,000. That's an incredible $1000/month worth of passive income.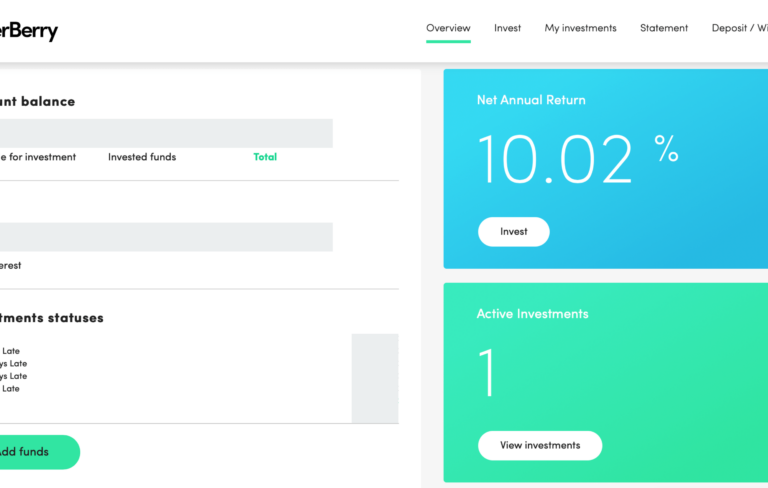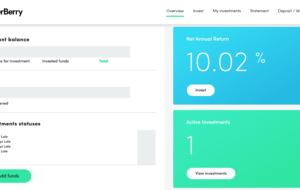 Do your own research before choosing a platform and look for a buyback guarantee and decent average annualised returns. p2plendingsites is a great review site and is a good place to start.
Conclusion
Well there you have it, 7 mostly passive income ideas for 2020 and beyond. The key takeaway is that you will want to build your funds using the less passive ideas first. Then gradually move these funds into the more passive income streams.
If you can, add existing funds to speed up the process and always monitor closely the performance of individual investments. Over time you will be able to achieve financial freedom with an entirely passive source of income. How much time all depends on how much cash you start out with and how much effort you put into the less passive ideas.
The road to passive income is a journey and there will be hurdles to overcome. Obviously, annualized this list is by no means exhaustive and there will be new and exciting opportunities to discover and explore in the future.
Leave a comment if you found this article helpful and begin your financial Upswing with passive income today.
Passive Income Ideas