Disclosure: This post may contain affiliate links. If you click on a link I may make a small commission at no extra cost to you. You can read the full disclosure here.
Last Updated on March 29, 2023 by Chris Panteli
Gamehag Review
Playing games for real money is the dream of gamers everywhere. Now there are no excuses not to be earning while playing thanks to innovative sites like Gamehag.
Gamehag is a platform built for every gamer everywhere. You can play a new game every day and earn incredible rewards at the same time.
In this Gamehag Review, you'll learn all about Gamehag, the different real money games you can play, and the amazing rewards you can claim.
What Is Gamehag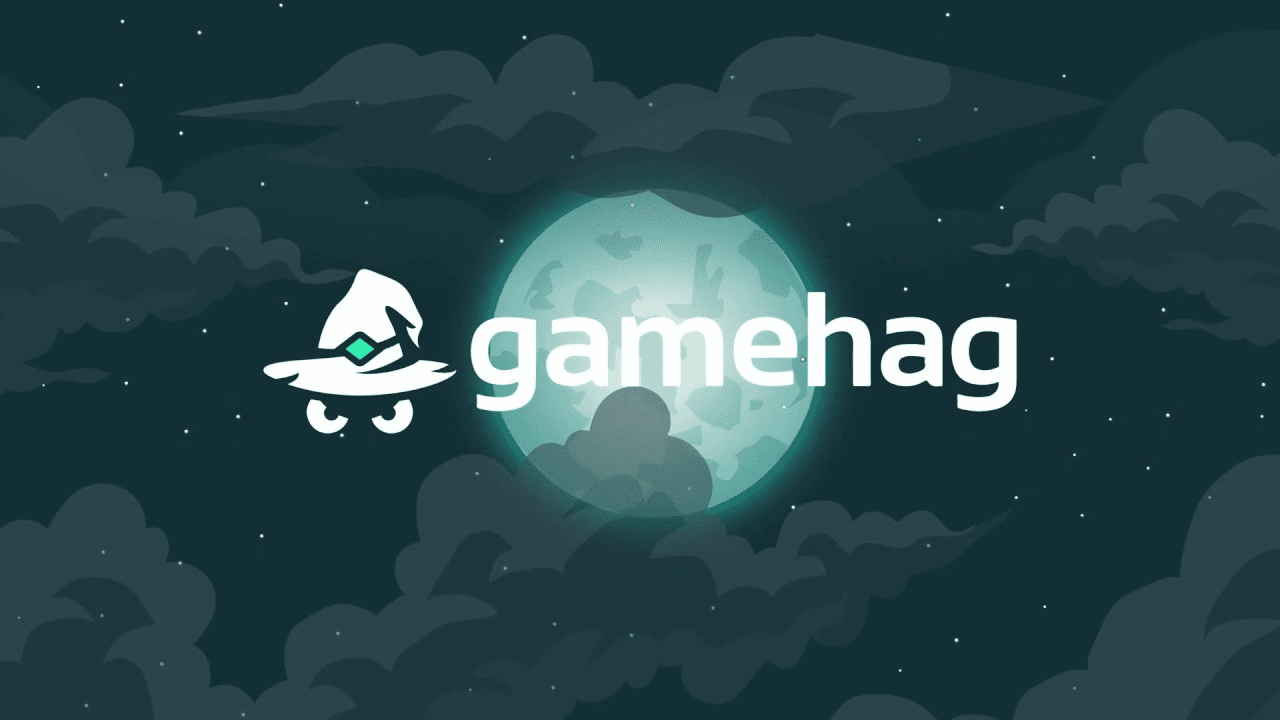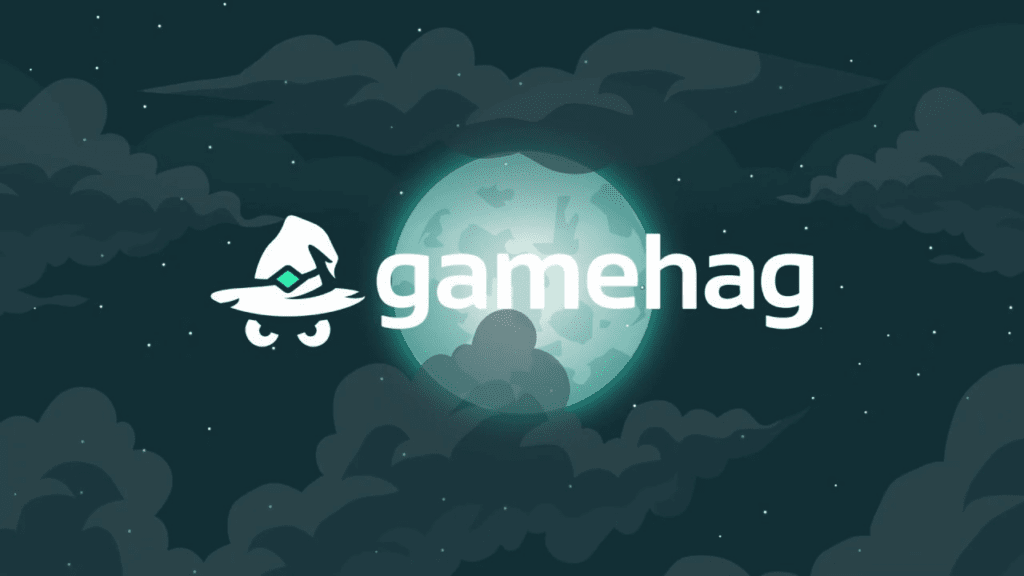 Gamehag is a rewards platform built for gamers. You can play a massive selection of games on either the Gamehag mobile app or on your desktop PC. While playing these exciting games you earn soul gems that can be used to redeem rewards including gift cards, skins, and free Steam games.
How Does Gamehag Work
To get started on Gamehag you must create your new account first. You can sign-up with your email address, Facebook or Google ID, or Steam account. Don't worry, Gamehag is completely free to use.
When joining a game world, you must always log in using your Gamehag account. This is important as Gamehag need to track your progress to make sure you get your rewards.
Rewards are paid in the form of Soul Gems. Soul Gems are Gamehags unique virtual currency that you can exchange for epic rewards when you're ready to cash out.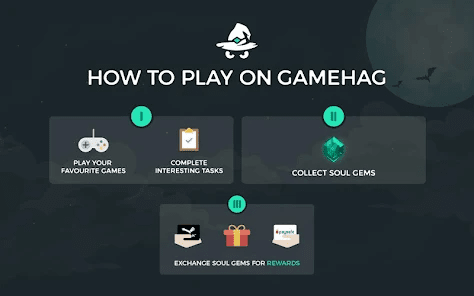 Playing different games, completing a quest, referring friends, and reviewing specific games are a few of the fun ways you can earn Soul Gems on Gamehag.
How To Earn Soul Gems On Gamehag
To get those sweet rewards you must collect Soul Gems. The main way to get Soul Gems on Gamehag is by playing games, completing an in-game purchase, and earning experience points.
The good news is that there are plenty of other ways to boost your Soul Gem balance. Here's a rundown of all the ways you can earn Gamehag Soul Gems.
Playing Games
Playing games is not only the most fun way to earn Soul Gems, but it's also the best. That's because Soul Gem rewards are usually highest for playing online games.
To earn Soul Gems for playing games all you need to download and play online games. Soul Gem rewards can be as high as a few thousand.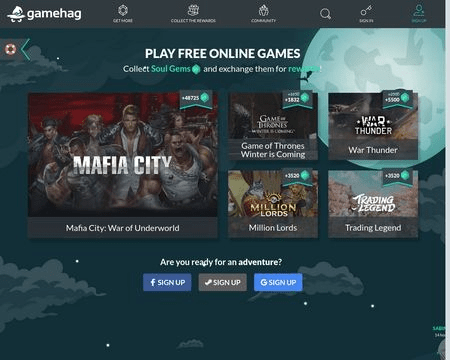 Each game will have instructions you must follow exactly to get your reward. Some may need you to just download and play the game. Others may reward higher amounts of Soul Gems if you play for longer, reach a certain level, or complete certain challenges.
Make sure to complete all the requirements so you don't miss out on any Soul Gems.
What Games Can You Play On Gamehag
Gamehag has a huge library of video games you can pick from. Nearly every gaming category is covered including arcade, puzzle, strategy, and RPG.
Top games you can play on Gamehag include:
Mafia City
Star Trek Online
Raid: Shadow Legends
Final Fantasy XIV
World of Tanks
Completing Tasks
A quick way to earn a few extra Soul Gems is by completing tasks. Most Gamehag tasks take just a few minutes to complete.
Simple tasks you may be offered to complete include:
Signing up to a website
Watching videos
Following Gamehag social media channels
Answering a survey
Every task you complete adds to your Soul Gem balance. Not every task pays the same so check specific tasks to see what rewards are available.
Log In Daily
One of the easiest ways to boost your Soul Gem is by logging in every day. Gamehag gives rewards to gamers that log in on consecutive days. This is an easy one if you love playing games daily.
Write For Gamehag
If you can write to a decent standard, then more bonus gems can be earned by writing articles for Gamehag.
You can write reviews about games on Gamehag or other gaming related topics.
To get your article approved and earn those bonus Soul Gems you'll need to meet Gamehags requirements. This will include things like writing a unique article, correct spelling, and using the right formatting.
Be An Active Forum Member
Gamehag has a busy forum that Gamehag members are encouraged to be active in. To encourage you to get involved in the forum Gamehag rewards members with a small amount of Soul Gems.
Gamehag Promo Codes
Gamehag promo codes are a great way to get free Soul Gems. You can often find promo codes on social media or the Gamehag forums.
Follow Gamehags social media channels for a chance to find these promo codes.
Friend Referrals
Friend referrals can be an easy way to earn some extra Soul Gems. To get started you'll need to share your unique Gamehag referral code with friends.
Once your referral has earned 1,000 Soul Gems, then you'll get some of your bonus Soul Gems.
Gamehag Giveaways
Every week Gamehag runs giveaways offering you the chance to win some amazing prizes. Games, a Steam game key, and Soul Gems are some of the possible prizes you could win.
To be in with a chance of winning, check the giveaway requirements. Sometimes you may need to complete tasks or be a certain level to gain entry to the giveaway.
Once you've entered the giveaway simply sit back and wait to see if you're a winner.
VIP Membership
Another way to earn a final reward is through VIP membership. A VIP membership costs $4 per month, but does give you some fantastic extras. You can enjoy earning extra Soul Gems, monthly free chests, and cheaper rewards.
VIP membership may not be worth it for everyone. If you play lots of games and know you will log in to Gamehag daily, then a VIP membership may be worth it for you.
Gamehag Cashout Options
Gamehag is perfect for gamers as you can play lots of games, earn different rewards, and many of the rewards are gaming related.
Some of the incredible rewards you can choose from include:
Amazon gift cards
Prepaid Mastercard
Free video games
Free skins for video games such as Fortnite
Bitcoin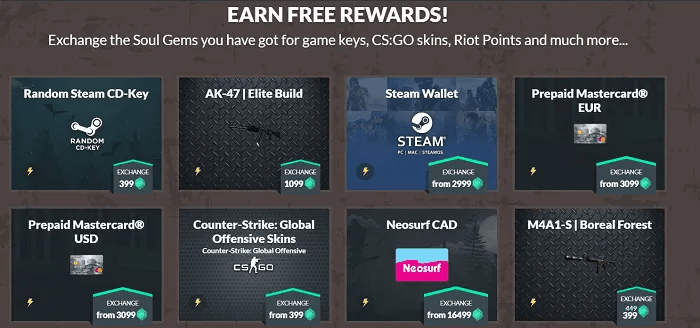 One reward that's not an option on Gamehag is PayPal cash. Although getting real cash would be great, all the other rewards are amazing and save you spending real cash. In a way, you're still getting a cash boost.
How Much Can You Make On Gamehag
You can't earn cash on Gamehag. That makes it a little harder to figure out how much you can earn. All rewards are paid in the form of gift cards, free games, or Steam keys.
The best way to approach Gamehag is as a fun way to play games you love and earn rewards along the way.
Keep in mind you won't get rich and some of the Soul Gem rewards can take alot of time to earn. Don't let Gamehag take time away from your day job or other side hustles. Instead, play when you have free time, earn all the bonuses you can, and cash out those sweet rewards when you've earned enough.
Winning free games, gift cards, and Steam keys does save you from spending your own hard-earned cash. That frees up your money to use for other things.
Is Gamehag Legit
Gamehag is a legit site with a proven history of paying out rewards to members. For example, on the App Store users have rated Gamehag 4.4 out of 5 stars. That means most players are happy with Gamehag and is a great indicator that the site is legit.
According to data provided by Gamehag over 10 million users are visiting the site every month.
Not only are millions of players using Gamehag monthly, but many top gaming titles are available on the platform. Most gaming companies only allow their titles to be linked to legit websites like Gamehag.
Thanks to all this information you can be confident your personal information is safe on Gamehag and that Gamehag is not a scam site. More importantly, you know you'll receive your rewards.
Gamehag Review – Is Gamehag Worth It
Gamehag offers a massive library of awesome games that you can play. All for free! Not only is Gamehag packed with awesome games to play, but you'll earn rewards at the same time. Simply by playing your favorite games.
You can play on PC or mobile. That means you can keep earning rewards wherever you are provided you have an internet connection.
One downside of Gamehag is that you can't claim cash rewards. All rewards are paid in the form of gift cards, Steam keys, and gaming related prizes like skins or games.
Overall, Gamehag is worth it for anyone wanting to play games and earn some cool rewards.
FAQs
Is Gamehag compatible with all devices?
Gamehag is available for all devices. PC users can log in to the desktop version and when you're using your mobile device, Gamehag can be found on both Android and iOS devices.
Head to the Google Play Store or App Store to browse apps and download the Gamehag app.
When will I get my rewards?
Rewards are usually paid within 72 hours. Although some rewards may arrive within a few minutes. Officially, Gamehag will pay rewards within 30 days.
Does Gamehag cost anything?
Gamehag is completely free to use. You can upgrade to a premium membership if you want to, but this is optional.
Will I get rich on Gamehag?
Gamehag won't make you rich. However, you'll have lots of fun playing new games and you can earn epic rewards at the same time.
What are cookies?
Cookies are added to your device whenever you visit an app to save information for future visits. Gamehag and the games you can play via Gamehag may all leave cookies on your device.
Do Gamehag offer customer support?
Any time you need help you can contact Gamehag customer support using the Contact Us form.
Gamehag Review