Disclosure: This post may contain affiliate links. If you click on a link I may make a small commission at no extra cost to you. You can read the full disclosure here.
Last Updated on May 27, 2023 by Chris Panteli
Toluna Review
Imagine helping shape the future of Amazon. Or any other product or service you can think of.
Market research is an essential way that real people like you can help shape the future.
Toluna is one of the internet's leading market research companies. You can earn rewards by answering surveys, testing products, and more. Plus, your honest opinions provide valuable insight that is used by companies to develop their future strategy.
In this Toluna Review, you'll learn everything about Toluna. What is Toluna, how much can you earn, and more will be answered right here.
What Is Toluna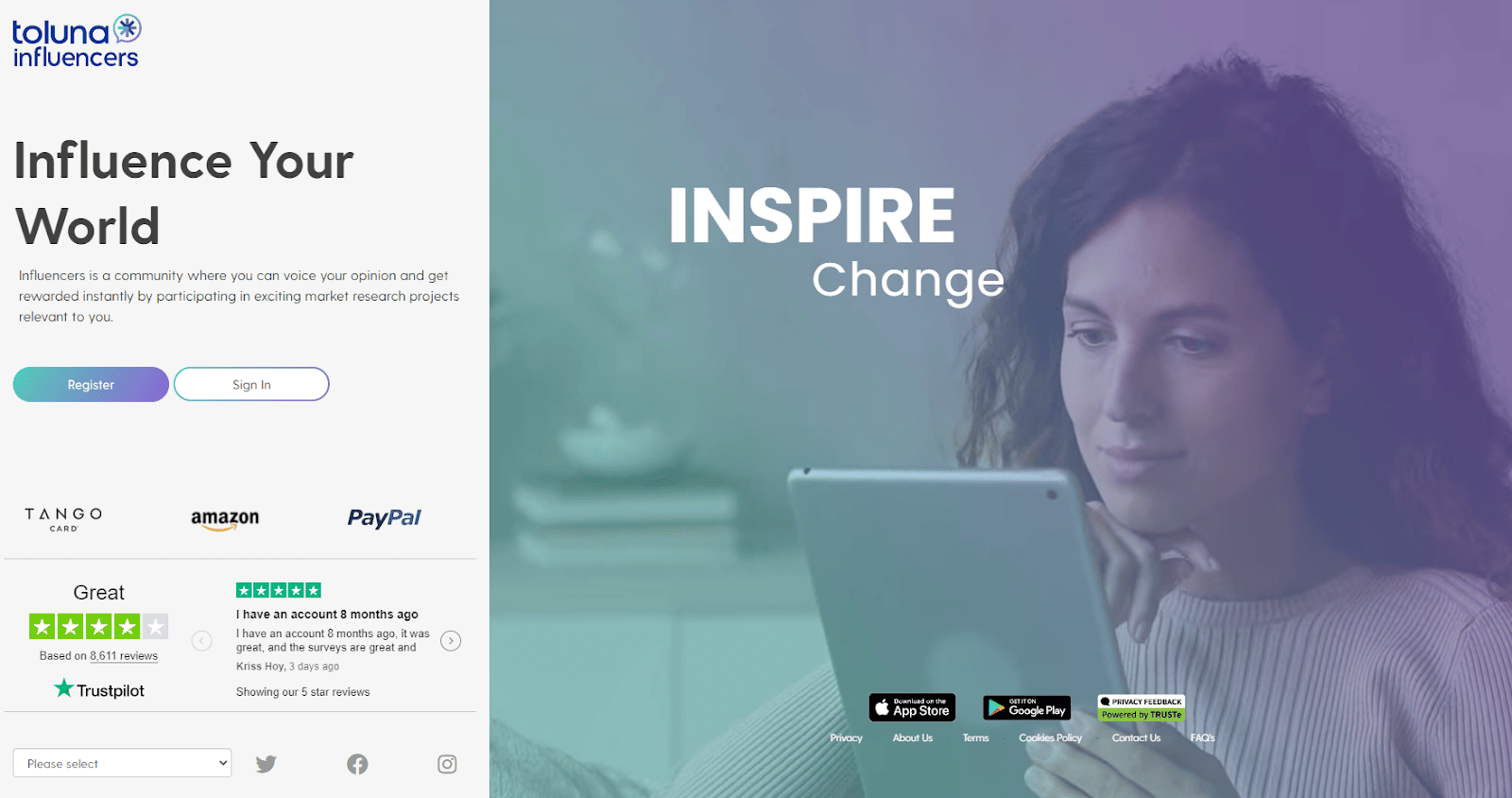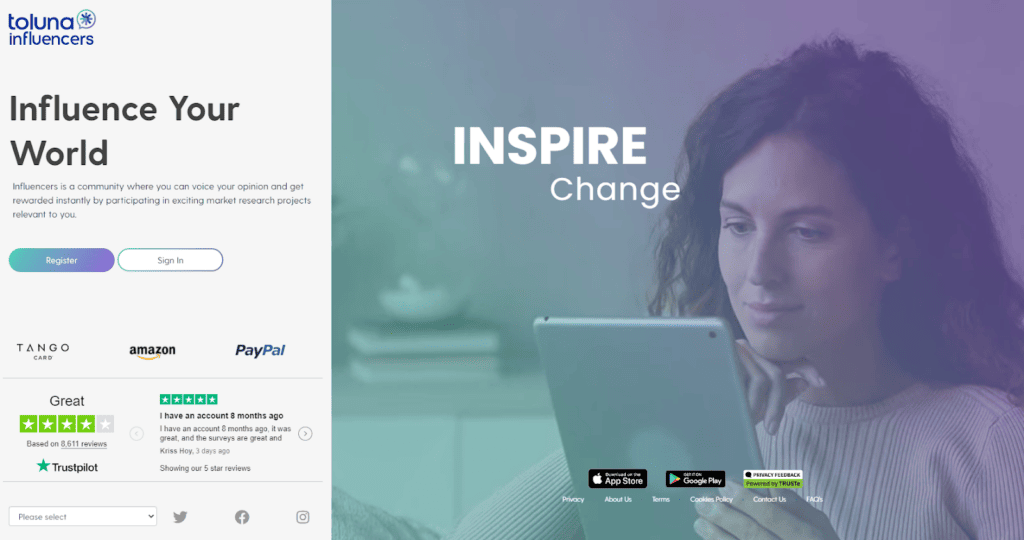 The Toluna group is a market research platform that's been collecting data for companies of all sizes for more than 20 years.
Big brands including Amazon, Expedia, and Sony partner with market research companies like Toluna. You provide your honest opinions on a variety of products and services. In exchange, you get paid rewards which can be in the form of cash or a gift card.
Surveys are the most common ways to earn money on Toluna. Other ways to earn include contests, polls, and playing games.
How Does Toluna Work
The first step you must take is signing up. Toluna allows you to log in using your Facebook profile or create a new account using your email address.
If you create an account using your email address, don't forget to verify your email.
You can also provide your mobile number once you've created your Toluna account. This is worth doing as providing a mobile number gives you access to mobile surveys. That's one more way to earn cash on Toluna.
When signing up, you'll get a sweet 500 points bonus. That gives you a nice head start towards the cash out threshold.
Once you're a Toluna influencer, you can start earning by answering surveys, polls, entering contests, and more.
Every activity that you complete rewards you with points. Those points can be redeemed for cash or gift cards when you're ready to cash out.
How To Earn On Toluna
Paid surveys are the main way of earning rewards on Toluna. You can also earn points for other activities too. Although some activities pay less than others, every point you earn is a point closer to cash out. 
Here's a full breakdown of all the earning opportunities on Toluna.
Surveys
The first set of online surveys you should complete are the Toluna profile surveys. Completing every profile survey means you earn some Toluna points, but also means you can be matched with relevant surveys in the future.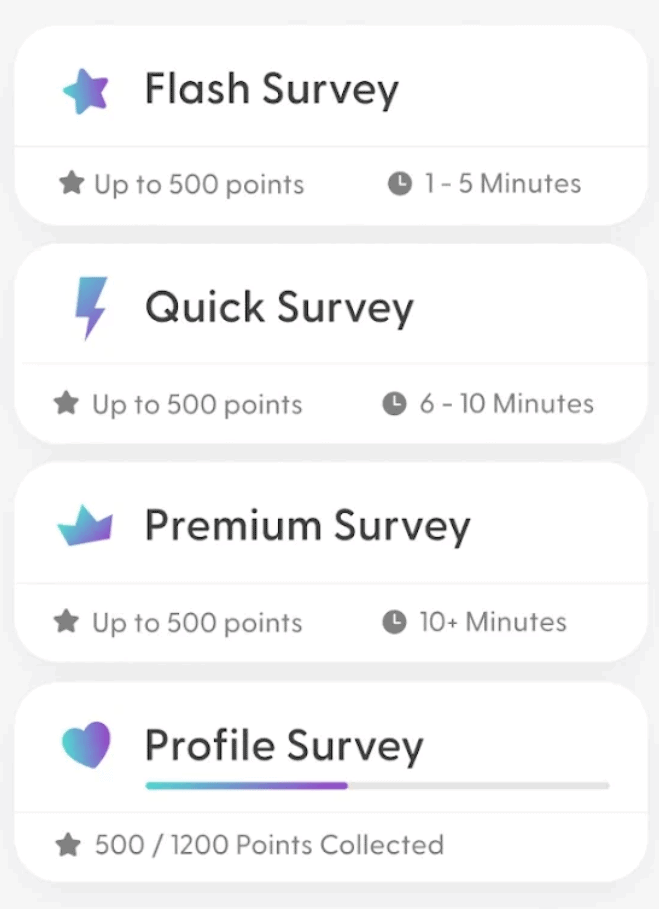 Getting sent relevant surveys is important as you're less likely to be screened out.
That means you can spend more time answering surveys you qualify for and earn those reward points faster.
One neat Toluna feature is that when you don't qualify for a survey, you still earn a small number of reward points for trying. That does mean your time spent as a survey taker wasn't a total waste.
How much a Toluna survey pays will vary based on the length of the survey. The longer the paid survey the more points you'll be awarded.
Mobile Surveys
By providing your mobile number to Toluna, you can opt-in to receive SMS surveys.
Your mobile number is securely stored by Toluna and only used for the purpose of surveys. This gives one more way to earn rewards on the go.
You can opt-out of mobile surveys at any time should you change your mind.
Polls
A sponsored poll is usually just a single question that will take you seconds to answer. In exchange, you receive a small number of points.
Every time you log in to Toluna don't forget to answer these polls. You don't earn much from them, but they're quick to do. The small number of points you earn adds up fast. That means you'll get your rewards quicker.
Daily Games
Daily games can be a good source of points. Games you might earn points for include quizzes, uploading a photo about a topic, and more.
Games can be found when you log in to your Toluna account by checking in the announcements section. You may also find notifications for games in the Toluna forums or the Toluna Facebook page.
Contests
Contests provide an exciting way to win extra points. The main contest you can try once a day is the Toluna Fortune Wheel.
Spin the wheel daily for a chance to win extra points.
Toluna also runs other contests and games from time to time. These usually reward you with extra points and are quick to play.
Bonus Ways To Earn Cash On Toluna
Not only are there regular ways to earn on Toluna, but you can find some bonus earning opportunities too.
Sweepstakes
Toluna runs both daily and monthly sweepstakes. To take part you must be an active Toluna member with an appropriate profile image.
Active Toluna members are defined as a member that has answered at least one poll or survey in the last 3 months.
Sweepstakes provide the chance to win bonus points including the big prize of 1 million Toluna points. You can also buy more entries for 500 points at a time.
Product Testing
Product testing lets you try something new for free. Plus, you could earn some bonus points. You'll be sent a product to try. All you need to do is use the product and provide an honest review.
Friend Referrals
Every month you can invite up to 10 friends to Toluna. Each friend that you successfully refer earns you an extra 500 points. Potentially you could be earning 5000 extra points a month.
Forums
Toluna used to reward members with points for engaging with the Toluna community. Members could discuss all kinds of topics with other members and earn points in the process.
At the moment, those rewards are no longer offered. However, it's still worth checking the forum often as sometimes you'll find posts about upcoming contests and other earning opportunities.
How Much Money Can You Make On Toluna
The main way of earning real money on Toluna is by answering surveys. Longer surveys do pay more so look out for those.
If you can complete as many bonus tasks as possible, this can help get you to your rewards faster.

How much you earn on Toluna will depend on the time you can invest.
Logging in daily, even if only for a few minutes to do a quick survey, can significantly boost your earnings.
Registering for mobile surveys means you can also earn more.
If you're an active Toluna user that logs in consistently, then you could earn enough points to cash out once a month. You won't get rich using Toluna, but you can earn a reward often.
How To Cash Out
First, it's important you know that points do expire. Although there's no limit to how many points you can earn, they will expire 16 months from when the points were awarded.
Make sure you use them, or you'll lose them.
What are Toluna points worth? 3000 Toluna points are worth approximately $1. That means to get $10, you'll need to earn about 30,000 points.
To claim your Toluna rewards, you have three options: PayPal cash, gift cards, or gifties.
PayPal
Once you've earned at least $10 worth of points, then you can request PayPal cash. This may take up to 2 weeks to process.
Gift Cards
Gift cards vary in value, but the lowest amount you can claim is worth $10. You can request gift cards from many retailers including Amazon, Walmart, Target, and Starbucks. Gift cards may take 48 hours to process.
Gifties
If you wish you can buy a giftie. A giftie is a virtual gift that ranges in value from 50-500 points. Each giftie purchase enters you into a prize draw to win a real world item. Essentially, buying gifties is like entering a raffle. All winners are chosen at random.
Quick Tips To Earn More On Toluna
As a Toluna member, your aim is to earn as much as possible. These quick tips can help you boost your earnings and get those rewards faster.
Verify your email address to get email notifications and never miss a survey invitation
Register your mobile number to receive mobile surveys
Complete all profile surveys to get better survey matches and reduce the chances of being screened out
Complete surveys straight away as only a certain number of respondents will be needed
Answers surveys honestly to avoid the risk of a disqualification after
Log in daily to answer polls, spin the Toluna Fortune Wheel, and check for other earning opportunities
Is Toluna A Scam
Toluna is legit, but how can you be sure?
First, Toluna was founded in 2000. That was over 20 years ago. Any online platform that's been running for that long must be doing something right.
Toluna is a member of the Better Business Bureau (BBB). On the BBB website, you can see that Toluna currently has an A+ rating. BBB ratings are based on many factors. To score A+ means Toluna is excelling in all areas.
You can also download the Toluna app from both the App Store and Google Play Store. Both of these app stores provide the chance for real users to leave a review.
If you look at data provided by the Google Play Store, you'll see that the Toluna app has been downloaded an amazing 5 million times. You'll also see the Toluna app has been reviewed 106,000 times and scored 4.5 out of 5 stars. Those are some impressive numbers.
As you can see from the Toluna reviews, Toluna is a legit market research platform. The vast majority of members were delighted with the Toluna website and app. Most importantly, members received their rewards.
Toluna Review – Is Toluna Worth It
As you've read in this Toluna Influencers review, Toluna is worth it for anyone looking to boost their income in their spare time. You won't get rich, but answering surveys is a proven way to earn extra money online.
Logging in daily to Toluna can mean earning enough points to cash out every month.
Using Toluna would be perfect for anyone with limited spare time. You can still earn something every day without having to invest hours into it.
FAQs
Is Toluna free?
Toluna is completely free. Simply head to the website, register, and start earning. Toluna also offers a free app that you can download from the App Store or Play Store.
Is Toluna available outside the US?
Yes, Toluna is available in many countries around the world. The United States, Canada, the UK, India, and many more all allow Toluna to operate.
For example, if you're in Australia you can register on Toluna. If you have any doubts, search online for Toluna Australia review first. That means you can quickly see the site is safe to use and you can be earning in minutes.
Is Toluna legit?
Toluna is a legit online market research company with over 20 years of experience in the industry. As a Toluna member, you'll earn real rewards including cash or an egift card.
Any data you provide to Toluna is securely stored and only used for the intended purpose. Should you opt-in for mobile surveys, you can opt-out at any time.
Where is Toluna USA based?
Toluna USA is headquartered in Wilton, Connecticut.
Can you recommend another paid survey site?
Survey Junkie, and Swagbucks provide more survey opportunities to earn extra cash. Each survey company is free to join and as a member of the survey panel you can earn rewards for answering multiple surveys.