Disclosure: This post may contain affiliate links. If you click on a link I may make a small commission at no extra cost to you. You can read the full disclosure here.
Last Updated on May 21, 2023 by Chris Panteli
iRazoo Review
Do you love sharing your opinions?
How would you like to earn extra money online for sharing your thoughts on all kinds of products and services?
If you join the iRazoo rewards site, then you can earn cash and gift cards simply by sharing your opinions. You can earn extra points by doing other tasks including fun ones like playing games.
In this iRazoo Review, you'll learn everything you need to know about the free iRazoo app.
What is iRazoo
iRazoo is a GPT site (Get Paid To) that was founded in 2007 as a paid survey site. Members can also earn additional reward points for completing tasks such as watching videos.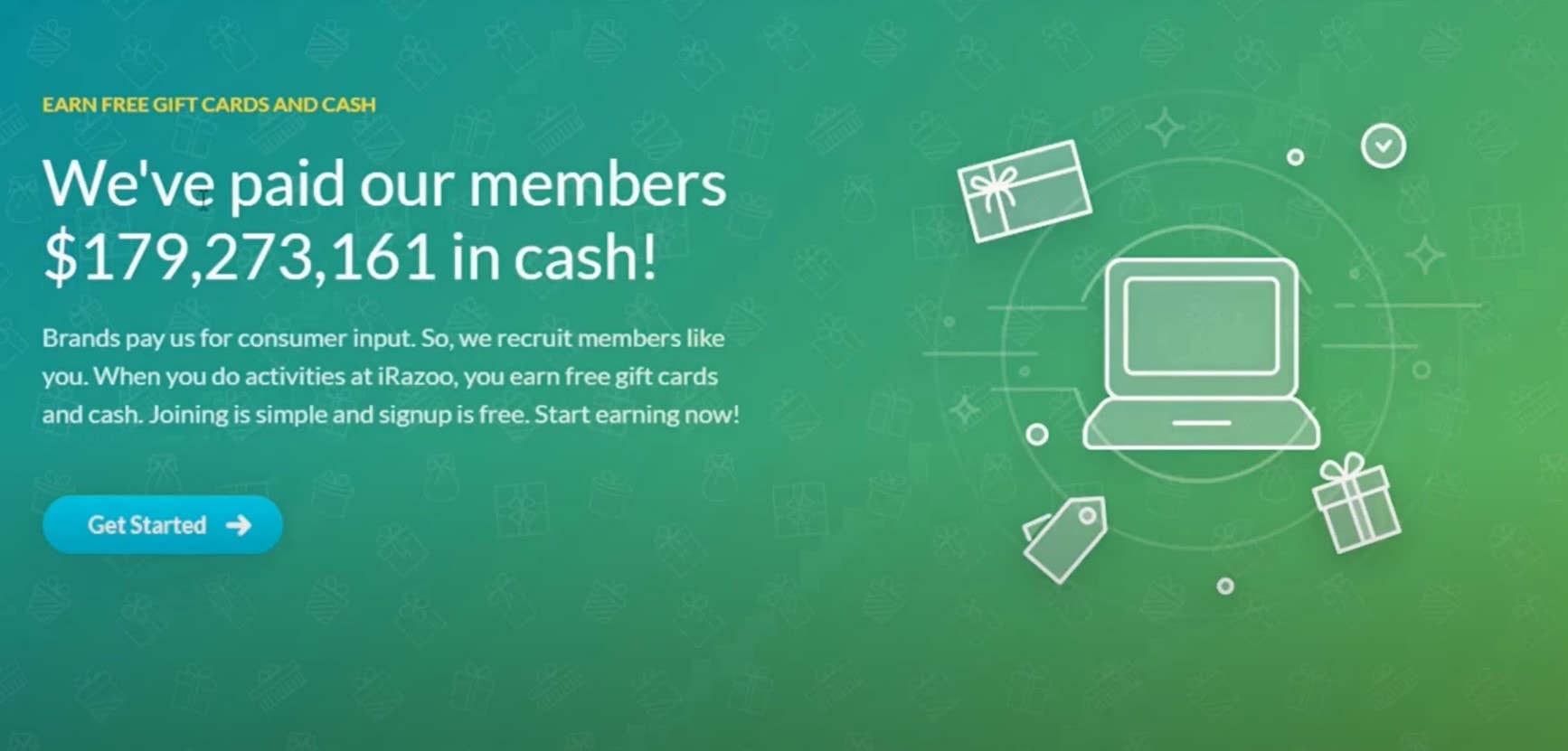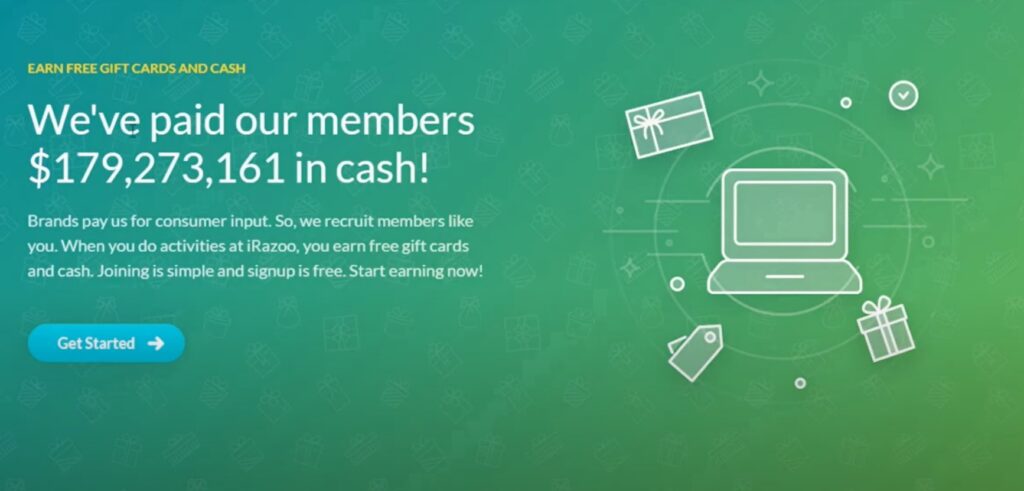 Today, the iRazoo website is no longer running, but you can still download the iRazoo app from the Google Play Store. The iRazoo app is free and lets you earn rewards on the go. Rewards available include free gift cards and cash.
iRazoo is available to residents of the United States and worldwide.
How Does iRazoo Work
Companies are always looking to improve their products and services. To do that they need lots of data from real people like you.
One way many companies collect that valuable data is by partnering with platforms like iRazoo.
Companies pay iRazoo for running surveys and other data collection activities. You join iRazoo and complete those surveys and get paid part of those fees as a thank you for your time.
You could answer surveys about all kinds of topics such as health, entertainment, and finance.
Membership of iRazoo is free. Once you've created your account, you'll earn points for every task you complete. Every point you earn has a small cash value.
When you reach the payout threshold you can then redeem your points for PayPal cash or choose a gift card.
Apart from surveys, you can complete other activities and reach the payout threshold faster.
Getting Started On iRazoo
Signing up for an iRazoo account is easy. To get started download the free iRazoo app from the Google Play Store.
Next, register on the iRazoo platform by completing all the required fields. You'll need to verify your email address as part of the sign-up process.
Once you're in, the next step is to complete your iRazoo profile. Completing your profile in full means you'll get the best offers for you. That's important as you'll get the best earning opportunities and reach the payout threshold sooner.
How To Make Money On iRazoo
Answering paid surveys is the main way of earning points on iRazoo.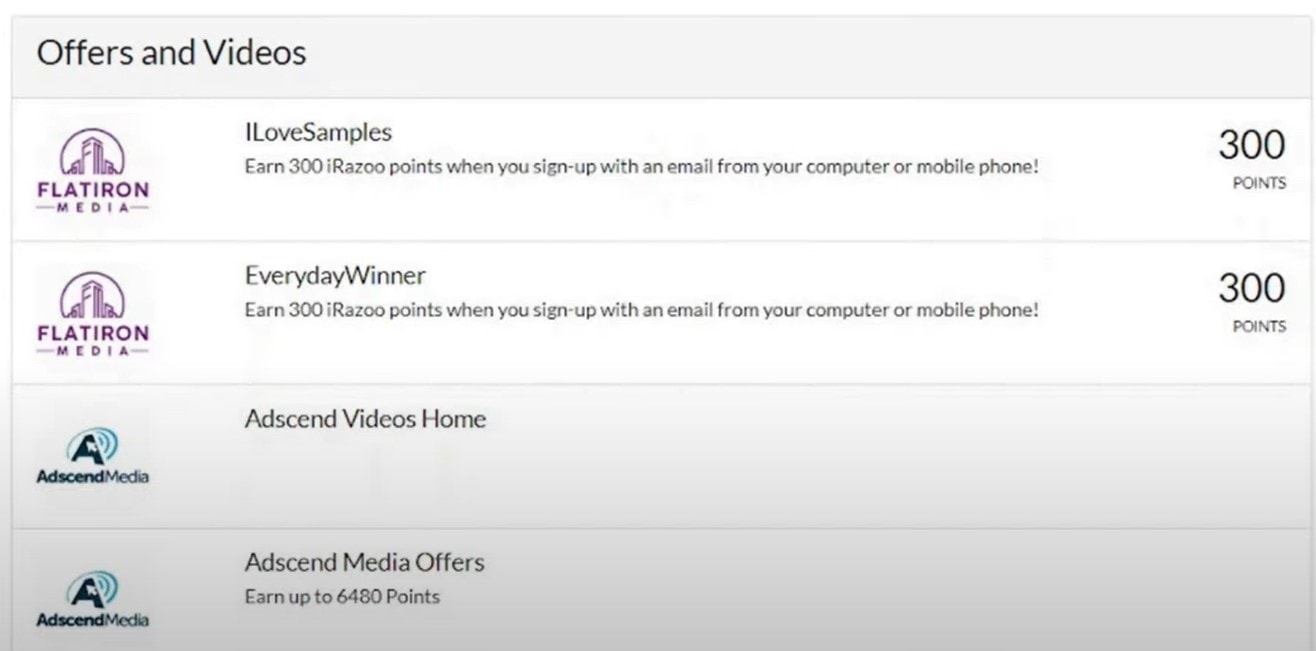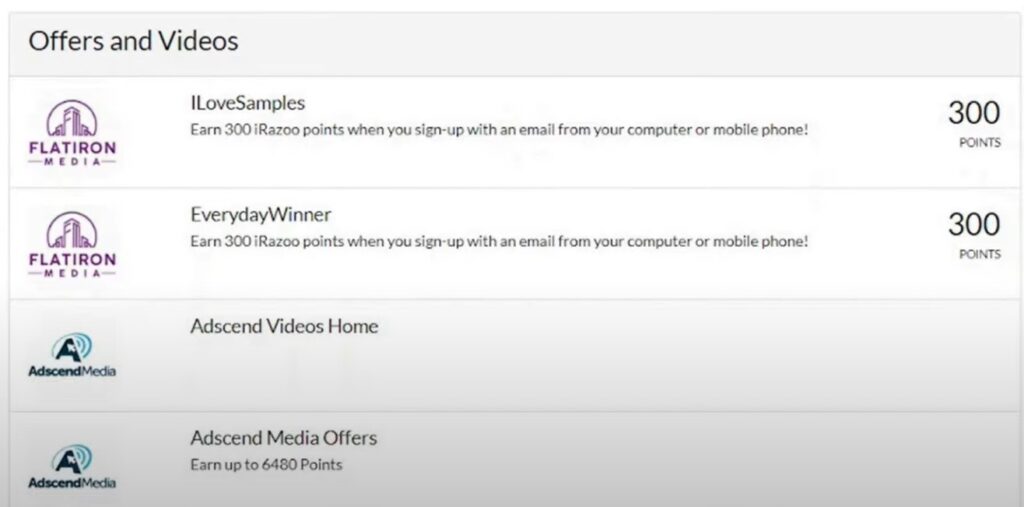 You can earn points by completing other easy tasks like playing games. Here's an overview of all the ways you can earn iRazoo points.
Answering Surveys
On iRazoo there are 3 survey categories – Exclusive, Featured, and Partner.
Exclusive Surveys
Exclusive surveys are daily surveys that ask questions relating to your profile.
Featured Surveys
Featured Surveys offer points for a survey that takes a particular length of time.
Partner Surveys
Partner Surveys are high-paying opportunities from iRazoo partners.
Downloading Apps
Apps that are new to the market often partner with platforms like iRazoo to boost engagement. Driving new users to the app and getting feedback helps the app developer understand how to improve their app offering.
As a thank you for downloading the app you get some points. Bonus points may be available for leaving a review or using the app actively for a period of time.
Playing Games
Playing mobile games is a fun way to pass some spare time. If you can get paid to play games, then even better.
Mobile games you can play via iRazoo include Solitaire, crosswords, and arcade games.
You may get bonus points based on how long you spend playing a game, making in-game purchases, and completing other challenges.
Watching Videos
Is there an easier way to earn points than watching a video? Watching videos doesn't pay you a lot of points, but you can then let play while doing other things.
This means when you're busy, you can still be building your points balance. Videos available on iRazoo cover many exciting topics such as cooking, movies, and new apps.
Paid Offers
Completing offers can be a great way to discover something new. On iRazoo you can enter contests, participate in a free trial, or download a new app.
Make sure you check the requirements fully before starting a special offer. You must complete all requirements to get your points.
Also, some paid offers may use an auto-renewal feature. To avoid unwanted charges set yourself a calendar reminder to cancel the free trial.
Friend Referrals
Friend referrals are often a top way to earn a passive income. All you need to do is share your unique iRazoo sign-up code. You'll earn bonus points for every friend that joins iRazoo using your link.
iRazoo Promo Codes
Promo codes can be found by following iRazoo's social media channels. Often these promo codes give you a points boost. Check iRazoo's social media often for a promo code or treasure code.
Search Engines
The iRazoo search engine feature is not currently available. You could previously earn points for using the iRazoo search engine, but now iRazoo is only available on an app, this feature is currently disabled.
How Much Can You Earn On iRazoo
Rewards vary based on the length of the survey. Some surveys may take up to an hour to complete, but longer surveys do come with higher rewards.
You won't get rich answering surveys on iRazoo. However, if you log in often, there's no reason why you couldn't earn an extra $20 – $100 a month in PayPal cash or gift cards.
Ultimately, your earning potential depends on the time you can invest in iRazoo.
How to Redeem Points With iRazoo?
When you've earned enough points then you can redeem them for a gift card or PayPal cash. To claim PayPal cash, you must have earned at least 12,000 points. That's equivalent to $20.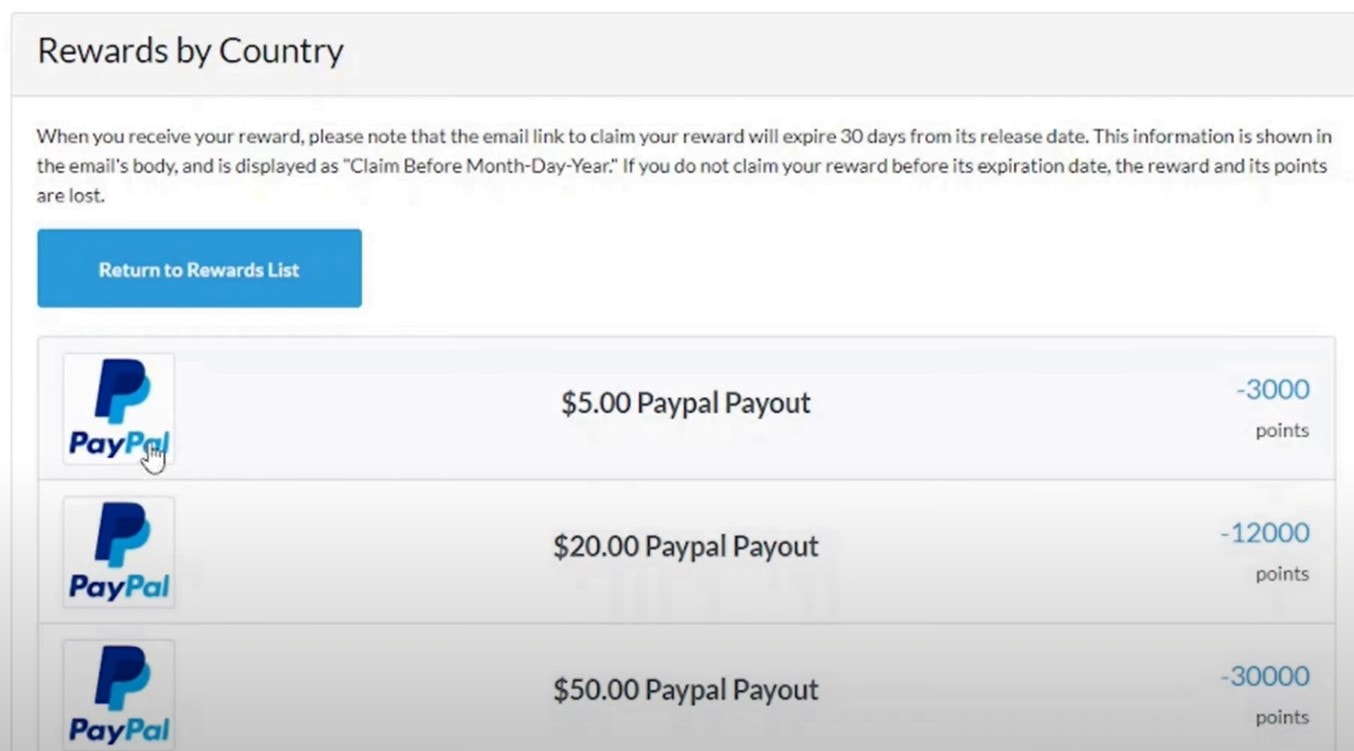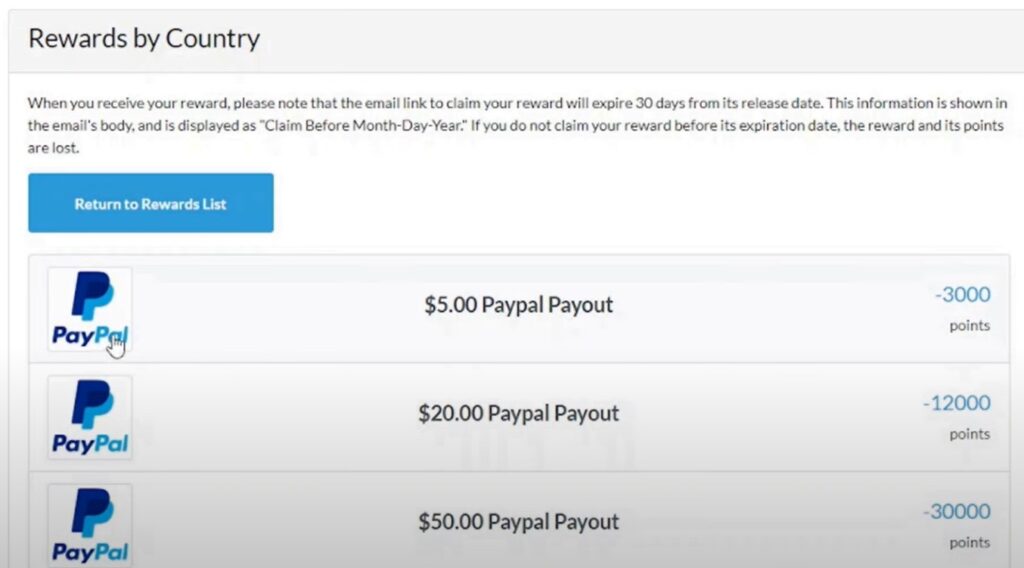 To get an Amazon gift card or a gift card for another big brand like Walmart you only need 3000 points which is worth $5.
Is iRazoo Legit
iRazoo is a legit app that has been running for many years. Data provided by Google Play shows that the app has been downloaded over 50,000 times and has many positive reviews.
The app has had some complaints with reviewers unhappy with the app interface or the points not rewarded correctly.
Complaints are to be expected as no app is perfect. However, many users have had a positive iRazoo experience and got their payouts.
All this means iRazoo is legit and worth trying. If iRazoo isn't for you, then you can try other GPT sites. Swagbucks, Inbox Dollars, and Survey Junkie are just 3 of the many iRazoo alternatives you can try.
iRazoo Review – Is It Worth It
Most likely you are a busy person. You may work, study, have a family to manage, or all the above! Is iRazoo worth using your limited spare time for?
If you're looking for an easy side hustle, then iRazoo is totally worth it.
You can get yourself a free gift card or extra cash for minimal effort. Sure, you won't earn much, but a little extra every month does help.
Who is iRazoo not for?
If you're seeking a side hustle that could turn into a full-time job, then iRazoo is not worth it. Instead, you need to find something that can scale. Blogging, freelancing, dropshipping, and affiliate marketing are just a few side hustle ideas that you can start small, but build big.
FAQs
How can I boost my iRazoo earnings?
There are a few things you can do to earn more on iRazoo. Completing your profile, setting a daily goal or monthly goals, inviting many friends, and checking social media for promo codes can all help boost your iRazoo points balance.
Is the iRazoo platform free?
The iRazoo app is free to download and join. There are no fees when redeeming your points either.
Is iRazoo a scam?
iRazoo is a legit app. You can earn real money and gift cards by completing surveys and other tasks.
Can you recommend a survey platform?
Another earning opportunity worth exploring is answering surveys online. Branded Surveys, Survey Junkie, and Swagbucks are three survey platforms to start with.