Disclosure: This post may contain affiliate links. If you click on a link I may make a small commission at no extra cost to you. You can read the full disclosure here.
Last Updated on March 29, 2023 by Chris Panteli
Gamesville Review
Playing video games is a popular way to pass the time. There are an estimated 150 million mobile game players in the US alone.
Not only can you play video games using your mobile device anytime or anyplace, but many games also offer the chance of winning a cash prize.
Making money playing games is now a reality that millions of video game players enjoy every day.
One popular gaming platform that offered cash prizes for playing games was Gamesville. In this Gamesville Review you'll learn how Gamesville worked, games you could play, and where you can go now to keep winning real money prizes.
What Was Gamesville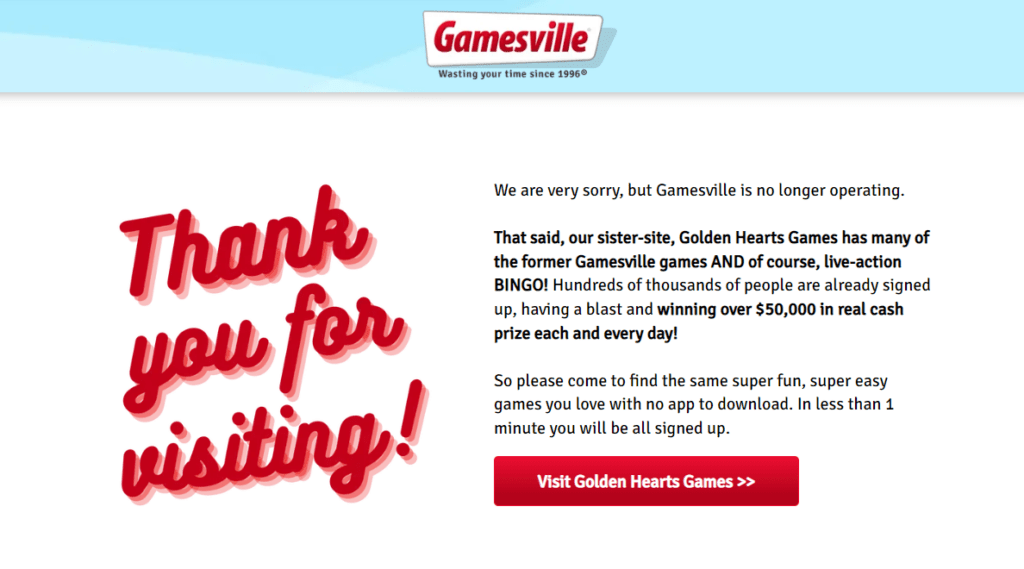 Gamesville was founded in 1996 as a casual gaming platform and thanks to their winning team of developers the platform grew fast. Players from the US, UK, and Canada could choose from a long list of exciting games to play.
Playing games earned players the Gamesville virtual currency known as GV coins. Those GV coins could later be swapped for real cash or free gift cards.
Top games you could play on Gamesville included the slot game Reel Cash Critters, Super Chef, and online bingo.
Membership of Gamesville was completely free. Players also had the option of buying a Gamesville gold membership. Gamesville gold members enjoyed perks including boosted earnings and access to more games.
Has Gamesville Been Replaced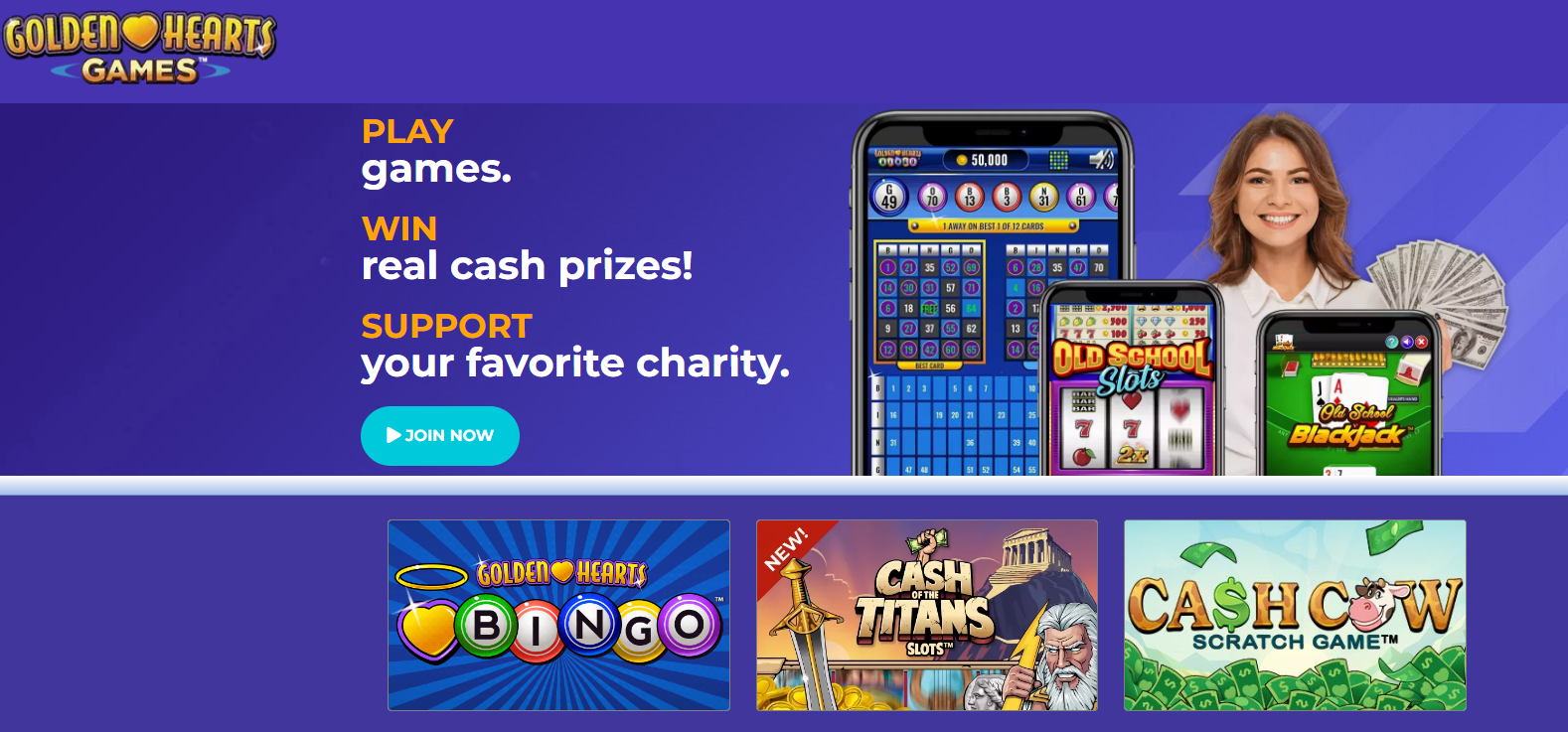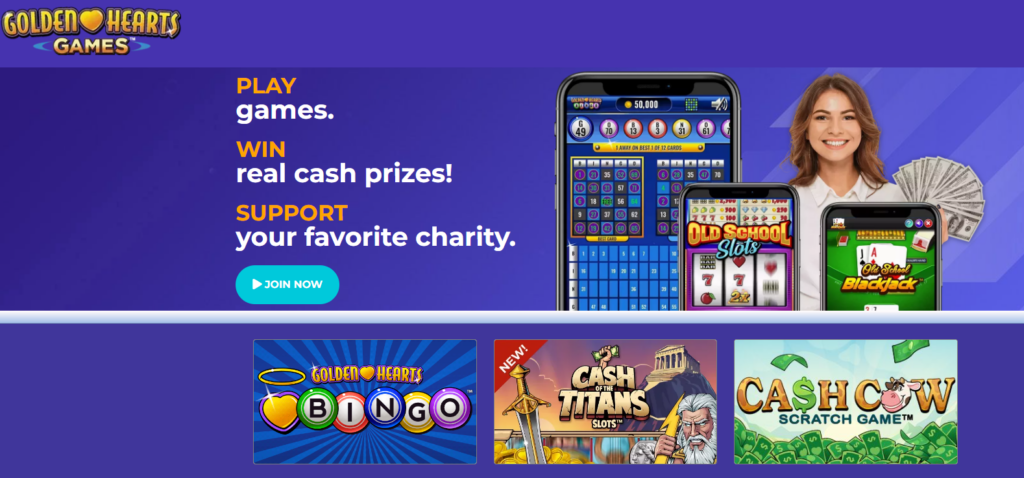 When you visit Gamesville you are redirected to their sister site Golden Hearts Games.
At Golden Hearts Games you can play games for the chance to win real money online. Bingo, blackjack, poker, and slot machines games are some of the games you can play on Golden Hearts Games.
Membership is free and if you use the promo code GAMESVILLE when you sign up, you'll get 1000 free coins.
How Did Gamesville Work
Games in Gamesville offered two options. Players could play games that paid the outright winner only or you could play to enter sweepstakes.
For example, playing Bingo Zone offered real cash prizes to the winner. If you won, then you could request your cash. Payments were made by check via the mail.
There were so many games to choose from in Gamesville that every player always had a fun game to play. A free game to play every day and the chance to win a cash prize meant Gamesville was a popular gaming platform.
Most games were fast, so you didn't need to have hours to spare to play a long game. That meant even if you only had a little time spare each day, you could be winning cash prizes and finding a new favorite game.
How To Join Gamesville
You can no longer join Gamesville as the platform now directs you to their sister website Golden Hearts Games.


Players from the US, UK, and Canada were able to join Gamesville for free. You simply provided your personal information including your name, address, email, password, and other data to create your free account. Once registered you needed to verify your email to start playing games.
All players had to be over 18 years of age.
How Much Could You Earn On Gamesville
Gamesville rewarded players for playing games with their virtual currency GV coins. Those GV coins could be converted at the end of the month into cash or gift cards.
Cash prizes ranged from $5 to $100. That means playing and winning lots of games could see you earning plenty of extra cash each month.
What Were The Gamesville Cash Out Options
When it was time to cash out your Gamesville GV rewards you could claim a free gift card or cash. One of the downsides of Gamesville was the limited cash out options.
Cash prizes were sent by check via the mail. There was no option for PayPal cash, direct deposit, or other methods of transferring cash.
Gift cards were also limited and had to be claimed quickly. If you missed out, then you'd have to wait until next time to claim a gift card.
Gamesville Review – Was It Worth It
Gamesville was a legit site that offered a great choice of games to play. Payouts were often made in the form of cash or free gift cards.
The downside of Gamesville was the limited cash out options. That meant having to wait for a check in the post should you want your winnings in cash.
However, if playing a computer game for the chance to win cash is something you enjoy, then Gamesville was totally worth it.
FAQs
Does Gamesville still exist?
Gamesville is sadly no more. Instead, you can go to their sister website Golden Hearts Games to play games for the chance to win cash prizes.
What did a Gamesville gold member get?
If you paid to become a Gamesville gold member you could enjoy benefits including no ads, an earnings boost, and more games to choose from.
What other gaming platforms are there?
If you want to play an online game and win cash, then there are lots of other sites you can join. Rewarded Play, Gamehag, and Mistplay are just three of the exciting gaming platforms you can join today.
You can also download free apps like Bingo Cash or Solitaire Cube to enter cash tournaments. Score the most points and you can win cash prizes.
Was there a Gamesville TV show?
Sky One ran a show called Gamesville for 2 seasons from 2003 to 2004. The Gamesville Sky One show was unrelated to the Gamesville gaming platform.
Can I make money answering surveys?
Answering surveys is a popular way to make extra money online. Survey Junkie, Branded Surveys, and Swagbucks are a few of the survey websites you can join now to start earning cash answering surveys.
Where can I play slots?
If you want to play a slots game, then head to Gamesville's sister website Golden Hearts Games. Here you can play a variety of games including slots.
Gamesville Review