Disclosure: This post may contain affiliate links. If you click on a link I may make a small commission at no extra cost to you. You can read the full disclosure here.
Last Updated on January 21, 2023 by Chris Panteli
Why You Need The Best Apps To Sell Photos
Did you know the stock photo industry is going to be worth $4 Billion by 2023, and it's currently growing at 5% annually? If you want to be a part of this explosive growth industry, then you're probably wondering, "what are the best apps to sell photos?"
Below is a breakdown of the 14 best apps to sell photos, make some instant cash, and even generate a passive income for years to come.
Long gone are the days when professional photography was reserved for those who could afford the most expensive equipment. In fact, you can utilize the smartphone in your pocket to sell not only your photos but also take them. Talk about a "pocket business."
Here are 14 of the best places to sell photos, enter competitions and develop your personal brand into a potential income-generating venture.
The Best Apps To Sell Photos
Remember, you don't have to limit yourself to just one app. In fact, it's a great idea to use multiple platforms to increase your exposure and maximize your earnings. Just be sure to check the rights of the images you upload. If they are exclusive, it means they can only be uploaded and sold to that individual platform. Often, the exclusivity agreements will mean higher potential earnings – but not always – so do your due diligence!
Recommended: 31 Awesome Highest Paying Apps
1. Shutterstock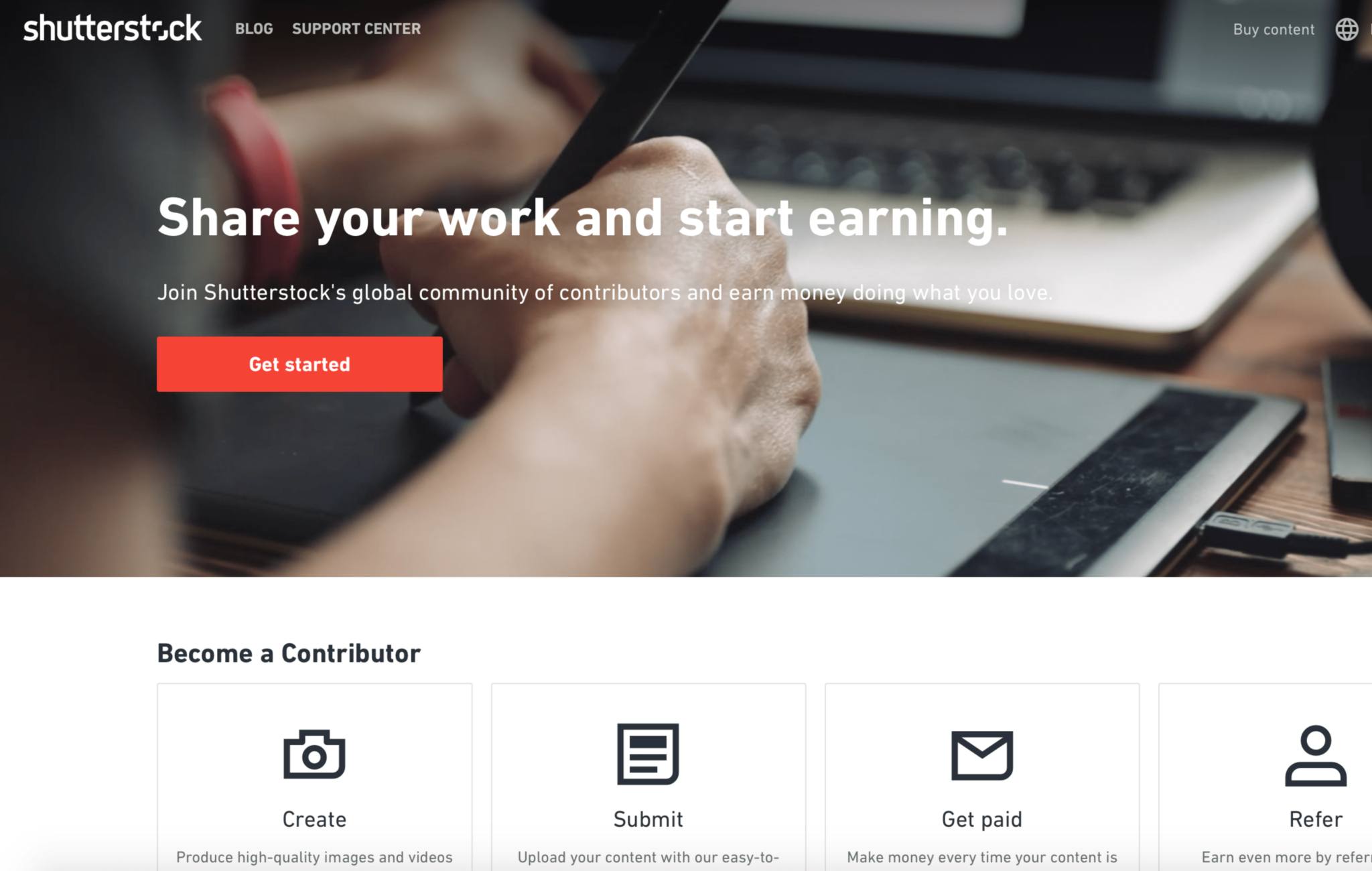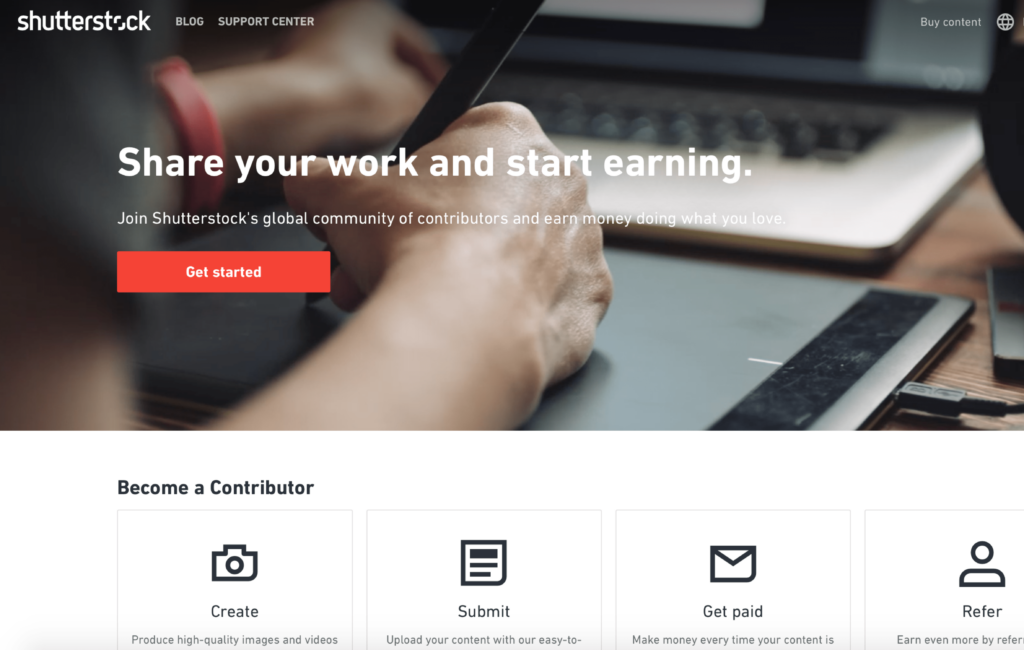 Shutterstock has paid out over $ 1 billion over the past 15 years. That's a lot of cheddar and definitely one of the best apps to sell photos.
You can submit your work quite easily, either on the platform directly or with the app. You must own the copyright to your images (as with any photo submission) and are eligible to earn between 15% and 40%. This will depend on your user level.
With Shutterstock, you are able to set your own image rights and maintain copyright protection. They also provide an opportunity for you to grow brand awareness of your photo-snapping skills by giving the owner credit.
As a new photographer with little experience, this may not be the best option. The marketplace is huge (although you are not restricted to only selling your photos there), and may be difficult to stand out from the crowd. Definitely worth giving it a go, though.
They pay out monthly, and if your images do start to gain some traction, the earnings will just keep on coming. A great way to earn some passive income from a trusted brand.
Start with Shutterstock now, and soon your snaps will be all over the web!
2. Adobe Stock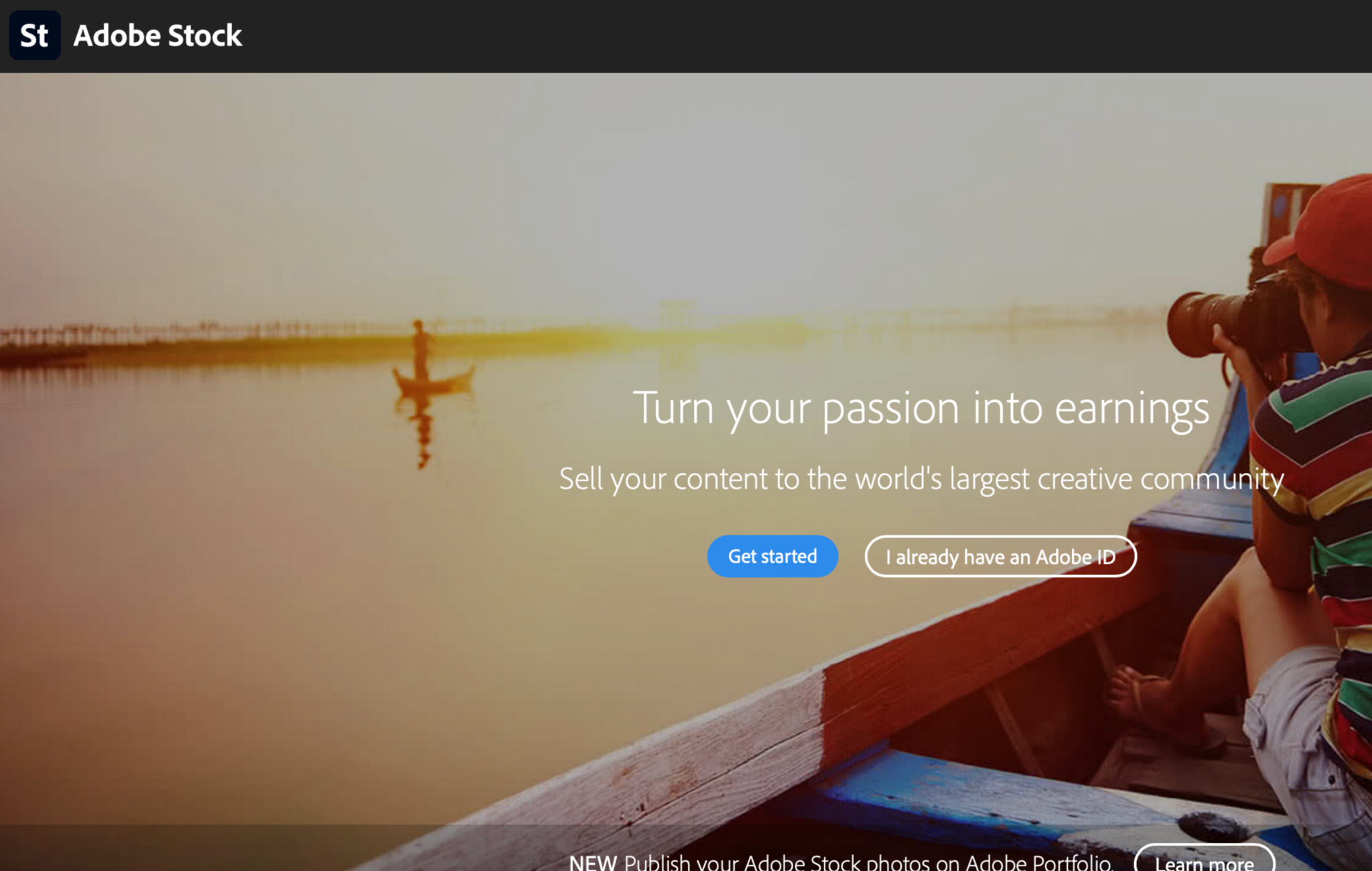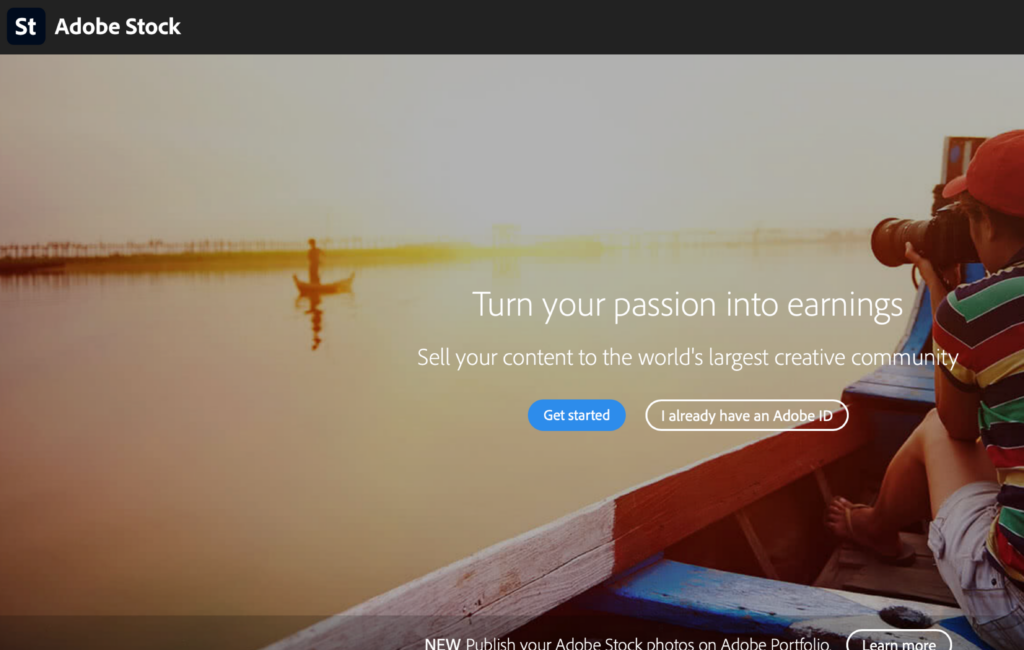 Adobe Stock is again one of the best apps to sell photos. The word Adobe is synonymous with photos, and quite rightly. It's famous for the photo editing suite Photoshop, which is now a verb for doctored pictures (you can tell they're fake, it's been Photoshopped).
The contributor section of their website states they are home to the world's largest creative community – and you can turn your passion into earnings. That's what we like to hear!
Adobe stock has a load of benefits, including access to a massive marketplace and huge royalty shares of 33% for your work. You can add images, videos, vectors, or illustrations to Adobe Stock directly from Adobe Lightroom CC, Adobe Bridge CC, and through the web.
It's really easy to sign up and start uploading your work. They also have a brand new tool to auto keyword your uploads. This is great because it means your photos will get found by the right people who want to purchase your work!
Not only that, you actually enter into a non-exclusive partnership with Adobe. This means you keep the rights to your snaps and can sell them elsewhere.
If you take good 'in demand' photos and they are approved into the Adobe library, you could be earning royalties for years to come. Again, a great passive income. Just make sure your photos are top-notch.
Finally, Adobe will payout via PayPal or Skrill when you have reached at least $25 in royalties.
Try Adobe Stock now and start contributing!
3. Foap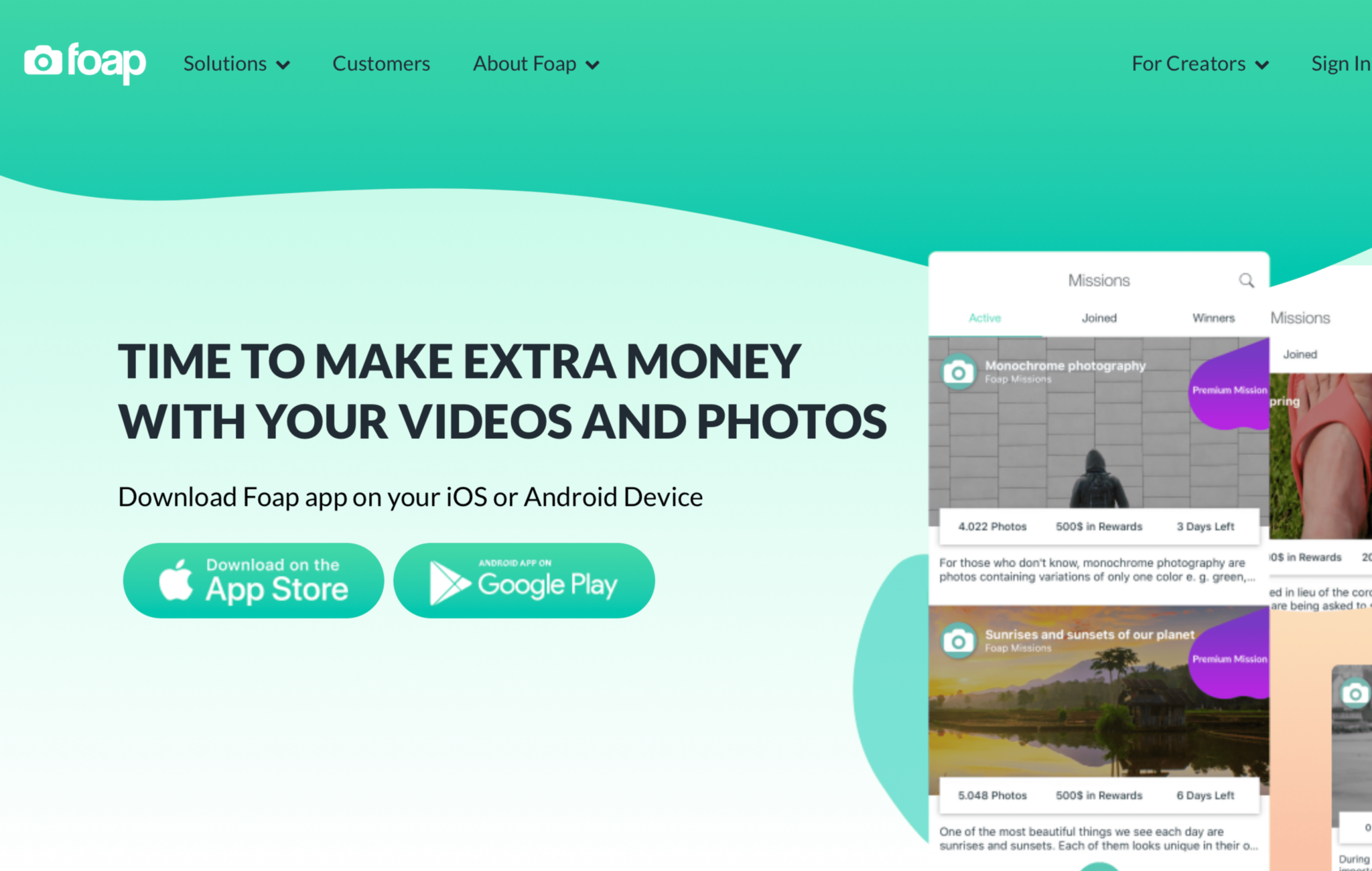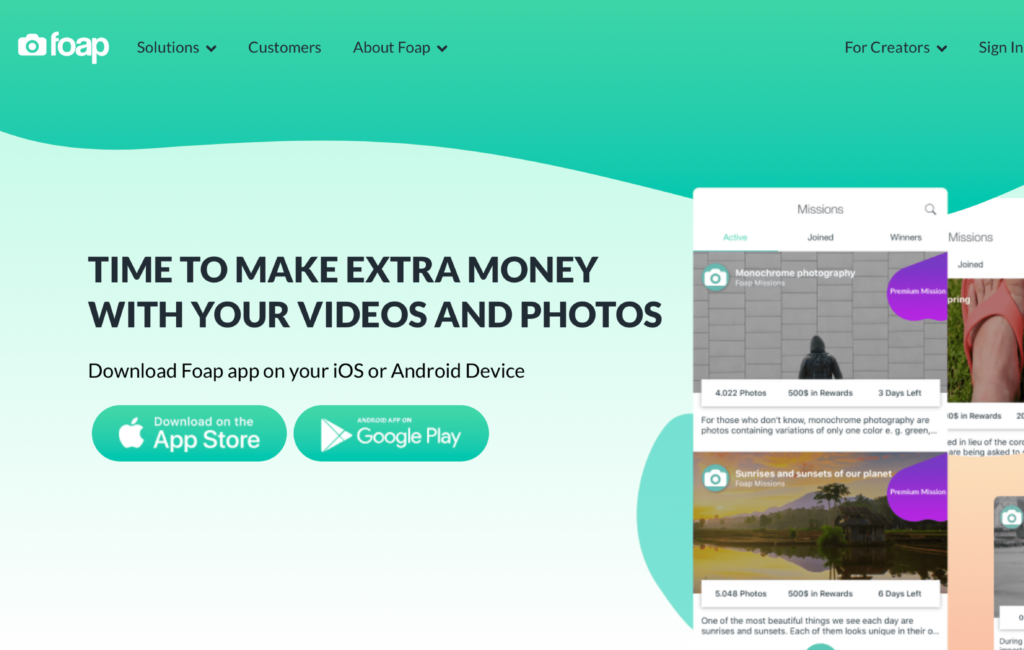 Foap has a sleek website and app that allows you to earn cash for your photos in a really straightforward way. You simply register on the app either via Facebook or email and start uploading your photographs (or videos).
Foap is a large stock photography site for buyers which means there is a lot of demand for photos. Also, the revenue-sharing model which Foap adopts is quite excellent and clear. Photos sell for $10, and the share is 50/50. That means for every photo that sells, your cut is $5.
That is very reasonable, and their cut is for use of the platform and access to the marketplace.
Another amazing feature of the Foap app for aspiring photographers is its Missions feature. This feature is essentially a photo contest whereby a strict brief is provided, and entrants can submit their work.
As long as the photo is accepted into the Mission you have a chance of winning. And with this feature, there is no revenue sharing – you keep all the prize money. This is usually in the region of $100, but sometimes it's much higher ($500).
Just make sure to read the brief and follow it verbatim. You can't win if you're not in!
Finally, Foap pays via PayPal, and in order to get your cash (minimum payout is $5), you have to request using the Withdraw Now option. The only downside to payments is that they occur monthly. But hey, who can't wait for money?
Start selling photos online with Foap now, and maybe win some prize money as well!
4. Alamy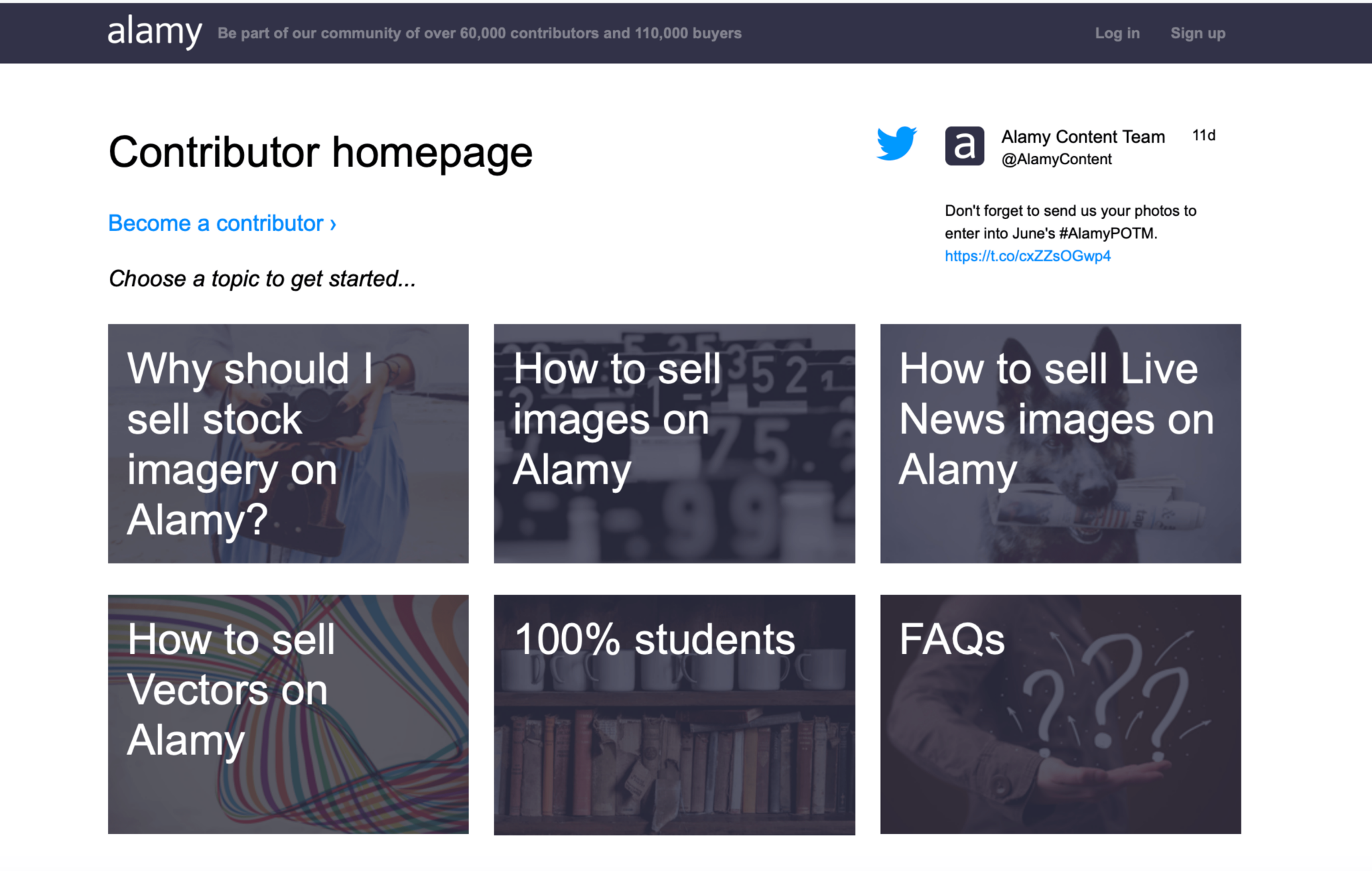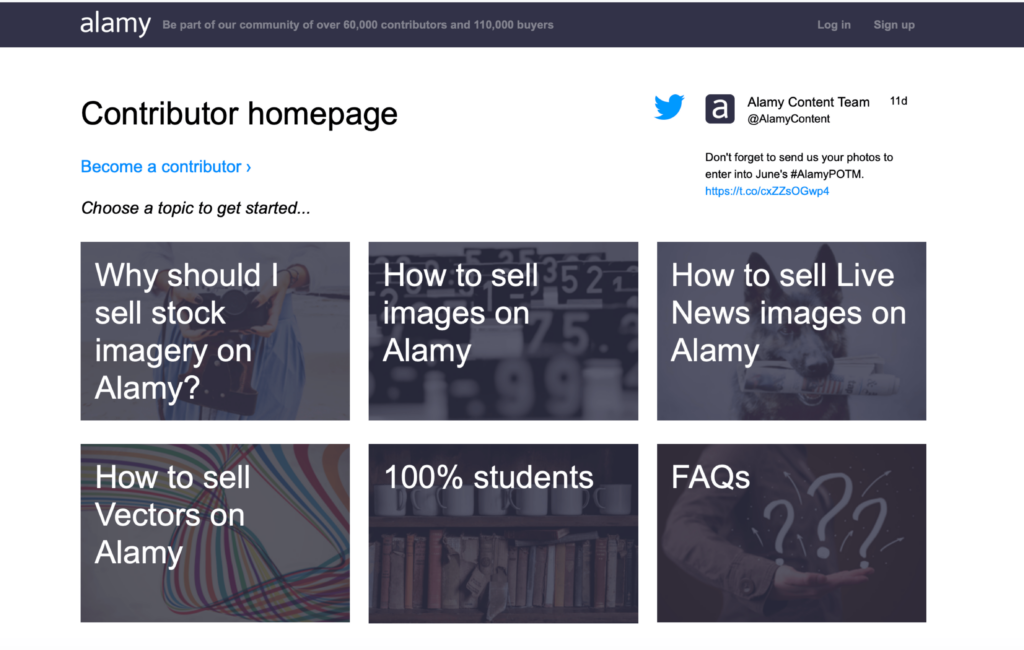 Alamy is a great app for selling photos and making extra money. It is also one of the most flexible platforms in terms of submittable content.
They have no restrictions on what can be uploaded – all quality-control checks are for technical purposes only. For this reason (from a buyer's perspective), they have an encyclopedic collection of photos – and claim to have one of the biggest, broadest, and most unique collections of any other stock library.
They also have a really cool exclusivity set-up to determine to pay out commission rates. If you choose to make your snaps exclusive with Alamy, then you can receive a 50% commission. Non-exclusive images still manage a generous 40%.
There are two options to upload photos, including the web-based platform for normal images and the iPhone app Stockimo for images shot on mobile/cell phones.
Getting paid is pretty straightforward; they offer PayPal, Skrill, and Bank Account transfers. Once your balance reaches the minimum threshold of over $50 – you'll get paid at the start of each month
Interested in selling photos online with Alamy?
5. Etsy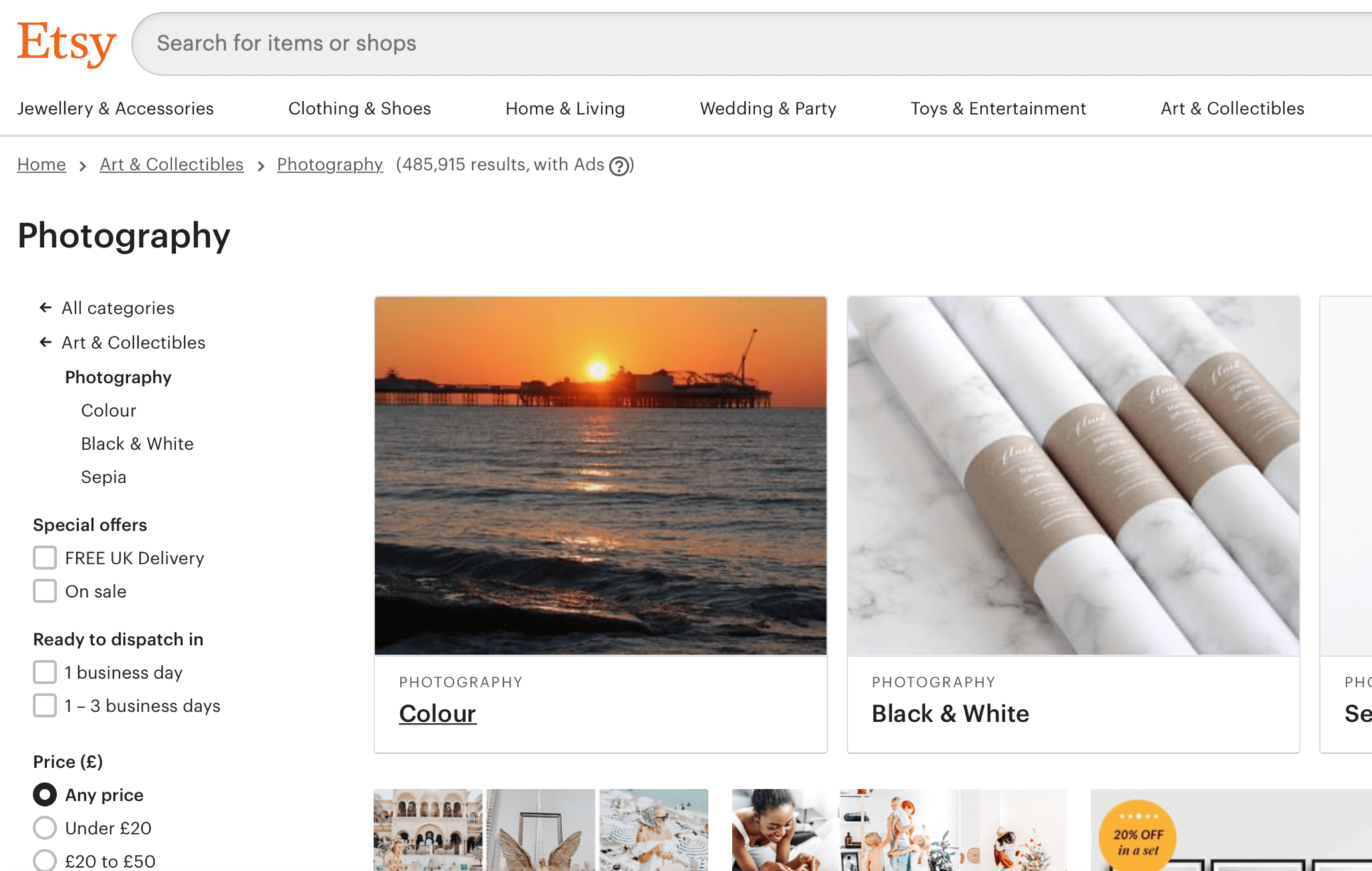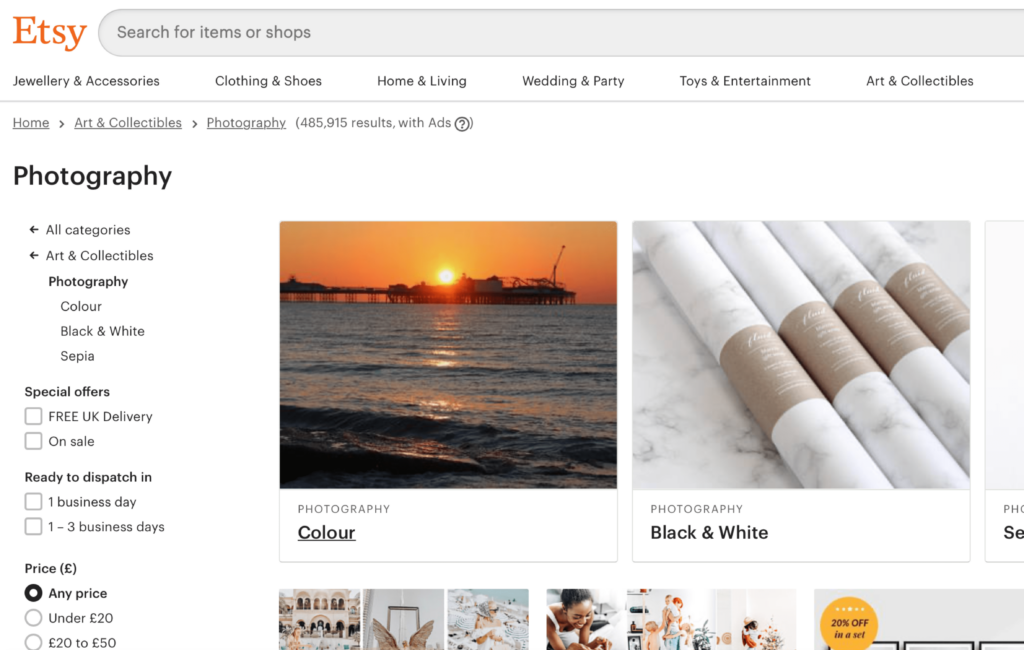 Etsy is a slightly different beast from the rest of the apps on this list in the sense that it is not a traditional stock photo service. But this doesn't mean it's not another great option to make money from your photography skills.
Etsy is a huge marketplace, with an estimated 45 million active buyers in 2019. It's best known as an intermediary between customers and artists, focusing on the sale of handmade items and vintage products.
Getting set up to sell photos is relatively simple but will require creating and naming your shop store. Once this is done, you are able to upload your photos, set your own price, and start selling. This is why I included it in this list. Unlike most stock photo platforms, having your own store gives you much more flexibility as a creator in terms of price.
Aside from having your own dedicated website for photography sales (often outside of the remit for most newbie sellers), this is possibly the best option for treating photo selling as a real business to make money online.
Esty does charge for use of the platform, and this includes a flat rate charge of .20 USD per listing, and Etsy collects 5% of the total item cost. Therefore, you should charge accordingly for your work.
The platform has a number of features that should be utilized to maximize sales, including thumbnails, descriptions, and keywords. Remember, your store is your business, and the better your present your product, the more sales you will make.
Finally, if the sale of your digital snaps starts to take off, you have the option to expand into physical prints for your work. You could be the next Andy Warhol; how exciting!
Ready to have your own digital photo store on Etsy?
6. iStock Photo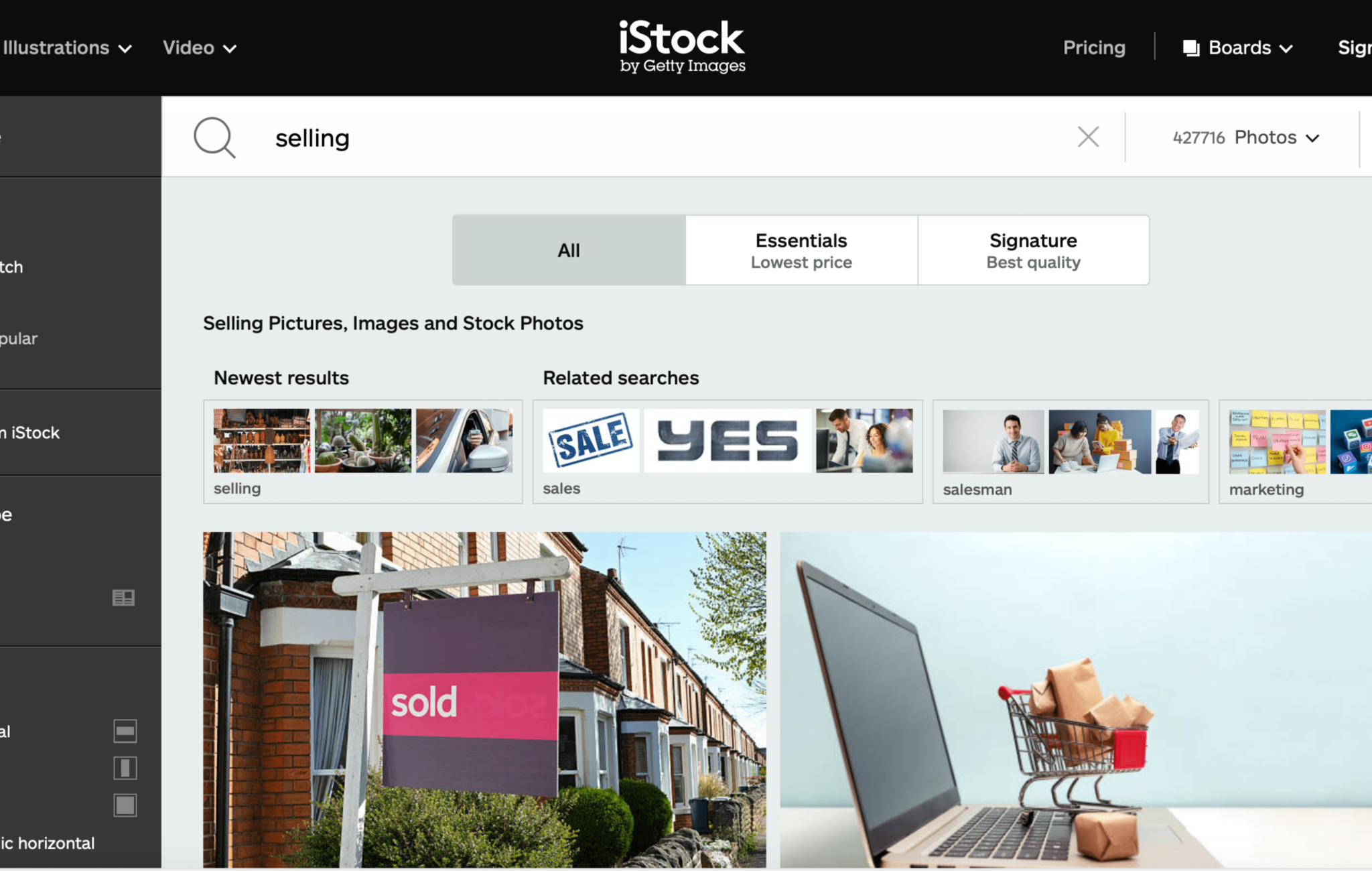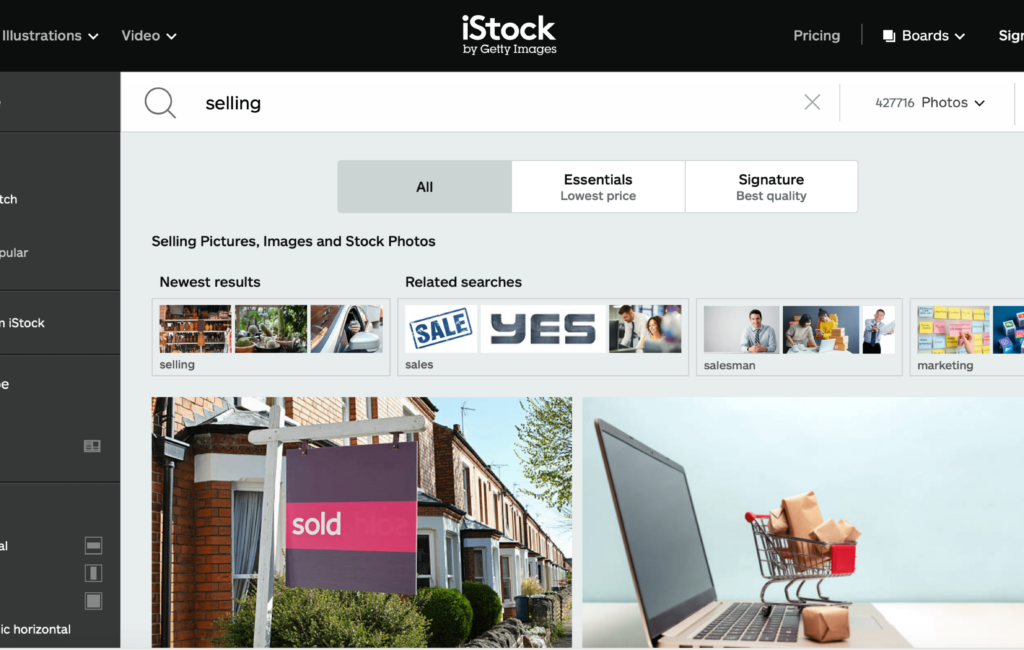 iStock Photo is owned by Getty Images and collectively serves over 1.5 million customers in more than 200 countries. This is a huge market to be in front of with your photography, and if they're good, you'll have no shortage of buyers.
Unfortunately, this isn't the easiest option, as you will have to sign up via the Contributor by Getty Images app and complete an application. Not everyone will be successful, so make sure your sample submissions are on point.
With the bigger stock photo contributor apps, your photos will almost certainly need to be of the highest quality. Often this will mean the use of DSLR camera – a small investment if you're serious about making money from selling photos.
If your application is successful, you may be invited to join either Getty Images or iStock as a contributor. The license agreement for both sites is slightly different. On Getty Images, your content is exclusive, and on iStock, it is none exclusive.
For content licensed through Getty Images, rates are 20%, and iStock royalty rates start at 15% for photos. Becoming an exclusive contributor for iStock (which is an option) means you can earn slightly higher rates of between 25% and 45%.
When getting paid, you will have the option of receiving royalties via Payoneer or PayPal in USD.
Ready to sell your photos on iStock or Getty Images? Start the application now.
7. 500px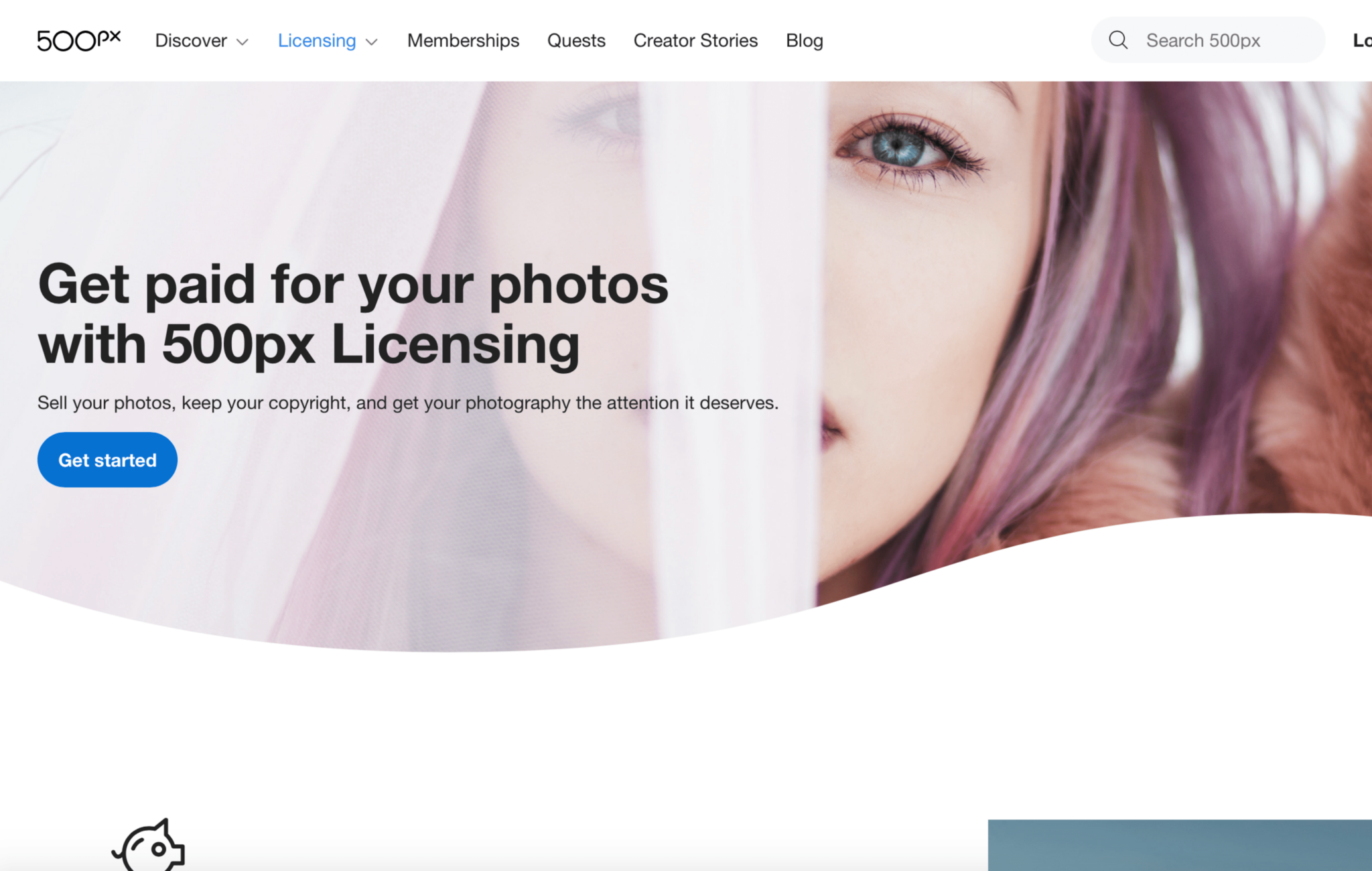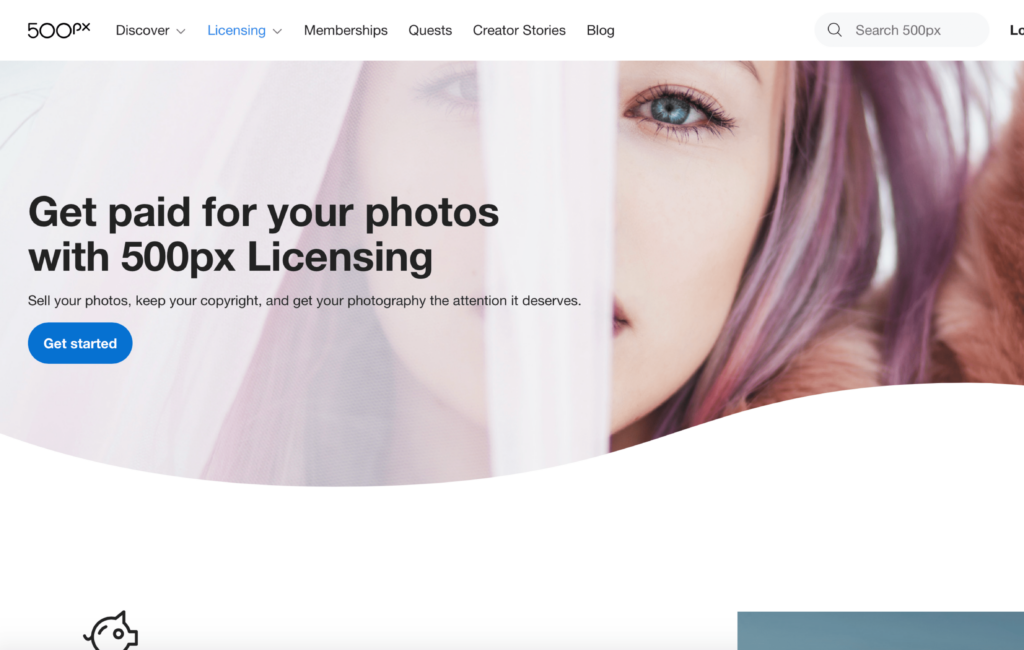 500px is a great place to keep ownership of your copyright whilst licensing your photos for sale. You can also earn up to a massive 60% royalties.
500px is a membership platform, but they do have a free plan to get your feet wet. The free plan is limited to 7 uploads per week (perfect if you're just getting started), and you still have full access to their marketing platform, which has over 13 million members.
With the free membership, there are also some limits to the features available, including a none ad-free browsing experience and no access to statistics.
500px is also smartphone-friendly, which is great for non-DSLR users. You can download the app on Android and iOs to start uploading photos immediately.
Cashing out your earnings is super simple once the payout setup is complete. They will do PayPal and ACH transfers with zero fees. Local bank transfers and wire transfers will incur a fee. Also, there is a $30 account minimum for payouts – so best to get earning now!
Free and paid memberships with 500px.
8. Stocksy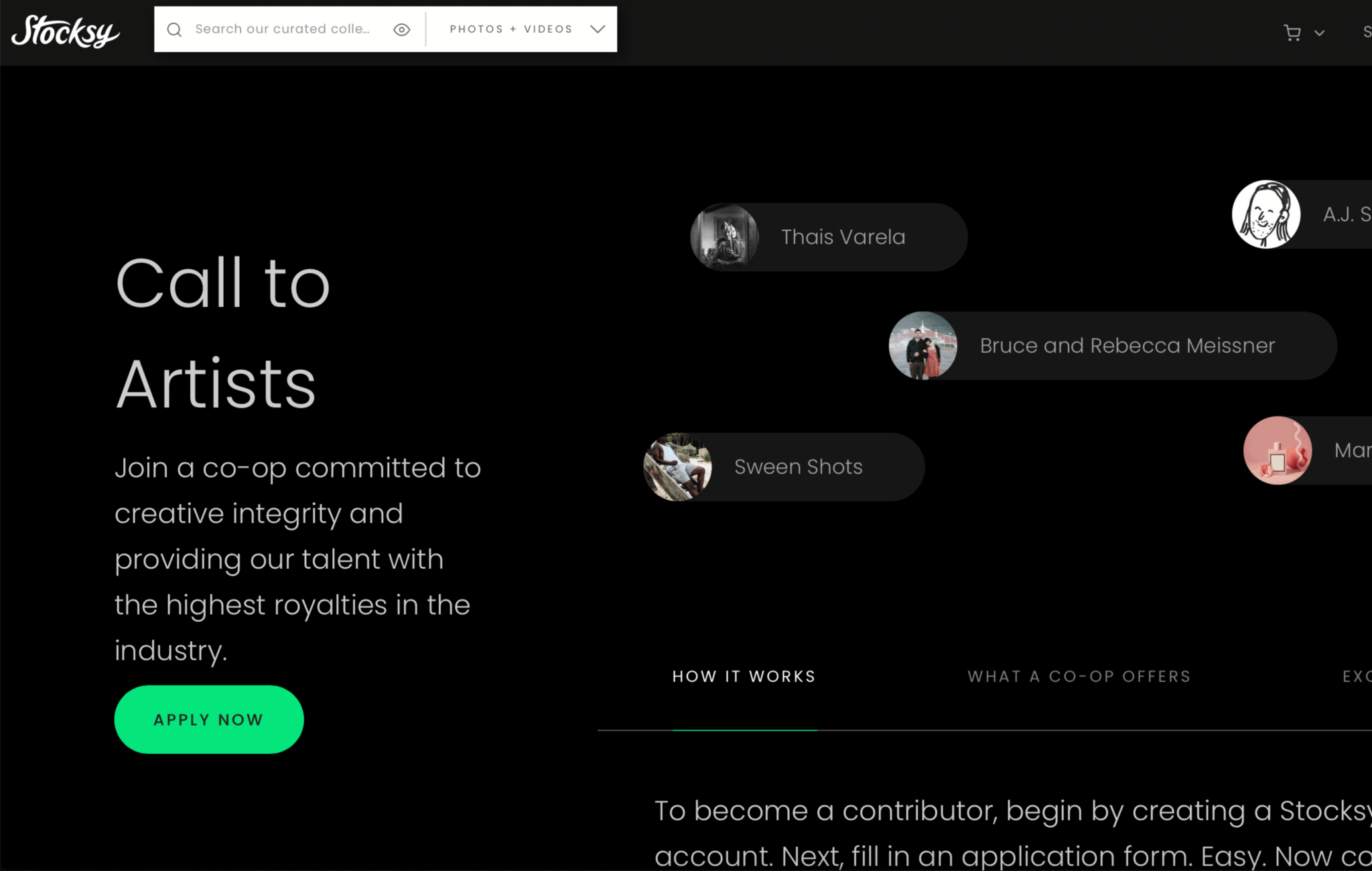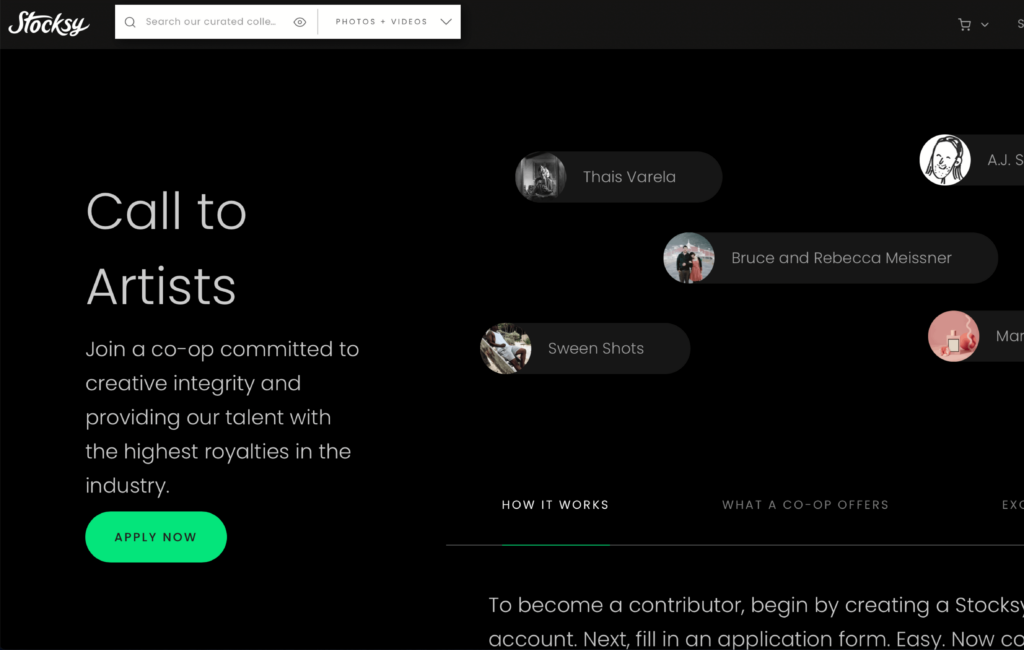 Stocksy is a little different but is still one of the best apps to sell photos. In fact, rather than just a simple submission for royalties affair, you will actually need to apply to become a member of their co-op. What does that mean, I hear you ask?
Stocksy United is an artist-owned cooperative, meaning if your application is successful, you become a fully-fledged member, which includes the opportunity to drive business decisions through elections, resolutions, voting, and annual general meetings.
Not only that, but the Stocksy United cooperative also proclaims that artists receive fair pay — 50%-75% of all licenses go directly into contributors' pockets.
Membership does require some exclusivity, meaning that the photos you upload to their platform cannot be licensed through another agency.
The application process will require you to fill out a short form and give some personal information. You will also have to upload 10 photos or videos (depending on your specialty), and these will be judged to determine your suitability for the program.
Finally, another benefit of successfully passing the application and becoming a cooperative member is the profit share for contributors. You could receive patronage returns when the co-op has a surplus.
The Stocksy Call to Artists is open now for applications.
9. Dreamstime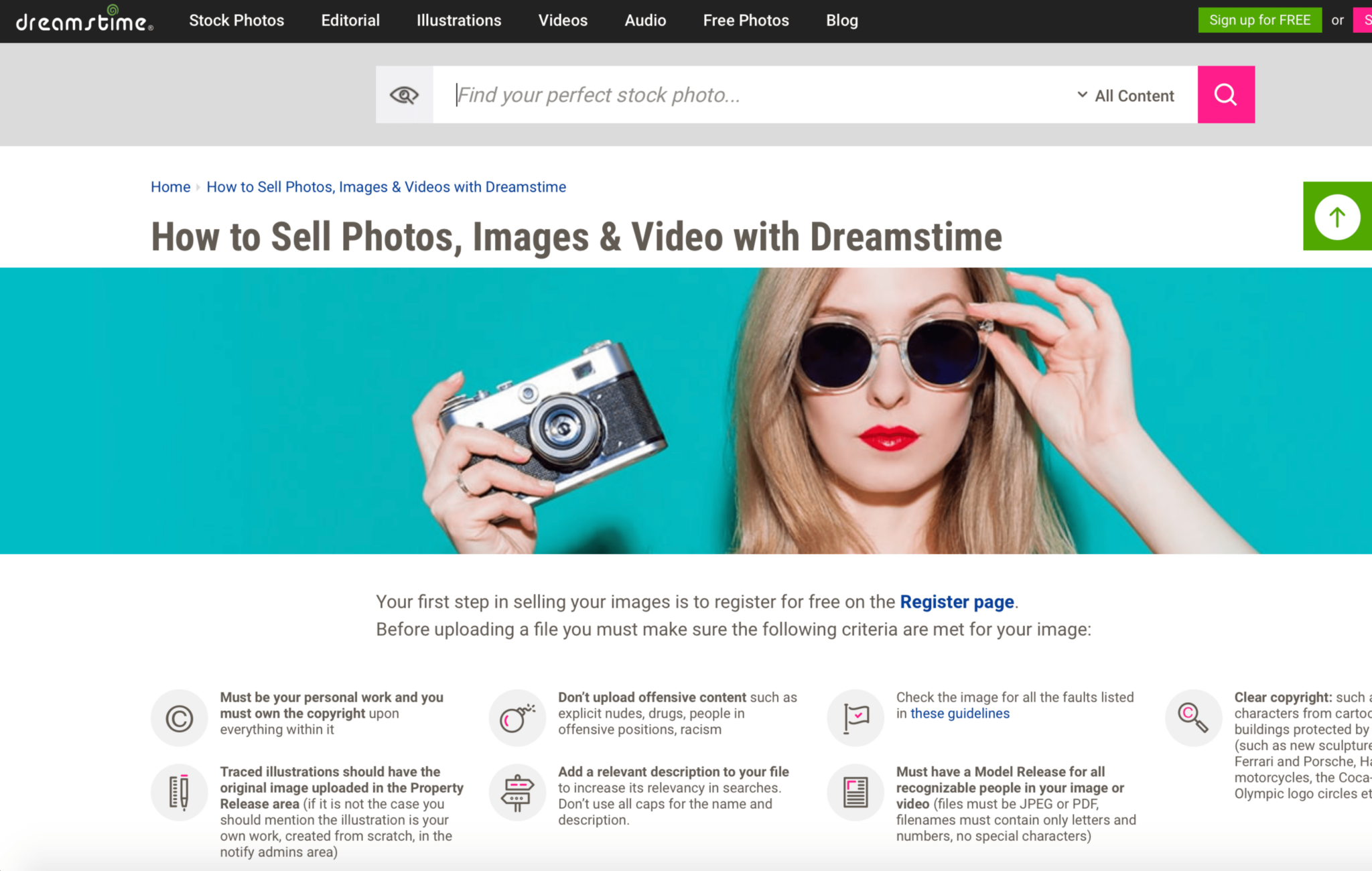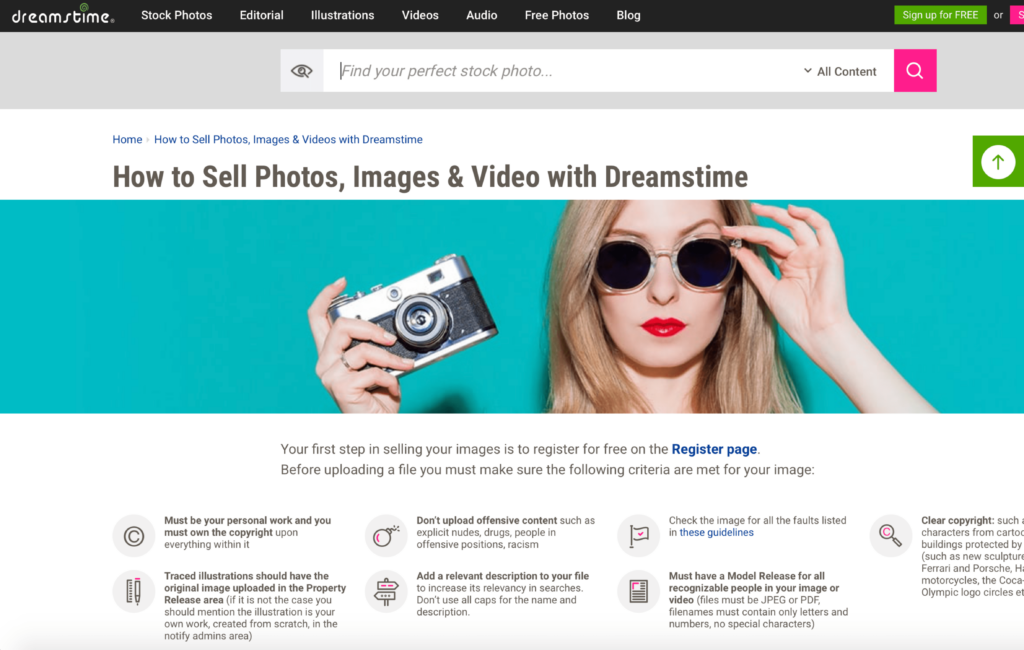 The Dreamstime app is free to use, and anyone can join and sell photos. They have a great functioning platform and a massive marketplace for artists to sell their work (138 million stock photos and 30 million users).
Submitted images will need to be at least 3 megapixels in resolution, and the file size cannot exceed 1GB. The platform has weekly limits on the number of images you can submit, which varies depending on your approval rating. The higher your rating, the more you can submit. So make sure your snaps are up to the task.
Also, contributors receive a 25-50% revenue share, which is calculated based on the net amount for the transaction. You can boost your earnings by offering exclusive files for a 10% bonus. Or, you can become an exclusive contributor and receive a massive 60% revenue share for all sales and an additional bonus of $0.20 for each approved submission.
Payments are made via PayPal, Payoneer, or Skrill, and a minimum balance of $100 is required. So get moving!
Are you ready to join Dreamstime and start selling photos?
10. Scoopshot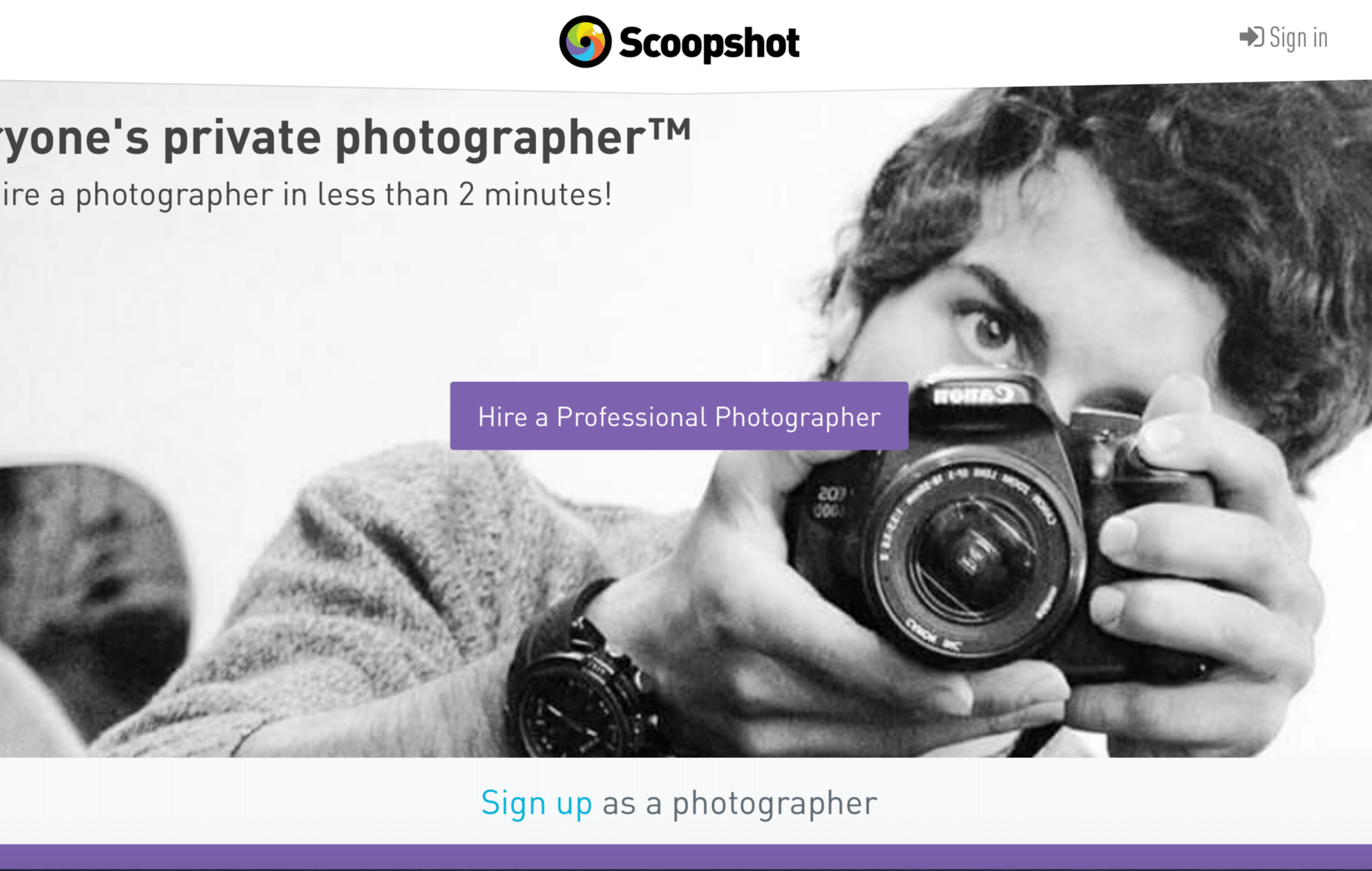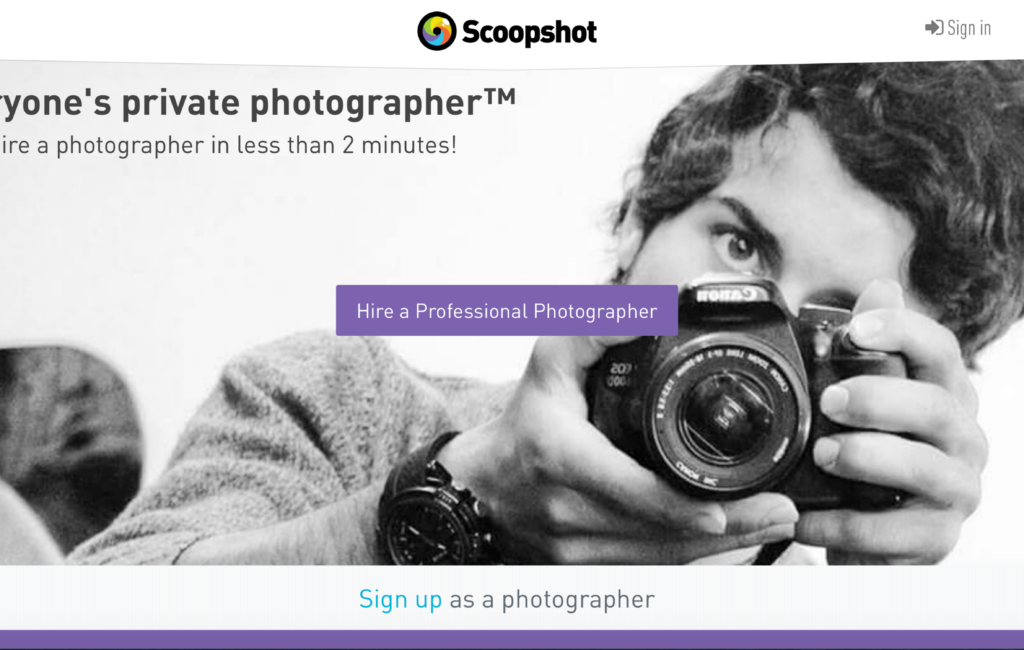 The Scoopshot app is free to download and means anyone can try their hand at becoming a photographer. It is one of the best apps to sell photos and has been downloaded more than 600,000 times worldwide.
You simply need to download the app onto your smartphone, register, and get verified. Then you can start submitting your photos
Scoopshot has partnered with various media companies and brands and offers tasks to be completed on their behalf. You can submit multiple images to individual tasks and have the opportunity to win prizes and rewards. This is a great way to boost your earnings by selling photos.
Scoopshot also offers daily contests straight from the app. The contests run for one day only, and winners are determined by votes from the Scoopshot community.
Start submitting photos with Scoopshot, enter contests, and complete tasks for even more money!
11. Crestock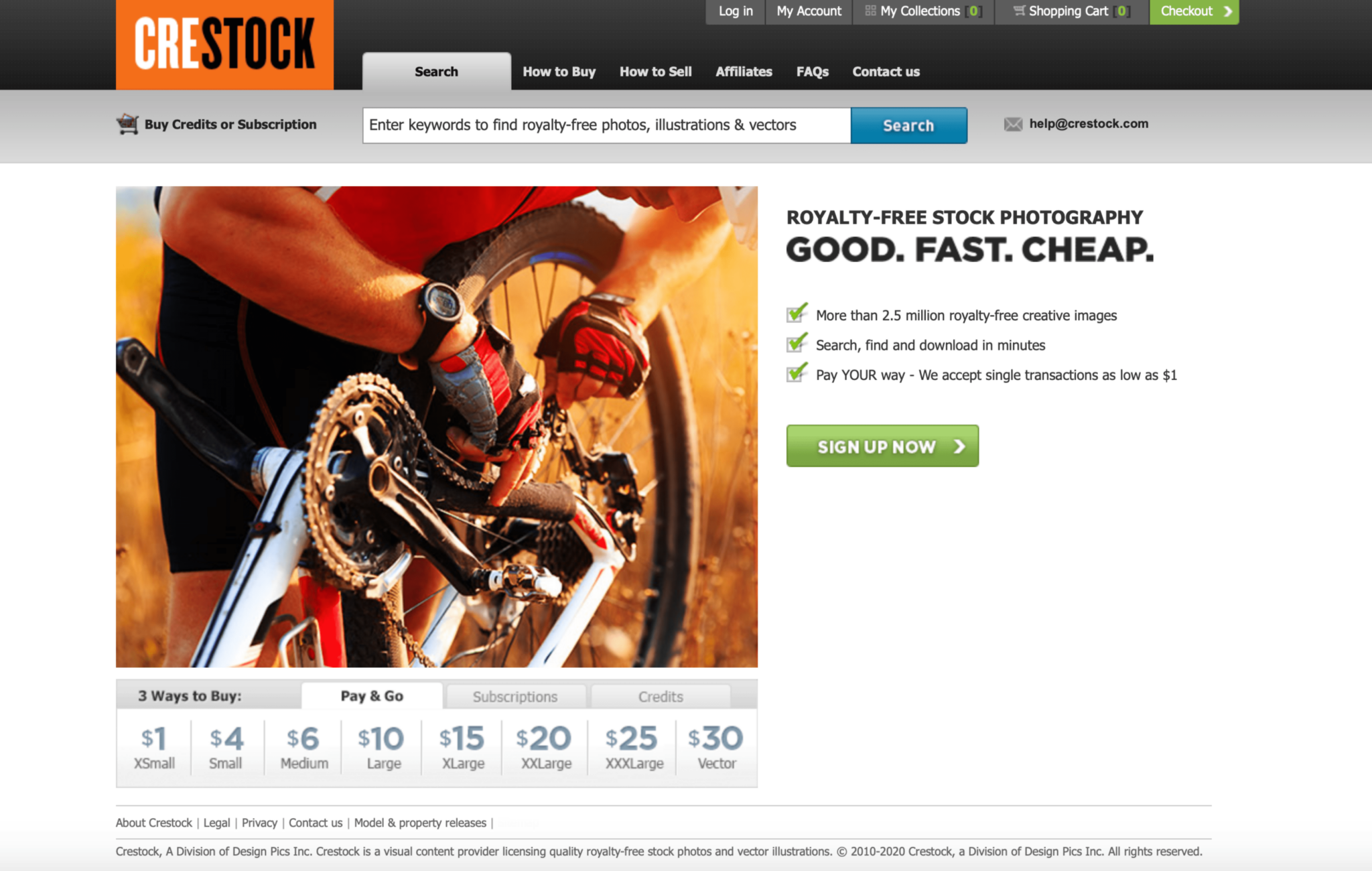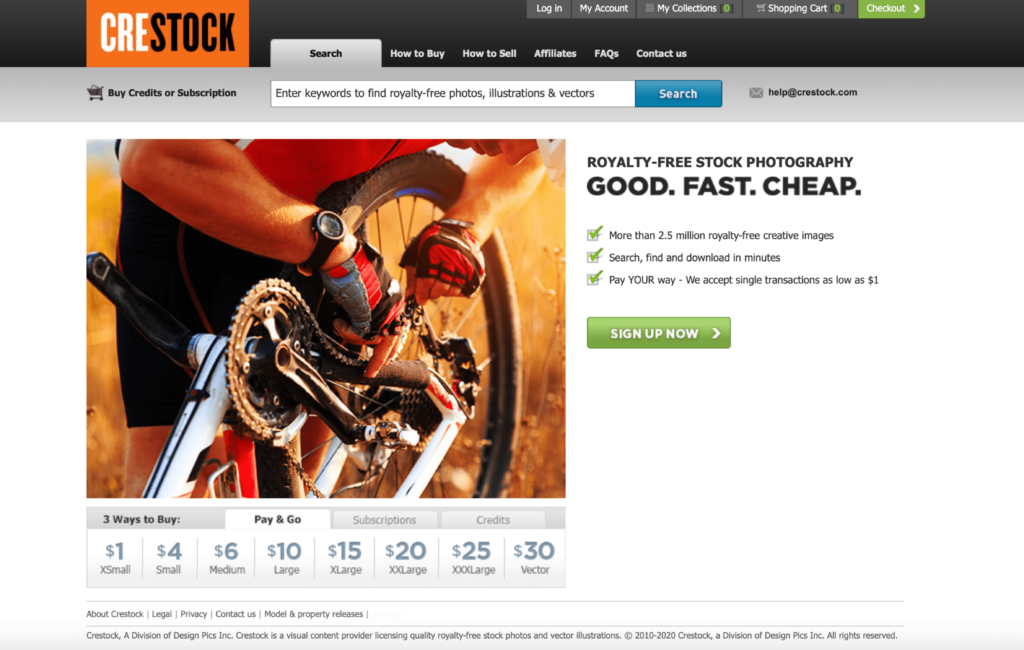 Crestock is again one of the best apps to sell photos. It has a simple registration process – complete the sign-up form, and you'll receive instant account activation.
Crestock is another app that allows you to retain your copyright for uploaded images. You may have noticed a theme here as we progress through the list. Many of the best apps to sell photos allow for the retention of copyright.
Why is this important?
Well, it provides an opportunity to treat this new venture or side hustle as a business. A great strategy you could adopt is to download multiple photo-selling apps and distribute your work amongst all of them. After all, you own the copyright, remember?
This will significantly increase your potential distribution and will maximize your returns for photos you upload. Just remember to only do this with the apps that let you keep intellectual ownership of your images. Then you're golden!
Crestock has a 10-image-per-week upload restriction for new artists – this will increase as your approval rating increases.
The platform offers a progressive commission structure and is dependent on the number of downloads and transaction types. For example, single license purchases vary from 20%-40% (depending on the aggregate number of downloads). Images downloaded through subscription vary from $0.25 – $0.40 (again, depending on the number of downloads).
You must have a minimum account balance of $50 for a payout, and this can be requested via PayPal or Skrill.
Interested in maximizing your photo distribution? Give Crestock a try now…
12. EyeEm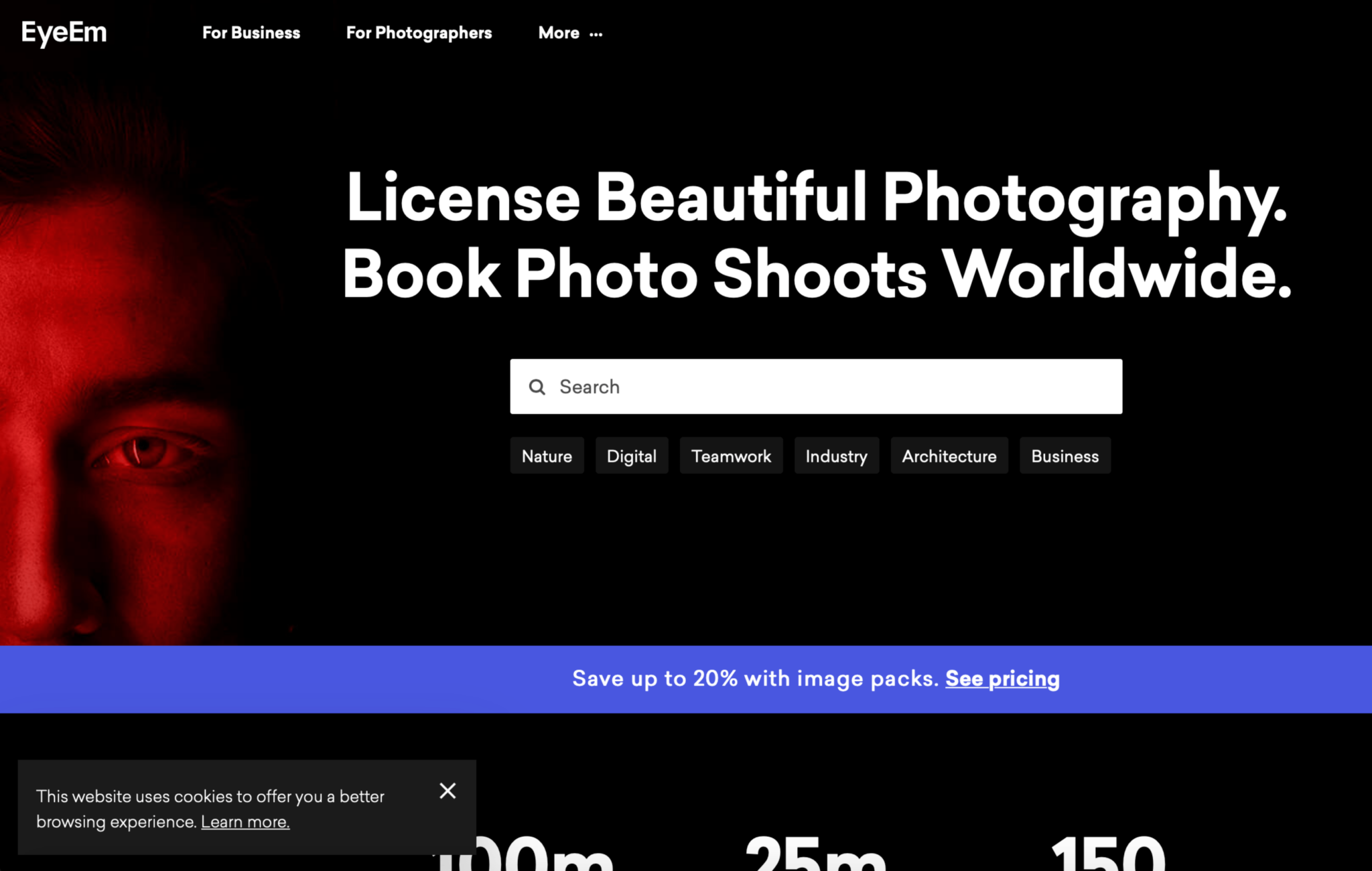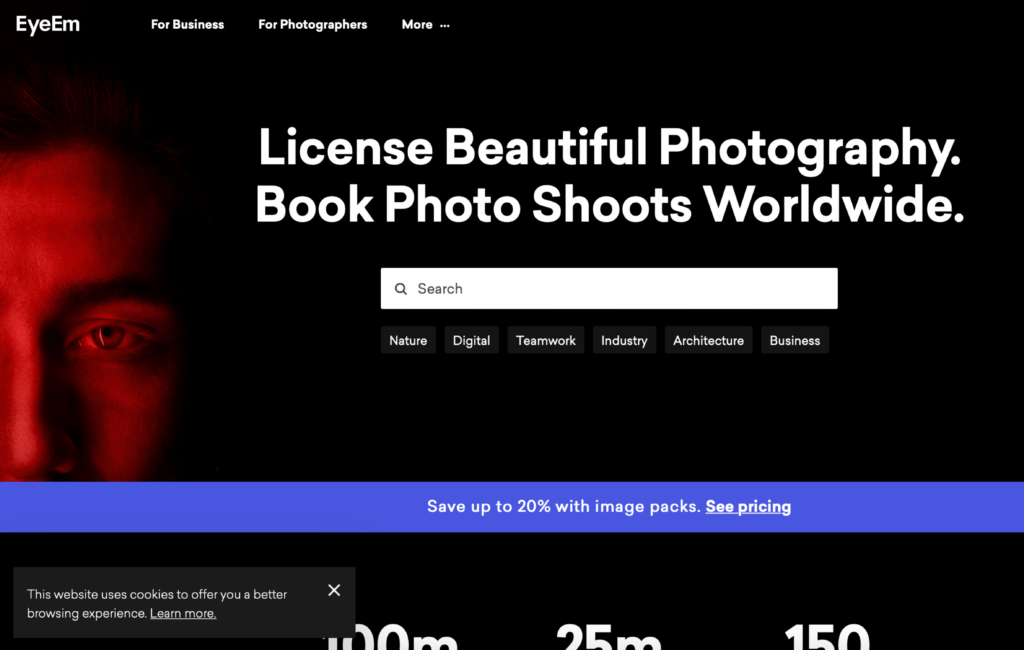 EyeEm is another awesome place to sell your photos. It has a beautifully designed platform and is simple to use (no wonder the network has 25 million photographers from around the world).
EyeEm allows you to make money by selling your photos to its marketplace and offers a very generous 50% commission. The interesting thing about this network is the premium image section. If your image is sold with a premium license, they go for an eye-watering €199 per photo ($227). And you still get the full 50% commission (that's over $100 per photo).
You can also earn money by completing missions (photo competitions, often run in partnership with publishers and brands). This is a great way to increase your revenue and increase your exposure as a rising photographer.
Getting paid is simple. Once you've sold a photo, you will receive a notification and an email linking you to the earnings section of your account. There you can request your payout via PayPal.
Think you can sell that big-ticket photo for over $100? Sign-Up to EyeEm now…
13. Bylined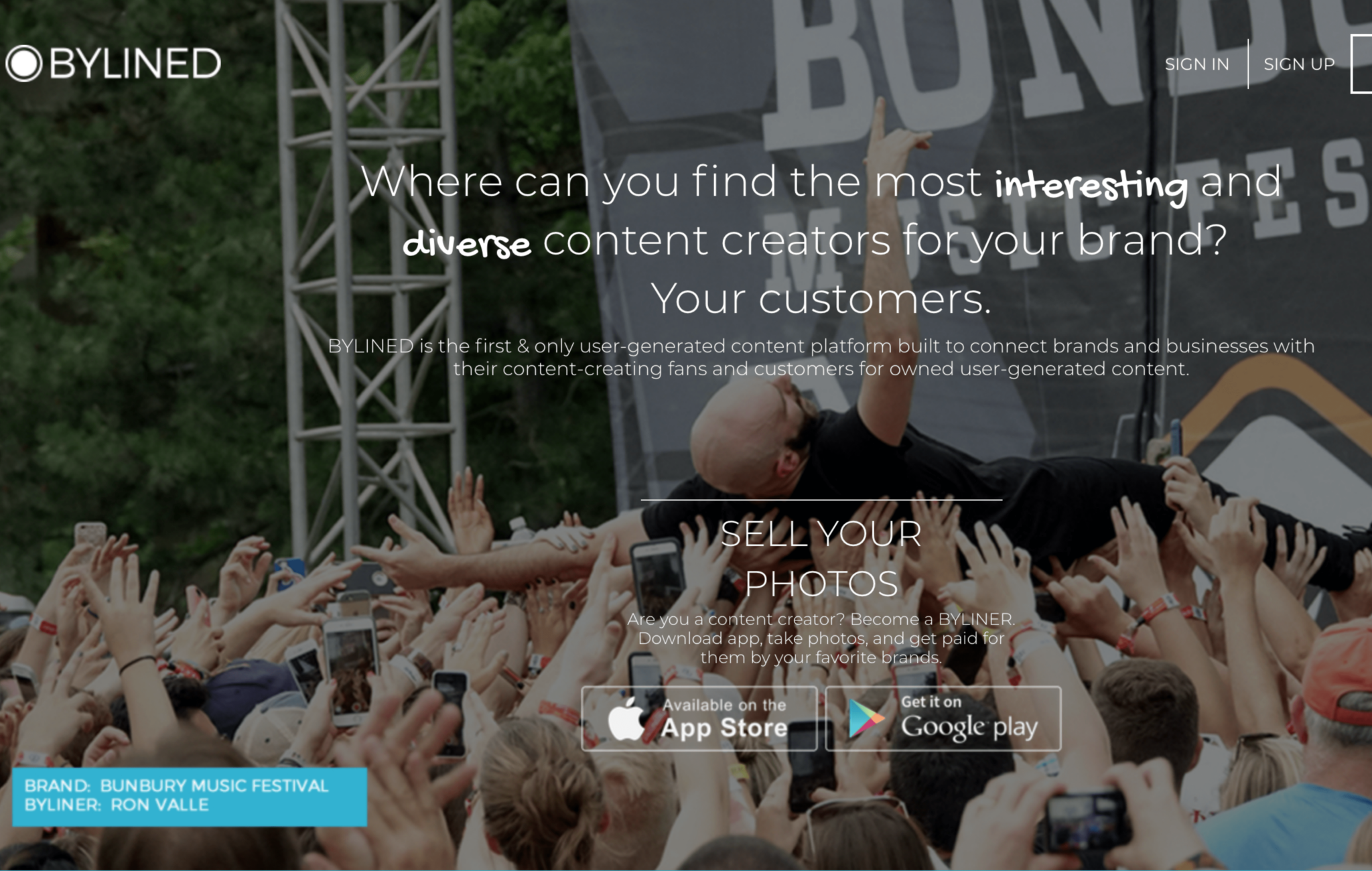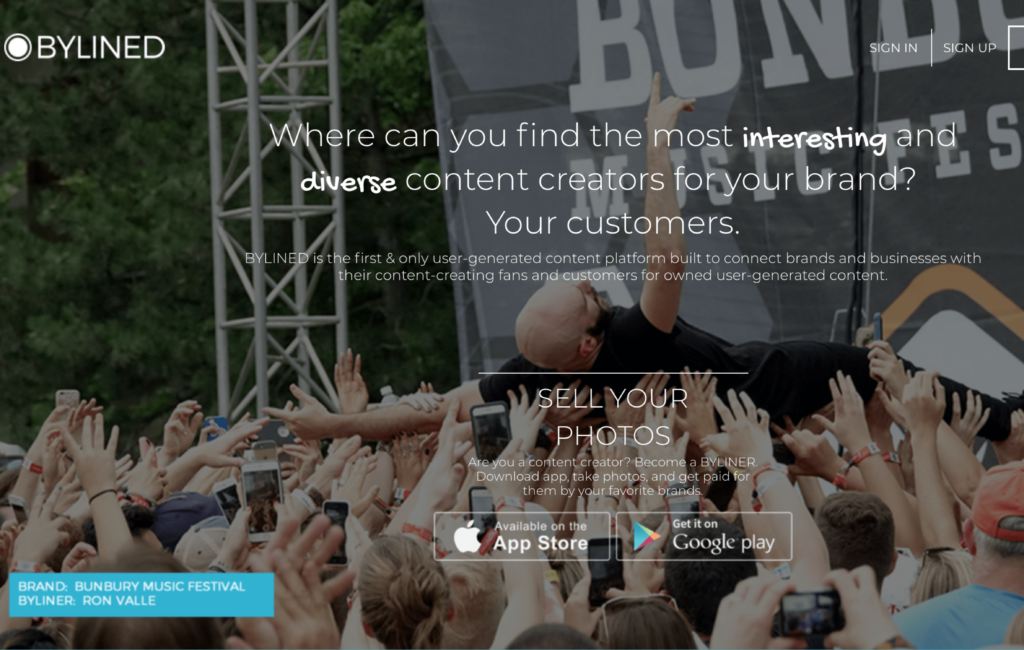 4 billion photos are shared on the Internet daily, and brands like to use user-generated content as an authentic way to connect with consumers. That's why Bylined was created. It connects content creators with brands.
Essentially brands will request certain types of content via the platform, and users can compete with their photo submissions. It all happens directly through the user-friendly app, which can be downloaded on Android or iOS.
Creating an account is simple and can be done with email or instantly with Facebook.
This is a great user-generated content platform that lets fans produce great photos for the brands they love.
Ready to engage with your favorite brands on Bylined?
14. Agora Images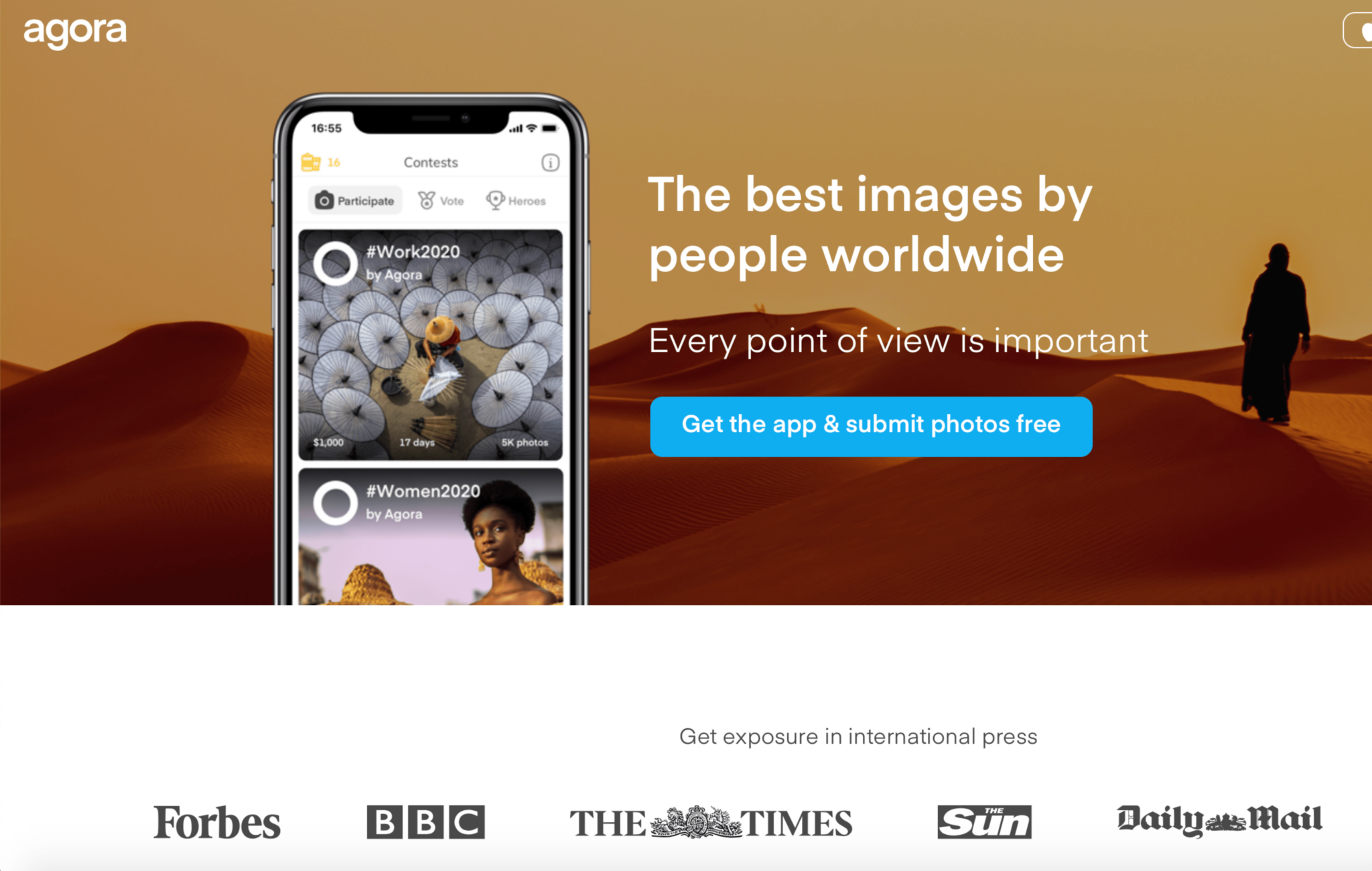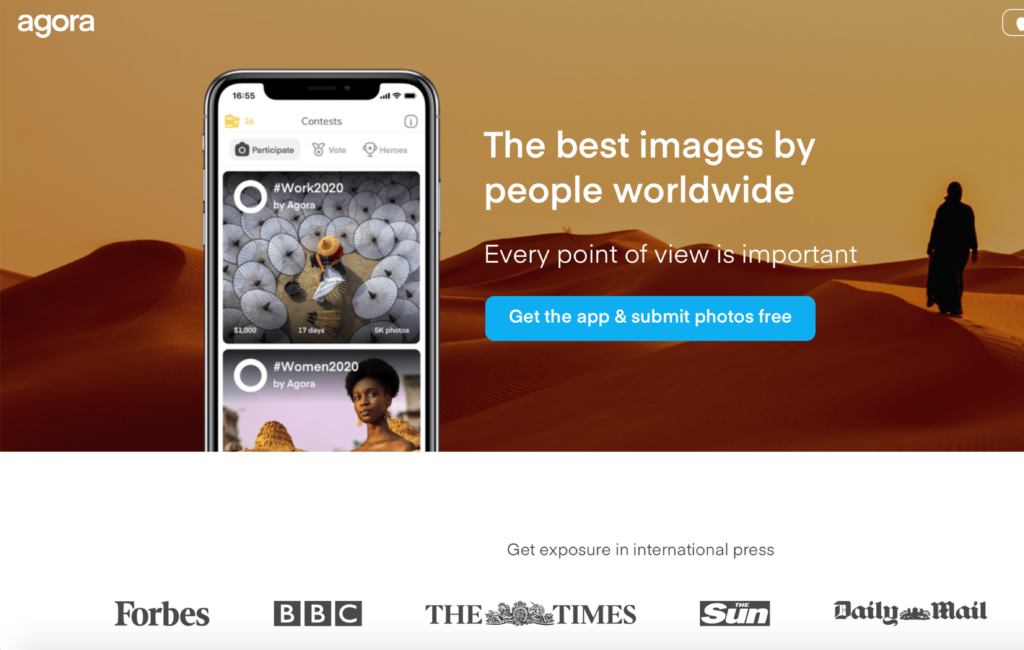 Finally, one of the best apps to sell photos has to be Agora Images. Available on both Android and iOS, it's free to download and register for an account.
One of the reasons Agora Images is such a good platform is the fact you get to keep all of the money your images sell for. No pesky middlemen are skimming a commission off the top. So once you have uploaded your images and they go live on the marketplace, you have the chance to earn a 100% commission for every sale.
Also, the same photo can be sold an unlimited number of times through what's called a safe license. This means multiple earning potential for the same photo.
They also have contests that connect brands with consumers, and these are updated weekly. They have big prizes, so make sure to check them out.
You are also able to develop yourself as a recognized producer of content by moving your way up through the user levels. The better the images you take and consequently sell, the higher the level you can achieve. This is a great way to get some industry recognition for your work and photography skills.
Win prizes, earn money, and develop yourself professionally with Agora Images.
Top Tips For Taking Stock Photos That Sell
If you are new to the stock photo selling scene, then learning the components of a great image is a good place to start your journey. Remember, stock photography that has the potential to sell to the market will have a unique set of optimal criteria.
What makes a great wedding day snap won't necessarily perform well on these platforms.
Think about these elements when taking your photos:
Choose popular categories (Nature, Food, People, and Style)
Use manual focus
Take advantage of natural light
Maximum megapixels for the highest quality
Take multiple shots
Avoid filters
Save the image in raw format (not JPG)
Smartphone Cameras Vs DSLRs
You will need to check the requirements of each photo submission service you use. For most, smartphone-produced photography will be more than adequate. In fact, some of your best photos will be taken this way – as most of us always have our smartphone to hand – and this means you can grab a great snap whenever the opportunity presents itself.
For some of the larger photo submission services, the quality specifications may be out of reach for the run-of-the-mill smartphone. But don't fear! If you're serious about your photography, an investment in a professional bit of kit might be worth its weight in gold.
These days, the prices of DSLR cameras have fallen significantly, and an entry-level model would be a great place to start. One of the main benefits of DSLRs is their ability to accommodate interchangeable lenses in response to different photographic scenarios.
As you get more serious with this side hustle, consider switching up your equipment and start experimenting with more adventurous shots. The more unique, original, and professional your images are, the better chance you have of selling and repeat selling.
That means more money in your wallet!
I personally have an iPhone 11 Pro Max – which has a triple-lens 12 MP camera – and takes amazing photos.
For beginners looking for an entry-level DSLR, TechRadar says you can't go wrong with the 24.2 MP – Nikon D3500.
Nikon D3500
A DSLR that's as easy to use as a point and shoot camera
Compact, comfortable design that's great for travel and special events
Image sensor that's 15x larger than those used in typical smartphones for sharper, clearer pictures
FAQs
What is the best website for selling photos?
There is no single best website or app for selling photos online. All platforms have different requirements, payout structures, and customer preferences. Using a combination of websites would be the best approach to making money from your photo sales.
Where can I sell my photos for money?
Most photo-selling platforms offer a combination of prizes and cash payouts for the images you upload. You will likely need a PayPal account for most platforms.
What type of photos sells best?
Unique images that are in high demand in the photo marketplace will sell best on these platforms. Check out this post for information on how to frame your work for the best chances of sales.
Can I sell photos taken on my phone?
Absolutely you can. Many of the platforms above will accept photos with the quality that most smartphones are capable of producing. Just be sure to check out the image requirements on each platform before you submit your work.
How much can I earn by selling photos online?
These sorts of platforms are a great way to start earning some extra cash. The typical payout structure is usually a percentage commission of the sale price. This means the more you sell, the more you earn. Scott made $100,000 selling stock photos online.
Recommended: The Best Finance Apps to Save, Invest, and Track Your Money
14 Best Apps To Sell Photos And Make Money