Disclosure: This post may contain affiliate links. If you click on a link I may make a small commission at no extra cost to you. You can read the full disclosure here.
Last Updated on October 23, 2022 by Chris Panteli
Is Tailwind Worth It?
Pinterest is relatively new. And therefore, much like a moody teenager, it's going through many changes. So you may be asking yourself is Tailwind worth it?
Unlike Google, which is now over 20 years old and performed its first search in 1998, Pinterest is only about 10! A baby in the online world, but a powerful marketing platform for any business nonetheless.
But with young platforms comes teething problems, algorithm changes and learning curves. Enter, Tailwind; the Pinterest approved third-party scheduling app. Simple to use and an essential tool of any would-be blogger wishing to increase free organic blog traffic.
So why am I asking the question is Tailwind worth it?
Well, it seems that the days of pinning the same pin to multiple boards (a task that Tailwind could perform with its eyes closed) may now be somewhat redundant.
Pinterest wants fresh content. That means new images. And quite frankly you simply will not get the same level of reach and exposure doing things 'the old way'.
I believe Tailwind still has an important part to play in the ever-changing Pinterest world. The question is, what part is that? And how should you use this powerful tool to maximise your advantage over competitors?
This article will discuss the basics of Tailwind, Tribes, scheduling features and tactics that I have used to increase my impressions and click-throughs by 100%. I will share how and why I think the Tailwind platform is definitely a tool you can use to play the Pinterest game…and win!
So if you want to know if you should use Tailwind for Pinterest, this Tailwind review should highlight some important factors to consider.
What is Tailwind?
Tailwind is a paid application that allows you to schedule posts to Pinterest and Instagram. This article will focus on the relationship between Tailwind and Pinterest, so I won't be covering any Instagram specifics.
Tailwind is an official Pinterest & Instagram Partner, so you can rest easy knowing your account is in safe hands. This is an important thing to note because Pinterest hates spam and spammy behaviour. Therefore, to protect the credibility and functionality of your account, using approved tools is essential.
Now, for the uninitiated, you may be asking 'why do I need to schedule my pins?' After all, Pinterest has a native scheduler anyway, which is free!
Well, there are reasons to schedule pins that require the assistance of third party applications; namely Tailwind.
Firstly, the native Pinterest scheduler is cumbersome, time-consuming and limited in its capabilities. I will discuss why Tailwind provides a better solution in the following section, so stay tuned.
Secondly, Tailwind is more than just a scheduler, much more. And although I believe Tailwind may not be required for larger, more established accounts, I do feel it provides tremendous value for newbies. Especially for bloggers and marketers in their first year using the platform.
Tailwind In The New Age of Pinterest
So you will have almost certainly heard about Tailwind if you've been on the blogging scene for any length of time. In fact, for a long time, it has been heavily promoted by long-established blogs within the blogging community.
Start Your Own Blog
It's a great way to make money online and to win back your financial freedom. It's not easy, but then again, nothing good in life is! If you put in the work it can be extremely rewarding. So make sure you start your blog the right way, self-hosted, and on Siteground!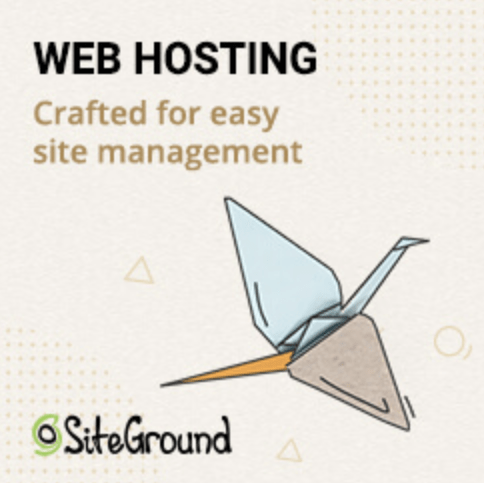 I do not claim to offer any new information on Tailwind itself, moreover, I wish to convey the relevance of the application in light of the latest Pinterest algorithm changes. And more importantly, why it still has a place if used correctly. There are loads of Tailwind reviews out there, and almost all show the tool in a positive light – and quite rightly.
Pinterest made some big changes starting in February 2020. The rollout seems to have incurred some teething problems, with many users noticing significant reductions in traffic and impressions.
Anastasia from AnatasiaBlogger.com (a big player in the Pinterest marketing world) has been documenting the updates as they progress on her site. I'll skip to the fluff and get straight to the meat:
Fresh pins are now given priority in smart feed and search results (over repins)
New blog post/URL = Fresh pin
New pin image for old URL = Fresh pin
New URL + new pin image = Fresh pin
So, this is what Pinterest wants to keep its new algorithm happy and what bloggers need to deliver in order to gain maximum exposure and referral traffic.
Pinterest actually went on record and did a live session with Tailwind to address some of the algorithm changes and expected best practices.
[LIVE - WITH PINTEREST!] Updated Creative and Pinning Best Practices
Tap twice to load then open Video...
It's interesting that Pinterest confirmed two key points:
Repins will still get some distribution on the platform but not as much as before.
Using a third-party scheduler like Tailwind is fine and will not hurt distribution.
This was also confirmed to me personally from Pinterest: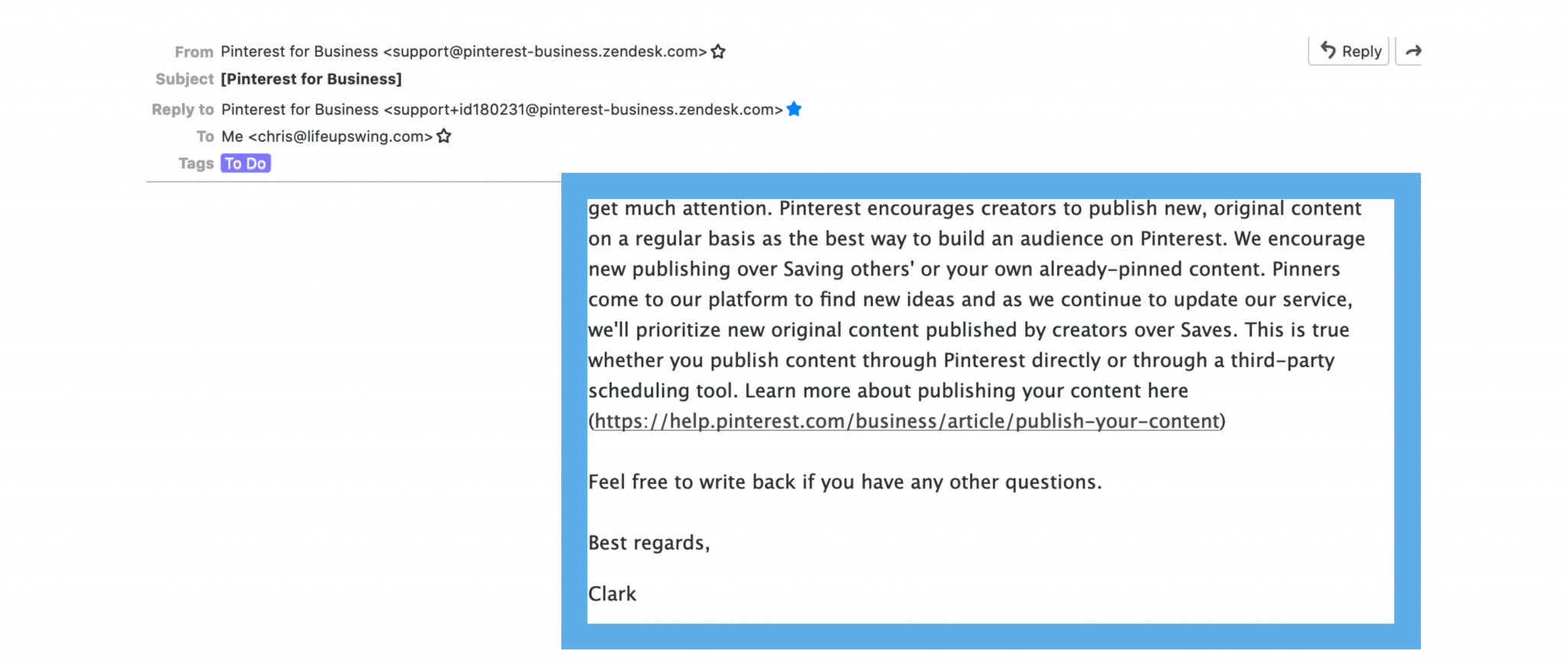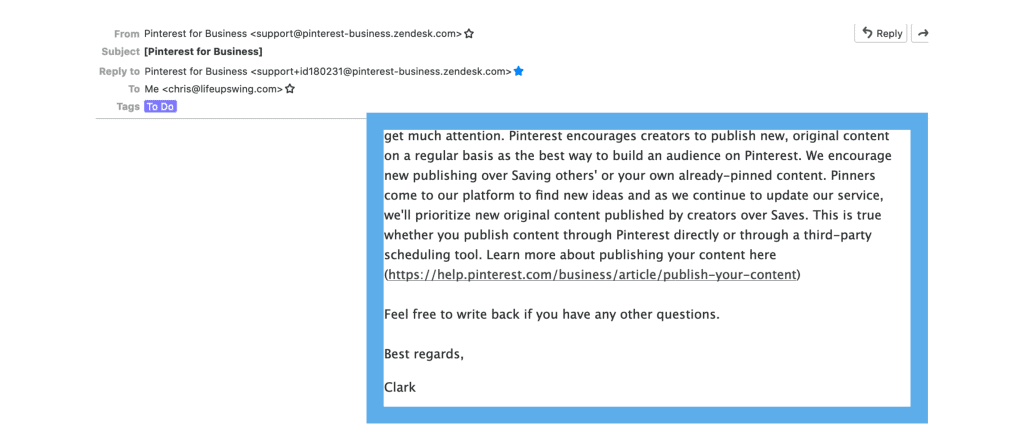 So, using Tailwind is not an issue, but doesn't it make repinning to multiple boards redundant?
Well, this ability was once a key feature of the Tailwind platform. And although Pinterest has confirmed repins will still get some distribution, it is perhaps not the best way to move forward. Fresh pins are the key, and a repin to a different board is NOT considered fresh.
I still use Tailwind though, I just DO NOT repin any images. I simply utilise the scheduling functionality and the following features.
Tailwind Features You Should Use
The reason I ask the question is Tailwind worth it? is because of how many features you should really not be using.
When paying for a feature-rich service such as Tailwind, you'll want to know you're getting maximum 'bang for your buck'. And this ultimately will mean being able to utilise all the features it offers.
In light of the Pinterest algorithm changes, I would suggest that there are really only 3 elements of Tailwind you need. And this doesn't in any way diminish the quality of the product. It just means you will be using it smartly – and getting traffic to your blog!
Let's discuss the 3 features of Tailwind you could and should use:
Scheduler
The scheduling feature of Tailwind, for me, ultimately answers the question of whether or not it's worth it. I need to schedule my pins, and Tailwind is the best way to do it.
I live in the UK and my audience is predominately in the USA. Therefore, pinning at 4 am is not an option (I have a full-time job and need my beauty sleep).
Why not just use the Pinterest native scheduler, it's free?
Great question!
Well, first and foremost the Pinterest native scheduler is clunky and time-consuming. You need to upload each pin one at a time and then enter your title and description. You also only have the option to schedule pins at 30-minute intervals.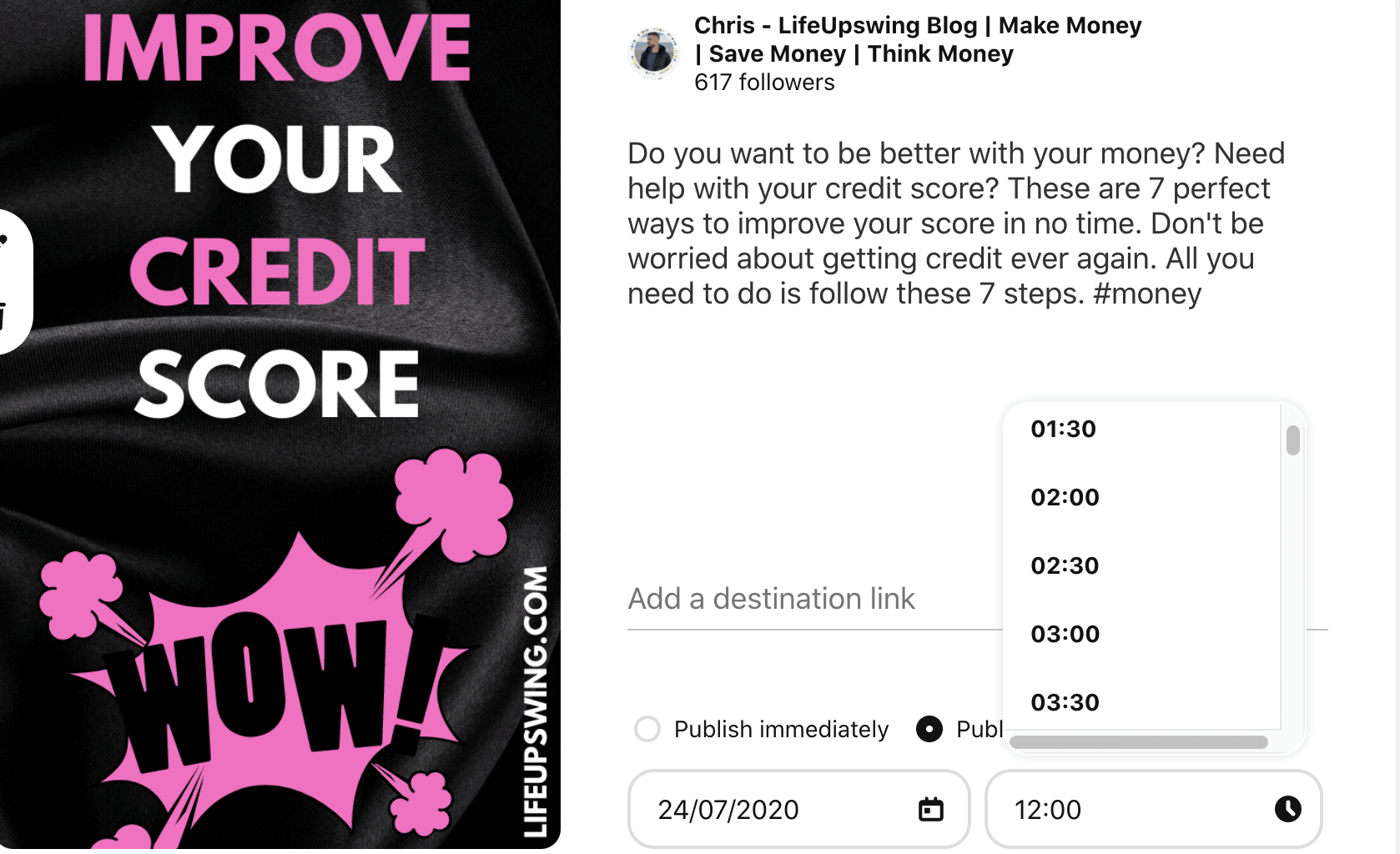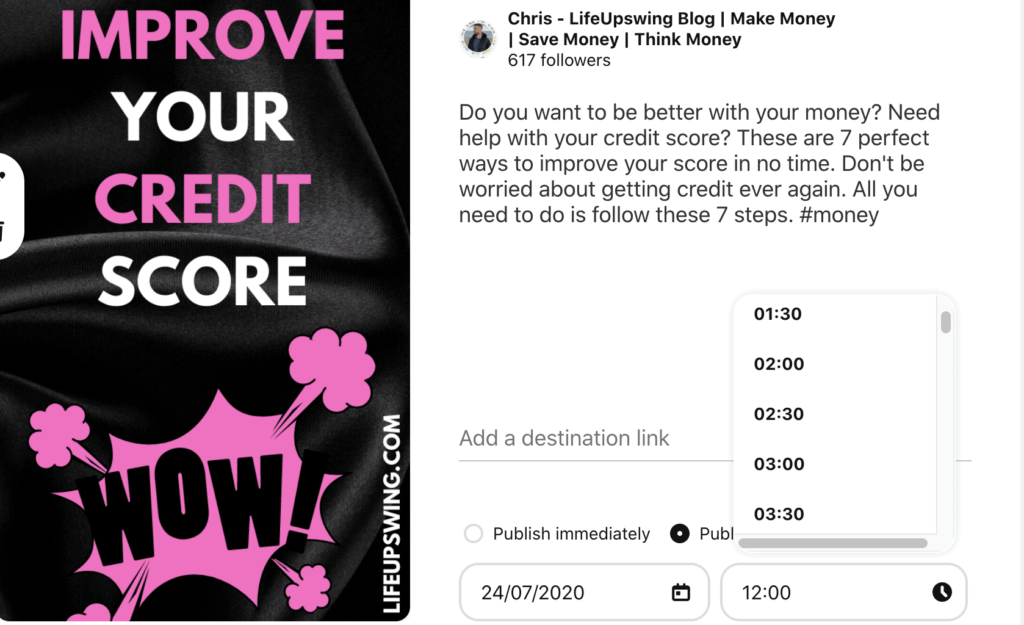 This may seem trivial, but after hours and hours of research and trial and error, I have determined that pin timing is important for your reach, impressions and ultimately click-throughs.
Every Tom, Dick and Harry that is using the Pinterest scheduler will be pushing their pins out at these very specific 30 minute interval times. I have had much greater success using times outside of these slots (17, 22, 28 past the hour) for example. This is not possible without manually pinning at these specific times (not an option for me and many others) or using Tailwind.
Tailwind actually allows you to bulk upload your pin images, and then will automatically schedule the timings with Smart Schedule – optimised timeslots for your Pinning Schedule based on when your audience is most engaged.


I like to pin about 10 fresh images daily, and this takes a lot of time using the Pinterest native scheduler. You need to upload each pin image individually.
With Tailwind, you can simply download your images from Canva, and uploaded all pins with one click of the mouse. Then you can simply enter or copy and paste your titles and descriptions.


You could do all of this manually, especially if you live in the same time-zone as the audience you are targeting. But remember, Pinterest likes consistency. So if you like to make sure your pins are planned for at least a couple of days, then Tailwind solves that problem.
Life can get in the way of so many things, so having your pins ready to go is worth the small monthly cost for peace of mind.
Is Tailwind worth it? If you value your time then it's a no-brainer!
Tribes
I bet you have heard of Group Boards, and how important it is for your growth to be part of them. Well, not anymore!
The Pinterest algorithm update has finally put a stop to the misuse of Group Boards. They were conceived as a way for pinners to collaborate on ideas, not for content creators to maximise their reach. Therefore, Pinterest has significantly reduced the exposure of pin images associated with group boards.
There is still possibly a time and place to use Group Boards. Pinterest does still give some juice to well-performing boards. You will need to review the analytics of each Group Board you are using and make a determination as to it's suitability.
But if you are new to the game, then don't waste your time and energy trying to get accepted onto Group Boards. Instead, make use of Tailwind Tribes.
Tribes are essentially Group Boards 2.0. The premise is simple. You join niche related Tribes and share your pins. If they are well designed and relevant (which they will be of course), other Tribe members will schedule them to go out to their own boards.
Tribes will have predetermined rules that must be adhered to for maintained membership. But these are simple to follow and fairly self-explanatory. Most Tribes will have these two basic rules:
Vertical pins with good descriptions only
1:1 Share policy that must always be followed
Follow the rules, share your pins, and watch your Pinterest growth explode.
Mastering Tailwind Communities
Tap twice to load then open Video...
Keep reading to see how you can use Tribes (30 Submissions per month / 5 Tribes) for free.
Insights
Let's be honest, Pinterest analytics are pretty pants. The impressions take forever to update, and the traffic figures are usually not in line with Google Analytics.
Well, Tailwind has its own analytics and they are awesome.
The analytics are divided into three main categories and deliver exceptionally valuable information that can be used to adjust strategy and improve performance.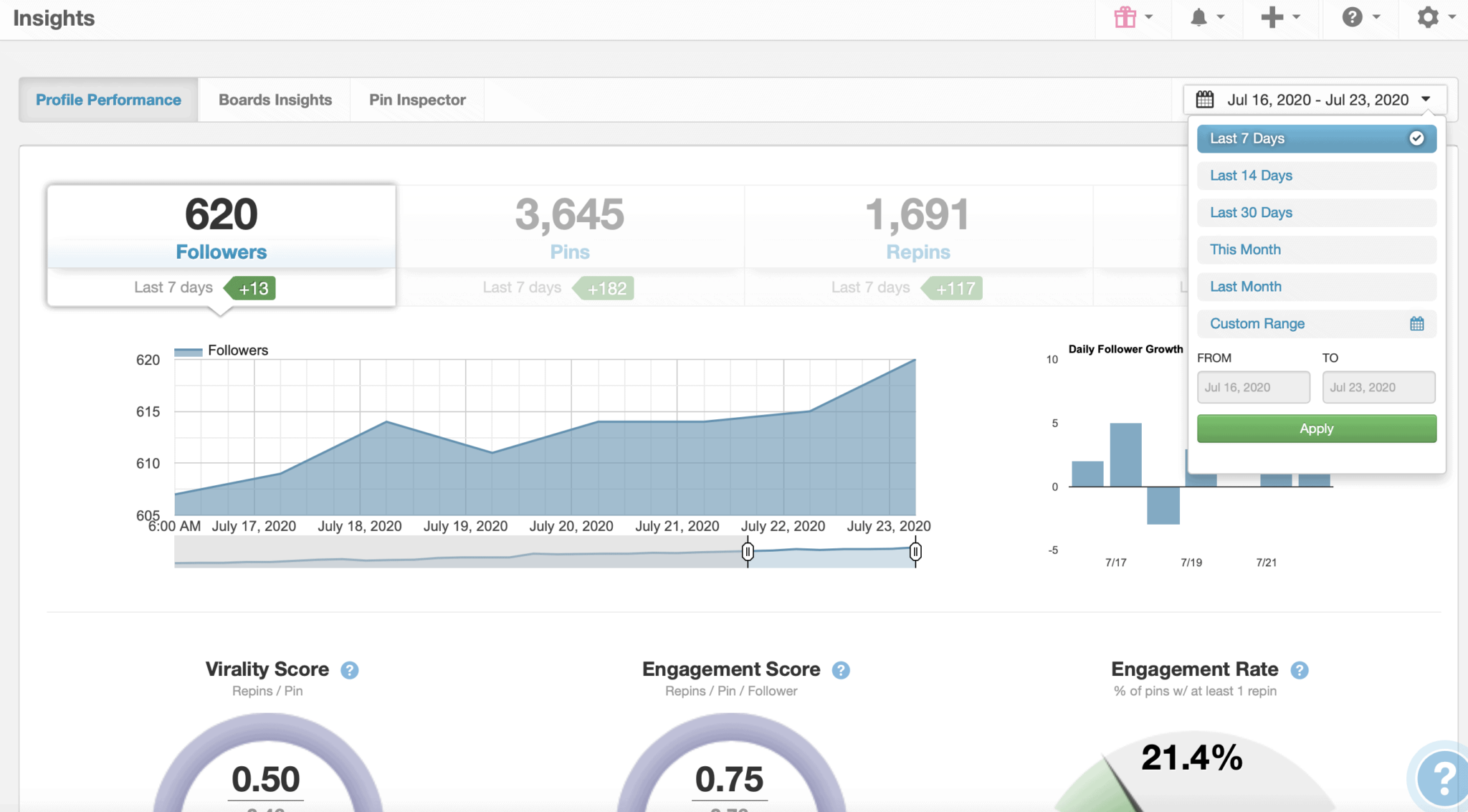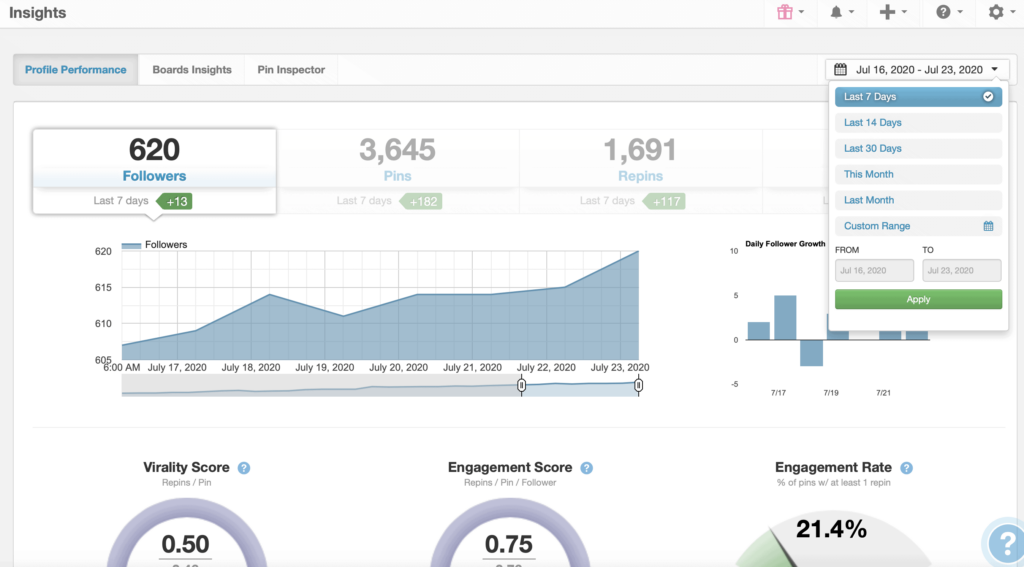 Profile Performance
This shows you changes in the number of followers, pins and repins over a given period. There is also additional information regarding virality and engagement.
Board Insights
This area is extremely useful as it breaks down the performance of your boards. You can choose to display your boards only by removing group boards and secret boards.
Pinterest will give more exposure to images pinned to better performing boards, and this can be determined using Board Insights. You will also be able to determine the viability of any Group Boards you are part of in this section.
Pin Inspector
Here you are able to easily see which pins have performed well. From there, you can make better decisions on future pin designs and keyword descriptions. You also have the option to repin your best-performing pins from this section – but be advised. Remember, Pinterest wants fresh content. So I would suggest only repinning sparingly and after a considerable length of time.
Aside from these 3 features, everything else, including Board-Lists (ability to repin to multiple boards) and SmartLoop are redundant for an optimal strategy. Remember, you need to produce what Pinterest deems fresh content.
Repinning to multiple boards, and looping pins is not achieving this objective. So ditch them. And then see what happens to your impressions and click-throughs.
Free Tribes Strategy and Performance
I personally recommend the paid Tailwind account and using a Tribes boost for new bloggers or people wishing to grow their accounts quickly.
The free trial, which I definitely recommend you sign up for with my link comes with access to 5 Tribes, 30 monthly Tribe submissions and 100 scheduled pins.
However, after using the Tribes boost, which gives you 200 monthly submissions and Unlimited Tribe memberships, I achieved over 100% growth in impressions and click-throughs in 30 days.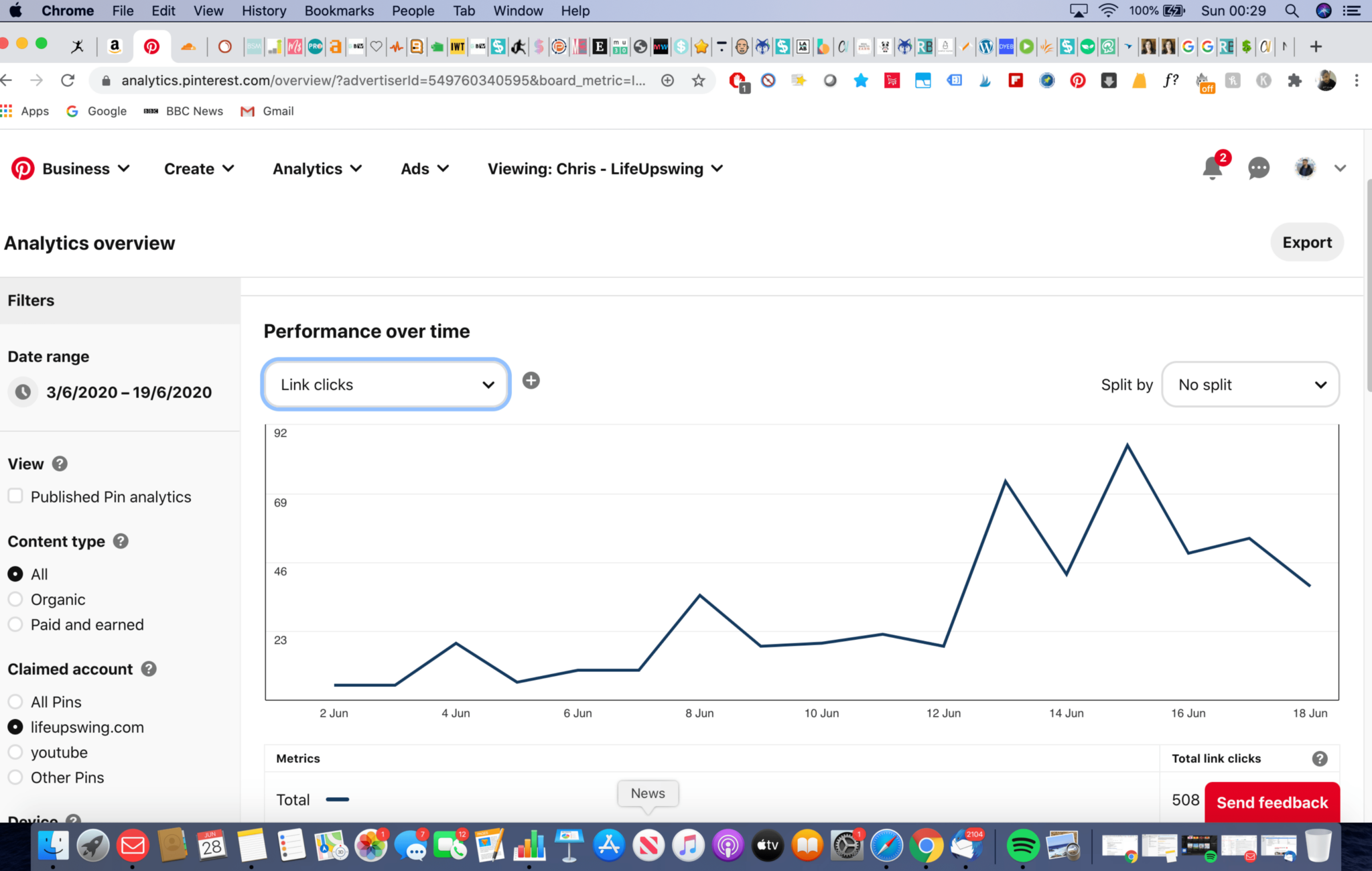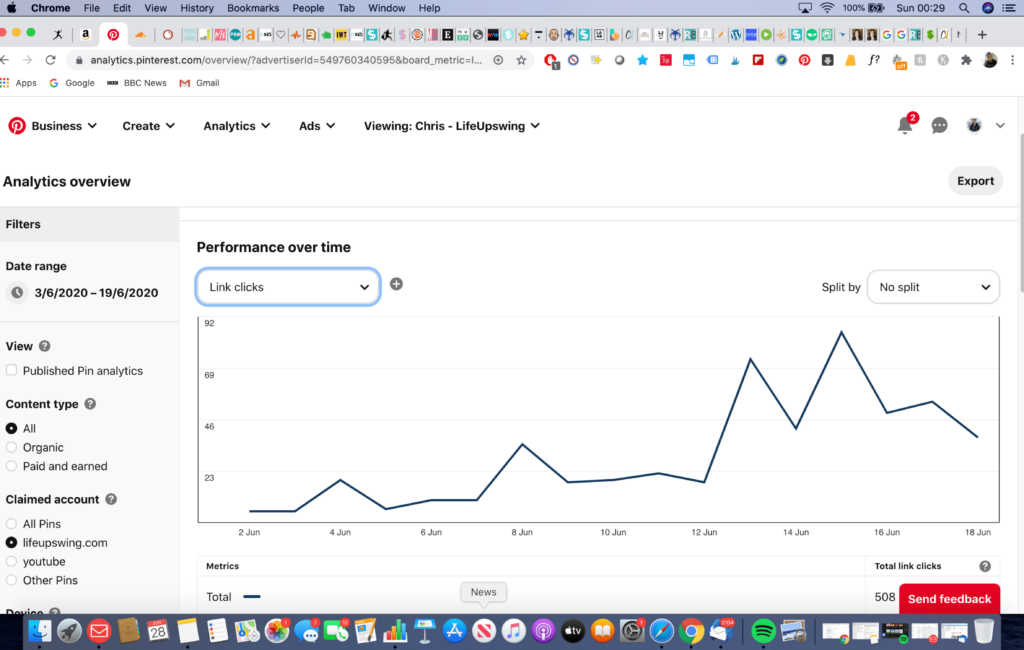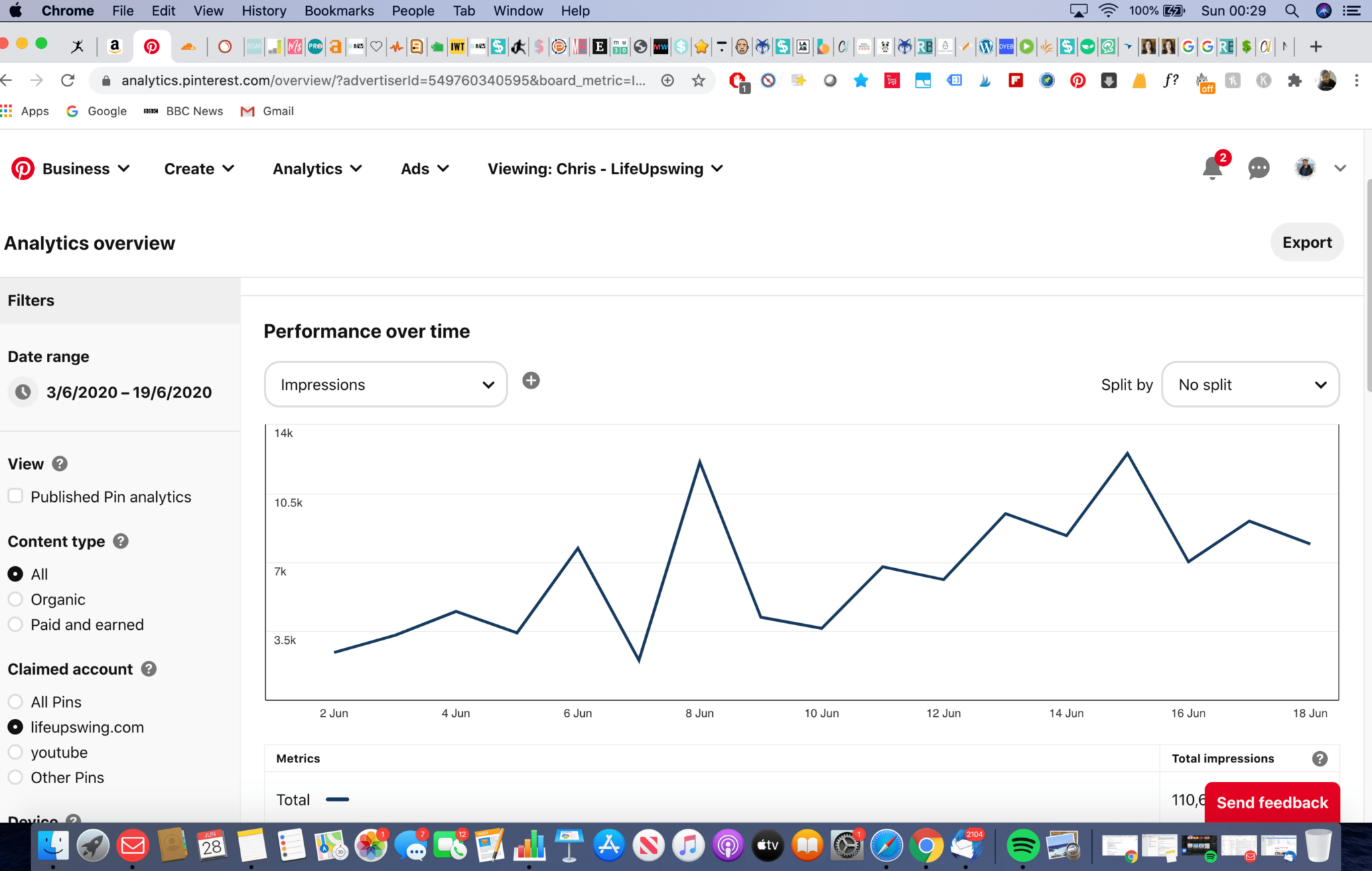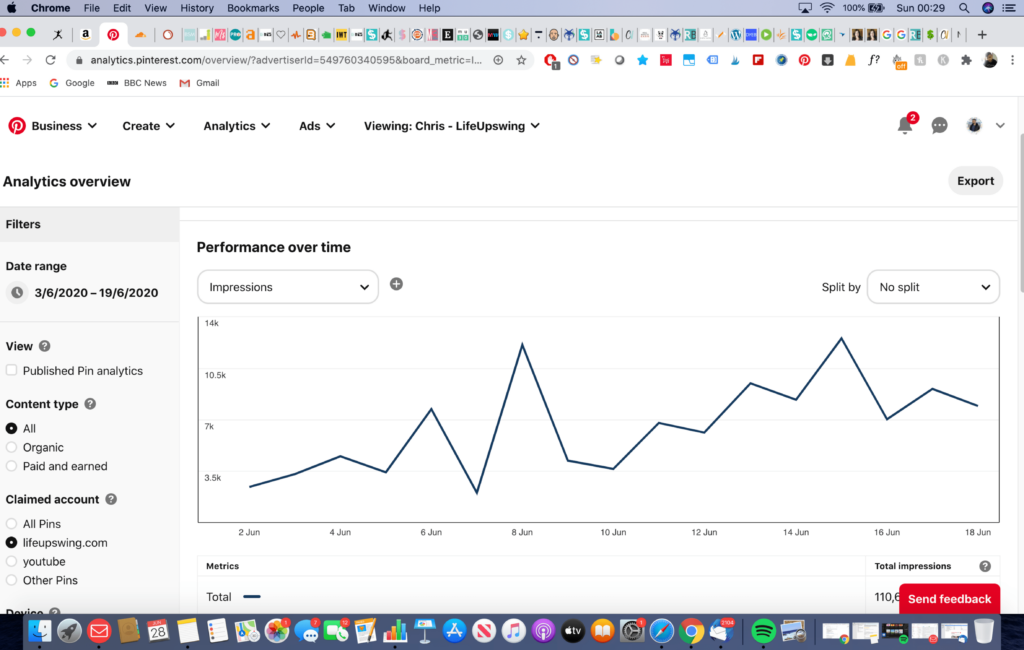 This is quite remarkable and my account continues to grow strongly. I think using this feature for 12 months is a great kick-start to any Pinterest marketing campaign.
Update – Oct 2020
My account is now at over 500k monthly viewers – and bringing me website traffic edging towards 10k page views per month!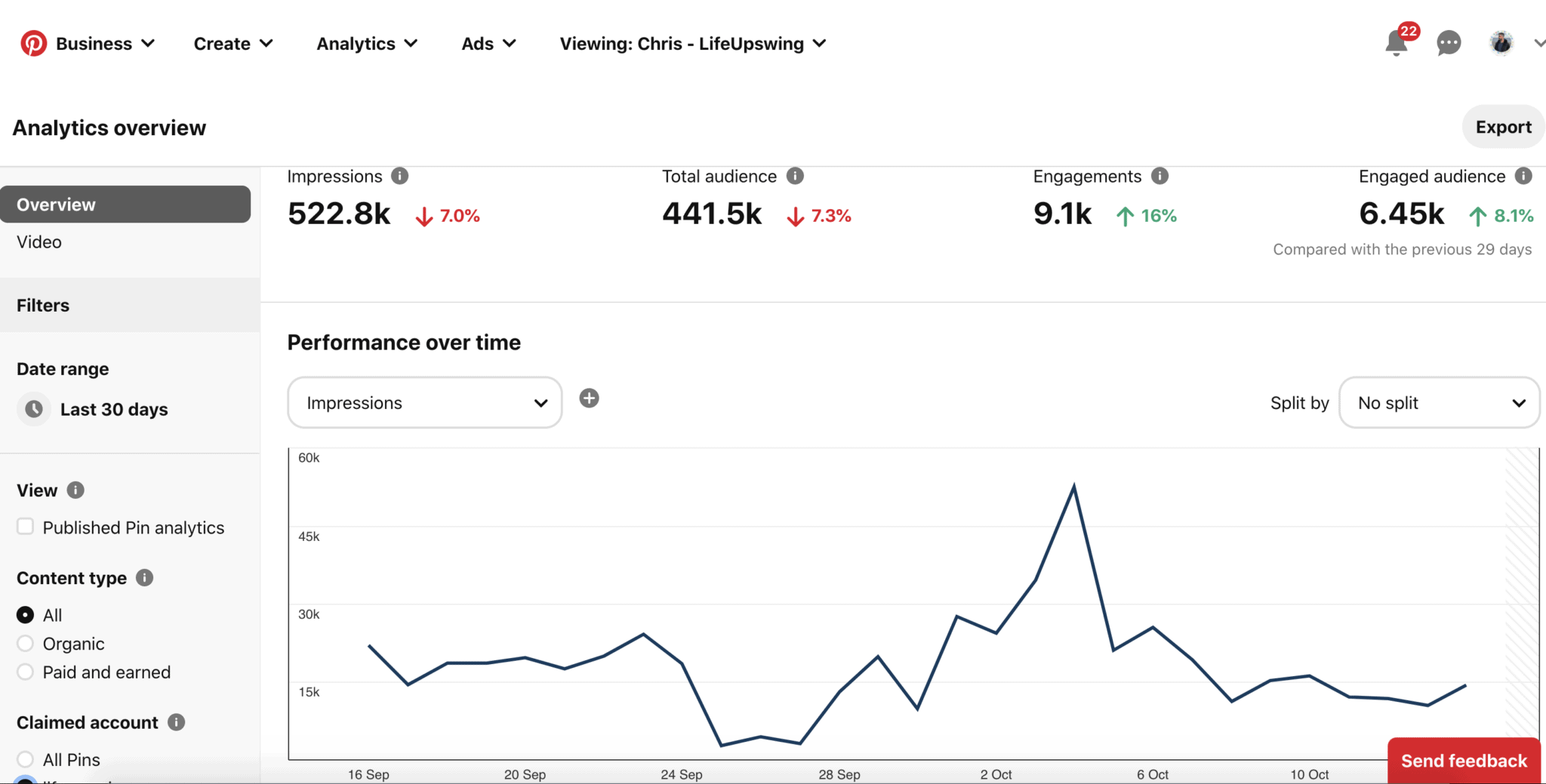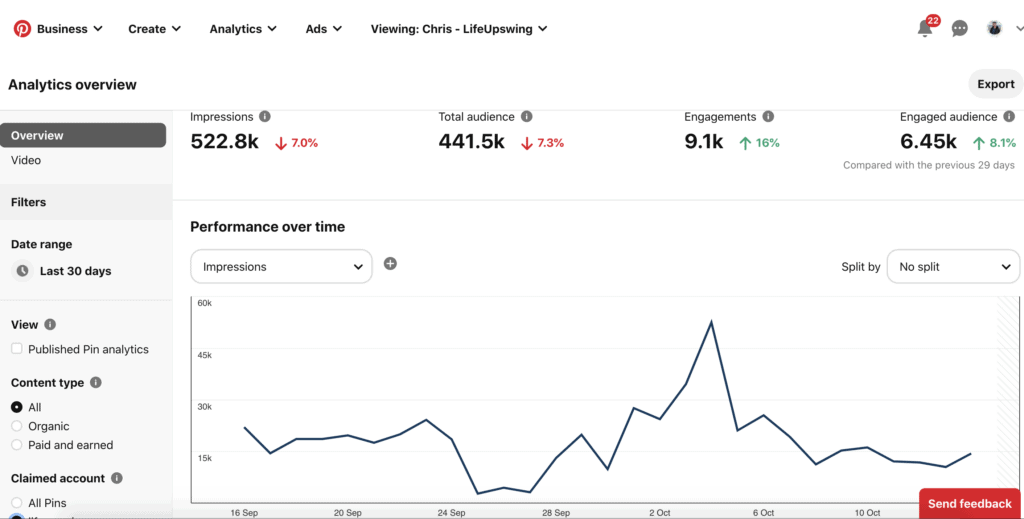 The free trial is a good place to start though and test the platform. Also, if you wish to continue using Tribes after your 100 free scheduled pins, you can.
Using Tribes For Free After Trial
You will need to be a little savvy in the way you approach this, however. Remember, you will need to adhere to Tribe rules in order to not kicked out. This will almost certainly involve like-for-like sharing quotas. So, for every pin you submit, you will need to share one.
Traditionally, this would be done by selecting the pin you wish to share and adding it to your queue. However, once your 100 free pins have been scheduled, this is no longer an option. As your scheduler will cease to function.
So to keep Tribes happy and make sure their pins are being shared, you simply have to manually pin from the scheduler.


Publisher > Scheduled Pins > Select Pin > Pin Now
Tailwind Pricing
You can start with the Tailwind free trial which includes:
Scheduling for up to 100 pins
Access to 5 Tribes
30 monthly Tribes submissions
No time limit on the trial
Once you have completed the trial and you are satisfied with the platform (which I am sure you will be) you can then sign up for the paid Plus Plan.
This is $9.99 a month for all standard features. I would then recommend (at least for your first year) adding a Tribes PowerUp – giving you access to more Tribes and more monthly submissions. This will allow you to grow your account quicker.
I have taken then Tribes Max PowerUp and am extremely satisfied. Like I said, my account has grown over 100% in impressions and link clicks in just 30 days.
These are my personal results, but Tailwind also publishes the Typical Results of Tailwind Members every year, so you can see exactly what the average growth rate looks like for their members.
These are the available PowerUp options:


These are my recommendations for a killer Pinterest growth strategy using the suggested Tailwind paid options.
Tailwinds Place in 2020
Is Tailwind worth it?
Tailwind is most definitely worth it in spite of the Pinterest 2020 algorithm changes. You just need to be using it correctly.
Scheduling Pins is officially NOT going to affect your account in any negative way. Therefore, for people living outside of targeted time-zones, Tailwind is the answer.
Also, it is a better solution than Pinterest' native scheduler. It is quicker and simpler to use and will provide a way to ensure you're always engaging with the platform. This is essential for growth and traffic.
The Tribes feature is basically the answer to the now nearly redundant Group Boards. This means you can get your pins in front of a larger audience and still keep the algorithm happy. There is a perfectly reasonable paid plan to speed up growth and a free alternative which is also adequate.
Tailwind analytics is also a valuable source of insightful information that can be used to one's advantage over the basic Pinterest data. This will give you a leg-up on competitors and lead to faster growth.
5 Steps to Rock Tailwind & Pinterest
Tailwind is definitely worth it in 2020 and beyond. Using a carefully optimised strategy that considers the latest Pinterest algorithm changes, growth and exposure are more than possible.
Follow this simple 5 step plan to dominate the Pinterest platform and explode your traffic:
Step 1: Produce 6-10 Fresh pin images daily.
Step 2: Schedule your images using Tailwind, and utilize optimum time slots for maximum exposure.
Step 3: Join niche-related Tribes and share pins according to the rules.
Step 4: Measure your performance using Tailwind analytics. Ensure quality Board maintenance, Group Board effectiveness, and Tribe performance.
Step 5: Do not repin to multiple boards and do not deviate from the plan.
Want To Learn How To Explode Your Organic Search Traffic with SEO?
The Stupid Simple SEO course by Mike Pearson has helped me grow my organic search by over 100% in just a few short months – and it can help you to explode your traffic as well.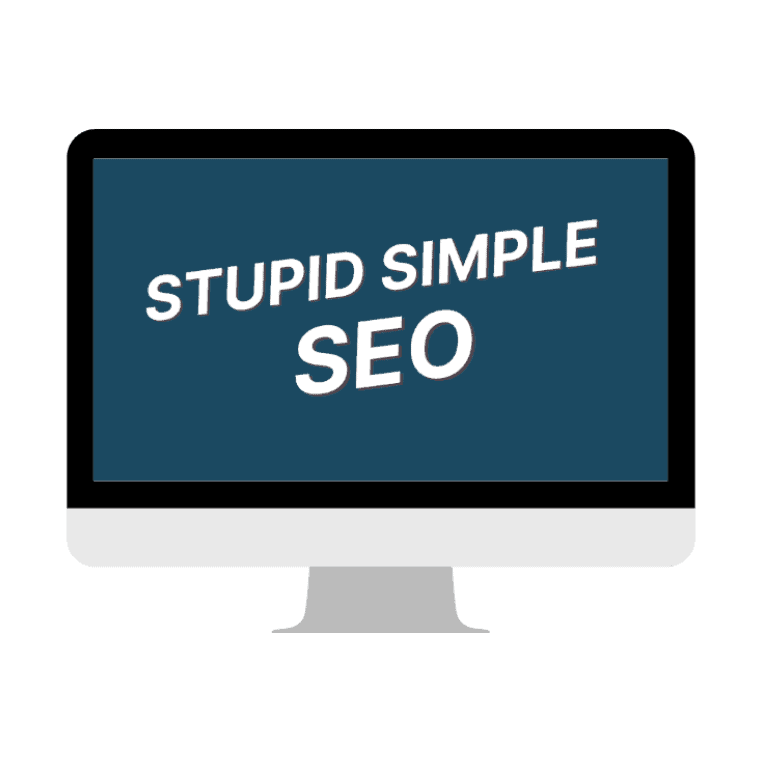 Customer Service
When deciding on any paid product, customer service is an essential element to the purchasing decision process. Nobody wants to spend good money on something that doesn't provide excellent customer service.
I tend to judge customer service on a number of different criteria, but chief among them is the response to queries.
I have communicated via email with tailwind support on a number of occasions, and have always received timely and considered responses. I have had no real issue with the quality of the product, just some general questions that needed answering.
The customer service from my experience was excellent, and I have no problem recommending this to you.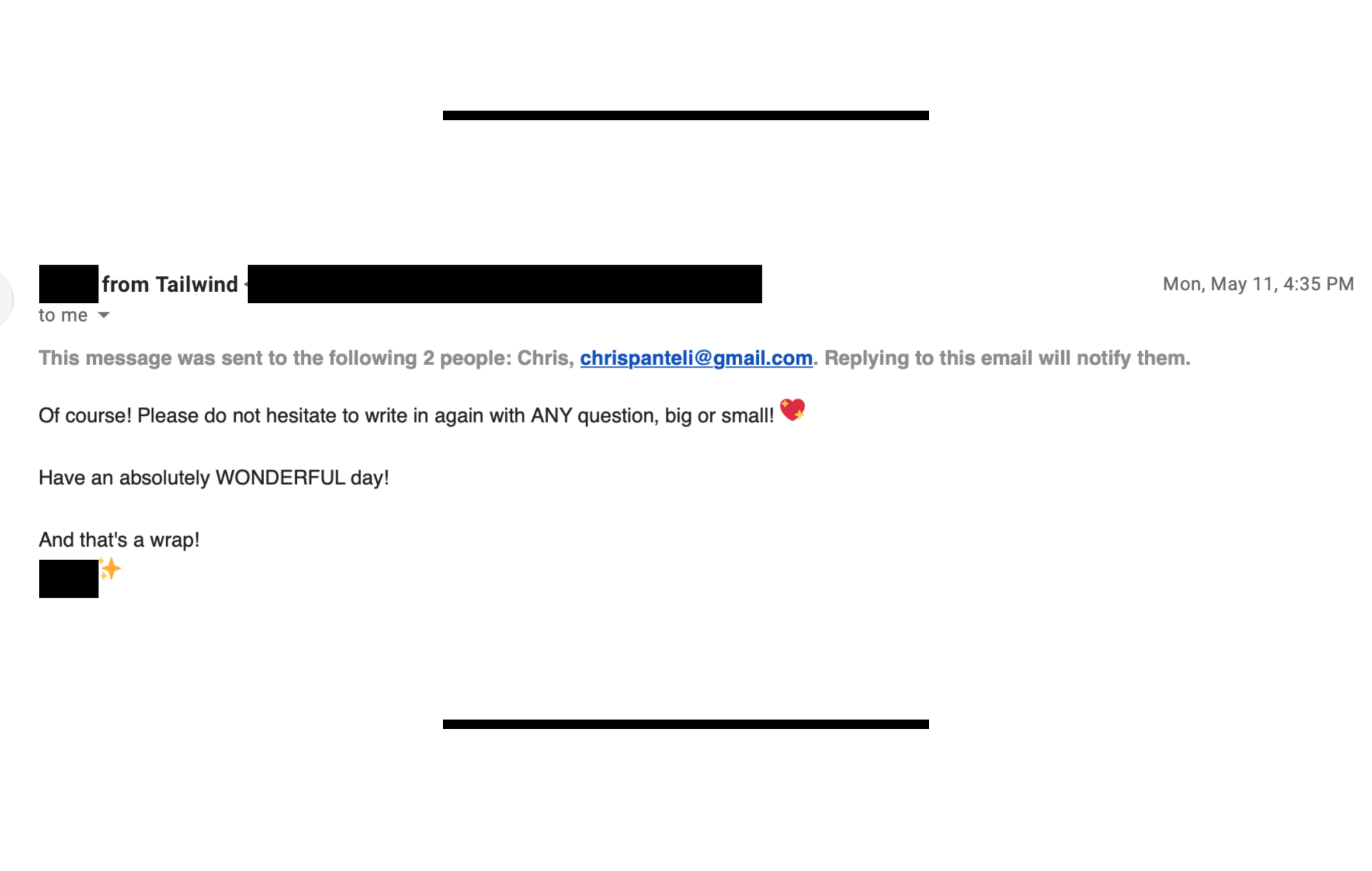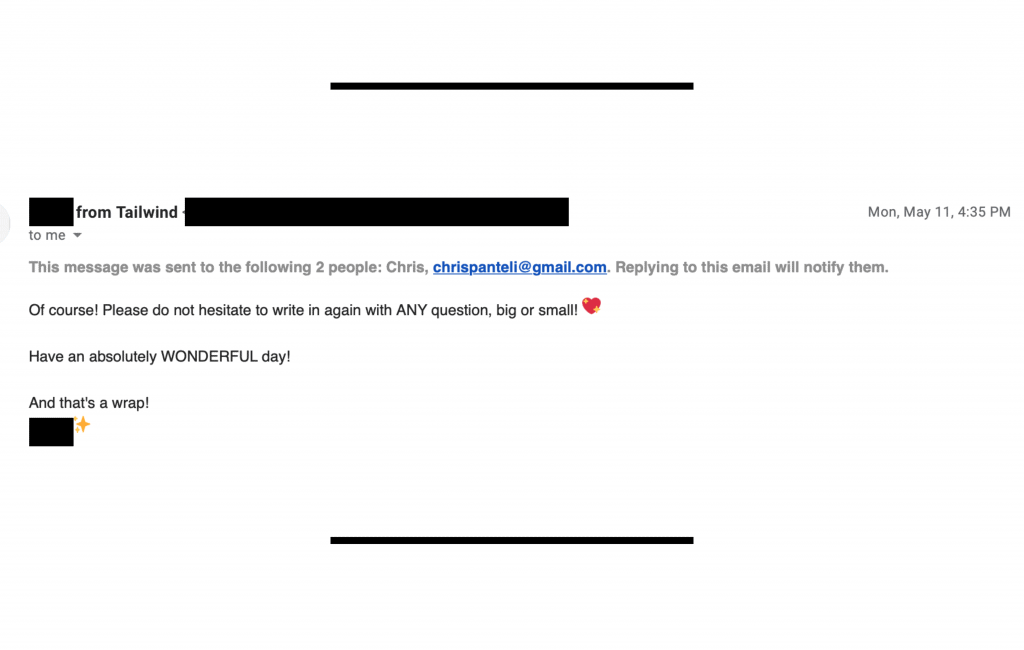 Conclusion
So, to answer the question is Tailwind worth it?
Yes, Tailwind is most certainly worth it, albeit with a few caveats.
The scheduling tool alone is worth the $9.99 per month price tag, especially if you live outside of your audience' time-zone. You also have the ability to schedule for upcoming holidays or times when you know you will be busy.
The Smart Schedule feature guarantees optimum time-slots and maximum reach for your pins. this, in turn, will greatly increase your impressions and click-throughs.
Finally, the Printerest algorithm wants fresh content, so do not repin to multiple boards, and avoid under-performing Group Boards. Instead, you have access to the unbelievable Tribes feature, which is essentially Group Boards 2.0 (and keeps Pinterest happy).
The analytics that Tailwind offer are fantastic, and allow savvy marketers the ability to analyse performance, adapt and reassess when necessary.
This winning combination of features, customer support and functionality makes Tailwind an investment that's worthy of any blogger looking to increase their Pinterest performance.
Just remember to use the features that keep you in line with Pinterest best practices, and deliver fresh content regularly.
Is Tailwind Worth It?