Disclosure: This post may contain affiliate links. If you click on a link I may make a small commission at no extra cost to you. You can read the full disclosure here.
Last Updated on November 9, 2023 by Alex
In the busy world of healthcare, nurses are often the unsung heroes, tirelessly caring for patients and making a difference in countless lives.
Yet, beyond the clinical walls, a growing number of nurses are discovering the power of diversifying their professional portfolio through side hustle jobs for nurses. These side hustles not only provide extra income, but also open doors to creativity, professional growth, and a renewed passion for their craft.
Whether you're a seasoned nurse looking for a change or a recent graduate exploring ways to make your mark in healthcare, this post has all the ideas you need.
Homebased Side Jobs For Nurses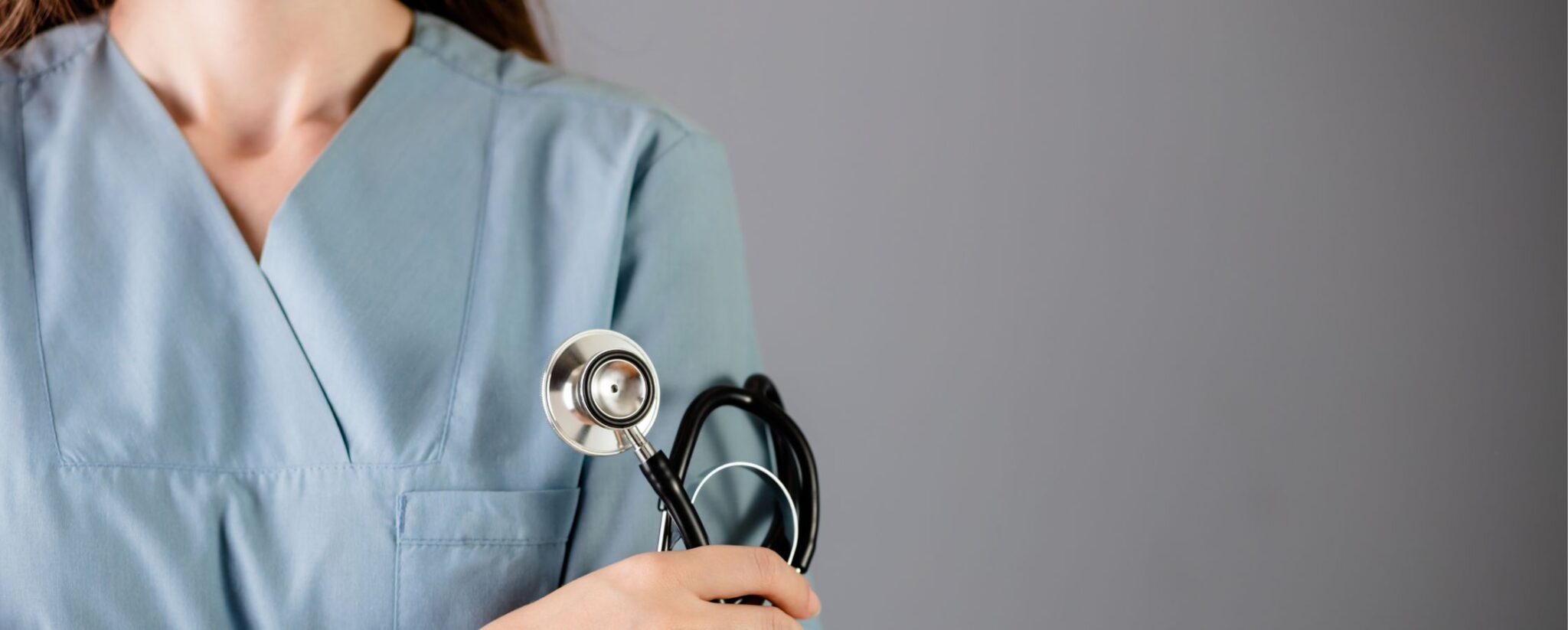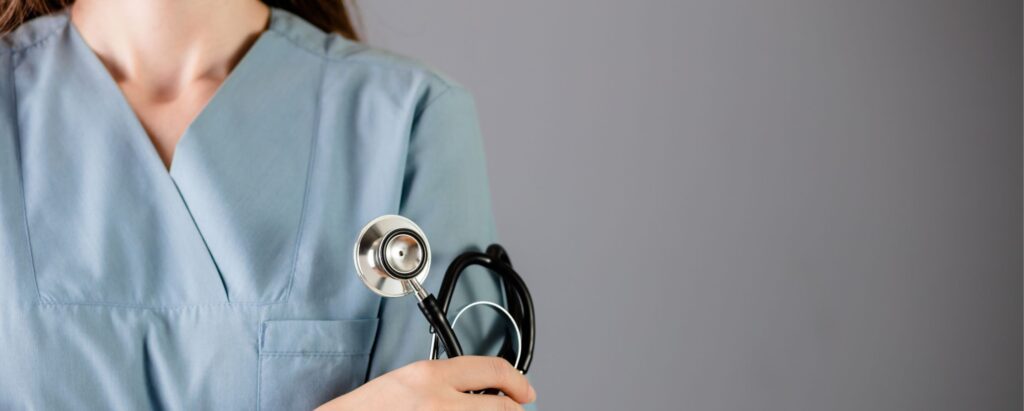 There are several home-based side jobs for nurses that allow them to leverage their skills and experience in a flexible way. Here are some options.
Virtual Nurse
Some companies hire nurses to conduct remote triage, assessing symptoms and providing guidance on whether individuals should seek immediate medical attention.
Other virtual nurses offer virtual consultations or telehealth nurse services to clients. This could involve providing advice, answering health-related questions, or offering support for chronic disease management.
Online Nursing Instructor
An online nursing instructor could teach nursing courses for universities, colleges, or specialized online education platforms. This allows you to share your expertise with a broader audience.
Sleep Consultant
Working as a sleep consultant, especially with a nursing background, can be a rewarding career path. Sleep consultants help individuals and families address sleep-related issues and develop healthy sleep habits.
Building a career as a sleep consultant takes time and dedication. By combining your nursing background with specialized knowledge in sleep health, you can offer valuable services to individuals and families seeking help with sleep-related issues.
Medical Transcription
Transitioning into a career as a medical transcriber as a nurse can be a viable option, given your familiarity with medical terminology and healthcare practices.
You can find medical transcription job opportunities on job boards, healthcare organizations' websites, and transcription service providers.
Online job board platforms like Upwork, Flex Jobs, and People Per Hour also offer great ways to quickly search job results for medical transcription jobs.
Teaching Side Jobs For Nurses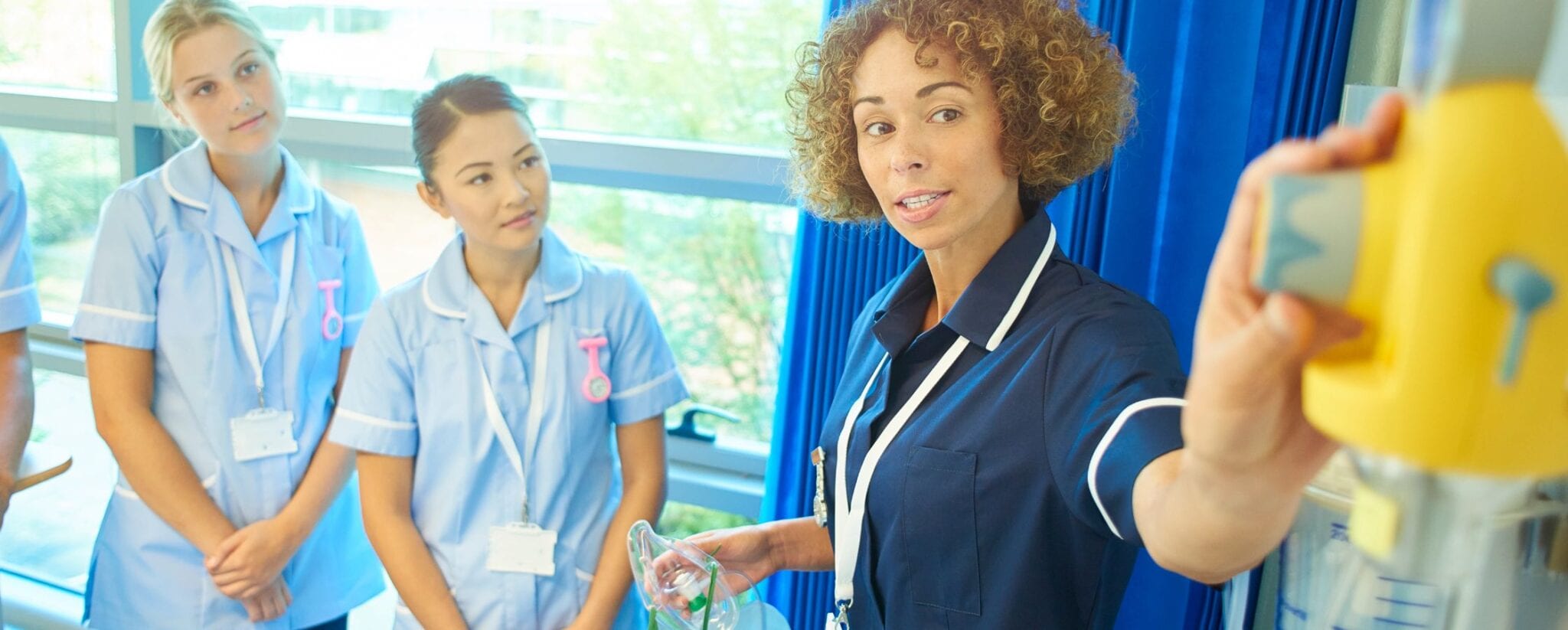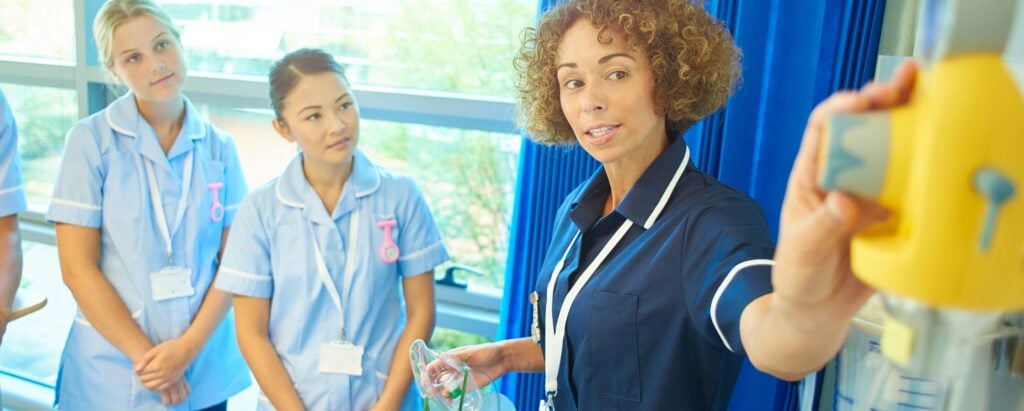 Nurses have a wealth of knowledge and skills that make them well-suited for various teaching side jobs. Before pursuing any teaching side job, it's essential to consider any additional certifications or qualifications required and ensure compliance with regulatory standards to become a nurse educator.
Additionally, networking within the nursing community and staying updated on educational trends can help you find teaching opportunities. Here are some teaching opportunities for nurses.
CPR And First Aid Instructor
Many organizations, including the American Heart Association, offer instructor training programs that allow nurses to teach life-saving skills to individuals and groups. This can allow you to start a side hustle as a CPR and first aid instructor.
Tutoring
Providing tutoring services for nursing school students is a great way to use your expertise and earn extra cash. This could be one-on-one tutoring for individuals struggling with specific subjects or group sessions for exam preparation.
Clinical Instructor
Working as a clinical instructor for nursing students is an excellent side hustle for nurses. Many nursing schools and healthcare institutions offer opportunities for experienced nurses to teach and mentor students in a clinical setting.
Hosting Workshops
You can host workshops or seminars on healthcare topics at conferences or community events. This could be a way to share your knowledge with a diverse audience.
Freelance Side Jobs For Nurses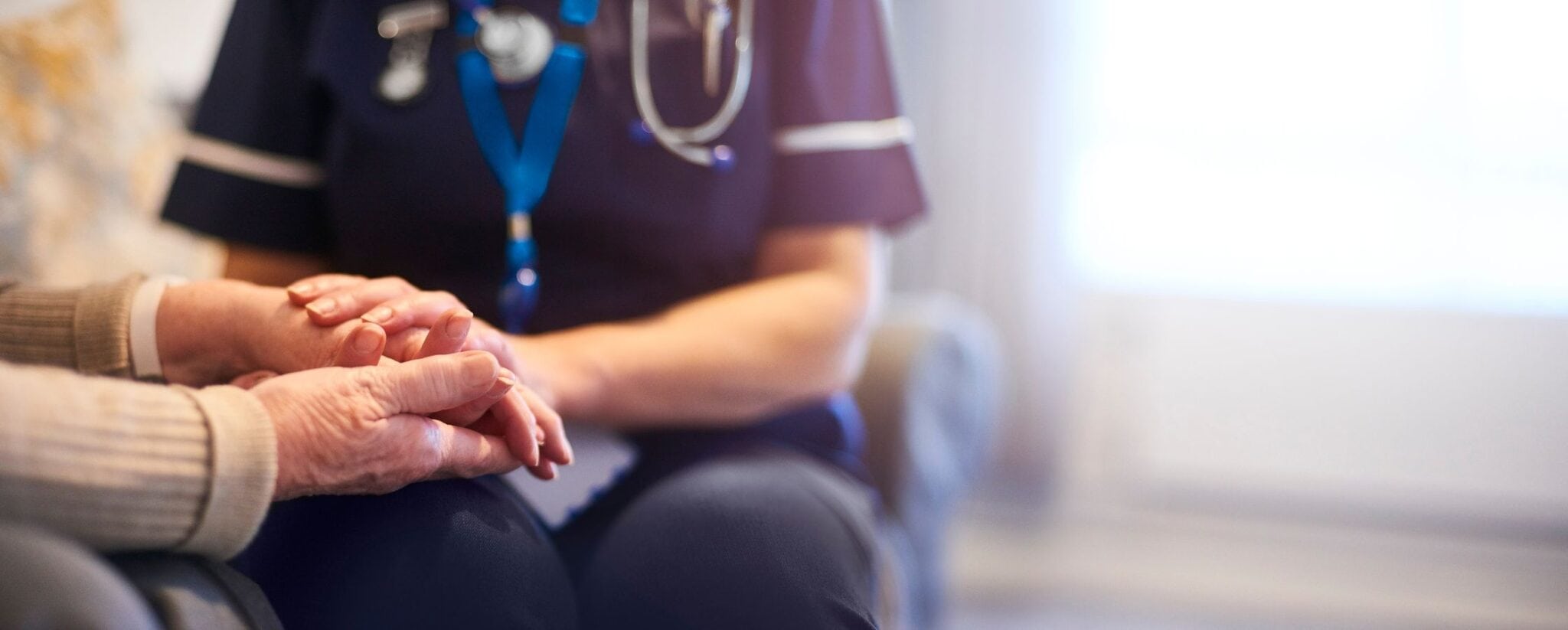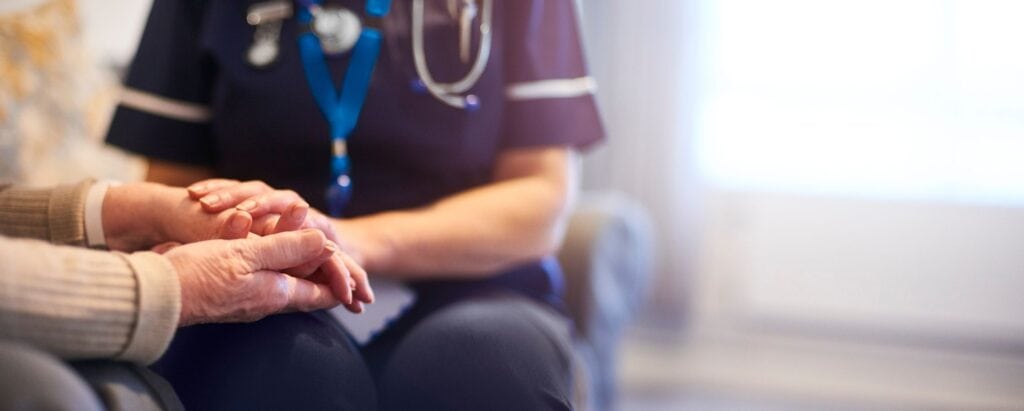 Freelancing offers nurses the flexibility to work on various projects and assignments. Here are some freelance side job options for nurses.
Health Coach
Become a freelance health coach, helping individuals achieve their wellness goals through personalized guidance on lifestyle changes, nutrition, and exercise.
Per Diem Nurse Shifts
Per diem nurse shifts, which typically involve working on an as-needed basis, provide flexibility for working nurses or retired nurses to take on side jobs. You could look for per diem nursing shifts at:
Local hospitals, clinics, or healthcare facilities
Home health nursing
Hospice nursing
School nursing
Flu clinics and vaccination events
Occupational health nursing
Telehealth nursing
Bedside nurse
Medical screening events
Infusion nursing
Camp nurse
Pharmaceutical clinical trials
Crisis response nursing
Urgent care nursing
Correctional facility nursing
Health and wellness events
Carer
Combining nursing and caregiving skills opens various nursing side hustle opportunities. You could find work as a carer using dedicated online platforms including Care and Carers4America.
Another option is to contact local care homes for part-time opportunities or advertise your services using social media.
Lactation Consultant
Combining nursing skills with lactation consulting expertise unlocks several potential side hustle opportunities. Here are some ideas:
Offer private lactation consulting services to new mothers
Conduct virtual lactation consultations through video calls
Hold breastfeeding classes for expectant parents either in-person or online
Organize and lead prenatal and postpartum support groups for mothers
Develop and sell online courses on breastfeeding and lactation using platforms like Udemy
Work with hospitals or clinics as a part-time or per diem lactation consultant
Partner with pediatricians or pediatric clinics to offer lactation consulting services
Work with midwives or doulas to offer comprehensive maternity care packages, including lactation support services
You could create and sell lactation-related products, such as breastfeeding pillows, nipple creams, or lactation teas
Immunization Nurse
Combining nursing skills with expertise in immunization opens up various side hustle opportunities. Here are some side hustle ideas for nurses with a specialization in immunization:
Organize and run flu shot clinics during flu season
Provide travel immunization services for individuals planning international travel
Participate in community health fairs and events
Collaborate with businesses to implement corporate wellness programs that include on-site immunization services
Conduct workshops and educational sessions on the importance of vaccinations
Offer pediatric immunization services
Start a mobile immunization clinic
Host clinics specifically focused on adult vaccinations
Work with schools to organize and administer required vaccinations for students. This can be especially relevant for back-to-school vaccination programs
Offer training and educational sessions on immunizations for healthcare professionals
Provide COVID-19 vaccination services
Offer services to monitor and report immunization records for individuals or organizations.
Phlebotomist
Another side hustle idea for nurses is to combine their nursing skills with phlebotomy expertise. Here are some side hustle ideas for nurses with phlebotomy skills:
Start a mobile phlebotomy service
Provide health screening services at community events, health fairs, or workplaces
Offer IV hydration services for individuals looking to rehydrate or receive vitamins intravenously
Provide lab concierge services, where you coordinate and facilitate laboratory testing for clients
Collaborate with businesses to implement corporate wellness programs that include on-site phlebotomy services
Organize and run blood donation drives in collaboration with local blood banks or organizations
Conduct community workshops and education sessions on the importance of blood tests and preventive health measures
Provide consultations on lab test results
Use your phlebotomy expertise to conduct training workshops for aspiring phlebotomists or healthcare professionals
Clinical Trial Nurse
Combining nursing skills with expertise in clinical trials opens various side hustle opportunities. Consulting, auditing, nurse researcher, and patient advocacy are just some of the jobs you can do as a clinical trial nurse.
Make sure you comply with legal and regulatory requirements, including any necessary certifications or licenses. Effective marketing, networking, and maintaining a positive reputation within the clinical research community are crucial for the success of your side hustle.
Maternal Care Nurse
Combining nursing skills with expertise in maternal care creates various side hustle opportunities. Here are some side hustle ideas for nurses with experience in maternal care:
Private prenatal classes
Postpartum doula services
Childbirth education workshops
Newborn care classes
Baby sleep consultant
Maternal wellness coaching
Lead postpartum fitness classes
Mobile Nurse
Combining nursing skills with the flexibility of a mobile service opens various side hustle opportunities. Here are some side hustle ideas for nurses who want to offer mobile nursing services:
Mobile health screenings
In-home wellness visits
Mobile vaccination clinics
Wound care services
Chronic disease management
Offer mobile prenatal and postpartum care services
Provide mobile post-surgical care services
Doula
Combining nursing skills with doula expertise unlocks various side hustle opportunities. You could offer labor and birth doula services, postpartum doula services, and antenatal education classes.
Cosmetic Injector
Combining nursing skills with expertise in cosmetic injections opens various side hustle opportunities. Here are some side hustle ideas for nurses who are also cosmetic injectors:
Mobile botox and filler services
Home botox parties
Virtual consultations
Cosmetic injection training
Traveling injector services
Collaborate with beauty professionals
Become A Freelance Writer
If you have decent writing skills, then you can write articles, blog posts, or create content related to healthcare, wellness, or nursing. You can offer your writing services to healthcare websites, blogs, or even start your own blog.
Healthcare companies, clinics, and private practices all pay for good written content.
If you specialize in medical writing or medical coding, then you can potentially earn higher rates of pay. You could create medical documents, research summaries, or educational materials. This may include writing for medical journals, pharmaceutical companies, or healthcare organizations.
Online Side Jobs For Nurses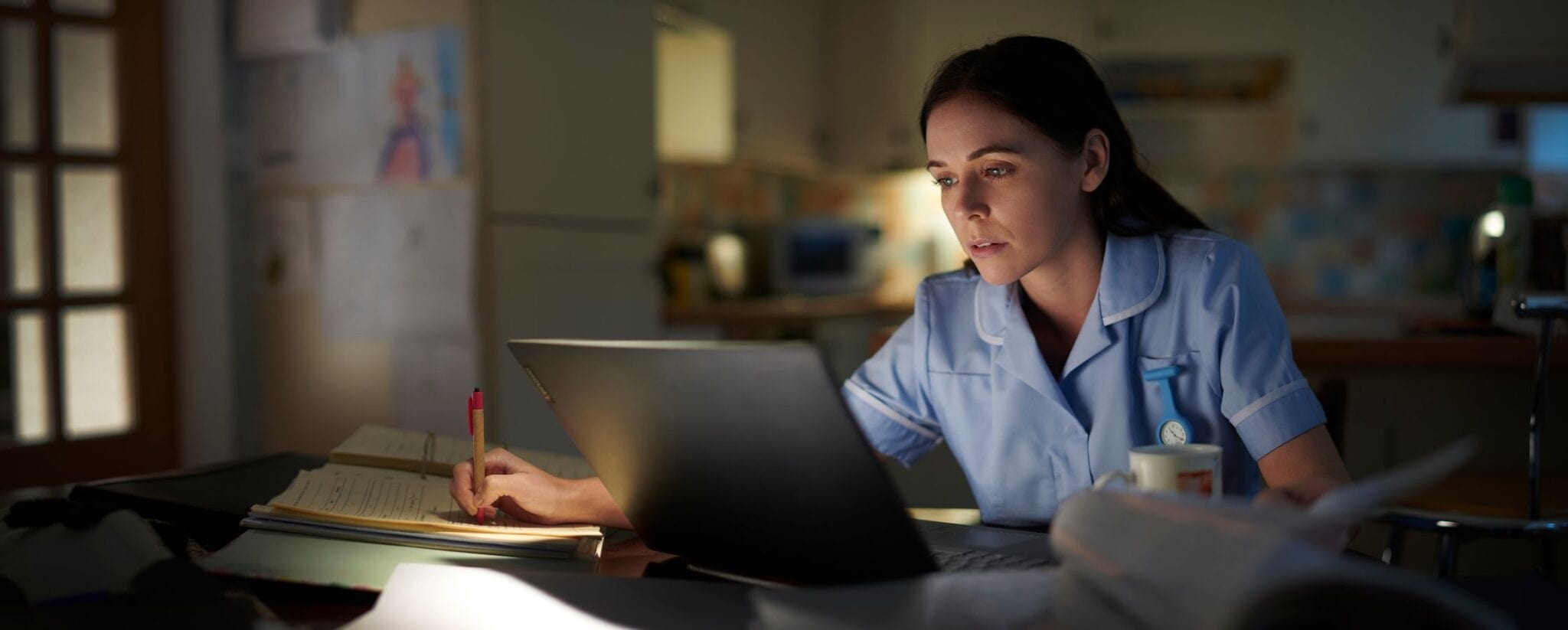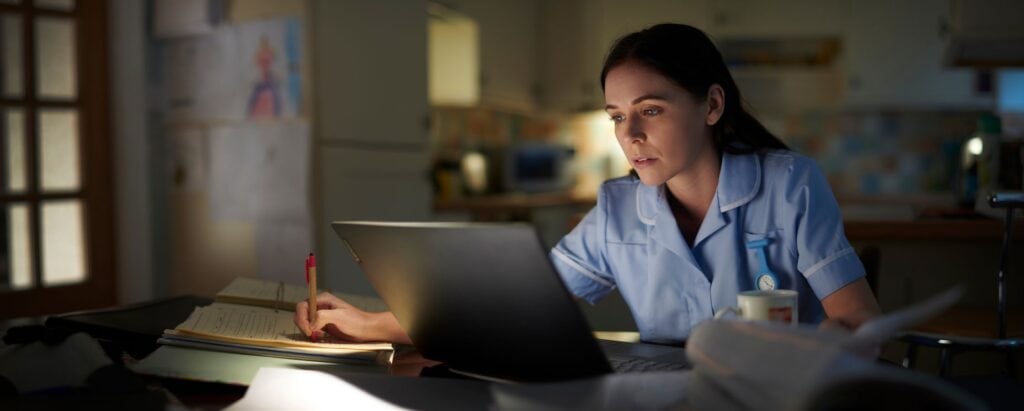 Online side jobs for nurses offer flexibility and the opportunity to leverage your healthcare expertise. Here are some online side job ideas for nurses.
Blogging
Combining nursing skills with blogging can be a rewarding side hustle. Here are some blog ideas for nurses who want to start a nursing blog:
Health education
Nursing career advice
Nurse lifestyle
Medical information technology
Nursing student tips
Nurse entrepreneurship
Product reviews for healthcare professionals
To build a popular blog make sure to use social media, engage with your audience, and stay consistent with your blog updates.
Once you've built a following, you can use monetization strategies such as affiliate marketing, sponsored content, or creating and selling your nursing-related products or courses. Blogging is a great way to build a passive income. Learn some blogging tips here.
Selling Courses
Selling courses as a nurse can be a fulfilling side hustle, leveraging your expertise to educate and empower others.
Platforms like Teachable, Udemy, or Thinkific can help you set up and sell your courses. Consider marketing your courses through social media, email newsletters, and collaborations with nursing organizations.
Start A YouTube Channel
Starting a YouTube channel as a nurse can be a fantastic way to share your expertise, connect with a wider audience, and potentially generate income. Here are some YouTube channel ideas for nurses:
Educational content
NCLEX Exam Tips
Day in the life videos
Clinical skills demonstrations
Nursing study tips
Nurse lifestyle and wellness
Remember to be consistent with your content, engage with your audience through comments and social media, and optimize your videos for search engines. Monetization options include YouTube's Partner Program, sponsorships, affiliate marketing, and merchandise sales. Learn what are the best apps and platforms for making money online here.
Podcast
Starting a podcast as a nurse can be an excellent way to share valuable information, engage with an audience, and generate extra money. Here are some podcast ideas for nurses:
Nursing career insights
Clinical tips and tricks
Patient stories and experiences
Real talk about nursing
Travel nurse chronicles
When starting a podcast, ensure that you have quality recording equipment and consider platforms like Spotify, Libsyn, or Podbean for hosting and distribution. Promote your podcast through social media, collaborate with guests, and explore monetization options such as sponsorships and listener donations.
Answering Surveys
Participating in online surveys can be a convenient side job for nurses, allowing you to share your opinions and insights on various topics while earning some extra income or rewards. Here are some platforms and ideas for nurses looking to answer surveys.
Paid Survey Websites
Join reputable paid survey websites that offer compensation for completing surveys. Examples include Swagbucks, Survey Junkie, and Branded Surveys.
Healthcare And Medical Research Surveys
Look for surveys specifically related to healthcare and medical research. Some companies and research institutions may seek input from healthcare professionals, including nurses.
Nursing Organizations
Check with nursing organizations and associations that may conduct surveys on topics relevant to nursing practice, education, or professional development.
Pharmaceutical Market Research Surveys
Join pharmaceutical market research panels that seek opinions from healthcare professionals. These surveys may cover topics such as drug development, usage, and preferences.
Product Testing Surveys
Some surveys involve testing and providing feedback on healthcare-related products. Participate in these surveys to share your insights on new medical devices, equipment, or medications.
Pet Sitting
Pet sitting can be a rewarding side job for nurses who love animals. It allows you to care for pets, enjoy their company, and earn extra income.
You could offer pet-sitting services using social media or join online platforms like Rover to be connected with pet owners looking for reliable pet sitters. If you love working with animals, learn how to make extra money here.
How To Boost Your Nurses Salary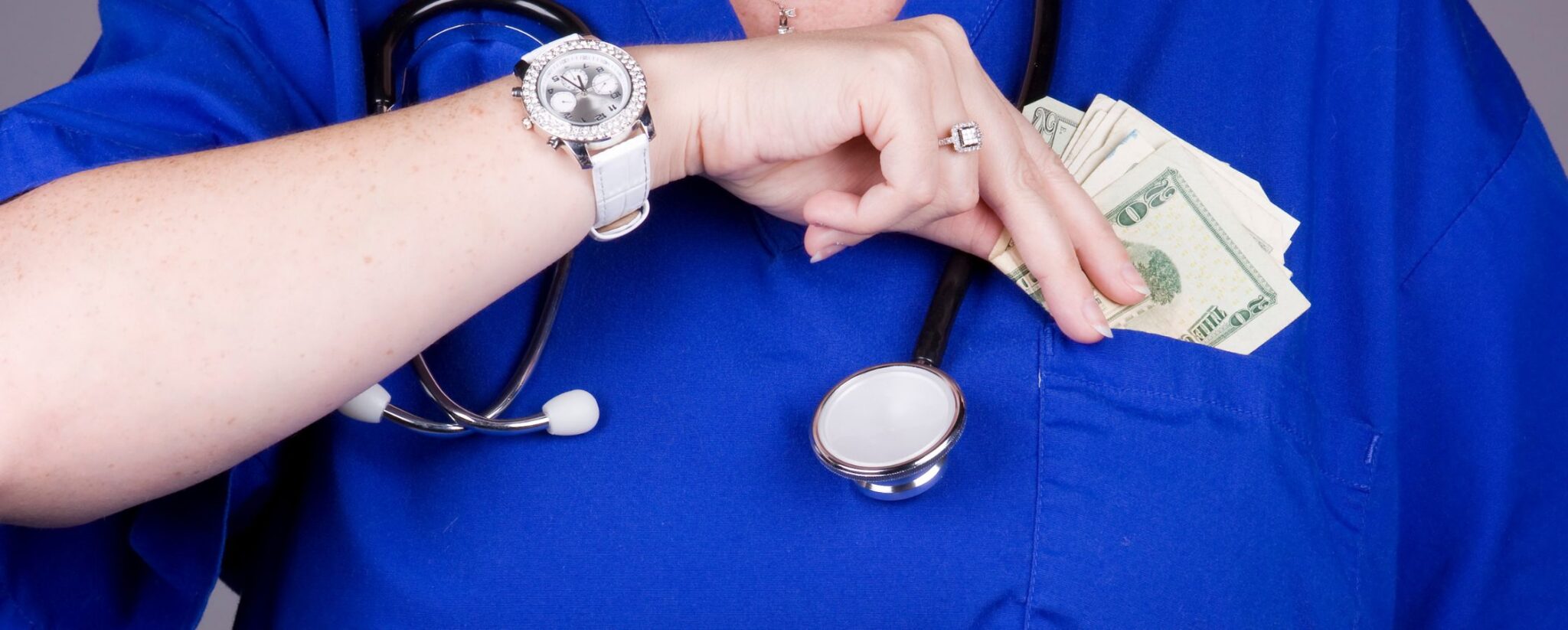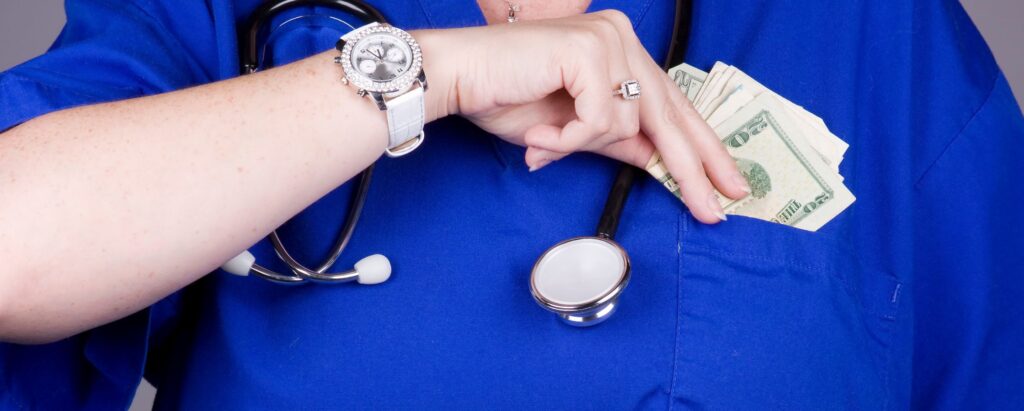 Labor statistics show that a registered nurse in the US earns an average salary of $92,688 per year. Are there any ways you can boost your salary?
Boosting your nursing salary can be achieved through a combination of strategies, including advancing your education, gaining experience, specializing in a particular area, and negotiating effectively. Here are some ways to boost your nursing salary.
Take Extra Shifts
Taking on additional shifts, either through overtime or per diem work, can significantly boost your income. Be mindful of work-life balance and potential burnout, though.
Apply For Senior Nursing Jobs
Specializing in a specific area of nursing, such as critical care, perioperative nursing, or oncology, can lead to higher salaries and better employee benefits.
Transitioning into a nurse case manager or leadership role can often result in a higher salary. Management positions typically come with additional responsibilities and may require additional skills.
Obtaining relevant certifications in your nursing specialty can lead to success with applications to senior nursing roles. Certifications demonstrate your expertise and dedication to continuous learning, which can make you more marketable and potentially increase your earning potential.
Continuing Education
Consider advancing your education by obtaining an advanced nursing degree (e.g., Master's or Doctorate). Higher levels of education often lead to higher-paying roles, such as nurse practitioner or nurse anesthetist.
Depending on your area of interest, consider obtaining additional certifications beyond nursing, such as certifications in case management, quality improvement, or healthcare administration.
Networking
Join professional nursing organizations and networks such as the American Nurses Association or The Nursing Beat. Networking can lead to opportunities, and being part of a professional organization may provide access to exclusive job listings and resources.
Negotiate Salary Effectively
When considering a new job or during performance reviews, be prepared to negotiate your salary. Research salary ranges for your role, primary duties, and experience in your location, and articulate your value to the organization.
Experience is a key factor in salary negotiations. As you gain more years of experience in nursing, especially in specialized areas, you may become eligible for higher-paying positions. Check these additional ideas for earning extra money here.
FAQs
Why do nurses consider side hustles?
Nurses may consider side hustles for various reasons, including supplementing their income, gaining additional experience, pursuing personal interests, or exploring alternative career paths. Side hustles can provide flexibility and a way to diversify skills.
What are some common side hustle ideas for nurses?
Common side hustle ideas for nurses include freelancing as a writer or consultant, teaching nursing courses, providing telehealth services, medical transcriptionist, starting a blog or YouTube channel, and offering specialized services such as pet sitting or health coaching.
How can nurses balance a side hustle with their main nursing job?
Balancing a side hustle with a main nursing job requires effective time management, setting priorities, and maintaining a healthy work-life balance. Nurses should ensure that their side hustle doesn't compromise their primary nursing responsibilities or their well-being.
Can side hustles for nurses be related to healthcare?
Yes, side hustles for nurses can be related to health care. Nurses can provide telehealth services, start a consulting business, offer health coaching, or participate in clinical research as part of their side hustle.
Are side hustles for nurses legal and ethical?
Side hustles for nurses are legal and ethical if they comply with relevant laws, regulations, and professional standards. Nurses should be mindful of any conflicts of interest and ensure that their side hustles do not compromise patient care or violate their employment agreements.
What skills can nurses leverage in their side hustles?
Nurses can leverage various skills in their side hustles, including clinical expertise, communication skills, teaching abilities, and organizational skills. Depending on the side hustle, additional skills such as writing, marketing, or technology proficiency may be valuable.
Do nurses need special certifications for certain side hustles?
Depending on the side hustle, nurses may need special certifications or licenses. For example, providing telehealth services may require specific certifications, and teaching nursing courses may benefit from educational credentials. Nurses should research and comply with any necessary requirements.
How can nurses find opportunities for side hustles?
Nurses can find side hustle opportunities through online platforms, networking, professional associations, and job boards. Additionally, leveraging personal and professional networks can lead to potential side hustle opportunities.
Are there tax implications for nurses with side hustles?
Yes, nurses with side hustles should be aware of potential tax implications. Income earned from side hustles is generally taxable, and nurses may need to report their additional income as an independent contractor on their tax returns. Consulting with a tax professional is advisable for personalized advice.
What's the difference between a registered nurse and a licensed practical nurse?
The main differences between a registered nurse (RN) and a licensed practical nurse (LPN) lie in their education, scope of practice, and responsibilities.
While both RNs and LPNs play crucial roles in patient care, RNs typically have a higher level of education, a broader scope of practice, and more opportunities for career advancement. The specific responsibilities of both roles can vary depending on the healthcare setting and state regulations.
Who's Ted Jeanloz?
Ted Jeanloz is the CEO of ConnectRN. ConnectRN is an online platform that connects nurses with nursing job opportunities.