Disclosure: This post may contain affiliate links. If you click on a link I may make a small commission at no extra cost to you. You can read the full disclosure here.
Last Updated on September 28, 2023 by Chris Panteli
Get paid to walk dogs
Are you a dog lover who can't resist the wagging tails, floppy ears, and slobbery kisses that come with
Canine companionship? If the thought of spending your days surrounded by four-legged friends fills your heart with joy, then you're in for a treat!
You can turn your passion for paws into a fulfilling career by making money walking dogs.
Whether you're seeking a side gig to supplement your income, exploring a flexible career change, or simply looking for more meaningful ways to spend your time, the world of dog walking offers a unique opportunity to blend passion and profession.
In this post, you'll find out everything you need to know about becoming a dog walker and if you can really get paid to walk dogs.
Can You Really Get Paid To Walk Dogs
Yes, you can definitely get paid to walk dogs. Dog walking is a legitimate profession, especially in urban areas where pet owners may have busy schedules and need assistance with exercising and caring, and grooming for their dogs.
There are several ways to make extra money dog walking:
Working for a dog walking service
Start your own dog walking business
Join pet sitting apps
Before you start, make sure to research any legal requirements or regulations in your area. You may need to buy equipment, insurance, or get permits.
Best Dog Walking Apps
One of the quickest ways to get paid to walk dogs is by joining a dedicated dog walking app. These platforms connect dog owners with trusted dog walkers.
Rover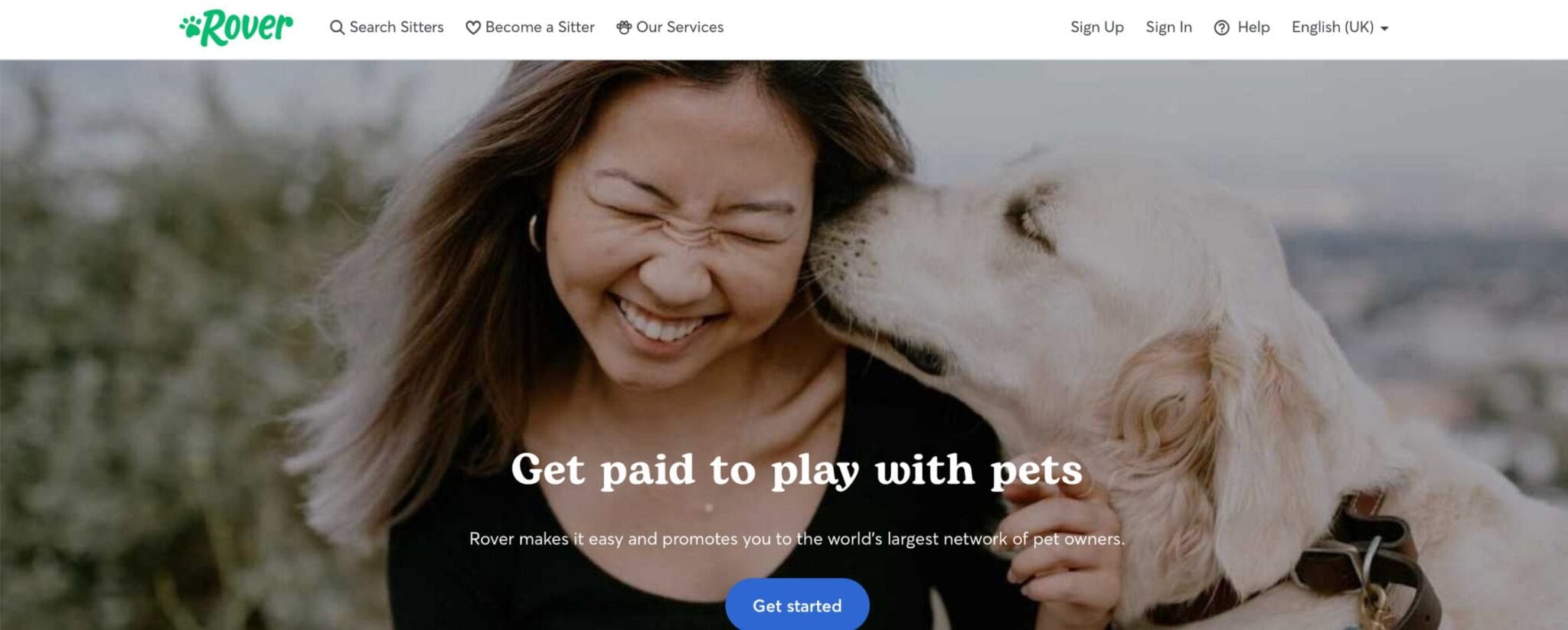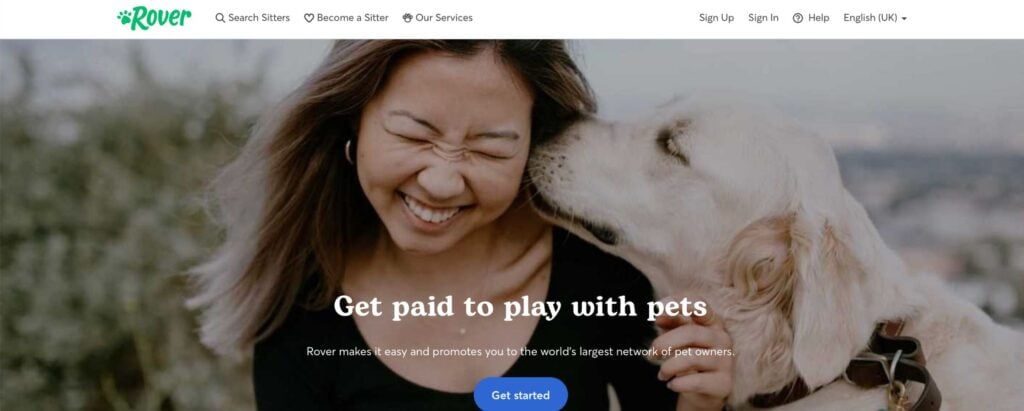 Rover is a popular online platform that connects pet owners with a range of pet-related services, including dog walking, pet sitting, house sitting, and more. The platform primarily focuses on connecting pet owners with local pet caregivers, allowing them to find trustworthy individuals who can take care of their pets when they are unable to do so themselves.
On Rover, you can sign up for free as a pet sitter, dog walker, or other pet service provider. Once you're registered, you can create a profile showcasing your experience, availability, and services offered. Pet owners can then browse profiles, read reviews, and choose a caregiver who meets their needs.
The free Rover app can be downloaded from the App Store or Play Store. Using the Rover app means you won't miss out on a job.
A reason platforms like Rover are popular is because of things like the Rover guarantee. The Rover guarantee means 25/7 support and for eligible claims a payout towards vet care if needed.
Wag!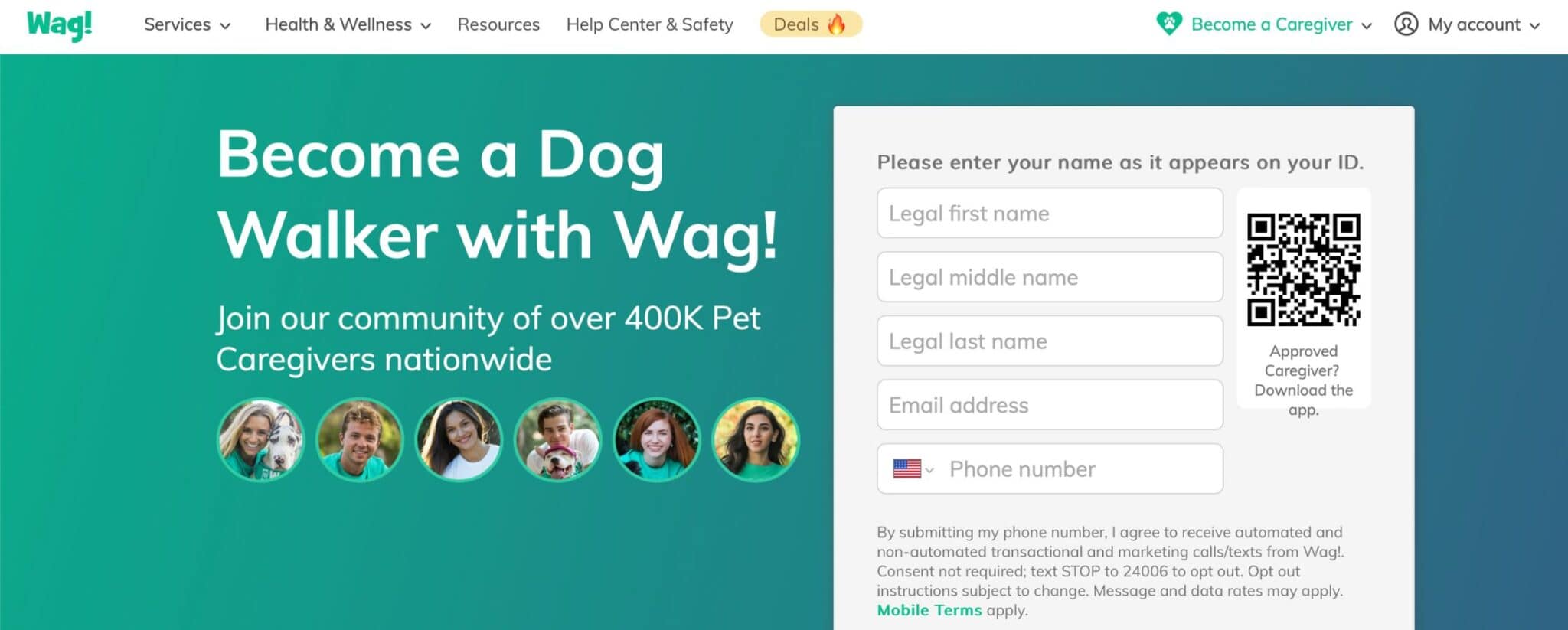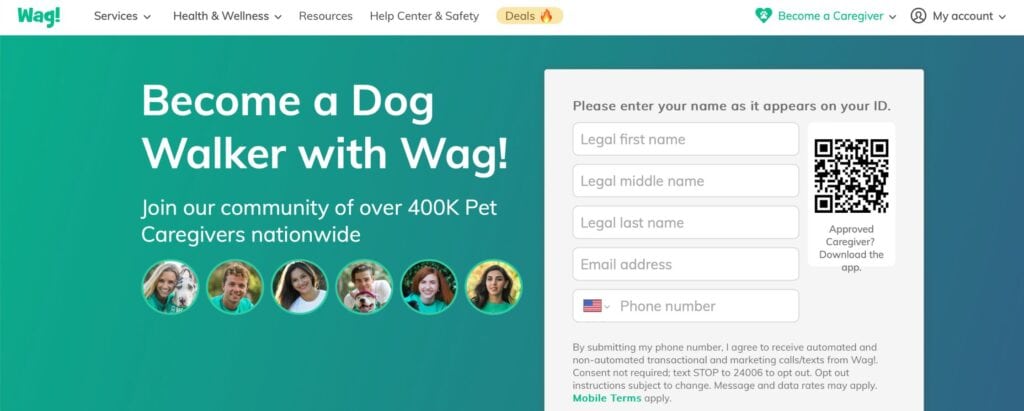 Wag! is a website that allows a dog owner to connect with local dog walkers, called Wag Walker, and pet sitters. Wag! offers a convenient way for pet owners to find reliable caregivers for their dogs when they are unable to walk or care for them themselves.
Fetch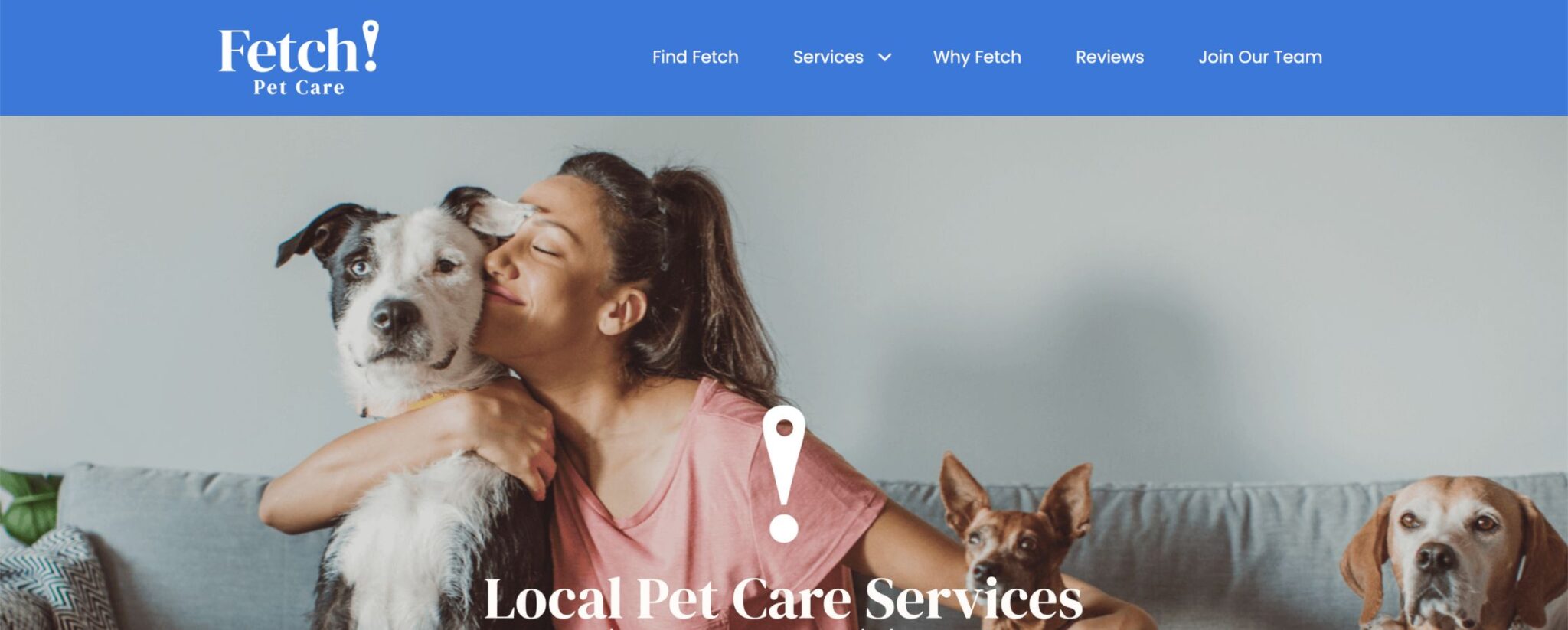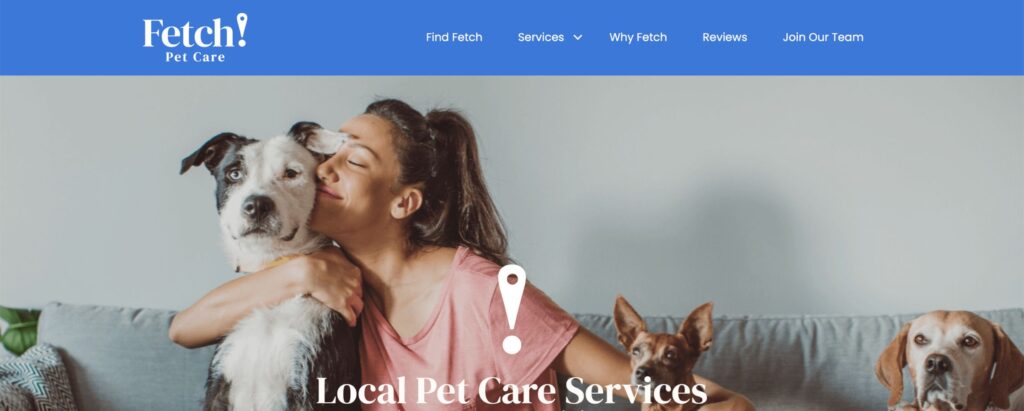 Fetch Pet Care is a professional pet care services company that provides a range of pet-related services, including pet sitting, dog walking, pet boarding, and other personalized pet care services.
The company operates in various locations across the United States and is known for connecting pet owners with trained and reliable caregivers to take care of their pets when they are unable to do so themselves.
Holidog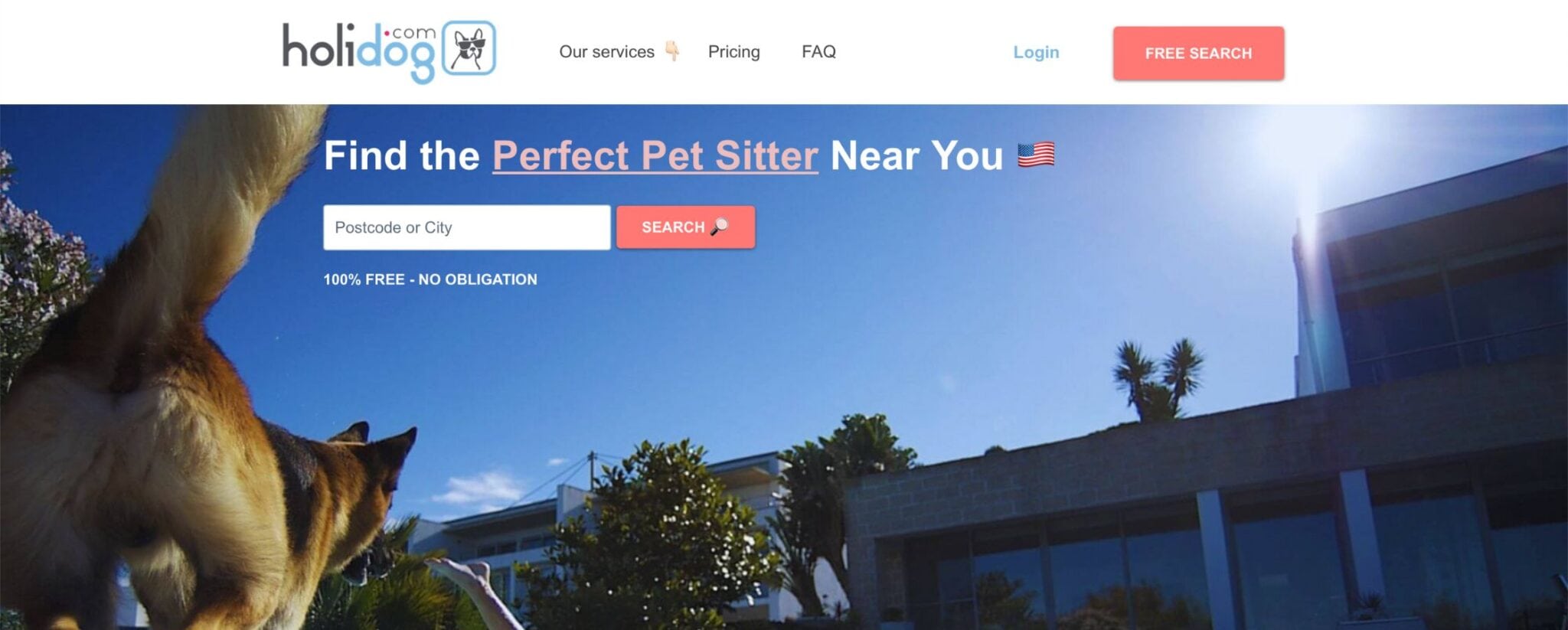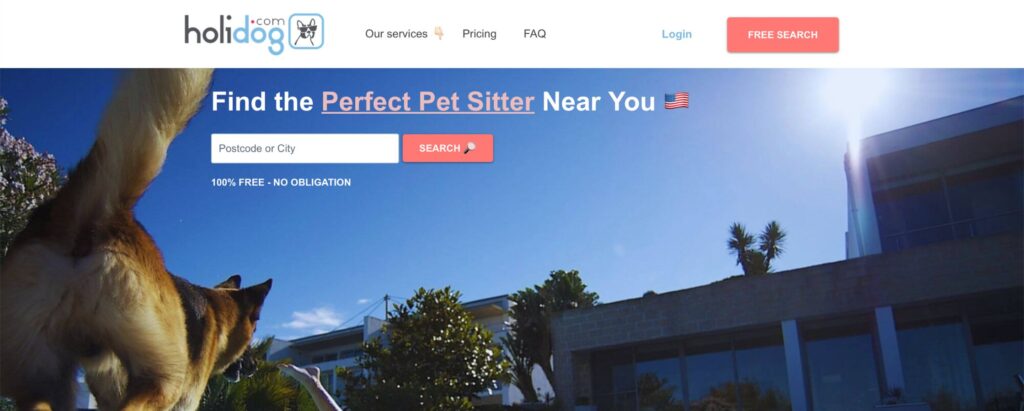 Holidog is a platform that connects pet owners with various pet-related services including dog walking. The platform provides pet owners with a convenient way to find and connect with a local dog sitter, dog walkers, groomers, and other pet caregivers.
Care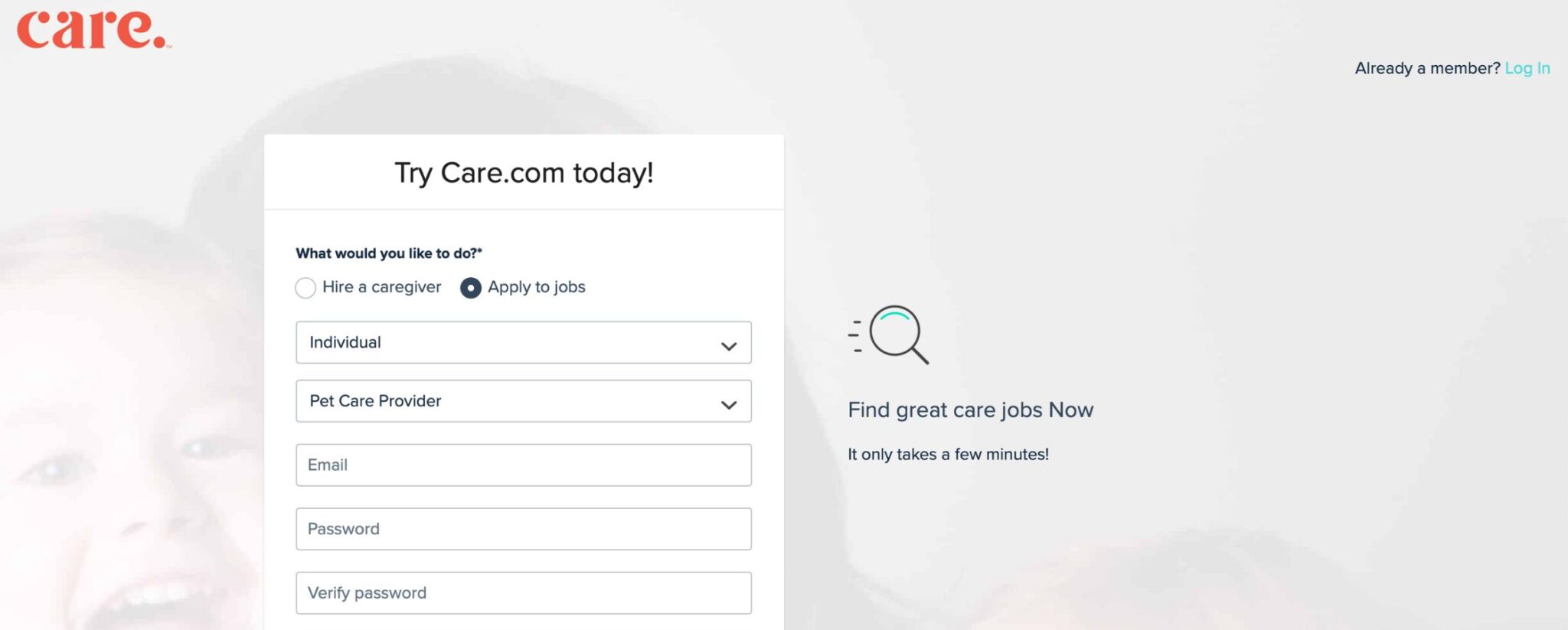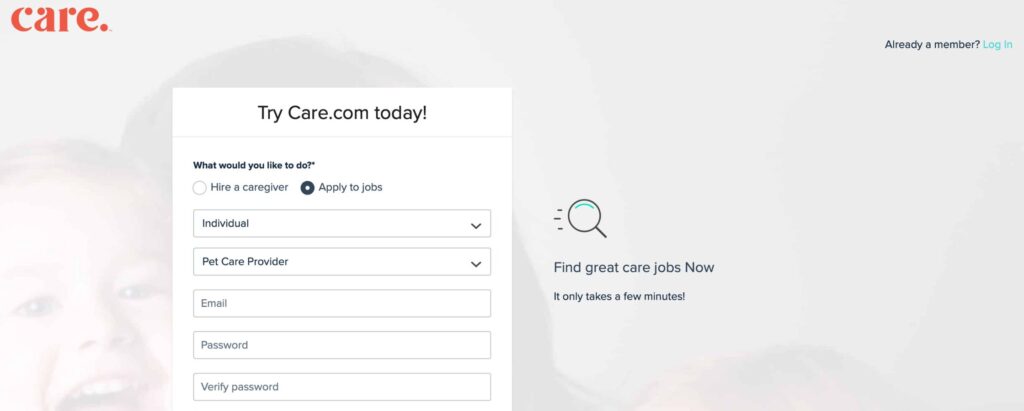 Care is an online platform that connects individuals seeking various types of care services with caregivers and service providers. While it is not exclusively focused on pets, it does include pet care services as one of its offerings. 
The platform is known for helping families and individuals find caregivers for a wide range of needs, including child care, senior care, pet care, housekeeping, tutoring, and more.
Steady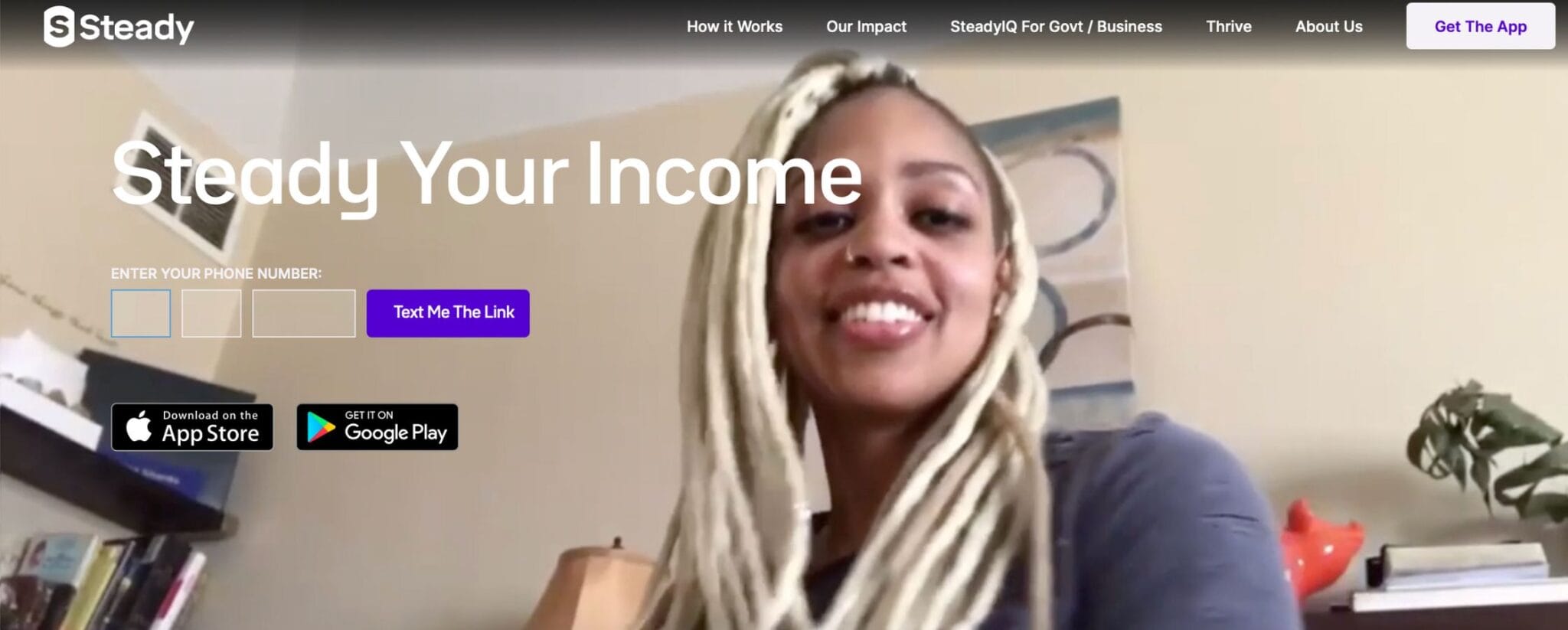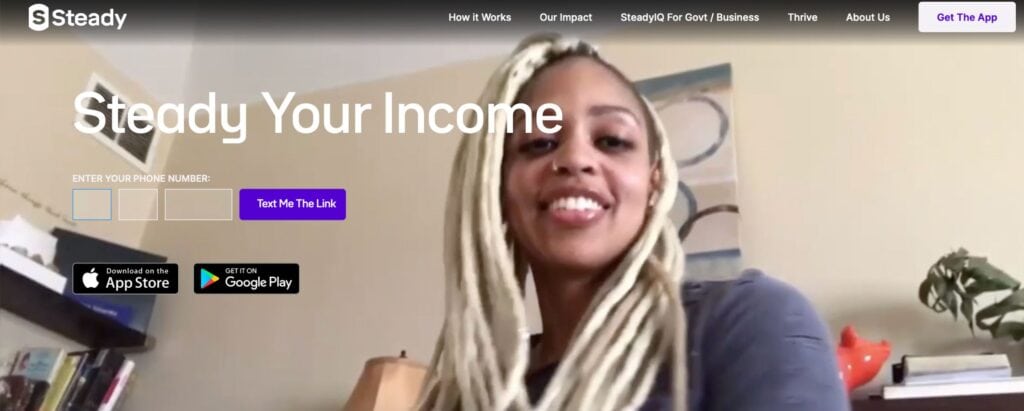 The Steady App is designed to help users find flexible work opportunities, part-time jobs, and gig work.
Steady is focused on assisting individuals in finding ways to supplement their income, explore side hustles, and manage their finances.
You can download the free Steady app by requesting a link from them. Alternatively, the free Steady app is available on both the App Store and Google Play Store.
Pet Sitter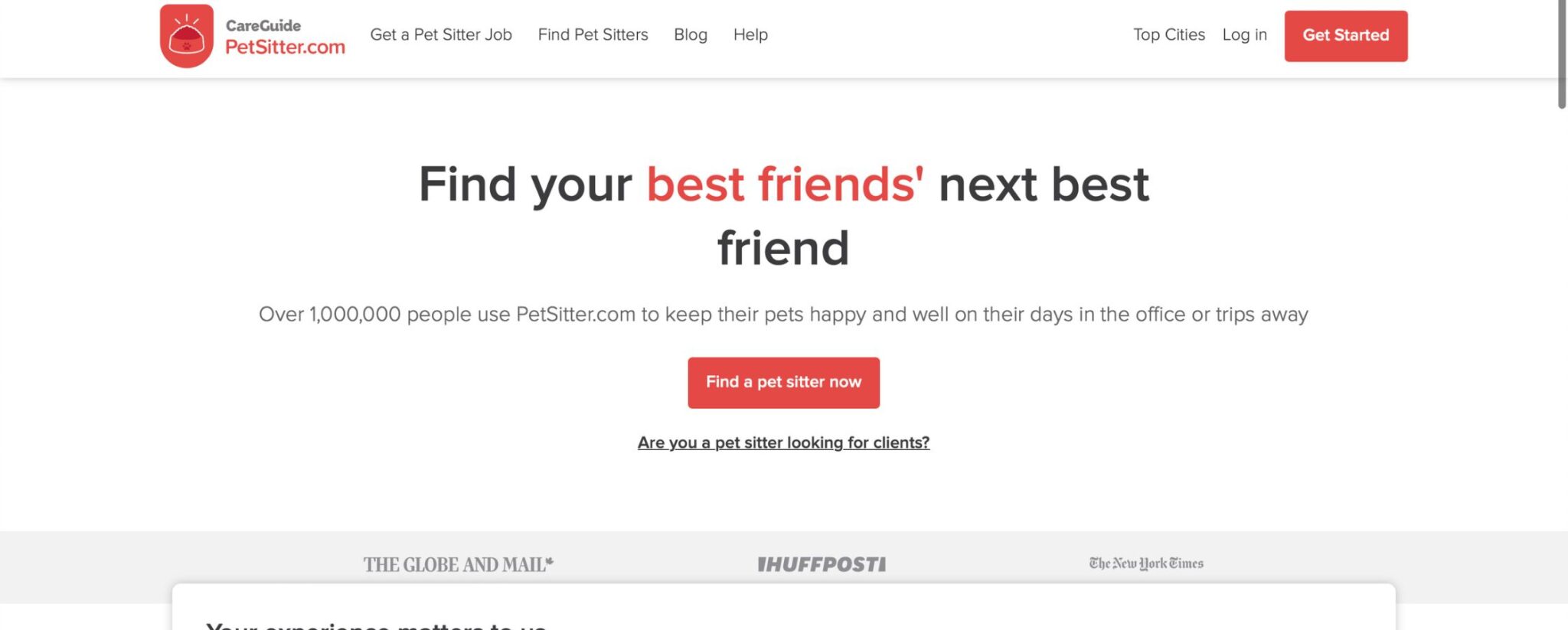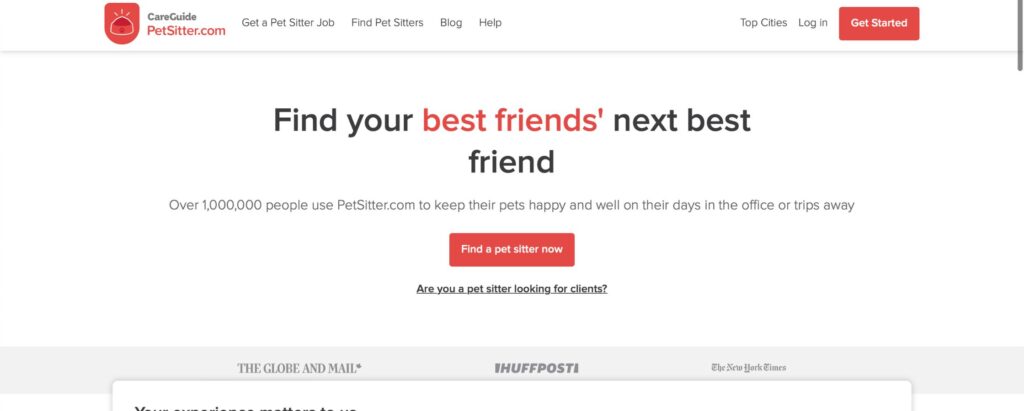 Pet Sitter is a website that connects pet owners with pet sitters and caregivers who offer their services for various types of pets, such as dogs, cats, birds, and more.
It provides a platform where individuals seeking pet care services can find and connect with local pet sitters, dog walkers, and other pet-related caregivers.
Dog Vacay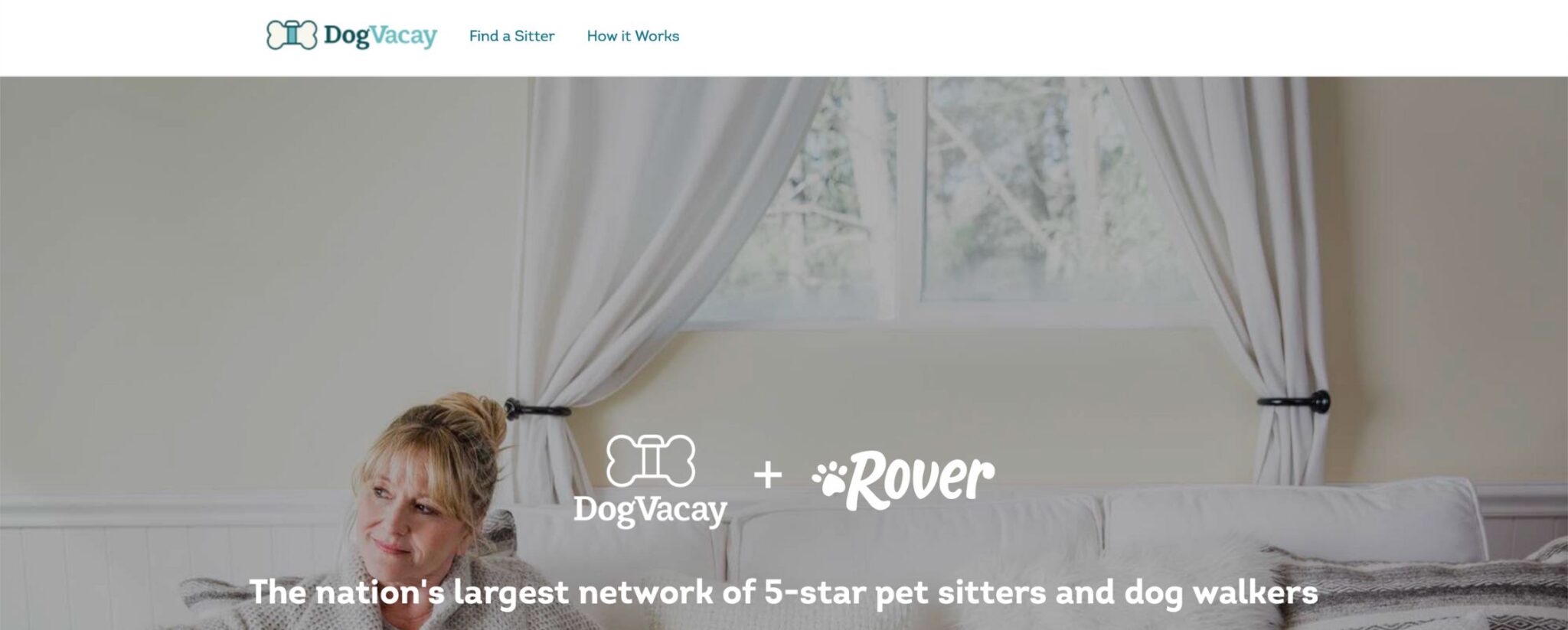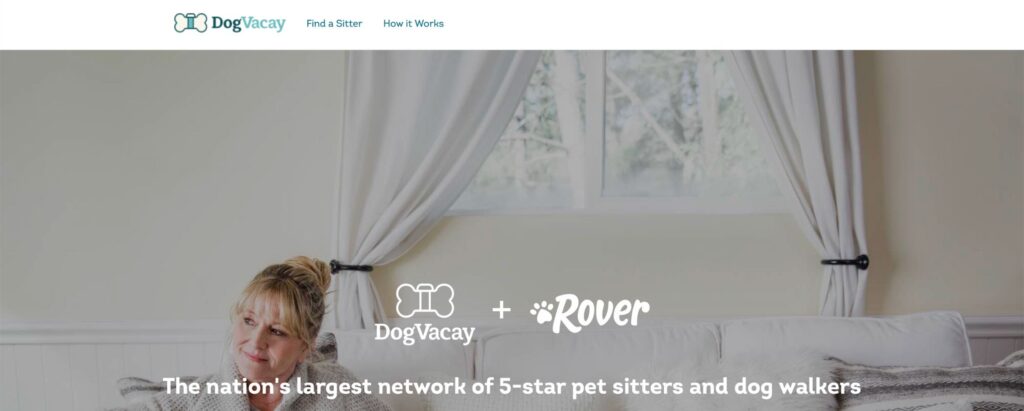 Dog Vacay is a platform that connects pet owners with local pet sitters who offer dog boarding and pet sitting services in their homes. The platform provides an alternative to traditional pet boarding facilities, allowing dogs to stay in a home environment while their owners were away.
Starting Your Own Dog Walking Business
Starting your own dog walking business can be a rewarding venture if you're passionate about working with dogs and have an entrepreneurial spirit. Here's a step-by-step guide to help you get started.
Research
Your first step should be to research the dog walking industry in your local area. Understand the demand, your competition, and pricing.
By researching your local dog walking industry, you can identify your target market, such as busy professionals, elderly pet owners, or anyone in need of dog walking services.
You can research dog walking online to get an idea of other businesses in your area. Another tip is to visit your local dog park and speak to dog owners for their views on what they expect from a professional dog walker.
The final step of your research is to create a business plan outlining your goals, services offered, pricing structure, and marketing strategies.
Legal Considerations
There are several legal steps you must take when starting your own business. First, choose a business name and check its availability. Register your business and obtain any required licenses or permits.
You'll need to decide on your business structure (sole proprietorship, LLC, etc.) and register it accordingly. You should also consider getting liability insurance to protect yourself in case of accidents or incidents.
Build Your Skills
Anyone can start a dog walking business. To get customers it's vital you prove your trustworthiness. After all, dogs are considered a family member, and dog owners want to be confident they'll get the best care possible.
To do this you should gain experience working with dogs, especially if you haven't done so professionally before. Consider volunteering at animal shelters or working as an assistant for an established dog walker.
Learning about dog behavior, handling, basic training techniques, pet first aid, and safety protocols will be necessary if you want to build your own successful dog walking business.
Set Up Business Operations
You should create a professional email address, phone number, social media channels, and website to establish your online presence.
A pet parent is more likely to engage your services if they can see you are a professional business.
Another good idea is to set up a scheduling and booking system. You can use scheduling software or apps to manage appointments efficiently.
Marketing And Branding
The key to successful marketing and branding is to develop a strong brand identity, including a logo, business cards, and marketing materials.
You can use social media platforms to showcase your services and connect with potential clients.
Another idea is to create a blog or social media content that offers valuable information about dog care and training. Building a successful blog could mean earning more money for your business. Popular blogs can earn cash from affiliate marketing, running ads, and selling digital or physical products.
Networking
Building relationships with local veterinarians, pet stores, and grooming salons can mean more business. They might refer clients to you or display ads for your business in their store or website.
A great way to meet others in the industry is by attending pet-related events, fairs, walking charity miles, and community gatherings to promote your services and make connections.
Getting Clients
Getting that first dog walking job can be hard, especially if there's a lot of competition in your local area. Offering promotional deals or discounts to attract your first clients and build a client base is one way to get started.
You should also ask satisfied clients for testimonials or reviews to build credibility.
Expand And Grow
As your business grows, consider hiring additional walkers if needed. You should also explore adding complementary services such as dog sitting, pet transportation, or basic training.
How Much Can You Earn Walking Dogs
The amount you can earn from walking dogs as a dog walker can vary significantly based on several factors, including your location, the number of clients you have, the frequency of walks, the duration of the dog walk, your experience, and the specific services you offer.
For example, a professional dog walker in New York will likely be able to charge a much higher rate than a dog walking service in a rural area.
Data collected by one recruitment specialist shows that dog walkers in the United States typically earn around $17.99 per hour. Rates for longer walks or additional services could be higher. In high-demand urban areas, rates might be even higher.
For example, New York resident Ryan Stewart has built a six-figure dog walking business over the last 20 years.
It's important to research the going rates in your specific area for dog walking jobs and consider your expenses, such as transportation, insurance, and marketing, when determining your pricing. As you start your dog walking business, it's advisable to start with competitive rates and adjust them as you gain experience and build a loyal client base.
If you're a dog person, then starting a dog walking business comes with many rewards. You can enjoy extra cash as you get paid to walk dogs. Plus, you get to spend time and play with dogs.
FAQs
What is a dog walking business?
A dog walking business involves offering professional dog walking services to pet owners who are unable to walk their dogs due to busy schedules, work commitments, or other reasons. As a dog walker, you provide exercise, companionship, and care for dogs during their outdoor walks.
How can I get started as a dog walker?
To start as a dog walker, you'll need to establish your business, set your rates, create a marketing plan, and build a client base. Consider obtaining any required licenses or permits, and develop a strong online and offline presence to attract clients.
Do I need any qualifications or experience to become a dog walker?
While formal qualifications may not be mandatory, having a genuine love for dogs, basic knowledge of dog behavior, and experience handling dogs will greatly benefit your business. 
While formal qualifications may not be mandatory, having a genuine love for dogs, basic knowledge of dog behavior, and experience handling dogs will greatly benefit your business. 
Consider volunteering at animal shelters, taking courses in pet care, or working as an assistant for an experienced dog walker to gain valuable experience.
How much can I earn as a dog walker?
Earnings can vary widely based on factors such as location, the number of clients, the frequency and duration of walks, and the services you offer. On average, dog walkers may charge around $15 to $25 per hour. Building a loyal client base and offering additional services can help increase your earning potential.
Is dog walking a flexible job?
Yes, one of the advantages of being a dog walker is the flexibility it offers. You can typically set your own schedule, choose the number of clients you take on, and adjust your availability based on your personal preferences and commitments.
Do I need insurance for my dog walking business?
While not always required, having general liability insurance is highly recommended. Insurance can protect you in case of accidents, injuries, or property damage that might occur while walking dogs.
How do I find clients for my dog walking business?
Use a combination of online and offline marketing strategies to reach every pet owner in your area. Create a professional website or social media profiles, distribute flyers in local neighborhoods, network with veterinarians and pet stores, and encourage satisfied clients to refer others to your services.
What safety measures should I take while walking dogs?
Always prioritize safety. Ensure that dogs are properly leashed, use harnesses if necessary, and follow leash laws in your area. Pay attention to the dog's behavior and interactions with other dogs or people. Be prepared for various weather conditions and carry essentials like water and waste bags.
Can I offer additional services besides dog walking?
Yes, many dog walkers expand their services to include pet sitting, pet transportation, basic training, and even organizing group dog outings. Adding complementary services can attract more clients and increase your income.
Is a dog walking business suitable for part-time or full-time work?
Dog walking can be adapted to both part-time and full-time schedules. Many dog walkers start as a side gig for extra money and gradually expand to full-time if they build a strong client base and demand for their services.