Disclosure: This post may contain affiliate links. If you click on a link I may make a small commission at no extra cost to you. You can read the full disclosure here.
Last Updated on October 23, 2022 by Chris Panteli
Work At Home Jobs That Provide Computers
Imagine working as a remote employee. No commute, no worrying about being late, and surrounded by your home comforts. Sounds like a dream, doesn't it?
That dream is now the reality for millions of people. More people than ever before are working remotely.
What's holding you back from working remotely?
It could be a concern over the cost of buying equipment. Computers that are powerful enough to handle the workload can be expensive.
Good news. You can find work-at-home jobs that provide computers. This means you don't have to worry about paying for expensive computer equipment. You can join the remote workforce revolution.
What Equipment Do You Need For Working From Home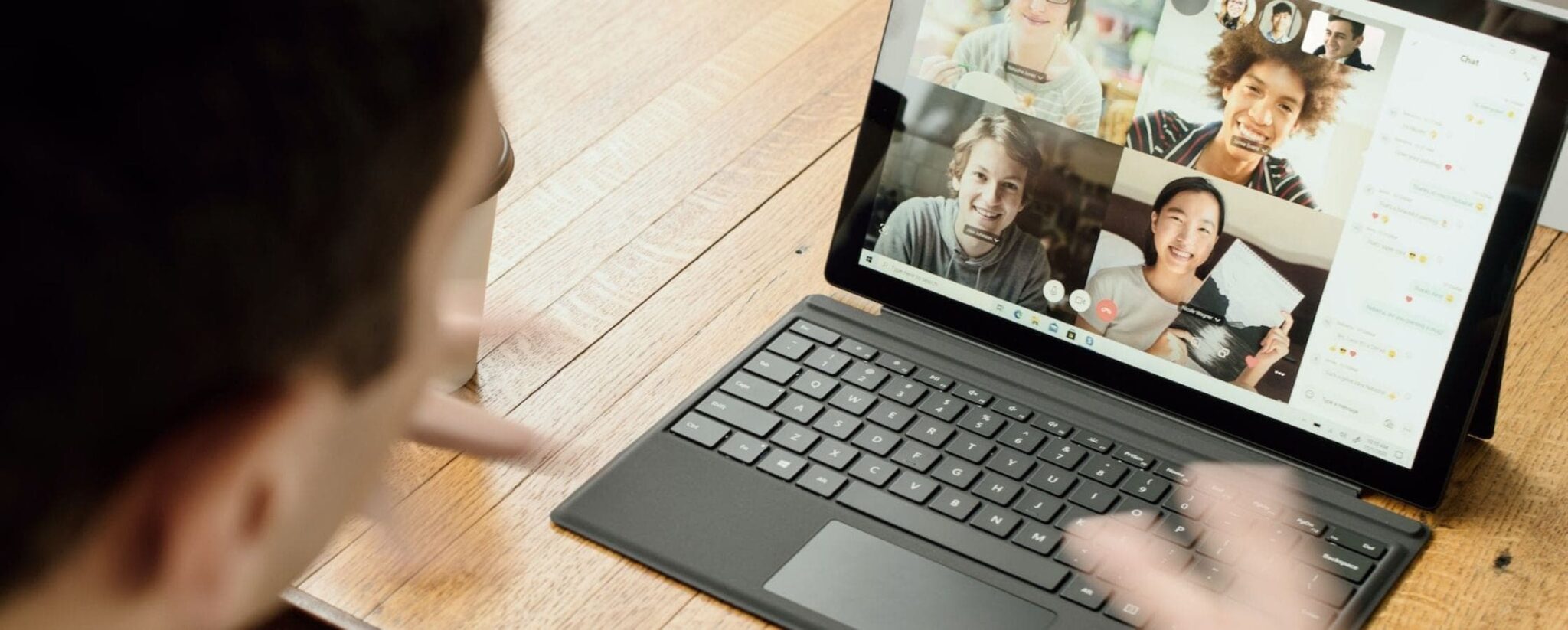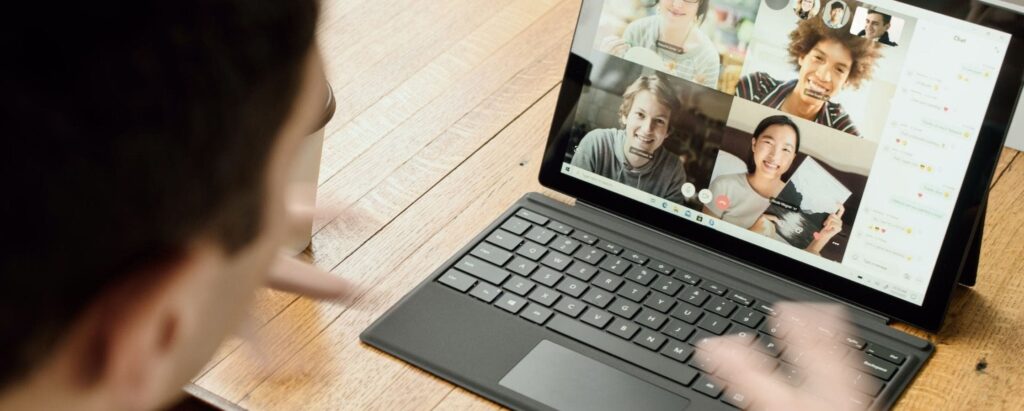 Each employer will have its own equipment requirements for remote employees. Make sure to check exactly what you will need before agreeing to employment.
Here's a rundown of all the equipment you might need:
A desktop PC or laptop
High speed internet
Noise-canceling headset
Webcam
Desk
Adjustable chair
Many companies now provide equipment including computers. Office equipment like desks and chairs isn't always provided. Although many companies give an allowance that you can use to buy office equipment.
Remember the equipment does belong to the company. You shouldn't misuse it in any way. Computers should only be used for work purposes. That's unless your employer has given you express permission otherwise.
Don't forget you'll also need a quiet workspace. Many remote positions stipulate that you must have a dedicated area of the home to work in. Sometimes a home office with a lockable door will be required.
What Kind Of Jobs Can You Do From Home
Thanks to advancements in technology, remote work opportunities are seemingly endless. You can find job opportunities in almost any field needing remote workers. Tech jobs, customer service, and business development are a few industries that recruit remote workers.
If you're searching for a remote job posting, then these job titles are some of the most popular:
Customer service representative
Customer support
Data analyst
Freelance writing
Sales representative
Software Developer
Software engineer
Technical support
Virtual Assistant
Web developer
19 Work From Home Jobs That Provide Computers
These are 19 of the best work-from-home jobs that provide computers. Have a look through the list and apply for any job that you have the relevant skill. You'll be working in the comfort of your own home in no time at all.
1. 10UP
10UP is a digital consultancy based everywhere. Remote workers for 10UP work around the world in key locations across the US, Canada, Europe, and India. 10UPs recruitment strength though is in its remote workforce.
Worldwide recruitment allows 10UP to maintain an agile workforce. This means 10UP can meet growing customer demand.
Services offered by 10UP include design, strategy, and engineering. Whatever a business needs to scale up online, 10UP is there to offer the solution.
Some of the remote workers 10UP often recruit are:
Account managers
QA specialists
System engineers
Web engineers
Designers
Part of the package offered by 10UP gives employees a professional development budget. The budget can buy necessary equipment.
2. Active Network
Active Network is a global platform that specializes in activities and events. They offer expert knowledge and software for functions including:
Secure payment processing,
Marketing tools,
Online registrations and more.
Offices are located in the US, UK, and China. A global recruitment strategy means people with the right skills can find a career at Active Network.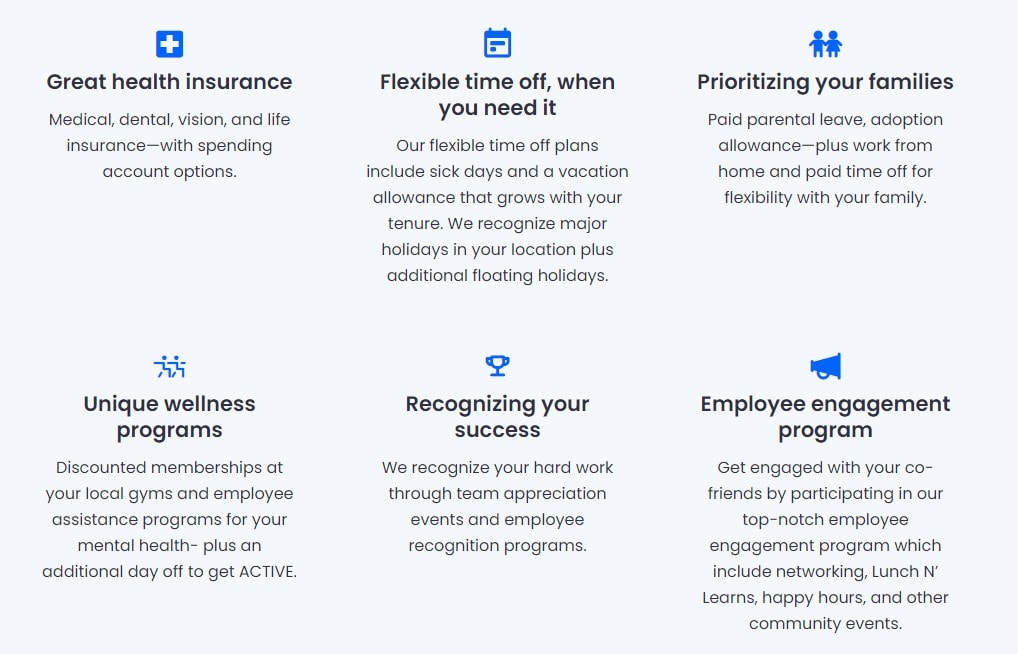 You will need your own high-speed internet. Active Network will supply all the other computer equipment you need.
3. Amazon
Amazon employs hundreds of thousands of people across the world. Both full-time and part-time remote jobs are often advertised.
Customer service rep, marketing, and web development are remote jobs that Amazon recruits for.
Often Amazon will provide a laptop, headset, and ethernet adapter. All you need is a workspace, internet connection, and for some roles a landline telephone to start working a virtual job with Amazon.
4. Apple
Apple is one of the world's biggest brands. When hiring remote employees, Apple provides an iMac desktop computer and headset.
Plus, Apple gives full training on how to use Apple devices.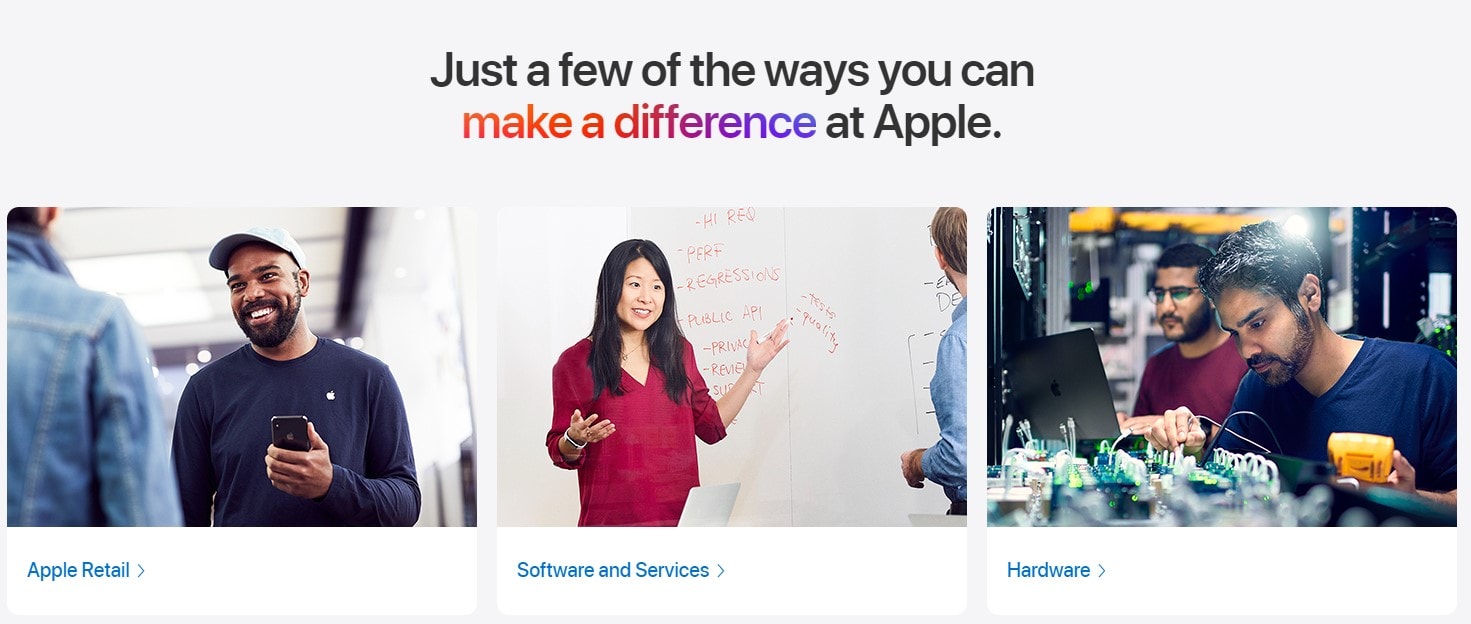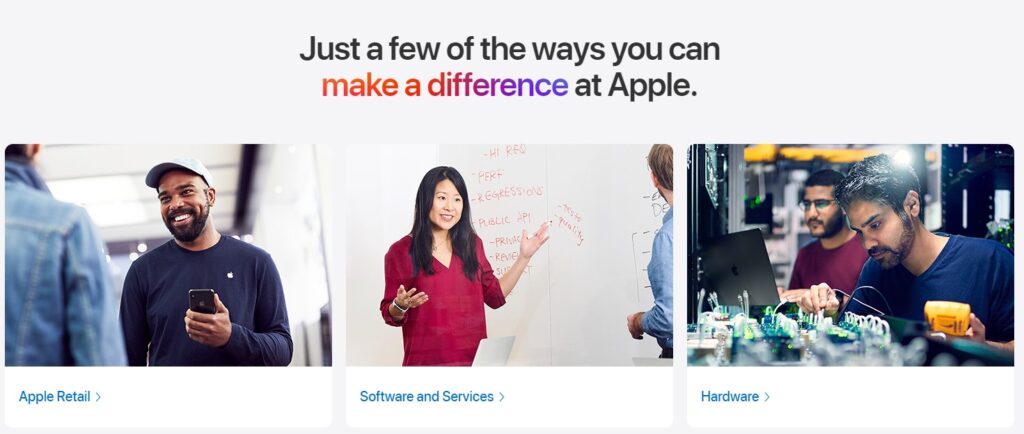 Jobs that may be available at Apple include:
Customer Service Agent
Team Managers
Area Managers
5. Automattic
Automattic has a workforce spread over 97 countries. Many of those workers are remote. Automattic is a software company responsible for many platforms you've probably heard of or even used. WordPress, Tumblr, Jetpack, and WooCommerce are some of the platforms that Automattic makes.
Remote workers are needed for a wide variety of roles:
Engineers
Design
Marketing
Customer Service
Legal
Finance
Computer Science
HR
Remote employees receive a home office setup and a coworking allowance.
6. Back Office Betties
Back Office Betties hires Virtual Legal Intake Specialists with a pay rate of $20 per hour. Positions are only offered to residents of Arizona, Texas, Nevada, and Florida.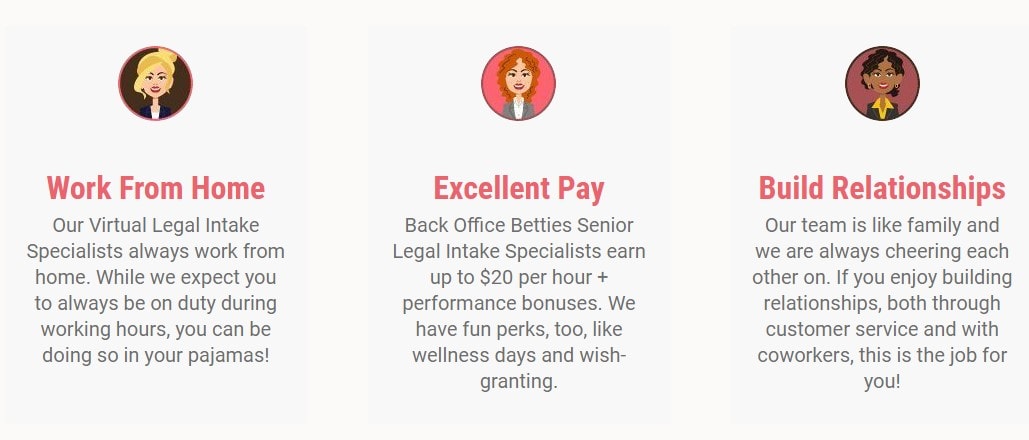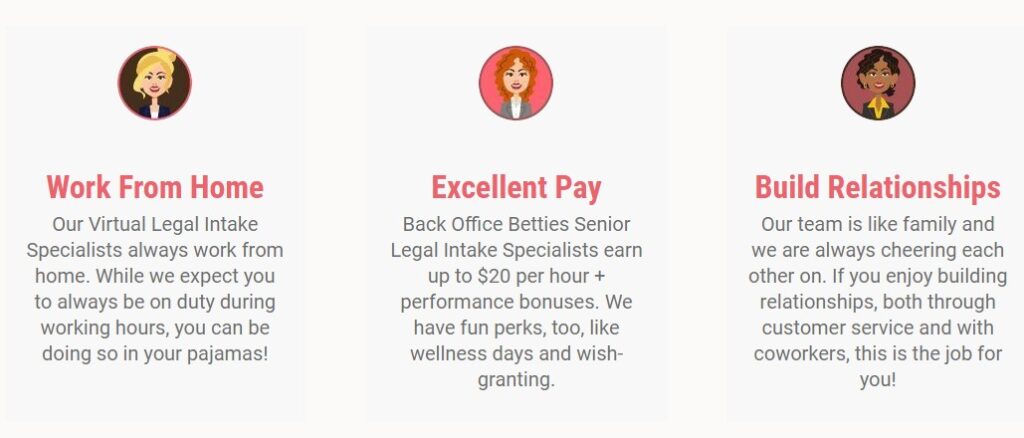 To sweeten the employment package, you'll be given a computer, monitor, and headset. Back Office Betties also reimburse remote employees for their internet connection.
7. Buffer
Buffer is a social media management company that has a remote workforce. If you're looking to earn money online, then a remote job with Buffer could be the role for you.
Check the recruitment page often for news of openings. Roles often needed are:
Engineers
Social Media Marketers
Customer Advocates
Why work for Buffer?
Buffer does offer a lot of benefits including a laptop and $500 to help you set up your home office. You can get money towards learning, cash towards coffee shop working, and profit sharing.
Check the Buffer careers page for full details of all benefits.
8. BroadPath
BroadPath is almost always recruiting for a variety of roles. The staffing and consulting company often needs the following roles filling:
Customer Service Agent
Tech Support
Payroll/Accounting
Healthcare Representatives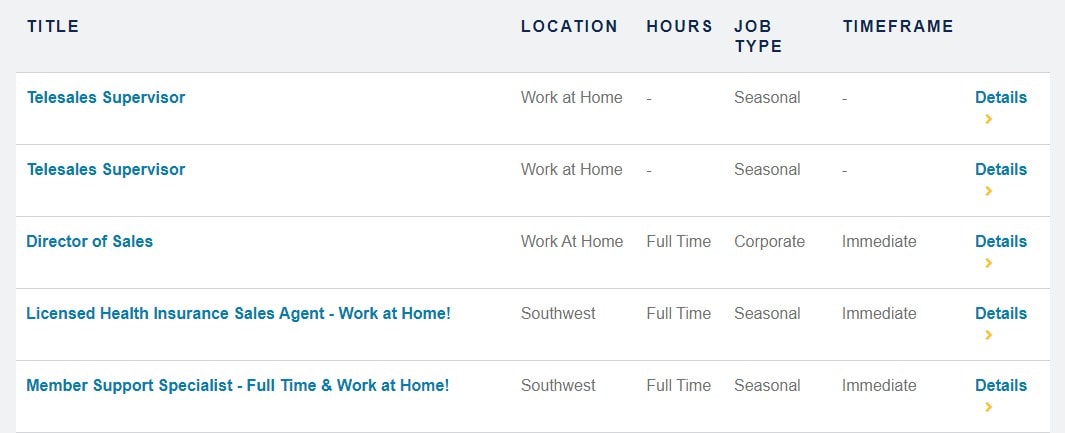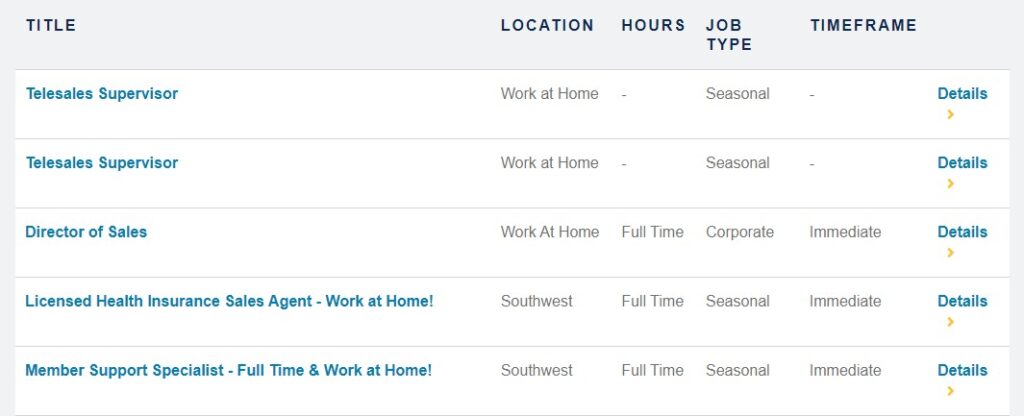 BroadPath will provide the following equipment to remote employees. A laptop, Bhive camera, USB wired headset, and a USB hub. You'll need to provide your own monitor, ethernet cable, mouse, and keyboard.
9. ConvertKit
ConvertKit is a SAAS email marketing service that has a 100% remote workforce. Top roles that are often open include:
Engineering
Marketing
Sales
If you're based in the US, then ConvertKit gives you a generous allowance to buy all the equipment you need. To start with you are given $4000 when you join the team. That can be used to purchase computer equipment or any other home office equipment you need.
Every two years you'll receive an additional allowance of $2500. ConvertKit recognizes that often equipment becomes outdated and provides that extra cash so you can keep up to date.
US-based remote workers will also get a payment of $360 every year. The annual payment is towards the cost of internet expenses.
10. Frontastic
Frontastic is a leader in the eCommerce field. Supported by a fully remote workforce there are lots of opportunities.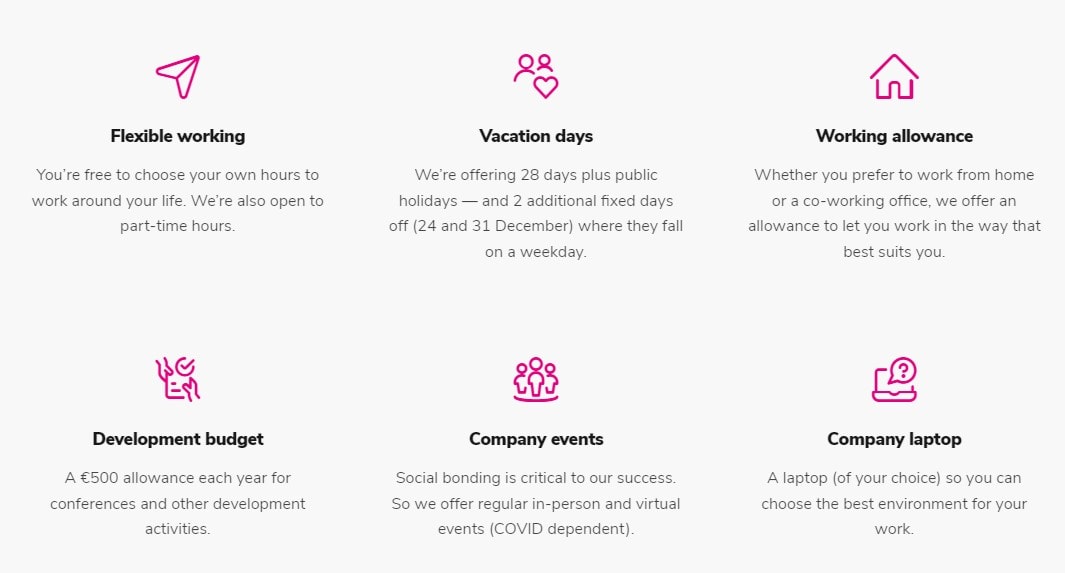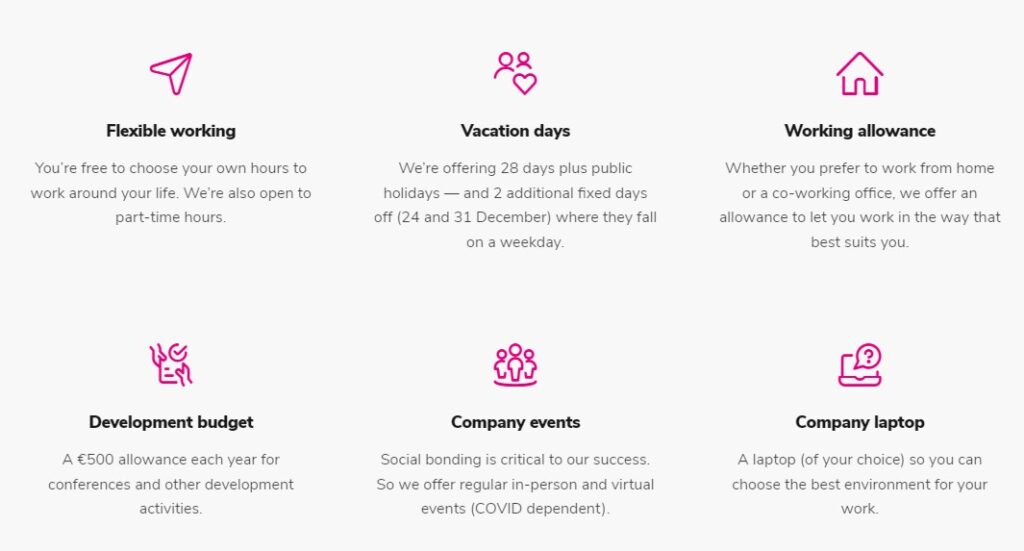 Top jobs available at Frontastic include:
Developers
Marketing Gurus
Account Executives
Engineers
Remote employees get a laptop of their choice, such as a Dell XP or anything else they might like. You'll also get a working allowance, development budget, and flexible work.
11. HelpScout
HelpScout has a mission to provide businesses of all sizes with a customer support platform that will wow their customers.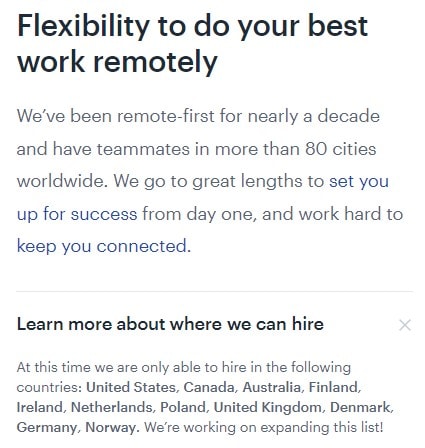 Lots of remote jobs are often available at HelpScout such as:
Design
Engineering
Operations
Sales
Marketing
HelpScout provides lots of support to their remote workers. A laptop, equipment, funding for your home office, and money for personal development are all benefits provided to remote employees.
12. LPL Financial
LPL Financial provides support to financial professionals, investment programs, and independent RIA firms. Across the US, thousands of remote employees work for LPL Financial to help deliver that support.
Remote workers are needed at LPL Financial for a wide range of departments:
Finance
IT
Legal
Marketing
Sales
You can enjoy lots of benefits working for LPL Financial including a computer, monitor, and other necessary equipment.
13. MoveOn
MoveOn hires remote employees across the US. The platform has a mission to make America better by working towards social and political justice.
Lots of positions often need filling. Remote roles you could find at MoveOn include:
Directors
Engineers
Communications
Work from home companies often provide all the equipment you need, and MoveOn is no different. MoveOn will provide you with everything you need including a laptop, cell phone, and desk. In addition to those essential items, you'll also get an internet stipend and a monthly home office subsidy.
Not bad for a work-from-home job.
14. Toggl
Toggl offers businesses a suite of tools that will help them optimize their business. Time tracking, hiring processes, and project planning can all be streamlined thanks to Toggl's innovative software.
By maintaining a remote workforce, Toggl often has great opportunities available.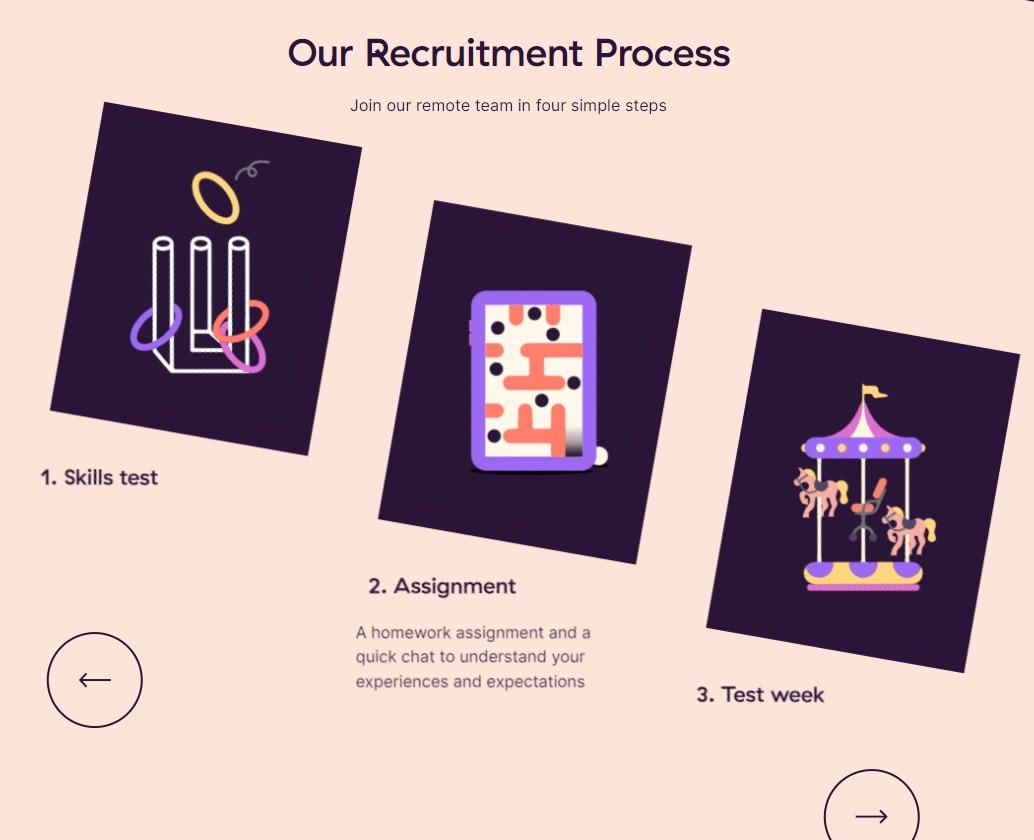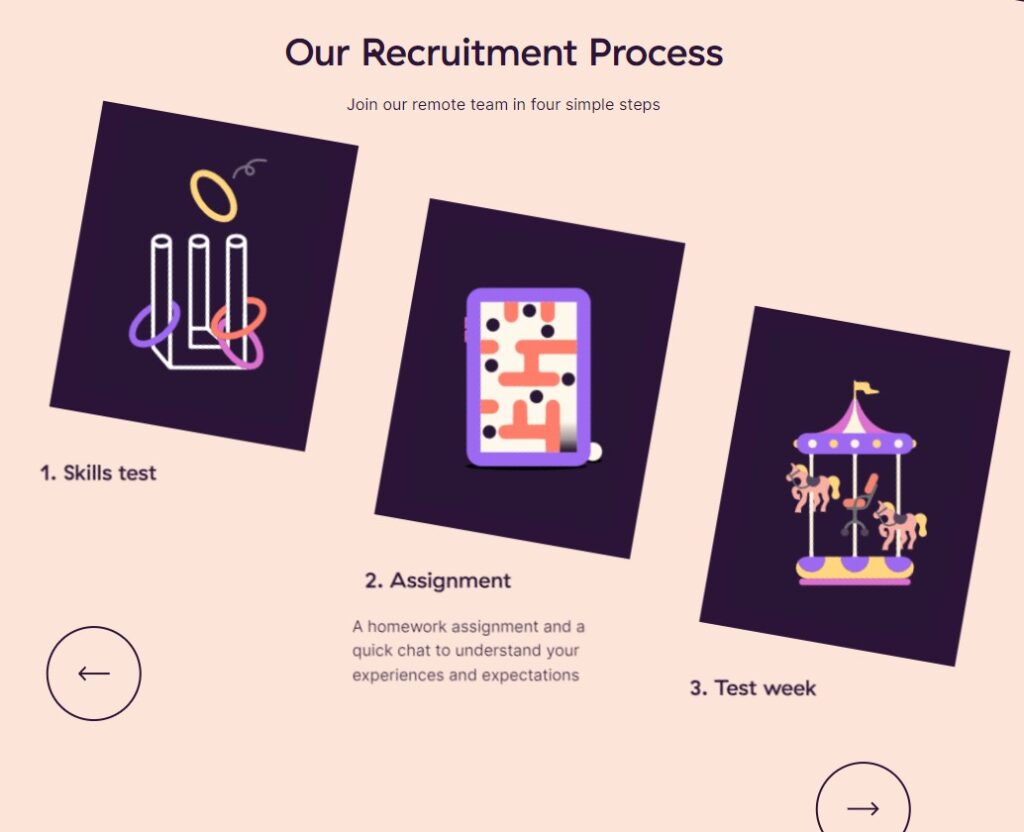 Some of the key roles you may be suitable for are:
Developers
Content Marketing Managers
Product Designers
When you work for Toggl, you are entitled to numerous benefits. To start with you are given a laptop and a €2000 budget to set up your home office.
You'll also be reimbursed for internet costs at home or the cost of a coworking space. Money for learning and development, gym memberships, and wellness are some other great benefits Toggl remote employees enjoy.
15. Transcom
Many companies choose to outsource their customer service jobs. Labor statistics show that the outsourcing market in the US is worth an estimated $122 billion. That's a lot of cash that companies like Transcom aim to earn part of.
As you would expect the main remote roles available at Transcom are for customer service agents and tech support.
Transcom remote workers are provided with a computer, monitor, and headset as part of the benefits package.
16. Verizon
Verizon is a communications and technology company that has a diverse workforce. One role that is often in high demand is customer service representative.
If you enjoy speaking to people, troubleshooting problems and don't mind taking calls at home, then this could be a remote job for you.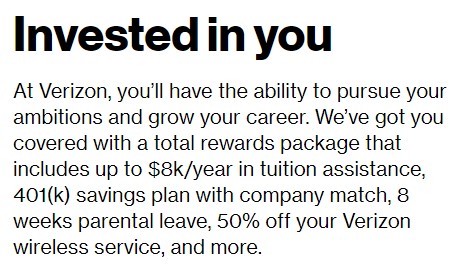 Verizon will provide you with a computer, equipment, desk, and chair once you've completed your training. Plus, you'll get a monthly stipend for internet costs.
17. Whirlpool
Whirlpool is a global brand that is well-known for manufacturing and selling appliances. You can find a wide range of remote jobs on the Whirlpool job board.
Remote jobs available right now include:
Software Engineer
Account Manager
Business Manager
It's worth checking back regularly to see what opportunities are available.
Remote workers for Whirlpool are provided with a laptop, headset, and mouse.
18. World Travel Holdings
World Travel Holdings is a travel company and cruise agency. Many roles are recruited for at World Travel Holdings on a regular basis including:
Vacation Planners
Software Engineers
Travel Consultants
When you start working remotely for World Travel Holdings they'll provide a computer, keyboard, mouse, webcam, headset, phone, and monitor.
19. Zapier
Zapier provides tools that allow businesses to automate processes. Job openings at Zapier include:
Accounting
Engineering
Design
Marketing
Sales
Support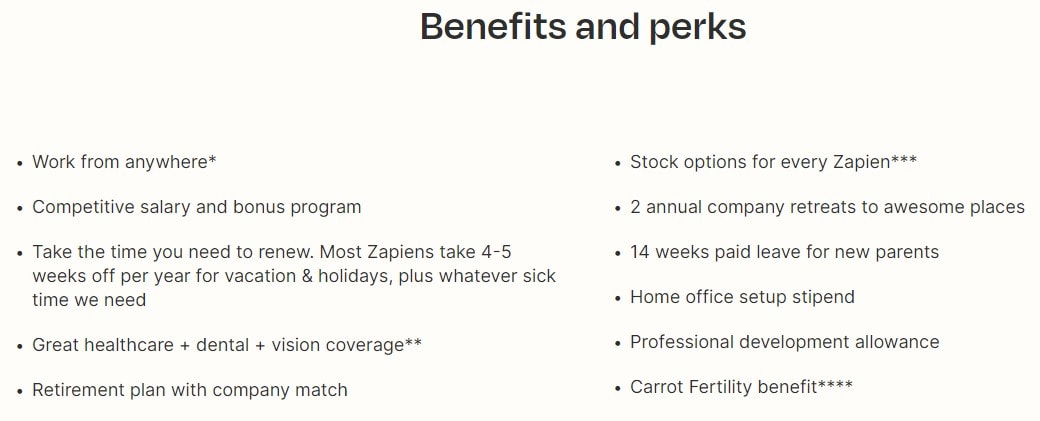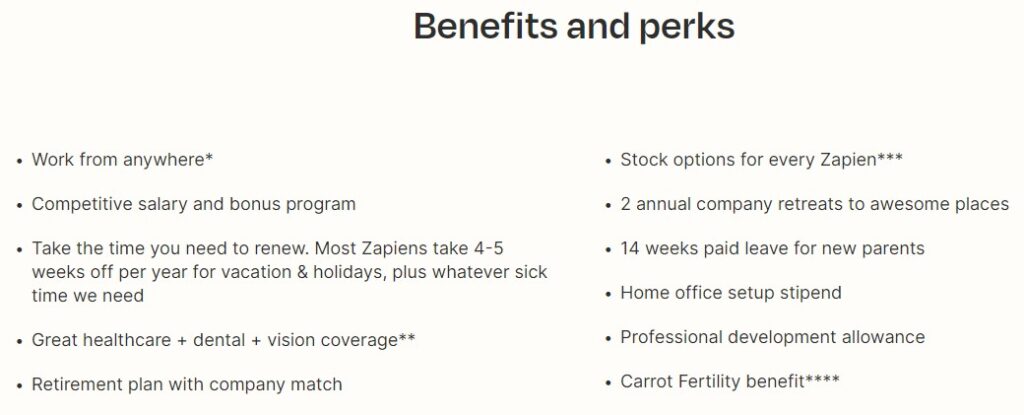 Not only will you be paid a competitive salary, but Zapier also provides computer equipment. Plus, you'll receive a generous allowance for professional development.
Work From Home Jobs That Provide Other Allowances
Not all work-from-home jobs provides a remote computer. However, many still provide excellent allowances.
American Express
American Express is a world-famous financial institution. Lots of remote roles are often available at American Express including travel consultants and customer service.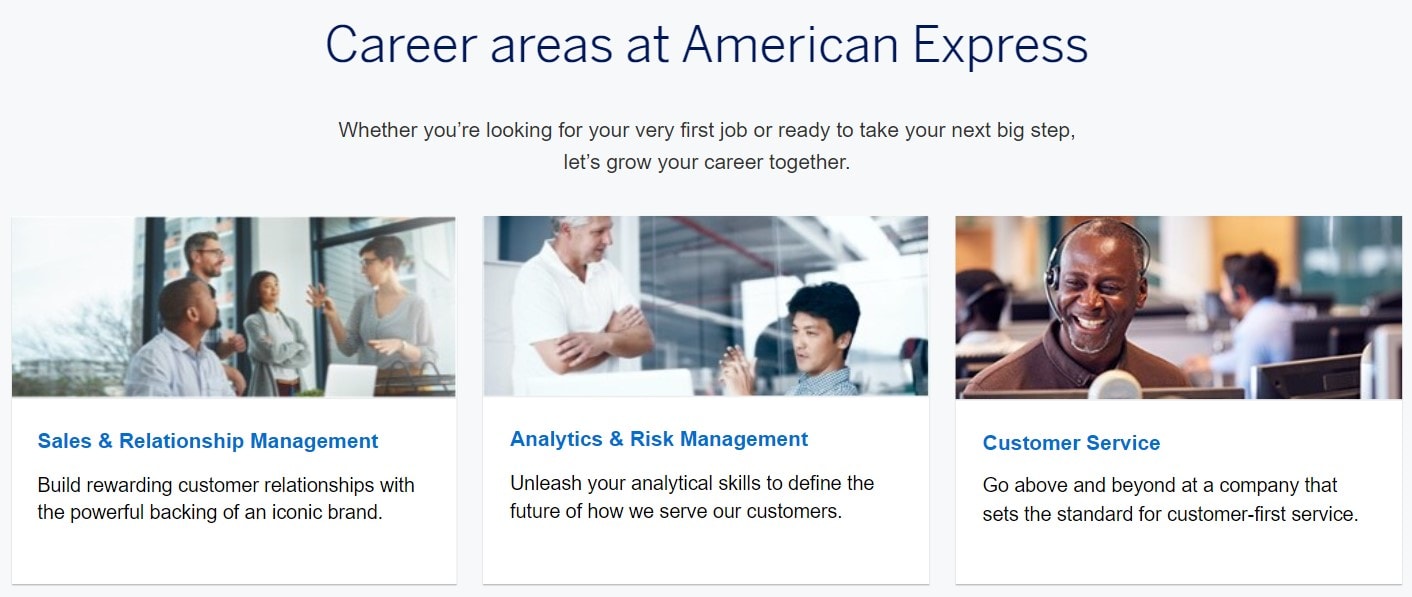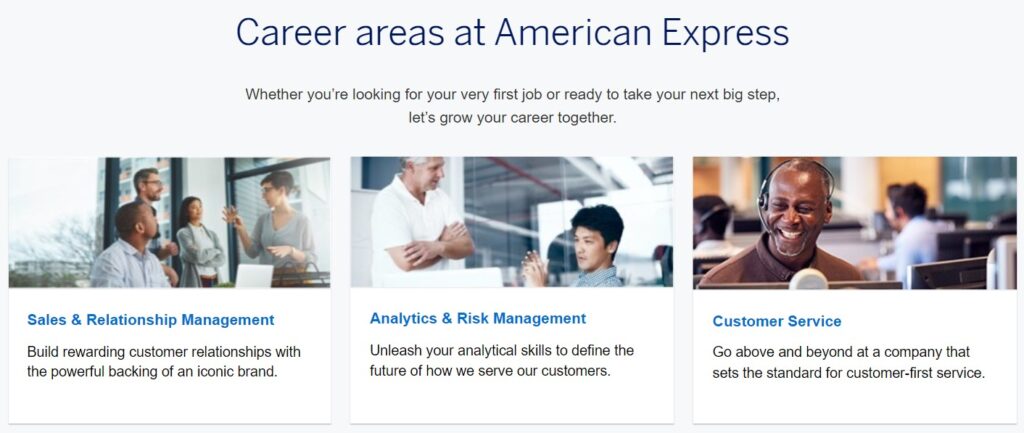 You'll need your own computer and home office equipment to work for American Express. However, they will pay for your high-speed internet connection.
FlexJobs
FlexJobs is a job board that is popular with freelancers and remote workers. As you might expect FlexJobs is a remote company with a range of careers available. Coaching, marketing, engineering, and more are a few of the many careers FlexJobs regularly has vacancies for.
Remote workers for FlexJobs need to buy their own equipment. However, FlexJobs provides a stipend for technology, office furniture, housekeeping, snacks, and co-working spaces.
GitBook
GitBook is a documentation management platform that gives teams the functionality to document anything and everything.
Remote employees are hired worldwide by GitBook covering lots of roles including:
Software Engineers
Designers
Full-Stack Data Specialists
Support
When you work for GitBook you are given a stipend for your home office. You may also receive an allowance for a coworking space.
Hilton
Hilton is a hotel brand that is world-renowned. They often need to recruit remote workers for a variety of roles.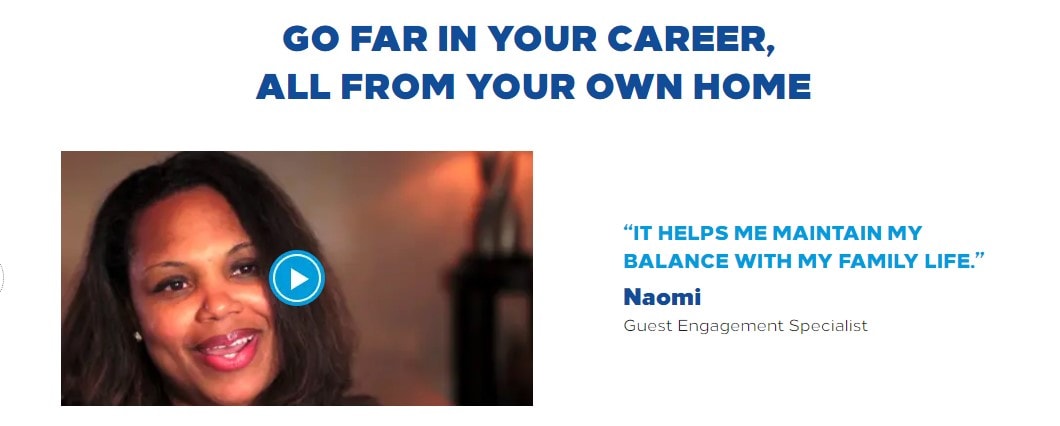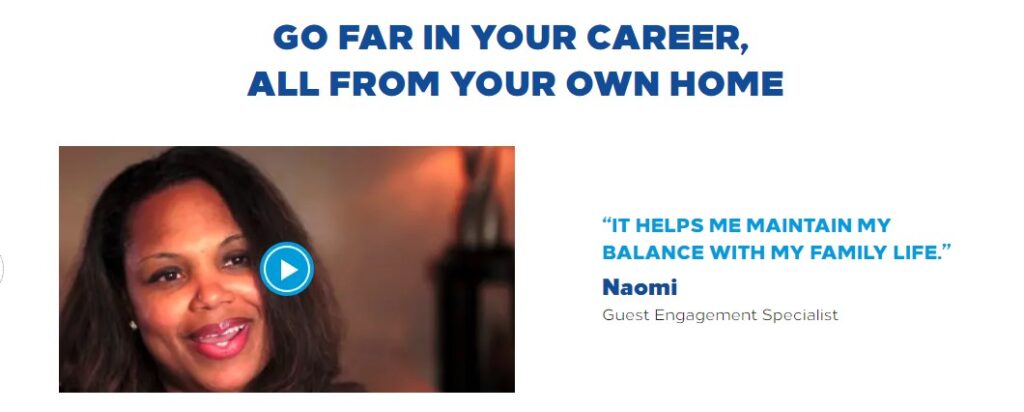 Careers available at Hilton include:
Customer service rep
User Experience Designer
Data Modeling Engineer
Marketing
Data Architect
To help remote employees, Hilton will provide some equipment. You can expect to receive a thin client/mini PC, keyboard, mouse, headset, flash drives, and ethernet cable.
InVision
InVision is a global visual collaboration platform. Users of InVision can enjoy an enhanced work experience that will boost their workflow.
Remote employees are offered at InVision for many roles including:
Design
Engineering
Customer Support
Sales
Marketing
InVision offers lots of benefits to its remote workforce. You'll get a monthly allowance towards wellness that includes things like snacks, coffee, lunch, groceries, and other similar items.
New hires are given a home office budget. After two years you'll get another home office budget for replacing your desk, chair, or other equipment.
Learning and development are also funded that you can use for relevant books, magazines, memberships, and subscriptions.
Mediavine
Mediavine is an ad-management company that recruits remote workers. Many roles are advertised regularly at Mediavine including:
QA Engineers
Data Engineers
Marketers
Software Engineers
Graphic Designers


Remote workers at Mediavine can receive home office reimbursement and other benefits such as yoga classes.
Teleperformance
Teleperformance provides customer service to companies in a variety of industries. Healthcare, commerce, insurance, and automotive are all industries that Teleperformance works in.
Remote roles at Teleperformance include:
Customer Service
Quality Assurance
Procurement.
Once you've completed your training, you'll receive reimbursement for your home office setup.
How To Spot Work From Home Scams
The work-from-home industry attracts a lot of scammers. One tactic many scammers use is the lure of a free computer. You may search online for a 'home computer job' and find lots of genuine results. However, scammers will be part of the results you get too.
To protect yourself don't pay anything, provide any information, or download anything unless you are certain the offer is genuine.
Legitimate employers, like all those listed in this guide, will have a trustworthy website. You should be able to find contact information, where the company is headquartered, and some information on senior executives.
Another important part of your due diligence is to search for reviews online. Have other employees had issues with the company? Do customers have a negative view of the company? Have governmental organizations like the US Department of Labor Statistics ever produced a negative report on the company?
Negative reviews don't necessarily mean a company is a scam. However, it's one red flag to look out for.
One way to know a company is legit is by its history. The internet means lots of companies have sprung up seemingly out of nowhere. Do a bit of research and you should find out when they were founded and how the company has performed since its inception.
If a company is brand new, the lack of history could be a warning sign it's a scam.
The longer you work as a remote employee the better you'll get at spotting work-from-home scams.
Usually, if an offer is too good to be true, it is.
FAQs
What computer skills do you need to work from home?
A lot depends on your role. If you work in IT, then you'll need the relevant qualifications for that role. Other jobs that aren't IT-related, like customer service, simply require a good knowledge of using a computer.
Accurate and fast typing speeds, knowledge of popular software packages like Microsoft Office or Google, and an understanding of how to troubleshoot basic issues.
What is the highest paying work-from-home job?
Most of the highest paying work-from-home jobs are in the IT industry. Software engineer, systems engineer, and cloud architect are some of the IT roles that are highly paid.
How do I find a remote job?
Start by looking through the list in this guide and apply for any vacancies you are qualified for. If none are available, then you can search online for remote jobs. Just beware of scams. The best jobs are out there once you start looking.
Work At Home Jobs That Provide Computers