Disclosure: This post may contain affiliate links. If you click on a link I may make a small commission at no extra cost to you. You can read the full disclosure here.
Last Updated on February 12, 2023 by Chris Panteli
So you have decided to take the plunge and launch your own blog. Well, congratulations. Now you need help setting the whole thing up? Well, that's exactly what we're going to do. You have made the best choice to have a self-hosted WordPress blog on SiteGround, by a country mile.
This guide will walk you through exactly how to set the whole thing up and get your blog online. Pay attention to step 1 though, because unlike every other 'start a blog' guide that's out there, I give one piece of advice that you will not want to miss.
You are about to embark upon a journey that will be full of ups and downs, frustrations and jubilations, advancements and setbacks. But trust me, you will never look back. And you are in great hands by choosing to host your blog on SiteGround.
I did hours of research before choosing my hosting. In fact, it took me a while just to understand exactly what self-hosting meant (it means you own your website outright and can pretty much do what you want).
SiteGround has unbelievable customer service, a free CDN service (faster site loading for worldwide traffic), and daily site backups (an absolute Godsend for beginner bloggers, because you will mess your site up at least once).
So, let's get into it and get your brand new blog hosted on SiteGround…
1. Before you Even Start your Blog on SiteGround…
Ok, so I'm going to go against the grain here, and actively encourage you to leave my blog once you have read this (but please come back to follow the signup instructions).
Before you embark upon your blog hosting signup, I want you to accomplish a couple of small tasks. You will definitely thank me in the future if you follow this advice.
Domain Name
Contrary to popular belief, you can't simply just sign up for hosting, install WordPress, and start a blog. Well, you can, but you will be forever frustrated unless you take these steps beforehand.
Once you have your hosting bought and paid for, you will be committed to a domain name. Which in turn, limits your scope for niche topics and brand development.
A 2015 global Nielsen survey found that nearly 60% of shoppers made purchases from brands they knew, and and 21% said they bought a product because they liked the brand.
If your ultimate goal is to monetise your blog, then you will need to develop a brand. You must be absolutely in love with your own domain name in order to do this with passion. Try getting excited if you call your site something silly, or worst, spell it incorrectly.
The domain name needs to be cohesive with your selected niche and content. It must explain to readers what you're all about, and sound trustworthy, professional and likeable.
Blog Niche
Selecting the niche in which your blog operates is by far the most important part of whether or not you will succeed. Now, that's not to say a magic formula exists for picking a winning niche. However, you must select a niche in which you care about, have knowledge in, and will be able to continually produce content for.
I do not say this as an authoritative expert, but a mere observer. You can clearly see the best most profitable blogs are curated by passionate and knowledgeable bloggers. The two really do go hand in hand.
So, take some serious time to decide what you will blog about. Read other blogs that interest you and see if it gets your juices going.
You don't need to have a PHD in your chosen subject matter, but some authority will go a long way in developing trust with your readers. You should also have the ability to carefully research your content, and write in a way that engages your audience.
Logo
I am so glad I had my logo designed and sorted before I purchased hosting. I cannot emphasize enough how important this is. You will be incredibly frustrated when you start designing your site on WordPress – 'logo-less'.
Remember, you need to have a brand, that's related to your niche and defined within a logo. These key steps will set you up the right way, and embed your overall image from day one. From there, the development of your blog and its brand will be seamless.
I recommend using Fiverr for your site logo, it's super easy to find good designers and super affordable. I think mine cost about £12, and I had unlimited revisions and all source files (make sure you request this).
Writing
Finally, before you get your blog on SiteGround, I heartedly recommend you actually try some writing. Test the waters and see if it is something you enjoy and will continue to enjoy week in week out.
I recommend signing up to Medium, it's a free platform and lets you share your work. You can also check the stats to see if people like your work and are engaged by it.
This will firstly give you an insight into writing within your chosen niche. Secondly, it's always best to try before you buy. Hosting is a financial commitment for at least a year, so it makes sense to give this blogging thing a test drive.
My Unmissable Advice
Leave my blog and take some time to think, research, question and learn. Decide upon your niche and what you will blog about. Then, come up with a domain name that marries your niche and potential brand together.
Get a logo designed that seamlessly brings everything together. Finally, try out some writing, and see if you actually like blogging.
But before you go, bookmark this page and make sure you come back if you do decide to start your blog on SiteGround. The fun is just getting started…
2. How To Set Up A Self Hosted Blog
Now that you have decided to start your blog on SiteGround, the first thing you need to do is choose your hosting plan. Follow the link above, and select one from the following three options: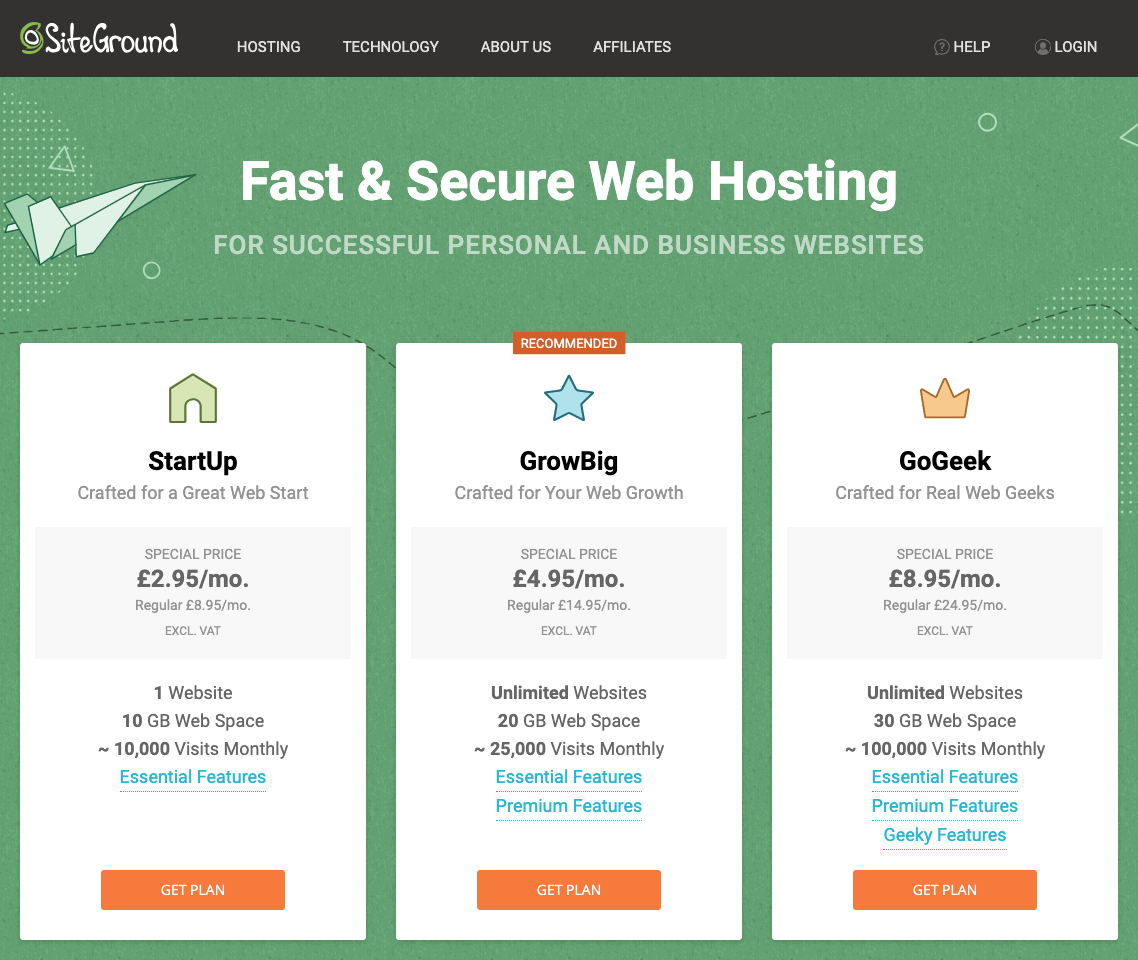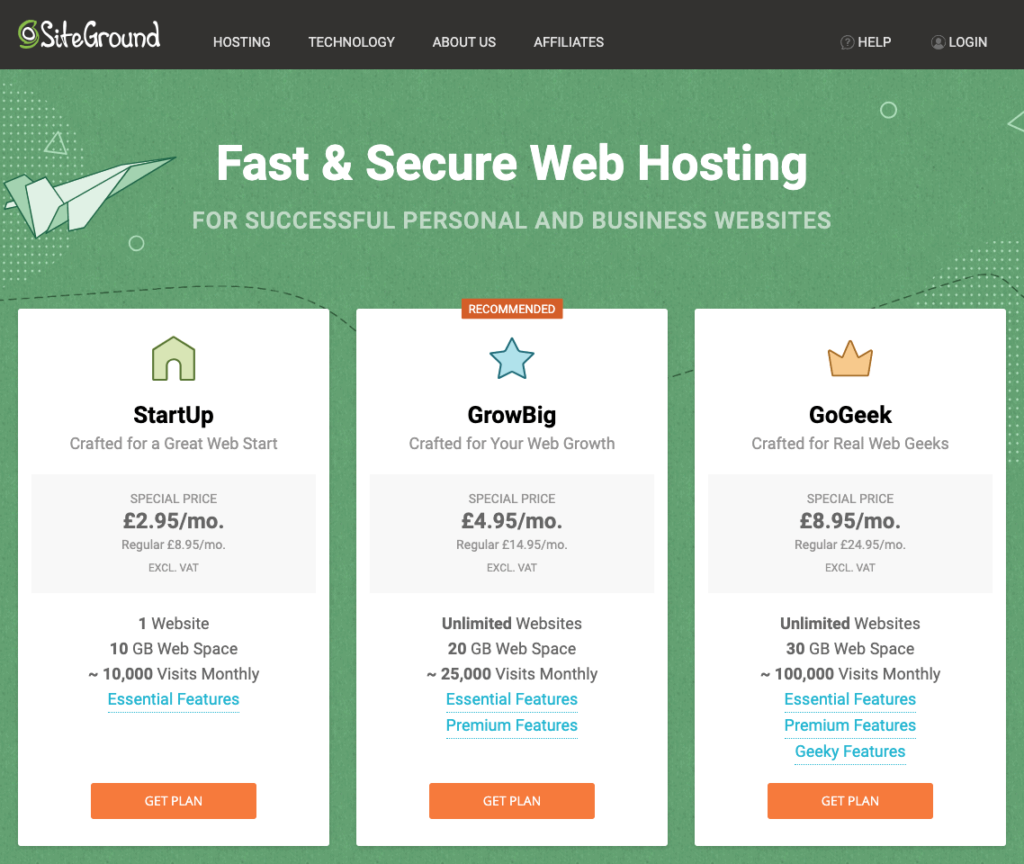 The StartUp plan is perfect for people with one website that are starting now. (Recommended by me for new bloggers)
The GrowBig plan is a great value for money offer, including the option for multiple websites and the SuperCacher that greatly improves website speed.
The GoGeek plan is perfect for people with e-commerce and larger sites, or more geeky development needs like more server resources and GIT integration.
The StartUp plan is absolutely perfect for your brand new blog. It is extremely well priced, the 10GB of web space is more than sufficient, and please tell me your secret if you get more than 10,000 monthly visits when starting out.
Start Your Own Blog
It's a great way to make money online and to win back your financial freedom. It's not easy, but then again, nothing good in life is! If you put in the work it can be extremely rewarding. So make sure you start your blog the right way, self-hosted, and on Siteground!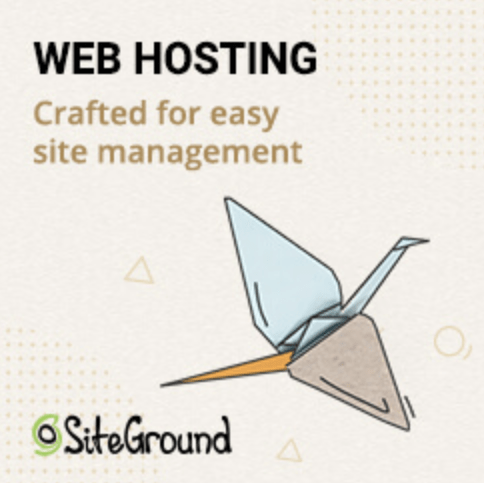 The great thing is you can always upgrade your plan as your blog demands change with time.
Recommended: 19 Ultimate Ways To Make Money Doing Nothing
3. Choose your Domain
Hopefully by now you have acted upon my earlier advice, and are armed with a cohesive domain name. It should bring together your niche topic, style and brand seamlessly.
You can purchase your domain name independently and register it at this stage, or simply use SiteGround itself to make your domain purchase (reasonably priced starting at £11.95/year). I personally used SiteGround and have had absolutely no issues.
When deciding your domain name, you should follow these guidelines by Moz. Ultimately, the domain name can influence SEO and should be taken seriously. The SEO game begins before you even host your site…
Domain Name Advice Guidelines
Make your domain name memorable
Use broad keywords when sensible
Avoid hyphens if possible
Avoid non-.com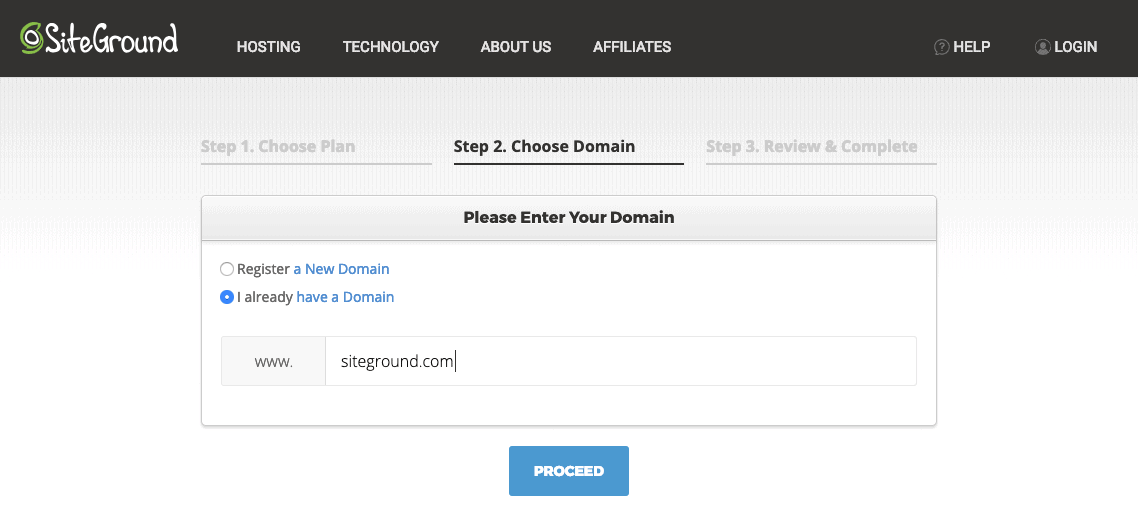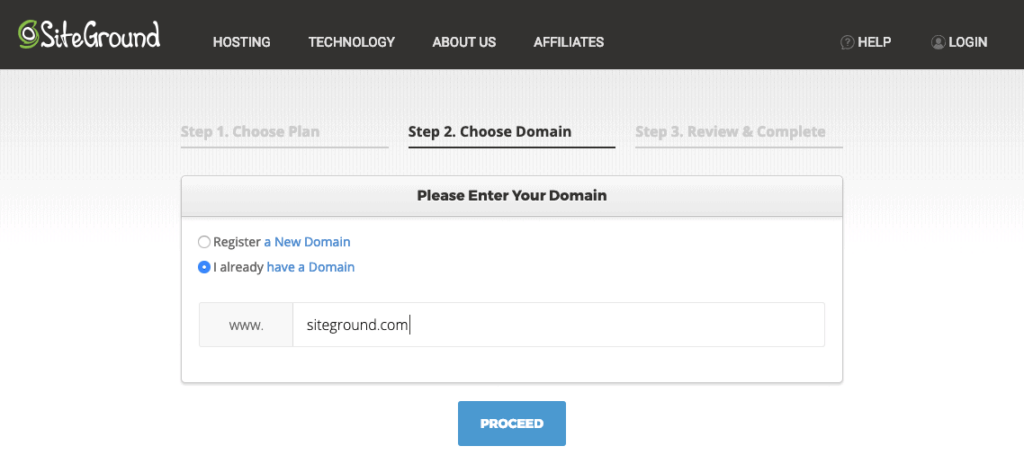 So, if you are using SiteGround to make your domain name purchase, select register a new domain and follow the steps.
According to Nurv, 46% of websites use a .com name. Moz suggested that for SEO optimisation your domain should be memorable.
Therefore, a .com name is really the only choice, as nearly half the sites on the web are .com. It will make your blog domain easier to remember if you follow suit. Just make sure to follow the aforementioned suggestions when deciding on your name.
You can also read How to Choose a Domain Name by Moz for further assistance.
4. Hosting Services and Extras
Now is the time to select the plan length you require and any extras for your blog on SiteGround. A key thing to mention here (something I wish I had done) is the introductory price SiteGround offers is extendable for any period you select.
Unlike many other hosting companies (mentioning no names), SiteGround offers the discounted price at the 12 month period as well as the longest available period.
This is great for new bloggers, because you can enjoy the discount price for just 12 months, or if you can afford it, the longest plan within your price range. I wish I had done this, but oh well.
Now fill in your personal information, check and double check everything, and select any extras you require.
The only extra I recommend is the Domain Privacy, which hides your personal information, such as name and address from domain information searches.
The other extras are not a necessity and can be added at a later date if you so wish.
5. WordPress Install | Watch Video
Congratulations, you are now officially a blog owner, with domain name and hosting. You have a home on the internet and your blogging journey can truly begin.
Another great thing about SiteGround is the one-click WordPress installation, which can be done using the SiteGround setup wizard.
One of my absolute favourite YouTubers for all things WordPress is Ferdy Korpershoek. I could not have got my site up and running and looking exactly how I wanted without him.
It's unbelievable how much high-value content he produces. Seriously, you could pay £100's in courses for this level of quality, but Ferdy offers it for free. So, I'll let this top-man explain exactly how to install WordPress for me (for the latest SiteGround interface).
How To Install WordPress using the Brand New Siteground Interface
Tap twice to load then open Video...
6. WordPress Set-Up with Astra (FREE)
Now it's time for the fun bit, how your blog on SiteGround looks and feels. I wish I had more of understanding of this in the beginning. WordPress, themes, Elementor – all just words and hard to understand.
It's not as complicated as it sounds though, and I'll do my best to give a little information on how it all fits together. Then, I'll leave it to Ferdy to walk you through the exact steps you need to take.
WordPress is the backend of your website – the engine room if you will. Within WordPress you can install a theme (Astra is my recommended choice and it's free).
The theme is what governs the rules your backend system adheres too. For example, colour schemes, font styles, sidebars, layouts etc.
It is a slightly arduous process, but once completed, your site will look how you want. Any additions to the site, such as new blog posts, will adhere to the rules of the theme you have customised.
Video Tutorials
You can watch this video to see exactly how to set up your blog on WordPress, using the free Astra theme:
Complete Astra 2.0 Tutorial | The Best Free WordPress Theme
Tap twice to load then open Video...
The theme customisations using WordPress are done from the backend. This is a great way of making your blog look and feel how you want – albeit in a limited capacity. All themes are slightly different in the customisable options they offer.
To really get creative and flexible in your customisations you will want to use Elementor – a completely free WordPress drag and drop page builder. This means you can create any page or post layout you can imagine – regardless of theme.
Elementor works fantastically well with the free Astra theme. It allowed me to create my whole site the way you see it today. Here is a mammoth of a video tutorial from Ferdy explaining almost everything you need to know about Elementor:
How To Make A WordPress Website | For Beginners
Tap twice to load then open Video...
I won't lie to you, this part of setting up your new blog on SiteGround is a bit difficult. Unless you have a background in web design or are familiar with WordPress, it's going to take some getting used to.
Also, you can get caught in a rabbit hole of website redesigning – I know I did. Especially if it's not looking exactly how you want.
One piece of advice I would offer is to not worry about design too much in the beginning. Focus on creating content and promotion. At the end of the day, no one will be looking at your blog straight away, so it doesn't need to be perfect.
7. Get Blogging
At this point, you might be asking what you've gotten yourself into. It's probably way more technical than you thought and so much to do. Try and have fun with this in the beginning and remember no one gets it right the first time.
This is where the process of blogging actually begins, and will continue for the length of your blogs lifetime.
You need to start creating content around key topics within your niche. This will start with keyword research and finish with a perfectly SEO optimized blog post – and to master the art of SEO you should check out my review of the Stupid Simple SEO course – because it's helped me explode my traffic in just a few short months.
Want To Learn How To Explode Your Organic Search Traffic with SEO?
The Stupid Simple SEO course by Mike Pearson has helped me grow my organic search by over 100% in just a few short months – and it can help you to explode your traffic as well.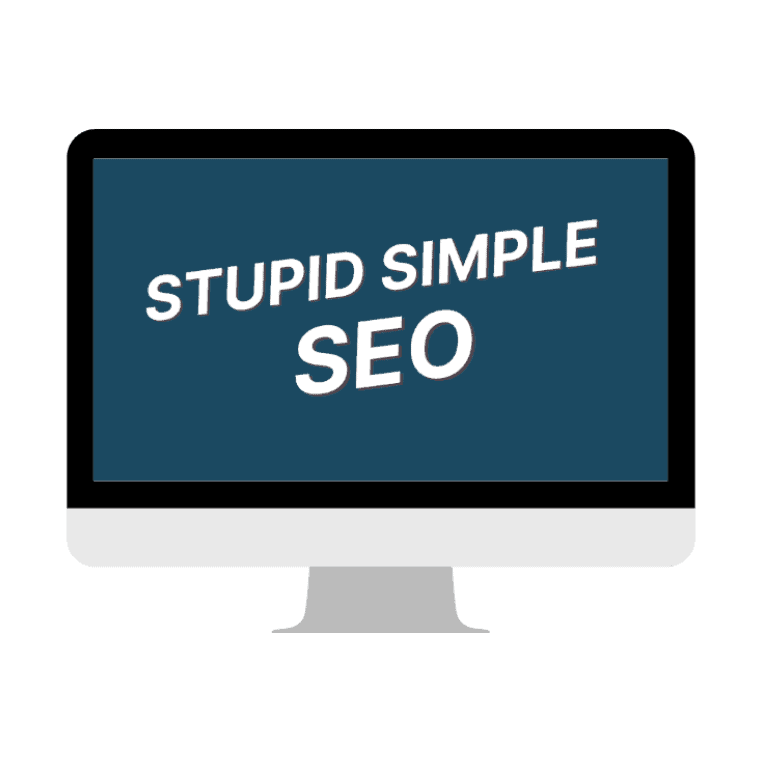 The end goal is to have an army of raving fans, that love your content and share it. They will trust you, buy from you, and ultimately earn you an income.
This part will take some time, and it's best to learn from the masters that have come before. You can check out the post 7 Best Blogs to Learn How to Blog – it's a good place to start.
Conclusion
Congratulations on starting your blog on SiteGround. It's a great feeling to be the proud owner of a piece of internet property. Your job now is to grow its value by producing amazing content that your readers will love.
You will also have to consider getting eyeballs on your new baby. This is an uphill struggle, especially at the beginning. It's going to take at least 6 months for Google to start sending you organic traffic (the daddy of all traffic sources).
This is because Google needs to learn about your new blog, what it's about, and if you can be trusted. So don't be disheartened if your Google analytics are rubbish at the start.
The best way to start getting free traffic straight out the bat is to use Pinterest. If you are not familiar with the platform then I'm afraid there's some more learning to be done.
It's very easy to set up, and mastering it can be learned. Start here, and do your own research going forward.
If you have enjoyed this article, please share. Also, if you have started your blog after reading this, get in touch with me. I would love to see it…
Recommended: 7 Best Hosting Providers With DDoS Protection