Disclosure: This post may contain affiliate links. If you click on a link I may make a small commission at no extra cost to you. You can read the full disclosure here.
Last Updated on March 29, 2023 by Chris Panteli
WealthWords Review
Do you think of yourself as a walking dictionary?
Can you complete a crossword puzzle effortlessly?
If you answered yes to these questions, then you probably enjoy playing word based online games. WealthWords is one platform offering word based games with the chance to win cash prizes.
In this Wealthwords Review you'll learn everything you need to know about winning real money prizes.
What Is WealthWords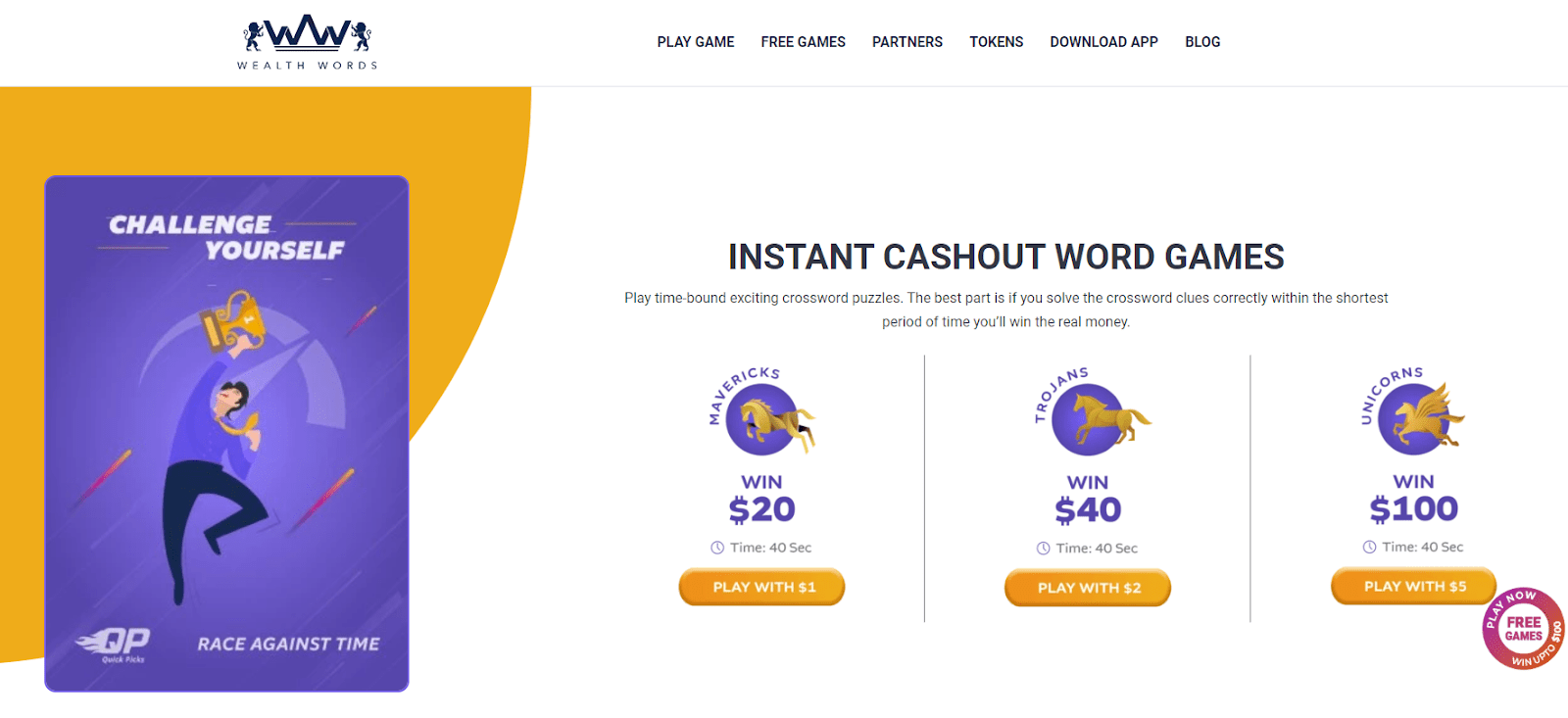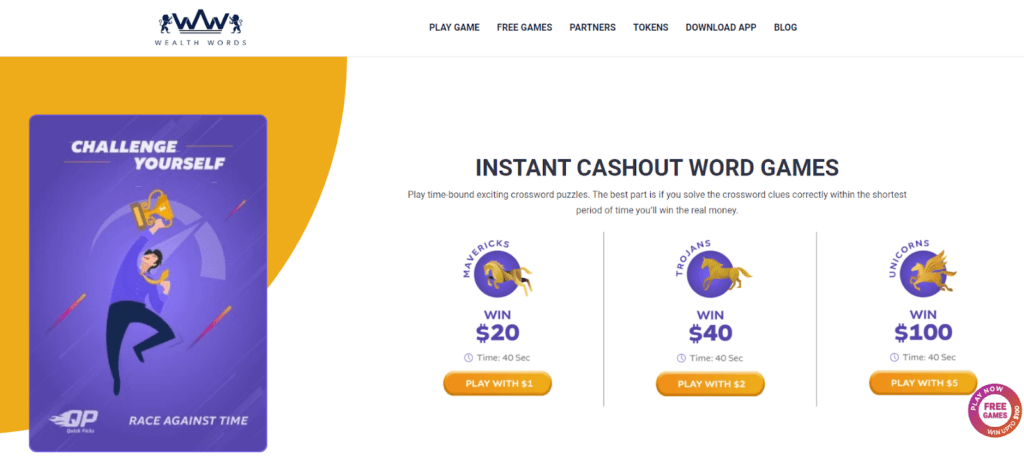 Wealthwords is a dedicated word puzzle game platform. You can enjoy playing a variety of word based games like crosswords for the chance to win cash prizes.
You can play Wealthwords games anywhere that you can connect to the internet. Players can play directly on the Wealthwords website or via their free mobile app. The Wealthwords gaming app is available for both Android and Apple devices. Download links are on the Wealthwords website or you can go to the App Store or Google Play Store.
Gamers can choose from 3 languages when playing Wealthwords games:
English
Hindi
Chinese
That makes Wealthwords accessible to more players.
How WealthWords Works
To get started on WealthWords you must create an account. You can register using your email address, Facebook ID, or Google login. Wealthwords membership is free and you can start playing right away.
There are 2 game modes to choose from once you've registered. Both game modes offer cash prizes. The Wealthwords game modes are:
Open Games cost nothing to enter and can pay real cash prizes of up to $50.
Paid Games will require you to buy tokens to enter. However, these games have prize pools that sometimes run into the thousands of dollars.
Does Wealthwords Cost Anything To Play
If you pick a game from the Open Games, then these cost nothing to enter. However, you can still win real money prizes.
Playing Paid Games requires you to buy tokens first. You can either buy a single token or token packages.
A single token will cost $0.25. Buying token packages means the token price is discounted. Token purchases can be made using PayPal or credit card.
Another option to buy more tokens is to use your prize winnings. If you choose to take your winnings as cash this will be paid directly to your PayPal account.
Games You Can Play On WealthWords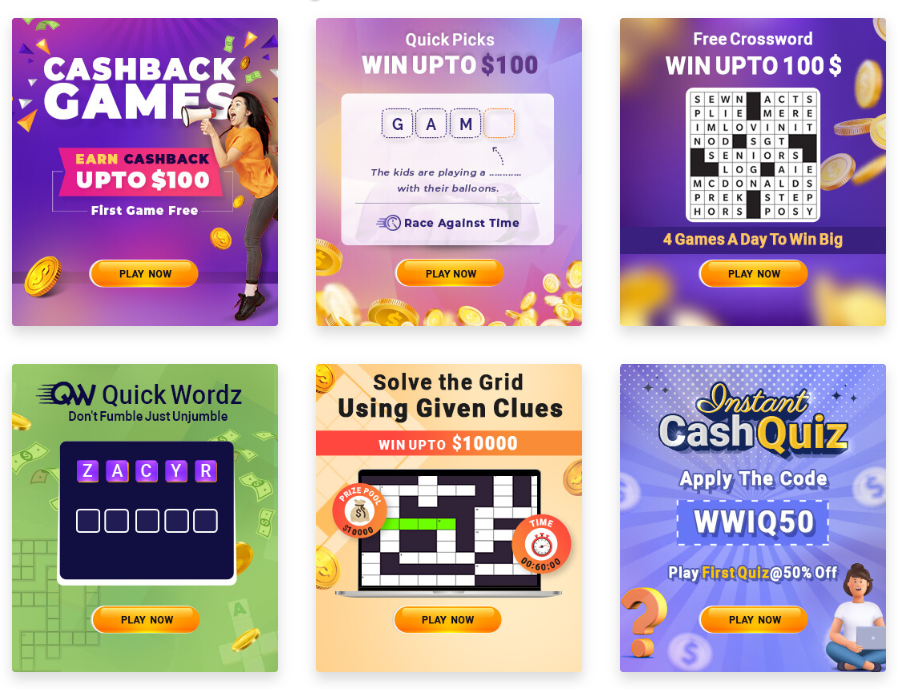 Wealthwords offers a choice of word games to play. That means you'll never get bored of playing these skill based games.
Here's a run down of some of the Wealthwords games available right now.
Instant Cashout Word Game
These timed crossword puzzle games reward you with real money if you can solve the crossword clues fast.
The Third Wave
If you play The Third Wave you must solve as many crossword clues as possible in the fastest time. The more right answers you get the bigger the cash prize will be.
Wealth Wordle
Wealth Wordle puts you against the clock as you try to figure out the hidden word. Guess the correct word fast to win a cash prize.
Wealth Wordoku
Sudoku fans will be delighted to learn there's a word based version. Wealth Wordoku gives players a 6×6 grid to fill with letters. Each letter must appear once per row, column, or 3×3 box.
Fill the grid correctly within 240 seconds and win an exciting prize.
Quick Wordz
Quick Wordz is a fast paced word game. All you need to do is unjumble the given letters into the correct word. For example, you may get the letters "ucikq rdzow", this becomes "Quick Wordz".
Super Crossword
Super Crossword offers a grand prize of up to $10,000. Players must solve the crossword puzzle within an hour. If you can do this, then you could win up to $10,000.
Questions range from the easy to the difficult. For example, a popular biscuit you can eat with a glass of milk? Answer: cookies.
Or, what is an economic conflict better known as? Answer: a trade war.
Answering questions like these can mean you'll be enjoying a period of personal prosperity. Potentially up to $10,000.
Can You Make Real Money On WealthWords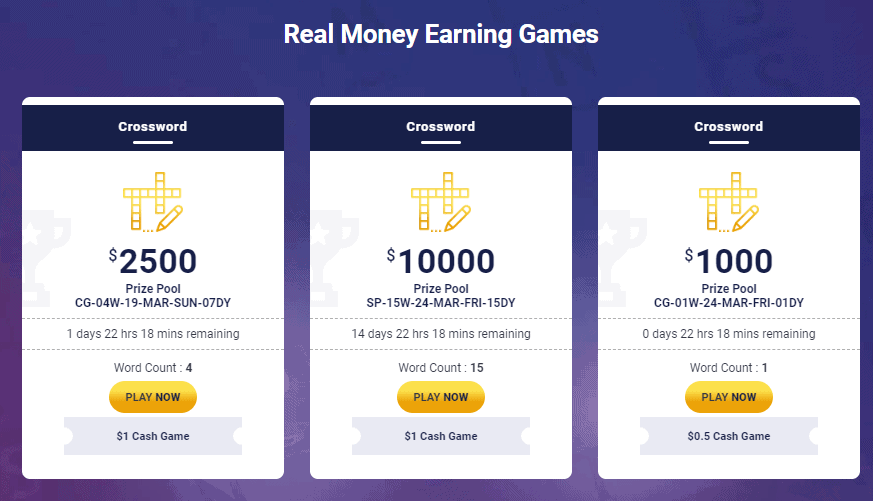 Yes, all prizes on WealthWords are paid using real money. To cash out your winnings you must have a balance of $20. All cash winnings are paid to your PayPal account.
Please note that tokens can not be refunded and have no cash value once you've bought them.
Wealthwords Review – Is WealthWords Worth It
Reading this Wealth Words review brings up one big question, is Wealthwords worth it?
Fans of word based puzzles will enjoy playing games on WealthWords. The fact you can earn cash prizes makes Wealthwords worth it if you're a fan of these types of games. Wealth words crossword puzzles alone can have prize funds running into the thousands of dollars.
Big cash prizes can be won on WealthWords. That makes Wealthwords worth it for most players. The chance to win up to $10,000 by completing the super crossword makes playing WealthWords worth the time. Especially for crossword lovers.
FAQs
Does Wealth Words give a sign-up bonus?
Yes, every player can get a sign-up bonus when joining Wealth Words for the first time. At the moment Wealth Words gives you $0.50 and a free game token when you sign-up.
Can I win gift cards on Wealthwords?
All prizes are paid in cash to a PayPal account. Gift cards are not a rewards option on Wealthwords.
Do you need to pay real money to play Wealthwords games?
You must pay real money to buy tokens. Those tokens can be used to enter Paid Games for the chance to win big cash prizes.
The good news is that you can play free games on WealthWords. Free games offer real money prizes as well. That means you don't have to pay real money if you don't want to.
Where can I play Wealthwords?
You can play Wealthwords from anywhere in the world including the United States or United Kingdom. All you need is an internet connection.
What is Capital Levy?
Capital Levy is a tax on capital. A Capital Levy is collected just once rather than a repeating tax such as Income Tax that every working person is charged.
What other ways can I make money online?
You can play online games like Blackout Bingo, answer surveys, or stream yourself playing video games. These are just a few ways you can make extra cash online.
Other options include joining a microworking site to get paid by completing easy tasks such as completing an advanced book search online. Alternatively, you could sell stuff. Selling your stuff is a great way to raise cash or if you're good at drawing there's always a marketplace for fresh illustration.
What's a good survey app to try?
One survey app that's popular is Survey Junkie. Earn points for answering surveys and each point can be converted into cash.
WealthWords Review