Disclosure: This post may contain affiliate links. If you click on a link I may make a small commission at no extra cost to you. You can read the full disclosure here.
Last Updated on October 23, 2022 by Chris Panteli
Vacation Rental Cleaning Checklist
The cleanliness of your vacation rental will directly impact your reviews. And you already know that bad reviews will cut your occupancy rates.
But when you're starting out with an Airbnb rental, it's not always in the budget to hire a professional cleaning team.
That means you've got to become familiar with deep cleaning your property like a pro.
In this post, we'll give you a handy short-term rental cleaning checklist for each room in your Airbnb so you can exceed your guests' expectations.
What Does a Good Cleaning Schedule Include?
To make your cleaning schedule most effective, make sure you know exactly what tools and supplies you'll need and break down the tasks by room. This will ensure you don't miss anything and makes it easier to work your way through the whole property.
Supplies You May Need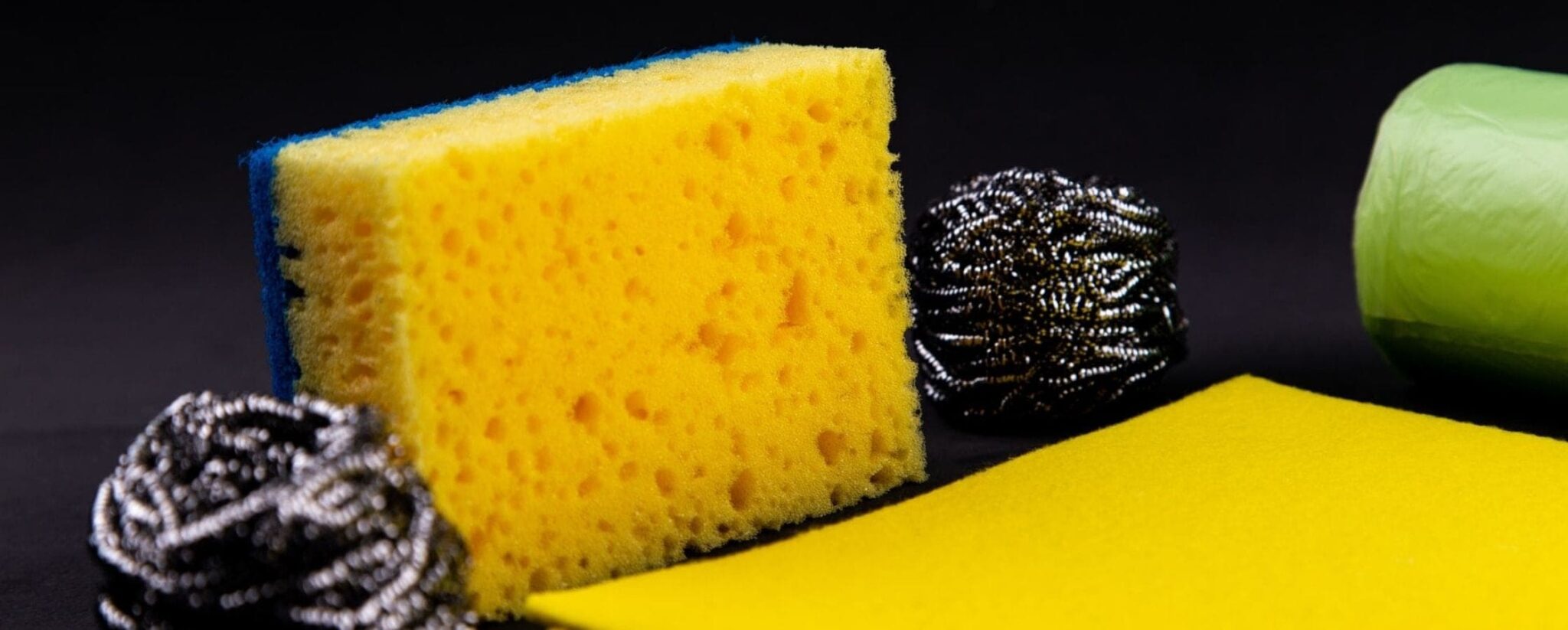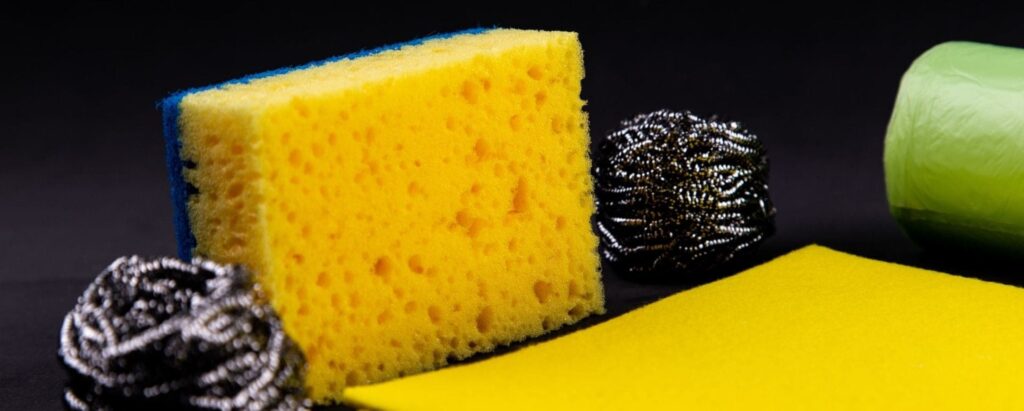 Cleaning an entire Airbnb rental property can seem overwhelming, but you don't actually need that many supplies to get the job done.
Here's a quick checklist of products and tools you should have to make the job much easier:
A microfiber mop hardwood floors.
Glass cleaner.
All-purpose cleaner (you can even make your own with distilled white vinegar, dish soap, and warm water). 
Disinfectant for bathrooms.
Microfiber cloths.
Scrubbers for stubborn grime.
A toilet brush.
You might already have a list of your favorite cleaning products, so use what you like.
However, you don't need a long list of chemicals – an all-purpose cleaner is sufficient for vacation rental cleaning.
Short-Term Rental Cleaning Checklist
Let's go through each room and look at the different areas you need to clean for each one. Keep this Airbnb cleaning checklist handy and cleaning your vacation rental property will be much quicker.
Kitchen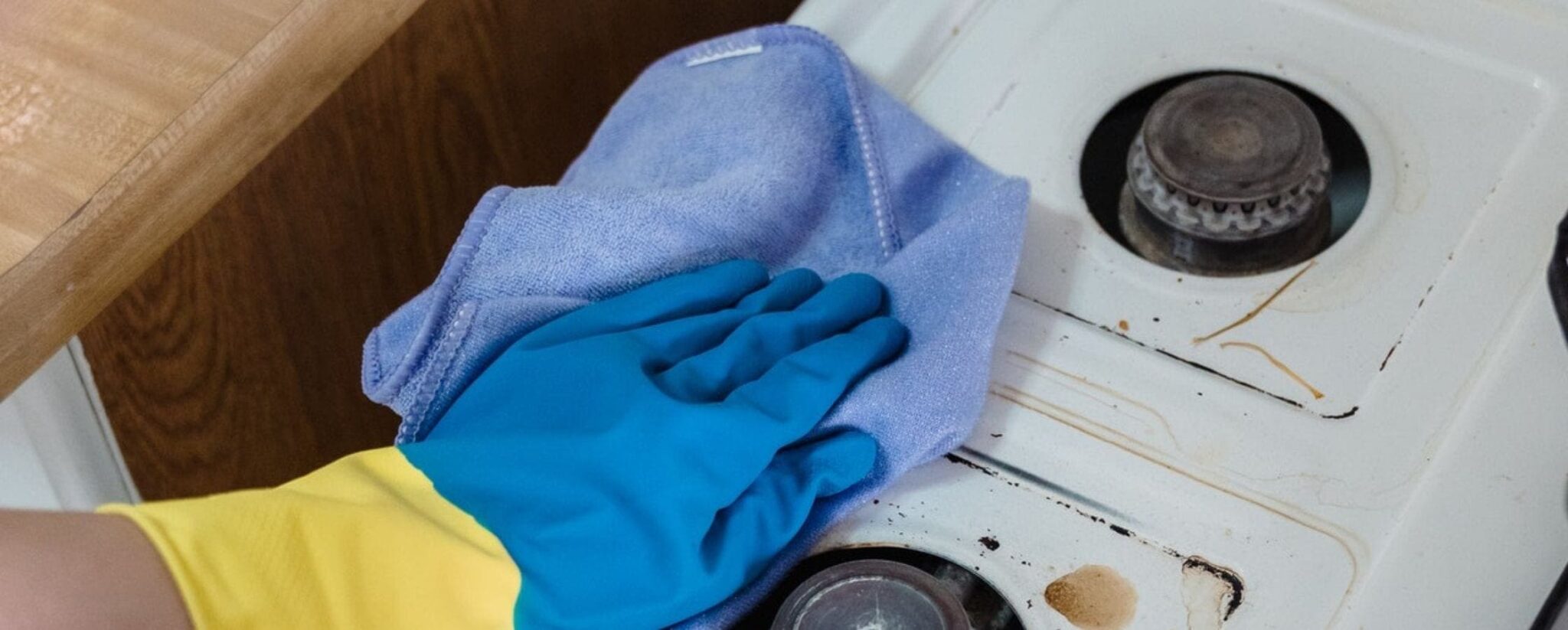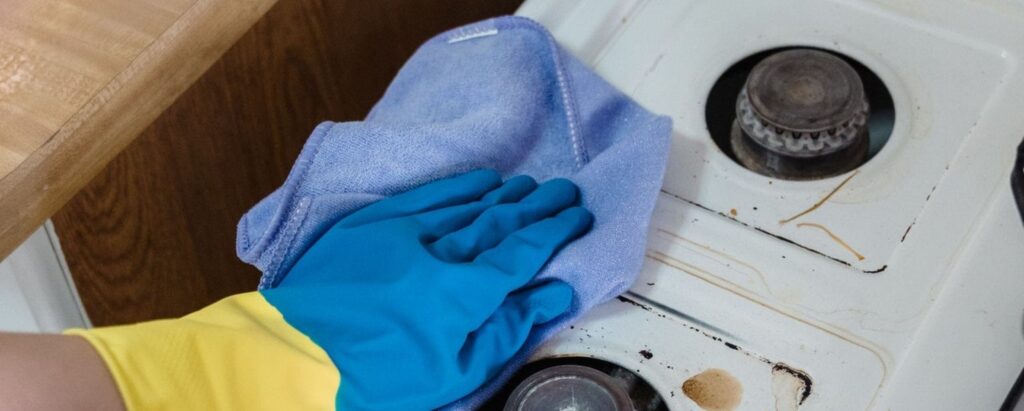 The kitchen is where your guests will spend most of their time and it usually gets the dirtiest after each booking.
All surfaces (both inside cupboards and appliances and countertops) need to be checked and cleaned regularly.
While you're in the kitchen, check any sauces, spices, or condiments you leave for guests are all in date.
Check all the cleaned dishes and put them away. 
Wipe down the microwave. 
Clean the oven and stove. 
Wipe down cabinet fronts to remove fingerprints. 
Replace the garbage bag and wipe down the trash can if needed.
Vacuum crumbs in the drawers or cabinets.
Wipe down the refrigerator and remove any items needed.
Clean the drain in the sink. 
Wipe down the backsplash and countertops. 
Dining room
Every Airbnb should have a dedicated dining space for guests to eat together. If you don't have a dining room, try to make space in the living space for a table and chairs at least.
No one wants to each their food in a dirty dining area, so make sure you deep clean this space:
Vacuum the floors to remove all crumbs. 
Clean between the table leaves. 
Wipe down the table and chairs. 
Check nothing has been stuck under the table. 
Wash tablecloths if you have them. 
Disinfect table mats and any children's booster seats. 
Dust the light fixtures.
Clean centerpieces. 
Disinfect light switches. 
Bathroom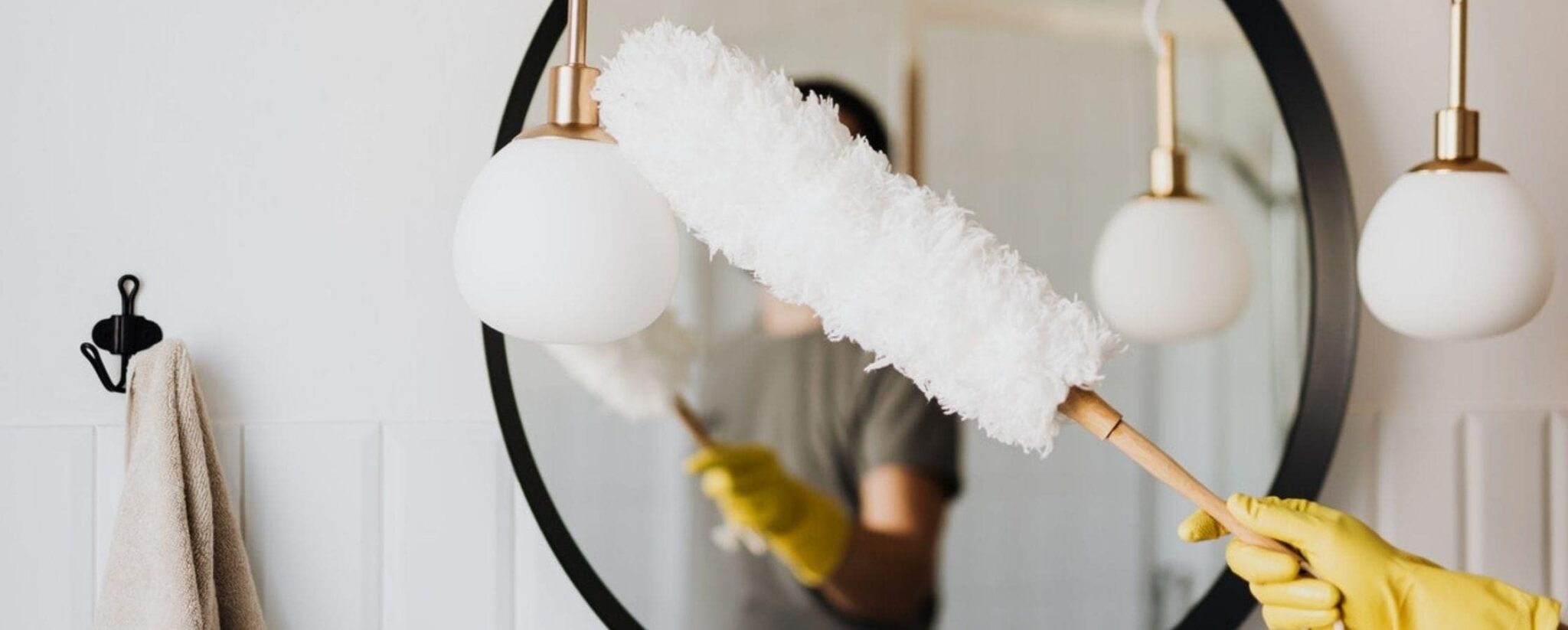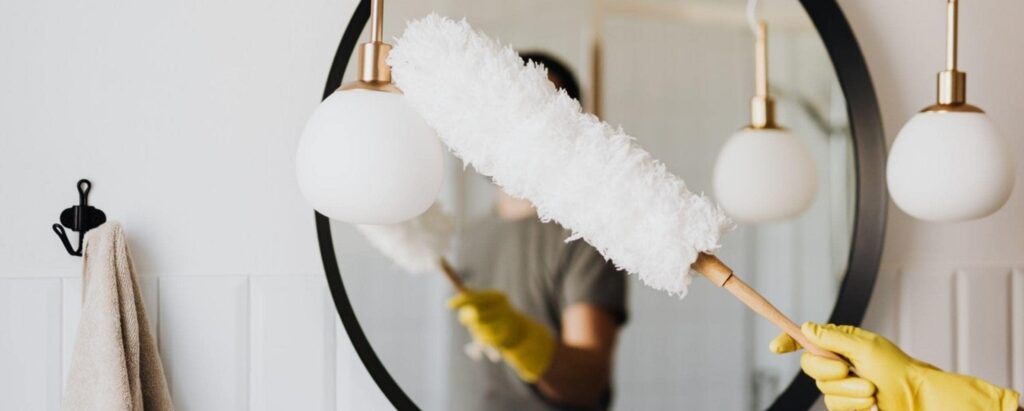 Airbnb bathrooms can get moldy and grimey quickly with such heavy use. So it's important to deep clean these after each stay to make sure they're hygienic.
Clean the base of the toilet as well as the inside.
Clean behind the toilets and the walls around them.
Wipe mirrors and faucets so they shine. 
Clean the drains and remove all hair. 
Scrub soap scum from baths or showers. 
Deep clean jets if you have a jacuzzi tub. 
Wash the towels and mats.
Wipe shelves and any decorations. 
Replenish complimentary toiletries. 
Bedroom
Bedrooms are usually one of the easiest places to clean since guests tend to spend the least amount of time in them.
Your main goal in the bedroom is to create the most comfortable, fresh bed possible so guests have a great night's sleep.
Dust all surfaces, lamps, and decor. 
Dust the light fixtures. 
Disinfect light switches. 
Vacuum or mop floors.
Make sure all dressers and closets are empty. 
Dust baseboards. 
Living room
Next up: the living room. This is another high-traffic area so will need a good clean between each booking.
Disinfect TV remotes and the light switches. 
Dust light fixtures. 
Vacuum and wipe down all sofas and chairs.
Dust coffee tables and other surfaces. 
Wipe the TV screen.
Make sure there isn't any clutter. 
Wash any used throw blankets or pillow covers.
Vacuum or wash the floors. 
Utility room
A laundry room is a major selling point for guests who want to do laundry while they stay at your property. It's important to keep it clean and fresh so their clothes don't come out smelling like mildew.
Clean the washing machine detergent tray. 
Wipe down the front of the washing machine and inside the seal. 
Clean out the dryer line and vents. 
Wipe down the front of the dryer and inside the door. 
Clean the sink and drain. 
Replenish the laundry supplies if you provide them. 
Wash the floors. 
Check laundry baskets are clean and nothing has been left behind. 
Windows and doors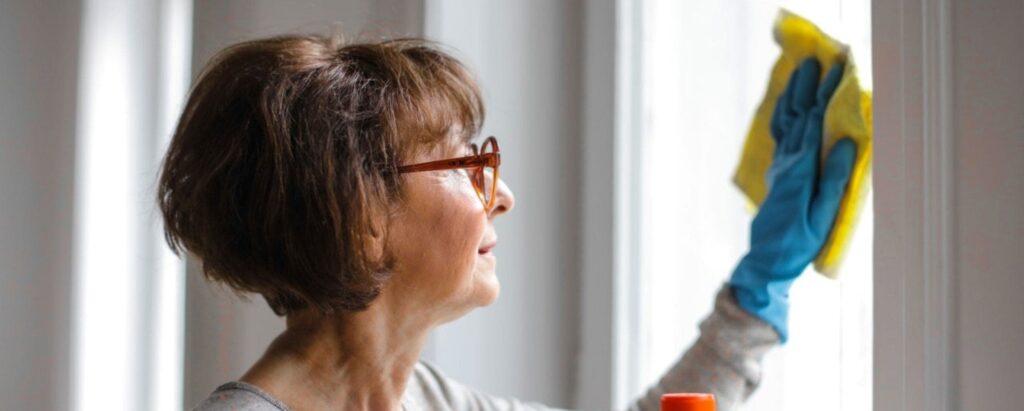 Dirty windows and doors can quickly make an entire property feel unclean. Sparkly clean windows and doors not only enhance the view but make your property look fresh.
You might want to hire a local window cleaner to take care of the exterior windows on a regular basis – this is a tough job without the right equipment.
Wash all interior windows and sills. 
Open the windows and clean the tracks. 
Dust curtain rods or blinds. 
Vacuum or wash curtains when needed. 
Disinfect window and door handles. 
Wipe down doors and frames. 
Clean the kick plates and door jambs. 
House exterior
The exterior of an Airbnb rental often gets neglected, but it's the first thing guests see when they arrive. Add this to your cleaning checklist to make the best first impression.
Pull weeds and sweep the garden,
Wipe down any outdoor furniture.
Wash chair cushions or covers. 
Wipe down railings. 
Remove leaves and debris from the pool if you have one. 
Wipe down the barbeque ready for use.
Sweep patios and seating areas. 
Disinfect tables and eating areas. 
Cleaning During Your Guests Stay
There are areas of a property that need to be cleaned during guest stays. For example, a swimming pool, hot tub, shared kitchen, etc.
If you have any areas of your rental that need maintenance while your guest is in the property, make sure it's in the agreement and made clear to the guest so they're not surprised by your team showing up.
If you have a guest booked in for a prolonged stay or you're subletting your property on Airbnb, you'll also need to clean the property while they're still staying. It's best to schedule a time in advance so they know when to expect you.
Cleaning After Your Guests Depart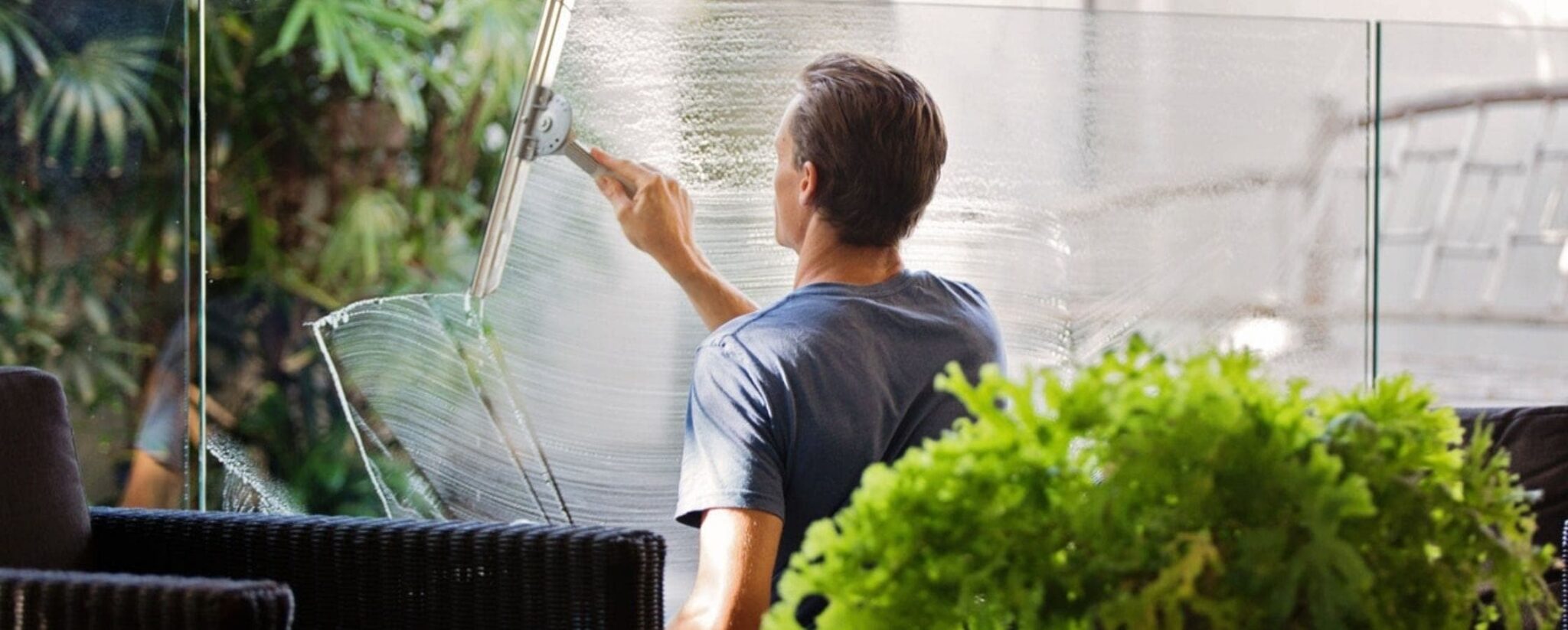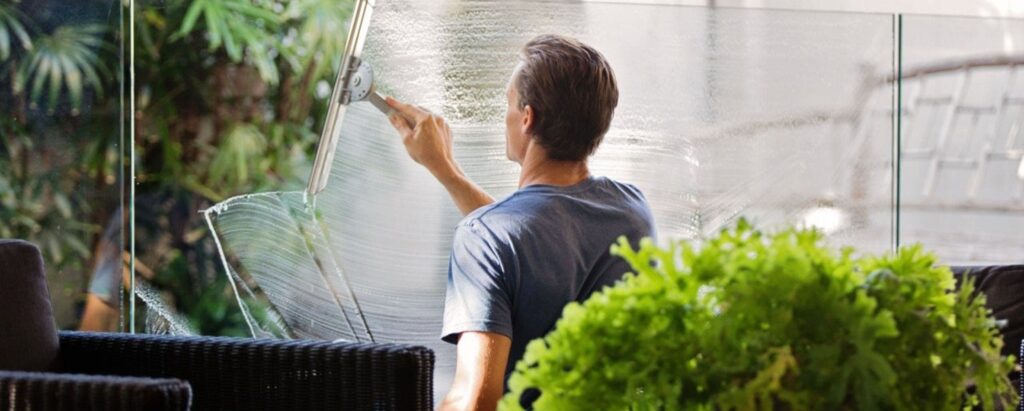 Most turnover cleaning will happen as soon as your guests leave. Many guests leave in a rush and it's not uncommon for belongings to get left behind.
When your guests check out, do a full sweep of the house while cleaning so you can store any lost property.
Here are some things that often get missed during regular cleaning that your new guests will definitely pick up on:
Leftovers in the refrigerator or freezer. 
Hair clogging the shower or bath drain. 
Handprints or smears on glass. 
Dusty or dirty welcome mats.
Trash in the bedroom or bathroom trash cans. 
"Clean" dishes guests have left on drying racks. 
Should You Set an Airbnb Cleaning Fee for Your Vacation Rental?
Most Airbnb hosts request that their property be left in the same condition it was found. This means having some cleaning rules guests follow, for example:
Washing up used dishes. 
Taking out the trash. 
Sweeping up mud or dirt on the floors. 
Putting clutter away. 
Even so, many Airbnb owners also include a house cleaning fee that they use to pay a professional cleaning team.
A high cleaning fee may deter guests because it will make the nightly rate steeper. However, it does mean you can keep your property hygienic and clean, no matter what state it's left in.
If you're thinking about adding a house cleaning fee, research similar rentals in your area to see what the average charge is. It varies hugely depending on location, size of the property, etc.
Should You Hire a Cleaning Service for Your Vacation House?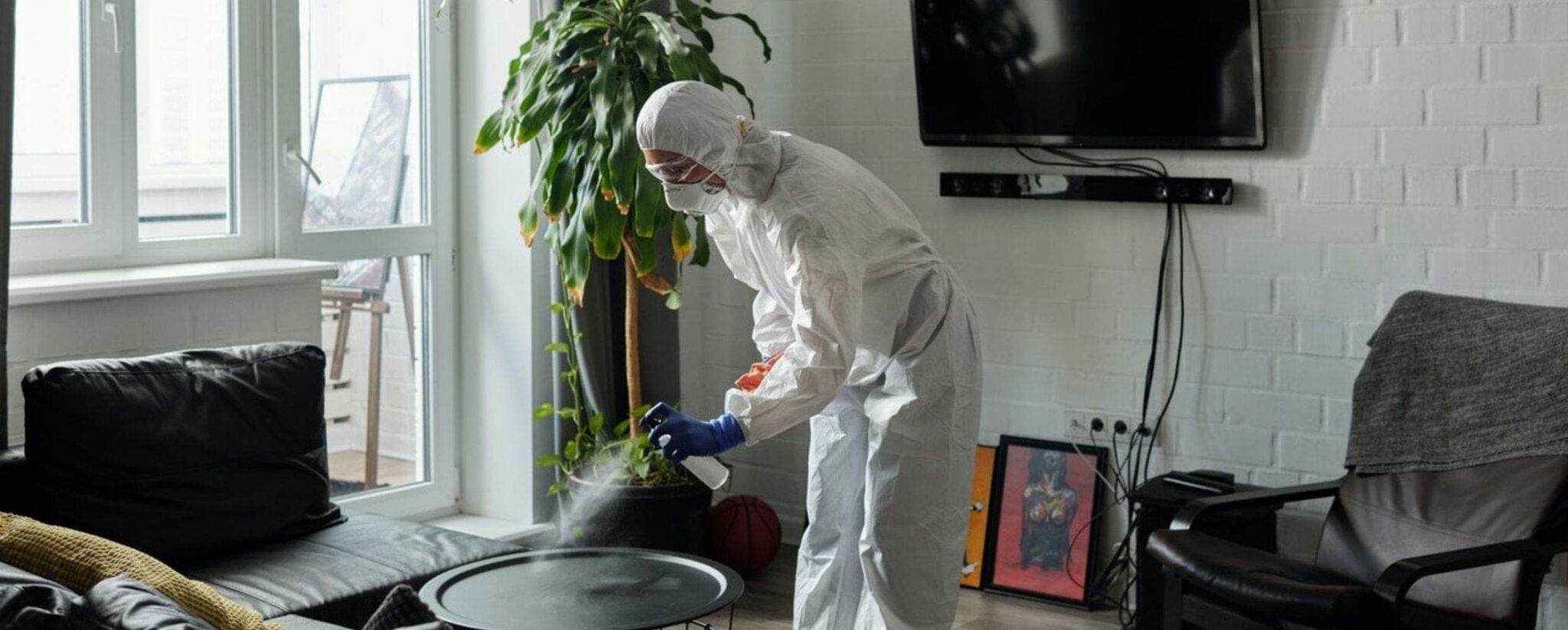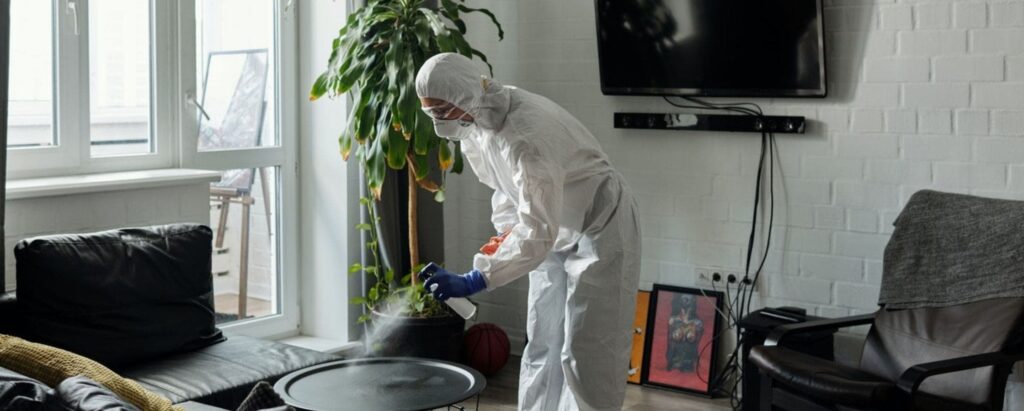 When you're just starting out with your Airbnb, you'll probably clean it yourself to save on costs.
However, cleaning services can be a great investment once you begin getting regular bookings and start seeing more profit.
A professional Airbnb cleaning service means your property will be cleaned thoroughly and quickly, giving you peace of mind you won't get unhappy guests.
It also means you won't have to travel to the property after every stay and spend hours cleaning yourself.
What Is the Fastest Way to Clean a Vacation Rental?
When you're not a professional cleaner, it can feel like cleaning takes hours to do. Here are some quick tips to simplify your cleaning routine and make it go faster (without compromising on cleanliness).
Cover furniture with sheets when the property isn't in use to protect furniture and avoid excessive dust. 
Store all rugs and mats when not in use to avoid them getting dirty. 
Have a pest control company add a barrier to your property to stop bugs from getting in. 
Remove all food from the property to avoid mold or pests. 
Keep patio furniture covered when not in use to stop it from getting dirty. 
Keep your property minimal – the more decor you have, the more there is to clean. 
Provide cleaning supplies for your guests – they may just sweep and dust for you if they have the tools. 
Get Our List of Airbnb Essentials for Success
Having a clean property is one of the basics of setting up a successful Airbnb. Guests will notice dirt or mess quickly and it'll lead to negative reviews.
Having a thorough, regular cleaning schedule will keep your guests happy and boost your occupancy rate – so don't forget to save this short-term rental cleaning checklist to refer back to.
If you're in the process of setting up your home for Airbnb, don't forget to grab our list of Airbnb essentials so you don't miss anything.
Vacation Rental Cleaning Checklist