Disclosure: This post may contain affiliate links. If you click on a link I may make a small commission at no extra cost to you. You can read the full disclosure here.
Last Updated on November 26, 2022 by Chris Panteli
Treasure Trooper Review
Searching online for home jobs reveals thousands of different ways and apps you can make money online.
One way to boost your income is by joining a Get Paid To site (GPT site). These are sites that reward users with cash, gift cards, and other prizes in exchange for completing tasks.
Tasks may include answering online surveys, watching videos, playing games, or shopping online for cashback.
One long-established GPT site is Treasure Trooper. In this Treasure Trooper review you'll get answers to some of the big questions about the Treasure Trooper platform.
Is Treasure Trooper legit?
What are the different ways you can earn extra money on Treasure Trooper?
Can you win prizes on Treasure Trooper?
Find out the answers to these questions and more in this TreasureTrooper review.
What Is Treasure Trooper
Treasure Trooper is an online rewards site. These sites are sometimes known as a Get Paid To site (GPT site).
You can earn cash and other prizes by completing online tasks. Users can take a paid survey, play a game, or watch a video to earn rewards.
When it's time to cash out you can request cash via check or a PayPal payment. Other rewards include a gift card, electronics, and more.
Is Treasure Trooper Legit
Treasure Trooper was founded in 2005 and is still going strong today. Since its launch, Treasure Trooper has paid out over $7.9 million in prizes. The rewards platform is free to join and only asks for minimal data.
To keep your data safe Treasure Trooper only asks for minimal personal information. You'll need to provide the following:
Name, address, and email
Gender
Date of Birth
Phone number
Demographic info
Treasure Trooper have a robust privacy policy, comprehensive terms and conditions, and an SSL security certificate.
Not only is your data secure, but it's not shared with any 3rd parties unless necessary.
Other users have left plenty of positive reviews online. Review platforms including Sitejabber show lots of positive reviews.
Is Treasure Trooper legit?
Treasure Trooper is an established site that protects user data. Genuine reviews from other users also prove the site is legit.
Thanks to all this information you can have confidence that Treasure Trooper is legit.
How Treasure Trooper Works
Treasure Trooper has a few features that make it stand out from other reward sites. The site is easy to learn and once you've used it for a short while you'll be an expert.
The first step is to create your free Treasure Trooper account. You can do this by visiting their website. As a reward for joining, you will receive your first $1 free.
You may prefer using apps. However, Treasure Trooper is not on the App Store or Google Play Store. Instead, an Android app version is available for download from APKFab.
There are lots of ways to earn extra cash including surveys, special offers, and playing games.
One thing that is unique about Treasure Trooper is the multiple currencies. You can earn extra cash for some tasks or one of the other Treasure Trooper currencies:
Arrowheads
Dragon Scales
Gold Coins
Platinum Coins
Pearls
When you want to redeem the cash rewards you can request a check or have the extra money paid into your PayPal account. Other currencies can only be traded or exchanged on the Treasure Trooper site.
For example, you can use Platinum Coins to get a gift card.
How Treasure Trooper Currencies Work
Treasure Trooper currencies have no cash value. Instead, each one can be traded for other rewards. All trades must be done using the Treasure Trooper platform. Here's how each currency works.
Arrowheads
Arrowheads can be traded for Platinum Coins or Dragon Scales. You can spend Platinum Coins at the trading huts for things like a gift card or physical items.
Platinum Coins
You can spend Platinum Coins in the trading hut on items including gift cards and electronics.
Dragon Scales
Dragon Scales can be used to buy dragon items in Coggs Coop. Each Dragon Scale is estimated to be worth $0.20. Remember, you can't swap a Dragon Scale for cash. You must spend each Dragon Scale on Treasure Trooper.
Pearls
Collect 8 pearls and make a friendship bracelet. That allows you to collect 2 referrals.
Gold Coins
Every Gold Coin you earn can be spent on Treasure Trooper. You can spend Gold Coins at the trading hut or the jungle slots.
How To Earn Money On Treasure Trooper
What's awesome about Treasure Trooper is the multiple ways you can earn rewards. That means you'll always have a task you can do when you log in. Keep in mind that some tasks pay more than others. Here's a complete breakdown of all the ways you can earn extra money.
Complete Offers
Head to the offers page for a variety of ways to earn extra income. You may get promotional offers, app offers, and more.
Please note some special offers require you to complete a purchase to receive a reward. Make sure to check the full requirements so you don't miss out.
Offers can reward you with cash, Platinum Coins, or Dragon Scales.
Answering Surveys
Surveys are a common way to earn rewards on Treasure Trooper. You have 3 earning opportunities to earn by answering surveys.
Study Storm gives you access to surveys from third-party partners
Survey Seeker lets you answer surveys offered by Treasure Trooper
Daily Surveys give you bonus Dragon Scales when answering surveys multiple days in a row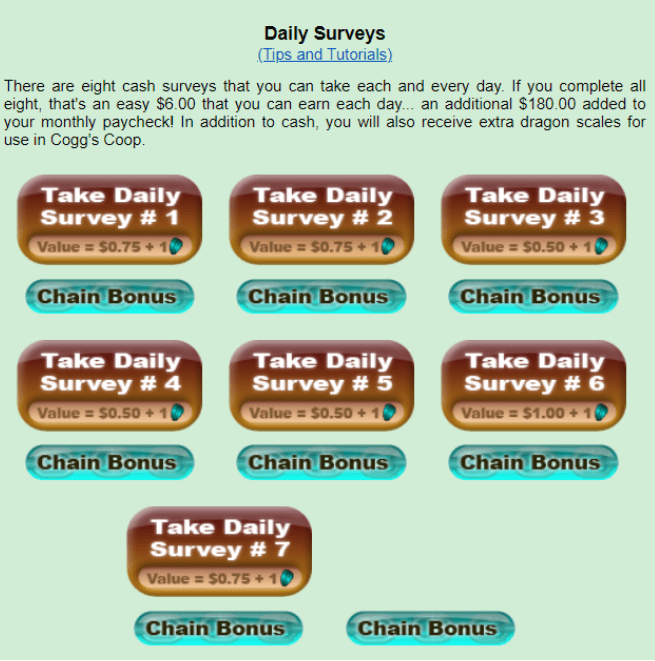 Searches
The Treasure Trooper search engine rewards you for using it. Every time you use the Treasure Trooper search engine you earn Arrowheads.
When you complete 100 searches, you get a dragon egg. Only 3 searches a day count towards the dragon egg goal. That means it will take 34 days to earn 1 dragon egg by completing at least 3 daily searches using the Treasure Trooper search engine.
If you want to, you can even make the Treasure Trooper search engine your default search browser.
Cashback
Shopping online using Treasure Trooper provides double earning opportunities.
First, by shopping using Treasure Trooper links, you'll get cashback from their partner retailers.
Second, you earn 1 Platinum Coin for every $5 in cashback you earn.
Watch Videos
Is there an easier way to earn extra income than by watching videos? I don't think so.
All you must do is run the Treasure Trooper video cash offers in your web browser.
Arrowhead Dig Sites
Arrowheads can be earned at Arrowhead dig sites. These dig sites are a collection of special third-party offers.
When you have enough Arrowheads, you can trade them for Platinum Coins. Platinum Coins can be used to claim a gift card or other rewards.
Dragon Lair
How do you fancy playing a dragon mini game? Exciting, right?
Enter the Dragon Lair to grow, breed, and sell your very own dragons. Take your dragon training skills to the next level by training your dragons to enter battles against other players' dragons.
Winning dragon fights and selling dragons rewards you with cash. You can earn as much as $100 in extra money. However, this game isn't quick so don't expect to make a lot of money from Dragon Lair.
Cryptic Codes
Cryptic Code is a neat way to get bonus rewards. When you find a code, enter it on Treasure Trooper to redeem.
Codes can be found on Treasure Trooper chat rooms, forums, and social media channels. If you get Treasure Trooper newsletters via email, make sure to check for any cryptic codes before deleting them.
Games And Contests
On Treasure Trooper you can play games and enter contests. Games you can play anytime include Jungle Slots, Bingo, and Treasure Hunting.
Many of these games offer cash rewards or one of the various Treasure Trooper currencies.
Monthly contests like raffles are another way to earn extra cash rewards.
Friend Referrals
Friend referrals are an excellent way to earn extra income on Treasure Trooper. If you refer a lot of friends, you can earn a regular amount of extra cash. There are 4 levels you can reach:
Bronze rewards you with 20% of all friend referral earnings and 5% of secondary friend referrals
Silver gives you the same as Bronze plus 5 cents for each daily survey a friend referral completes. To qualify for Silver, you must have 5 active friend referrals
Gold gives you the Bronze and Silver rewards plus a $1 bonus for each active referral and 7 cents every time a referral completes a daily survey. To qualify for Gold, you must have 50 active friend referrals
Diamond gives you all the above plus $5 for first time friend referral cash outs, 10 cents when a referral completes a daily survey, and a one-off $300 cash bonus. To get Diamond status you must have 300 active friend referrals
For a referral to count as active they must earn a minimum of $5.
Treasure Tracker
If you have few friends and family, how can you get more referrals? By using the Treasure Tracker.
The Treasure Tracker is an innovative feature that's unique to Treasure Trooper. Start by entering the serial number of US paper currency in to the Treasure Tracker. Next, on the bill write 'www.treasuretracker.net'.
Any person that visits the Treasure Tracker and enters the serial number from your bill becomes your referral. This is one of the coolest ways to get referrals. Plus, you get to see where your dollar bills have been.
Treasure Trooper Bonus Ways To Earn
Now you know the main ways to earn money on Treasure Trooper, here's a few bonus ideas to help keep the cash rewards flowing.
Chat Room
One thing many GPT sites lack is the ability to talk to other members. Treasure Trooper has its own chat room.
Apart from connecting with other people, you can also find rewards in the chat room. This might be cryptic codes, cash, or one of the other virtual currencies.
Players can also share earnings in the chat room. If you befriend a generous player, they may share some of their winnings with you.
Team Goals
Team goals are a unique feature for a GPT website. Most rewards are given based on the task you've done. Treasure Trooper gives bonus rewards for helping to complete community goals.
For example, Treasure Trooper may set a team goal of completing a certain number of surveys in a day. Every user that has completed at least 5 surveys themselves is classed as contributing towards the team goal. If the team goal is reached, every user that qualifies is paid a reward.
Rewards for team goals aren't usually high. However, if you're completing tasks on Treasure Trooper anyway you may as well aim to get the team bonus. That's some easy extra income for you.
Activity Feed
The activity feed can be viewed on your Treasure Trooper dashboard. This isn't a guaranteed way to earn extra cash, but you will sometimes see earning opportunities pop up here. Keep an eye on the feed so you don't miss out.
VIP Club
Once you've earned at least $500 in lifetime Treasure Trooper earnings you get access to the VIP club.
VIP members can enjoy exclusive benefits including:
Free instant payouts
10 pearls a month
5 free platinum coins each month
How To Cash Out Your Treasure Trooper Earnings
Treasure Trooper uses multiple currencies. That means there are several ways you can claim rewards.
Cash
Once you have earned at least $20 in cash rewards you can request payment via check or PayPal. Treasure Trooper sends cash payments between the 15th and 20th of each month. You can pay $0.50 for an instant cash out unless you're a VIP member, then instant cash outs are free.
When redeeming a cash offer it's usually faster to redeem as PayPal cash. Checks can take a while to arrive in the post.
Gift Cards And Electronics
Head to the trading hut to spend your platinum coins on gift cards or electronics.
Coggs Coop
At Coggs Coop you can redeem your dragon rewards. Use these rewards to boost your dragons and dragon lair.
How Much Money Can You Make On Treasure Trooper
A GPT website like Treasure Trooper isn't going to replace your day job. You can earn a decent amount of extra income every month, but you won't get rich.
Log in daily and complete as many tasks as you can to make the most money. If you do this, there's no reason you couldn't regularly earn up to $100 every month.
Treasure Trooper Review – Is It Worth It
Treasure Trooper is a legit site that pays out rewards. You can complete easy tasks like surveys, special offers, and watching videos.
Extra money can be earned for other activities including playing games.
If you're looking for an easy way to boost your income, then Treasure Trooper is worth it. Regular use could mean earning up to an extra $100 a month. That's $1200 a year for a few hours extra effort each week.
Treasure Trooper Alternatives
A survey site can be a great way to make extra money online. The more cash surveys you complete, the more you can earn.
There are many survey sites offering the chance to complete paid surveys. These sites often offer extra ways to earn money too. Here are some of the best to help you get started.
Branded Surveys
Branded Surveys lets you choose surveys to answer from a survey panel. The more you answer the more points you earn. Those points can be converted into cash or gift cards.
Cash surveys may be short or long. Once you've earned at least $5 worth of points you can request payment via PayPal cash or Branded Pay. If you prefer, you can get a gift card for popular retailers including Amazon.
Inbox Dollars
Inbox Dollars is a GPT site like Treasure Trooper. Just without the cool dragon game. It's free to join Inbox Dollars and you get a free $5 just for joining.
As a member you earn rewards for every task you complete. Different ways to earn on Inbox Dollars include:
Paid surveys
Watching videos
Playing games
Cash offers when shopping online
When you're ready to cash out you can request PayPal cash. Gift cards are also an option for big brands including Amazon, Target, and Starbucks.
Opinion Outpost
Opinion Outpost is a survey site that has plenty of cash surveys to complete. Membership is free and once you've completed your profile you can start answering online surveys.
Every paid survey you complete rewards you with points.
Answer as many paid surveys as possible to earn maximum rewards. Opinion Outpost has lots of epic cash out options when you're ready to redeem your points.
Cash can be requested as a PayPal payment. If you don't want PayPal cash, there's plenty of other exciting offers. Apple, Amazon, Target, and Nike are some of the big brands you can claim a gift card for.
Survey Junkie
Another awesome survey site with lots of cash offers is Survey Junkie. As a Survey Junkie member, you can answer online surveys and earn points.
Points earned can be exchanged for lots of awesome prizes. You could choose cash via a PayPal payment. Alternatively, you can choose a gift for retailers including Amazon, Target, and Walmart.
FAQs
Does it cost anything to join Treasure Trooper?
No, Treasure Trooper is free to join.
Is Treasure Trooper available everywhere?
Yes, you can play Treasure Trooper anywhere you can get an internet connection.
Can I contact Treasure Trooper?
Yes, you can contact Treasure Trooper should you have any questions or problems. Email support is available at support@treasuretrooper.com.
Will I get rich from Treasure Trooper?
Simply put, no you won't get rich on Treasure Trooper. There's no reason why you can't earn an extra $20 to $100 a month. However, this isn't going to replace your job.
What are the best home jobs?
There are many home jobs you can try. Some pay small amounts and others could turn into a full-time income. Some home jobs to consider include freelancing, blogging, dropshipping, and writing.
The best way to figure out what's right for you is to think about your skills and availability. Then, search online for suitable ideas.
Treasure Trooper Review