Disclosure: This post may contain affiliate links. If you click on a link I may make a small commission at no extra cost to you. You can read the full disclosure here.
Last Updated on October 23, 2022 by Chris Panteli
TouchStay Review
Having a guestbook for your Airbnb rental is a must. It gives guests all the important information they need about house rules, local attractions, and important safety information.
But when you have a physical book in your Airbnb, there's a good chance it's getting ignored.
Providing a digital guestbook not only makes it much more likely your guests will read it but also gives a much better guest experience.
If you're thinking about creating a digital guestbook for your Airbnb, this full TouchStay review will help you decide if it's the right platform for you.
We love helping our Airbnb hosts use the best tools for their vacation rentals, so don't forget to check out some of our other reviews:
What is Touch Stay?
Touch Stay is a digital guest book used to welcome guests to your Airbnb vacation rental.
Rather than having a physical welcome book they won't see until they arrive, you can send them a link and they'll get all the information they need, including:
The check-in process
WiFi information
Local area information
Safety information
House manual rules
Social links
Your website (if you have one)
The digital guestbook you put together is sent directly to your guests' devices and they don't have to download apps – they just click a link for all the information.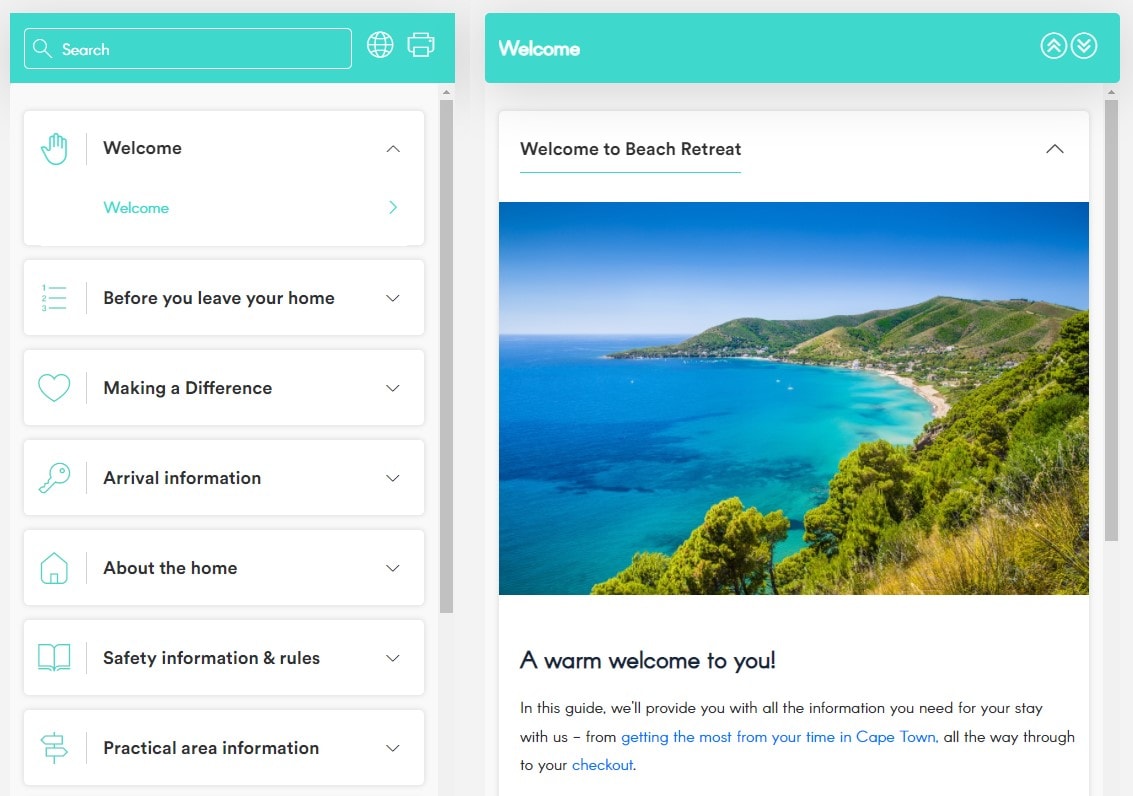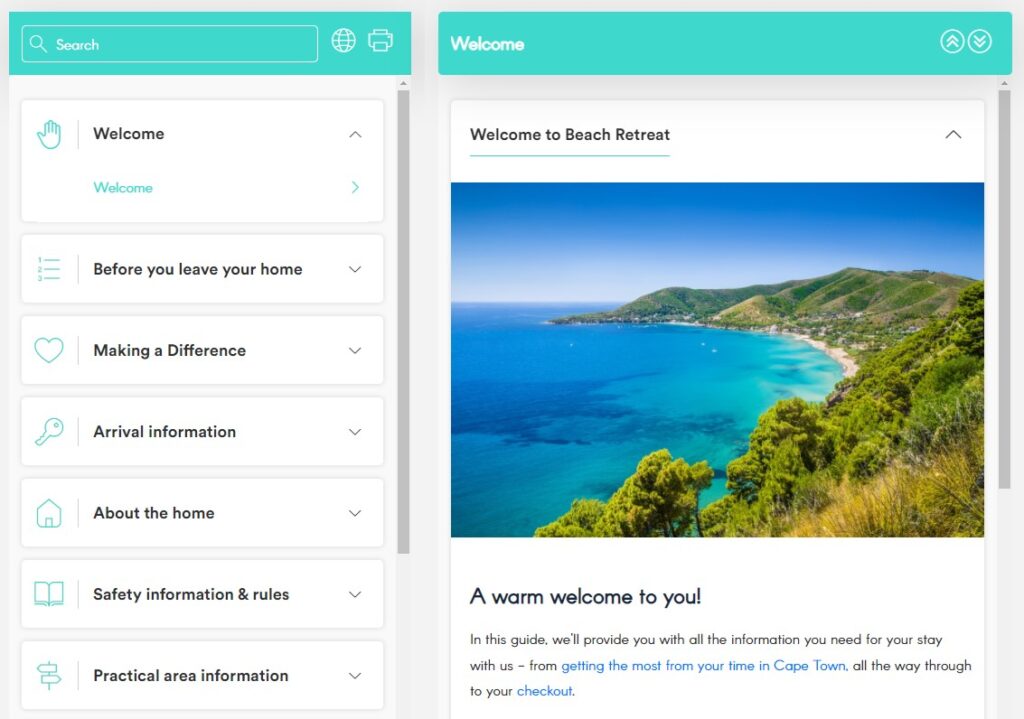 Touch Stay is actually a Progressive Web App, which means guests will have the option to add the app to their home screen directly (using a custom app icon you create), so they can refer to it whenever they need it, even when they're offline.
They can even save the digital guidebook as a PDF and print it if they're more old school.
Main things to consider before starting with Touch Stay
If you've never used a digital product like Touch Stay before, there are a couple of things to know.
Customizable but easy to use
You don't need to be a website designer to put a digital guest welcome book together. Touch Stay works with customizable templates to make it quick and easy to set up.
You get control over the colors, headings, text, and layout, but you'll also be given ideas if you're not big on design.
It also functions as a travel guidebook
If you don't want a digital guestbook, Touch Stay is also a good tool to create a local travel guidebook. You can easily add information about local attractions, directions, pictures, etc.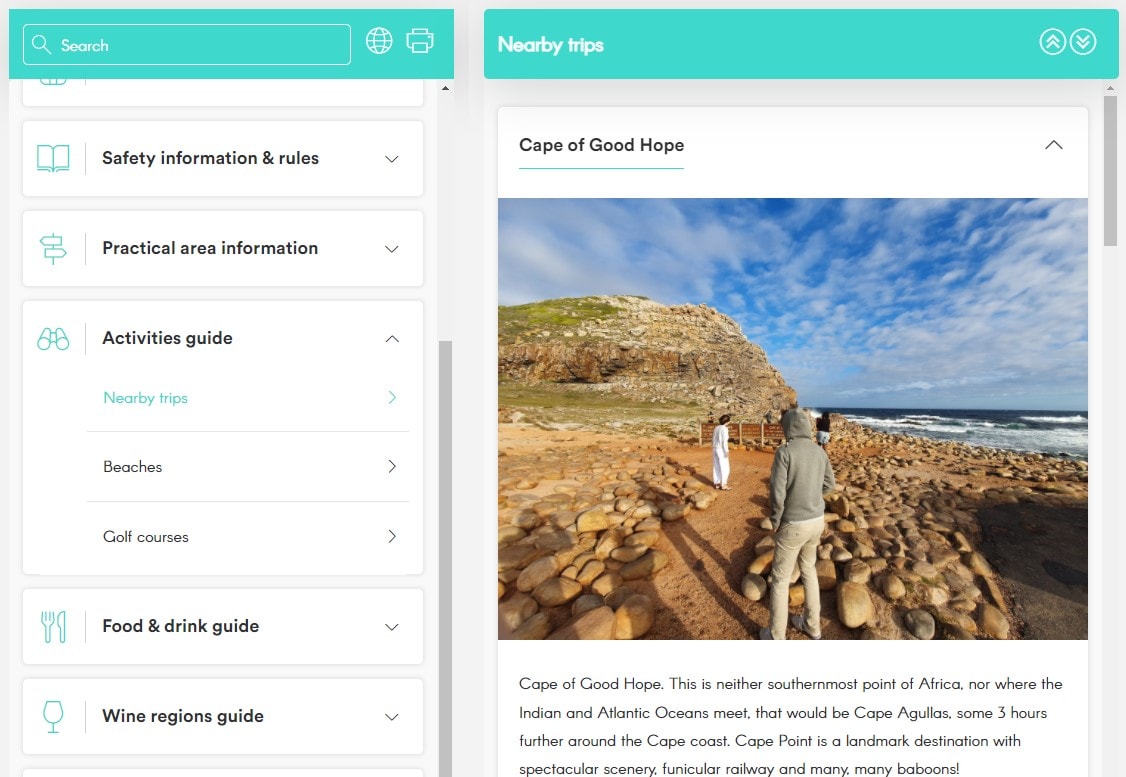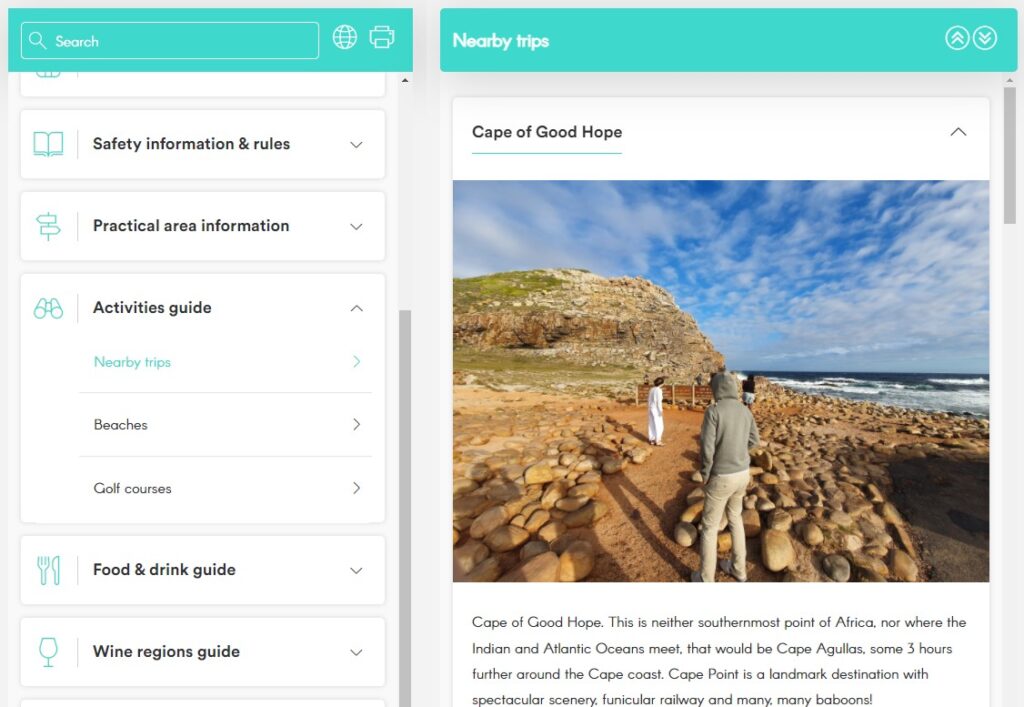 Boosts positive reviews
Guests like Airbnb hosts that go the extra mile. Although creating a digital guestbook might seem like extra work, it will lead to a boost in positive reviews and thus, better occupancy.
On top of that, it'll lead to fewer questions and confusion with guests, saving you time on message boards.
Touch Stay Pros & Cons
No online tool is perfect, so let's take a look at the pros and cons in this section of our Touchstay review.
Pro: Easy to use
That goes for you as a vacation rental owner and your guests. Guests don't want to download a new app just to get your house rules. Touch Stay is a single link that takes them straight to the guestbook – easy.
It's also really easy to change and update, so you won't have to spend hours working on the backend.
Con: Limited Integration
Touch Stay integrates with OwnerRez, which is booking management software, as well as the major booking sites like Airbnb, Booking.com, and Vrbo.
However, alternatives also integrate with additional programs like Guesty, HostAway, Escapia, etc.
Pro: Useful for property managers
Touch Stay allows you to manage different properties in a single account, so if you run an Airbnb property management business, you can look after all of your client properties in a single dashboard.
Pro: Cross-promote your other properties
There is a dedicated "Book Again" section that helps boost repeat bookings and allows you to promote other properties if you have them.
It can be a pain for guests to find your Airbnb property listing, but this feature makes it quick and easy to rebook.
Touch Stay Features
Touch Stay comes with two main features that Airbnb hosts use it for:
Vacation rental guestbooks: The customizable guestbook allows you to add pictures, photographs, and content to give guests all they need to know about your property.
Email/SMS scheduler: To automate the booking process, Touch Stay lets you schedule emails or SMS messages to go out at set times before your guest's arrival, cutting down on the time you spend messaging new guests.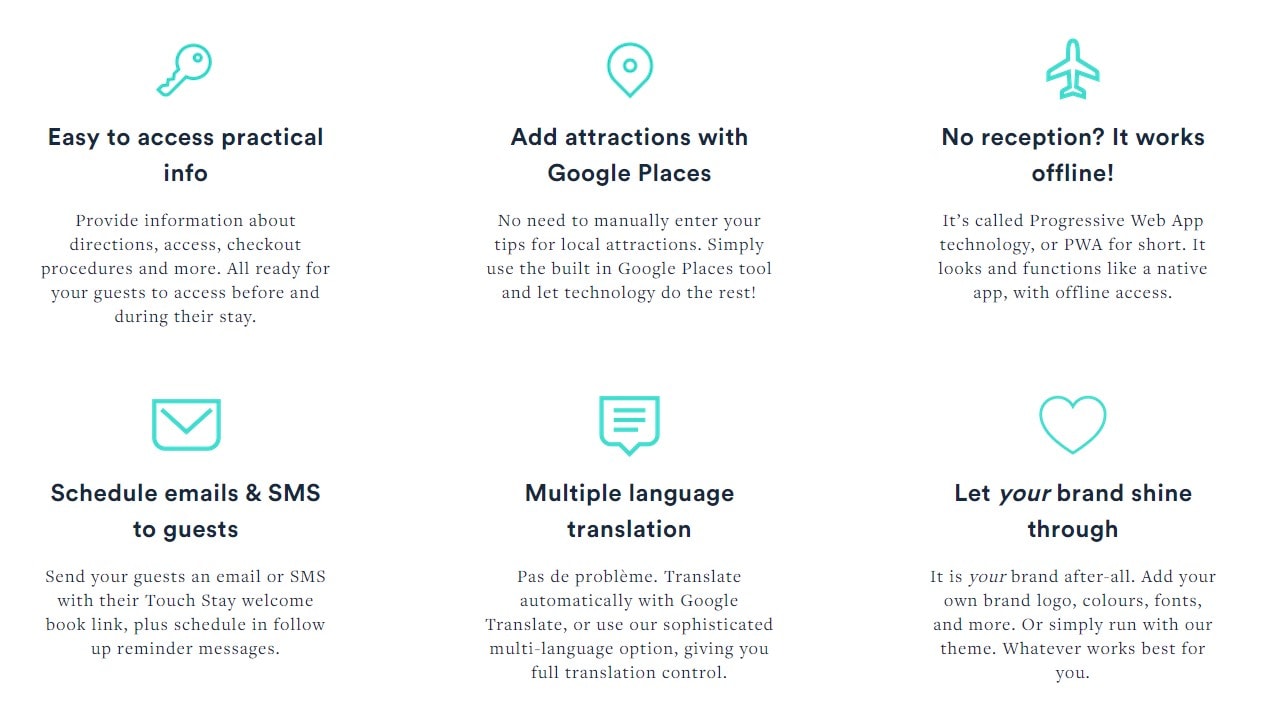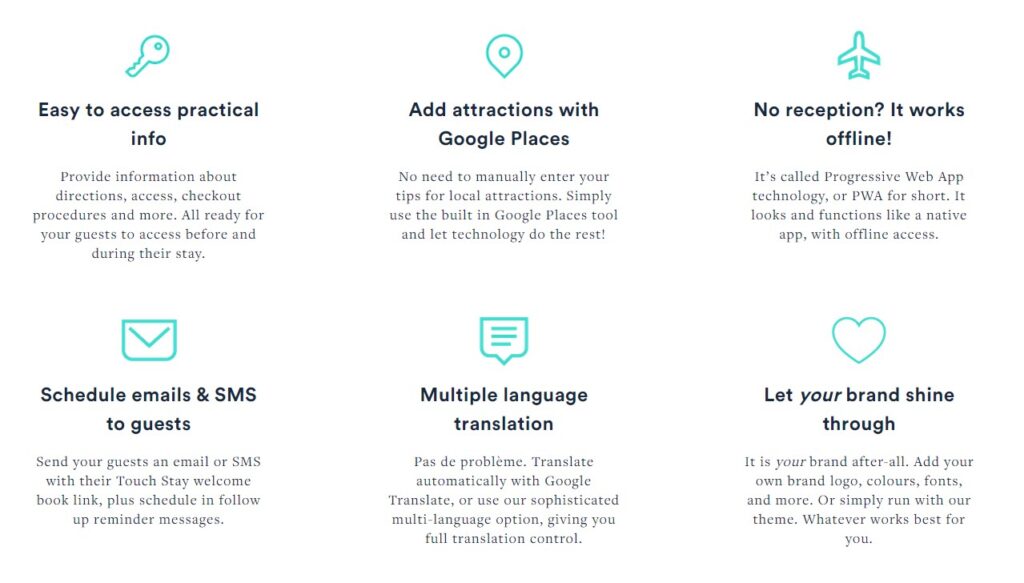 Touch Stay has some other great features though, including:
Built-in Google Places tool to automatically add local attractions.
Progressive Web App technology, so it works offline.
Multiple language translations.
Customizable branding options.
Integratable TripAdvisor reviews.
Touch Stay Pricing
For hosts, Touch Stay costs $99 per year for your first property (with half off for your second).
For vacation rental managers with multiple properties, it starts at $25 per month but increases depending on your portfolio size.
Touch Stay Alternatives
Touch Stay is a great option for creating a digital guestbook, but it's not the only option.
Yoomondo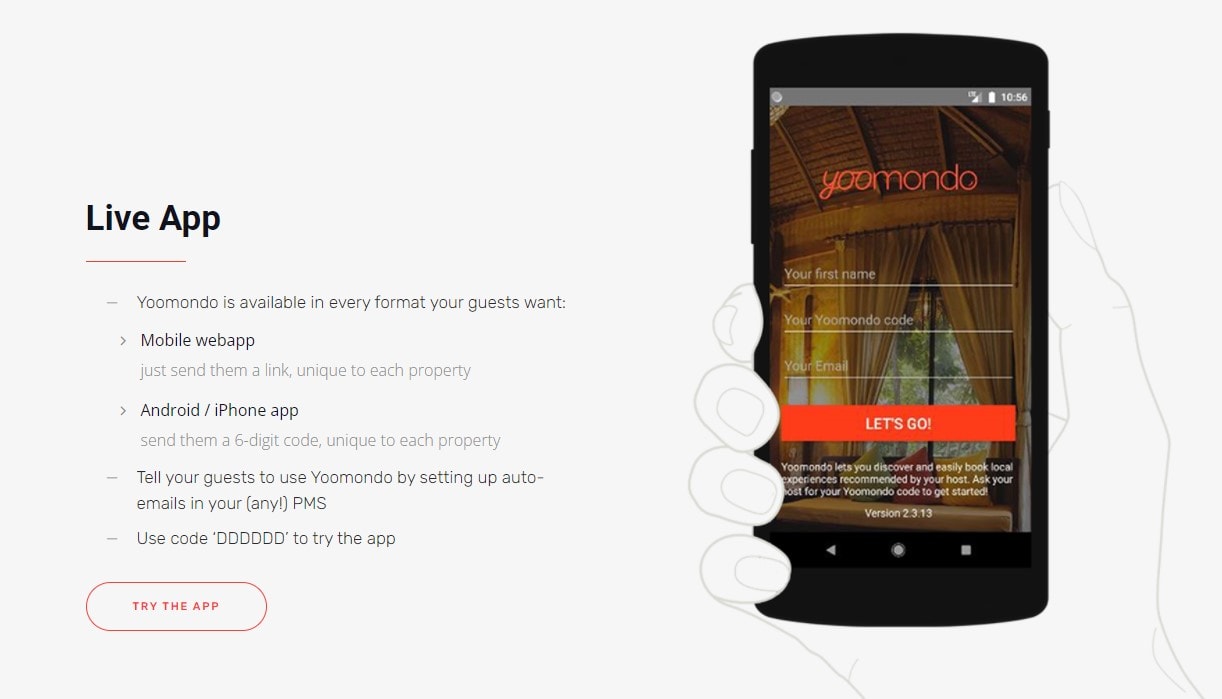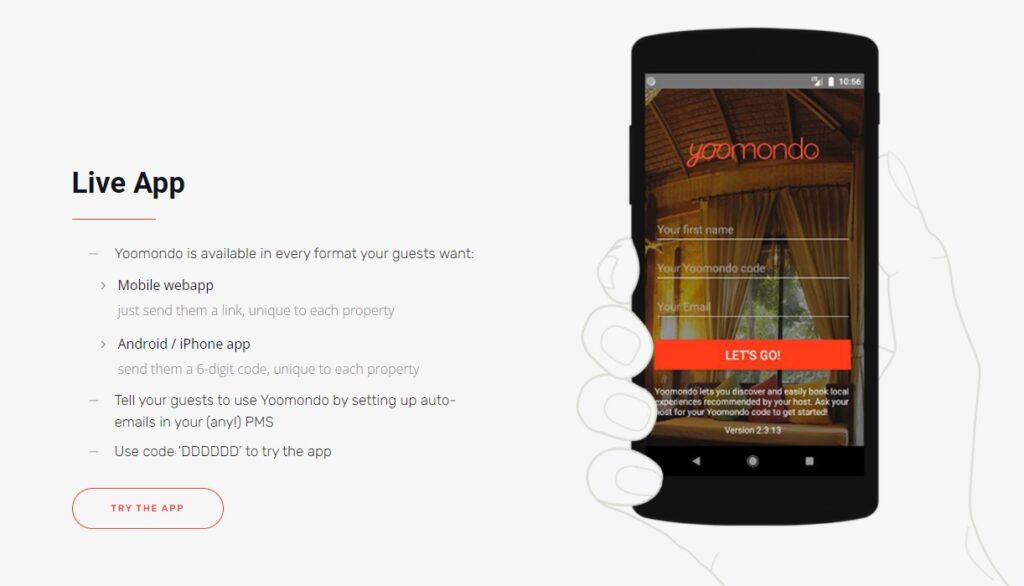 Yoomondo is a rental management platform that has built-in digital guidebooks.
Digital welcome book with video, photos, and text.
Check-in and check-out features.
Security deposit payment portal.
The option to purchase extra services, such as late check-out, luggage storage, or equipment rental.
Option to book local activities.
Chat feature your guests can use to message you.
YourWelcome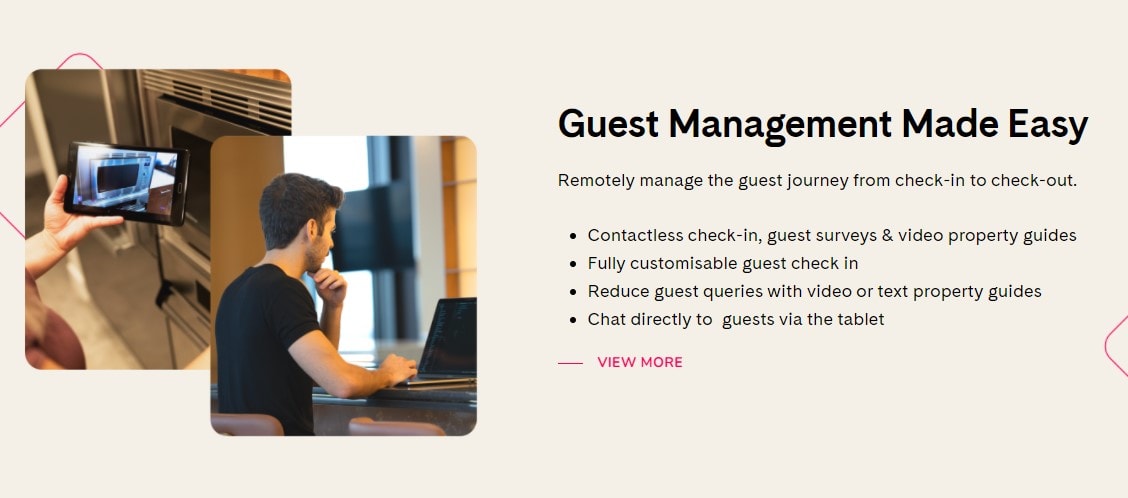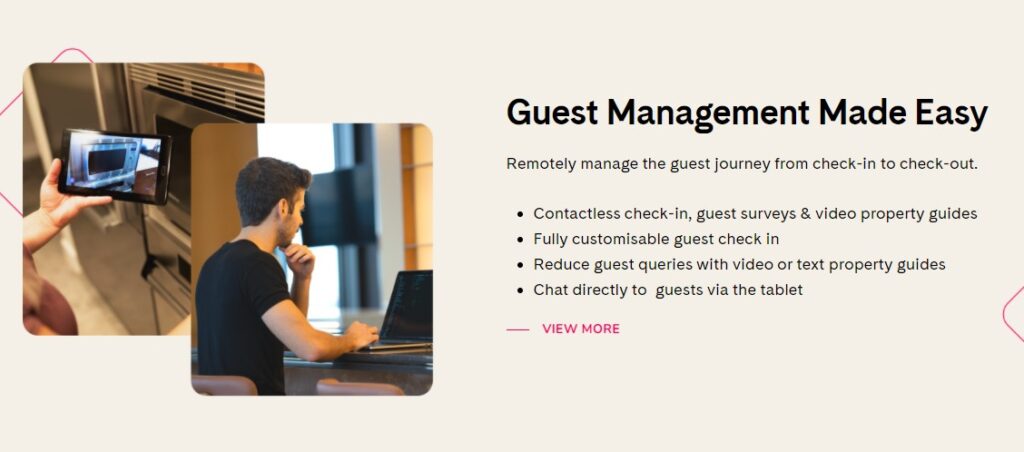 YourWelcome is a subscription service that provides a tablet for your rental property. You can load your digital guestbook onto the tablet, as well as extra features to upsell to your guests while they stay.
Welcome video for guest arrival.
Check-in portal.
Option to purchase extras and local attractions.
Area guidebook and recommendations.
Free replacement if your tablet is broken or stolen.
Hostfully
Hostfully is a popular alternative to Touch Stay with a lot of the same functionality. Set up a guestbook that is delivered directly to guests' devices.
Digital guestbook with all the property information.
Check-in and check-out functionality.
Local recommendations with Google Maps, Photos, and Places integration.
Smart map with navigation based on location.
Who is Touch Stay for?
Touch Stay is a great tool for Airbnb hosts and property managers. Since it's only $99 per year to use, it's a great tool for new hosts who are looking to go the extra mile for guests.
Whether you're brand-new to Airbnb hosting or you're looking to up your game after years of sub-par results, Touch Stay is for you.
Make Your Airbnb Stand Out
It's a crowded space on Airbnb, so anything you can do to give a better experience to your guests will go a long way in getting better reviews and repeat direct bookings.
A digital guestbook is a quick, easy way to impress your guests and improve their experience with you.
If you're looking for more ways to improve your Airbnb, make sure to check out our Airbnb Essentials guide where we share the must-haves for a successful vacation rental property.
TouchStay Review