Disclosure: This post may contain affiliate links. If you click on a link I may make a small commission at no extra cost to you. You can read the full disclosure here.
Last Updated on November 13, 2022 by Chris Panteli
Rent Your RV
Got an RV that sits on your drive most of the year unused? Did you know you could be making tens of thousands of dollars with it every year?
RV rentals are incredibly popular. Traveling locally is a growing trend, and more and more people are turning to RV rentals to go on adventures.
If your RV isn't making money, you're missing a huge opportunity.
In this post, we'll show you exactly how to rent your RV and make a consistent profit every year.
Speaking of growing trends… the glamping market is seeing a huge boom right now. If you're looking for a solid investment, starting a glamping business could be a great option.
Why Renting Out Your RV Has Become Popular During the Pandemic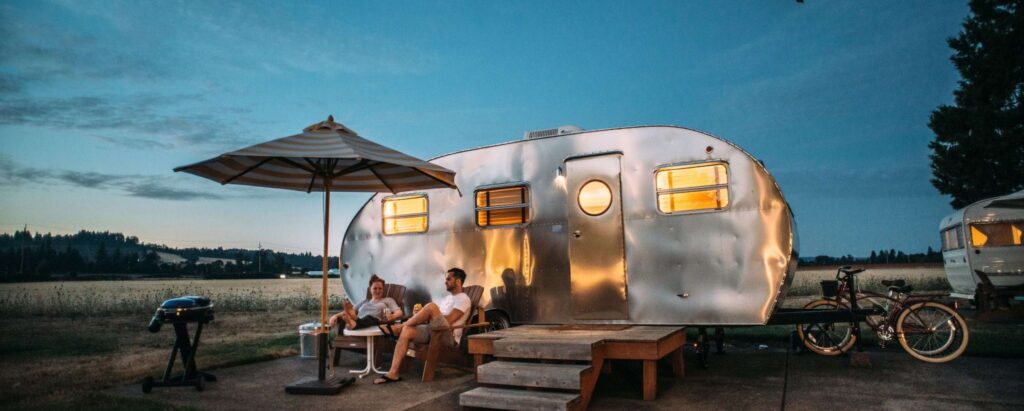 The Covid-19 pandemic saw global travel restrictions and vacations all but stopped happening. But we never lost that desire to travel, and so the sale of RVs went through the roof.
But, of course, not everyone in America who wants to travel can afford to buy an RV, so RV rentals also took off. In fact, 75% of recreational vehicle owners saw an increase in profit during the pandemic, and 25% said they had significantly higher income despite the widespread shutdowns.
Even though the restrictions are largely gone, interest in RV vacations hasn't. People still love the idea of traveling rather than going abroad, so RV rentals are consistently popular even now in 2021.
Recommended: 32 Easy Things To Rent Out For Profit
Should You Rent Your RV?
If your RV spends a lot of time parked on your drive going unused, starting an RV rental business is a great way to make some extra cash. It's not for everyone, but this hype could be for you if:
You're trying to pay off your RV loan
You don't often use your RV
You've tried selling your RV but can't find a buyer
You simply could use some extra cash
Pros and Cons of Renting Out Your RV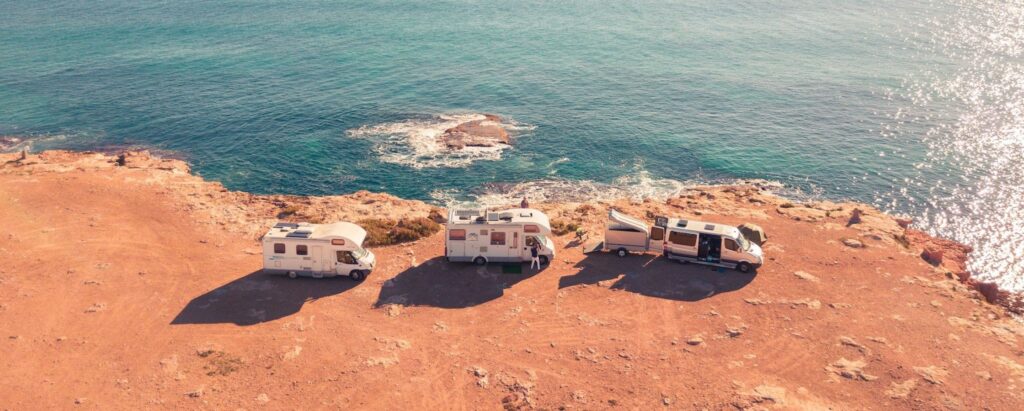 Before you rent your RV out, it's important to weigh the pros and cons.
✅PRO: extra cash with little work
On average, people charge between $80 and $350 per night to rent an RV or motorhome, depending on the size and specs. And since you don't have to do much, it's easy money.
✅PRO: pay off your loan
If you took out a loan to buy yourself an RV, renting it out for just a few months could help you make a serious dent in that loan. Even if you plan on using it yourself, you could rent it out for the first year just to pay it off.
✅PRO: pay for maintenance costs
Running a motorhome isn't cheap. But by renting it out for a few months a year, you could cover the cost of insurance, maintenance, oil changes, and all that fun stuff that comes with owning an RV.
❌CON: emptying it for renters
If you keep a lot of stuff in your RV, you'll have to take it all out for potential renters. That can mean getting a storage unit or having a lot of clutter in your home while it's in use.
❌CON: more wear and tear
Your RV will get used a lot more than usual, so you can expect more wear and tear. This could mean changing the tires more often, dealing with bumps and scrapes, and getting it serviced more regularly.
❌CON: trusting strangers
It can be stressful handing a stranger the keys to your motorhome. Sure, it's insured. But there is no guarantee it won't get totaled while they're using it, and that's quite the headache to deal with.
What You Need to do Before Renting Out Your RV
If you like the idea of making extra money by renting out your RV, here is what you need to do before you find your first guests.
Figure out your profit margins
When you're working out how much you're going to charge each renter, make sure you take into account all your expenses. The last thing you want is to start making a loss on your new venture.
Don't forget to take into account insurance, services, tire changes, platform fees (like Airbnb), storage unit costs, and any other outgoings.
You also need to figure out how many days a year you need to rent out your van to hit your targets.
Get the right insurance
Chances are, your normal van insurance doesn't cover renting your RV out to others. Make sure you get RV rental insurance that's full coverage. It will cost more, but it'll be worth the peace of mind as an RV owner.
Consider user problems
Many people who rent out an RV have never driven one before, so you'll need to give some training on how to drive and care for your van. For example, you may need to show guests how to empty the sewer tanks.
The more you can prep renters, the fewer issues they'll have after driving away.
When Is The Best Time to Rent Your RV?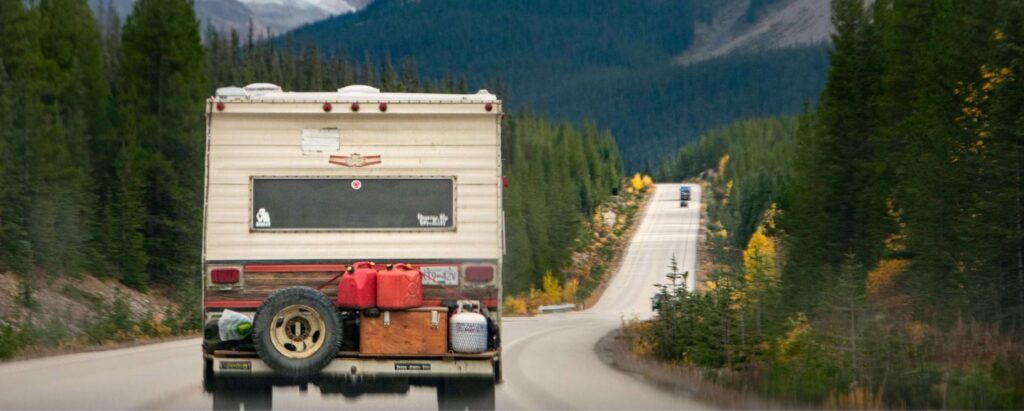 The great thing about renting out your RV is that it's a viable business all year round – just like mobile home parks. 
The most popular time is the summer when kids are off school. If you list on sites like Airbnb, you'll find the summer months fill up the quickest.
However, there are many people who like to rent RVs in the Shoulder Season. This runs from late spring to the beginning of fall when the weather is still decent, but popular destinations are much less crowded.
Then, there are winter campers who want to go on snowy adventures through the winter.
It's up to you when you decide to list your RV for rent, but make sure you look at competitor prices and adjust your prices to match the season – that's how you'll get the most bookings and make the most money.
Where to Rent Your RV
There are some great sites for listing your RV for rent, all of which come with a built-in audience looking for a great RV holiday.
Airbnb is one of the most popular sites for vacation homes, and you can list a motorhome or RV for rent. Airbnb is known for its great protection and insurance, so you'll get peace of mind that your van is covered.
This is the most well-known site. Think of it as the Airbnb of RV rentals. It's easy to create a profile, choose the dates that your RV is available, and the platform takes care of bookings and payments.
RV is a budget site for thrifty travelers. But according to the site, you can make up to $60,000 a year if you have a Class A RV for hire.
How Much Money Can You Make Renting Out An Rv?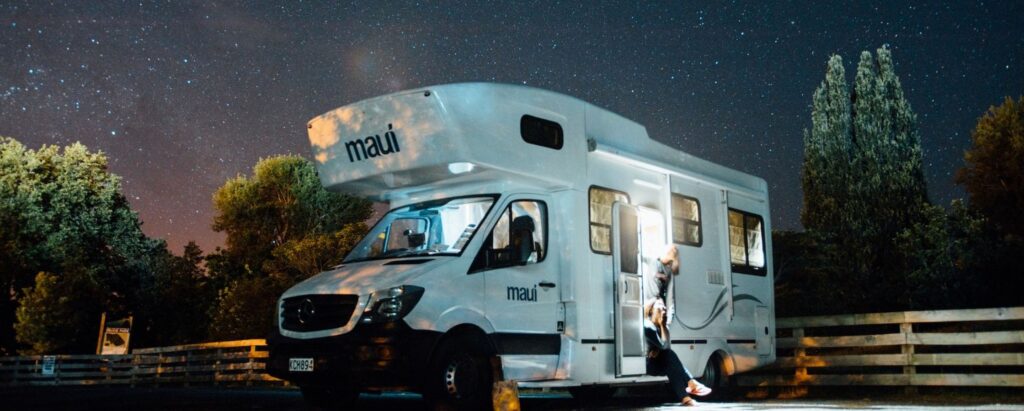 The amount you can make renting out an RV depends on its size, age, and location. Rv owners charge anywhere from $50 to $400+ a night, depending on the van they have.
But let's take the average nightly rate of $160 and an occupancy rate of 20% (which is 73 days a year). That would give an income of $11,680 for the year.
Don't forget you need to factor in fees, maintenance, etc. But you can see that it's relatively easy to make money with your RV in the United States.
How to Make Sure Your RV Renters are Happy Campers
The final piece of the puzzle is making sure you have happy campers who look after your rental RV and leave you glowing reviews.
Here are a few quick tips for giving your RV renter a great experience so you can compete with RV rental chains like Cruise America.
Add a welcome basket
When a guest books your RV, take 10% of the nightly rate and create a small welcome basket to welcome them into your RV. This could be a bottle of wine and a nice bar of chocolate or even some homemade jam and crackers.
This small touch doesn't have to cost much, but it will give your guests a five-star experience, which means a better chance of great reviews.
Write a short handbook or guide
Make sure to include a handbook in the RV that explains all the technical stuff they'll need to know for their trip. Remember, most RV renters are beginners, so they'll need help getting to grips with the RV.
You could also include suggested destinations, national parks, the best places to park, and experiences they can do in your state to give them some ideas.
Be available
The most important part of an RV rental business is great customer service. You need to be available to answer questions should something go wrong on their road trip.
And be friendly. The nicer you are, the more likely renters will be to ring you when there's an issue rather than trying to fix it themselves.
Building an RV Empire
If you have a Class B motorhome or decked-out camper van, you can make decent money renting it out.
But whether you plan on saving your profits from renting your RV or you're looking to invest in something a little larger, buying an RV park can be an incredibly lucrative business.
RV parks are recession proof, easy to manage, and popular with RV lovers. If you want to know more about investing in an RV park, check out our next article here.
Rent Your RV