Disclosure: This post may contain affiliate links. If you click on a link I may make a small commission at no extra cost to you. You can read the full disclosure here.
Last Updated on October 23, 2022 by Chris Panteli
Proofread Anywhere Controversy
Searching online for freelance job ideas will reveal lots of options. One of them will be to work as a professional proofreader.
Do you take pride in spotting grammatical errors? Is spelling one of your strengths? Do you understand when to use an apostrophe?
If you answered yes to these questions, then becoming a professional proofreader might be the job for you.
A professional proofreader does far more than spot grammatical errors. That means you need to learn all the proofreading basics. Not only do you need to become a proofreading master. You also need to learn business skills like marketing and taxes.
If you don't have this knowledge already you might look for an online proofreading course. One of those search results will be Proofread Anywhere. Should you jump straight into this online course? Is there any Proofread Anywhere controversy that you need to be aware of?
You can learn everything about this online proofreading course right here. Including any controversial topics that you may need to be aware of.
Learn How To Start Your Own

Proofreading

Business
Alicia made $1,100 the first month after she graduated from one of Caitlin's proofreading courses – even while she was still working full-time at her retail banking job!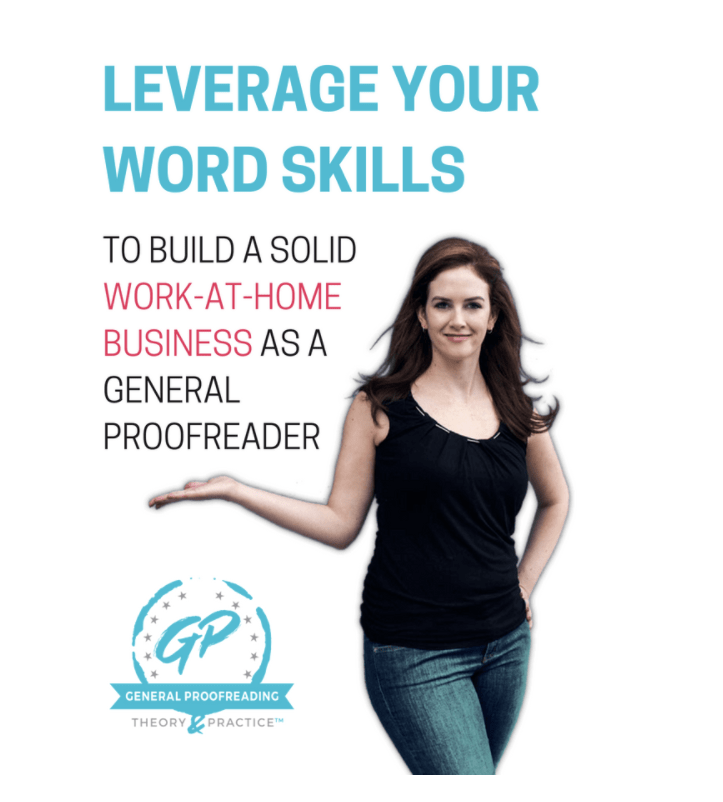 What Is Proofread Anywhere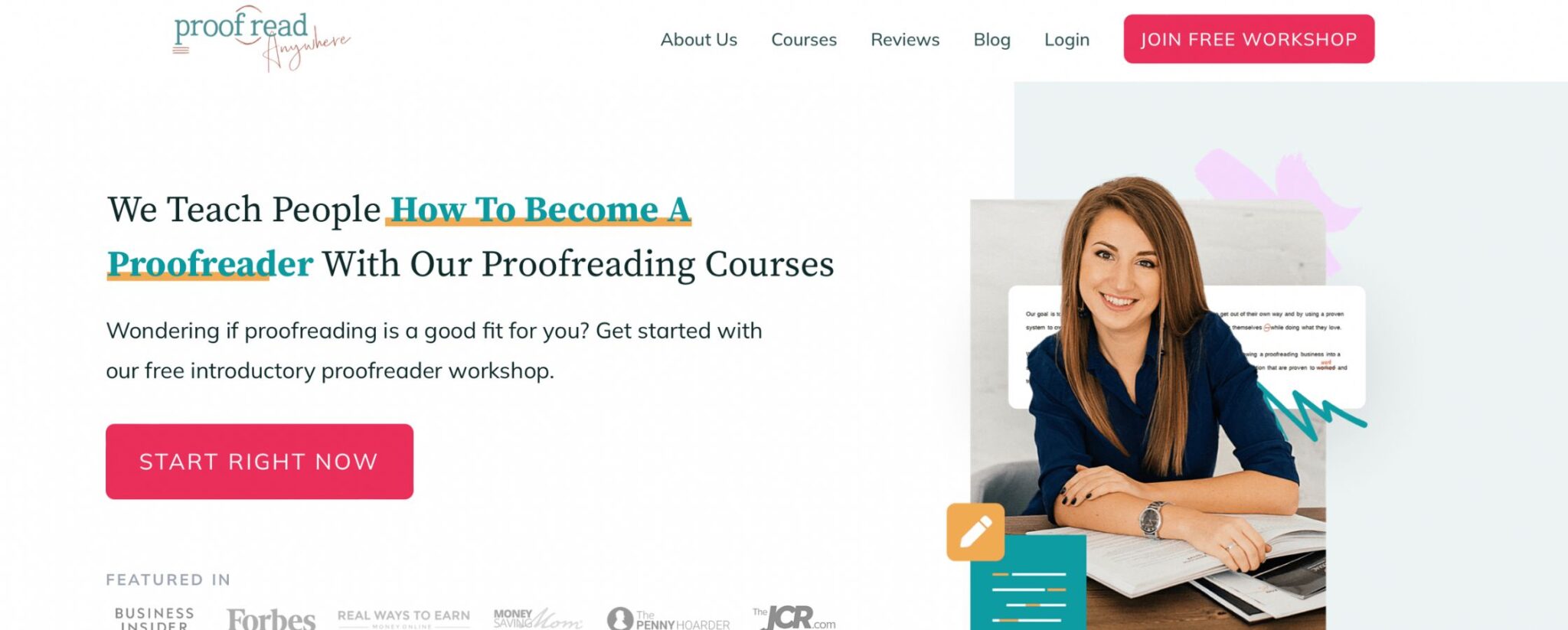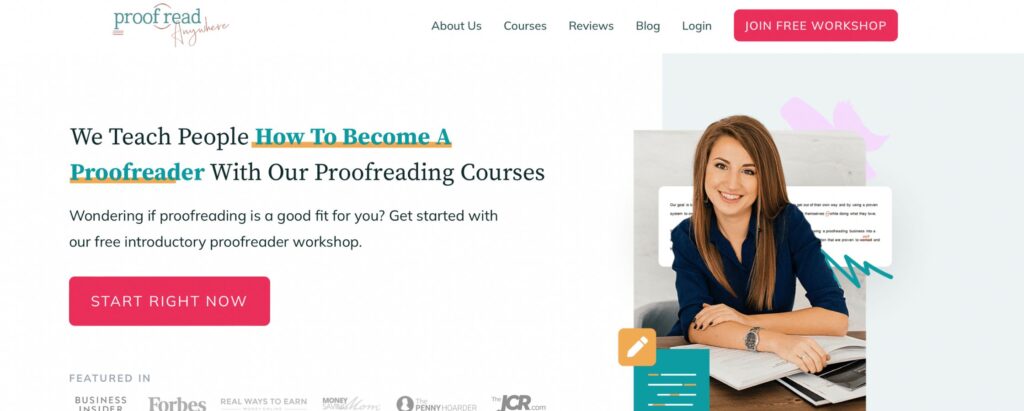 Have you been looking for an online course to teach you the proofreading basics? Your search will have taken you to Proofread Anywhere.
Proofread Anywhere was one of the first online courses of its kind. Founded by Caitlin Pyle in 2014, the platform aims to teach beginners the art of proofreading. You'll also learn essential business skills. These skills will help you launch your own proofreading career.
You'll learn all the proofreading basics as you work through the proofreading academy. Plus, you'll get access to support in the form of private Facebook groups. There you can speak with other students and the founder Caitlin herself.
Recommended: Why is Proofreading Important? | Definitive Guide
Who Is Caitlin Pyle
Caitlin Pyle started her proofreading career in 2007 almost by accident. At that time Caitlin was a college student. She offered proofreading services to make a little extra money.
In 2009 Caitlin started working for a court reporting agency. During that time Caitlin learned about proofreading transcripts for court reporters. Armed with her already outstanding proofreading skills Caitlin established her own proofreading business. By 2012 this had grown into a full-time job.
Caitlin decided to launch Proofread Anywhere in 2014. Her goal is to share her journey and knowledge of proofreading with the world. Anyone can use that knowledge to establish their own successful proofreading career.
Since 2014 Proofread Anywhere has gone from strength to strength. The platform has featured in high-profile articles for Business Insider, Forbes, and The Penny Hoarder.
The Proofread Anywhere Controversy
What is the Proofread Anywhere controversy?
Accusations that the course is a scam have appeared online. Disgruntled users have said this as the course hasn't led to the career they'd hoped.
Does that mean Proofread Anywhere is a scam?
Simply put. No. Proofread Anywhere is not a scam.
The course creator Caitlin Pyle is an established proofreader. All the course material is legit. Proofread Anywhere can help you to become a successful freelance proofreader.
Why are some people complaining then?
To be blunt, some people have unrealistic expectations. Or they don't want to work hard.
The Proofread Anywhere course isn't a magic way to make money. If it was, everyone would be doing it. Instead, to be successful you must work hard using the proofreading skills you learn. If you do that, you'll be successful.
Unfortunately, some people still claim that Proofread Anywhere is a scam. However, it's not a scam. Those people just don't want to put the work in.
The rest of this post will do a deep dive into Proofread Anywhere. By the end, you'll be able to decide if the course is right for you or not.
How Does Proofread Anywhere Work
Proofread Anywhere is a learning platform that teaches you everything about proofreading methods.
The good news is that you can take an introductory online course first. That course is completely free. Thanks to the free course you can decide if proofreading is for you.
The intro to proofreading course will take you about 76 minutes to complete. You'll learn the following:
5 signs proofreading is for you
How proofreading can help you work from anywhere
How to find proofreading clients
Once you know some proofreading basics you can choose to move on to the full course if you want to.
What Will You Learn From The Proofreading Academy
Proofread Anywhere offers two full courses. The General Proofreading Course and the Transcript Proofreading Course. Here's a rundown of what both courses cover.
General Proofreading Course
The General Proofreading Course has over 80 lessons that are split into modules. Covering topics in bite-size pieces does help make learning easier. It also means you can work at your own pace.
Proofread Anywhere's General Proofreading Course covers every proofreading skill you can imagine. By the end, you'll have all the tools you need to become a successful proofreader.
Let's take a look at each module.
Module 1
The first module explains exactly what proofreading is. You'll find out about all the skills you need to become a top proofreader. Plus, the differences between proofreading and editing are explained.
Module 2
To be a successful proofreader you need outstanding grammar skills. Module 2 is a grammar refresher. It covers every aspect of grammar and grammatical errors.
Module 3
Module 3 covers sentence structure. Order of adjectives, subject/verb agreement, and run-on sentences are some of the topics covered. There are plenty of practice sheets to work through in this module. Plus, when you're ready you can do a test of your knowledge.
Module 4
This module covers spelling and word use. Misused words, capitalization, and common typos are all covered in this module.
Module 5
Punctuation principles are covered in module 5. Common mistakes, when to use apostrophes, and the difference between US and British punctuation are discussed in Module 5.
Module 6
Now you'll learn about four proofreading methods. To help get a full understanding you'll get the chance to practice some sample proofreading jobs.
Module 7
Module 7 gives you the chance to practice everything you've learned so far. The essays you're given let you identify your strengths and weaknesses.
Module 8
Module 8 covers the different types of proofreading. This includes:
Academic proofreading
Blogging and podcast show notes proofreading
Creative writing proofreading
Business writing proofreading
Module 9
Module 9 covers starting your own proofreading business. Some of the topics discussed include:
Building a website
Updating your résumé
Setting your rates
How to build credibility
Module 10
Finding clients is essential for your business. Module 10 covers proven strategies for finding clients. You'll also get a bonus eBook How to Find Your Ideal Clients.
Module 11
Module 11 covers marketing basics. Writing proposals, using social media, and vetting clients are covered in this module.
Module 12
Ok. You've got your first clients, now what? In this module, you'll learn about everything from billing to what to do if a client won't pay.
Module 13
Freelance work is the dream for many. No more annoying coworkers, demanding boss, or long commutes.
The reality is that freelance work still has many challenges.
In module 13 the course explains more about being a successful freelancer. Planning your day, project management, and growing your business are covered in-depth.
In addition to these 13 modules, you'll get 4 helpful guides:
Look Better in Writing
The Ultimate Freelancer Tax Guide
The Mindset Mastery Guide
5 Mindset Shifts for Goal Crushing Confidence
Wait, there's more. You'll also get these 2 super bonuses:
Super Bonus 1
Here you can get the first module of the Transcript Proofreading Course.
You'll also get lifetime access to the Proofread Anywhere Facebook group. This is a private community that only students of Proofread Anywhere get invited to.
Super Bonus 2
The final module of this monster proofreading course is a workshop and workbook. The topic is Money Mindset Transformation.
You'll learn about 7 concepts that will challenge your views about money.
Transcript Proofreading Course
Transcript Proofreading is the second course you can do on Proofread Anywhere. By specializing in this niche, you can boost your earning potential.
When you pass the final examinations, you'll also get a certificate of completion. This proves you are now trained in transcript proofreading.
Level 1 – Beginner Basecamp
The first level is split into 7 units. These units go into detail on court reporting and transcript proofreading.
Some of the topics covered in this level are:
Anatomy of a transcript
How a transcript becomes a transcript
Skills needed to become a transcript proofreader
After 7 days you can advance to level 2.
Level 2 – Jumpstart
Level 2 has 9 units to complete that you should be able to complete in 30-days.
The level 2 units cover some of the following:
Commonly misused words
Transcript format
American vs British spellings
Once you've completed the 9 units it's time for a test. A 100-question test to be precise. Pass this with a score of at least 80% and it's on to level 3.
Level 3 – Next Steps
The time limit to complete level 3 is 60 days. During this time, you learn how to mark up transcripts. Included in this level are:
Extensive proofreading checklist
Research strategies
Practice transcripts
If you can't complete level 3 in 60 days, don't worry. You can buy level 4 which includes lifetime access to the entire course.
Level 4 – Launch & Learn
The final level gives you all the information you need to start your business working with court reporters.
Topics covered include
Marketing
The mindset for success
Business correspondence and procedures
Pass the final examinations and get a certificate of completion. The full course takes on average 2-4 months to complete.
How Much Do Proofread Anywhere Courses Cost
A great reason to try Proofread Anywhere is the course flexibility. For starters, you can try the introductory courses for free.
After that, you're not obligated to buy anything.
Proofread Anywhere's General Proofreading course has two options called Ignite and Ignite Plus.
Ignite costs $198.80 which gets you lifetime access to the entire course. Ignite Plus costs $238.80 which gets you everything in Ignite plus:
A hand-graded exam
Certificate of completion
Listing in the Self Publishing School Preferred Outsourcer Rolodex
Membership in a general proofreader's group
To become a transcript proofreader you need to complete all 4 levels of the transcript proofreading course. The levels cost:
Level 1 $77
Level 2 $197
Level 3 $400
Level 4 $500
To complete all 4 levels and get certified as a transcript proofreader will cost a total of $1174.
Is Proofread Anywhere Good Value
Caitlin Pyle is an expert in her field. That means the course content is relevant to anyone wanting to break into the proofreading industry.
You may have excellent grammar, spelling, and punctuation skills. That doesn't mean you can start proofreading without any further training.
The Proofread Anywhere course helps you sharpen your proofreading skills. It also teaches how to run your own business. That includes essential skills like marketing.
Plus, you can connect with other proofreaders in the private Facebook group. Course creator Caitlin Pyle is active in the Facebook groups as well.
If you want a successful proofreading business, then the Proofread Anywhere course could be worth it for you.
The Pros And Cons Of Proofread Anywhere
Proofread Anywhere is a legit course created by an experienced proofreader. Here's a summary of the pros and cons.
Pros
Comprehensive training with actionable steps
Flexible payment options
Proofreading earnings easily outweigh the course cost
Test your skills with real-life proofreading samples
Marketing strategy including landing clients 
Variety of learning methods including written, video, and practice work
Learn all the necessary business skills
Cons
The majority of the course is delivered in text form
You could find a lot of the same information online for free
No refund once you've logged in to the course 
Other Things You Can Buy On Proofread Anywhere
You may decide that you don't want to enroll in either of the Proofread Anywhere courses. It's worth knowing about some other helpful stuff that you can buy.
Money Mindset Transformation Workshop
Caitlin makes no secret of the fact that she's a self-made millionaire. Years of hard work means she's now reaping the financial benefits.
One thing Caitlin learned during this time was that how a person views money can affect them. Constantly worrying about money can turn into a cycle of never-ending doubt. To help others combat this Caitlin has created the Money Mindset Transformation workshop.
The course covers 7 ideas:
Why more money won't make you happy and what will
Money isn't magic
Actually, not having enough money is a problem you can solve
Money doesn't grow – it flows
If you want to earn more, do this
The thing we have that's more valuable than money
When you're done, you're done earning
When you join the course, you get lifetime access. The workbook is a downloadable PDF that you can save in Microsoft Word or similar. Plus, you'll get a transcript of the entire course.
To get full access to this course you need to pay a one-off fee of $97. Don't forget that if you buy the General Proofreading course, then this workshop is included as a super bonus.
Learn How To Start Your Own

Proofreading

Business
Alicia made $1,100 the first month after she graduated from one of Caitlin's proofreading courses – even while she was still working full-time at her retail banking job!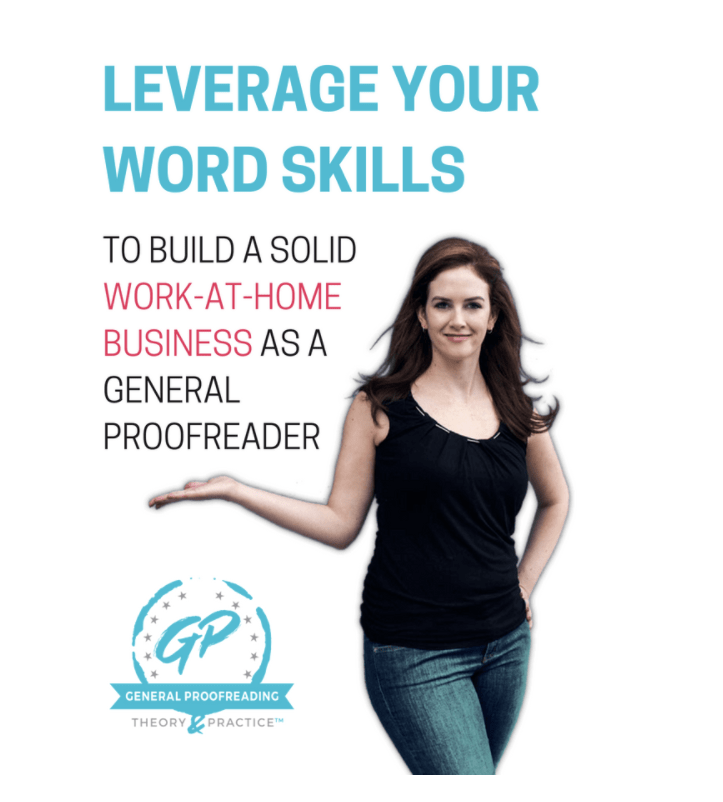 Books
There are 4 books you can buy individually or as a bundle.
The Work At Home Survival Guide
The Work At Home Survival Guide is written by Cailin Pyle. You'll learn everything about working from home including:
Work from home job ideas
Lifestyle tips
Protecting your business
Plus, you'll get lifetime access to the Work At Home Heroes Facebook group. All this for $17.
Look Better In Writing: Handbook Of Commonly Misused (And Abused!) Words
For $9.97 you'll get this detailed guide covering misused words.
The Ultimate Freelancer Tax Guide
In this tax guide, you'll learn everything about managing your taxes as a freelancer. Every applicable law is covered so you don't make any tax mistakes. This book costs $9.97.
The Mindset Mastery Guide
The Mindset Mastery Guide will help you become a successful freelancer. Many people struggle with feelings of self-doubt or imposter syndrome. Reading this book will help you retrain your mind to have a more positive outlook. Buying this book by itself will cost $9.97.
If you want to you can buy all 4 books for $34.97. That saves you $11.97.
Proofread Anywhere – Is It A Scam?
Online scams are everywhere. If someone is asking you to pay for a course, you are right to be suspicious. Never hand over your hard-earned money without doing some checks first.
The big question is Proofread Anywhere a scam?
No. Proofread Anywhere is not a scam.
The course is legit. You'll learn all you need to know about proofreading. Topics including building a business, marketing, and finding clients are also covered.
Plus, you'll get to make industry connections in the private Facebook group.
Start by doing the free introductory course. This will give you a great overview of what to expect.
You should also do your own research. Look for a Proofread Anywhere review, research the course creator, and check for other controversial topics.
When you're researching Proofread Anywhere you will find negative reviews.
That's to be expected as not everyone will be happy. Maybe they didn't like the course. The user may be unhappy they couldn't find as much work as they wanted.
Although negative reviews do help build a picture. Most of the time it's because of unrealistic expectations. Or the person didn't realize that they'd have to do some hard work to be successful.
Completing the Proofread Anywhere course is only the first step. You must still work afterward by finding clients, pitching, and actually proofreading.
Why Does Proofread Anywhere Not Have A Better Business Bureau Rating
The Better Business Bureau (BBB) is a trusted review platform. When doing your due diligence, you might check the BBB for a Proofread Anywhere review.
However, you won't find a Proofread Anywhere review on the BBB.
Why isn't Proofread Anywhere on the BBB?
Caitlin answers this herself on the Proofread Anywhere website FAQs.
She explains that the BBB has asked her to pay their fee to obtain a rating. Caitlin believes the fee is unreasonable and so far, has declined to pay.
The FAQ shows testimonials from other business owners that claim the BBB wants a fee. In exchange, those businesses will get a boost in their ratings. Based on these stories Caitlin believes that the BBB rating isn't as worthwhile as they claim.
Can Anyone Be A Proofreader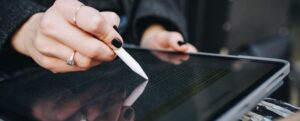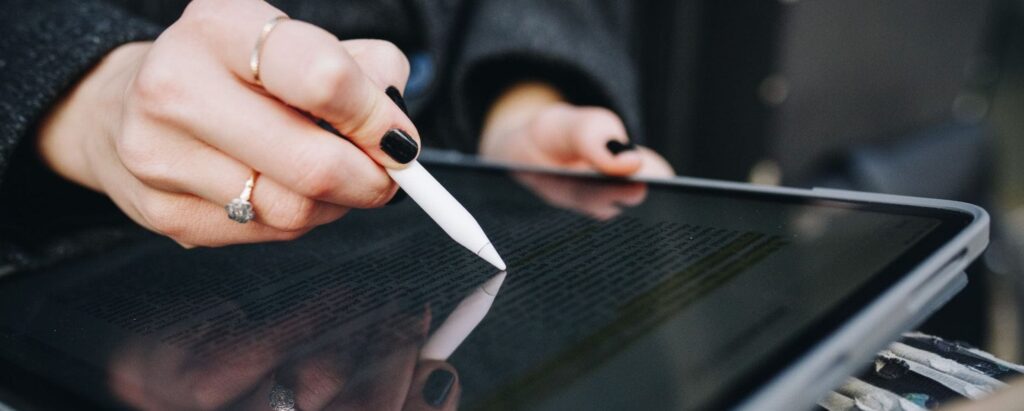 Yes, anyone can be a proofreader. You must have excellent grammar, spelling, and punctuation skills. If you don't you should work on those first.
Working as a freelance proofreader means you need to build business skills as well. Dealing with clients, marketing, and taxes is all your responsibility. Plus, you need to do your actual proofreading work.
Don't let this put you off. If you want to be a proofreader, then go for it.
Understanding everything that's involved means you can have realistic expectations.
How Much Do Proofreaders Earn
The average salary for a freelance proofreader in the US is $53,932. Depending on where you live that may be a great wage.
In 2014, Proofread Anywhere founder Caitlin Pyle shared her own earnings for the year. She revealed that she earned $43,000 in one year. That was working on average 20-25 hours per week.
If you can work more hours, then you could earn far more.
One of the challenges of working as a freelance proofreader is that you drive your income. The more you work the more you earn.
Where To Find Work As A Proofreader
Finding proofreading jobs is as much a skill as proofreading itself. The course material of both courses offered by Proofread Anywhere covers topics such as finding clients.
If you want to go it alone and find general proofreading jobs, there are a few ways to find your own clients. You can start by joining freelance platforms. These are free to join and a great way to connect with anyone seeking a proofreader. Try these freelance platforms first:
Social media is another great way to find clients. Facebook groups, Craigslist, and LinkedIn are all potential sources of proofreading jobs.
What if you want to be a transcript proofreader? How do you find court reporters that need a court transcript proofreader?
Caitlin hasn't made this public on the Proofread Anywhere website. The course material will cover this topic, but you'll have to complete it to find out.
Please note if you complete the Proofread Anywhere courses you can get added to the Graduate Directory. Often clients seeking a proofreader find Proofread Anywhere. They know students that have completed the course now understand proofreading methods.
Listing on the Graduate Directory is voluntary. If you're ready to work, you should put yourself on there. Make sure your contact details are up to date. Check your emails (including spam) often to make sure you don't miss any potential clients.
FAQs
Is Proofread Anywhere a scam?
No. Proofread Anywhere is legit. You can become a successful freelance proofreader by following all the lessons you learn in the course.
Are proofreading courses worth it?
You may excel at spelling, grammar, and punctuation. Yet the proofreading method is far more than that. You also need to learn the necessary business skills to be successful.
Taking a course that's been created by an industry leader will help you on your journey to success.
Which proofreading course is best?
To get started you should do the free introductory course. Afterward you have a choice of two proofreading courses. Proofread Anywhere's General Proofreading course may be best for you. If you're happy with a general proofreading career, then go for it.
By taking the Transcript Proofreading course and learning how to read a court transcript you unlock the potential to earn much more. Specializing in this skill is recommended if you want work that could lead to higher pay and opportunities.
Do I need qualifications to be a proofreader?
No. You don't need any qualifications to become a proofreader. However, to land good-paying clients you'll need something to prove you're the right person for the job.
When you pass the final examinations of the proofreading academy you do get a certificate of completion. This can help boost your chances of landing clients.
What is Self Publishing School?
Self Publishing School aims to help writers become best-selling authors. Your proofreading skill can be used by these writers wanting to get their work checked.
Does Proofread Anywhere have an affiliate program?
Yes, Proofread Anywhere does have an affiliate program. You'll earn a commission when your affiliate link is used to make a qualifying purchase.
What is affiliate marketing?
Affiliate marketing means you get paid a commission every time your affiliate link is used to make a purchase. An affiliate link can be shared anywhere online. Your own website, social media, email, or YouTube are all places you can share your Proofread Anywhere affiliate link.
Proofread Anywhere Controversy