Disclosure: This post may contain affiliate links. If you click on a link I may make a small commission at no extra cost to you. You can read the full disclosure here.
Last Updated on October 23, 2022 by Chris Panteli
PriceLabs Review
Do you ever look at competitor Airbnb listings in your area and wonder how they set pricing? Their prices are constantly changing, yet they seem to get a lot of bookings.
Chances are they're using a dynamic pricing tool to automatically set the very best nightly rates. Doing this means maximizing revenue without pricing yourself out of the market.
If you're not yet using a dynamic pricing tool for your Airbnb listing, it's something to seriously consider. In this Pricelabs review, we'll help you figure out if this is the right tool for your vacation rental.
Still looking for the best property management system for your Airbnb? Host Tools is a great all-in-one dashboard that takes care of pricing, messaging, smart locking, and more. Check out our full review here. 
What is PriceLabs?


PriceLabs is a revenue management tool for vacation rentals. Property managers and Airbnb owners get a dynamic pricing strategy based on market trends, seasonality, and demand.
Without dynamic Airbnb pricing tools, your listing will have a base rate that doesn't change unless you manually change it. The issue is that you miss out on opportunities to increase your base rate during peak season and get more bookings with a lower rate when demand drops.
PriceLabs sets your price for you and gives market reports so you can analyze how your competitors are doing.
If you don't agree with PriceLab's pricing, you can override it and get full control over your minimum and maximum prices. This means you won't ever drop below your profit margins or price yourself out of the local market.
PriceLabs Pros & Cons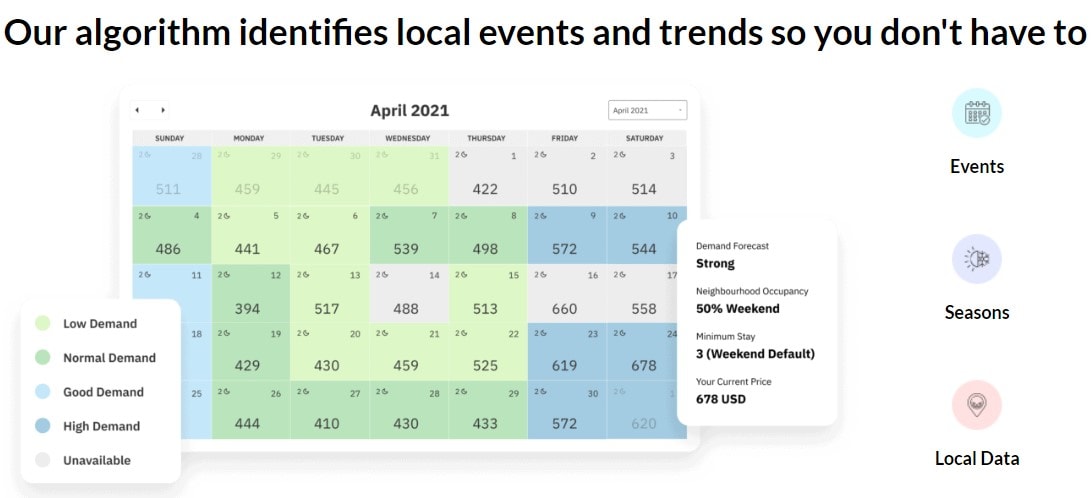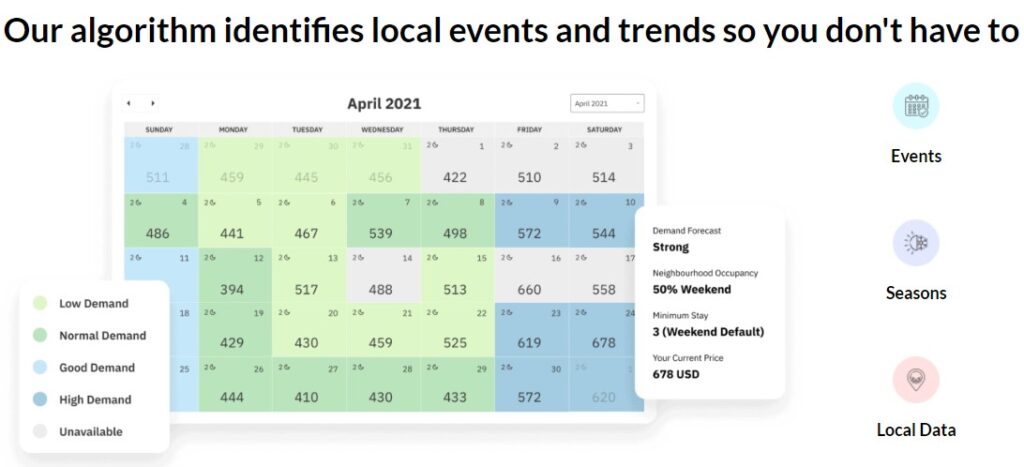 There are a few revenue management tools on the market for Airbnb, so let's take a look at the pros and cons of PriceLabs.
Advantages of PriceLabs
Generates graphs that give visual recommendations and trends on pricing structures. As a vacation rental owner, you can then set your own pricing or use PriceLabs' recommendations. 
You get a color-coded pricing calendar to quickly show you the peak season and periods of low demand. 
You can set rules for your pricing, which means you don't have to worry about someone booking your Airbnb for a price below your profit margin. 
As a rental property manager, you can manage different listings all within one centralized dashboard. 
PriceLabs integrates with over 50 booking platforms, including Airbnb and BookingSync. 
Disadvantages of PriceLabs
It has tons of features that can be a little overwhelming and not very user-friendly to start with. It'll take time to learn the software to get the most benefit.
Pricing is per listing, so the software can quickly become expensive if you're a rental property manager.  
PriceLabs Pricing Overview
There is a free version of PriceLabs, but you only get access to the Portfolio analytics, not the Airbnb smart pricing.
Pricelabs costs $19.99 a month per listing for the dynamic pricing software. There's a free trial period, too, so you can figure out if this is the right tool for you without a commitment.
If you want to use the market dashboard, it's an extra $9.99 per month on top of the original fee.
PriceLabs Features
Pricelabs has three main features:
Dynamic pricing: Automatically updates your vocational rental pricing based on market trends, demand, and performance. 
Portfolio analytics: Reports that show your vacation rental KPIs and performance data like the popular AirDNA tool. 
Marketing dashboard: Compare your performance against the market and analyze properties before investing. 
PriceLabs Alternatives
If you're not sold on PriceLabs but like the idea of dynamic pricing for your vacation rental, there are a couple of competitors.
Wheelhouse – gives you dynamic pricing, market reports, and competitor analysis, just like PriceLabs. It's the same price as PriceLabs, but you get discounts for multiple listings. Check out our full review of Wheelhouse!


Beyond – this is an all-in-one revenue management solution that includes automatic pricing. This one is more expensive than PriceLabs, but it's got more management features.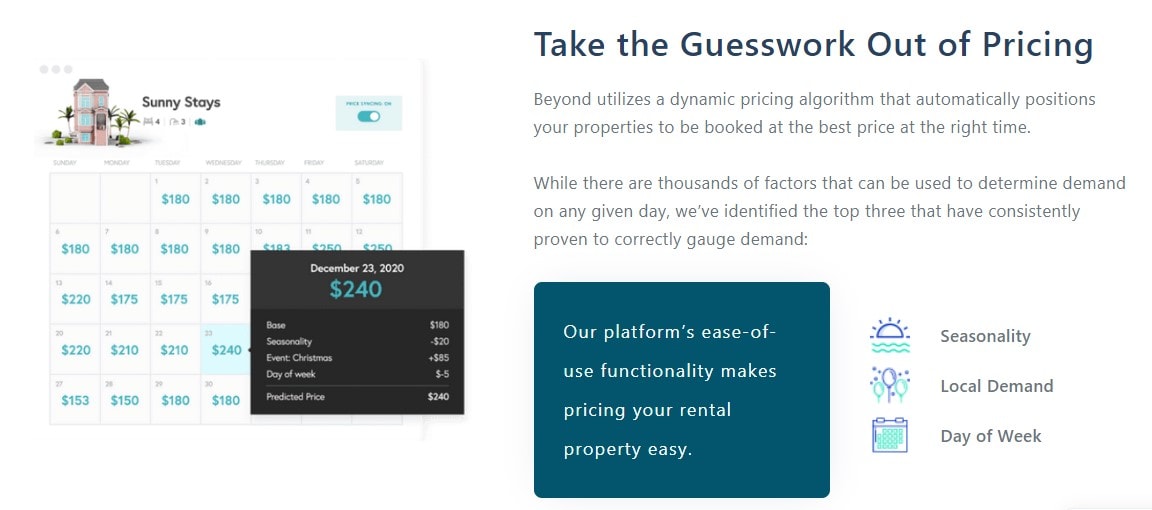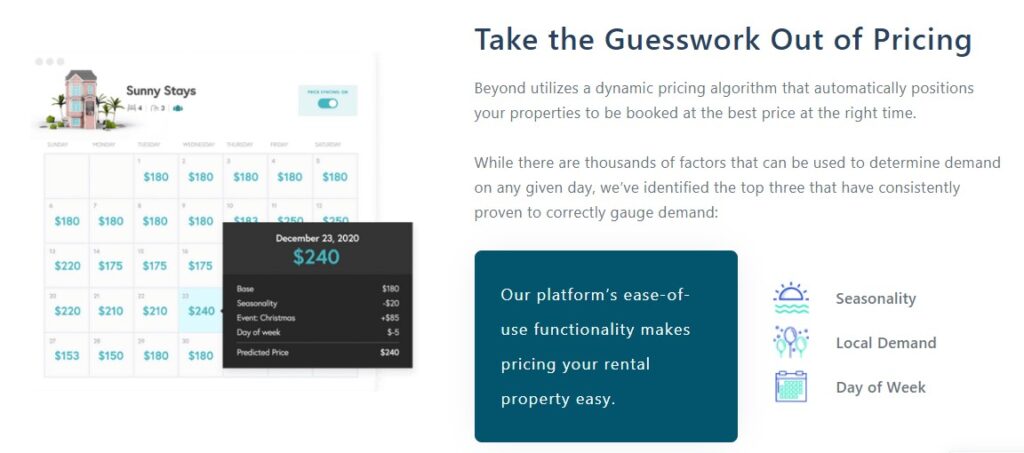 How do you optimize PriceLabs?
It can be difficult to get to grips with a new price management tool when you're a beginner. If you're new to PriceLabs, here is how to optimize your returns.
Dynamic Minimum Stays
Minimum stays can be a great way to reduce cleaning costs and keep your Airbnb occupied for longer. However, more and more people are looking for a short-term rental at the last minute.
This is where Dynamic Minimum Stays come in. This opens up your calendar to last-minute bookings but requires longer stays further out.
This helps you take advantage of the last-minute booking market but keeps your overall occupancy rate high.
Orphan Day Bookings
When you have a longer minimum stay, you tend to get longer gaps between bookings that become "unbookable" for guests. Using Orphan Day Bookings will make all those awkward gaps available to book without changing your minimum booking requirements.
This means you'll get more people filling up otherwise unusable space in your calendar, but you're still targeting longer stays.
You can set rules which require guests to fill up entire gaps between existing bookings, or you can give more flexibility to allow guests to book one or two nights in between.
Reducing Price Fluctuations
When you use dynamic pricing, your base rate will increase if there's an event on the calendar, such as a sports event or music gig. However, sometimes guests are hit with this price hike even if they are unaware of the event, and it can be off-putting.
PriceLabs lets you set "Day of Week Pricing Adjustments" to avoid intense fluctuations in pricing and event premiums. This allows you to take advantage of dynamic pricing without worrying you'll price yourself out of the competition.
Seasonal Rates
Some Airbnbs are more affected by seasonality than others, especially those on the coast. To optimize your pricing, you can set minimum and maximum nightly rates for the different seasons of the year. This means you can accept lower rates through the winter without dropping your prices too low during the summer.
Does PriceLabs work with booking.com?
PriceLabs currently has over 50 direct integrations with property management systems and booking portals. However, it doesn't have an integration with booking.com.
This could change in the future, but at the moment, you can't use PriceLabs to set dynamic pricing on Booking.com.
Does PriceLabs integrate with Airbnb?
Yes, PriceLabs has direct integration with Airbnb, so you can use dynamic pricing on your Airbnb listing.
Start by logging into PriceLabs and click on "Add Your Listings". You'll be able to select Airbnb from the dropdown menu, and you'll be asked to log into your Airbnb account.
Once you've connected, your active listings will import to PriceLabs. If you've only just added a new listing to Airbnb, it can take up to 24 hours to become available for integration, so give it some time and try again.
PriceLabs Review: Bottom Line
Whether you're just starting out with a short-term vacation rental or you're looking for ways to improve your occupancy, dynamic pricing can be a huge help. It takes the guesswork out of setting your base rate and ensures you don't miss out on higher price points.
It can be a steep investment for beginners, so try out the free trial and see if you see benefits from the marketing reports and pricing suggestions.
Looking for an app to manage your Airbnb vacation rental from your phone? Check out our review of the Your Porter App (Now Guesty) to see if it's worth downloading.
PriceLabs Review