Disclosure: This post may contain affiliate links. If you click on a link I may make a small commission at no extra cost to you. You can read the full disclosure here.
Last Updated on October 23, 2022 by Chris Panteli
Pinterest Manager
Pinterest has earned its place as one of the most popular social media platforms in the world. Its whopping 454 million-plus monthly users use the site as a visual discovery engine to find home renovation ideas, recipes, makeup inspiration, and much more. Thousands of businesses also use the platform to promote their brand. Such brands typically hire Pinterest managers to optimize their presence on the platform.
Becoming a Pinterest Manager can be a great career choice. However, it is vital to understand the ins and outs of this profession before committing to it. Here are some things you should know about becoming a Pinterest Manager
What is a Pinterest Manager
If this is your first time hearing the term "Pinterest manager", you may be wondering what exactly it refers to. A Pinterest Manager or a Pinterest Virtual Assistant is a marketing professional or service who assists businesses in promoting their content, products, and services on Pinterest.
Pinterest Managers must also maintain a close eye on key metrics such as website traffic, clicks, and sales and implement ways to improve them. Their duties may seem similar to Facebook and Instagram managers who handle a brand or client's business presence on Facebook and Instagram respectively. However, they must also perform additional tasks such as:
Pinterest SEO
Creating infographics and eye catching pins consistently
Blog management
Joining group boards
Pinterest managers tend to be a cut above ordinary social media managers. This is because they are required to utilize knowledge, creativity, and strategies in their duties. To be successful as a Pinterest manager, you must possess an extensive understanding of the platform. You must also be able to implement winning strategies that help your pins gain traction with users.
Pinterest Manager Duties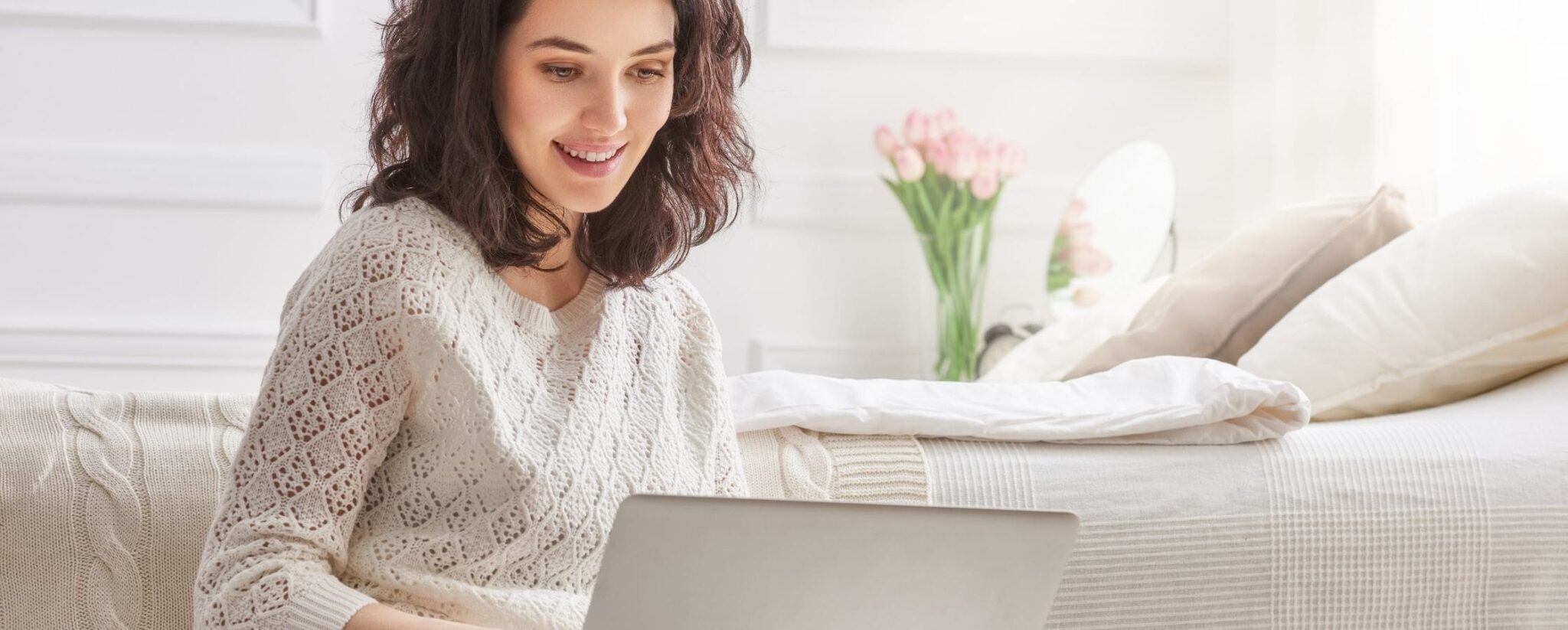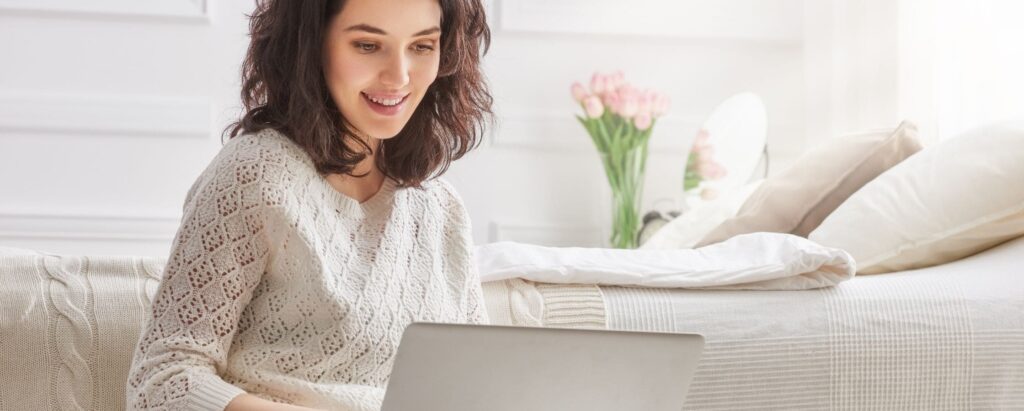 As mentioned above, Pinterest managers are required to perform multiple duties when managing their client's Pinterest presence. This includes:
Pinterest SEO
Search engine optimization or SEO is a key part of any Pinterest manager's job. This refers to the process of optimizing a Pinterest profile to generate greater organic traffic on the platform.
This may sound similar to Google SEO, where certain keywords are identified and then used for profile optimization. However, Google SEO tends to be more technical and relies on backlinks. Pinterest SEO, on the other hand, revolves around social media shares and other engagement metrics.
Researching and Finding Keywords
At its core, Pinterest is a visual search engine where text is seen as being of secondary importance. However, keywords, tags, and links are still vital for the SEO success of any Pinterest account.
Keyword research can be complex. The manager must understand their client brand's audience, goals, and products. They must identify trends and jump on them quickly. The manager will also need to present their client brand as the best solution for a searched problem.
The average Pinterest manager spends a fair amount of time finding the right keywords before integrating them in Pin descriptions, image text, board titles, and profile bios. This is all performed to maximize the brand's reach on the platform.
Creating Graphics and Eye-Catching Pins
Pinterest's heavy emphasis on visuals makes it the perfect place to share graphics. This also means Pinterest Managers must be skilled at creating eye-catching graphics that encourage user engagement. These graphics should stop users from scrolling down their feed and encourage them to click the pin.
How to Create Pins on Pinterest that GO VIRAL
Tap twice to load then open Video...
Creating the right graphics for Pinterest involves using the right combination of headlines, images, and colors to stand out from other pins in search results. For this reason, Pinterest managers must be skilled at using image creation and editing tools such as Canva, Adobe Illustrator, and Inkscape.
The average Pinterest manager will typically create a suite of visually appealing pins before creating keyword-rich descriptions to go along with them. They then add them to the board and schedule posts using scheduling tools.
Blog Management
Pinterest's focus on visuals can make it challenging to convey in-depth messages and information. For this reason, many Pinterest managers maintain blogs to accompany their Pinterest content.
These blogs may contain posts that expand on the information contained within a particular pin. When used correctly, a blog can help drive traffic to the Pinterest account and boost its presence on the platform. This also means Pinterest managers must be skilled at creating engaging and informative blog content that wows readers and keeps them interested.
Joining Group Boards
Pinterest users can organize their images and videos together using "boards". This may sound similar to Albums on Facebook. However, Pinterest boards differ in that they can be created through collaboration. A Pinterest manager can create their own board and invite others to add pins.
Once others start adding pins to the board, their audience will also be able to see your pins. This is a great way to get your pins seen by a brand new audience.
Performing Audits and Optimization
As mentioned earlier SEO is a vital part of Pinterest account management. Managers may be hired to perform audits for different brands' Pinterest accounts. They may then need to optimize the accounts and their content accordingly.
The manager may occasionally check back to see how the account is performing, and whether it is on track with meeting the brand's Pinterest goals.
Pinterest Manager Salary
The Pinterest manager duties mentioned above may sound like a lot to handle. However, these professionals receive great compensation for being able to keep up with them.
So exactly how much do Pinterest managers earn? According to Glassdoor, Pinterest account manager salaries vary from $40,000 to $135,000 per year, with an average salary of around $100,000 per year. Brand new Pinterest managers can expect to earn $15 to $20 per hour as their starting pay rate. More experienced managers who have honed their Pinterest management skills over time can earn between $75 and $100 per hour.
Pros of Working as a Pinterest Manager
After learning about a Pinterest manager's duties and salary, you may still be on the fence about pursuing this profession. As with any occupation, becoming a Pinterest manager carries its unique pros and cons. We have summarized the main pros below.
Flexible Schedule and Location
As a Pinterest manager, you can choose your own work hours. This is because there is no set time or deadlines to follow when it comes to creating pins and managing a Pinterest account. Pinterest Managers often create their graphics and pins in batches and post them using an automated scheduling tool. This allows them to upload a steady stream of content at different times of the day or week without having to be present to do it manually.
Pinterest managers can also perform their job from just about anywhere. They simply need to have internet access to publish posts on the site and review Pinterest analytics. Some managers may need to use desktop computer setups to run the CPU and GPU-intensive image-editing software for creating graphics. However, many managers are able to get by using portable laptops with powerful processors.
Expressing Your Creativity
Creative content generally performs well on Pinterest. This gives Pinterest managers an incentive to unleash their creative side and create content that engages users. Making such content can be fun and fulfilling for many managers, especially if they possess a background in graphics design. Consider getting into this profession if you'd like to channel your creativity towards making money.
Getting to Work With a Range of Clients
Some companies may hire a dedicated Pinterest manager who focuses only on promoting their brand on Pinterest. However, many Pinterest managers work for multiple clients at once. They may maintain control of multiple accounts and post optimized content for each one.
The main benefit of this arrangement is that it allows managers to work with a range of clients. This creates more exposure for the manager and helps them build their reputation and secure more work in the future. Managers quickly learn what type of clients they wish to work for, and which ones they would prefer to avoid.
Working in an In-Demand Occupation
There is high demand for Pinterest managers in the digital era. This is because most businesses understand that maintaining a social media presence is vital for getting ahead of competitors. The demand for Pinterest managers will likely remain high as long as the site maintains its popularity.
Some people may be concerned about Pinterest manager duties becoming automated in the near future, and that there will no longer be a need for these professionals. While many tasks such as uploading pins can be automated, many other core tasks involve creativity and require input from a human operator such as a Pinterest manager. This means companies will always need to hire a professional to take care of their Pinterest account.
Cons of Working as a Pinterest Manager
Working as a Pinterest manager does come with some drawbacks and challenges. That isn't to say you should avoid this occupation. Professionals should familiarize themselves with the cons of working as a Pinterest manager before taking the plunge. Some of these cons include:
Following the Algorithm
A website's SEO is generally determined by an internet algorithm that decides which content is worthy of trending. The Pinterest algorithm does a good job of filtering out optimized posts from non-optimized ones. However, this algorithm could change at any given moment.
When the algorithm shifts, Pinterest content that was previously trending may no longer show up in search results. This may cause much of the work Pinterest managers previously put in to go waste.
Managers will then need to learn about these new changes and adjust their upcoming content accordingly. This process can be complicated and time-consuming. In addition to this, there is no guarantee that the changes you make will help you win over the algorithm.
Steep Learning Curve
Managing a social media account can seem like a relatively straightforward activity. However, the truth is that it takes a lot of work to run a successful Pinterest business account. Pinterest managers must spend time learning about the different pin designs and how Pinterest SEO works.
If you don't already have an active interest in the platform, you may not enjoy this learning process.
Juggling Multiple Accounts
As mentioned earlier, many Pinterest managers manage multiple Pinterest accounts on behalf of various brands. Juggling multiple accounts can become complicated very quickly. This is especially true if each account is vastly different from the other and requires specialized strategies to manage.
For this reason, Pinterest managers must be good at multitasking and keeping track of Pinterest marketing campaigns for each brand they are managing. You should get into this profession only if you are up to the task of managing multiple accounts and are willing to provide each one with specialized attention.
Being Your Own Boss
Pinterest managers are their own bosses and rarely have to answer to anyone, with the exception of their clients. This can be advantageous if you're a self-motivated person who is capable of managing yourself. However, some managers will struggle to keep up with all the duties that Pinterest managing entails.
They might not be able to find a helping hand when it comes to learning about Pinterest SEO, creating quality content, and researching keywords. Consider becoming a Pinterest manager only if you are self-motivated and are great at strategizing.
How to Become a Pinterest Manager
Now that we have discussed the pros and cons of becoming a Pinterest manager, you may be interested in learning how exactly you can get into this profession. We describe the process of becoming a Pinterest manager in the following steps.
Become A

Pinterest VA

Today
Learn a proven step-by-step process for building a lifestyle business that lets you work when and where you want, doing something you love.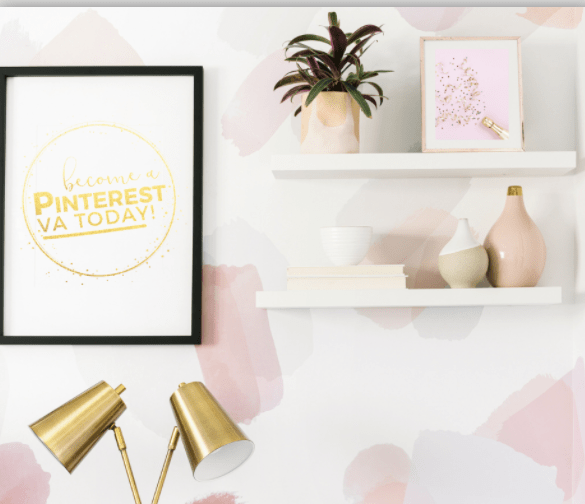 1. Perform Pinterest Research
If you browse Pinterest regularly for fun, you may have some idea of how the platform works. However, running a Pinterest business account is vastly different from simply being a Pinterest content consumer.
You can learn how to run a Pinterest business account by converting your personal Pinterest profile to a business one. For additional assistance, you can look up Youtube videos or blog posts on the topic. By the end of your Pinterest research phase, you should have a good understanding of:
How to confirm a website with Pinterest
Rich pins and how to enable them
How to optimize your Pinterest profile
How to optimize images uploaded to Pinterest
Creating Pinterest boards
How to interpret Pinterest analytics
How to use pin scheduling tools such as Tailwind
2. Test Your Skills
The next step is to test out your skills by creating a Pinterest business account. This step can help you understand the various tasks associated with running a successful Pinterest account. This account may also help you attract potential clients. After all, your Pinterest business account is one of the first places prospective clients will look to gauge your Pinterest management skills.
Be sure to understand how keywords work and what types of images gain popularity on the platform. You can then try implementing these strategies on your business account and see how well your efforts pay off.
3. Create a Brand to Promote Your Business
Once you are confident about your Pinterest management skills, it's time to create your own brand. This doesn't have to be a complicated process. In the digital era, you simply need to create your own website to establish a brand.
You should ensure this website looks professional, as it will represent you and the services you offer. After this, you can start promoting your services on various social media platforms.
Consider sharing your Pinterest page and website on sites such as Facebook and Instagram. You can also promote your brand on Linked In. This site is also great for connecting with other professionals and getting your profile out there.
Recommended: Best Selling Brands On Poshmark
4. Research Your Clients
Once you manage to score a discovery call with your first client, you should spend some time researching them. Start by visiting their existing Pinterest page and looking through their pins and boards. Look for any deficiencies in their current Pinterest account or strategies.
By this point, you should have a firm understanding of how keywords work, and what kind of content is successful on the platform. You can then note down a few suggestions to improve the client's Pinterest account and help them accomplish their goals. This step is crucial, as it informs the client that you are up-to-speed with their current position and can offer solutions if they choose to hire you.
When communicating with the client, you should be upfront about your lack of Pinterest managing experience. If you're lucky, they will be impressed by your analysis of their Pinterest account and choose to hire you.
5. Get Paid
You should also be careful in your early days as a Pinterest manager. Many companies may point to your lack of experience and ask you to work for free. Such arrangements tend to be exploitative, so you should always remember to charge clients for your services. If you are desperate to find paid work, you can always offer clients a discounted rate to compensate for your lack of experience.
How to Find Work as a Pinterest Manager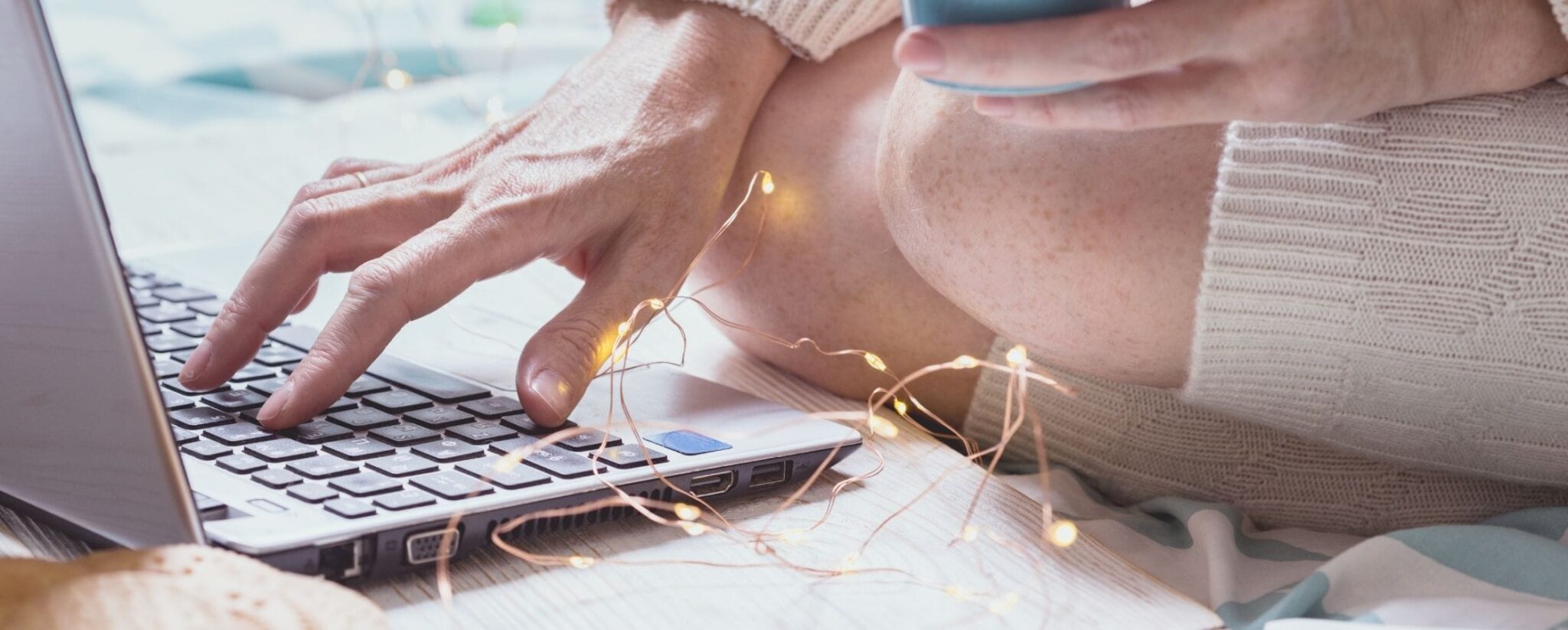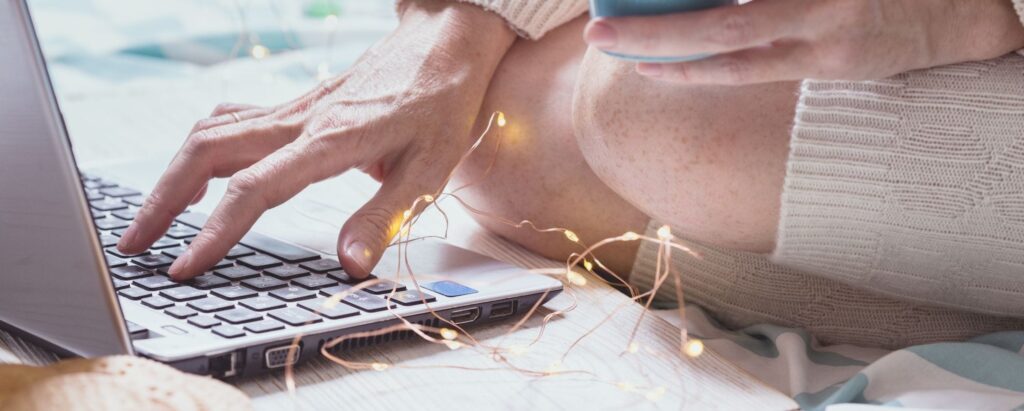 Finding work as a Pinterest manager can seem challenging at first. After all, you will be entering a new profession with little to no experience to back you up. The good news is that you can use many strategies to secure clients in the early days of your Pinterest management career. This includes:
Reaching Out to Family and Friends
Reaching out to family and friends is a great way to get your new business known. You may be able to help them with their own Pinterest business accounts.
Sharing your business profile with your close network can also help you connect with new people. These individuals may choose to hire you based on your connection with their contacts. This strategy is great when you are starting off and have yet to establish your presence in the industry.
Join Online Groups
Another smart strategy is to join groups on social media sites such as Facebook. There are plenty of groups centered around helping freelance professionals find work in different fields. This is especially true for digital marketing roles such as a Pinterest manager.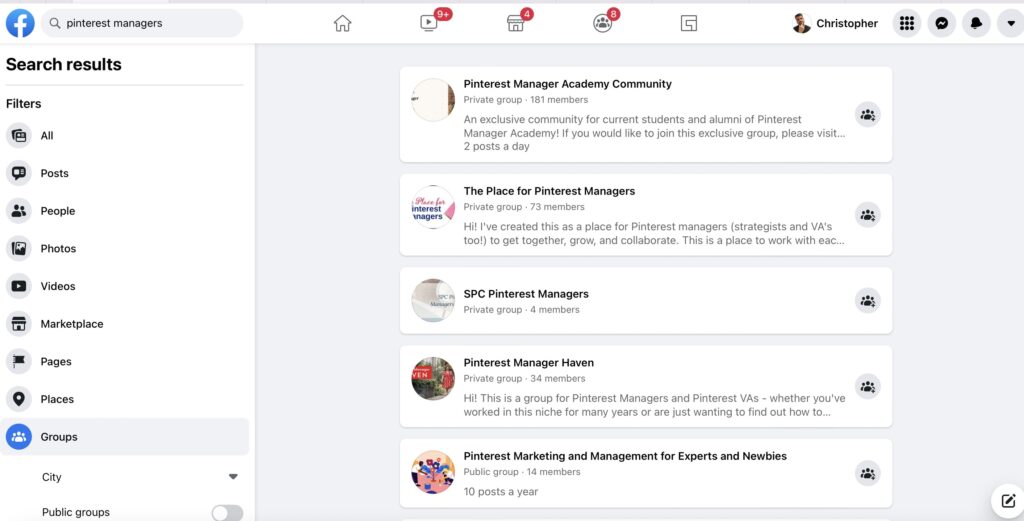 Members of such groups may submit job postings for different Pinterest manager roles. You should consider joining these groups and also share your professional profile with members. Once you are able to secure one or two jobs, your reputation will grow, and more people will turn to you for your Pinterest management services.
Try Cold Pitching Your Services
A more proactive strategy is to "cold pitch" your services to different businesses. You should look up various businesses in your area that are aiming to expand their reach online, and get in touch with them.
The average business owner isn't familiar with sites like Pinterest, and will therefore need assistance to create a business account and optimize it for SEO. This is where you come in and offer to lend a hand.
You should spend some time creating the perfect pitch that describes your background, your services, and how you can add value for businesses looking to expand their online presence. You can then alter this pitch depending on the type of client you are attempting to land.
Create a Great Business Profile on LinkedIn
Earlier we talked about the importance of social media platforms in helping you advertise your services. While sites like Facebook and Instagram are often used to advertise business services, LinkedIn is the social media platform that is centered solely around the business.
Creating a great business profile on LinkedIn is vital because many clients will look up this profile before choosing to hire you. When creating your profile, you should remember to choose a clean and professional-looking profile picture.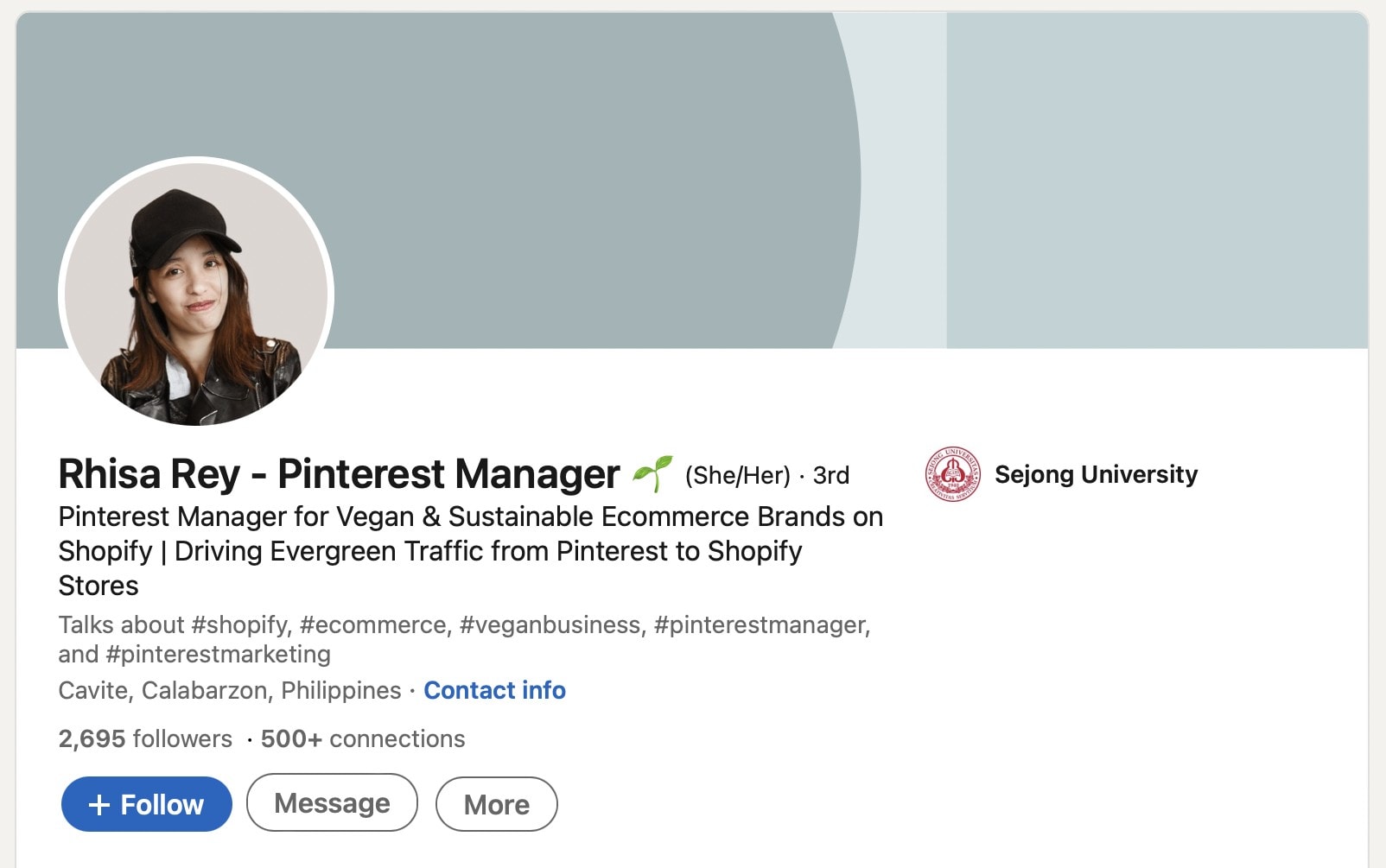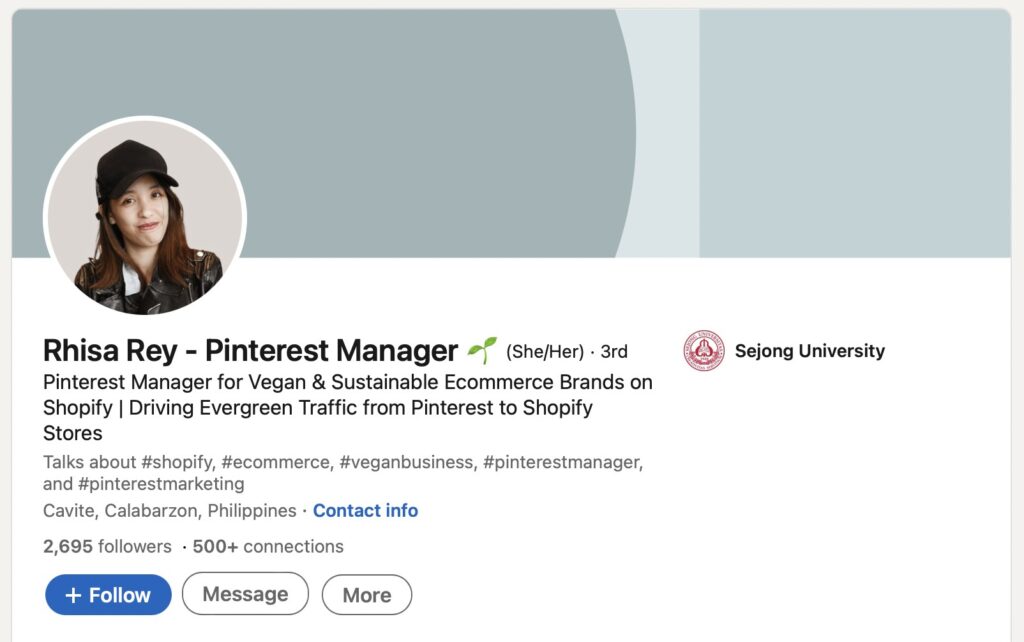 You should also add a good headline that describes who you are and what you do. Many professionals on Linked In use special keywords in their headlines to improve their odds of being discovered in search results.
Once you have a good headline in place, you should provide a short but comprehensive summary of your work history, services, and areas of interest. Your headline helps people find your profile, while your summary helps reel them in.
Look for Work on Freelancer Sites and Job Boards
Freelancer sites and job boards are great places to find work as a Pinterest manager. Job boards contain job listings from various companies across the country. You can simply type "Pinterest manager" into their search bar and find dozens of companies seeking someone to fill this role.
Many of these listings may specify that they are seeking a manager with many years of experience. If you find such postings, don't feel discouraged. Such companies may take on Pinterest managers with little to no experience if they display a passion for their work. It may also help to include a cover letter along with your application. This letter should describe why you would be a great fit for the role.
Freelancer sites such as Upwork, Hubstaff, and Flexjobs are also great for connecting with prospective clients. You can create your own profile on these sites and spruce it up to attract potential business.
You should remember that clients may judge your Pinterest management skills based on your profile on these sites. Therefore, you should spend some time fine-tuning your profile to help it stand out.
Tips to Find Success as a Pinterest Manager
Starting off as a Pinterest manager may not be easy. However, there are plenty of ways to improve your odds of success. The following tips can help you accomplish your client's Pinterest goals.
Create a Comprehensive Pinterest Marketing Strategy
Successful Pinterest marketing typically requires a comprehensive marketing strategy. This is similar to the social media strategies that other social media managers utilize to boost their brand presence online.
You can start by setting your own SMART goals. This acronym stands for:
Specific
Measurable
Attainable
Relevant
TIme-Bound
Specific
You should strive to be specific with your goals. For example, you can list down certain web traffic or clicks target your client wishes to meet. Similarly, you can set a goal of doubling your Pinterest account's current number of followers.
Measurable
The benefit of setting specific goals is that you can measure your progress as time goes on. Be sure to keep track of your progress and whether things are moving at a steady pace.
Attainable
Your Pinterest goals should also be attainable. For example, doubling your Pinterest followers can be a bold goal to set if you're already having trouble getting followers in the first place.
Relevant
You should also consider whether your goals are relevant to your success. If you decide to set a goal, you should ensure that they align with your client's goals. For example, if your client wishes to be known for creating quality pins, you set a goal of learning how to create noteworthy pins.
Time-specific
It is important to set a deadline for your goals. This will help keep you motivated and give you an incentive to maintain steady progress. For example, you can set a goal of doubling your Pinterest followers within three months.
Consider Publishing Engaging Pins
To be successful on Pinterest, you will need to pin eye-catchy and engaging content that draws and retains viewers' attention. This is easier said than done, especially given the intense competition between accounts.
Some ways to create more captivating pins include:
Using Vertical Imagery
Believe it or not, the aspect ratio of your pins can affect their popularity. Many of the most popular accounts aim to create pins with an aspect ratio of 2:3 as it works well on the platform.
Using High-Quality Images and Videos
Pinterest users expect to see high-quality images and videos on the site. They can be put off by any images with low resolution or visible pixelation. For this reason, you should strive to use high-quality images and videos that appear sharp and crisp, even when viewed on large displays.
Creating Great Descriptions
Descriptions may seem to be of secondary importance on a visual-based platform like Pinterest. However, a great description can elevate your pin and make it more engaging. Your pin descriptions should always provide more context for a pin. You can also include SEO-optimized keywords in the description to help your pins show up in search results.
Keep Branding in Mind
As a Pinterest manager, you will be representing a client's brand. Each pin or post you publish will be a reflection of this brand, so you should ensure your content aligns with it. Therefore, you may need to adopt a certain tone or style when addressing your audience. Similarly, your pins should always be relevant to the market you are targeting.
Use Pinterest Ads
Pinterest ads are a great option for managers who would like to bring in more than just organic traffic. These ads help a large number of users see your content. However, you should ensure your account has high-quality pins to keep visitors engaged and coming back.
Become A

Pinterest VA

Today
Learn a proven step-by-step process for building a lifestyle business that lets you work when and where you want, doing something you love.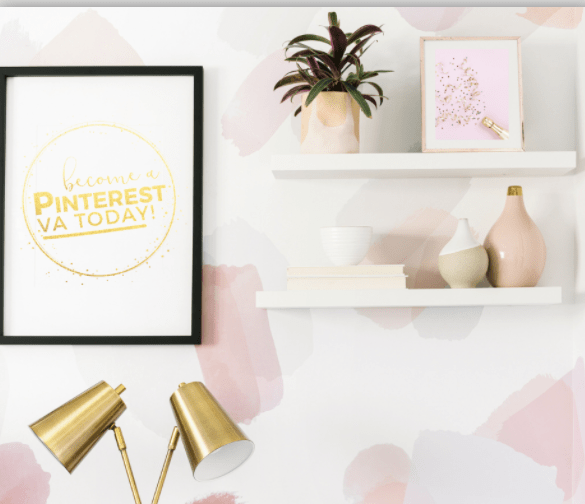 Final Thoughts
As you can see, becoming a Pinterest manager can be a great career choice for certain types of individuals. This profession can seem challenging to get into at first. However, there are plenty of resources to help you along the way. Consider following our guide above if you do decide to pursue this profession.
Pinterest Manager