Disclosure: This post may contain affiliate links. If you click on a link I may make a small commission at no extra cost to you. You can read the full disclosure here.
Last Updated on October 23, 2022 by Chris Panteli
NoiseAware Review
Nothing will fill an Airbnb host with dread quite like a noise complaint. Hopefully, you have patient neighbors who will get in touch with you if the noise gets out of hand, but you might end up dealing with an official noise complaint if they call the police.
That's why noise sensors are becoming more popular. Being able to monitor the noise levels in your rental property means you can prevent noise complaints from even happening.
But are noise sensors really worth it? Or are you just going to end up with unhappy guests?
In this NoiseAware review, we'll cover the pros, cons, costs, and alternatives so you can figure out if it's the right device for your vacation rental.
NoiseAware 20% Off
Access your custom dashboard at any time, on any device. Get real-time information, historical data and instant alerts, so you can solve noise problems from anywhere.

✅ Indoor + Outdoor Sensor
✅ Customized Thresholds
✅ AutoResolve
✅ 100% Privacy-Safe
✅ Code: LIFE20 | 20% Off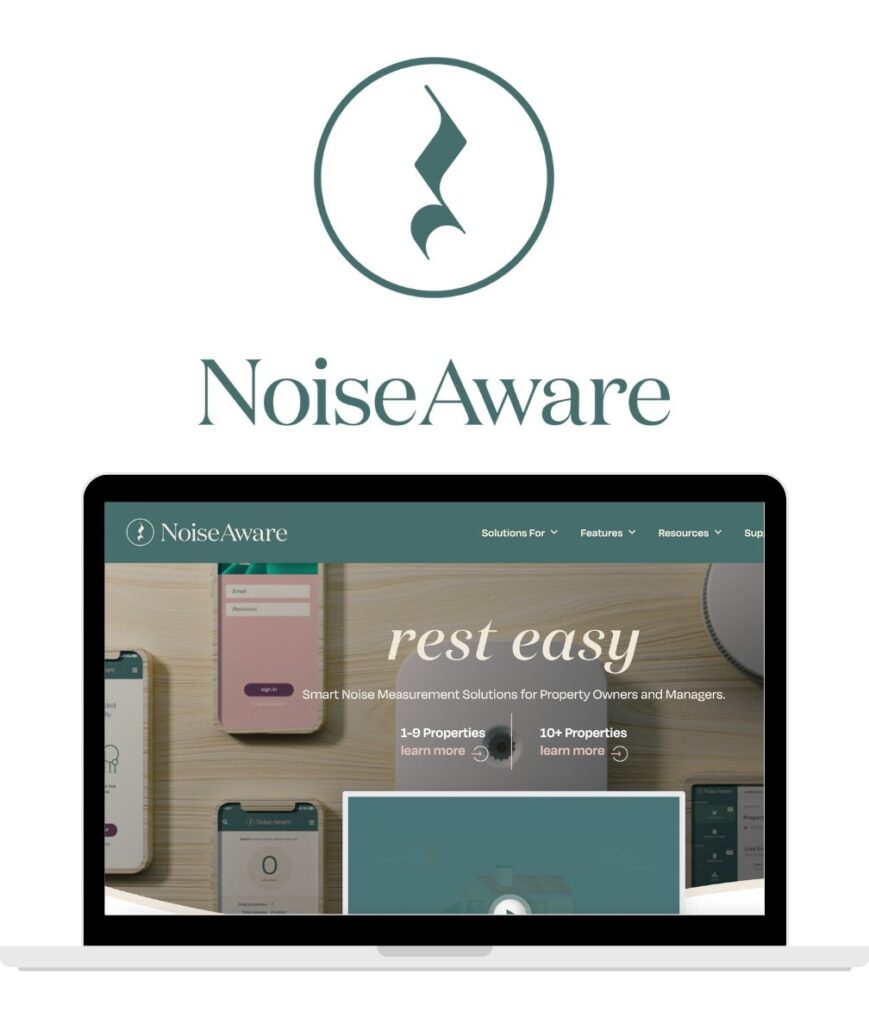 Still trying to put together house rules for your Airbnb? Check out our guide for essential rules to include and a free template.
What is NoiseAware?
NoiseAware is a device that allows you to monitor the level of noise at your rental property. If the noise rises above a set threshold, you'll get a notification on your dashboard or app.
You won't be able to hear what people in your rental are saying, so there's no need to worry about breaching privacy laws. All you'll get is a notification that the level of noise has increased.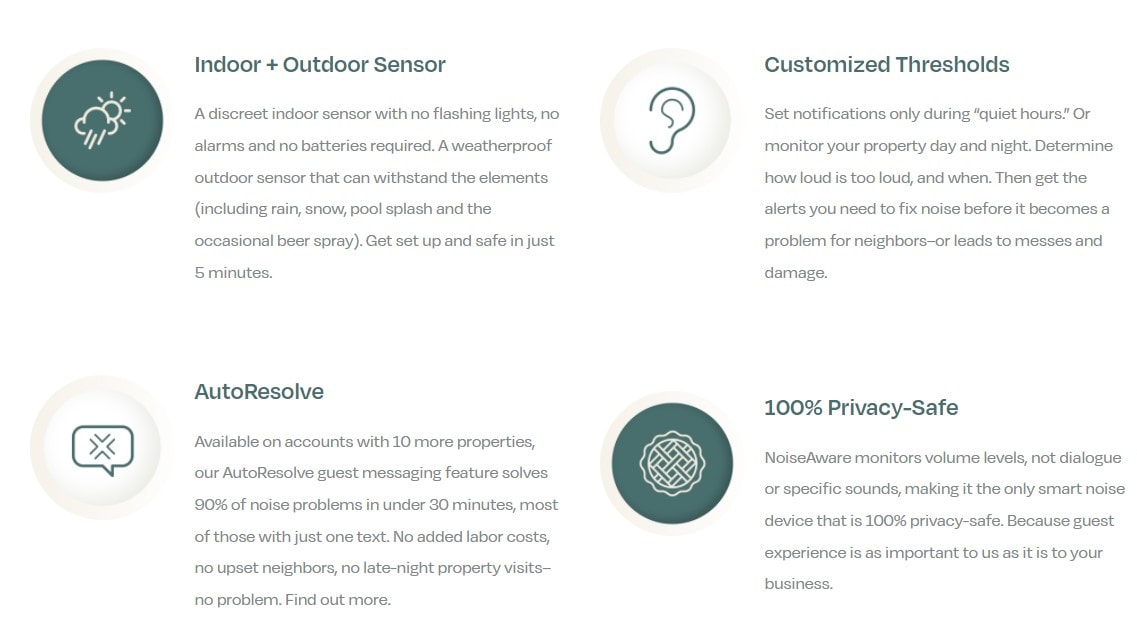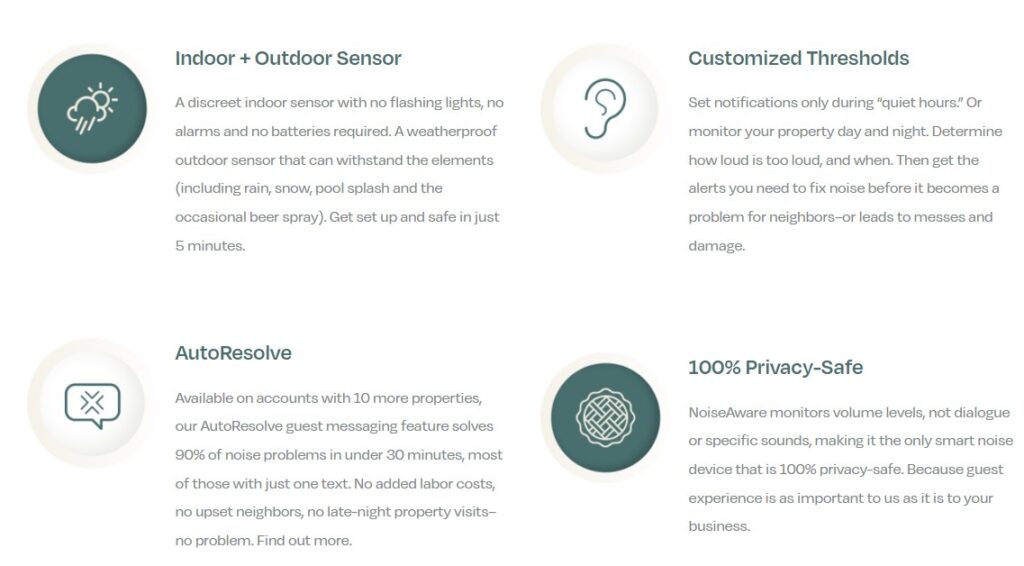 This is a handy way to make sure people aren't having parties at your Airbnb rental and your neighbors aren't being disturbed.
Your NoiseAware divide connects to your WiFi and you can set the noise threshold on your dashboard and check for any noise violations.
NoiseAware reports that 75% of noise violations are resolved within 15 minutes with no harm using their device. There are a lot of positive NoiseAware reviews to back this up.
NoiseAware Features
So how does it work? You start by installing a NoiseAware device in "activity zones", which are the areas where guests are most likely to congregate. The best places are usually living rooms, kitchens, or decks near a hot tub.
NoiseAware dashboard
Once you're set-up, you can control the device from your dashboard and through the mobile app.
On the dashboard, you can track the noise level of multiple properties and change the acceptable decibel level.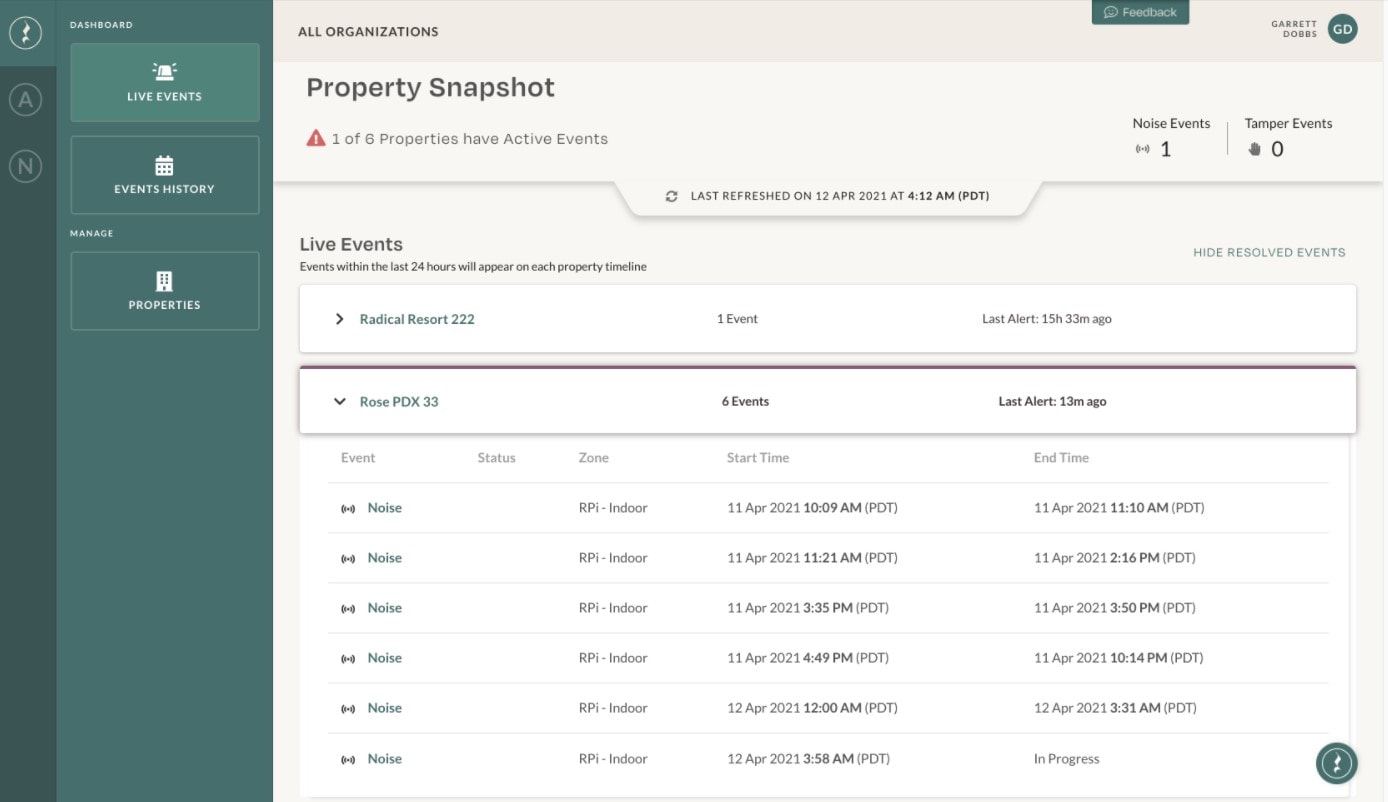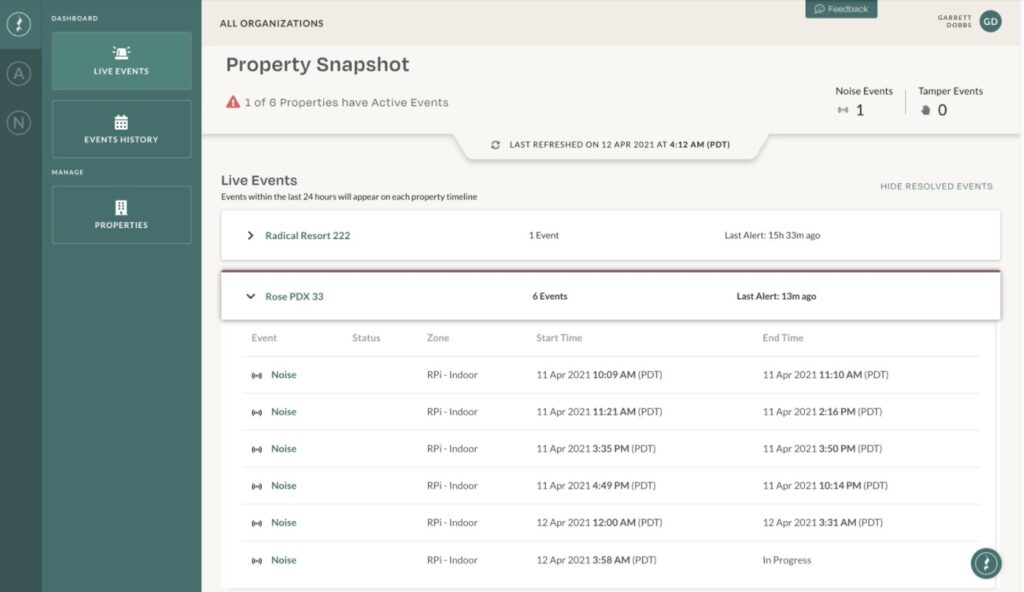 You'll get graphs and data showing you exactly where the noise is coming from in your rental.
Check historical data
NoiseAware stores data for you so you can go back and check levels on specific days. This is great because if a neighbor complains about too much noise, you can check whether there was actually noise in your rental and use it as proof if there wasn't.
Direct messaging
If you do get a noise alert, you can send text messages directly to your guests asking them to keep the noise down. With set templates, it's easy to shoot a quick message without stressing, and most guests will rely straight away letting you know they'll keep the noise down.
NoiseAware Pricing
You pay for the sensors upfront and then a monthly fee for the platform services.
It costs $99 for one NoiseAware device and $20 a month for the subscription.
You can save money by paying yearly for your subscription which will cost $15 a month ($180 for the year).
For an Airbnb apartment, one noise monitor will be fine. But for larger properties, you'll need multiple sensors. There are also specific outdoor sensors to keep track of your outdoor areas (also $99 each).
Compared to competitors, this is a pricey noise monitoring device – but we'll compare prices later.
NoiseAware Pros & Cons
NoiseAware devices can be a little controversial. Let's take a look at the pros and cons so you can weigh them up.
PRO: Prevent property damage
Stopping noise before it gets out of hand is a great way of preventing parties at your property. Parties can lead to extensive damage, so you'll save yourself money in the long run.
PRO: Pinpoint noise complaints
If you have multiple sensors, you can see exactly where the noise is coming from. If you keep getting complaints because of the same area, you can think about taking steps to stop people congregating in certain areas.
PRO: Handle noise before it's a complaint
If you don't have an Airbnb noise monitor detecting noise, you're more likely to get noise complaints. With a sensor, you can contact your guests and ask them to keep the noise down before they annoy your neighbors, reducing the risk of noise issues.
PRO: Abide by privacy rights
NoiseAware sensors don't record conversations and since they're not cameras, you can't spy on your guest. This makes sure you're not breaking privacy laws. Without having noise sensors installed, you might rely on CCTV surveillance devices, which guests aren't going to like.
CON: Limited data
Alerts simply tell you that the sound level has exceeded your threshold. You don't get any other information about what the noise is. This means you don't know whether your guests are having a rager or the TV is just on a little loud.
CON: Guests might complain
Not everyone likes the idea of being monitored when they're staying in an Airbnb, so you might have some disgruntled guests. It's best to make it clear that you have noise sensors in your listings so guests aren't shocked when they find the sensors.
CON: Need WiFi for it to work
The alerts rely on your WiFi connection so if you don't have great WiFi on your property, you might not get alerts as you should.
Who is NoiseAware For?
NoiseAware is great for both Airbnb owners and vacation rental property managers. As a property owner, you'll get a dedicated dashboard to monitor your property without having to be there.


As a property manager, you can add 10+ properties to your dashboard, giving you a great tool to monitor all of your properties.
NoiseAware 20% Off
Access your custom dashboard at any time, on any device. Get real-time information, historical data and instant alerts, so you can solve noise problems from anywhere.

✅ Indoor + Outdoor Sensor
✅ Customized Thresholds
✅ AutoResolve
✅ 100% Privacy-Safe
✅ Code: LIFE20 | 20% Off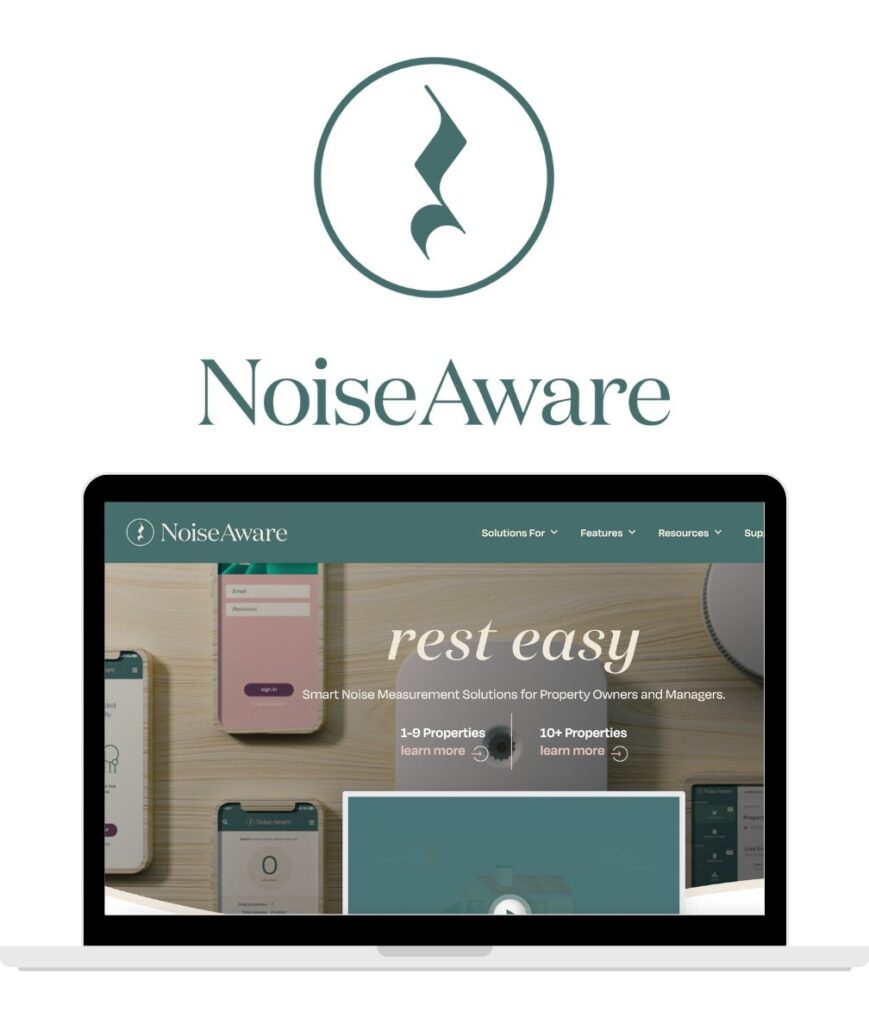 NoiseAware Alternatives
There are two main competitors of NoiseAware that you might want to consider if you're thinking about installing noise sensors.
Minut
This indoor sensor allows you to monitor noise nuisances, temperature, motion, and humidity all from one sensor. You can also use it as a house alarm when the property is empty.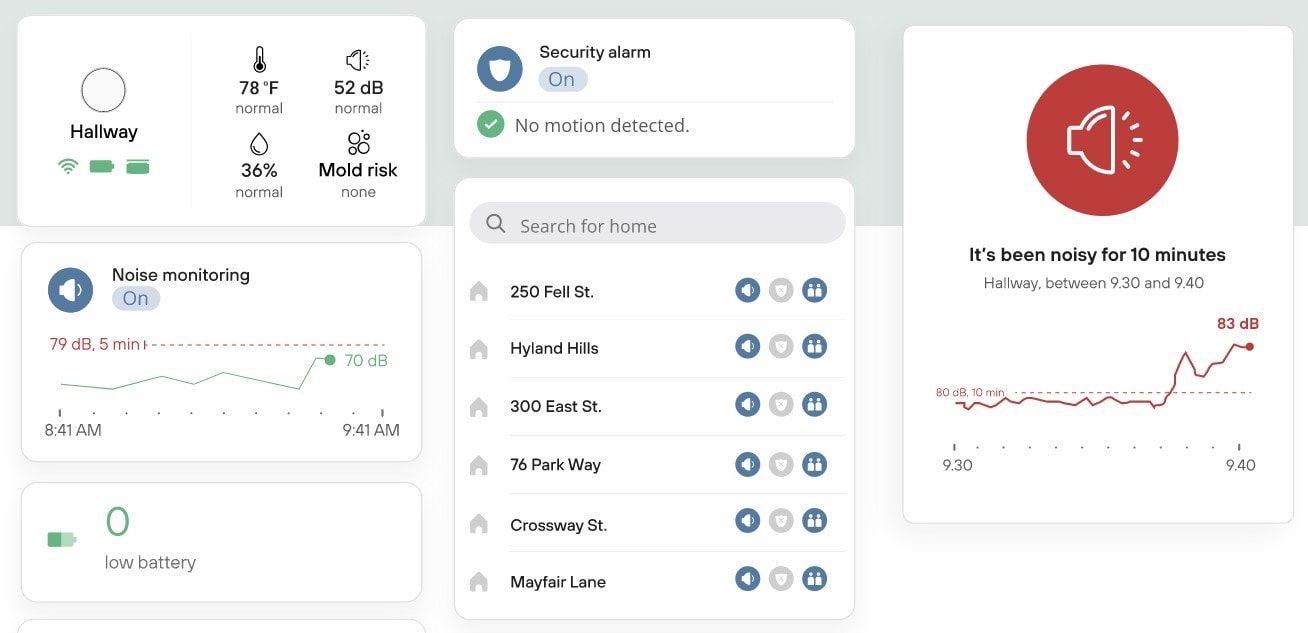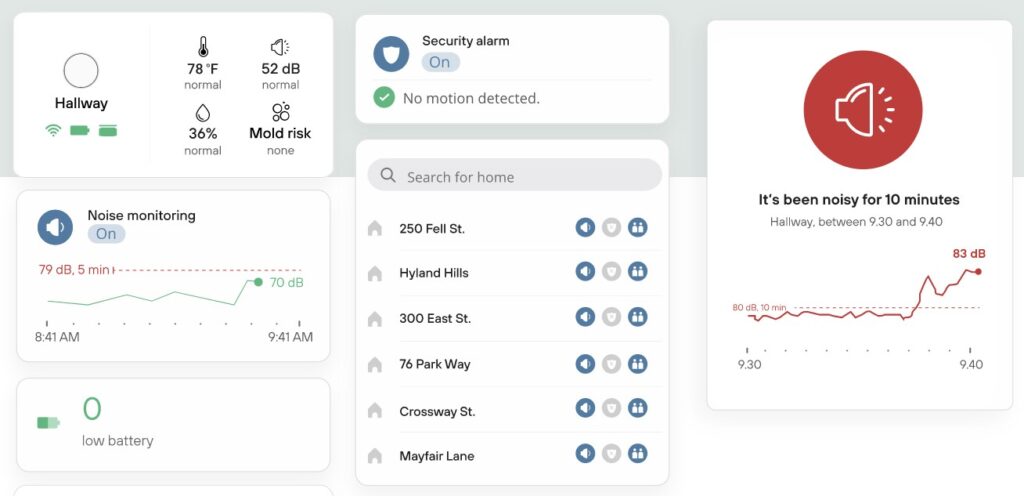 This one is actually cheaper than NoiseAware, starting at $79 a year for a subscription and $79 for the sensor.
Roomonitor
This one is similar to NoiseAware in that it only monitors noise levels. It also allows you to send automated messages and gives you alerts when thresholds are breached.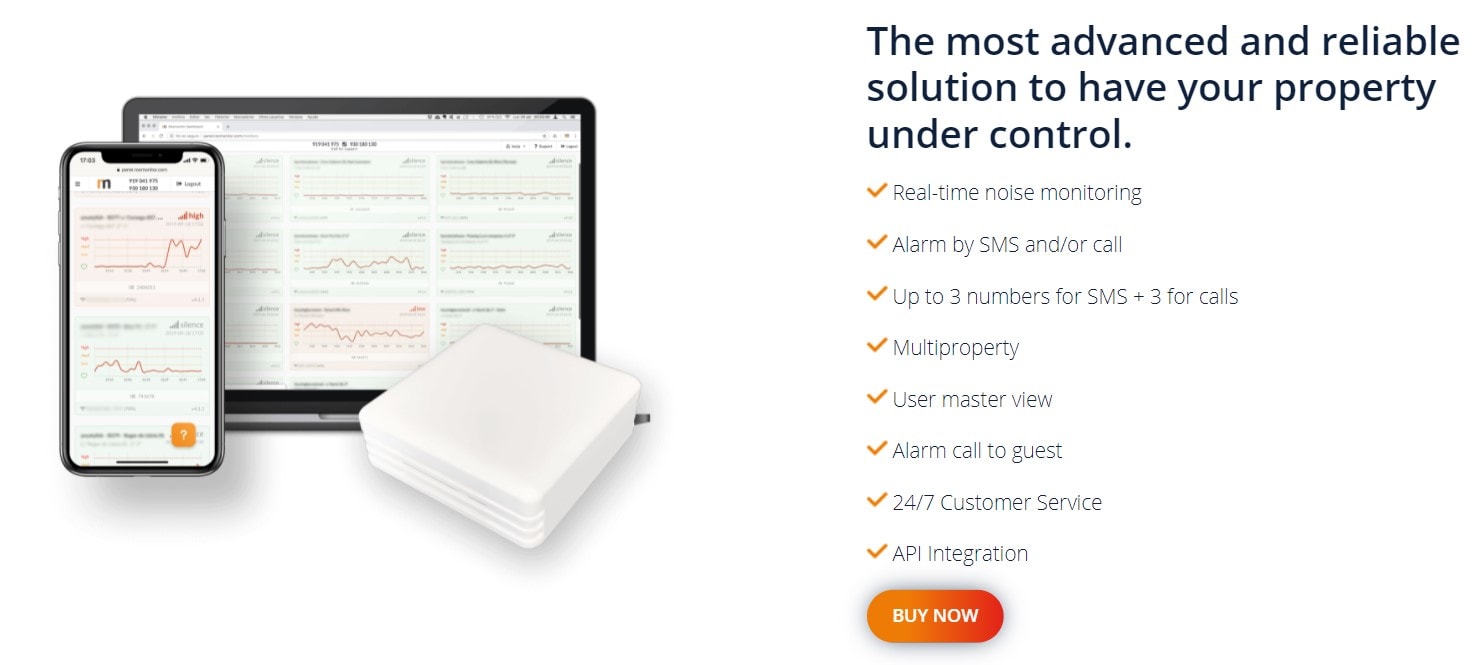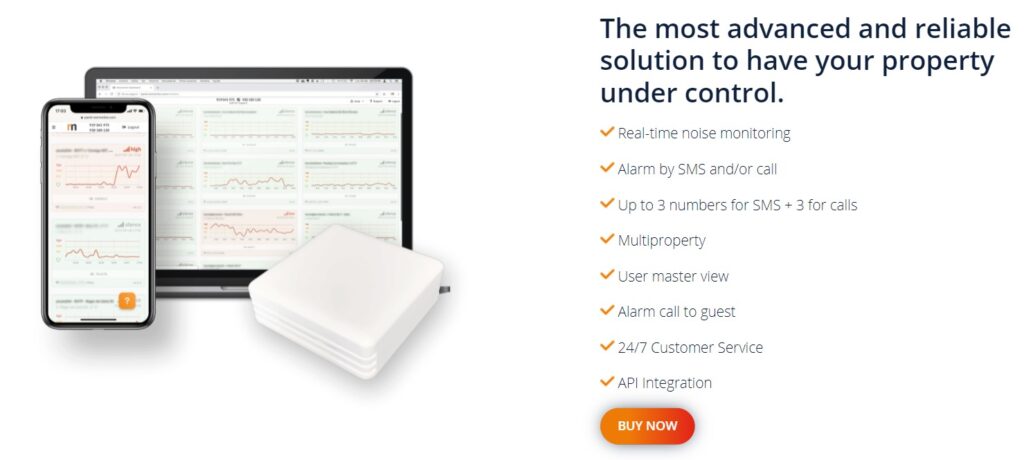 A Roomonitor sensor costs $90, while the monthly subscription for the platform is $7.90 a month ($80 a year).
Just Getting Started With Airbnb?
If you're just getting started with Airbnb, it's important to have the best tools to protect your property and keep complaints to a minimum. That's why noise sensors are such great tools.
Make sure you tell Airbnb guests you have a noise sensor so they're not caught off-guard, but you'll be happy you have this little device protecting your home.
If you're new to Airbnb and want to build a successful rental business, check out our full guide on starting a successful short-term rental business.
Noiseaware Review