Disclosure: This post may contain affiliate links. If you click on a link I may make a small commission at no extra cost to you. You can read the full disclosure here.
Last Updated on November 13, 2022 by Chris Panteli
Mobile Home Park Investing
Over the past few years, mobile home parks (or manufactured home parks) have become the center of attention in the real estate investment game.
The powerful combination of low supply and high demand makes them an easy choice for investors. In 2018, Blackstone acquired 14 communities for $172 million, and many other institutional investors followed suit.
But even though there is clearly money to be made in this sector, only a small percentage of the mobile home parks in the US are professionally owned. The rest are up for grabs.
In this post, we'll show you why mobile home park investing makes sense financially and how you can get started.
Looking to get into the glamping sector? It's another lucrative market that's gaining momentum. Head to this guide to find out how you can buy land for glamping.
What to Consider Before Investing in a Mobile Home Park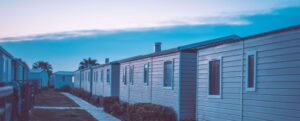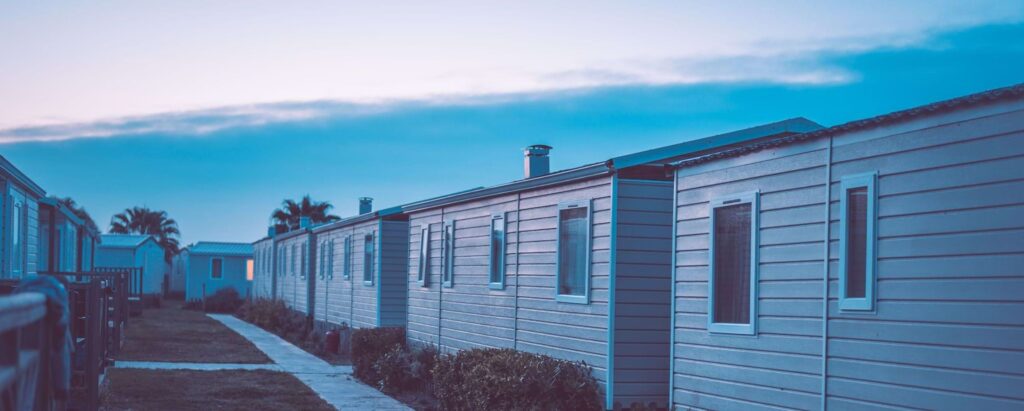 If you're on the fence about mobile home investing, here are a few things to know.
Strong and increasing demand
The wealth gap in the United States has never been greater, so there is a growing demand for inexpensive housing in both mobile home parks and RV parks.
Whereas mobile home parks once had a stigma, they are now seen as a great alternative to traditional housing, and demand for affordable housing is strong.
Constrained supply
There are government restrictions that constrain the supply of mobile home parks, and zoning regulations mean few parks get built. Not to mention that developers tend to make more money from apartment complexes. All of this feeds into the growing demand and means it can be a lucrative opportunity.
Better control of rent prices
Because of the issues with supply and high demand, owners of mobile home parks have more power over rental prices. Although people expect lower prices than traditional homes or vacation rentals, you do have some leveraging power when setting rates.
Stable cash flow
There's a solid margin of safety when investing in a mobile home park. If you invest in an already established park with proof of income, there's a much higher chance that it will remain profitable in the future.
Should You Invest in a Mobile Home Park?
This niche has always done well for investors, but many get caught up in the stigma, and there are risks in investing in mobile home parks. However, many savvy investors are beginning to see the power of offering affordable housing.
Mobile parks allow you to acquire more units for significantly less money – it's the lowest investment per unit in any real estate asset class.
In the current market, it's easy to spend over $100,000 per home or apartment unit. However, a mobile home park could be around $10,000 per unit.
It's safe to say this is a solid investment idea with the right research and planning.
How to Invest in Mobile Home Parks
When it comes to making a mobile home park investment, due diligence is key. When you find a potential park, interview the staff, conduct a market analysis of the local economy, and get to know the current owners.
Here's a breakdown of everything you need to check when you're investing in manufactured housing.
Financial checks
Take a look at three years of profits and loss statements
Previous tax returns
All expenditures
Utility bills/rent and yearly increases
Physical checks
Water well tests
Maintenance records
Maps of the park showing lot sizes
Recent problems with any infrastructure
Information on contractors and management teams
Local checks
Average monthly rates
Vacancy rate
Permits and zoning checks
Major developments in the surrounding area
Any outstanding lawsuits or legal issues
It can seem like a lot of research, but just one major issue in any of these three categories can derail a successful manufactured home park.
How to Find Mobile Home Parks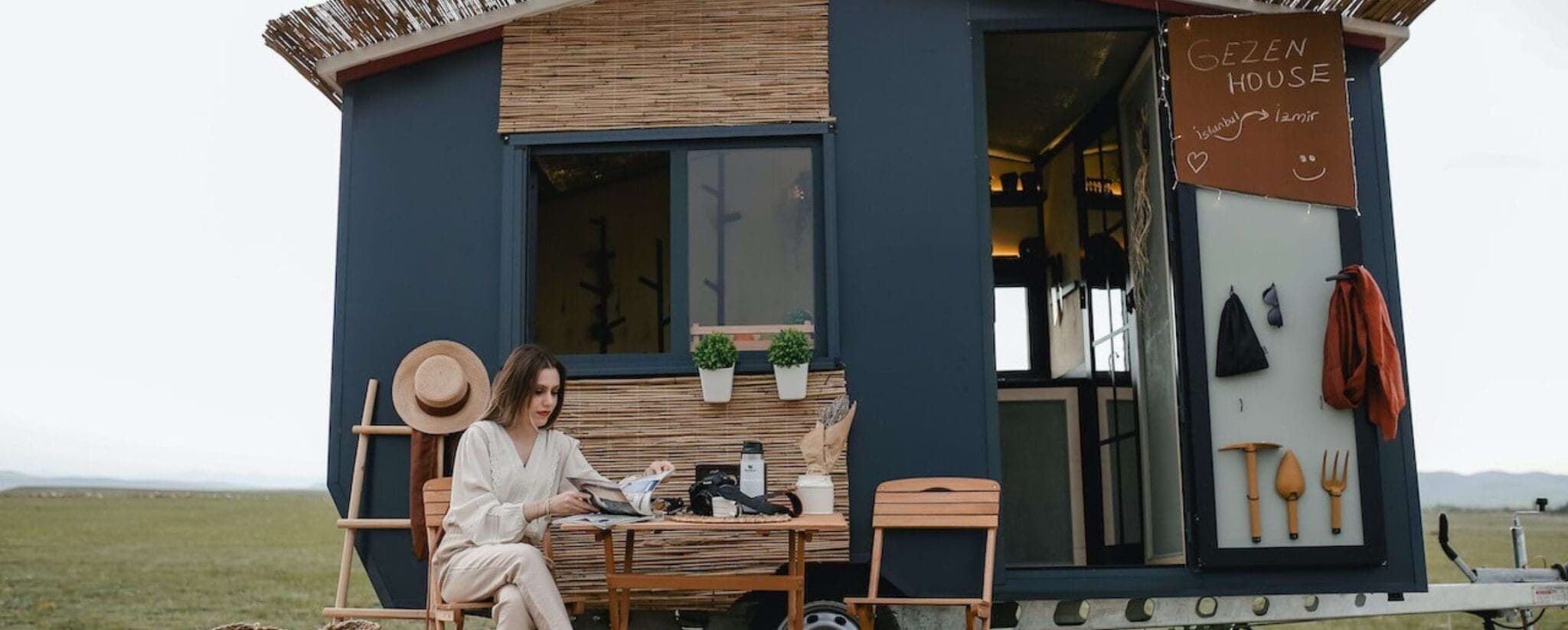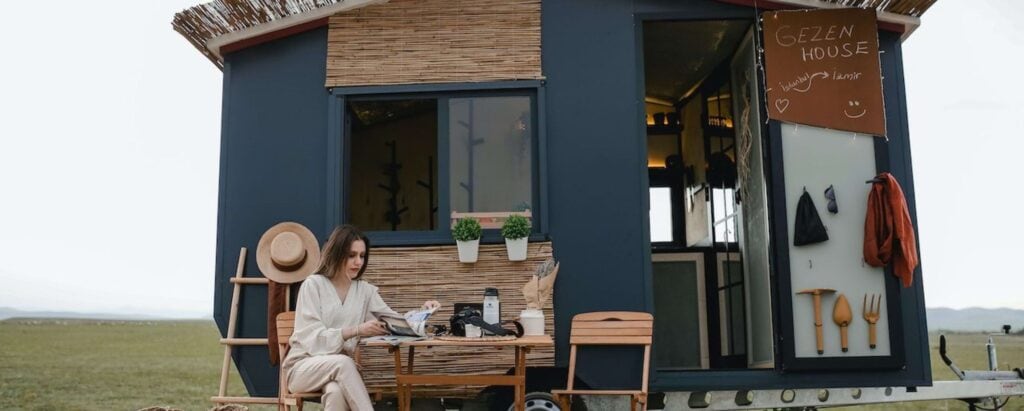 When you're searching for potential mobile home parks to buy, it's always best to have a good understanding of the local area. This is why most investors buy parks within their home states.
Finding data on parks can be very difficult, and they rarely come up for sale. You'll find that motivated sellers want to get rid of an unprofitable park or one with pricey issues.
On the other hand, you may find a local lot with a park owner who could be convinced to sell for the right price.
Using an agent
One of the easiest ways to find viable parks is to use a local realtor. They'll have knowledge of properties that aren't even listed yet, so they'll be able to get you in early with the best deals.
There's also nothing wrong with reaching out to park owners yourself. Simply ask if they are looking to sell and ask for a meeting to discuss your offer. Most owners will be intrigued, at the very least.
Marketing Your Mobile Home Park
Once you find the right mobile home park, a successful marketing campaign is crucial to your success. Here are some tips on marketing your park.
Build a professional website
Your mobile home park needs a professional-looking website to attract new guests and residents. This will be a hub for people to find information, pricing, and a way to reach out and contact you.
Be active on social media
Social media is a great way to market your business and garner support from local residents. It's important to have local support for your park, so use social media to post pictures, give updates, and show off your park in the best light.
You can also use social media to team up with local businesses and show the community that your park is an asset.
Create listings
If you plan on renting out your mobile park homes long-term, look at listing platforms such as Zillow to find long-term tenants.
If you plan on turning the units into vacation rentals, platforms like Airbnb are going to be best for finding travelers.
Google ads
One of the most cost-effective ways of marketing to your ideal audience is through Google ads. These are extremely low-cost and can help you reach out to specific demographics.
Using geographic keywords, such as "mobile home parks in Florida", you can easily drive traffic to your website and show up in Google searches.
Start blogging
Blogging is a great way to build your SEO and get a consistent stream of organic traffic to your website. If you're not great at writing, you can hire a copywriter to create articles about your mobile home park, the local area, and the community.
By positioning yourself as an expert in the area, you'll build authority and show people your park is credible when they're looking to buy a home.
​Maintaining the Mobile Home Park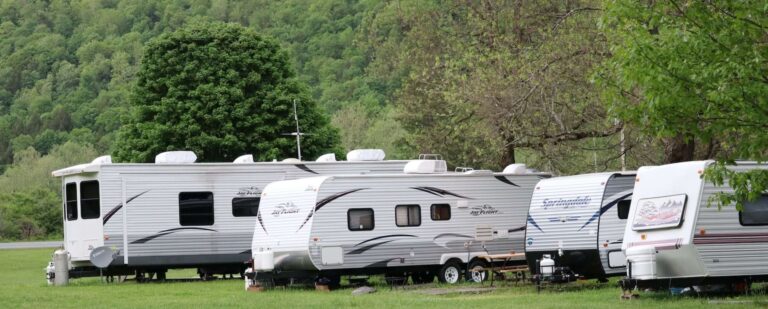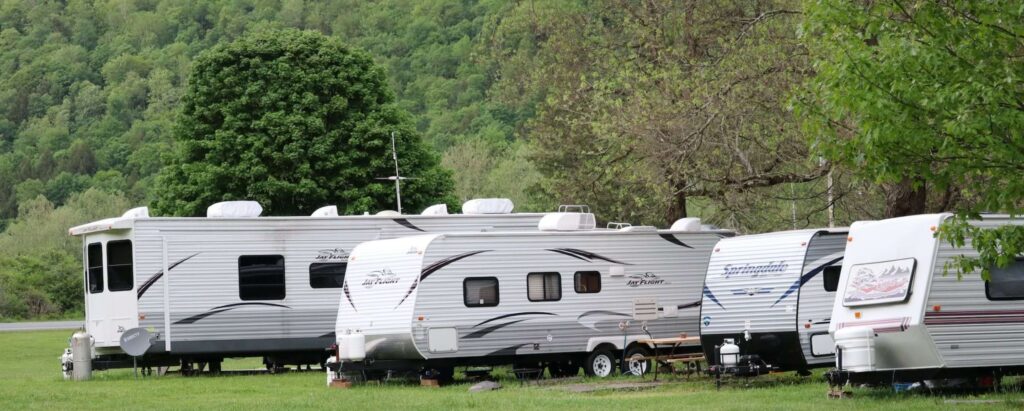 One of the main expenditures of owning a mobile home park is maintenance. Here are a few regular maintenance tasks you'll be responsible for.
Inspecting the units
Whether you rent out short-term to vacationers or are looking for long-term tenants, you'll need to inspect the units regularly and maintain them. Any damage to the roof, exterior, or interior will need to be taken care of swiftly by a maintenance team.
Spruce up your pathways
Most mobile home parks have pathways around the park and into the units. Make sure these look appealing year-round with regular cleaning and gardening. Weeds, debris, and dirt will give a bad first impression to potential tenants.
Garden Maintenance
If you have green spaces or garden areas, you'll need a gardening team to mow the lawns and tend the flowers. Unruly shrubs, trees, and bushes will make your park look unmanaged and turn guests off. Not to mention it can attract pests.
Financing for Mobile Home Park Investing
If you need to secure financing for your mobile home park venture, it's time to hit the banks and look for private lending. Traditional loans require a 20% down payment and usually come with a five-year term.
However, you'll be able to negotiate both the term and interest rate based on your business plan and goals.
For a loan under $1 million, your best bet is local banks rather than the regional and national chains. Many of these will have programs for small business ventures and will be interested in local projects.
If you're looking to invest in a large park and need a hefty loan, the regional and national banks will be a better choice.
Either way, make sure you have a solid business plan that clearly outlines what you'll be doing with the money and when you expect to make a profit.
Is a Mobile Home Park Not Right for You?
It's clear to see why investors are jumping on the growing trend of mobile park homes, and you stand to make a consistent, high-margin profit if you find the right park.
But they are rare and hard to find, so what other options for you, as an investor, are there if a mobile home park isn't viable?
Head to our next guide, where we show you how to invest in a glamping business – another profitable yet underrated niche.
Mobile Home Park Investing