Disclosure: This post may contain affiliate links. If you click on a link I may make a small commission at no extra cost to you. You can read the full disclosure here.
Last Updated on December 10, 2022 by Chris Panteli
Making Money On Etsy
What started out as a small platform for local sellers to sell their crafts has exploded into a multi-billion dollar platform with millions of visitors and hundreds of thousands of active sellers. It's safe to say Etsy is a real contender when it comes to making money online.
Can you actually make money on Etsy?
If you're a dab hand at crafting or have a good eye for vintage items – then making money on Etsy is definitely possible. The platform has enjoyed monumental growth in recent years and attracts a like-minded audience looking for quality and originality. If you can meet the demand of the Etsy user base, then you should be able to turn a healthy profit.

The question is, is it an oversaturated market? With so much competition, can people still open a brand new store and make money on the platform?
In this guide, we'll show you how you can actually make money on Etsy, and whether it's worth the time and effort of "setting up shop".
Why Etsy?
Etsy is a handmade online marketplace to sell things you make. From personalized jewelry, welded items, and home decor to planners and custom prints, there are hundreds of thousands of shops on Etsy.
So, why consider Etsy when you want to make money online? The stats of this platform speak for themselves:
As of 2020, almost 90 million active buyers have made a purchase on Etsy
Last year, Etsy's sales totaled almost $5 billion
In the first half of last year, Etsy's revenue grew by 71%
Etsy isn't just a ready-made sales platform with millions of buyers, it's rapidly growing every year and a great way to make some extra money.
Etsy Shop vs Ecommerce: What's Better?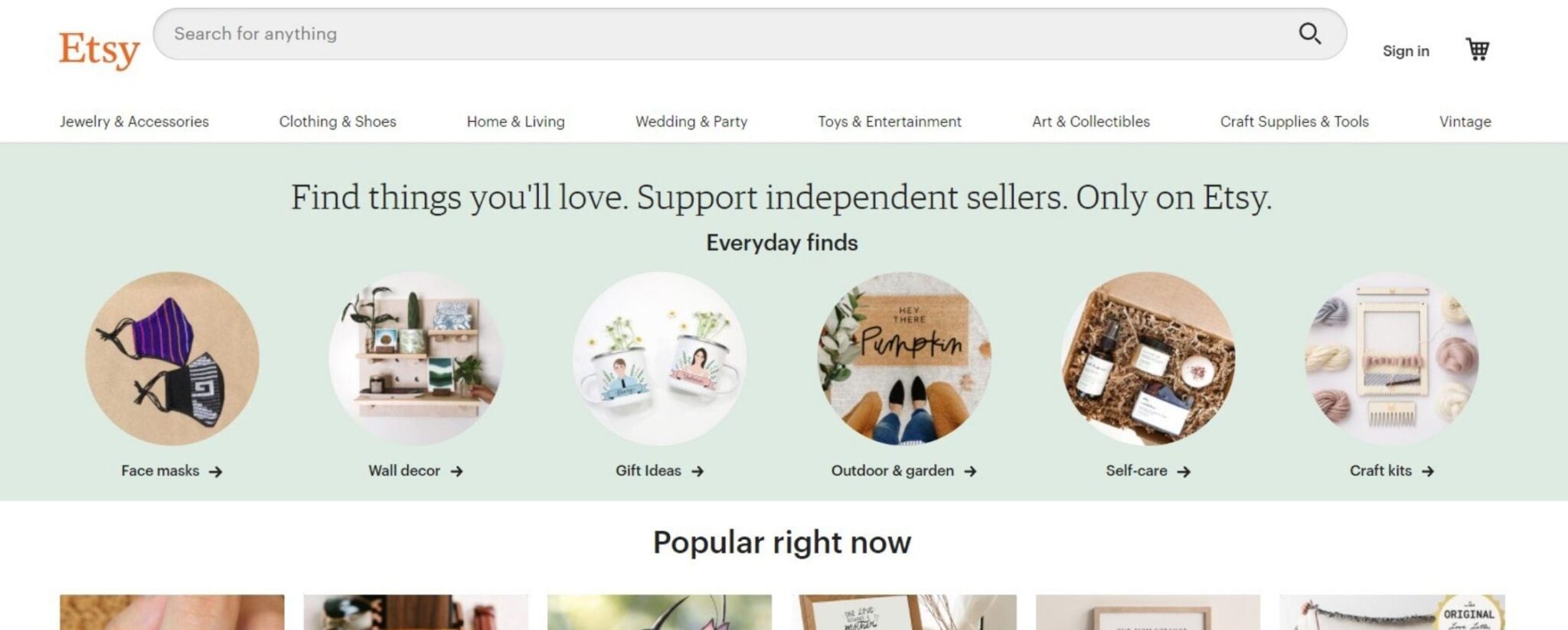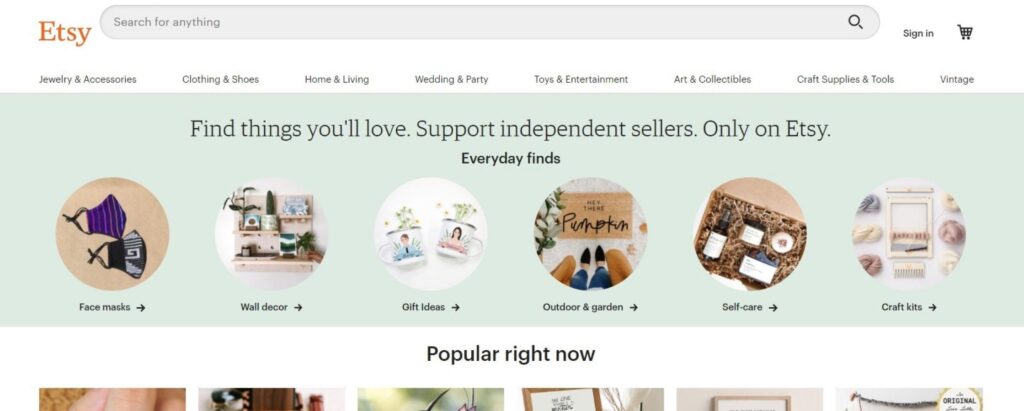 If you're brand new to selling online and you want to get started, Etsy is the way to go.
On the other hand, if you've been selling for a while, sales are going well and you're ready for your business to grow, an e-Commerce site gives you much more control.
But if you're reading this guide, chances are you're not selling online yet and you're new to the game. So let's take a look at why Etsy is a better choice than an eCommerce platform:
Built-in audience
Etsy has millions of visitors every day, so getting traffic to your store is much easier than if you had a stand-alone store on Shopify.
People are going to Etsy in search of handmade items, so if you do a good job optimizing your items for sale, you'll see traffic steadily increase over time with little input from you.
Easy setup
You'll likely need a graphic designer or Shopify expert to set up your own eCommerce store. However, set up on Etsy is quick and simple.
All you need to get started is a logo or profile picture and listing photos. Etsy walks you through the set up process step by step, and you can have your first listing ready for sale in under an hour.
Free to get started
There's also no investment needed in Etsy. Each listing costs $0.20 to publish, but you don't pay any fees until you make a sale.
If you have an idea for a shop but you're not sure if it will work, Etsy is the perfect place to test the waters without worrying about investing any money upfront.
What Does It Take To Run An Etsy Shop?
Although Etsy does sound like a money-making machine on paper, it does take work. Although the top sellers make over $10,000 a year, the median profit is $291 a month.
Of course, one of Etsy's top sellers has over 60,000 sales a month – so there are both ends of the spectrum.
If you are serious about making money on Etsy and want your shop to succeed, here's how to do it:
1. Niche products
The best shops on Etsy are incredibly niche. You might decide you want to sell stickers, but this is still too broad a category. Niche down further to hit a specific audience, for example, custom animal rights stickers for vegans.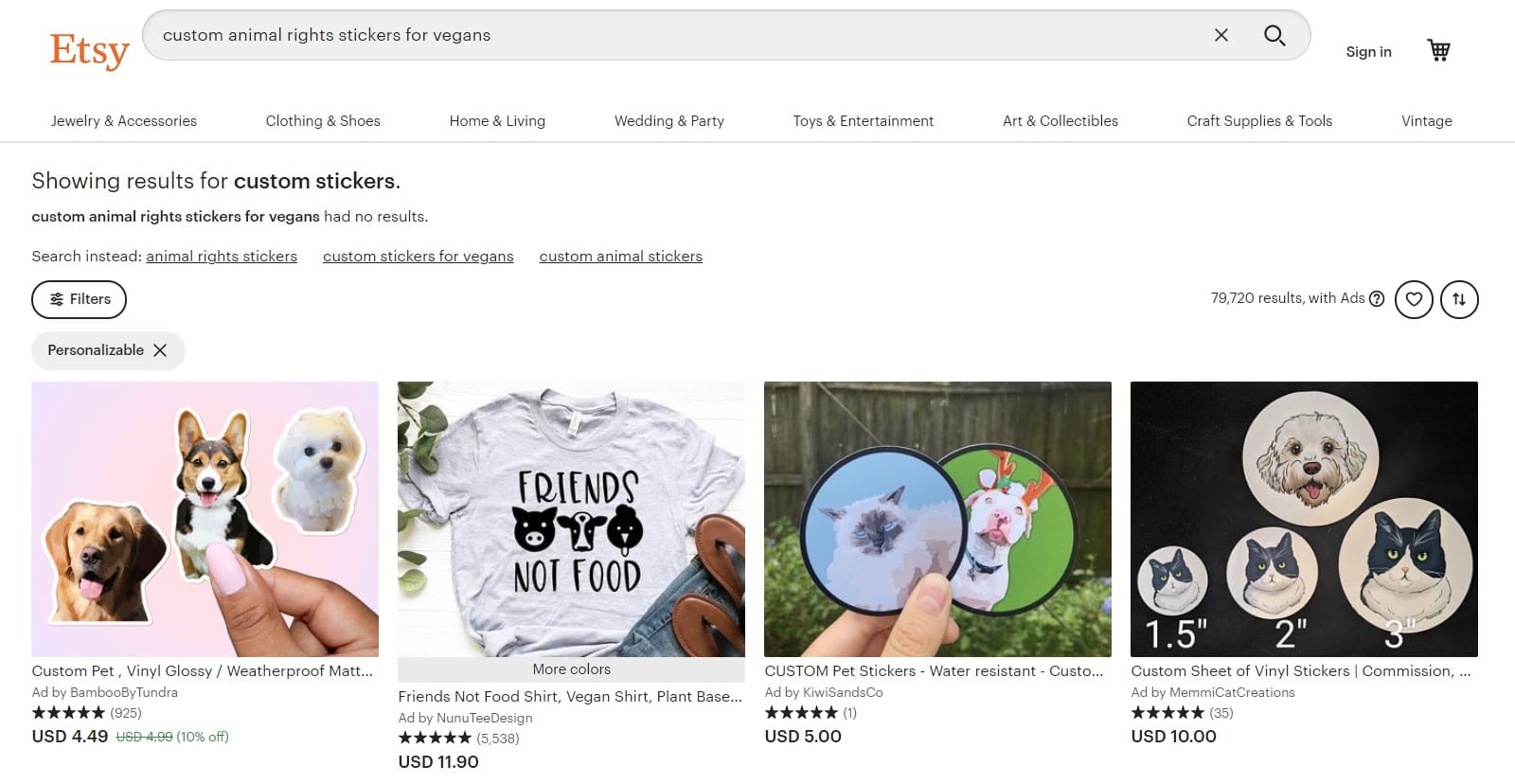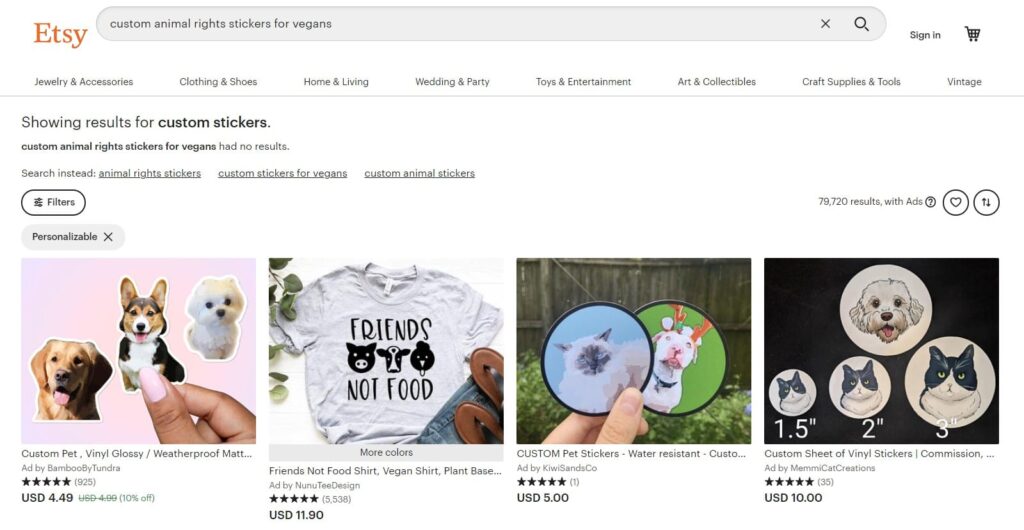 Etsy has so much competition that the only way to stand out is to find a specific niche and own that small slice of the market.
2. Professional quality product photography
Your product photos need to be professional quality, clear, and show off your product from every angle.
Etsy now allows you to upload a product video, and is giving priority to listings with videos so this is an easy way to boost your listings too.
You don't need a fancy camera to take incredible product photos, an iPhone camera and a blank background with good lighting is all you need.
If you're selling a digital product, make the pictures clear and use professional mockups where possible.
3. Regular competitor analyses
Whatever niche you decide to go into, there will be successful shops already doing well on Etsy. Use this to your advantage.
Look at what keywords they're using and not using. Check out their reviews too – what do people love and hate about their products that you can improve on?
We're not suggesting you copy someone else's shop. But don't miss an opportunity to study successful shops and use marketing and listing techniques that are already doing well.
4. Committing to long-term success
No matter what you sell, you won't become an overnight success on Etsy. You need to commit to listing products, tweaking your shop, tracking your analytics, and consistently improving.
It can feel disheartening when you don't make a sale in the first hours of setting up shop, but Etsy is a numbers game.
The more views and likes you get, the more sales you'll get, the more reviews people will leave, and it will slowly begin to snowball as long as you're putting in the effort.
What Can You Sell On Etsy?
Etsy has three main categories: handmade goods, vintage items and craft supplies. But within these categories, the possibilities really are endless.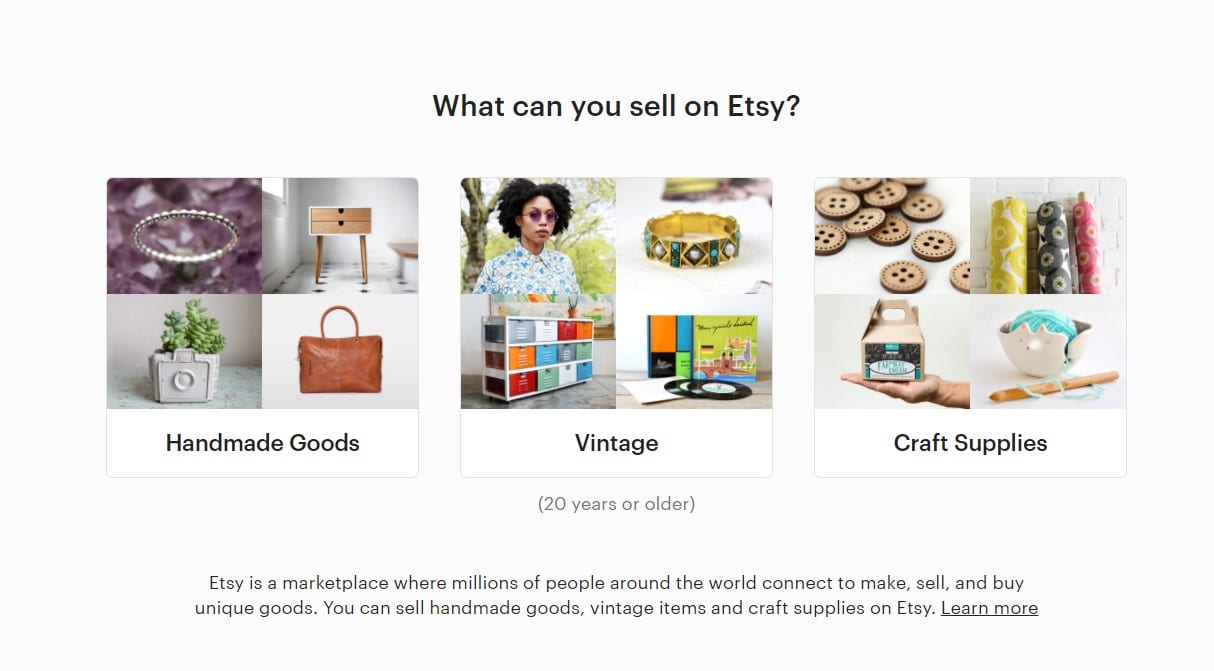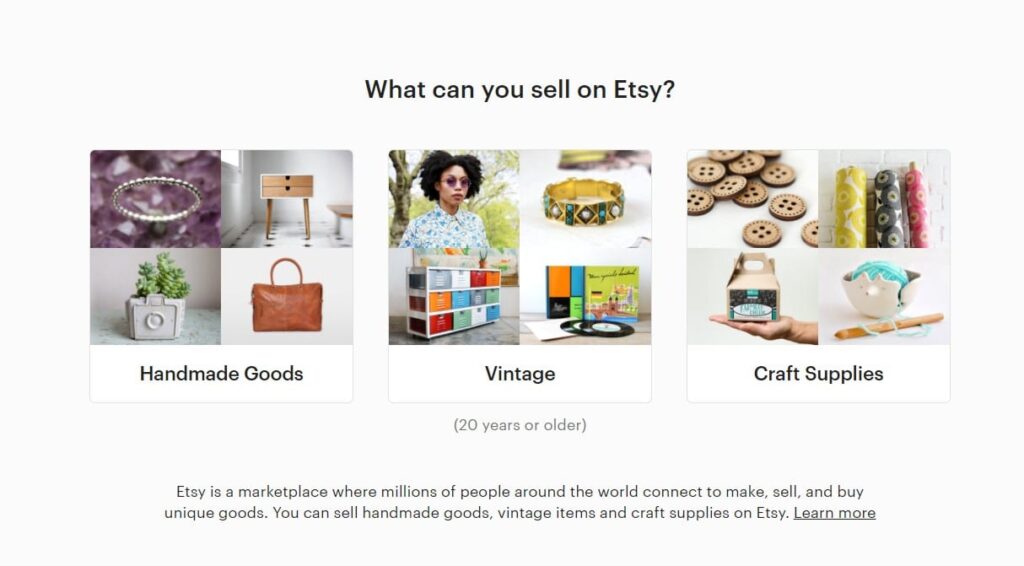 When it comes to handmade products, as long as you were involved in the design or creation process, it's allowed.
That means you can use third-party manufacturers to create your items for you or digital software to sell downloadable products.
If you are manufacturing the products yourself, it's worth investing in ERP manufacturing software so you can optimize and control your products.
There are some restrictions – Etsy doesn't allow the sale of alcohol, drugs, animal products, and some other restricted items you can see in their policies in the seller handbook.
Etsy Fees
It's free to sign up to Etsy and there are no monthly fees. However, there are some other fees you need to take into account when working out your profit margins:
$0.20 listing fee per product you list.
Sale fee of 5% of your listed sale price when you make a sale
15% advertising fee if you make a sale through Etsy's off-site PPC advertising platform
A transaction fee is someone pays with an Etsy payment option (varies depending on your country)
Etsy Plus has a monthly fee of $10 a month (but this is optional)
It might seem like Etsy fees are steep, but it is based on sales and as long as you factor these fees into your profit margin, it shouldn't make a drastic difference to your product prices.
Starting Your Etsy Shop
If we've convinced you to give Etsy a try, here's the step by step process of getting started:
1. Decide which products to sell
It all starts with choosing the right product. If you make specific crafts, you can skip this step. But if you're looking to make money on Etsy but don't have a product in mind, spend some time researching popular items.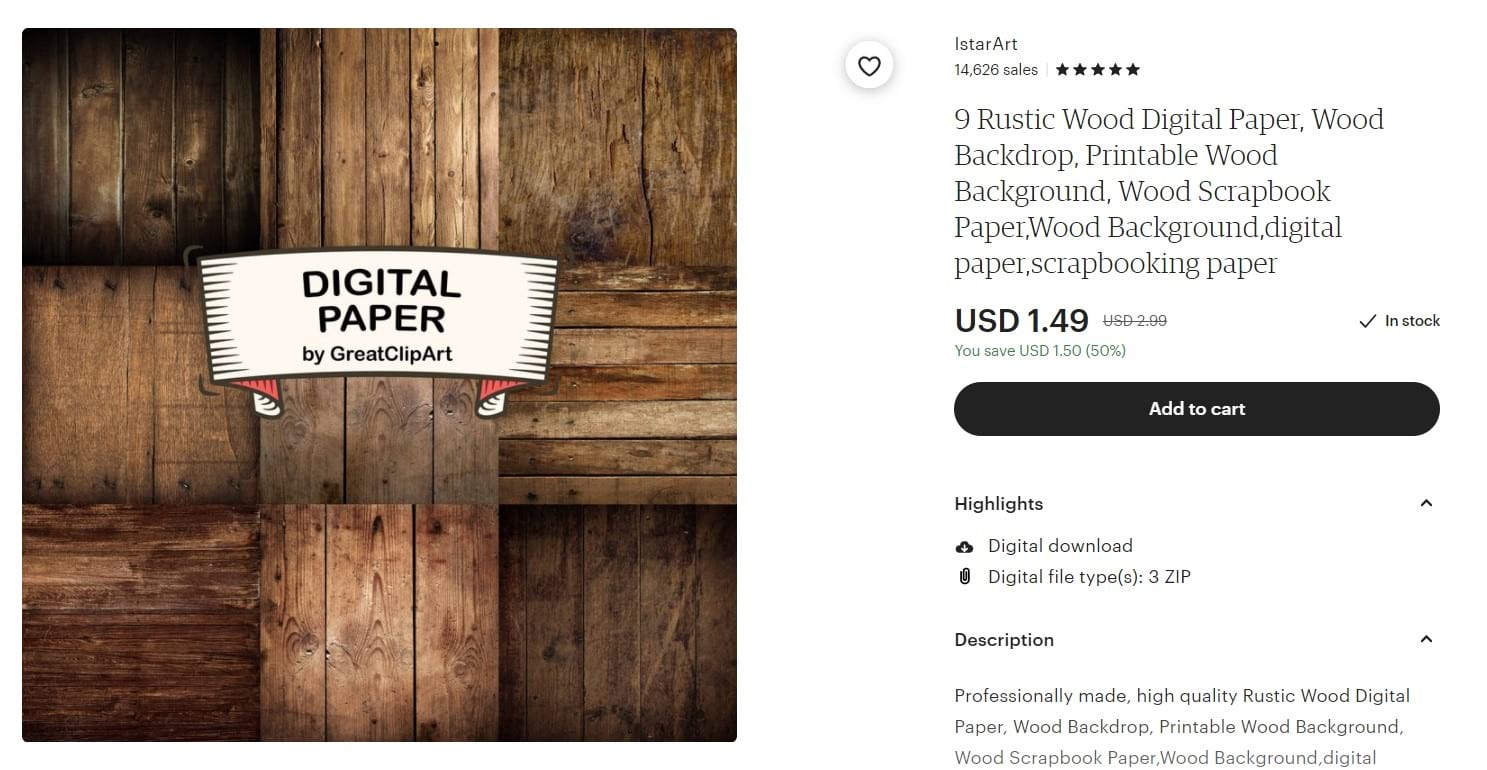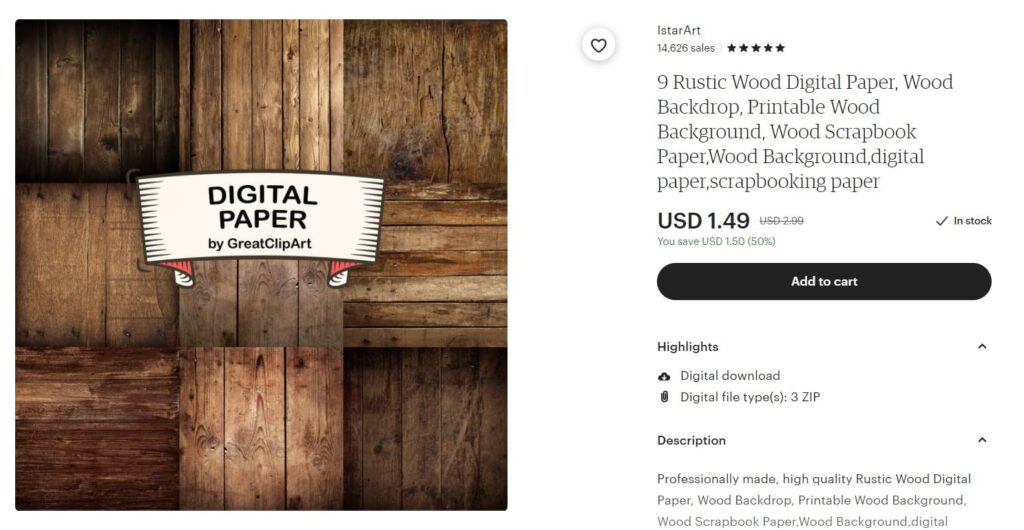 You want a product that:
You know sells well on Etsy (check out other stores on the platform)
You would enjoy making every day
You can niche down to target a specific audience
Remember, the more niche you can make your products, the easier it will be to get your listings to the top of rankings.
2. Think about your branding
Once you have a product in mind, think about branding. Your branding should reflect the audience you're targeting as well as your personality.
For example, if you're planning on selling wedding invitations to alternative brides, you'll want edgy, dark branding. Whereas eBooks for kids will have colorful, cartoon branding.
Don't get too lost in getting your branding perfect at the beginning – this is something that will evolve with you as your store grows.
3. Take attractive images of your products
Your products need to look fantastic to attract potential buyers. Remember all the competition? Your products need to stand out as better as everyone else's products.
Use a bright, white background and use human models wherever you can.
For digital products like photography, make the product photos clear and include as much information in the main picture as you can.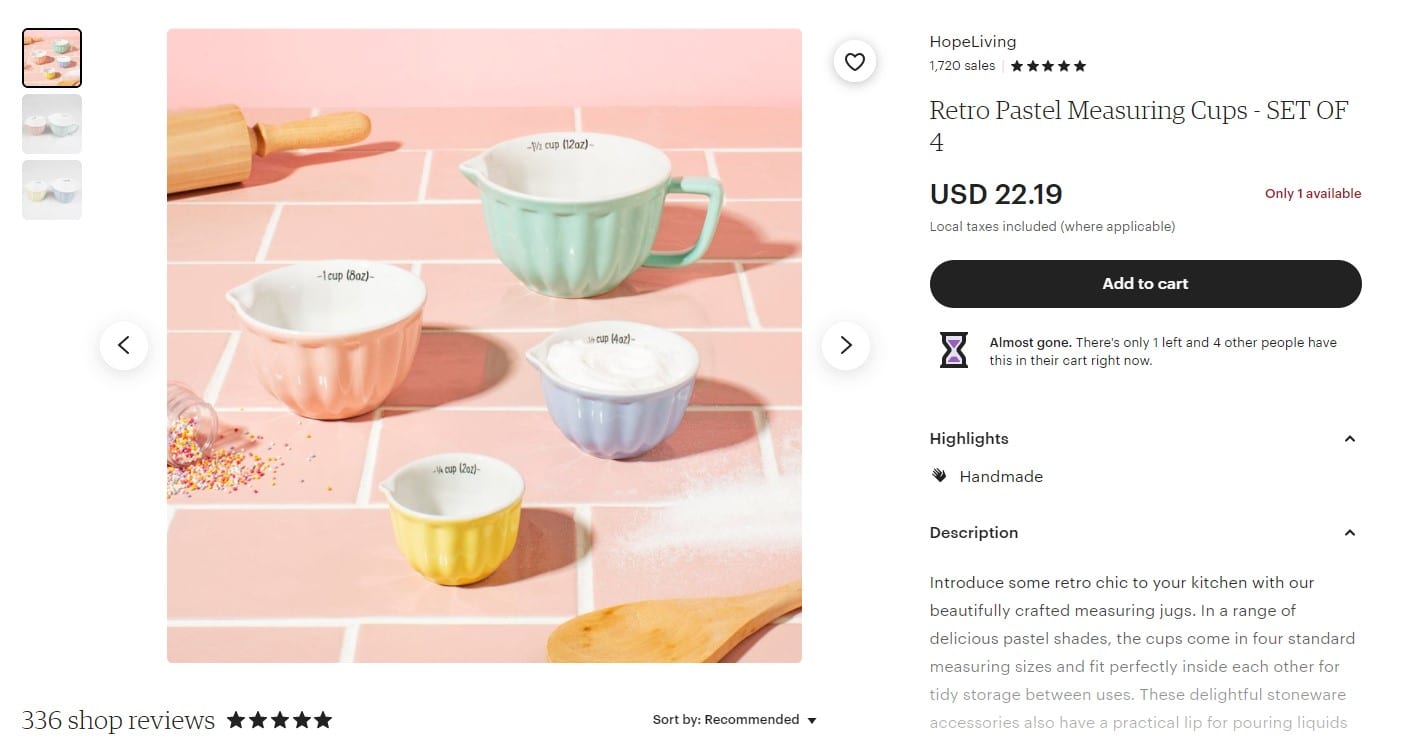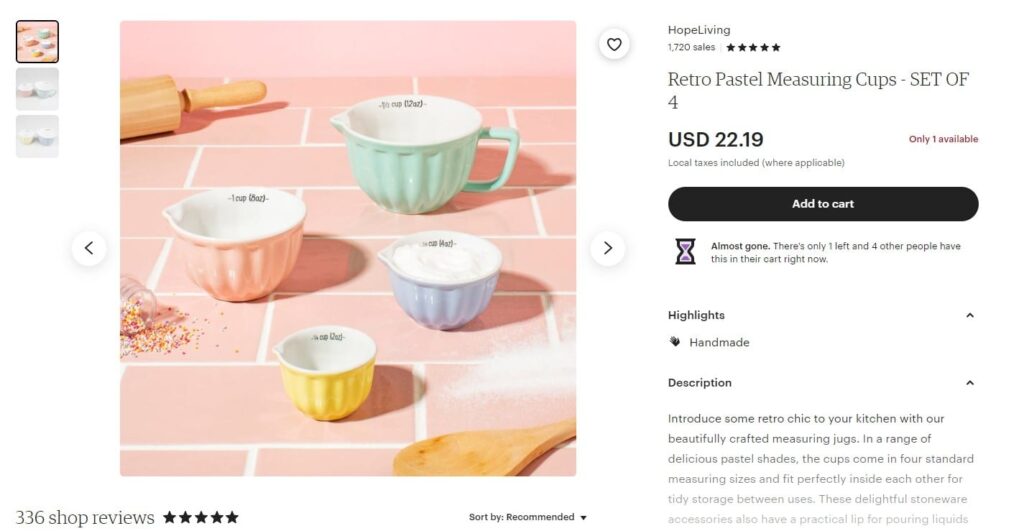 To get an idea of what you should be aiming for, do a search for similar products on Etsy and see how the most successful shops are photographing their products.
4. Create a postage plan
If you plan on selling a physical product, get your postage plan in place before you make a sale. Pick a courier and make sure you know their shipping costs.
When listing on Etsy, it's best to list the product with "free shipping" and then include the cost of postage in the product price.
Etsy prioritizes products with "free shopping" and customers can filter using this tag so this will help you rank higher.
5. Tools to get started
There are tons of free tools and apps to help you optimize your Etsy store. Here are some of our favorites:
Marmalead – helps you optimize your item descriptions with the best keywords
eRank – free search engine optimization (SEO) tool to help your listings get found
Later – free tool to schedule your social media marketing
Printify – print-on-demand products shipped under your own brand
Printful – for on-demand printing and fulfillment
Get 30 Days FREE Printify Premium Access
I've managed to negotiate a sweet deal for my readers! If you use the coupon code LifeUpswing – You get 30 Days Of Printify Premium for FREE.

✅ Integration with Shopify, Etsy, eBay and more
✅ 10 stores per account
✅ Unlimited product designs
✅ Up to 20% discount on all products
✅ Mockup generator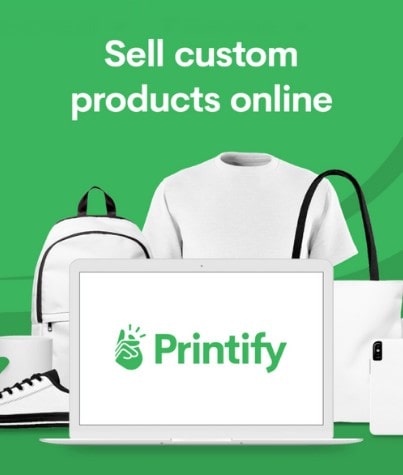 Recommended: How to Make Money With a 3D Printer: Ultimate Guide
What to do After You've Launched Your Etsy Shop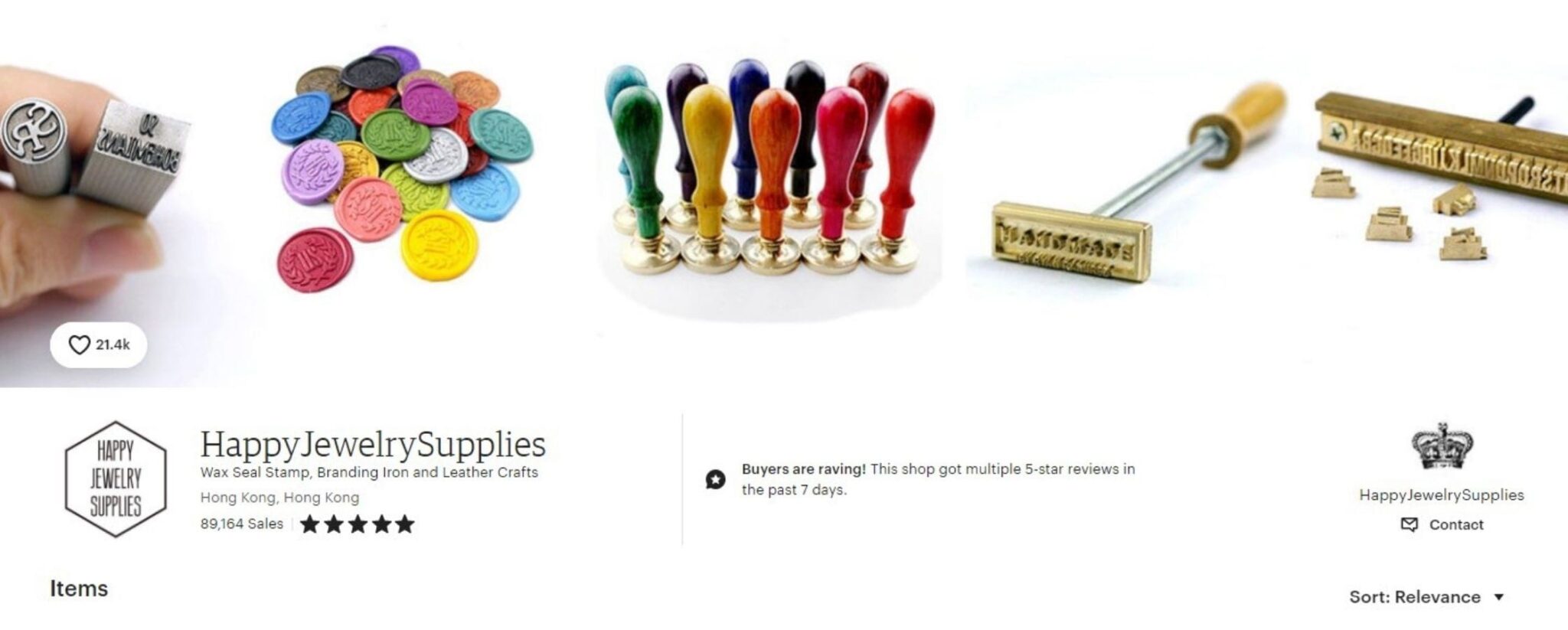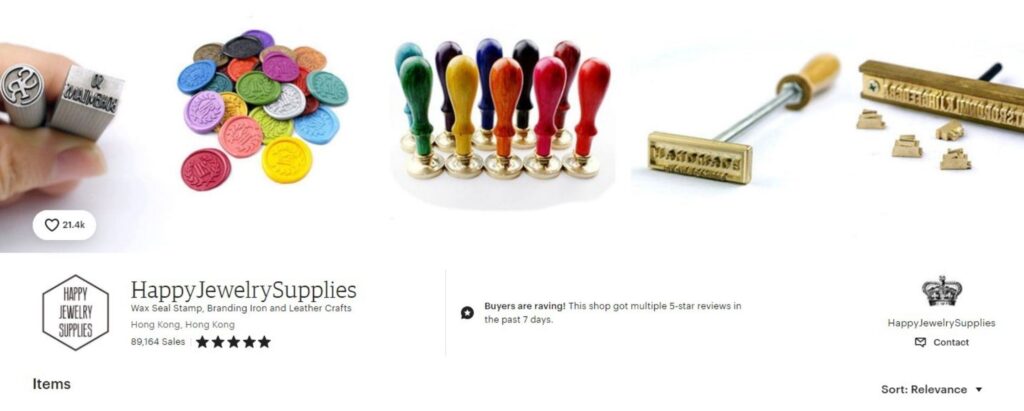 The best way to get sales on Etsy is to get good reviews as a shop owner. But to get reviews you need sales, so it feels like an impossible cycle, right?
To get started, share your listings with your friends and family on social media. There's no need to beg for reviews – just showcase your amazing products and talk about the benefits.
Whether it's your handmade artwork or organizational planners, there are customers on your contact list.
You're more likely to get those initial orders from people who already know, like, and trust you.
Reach out to everyone on your contact list and ask them if they know anyone who would love your products. Yes, we said everyone.
The more people you can bring into your network, the more likely you are to make those all-important first sales.
Then, once you have those initial reviews, strangers will feel more comfortable trusting your brand new store to deliver.
Once you make that first sale…
When you do get a sale, make sure to nail your customer service. Send them a message to thank them for their order, give them an idea of processing and delivery time, and keep them updated on progress.
Make sure your packaging is an experience in itself with quality packaging.
And once it's been delivered, follow up and ask for a review – the quicker you can get those early reviews, the better.
Make Your First Etsy Sale Today
If you want to supercharge your success on Etsy, you need Sadie's Digital Business Bank. This is an amazing course that will show you the exact process of building an Etsy empire.
Create a Digital Etsy Empire!
Learn exactly how to design digital products (without Photoshop), list products on Etsy, get traffic to your Etsy shop, and grow a real revenue-generating business…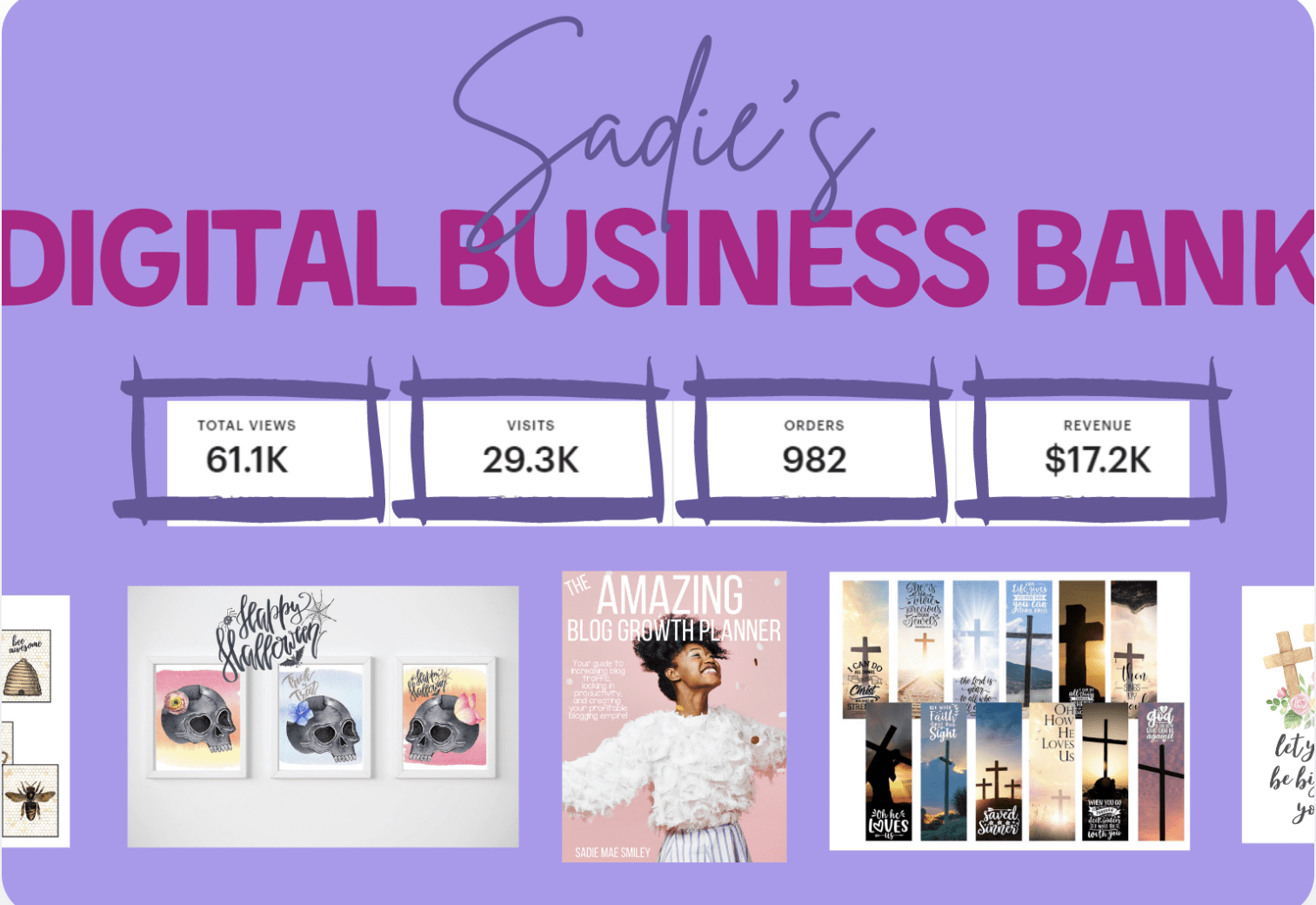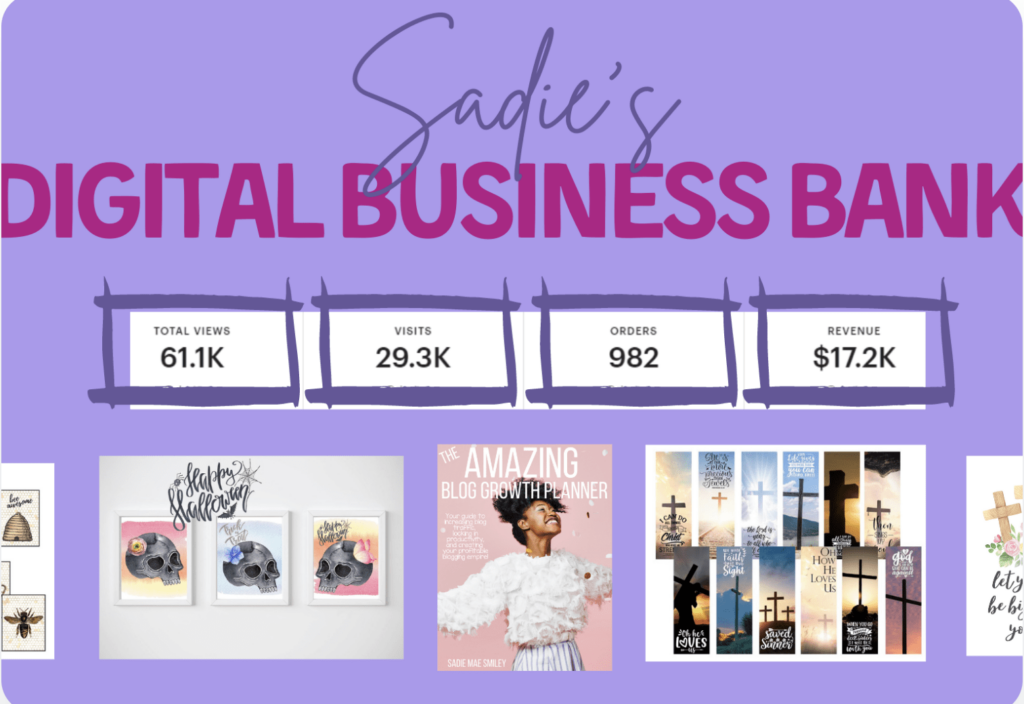 It shows you everything from perfecting your product photos to marketing like a pro, so you can have a successful shop up and running on Etsy without the guesswork.
Recommended: How to Make Money From Memes: Ultimate Guide
Making Money On Etsy