Last Updated on May 1, 2023 by Chris Panteli
Make Money From Woodworking In Your Own Garage
Being able to take a piece of wood and turn it into something desirable is a fantastic skill to have.
Even a beginner woodworker can take on simple woodworking projects and create wooden pieces that will sell.
All you need is the right tools, workspace, and pieces of wood.
The big question is, can you make money from woodworking in your own garage?
Yes, you can. Let's find out how.
Can You Make Money Woodworking From Your Own Garage
Yes, you can make money from woodworking in your own garage. You may need to start small. Especially if you are new to woodworking.
However, this gives you time to perfect your woodworking skill. As you gain experience, confidence, and a bigger customer base you can start making more complex wood projects.
When that happens, you've got yourself a small business. How big your woodworking business grows is entirely up to you. You can keep it as a side hustle bringing in some decent side income. Alternatively, you may wish to turn your woodworking hobby into a full-time business.
Whatever your woodworking plans are, with hard work you can achieve them.
What Tools Do You Need To Get Started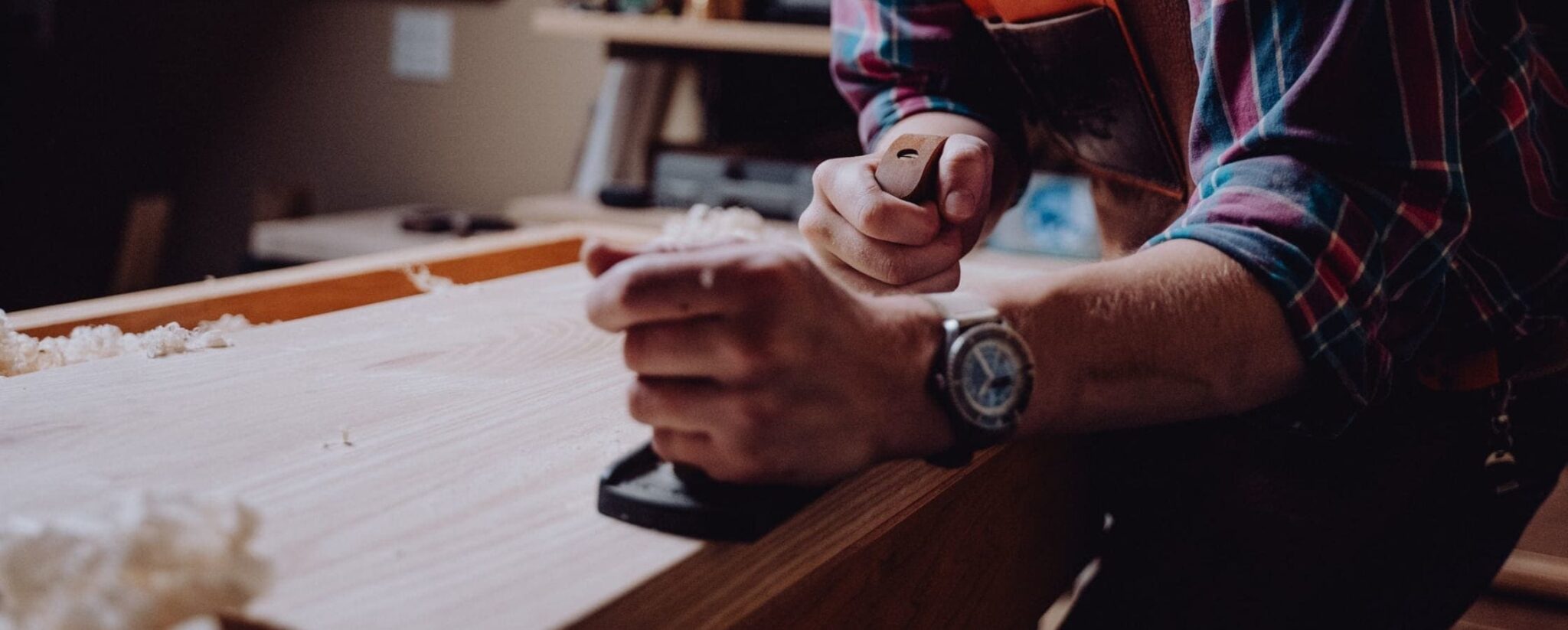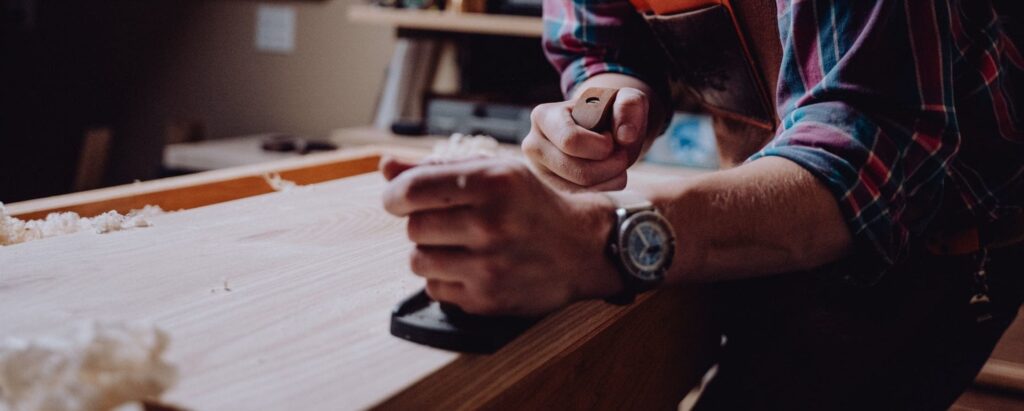 To get started woodworking you're going to need the proper tools. Don't worry. You don't need to spend thousands of dollars until your garage looks like a Home Depot.
You simply need to get some essential tools that are needed for most woodworking projects. Plus, you can always buy specialist tools when you need them in the future. There is no need to buy everything right now.
Here are the basic tools you need to start any woodworking project from your garage workshop.
Bevel Edge Chisels
Chisels are an essential part of a woodworker's tool kit. The problem is that there are lots of chisels to choose from. It's hard to know where to start.
When you're setting up your wood shop, it's best to start with a set of 4 or 6 bevel edge chisels. These chisels are affordable and can be used for most basic woodworking projects.
Circular Saw
A circular saw is a terrific investment as it can be used on most woodworking projects. Buying a circular saw with a track means you can get perfect rip cuts and crosscuts. That's regardless of the size of the wood piece.
If you must choose between getting a circular saw, miter saw, or a table saw, always get the circular saw first. A circular saw is cheaper, takes up less storage space, and is easier for beginners to learn how to use.
Clamps
Have you got eight hands? No? In that case, you're going to need clamps. Clamps are essential when working on projects by yourself in a woodworking shop. Clamps can hold your work in place while you're working on a project, gluing bits together, or putting the finished product together.
Basic projects can be clamped using bar clamps. Investing in pipe clamps when starting out is worthwhile too. You don't need hundreds of varieties of clamps. Just enough to be able to work safely and get the job done.
Combination Square
A combination square is an essential first tool to get for any beginner woodworker. That's because the two most important angles in woodworking are 90 and 45 degrees. To mark and cut at these precise angles you need a combination square.
Even if you use a power tool on most jobs, using a combination square to get the angles right is what a professional woodworker will do.
Hand Saw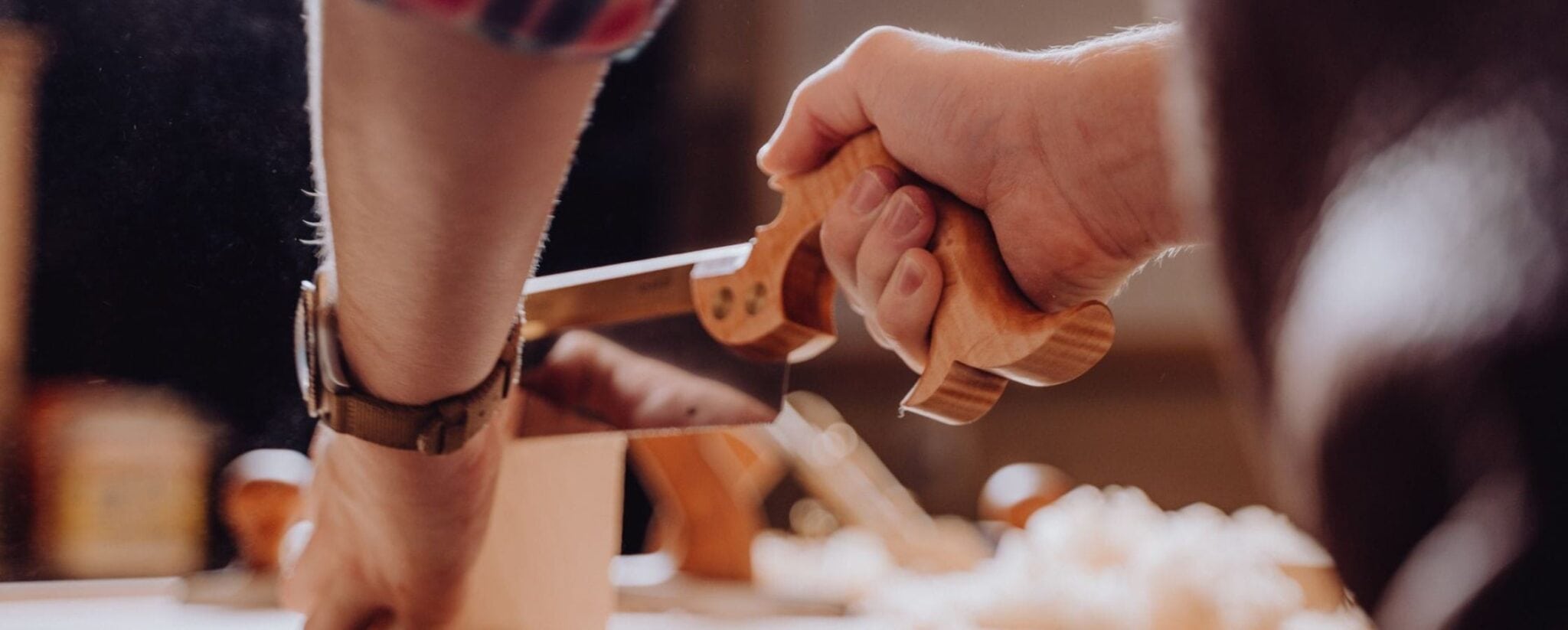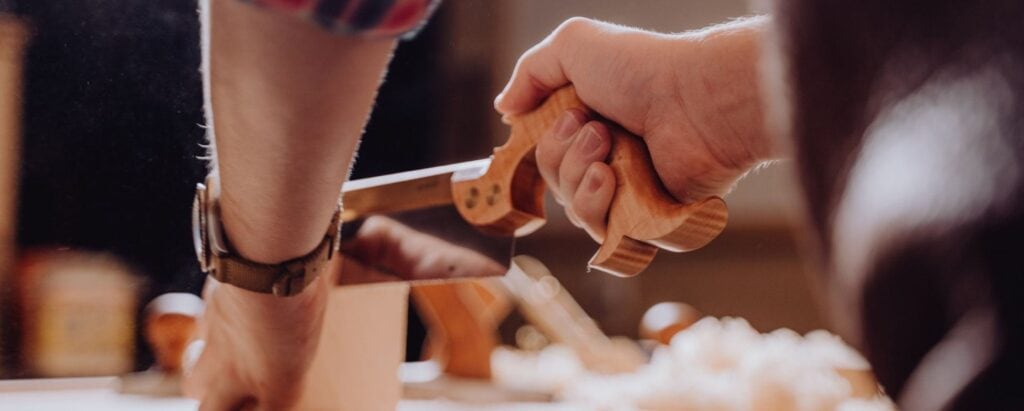 Once upon a time, a hand tool like a hand saw was the only way to get any woodworking projects done. These days most people prefer power tools with a variety of attachments. Let's be honest using power tools is quicker, easier, and more fun.
However, it's still a good idea to have one or two hand saws in your workshop. You may not be able to afford power tools yet and hand saws are cheap. Not only are they cheap to buy, but they are cheap to replace.
If you're power tools suddenly break, then having a hand saw means you've got a backup tool that you can use until your power tool gets fixed.
Jig Saw
A jig saw is used for cutting curves or complex shapes into wood.
If you buy a jig saw you can use it for cutting a variety of patterns and intricate designs.
Mallet
A good mallet is ideal for hammering things into their final place or smashing a chisel into wood pieces.
Plus, it makes such a satisfying sound that you'll want to do it over and over again.
Marking Gauge
A marking gauge is useful for both beginner and advanced woodworking projects. Every beginner woodworker should get a marking gauge.
They're easy to learn how to use and essential for making a wide variety of wood products.
Orbital Sander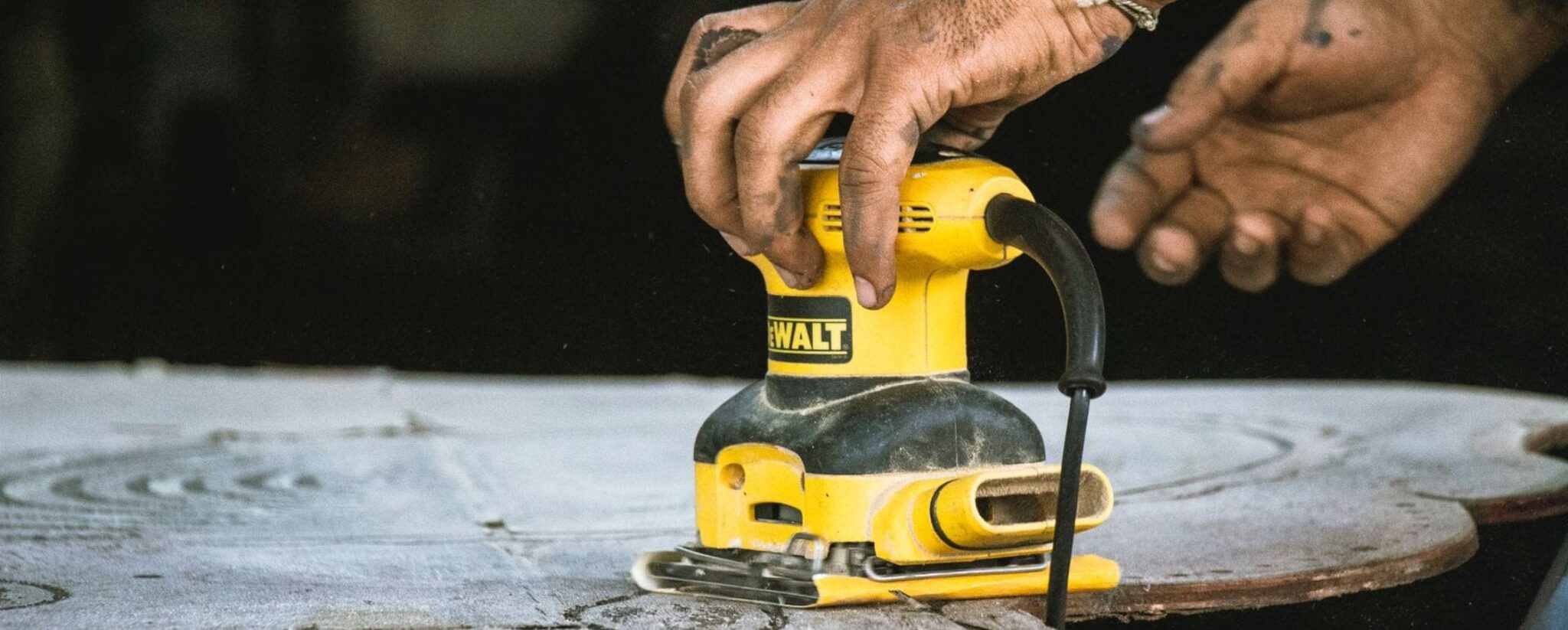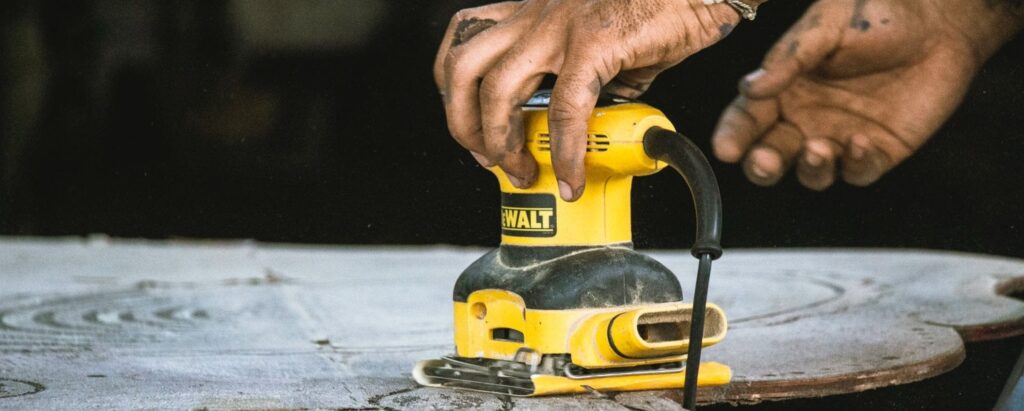 To create a polished finish, you need an orbital sander. Sure, you could do it by hand using sandpaper, but if you want to make this into a business you need to save time.
The time an orbital Sander saves you means you can work on more projects.
Power Drill
Most woodworking projects involve drilling. You should get yourself a good power drill that can handle heavy usage. Ideally, get a drill that has lots of torque.
Although you can get corded drill models, getting a cordless drill is usually better. They're so much more convenient to use.
Sharpening Stones
Every cutting tool you use will eventually need to be sharpened. Investing in sharpening stones means you can keep your cutting tools as sharp as the day they were bought.
If you can afford it, then buy diamond plates to use. Otherwise, get some water stones for sharpening your tools.
Smoothing Plane
When you're just starting out on your woodworking business a simple smoothing plane is all you need. Spending lots of money isn't necessary when you're learning your craft.
You can always get a power tool to do the job when you become more established.
Woodburning Tool
For fine woodworking like adding a monogram or decorative pyrography to your woodwork, you need a woodburning tool.
Adding a little intricacy to your creations means you can charge a higher price.
What Wood Should You Use
You can use any wood you like for your woodworking projects. Using expensive wood means you can sell your wooden creations for a higher price. That's because it usually means pieces are made to a higher standard which is popular with buyers as they know the piece will handle the wear and tear better.
If you're looking to make quick projects that are cheap you can use plywood for things like a simple coffee table. You can turn around projects quicker, but your profit may be lower.
Softwood is the most common wood available to buy. Nearly all softwood is pine, and this wood is perfectly fine for most wood projects. It's also the most affordable wood.
You can work with any piece of wood you like. Especially when you're a beginner woodworker. Scrap wood, pallet wood, and any other type of wood can all be used for a DIY project. Although a custom piece made using cheap wood probably won't sell for much. It gives you the chance to experiment.
If you have the space, you can install a lumber rack to store various pieces of wood. This will free up shop space as you won't have piles of wood everywhere. You want to be able to close your garage door after all.
Make Money From Woodworking In Your Own Garage
You can choose to make anything you like from your own garage. These woodworking projects are for both beginners and advanced woodworkers. Anyone starting out should master the simple woodworking projects before moving on to more difficult pieces.
Simple Woodworking Projects
Simple woodworking projects are a great place to start. You don't need many tools, most can be made using cheaper wood, and anyone can learn how to make them.
Kitchen Table
A kitchen table is super easy to make. It's just a table board on top of four wooden legs.
Magazine Rack
Magazine racks are easy to make, can be built using any wood, and don't take long to assemble. A simple magazine rack consists of two 3-piece frames joined together. Extremely easy for beginners to do.
Outdoor Bench Or Chairs
Making custom furniture for outdoor use is incredibly straightforward. A simple backyard lounger can be made using a circular saw, power drill, and some lumber. In a couple of hours, you've got yourself a sturdy backyard chair that you can sell.
Picture Frames
One of the easiest woodworking projects is making picture frames. They can be made fast and can be sold at markets, yard sales, or to friends and family.
Shelves
Shelves are definitely an easy woodworking project as they can easily be made in an afternoon. When making these think about what they're used for. Shelves used for holding books or antiques will need strong pieces of wood. If it's just for photos or ornaments, then cheaper wood will be ok.
Other simple woodworking projects are:
Birdhouses
Bowls
Coat racks
Cutting board
Dog houses
Planters
Wine rack
Trickier Woodworking Projects
If you've got the skills, you can start making more complex woodworking projects. These projects may require more tools and will take longer to make. However, you can also charge a higher price for these detailed pieces.
Custom Wooden Pieces
Custom wooden pieces could include furniture, sculptures, or other bespoke wooden pieces. Adding intricate decorative touches adds value to the piece, but also means it's a much trickier project to take on.
Furniture ideas include:
Rocking chairs
Chests of drawers
Cabinets
Stools
Boxes
Wooden Toys
Wooden toys don't have to be tricky woodworking projects. However, they are under this section as you could make complex designs if you want to. Handmade wooden toys are popular because they don't need batteries and if looked after can last for decades. Popular wooden toys you can make include:
Cars and vehicles
Doll house
Rattle
Blocks
Balance board
Camera
Pizza puzzle
Rocking horse
Making wooden toys for kids means you can let loose with your creativity. Paint them using bright colors, add decorative touches that kids love, and experiment with designs. There will always be a market for wooden toys.
Workbench
Building a workbench for yourself or others is a challenge you shouldn't attempt until you have more experience. A functional, sturdy, and stunning workbench can be made in your own garage using nothing more than a table saw, planer, and lumber.
How Much Does It Cost To Do Woodworking In Your Own Garage
To turn woodworking in your own garage into a profitable business you'll want to keep costs down. Here's a breakdown of expenses you must consider.
Electric
Working out of your garage means an increase in your electric bill. This is unavoidable, but you can factor this cost into your prices.
Selling Fees
If you sell your woodworking projects online or at craft fairs, you may have to pay vendor fees. Take these into account when setting prices.
Alternatively, try selling via social media, your own website, or from your home as you can keep all the money. The downside is reaching fewer potential customers.
Tools
Tools are your first cost. You'll need at least the basic tools for most projects. It's worth buying quality tools here as they'll last longer.
When you need a specialist tool it might be cheaper to rent rather than buy. Any tools you won't use often don't need to be bought outright.
Wood
Woodworking projects that command a high price require wood that's expensive. If you're just starting out, then stick to cheap projects that you can use cheaper lumber for.
As your business grows you can put your profits towards making more expensive pieces.
If you want woodworking to be more than a hobby, then you need to set prices that reflects this. Consider all these expenses to make sure you don't lose money.
How To Price Your Woodworking Projects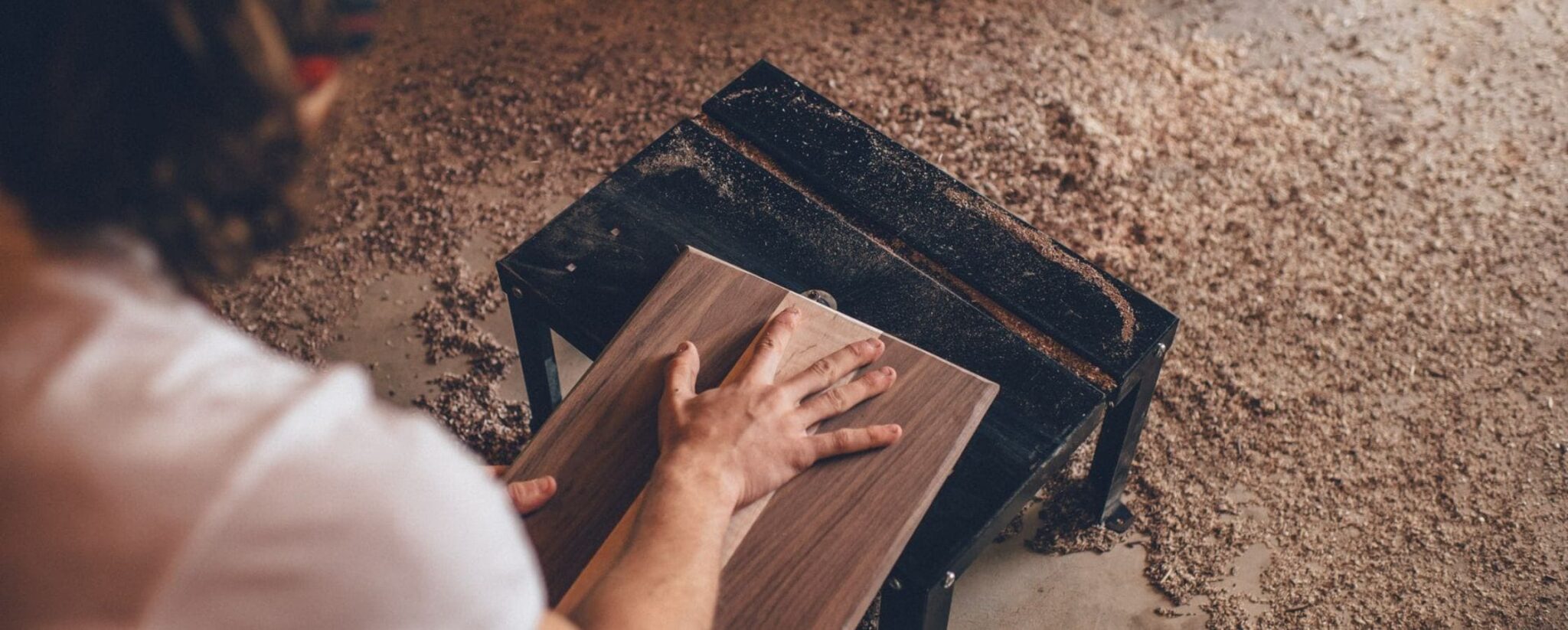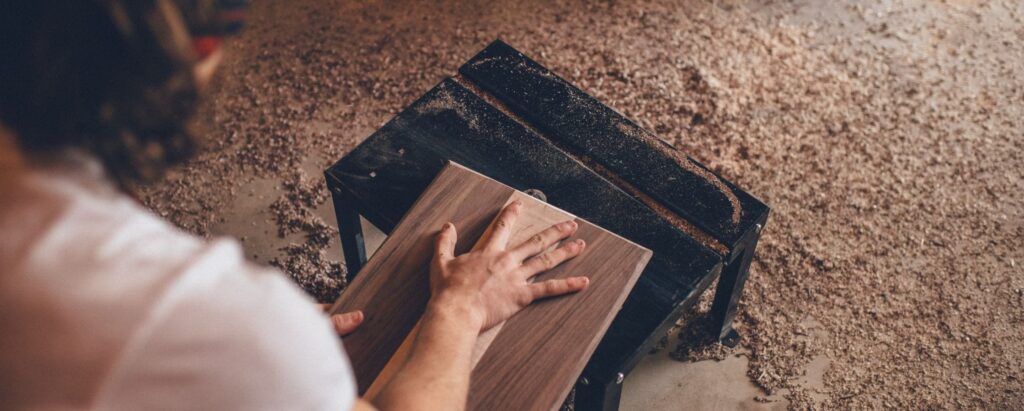 Pricing your woodworking projects may be tricky at first. A common mistake for new woodworkers is to undervalue their hard work.
Apart from the expenses, you should also factor in the cost of your labor and skill.
When working on a project, closely track exactly how much time it took you. Those hours spent on the project should be charged as the cost of your labor.
Combine your labor costs with your expenses and now you know how much to charge.
Can You Really Make Money Woodworking From Your Garage
Yes! You really can make money woodworking from your garage.
At first, you may not make a lot. As you build a reputation in the industry for quality work, then you should see sales grow thanks to word of mouth.
By constantly improving your woodworking skills you can start crafting more intricate pieces. Intricate wooden pieces sell for a higher price. That means more profit for you.
According to data provided by Indeed, the average woodworker in the US earns a little over $52,000. That's not bad if you're working from your garage.
Where To Sell Your Woodworking Projects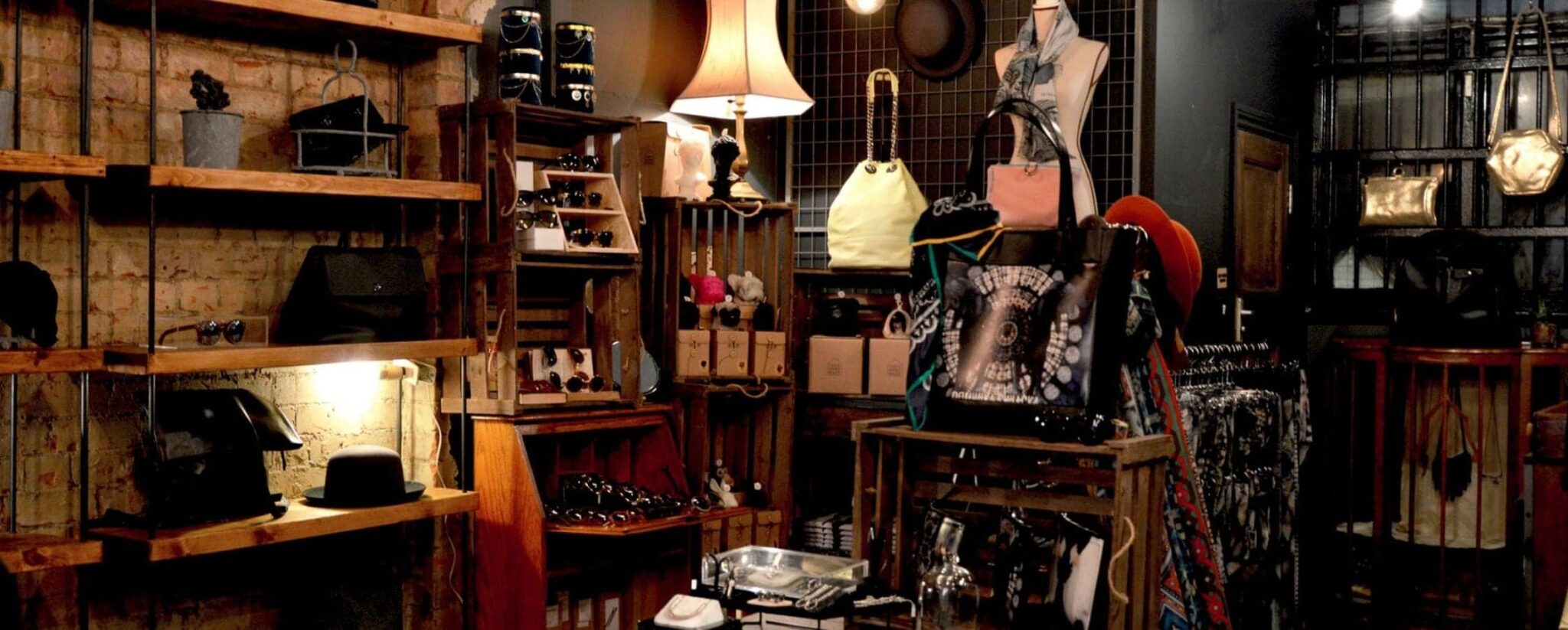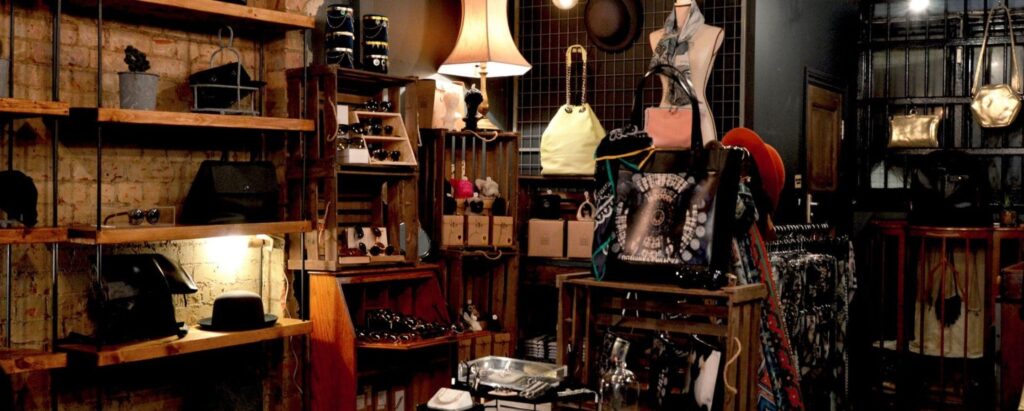 There are lots of ways you can sell your woodworking projects. You can sell online, in-person, or a mix of both. Here's how.
Sell Online
Selling your woodworking projects online has many benefits.
First, you don't have to transport pieces to stalls. Everything can be stored at home saving you from doing lots of heavy lifting.
Selling online allows you to reach a wider audience. You can also showcase your pieces using quality photos and descriptions.
Woodworking is a solitary process, and many woodworkers are quiet in nature. Dealing with people online removes the face-to-face interaction that quiet or introverted people dread.
There are several ways to sell online, and you can market yourself using more than one.
eBay
Facebook Marketplace
Social media
Remember to check the rules and fees of any site you sell on. Amazon Handmade is also worth exploring as you can reach Amazon's millions of customers worldwide.
Set Up A Stall
You can set up a vendor stall to sell your woodworking projects. Fees may apply to have a stall so remember this when setting prices.
Vendor stalls could be set up at the following:
Artisan and craft fairs
Antique stores
Flea markets
Thrift stores
Yard Sales
Another way to sell your woodworking projects is by having a yard sale. Or a garage sale if you prefer.
You can advertise this through local online groups on Facebook or Nextdoor.
Tell all your friends, family, and neighbors. Make sure to ask them to tell everyone they know too. You could even print off leaflets and deliver them around the local area.
The best thing about selling from home is you can keep all the money.
Woodworking Tips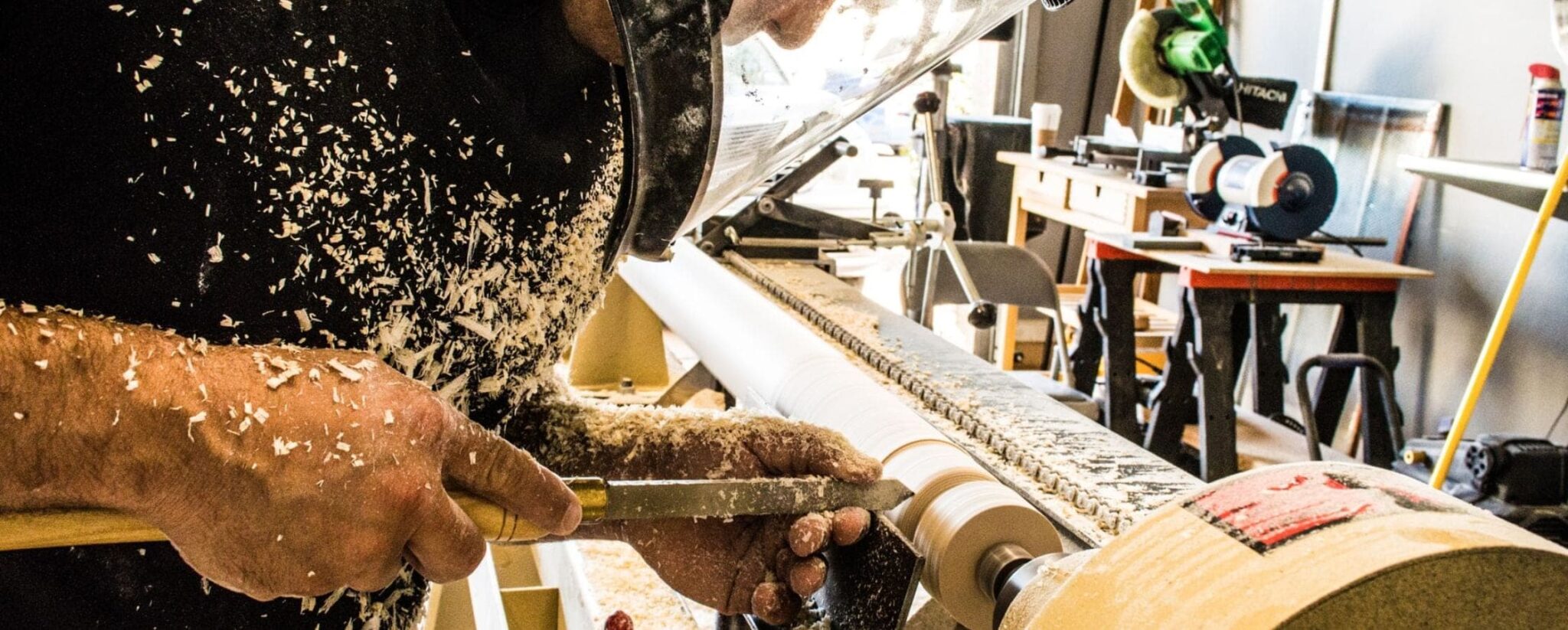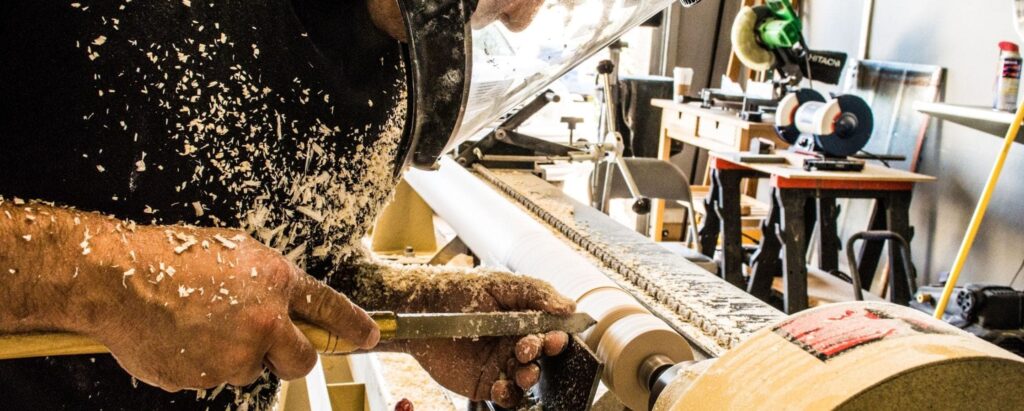 Turning woodworking from a hobby into a business will take time. Here's some tips for anyone starting out.
Be Patient
You aren't going to be an overnight success. It's going to take time to build a reputation as a skilled woodworker.
Building an online following, attending craft fairs, and setting up your own website could take months of hard work before you see a consistent income.
However, if you're patient, work hard, and create quality products, then one day it will pay off. Your reputation will precede you and potential customers will start seeking you out for bespoke orders.
Build Things You Enjoy
You're going to be tempted to build things that you think will be profitable. That's understandable, right?
Wrong.
You should build woodworking projects you want to. To make this into a business you will be making the same thing repeatedly. Building something you don't like means a bigger chance of giving up.
Stick to creating things you love as that's easier to do repeatedly.
Create Samples
If you make larger items like porch swings or other furniture, it's not practical to take it all when selling at a stall.
Instead, make some samples and leaflets with high-quality photos to showcase those bigger pieces.
That way potential customers can see everything you have to offer.
FAQs
Make Money From Woodworking In Your Own Garage