Disclosure: This post may contain affiliate links. If you click on a link I may make a small commission at no extra cost to you. You can read the full disclosure here.
Last Updated on October 23, 2022 by Chris Panteli
Legitimate Car Wrap Advertising
According to the US Census Bureau, the average American spends approximately 27 minutes a day commuting one way. If you include the return journey that's a total of 54 minutes a day in your car.
That's not to mention other trips you need to make. Going to the grocery store, taking the kids to school, or driving to visit friends adds up to several hours every week.
OK, that's cool to know, I hear you say, but why does this matter?
I'm telling you this because all those hours spent driving is time you could spend earning extra money. How, so?
Simple. By letting brands wrap your car in adverts. Legitimate car wrap advertising is an easy way to earn cash. All you need to do is agree to a deal for ads to be put on your car and you get paid for driving as normal.
To help you get started this post will explain more about car wrap advertising, and provide you with some great info on legit car wrap advertising companies.
What Is Legitimate Car Wrap Advertising
Car wrap advertising is when a vehicle is wrapped or covered in vinyl to advertise a product or brand. Essentially the vehicle is turned into a moving billboard that is hopefully eye-catching to passersby.
Businesses big and small will happily pay to use advertising space on your car.
American inventor Waldo Semon created wrap advertising way back in 1926. He did this by inventing the vinyl that is still used to this day. It wasn't until the 90s that wrap advertising became more common thanks to Pepsi's first ad campaign when they wrapped a bus to promote Crystal Pepsi.
Could the car wrap process damage the vehicle?
No! Vinyl sheets are super easy to remove or replace and leave no damage to the vehicle. It's so easy that some car wrap advertising companies let you add and remove the decals by sending them to you when you sign up for a marketing campaign.
Depending on the advertising you agree to do. The car may be fully covered or only partially covered using a light wrap. Some companies may also need the color of the car to be changed. This is all dependent on the marketing campaign they are running.
Can I Make Money From Car Wrap Advertising
The big question you're asking is how much money can you make from car wrap advertising?
Several important factors will affect how much you can earn. The type of car you drive, how many hours you spend driving, where you drive, and if you have full or partial ads covering the car. All these factors impact your earning potential.
For example, Carvertise is one legit car wrap advertising company. According to their data drivers can earn up to $300 a month. You could be earning $3,600 a year for simply driving your car.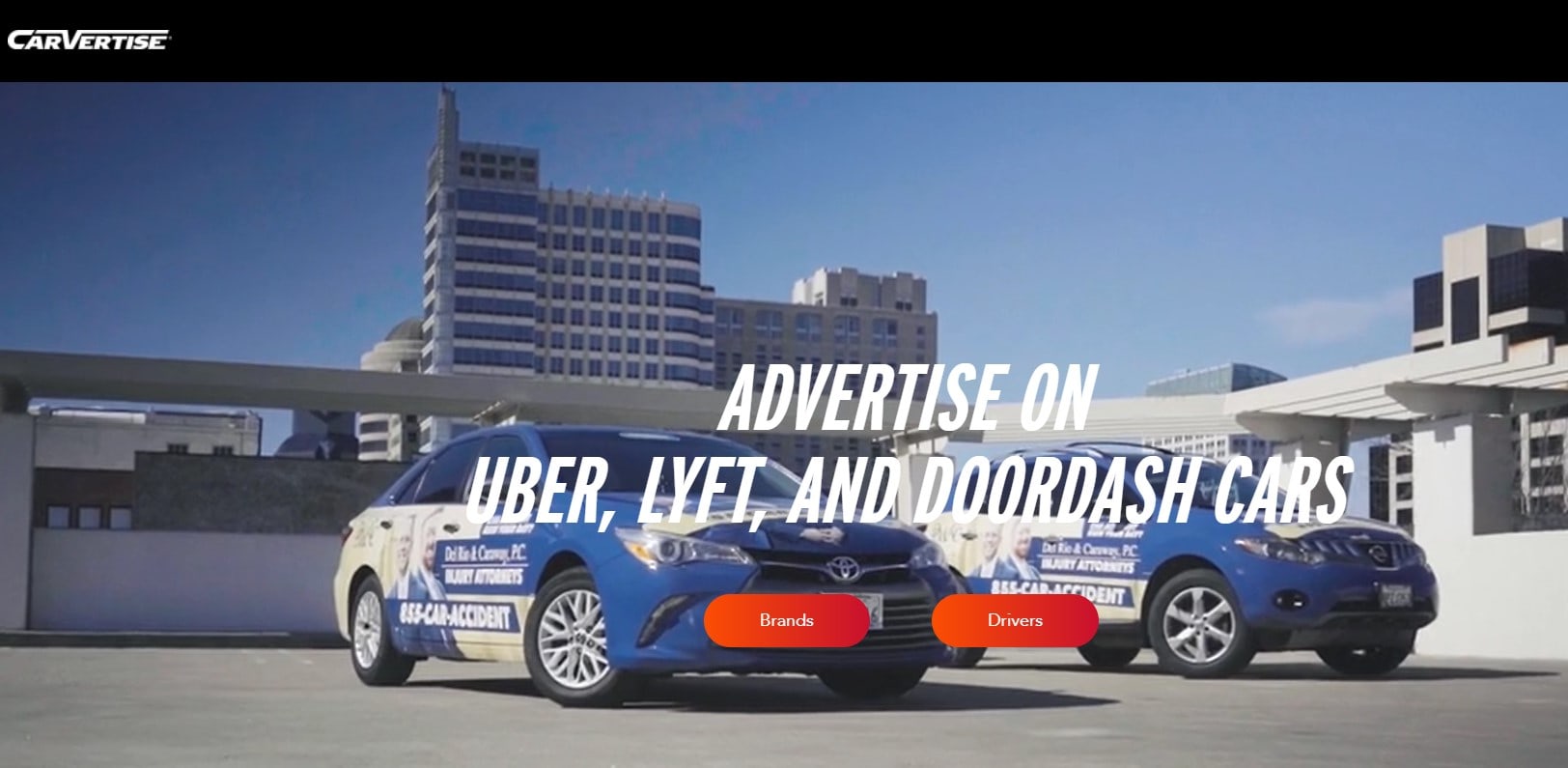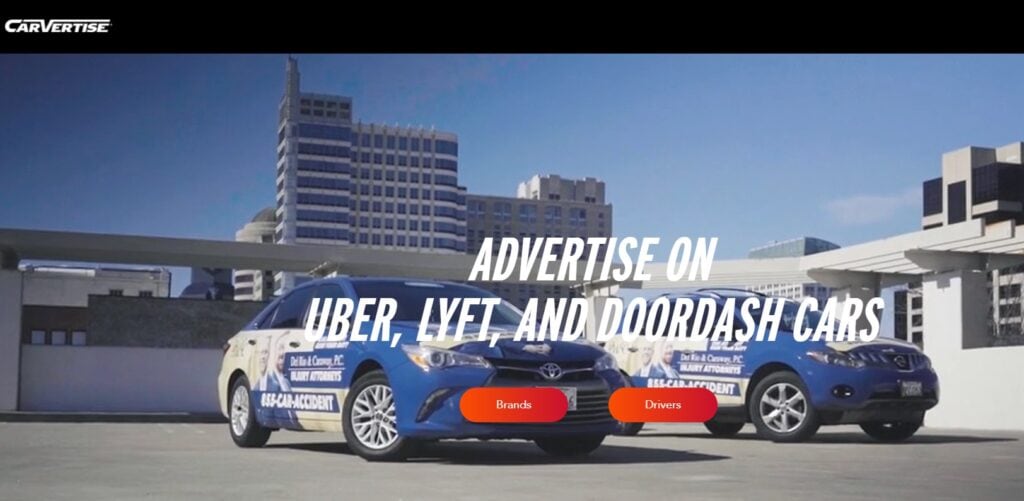 That's easy money for you and it costs you nothing to join. The best bit is that you are now earning a passive income, and you are getting paid for journeys you would be driving anyway!
What Do I Need To Start Car Wrap Advertising
I'm sure I don't need to tell you that the first thing you need to start car wrap advertising is a car!
Other than a car each company will have requirements you need to meet to be accepted. Each advertising campaign may also have unique requirements. Don't be surprised if you get accepted for one campaign, but not another depending on your circumstances.
Basic criteria you need to meet often include:
Must be 18 or older
Must have a clean driving record and insurance
The car must be clean and maintained
You must be willing to complete the campaign
You need to commit to driving a minimum amount of time a week or month
Allowing your car to be tracked using GPS is usually required
Legitimate Car Wrap Advertising Companies
These legitimate car wrap advertising companies are great for earning while driving. In most cases all you need to do is fill in a short application form, then once accepted get ads put on your car and start earning! It's as easy as that.
Carvertise
Carvertise is a car advertising company based in Delaware and hires drivers all over the US. If you live in one of the following cities or surrounding areas, then Carvertise may hire you.
Boston
Chicago
Dallas
Los Angeles
San Diego
San Francisco
New York City
Philadelphia
St Louis
Wilmington
Filling in the application form only takes a moment. You need to give basic details including your name, email, and phone number.
If your application is successful, Carvertise will arrange for your car to be wrapped. At the end of the marketing campaign, Carvertise will get the wrapping removed. All of this is done at no cost to you and by qualified professionals.
You get paid via direct deposit straight to your bank account every month.
Working with Carvertise has a couple of excellent benefits. First, you can still earn money when the car is parked. That's if it's parked in a designated area during certain times.
There is no limit on how many campaigns you can take part in. This allows you lots of chances to earn.
To qualify for Carvertise your car must be a 2008 model or newer. You must have a clean driving record and drive at least 30 miles a day.
If you're accepted, you could earn up to $1500 per campaign. Carvertise does not charge any fees to sign up or for wrapping. That means all the money you make is yours to keep!
Ads 2 Go
Ads 2 Go is a car wrap company that happily rewards drivers with extra cash in exchange for turning their car into a rolling billboard.
To qualify you must have a good driving record, insurance, and a decent car (Corvettes are not accepted according to their website).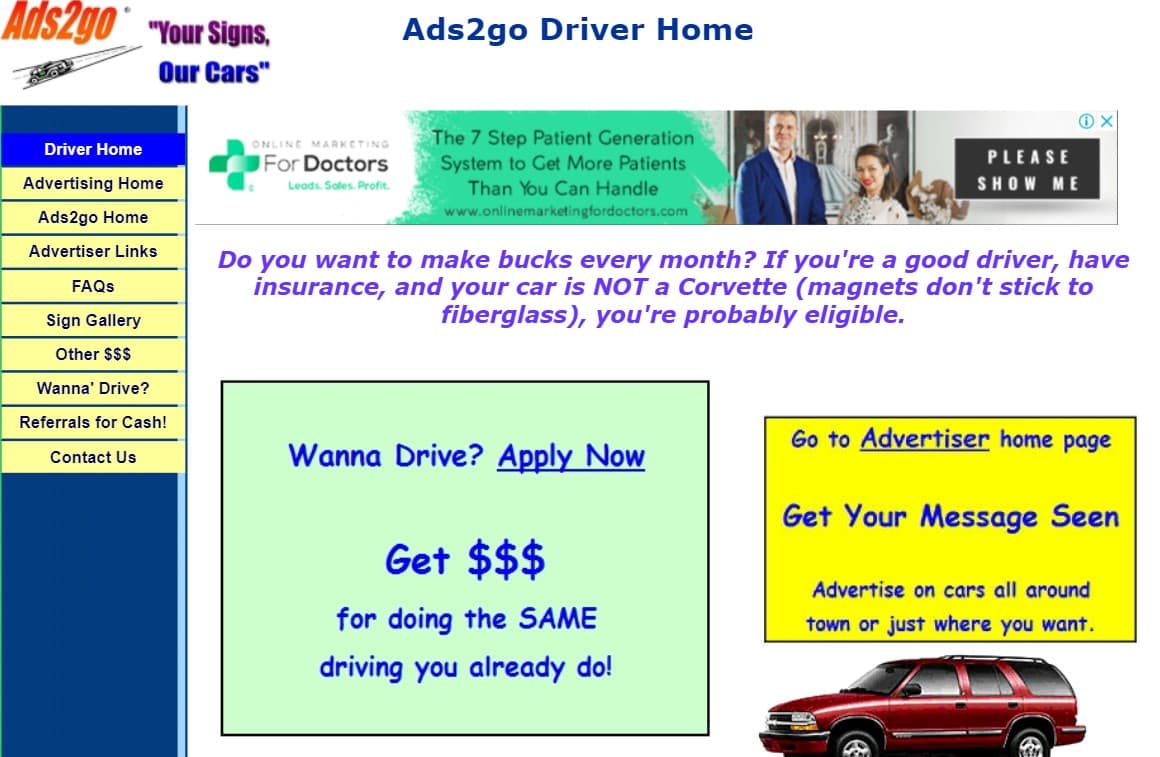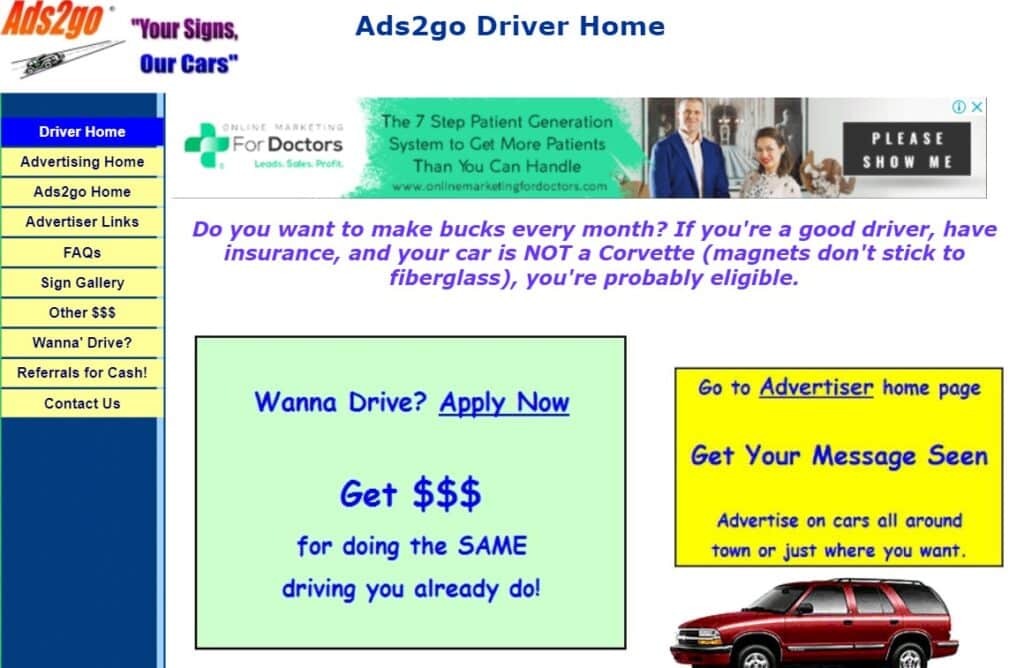 When applying to be a driver you are given three options. The bronze option is free and puts you on the list of drivers to be considered for future campaigns.
You will see two other options called Silver and Gold. Both application options ask for a small payment. These payments are non-refundable and only charged once when signing up.
Ads 2 Go states that Gold drivers are given first priority for upcoming jobs, then Silver members next. Bronze members (the free application) will get any remaining places.
As part of the application process, you need to provide your basic personal information and where you mainly drive. Ads 2 Go uses that data to match you up with suitable advertisers and you can start getting paid.
Wrapify
Wrapify has been operating since 2015 and to date over 250,000 drivers have registered with the advertising service.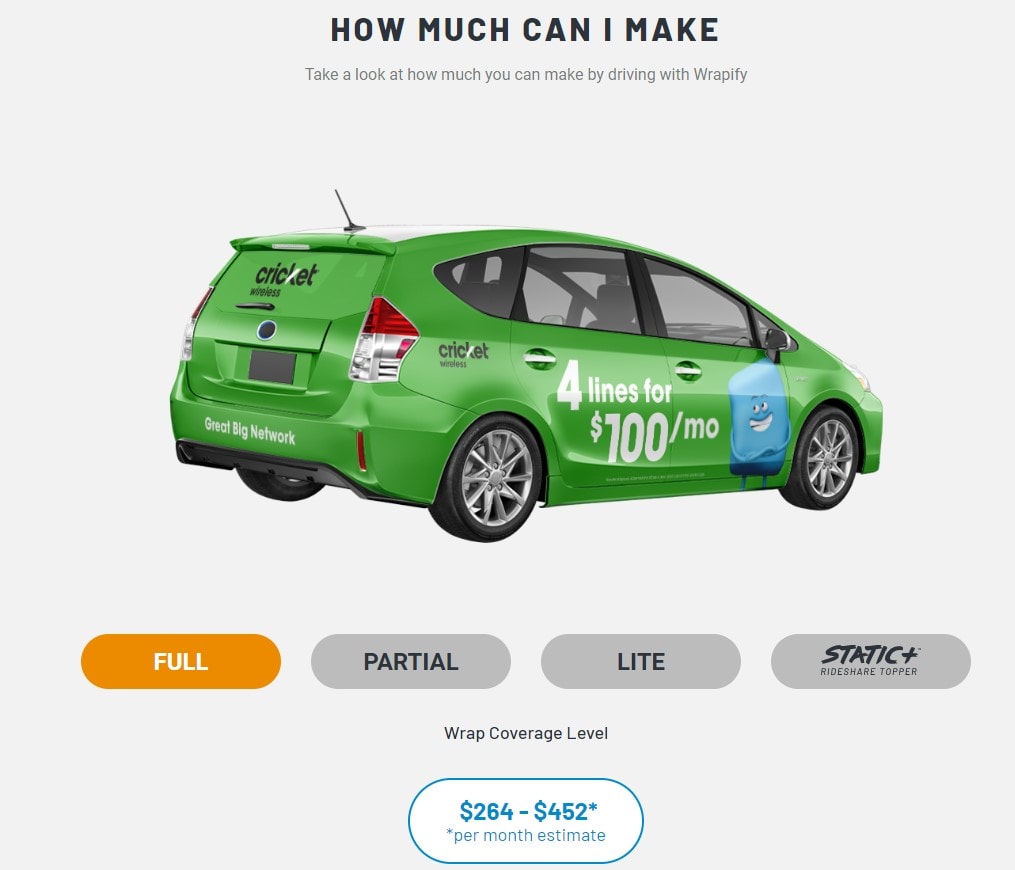 To be accepted for Wrapify you must drive at least 50 miles a day, be over 21, and have had no more than 2 accidents in the last 3 years.
To drive for Wrapify you will need to download their app. The app tracks your driving and using this data Wrapify will notify you of suitable campaigns.
Monthly earnings for Wrapify drivers vary, but you can earn as much as $450 a month.
Sticker Ride
Sticker Ride was founded in Europe but has since expanded operations to the US. To drive for Sticker Ride, you must download their app and register your car.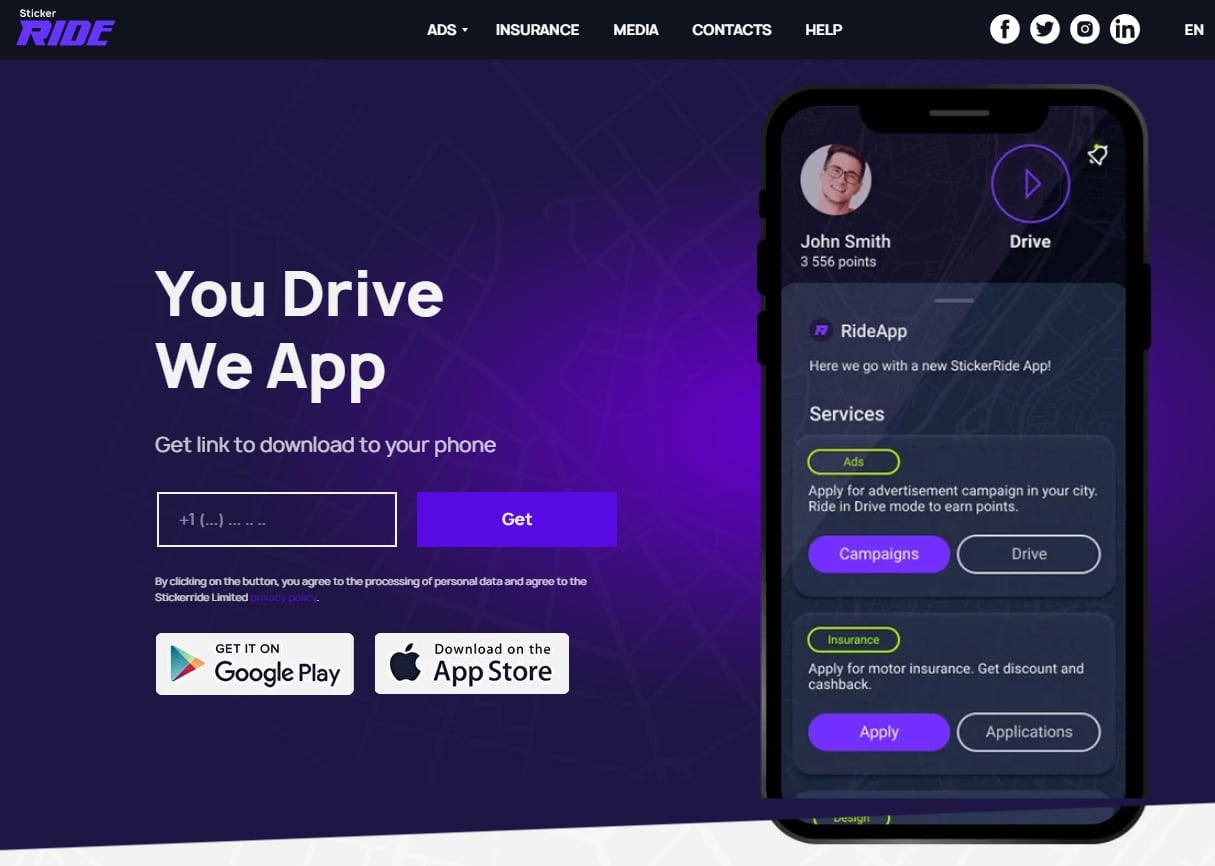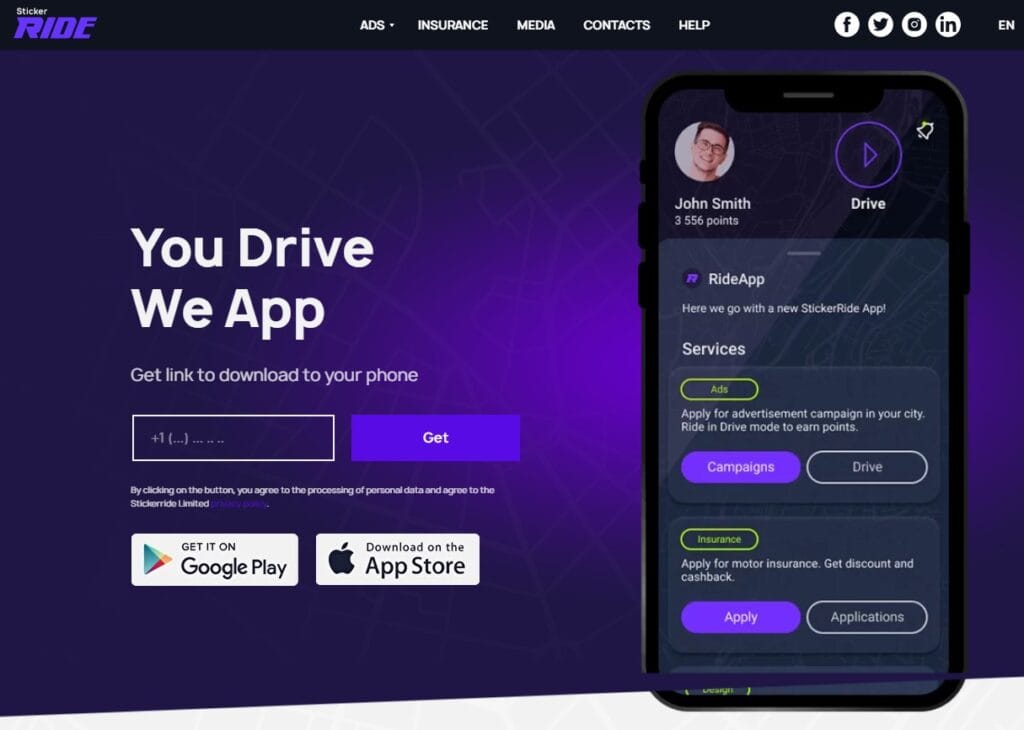 Once registered you can accept available jobs via the app. You will need to go to Sticker Ride to get decals put on your car and then you can start earning.
You can choose campaigns from the app anytime. Sticker Ride offers other earning opportunities including quests and flash mobs. To get paid you need to complete a task. These are usually easy such as taking a photo of your car at a specific location.
Not only can you get paid driving for Sticker Ride, but you can get some cool discounts on insurance as well.
Free Car Media
Free Car Media asks potential drivers to apply online. You need to give your personal info and explain your normal driving habit. If accepted, they will contact you via email to discuss the details of the campaign.
You must be confident that you can add the decals to the car yourself. That's because Free Car Media sends them to you along with instructions, but you need to apply the ads to your car yourself.
The exception is when getting a full car wrap. For these campaigns, Free Car Media will refer you to a professional.
Drivers that do a full car wrap can earn up to $400 a month.
Referral Cars
Referral Cars pay drivers in two ways. You get paid for the base campaign and you can earn extra from commissions. Campaigns that are commission-based can mean higher earnings.
You can apply online by providing your personal information and vehicle details.
Once accepted the decal will be shipped to you. A shipping fee is charged for this. You're also given a keyword that you need to enter on the company's website to verify the decal.
The final step is to send Referral Cars a photo of your car displaying the decal. Once that's all done you can start earning.
Car-Bucks
Car-Bucks connects drivers with advertisers. It's free to join and you get paid monthly based on your average commuting time.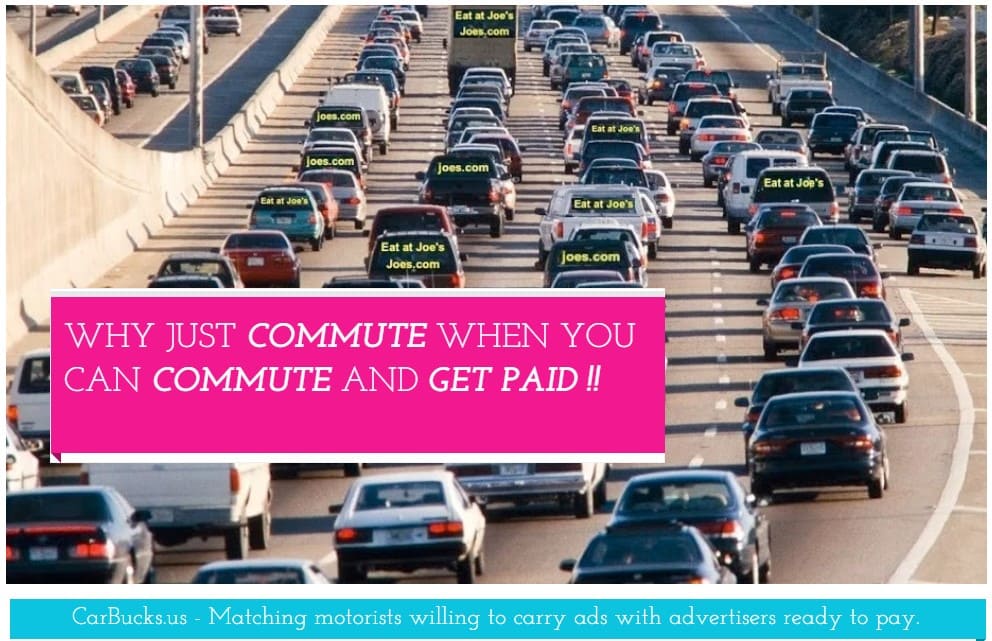 When signing up you need to provide your work and home addresses. You also need to give Car-Bucks info on your typical commuting routes, times, and vehicle info.
If you join you need to run the Car-Bucks app with a GPS-enabled smartphone. Plus, you must agree to drive to a high standard. You're advertising a brand after all and if you drive poorly the advertiser may be unhappy. That could mean you don't get paid or offered future campaigns!
When you agree to place ads on your car, you will be sent a banner to stick to your rear window. These peel-and-stick banners are made using perforated vinyl that is virtually invisible when you're inside the car. All you must do is send a photo to Car-Bucks for verification and everything else is tracked via the app.
Other Ways To Find Car Advertising Opportunities
Contacting dedicated car wrapping companies is the easiest way to find legit car wrap advertising jobs.
If there are no suitable marketing campaigns running right now, then you can try some other ways to make money from ads on your car.
There is no reason why you can't contact local businesses directly and ask if they would be interested in paying you to advertise their business using your car. Local restaurants, bars, and small business owners may be excited to take advantage of this opportunity. Most might only be able to afford small ads, but you could advertise multiple businesses. That way you can make more money.
Another way to find car advertising opportunities is to look for businesses offering this opportunity. Craigslist, Facebook groups, and local newspapers may have ads from companies seeking car owners willing to put wrapping on their vehicles.
How To Avoid Car Wrap Advertising Scams
Scams are hugely prevalent online and car wrap advertising is no different. There are lots of scammers out there hoping to steal your money, personal data, or anything else of value.
That's why it's super important to be careful you agree to work with. Always do your due diligence and make sure the company you plan to work with is legit. All the companies listed in this guide are legitimate car wrap advertising companies.
How can you avoid a car wrapping scam?
Start by thoroughly checking the company's website. Do they make contact details clear? Are the email address, phone number, and customer service details easy to find? How long has the website been running? Are there any reviews from other users? This background information is a good starting point. If there isn't any history, then that is a red flag.
To get started you usually need to complete an application form. This should be asking for information about your car, driving history, and some personal info. However, if the questions are excessive and ask for things not related to driving, this may be another warning that the company is a scam.
One of the biggest warning signs that it's a car wrap scam is being asked to pay a fee. Legit car wrap advertising companies don't usually ask for a fee. Requests for payment, to give banking information, or add a credit card number should be treated with utmost caution. Do more checks before giving any of this as it's likely to be a scam.
If you see one or more of these warning signs, then it's probably best to walk away. There are plenty of legit car wrap advertising companies out there for you to make money with.
The Most Common Car Wrap Scam
Scams operate in lots of ways, but there is one method scammers use that is most common.
The scammer will hook your interest by making big promises of easy money simply for putting ads on your car. Making money advertising on your wrapped vehicle is a legit way to earn money after all.
You are now dreaming of all the ways you can spend that lovely cash. Thinking about buying a brand-new car, going on a dream vacation, or maybe you want to save money towards buying your first home could all cloud your judgment.
Once the scammer has you hooked, they start by offering you a few hundred dollars for putting a wrap on your car. However, when you receive the check it's for much more. Often thousands of dollars.
The scammer will instruct you to deposit the check, keep your cut, and send the remainder to another company that will supposedly do the car wrap. Scammers often use online banking sites like Cash App.
What happens next?
First, the check bounces. That's because it was a fake check. You lose the money you were told to keep and the money you transferred is also long gone. Not only that, but you are on the hook for cashing a fake check.
Plus, there will be no wrapped vehicle to use for making extra cash.
If you're asked to deposit a check, then the company says pay me by sending the difference back, this is always a scam. Never agree to these offers.
How To Know A Car Wrap Advertising Company Is Legit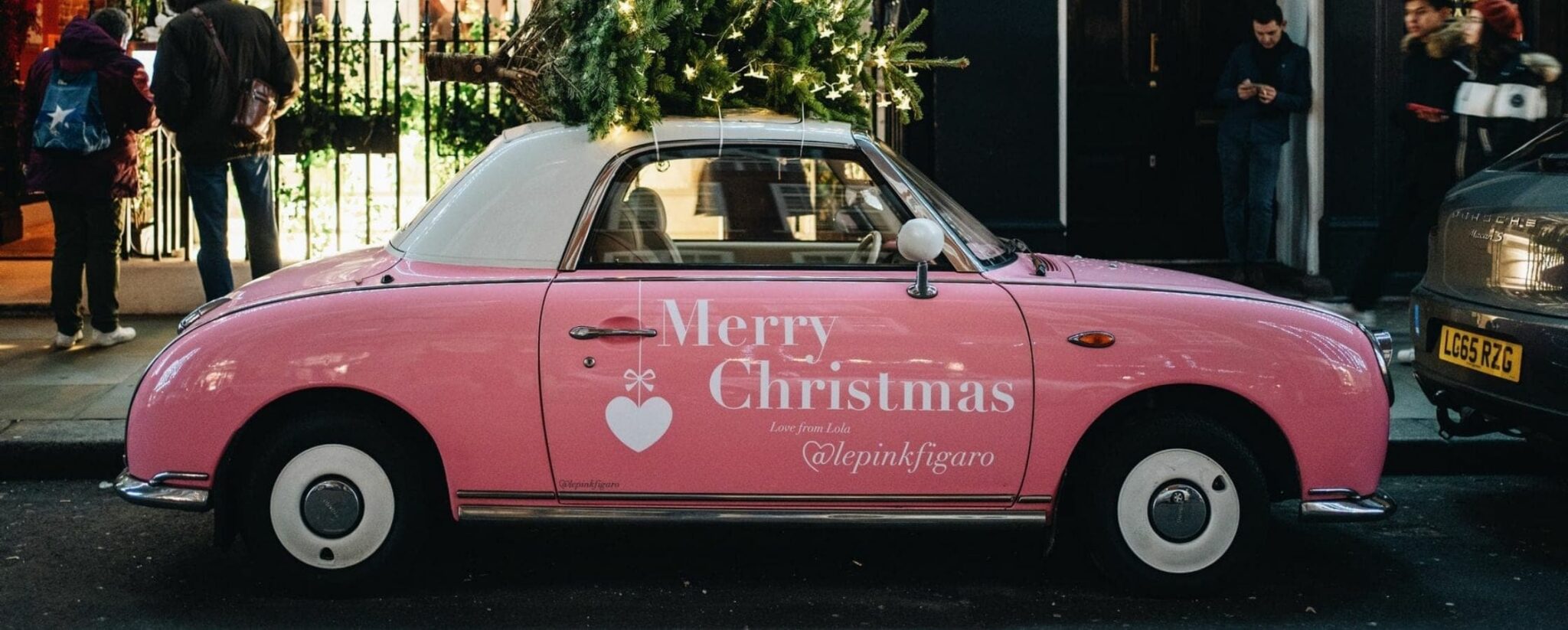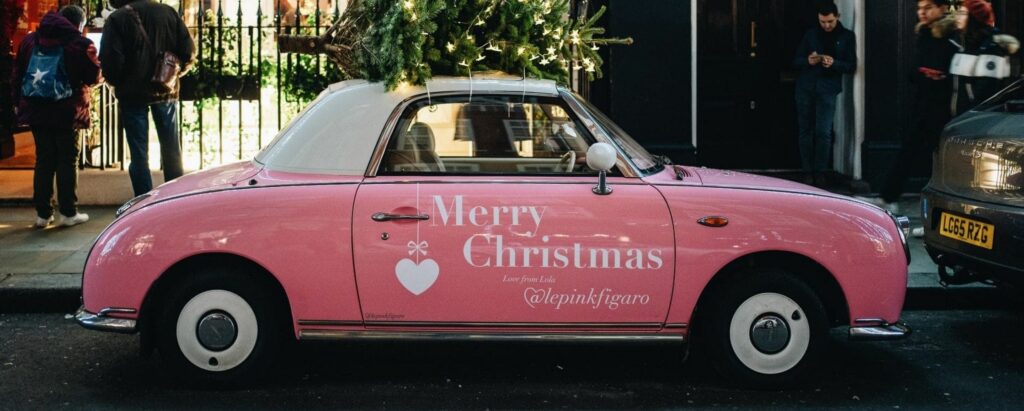 You will be delighted to know there are lots of legitimate car wrap advertising companies out there.
After all, if there weren't you wouldn't see so many ads driving around everywhere!
Typical signs you're dealing with a legit company:
Insurance is a requirement
Clean driving history is needed
You don't need to pay any fees
A decent well-maintained car is required
Wrapping costs are covered by them
Their website clearly provides contact details
The company has a good rating on the Better Business Bureau
How To Report Car Wrap Advertising Scams
If you think a car wrap advertising company could be a scam, then you should report it. That way the appropriate authorities can investigate. Hopefully, this will help prevent others from being scammed.
Unsolicited email offers can be forwarded to the Federal Trade Commission (FTC). You can email spam@uce.gov should you need to forward any suspicious emails to the FTC.
Phone scammers can also be reported to the FTC. You may also want to add your phone number to the National Do Not Call database.
Official complaints can be lodged with the FBI. The FBI may make further investigations or refer your complaint to other law enforcement agencies.
You can contact your State's Consumer Protection Office (SCPO) for assistance with many things including scams. The SCPO can offer help with consumer affairs either directly or by referring you to the relevant law enforcement agency.
Sometimes a scam may result in you receiving a check in the mail. If you receive anything in the post that you suspect is fraudulent, then you can make a report to the United States Postal Service
FAQs
Do I have to get the whole car wrapped?
No! Most car wrap advertising companies give you control over how much wrapping your car gets. You can choose a full wrap or a partial wrap. Some offers only need you to put decals on a window.
The choice is entirely yours, but remember you will earn more by having more wrap on your car.
Can I use a rental car?
You may not be a car owner or feel comfortable using your own car. The good news is that some companies are happy to rent a car for you to use, or have their own cars that you can use. Not only do you get the use of a car, but you get paid too!
What happens if I don't want to do a certain campaign?
Sometimes you might not want to do the ad campaign you're offered. You may not like the brand or perhaps you don't like the design of the car advertising sticker.
The good news is that ad choices are up to you. If you don't want to take part, then you don't have to! You won't be penalized and can still join future campaigns.
Legitimate Car Wrap Advertising