Disclosure: This post may contain affiliate links. If you click on a link I may make a small commission at no extra cost to you. You can read the full disclosure here.
Last Updated on October 23, 2022 by Chris Panteli
Keysearch Review & Tutorial
Keyword research is perhaps the most critical foundation of any good SEO strategy – and for beginners, finding tools that are up for the task and won't break the bank is an uphill struggle.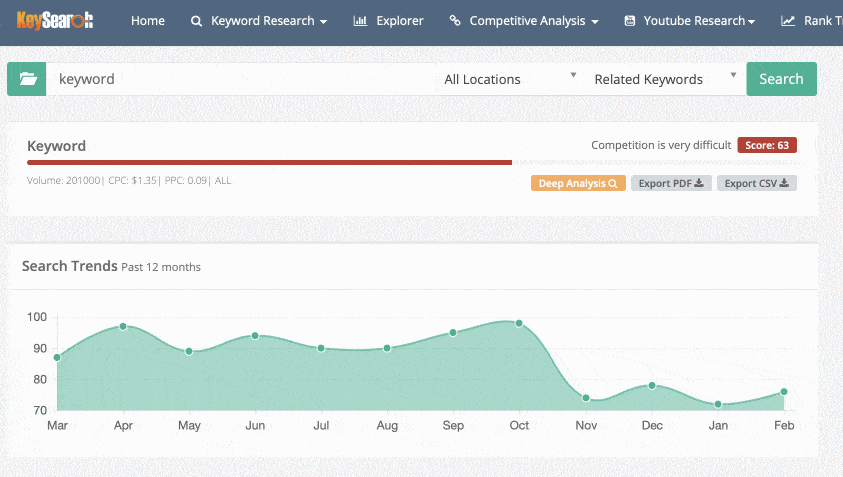 Historically, Ubersuggest from Neil Patel had been the go-to place to wade through the maze of keywords and find opportunities to rank. But since the freemium approach to his platform has left many high and dry, Ahrefs and SEMRush are simply too expensive for new bloggers, and what's left isn't much to shout about!
Until, Keysearch
The platform is robust, affordable, easy to use, and reliable.
If you want to be found on Google search, you need to know what people are searching for on Google
This comprehensive Keysearch review will outline the core features of Keysearch and provide a visual video tutorial of keyword research execution. If you are new to the world of SEO and don't want to be caught in a gunfight with a mere knife, then having access to good data can be the difference between success and failure.
Want To Learn How To Explode Your Organic Search Traffic with SEO?
The Stupid Simple SEO course by Mike Pearson has helped me grow my organic search by over 100% in just a few short months – and it can help you to explode your traffic as well.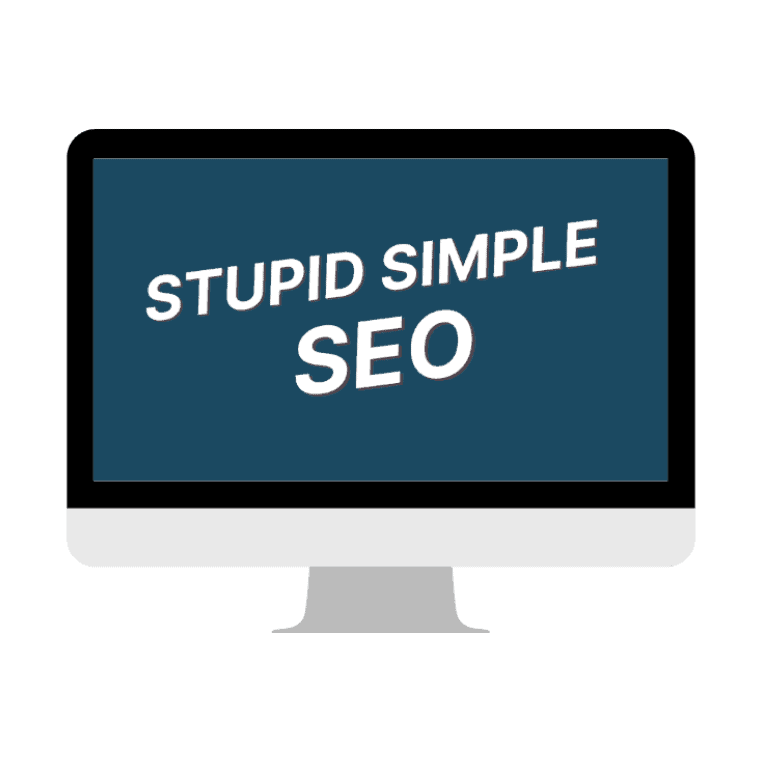 Can Keysearch save you money?
Performing effective keyword research can become an expensive necessity for any business. Keysearch is the best functioning keyword research alternative to Ahrefs and SEMRush currently available. Not only can you save an enormous amount of money, but you also still have access to top-notch data and a whole host of additional features that would normally cost extra as stand-alone tools.
Introduction To Keysearch
Dan Pfeffer founded Keysearch in 2015 as an answer to the often over-complicated and high-priced options available on the market. For the everyday blogger and internet marketer – often less is more – and Keysearch was a way to deliver robust data within a compact SEO tool.
And since its inception, Keysearch has earned high praise amongst individual SEO's looking to grow their website properties and not to spend a fortune doing it!
Keysearch Walkthrough Video Tutorial
This video walkthrough tutorial will show you all of the wonderful features Keysearch has managed to pack into this low cost yet effective keyword research tool:
Ultimate Keysearch Review & Tutorial - Platform Walkthrough
Tap twice to load then open Video...
Keysearch Pricing
Keysearch offers an incredibly simple pricing model – as well as a newly introduced free trial that allows you limited access to the platform.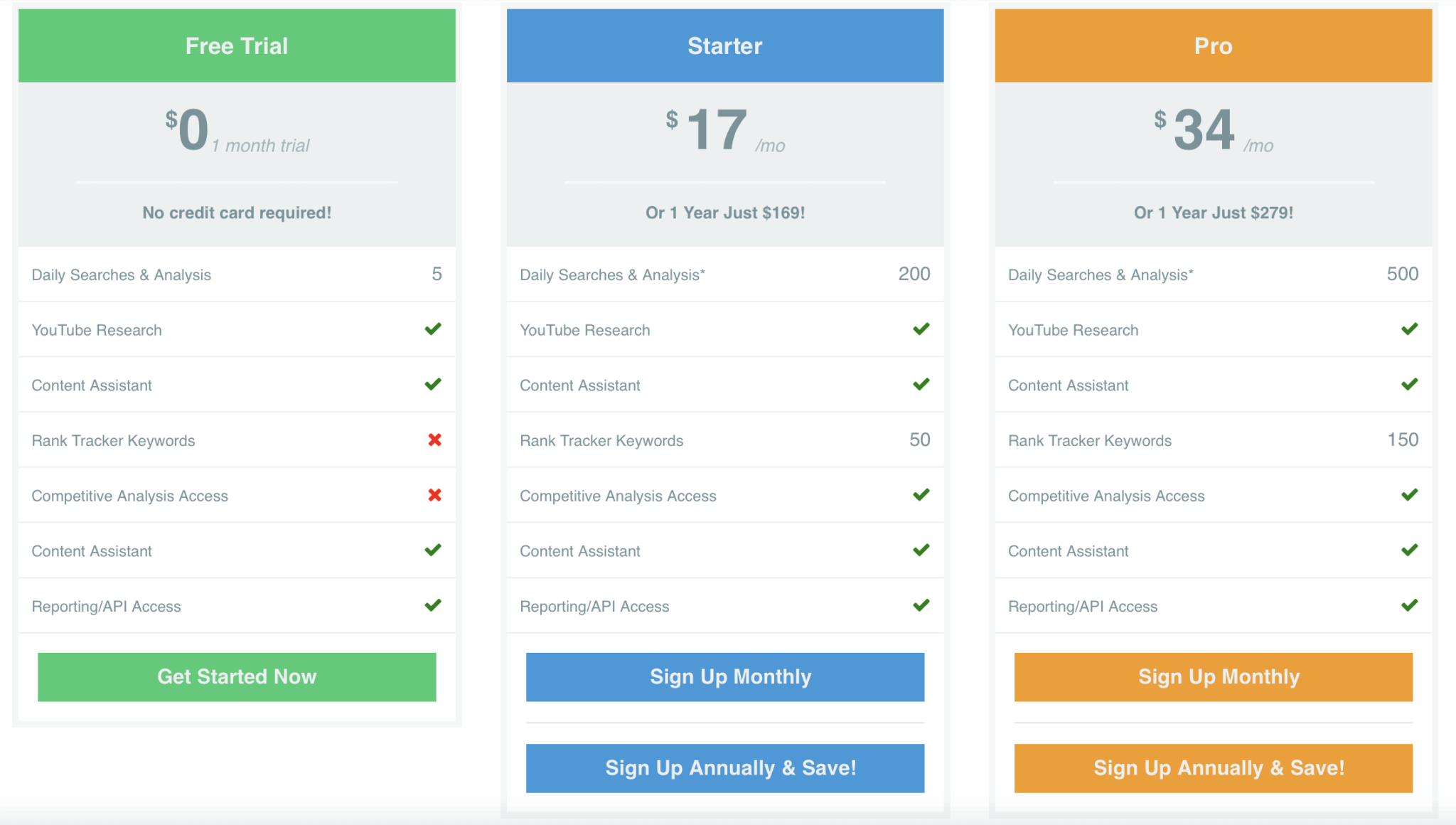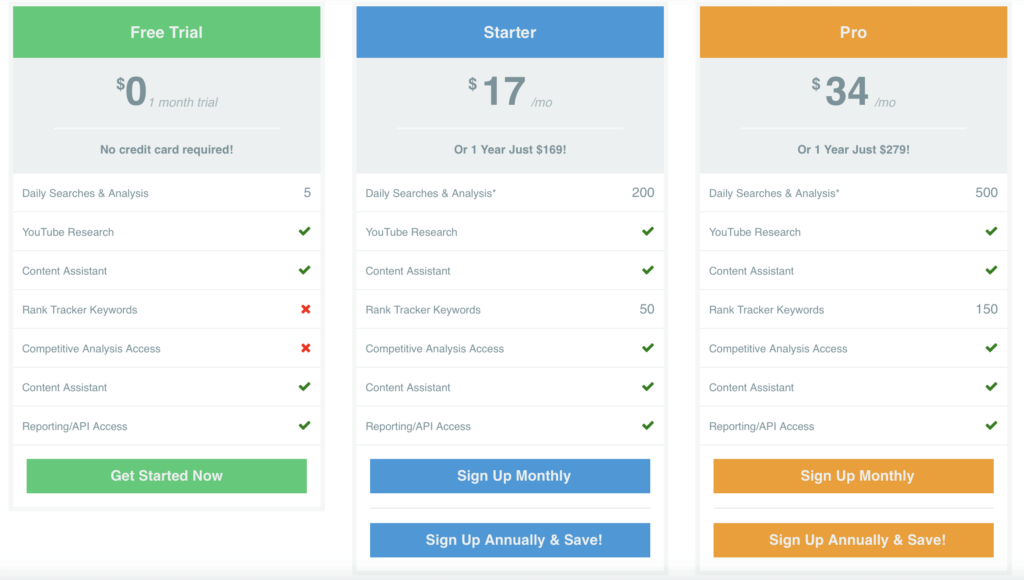 Firstly, unlike perhaps other keyword research tools you may be acquainted with – Keysearch uses a credit system for the number of keywords you can ascertain data on – and this quota is dependent on the membership level you choose.
But don't worry, for the average SEO, even the cheapest package provides more than enough daily searches.
The daily searches are the number of keywords you can search for and reveal data on – this will be explained in more detail further in the review. And while the free trial does not give you access to rank tracking or competitive analysis – it will allow you to explore the way in which Keysearch credits are used during your research.
Get 30% Off

Keysearch

For Life
Keysearch is the best budget keyword research tool available on the market. It is feature-packed, data-rich, reliable, and effective – explode your SEO today and take advantage of the 30% discount NOW!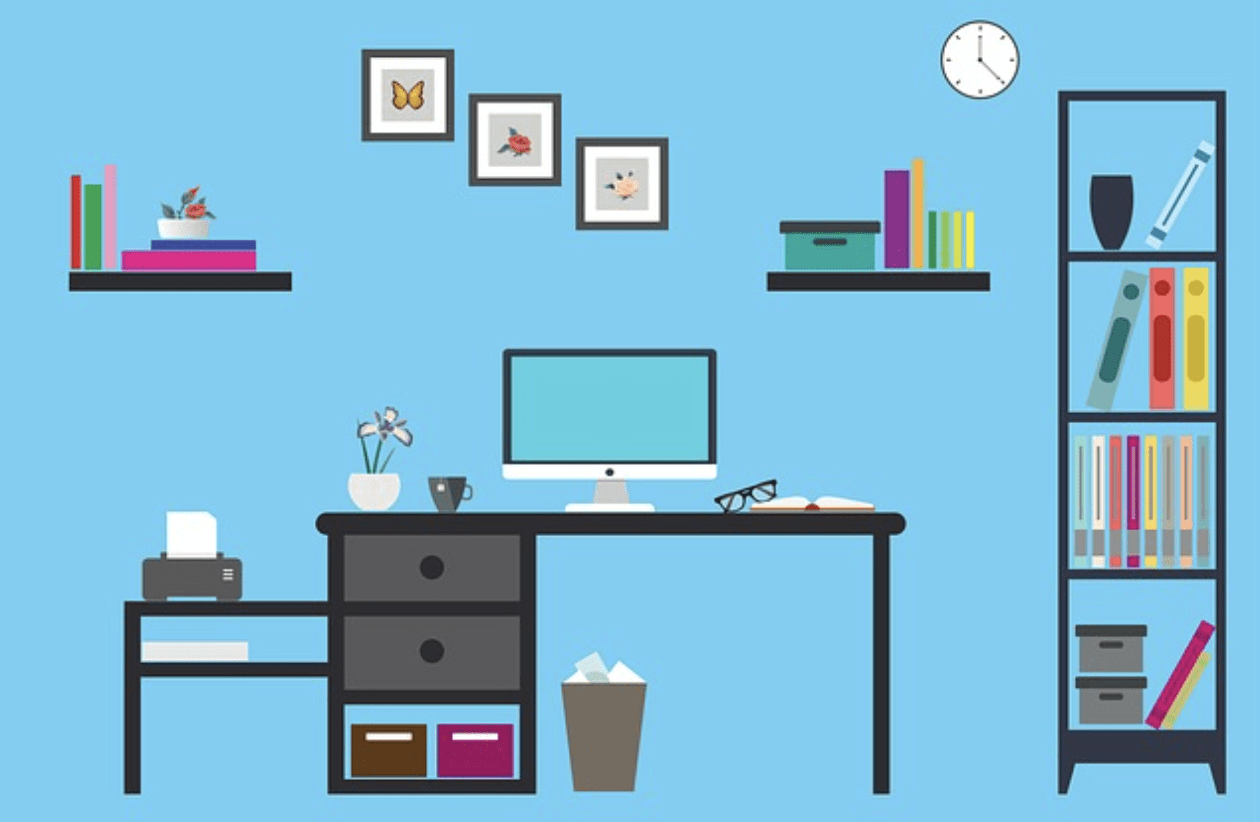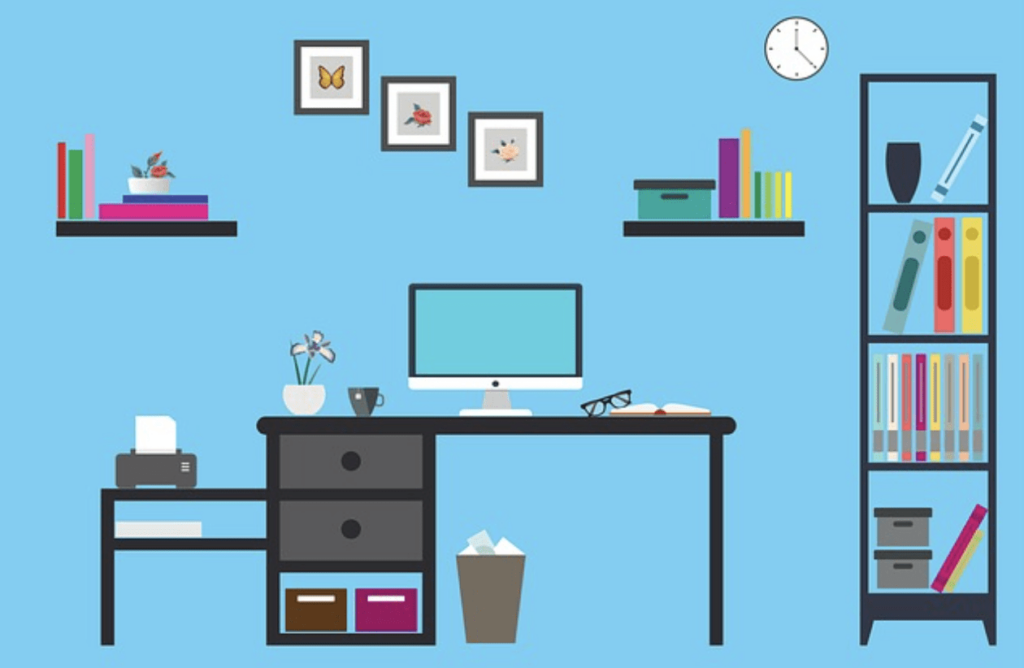 Finally, don't forget, if you signup for Keysearch through my affiliate link and use the discount code KEY30 – you can get a 30% lifetime discount – bringing your monthly cost to just $11.90 on the Starter package.
Keysearch Features
This section of the Keysearch review will delve deep into the functionality of the tool and how the features complement an effective keyword research strategy. The following information will be subdivided into the same categories that Keysearch organizes its platform – and will provide an overview of each feature.
The video tutorial above is definitely worth watching for more visual learners – and can give you a real taste of how the platform operates, how easy it is to use, and how beneficial it can be for any would-be SEO looking to dominate the search results.
Keyword Research

The core feature of the Keysearch platform is the keyword research facility – which allows you to explore myriad factors related to certain keywords. You can then assess this information to make a more informed decision on your chances of ranking a post for that particular topic.
You can use the search bar to enter a single keyword or keyphrase – and select the desired location as well as the database for which the search is run. The related keywords are probably the most used function – and this will spit out all keywords related to your seed keyword.
The results are then displayed on the right-hand side giving you Volume, CPC, PPC, and Score (difficulty) for each corresponding result.
The Score column will initially display a check option – and will cost you one credit to have it revealed.
Credits
This is where the platform differs from most other keyword research tools available on the market – and is perhaps the reason why they are able to maintain such an excellent service at such a low cost.
They minimize the requests to their servers by limiting the data for which you can see – and credits is the currency used in order to access the required information.
For example, on the starter plan, you get 200 daily credits, and each keyword score that you click to check uses one credit. Now, this may seem cumbersome and somewhat limiting – but I assure you that you can maximize the efficiency of your research and get plenty of information out of even the lowest-cost plan.
Watch this video to see how I do it:
Keysearch Hack - Master Your Keyword Research
Tap twice to load then open Video...
To illustrate this functionality further take a look at the image below. You can see that my current daily Credit count is at 198 – with just the seed keyword (how does it work) showing the difficulty score: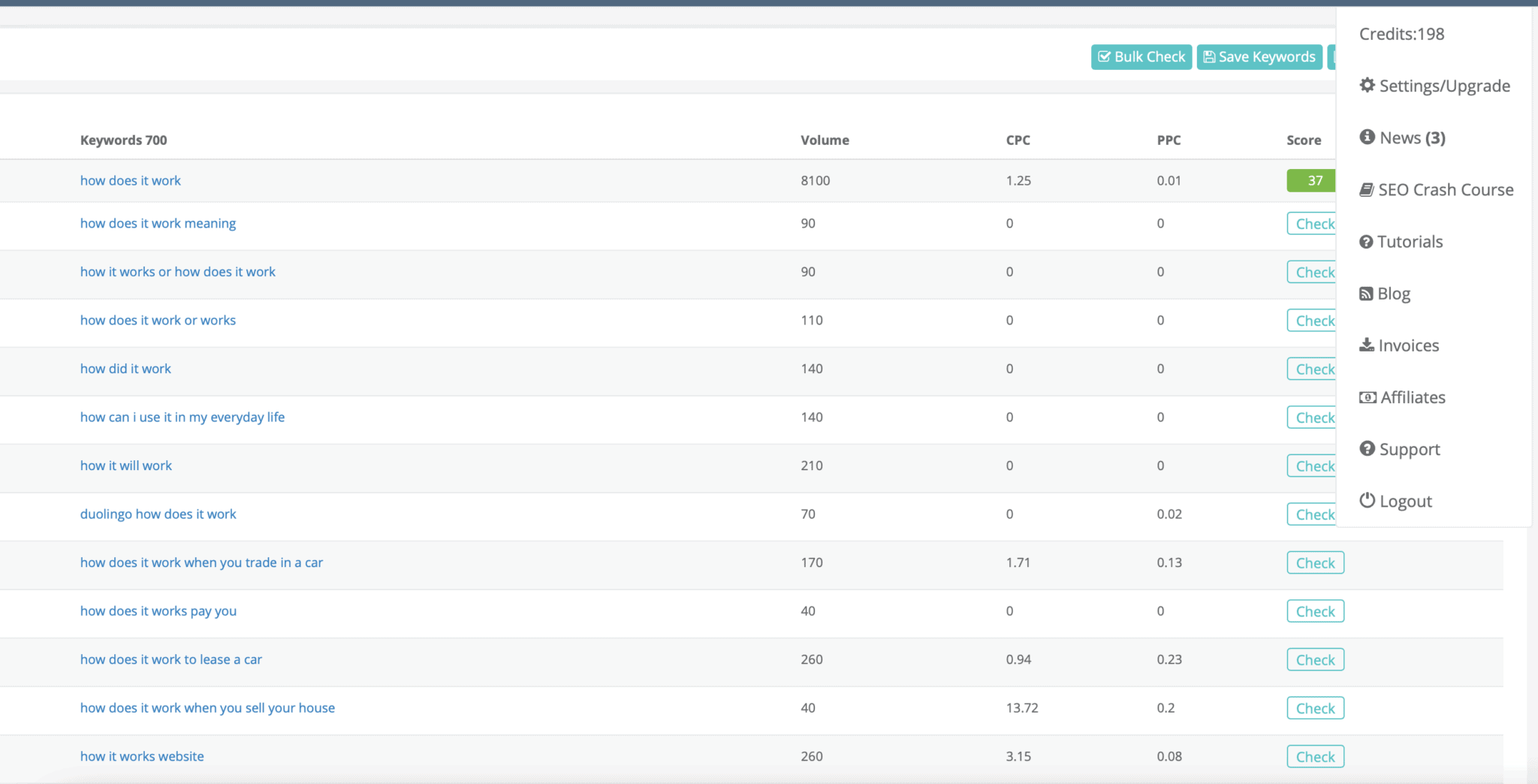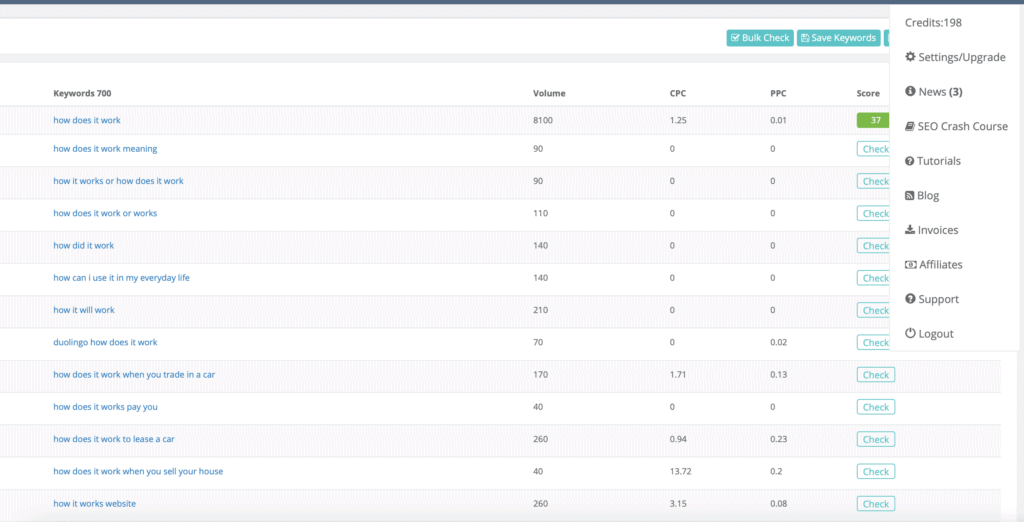 I will now click the check button next to the proceeding eight keywords – thus revealing the difficulty score – and reducing my Credit count to 190: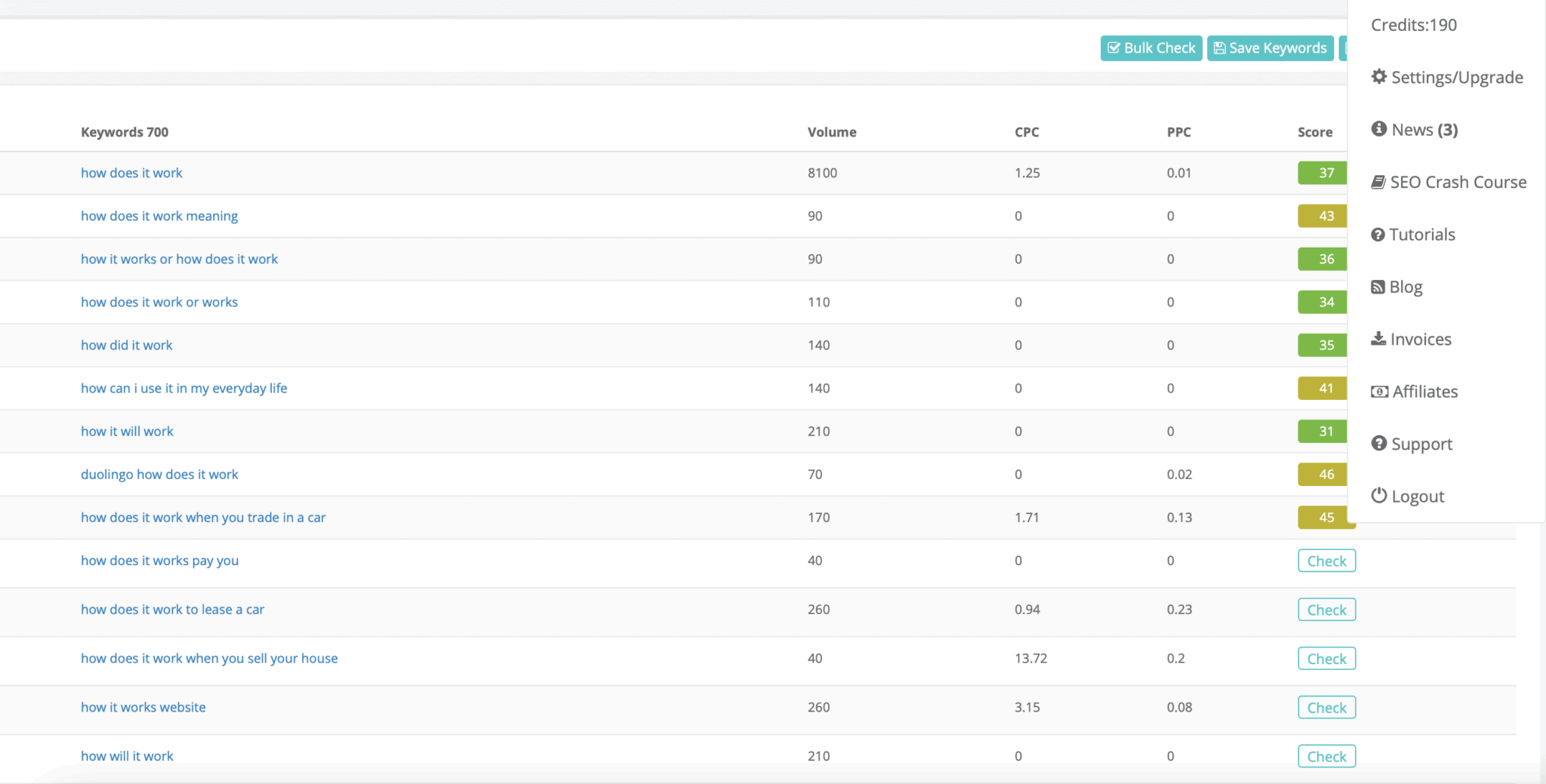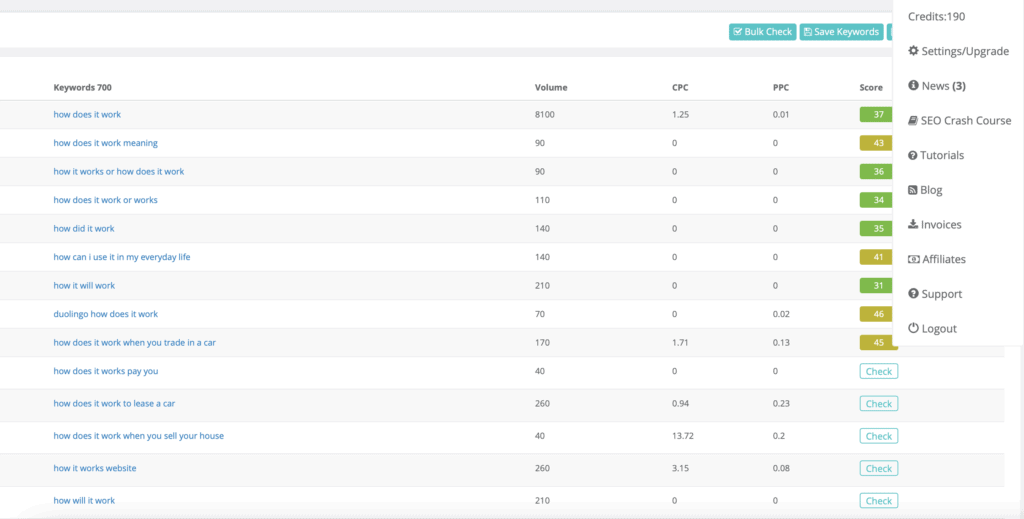 You can also bulk check a number of keywords and LSI keywords at the same time – and this will reduce your credits accordingly. And at the end of each day, your credits are reset ready for you to start all over again.
Volume
The keyword volume is an approximation of the number of searches a particular keyword receives in a given timeframe – and for Keysearch it is per month. So when you see a Volume of 8100 – you can assume the exact phrase is searched for approximately 8100 times per month.
Score
The difficulty score gives you an indication of how easily you can rank for any given keyword.
Tools such as Ahrefs produce their difficulty score exclusively based on the number of referring domains (backlinks) pointing to a page – and how many links you will need in order to rank. And as we all know, this is not the only factor Google accounts for when ranking pages.
Keysearch does not base their score solely on backlinks, as confirmed when I reached out to them:


The representative from Keysearch informed me that there were a number of metrics involved in their difficulty score calculations, including:
Backlinks
Dofollow links
Strength of domain (DA/DR)
On-page factors
URL traffic
The score is on a scale of 0 – 100 with 0 being the easiest and 100 being the most difficult. Keysearch also uses a color-coded visual representation to make it easy to understand the score – and that looks like this: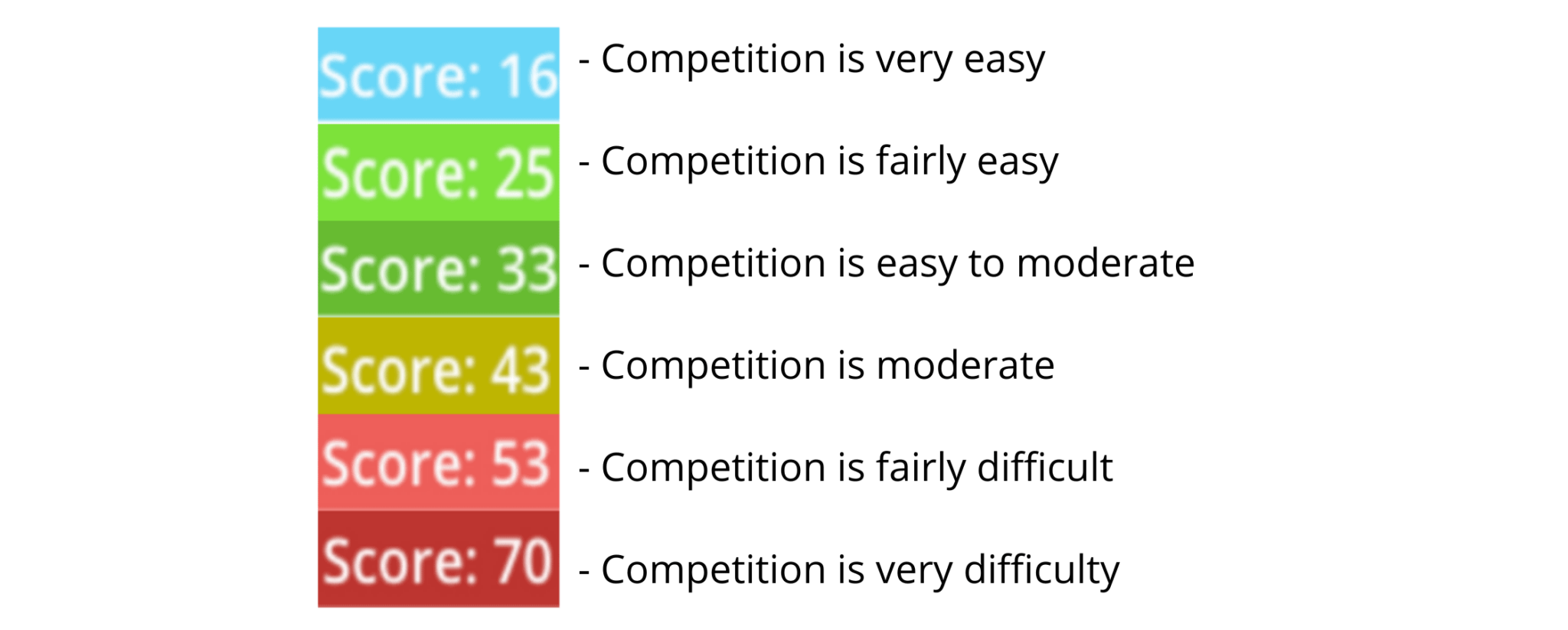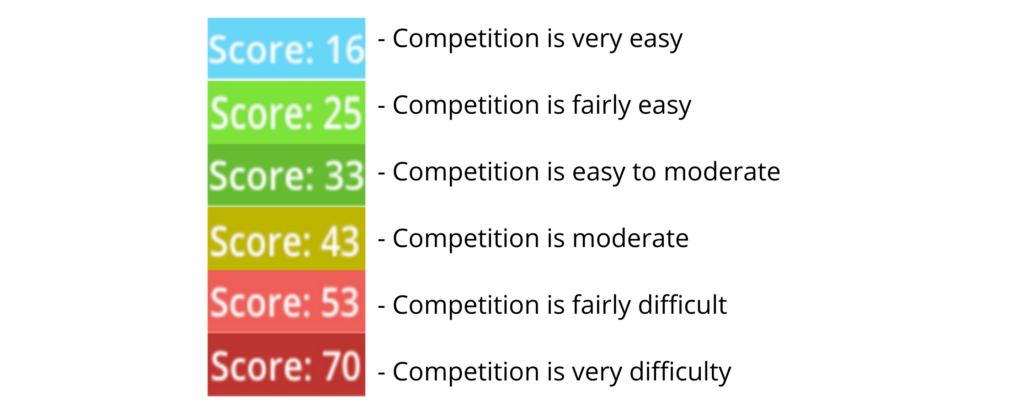 I must confess I find the approach Keysearch takes with producing their difficulty scores very intuitive. And while Ahrefs' data may be superior for a number of metrics – the difficulty score' produced on this budget research platform has enabled me to land a number of 1st position rankings and gain massive SEO growth in a very short space of time.
SERP Analysis
The SERP analysis feature gives you a snapshot view of the top 10 results for your given search query. It displays the top-ranking URLs in order – alongside a number of key metrics you can use to deduce your chances of ranking.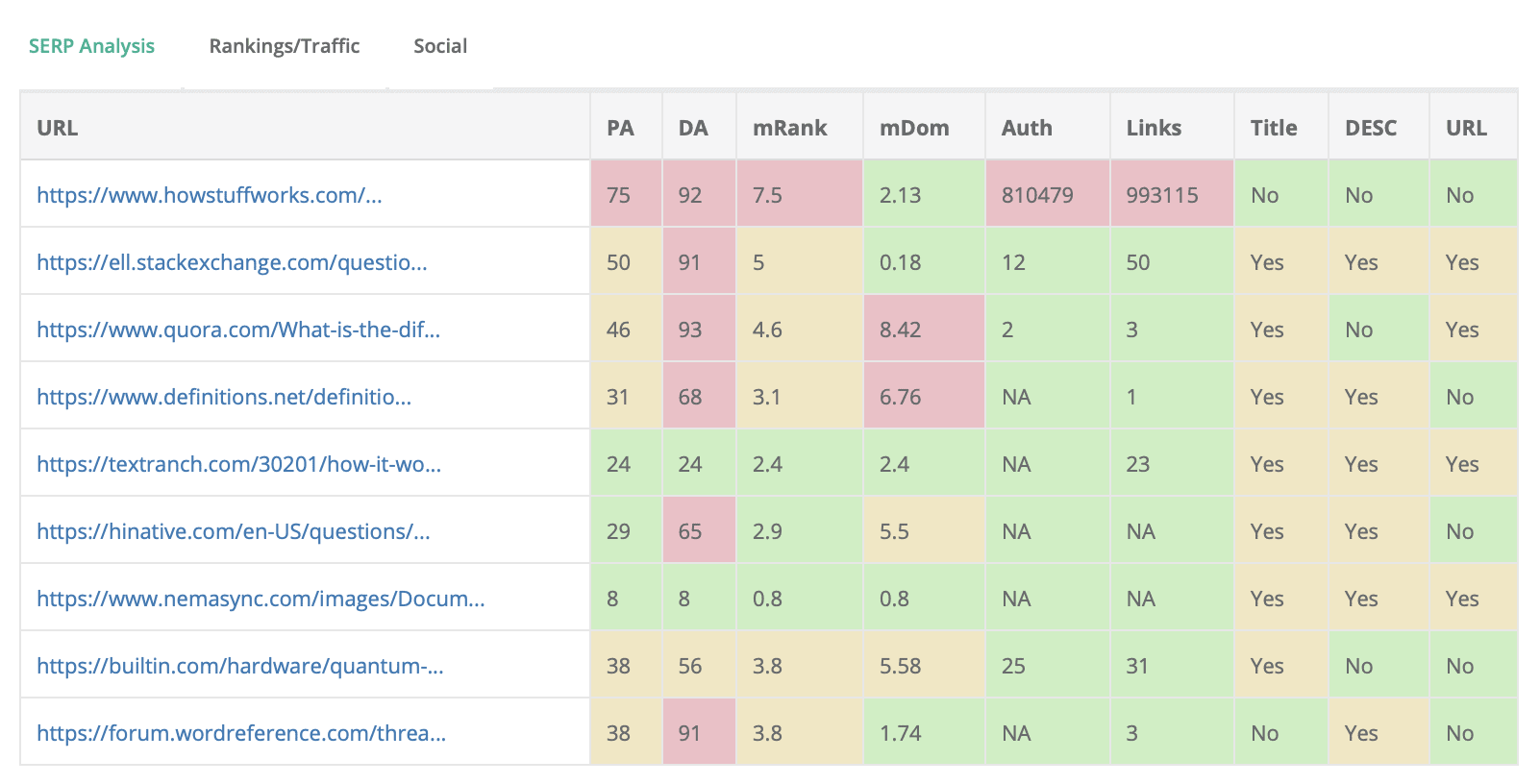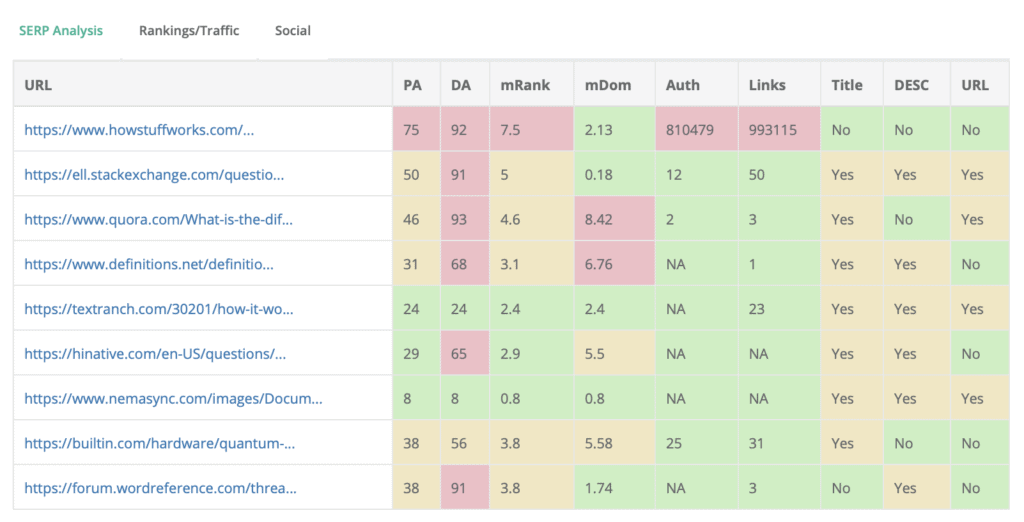 The key metrics worth noting are PA (Page Authority), DA (Domain Authority), and Links (number of links pointing to that URL). These metrics are also color-coded with the same criteria as the keyword difficulty score.
Rankings/Traffic
The rankings and traffic feature allows you to identify key metrics on a domain level for each top-ranking URL.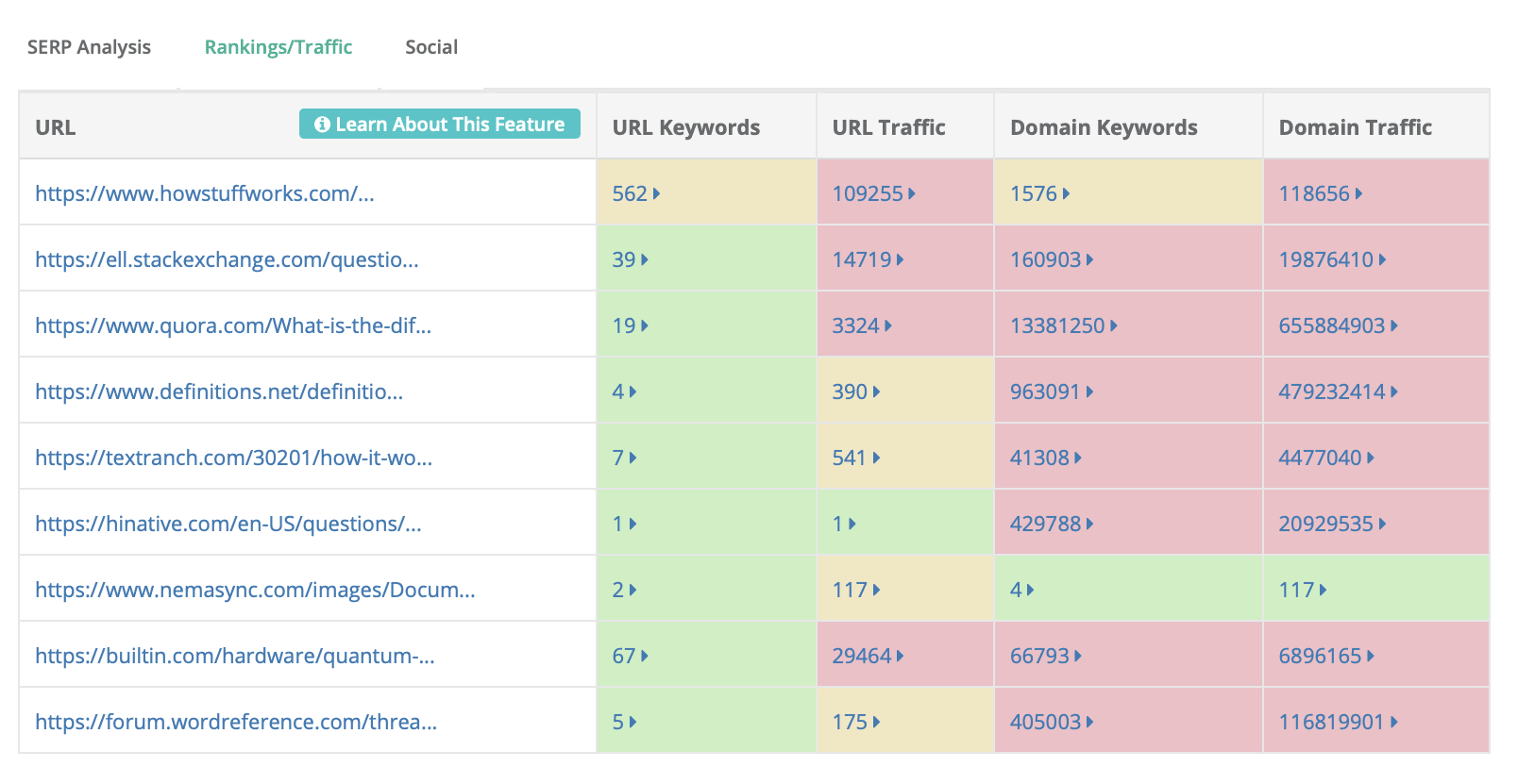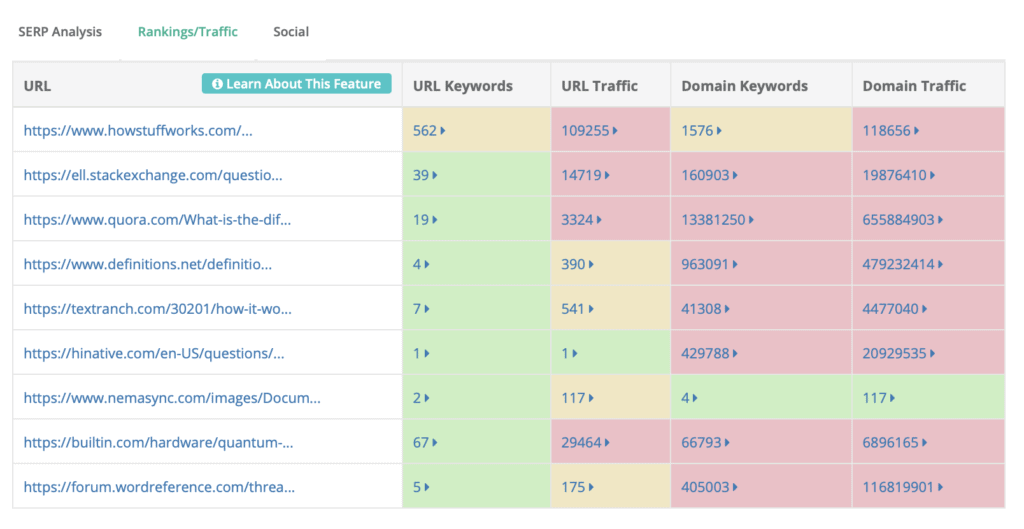 The URL Keywords tab displays the number of keywords each URL is ranking for. You can click on the numbers to reveal the entire list of ranking keywords – and use the information to enhance your content and increase search visibility.
The URL Traffic tab shows the estimated monthly traffic each URL brings in from Google. The same information is also available on a domain level – rather than for each individual URL.
Social
The social metric displays the number of times each URL has been shared on Facebook and Pinterest. This can give you a good indication of the required social signals needed to rank – as well as the type of referral traffic any given post may attract.
Filter
When conducting keyword research with Keysearch you may wish to filter results in order to best utilize your credit allowance.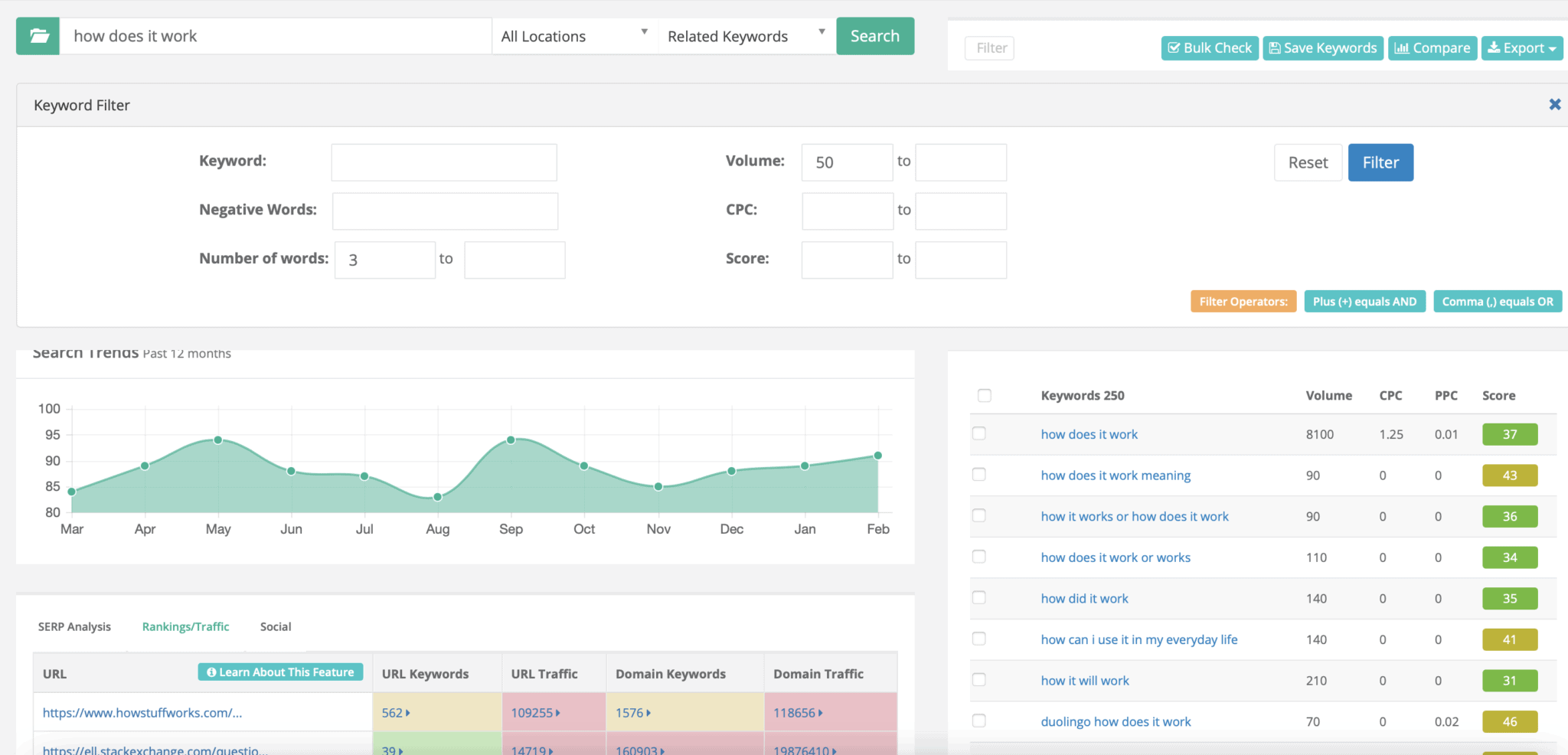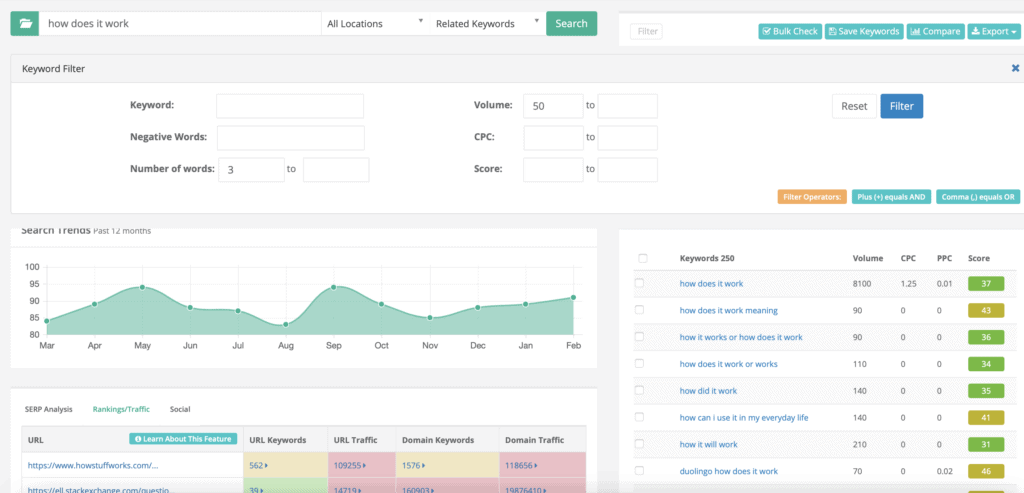 You can filter by keyword, negative keywords, number of keywords (good for long-tail variations), volume, CPC (can be a leading indicator for competitiveness), and score.
The only issue with the filter is when trying to narrow down using the score – as the system will only filter results that have been checked and thus used a portion of your allowance.
For example, the image below shows a search query for the keyword 'best running shoes' with a score filter maximum set to 20.


As you can see there is no available data, and that is because I have never searched that keyword before and thus never checked any scores to be filtered.
A better way to utilize your credit allowance is to filter by metrics that could result in lower competition keywords – such as a higher word count and lower CPC. You can then check the scores with a higher chance of finding lower competition.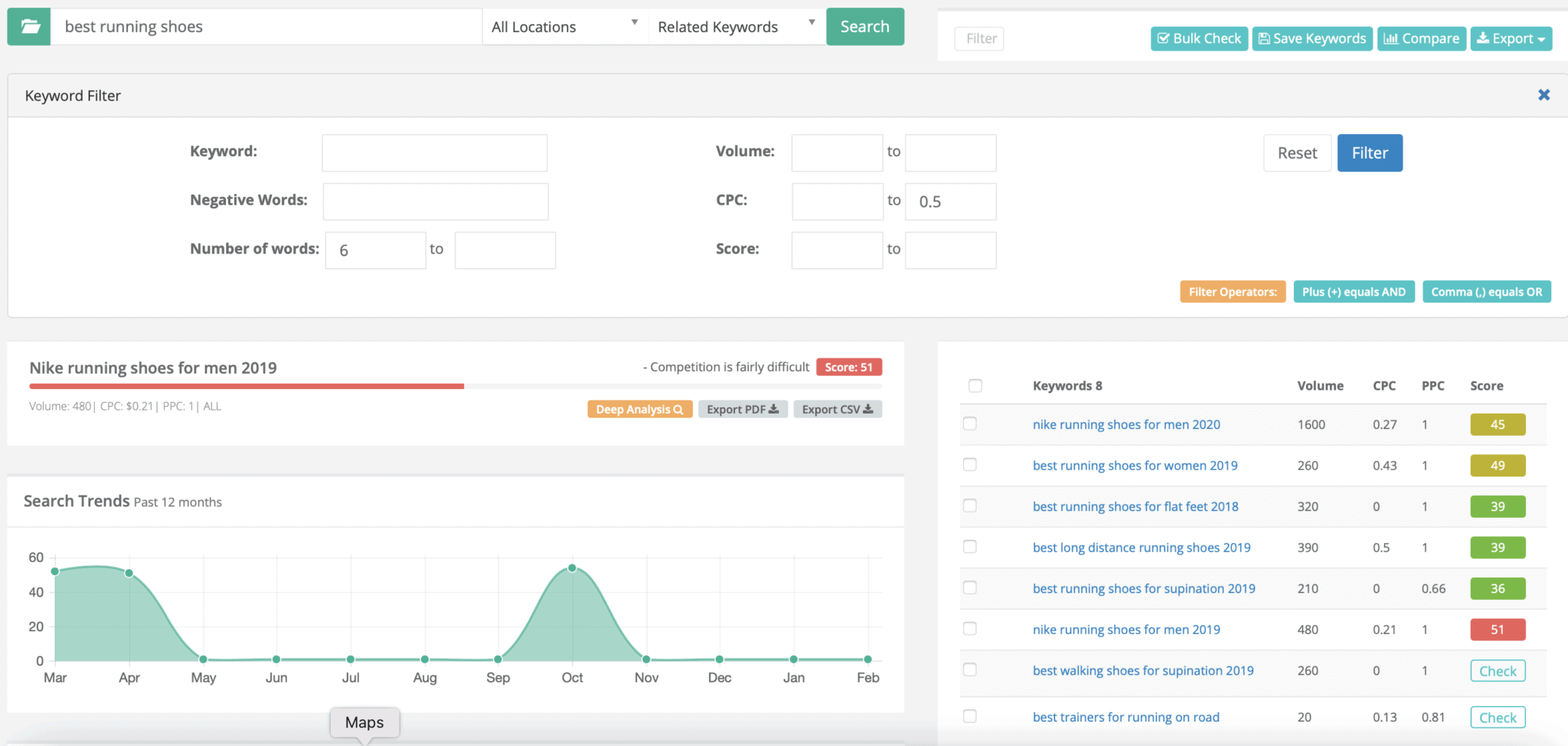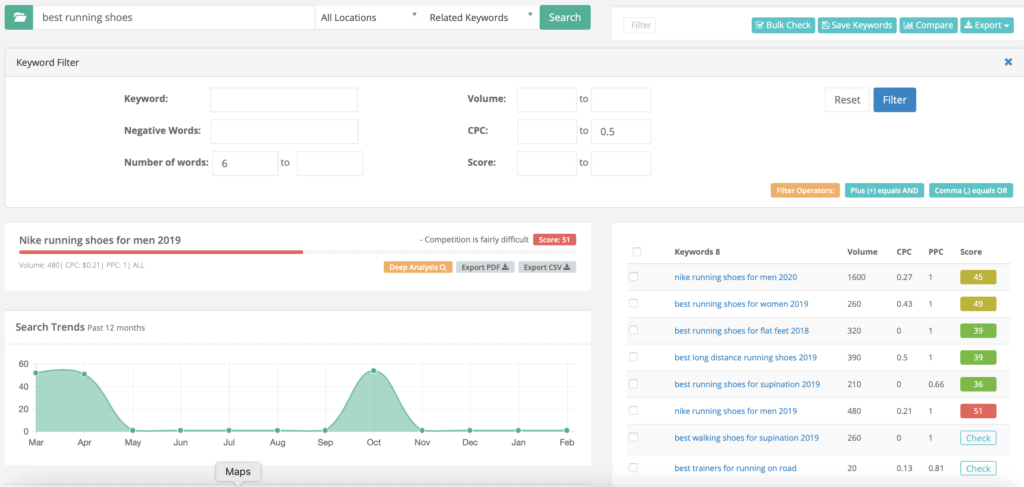 As you can see from the above example I used a minimum number of words parameter set to 6 and a maximum CPC value of 0.5. I then checked the first 6 results, used 6 credits, and managed to find 3 keywords where the competition is easy to moderate.
Tweaking the parameter settings you use can help maximize your chances of finding good results.
Bulk Check
The bulk check feature allows you to check the difficulty score of a number of keywords with one click. You can either:
Select the checkboxes next to the keywords you wish to bulk check or
Use the Quick Difficulty tab from the sites top navigation menu and either

Manually insert up to 50 keywords with a comma between each in the search bar
Copy and paste up to 50 keywords with one per line
Import an Adwords CSV
All options will result in a corresponding reduction in your credits depending on the number of keywords you are searching. Therefore, I suggest you use this feature wisely – at the end of the day before your credit allowance resets is a good idea!
Export
Any good SEO research tool worth its salt will have the ability to export data for you to further analyze – and Keysearch is no different.
You have the ability to either copy the data to your clipboard and paste accordingly – or you can export it as a CSV or PDF.
Explore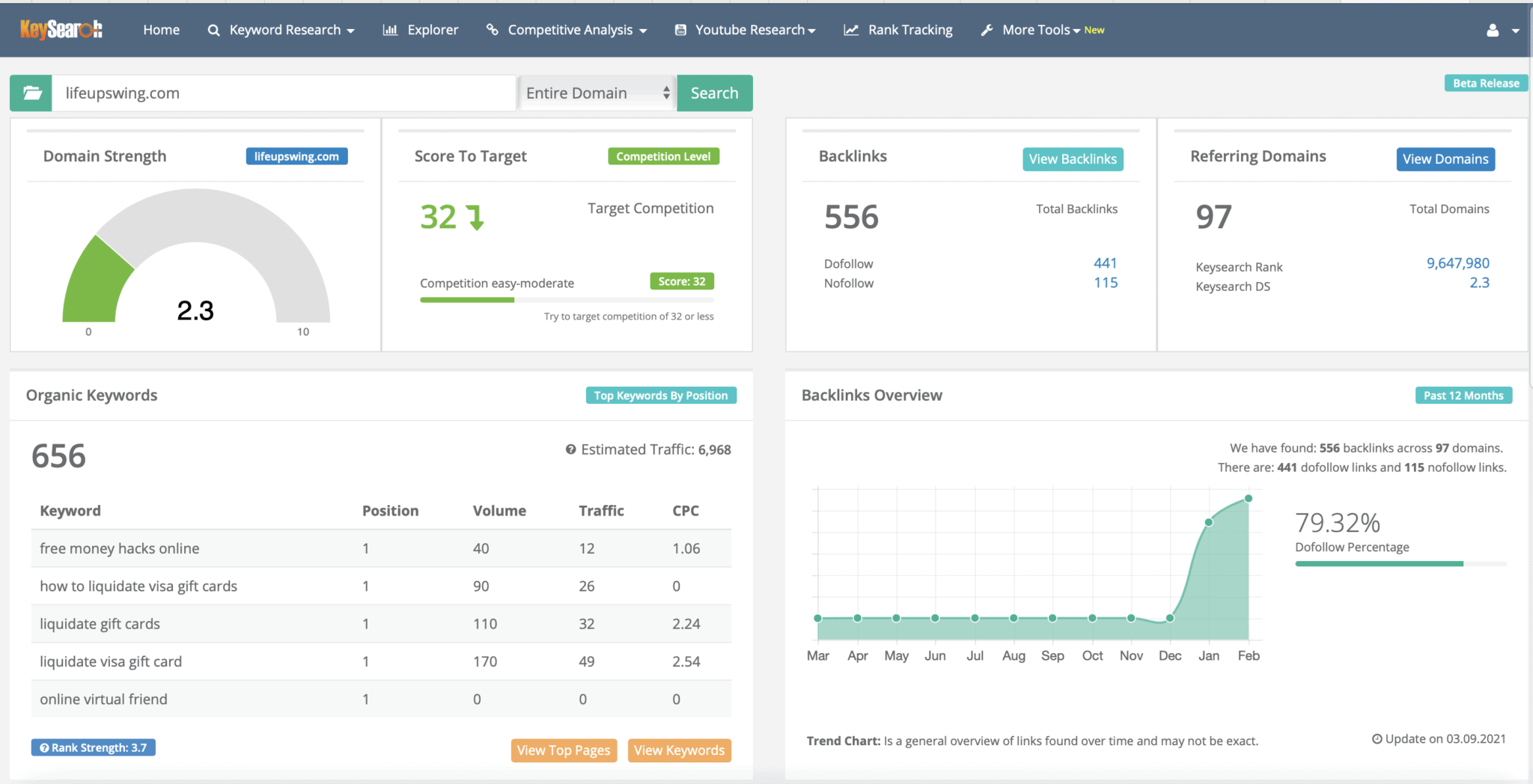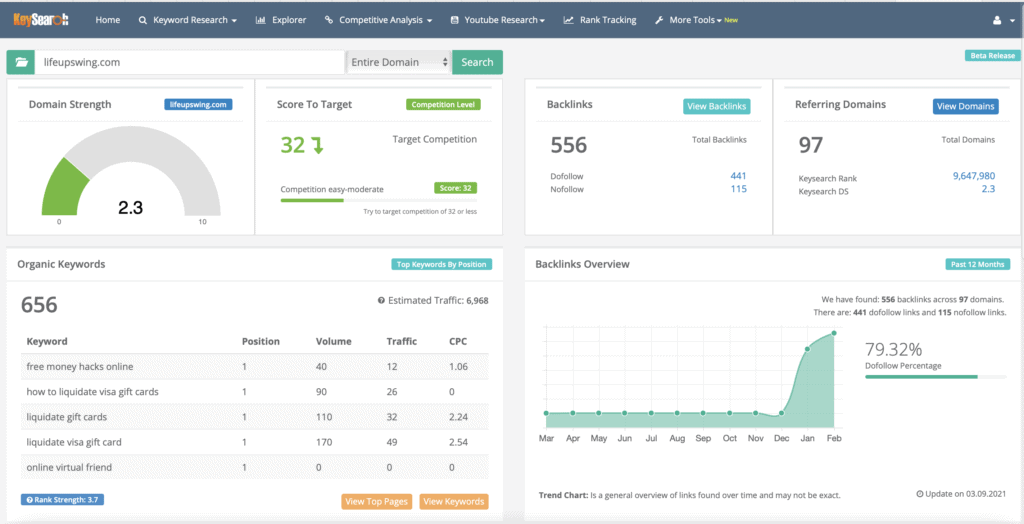 When conducting competition analysis – or even analysis of your own site and its performance metrics – the explore section presents meaningful information in a digestible way.
You can enter a domain or specific page and retrieve a snapshot of the site's organic keywords, backlinks, and referring domains. You can also see the domain's top competitors, ranking distribution, and top anchors (backlink anchor text).
This information is extremely useful for both your own site – and for research purposes when conducting an analysis of your competitors.
Get 30% Off

Keysearch

For Life
Keysearch is the best budget keyword research tool available on the market. It is feature-packed, data-rich, reliable, and effective – explode your SEO today and take advantage of the 30% discount NOW!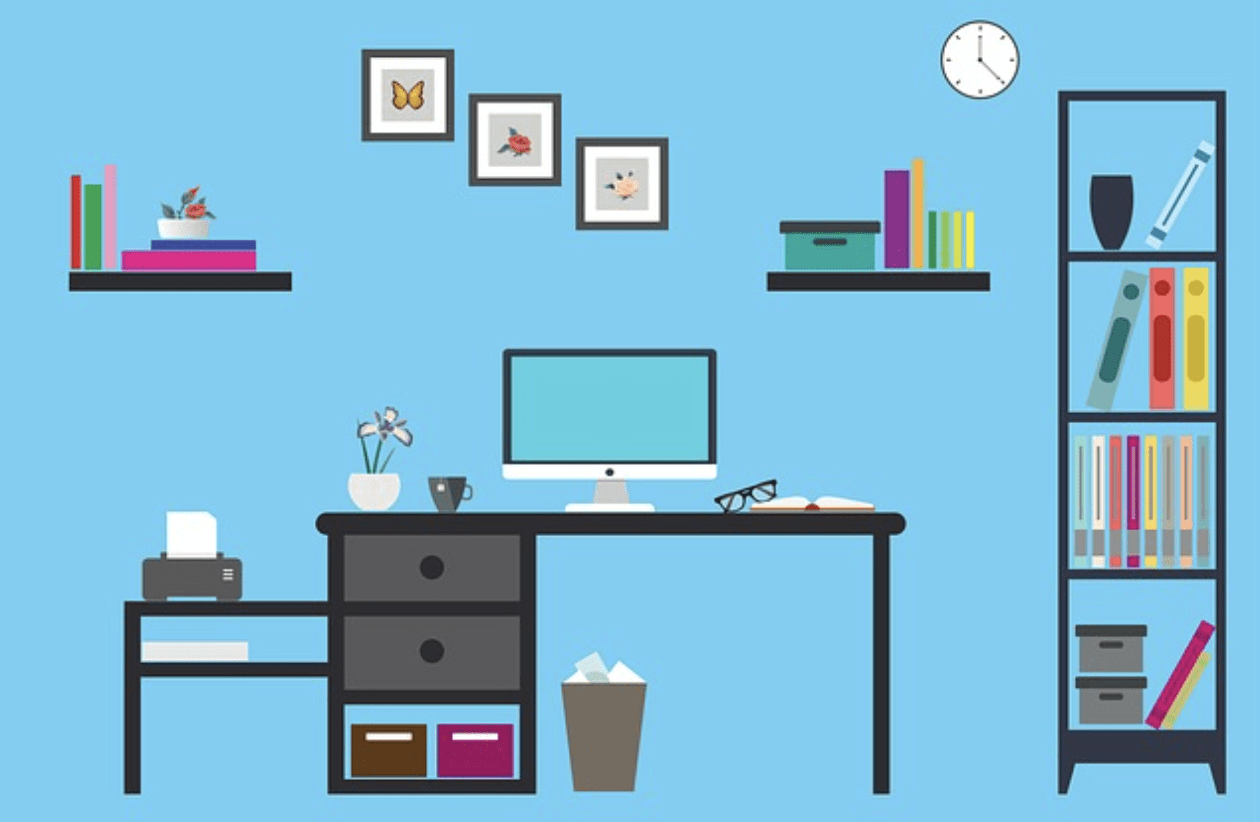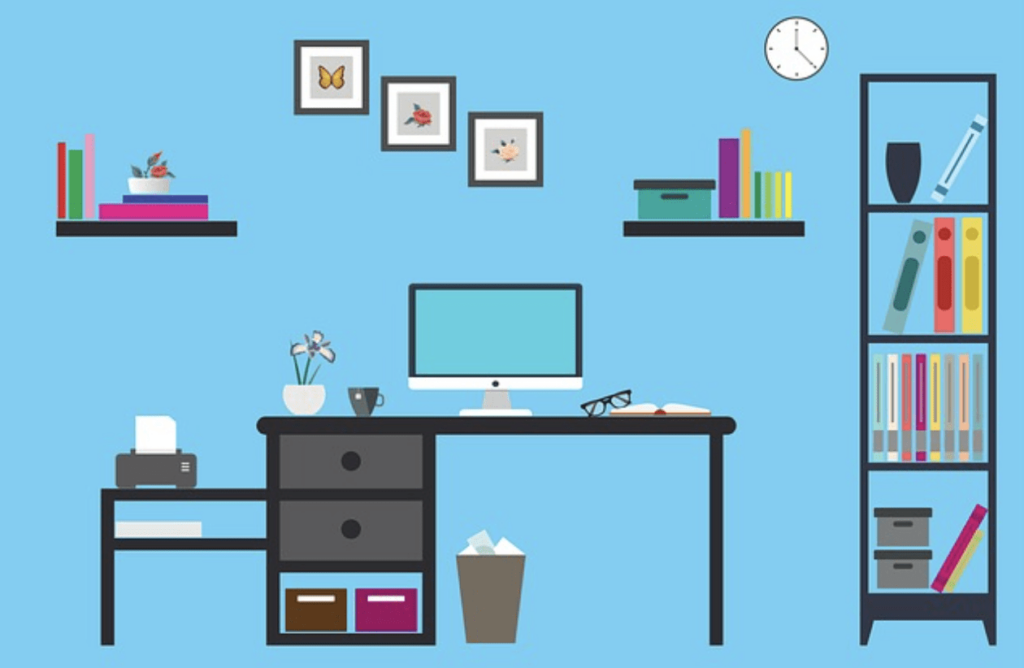 Domain Analysis
The domain analysis gives you two pieces of really useful information, especially with regards to your own website – and its ability to rank for a particular keyword.


The Domain Strength Score (which is on a scale of 1-10 with 10 being the strongest) gives you an indication of how authoritative your domain or the domain you are researching is. This is similar to Moz's DA or Ahrefs' DR score.
Based on this score you will also be shown a Score To Target value – which suggests the difficulty score you should be able to rank with for any given keyword.
As you can see, Keyserarch suggests I should be targeting keywords with a difficulty score of 32 or less – and in doing so stand the best chance to rank in Google.
Organic Keywords
The organic keywords report gives you a snapshot of ranking keywords as well as the ability to derive further detailed keyword information. This report also gives you an estimated monthly traffic figure and a total number of organic keywords for the relevant domain.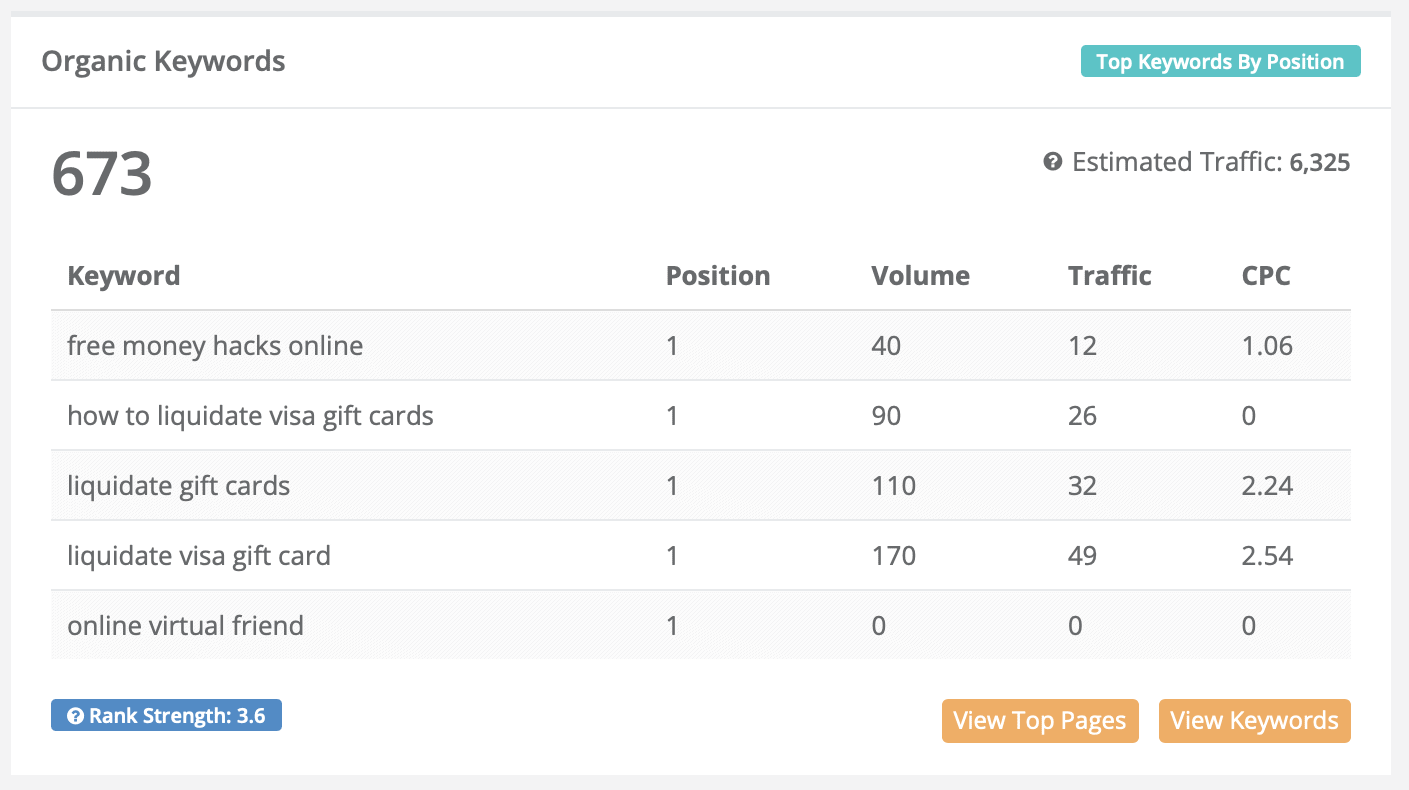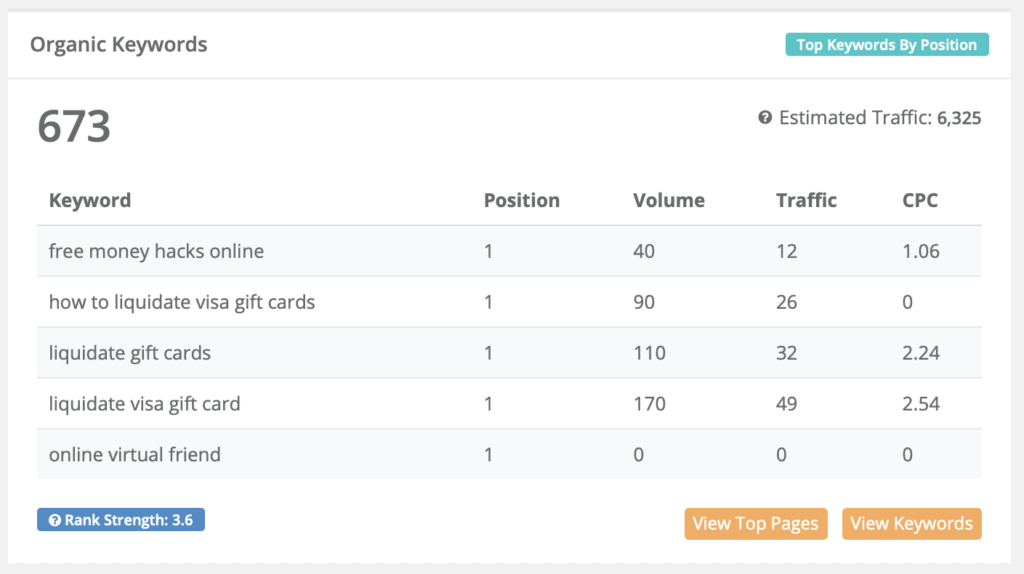 A perhaps somewhat hidden 'golden gem' feature of the keyword research tool is located on the bottom right-hand-side of the organic keywords panel. The two buttons located here allow you to expand Top Pages and View Keywords – and while the keywords button simply opens the report for all organic keywords – the Top Pages button can provide some extremely useful insight when conducting competitor analysis.
Top Pages
Here you can view the domain's top-performing pages – and these are arranged by traffic metrics. Therefore, when conducting your competition research, if you find low domain authority sites you can track the pages which brings them traffic and go after their keywords.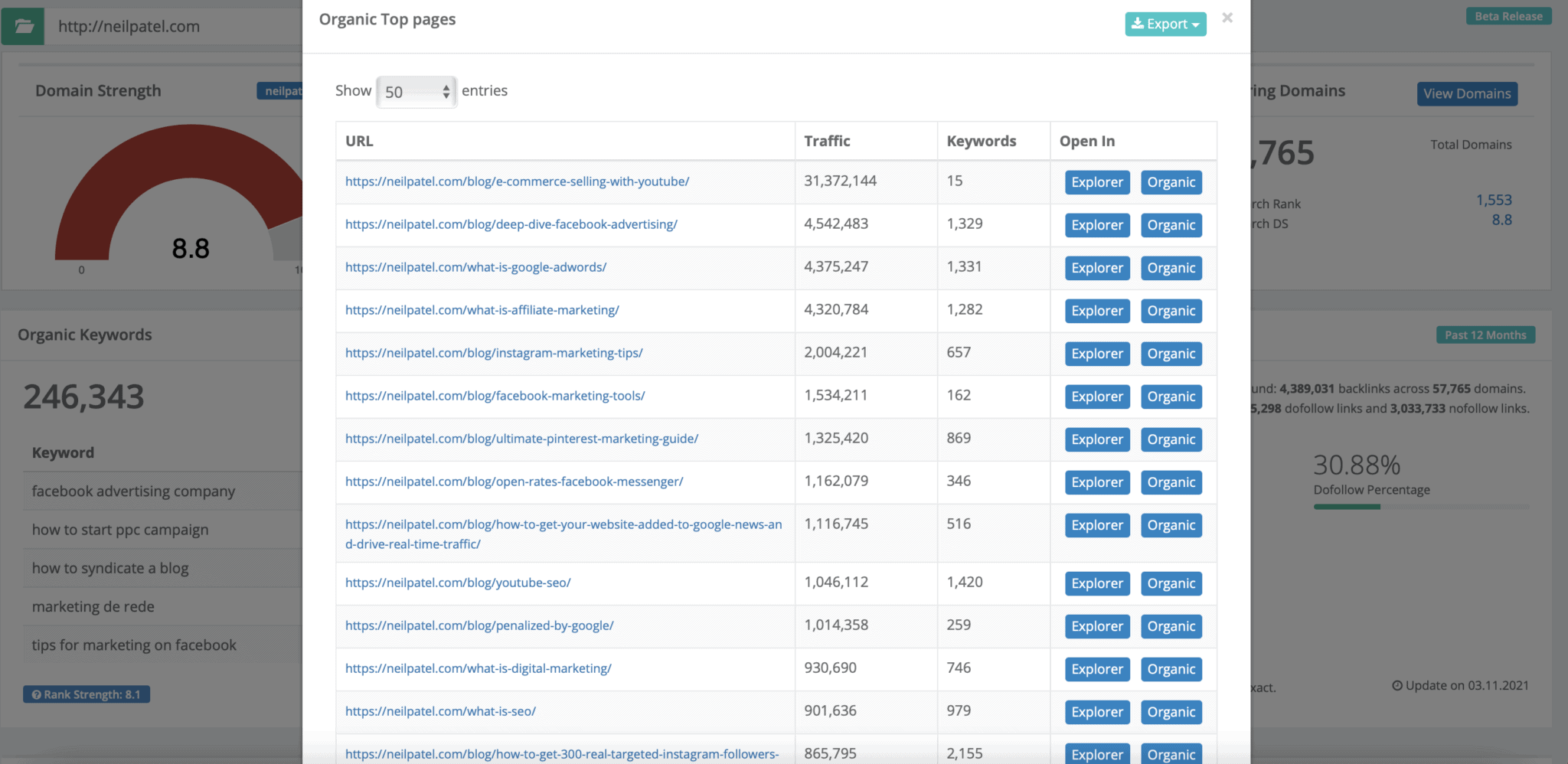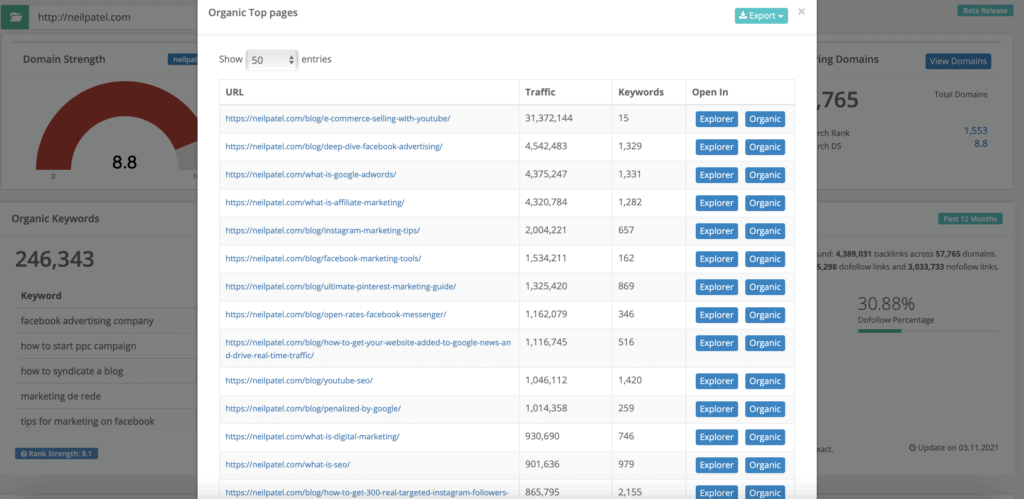 As you can from this search of Neil Patel's website – his top-performing pages are ordered by traffic size – and the two options in the right-hand column allow you to either explore the URL further or expand the organic keywords that each page is ranking with.
Top Competitors
Finally, Keysearch provides a Top Competitors report based on overlapping metrics of the domain you are searching for. This is again extremely useful when performing competitor research – and can quickly provide you with a list of highly niche relevant domains with which to expand your research.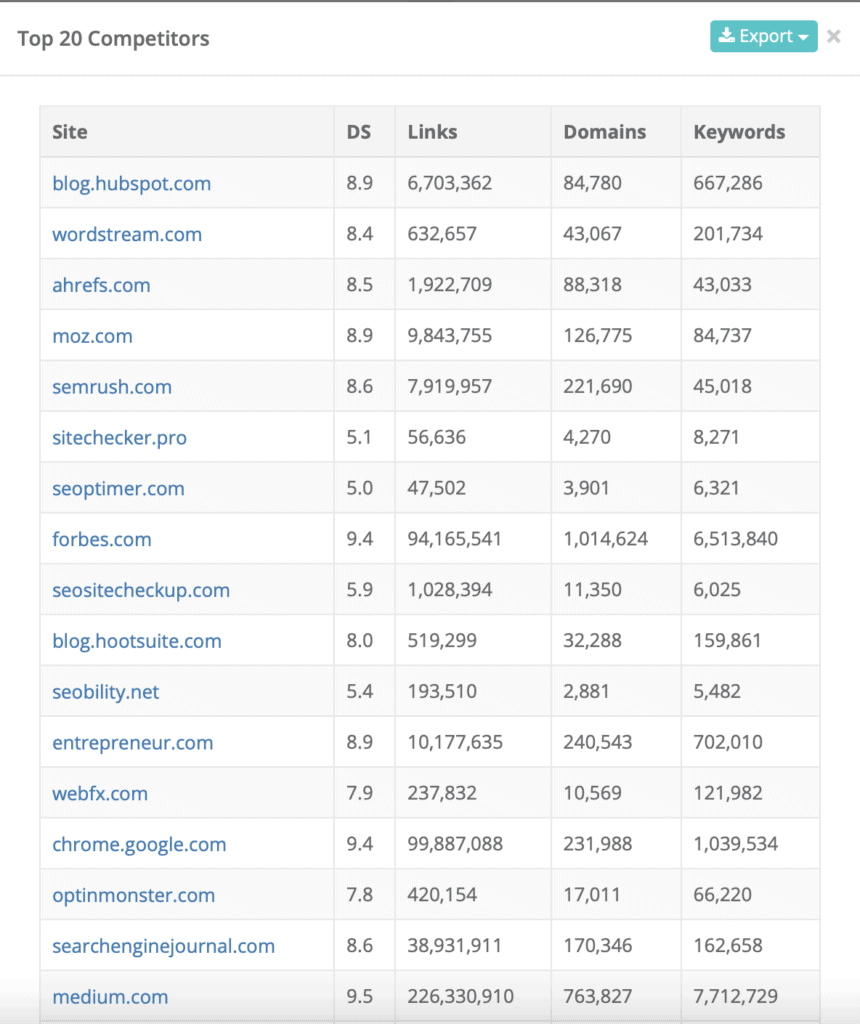 The one downside of this report is that it's limited to the top 20 competitors – which is somewhat lower than alternatives such as Ahrefs. However, unlike Ahrefs, the domain strength metrics are also provided – which makes it quick and easy to scan for candidates.
You can also export this data to CSV or PDF and use it within other tools such as Google Sheets.
Competitive Analysis
Whilst some of the functions under this section are available from other areas of the platform – the Competitive Analysis tab houses everything you need to research the competition in one place.
Backlink Checker
You may love it or hate it, but either way, backlinks play a hugely significant part of any SEO strategy – and your keyword research tool of choice would be incomplete without a decent backlink checker.
Keysearch may not be able to scrape the web at the same velocity as SEMRush or Ahrefs – but for a budget SEO solution – the data it can retrieve is pretty good.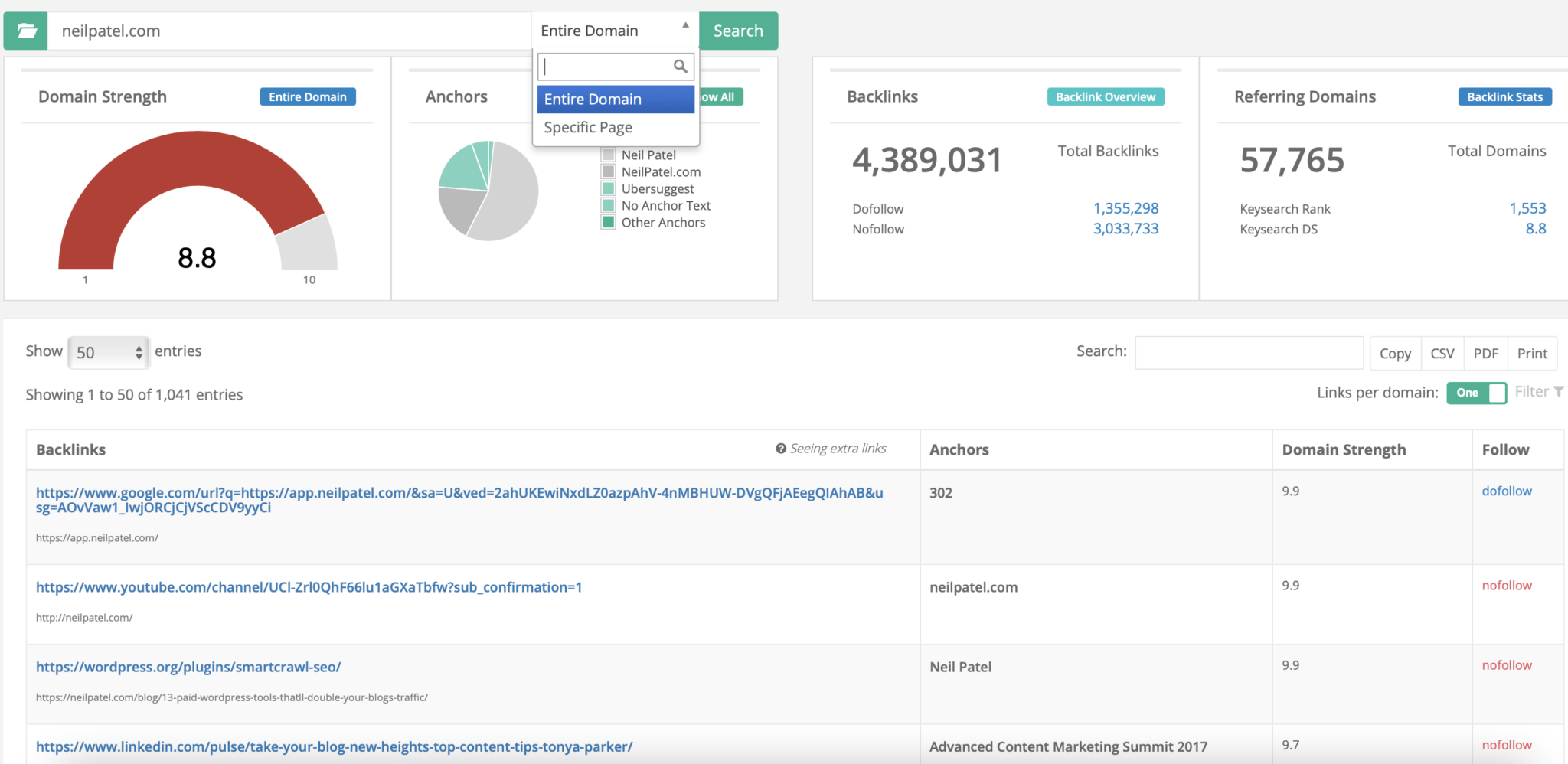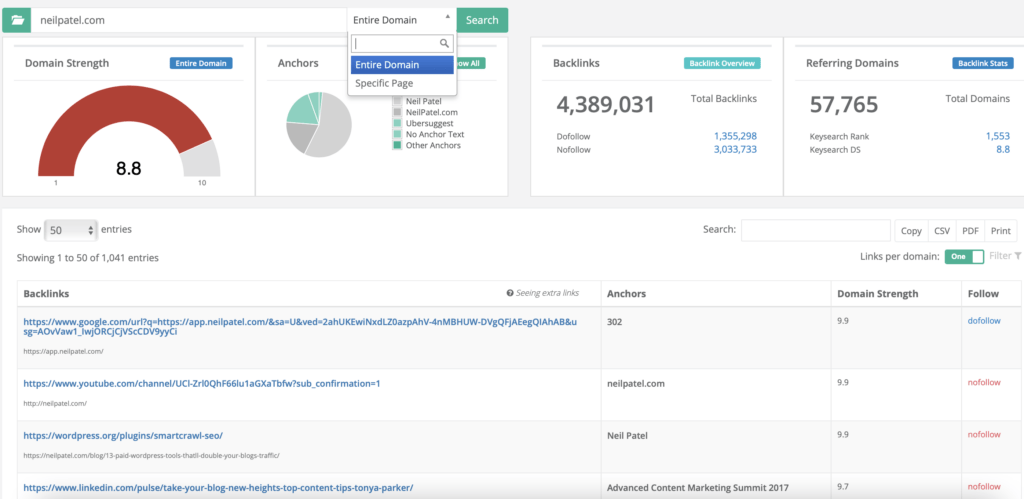 You can either search on a domain or page level and Keysearch will spit out all the backlinks it can find – along with the relevant anchor text for each link, the domain strength score, and whether or not the link is dofollow or nofollow.
This data can again be exported, which is particularly useful when conducting outreach campaigns as part of a wider SEO strategy.
Organic Keywords
This is probably the section you have been waiting for – after all, what good is a keyword research platform without the ability to find keywords?
And when researching your competitors, finding the keywords that any given page or website is ranking for is a sure-fire way to win the SEO game.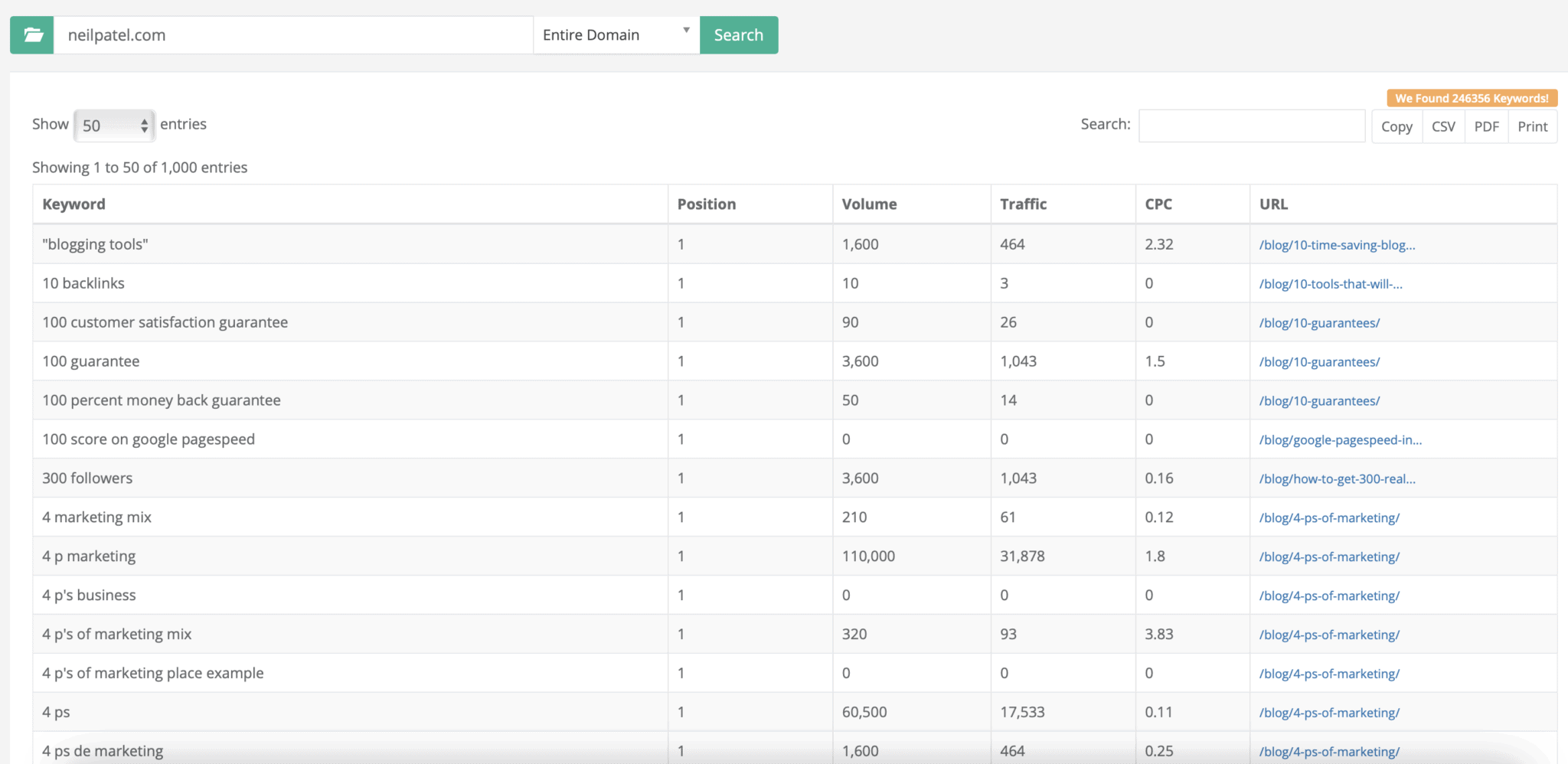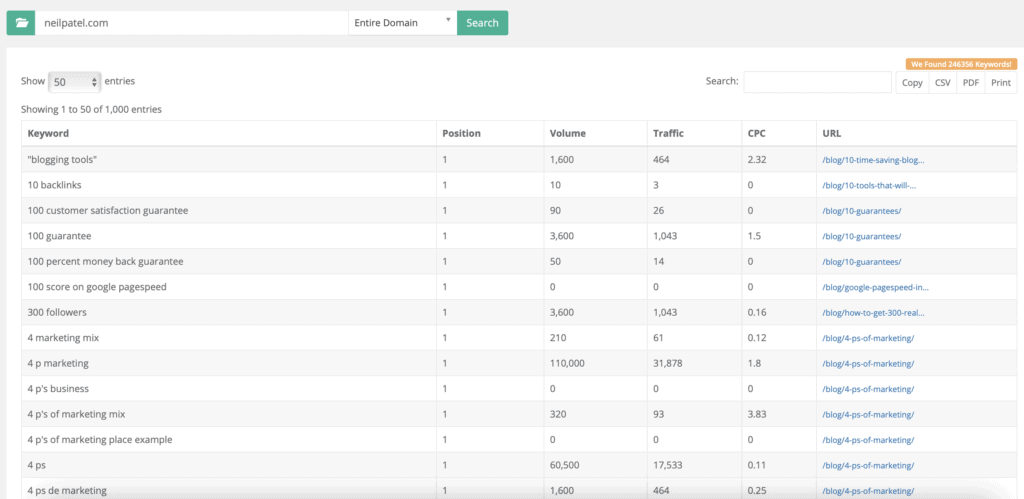 You can either search for organic keywords on a domain or page level and then organize the data on your chosen metric. This can also be exported and saved for offline use later.
Competitor Gap
The Competitor Gap feature is probably not something you would have expected to be included inside of a budget tool – so kudos to Keysearch for making this part of their service.
The idea simple – compare your domain with that of a competitor to automatically find keyword opportunities that they are ranking with and you are not.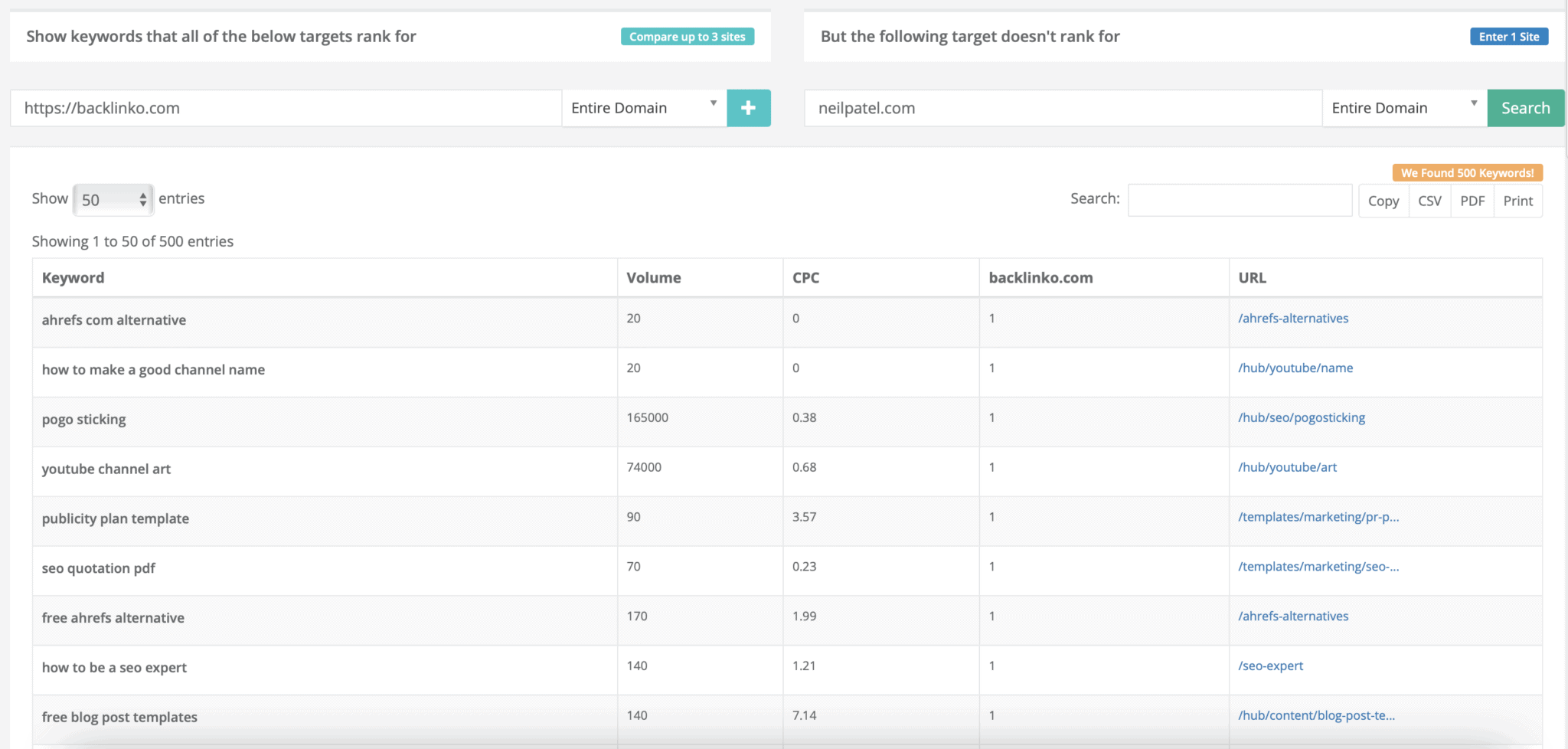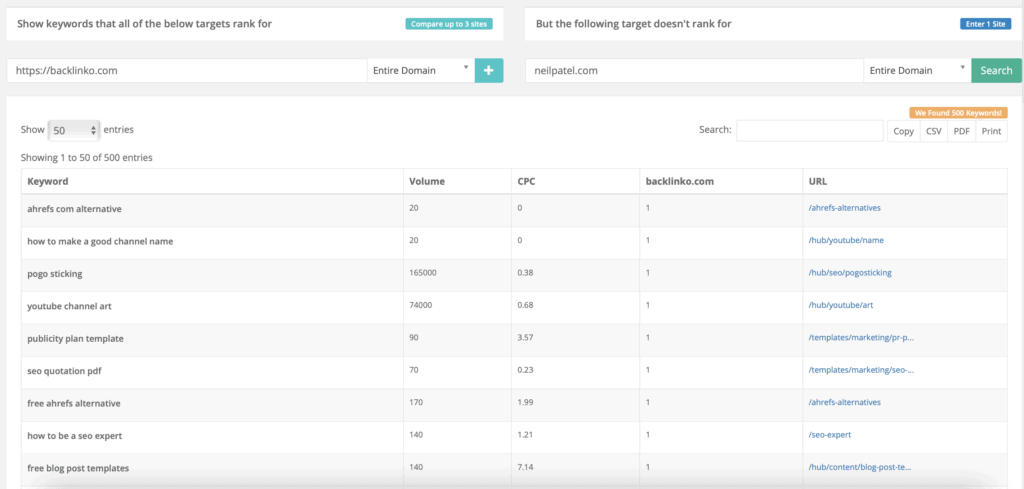 As you can see we are trying to find keywords that our competition (Backlinko) is ranking for and we (Neil Patel) are not. The report will return the relevant keyword opportunities along with their metrics – and this can be included in your content strategy.
URL Metrics
I think this is also a fantastic feature of the Keysearch platform – especially considering its comparatively low monthly cost. The URL Metrics dashboard allows you to bulk search domains (up to 50 at a time) and retrieve useful metrics.
In fact, while the metrics displayed include Keysearch's proprietary DR (domain rating), it also returns the popular DA (domain authority) – which is calculated by MOZ and used widely throughout the SEO industry.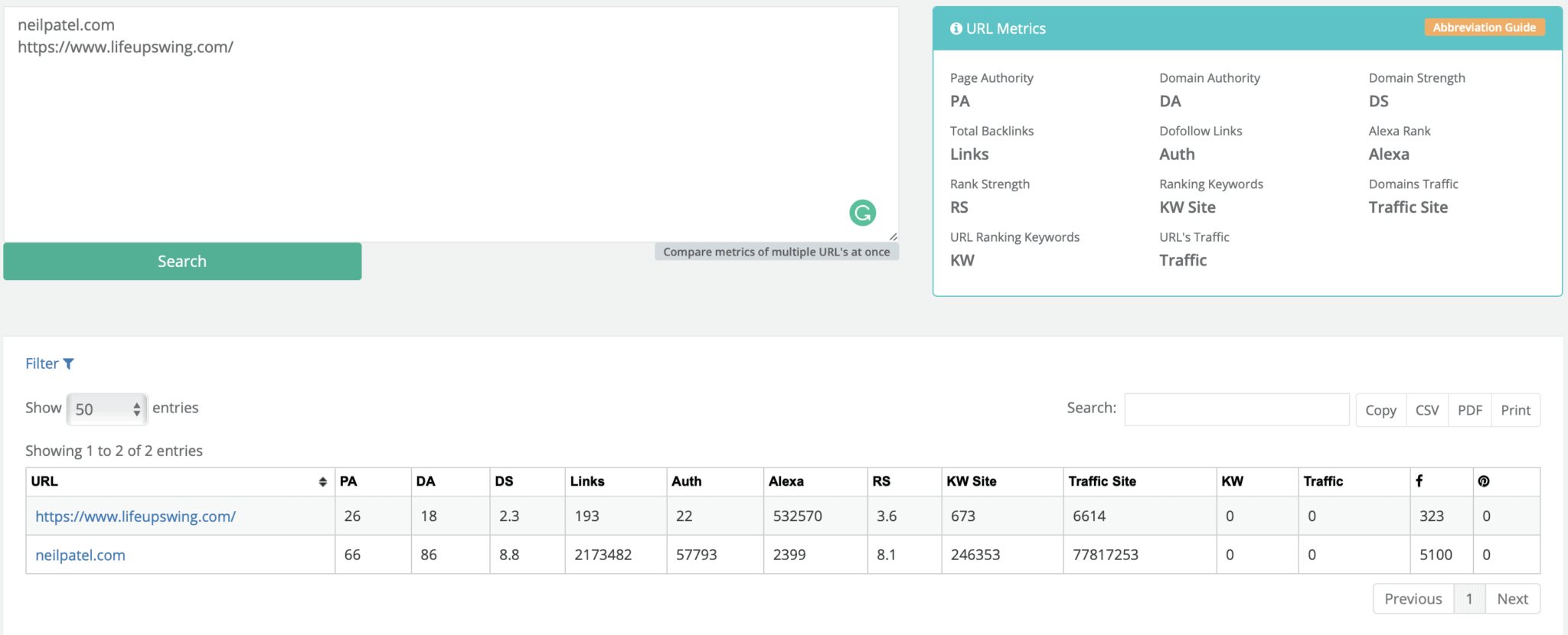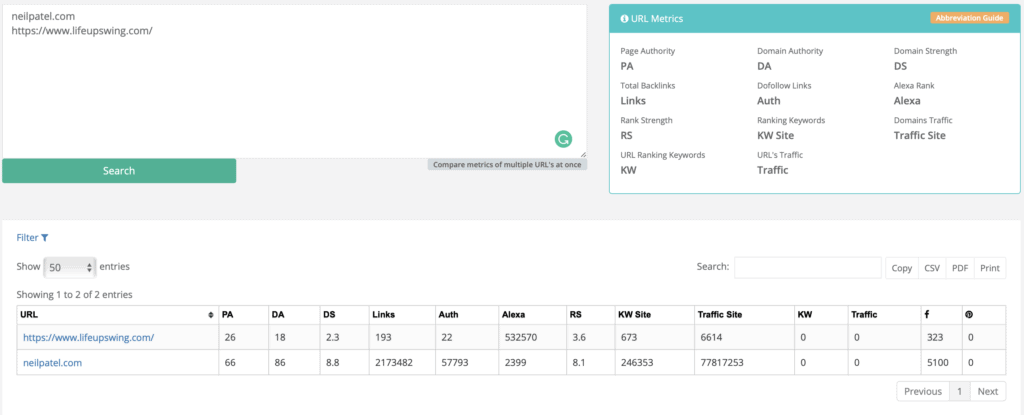 This makes it super easy to quickly analyze a number of page metrics side-by-side and can give you a holistic view of their current SEO performance. The metrics which are included in the report include:
Page Authority
Domain Authority (DA)
Domain Strength (DR)
Total Backlinks
Dofollow Links
Alexa Rank
Rank Strength
Ranking Keywords
Domains Traffic
URL Ranking Keywords
URL's Traffic
Page Analyzer
The Page Analyzer feature could be considered a stand-alone tool – bit is also included within the Keysearch environment. The data you can pull from either your own or a competitor's domain or page is truly remarkable.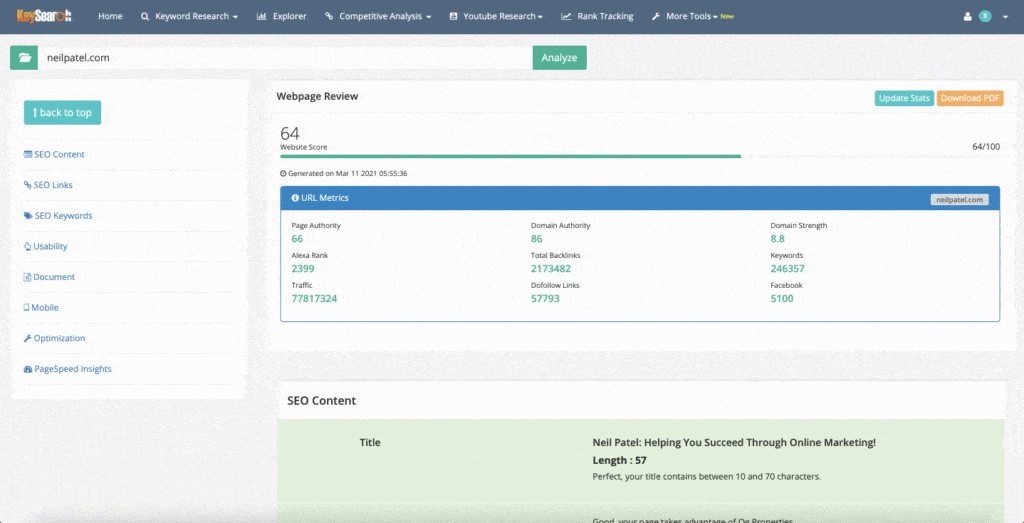 You simply need to enter the URL and hit the Analyze button – and then Keysearch will return a full report with a breakdown including:
SEO Content
SEO Links
SEO Keywords
Usability
Document
Mobile
Optimization
PageSpeed Insights
This is a really sweet feature that is fully included in all packages – and even something you may have needed to pay for separately if using other (less feature-rich) budget tools.
YouTube Research
YouTube is fast becoming a core component of any SEO strategy – and that is true if you're just looking to grow and rank a YouTube channel, or use the platform as a way to supplement and support the organic visibility of your existing website.
YouTube is in fact the second biggest search engine on the planet – and processes over 3 billion searches a month. And while it may be true that ranking in YouTube is easier than in Google – how long that will last is anyone's guess.
Therefore, having a reliable keyword research tool to bolster up your YouTube SEO game is definitely a good idea. And if you are creating social media content as a way to diversify your website or blog's traffic, then having Keysearch as a secret weapon could put you ahead of the curve.
The YouTube research feature is very similar to the core keyword research tool, but instead provides first-page ranking metrics specifically for the YouTube platform.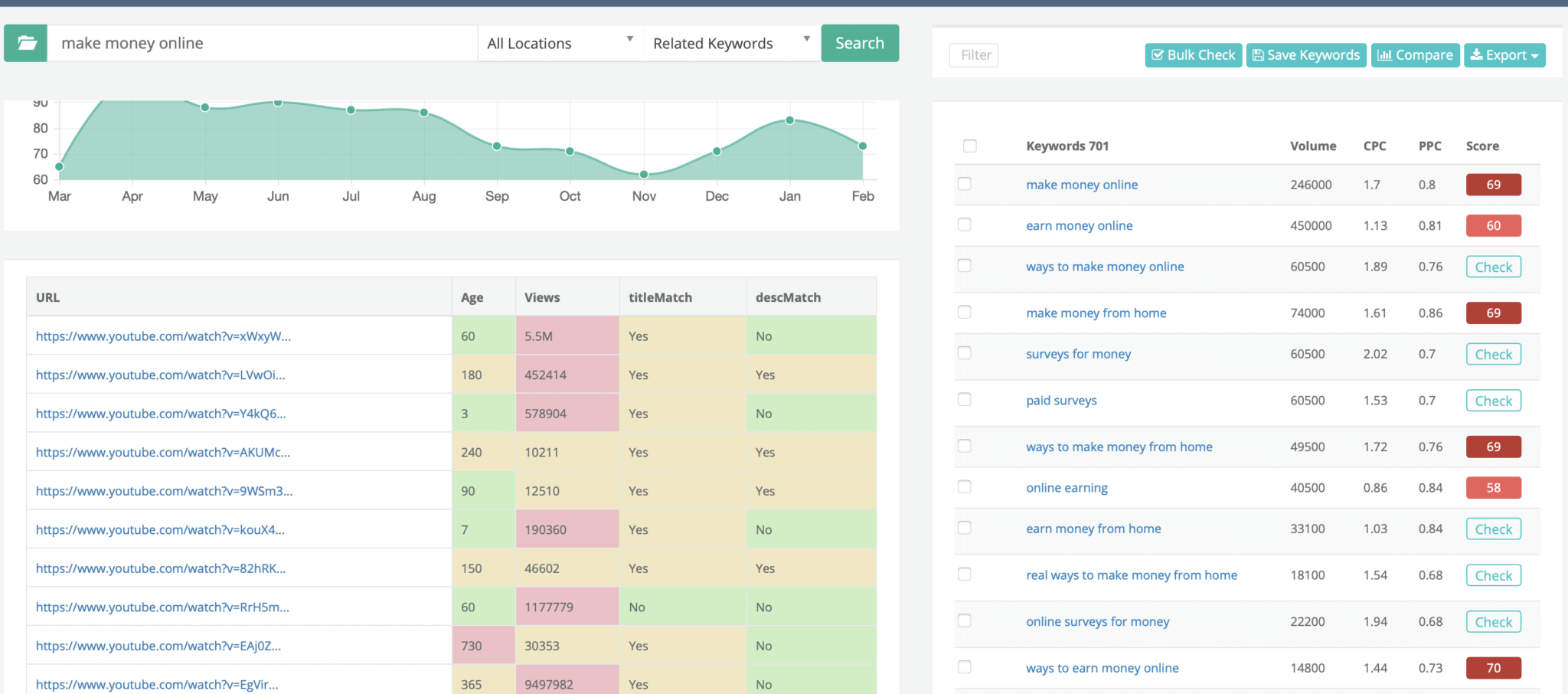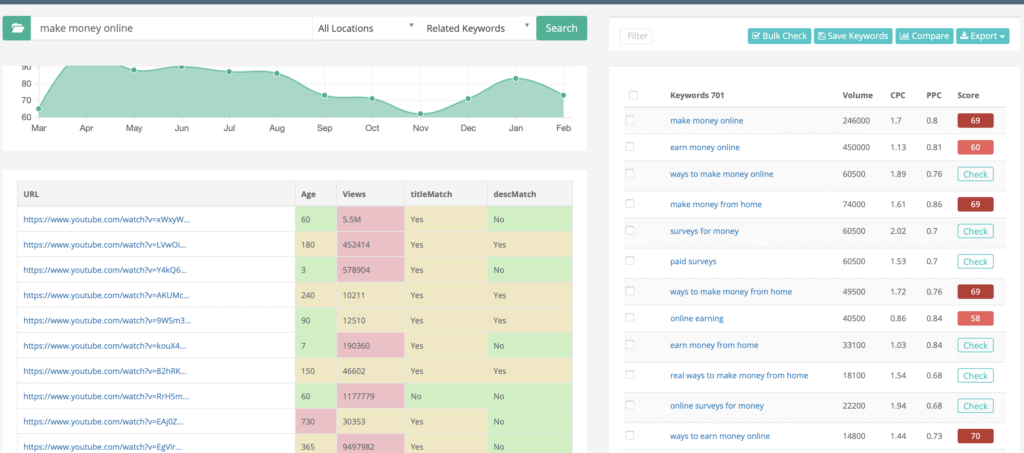 The URL is presented in its raw form – which means you will need to click through in order to fully analyze the video relevance. Also, the metrics do differ slightly from the standard keyword research page, which is understandable considering we are dealing with a video search platform instead of Google.
For the top ranking videos the metrics presented are:
Age of video
Number of views
Keywords in title match
Keywords in description match
Keysearch also provides a YouTube difficulty score which is formatted in the exact same way as for the standard keyword research.
Rank Tracking
Tracking your top ranking keywords is another vital component of SEO, and many tools charge a hefty monthly amount for this standalone feature. And while the Keysearch Rank Tracking may not be the best in the industry, it's still pretty darn good considering the cost.
You can add multiple domain URLs to track and either manually add keywords, or use the feature that allows Keysearch to find the keywords you are already ranking with.
The Rank Tracking feature also allows you to view graphs that chart your rankings movements over time – but this will need to be populated once you have updated your keywords to be tracked.
Personally, since Ahrefs now provides their free Webmaster Tools, I use that to keep on top of my rankings. Although you are limited to a pretty basic output of this data, it is frequently updated. I think using the free Ahrefs tool in tandem with the Keysearch rank tracker is a great way to keep yourself abreast of your site's organic development.
Content Assistant
The Content Assistant is such a neat feature and has really helped me with my on-page SEO and actually resulted in me landing a few 1st place positions in Google with recent posts.
I will often run a search on the Content Assistant before even beginning to outline a new post – as you can extract some really useful data to help with relevancy, your overall SEO efforts, and ultimately your organic traffic.
For example, if I were to search for the targeted keyword 'how to write the perfect blog post' within the Content Assistant feature of the keyword tool, you would see the following information: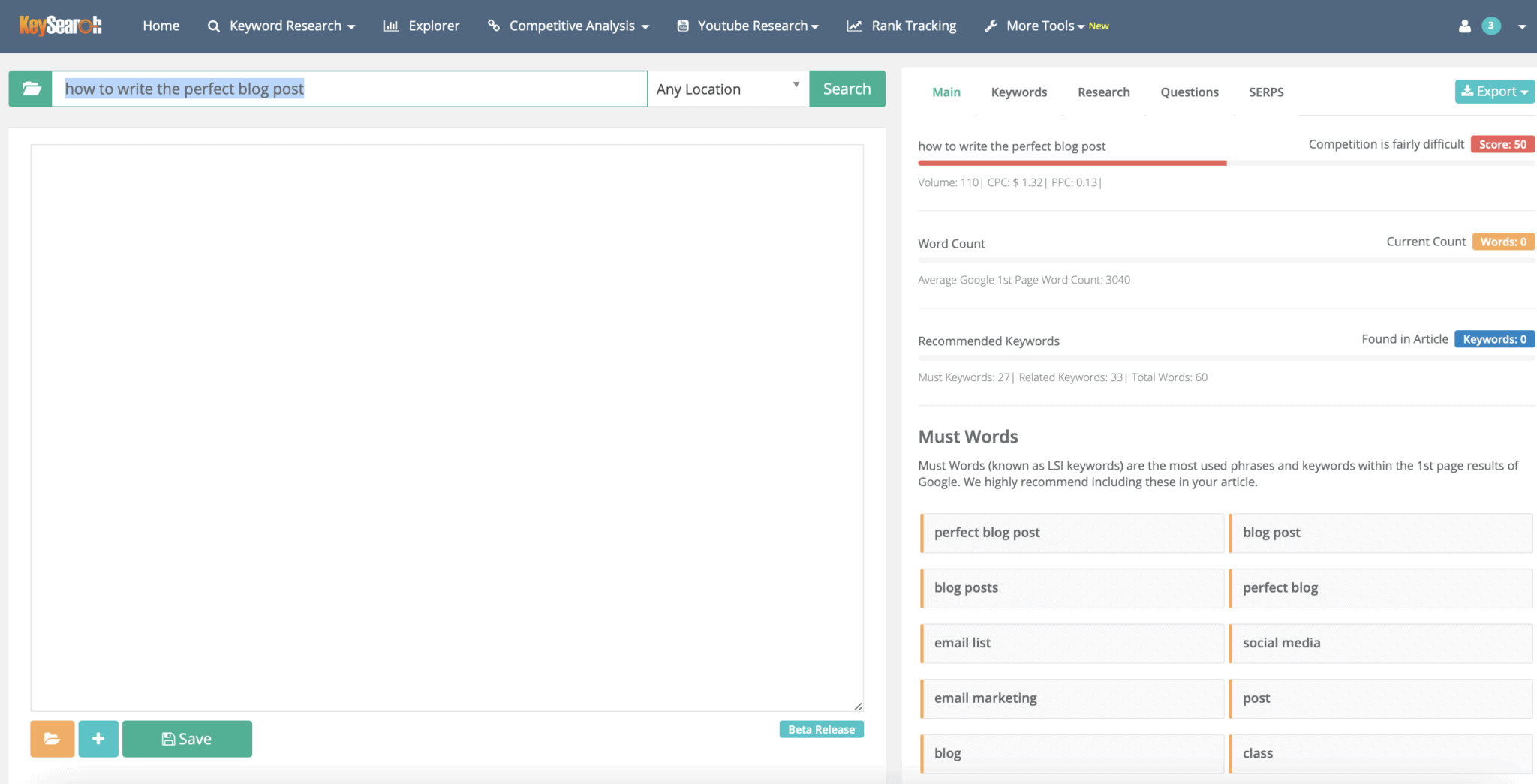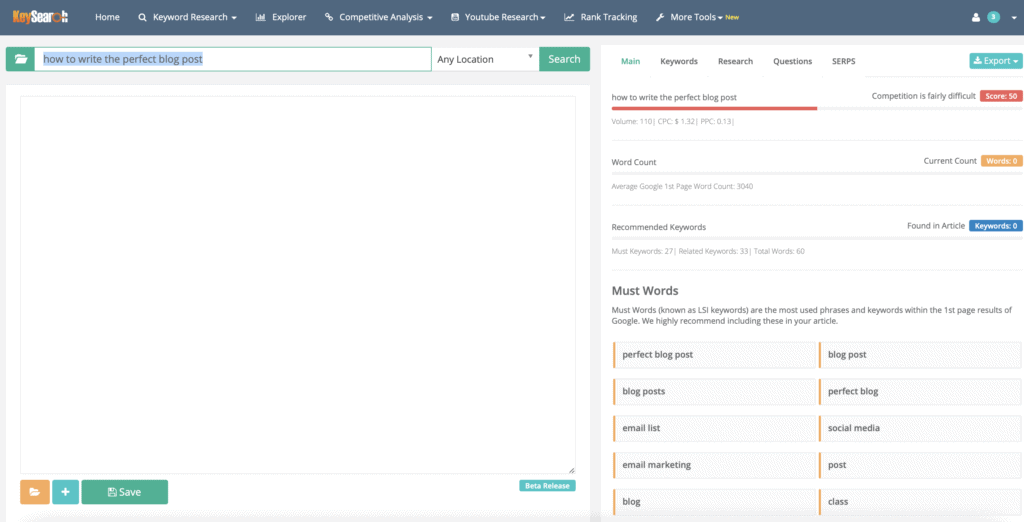 Under the main tab, you can see the search volume for the given keyword, as well as the difficulty level.
You can also see the Average Google 1st Page Word Count – which is really handy when planning the length of your content in relation to the ranking competition.
There is also a great feature that extracts the most important keywords, related keywords, and long-tail keywords that you should be including within your post (derived again from the current top-ranking content) – and this information can be exported for reference purposes.
If you toggle through the tabs at the top of this feature you can also find important questions related to the given topic – which is great for developing content structure and also producing FAQ-rich snippets.
Finally, once you have completed your draft post, simply copy and paste it into the editor and Keysrearch will analyze the strength of your article in relation to your competition. You can then make adjustments accordingly before publishing your work.
If you have experience with SurferSEO or Market Muse then you may be familiar with this sort of On-Page SEO optimization tool, and the fact that Keysearch includes this within their product is quite remarkable – and further justifies the magnificence of this low-cost budget Ahrefs alternative.
Opportunity Finder
It seems Keysearch has every angle of SEO covered in this compact tool and even offers a unique approach to link building and content promotion with its Opportunity Finder feature.
Building links with guest posts and outreach are some of the best ways to grow your site's authority and increase your rankings and ultimately your blog traffic. Also, engaging with niche relevant blogs and forums can increase your profile and raise awareness, which again can do wonders for your growth.
Keysearch facilitates the finding of these opportunities with their intuitive Opportunity Finder and breaks down the search criteria into three sections; guest posts, forums, and blogs.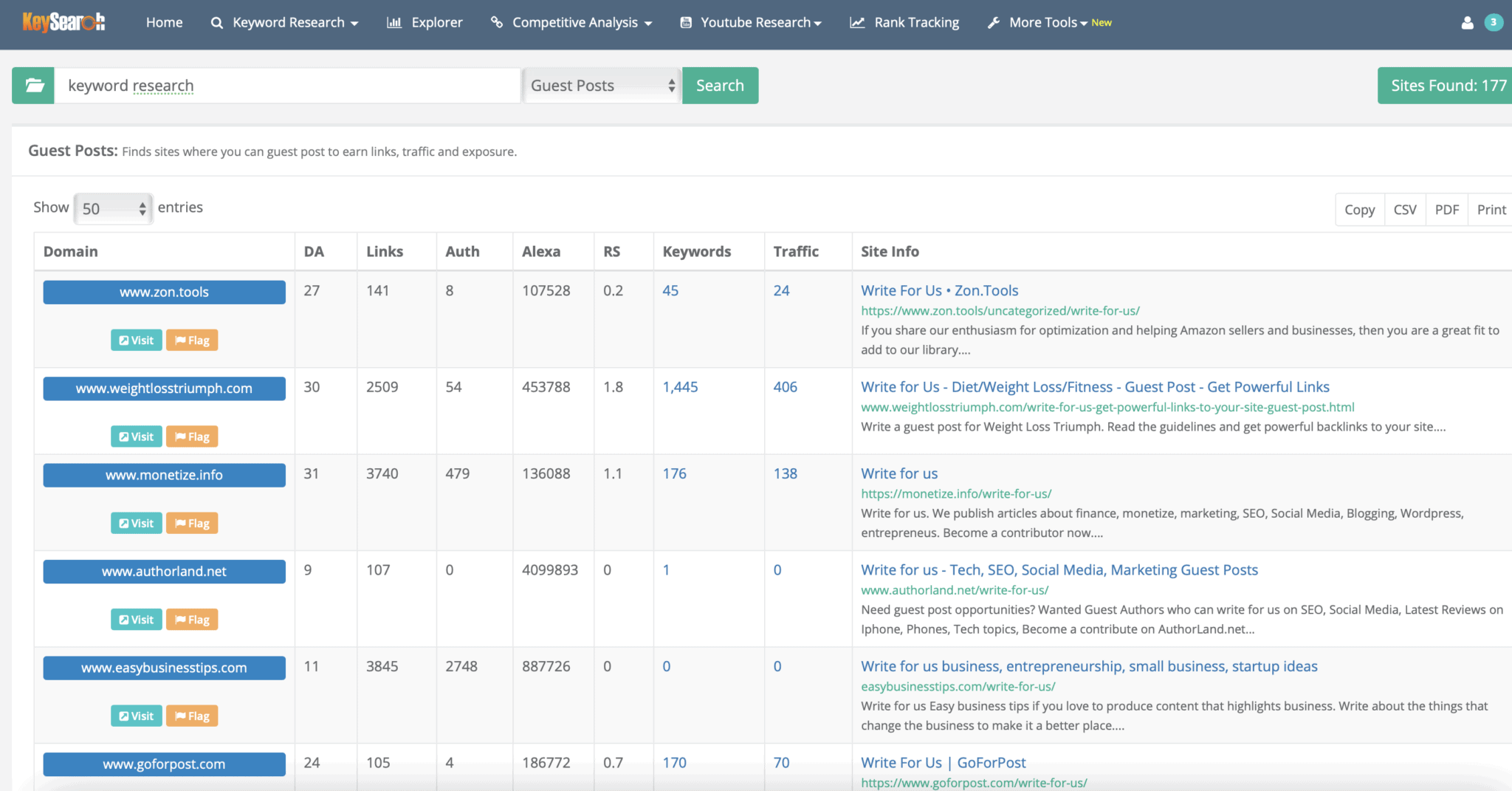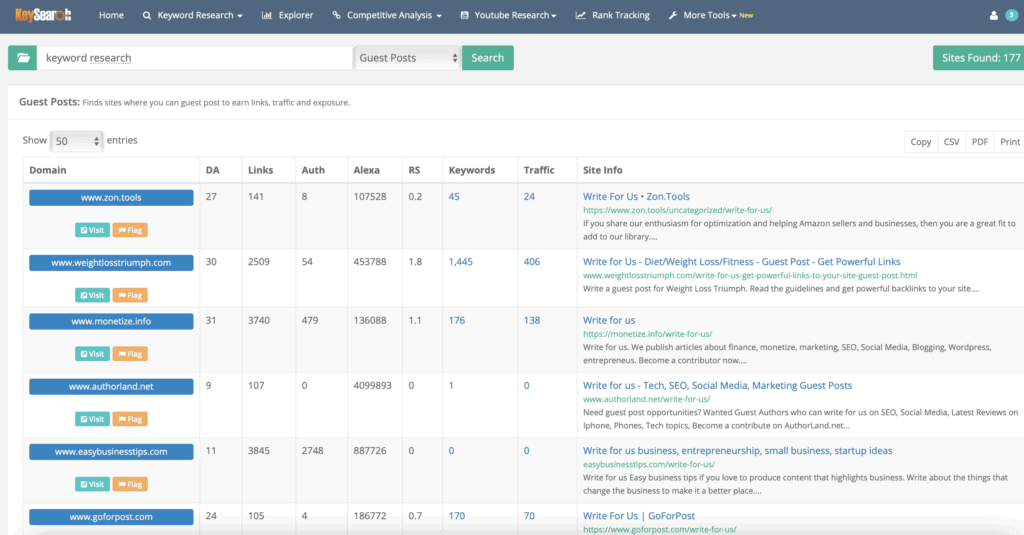 In the guest post search section, you simply need to enter a keyword or related keyphrase and then work your way through the list and reach out to relevant websites.
You can then contribute guest posts to earn links, traffic, and exposure.
Browser Addon
Researching possible topics to cover on your blog is a fluid and active process – and the Keysearch Browser Addon makes searching the web and extracting useful keyword data an absolute breeze.
The addon is available for Chrome and Firefox and will display all the relevant keyword metrics for any given Google page directly via the extension.
So when you come across a website that piques your interest, simply use the tool to discover if there are any feasible opportunities you may wish to explore further.
Keysearch Data
If you have had experience with multiple keyword research tools, then you will be aware that their results can vary wildly – and this ultimately boils down to the data they are using.
Admittedly, from my personal experience, I can't deny the breadth and depth of data Ahrefs have access to – but you do have to pay a hefty amount for their service.
Also, for smaller blogs and newer sites looking for lower competition and lower search volume terms – Ahrefs does actually sometimes fall short of any data at all in this department.
I have found that Keysearch's reliability, accuracy, and more importantly availability of data for lower volume search terms (as well as higher volume) is excellent; and unbelievably great value.
I reached out to Keysearch for a more definitive answer as to the sources of the data they use:


They did confirm that most of the data they use is sourced in-house, alongside using Google Adwords to supplement their search volume statistics and also MOZ for link metric data.
Keysearch Alternatives
If you have landed on this Keysearch review post, then there is a good chance you are looking for a lower-cost approach to keyword research than what the market leaders provide.
And while many budget tools do not come close to their higher-priced alternatives, I truly believe Keysearch has cemented itself as the go-to low-cost choice.
I do have extensive experience with both SEMRush and Ahrefs – which are possibly the two best keyword research tools available on the market. But to make a comparison with Keysearch would ultimately be pointless, as the price difference between the platforms is so significant.
I believe Ahrefs is the strongest contender for the overall best keyword tool, and once your budget allows for the monthly cost it brings, it would be an excellent addition to your SEO toolkit. But while cutting down on expenses is a vital ingredient for new and growing blogs, having access to a reliable keyword service is not something you want to skip.
There are also budget alternatives to Keysearch that you may have come across, including Ubersuggest, Long Tail Pro, and Serpstat – and after using them all I would always fall back to Keysearch.
Get 30% Off

Keysearch

For Life
Keysearch is the best budget keyword research tool available on the market. It is feature-packed, data-rich, reliable, and effective – explode your SEO today and take advantage of the 30% discount NOW!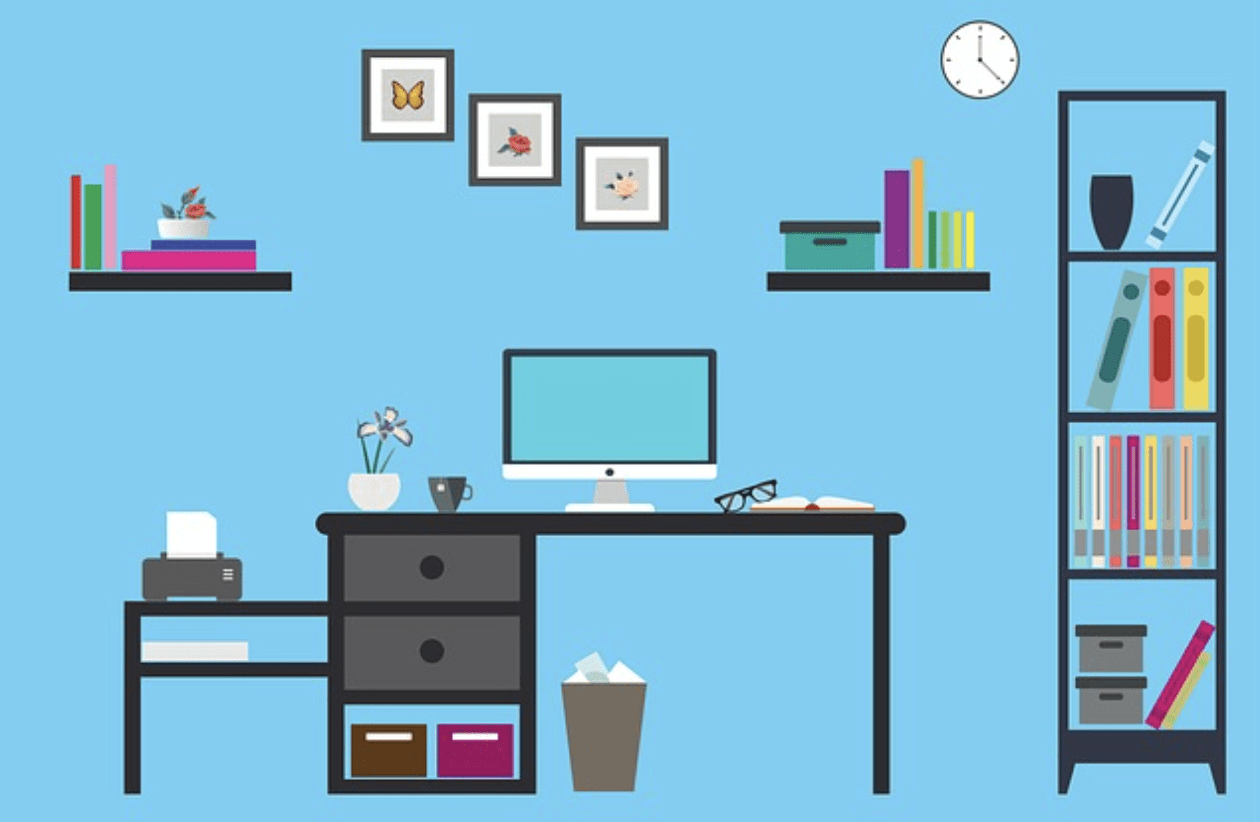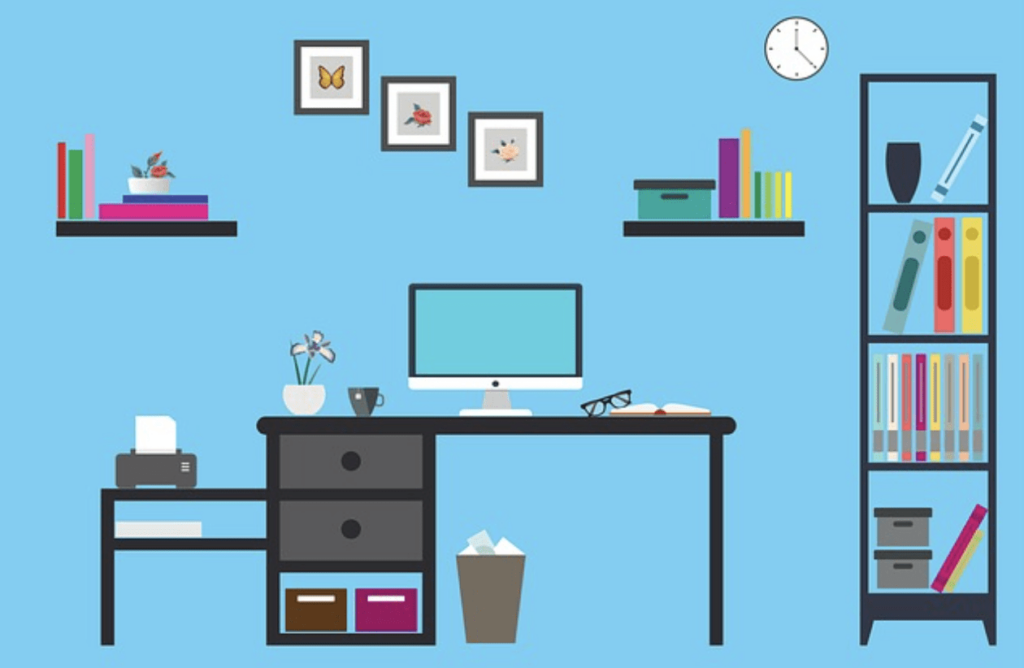 Serpstat is a great choice if you can find a lifetime deal on AppSumo, which does pop up occasionally – and SEMRush is also still pretty good and cheaper than Ahrefs if you have a slightly larger budget.
Keysearch Summary
Having access to reliable keyword data is a necessity in the modern world of content marketing – and to compete within the increasingly competitive environment; essential.
Tools such as Ahrefs are clearly leading the way when it comes to feature-rich and data-driven platform execution, but it comes at a cost.
Therefore, Keysearch has been able to enter the market at a price point that is accessible to all and not only provides the essential tools but goes above and beyond with the features it includes. There really is no other choice when it comes to choosing a reliable, effective and accurate budget keyword research platform.
FAQs
What is Keysearch?
Keysearch is a low-cost yet effective keyword research tool that is a legitimate alternative to Ahrefs and SEMRush. Not only does it provide reliable data, but it also has a whole raft of features that can be used to boost your organic traffic and website visibility.
How much does Keysearch cost?
The Keysearch starter package is $17/month or $169/year – but if you signup now and use my code (KEY30) you can enjoy a lifetime 30% recurring discount.
What features does Keysearch include?
Keysearch offers many features that can enhance your SEO efforts, including backlink analysis, site audits, link-building tools, content optimization, YouTube research, domain analysis, and competition analysis.
Is Keysearch worth the money?
Keysearch Review & Tutorial