Disclosure: This post may contain affiliate links. If you click on a link I may make a small commission at no extra cost to you. You can read the full disclosure here.
Last Updated on May 17, 2023 by Chris Panteli
KashKick Review
Are you looking for ways to make real money online in your spare time?
No doubt you've searched for home jobs and found thousands of results. Sometimes it can be hard to know where to start.
One awesome way to do this is by joining a platform like Kashkick. On Kashkick you can log in whenever you have spare time and earn some extra cash.
Does that sound too good to be true?
Good news. It's true!
In this Kashkick Review, you'll learn about all the exciting ways you can earn real money rewards on Kashkick. By the end, you'll also know the Kashkick pros, how much real money you could any, and much more.
What Is Kashkick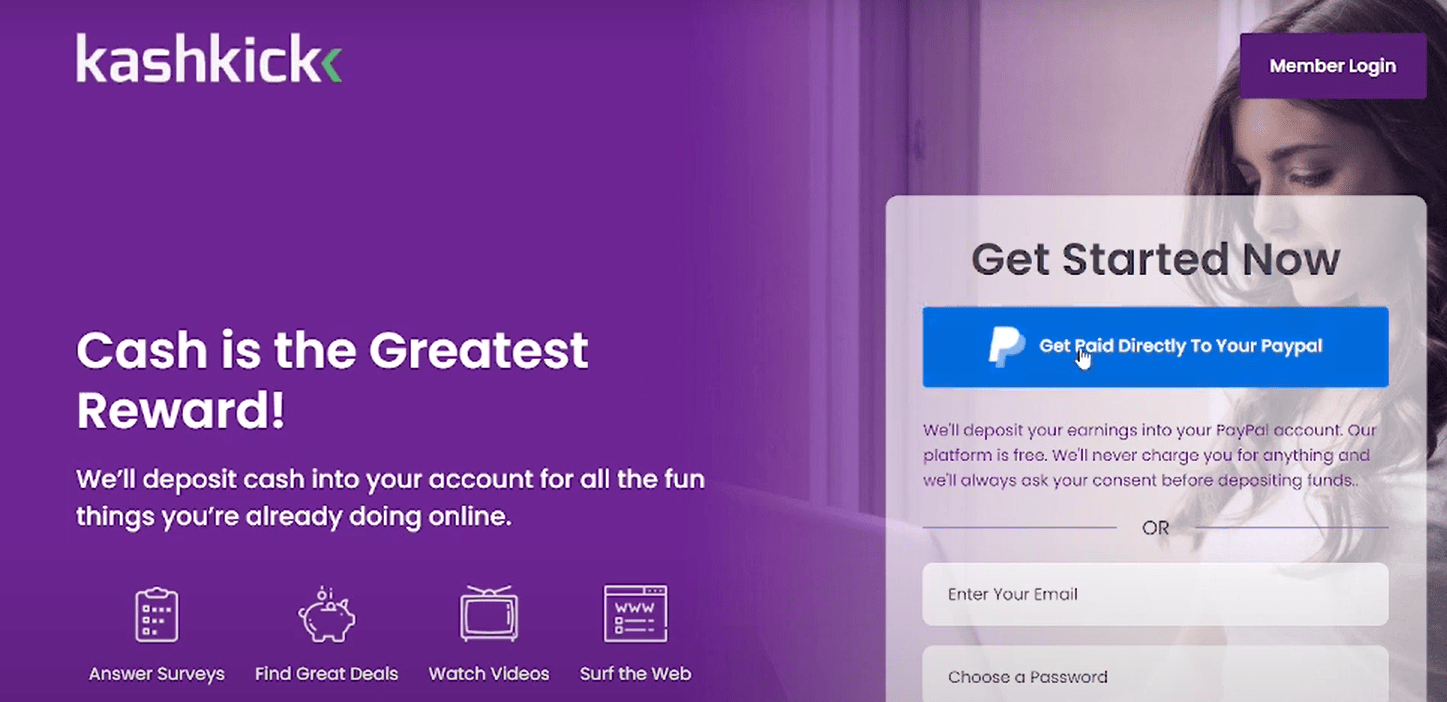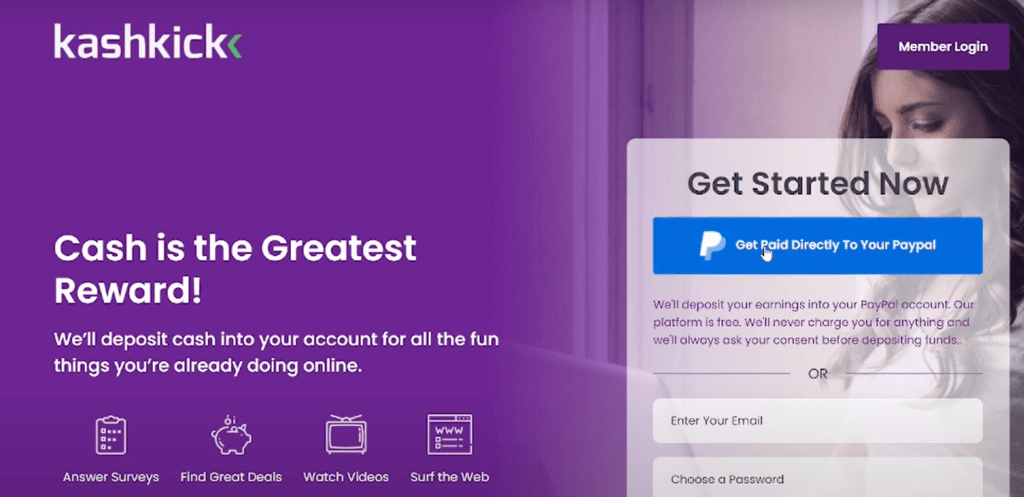 Kashkick is a Get Paid To (GPT) site that rewards users for completing tasks. Some of the easy ways you can earn rewards on Kashkick are:
Watching videos
Completing special offers
Referring friends
Membership of Kashkick is completely free and you can start earning straight away.
How Does Kashkick Work
Kashkick makes it super simple to sign up and start earning immediately. Plus, Kashkick is completely free to join and use.
There are just 2 simple steps to follow and within minutes you can be building up your Kashkick rewards balance.
Step 1 – Sign Up
Go to Kashkick and click to sign up with your email address. You simply need to add a password and that's it. You can now log in to Kashkick.
When signing up using your email address, you'll need to verify your account by clicking the link in the confirmation email.
If you prefer not to use your email, then you can sign in straight in with your Google, Facebook, or PayPal.
Step 2 – Complete Your Profile
There are 2 excellent reasons why you should fully complete your Kashkick profile. First, a complete profile means you'll get matched with survey offers that are relevant to you. This means more earning opportunities and less chance of being screened out of a survey.
Second, Kashkick rewards users for completing their profile with a $1 bonus. That means completing your profile is an easy way to earn your first dollar on Kashkick.
Some of the questions you'll be asked when completing your Kashkick profile include personal information about the following:
Age
Who lives with you
Income
Educational background
Ethnicity
To complete your Kashkick profile only takes a few minutes. By spending these few minutes completing your profile, you'll improve your earning potential.
How To Make Money On Kashkick
Kashkick is more than just another survey site. You can earn cash rewards by completing a variety of tasks and special offers.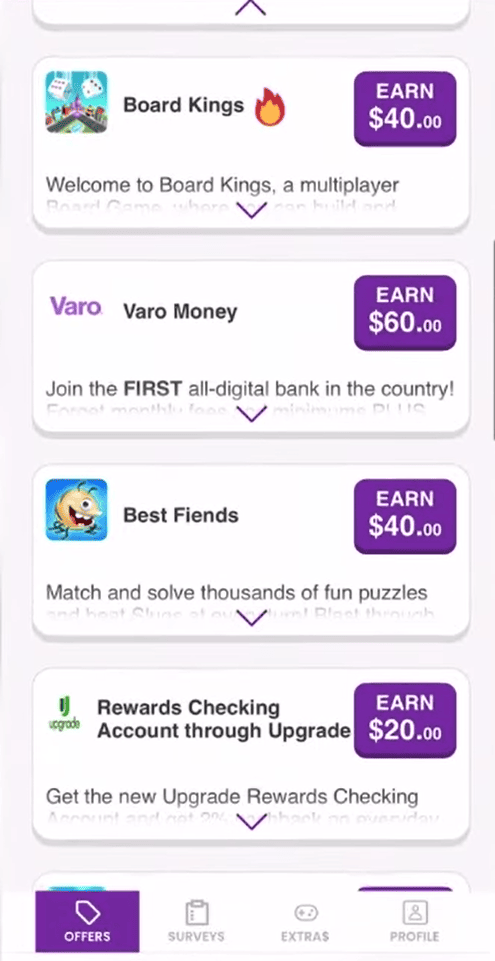 Here's a breakdown of all the ways you can earn extra money on Kashkick.
Kashkick Surveys
By completing your Kashkick profile when you create your Kashkick account, you'll get survey offers that match your profile. This means you should usually be eligible to complete the offer from the survey panel and you don't have to worry about being screened out.
Kashkick surveys offer varying amounts of cash rewards. Plus, some Kashkick online surveys may only take a couple of minutes and others can take 10 minutes or more.
How much a survey pays is often linked to how long the survey is expected to take you to complete. A general rule is that the longer the survey takes to complete, the more it will pay.
Complete Cash Offers
Another option you'll find in the Kashkick menu is the 'Offers' section. Here you can find lots of offers that will pay you cash rewards.
Typically, an offer requires you to sign up to a website, download an app, or register for a free trial. In return, you'll earn a cash reward.
How do special offers work?
Kashkick partners with a brand that pays Kashkick in exchange for promoting their product or service. As a thank you for trying the paid offer you get paid part of the fee that Kashkick earned.
The types of Kashkick partners you may get special offers from include:
Finance services
Streaming platforms
Game developers
New apps
When signing up for any of these special offers always check the details. Some of them may require you to cancel otherwise they'll continue the service and charge a fee.
The simplest way to avoid unwanted charges is to set yourself a calendar reminder and cancel at the end of the free trial.
Playing Games
A popular earning opportunity found within the special offers section is the mobile game section. To get paid for playing games you usually must complete challenges, make an in-game purchase, and download a game.
If you enjoy playing mobile games, this can be one of the more fun ways to earn that sweet extra cash.

Some of the top games you can play via Kashkick include:
Solitaire
Bingo Blitz
Scrabble Go
Wordscapes
Dice Dreams
Friend Referrals
When looking for ways to make money online, you've probably come across the term passive income. This is the holy grail for many people because earning a passive income frees up time to focus on other projects.
Friend referral programs can provide one source of passive income.
In the Kashkick menu, you'll find a unique friend referral link that you can send to all your friends. If you have a following on social media, then share your friend referral link with all your followers.
You earn 25% of all the earnings of anyone that joins Kashkick using your link.
For example, friend A signs up and earns $400. You get paid $100. The best part is you didn't have to do anything to earn that $100. If you have 10 friends earning the same, then you're earning $1000 for doing nothing extra!
Extra Dollars
A final way to earn on Kashkick can be found in the menu under the 'Extra$' heading.
Here you can find an offer wall that offers a variety of unique tasks. Extra dollars tasks could include:
Watching ads
Downloading apps or mobile games
Purchasing a product or service
Signing up for a free trial
Answering surveys from outside platforms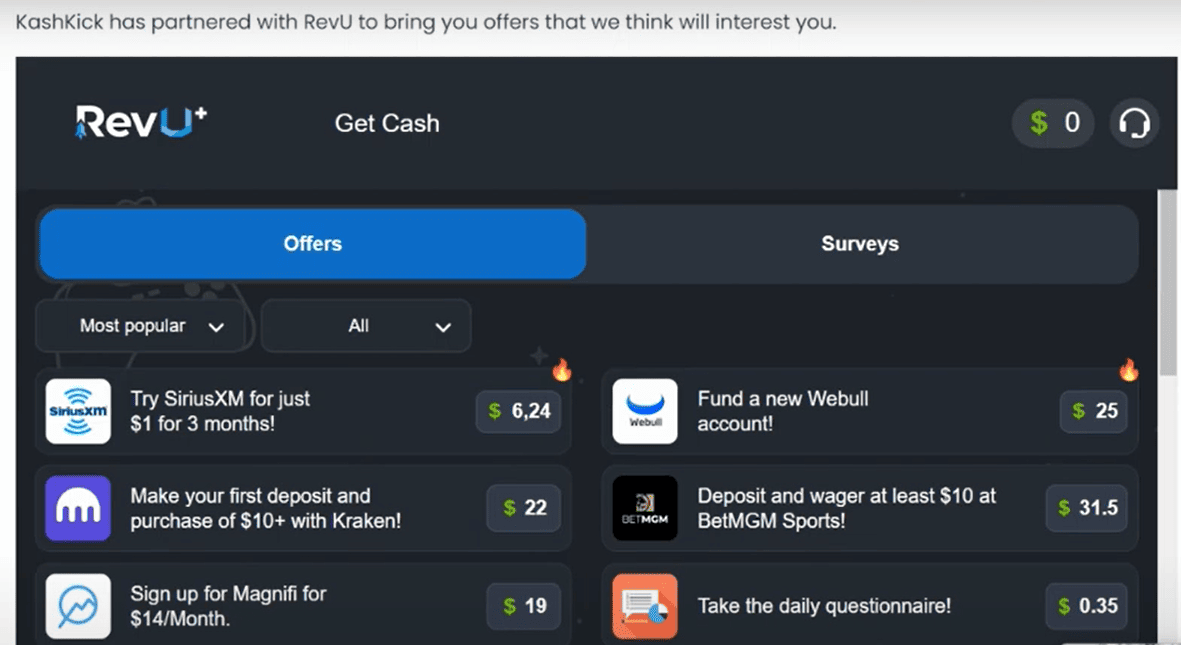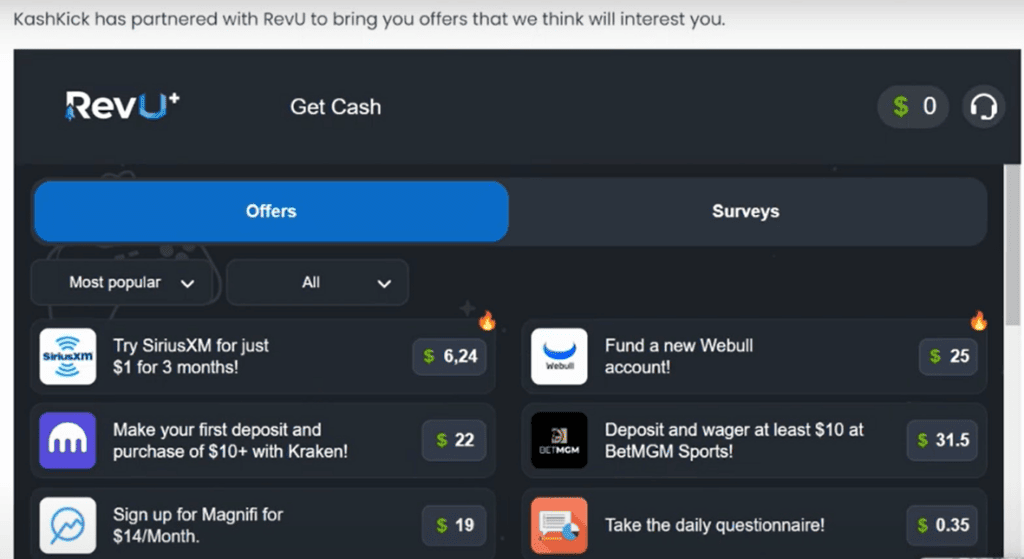 Check this section every day as there's a good variety of ways to earn. Plus, some rewards can be as high as $50.
How Much Can You Earn On Kashkick
Answering surveys daily and getting a few friend referrals can help your Kashkick balance grow consistently. Earning $50 – $100 a month is typical for most users.
If you use Kashkick heavily and are lucky enough to get a lot of successful friend referrals, then you could earn far more than that.
For most Kashkick users this platform will provide a nice side income that can supplement savings or help pay off debt faster.
How To Cash Out
Earning rewards on Kashkick is nice and straightforward. You complete a task, and your balance is credited with the cash amount.
There are no Kashkick points or other gimmicky ways of earning your rewards. Just straightforward cash amounts are awarded for every task. Before you take on a task you will be shown how much it will pay.
To withdraw your cash, you must earn a minimum of $10. Once you've reached the payout threshold, you can withdraw your cash to your PayPal account.
Is Kashkick Legit
Kashkick is a legit site that has being successfully operating for a period of time and the platform has successfully paid out cash rewards to its members.
Plus, Kashkick partners with big brands to provide a choice of epic rewards.
Kashkick also has a robust Privacy Policy that gives members extra peace of mind that their personal information is secure.
You can also see Kashkick reviews on trusted review websites such as Trustpilot. Here you can see that the majority of Kashkick reviews are overwhelmingly positive.
Kashkick Alternatives
Kashkick may not be for you, or you may want to know some extra ways to earn money online. Here are a few Kashkick alternatives that you can try out.
Branded Surveys
Branded Surveys gives you the chance to get paid for answering relevant surveys. Membership is free and once you've created your Branded Surveys profile you can start earning points.
Points can be redeemed for cash paid as PayPal cash or transferred to your bank account. Alternatively, you can exchange points for gift cards. Free gift cards are available for big brands including Amazon, Walmart, Target, and Whole Foods.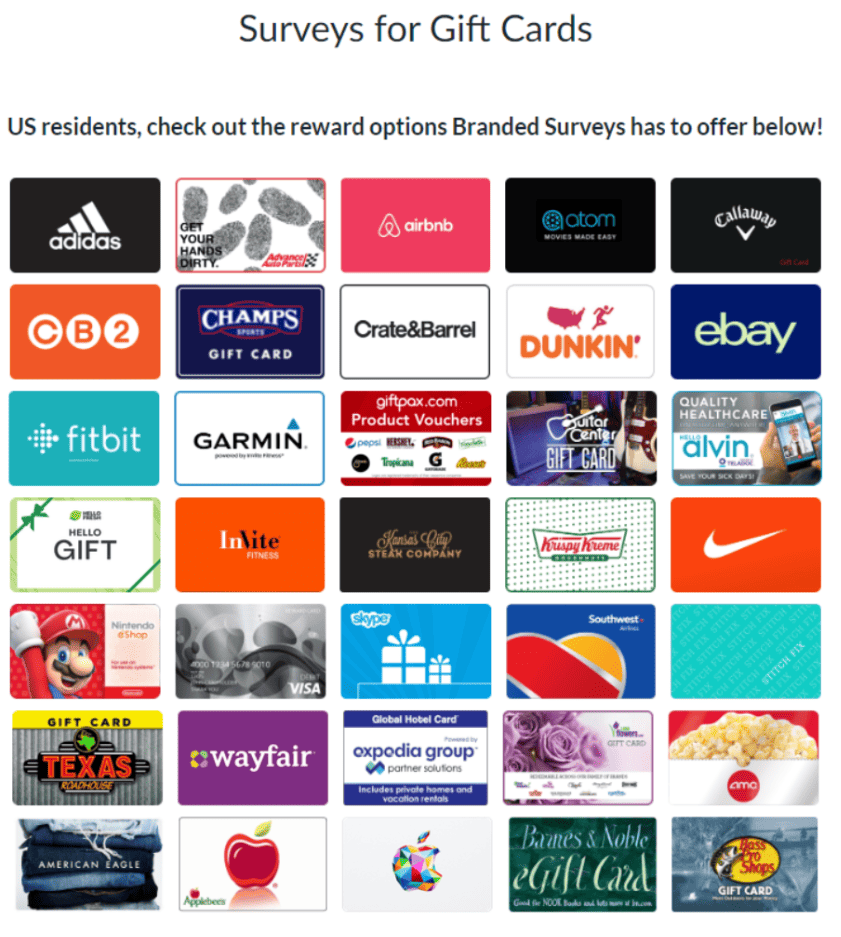 Join Branded Surveys now and you'll receive a 100 points sign-up bonus.
Survey Junkie
Survey Junkie (check out some hacks here) is a dedicated survey platform. As a member of Survey Junkie, you can get paid for answering relevant surveys. Plus, you can earn more if you're willing to share your browsing data too.
Rewards are paid as points which you can then redeem points for cash or gift cards. To request a withdrawal, you must have at least 500 points.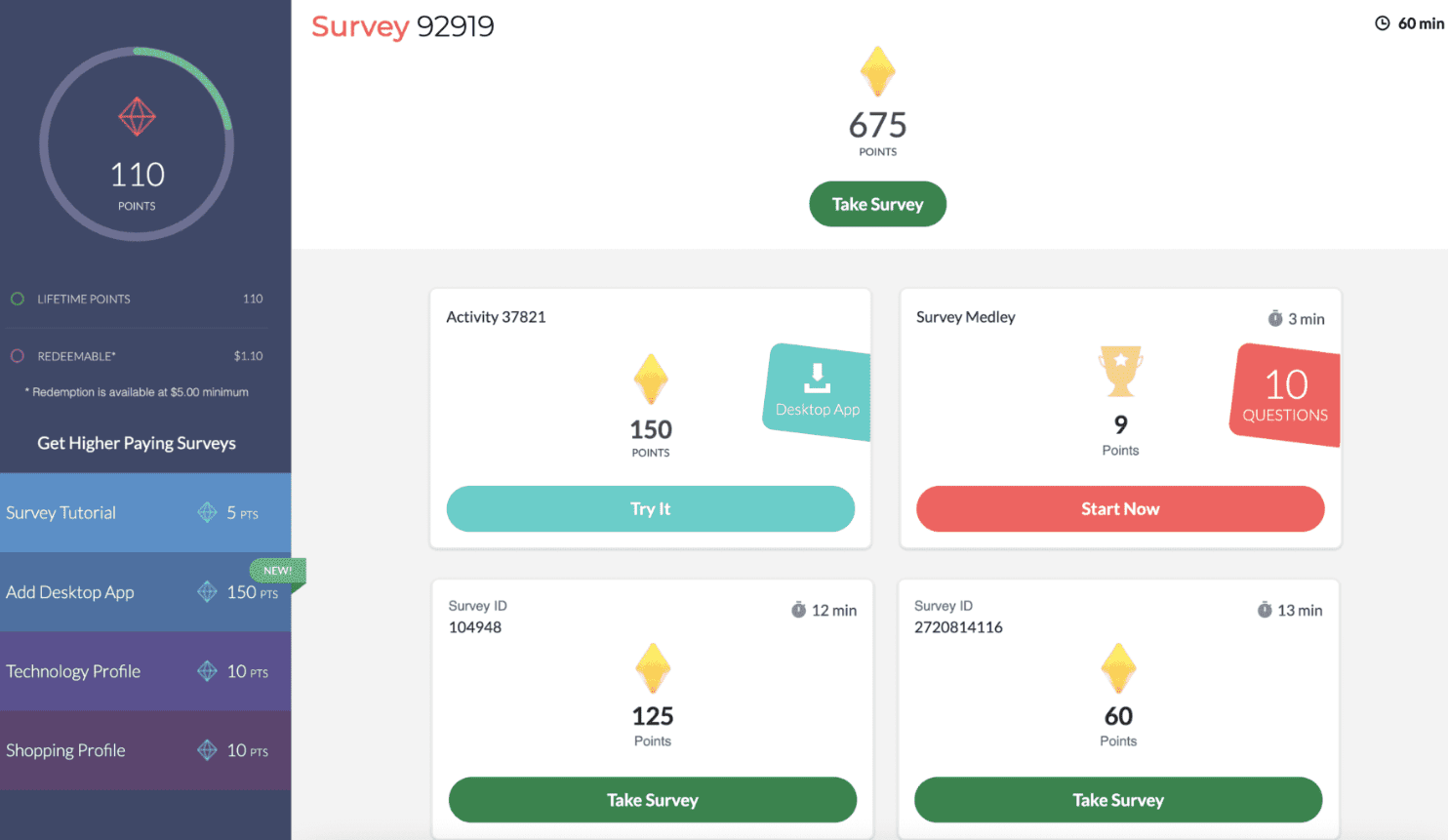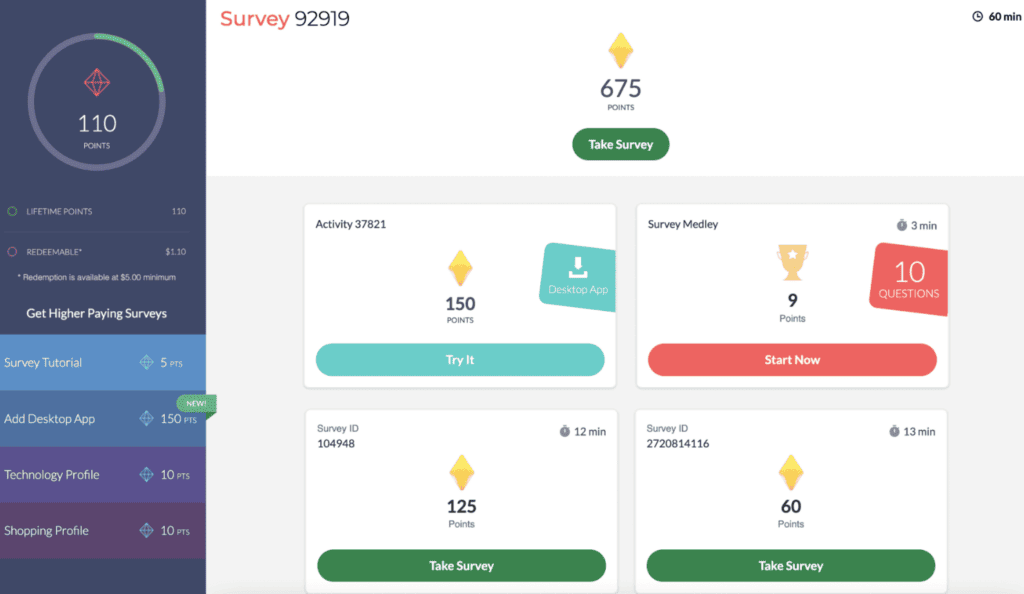 All cash withdrawals are paid via PayPal or direct deposit. Free gift cards can be requested for many top retailers. Amazon, Walmart, and VISA are some of the big names you can get a gift card for.
Swagbucks
Swagbucks (read review here) is a GPT site that works in a very similar way to Kashkick. You can join Swagbucks for free and earn points for completing a variety of tasks.
Tasks you can complete on Swagbucks include:
Answering paid surveys
Playing games
Shopping online
Watching videos
Completing special offers
When you're ready to cash out you can claim cash straight to your PayPal account or request a gift card. Gift cards can be claimed for Amazon, Walmart, and many more.
Another neat Swagbucks feature is the cashback offers. Here you can shop at hundreds of retailers and save money. That's on top of any points you may earn too.
Inbox Dollars
Inbox Dollars (review post here) is free to join and like all GPT sites provides a choice of ways to earn cash rewards. You can complete a paid survey, play games, watch videos, and much more.
Once you've reached the payout threshold of $30 you can request cash or a gift card. Cash rewards will be paid via PayPal. If you want a gift card there's a big list you can choose from including Amazon,
Rewarded Play
Gamers everywhere can rejoice at the number of platforms now offering the chance to earn cash rewards for playing games.
Remember, you can earn cash for playing games on Kashkick.
However, if the games aren't to your liking, then you should check out Rewarded Play.
The free Rewarded Play app is available in the Google Play Store. Once you've downloaded the app you can choose games to play and get paid for the time you spend playing.

As you play you earn points that can be exchanged for gift cards. If you're looking for a rewards program for gamers, then Rewarded Play could be just what you're looking for.
Kashkick Review – Is It Worth It
If you're hoping to get rich, then Kashkick isn't for you.
However, if you're looking for a side hustle that can provide regular extra cash for simply completing a few easy tasks, then Kashkick is worth it.
Answering surveys, playing games, and friend referrals are a few of the easy ways you can earn cash rewards on Kashkick.
You can log in daily and complete as many or as few tasks as you want. That makes Kashkick a fantastic choice for anyone wanting a more casual side hustle.
FAQs
Can anyone use Kashkick?
Kashkick is only available to residents of the United States that are at least 18 years old. You must also have a PayPal account.
Is there a Kashkick app?
Kashkick doesn't have an app yet. However, you can still log in to the Kashkick website from your mobile device.
Is Kashkick secure?
Yes, Kashkick is secure. You won't be asked for personal information beyond your email address and demographic information to complete your profile.
As all payouts are made using your PayPal, you don't have to provide credit card details or banking information.
Does Kashkick offer a sign-up bonus?
Kashkick isn't offering any sign-up bonus at the moment. However, you do get a $1 bonus for completing your profile.
Will I get rich on Kashkick?
You won't get rich as a Kash kick user. There's no reason why you can't earn a few hundred dollars or more extra cash every year. Remember to share your friend referral link to boost your earnings.