Disclosure: This post may contain affiliate links. If you click on a link I may make a small commission at no extra cost to you. You can read the full disclosure here.
Last Updated on October 23, 2022 by Chris Panteli
How To Win At Bingo Cash
The idea of winning is easy. However, winning is more challenging than you realize. Everyone wants to win, which makes it interesting, but winning often takes a lot of hard work and patience. 
Playing Bingo Cash is no different from any other competitive cash game. It takes a lot of hard work to become a good player in these games, but it can pay off handsomely. Below are some tips that will help you become a better (and luckier) player. First, you need to know how to win at Bingo Cash.
What Is Bingo Cash
Papaya Gaming created Bingo Cash as a mobile version of the much-loved bingo game. Now you don't have to sit in a dusty bingo hall and can play one of the best bingo games using your mobile device.
You can download the free Bingo Cash bingo app from the App Store or Galaxy Store. Bingo Cash does not have a bingo app on the Google Play Store. That means if you have an Android device that's not a Samsung, you must download the free bingo app using the Android link on the Bingo Cash website.
It's worth noting that cash games are not available in AZ, AR, IA, LA, DE, or SC.
How Bingo Cash Works
Bingo is a simple game, and Bingo Cash works the same as if you were in a bingo hall. You have an online bingo game board with your numbers, bingo balls get drawn, and the first person to daub all their numbers wins. Easy!
Standard Bingo Cash games run for 2 minutes. Bingo balls displaying a number and letter drop about every 5 seconds. Bingo players need to daub them off on their virtual bingo card fast. The faster you can daub those bingo balls, the more points you score.
Not only do you score points when you daub a number correctly, but you also build your booster bar faster. When your booster bar is filled, you can unlock a variety of boosters to help you win.
Bingo Cash boosters include:
Bonus Time
Double Score
Pick-A-Ball
Wild Daub
Boosters help you get a higher score which means a better chance of winning a prize.
You can call bingo if you complete lines horizontally, diagonally, or vertically. Daubing all four corners of the board also gives you a bingo.
Playing online bingo means you don't have anyone to shout bingo too. Instead, click 'Bingo' to claim your bingo prize.
At the end of the game, the player that's earned the most points will be declared the winner.
Bingo Cash Scoring Explained
To win more at Bingo Cash, it helps if you understand the scoring system. Here's a quick breakdown of how you earn rewards points in Bingo Cash:
Daubs – Correctly daubing a number
Bingos – Completing a line and hitting the 'Bingo' button
Multiple Bingos – Completing more than one bingo on one bingo card
Double Score – Getting a double score booster
Penalties – Daubing or calling bingo incorrectly
The more reward points you earn, the better your winnings will be.
How To Win At Bingo Cash
Bingo players want to win a prize every time they play a bingo game. These tips will help you improve your chances of winning at Bingo Cash. You won't win great prizes every time you play, but if you follow these tips covering how to win at Bingo Cash, your chances of bigger winnings are higher.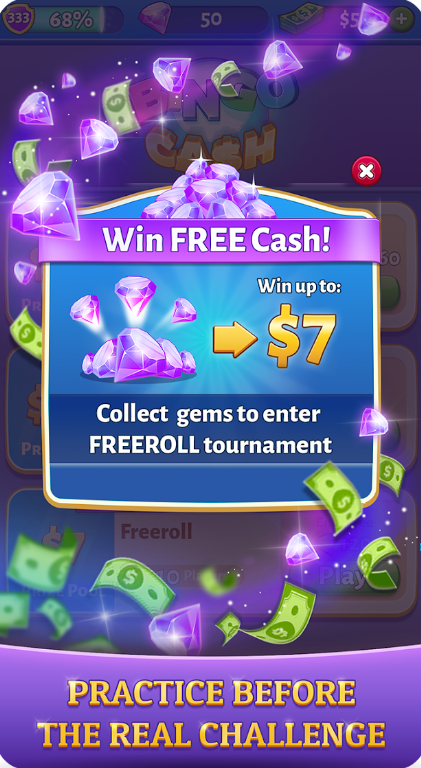 Don't Call Bingo Too Soon
Getting a line on your online bingo card is an exciting moment. Your first instinct will be to hit that 'Bingo' button fast and claim your victory. However, claiming bingo too soon can be a mistake.
By waiting, you can claim multiple bingos and score more points. You'll also have more boosts, which can mean a points boost.
Penalties are another consideration. You can lose points by hitting the 'Bingo' button at the wrong time.
Always wait as long as possible to call bingo; that gives you a much better chance of winning great prizes.
Use Boosts Wisely
Bingo Cash boosts can help you get those extra points you need to win the game. When your boosts are available, you may be tempted to use them immediately. Don't do this.
Instead, let the game develop and save your boosts for the right time.
For example, when you know you're going to get multiple bingos. Use a double points boost before hitting the 'Bingo' button to get the maximum points.
One point to remember about boosts is that you can only have two at a time. Your booster bar is locked once you've got two boosts banked on the bingo site. Once you've used one boost, the booster bar starts charging again.
Use your boosts wisely to win prizes more often.
Practice
As the saying goes, practice makes perfect. That's true with Bingo Cash as well. By playing more, you'll get used to the cash game, Bingo Cash rules, and know the best time to use boosts.
Playing practice games is a valuable way to build that experience. Practice when you have spare time. Bingo players who practice have a better chance of winning when they play bonus cash games.
Speed
Players of Bingo Cash need one thing: speed. The faster you daub, the more points and boosts you earn. That means a bigger chance of winning bonus money.
One thing that makes Bingo Cash one of the best bingo apps is the free play option. Playing practice games on the bingo site helps you develop your speed. This will help you play a cash game, as the faster you are, the better the chance you will win prizes.
Watch Replays
On Bingo Cash, you can watch in-match replays. If you watch these replays, you can see where you went wrong. A great way to reduce mistakes is by visiting your previous mistakes. If you see that you always make a particular mistake, you can cut that out and give yourself a better chance of winning.
How Much Money Can You Make On Bingo Cash
If you're looking for ways to get rich, Bingo Cash isn't it. Although some players may make thousands of dollars, most won't.
Instead, you can have lots of fun playing a game you enjoy and make some bonus money simultaneously.
You must have at least $5 in your Bingo Cash account to cash out your bonus cash. Withdrawals can only be made using PayPal, and you do get charged a $1 fee every time you make a withdrawal. 
Who Are Aviagames Inc
Aviagames Inc is the owner and operator of the social gaming platform Pocket7Games. Playing games created by Aviagames Inc is like playing Bingo Cash. Players are matched against players of a similar skill level. This gives everyone a fair chance of winning. Plus, you can win extra cash rewards.
Games can be downloaded for free from the App Store or Galaxy Samsung Store. The Google Play Store doesn't offer any games from Aviagames Inc, but if you don't own a Samsung device, you can use the Android link directly on the Pocket7Games website.
Some of the top games you can play are:
Bingo Clash: Win Real Cash
Bingo Tour: Win Real Cash
Wordcash Search: Win Real Cash
There are two ways to win extra cash when playing any of the games made by Aviagames Inc. First; you can play a cash game for a chance to win cash prizes.
Second, you can play bingo cash games or other games that give you a chance to win cash prizes using a ticket system. To enter these extra cash tournaments, you will need to have tickets. Tournaments with high cash prizes will require a high ticket number to enter. When you're ready to cash out your winnings, you can go to the ticket store to change your tickets into cash rewards.
You can earn extra tickets by commenting on Pocket7Game's Facebook posts. Those extra tickets can help you earn bonus cash.
Acceptable payment methods you can use include Apple Pay, PayPal, Visa credit card, and Mastercard credit card.
FAQs
Is Bingo Cash Legit?
Yes, Bingo Cash is legit. The Bingo Cash app is free to download, and you can play free games. You can also enter cash tournaments to play against other players worldwide.
Can you win real money playing Bingo Cash?
Yes, players do win real money playing Bingo Cash. Simply download the free app, make a deposit, and enter cash tournaments to start winning bonus money.
Is Bingo gambling?
Yes, bingo is a form of gambling. Whether you play bingo for cash in a bingo hall or play bingo online, you are risking real money to play. Although winning great prizes is possible, you should never play for more money than you can afford to lose. If you have a gambling problem, stop playing games online and seek help.
What are the best bingo games to play online?
The best bingo games give you hours of fun and the chance to win prizes. Here are a few of the best bingo apps you can download for free today. Bingo Cash, Bingo Clash, Bingo Tour, Bingo Win Cash, and Blackout Bingo.
All these bingo cash games can be downloaded for free. Check the App Store, Google Play Store, or Galaxy Store to see which of these best bingo apps are available for your device. You could be playing games for cash rewards by the end of today.
Where else could I play bingo online?
Online casinos are another way to play bingo online. Most online casinos are free to join, and you can deposit with a credit card or debit card. Although not a dedicated bingo site, you can play bingo for cash at most online casinos.
How To Win At Bingo Cash