Disclosure: This post may contain affiliate links. If you click on a link I may make a small commission at no extra cost to you. You can read the full disclosure here.
Last Updated on February 27, 2023 by Chris Panteli
How to Start a Laundromat Business
Who doesn't love that fresh laundry smell? Or the feel of warm, clean clothes coming out of the dryer.
If you could happily spend your days surrounded by customers and their laundry, a laundromat might just be a great investment for you.
With a high ROI, an excellent chance of five-year success, and minimal skill required, running a laundromat is an exciting business opportunity.
In this post, we'll show you how to start a laundromat business, how much it costs, and what you need to get started.
We have an entire series on the best business ideas for new entrepreneurs. If you're looking for a fast and affordable business to invest in, read our post on starting a storage business today. 
Why Start a Laundromat Business?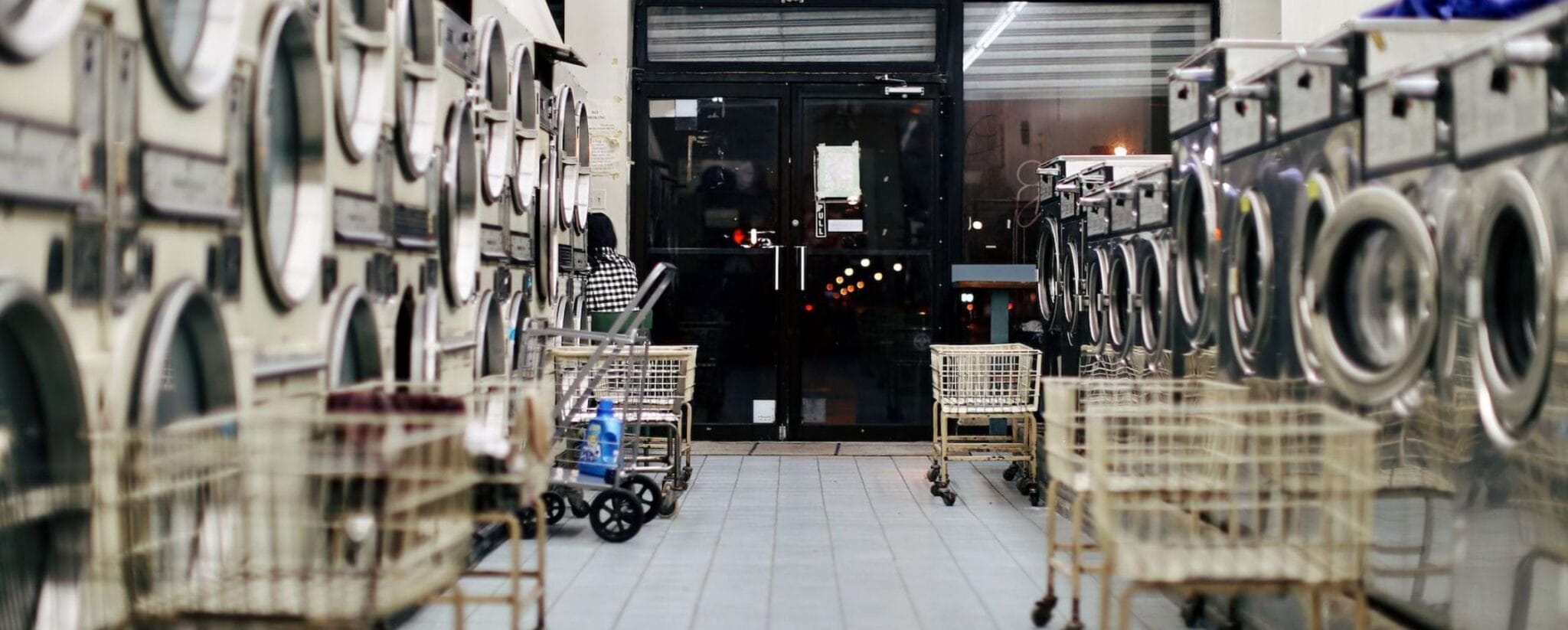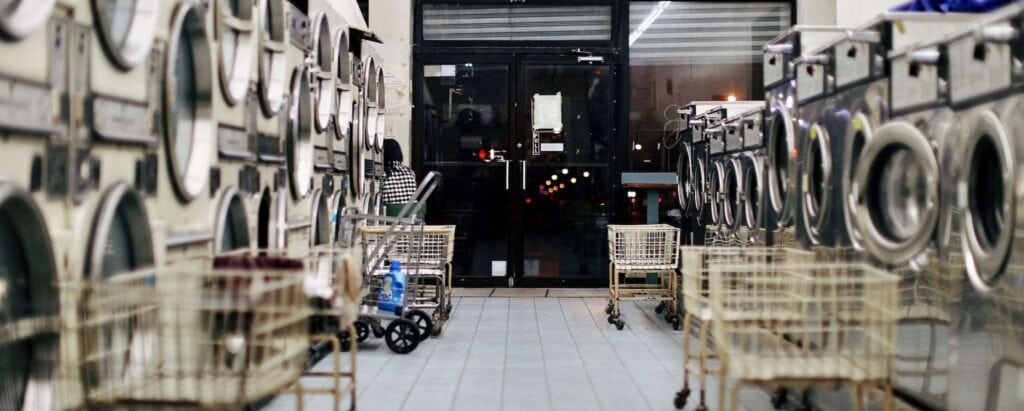 In the US, the laundromat industry is worth around $5.5 billion, and that's remained consistent over the past few years. There are over 21,000 laundromats in business that employ over 50,000 people across the country.
This is a massive industry with consistent demand. Not only is it a recession-proof business, but it's also year-round, giving you a reliable, consistent income.
There are also very few barriers to entry. You don't need a huge staff, and you'll be able to rely on a technical team for the maintenance of machines.
We're not saying that owning a laundromat isn't work, but it's a great investment for anyone looking for something a little less time intensive to set up.
Pros and Cons of Opening a Laundromat
So, do the pros outweigh the cons of opening a laundromat business? Let's take a look.
✅ PRO: High ROI
The laundry industry has a healthy 20-35% return on investment (ROI) and a five-year survival rate – that's almost double the average start-up. Since there is no inventory to manage, the success rate is high, and ROI is high.
✅ PRO: Good work/life flexibility
When you own a laundromat, you can set your opening hours and set your own schedule. Once you have your new venture up and running, you can also hire a manager and be hands-off, giving you a great work/life balance.
✅ PRO: Easy to manage
Modern laundromat systems are incredibly easy to manage. There are coinless payment options, which reduce on-site management significantly and simplify the process of record-keeping.
✅ PRO: Easy add-on options
People tend to need a laundromat for a couple of hours at a time, which is a great opportunity for upselling. It's easy to boost your profits by offering tea and coffee, clothes repairs, and other add-on services that keep your customers happy.
❌ CON: High start-up costs
Studies show that it costs between $200K and one million to launch a laundromat. It's a hefty investment, especially if you're starting from scratch and need all-new washing machines.
Most new business owners will need to look into laundry financing options to get their new company off the ground.
❌ CON: A lot of competition
Depending on your location, there could be a lot of competition. When people find a laundromat they like, they tend to become repeat weekly customers.
If there's a gap in the local market, this is a benefit for you. However, if there is an established, trusted laundromat owner in town, you could find it hard to penetrate the market.
❌ CON: Stressful to manage
A laundromat is a customer service business. You'll spend a lot of your day dealing with customers, helping clients, and answering customer complaints. It's definitely a stressful business to manage and not suitable for those who aren't great with social interaction.
Looking for exciting new business opportunities? Head to our post on starting your own packing and shipping business for another interesting money-making opportunity.
What Kind of Laundry Business Should You Open?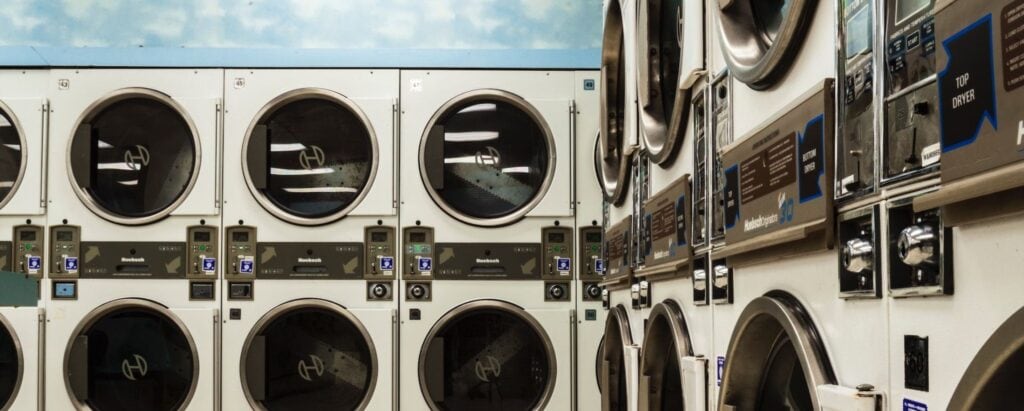 The laundry industry has several key sectors. If you love this industry, but a laundromat doesn't feel right, you've got some options.
Retail Laundry
In a traditional laundromat, customers wash their own clothes. In a retail laundry business, customers drop their laundry off, and you wash it for them.
Many people don't have time to use a laundromat, so there is a huge demand for reliable, quality laundry services. Most companies offer dry cleaning and regular washing, as well as ironing, stain removal, and other specialized services.
On-Premises Laundry (OPL)
On-premises laundry is used by boutique hotels, pharma companies, some restaurants, and businesses that need regular commercial laundry services.
It can be tough to find a client for this type of laundry business. But if there is a business in the area in need of an in-house laundry team, you may be able to walk into a successful business with just one client.
Industrial Laundry
Industrial laundrettes work on a large scale with a constant flow of laundry. This could be large-chain hotels, hospitals, colleges, etc.
If these facilities don't have laundry on-site, they'll outsource to a laundry company with industrial-scale capabilities. This type of business requires much more investment and a larger space to set up, but it can be extremely lucrative.
Laundromat Franchise vs. Starting Your Own Laundromat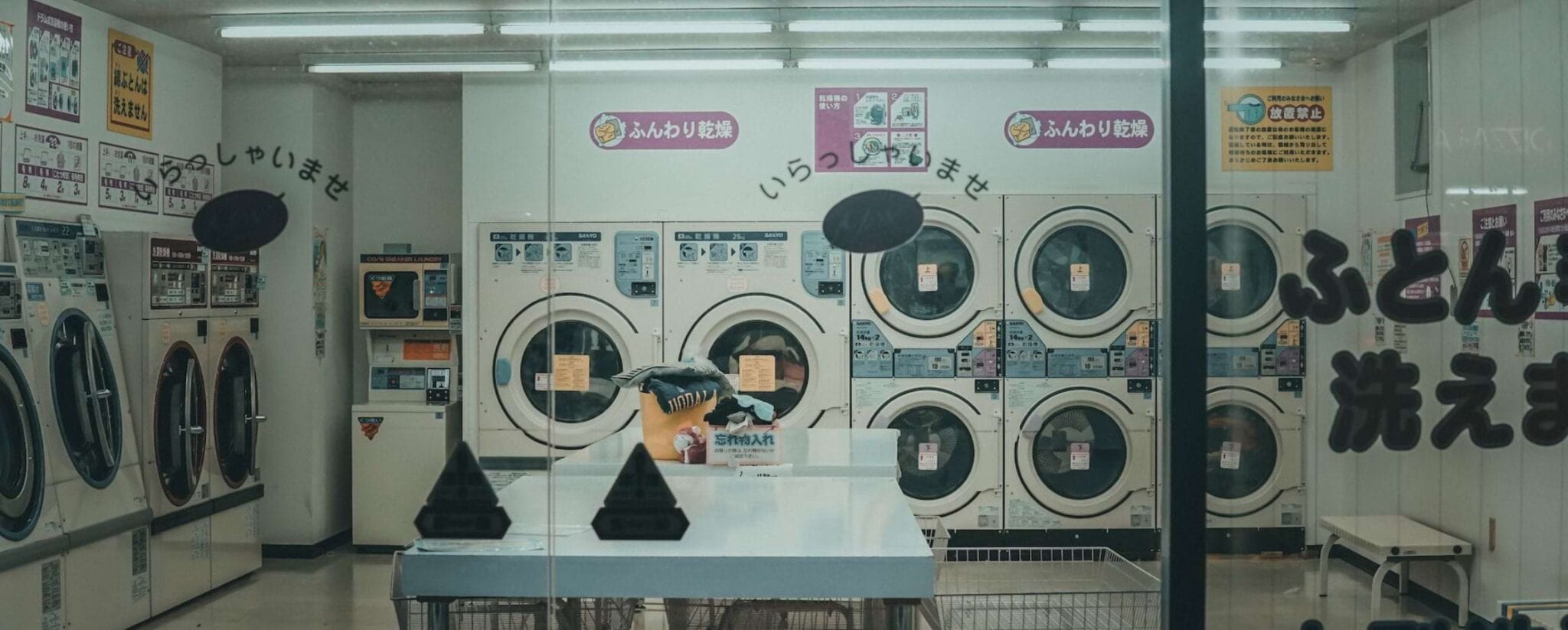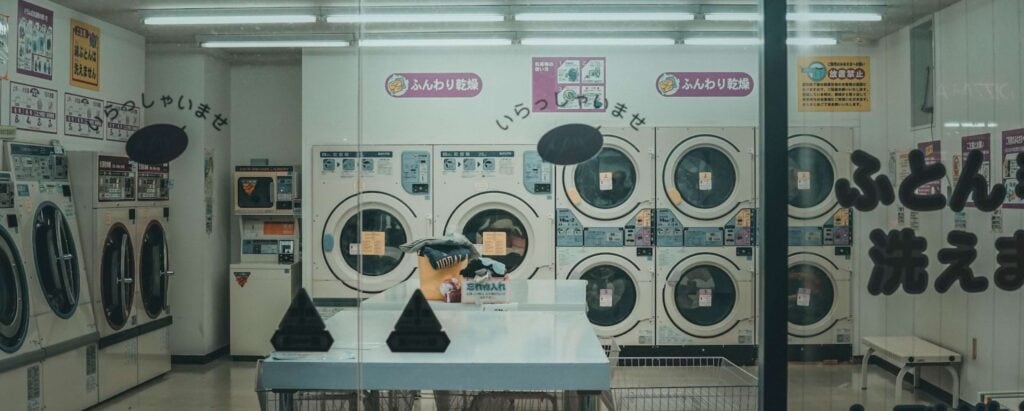 If you've decided that a laundromat is the right business model for you, the next question is where to buy a franchise or start your own business.
Buying a laundromat franchise
Let's look at the pros and cons of buying a laundromat franchise like LaundryLux. This involves buying an existing laundromat from an established company.
✅ PRO: Already generating cash flow
If you've done your research, an established laundromat should already be profitable, and you should know what to expect in terms of cash flow.
The best part of a franchise is that you get the trust and authority that comes with an established laundromat name. This will help you retain customers and build your business much more quickly.
✅ PRO: Easier to get financing
Franchises are easier to get business financing for because they have a proven business model and track record. If you're looking to get funding for a location, you'll find it easier to convince banks for equipment financing if you already have the backing of a franchise.
❌ CON: Not exactly what you want
The main disadvantage of a franchise is being tied to its brand. You can't customize your laundromat, and you might even be contractually obligated to offer certain services.
Always read the fine print of your contract and make sure you're happy to take on the business model proposed.
❌ CON: High purchasing costs
It's no secret that it can be expensive to buy a franchise. You're paying upfront for a business in a box, and you have to pay for that luxury. You do usually get support from the franchiser when you set up, so you'll have to weigh up the costs involved.
Starting from scratch
Now, let's take a look at the pros and cons of starting your own laundromat from scratch.
✅ PRO: It has the most up-to-date equipment
When you start your own laundromat, you can invest in the best laundry equipment. This might not be an option with a franchise, and you might be stuck with outdated machines. Coinless machines are a larger investment, but they'll pay off in the long run.
✅ PRO: Your own branding
If you have a great idea for branding, you can execute it inside your own laundromat. You can offer whatever services you want and set up your new business exactly how you'd like it.
❌ CON: More work to get started
No matter what business you start, it's always a tough time in the first year to get it off the ground. When you start from scratch, you'll have to build out the shopfront, start a marketing strategy, and even find investors. It's a lot more work than walking into an operational laundromat.
How Do Laundromats Make Money?
Laundromats make money by charging customers to use washing machines and dryers. Since people operate the machines themselves, no staffing is required, so it's a great passive income model.
The Coin Laundry Association says that the average laundromat in the US earns $300,000 a year. What's more, over 95% of laundromats live past their first five years.
What do you Need to Open a Laundromat?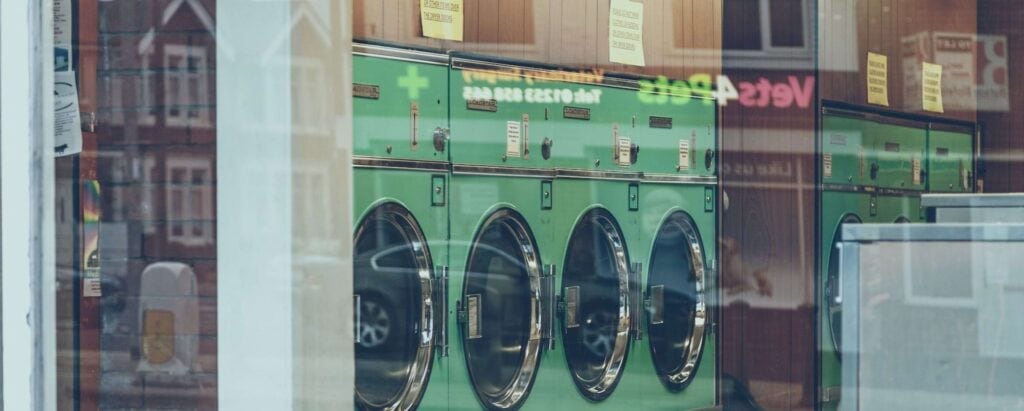 There are three key things you'll need to set up a successful laundry business.
Knowledge
You don't need training or certifications to open a laundromat. But you will need some knowledge of the industry. Machines are going to break down, customers will have questions, and it's your job as the boss to know how to handle any challenges.
If you don't have any industry experience or knowledge, now is the time to start doing your research.
Investment
So, how much does it cost to open a laundromat? It's going to cost you between $300K and $400K to set up a laundromat with 20 washers and dryers. This includes the equipment and construction costs, as well as permits, licenses, and installation fees.
A great location
Location is everything when it comes to running a successful laundromat. You need somewhere with high demand and a lot of foot traffic. Near high rises, college dorms, and hospitals are usually great options.
You also need a good lot. The average laundromat is around 2,500 square feet, but a larger space will be able to hold more machines. Make sure you can secure a long-term lease, and don't sign anything until you have funding for the project.
Things to Consider Before Starting a Laundromat
If you can answer all of the questions below, you're ready to dive in and start writing your laundromat business plan.
What's your business model?
First things first – are you going to open your own laundromat or invest in a franchise? Are you going to target locals or businesses? Industrial clients or the public?
The answer to these questions will come from your market research. Try and spot gaps in the local market to give your business the best chance of success.
Which locations will you target?
What are the key demographics in your area? Areas with renter-occupied housing and households under $50,000 are best for laundromats. Wealthy neighborhoods tend to have in-home laundry facilities or pay for a laundry service.
Can you target colleges? Apartment complexes? Local businesses? Make sure you know who your target audience is going to be and how to reach them.
How will you accept payment?
Coin laundry machines are common, but they're going out of fashion. Most have to have card machines that spit out coins because people just don't carry cash anymore.
If you can, invest in coinless machines. These will attract more clients and make it much easier to take payments.
How many employees will you need?
Although you won't need a huge staff in your laundromat, you will need people to clean, manage the machines, and sort the books. You might decide to do this yourself in the beginning, or you might need to hire a cleaner and manager – this is something you'll need to add to your business plan and budget for.
Will you offer any extra services?
Are you going to offer additional services to boost profits? This could be washing and folding, dry cleaning, or even just coffee and other drinks. You'll need to think about staffing if you do decide to increase your service offerings.
What about operating hours?
Most people will want to use the laundromat after work and on weekends. In fact, around half of all laundromat sales are made on Saturdays and Sundays.
If you're running a basic laundromat, you might decide to keep it open 24/7. Whatever you decide, make sure you have your opening hours planned in advance.
How to Start a Laundromat Business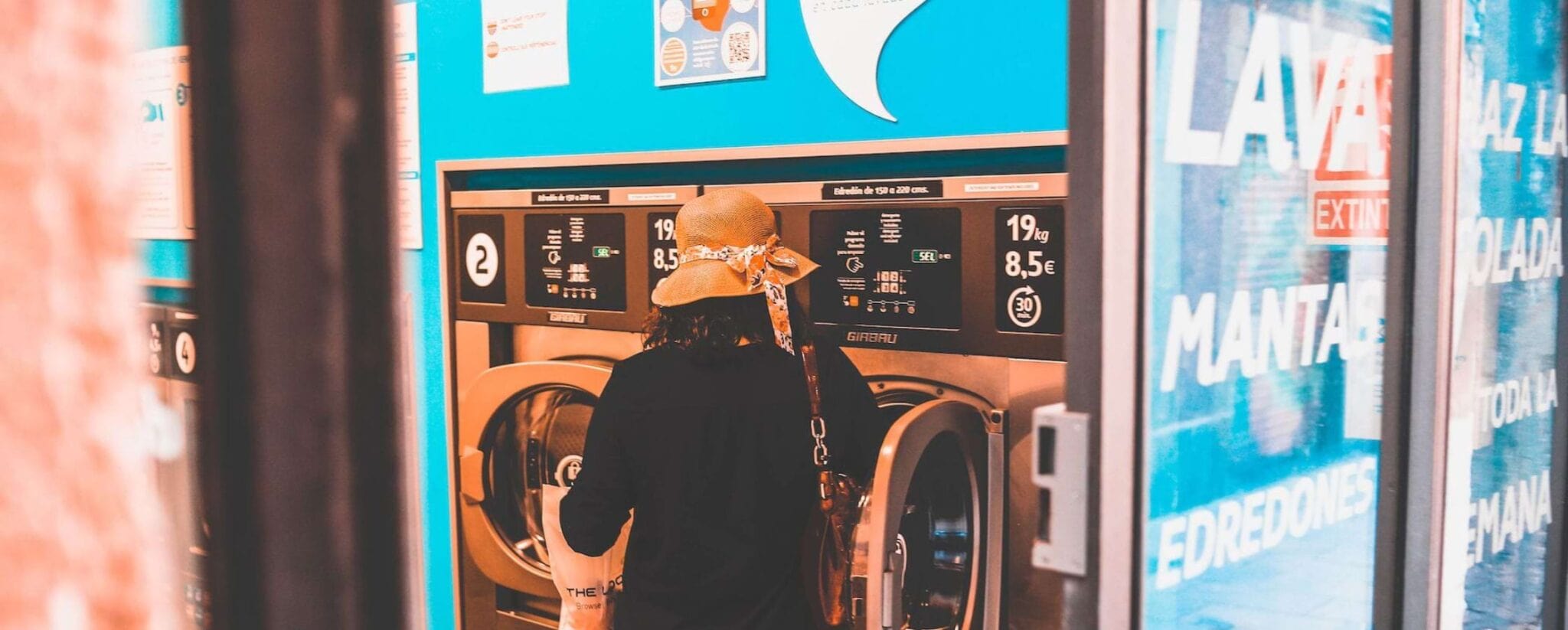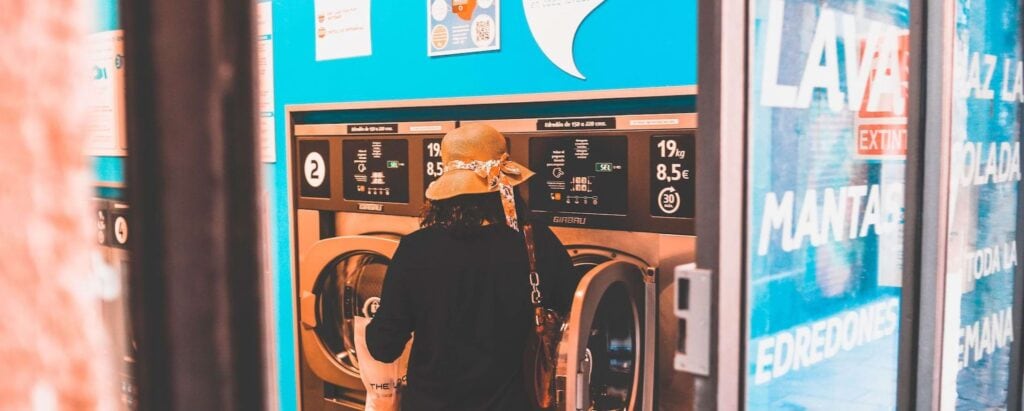 If you're raring to go, here's a quick checklist on how to open your very own laundromat.
Do your market research – find the best location and figure out if it's best to buy an existing laundromat or finance your own.
Apply for Permits & Licenses – these vary from state to state, so check with your local authority and get all your paperwork in order before going any further.
Open a Business Bank Account – it's never a good idea to mix your personal and business finances. Open a business account as early as possible.
Choose and Install Your Washers and Dryers – do your research and invest in the very best machines you can. Local commercial plumbing firms will be able to give you advice on the best systems.
Marketing Your Laundromat Business – create flyers and canvas the local area. Offer first-time promotions. Partner with local businesses. Do all you can to get the word out about your new laundromat.
Prepare For Your Grand Opening – who doesn't love a grand opening? Pick a date and put on a mini party to get locals excited about your new business.
Is a Laundromat Right For You?
Starting a laundromat is one of the more expensive businesses to invest in. However, if you pick a great location and invest in quality equipment, it's very easy to make this a profitable business.
There aren't many businesses with such a high ROI and a good chance of five-year success, so if this feels like a passion for you, you've chosen a great business.
We have an entire series of posts showing new entrepreneurs the best businesses to invest in. If you're still looking for a way to make money, read our next post on how to start a pressure washing business – you'll be shocked at how much money you could make.
How to Start a Laundromat Business