Disclosure: This post may contain affiliate links. If you click on a link I may make a small commission at no extra cost to you. You can read the full disclosure here.
Last Updated on November 13, 2022 by Chris Panteli
How to Start a Glamping Business
The glamping industry is growing in popularity, with investors and entrepreneurs looking to capitalize on this growing trend.
Just a few years ago, traditional vacation homes were all investors could talk about. Now, the conversation is shifting to the incredible opportunities presented by glamping tents.
If you're an investor looking for a lucrative opportunity in the camping industry, this post will show you how to start a glamping business and how much money you could make.
If glamping doesn't sound like the right business model, have you considered investing in a mobile home park? Head to our next guide for a surprising breakdown of the profits involved in manufactured housing communities. 
What is glamping?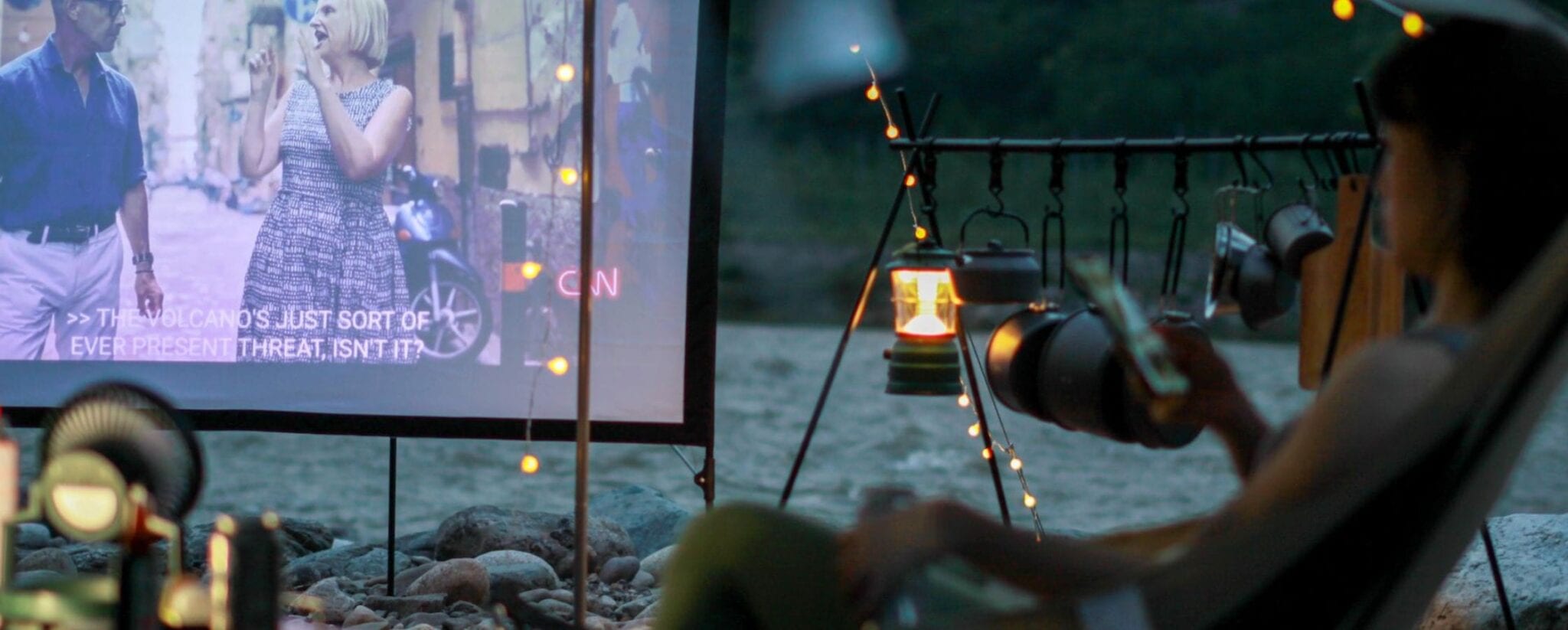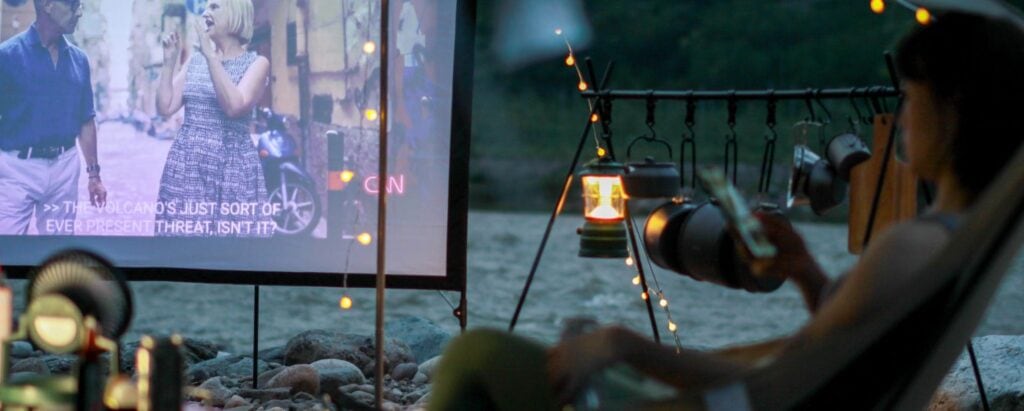 The term "glamping" is a mix of the words "glamorous" and "camping." It gained popularity in the early 2000s and created a luxurious form of camping for those who aren't keen on the rough wilderness.
It usually meant staying in a posh yurt or luxury tent at festivals with all the hotel amenities.
Today, glamping is much more accessible. It focuses on giving campers the creature comforts of home while maintaining the experience of the great outdoors.
With traditional camping, campers are happy with a simple tent, air bed, and camping stove. Glampers will expect a full-size bed, WiFi, and cooking facilities.
Types of glamping
There are different types of glamping you can offer guests:
Yurts and safari tents
Glamping pods
Cabins and lodges
Treehouses
Renovated campervans and caravans
The type of accommodation you offer can vary, but the focus is always on the experience given to guests.
Why should you start a glamping business?
In 2021, the global glamping market was valued at $2.68 billion, and it's expected to increase to $7.11 billion by 2031.
It's safe to say that glamping is a growing trend and a great business opportunity. The market's projected growth is attributed to several factors:
The growing popularity of local tourism post-Covid-19 (seen by the growing popularity of renting RVs).
The new trend of spending disposable income on experiences rather than products.
The rise of ethical consumerism
Overall, glamping has an incredible appeal factor that makes it a savvy business model. It's also extremely profitable since tourists are willing to pay more for a luxury experience – we'll break down the numbers later in the post.
Create a glamping business plan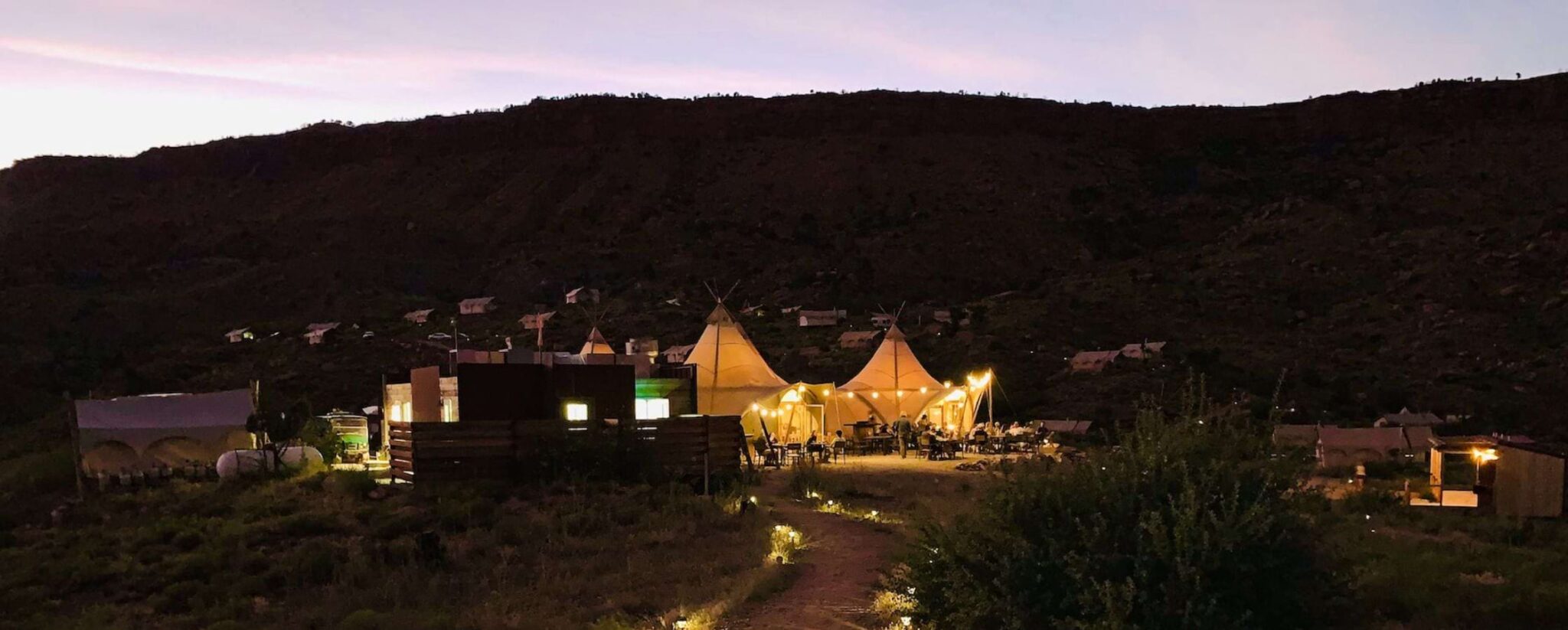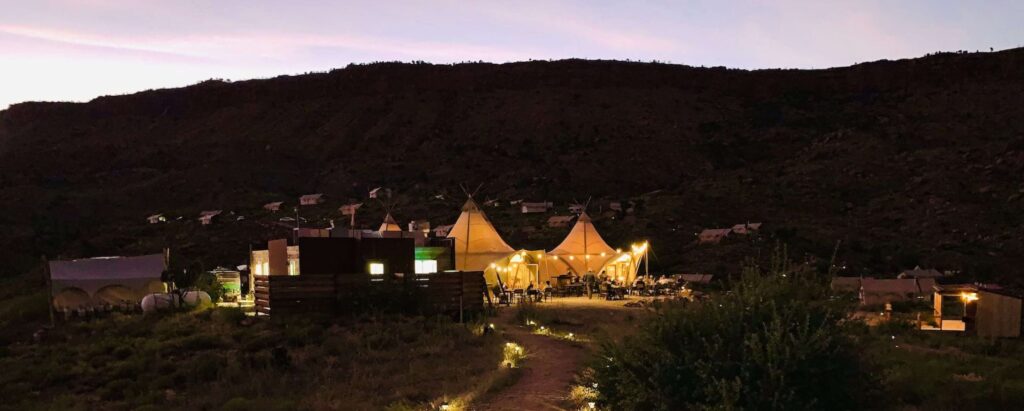 When figuring out how to start a glamping business, begin with a business plan. This will act as a roadmap that ensures your start-up is viable and has goals to become profitable.
Here's everything you need to include in your glamping business plan:
Executive Summary: This comes first in the plan, but you should write it last. It sums up your plan and is used to show investors and loan officers a snapshot of the business model.
Business Overview: This includes your vision, mission statement, and goals. Keep it short and sweet.
Product and Services: What type of glamping will your offer? What services will you give to guests? What is your pricing model?
Market Analysis: This section covers the glamping market in your area, seasonal demand, annual trends, and an overview of your customer.
Competitive Analysis: Who are the main competitors in your area? List their strengths and weaknesses and how you will differentiate your glamping business.
Sales and Marketing: Create a marketing, promotional, and sales strategy based on your USP – what social channels will you use? Will you set up ads?
Management Team: List any employees you will have managing your business, including their backgrounds, experience, and job descriptions.
Operations Plan: This is a logistical plan, including the location, equipment, management plan, etc.
Financial Plan: You'll need a three-year financial forecast, including estimated profit and loss, start-up costs, and financing plans.
Appendix: Include any business documents, including proof of financing, deeds, etc. This will come in handy when you're working with investors.
Pros and Cons of Starting a Glamping Business
Although a glamping business can be a lucrative investment, there are both pros and cons to weigh up before you dive in.
✅PRO: Simply business model
A glamping business is a simple business model, which makes it much easier to launch and build a seamless business.
✅PRO: Easy to learn
Because glamping is so popular, learning everything you need online is easy. There are tons of groups, websites, podcasts, and YouTube channels with everything you need to know about starting your new business.
✅PRO: Face-to-face interaction
If you love interacting with people, glamping is a great investment. You'll spend a lot of time communicating with guests and providing a hands-on customer experience.
✅PRO: Easy referrals and marketing
Glamping is all about referrals, which makes it easy to sustain your business models. When people love their stay, they'll tell friends, share photos online, and become mini ambassadors for your brand.
❌CON: High competition
Glamping is a crowded market, and competition in almost every state is incredibly high. You'll be going up against established glamping sites, so getting your name out there can be tough.
❌CON: High expenses
Overheads can be high in a glamping business. People expect a higher level of service and amenities than regular camping, so you'll need to research your overheads to ensure you have a viable business capable of making a profit.
❌CON: Takes time to set up
If you're starting a new glamping business from scratch, it takes time to set up. You'll need to construct luxury accommodations, install amenities, build a killer website, and work on your marketing. Don't expect to make much money in the first few months.
What to Know Before Starting a Glamping Business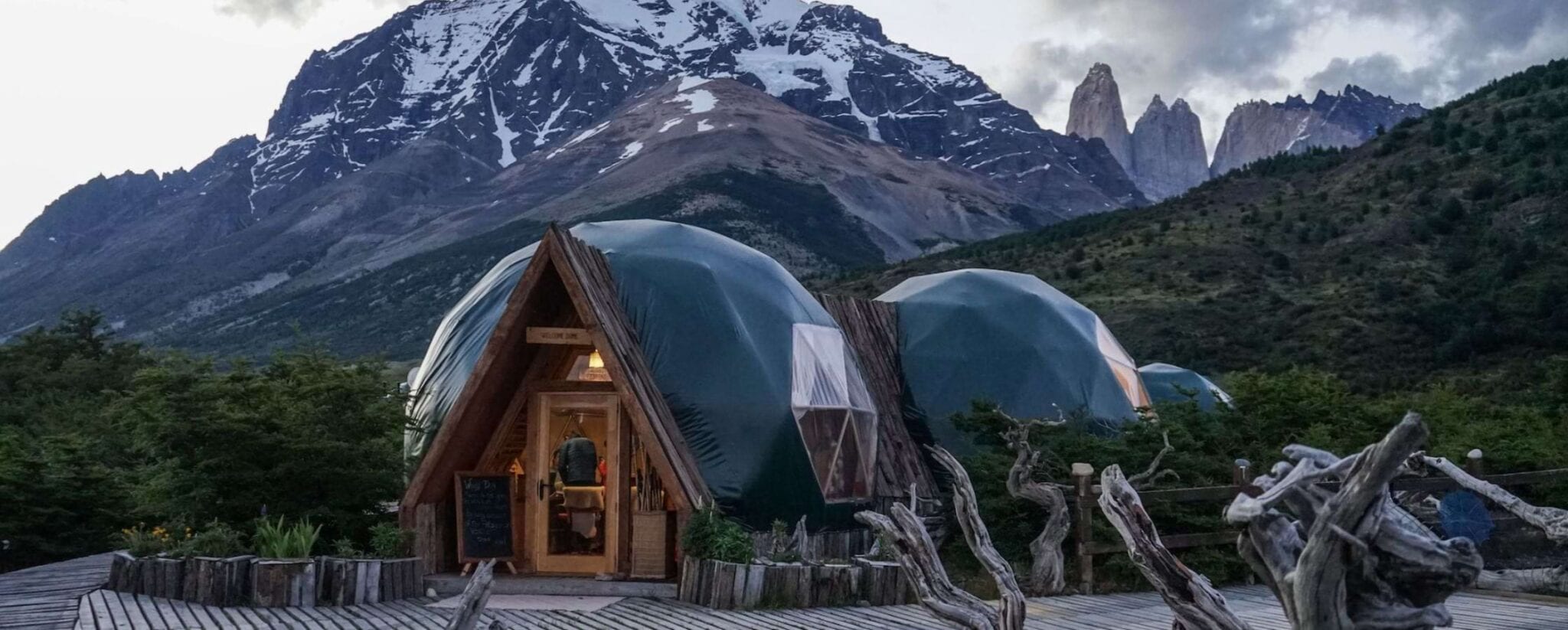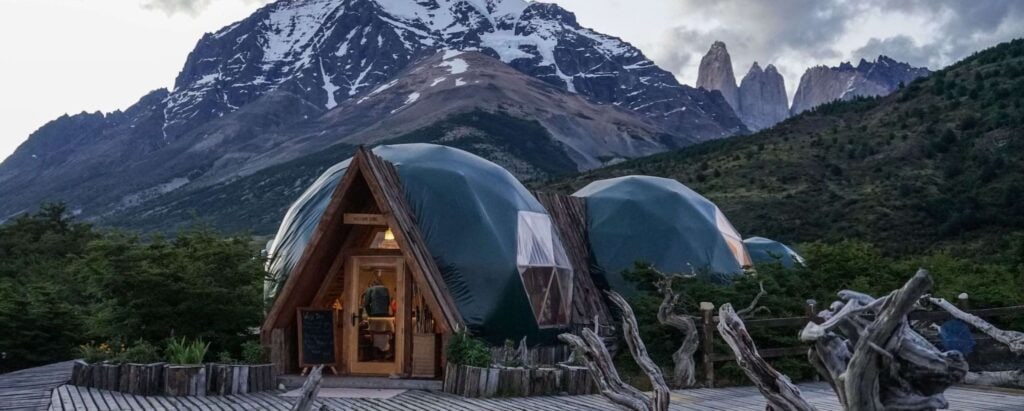 If you're excited about starting your own glamping business, here are a few things you need to know before you get started.
The glamping business models
You'll need to figure out which glamping model you'll use. The three most popular types of glamping styles are:
Treehouses
Eco-pods
Tiny houses and cabins
But as we saw before, there are many other models you could use:
An a-frame glamping tent or bell tent
Yurt or safari tent
Reformed barns
Campervans and RVs
Boats and floating homes
Igloos and domes
As well as your personal preference, you'll need to look at the market to see which type of glamping would be most suitable for your area and market.
Costs & Expenses
It's no surprise that starting a glamping business can be expensive. You'll need to find financing to get your business off the ground. Here's an idea of the prices you can expect:
Investment range $10,000 – $28,000
Revenue potential $40,000 – $250,000 p.a.
Profit potential $32,000 – $200,000 p.a.
The start-up list includes the cost of glamping tents, furnishings, and sanitary facilities. However, you'll also need some other investments to launch successfully:
Establishing your business name – $175
Licenses and permits – $200
Insurance – $200
Website setup – $2,000
Licenses & Permits
You'll need local, state, and federal government licenses to ensure your glamping business is legal.
If you provide alcohol, you'll need a liquor license.
Health licenses and permits from the Occupational Safety and Health Administration (OSHA).
State-level and local city-based licenses and permits for tourism business.
The types of licenses and permits you need will vary depending on the state you're in, so make sure you do your local research and factor all of them into your costs.
Zoning restrictions
All land in North America is split into zones by local cities or counties. Zones are named according to how the local authorities expect the land to be used. Some of the most common are:
Open Space
Agricultural
Rural Residential
Urban Residential
Commercial
Industrial
There are permitted uses within each zone and permitted developments that the city will allow in each zone.
Make sure you check the zoning regulations when buying land for glamping. You might find that planning permission would be rejected in a specific zone, and you'll waste time and money on applications.
Maintenance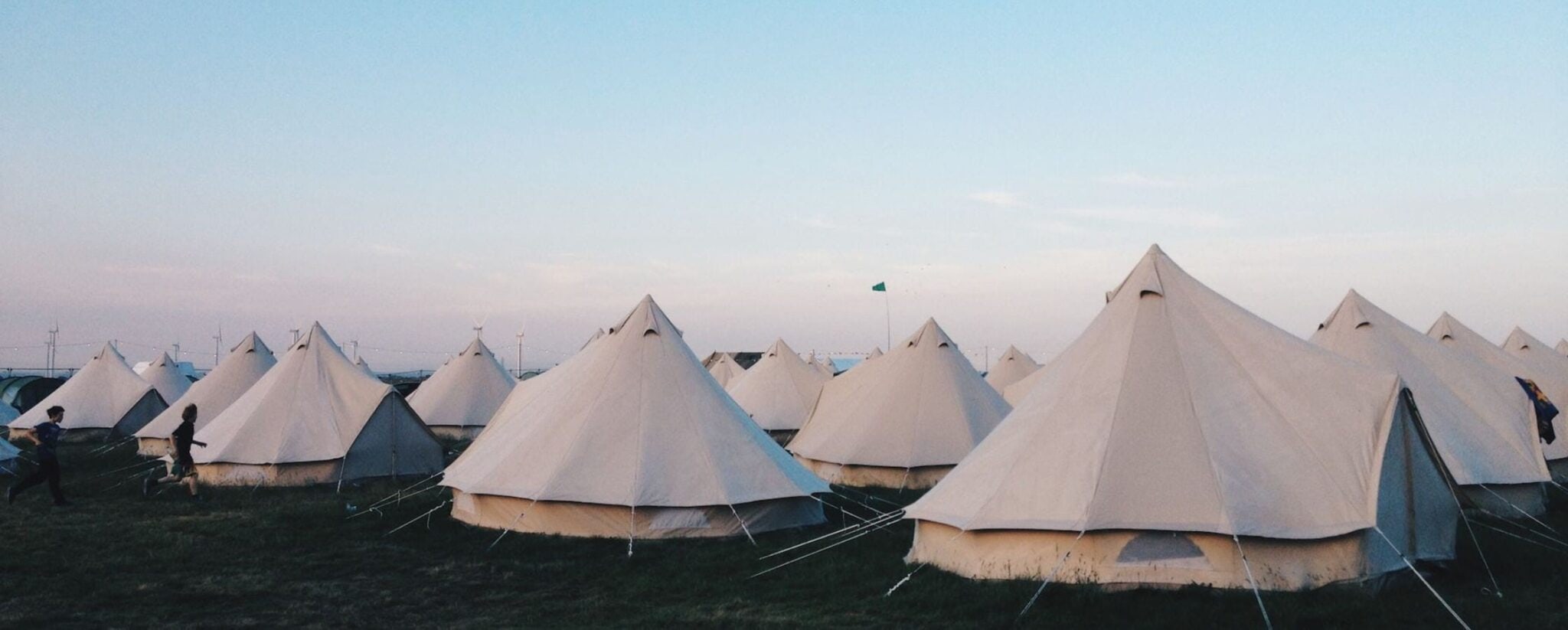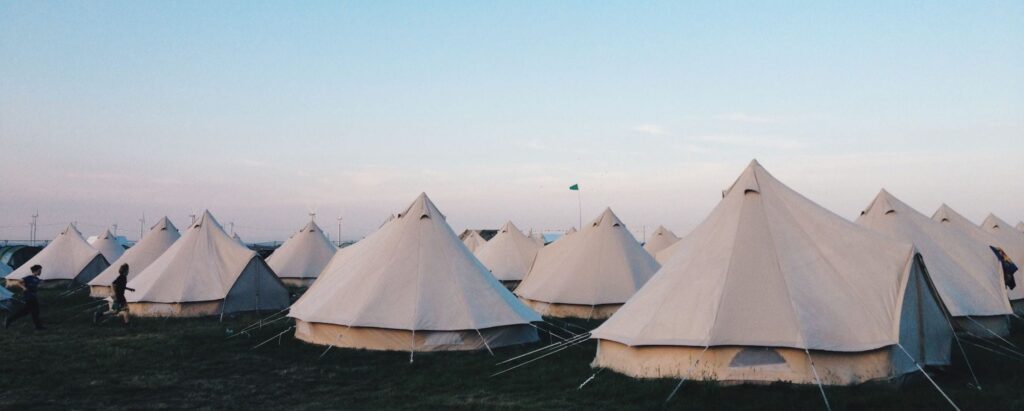 In regular campsites, campers expect to live rough. However, glampers expect a higher level of maintenance. The tents or accommodations will need regular cleaning, pathways need to be kept, entryways need to be presentable, and bathroom facilities need to be maintained.
All of this is hard work, so you might need to hire a maintenance team to help keep your glamping site in tip-top shape.
How much will you charge?
Nightly prices for a glamping pod range from $150 to $300+, depending on the amenities offered and the size of the glamping accommodation.
When considering your pricing, aim for a profit margin of 80%. This will make it easy to cover all your expenses and outgoings. Once you know all your costs, it's easier to work backward to figure out your nightly base rate.
Your prices will change over time, so don't worry about getting them wrong in the beginning.
Small Business Taxes
You'll need an Employer Identification Number (EIN) to start paying taxes. It's best to register your business in the state you live in, but if you're planning to expand, you might want to look at the tax laws in nearby states to make sure you get the best deal.
Once you have your EIN, you'll be responsible for filing your business taxes yearly – either in a calendar year or a fiscal year.
Open a business bank account
It's never a good idea to mix your business and personal finances. Instead, open a business bank account and separate all your outgoings and profits. This makes it much easier to track when taxes are due.
Most major banks offer accounts tailored to small businesses, so shop around to find the best rates and features.
Get business insurance
Business insurance is a must when you're starting a glamping business. It will protect you from unexpected events that could devastate your business, like a flood or another pandemic.
There are different types of business insurance available, so you'll need to figure out which one is best for you:
General liability: This is the most comprehensive type of insurance and acts as a catch-all that covers most elements of a business. If you only get one type, make it this one.
Business Property: Covers your equipment and supplies.
Equipment Breakdown Insurance: Covers the cost of repairing or replacing broken equipment or assets.
Property: Covers the physical space of your business.
Professional liability: Protects against guests who sue you for damage or loss.
Business owner's policy (BOP): This is another comprehensive type that covers many of the other ones in the list and can be tailored to your business.
What is The Growth Potential For a Glamping Business?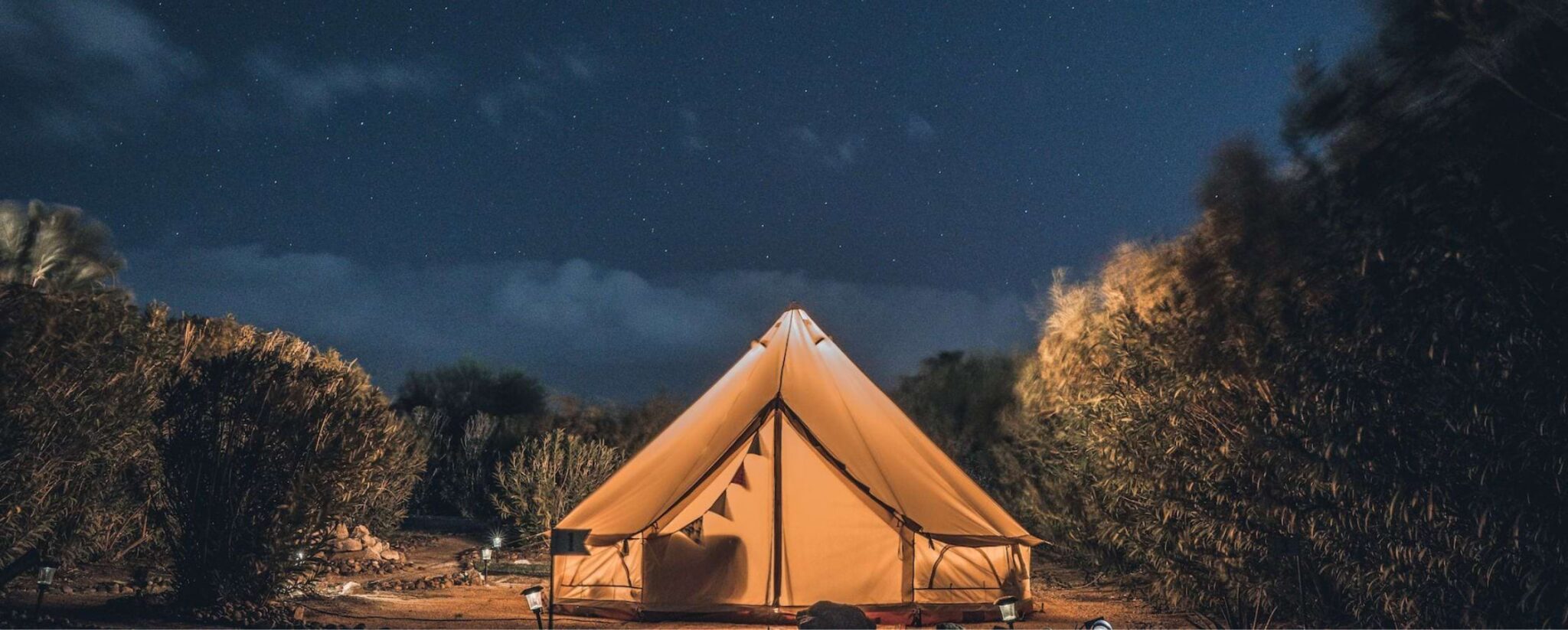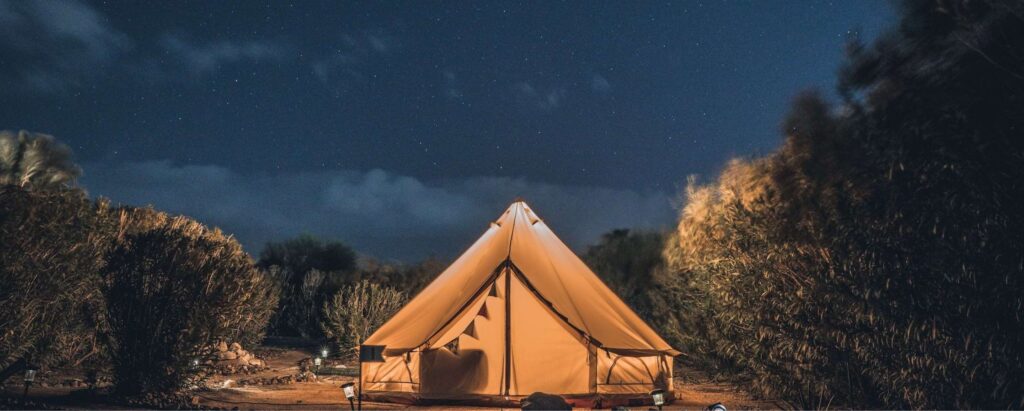 The global glamping market is growing and is expected to expand by 10% over the next ten years.
There is huge potential for a glamping business right now, as more and more people are looking for luxury staycations rather than traveling abroad.
With a little creativity, you can set up a winning glamping business that grows year-on-year.
Glamping.com is a great example of how wildly successful a glamping business can be. They have over 140,000 website visitors each month and promote glamping sites across the globe.
Marketing Your Glamping Business
A winning marketing strategy is one of the key factors of a successful glamping business. It doesn't matter how incredible your glamping business is; if no one knows about it, you won't make money.
Here are some quick tips on how to market your glamping hub.
Create an online presence
The more places you list your glamping business, the more eyeballs you'll get on your listing. Some of the best online reservation platforms for a glamping experience are:
As well as listing on all the top platforms, you'll also need a social media presence. Set up social accounts on Instagram, Facebook, and TikTok and share regular updates about your business.
Stunning photos are key for social media, so take lots of each glamping unit, surrounding area, and amenities to show off your new business.
High-quality pictures
If you can, hire a professional photographer to take photos of your new glamping campgrounds. These are perfect for your listings, website, social media accounts, and promotional materials.
The more enticing your photos, the more people will want to stay. After all, a huge part of why people love glamping is the selfie opportunities, so show them how beautiful your campground can be!
Create Videos
Videos are king in marketing, so create many videos for your online campaigns. You could share tours of your pods, guest testimonials, landscape shots, and videos about the local area.
TikTok is currently a huge video-sharing platform, so create short, one-minute videos to grow a following for your new business.
Take it Offline
Don't be afraid to invest in traditional methods of marketing. While the internet is a powerful tool, it's wise to reach out to your local community. Glamping is an intriguing idea for many people, and locals may be keen to try it for their next weekend getaway. Attend local community events or work with other businesses in the area to get the word out about your company.
Tell a Story
When marketing your business, make sure to tell your story. Why did you start your glamping business? Who are you? Who are your glamping pods for? The more you tell the story behind your business, the more people can connect with you and want to visit.
This is the best way to stand out from your competitors and give a unique experience to your guests.
Engage with local influencers
Local influencers can be a gold mine for a new glamping business. Find local influencers in the camping niche and offer them a free stay in your vacation rental. They'll share videos and pictures with their audience and funnel a lot of traffic your way.
Micro-influencers can be much more beneficial than macro-influencers with millions of followers. So do your research and make sure you partner with people who share your values and will positively influence your business.
Best Practices for Starting a Glamping Business
That was a lot of information to absorb from one post! Let's summarize the best practices for starting your glamping business so you have a strategy to start immediately.
Figure out which glamping model you want – tents, pods, cabins, etc. 
Create a full business plan so you know your goals and strategy. 
Do a full cost analysis and ensure you have the finances to start your business. 
Do a full feasibility study of any locations to ensure it's viable.
Get advice on the zoning and permissions for your state and area. 
Do a cash flow analysis to figure out how much money you'll make in the first three years – you may need investors to get you through the first few years. 
Ensure you understand the maintenance involved and look for a maintenance team for your new business. 
Flesh out a marketing strategy – get all your social media channels set up, create a website, and figure out which platforms you'll list on. 
Good Luck with Your New Venture!
When it comes to investing, a glamping business is a unique opportunity. It's not the easiest business model to take on, but the profit you stand to make is only limited by your imagination.
Research is key when starting a glamping business. Once you've found the best location and have your business plan in place, the rest comes easy.
If you're looking into investments and are unsure if glamping is the right business model for you, have you thought about RV parks? These are another lucrative sector with some key differences.
Head to our guide on investing in an RV park, and we'll help you figure out if this is the right investment for you.
How to Start a Glamping Business