Disclosure: This post may contain affiliate links. If you click on a link I may make a small commission at no extra cost to you. You can read the full disclosure here.
Last Updated on December 26, 2022 by Chris Panteli
How to Sell Feet Pics
Have you ever wanted to know how to sell feet pics?
Perhaps you are bewildered at the fact that there are actually people out there that want to pay for images of feet – and that you can really start making money if you know how and where to sell them.
According to a study from Nature, 33% of all fetishes have to do with a very specific body part, with feet being the most common. And while the demand for feet images within the foot fetishists community will likely be your bread and butter – there are actually plenty more ways you can profit from this seemingly innocuous part of the human anatomy.
How do you sell pictures of your feet for money?
There are a number of ways you can successfully sell foot pictures for money. The opportunities available range from full-time professional employment to the occasional hobby seller. The demand for feet pictures exists in a multitude of markets – and providing images that can cater to this demand will facilitate the profitable exchange of images for cash.
There may be some controversy surrounding this particular sort of money-making venture. And while it may not be everyone's cup of tea, the mere fact that a market exists means it should not be discounted as a way to generate additional income.
It could be something you do alongside your regular day job or maybe just a side gig to make a little extra cash over the weekends.
If you are able to establish yourself as a leading brand within the foot lover community, then selling pictures of your bare feet may eventually become an income-replacing business.
Introduction To Foot Imagery Online
The demand for pictures of feet is nothing new – from satisfying the urges of foot fetishists to successfully advertising the latest Louboutin's; a market exists for well-photographed images of feet in all shapes, sizes, and styles.
What has changed in more recent years is the ability to get involved in this potentially lucrative industry with your very own 5-toed friends.
In fact, with the advent of social media and industry advertising budgets growing year-on-year, there is potential to not only make a little extra cash but also to significantly increase your total income – and even surpass $1000 a month of additional earings.
This epic guide will illustrate potential legitimate places you could get involved in the booming feet picture industry. The ability to remain anonymous for the more trepidatious amongst you exists, with certain suggestions meaning you can earn without ever having to reveal your true identity or personal information.
And for the more forthcoming feet aficionados (those self-confessed beautiful feet owners) a world of foot fame could be just around the corner – with explosive earnings to match!
Recommended: 19 Ultimate Ways To Make Money Doing Nothing
Feet Pictures Legality
Is selling feet pictures legal or illegal?
In simplistic terms, selling feet pictures is legal in most countries, including the United States, the UK, and Australia. In countries that implement religious laws alongside their constitutions, the legality of showing bare feet may range from ambiguous to outright illegal – and you should independently verify the law in each territory before attempting the sale of any feet pictures within these legal jurisdictions.
In countries where the law does not impede the sale of feet images, there may still be non-specific relatable laws that could be applied. For example, when the feet images have a fetishistic sensibility:
You should be at least 18 years old before making or selling feet images.
The images you take that are not of your own feet should have been consented to by an adult – with their expressed permission for commercial use.
The feet images should not break any other laws including the production of pornographic or illicit material, hate crime laws, or copyright infringements.
Recommended: How to Make Money on the Deep Web: Ultimate Guide
Feet Picture Markets
There are three core markets in which you can successfully sell feet images, and whilst these are by no means exhaustive, they do cover the main routes which are available to make money.
You may decide to start selling pictures exclusively in one particular market – and then as you gain experience, expand into multiple markets to increase your earnings.
Many people are successfully making good money just by selling on social media – and as their followers increase, they are able to attract more interested buyers and increase their revenue.
Some people may begin with an Etsy shop, or another e-commerce platform and then transition into social media or then decide to take a more professional route. The choice is really yours, and you should start wherever you feel most comfortable and most able to utilize your existing skills.
Professional Feet Picture Market
The professional market refers almost exclusively to foot modeling, or any professionally paid work that requires or utilizes your feet in exchange for money. Although the world of modeling may seem somewhat out of reach for most people, the fact is, that there are lots of opportunities available.
Parts models a required for specific parts of the body, including the feet. And so if you are able to land a gig within this field, you could quite rightly call yourself a professional foot model.
Hobby Feet Picture Market
I have labeled this sector the Hobby Feet Picture Market as most of the paid work will not be contractual or ongoing in any real capacity – and this would include online foot pic platforms, social media, blogs, and e-commerce. This does not mean however that you can't make a consistently good income – you may just need to exploit a number of platforms and opportunities in conjunction with each other.
Tangential Feet Picture Market
Finally, all remaining opportunities would fall under the umbrella of the Tangential Feet Picture Market. This would include, for example, starting an affiliate website – whereby you will be exploiting the use of custom feet images to indirectly increase your sales of affiliate products. And so while the feet pictures themselves will not be the income-generating asset – they will tangentially be contributing to your earnings.
How To Sell Feet Pictures: 20 Places To Try
So without further ado, I present you with 20 legitimate opportunities available for you to make money with feet pictures. You may wish to get started with just one, or a combination in order to maximize your earnings.
1. How To Sell Feet Pics On Model Scouts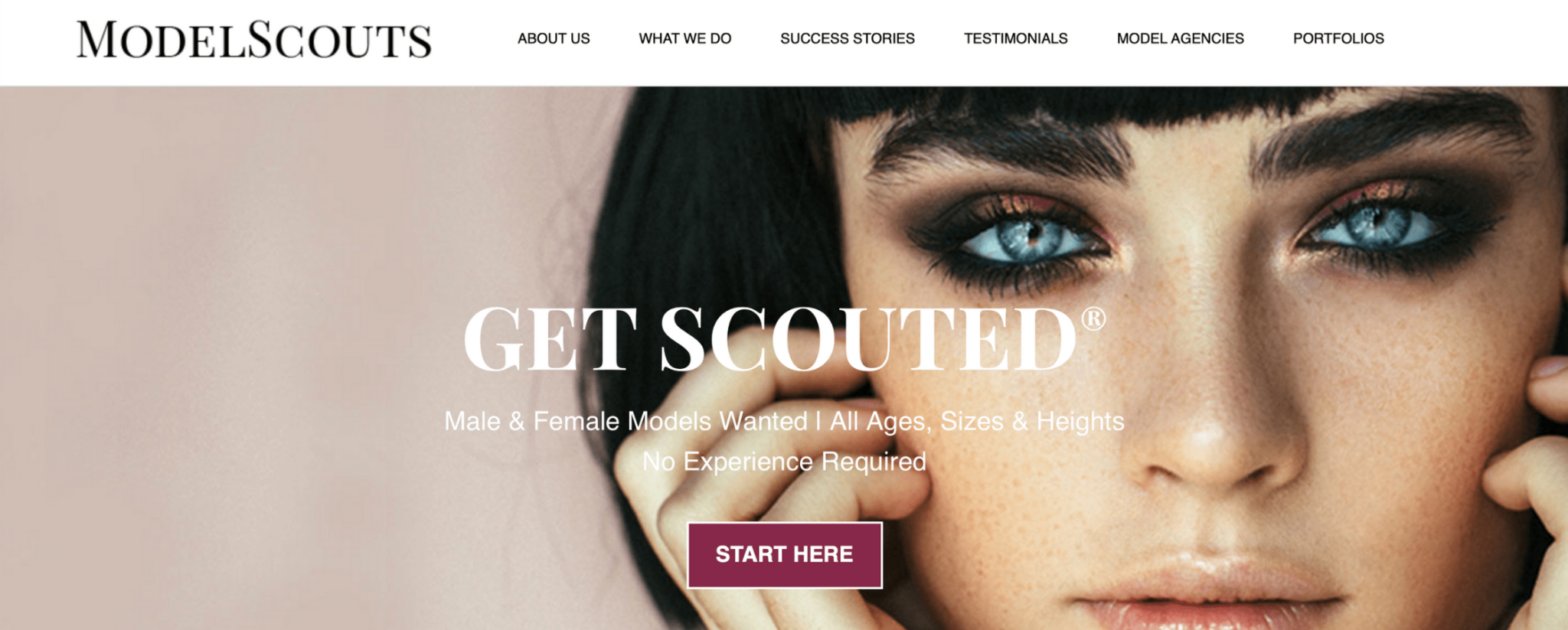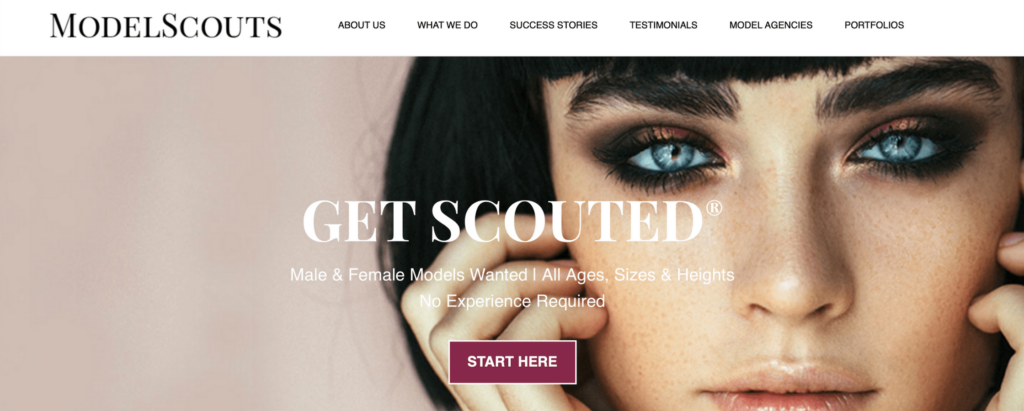 Getting paid for pictures of your feet doesn't need to be a part-time money-making scheme or a seedy activity that you need to be embarrassed about. In fact, becoming a professional model is a totally legitimate career choice – and with platforms like Model Scouts you can get in front of the right people; no matter your size, style, age, or gender!
In 2021, the Modelling Agencies market in the U.S. was worth $1.6bn and has grown by 2.1% over the past 5 years. But breaking through this notoriously competitive industry has always been a challenge – until Model Scouts came along and opened the doors to thousands of aspiring models.
Model Scouts acts as an intermediary between the agencies and the people looking to begin a career in modeling. You can signup for a One Year Professional Model Profile for $149, and this allows you to upload up to 30 photos and gain exposure to scouts for 250+ International Model Agencies.
This is a professional industry, and as such the requirements will be broad and far-reaching – including the need for parts models which means feet.
Those fancy Jimmy Choo's need a good pair of feet to wear them!
And what's really exciting about the Model Scouts opportunity is they advertise that they expect you to see results within 10 business days of creating a live profile! So what are you waiting for, spruce up those feet and get a paid professional modeling gig now!
2. How To Sell Feet Pics On Seeking Arrangement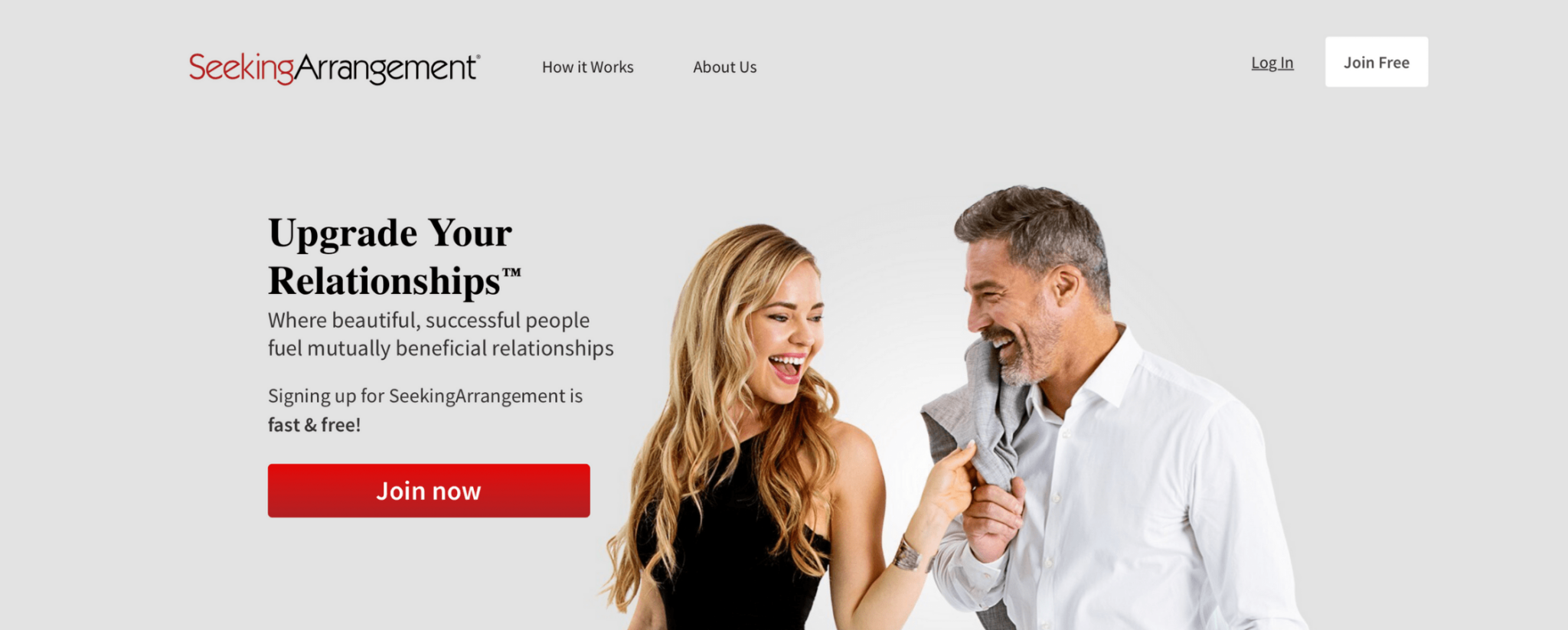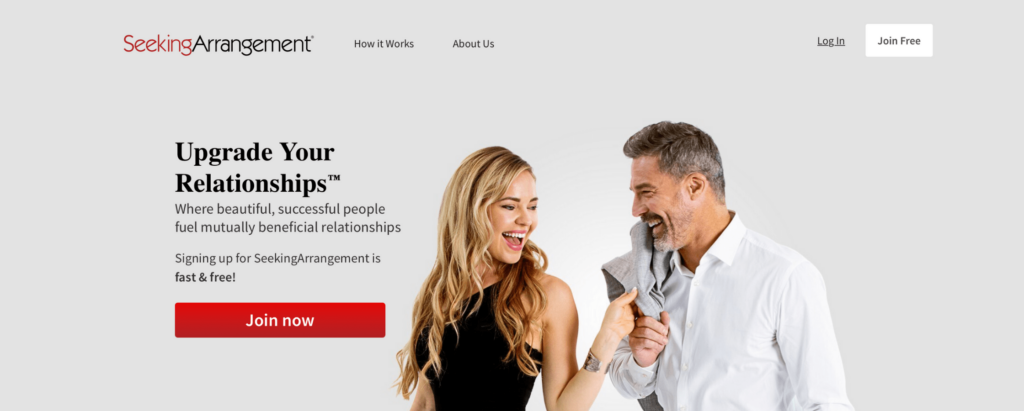 Seeking Arrangement is not without its controversy – but it would be remiss of me not to include all valid methods to sell feet pictures and make money. And while the ethical implications of using so-called 'sugar daddy' websites may discourage some readers, it is, without doubt, a profitable opportunity.
The Seeking Arrangement platform allows for the negotiation of mutually beneficial arrangements between sugar babies and sugar daddies – although these terms are largely for descriptive purposes only – and anyone looking to pay for certain exchanges can use the service.
So without beating around the bush, I must first clarify that this particular website does have certain sexual connotations attached to it – and while it is not an escort site, there is plenty of flexibility in the way two agreeing parties can define their terms.
But this is ideal for people looking to sell feet pictures, especially if you are comfortable with selling into a market where the buyer will largely be of a fetish or semi-sexual nature. But this does not mean you need to do anything more than take pictures of your feet, send them to your client, and get paid.
Just make sure to clearly define your arrangement terms, be honest and upfront about what you are offering, and be sensible with the personal information you share.
Seeking Arrangement has millions of active users from all over the world, and is free to join and simple to use.
3. How To Sell Feet Pics On Feet Finder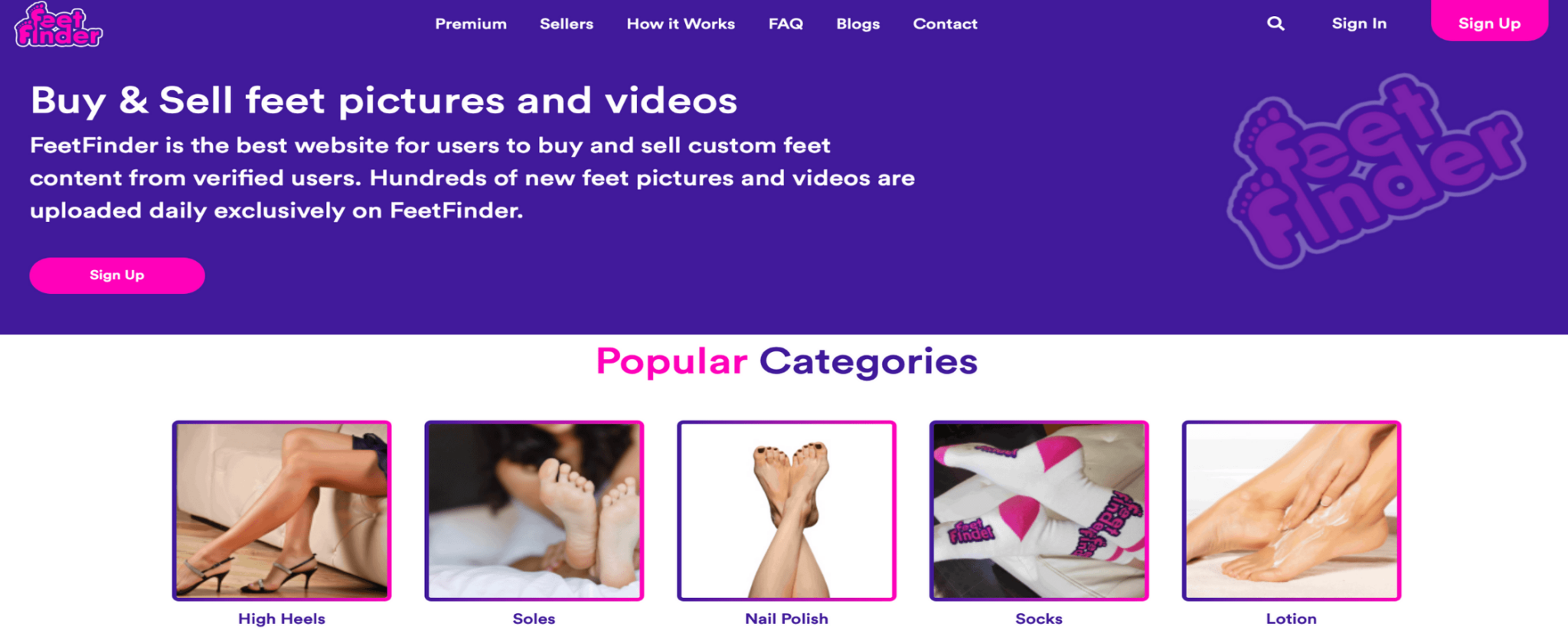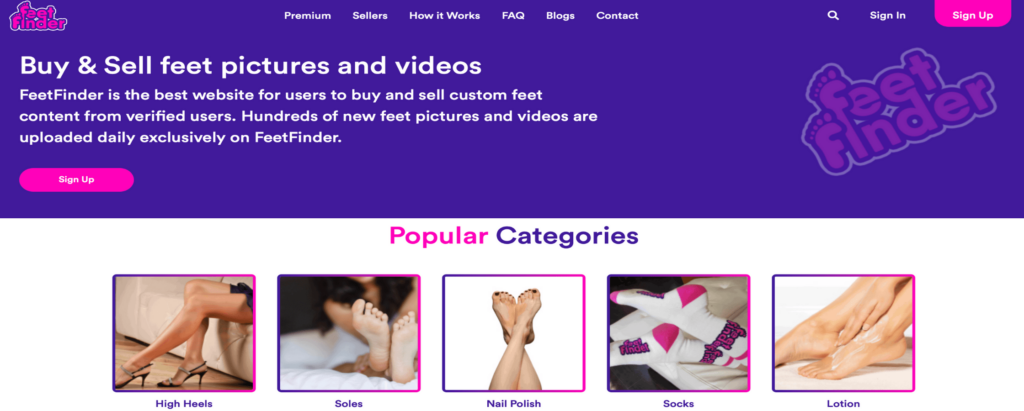 The foot fetish industry is booming – with some sellers earning upwards of $72,000 per year for simply satisfying the growing demand. And while using social media platforms may be a better way to build an audience, grow a following, and increase your personal brand awareness – dedicated platforms such as Feet Finder may be a better way for newbies to get their feet wet (pardon the pun).
Feet Finder - How to Buy and Sell Feet Pics/Vids Online
Tap twice to load then open Video...
Feet Finder connects verified buyers with sellers for feet pictures from a number of different categories, including Soles, High Heels, Socks, Nail Polish, and Lotion. The platform is open to anyone over the age of 18 and offers a safe and secure environment to sell your feet photos.
Sellers need to submit a photo of a government-issued ID and a selfie to be approved before they can access their account.
Feet Finder has a score of 4.8 on Trustpilot with an overwhelming amount of positive reviews from sellers and buyers – so what are you waiting for, signup now and start making money with your gorgeous feet!
4. How To Sell Feet Pics On Dollar Feet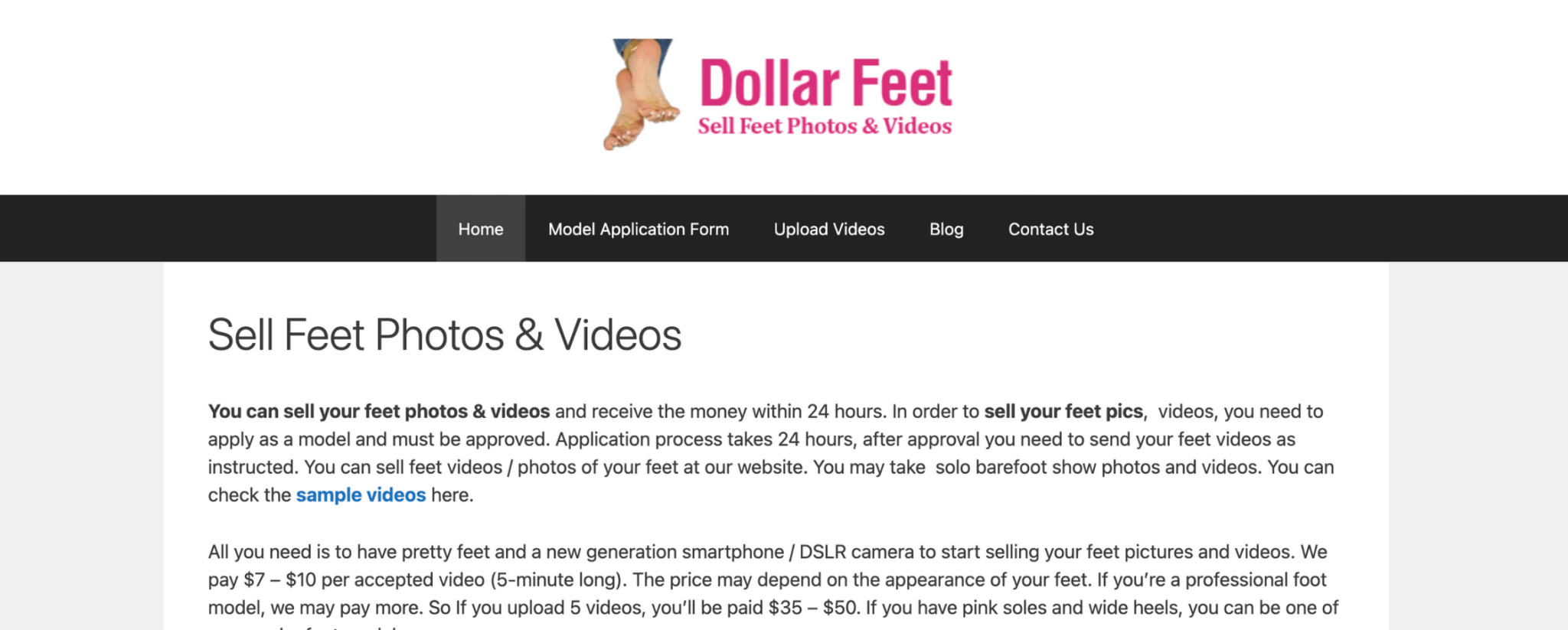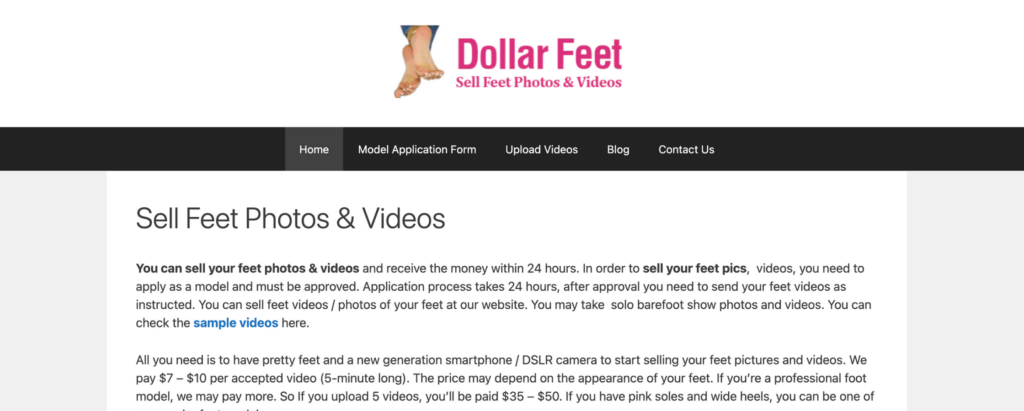 Although Dollar Feet is also a dedicated feet picture platform, the process is slightly different from that of Feet Finder – instead, you are selling your images directly to Dollar Feet, who then resell either on their platform or to some third-party video marketplaces.
Although selling still images is possible, you are encouraged to make videos instead as this attracts a higher resale price and will ultimately make you more money!
You need to be at least 18 years old in order to signup and must complete a model application form – and you must include some sample photos as well as a sample video where your face is shown. If you feel uncomfortable with this then there are plenty of other foot-selling options to choose from.
Once videos are approved, payment is received within 48 hours and you can be made through PayPal, Skrill, or as Gift Card.
Videos should be no more than 5 minutes long and will pay between $7 – $10 per accepted video (more if you are a professional model).
5. How To Sell Feet Pics On Facebook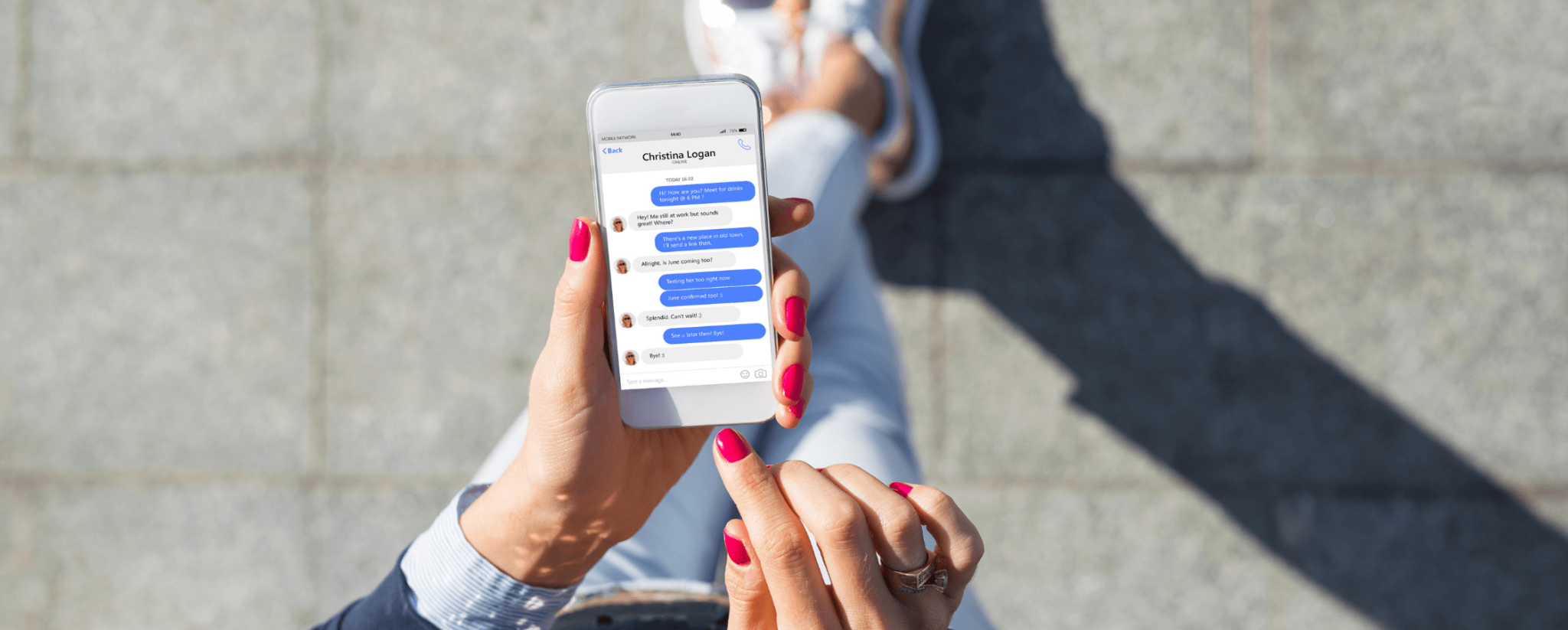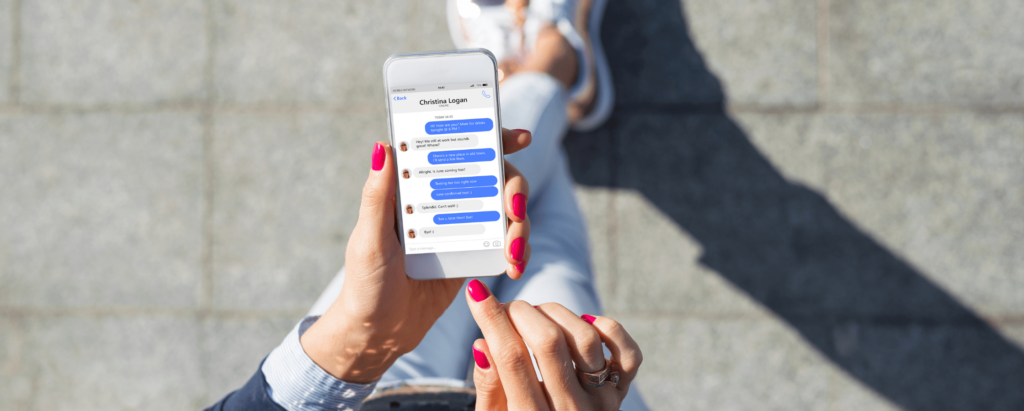 Facebook has become so much more than a place to check the relationship status of your ex-partner – and actually presents two realistic opportunities to make money with your feet pictures.
Firstly, there is a vast amount of dedicated groups that you can join – and a simple search for feet pictures sales returns a boatload of active groups in the business of exchanging feet images for cash.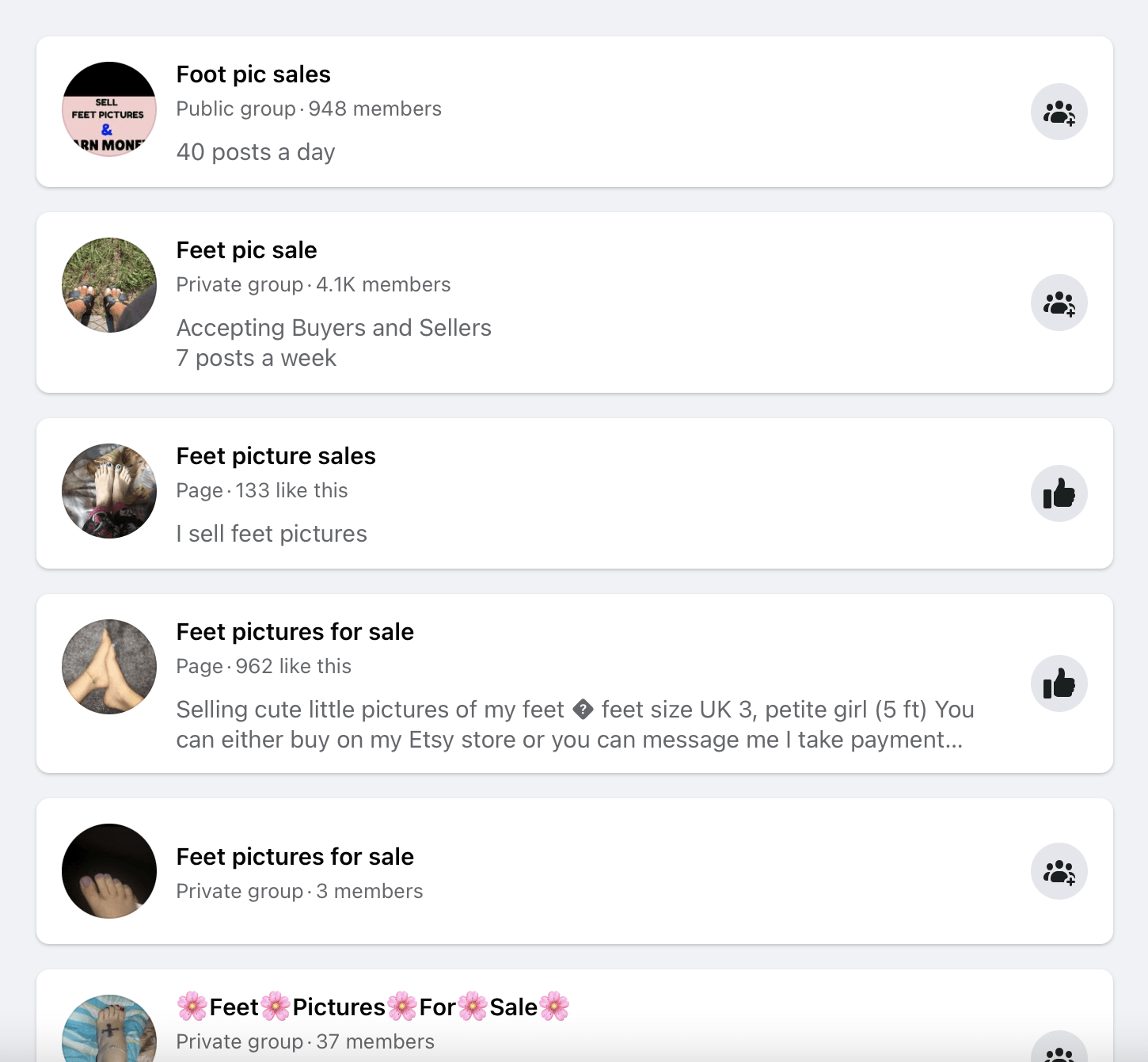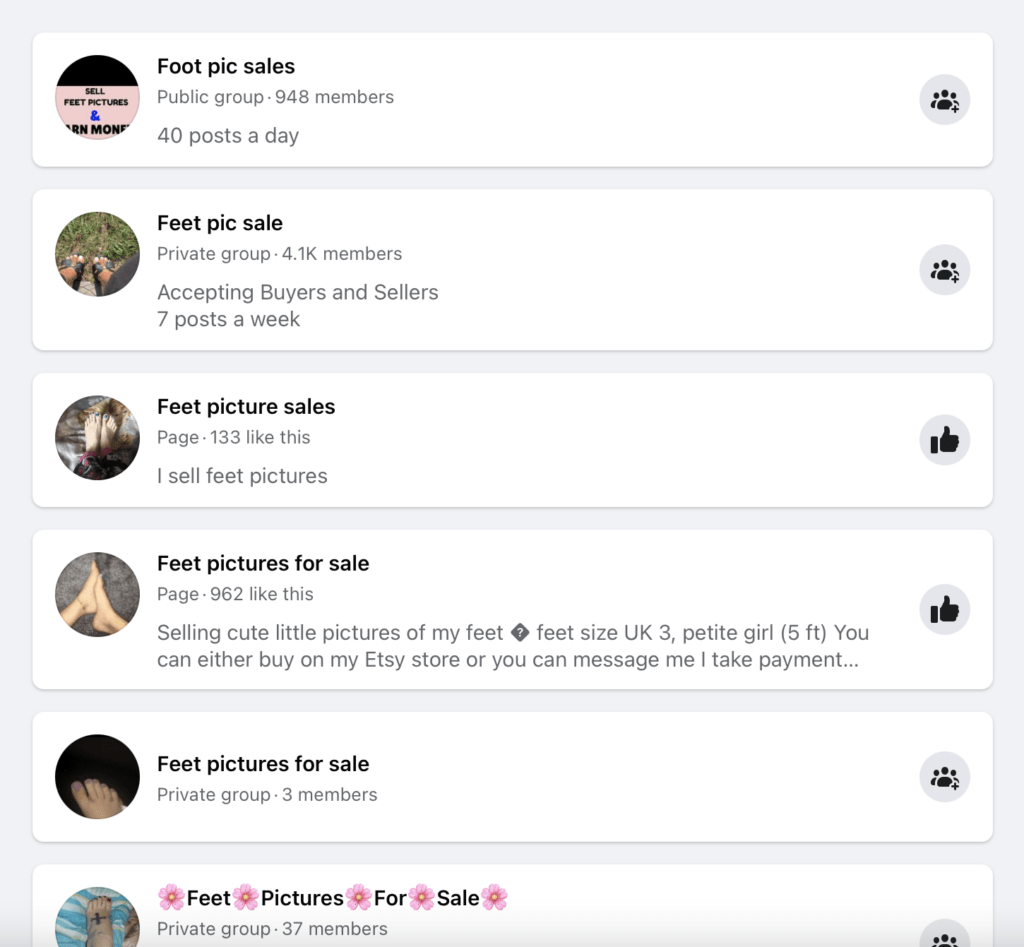 Simply find a relevant group and follow the signup instructions, which may require you to answer some basic questions and adhere to a set of group rules. Then you can actively contribute to discussions and offer your feet images to prospective buyers. As you gain popularity within the community, your sales should increase accordingly.
Secondly, you have the option to create your own Facebook Business Page where you can control the market and exclusively offer customers pictures of your feet. This will perhaps be slightly more difficult to gain traction unless you have a pre-existing following that you can utilize for this particular niche.
Facebook foot images can sell anywhere from $1 to $100 or more – and will be higher the more popular you and your feet become.
6. How To Sell Feet Pics On Snapchat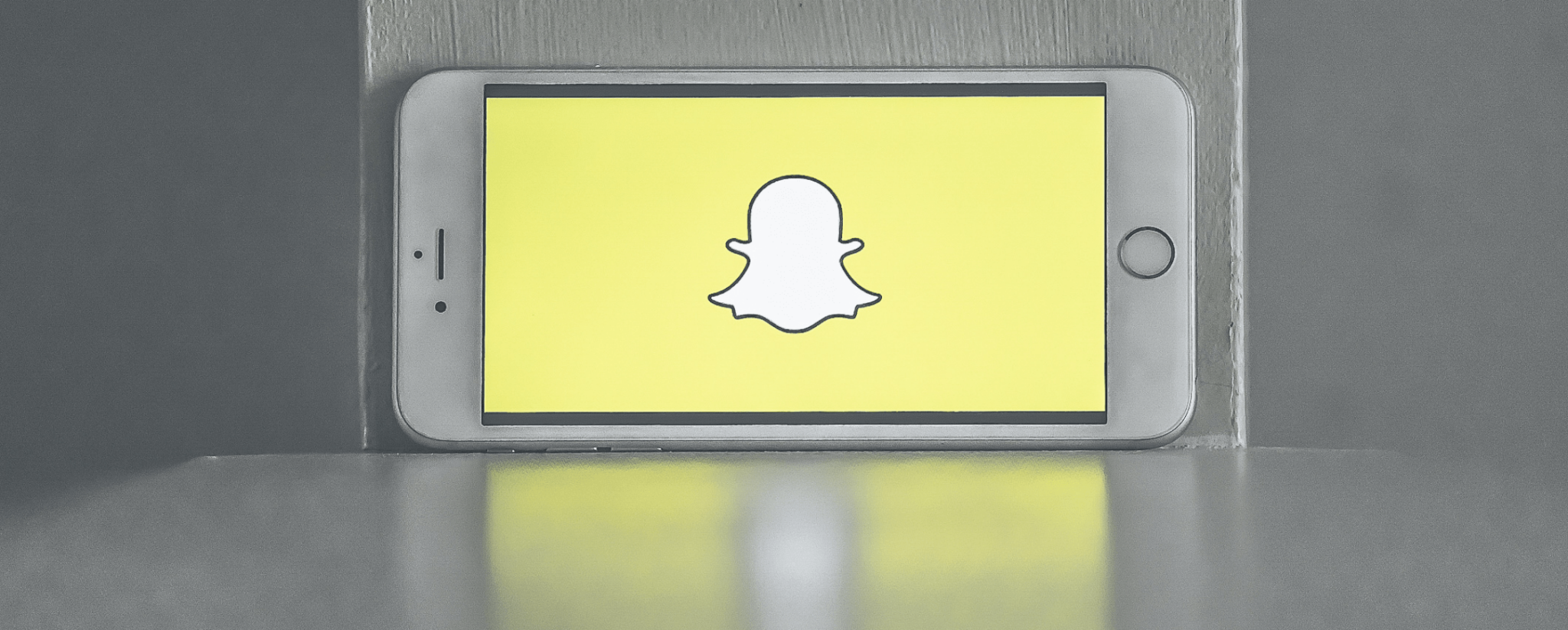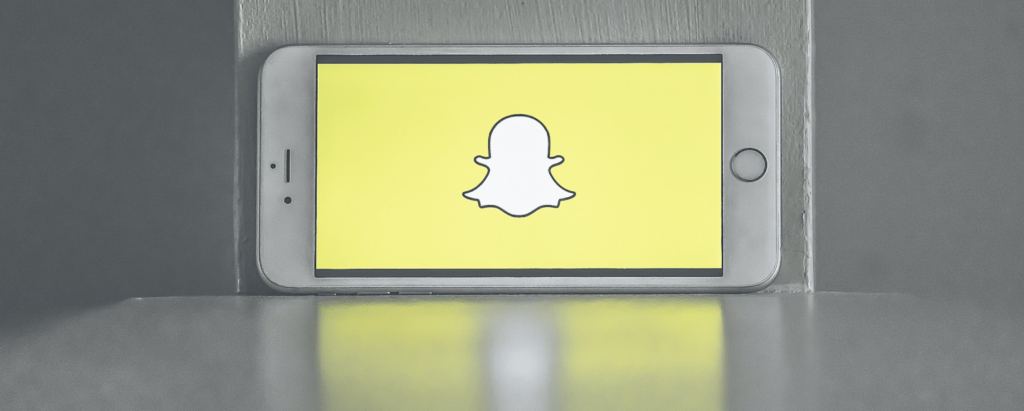 Snapchat is a video and image-sharing messenger app that allows users to capture and send photos and movies for a pre-determined viewable duration of between 1 and 10 seconds (once clicked) – and then it's automatically deleted.
As you can imagine, this has attracted the exchange of more intermate imagery – and as such makes it a perfect option for the sale of feet pictures. Especially considering you can now set up a Premium Snapchat Account – which allows you to charge subscription fees and fully monetize your new foot photo empire.
A suggested starting point for your subscription charges would be in the region of $10 to $30 a month – but this can increase as you gain more of a following and develop your brand.
Obviously, the downside to a Premium Account is visibility – as only private members will be able to buy your content. It is therefore advised to grow a following with your Public Account first. Continually posting new and exciting foot pictures will entice your audience towards your premium content.
7. How To Sell Feet Pics On Craigslist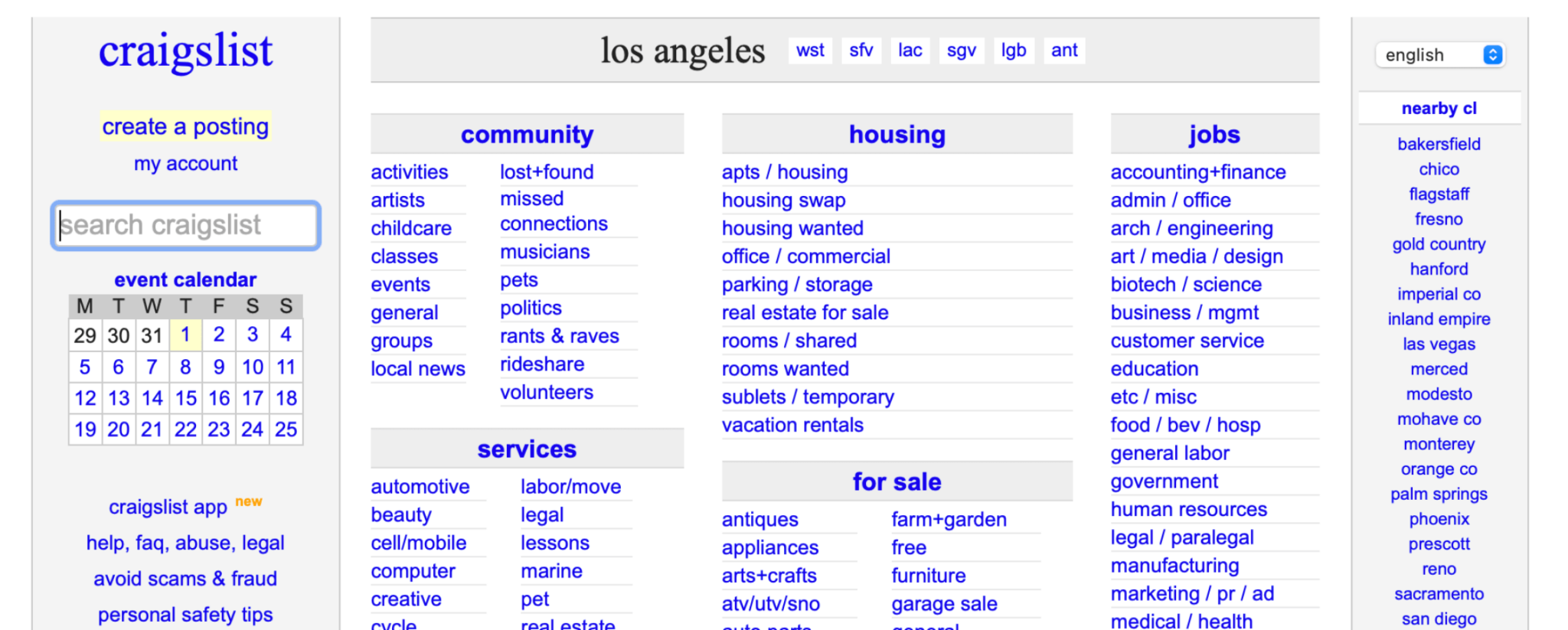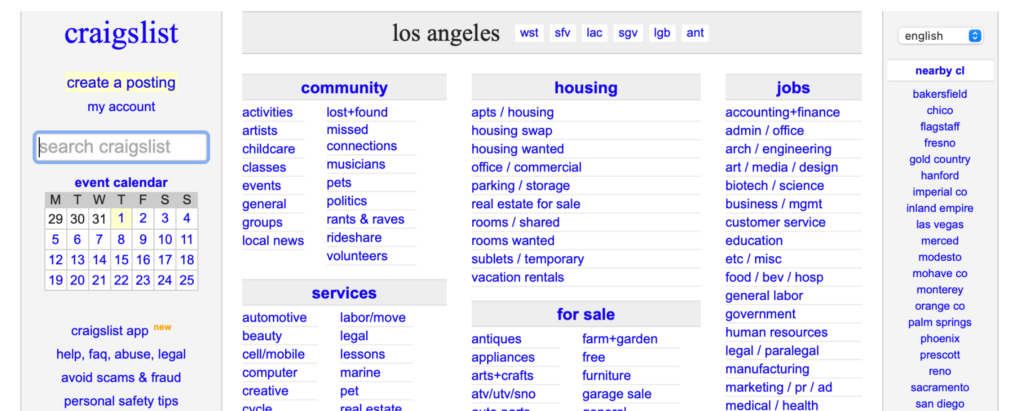 Craigslist is a bulletin board for the digital age – with at least 60 million U.S. users every month and lets you post classified ads to sell items (or give them away) for free. And this can most definitely include the sale of feet pictures.
You just need to open an account and then create a free Craigslist ad to describe what it is you are offering – and the more specific and upfront you are here the better. Explain to your potential buyers what sort of feet images you are selling, and the methods of payments you will accept.
Craigslist is not set up for handling payments, so the easiest way to handle this is via a PayPal account.
It's also a good idea to scope out the competition for ideas. You can browse existing ads that are offering feet pictures and craft your ad and sale tactics around what is currently working.
8. How To Sell Feet Pics On Etsy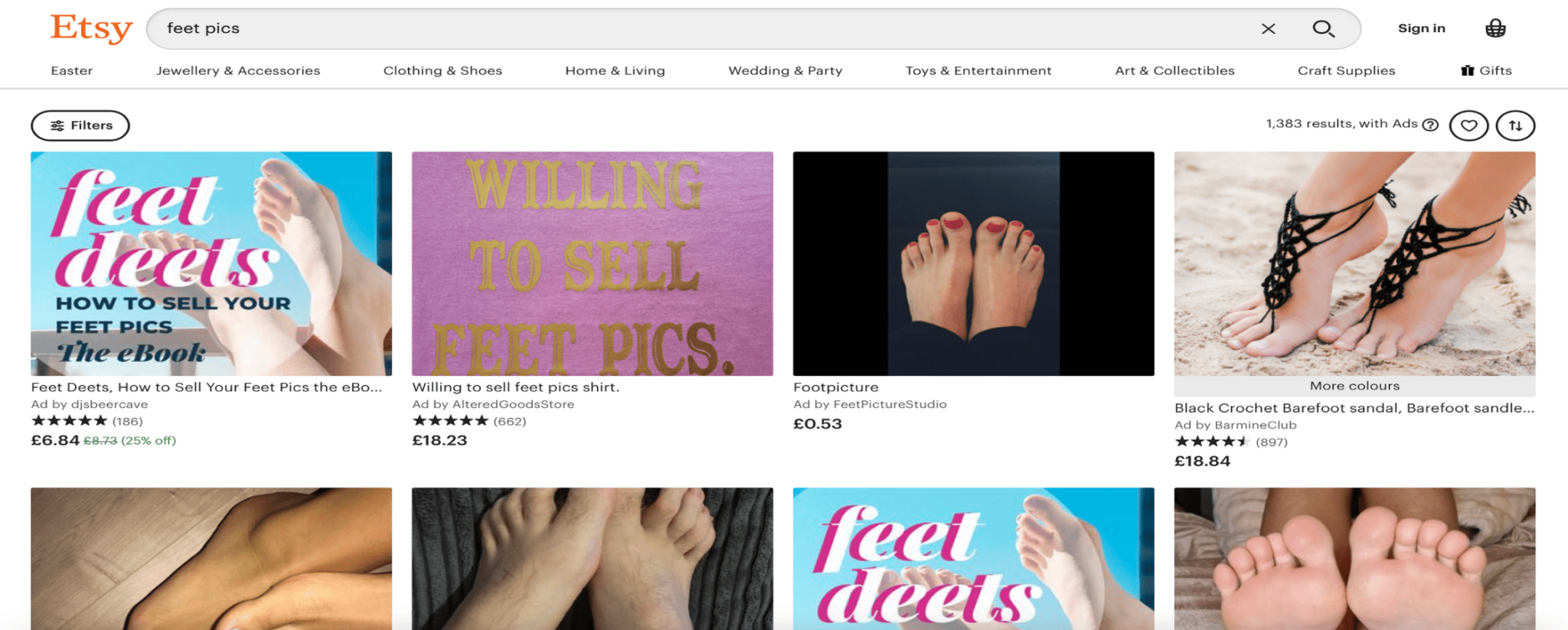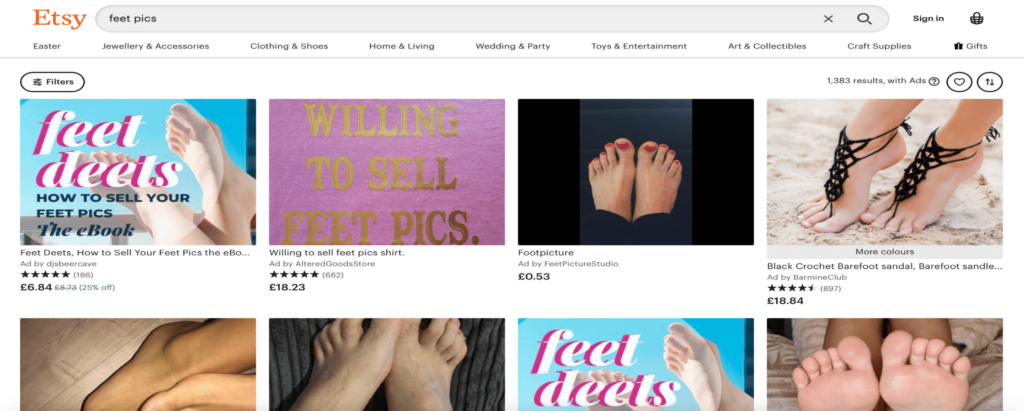 Etsy is an online marketplace that specializes in creative, vintage, and handmade products – but also allows for the sale of digital products; including feet images. In fact, a simple search for feet pictures returns 2,312 results – with most starting at $10.
Etsy is a trusted e-commerce store and is perfectly set up to list images, sell directly to your customers and grow your online business. The platform charges a flat $0.20 per item listed (whether it sells or not) and a transaction fee and payment processing fee for when you receive a sale.
You could start making some really good money if you start a popular store and attract the right sort of customers. You'll need to set up a professional profile, take high-quality pictures and price your inventory competitively.
It would also be advised to funnel customers to your Etsy store via other channels – including a blog you either currently own or need to start as well as your social media presence.
Create a Digital Etsy Empire!
Learn exactly how to design digital products (without Photoshop), list products on Etsy, get traffic to your Etsy shop, and grow a real revenue-generating business…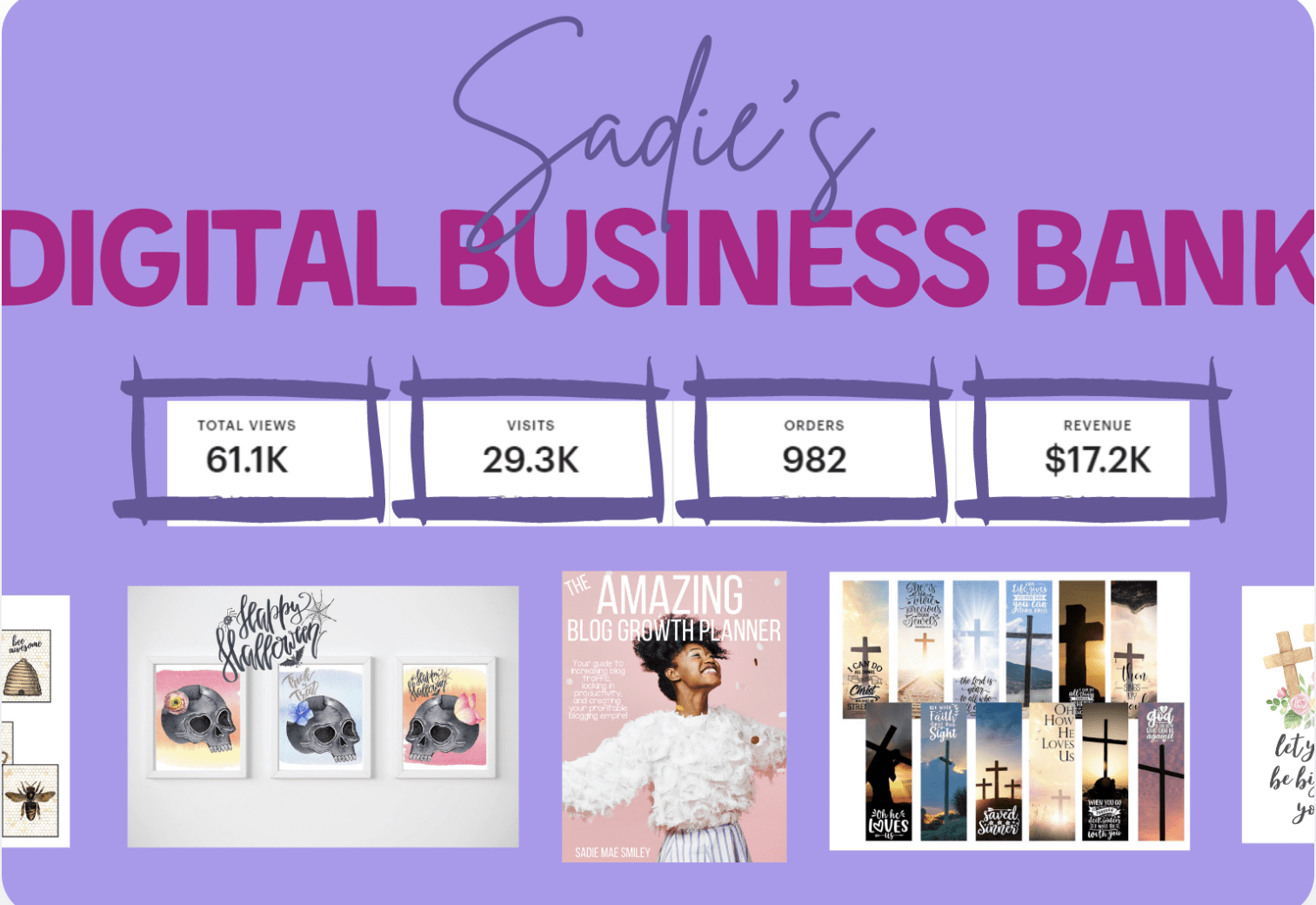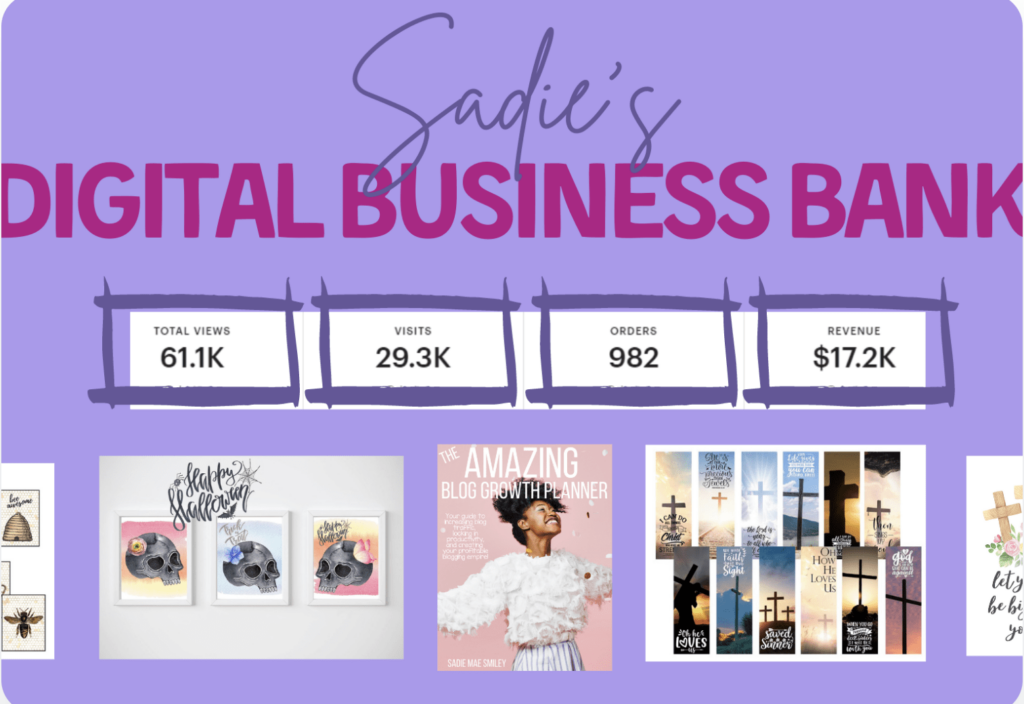 In order to diversify your product listings, you could offer a variety of digital products, and this would further increase your sales. Some Etsy store owners make over 6 figures a year – and starting off with really good feet pics could be the beginning of a long-term profitable business.
Recommended:
9. How To Sell Feet Pics On eBay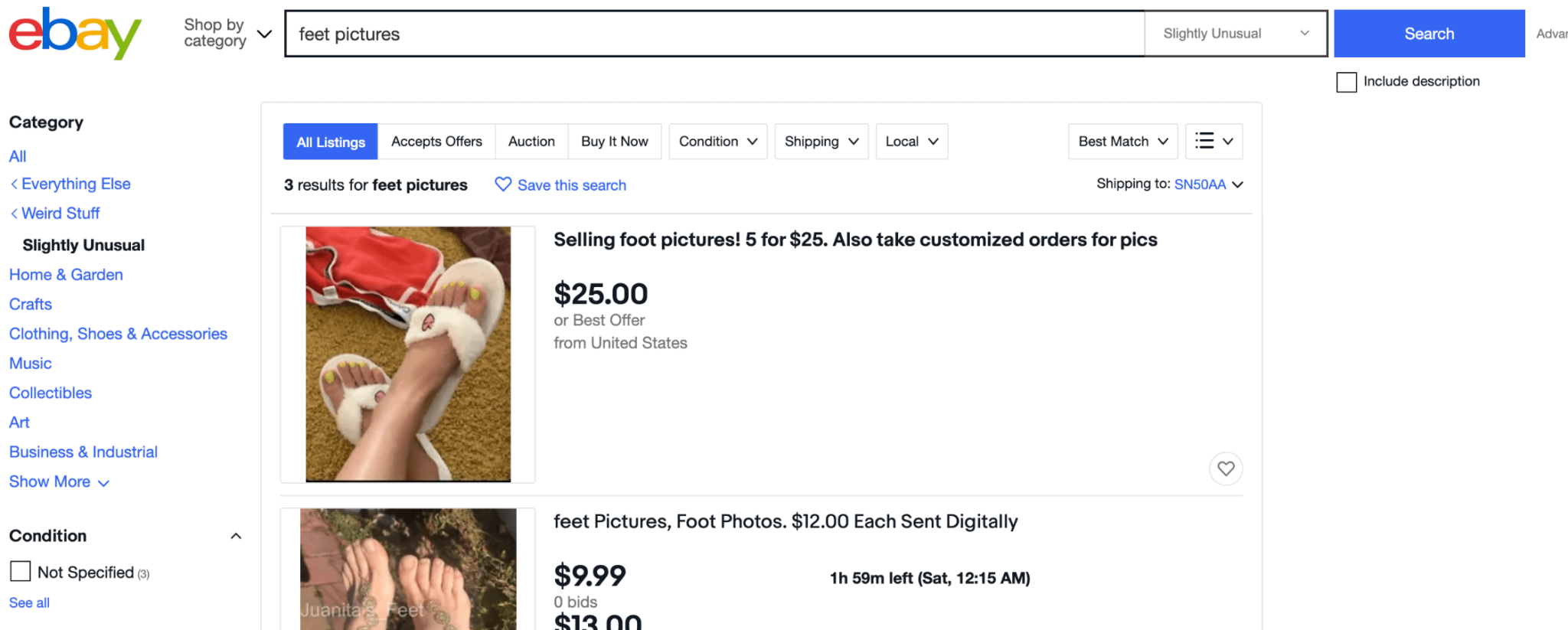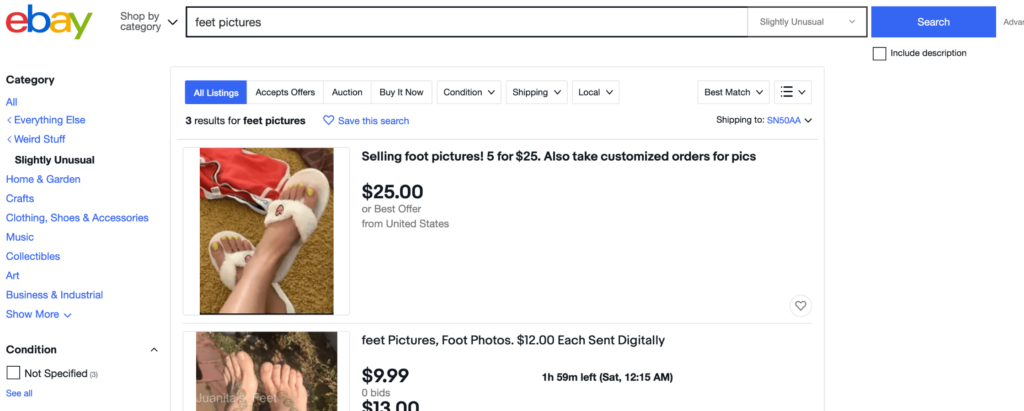 eBay has over 180 million users worldwide and is known for its auction-style of sales – but you can also list items as buy now – and avoid the pitfalls of auctions.
The platform thrives on reviews, and as such would require you to be a legitimate and trustworthy vendor of your foot images. You should write honest and meaningful descriptions and offer speedy delivery of your digital assets – as well as provide a fair returns policy.
You could also increase your profitability by offering the sale of custom feet pictures for buyers' specifications and requirements.
Just make sure to adhere to eBay's strict listing policy – as feet images will be deemed to be sexually-oriented adult material and should be listed in the Everything Else > Adult Only category.
10. How To Sell Feet Pics On Kik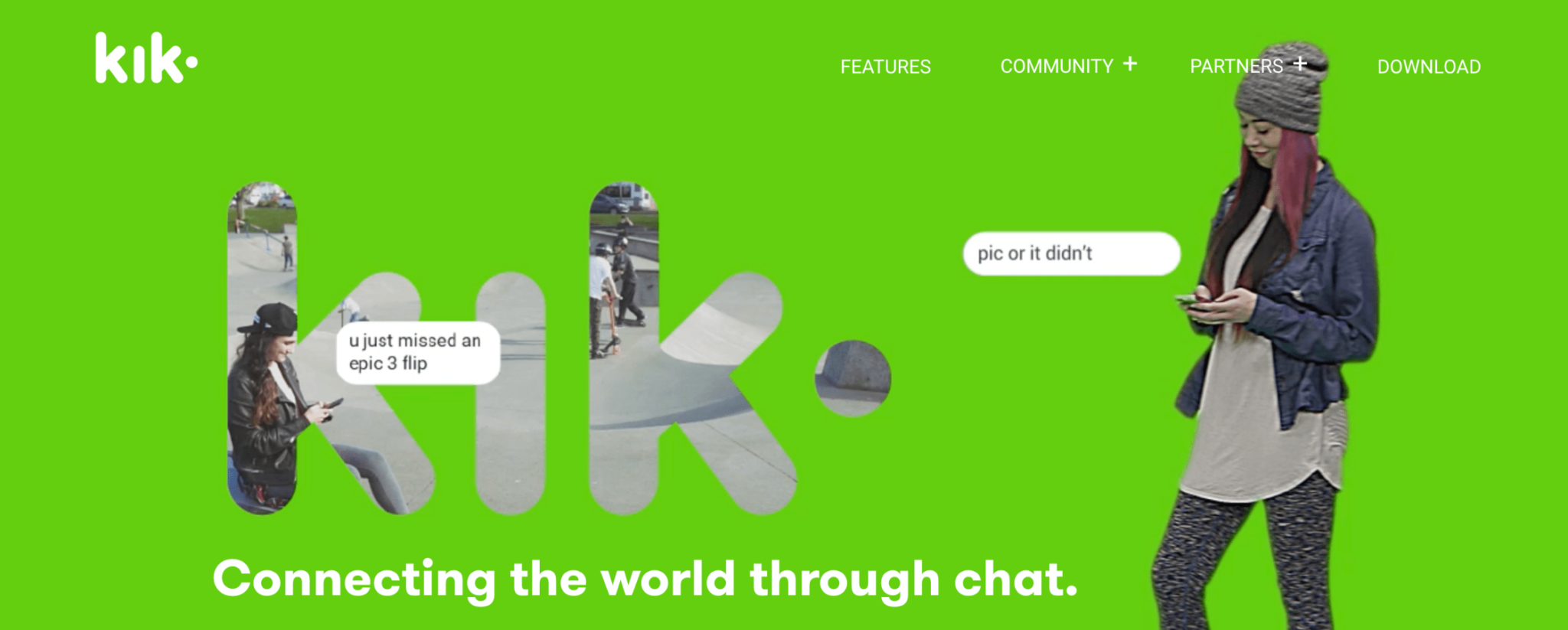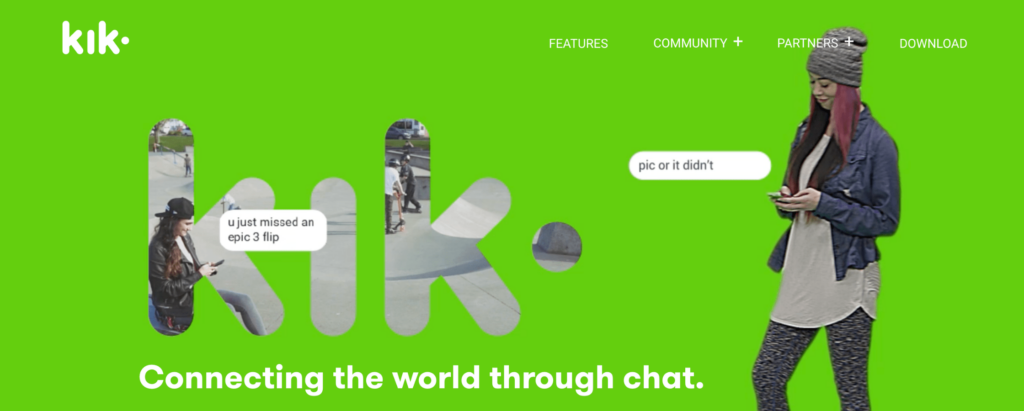 Kik is a free-to-use instant messaging app and can be used on Android and iPhone. It uses your device's data plan or Wi-Fi capability to transmit and receive messages, photos, and videos – and works similarly to WhatsApp or Viber.
The great thing about Kik is that you can join foot picture groups in order to communicate with like-minded people. Here, you can connect with prospective buyers – and then offer your images for sale. You will need to facilitate the payment transactions yourself – and PayPal would be your best option.
Make sure to keep your personal information safe and secure – and consider collecting the email addresses of clients in order to build your own list – which you can grow and sell future images or offer special discounts to in the future.
11. How To Sell Feet Pics On Reddit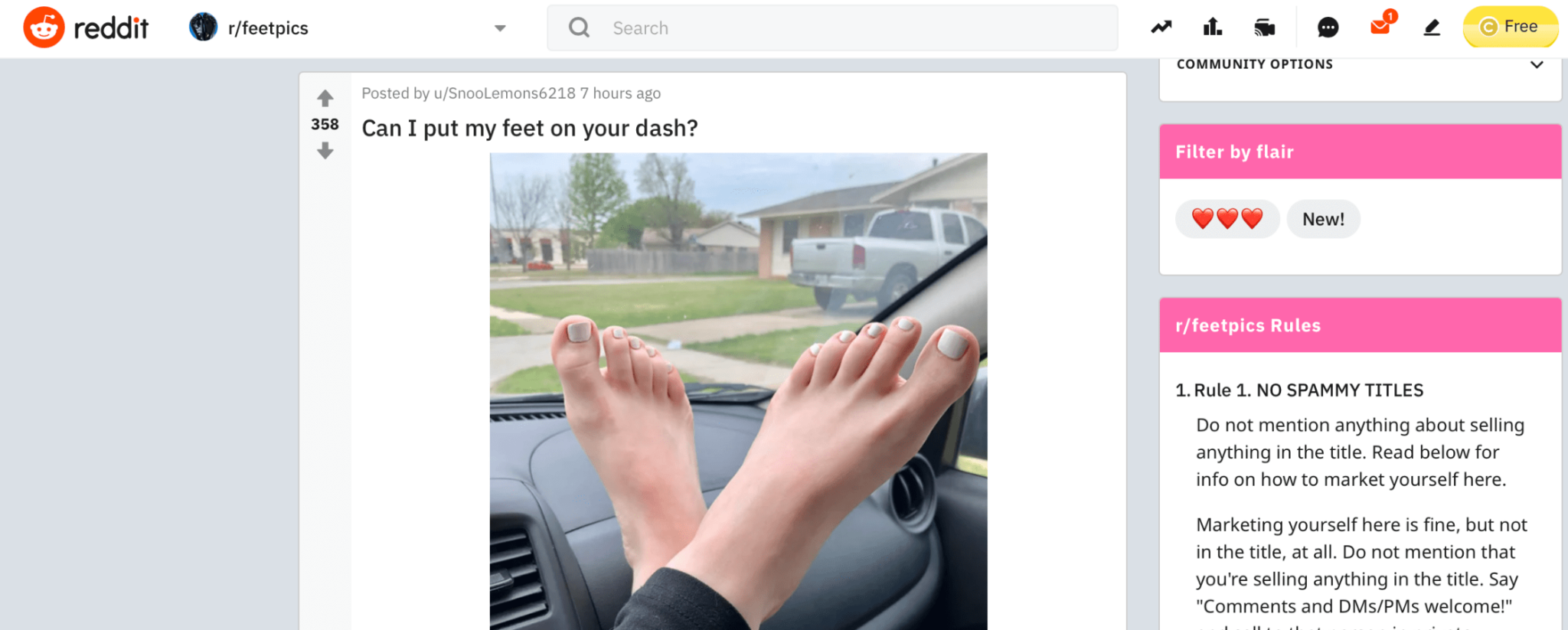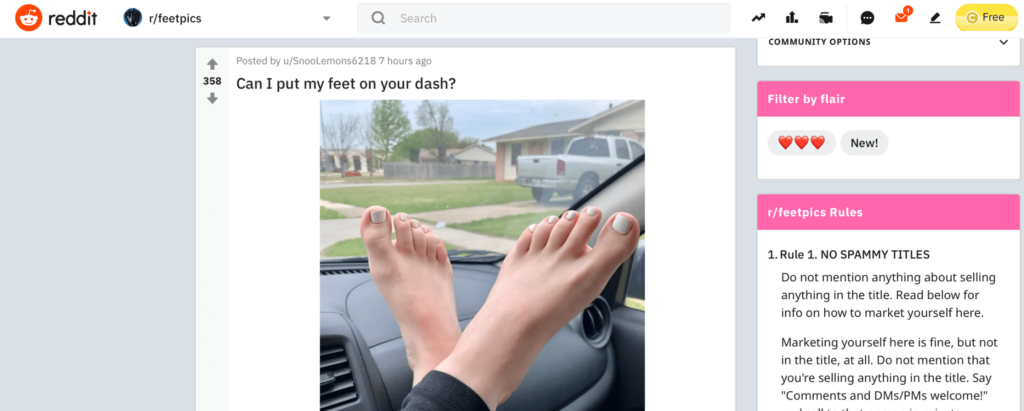 Reddit, which refers to itself as the "front page of the internet", is essentially a huge collection of forums. These communities are broken down into what are called subreddits – and they cover every topic you can imagine from online marketing to the dark web.
The subreddit "/r/feetpics/" has over 200k members and is actively engaged in the sharing of original feet pictures, and the discussion around the female foot fetish.
This provides an excellent opportunity to get your name out there and start building an audience. You could start by sharing teaser content, and transition into private messages with active members looking to make purchases.
You should be mindful of the subreddit rules, which include being at least 18 years old and sharing high-quality feet pictures that are fully exposed and are fully original. You can start by immersing yourself in this community and then begin to grow your foot picture business from there.
Recommended: 13 Genius Ways To Make Money On Reddit
12. How To Sell Feet Pics On Mintable (NFTs)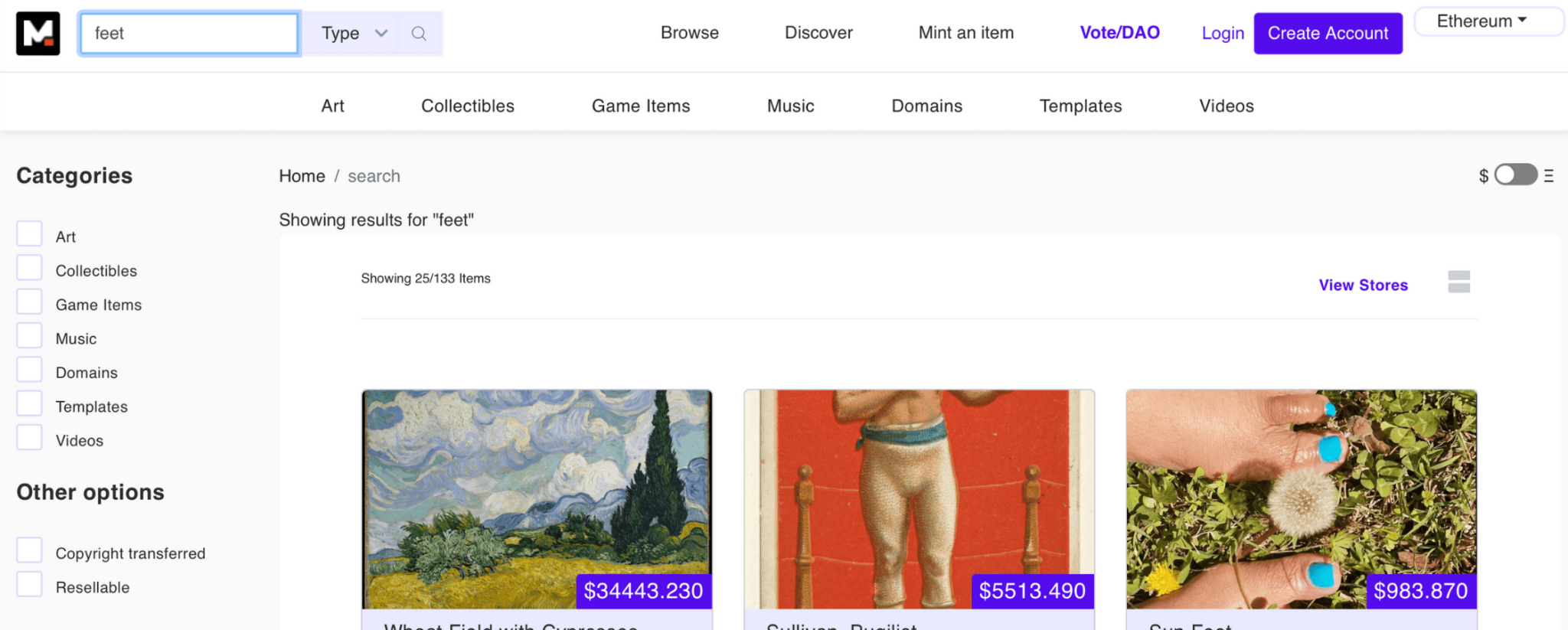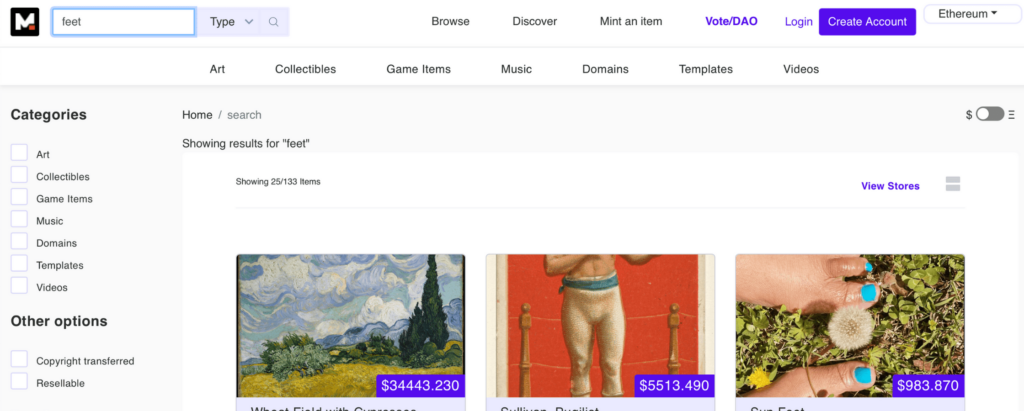 NFTs are fast becoming one of the most exciting uses of blockchain technology, and when a market is growing this quickly, there is always an opportunity to make money. The 'nitty gritty' tech jargon that surrounds NFTs can be a little overwhelming, so I'll do my best to explain it as simply as possible.
An NFT or Non-Fungible Token is one unit of data held on a digital ledger (blockchain) and each NFT can represent a unique digital item, which also means they are not interchangeable. This means NFTs can be minted to represent any form of a digital file, including artwork, videos, and audio.
And Mintable lets you do this for free – by minting your own ERC-721 (Etherium Blockchain) standard smart contract and mint non-fungible tokens for that contract.
All you need to do is signup for a free account at Mintable, get the free MetaMask mobile wallet, and start minting your feet pictures to list on the platform.
The route I would suggest is to create unique artistic pictures of your feet – by using free photo editing software. You can use stylized effects and layers to really enhance your digital foot artwork.
You can also decide how you want to sell your newly minted NFT – either at a fixed price, with an auction, or as an auction with a buy now. It's best to have a low starting price, much like you would on eBay, to have a greater chance of selling.
By utilizing the gasless minting offered by Mintable you can create NFTs without actually having to pay – and as your feet picture artwork sells, so will your Etherium wallet account balance!
13. How To Sell Feet Pics On Shutterstock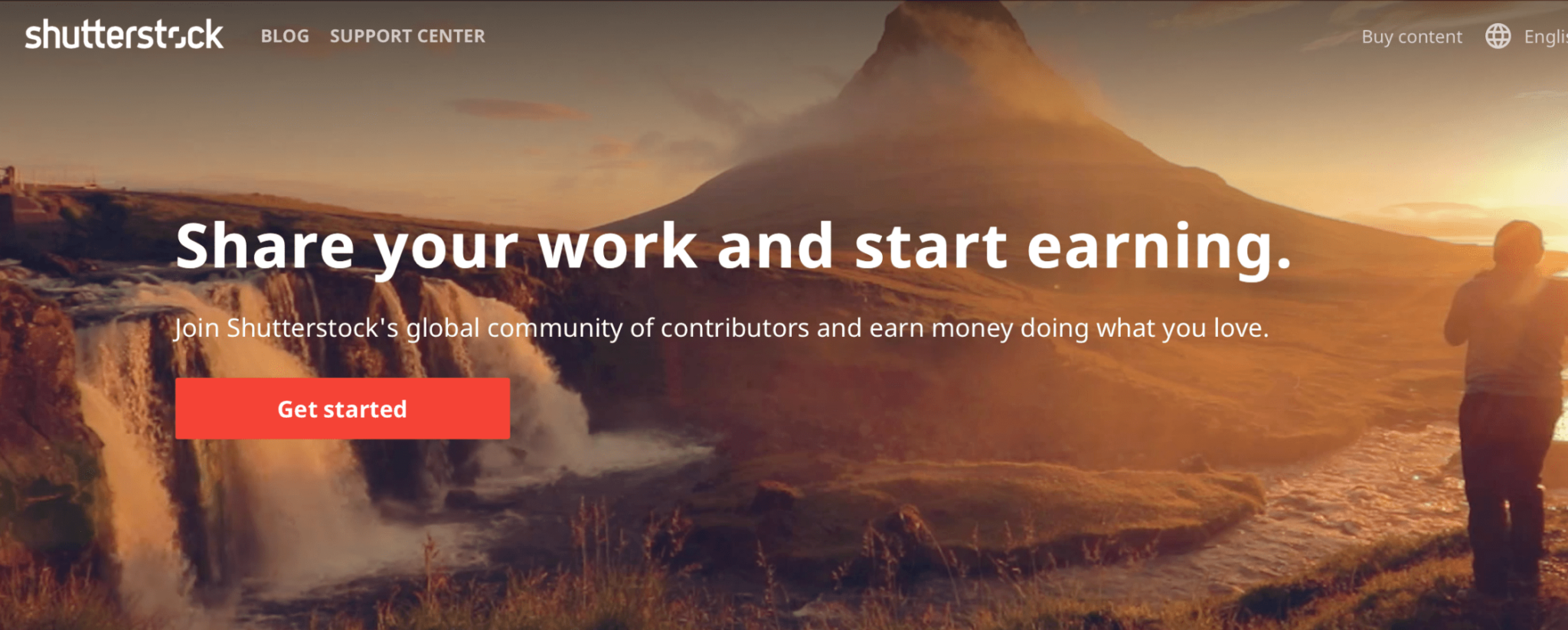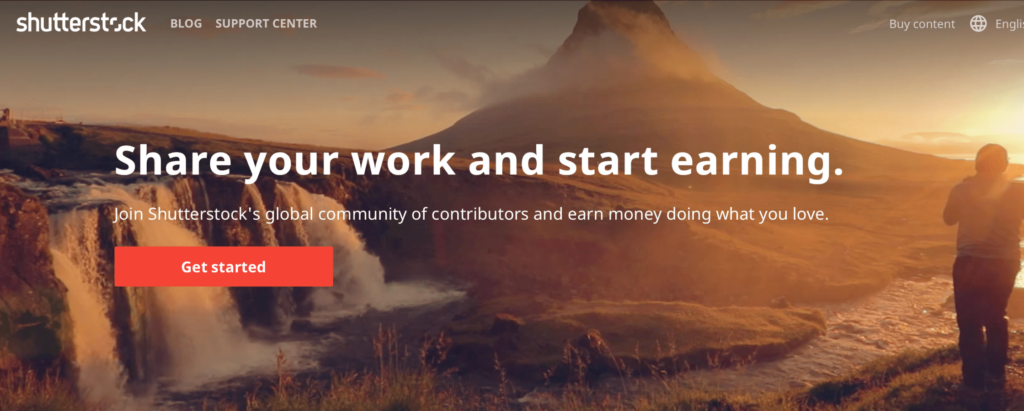 Shutterstock is a market leader in the sale of stock photography- and also provides a contributor arm to its platform where you can monetize your digital snaps.
Stock images are an absolute necessity for online marketers, bloggers, and other commercial projects that require beautiful, professional, and high-quality photos (and videos). The demand for foot pictures is high in health, fitness, clothing, retail, and advertising markets.
As a Shutterstock contributor, you can easily upload your foot pictures to the platform – and you'll earn money every time they are downloaded. In fact, once you have uploaded the image – the continuing earnings are a pretty sweet form of passive income.
The company has paid out more than $1 billion over the past 15 years – and is a great opportunity for people to make quick and easy money with their feet!
Recommended: 14 Best Apps To Sell Photos And Make Money
14. How To Sell Feet Pics On Foap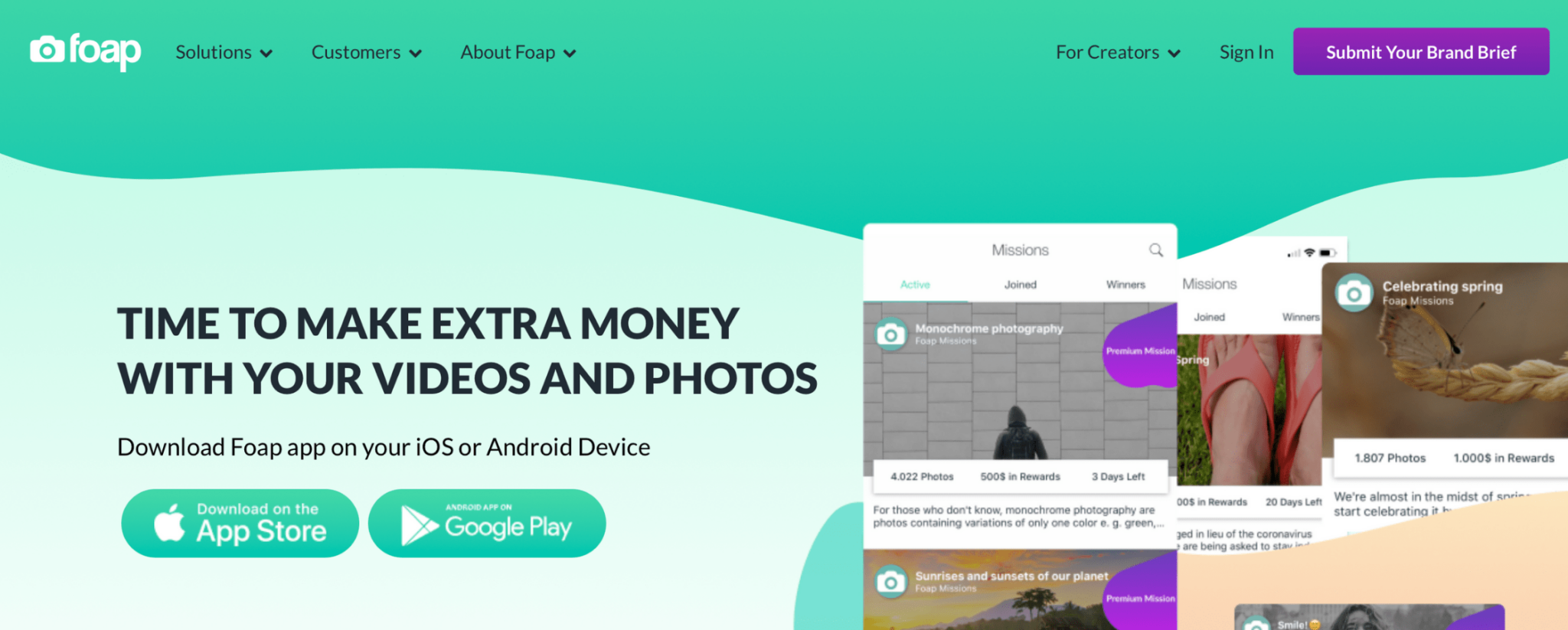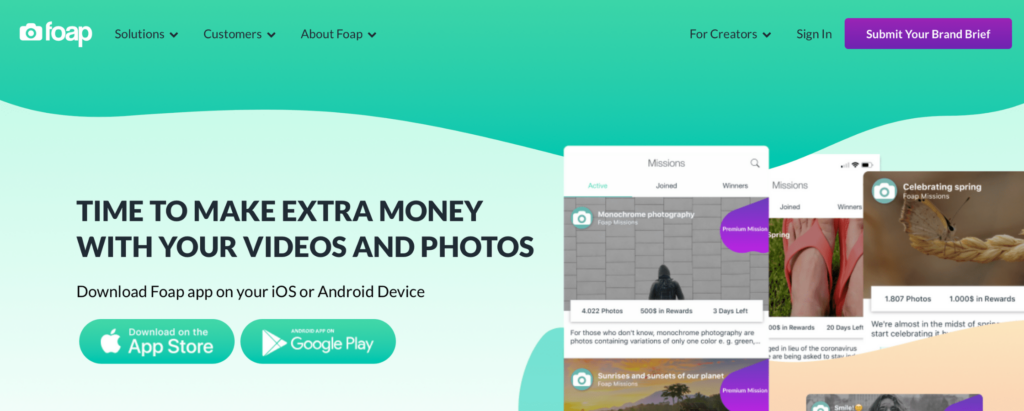 Foap is a simple way you can upload and sell feet images – and you also get to keep 50% of the sale price. With images selling up to $10 each, that's a $5 profit in your back pocket every time you make a sale.
The app is available for download on iOS or Android devices and also offers Photo Missions for much higher payouts. You simply need to follow the mission brief drafted by the brand and if you deliver the imagery they're after – you get paid!
Join over 3 million Foap community members and begin to develop your foot photo portfolio today.
15. How To Sell Feet Pics On Alamy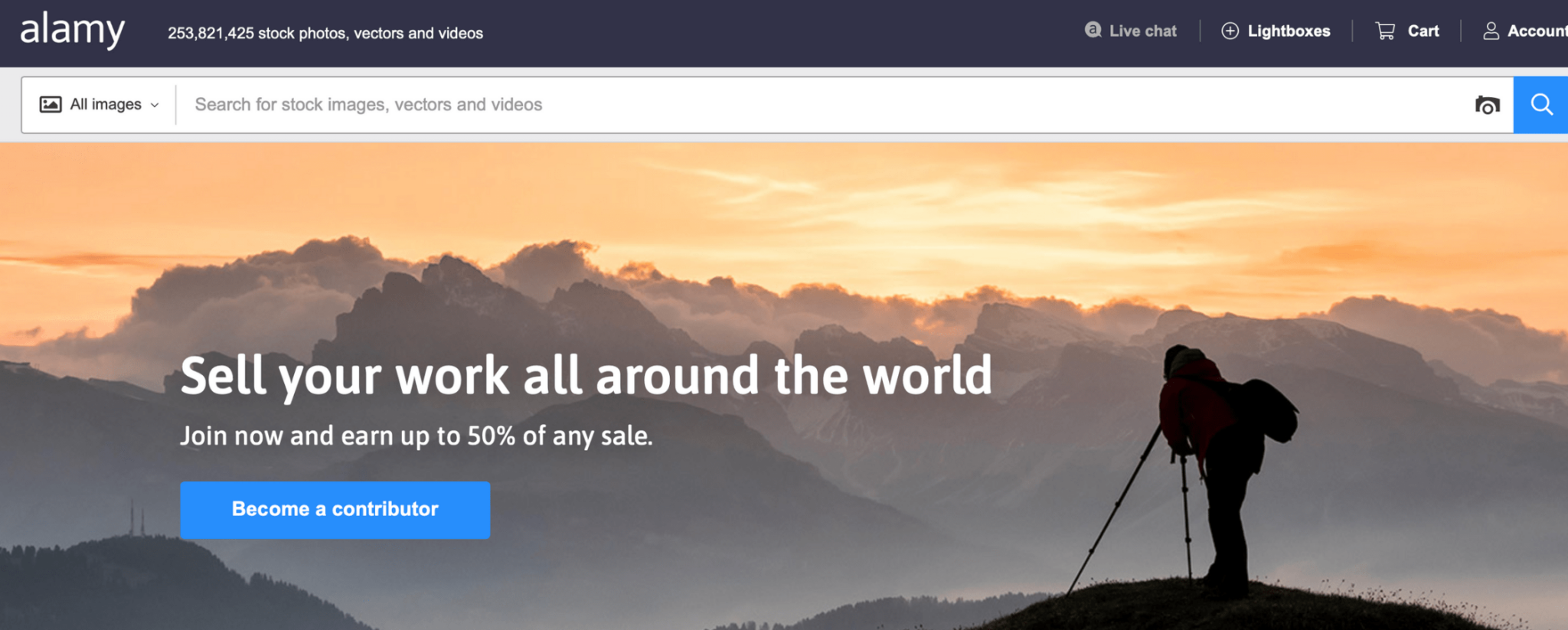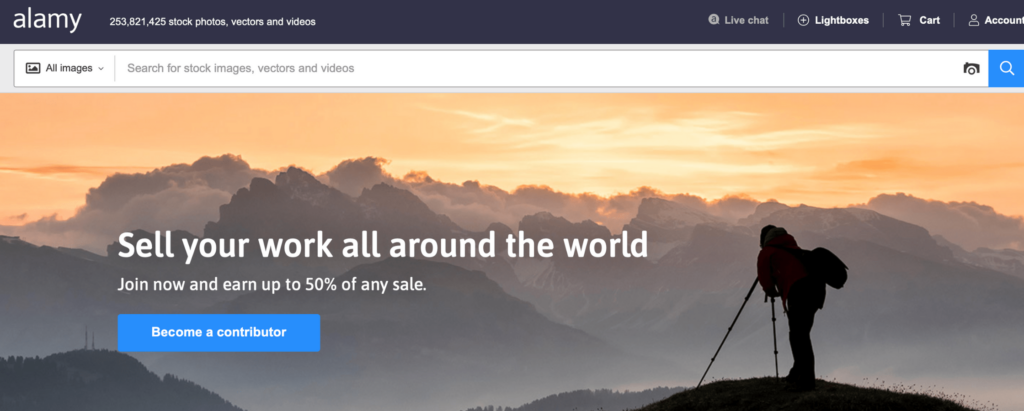 Alamy is a fast and free online stock photography platform where you can upload your foot pictures and make money for each sale.
They pay out over $1 million every month to their contributors and allow you to enjoy a complete creative license for all your images. And they also operate a 50% revenue share – which is great if your snaps are popular.
Also, for students and teenagers looking to make money, they also provide you with 100% commissions for your first 2 years.
16. How To Sell Feet Pics On Instagram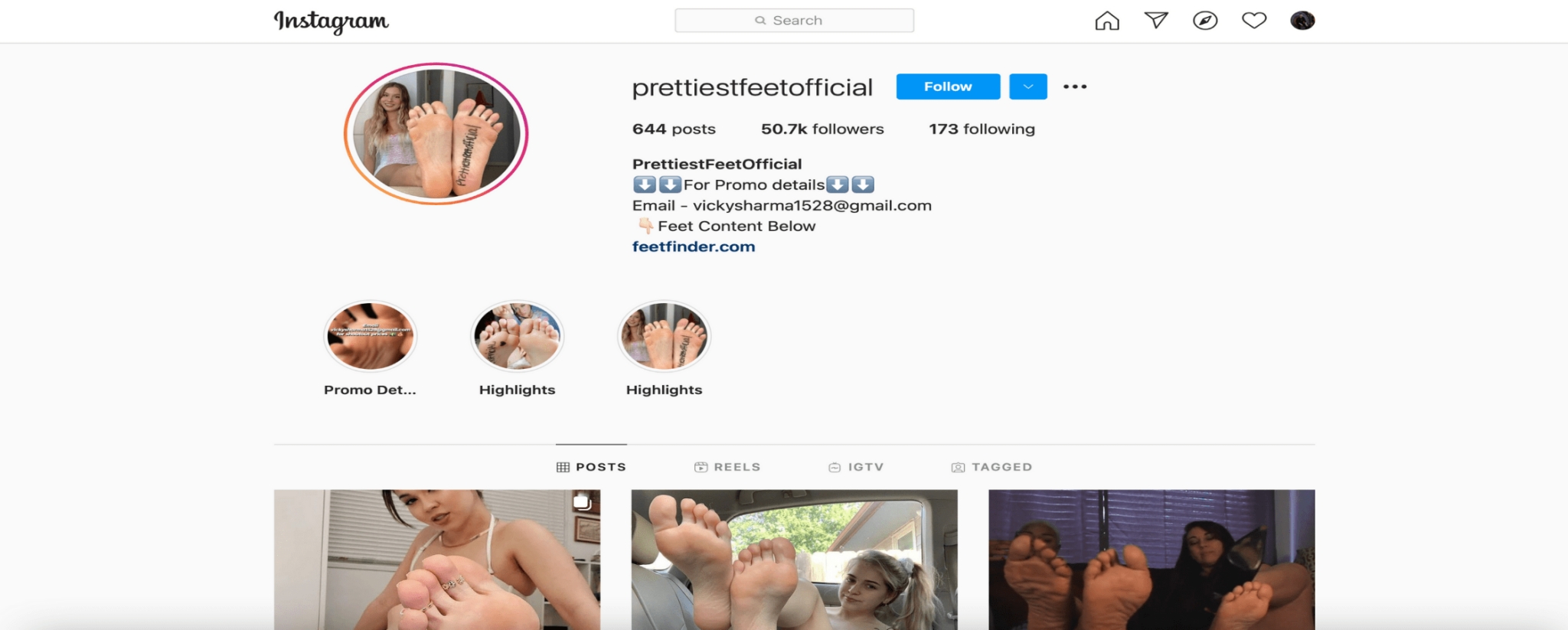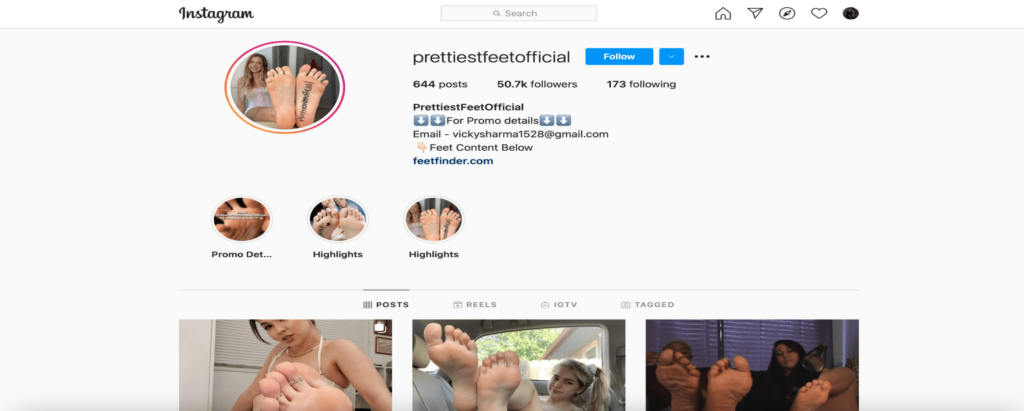 Social media attracts people from all walks of life, and that includes feet lovers and people with beautiful feet. In fact, you could say Instagram – the popular photo and video-sharing social networking service – is in the midst of a booming foot fetish scene, with some people earning over $70,000 a year with just a decent camera and a nice pair of feet!
You can gain popularity with your Instagram account by frequently posting fresh and new content – and the more images of your feet people see, the more potential paying customers you'll attract.
There are three great ways you can sell your feet pictures using Instagram. Firstly, set up an Instagram Business Account, and then you will be able to activate Instagram Shopping – which means customers who like your pictures can click and buy your snaps right on Instagram, without ever having to leave the app.
Secondly, you could maintain a public account and interact and sell your images through the Instagram direct messaging feature. This is best for creating custom orders for people that like your public offerings. So make your Instagram feed a catalog featuring highlights, and then charge for customers wanting something special.
Remember to use relevant hashtags so people can find your awesome feet pictures. Here are some of the current popular ones that are trending now:
Finally, you could use a subscription-based model by utilizing a service such as OnlyFans – whereby customers pay a monthly fee to get access to content you put behind a paywall. You can also receive tips and get to keep 80% of what you make.
You can entice your Instagram fans with free content on your public feed, and direct them to your OnlyFans page by including the URL on your IG profile. You'll want to ensure you keep producing great feet pictures though, so your fans keep paying that monthly fee!
17. How To Sell Feet Pics On Parts Models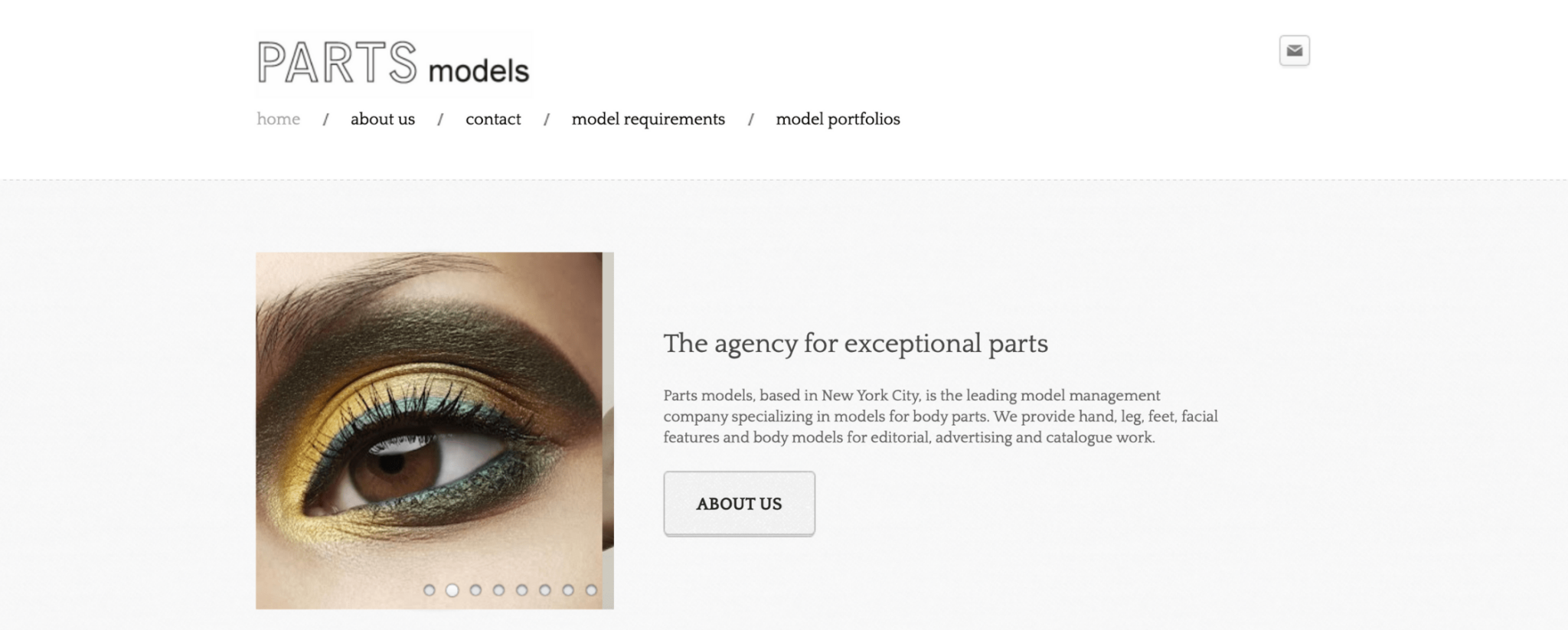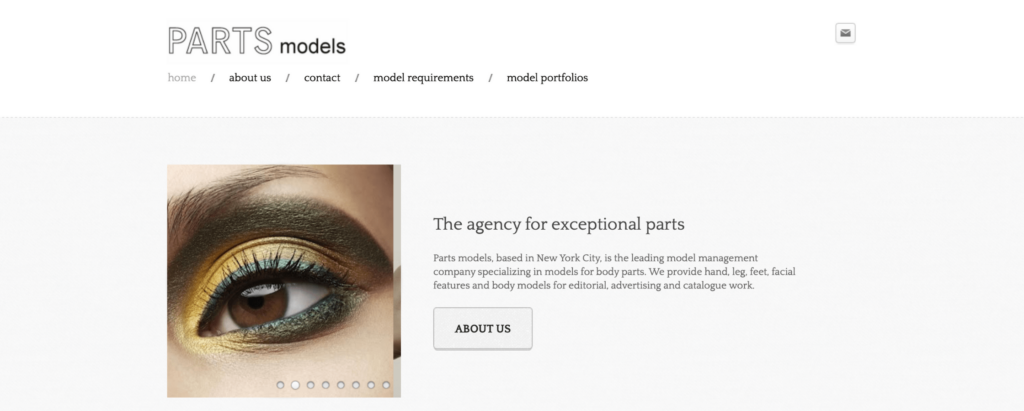 These days, you don't need to be a stick-thin catwalk beauty to make money in the modeling industry. In fact, parts models specifically model for selective parts of the body – with potential buyers including editorials, advertisers, and catalogs.
PartsModels.com is based out of New York and is one of the leading model management companies specializing in models for body parts.
They accept both males and females and you must be at least 18 years old – and while they are looking for a specific look, you may find you meet their criteria and land a paid feet modeling gig if they like your portfolio submission.
You need to send professionally lit and photographed feet images either by mail or email – and ensure your feet are either bare or in strappy sandals. Also, make sure your feet have evenly shaped toes and nails, are free of corns, bunions, or other foot blemishes, and are well-groomed and manicured (a given for any aspiring foot model).
18. How To Sell Feet Pics On MeetUp (Art Modelling)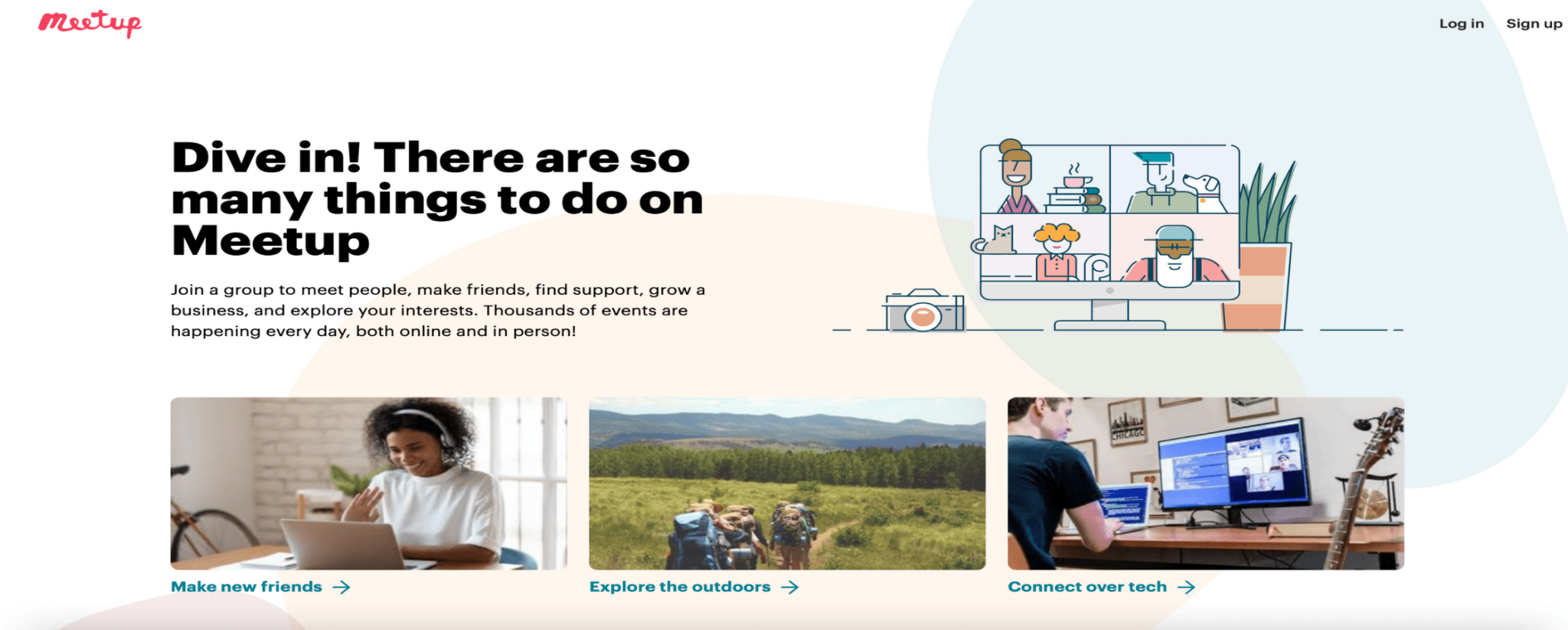 A slightly unusual way you can make money with your feet is by having people draw them – in person. This route is certainly not for the faint-hearted, and you must feel comfortable posing (often nude) for artists.
But if you are comfortable in your own skin, and have pretty feet that you would like to have immortalized in "art form", and get paid for the privilege, then finding Life Model Drawing opportunities is something worth considering.
The Meetup Models For Figure Drawing page has 60+ groups and over 45,000 members to find life model drawing opportunities in your local area. Many of the sessions are in-person, but increasingly you can find Zoom-based events. Simply contact the organizers and see what paid opportunities are available.
19. How To Sell Feet Pics On Foot Blog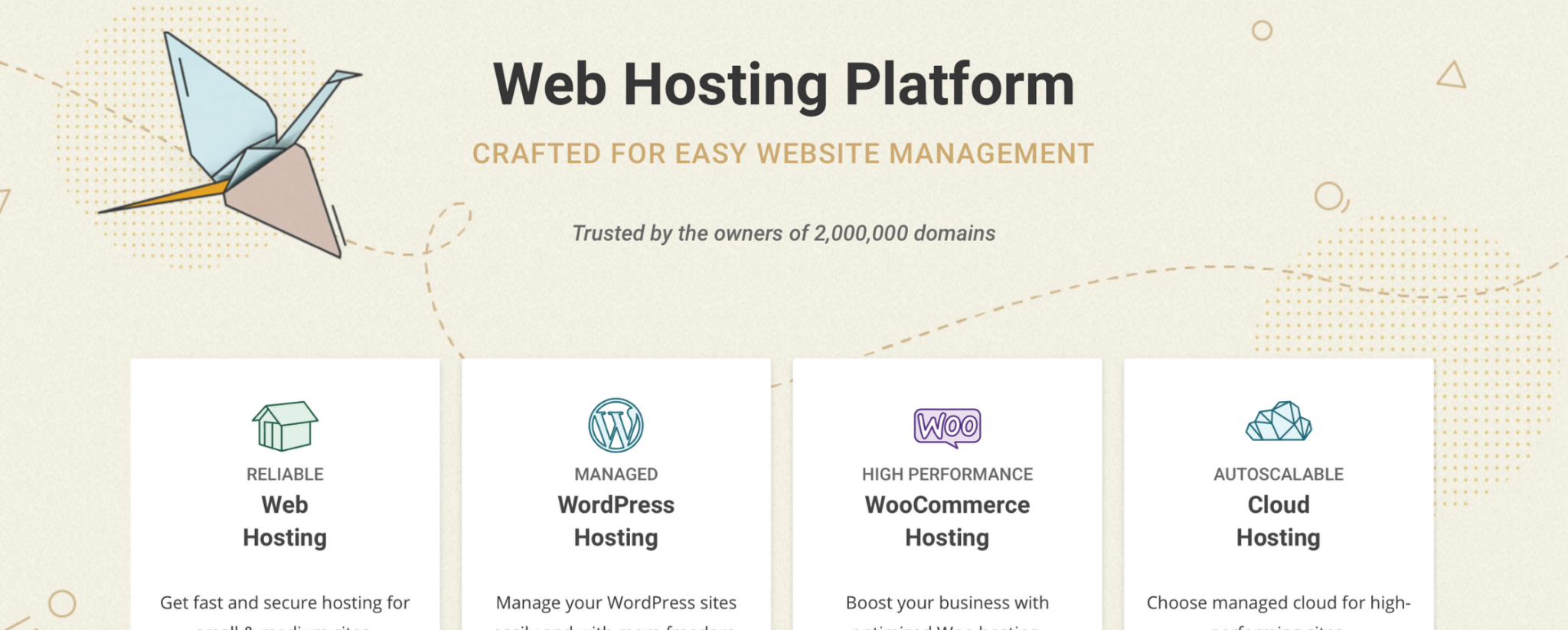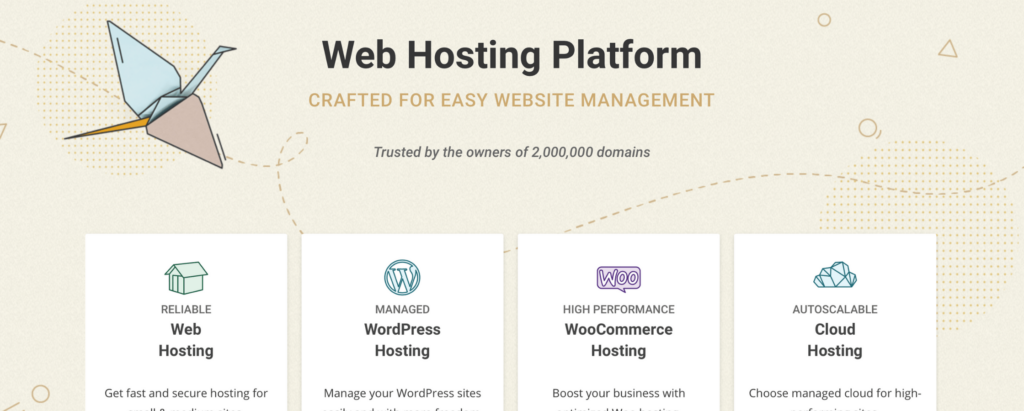 Another great way to sell feet pictures is via your own blog or website – either offering private pre-taken images, custom-to-order photos, or a combination of the two. As you gain more popularity and your audience grows, you could also begin to offer a subscription and private members area for your most loyal fans.
Start Your Own Blog
It's a great way to make money online and to win back your financial freedom. It's not easy, but then again, nothing good in life is! If you put in the work it can be extremely rewarding. So make sure you start your blog the right way, self-hosted, and on Siteground!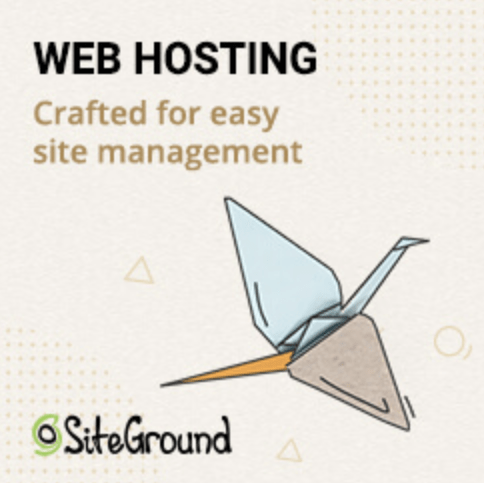 Setting up a blog is relatively straightforward – and following my simple 7 step guide will ensure you get great hosting at a great price – and that you're on a platform that easily allows you to monetize your feet pics.
The hardest part about growing a successful feet pic blog is getting traffic – and then converting that traffic into paying customers. You could begin with Pinterest and use Tailwind to automate your pinning. Promoting your site on relevant Facebook groups and using Reddit are also good strategies to attract an audience.
Want To Learn How To Explode Your Organic Search Traffic with SEO?
The Stupid Simple SEO course by Mike Pearson has helped me grow my organic search by over 100% in just a few short months – and it can help you to explode your traffic as well.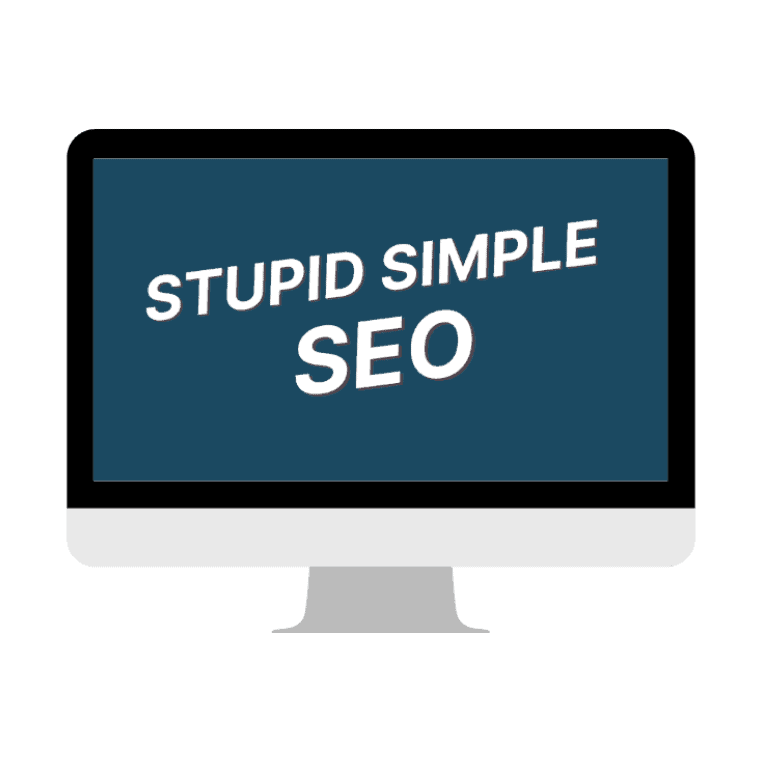 Finally, getting your blog found on Google is a sure-fire way to attract the right sort of customers (it's free traffic) – and taking this incredible course by my good friend Mike Pearson will set you up for success for years to come.
20. How To Sell Feet Pics On Affiliate Websites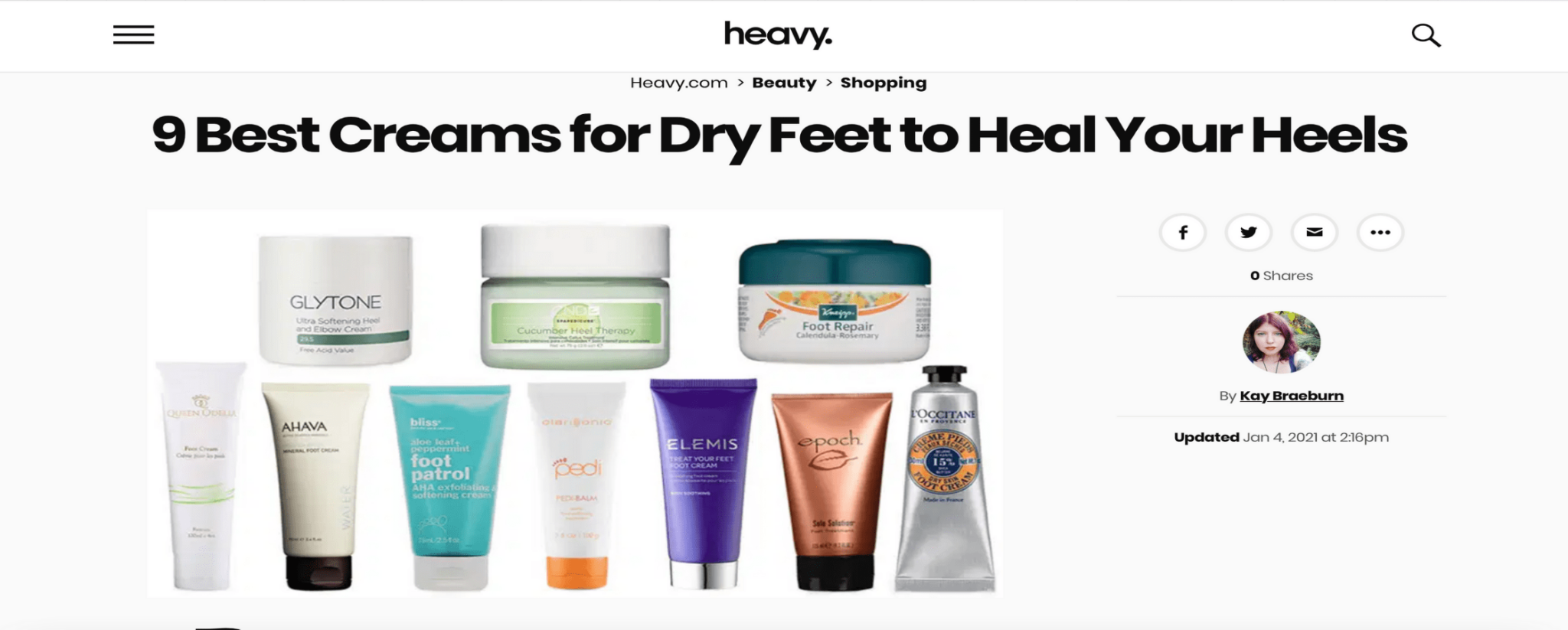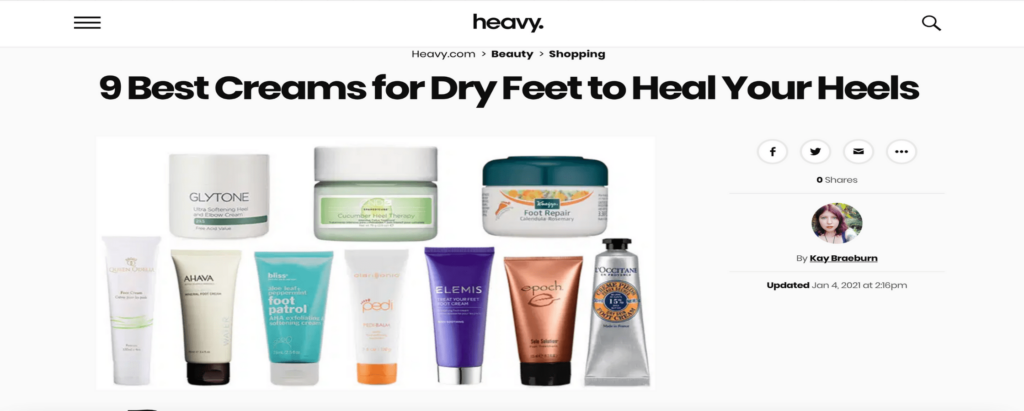 Finally, a slightly unusual way you could make money from your own feet is to use the power of affiliate marketing – and more specifically set up your own affiliate website.
An affiliate website makes money by promoting other people's products – and every time a customer clicks on your affiliate link and makes a purchase, you get a percentage of the sale price in the form of a commission.
So how can you make money with feet pics this way?
You promote feet-related affiliates and use images of your feet to highlight the products you are featuring as an affiliate.
Signing up to affiliate networks such as Share-A-Sale gives the opportunity to find a whole host of products – many of which would benefit from well-photographed foot images highlighting the benefits. Just think about foot creams, spas, socks, shoes, sandals, ointments, nail artwork, and many more.
You'll need to start a website that focuses on a particular foot-related niche, write informational and affiliate-style content, include affiliate links, get traffic and make sales. But just think how unique your content will be featuring your very own feet as the stars of the show!
Platforms To Avoid
Unfortunately, not all places to sell feet pics are created equally. And in fact, some platforms are worth avoiding altogether. Making money online is a noble pursuit, and even the quirkiest methods should be explored – if there is money to be made. However, when it comes to protecting your personal information, credibility, and sanity, I would not recommend engaging where security and safety are not a high priority.
Instafeet
Instafeet is an online platform that allows users to make money from their feet pics. You signup for a profile and then connect with admirers of your feet and get paid for access to your exclusive content.
A number of users however have reported a mishandling of the I.D you are required to provide for verification. Also, there are a number of negative reviews with regard to customer support.
Feetify
Feetify is again a platform that facilitates the sale of premium feet images – and claims all sellers must be verified. There are however reports from a number of users that the verification process is non-existent.
How To Stay Safe Selling Feet Pictures
Selling feet pics online (or anything for that matter) always has the potential of you being exposed to scammers. And so following a few basic steps can help protect you against unnecessary loss of funds or having your personal information and data exposed.
Setting up a secondary email address can help segregate your online feet pic seller persona from that of your real life. And if you want to maintain a level of anonymity whilst operating in this somewhat murky world, having a secure email address is worth considering.
Get The
ProtonMail Visionary

Plan Now

Stay safe online with the ProtonMail Visionary plan. Operating under Swiss privacy laws means you have some of the best protection in the world and it also includes up to 6 users, 20.00 GB of storage, up to 50 Addresses, and the ProtonVPN (which will keep your online activities private and secure).
If you are comfortable presenting your real information to the world, and perhaps use social media to attract an audience, then you need to manage how you accept payments. Using a PayPal Business Account will afford you more protection than that of a personal account – and also provide you with some recourse if any transactions go awry.
Finally, when engaging with potential customers or clients, be upfront and honest about what you are offering. You should set realistic expectations of what you are comfortable selling – and how you wish to conduct yourself for each and every transaction. The clearer and more precise you are with your offerings, the better protected you will be.
FAQs
How much can you make selling feet pictures?
How much money you can make selling feet pictures will vary wildly depending on which market you are operating in, how successful your sales are, and how popular your brand becomes. Professional foot models could realistically earn a full-time income – and hobby feet pic sellers could make anywhere from $10 – $100+ per month.
How do I stay safe selling feet pictures?
You should only use reputable online platforms (as suggested in this article) and only share your personal information with trusted sources. If you wish to retain a level of anonymity whilst selling feet pics, use a secondary encrypted email address and use a nom de plume.
Which payment method should I use for foot picture sales?
Many platforms will provide integrated payment technologies, but if you are facilitating your own payments then consider using a PayPal Business Account. Do NOT use untrusted payment platforms, wire transfer services, or any other method of which you are unfamiliar.
What are the pros of selling feet pics?
Selling feet pics has a number of advantages you can enjoy as an online business owner. You will be your own boss and be able to work to your own schedule. Your earnings could eventually replace your current income source and offer an alternative, independent lifestyle.
What are the cons of selling feet pics?
The feet pic industry will attract some level of sexually inappropriate contact, and this could be offensive and difficult to manage. Your earings may also be sporadic and at times, lower than needed to maintain your lifestyle.
Can men successfully sell feet pics?
Although the demand for male feet pics is less than that of women, a market still exists and therefore money can be made. You may find you have less competition and are able to grow an audience of fans more quickly if you market your images correctly.
Do I need to pay taxes on income derived from feet pic sales?
Taxes will be location-specific and you should consult an independent tax advisor to discuss your individual circumstances. If you are making a profit with the sale of your feet pictures then income tax laws work exactly the same way as when you sell something in the physical world.
Why do guys want feet pics?
Foot fetishes vary from person to person. Some people are turned on just by looking at their feet. Others may find painted nails, jewelry, or other adornments appealing. Still, others get sexual satisfaction in foot treatments, such as massaging or worshipping feet.
When to sell feet pictures?
There is no optimum time when it comes to selling feet pictures online. The demand is global and worldwide – with platforms operating 24 hours a day 7 days a week.
What feet image terms should I associate with my pictures?
If you are using hashtags or descriptions to promote your images you can use terms such as foot pics, feet photo, foot photos, feet lover, feet content, and foot photography.
How to Sell Feet Pics