Disclosure: This post may contain affiliate links. If you click on a link I may make a small commission at no extra cost to you. You can read the full disclosure here.
Last Updated on December 26, 2022 by Chris Panteli
How To Get Free Robux
Roblox is a hugely popular online game with an enormous global player base. According to the Roblox corporation, over 42 million users play daily, and the Roblox company expects that staggering number to grow higher!
Perhaps you play Roblox yourself, or you're a parent of children that adore the game. Either way, you know that you need plenty of extra Robux to buy in-game items. A new avatar, special abilities, new features, and much more can all be bought using Roblox's own in-game virtual currency, Robux.
Buying Robux can get expensive. Especially if you have multiple children! One way to get free Robux is to become a Roblox game creator, but not everyone has time for that.
Instead, here are a few legit ideas explaining how to get free Robux. Enjoy!
How To Get Free Robux
Roblox players will happily spend real money buying Robux. The good news is that there are a few tricks you can use to get free Robux.
Robux Codes
If you have a new Roblox account (sadly, old accounts can't use these promo codes), you can get a free Roblox promo code thanks to numerous Roblox giveaways.
Redeeming a Roblox code takes seconds. Once you've done it, you can use your free Robux to buy in-game items like clothing, boosts, and avatars.
Every Roblox code is unique, which means that how much Robux you get is a lottery! However, it won't cost you anything to play, and if you win enough times, you could have plenty of free Robux to spend!
Roblox giveaways are everywhere online and can be found by completing a quick Google search. Twitter, Discord, and YouTube often have Roblox giveaways you can enter.
Beware of giveaways asking for too much personal information or bank details. You shouldn't have to provide this to enter any Roblox giveaway. Most only need your Roblox username.
Subscription
One method to get free Robux is to sign up for a Robux subscription. Roblox players can buy Robux at any time as a one-off payment. However, subscribing means for the same amount of money, you get more Robux!
For example, you could buy 400 Robux as a one-off purchase or subscribe and get 450 Robux. That's 50 Robux free every month!
The biggest subscription gives you 2,200 Robux instead of 1,700. In a year, you would get 6,000 free Robux. Amazing!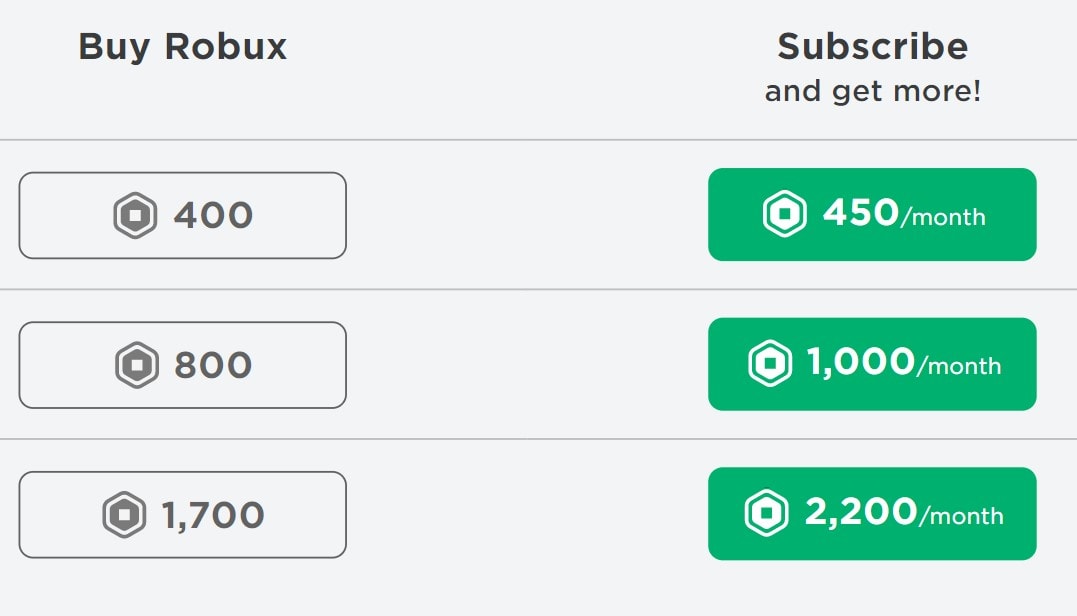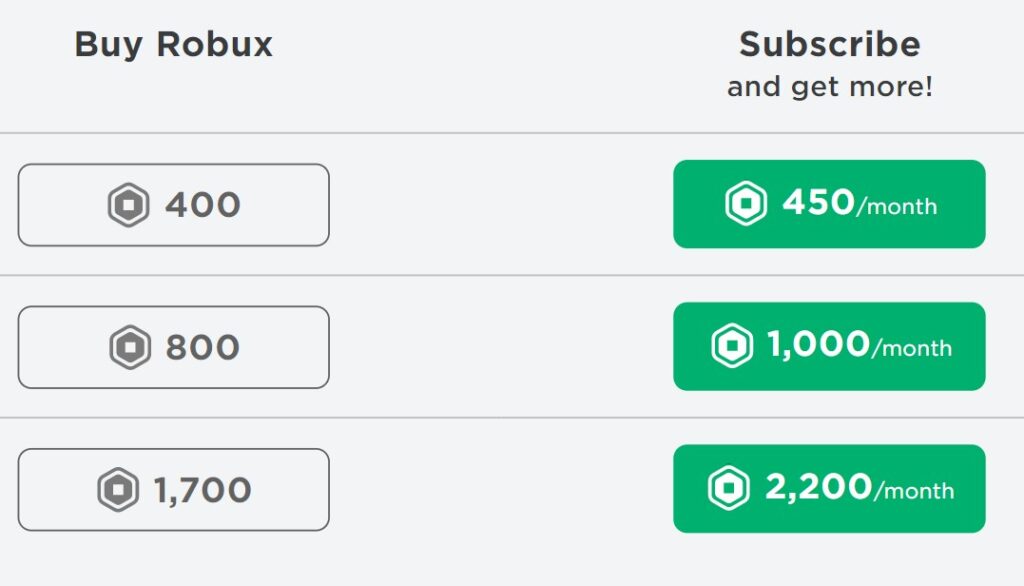 Roblox Affiliate Program
Joining the Roblox affiliate program allows users to earn free Robux every time a purchase is made using their affiliate link.
The process is super simple. You can share your promotional link via social media, email, or your own website. Every time your link is used to create a new account or make a purchase, you get free Robux!
If your link is used to make a new Roblox account, you are paid 5% of all purchases the user makes. That commission is paid for the lifetime of that user! If they buy 10,000 Robux, you will get 500 free Robux!
Robux Generator
Robux generators work simply. You enter your details and could win a free Robux code. However, you must exercise caution when searching for these websites. That's because many scam sites are out there trying to steal your data using the promise of free Robux.
Before entering any details, make sure to check the site is a legit way of earning free Robux.
Can you find an About Us page? Are there reviews online from other users? How long has the website been running?
Provided everything checks out, then you can use the generator to claim your free Robux.
Robux Mania is one legit Robux generator that allows you to earn free Robux. You can join for free and earn points by completing surveys or signup offers. Points can be redeemed for free Robux when you are ready to cash out.
Reward Programs
Joining reward programs offers a great way to get free Robux. You can usually earn points simply for playing games and exchange those points for Robux.
For example, members of the Microsoft Reward program earn points for completing challenges. These points can be redeemed for Robux! Challenges involve playing games or completing searches. All things you do anyway!
Recommended: 16 Incredible Ways To Get Free PSN Codes
Robux Buying Options
Spending your time earning free Robux may not be your idea of fun. Especially if it means less time playing your favorite Roblox games!
If you don't want to earn free Robux, you can just buy Robux instead! Remember, if you subscribe to a monthly Robux plan, you will get free Robux every month!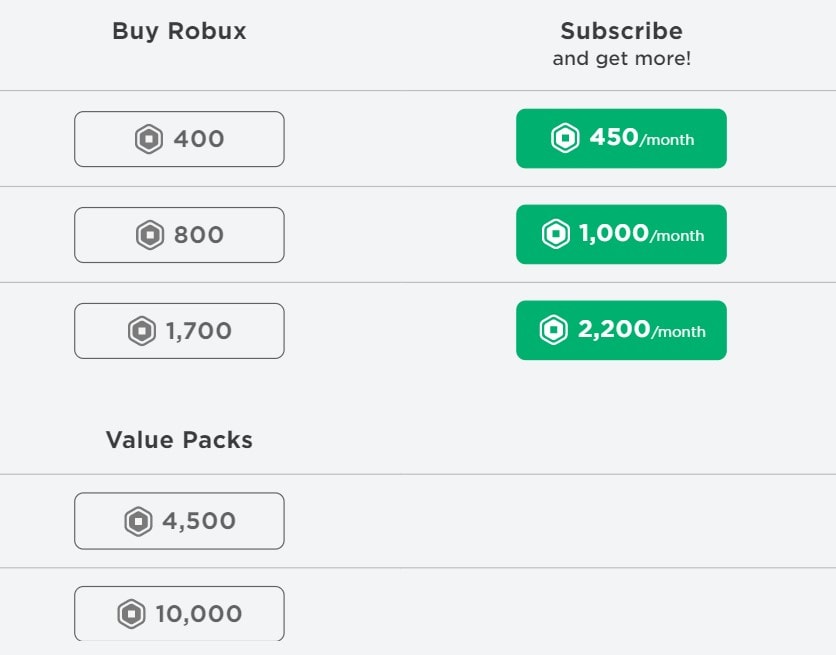 Payments can be made using PayPal, credit or debit cards, and Roblox gift cards.
What Is Roblox Premium?
Roblox Premium may be worth it for you as the membership gives you exclusive benefits and free Robux.
Each level of Roblox Premium membership rewards you with Robux. Plus, every time you buy Robux, you get 10% more, thanks to your Roblox Premium membership. Premium members also gain many other benefits, including free items, access to premium-only levels, boosters, and more!
Another reason to become a Roblox Premium member is that it unlocks more ways to earn free Robux.
How To Earn Real Money As A Roblox Premium Member
In addition to earning free Robux, Roblox Premium members can also earn real money! Here's how.
Selling Clothes On Roblox Marketplace
All Roblox players can make shirts, pants, or t-shirts for their own Roblox character. By becoming a premium member, you can sell your Roblox clothing creations to other players and earn yourself some sweet free Robux.
When selling clothes on the Roblox marketplace, you keep 70% of your sales. It does take up to 7 days from the day of purchase until the Robux is credited to your account. Once confirmed, you now have free Robux to use any way you like!
Make Real Money (and free Robux!) From Your Own Roblox Game
Roblox lets creators make games and Game Passes for free! If you fancy yourself as a game developer, you can earn real money by selling your own games. Plus, selling Game Passe's nets you free Robux. Here's how.
The first step, make a game that players will love. The next thing to do is add a Game Pass for a price of your choosing. Players that buy a Game Pass can gain an advantage in the game. It could unlock access to an area of the game, give a power-up, or an in-game item.
Players can buy your Game Pass using Robux. Your free Robux will be added to your account within 7 days of the purchase.
Can I Get Free Roblox Items?
You might get free items on Roblox, including clothing, avatars, and power-ups. How can you get free Roblox items?
Start by logging into your Roblox account and head to the store page. Here you will find all the items currently available for free!
Games you often play also give free items away when you are in the game. Check for these while playing, so you don't miss out!
FAQs
How do I know if an offer for free Robux is genuine?
Scams exist all over the internet, and free Robux offers are no different. If you are asked for payment details or lots of personal information, this could be a sign of a scam. Any legitimate way of earning free Robux won't ask you for payment details or sensitive info like passwords.
Other things to watch out for include offers that seem too good to be true (like 10 million Robux for free), or brand-new websites with no history. Always thoroughly research any site before entering your details.
How do I make my own Roblox games?
Game development is open to all on Roblox. Head to the developer hub on the Roblox website to learn how to make your own Roblox games, allowing you to earn extra Robux.
Recommended: 343 Birthday Freebies Mega List
How To Get Free Robux