Disclosure: This post may contain affiliate links. If you click on a link I may make a small commission at no extra cost to you. You can read the full disclosure here.
Last Updated on May 1, 2023 by Chris Panteli
How Much Does a Car Wash Make
There's nothing quite like the smell of a clean car. If you've ever had your car detailed, you'll know just how nice it is to drive afterward.
And millions of Americans feel the same way. The car wash industry is worth $3.4 billion and is growing in the US.
If you love cars and there's demand in your city, a car wash could become incredibly profitable. In this post, we'll show you how much a car wash makes and how you can open your own.
Live in a snowy part of the US? A snow removal business might be a better option for you – head to this guide to learn more.
Why Start a Car Wash Business?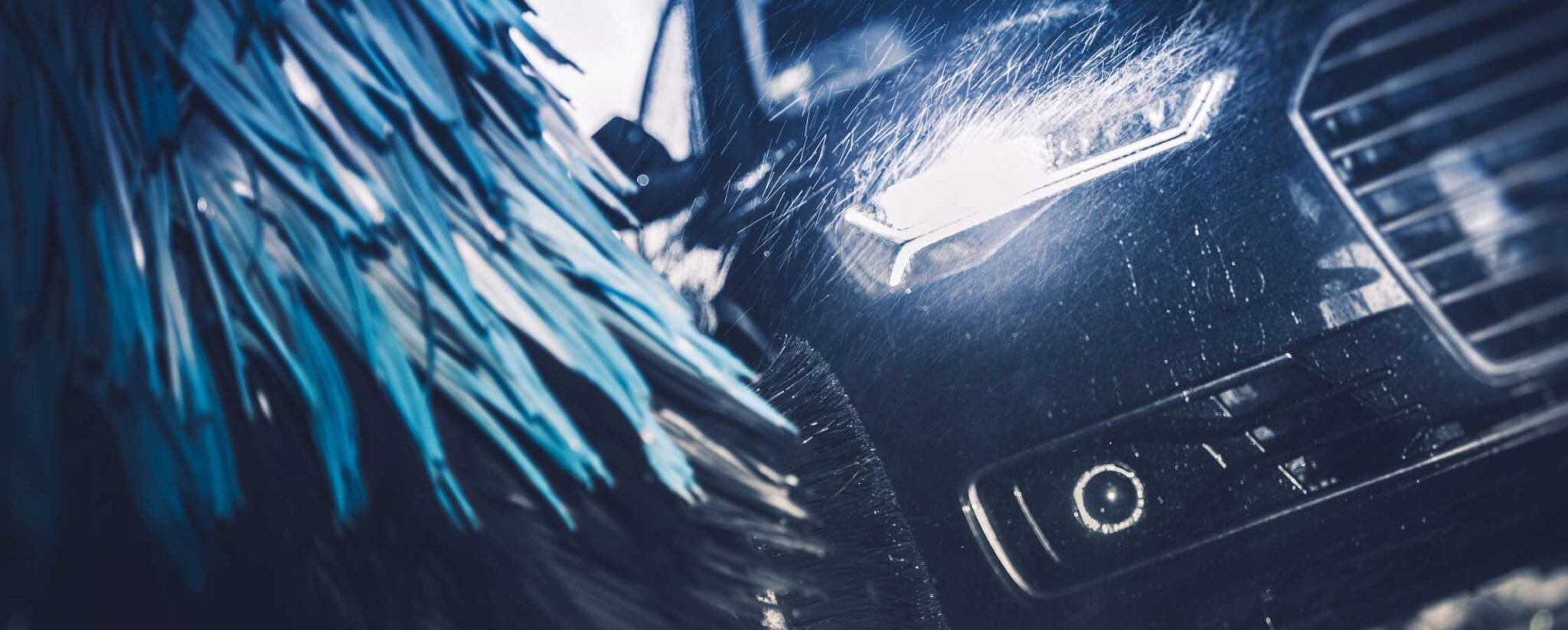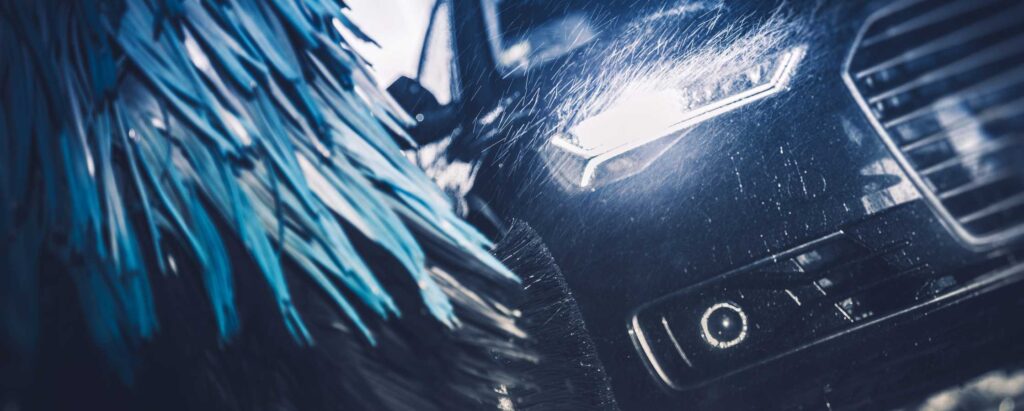 Opening a car wash is a great way to make extra cash, especially if you have a love of cars. But there are some pros and cons to consider.
✅ Pro: Car Washes Are Always Needed
There are over 286 million vehicles registered in the US, and that number continues to grow. No matter how the economy is doing, there will always be a need for cash washes.
❌ Con: Car Washes Are Seasonal
Car washes tend to see more business in the summer since there isn't as much rain washing away the dirt and dust. Plus, people don't want to stand out in the cold winter waiting for their car to be washed. That's not to say you won't get business through the cold months, but seasonality is something to keep in mind.
However, you can easily make money through the winter months with a festive side hustle like installing Christmas lights.
✅ Pro: Car Washes Are Profitable
A small-scale, self-service car wash makes an average of $40,000 a year, and those numbers are higher for full-service car washes. It takes a little more elbow grease than some businesses, but car washes are a great way to make money.
❌ Con: It Can be Hard Work
It's not just washing cars that makes owning a car wash hard work. It's a complex business that requires specialist equipment, a knowledge of cars, and great management skills.
How Much Does a Car Wash Make?
The amount of money you can make with a car wash will depend on your location and the car wash type you operate.
However, the average annual profit for an automatic car wash is $86,500, which is the most common type of car wash in the United States. If you offer a full car wash service and specialty services, the average jumps up to over $685,000!
Things To Consider Before Starting A Car Wash Business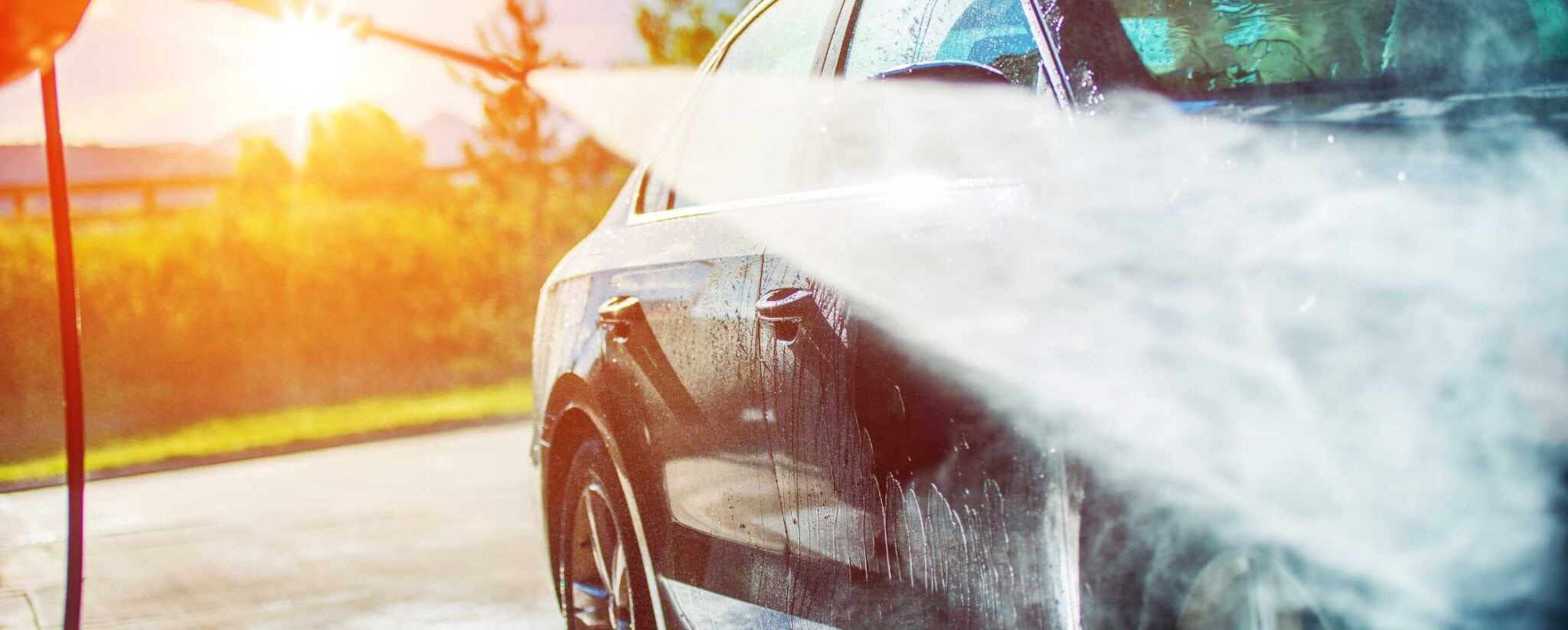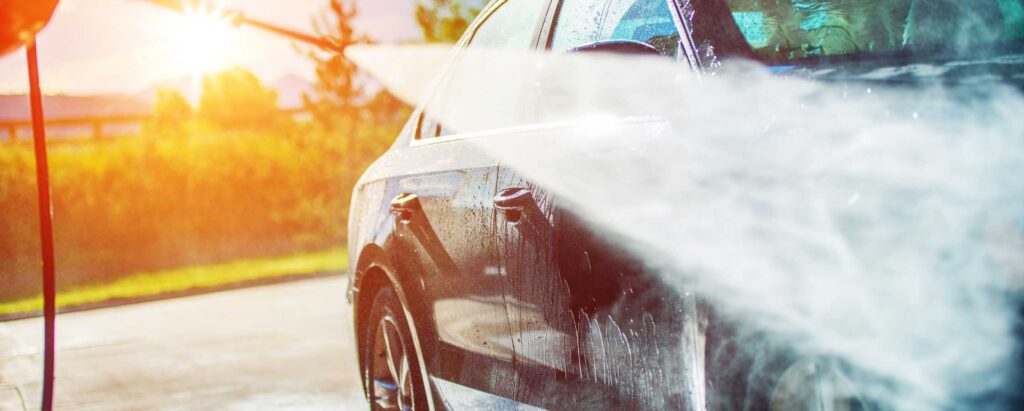 Before you dive in, make sure you've considered all of the following points and have put together a solid business plan.
Startup costs
A handwashing car wash can get started with just a few hundred dollars. However, an automated car wash will cost you around $150,000.
On top of that, you've got to factor in the cost of supplies, utilities, wages, and insurance.
Starting a car wash business isn't cheap, but it will start turning a profit almost immediately, which will help you cover your startup costs quickly.
Do your market research
Does your area need a car wash? Is there a competitor nearby doing a lot of business? Car washes don't work everywhere, so you need to do your research and figure out if you can make it a viable business in your area.
Near a main road with a lot of traffic is usually the best place for a car wash. People will like the convenience of being able to pull in on their way home from work or while they're out running errands.
Car Wash Equipment essentials
When you're just starting out, there are a few essentials you'll need to offer a great service to your clients. Here's a list to help you plan your budget:
Chemicals for cleaning
Hoses and car jetwashes
Car waxes and polishes
Detailing equipment
Dryers and vacuums
Brushes and towels
Car accessories, such as mats and air fresheners
Recurring expenses
When you think about how much a car wash makes, you need to think about expenses.
A car wash has several weekly, monthly, and yearly expenses to factor into your budget. It's important to take all these into account so you can accurately work out your profit margin.
Employee payroll, taxes, and benefits
Business taxes
Supplies and equipment
Lease or mortgage
Utilities (water, electricity, gas)
Equipment repairs and maintenance
Business insurance
Franchise fees (if you go down the franchise route)
Food/beverages for customers (if you offer a full service car wash)
Types of Car Wash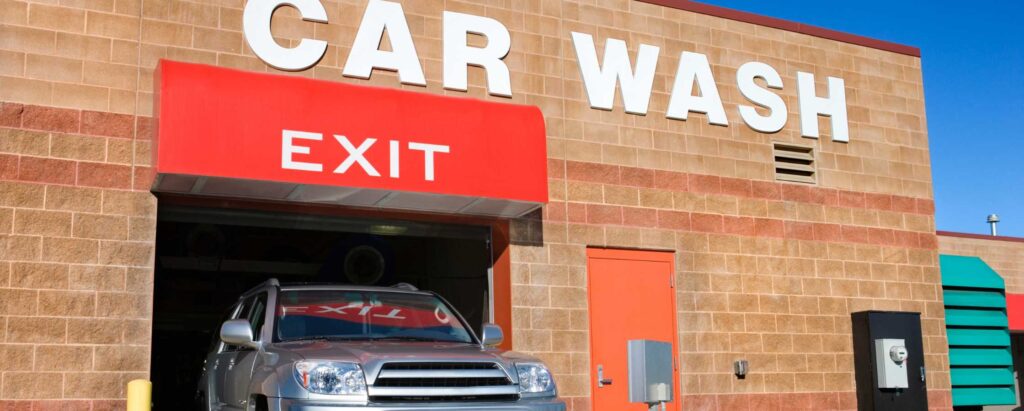 There are three types of car wash to choose from. Each has its own advantages and disadvantages, as well as different profit margins.
Self Service Car Wash
This type is the cheapest to invest in and requires the least amount of work from you as a car wash owner. However, it also has the lowest revenue.
In a self serve car wash, people wash their cars themselves using the card-operated soap and water machines provided. Some also offer wax and polish as an additional service.
Automatic Car Washes
An automated car wash facility is where the car pulls up onto the conveyor and is automatically taken through the in-bay tunnel to get washed.
The car passes through water guns, soap dispensers, brushes, and dryers, to give an automatic cleaning service.
Most automatic car washes also provide vacuums for customers who may want to clean the inside of their car before going through the car wash.
These tend to earn more than a self-service car wash, but less than a full-service.
Full-Service Car Washes
This type of professional car wash is hands-on. Employees hand wash the cars and provide additional services such as shampooing, waxing, vacuuming, and detailing.
Customers usually wait in a dedicated area with refreshments and comfy chairs as part of the service.
Since everything is done by hand and there is a lot of scope for up-selling, this is usually the most profitable type of car wash.
How to Make Money With a Car Wash
The key to making a healthy profit with a car wash is offering additional services. As well as a basic wash, you can up-sell by offering:
Interior and exterior detailing service
Waxing and polishing
Tire shining and mat cleaning
Free accessories, like air fresheners
Replacement car mats
Most car washes have different packages that are priced in tiers. When shown the options, most customers will opt for more than just a standard car wash, so this is where the money is made.
How to Get Car Washing Clients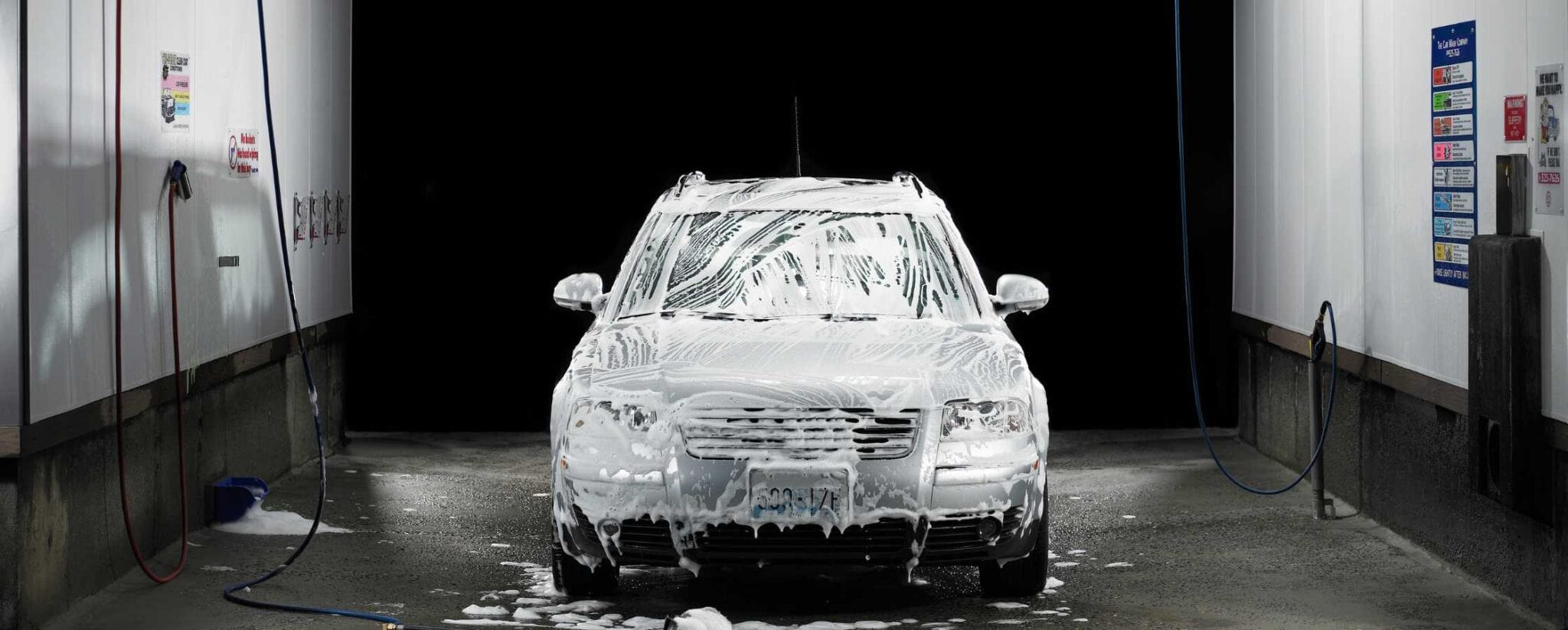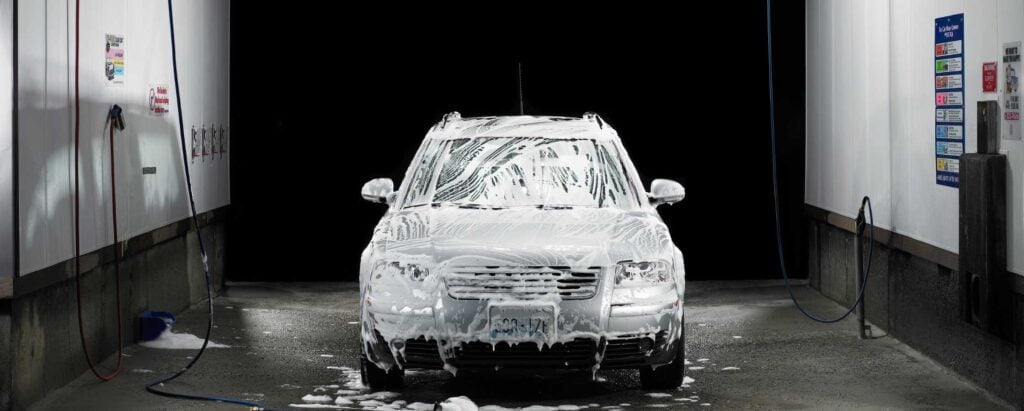 If you're opening a brand-new car wash, you need to get the word out locally, so clients know to come visit you. Here are a few marketing tips to help you bag more clients.
Encourage Referrals
Whenever you have a client, ask them to refer you to family and friends. People are always skeptical of new businesses, so a referral from someone they know will give them the confidence that you provide a great service.
Encourage Customers to Write Online Reviews
You should also ask any customers to leave you a review online to help you grow your new small business. Online reviews can make or break a local business – even just a few negative reviews can seriously put clients off. But just one or two good ones is the seal of approval many look for.
Stay Open Late
Many customers will want to swing by your car wash after work, which means staying open past the usual 5 pm. If you have a fully automated car wash, you could even stay open 24 hours if the utility costs aren't too high.
Start a Loyalty Program
An easy way to get customers to come back to you and remain loyal is with a loyalty program. Either use an app or a simple card and stamp that you can stamp after each visit. After so many visits, offer a free wash, wax, or detailing as an incentive to remain loyal.
Get Social
Start a Facebook page and start creating a buzz around your new small business. People love to support local, so show the person behind the brand and encourage people to come with deals and a look behind the scenes at the quality services you offer.
Create An Attractive Space
Always aim to offer your customers a little more than your local competition. If other car washes in the area make customers stand outside and wait for their car, offer a waiting room with coffee. Or perhaps all you need to do is modernize with some fresh decor.
If you're great at creating attractive spaces – find out how to make extra money with pop-up events here.
Tips for Starting a Car Wash Business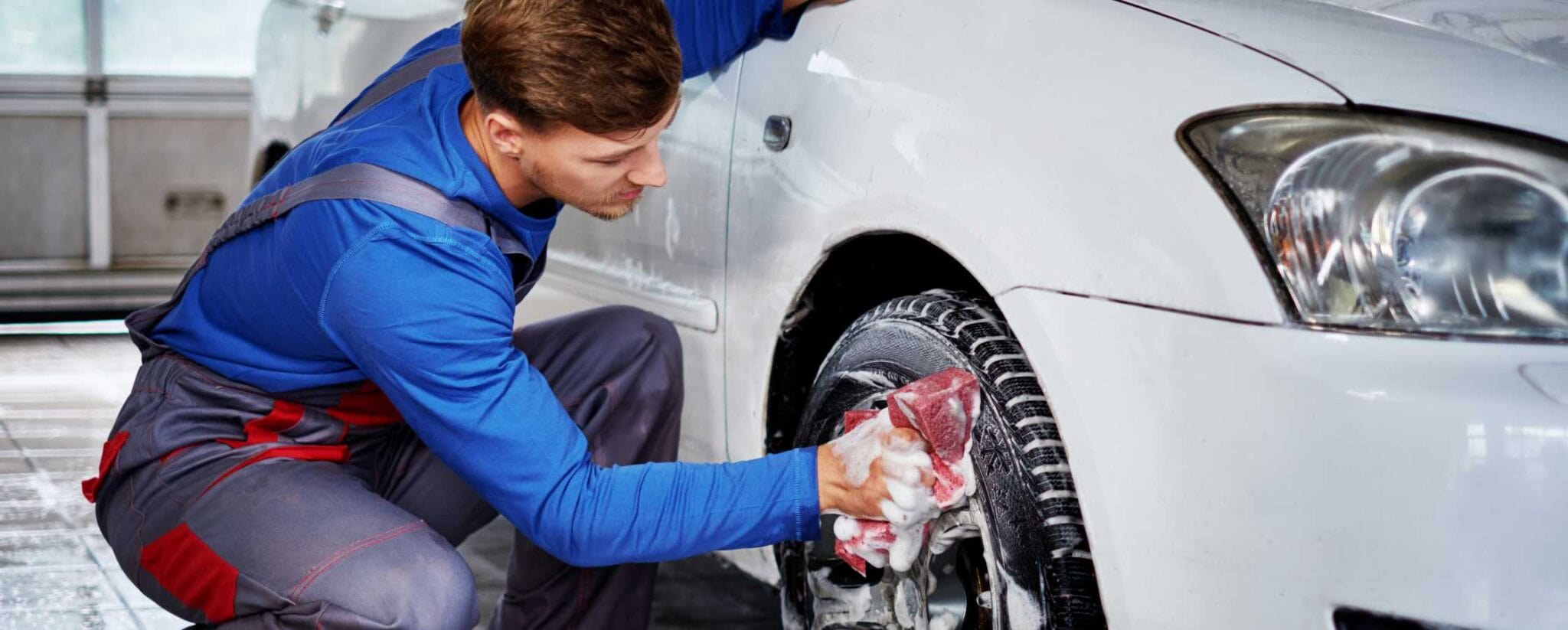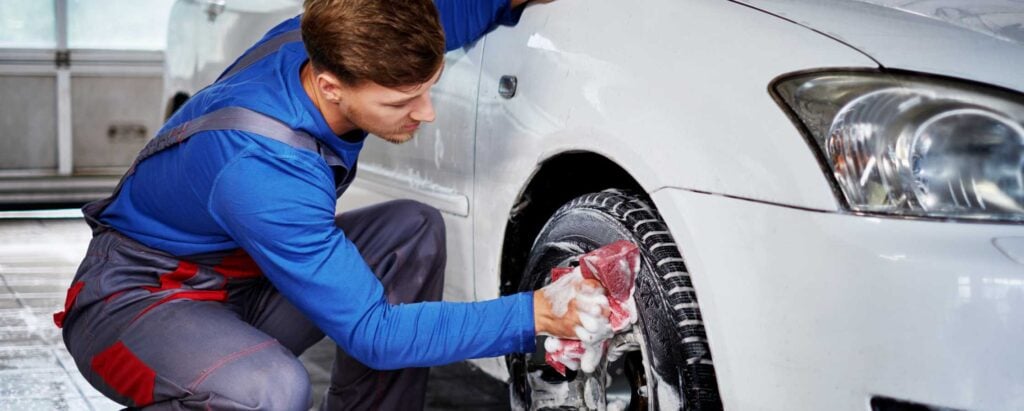 If you're ready to get started, here are some quick tips for starting your car wash business today.
Write your business plan
Whether you're starting a car wash, junk removal business, or opening a cafe, you need a business plan.
Start by doing some research and drafting up a full business plan so you can figure out if a car wash is a viable business idea. It should include:
Location options
Running costs
Startup costs
Business loans or investments needed
Supplies
Marketing strategies
Financial projections
Brand aspirations
Get your business licenses
Different states have different rules when it comes to business licenses, so get in touch with your local authority and see which permits and licenses you need to start a car wash.
Get business insurance
Any business needs insurance, but in a car wash, a lot could go wrong! Since you're in charge of other people's vehicles, it's important to get comprehensive business insurance to cover you if there's an accident or damage.
Still Looking for New Business Ideas?
Owning a car wash can be incredibly rewarding. If you love cars, cleaning and detailing them for a living could be the perfect business for you.
But they are hard work. Whether you're hand cleaning cars yourself or taking on a management role, a car wash is a complex business to get off the ground.
If you're looking for business ideas to make extra money and love working with your hands, head to our next guide on starting a woodworking business.
How Much Does a Car Wash Make