Disclosure: This post may contain affiliate links. If you click on a link I may make a small commission at no extra cost to you. You can read the full disclosure here.
Last Updated on October 23, 2022 by Chris Panteli
Host Tools Review
Almost all successful Airbnb owners and property managers rely on automation tools to run their businesses. Some like to use dynamic pricing, others like market research apps, and many find channel managers most useful.
The great thing about vacation rental software is that it combines different Airbnb tools into one platform. That way, you can manage pricing, messaging, marketing, and more, all with one tool.
If that sounds like something you're interested in, this Host Tools review is for you. We'll show you how this Airbnb management tool works, the pros and cons, and if it's worth using.
What is Host Tools?
Host Tools is a short-term rental management system that lets you automate pricing, messaging, and bookings all in one place. Over 1500 hosts use this software to sync their calendars across multiple platforms, optimize pricing, and automate message responses.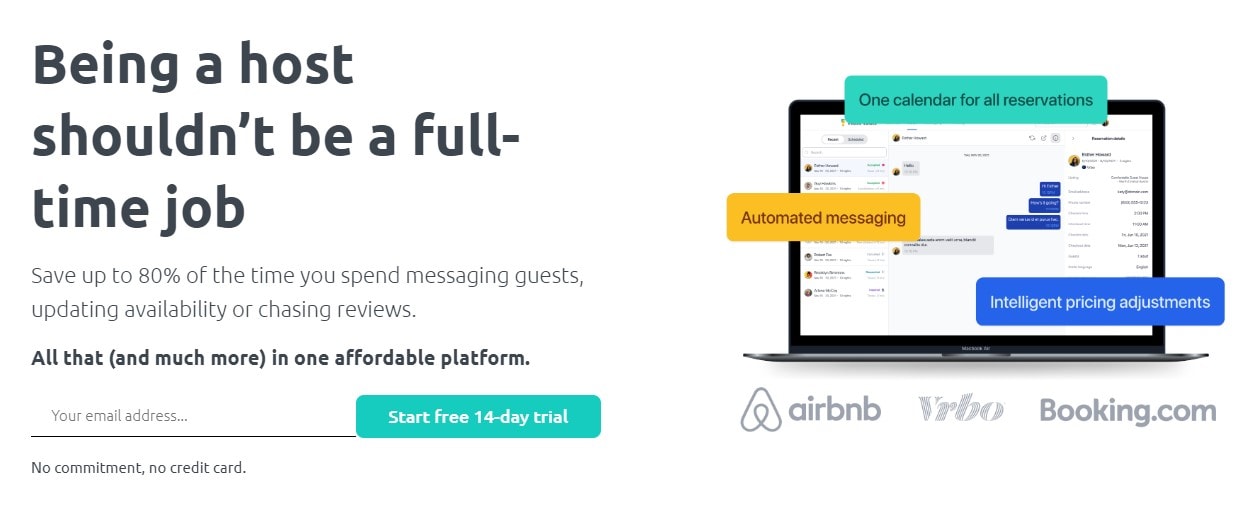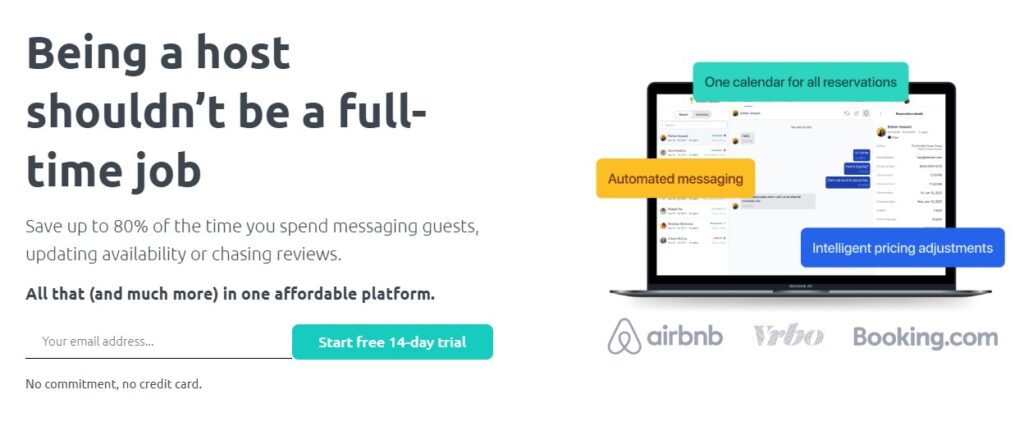 There are tons of tools on the market that focus on one of these features, but Host Tools is an all-in-one platform that makes managing multiple aspects of your Airbnb rental property much more streamlined.
Host Tools Pros & Cons
No Airbnb tool on the market is totally perfect, so it's important to look at the pros and cons before committing to new software.
✅ PRO: Pricing
Host Tools is incredibly cheap when compared to other rental management tools on the market with similar features. We'll dive into a pricing breakdown of the platform in the next section.
✅ PRO: Unified inbox
If your vacation rental is listed on multiple platforms (e.g., Airbnb and Vrbo), Host Tools syncs your inboxes and allows you to manage and respond to all your inquiries from one dashboard. It saves so much time and means you don't have to log into different accounts to check your messages every day.
✅ PRO: Message templates
There are tons of templates you can customize to send to guests, so you never have to be stuck wondering how to word your guest communication. These can also be automated to send out at specific times in the booking process so you can set and forget it.
✅ PRO: Constantly adding features
The developers at Host Tools are always adding new features to make the tools even more useful. The most recent is the addition of smart lock automation, which allows you to manage your smart lock remotely.
❌ CON: Messaging bugs
According to many Host Tools reviews, the automated messaging tool can be a little glitchy and send the same message more than once. Also, if you're in the middle of a conversation with someone, it'll still send any automated messages lined up in between the flow of conversation, which can look a little bizarre.
❌ CON: No mobile app
The software isn't built for mobile, so it can be a little more frustrating to use on a mobile device. That said, it's very intuitive to use on a desktop, and once you have all the features up and running, it does save you around 80% of your time sending messages.
❌ CON: No marketing analytics
Market research is an essential part of running a successful Airbnb business. But Host Tools doesn't have marketing analytics built-in. Tools like AirDNA use data scraping to give you information on the competition's pricing, occupancy rates, policies, and local demand. This is a useful tool for setting your own pricing and keeping ahead of the local competition.
Host Tools Pricing
Host Tools is impressively cheap compared to other tools of a similar nature. Users pay $5 per listing per month, making it a budget-friendly option if you're an Airbnb host or a property manager.
For the monthly price, you get access to:
Multiple account management for Airbnb and Vrbo
Channel manager
Unified inbox
Multi-calendar to sync your bookings 
Automated messaging and reviews
Smart pricing tool
Smart lock automation
Cleaner management


What's great about Host Tools pricing is that all the tools are included in the monthly price. A lot of other tools charge additional fees to add extra features, which can make them expensive for the same level of functionality.
Host Tools Features
Host Tools has some great features that make it an all-in-one management tool for vacation rentals. Here's a quick breakdown of what you can do on the platform:
Channel manager: connect both your Airbnb and Vrbo accounts to manage them both on one platform.
Unified inbox: Manage and respond to all guest messages in one place.
Multi-calendar: Sync all bookings from different platforms to one calendar to avoid double-bookings.
Automated messages: Use the templates to set up automated messages to guests about check-in times, house rules, and more.
Automated reviews: Automatically leave your guests' five-star reviews and ask for one in return after each stay (if you are happy to give them a good review, of course).
Cleaner management: Manage your cleaning schedule and send automatic reminders to your cleaning team about upcoming stays.
Smart pricing tool: Use the rule-based dynamic pricing to automatically adjust your nightly rate to get the very best return based on trends and seasonality. 
Smart lock automation: Automatically generate codes for your smart lock and allow guests to check-in much more quickly.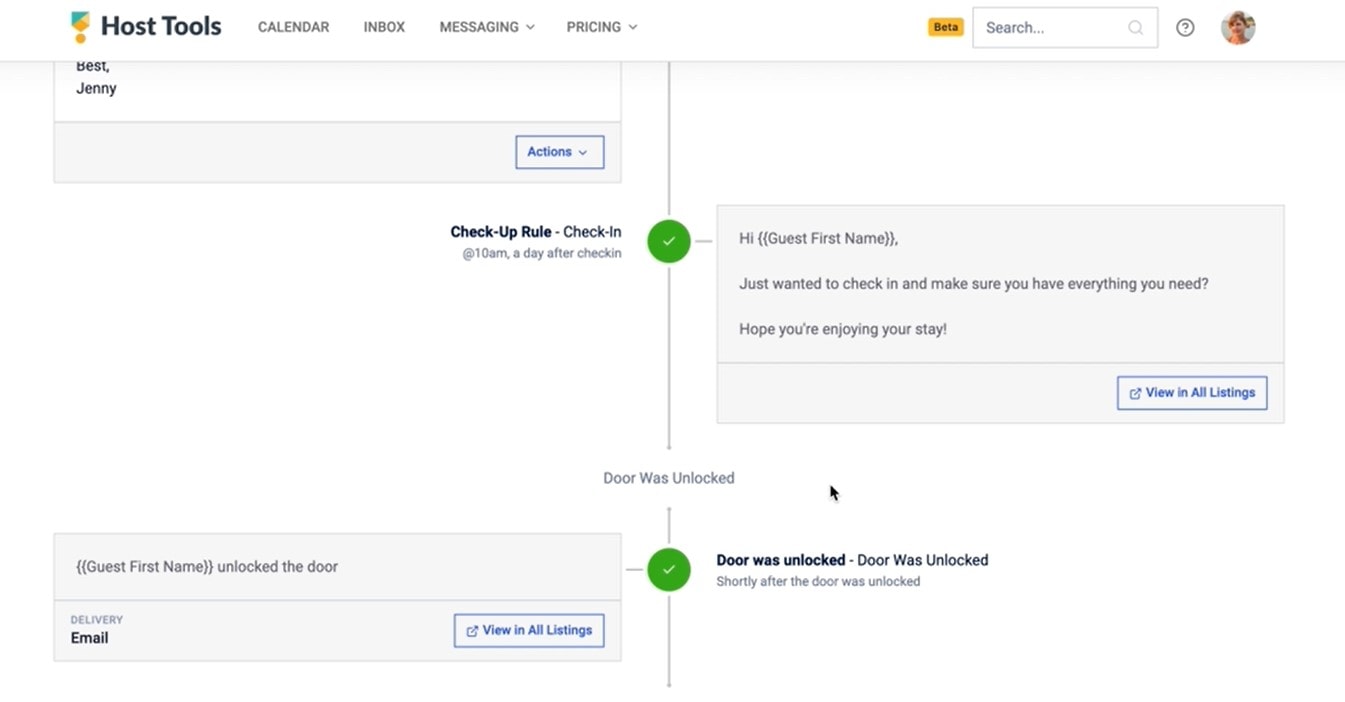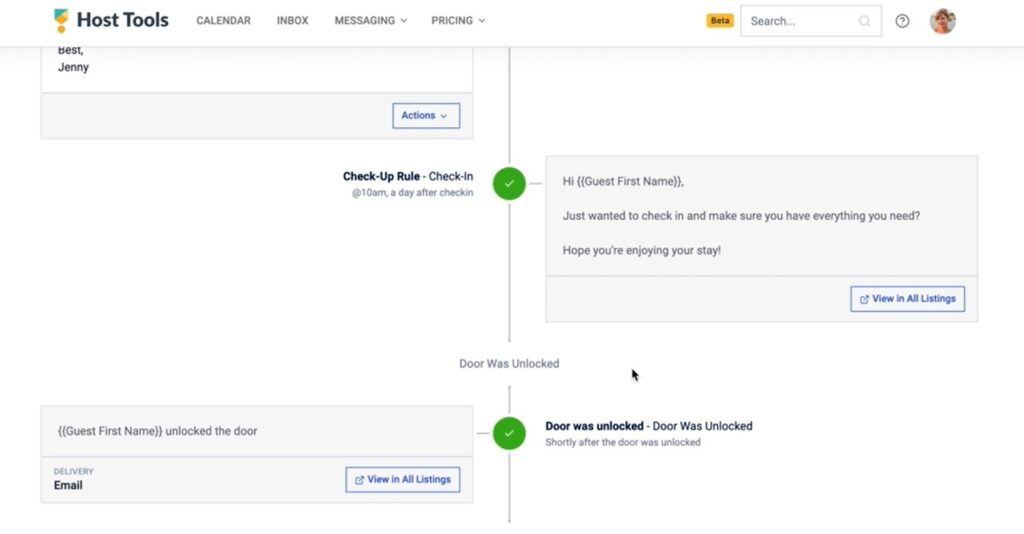 As we said earlier in this Host Tools review, the platform is constantly updating its features to make it as useful as possible for hosts and property managers, so this list is likely to grow in the future.
Host Tools Alternatives
There are a couple of alternatives to Host Tools, but there are some key differences to keep in mind:
iGMS
This is the leading competitor to Host Tools and has almost all of the same functionality. The advantage of iGMS is that it has a dedicated mobile app, which means you can easily manage your Airbnb rental from your phone.
The downside is the price. The flexible plan is commission-based and costs $1 per night booked. For a flat rate, you'll be paying $30 per month, which is seven times more than Host Tools.
Guesty for Hosts
Formerly Your Porter App, Guesty for Hosts is another vacation rental management tool that has all the features you'd need to manage an Airbnb.
Unlike Host Tools, Guesty for Hosts has a payment processing option to manage bookings as well as commission management for property managers.
Again, it's a more expensive option, starting at $40 a month. But if you're looking specifically for payment processing, the higher price might be worth it.
Lodgify
This is the last major alternative to Host Tools. Lodgify has all the same features as Host Tools, but it also comes with a website builder and payment processor and integrates with more platforms.
The extra features come at a price, though. Lodgify costs $30 per month per listing. You can get it cheaper at $11 per month, but you'll also pay a 1.9% booking fee.
Who Uses Host Tools?
Host Tools is aimed at both Airbnb hosts and property managers. Since it's a budget-friendly tool, it's great if you're a vacation rental host just starting out and makes it affordable if you're a property manager with multiple properties.
It's user-friendly enough for beginners but has the potential to manage over 100 listings, so it's a robust tool for newbies and seasoned professionals alike.
Why Should You Use Host Tools?
If you're still on the fence about paying for rental management software, there are some key benefits.
Save time
You will save countless hours on messaging, pricing, research, and check-ins when you use a good management tool. Host Tools claims to save users 80% of their time on messaging potential guests alone.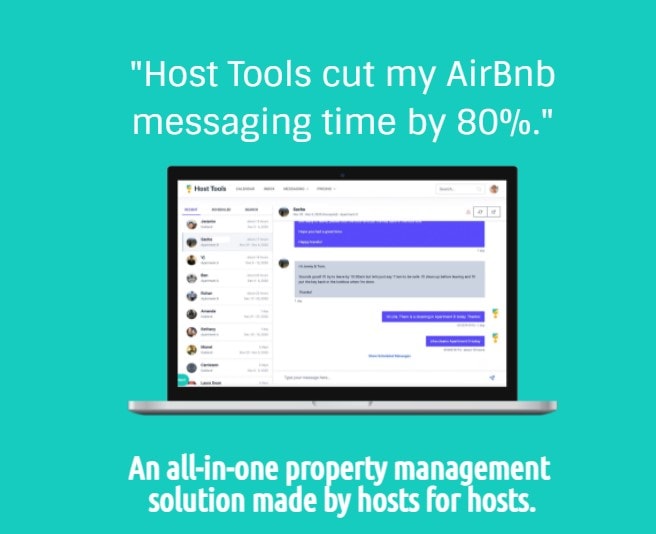 Better guest reviews
When guests have a streamlined experience, they leave better Airbnb reviews. Better reviews mean better rankings on Airbnb and other platforms, which means more bookings.
Automation tools like Host Tools make it much easier for guests to check in, check out, get answers to questions, and book their stay. Improving your Airbnb guest experience is crucial, and it's hard to do without automation tools.
Increase revenue
The best way to maximize your occupancy and revenue is with a dynamic pricing tool like Price Labs. Your nightly rate should change based on demand, events, seasonality, and local competition. With Host Tools, smart pricing is automatic, meaning you'll get the best rates and more bookings year-round.
How to Setup Host Tools
You can get started with a 14-day free trial of Host Tools to make sure it's the right tool for you without committing to a paid account.
When you start your free trial, you'll create an account with Host Tools. Once you've filled in all your information, you can connect your account to Airbnb, Vrbo, Booking.com, and Houfy.
You can then link listings that are posted on different platforms, so Host Tools knows it's the same listing.
Once that is complete, you can start automating your processes. Host Tools is an easy-to-use platform with user guides on automating guest messaging, pricing, availability syncing, and more.
Is Host Tools Right For You?
Host Tools is budget-friendly vacation rental software that has a lot of great features. But that doesn't mean it's going to be useful for everyone. Take advantage of the free trial and get to grips with the automation features to figure out if it's beneficial for your rental.
If you're in the market for automation tools and you're still researching the best options, read our full guide on the best Airbnb tools to manage your properties, and we'll show you the tools we can't live without.
Host Tools Review