Disclosure: This post may contain affiliate links. If you click on a link I may make a small commission at no extra cost to you. You can read the full disclosure here.
Last Updated on December 26, 2022 by Chris Panteli
Best High Paying Weekend Jobs
There are a number of reasons you could be looking for the best weekend jobs to make extra money. Perhaps your 9-5 simply doesn't pay you enough to maintain your rare stamp collecting habit? Or maybe you're looking to boost the old emergency fund or just splash out on something special?
Whatever your reason for wanting to put in those extra hours to make more money, I commend you. It takes a certain type of person to pull the finger out and graft.
God knows I've done it.
What really makes the difference though is choosing the right sort of work to supplement your income. Firstly, it helps if you can find something you enjoy and will be great at. And secondly, it makes sense to be well paid for the extra work you do!
Get $5 For FREE Right Now
Signup to the greatest rewards platform on the internet and earn a $5 welcome bonus…
Earn more with cashback on all your purchases, watching videos, playing games, and taking surveys. Some users can make an extra $200+ per month!!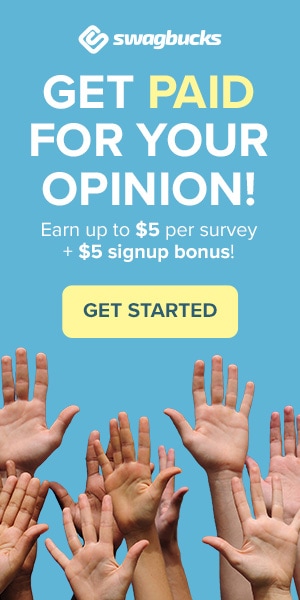 Weekend Job Benefits
Weekend jobs come with a number of benefits, both financially and logistically. There are many reasons you may be considering extra sources of income. And although you may have exhausted all other avenues for additional cash, your only option left is to work more!
And this doesn't necessarily need to be a bad thing.
Developing a good work ethic is key. Apply yourself at whatever you do, whether you're a janitor or taking your first summer job because that work ethic will be reflected in everything you do in life

Tyler Perry
The key to extra work is finding a good balance and making sure you don't lose focus. And that is why weekend jobs are perfect! They enable you to utilize your spare time to maximum effect! Because let's be honest, there is only so much Netflix you can watch!
In order to make your 'weekend work' worth your while, you will want to ensure it's well paid, flexible, and enjoyable! Get these 3 components right, and you'll be laughing all the way to the bank.
So, take the time to analyze these potentially easy weekend jobs that pay well. You could significantly increase your earnings and maybe it won't even feel like work at all!
Recommended: 19 Genius Jobs For Lazy People
23 High Paying Weekend Jobs
Here are the best high paying (or at the very least have the potential to be high paying) jobs that you could easily do over the weekend.
1. Blogging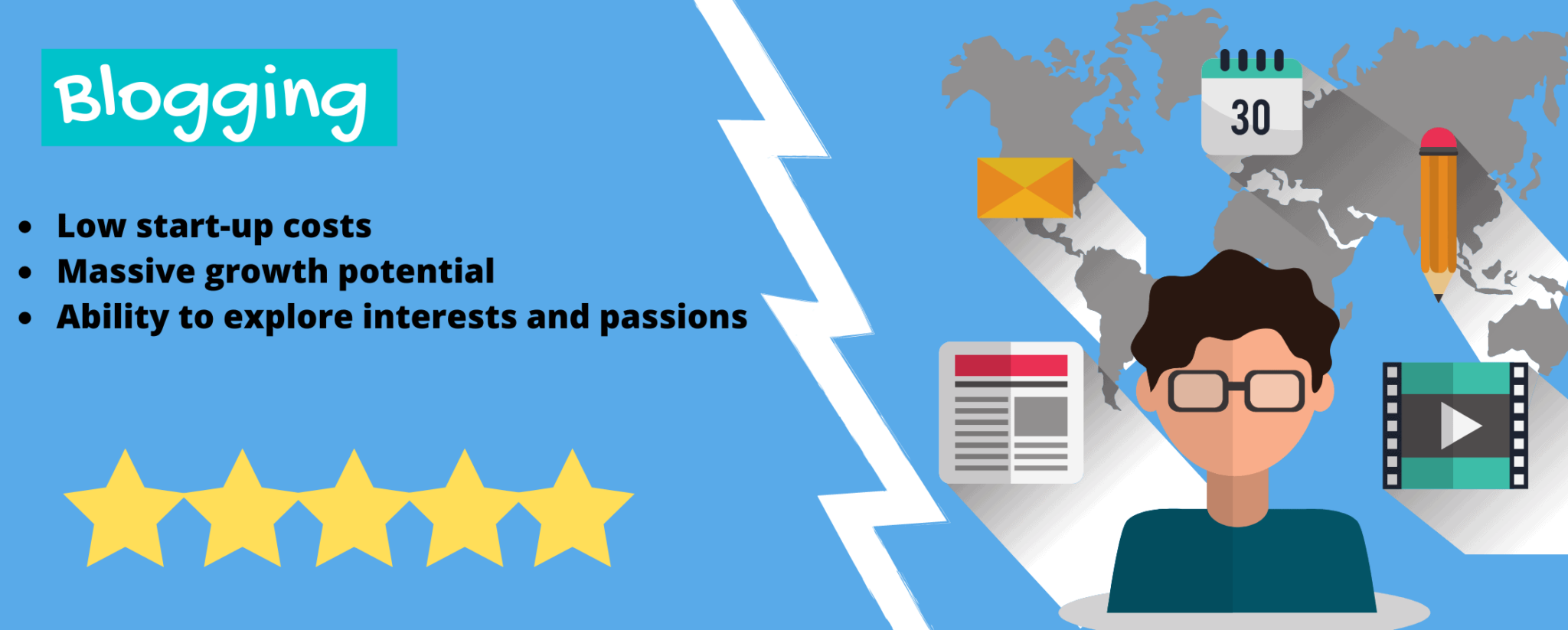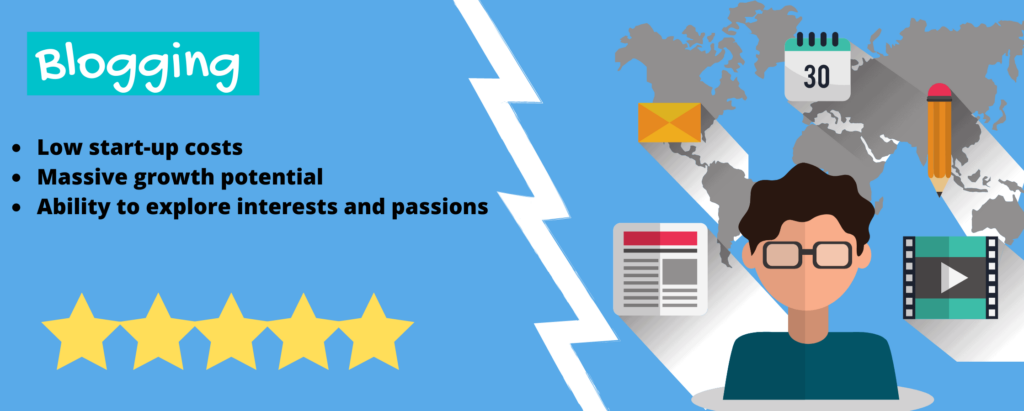 Blogging often gets banded around the internet as an 'easy way to make loads of money'. You simply sign up for some hosting, start writing and watch the money pour in! And although this is most definitely not the case, there is a good reason why it's often touted as a great way to make money online.
Unlike most ' high-profit potential' businesses, blogging has staggeringly low start-up costs. You can set up a website for as little as a few dollars a month and low and behold, you own a blog! Your very own piece of internet real estate.
Also, unlike other businesses (such as my bricks and mortar food business) the number of hours you need to put in can be very low. So low in fact, you could almost get away with just working on it at the weekends!
It will however take some time to get it to this point. Unless you have owned a blog before, the learning curve will be quite steep. But that isn't to say it can't be done, and there are countless ways to speed up the process.
Investing a small amount in your education is a sure-fire way to get your blog to 'work on the weekend only' status. And there is no better person to teach than Mike Pearson with his Flagship SEO course Stupid Simple SEO!
Mike is a master of harnessing the power of free Google traffic and makes $20,000 a month look easy. And he shows you exactly how to do it as well.
Just think, you might only need to work on the weekends…if that!
2. Food Delivery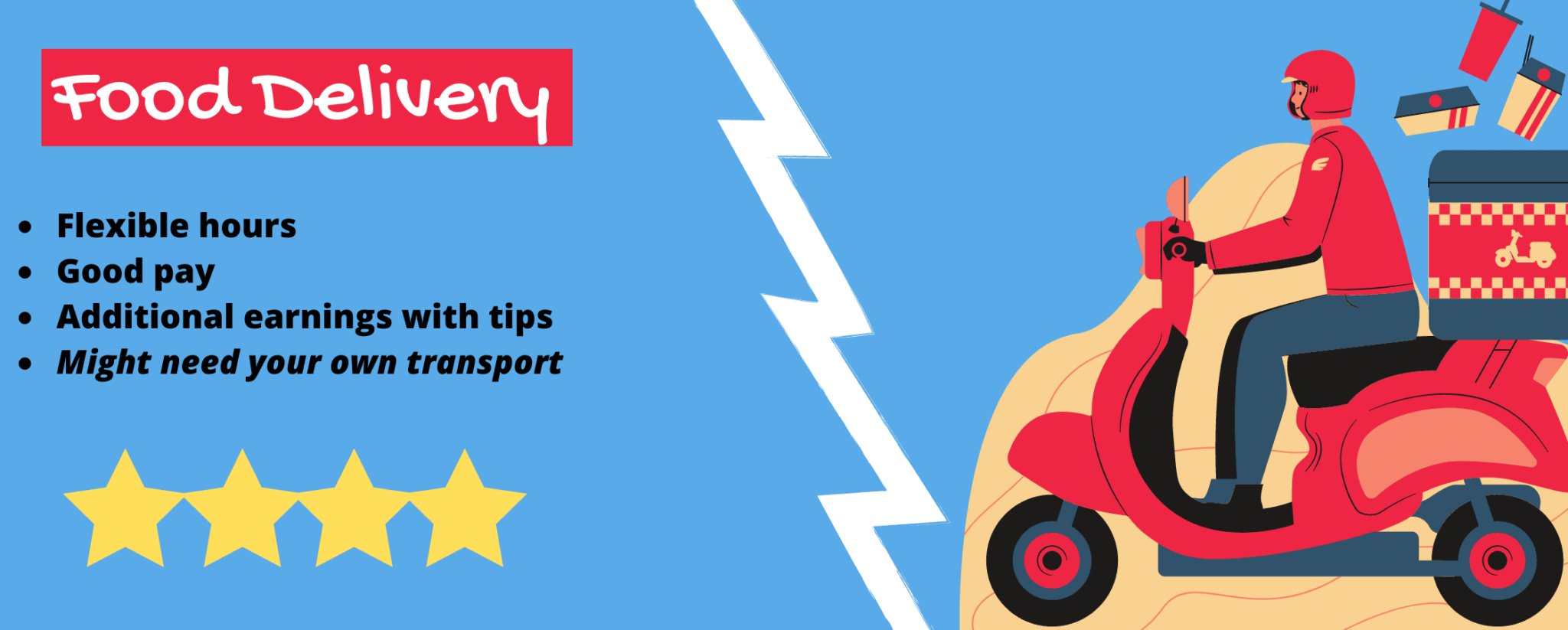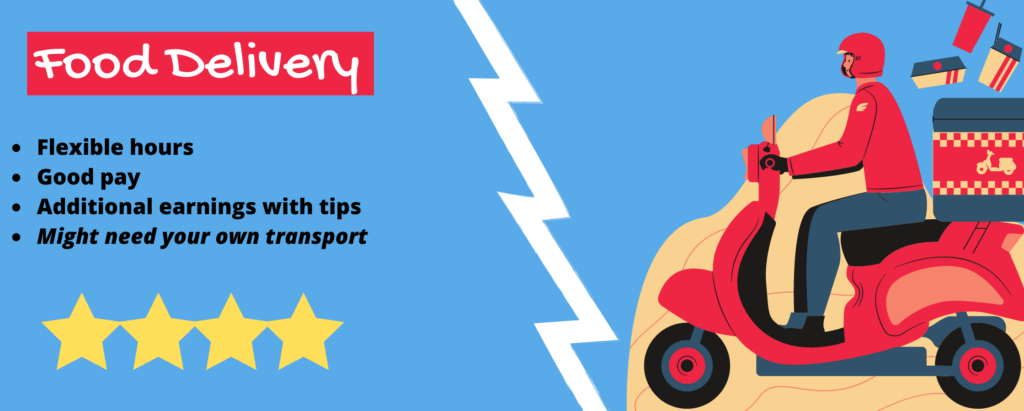 Delivering food to people's homes is one of the best weekend jobs going. Firstly, in 2019 the total online food delivery market in the United States was $19 billion. And the sector shows no signs of slowing down. This means there is always work available and the possibility to make money.
Secondly, with many of the newly emerging food delivery apps, there is the possibility to choose your working hours. This flexibility enables you to only work weekends, or whichever days suit your current schedule.
Finally, the weekends are by far the busiest for food delivery services, and this means more potential for earning tips. This can significantly increase your hourly wage and makes food delivery one of the most profitable weekend jobs available.
One of the only downsides to this type of work is the possible need for transport. However, this is not always the case!
Our best picks for food delivery jobs are:
If you do want the use of a vehicle and don't have one of your own then HyreCar could be the answer. They have thousands of privately owned, great quality vehicles that are available for rideshare and delivery drivers to rent. Also, insurance is included with each rental, which saves you money.
3. Event Staff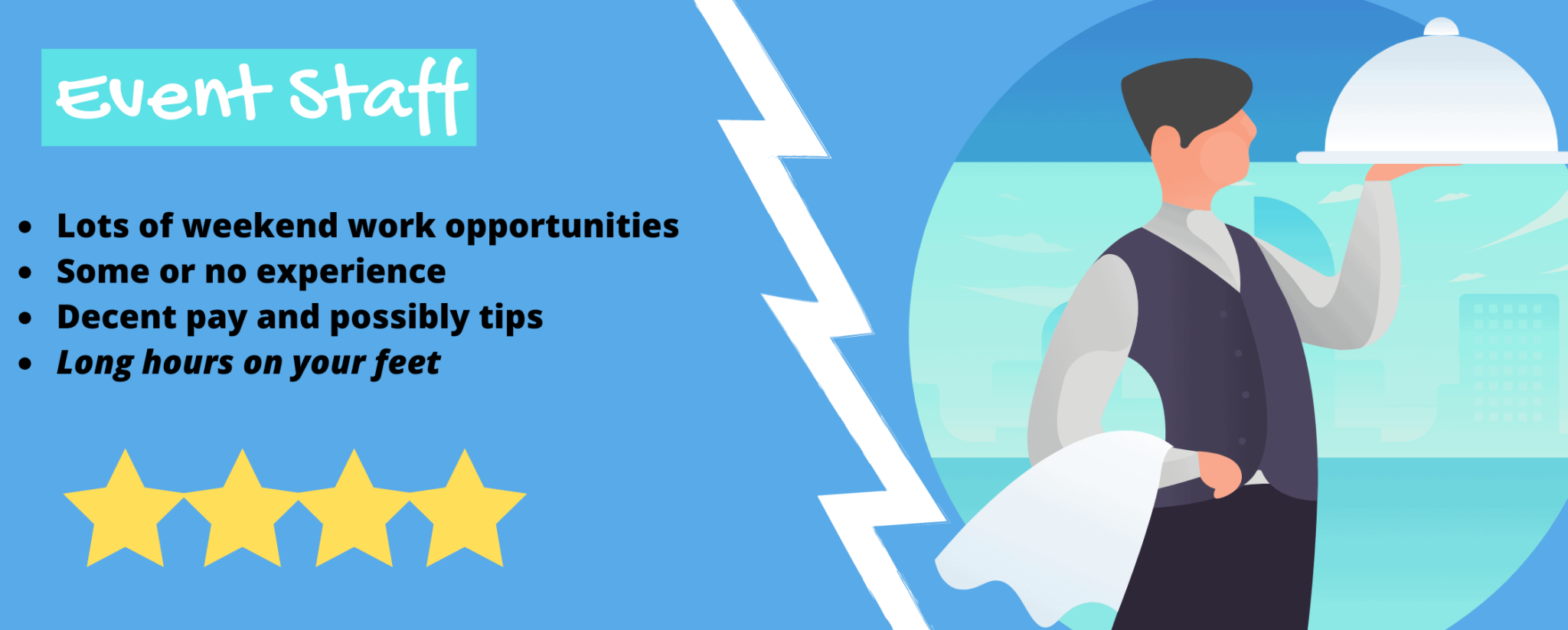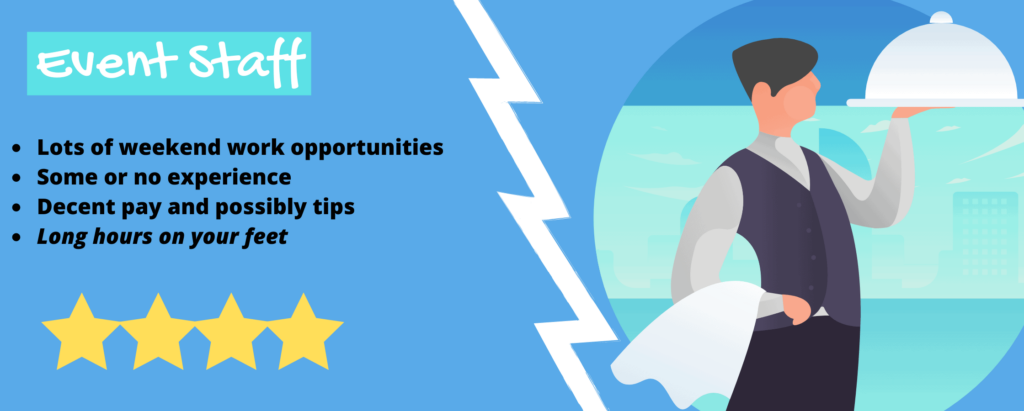 Events are big business, and more importantly, they are most popular on weekends. This is when people celebrate weddings, anniversaries, birthdays, work parties, and so on. The weekend is a perfect time to arrange gatherings of this nature, and therefore there is a high demand for staff to carter these events.
Although some experience is ideal, it is not always necessary, and event staff can earn $15-$30 per hour, depending on the event and location.
You will most probably need to spend a lot of time on your feet, but that's a great way to get your Sweatcoin steps up, stay healthy, and keep your Fitbit happy as well.
You can look for opportunities here:
4. Cleaner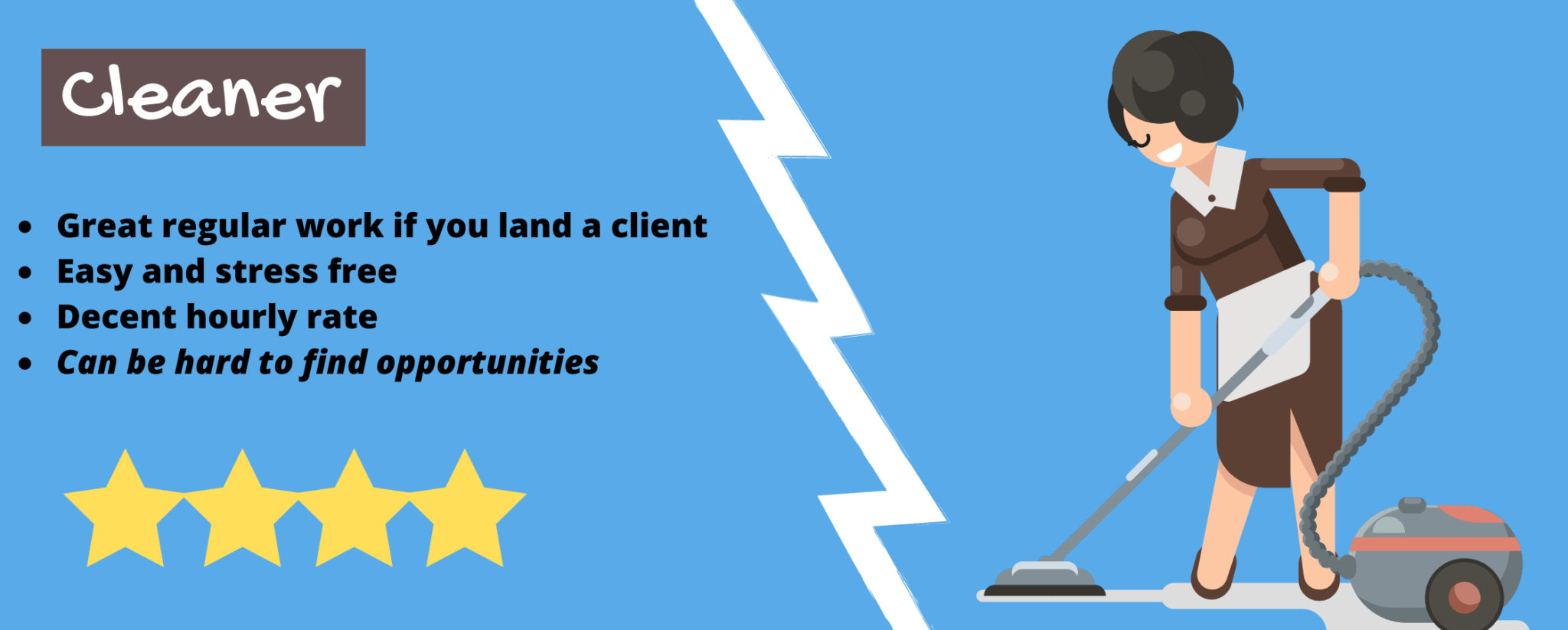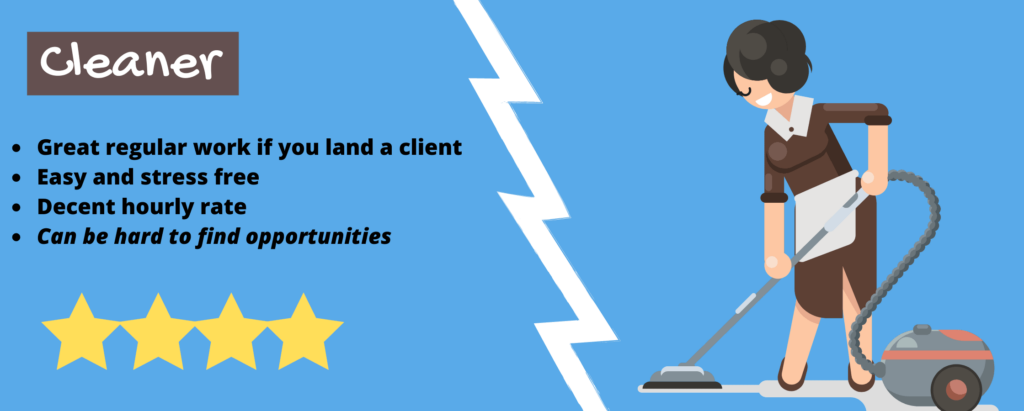 If you're a Monica from Friends then this could be more of a hobby rather than simply weekend work! And hey, it's great to enjoy what you do. Cleaning may well be one of the oddities in life that some people adore, but it also pays well!
The average house cleaner in the U.S earns $13.66 per hour, but this varies widely depending on location and the client type as well.
If you are able to find a high-net-worth client and prove yourself as a reliable and trustworthy cleaner, you could land a regular high paying weekend side gig. One of my friends cleans a couple of houses over the weekend and earns about $200 for a few hour's work. And she's been doing this for the same old ladies for years now!
Training requirements are minimal, you just need to be able to do a decent job and some experience wouldn't go amiss either. Cleaning is a fabulous part-time weekend job if you can land a couple of clients.
Advertising your services locally using Facebook is a really good way to get this sort of working opportunity.
5. Teach Online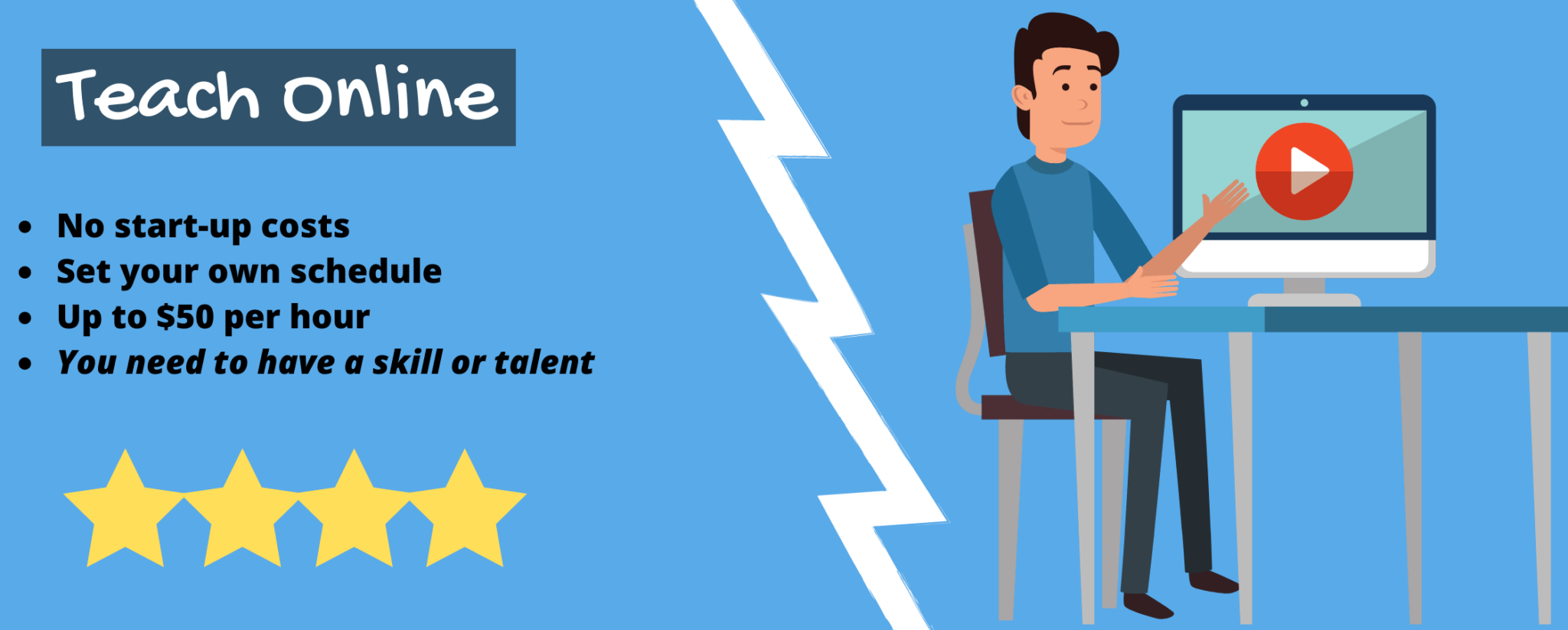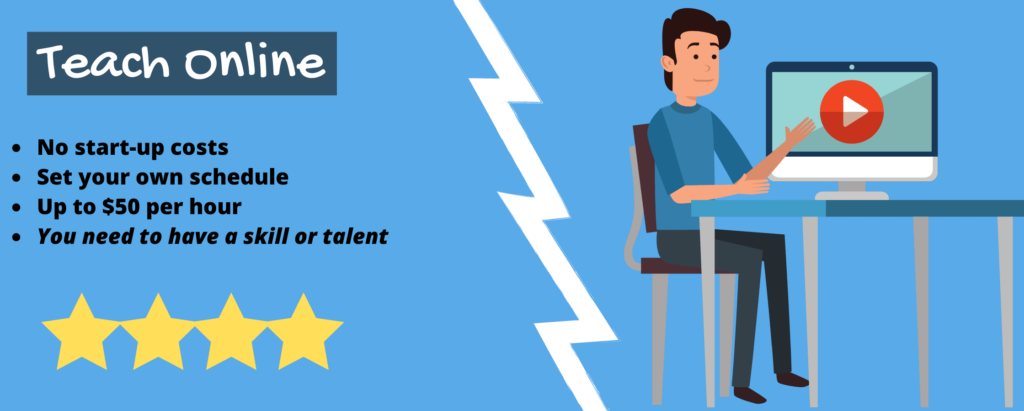 Sometimes we have skills, passions, or hobbies that we have never thought to monetize. And one of the best ways to make some extra money is to teach others online!
Just think if you're a master piano player, gifted painter, or speak 5 languages you could be earning up to $50 an hour sharing your gifts with others. And it can all be done from the Outschool online teaching platform.
You can set your own schedule and deliver your own classes in a wide variety of subjects, including the arts, science and nature, music, life skills, and world languages. Everything is delivered via the Outscholl portal and is easy to set up and start teaching.
You can design your own curriculum and teach 3-18 year-olds from the comfort of your own home.
It's free to list classes, you can charge what you want and Outschool takes a 30% service fee from enrollments. You can also design your own teaching schedule and deliver classes at times that suit you.
6. Freelance Writer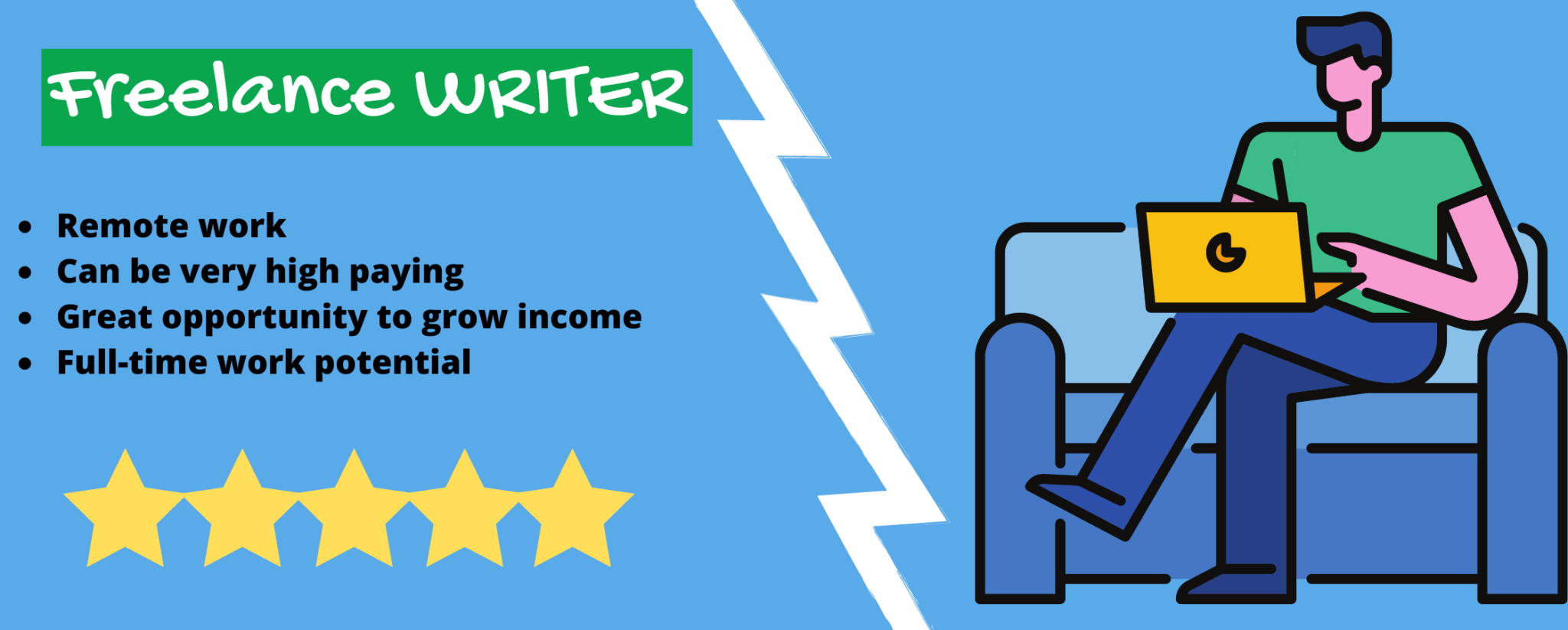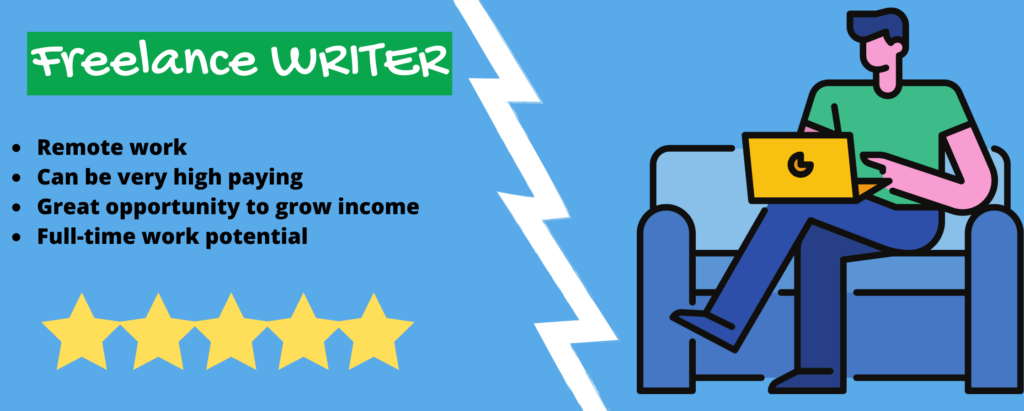 Freelance writing could seriously be a dream job. If you love to put pen to paper (or finger to keypad) then getting paid to write is a fantastic weekend job opportunity. And why stop there? If you happen to develop a decent portfolio and build a reputation, you could transition this into a full-time income.
Freelance writing is one of the best part-time jobs for extra income. It's flexible, remote, and can be very lucrative indeed. I have recently hired a freelance writer (whos great) and she is delivering me content on a week-to-week rolling order. That's money in her pocket every week doing something she loves.
It's a good idea to start writing some samples so you can have a portfolio when looking for opportunities here:
As a beginner, you could look to charge between $0.01 – $0.10 per word, but this could easily progress to $0.50 per word as you develop your skills. That's $500 for a 1000 word article! Not bad if you can hammer one out every weekend, hey?
7. Proofreader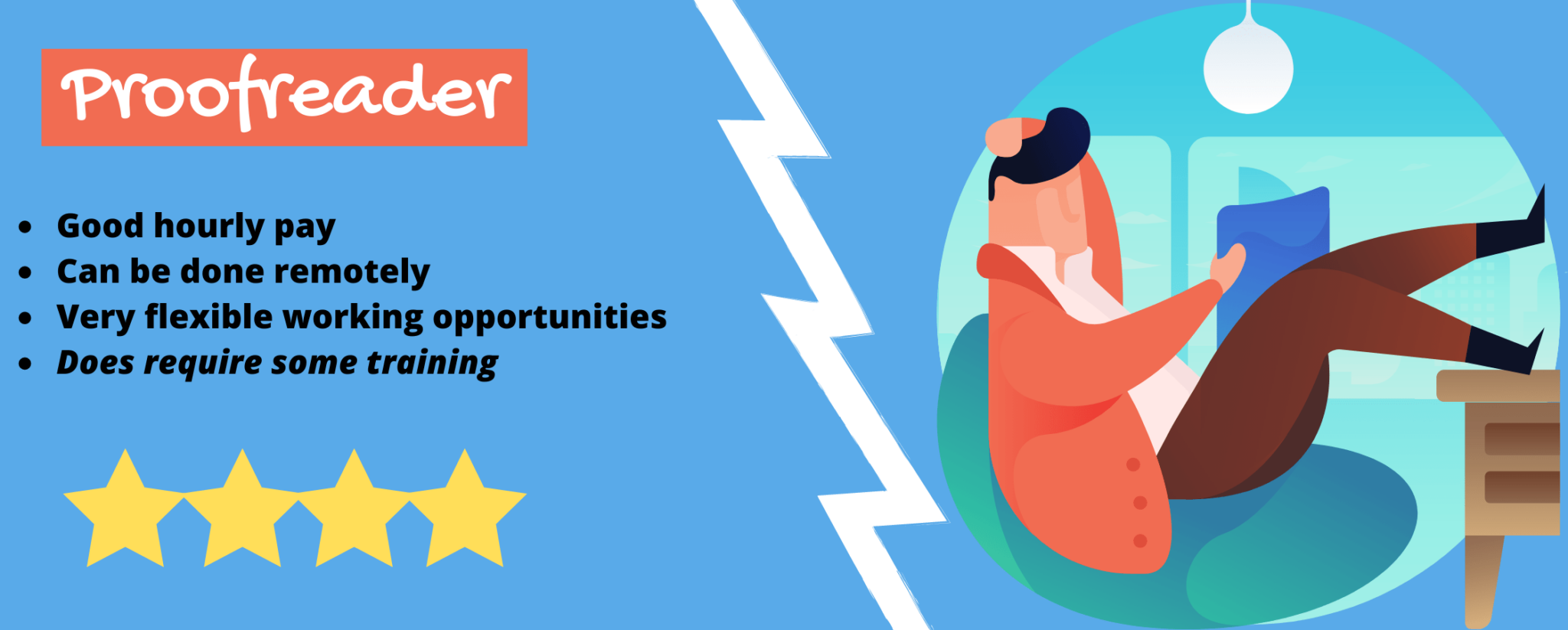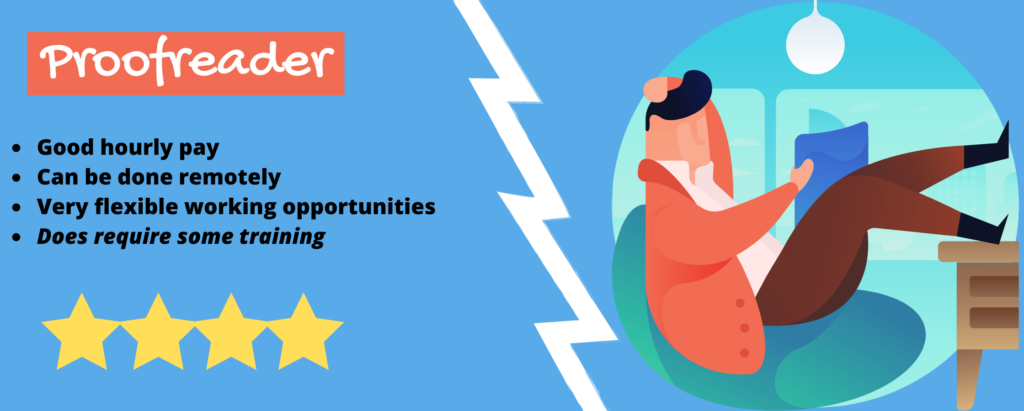 Have you got a good eye for grammatical errors and spelling mistakes?
Well, proofreading could be the perfect weekend job for you. It can be done from the comfort of your own home, has flexible hours, and pays very well! It does however require a good level of skill, for which you will need some form of training.
Learn How To Start Your Own

Proofreading

Business
Alicia made $1,100 the first month after she graduated from one of Caitlin's proofreading courses – even while she was still working full-time at her retail banking job!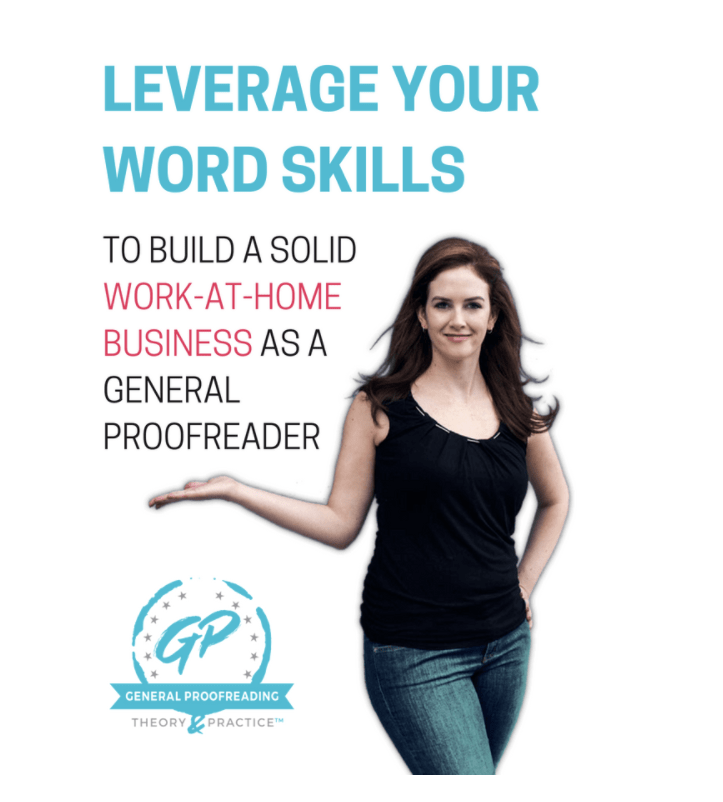 Unfortunately, it's not quite as easy as pointing out the odd misspelled word or missing comma. You will need to be trained in order to identify typographical errors, formatting errors, consistency, as well as grammatical and spelling errors.
But with all good things, a little work could be your ticket to a super high paying additional income!
The average pay for a proofreader is $22.07 per hour in the United States.
Take the FREE Proofread Anywhere introductory workshop, where you can see:
5 signs that proofreading could be the perfect weekend job for you!
How proofreading can give you opportunities to earn a great income!
A surprisingly easy way to attract potential proofreading clients.
Sign up now for the FREE Proofread Anywhere workshop
8. Bookkeeper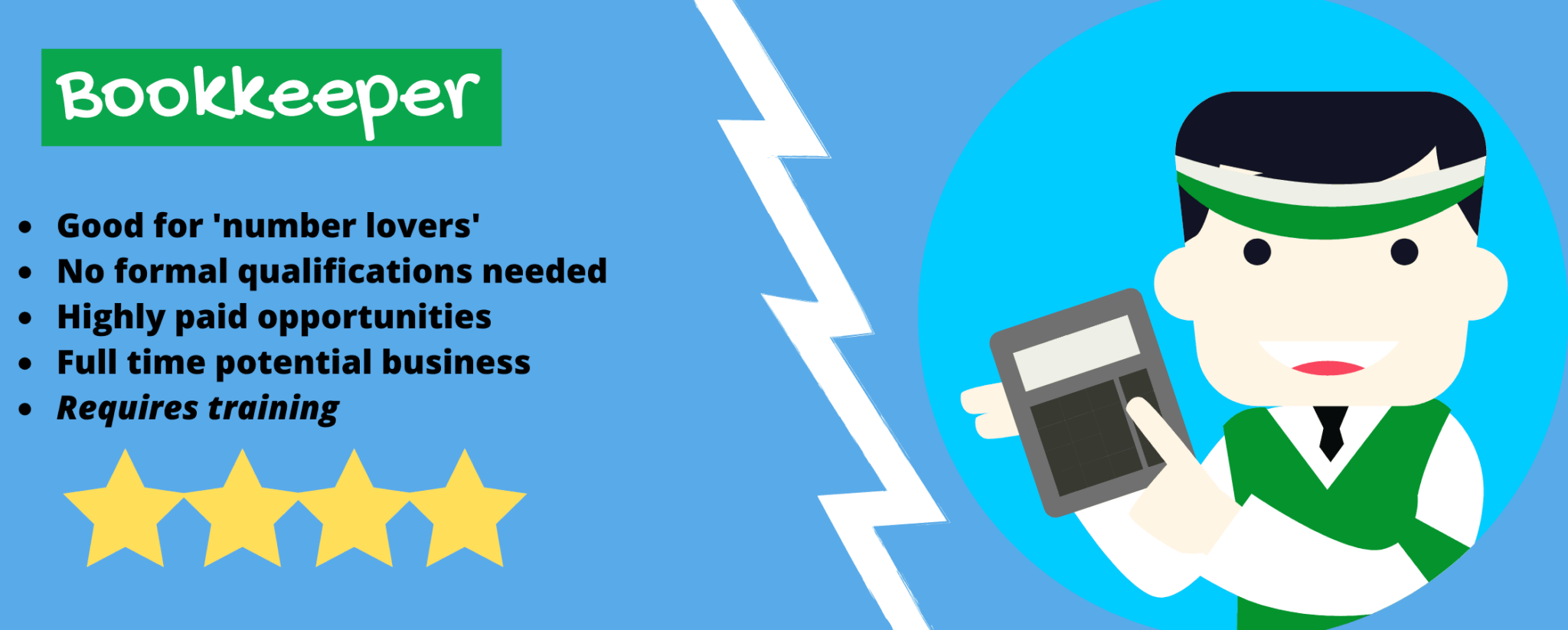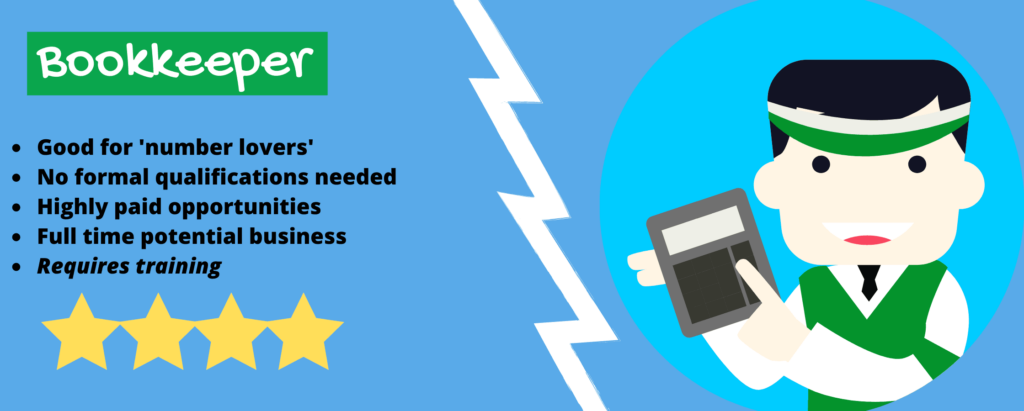 Here's a great job for you 'number bots' out there.
Bookkeeping doesn't require any formal education in the U.S and pays an average of $18.21 per hour. And this could easily rise to $50+ per hour once you gain experience.
So if you think looking through companies' accounts and tracking the figures is something you could do, consider bookkeeping as a way to make extra cash.
You could set this up with just a few clients and only work a few hours each week; remotely. What a fabulous way to earn some extra income. And the great thing is you will be working for yourself and owning your own business.
Finally, Be Your Own Boss
Take the FREE workshop from Bookkeepers.com and find out exactly how you can start your very own Digital Bookkeeping Business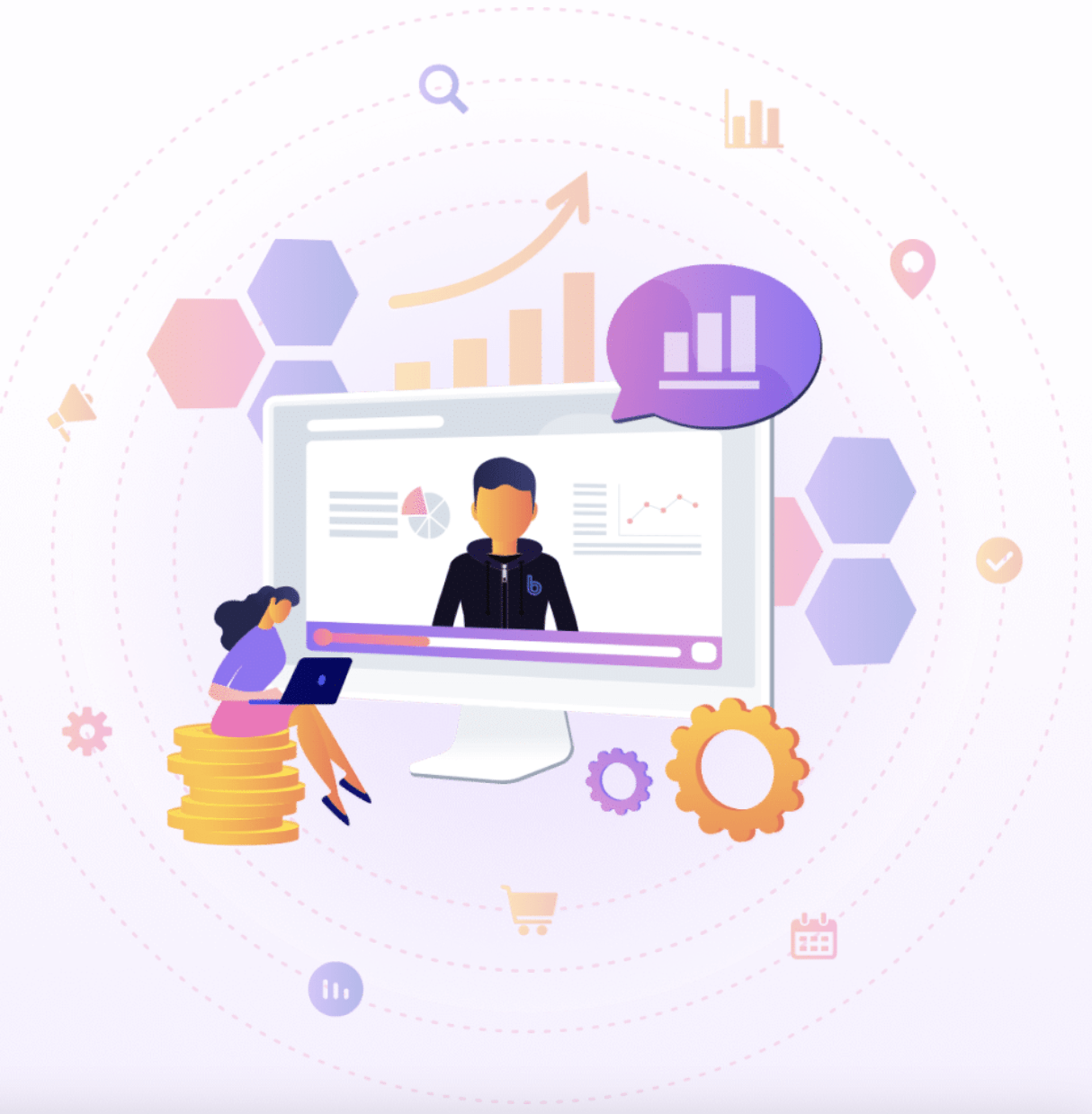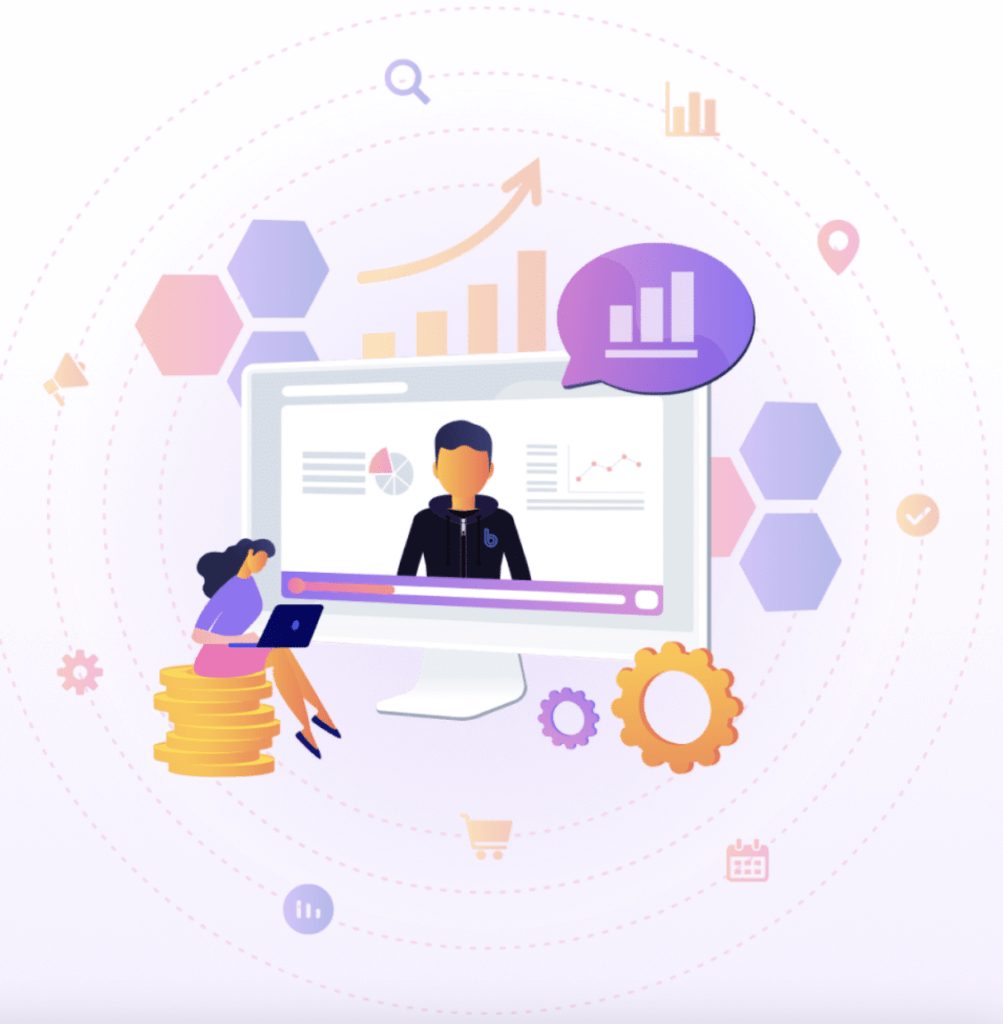 And because you don't need formal qualifications, you could be up and running sooner than you think.
9. Pinterest Virtual Assistant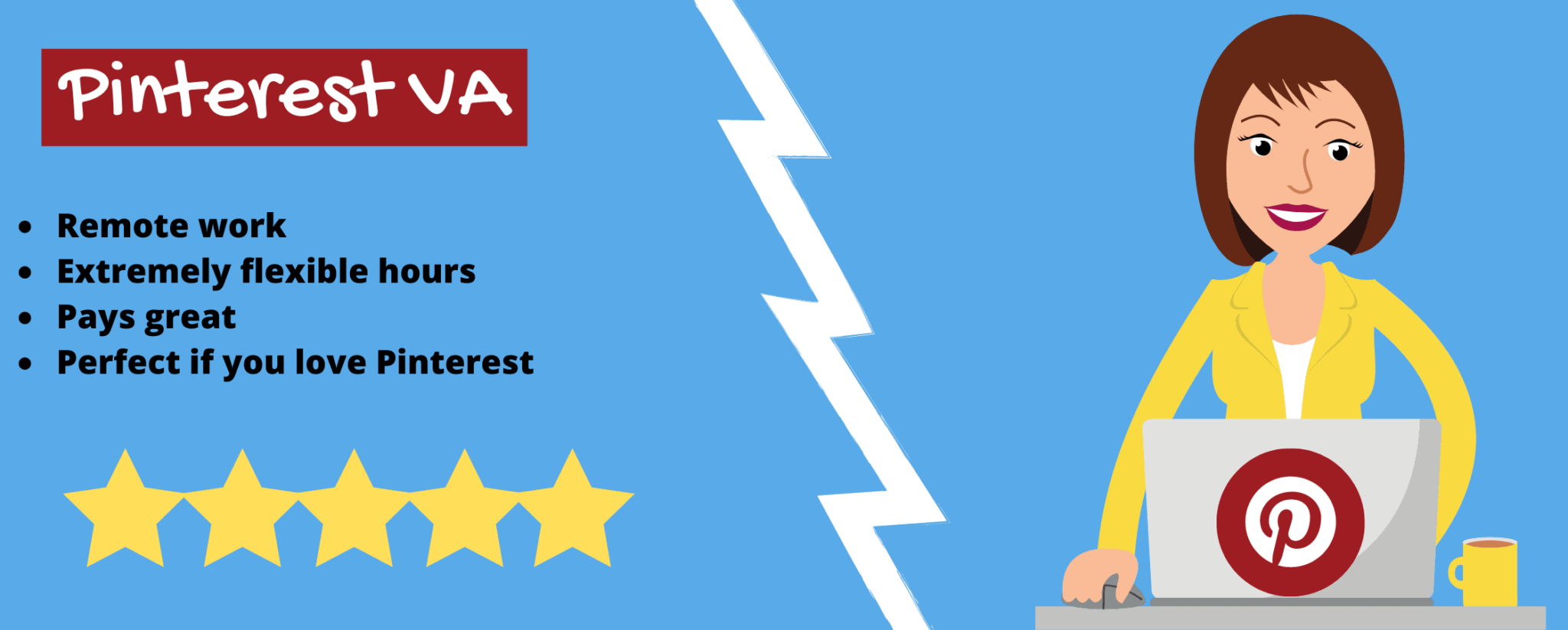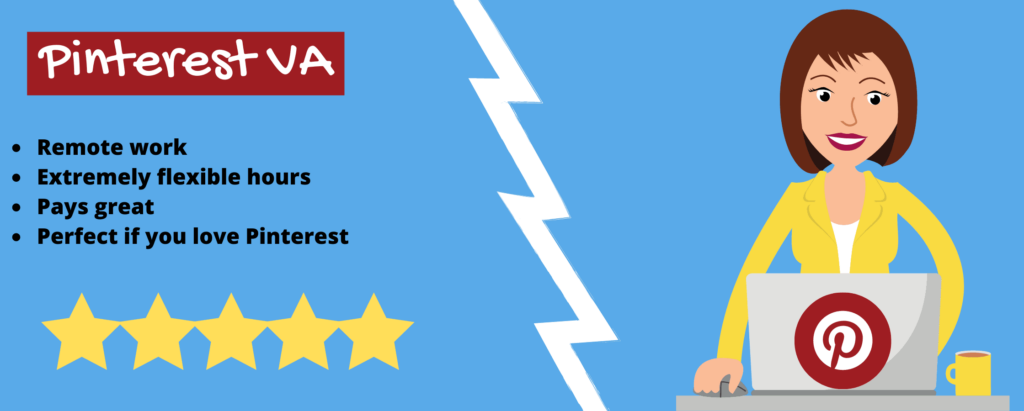 Are you the sort of person that spends the whole weekend on Pinterest?
Wouldn't it be great if you could get paid for your Pinterest addiction?
Well, you most definitely can!
Becoming a Pinterest Virtual Assitant is actually way easier than you might think. If you are already familiar with the platform then you'll know how many millions of different pins there are. And these pins are created and uploaded by bloggers, content marketers, businesses, brands, and everything in between.
Managing a Pinterest business profile takes a lot of time, work, and effort that many business owners would prefer to offload to someone else.
Enter the Pinterest Virtual Assitant.
Your job would be to create pin images, uploaded them to the platform, and ensure visibility and clicks from viewers. Also, you'll need to track analytics and performance and adjust strategy accordingly to best serve your clients.
This is an awesome weekend job and I have actually been approached to do this for some of my blogger friends – but I don't have the time!
Landing clients is the hardest part of this job, but the PinterestVA course can show you exactly how to do it.
Become A

Pinterest VA

Today
Learn a proven step-by-step process for building a lifestyle business that lets you work when and where you want, doing something you love.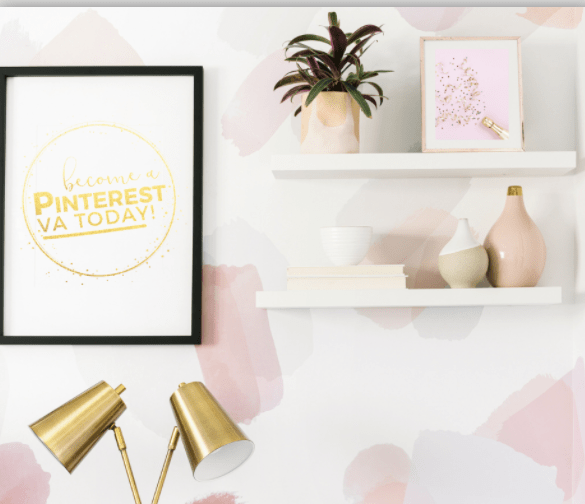 And this job can pay anything from $100-$1000+ per month, depending on the client's requirements
I personally recommend Canva Pro for pin image creation and Tailwind for scheduling. They have helped me grow my account to over 500k monthly viewers!
Get paid to play on Pinterest – The PinterestVA course teaches you exactly what you need to know to launch your Pinterest Virtual Assistant business from scratch.
Recommended:
10. Airbnb Host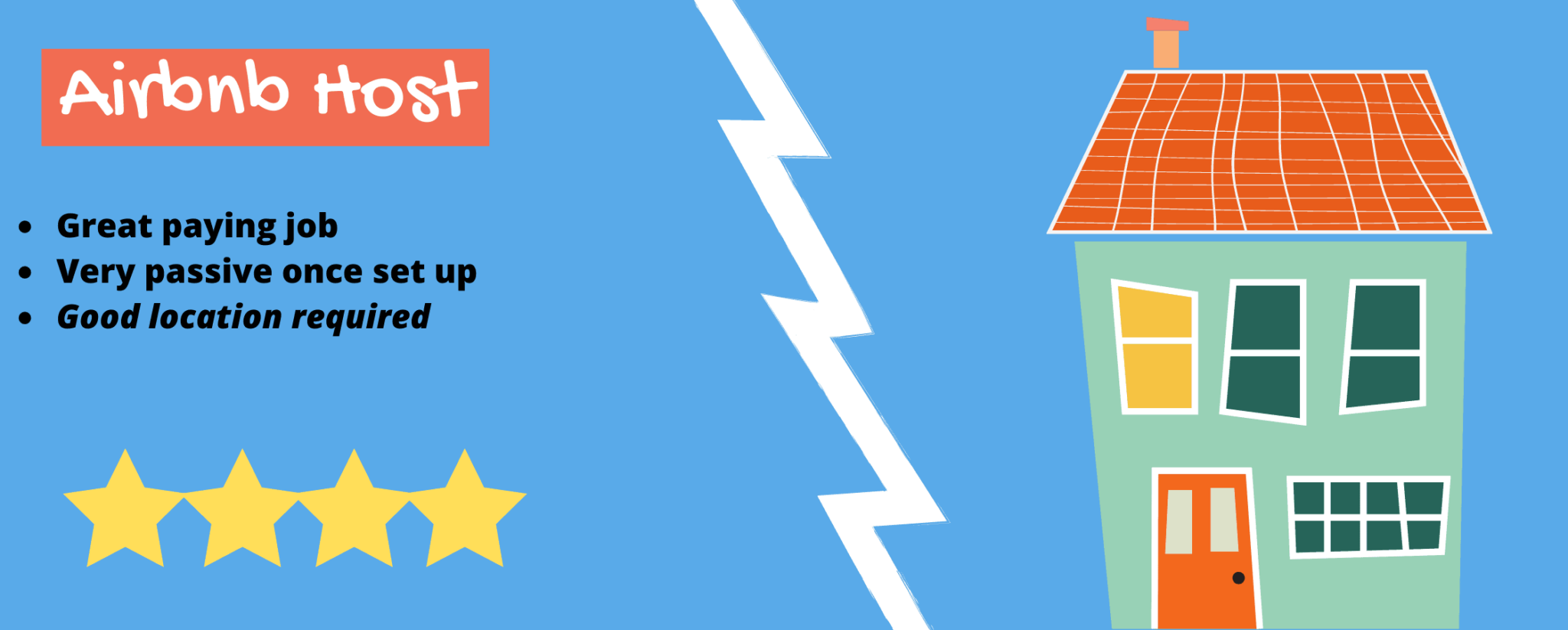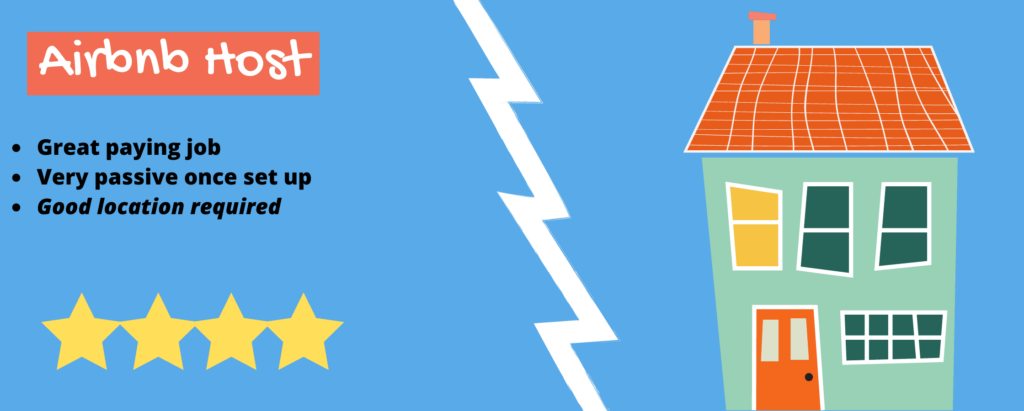 Weekend jobs can be hard, especially if you have a full-time job or prior commitments in the week. It means the weekend is often reserved for rest, relaxation, and fun! Well, with Airbnb you could keep your weekends and still make money!
Airbnb is a great opportunity to make some passive income with an asset you already own (or rent – check with the landlord); namely your home. You can choose to either rent out the entire place or just a room. It's entirely up to you.
You could make this a weekend job by only making your property available for 2 nights a week. Maybe you could go away for a couple of days if you decide to rent out the entire place. But you don't need to if you choose a room only basis.
There is a little work involved because you need to set up an enticing profile listing with loads of good pictures and detailed descriptions. But once the five-star reviews start coming in, so too will the bookings. And that's money in the bank!
Sign up to Airbnb now and get your first paying customer.
11. Uber Or Lyft Driver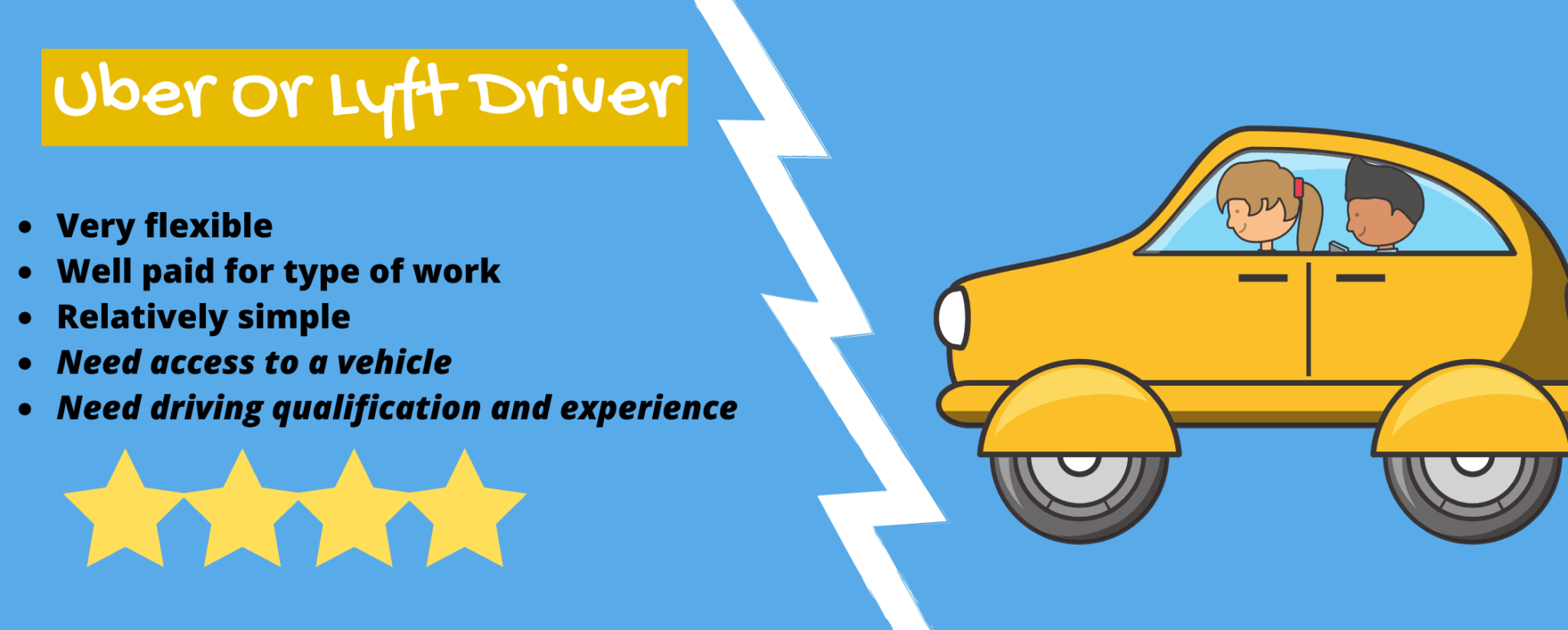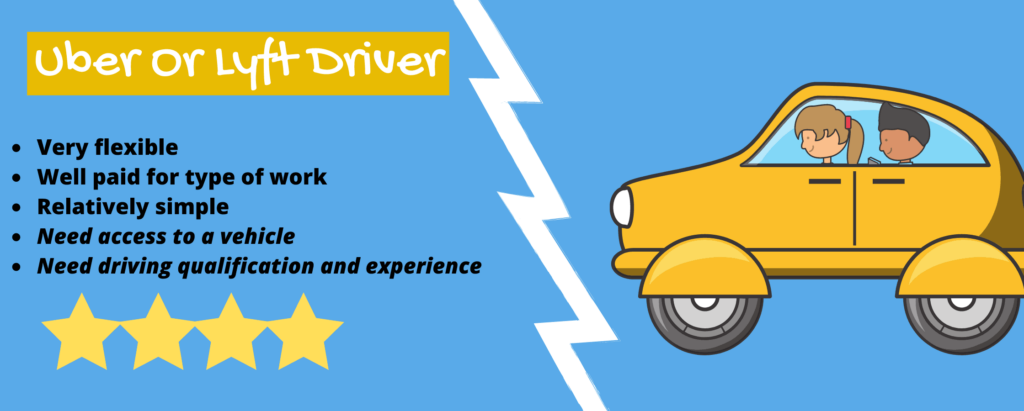 Some people hate driving, some people love it.
If you are the later then a perfect job for the weekends is driving people around in your car.
You will need a vehicle that meets good standards and obviously a driving license with experience (sorry recently passed drivers, you'll need to wait at least a year for this one).
If you've met these requirements then you could become an Uber or Lyft driver – making at least $10 per hour – more at peak times such as, you guessed it, the weekends!
Choose when and how much you work and start this new job now.
Don't own your own car but still love the idea of ridesharing for a weekend job? HyreCar lets you rent a vehicle to drive with Uber or Lyft:
No contracts
Proprietary rideshare insurance so you're always covered!
No expensive rental agency fees
No car ownership costs
Environmentally friendly
12. Career / Nanny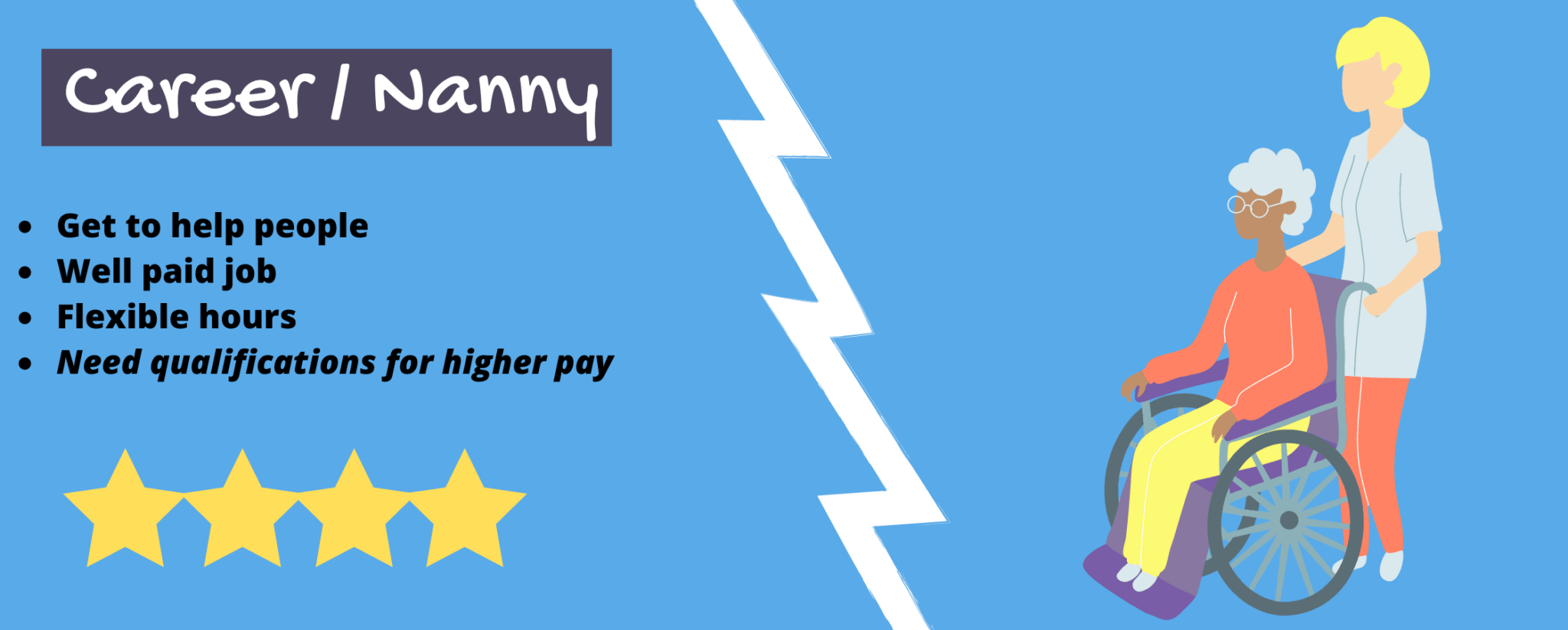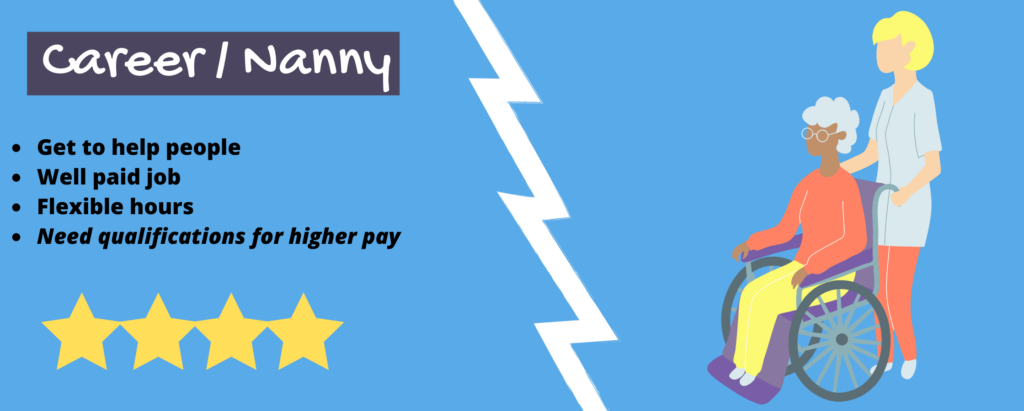 Some weekend jobs can actually allow you to help people as well.
Becoming a career or nanny is a great way to make money over the weekend. The positions are in high demand and pay reasonably well (varying depending on experience).
If you don't have formal qualifications you can apply for non-medical caregiving positions, which includes:
Companionship care
Personal one-on-one care
Home care aid
You will need to undergo a background check, but even non-medical caregiving positions can pay from $15 per hour. My good friend does some care work on the weekends and adores her clients. It really does not feel like work for her at all!
Care.com is a great place to sign up and find available positions.
13. Pet Sitter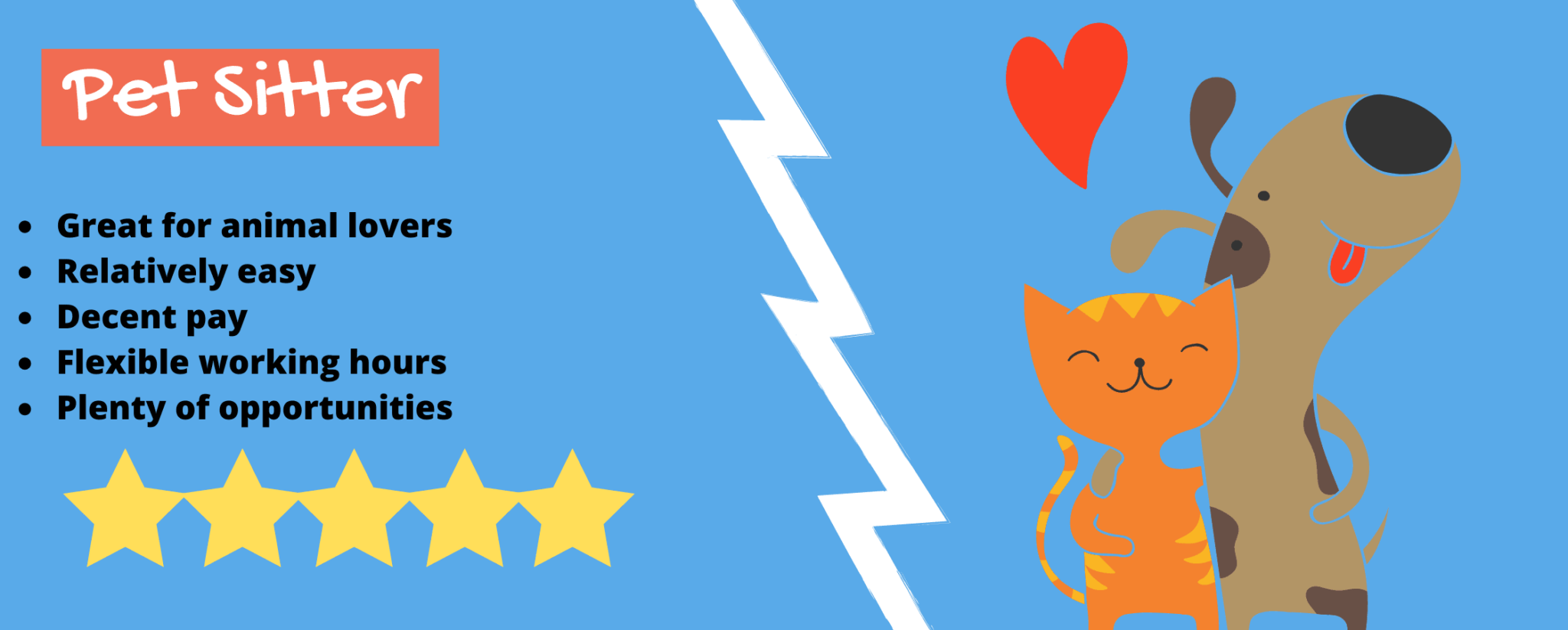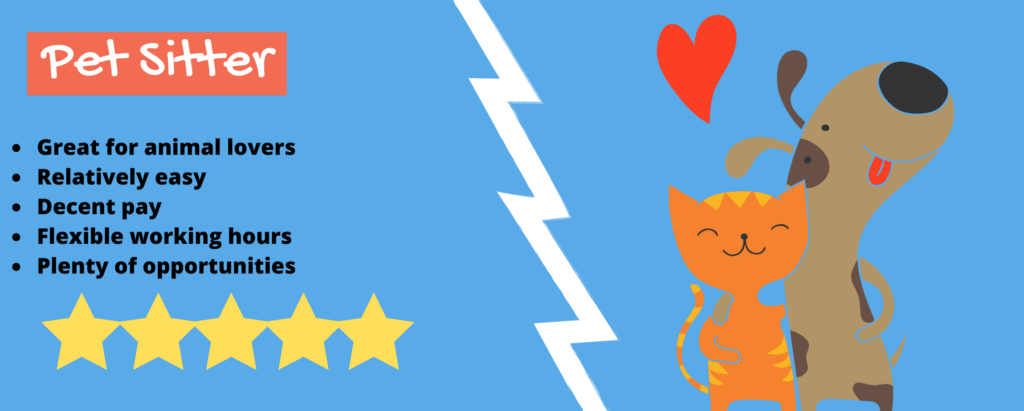 A perfect weekend job is one that pays well and that you enjoy. And what's better than looking after pets for people?
If you're an animal lover then pet sitting could be your next high paying weekend job. It's a good idea to develop relationships with clients which will lead to repeat custom.
My brother hires a pet sitter about once a month and always uses the same person. Because he trusts her.
You will need to look after the client's pet in a responsible and professional way – and respect the rules and expectations of the owner's house. You can reasonably expect to charge at least $10 per hour – which isn't bad considering you might just get to play with kittens and puppies for a few hours.
If you land a couple of weekend clients and offer your services for a few hours a day, you could be looking at $100 every weekend!
You can try these apps to offer your pet caring services to potential customers:
14. House Sitter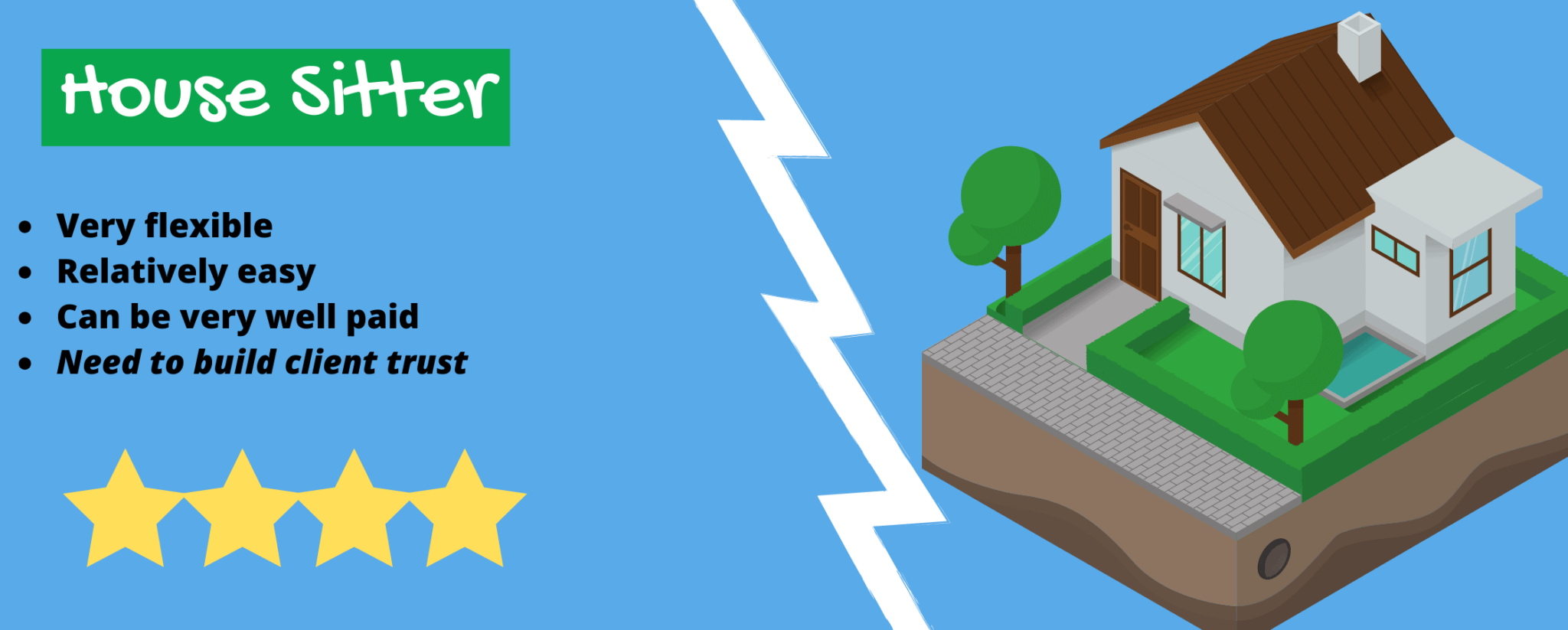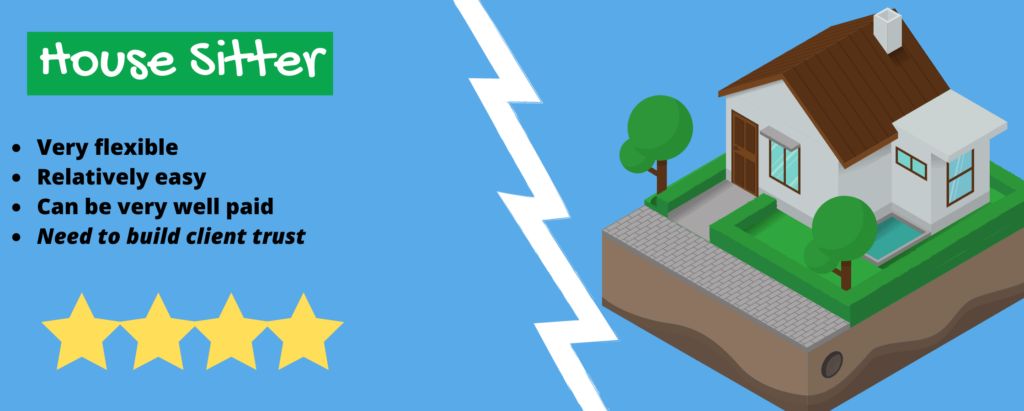 Maybe pets aren't really your cup of tea.
And if that's the case, then house sitting is basically pet sitting, without the pets. Instead of looking after clients' beloved animals, you will be looking after their homes!
You will have a number of responsibilities, which may include:
Tiding the house
Collecting mail
Looking after the swimming pool
Taking phone calls
Looking after the garden
Developing trust is key to the business of house sitting, and is how you will be able to land repeated opportunities with multiple clients.
Pay will vary widely depending on the homeowner's circumstances, type of residence, location, and length of sitting. But it would not be unreasonable to charge between $50-$100 per day.
And the great thing about house sitting is you can accomplish other tasks as well – as long as the client's needs are being prioritized. This is a great opportunity for students looking to study whilst making some money as well.
Here are some fantastic places to find house sitting opportunities:
Top Tip – Find your own clients using Facebook. You could run your own Facebook ad and offer your services to your local community. There is a chance that someone who already knows you (or of you) would be interested. And trust is a big factor when trying to land clients for this weekend job.
If you need education on setting up Facebook ads, targeted for your local community, and converts customers – try The Complete Facebook Ads For Local Business Course.
15. Wedding Photographer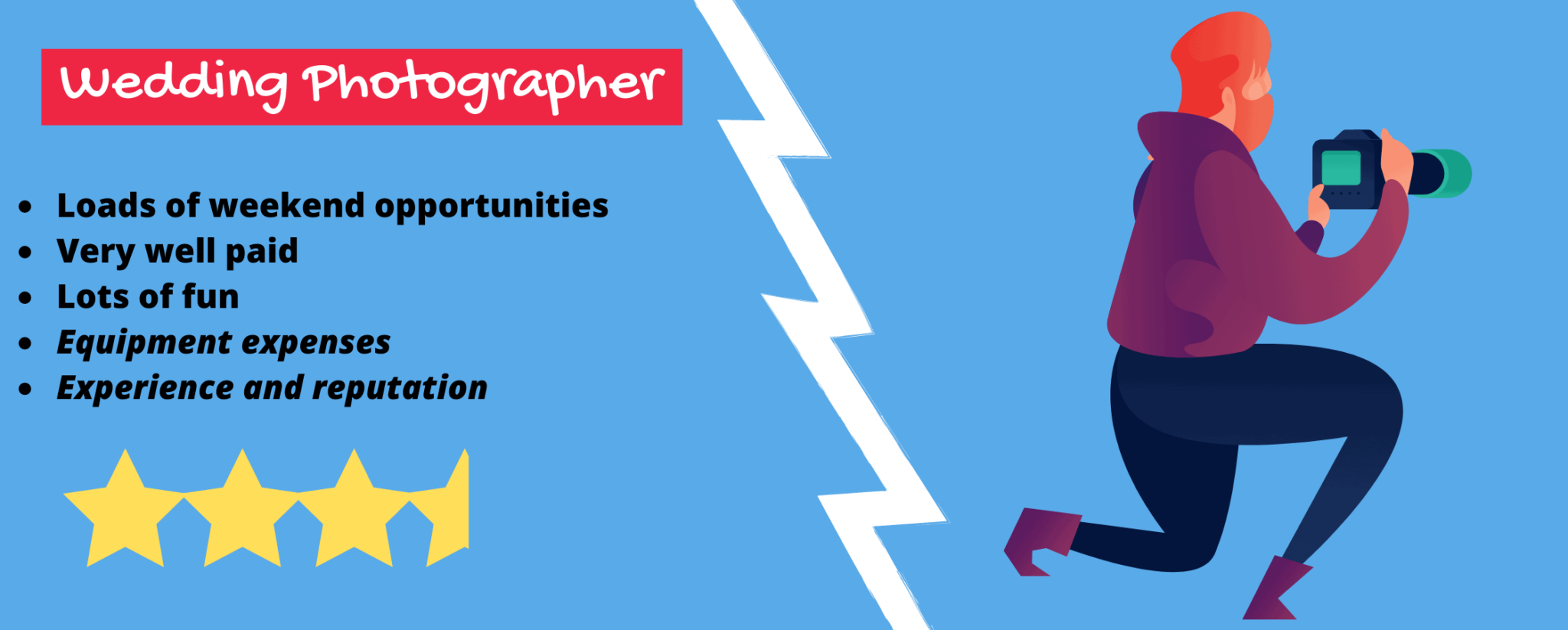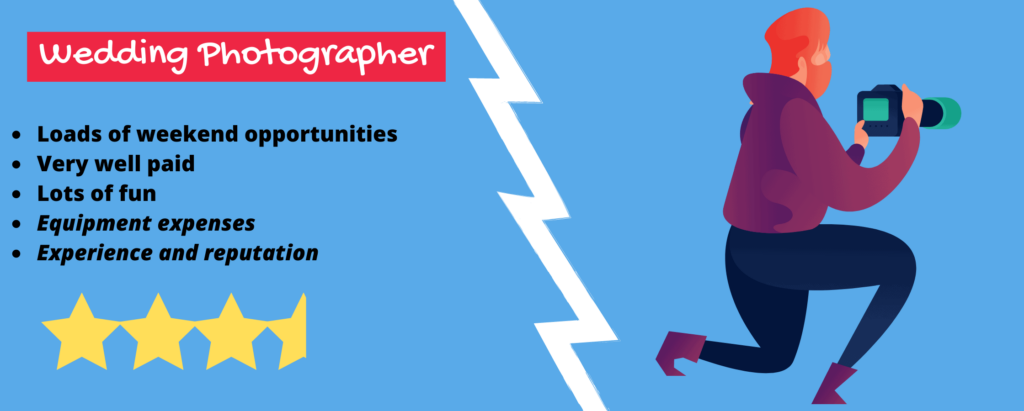 Love is in the air.
According to The Knot, 7 in 10 weddings take place on a Saturday. And there's one thing any wedding worth its salt needs, and that's a good photographer. So this really could be the absolute perfect weekend job for any budding camera owner.
But using your iPhone probably won't cut the mustard for the happy couples' special day. You're going to need a pretty decent piece of kit that is almost certainly a professional DSLR. For beginners, TechRadar says you can't go wrong with the 24.2 MP – Nikon D3500.
Wedding photography can be an exceptionally lucrative business and is an industry dominated by full-time professionals.
But that's not to say you can't land some clients and make a weekend job out of it. Don't forget, it's largely based on referral recommendation – that's how my best friend found their wedding photographer, and the snaps looked amazing.
And I absolutely love the tip given by Bola Sokunbi from Clever Girl Finance, who successfully ran a wedding photography side hustle and one year made over $70,000. She suggests offering your services for free, at least for the first couple of weddings you get.
It gives you the opportunity to hone your skills, develop a portfolio, and generate interest from potential future paying customers.
Recommended: 14 Best Apps To Sell Photos And Make Money
16. Task Worker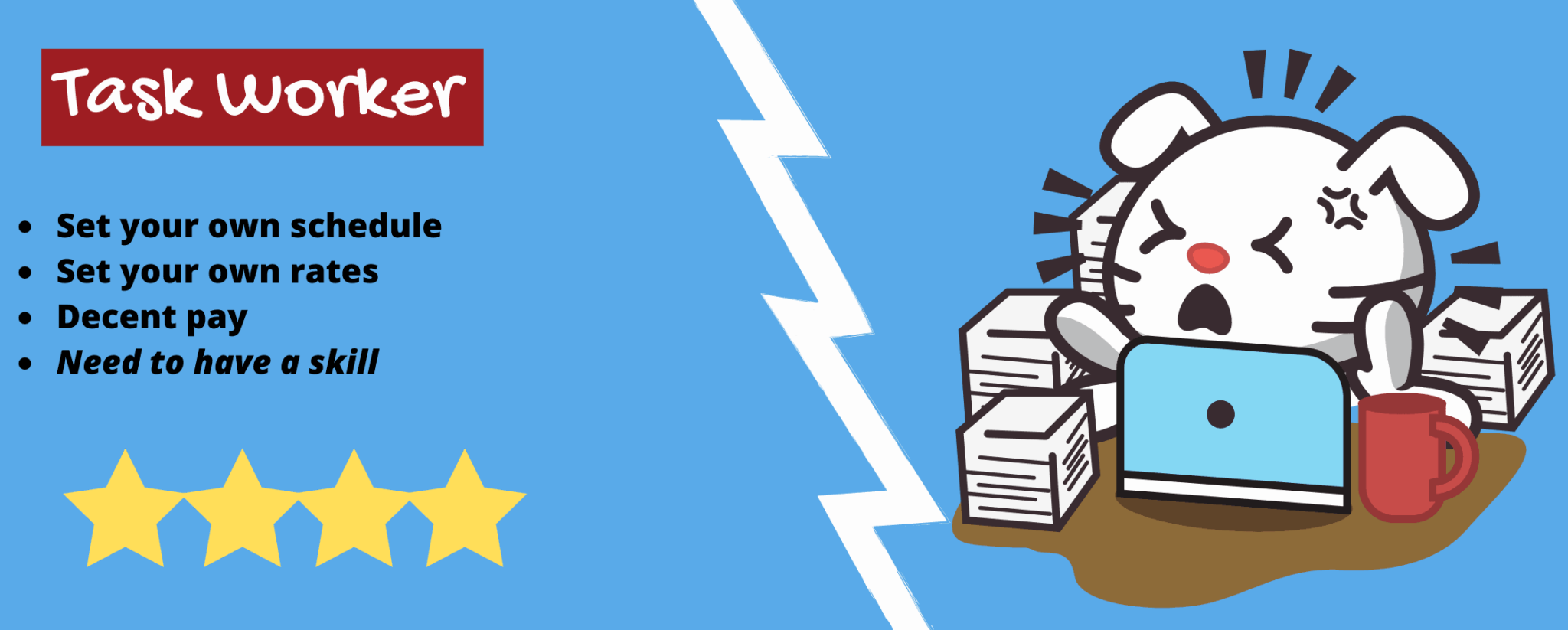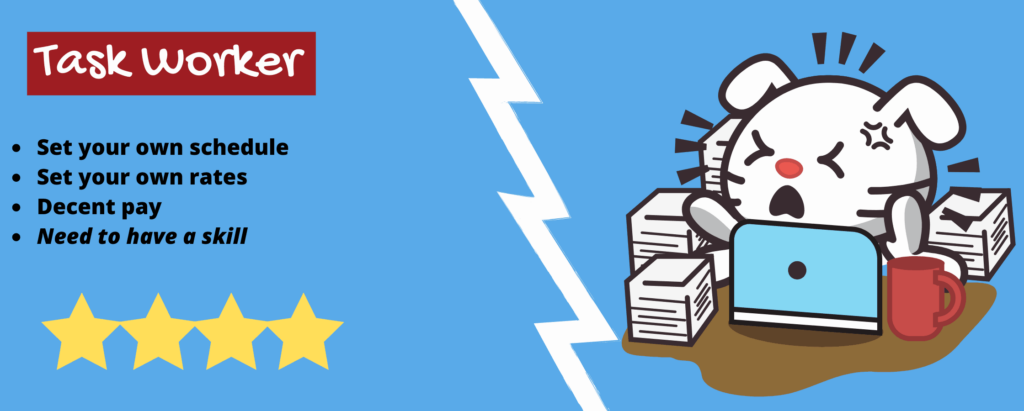 Whenever I need something practical doing, I ask my dad. It could be rewiring a plug, hanging a painting (so it's level), or painting the garage door. It's partly because I hate doing these sorts of jobs and I know my dad is happy to help. But mainly, it's because if I'm honest, I know I'm just not very good.
But you know what, it's nothing to be ashamed of. And there are countless others up and down the country who are exactly the same. And because not everyone has access to an awesome dad, an app called TaskRabbit was born.
The app connects you with people looking for help with day-to-day tasks, including:
Yardwork
TV Mounting
Handywork
Painting
Furniture Assembly
You can set your own rates and get to keep 100% of what you charge, plus tips. Also, you can set your own weekly availability and opt-in to receive same-day jobs. Perfect for a weekend job, where the average tasker earns an average of $110 a month.
Sign up to join TaskRabbit now and start making money doing things your good at.
You decide when you want to work and you set your own rates
You keep 100% of what you make and it's free
Join TaskRabbit now, and start doing weekend tasks to increase your bank balance.
17. Become A YouTube Star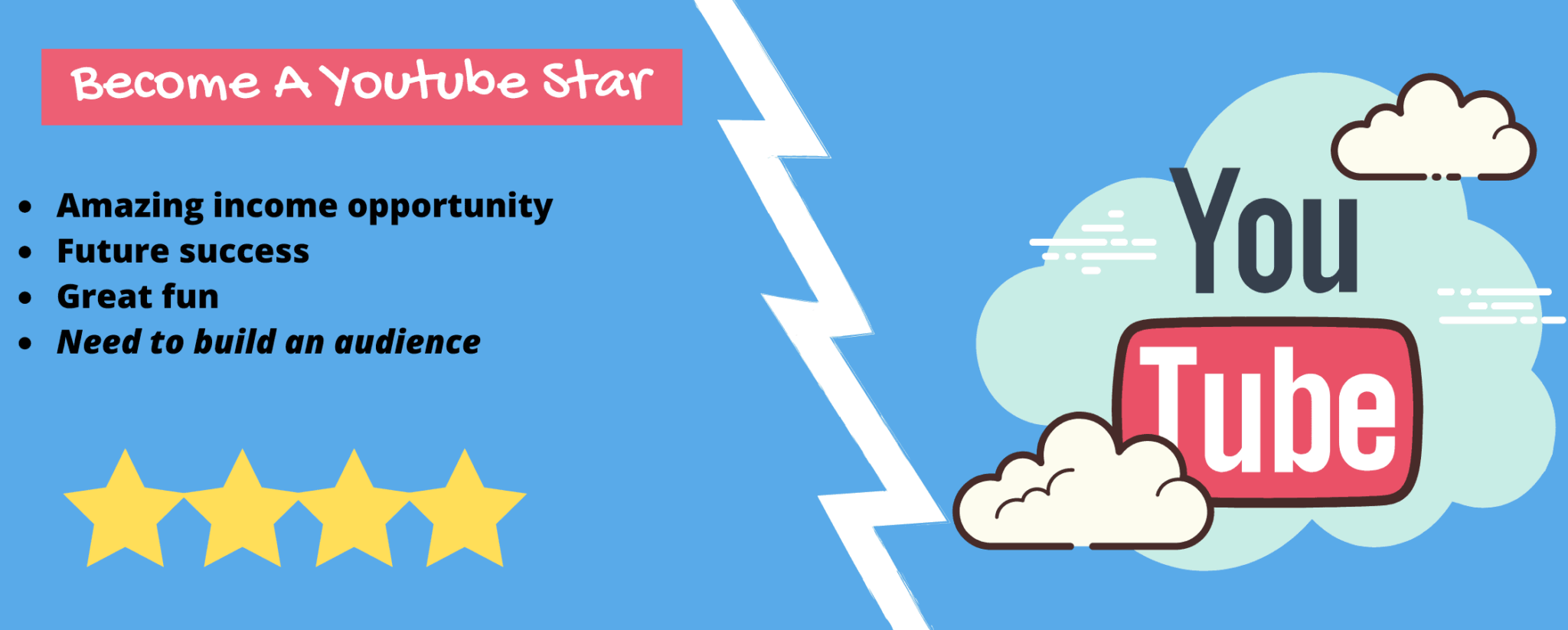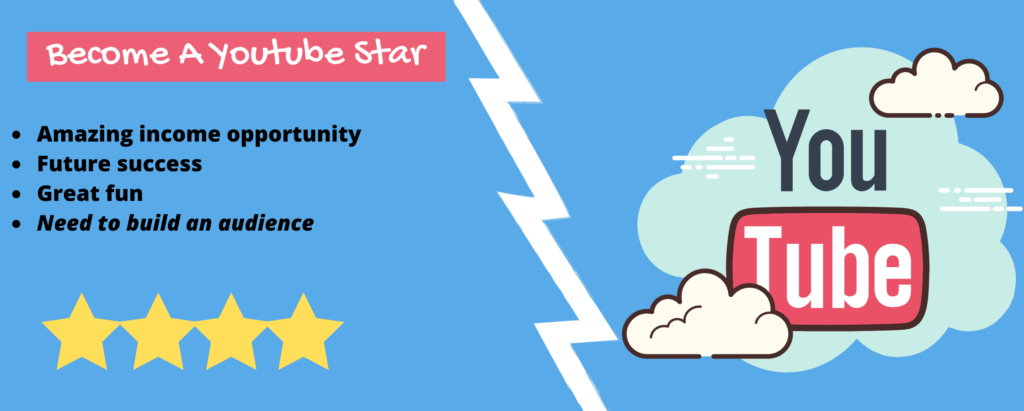 Gone are the days where you had to be in Hollywood movies to be a star. Now the world is churning out YouTube megastars with huge fan bases – and they are cashing in.
If you have a talent, skill, gift, or just an interesting perspective on life, you could be monetizing your talent by making YouTube videos and sharing with the world.
It's actually not difficult to get up and running on YouTube, in fact, I did my first video recently. The view count isn't going to make me rich, but it just goes to show anyone can get started. You just need some basic editing skills, a bit of confidence, and something interesting to record.
And do you know where the best place to learn about making money with YouTube is? You guessed it, YouTube. Here are a few good channels to take a look at:
The key is to be continually producing content and engaging with your audience. Once you have 1,000 subscribers and 4,000 valid public watch hours, you can apply to the YouTube Partner Program and monetize your channel.
And expect to earn in the region of $3-$4 per 1000 views. It might not sound like a lot, but just think about how much one viral video with a million views would get you ($4000 – and that's just one video).
You could be making YouTube video-masterpieces every single weekend.
18. Online Surveys And Paid Focus Groups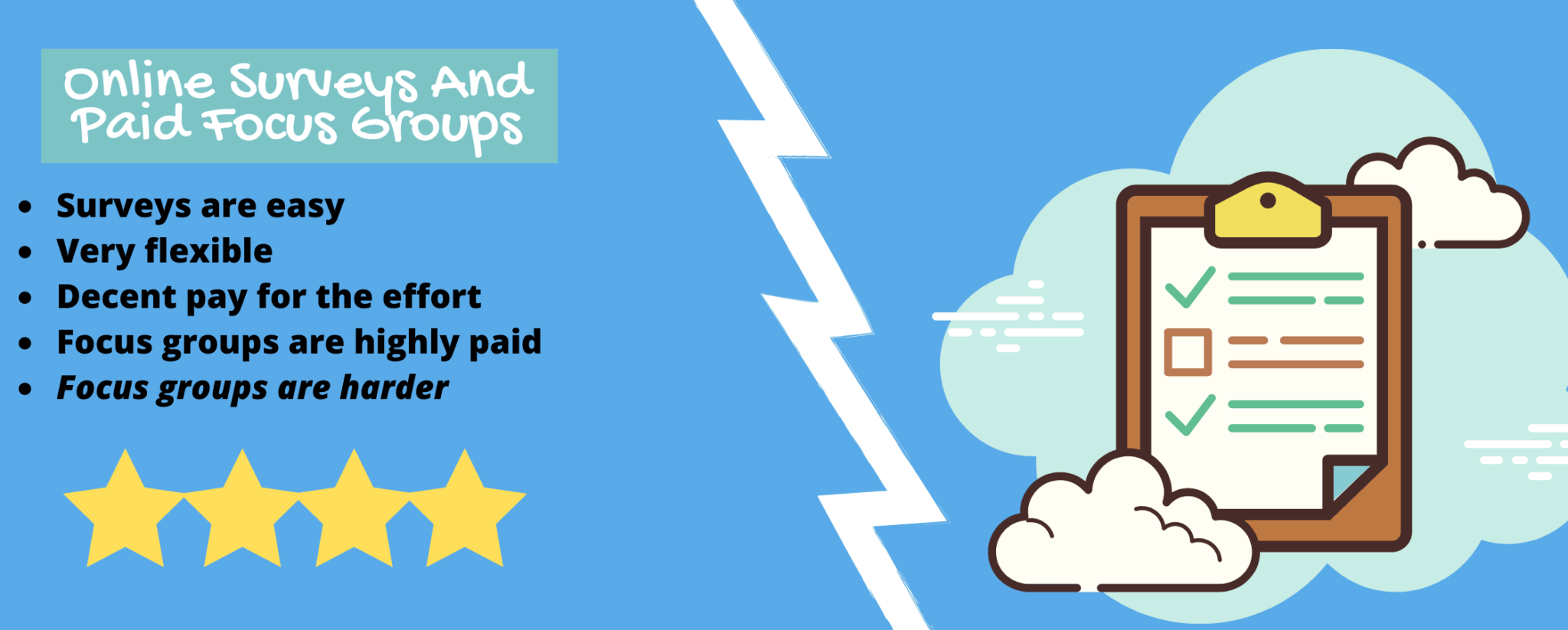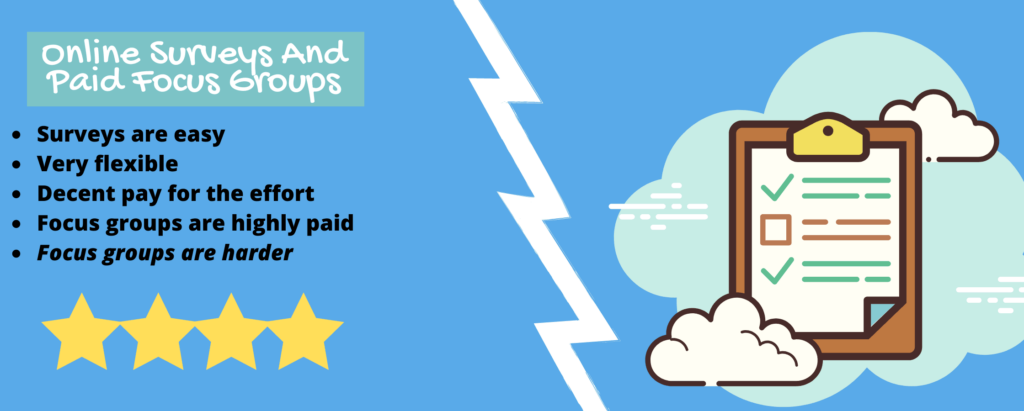 This is an easy weekend job that pays relative to the work you put in. And let's be honest, sitting on your backside and filling out surveys online is about as easy as it gets. But throw a few focus groups into the mix as well, and you've got yourself a pretty good side gig.
Online surveys are easy to do and most survey sites will pay about $1 per survey – which usually takes a few minutes to complete. So if your weekends usually consist of marathon Netflix watching sessions, it's something you can do from the comfort of your couch.
Here are my top picks for paid online surveys:
Focus groups are a little bit more involved, but they compensate accordingly – up to $100 per hour. You can find a mix of in-person and online focus groups, whereby you will need to offer your opinions and views for an extended period of time.
This is a great way to make extra money and although you will need to put some thought and effort into your responses, it's worth it for the payout. Here are some fantastic opportunities for focus groups or your next high paying weekend job:
Combine the easier online surveys with the slightly more involved focus groups, and you've got a winning combination.
19. Sell Crafts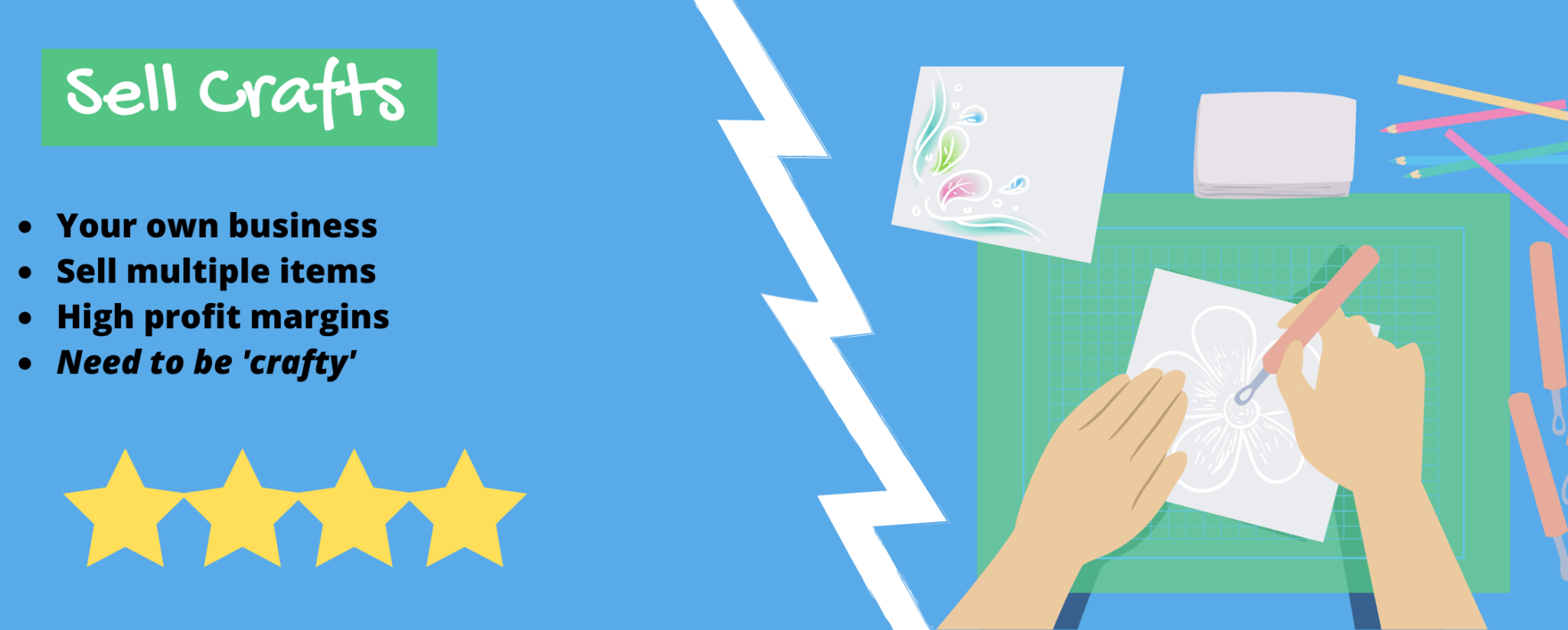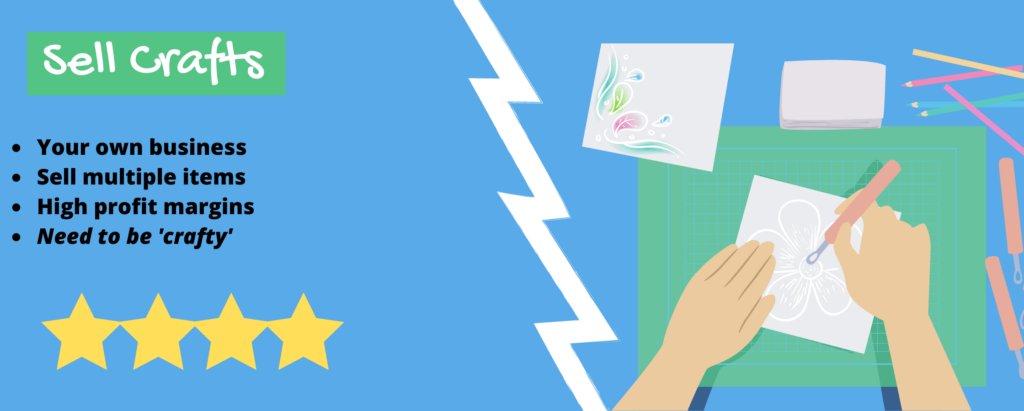 If you're a 'crafty' person then setting up an Etsy store and selling your handmade items could be the ideal weekend job.
Etsy is the online marketplace for vintage and handmade goods, ranging from jewelry to bath bombs and everything in between. And Etsy is growing, fast, with the first six months of 2020 seeing sales grow by 71% year-on-year.
And get this, the top Etsy sellers make $10,000 per year or more. So if you have a knack for knocking together one of a kind items that are unique and beautiful, you could do really well with an Etsy store.
Listing items isn't free, but you can list multiple items for a single fee. It costs $0.20 per list, which can include multiple varieties of the same product. For example, you could have 100 bath bombs listed in a variety of colors for one fee of $0.20 – and this lasts for 4 months.
If you sell 50 of your bath bombs, you can edit the listing and add another 50 at no extra cost – until the listing expires after the 4 months and resets, incurring a further $0.20 fee.
This is quite low in my opinion, if you are dealing with just a few products in your range – and leaves plenty of room to be extremely profitable. There is also a 5% transaction fee of the sale price whenever an item is sold – but just set your prices accordingly to account for this.
Create a Digital Etsy Empire!
Learn exactly how to design digital products (without Photoshop), list products on Etsy, get traffic to your Etsy shop, and grow a real revenue-generating business…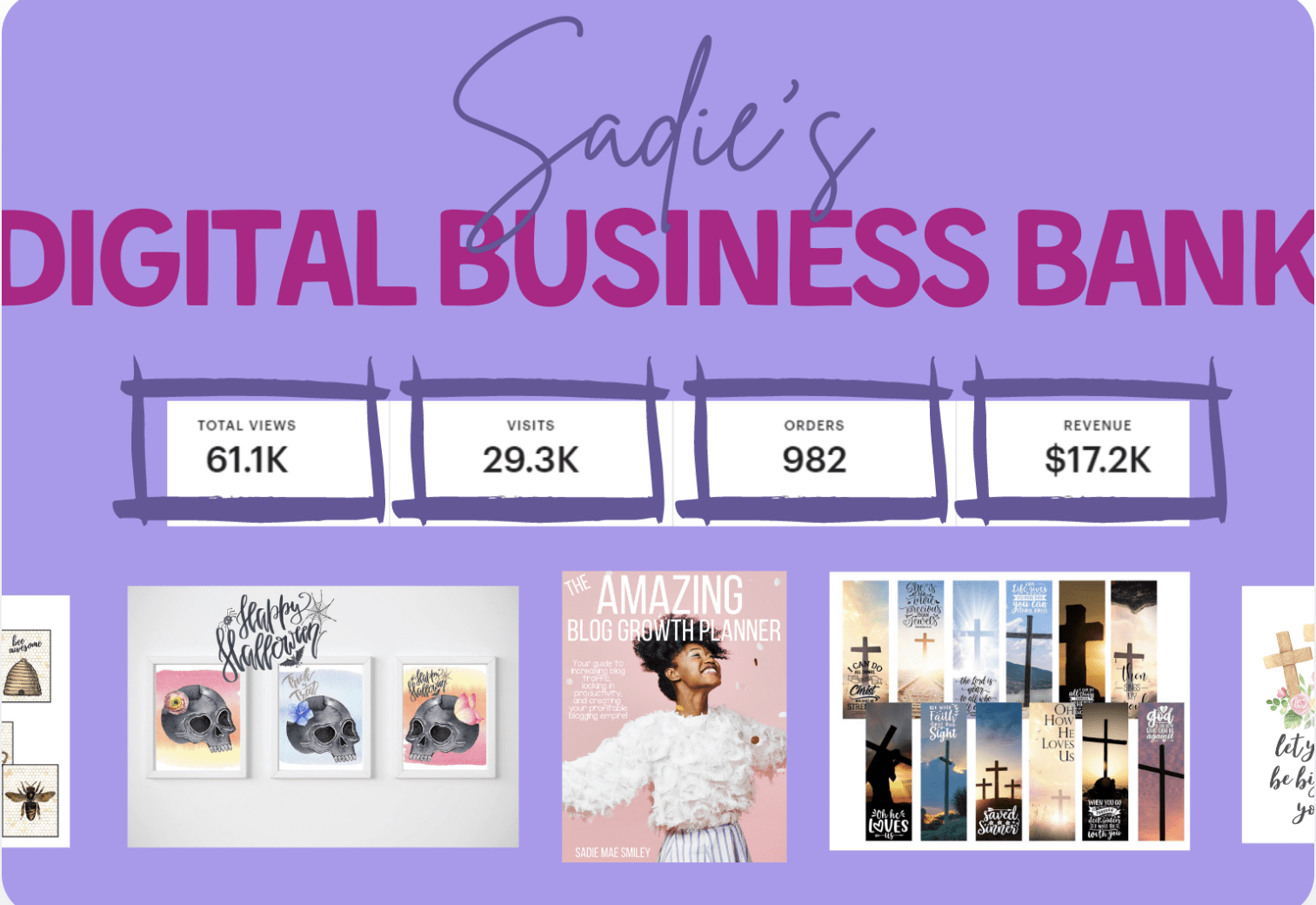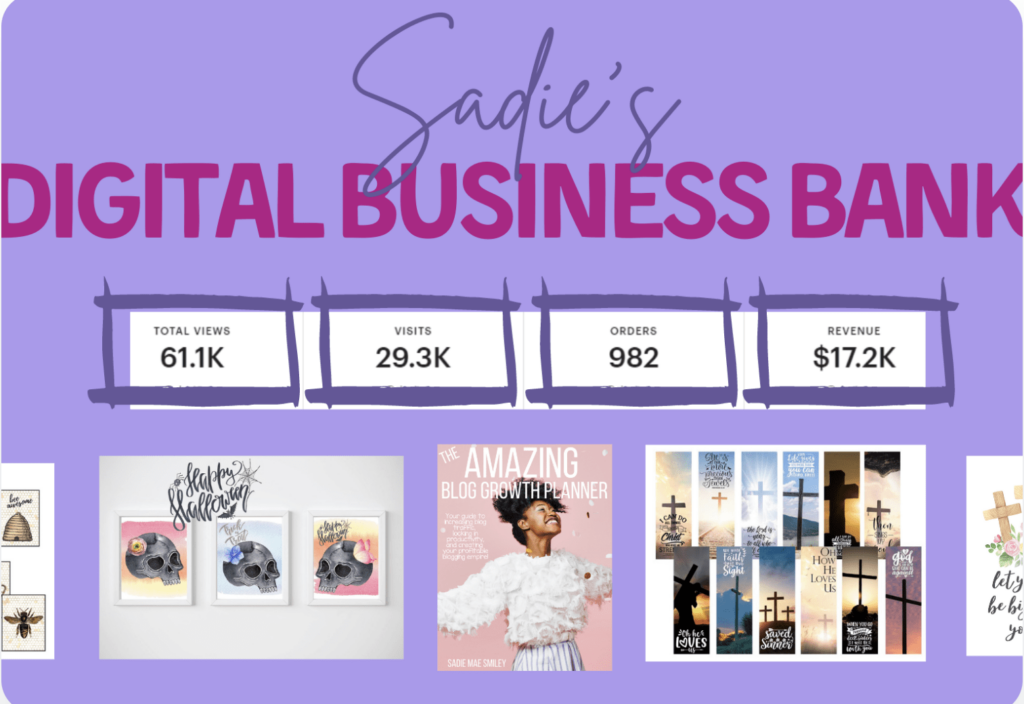 Making crafts is often a weekend hobby, so why not get on Etsy, set up a store, and turn that hobby into a high-paying job!
Recommended:
20. Flea Market Flipping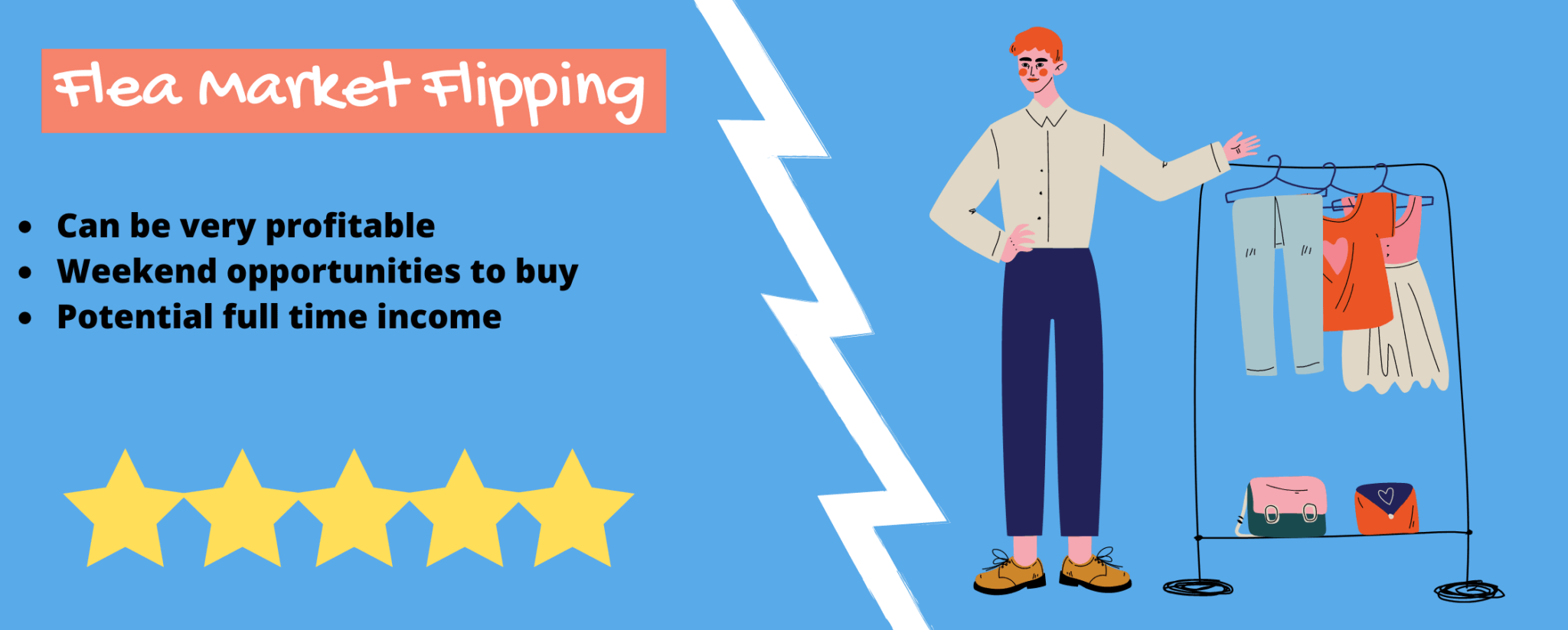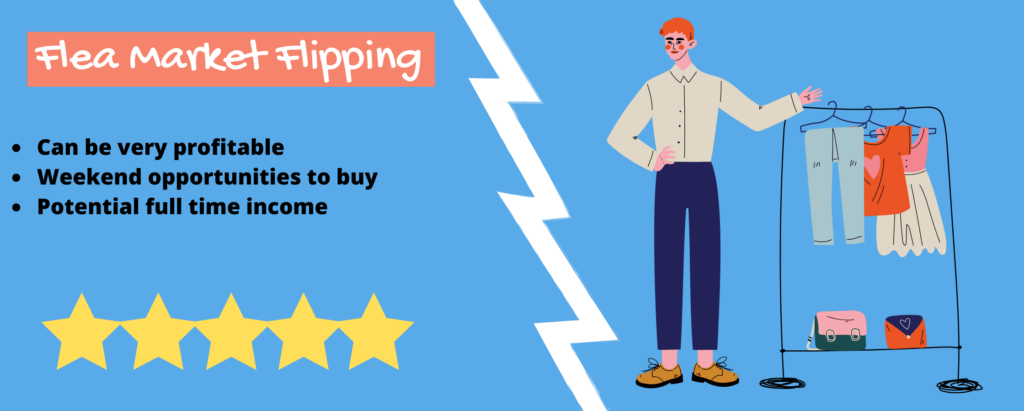 Buy low and sell high. It's pretty simple. The problem is knowing what's low and what's high

Jim Rogers
Flea market flipping utilizes the oldest trick in the book to make money, or should I say, a profit. You simply find items that you believe to be undervalued, buy them, add value, and sell for a profit. It seems simple, and that's because it is.
So how do you know if something is priced low?
The key to becoming a successful flea market flipper is research and experience. You will need to have a good grasp of the current market for the items you intend to flip. As well as be able to add some value once you have made the purchase.
For example, if you are good with woodwork, then finding an old beaten-up piece of solid oak furniture should set the alarm bells ringing. All that's left for you to do is negotiate with the seller for the best price possible, spruce it up and sell it on for the big bucks!
And if you hadn't guessed by now, the flea market is a treasure trove for these sorts of flippable items. Also, weekends are the most popular times for flea markets to take place.
It could be the best part-time weekend job, if you've got what it takes to flip!
Rob and Melissa are professional Flea Market Flippers – and made over $133,000 in a single year. And they can teach you exactly how you can do it as well.
Check out their FREE 75-minute workshop
Recommended: Flea Market Flipping | The Ultimate Guide to $2000 a Week
21. Virtual Friend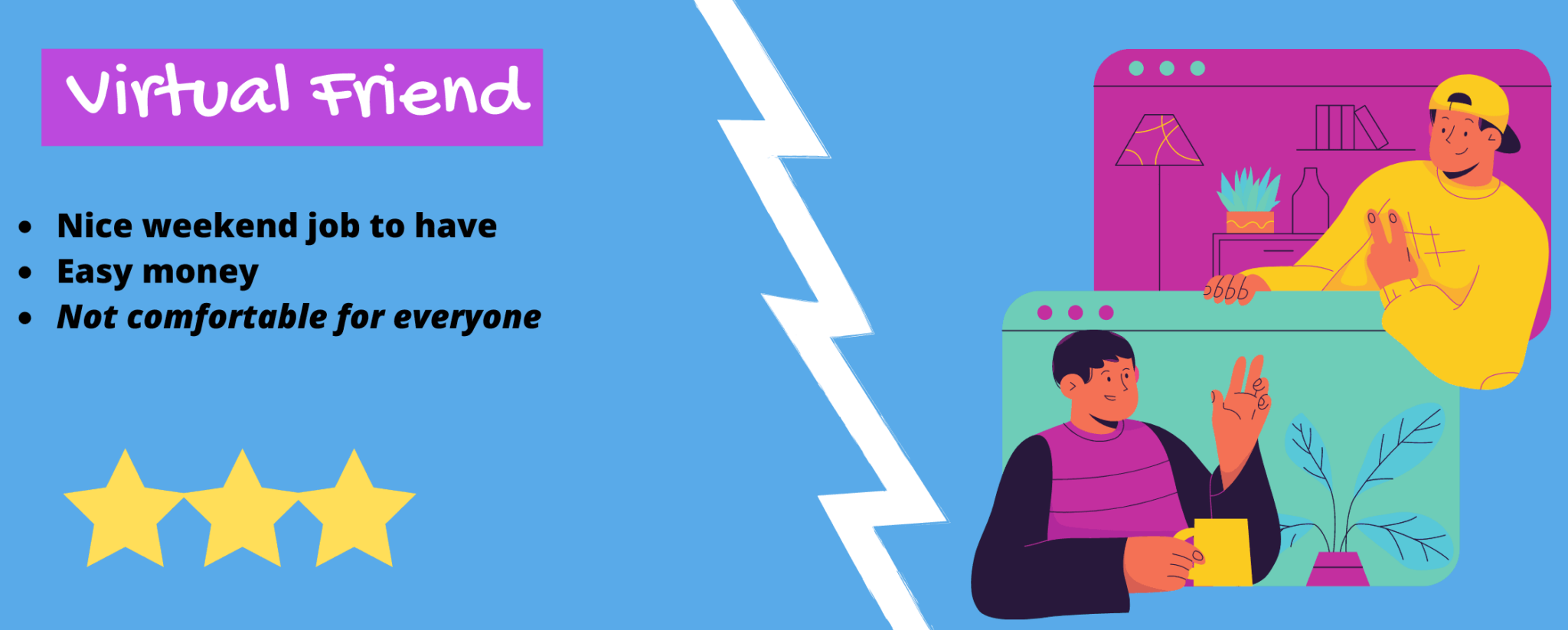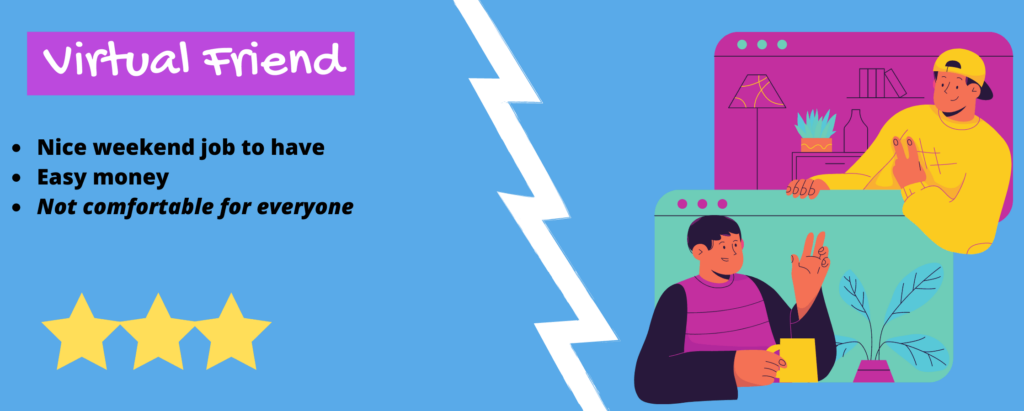 Did you know you can get paid by offering something as simple as friendship? Not everyone in this world is blessed with a wide circle of friends, and loneliness can be debilitating for many. So offering your services as a virtual friend is a nice way to make some extra cash on the weekends.
And you don't need to meet strangers off the internet in person. There are a few reputable places you can go to offer your friendship services virtually.
What will you need to do?
Simply offer companionship by talking, listening, playing games, and show support and kindness to whoever is paying you.
You can charge $20-$50 per hour, and as long as you are careful, respectful, and cautious, there really shouldn't be any risk involved. It can seem a little odd to do this sort of thing online, but in my experience (I know a couple of people who have done this for years) there is nothing to worry about.
You can find opportunities to make money as a virtual friend here:
Recommended: How To Get Paid To Be A Virtual Friend – $100/week
22. Search Engine Evaluator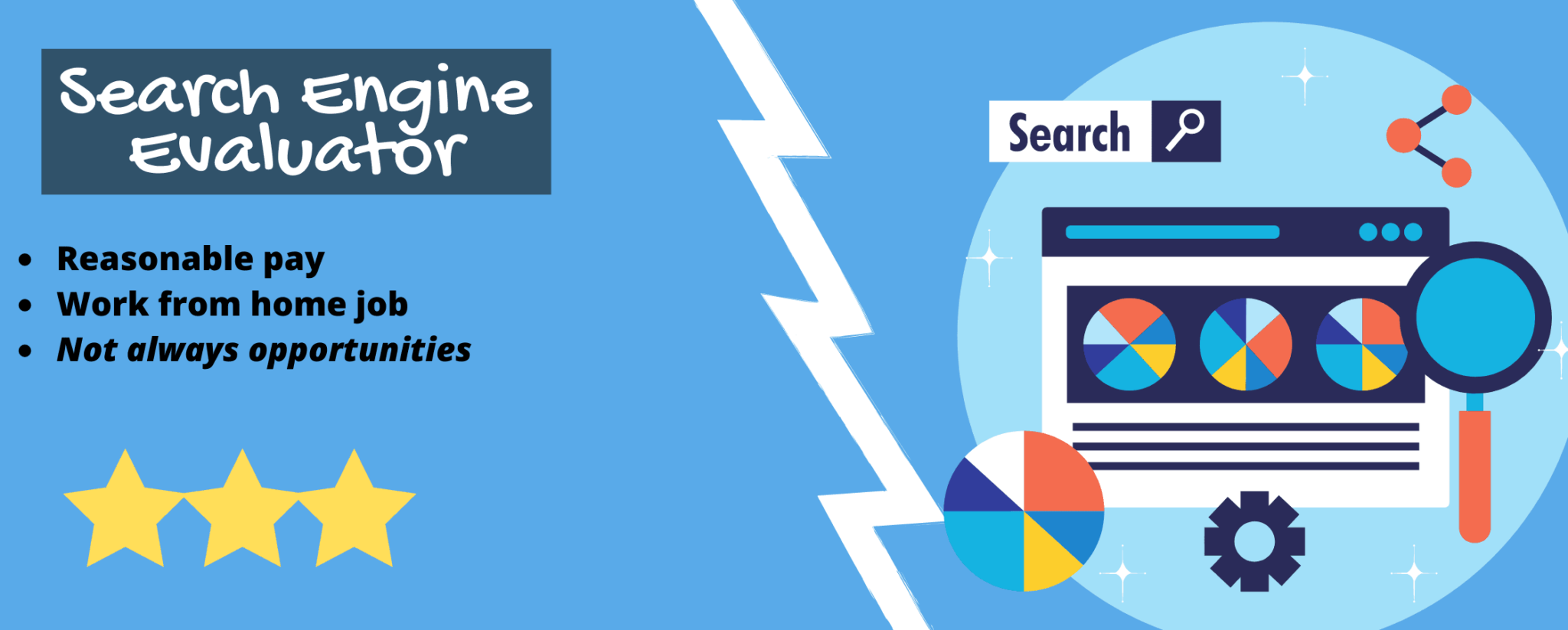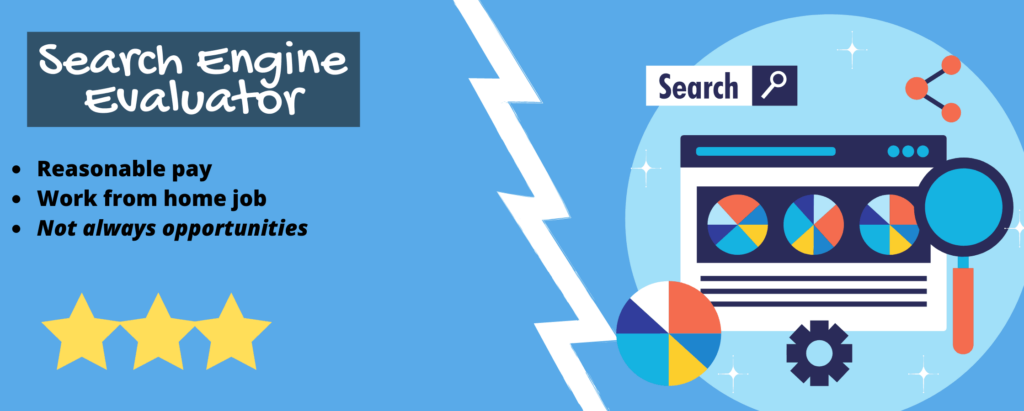 Google has a 'pretty smart' algorithm designed to show the best possible search results to its users. But it's not perfect, not yet anyway!
So a fantastic work from home opportunity to make money on the weekends is to become a Search Engine Evaluator. Your job is essentially to review the results the search engine spits out for particular searches.
This enables the search engines to tweak their algorithms and deliver better functionality to its users. And you could make up to $20 per hour providing your feedback from the comfort of your own home.
You won't be working with the search engines directly, but companies that have subcontracted the work from the likes of Google and Bing.
An entry test and interview will most likely need to be taken, and you will need the following skills:
English fluency
Research skills
Understanding of popular culture
Some formal education
You can find Search Engine Evaluator positions here:
Earn money by making Google better (and feel free to put LifeUpswing at the top of the results if you get the chance).
23. Website Tester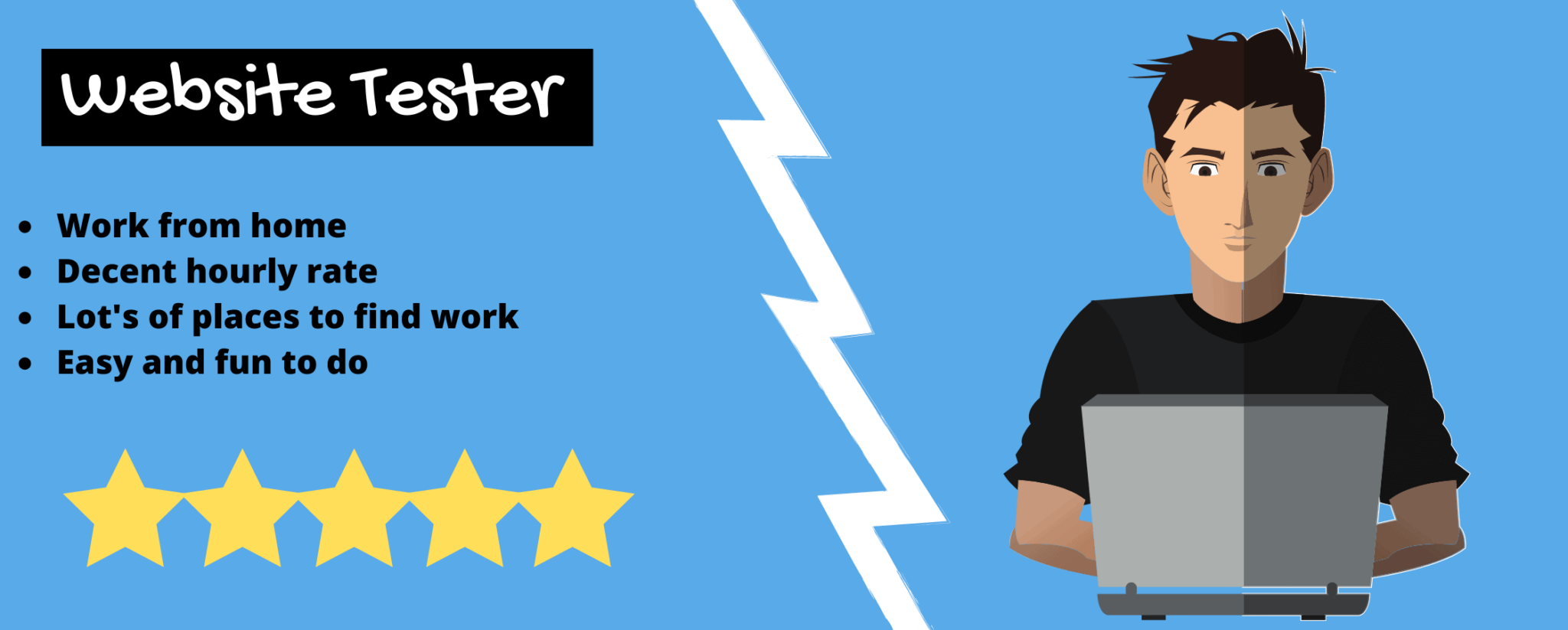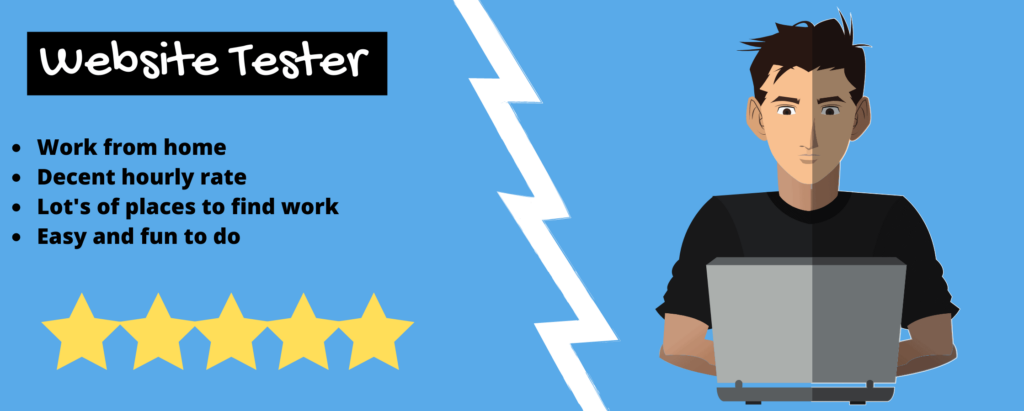 Testing websites is another weekend job you can do whilst sat in your pajamas. It's not the highest paying job in the world, but reasonable nevertheless. And it's actually quite fun to do.
Your job is to follow instructions given by the testing platform, and rate the usability and functionality of the test subject; namely a website or app. I have been doing this for a long time, and for about 15-20 minutes worth of work, you can expect to make $10.
They also have occasional higher-paying opportunities where you can earn $90 for expressing your opinion while navigating the internet.
You will need to have the confidence to narrate your tests via webcam and speak clearly and audibly in order to have your payments confirmed. But it's not that hard, trust me! Just look at my payouts here: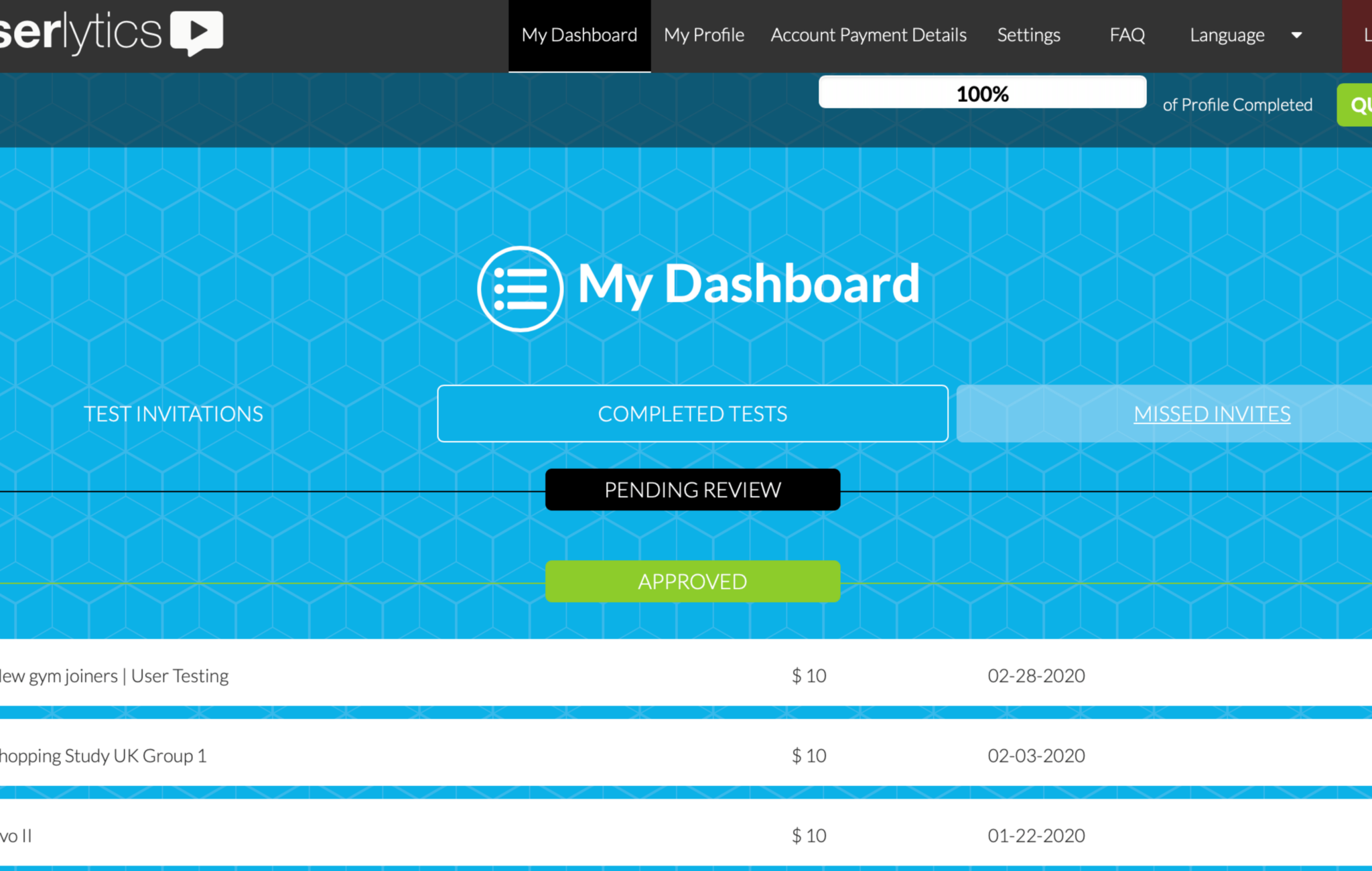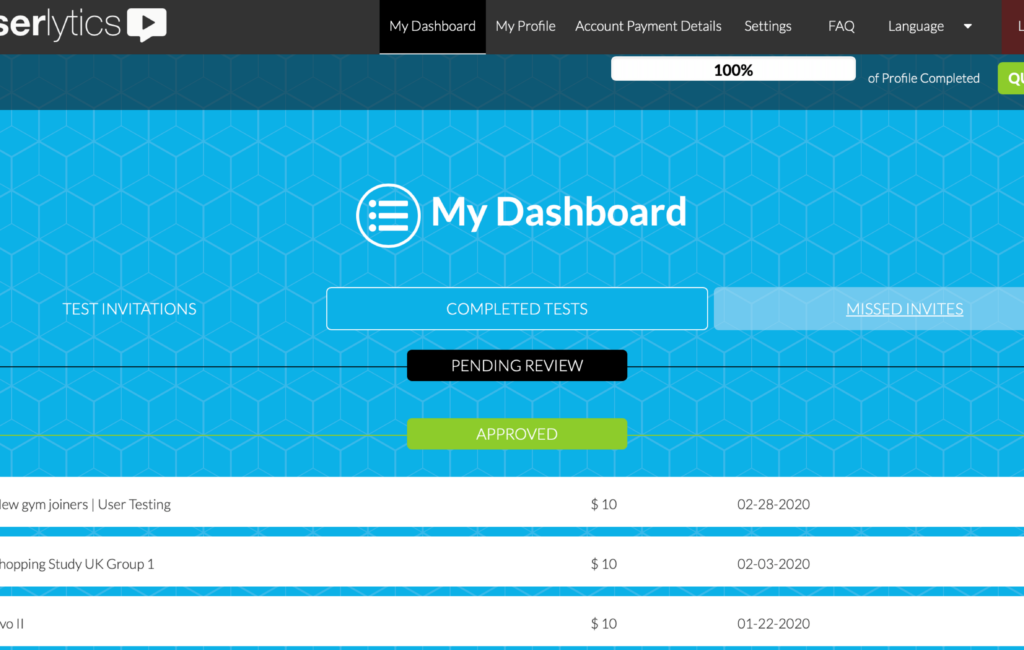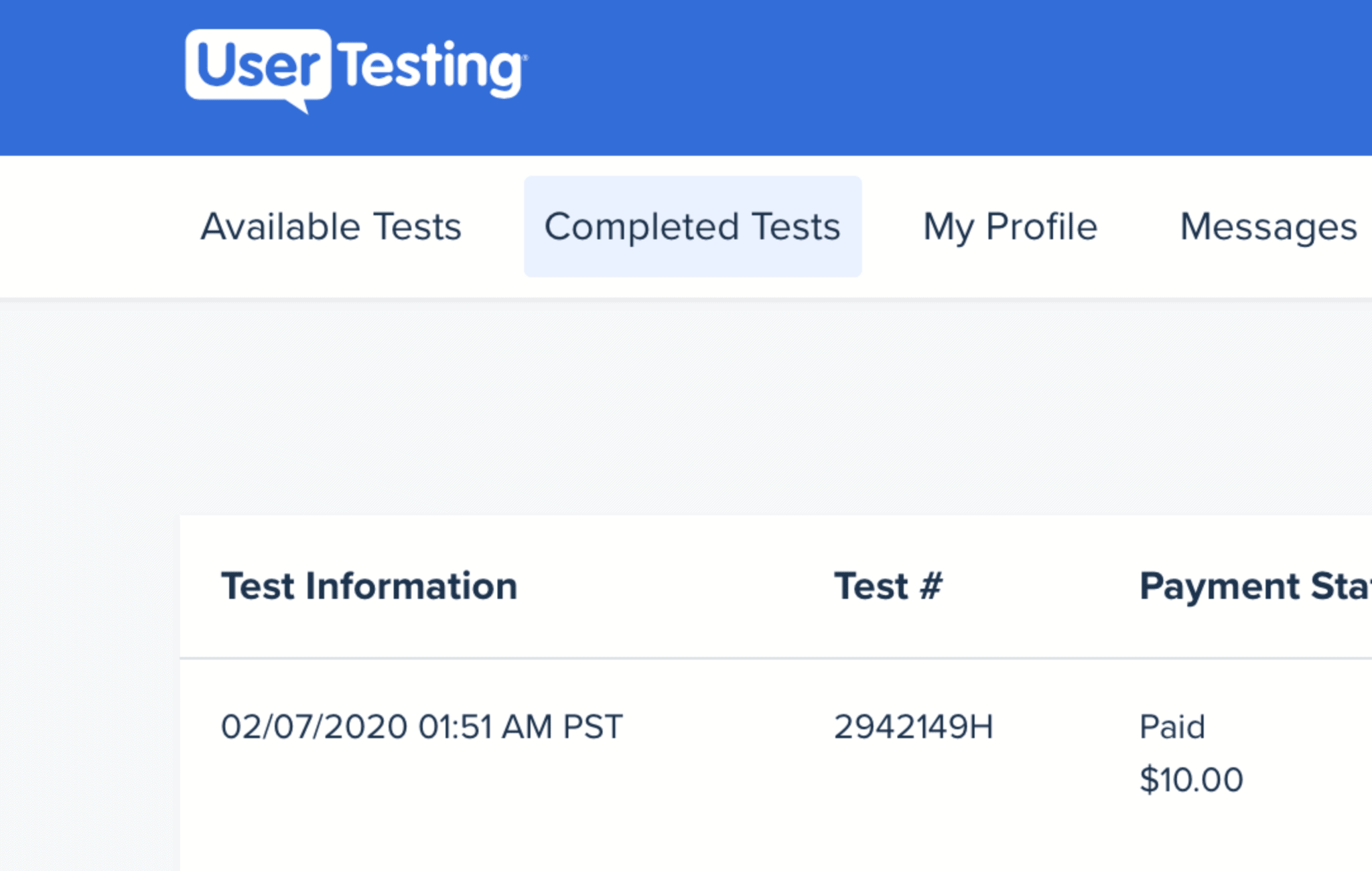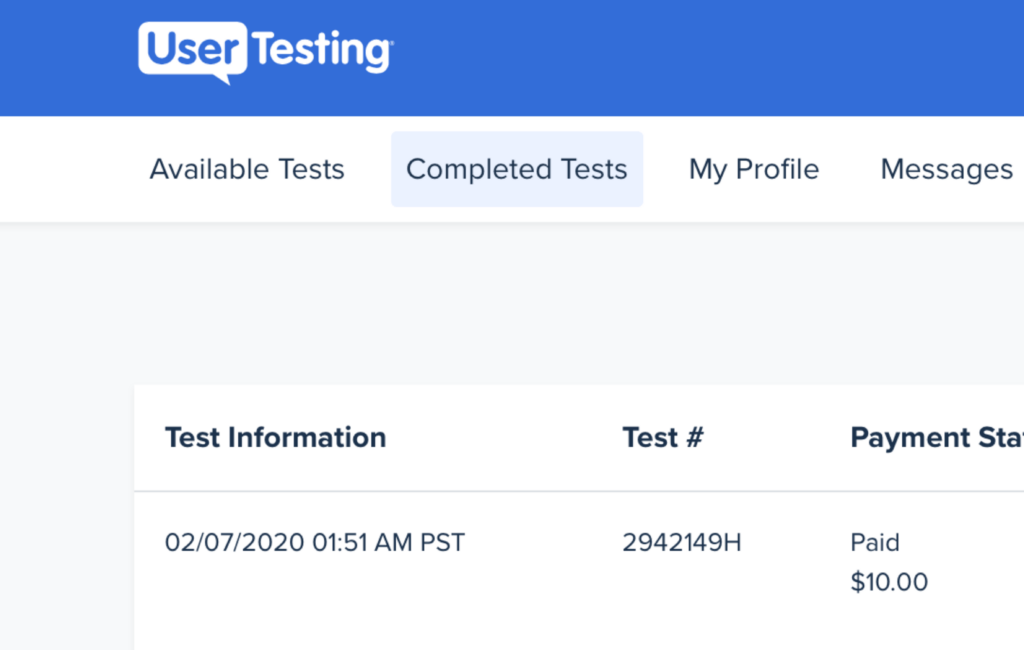 Testing websites is one of the high paying weekend jobs that you can start now, just check out possible opportunities here:
How To Find High Paying Weekend Jobs Near Me
There may some fantastic weekend job opportunities specific to your location. If nothing on this list takes your fancy then it could be something worth exploring. Remember, some of the best-paid positions are temporary, but that doesn't mean it won't lead to something more permanent in the future.
If you find a temporary local position and make a good impression, you could easily be taken on for a full-time role, or be recommended to another firm. Just make sure you excel at what you do and go the extra mile. Take it from me as a business owner, finding 'good people' is one of the hardest things to do. So if you impress, it won't go unnoticed.
Check out these places for possible local weekend job vacancies:
How To Get Hired Quickly
If you want to get hired quickly for a weekend job position then you need to be strategic. Firstly, it is vital that you treat your job search like a 'full-time job' in of itself. Set a schedule whereby you search and apply for positions on a regular basis. This will greatly increase your chances to find something that is both well paid and matches your desired criteria.
Secondly, get your resume or application 'match ready' and sent in as soon as possible. And if you are applying online, always use a professional sounding email address. Did you know 76% of resume' are ignored if your email address is unprofessional?
Weekend Work From Home Jobs
Work from home jobs, much like the majority mentioned in this article, are ideal for many people's situations. That is why there has been an incredible 159% increase in remote workers between 2005 to 2017 in the U.S.
It provides the flexibility to earn whilst juggling a busy household schedule. And the great thing is there are increasingly more and more positions available to work remotely. There are opportunities in varying sectors that attract a number of different skillsets and talents.
Flexjobs is one of the best platforms to find this type of work opportunity. They can help people find professional remote and flexible jobs in over 50 different career fields. From entry-level to executive, weekend work to full-time positions, in the U.S. and around the world.
So don't be afraid to dive deep into your next job role at Flexjobs.
Time Management When Working Weekends
Time management can be the one thing that comes between you and your weekend job. But don't let an unorganized schedule prevent you from earning extra cash. It may require some creative planning and the setting up of support systems for child care, but you can do it.
Remember the Milk is a free app that can help you get your life organized. You can create lists and get reminders sent to your email and social media. It will sync across all of your devices and remember the important things so you don't have to.
Alternative Income Streams
Finally, the best sort of weekend work known to man is 'passive income'! The problem is you need a good amount of cash in the first place to really see the benefits. Passive income is all about getting a system set up to earn you money with very little hands-on work. Think of any popstar that earns royalties from a Christmas hit single they had 25 years ago.
That's passive income, and it can be so sweet!
It's a great idea to start getting your ducks in a row now and setting up potential future passive income streams. One of the easiest ways to get started is with the financial markets. Making small and affordable deposits early on could grow into sizable and substantial income years down the line.
Acorns is an auto-investment app that even lets you invest spare change. You know when you buy something for $1.95 using your bank card, well Acorns will automatically inject that $0.05 into your portfolio. You can also set up an automated IRA saving plan for your retirement. Finally, you can invest from as little as just $1, $3, or $5 a month.
As they say, from acorns, mighty oaks do grow.
Sign up for the Acorns auto investment app now, and set the wheels in motion for your passive income dream.
Recommended: 7 Passive (Mostly) Income Ideas ($1000/Month)
FAQs
What can I do on the weekends to make extra money?
Any physical location or remote work position has the potential to make you extra money. The trick is to find something that can fit into your current schedule, and earn enough to satisfy your time commitment. Take a good look at the list provided, I'm sure you can find something that resonates.
What are the best weekend jobs?
The best weekend jobs are entirely subjective. I know someone who has worked part-time on a farm for years, on the weekends to make extra cash. They love it because they adore animals and nature. Although I'm sure that wouldn't be for everyone. Just try and find something you know you will enjoy it and give it your best.
How can I make $1000 fast?
Making $1000 fast will depend on your current situation. If you have a $250,000 salary, then negotiating a pay rise of 0.5% will earn you $1,250 in the length of time it took to negotiate. For those on lower incomes, a steady approach to making money online and side hustling.
What are the highest paying side jobs?
The highest paying side jobs will usually involve working for yourself. This may be via a side hustle, business venture, or a combination of the two. Alternatively, the self-employed can work the promotion ladder in order to achieve an ideal level of financial compensation.
Best High Paying Weekend Jobs