Disclosure: This post may contain affiliate links. If you click on a link I may make a small commission at no extra cost to you. You can read the full disclosure here.
Last Updated on October 23, 2022 by Chris Panteli
Guesty For Hosts Review (Formerly Your Porter)
There really is no better way to scale an Airbnb business than with vacation rental management software.
Without the ability to automate processes, sync calendars, and market your business, you'll waste hours every week and struggle to see real growth.
But with so many Airbnb management tools on the market, it's tough knowing which one is the right investment for your property. After all, no two Airbnb rental properties are the same.
In this Guesty for Hosts review (previously a Your Porter review), we'll share the pros, cons, and alternatives of this vacation rental software so you can decide if it's the right tool for you.
If you want to compare different Airbnb tools, head to our full guide where we share the best Airbnb tools for managing a vacation rental property.
What is Your Porter App?
Your Porter App was acquired by Guesty back in 2021 and has now been rebranded as Guesty for Hosts. The app has the same features but has been updated, so this review will talk about the new pricing structure and features Guesty for Hosts has now.
Guesty for Hosts is a vacation rental management software that has most of the features you need to automate an Airbnb property.
Some of the key features are automated messages, calendar synching, and direct bookings, but we'll look at all the features in more detail later on.
I'm delighted to offer my readers 20% off their first month Guesty Subscription with code: lifeupswing
Guesty for Hosts Pros and Cons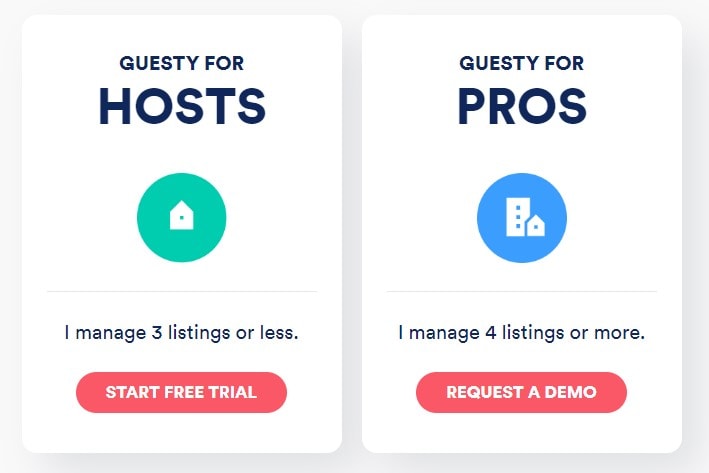 When you're researching different tools for automating your Airbnb rental business, it's always good to weigh up the pros and cons.
✅ PRO: Great customer service
Guesty for Hosts has a responsive customer service team that is available whenever problems arise. Their response rate is good and they get back to you pretty quickly with answers to issues.
✅ PRO: Easy to use
The app itself is easy to navigate and you'll pick up the processes quickly. Some management tools are overly complicated and it's difficult learning the ropes, but this one is a good option for beginners.
✅ PRO: Good integrations with large platforms
Guest for Hosts has integrations with Airbnb, Booking.com, VRBO, PriceLabs, and other major platforms. This is great if you already have other tools you want to synch with your new management platform.
❌ CON: Glitchy
Guesty for Hosts is still relatively new since its takeover and glitches do happen. Users have complained about messages sending out when they're not supposed to and calendar synchronization lagging.
However, they do have an R&D team that is quick to resolve glitches when they occur.
❌ CON: Some integrations missing
Guesty for Hosts is missing a few integrations that can be frustrating. You can usually get around it with a connection to Zapier, but it does mean more hassle. A couple of integrations it doesn't currently have are with Houfy and QBO.
❌ CON: No pre-written responses
Some vacation rental management platforms have pre-written templates you can use when communicating with guests. Guesty for Hosts doesn't have this, but you can customize your own responses and then save these to use when needed.
Guesty vs. Guesty for Hosts: What's the Difference?
Guesty is the company that acquired Your Porter App, so why is it called Guesty for Hosts?
Guesty is actually now Guesty for Pros, which is a software management tool for large hospitality brands and enterprise companies. Guesty for Hosts is the software dedicated to short-term vacation rental owners and property managers for Airbnb.
Most of the software is actually the same, but Guesty for Hosts is done on a smaller scale, making it more affordable for small business owners and individual hosts.
Who is Guesty for Hosts For?
Guesty for Hosts is a great platform if you're an Airbnb host or a short-term rental property manager. It has a tiered pricing structure, which makes it more affordable if you have multiple properties or manage several listings with multiple accounts.
For large property management firms or large hospitality brands, the Guesty for Pros platform will be much better suited.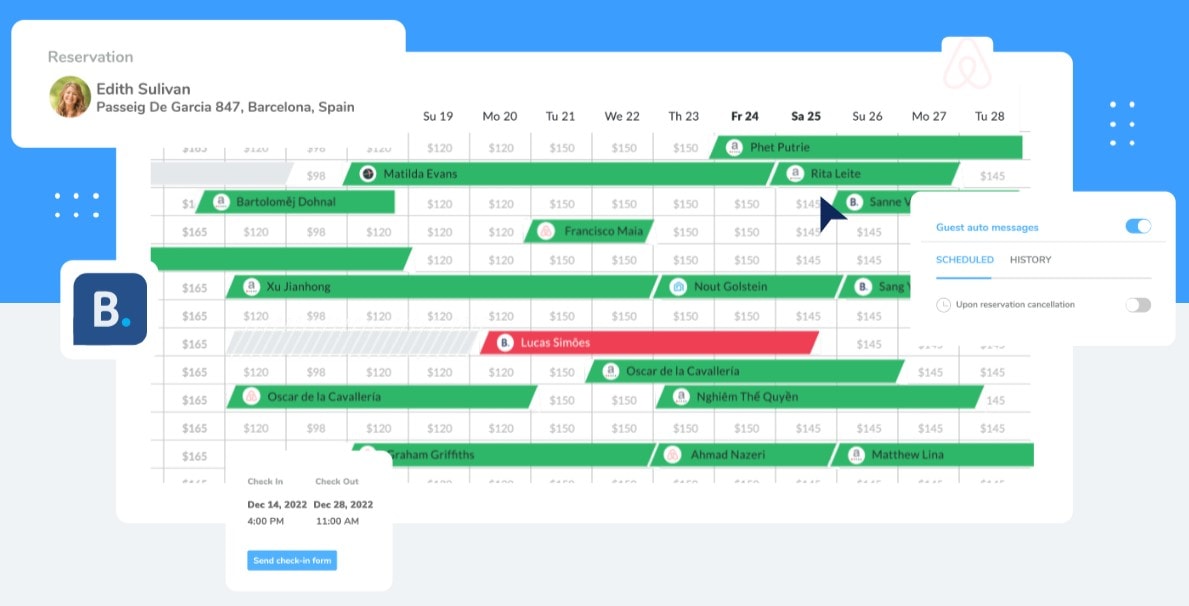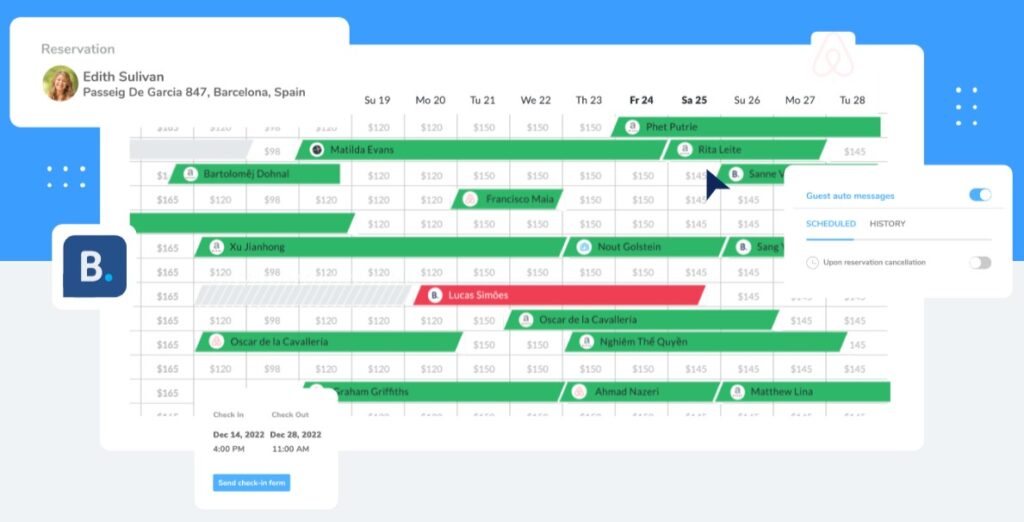 Guesty for Hosts Pricing
There isn't a free version of Guesty for Hosts, but they do offer a 14-day free trial for you to figure out if the platform is right for you. There are no set-up fees or credit card details required either, which is always better when you're doing a free trial.
Pricing depends on how many listings you have, but works out as a flat monthly fee:
One listing: $45
Two listings: $68
Three listings: $90
It's not the cheapest property management software, but it does come with a lot of features to make it worth the monthly pricing.
Guesty for Hosts Features
Let's take a look at the main features Guesty for Hosts offers:
Calendar syncing: easily sync your availability across Airbnb, Booking.com, and VRBO if your property is listed in multiple places.
Personalized messages: communicate with your guests over SMS, emails, or Airbnb platform messages with personalized messages.
Automated responses: set automatic responses to initial inquiries to shorten your response time and boost your response rating.
Direct bookings: use the website builder to create a direct booking website to save on channel commissions.
Automated cleaning tasks: send automated cleaning lists and reminders to your cleaning team.
Guesty for Hosts is still an app, too, which means you can do all this from your mobile phone or from the online platform.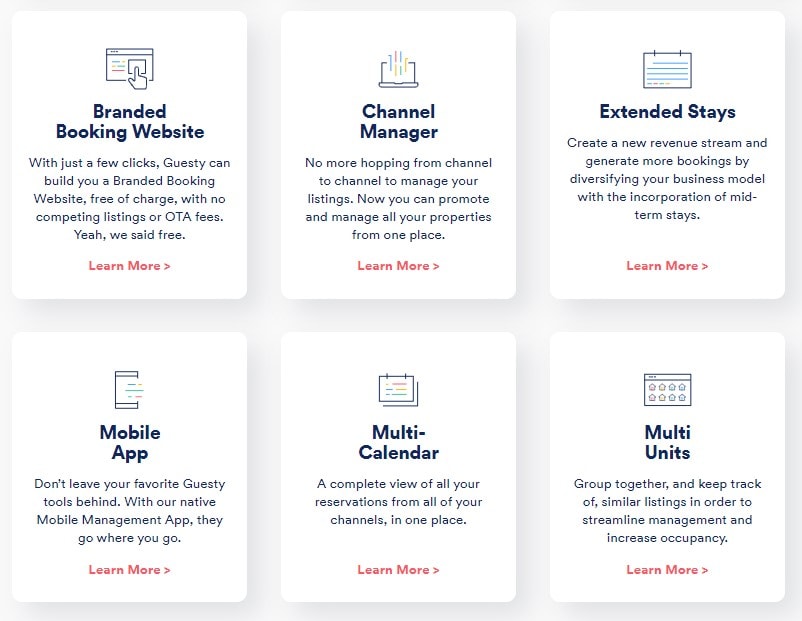 Guesty for Hosts Alternatives
There are a lot of vacation rental management software options available, but not all are created equal. Here are some of the best alternatives to Guesty for Hosts for you to compare when researching the best tools for your vacation rental:
Host Away: an all-in-one platform for managing an Airbnb property with automation tools, marketing strategies, payment processing, and more. It actually has more features than Guesty for Hosts, but doesn't have a set monthly price, so it can get expensive fast.
Host Tools: another automation tool for guest communication, dynamic pricing, calendar synching, and more. This one is $10 per month, so it's cheaper than Guesty for Hosts.
Price Labs: a dynamic pricing tool to automatically set the best nightly rate for your rental. This one isn't a channel manager and is best used in conjunction with other tools.
AirDNA: A great tool for researching the local competition, finding properties to invest in, and helping set your market rates.
Is Guesty for Hosts Right for You?
When it comes to choosing the right Airbnb management software for your property, it's important to do your research and pick the tool with the right features for you.
Although a management system might seem expensive, especially if you're just starting out, it will save you countless hours every week and help you streamline your business.
If you're in the process of researching the best tools for your vacation rental, check out our guide on some of the best (and worst) Airbnb tools to manage your properties.
Guesty For Hosts Review (Formerly Your Porter)