Disclosure: This post may contain affiliate links. If you click on a link I may make a small commission at no extra cost to you. You can read the full disclosure here.
Last Updated on November 26, 2022 by Chris Panteli
Get Paid To Click
Did you know you can get paid to click unlimited ads? Yes, that's actually true!
How can I earn money by clicking?
You could earn money by simply clicking on ads while browsing the web at sites such as Swagbucks, Get-Paid, and NeoBux. Such sites are called "paid-to-click" or "paid-to-view" and require registration. You are rewarded monetarily for providing these sites with references.
All you need is a PayPal account, an email address, and some spare time and you're all set. You might not get super rich clicking ads; however, it can help you generate a fairly decent source of income. Here are some tips to help you start off.
Can You Really Make Money Just by Clicking Ads?
As opposed to other side jobs such as proofreading and freelance writing, you might be unable to convert this side hustle into your primary income source. For instance, freelance writing allows you to earn approximately $200 for every article that you write. Just think, if you get multiple clients who pay just as much, if not more, for your services.
You can easily make thousands of dollars every month!
On the other hand, clicking ads is going to get you nearly $0.001 to $0.004 for every click, as you are going to find out in the websites discussed below. You might have to click hundreds, or perhaps even thousands, of advertisements to earn decent money.
Nevertheless, you can get paid to click ads and make extra money from them, particularly if you have some spare time.
It's completely genuine, and there are several sites that you can explore. With that said, you need to be cautious and stay away from scam sites where you will have to do the work but won't get paid for your efforts.
Here is a list of things you can do to create an extra income source by clicking ads:
Complete paid surveys
Read emails
Click on ads.
An Insight Into Paid To Click Sites
Paid to click, abbreviated as PTC, sites are essentially websites that are going to pay you to click on ads. Sounds pretty simple, right? The majority of these websites are absolutely free, and it's one of the easiest and simplest ways to make a decent amount of money online without learning any new skills. Thus, it's an effortless way to earn money with pay per click.
Once you see an ad, you click on it and browse through the website you have been redirected to for the required time. The reward will be added to your account once the period is over.
A PTC site serves as the middleman or broker between the consumers and advertisers. Such a site earns money from the advertisers when they show the ads, and a small percentage of the fees goes to the viewer when they watch the particular advertisement. Does it make sense?
Here is what the process looks like in simple words:
The website puts up an ad on their site
You then click and see the ad
Next, the advertiser pays the website as someone has clicked and seen their ad
The website is then going to pay you.
As most websites don't have a limit on referrals, the possibilities are almost endless. Feel free to register on the sites mentioned below, as you will only need a couple of minutes to sign up.
Get Paid To Click Unlimited Ads – The Best Choices
Ready to kickstart your PTC money-making journey? Head over to some of these sites mentioned below!
1. Neobux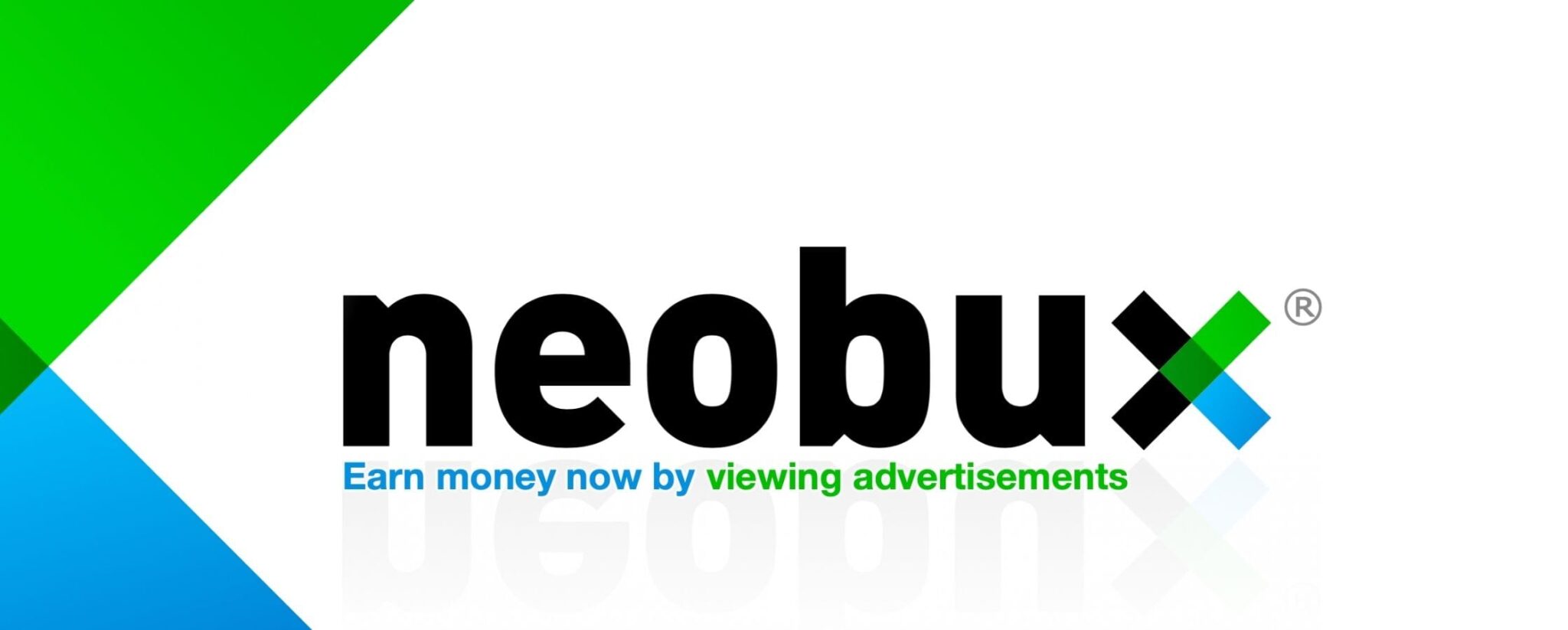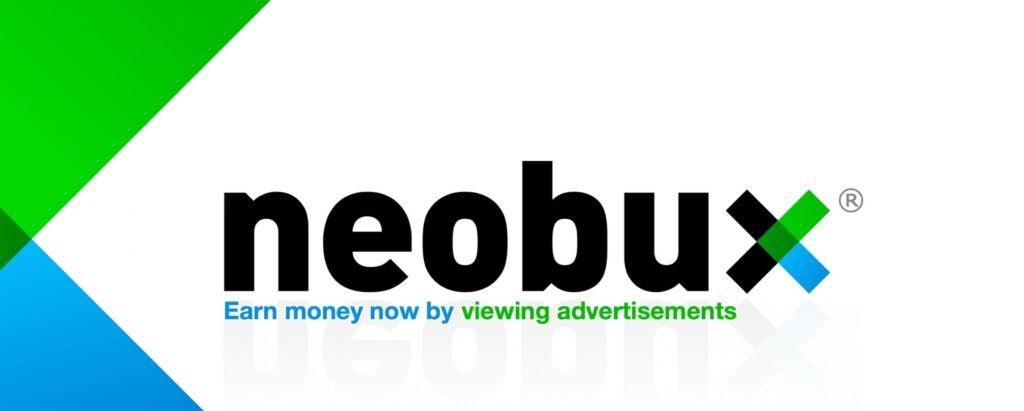 Neobux is one of the most trusted and oldest PTC sites. It offers a number of activities that you can do to earn money, like viewing advertisements, completing quizzes, taking surveys, playing games, and a lot more.
You can register on the website for free and earn money from the account just by engaging with the online content. In exchange, Neobux will give you money for your engagement on their site. You can learn more on their official website here.
There are basically five membership plans that you can pick from at the time of registration:
Platinum / Diamond
Emerald / Sapphire
Golden
Standard
Sapphire
Rewards start from $0.001, and you can withdraw your money once your earnings have hit the $2 mark. Keep in mind there can only be a single user on a single internet connection in a day earning money by clicking ads.
The preferred payment methods include AirTM, Skrill, and Neteller.
2. Swagbucks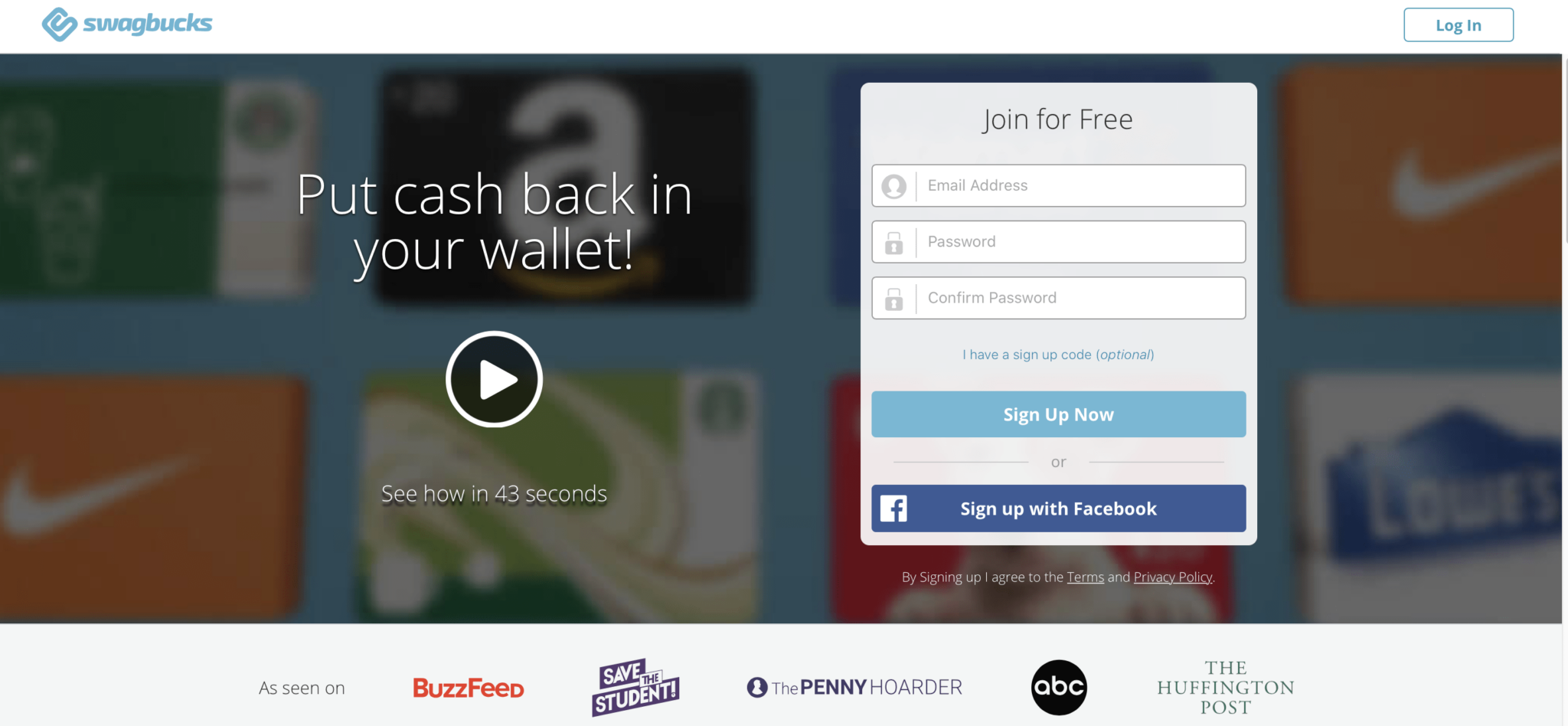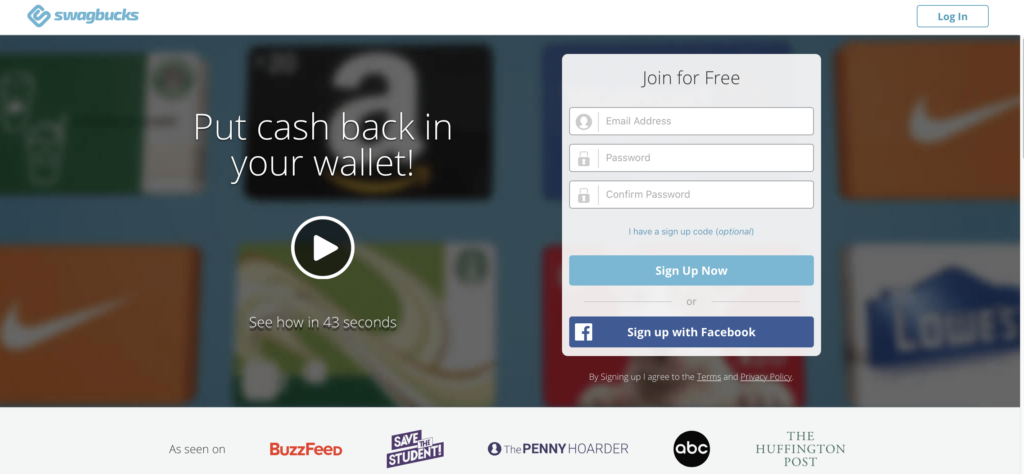 Exclusive for people residing in Canada, Australia, the UK, and the US, Swagbucks is one of the most popular GPT (GPT) sites around. It has paid out a whopping $532 million in cash and free gift cards to its members. You can use these gift cards at major stores such as Walmart, Target, Starbucks, Amazon, and other major retailers.
The best thing is now you can also become a part of this instantly paying PTC site.
The online payment processing option for Swagbucks is PayPal. A single coin earned from Swagbucks is equal to $0.01. You can claim your earnings once you have made at least $3.
Perhaps the most awesome thing about Swagbucks is the multiple ways you can earn through it. For instance, you can complete paid surveys, get paid to click links in emails, play games, browse through the web, watch videos, shop online, and discover offers.
Click here to sign up and read the Terms of Use section for any questions or concerns that you might have. Once you join Swagbucks, you will receive promotional emails in your Swagbucks inbox. You can earn money by clicking links within these emails and going to the advertiser's website. This way, you can earn Swagbucks points that you can then convert to gift cards and PayPal cash.
Get $5 For FREE Right Now
Signup to the greatest rewards platform on the internet and earn a $5 welcome bonus…
Earn more with cashback on all your purchases, watching videos, playing games, and taking surveys. Some users can make an extra $200+ per month!!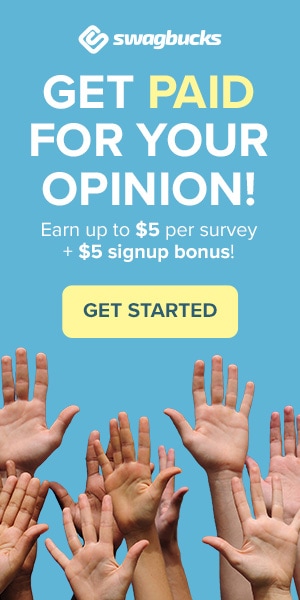 Note that some of these paid emails might require you to make an online purchase to earn. However, a lot of them don't! All you have to do is click on the link provided, spend a few minutes on the websites, and earn money!
3. Get-Paid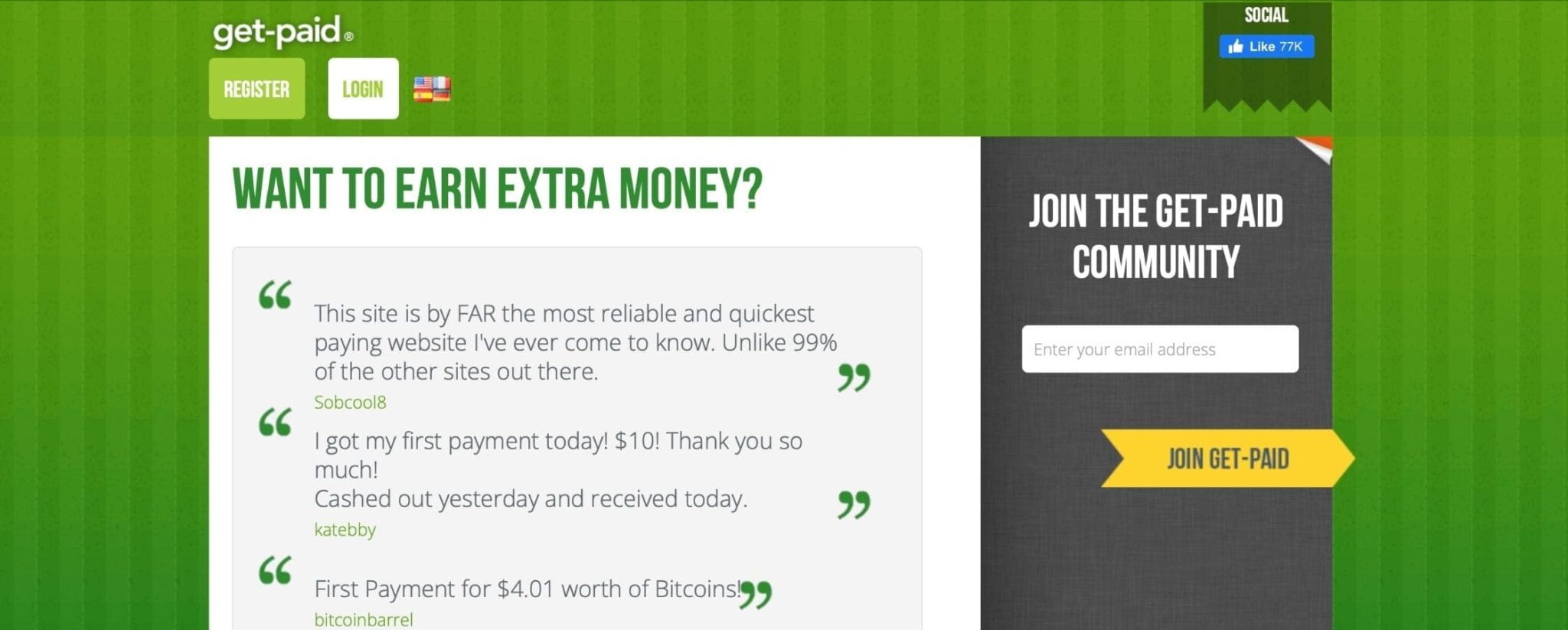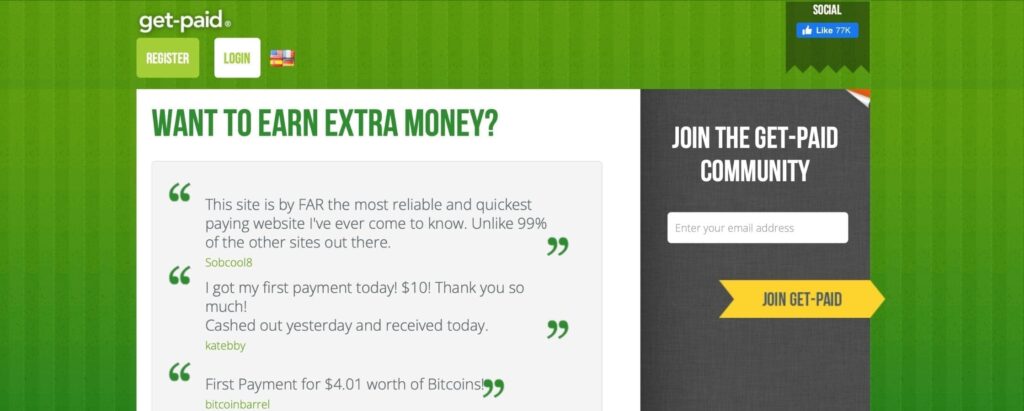 Get-Paid might not have the cleverest name. However, it is surely one of the top PTC sites!
Get-Paid gives you coins for finishing tasks such as viewing ads, clicking links, watching videos, and playing games. You can even enter contests for a chance to earn money and become a part of their highly-engaged community on social media.
Moreover, the site also allows you to interact with companies from all over the world and are sent surveys that can be completed online. A particular percentage of their earnings from these businesses is then given to each user who has completed the surveys.
You are earning money for just voicing your thoughts without even leaving your house. Get Paid has managed to successfully engage thousands of users with multiple businesses.
Some other features of Get-Paid include:
You can receive anywhere from 20 to 30 percent of your referrals earnings.
Get paid through Bitcoin Explorer, Amazon Giftcard, or PayPal.
Go up levels by referring people and being active so that you earn more money.
All in all, Get-Paid adds some pretty large benefits to the table and makes it quite easy to earn money online by clicking links. The site has been around since 2005; thus, it's an established site that's surely worth your time.
4. GPTPlanet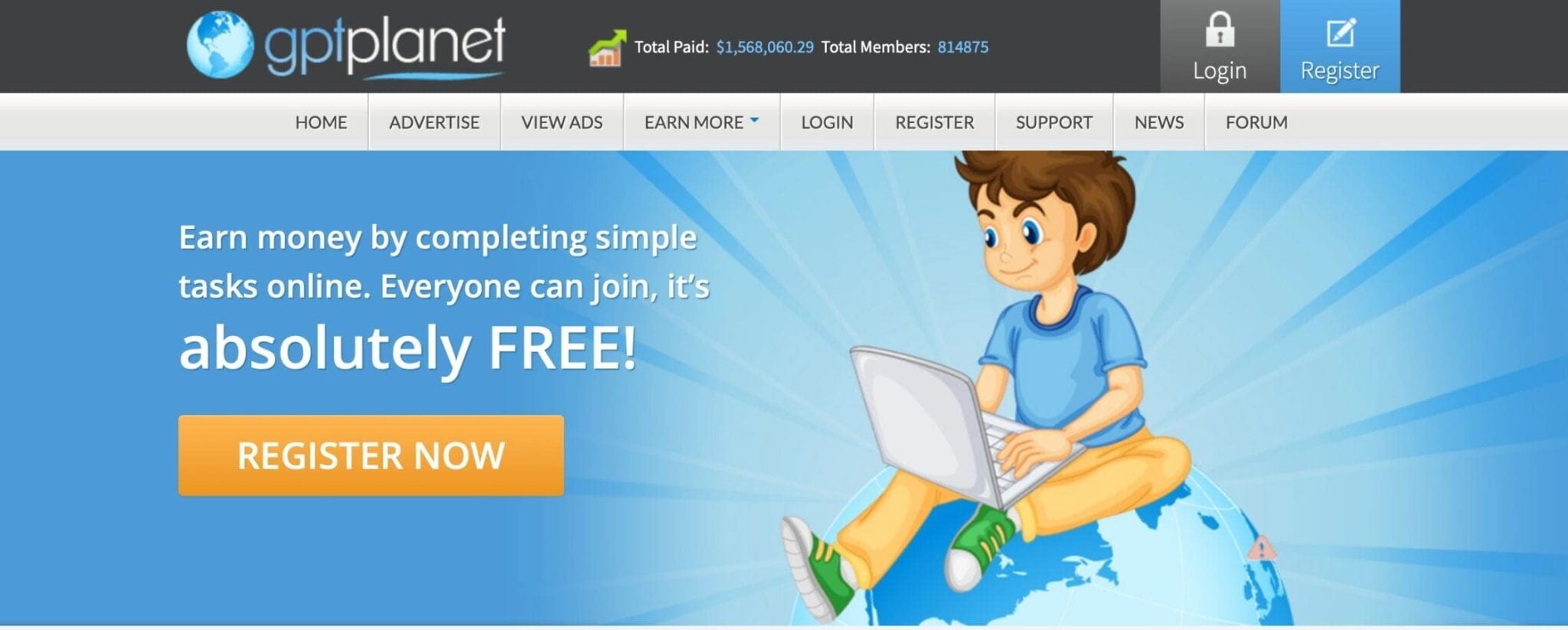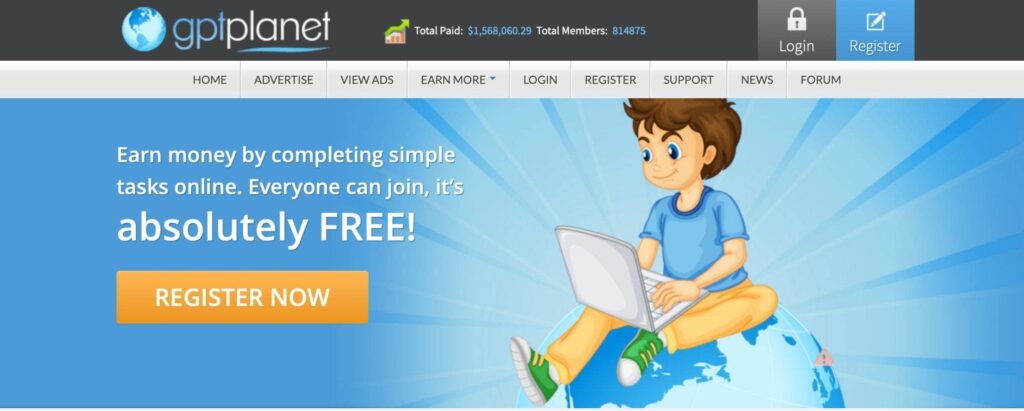 You can join GPTplanet for free and earn money by viewing ads, completing offers, clicking links, and referring new members to the platform. There are a few paid surveys too that you can complete.
The best thing about GPTplanet is its easy payment method. You can earn up to $0.01 for every click and redeem your money when you have at least $1 through Neteller, Skrill, Payeer, and even Bitcoin.
GPTplanet also has an affiliate program, where you can bring more users to start using this service and get money based on how well they perform.
GPTplanet has been around for over a decade now and has paid out almost $1.5 million to its members, so it's definitely something you can trust when it comes to PTC sites.
Even though GPTplanet's website could use a little updating, don't let it deceive you! GPTplanet is a reliable and legit PTC site and is an excellent choice to earn a little extra cash by clicking links.
5. ySense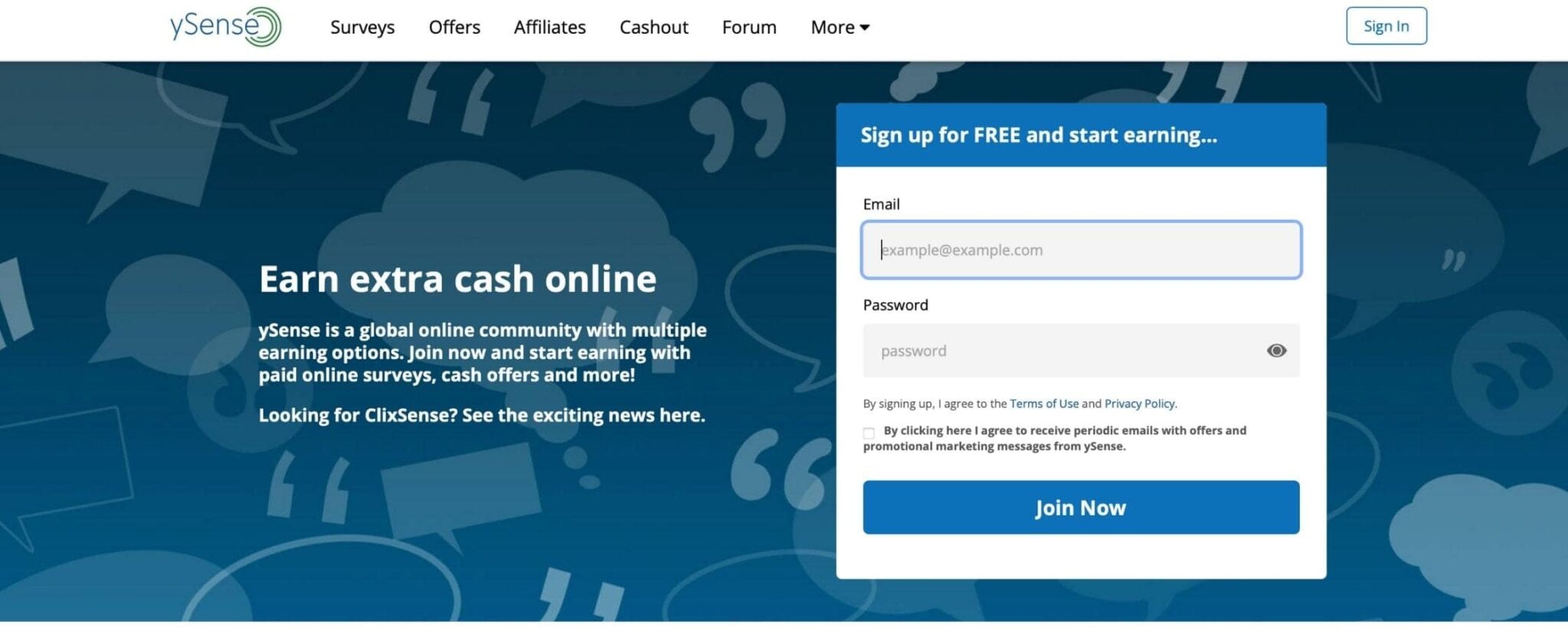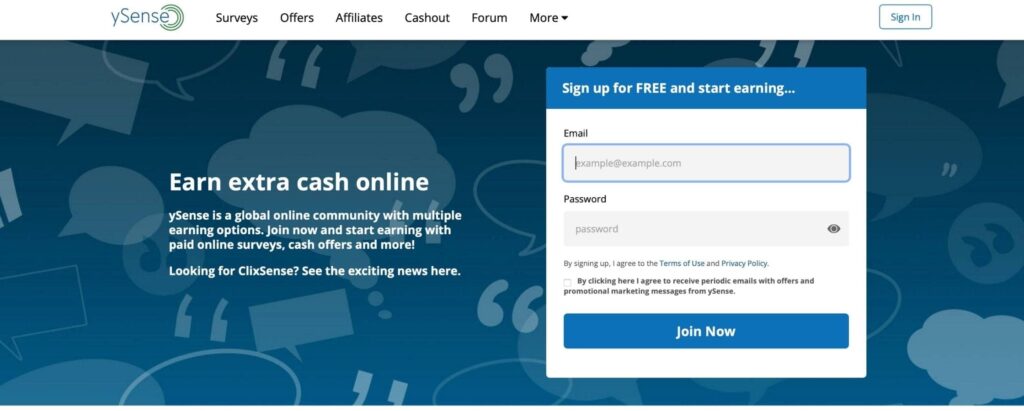 Formerly known as Clixsense, ySense is one of the most trusted and reliable names in the GPT and PTC world. It is owned by Prodege – the company behind InboxDollars, MyPoints, and Swagbucks. 
You can earn money in a number of ways like other PTC sites, including:
Watching videos
Completing surveys
Trying out new products and services
Downloading apps
Signing up for websites
You can also get up to 30 percent when you use the direct referral link and get other people to become a part of the club. Note that ySense gives you the opportunity to enjoy unlimited referrals. This means you can refer as many people as you like to the site.
In addition, they have an amazing affiliate program that you can join as well! The payment terms are as follows:
$0.001 to $0.002 for every click
$0.10 for every referral commission.
What makes ySense different from other PTC sites is the number of product testing and survey companies they work with. This means you won't run out of paying gigs on this site. Surveys usually take nearly 10 to 15 minutes to complete, and you just have to click links and answer a few questions about yourself.
ySense has a number of gift card offerings such as Tango Giftcard and also pays the money through Payoneer, PayPal, and Paytoo.
We highly suggest you don't miss out on this one as it's a trusted site owned by a large company that offers multiple ways to earn quality support, along with an online forum where you can share your earnings and view others.
6. Scarlet Clicks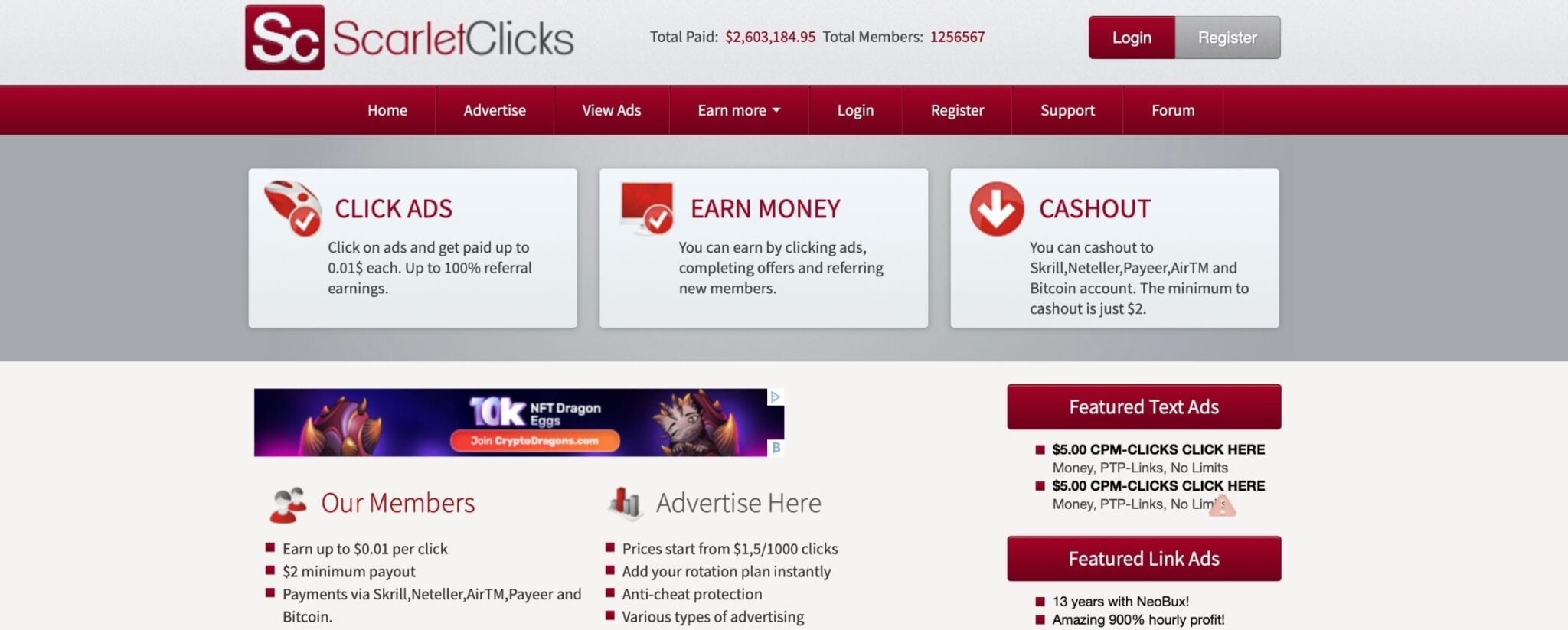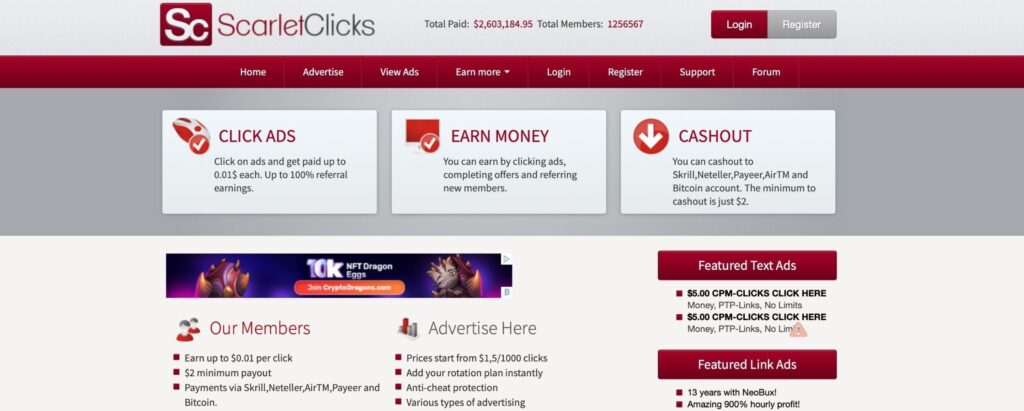 Scarlet Clicks is another excellent option if you're searching for easy and simple ways to earn money online. The minimum cash payout is $2, so you can receive your money fairly quickly. You can withdraw your money through Neteller, Skrill, Payeer, Perfect Money, Solidtrustpay, and Bitcoin. However, payments can take up to 7 business days before you can receive them.
With this site, you can get paid by completing online forms, clicking links to ads, referring your friends and family members to the site, and completing deals. You can get up to $0.01 for every click and earn up to 100 percent of referrals earnings. This really sounds bad!
Scarlet Clicks has several membership plans which determine the amount of money you can withdraw every time. For their Standard free plan, you can withdraw up to $5 every time. If you upgrade to a higher plan, you can withdraw anywhere between $10 to $50, depending on the plan you pick.
Nevertheless, the best thing about Scarlet Clicks is that they offer an ad pack through which you can increase your earnings by up to 120 percent.
7. Ayuwage
Found in 2009, Ayuwage was created to help advertisers and websites gain exposure and pay people like you to click ads and view websites. You can also earn money by filling out online forms, watching videos, taking surveys, and simply browsing through the internet.
AyuWage claims to pay you up to $0.015 for every ad that you click. Plus, the payout minimum is also quite low at just $1. You can redeem your earnings through Payzaa and PayPal, or you can even get Amazon and Target gift cards.
⚠️We no longer recommend this platform, as there have been a number of reports of fake testimonials, low payout rates, and poor user experience. If this should change in the near future, we will update and amend this section. Feel free to try any of the other PTC sites on this epic list.
8. Offernation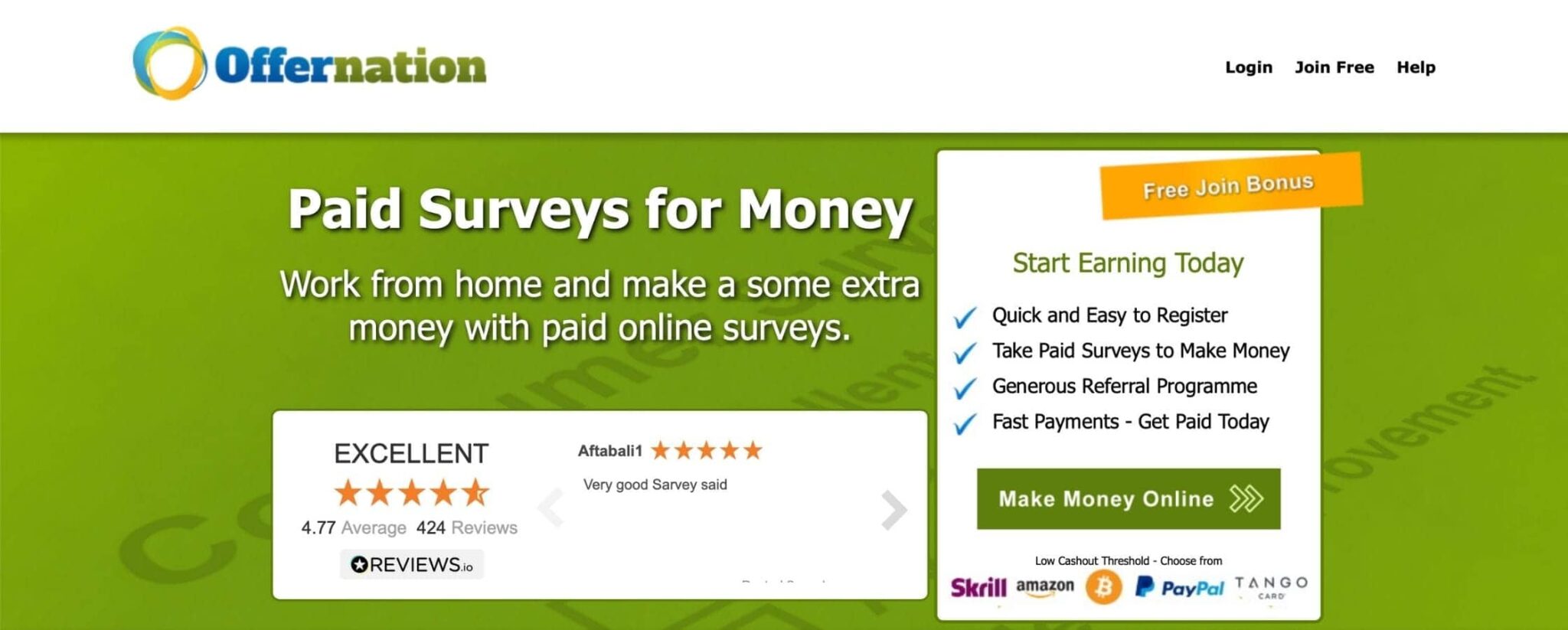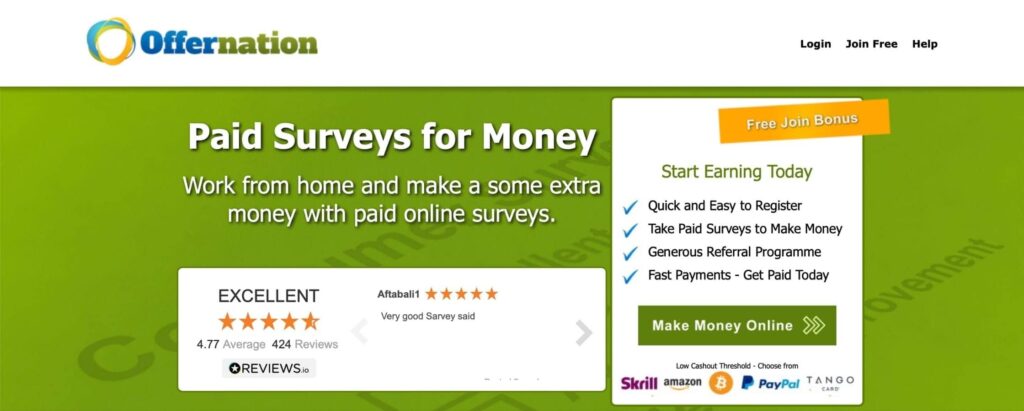 Offernation is a great site that pays you each time you take part in a survey. It also offers other easy ways to earn money online. For instance, you can earn by referrals and through paid to click offers from advertisers.
The registration process takes only a couple of minutes, and you will also get $0.25 just for signing up. You can cash out your minimum once you have reached the minimum requirement of $2.
By giving honest reviews, you can help businesses improve their products and services. These surveys pay between $0.80 to $5 each, and you can cash out using PayPal, Bitcoin Explorer, Skrill, Tango Giftcard, and Amazon Giftcard.
One interesting thing fact about Offernation is that it has paid out more than $1 million to its member! Hence, it's definitely something you should look into.
In short, Offernation is a good GPT site that offers a steady flow of survey offers and other easy tasks to earn money by playing games, viewing ads, and clicking links.
9. Bux Inc.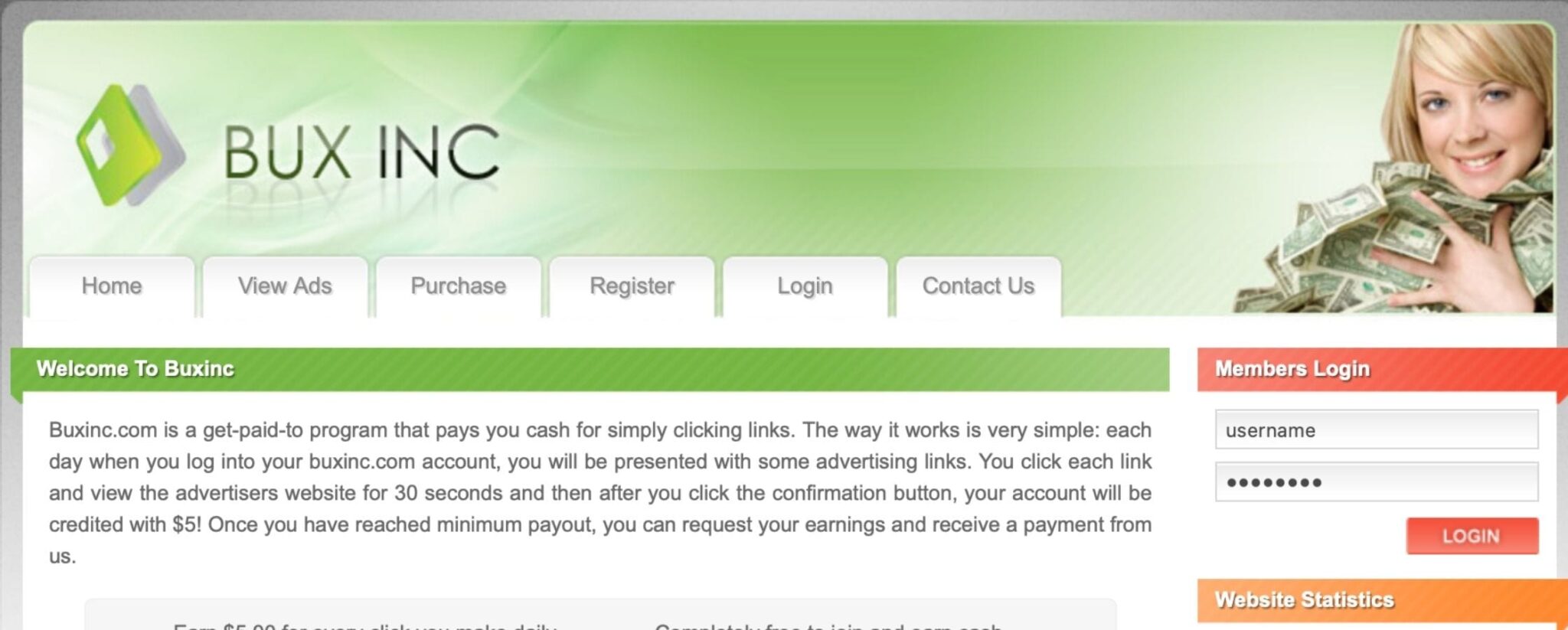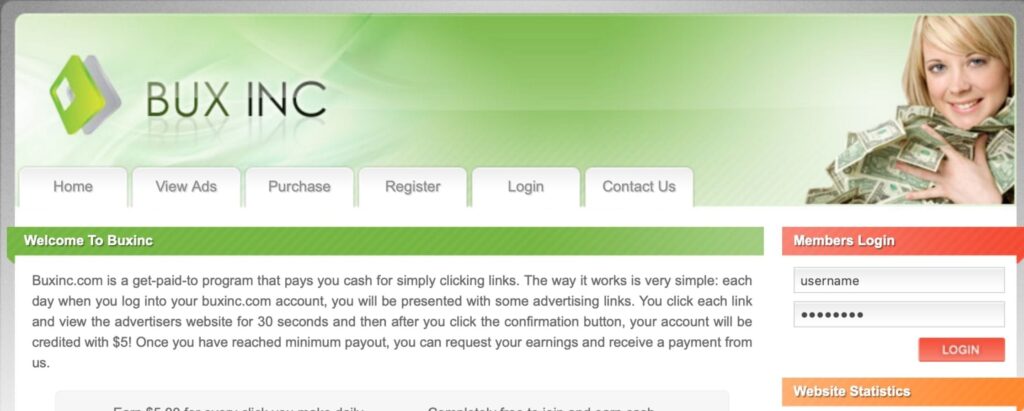 Next up, we have Bux Inc, which also offers a few neat benefits. It has more than 100,000 members who get paid to click on ads or navigate on the advertiser's page for at least 30 seconds.
Bux Inc. features a job board that members can use to find quick tasks to earn money. For example, you can click on the view ad tab that will bring up a ton of ads that you can earn money from.
You can also earn money by referring people, completing sign-up forms, making purchases, and much more.
10. Fusion Cash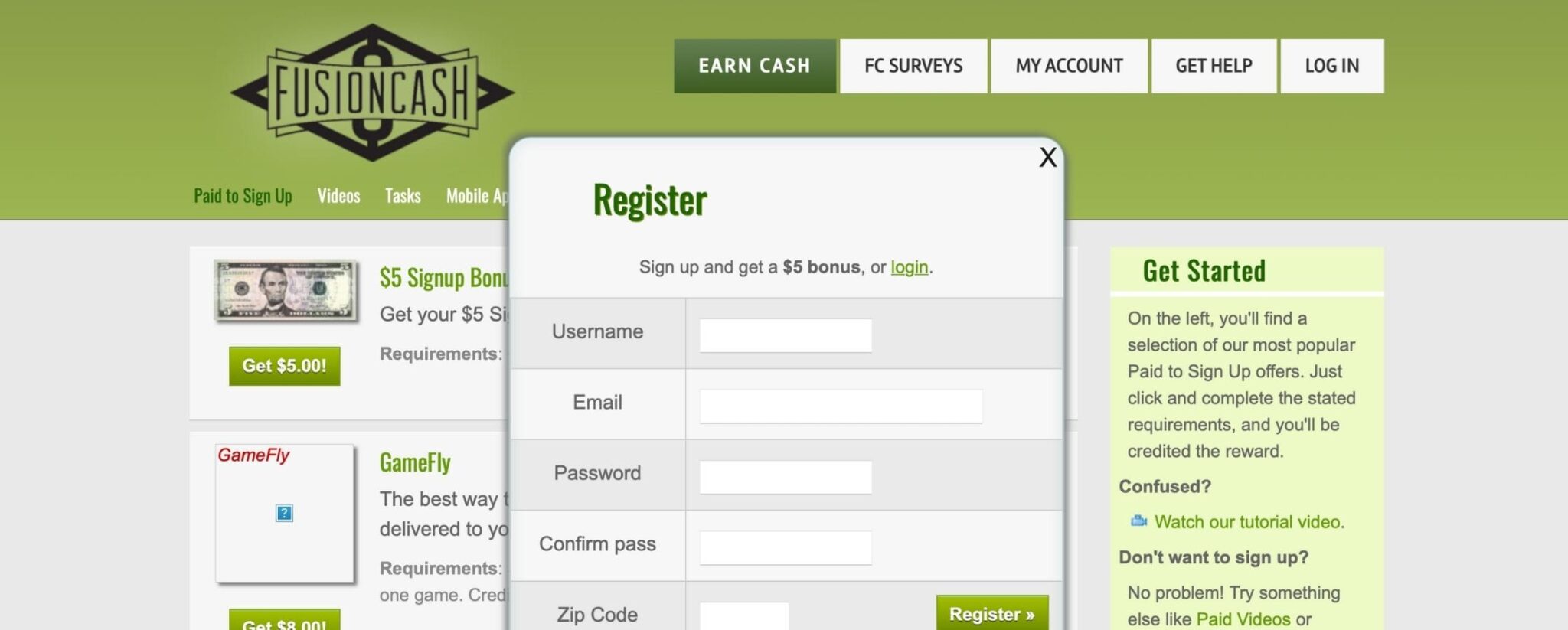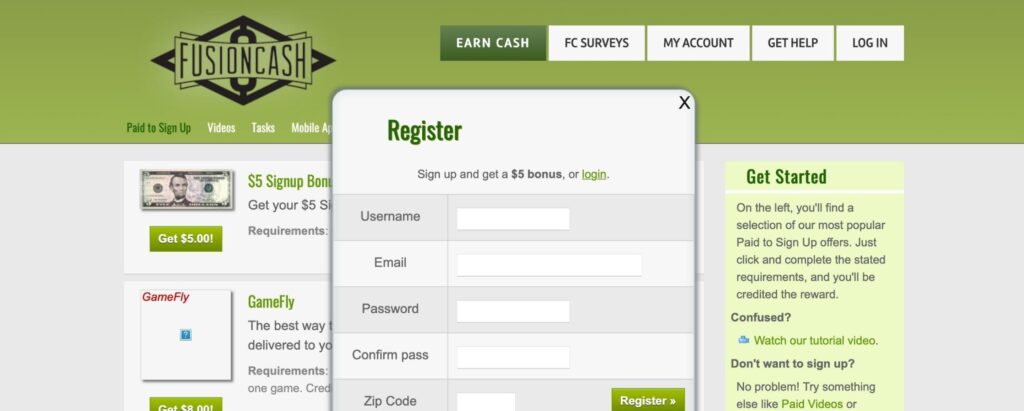 Fusion Cash has been around for quite a while as one of the top GPT sites on the Internet.
Like other sites, Fusion Cash provides even more ways to earn money beyond just clicking links and ads. They also pay you to take surveys, complete forms, download apps and play online games.
Oh, and you also get paid to simply sign up? Yes, you will get a free $5.
Fusion Cash also has a nice setup for their referral system. For every person you ask to join, you earn $1 once they confirm their email. You also get another $2 when they complete their first offer and $5 every time they cash out their earnings.
Nevertheless, there are two major drawbacks of Fusion Cash. Firstly, it is only available for American citizens. Secondly, the minimum payout is pretty high at $25. This means it will take you way longer to redeem your earnings as compared to other GPT and PTC sites.
With Fusion Cash, you earn money through PayPal and gift cards to major retailers. Thus, you can be sure your payments are legit and secure.
11. PaidVerts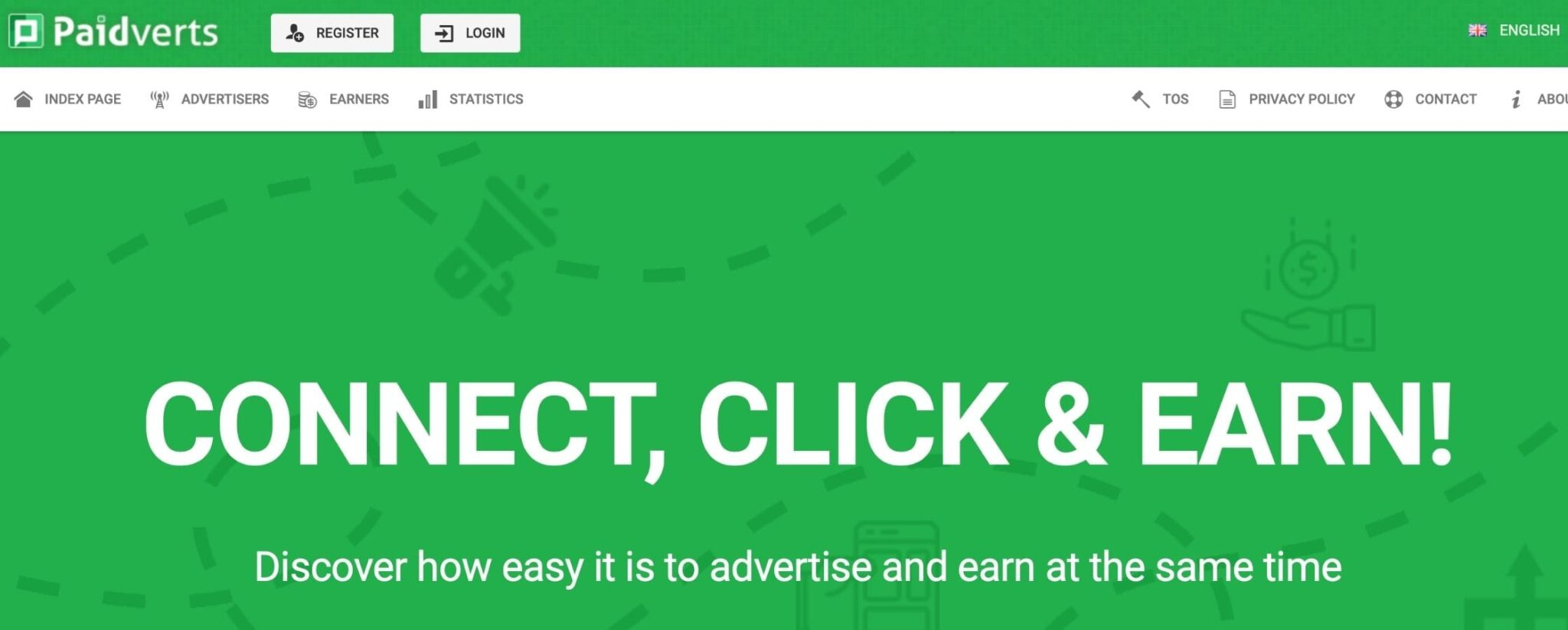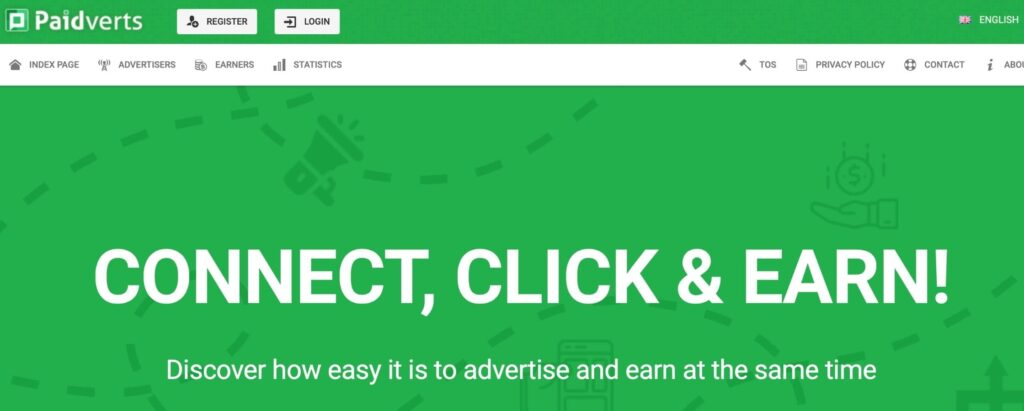 PaidVerts is a trustworthy PTC site that has over 3 million registered users and has paid more than $9 million in cashouts. According to the site, offering successful ads while simultaneously creating a business opportunity is very much possible. However, let's face it, earning money online is the primary goal of many peoples.
PaidVerts members get money for viewing ads for a brief period. However, as opposed to other paid-to-click sites, PaidVerts developed a method through which you can earn based on your level of participation on the website. They are going to pay to click websites.
There are essentially two ways in which you can earn through PaidVertss:
Advertising tools are offered to reach as many individuals as possible at the lowest cost.
Earn money for every click! PaidVerts has developed an exclusive Bonus Points Program that is going to help you increase the revenue of paid advertisements.
The online payment processors for PaidVerts include Payeer, PayPal, Payza, Bitcoin Explorer, and AdvCash.
12. OptimalBux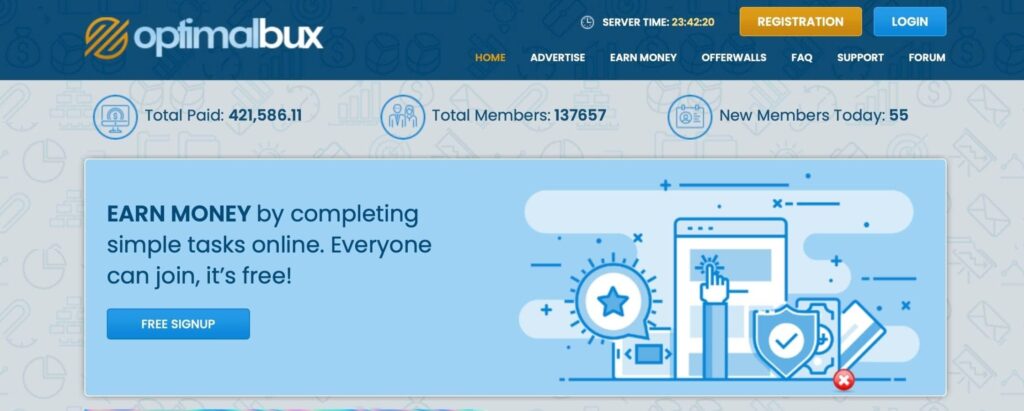 OptimalBux has over 100,000 active users and has paid out more than $350,000 to them. Many people still use OptimalBux to get paid to click websites. You can register on this platform for free no matter where you are located in the world. All you have to do is view advertisements, promote any website, and refer your family and friends to do the same and earn money!
The minimum cashout amount is $5. Thus, once you have hit this amount, you are good to go!
OptimalBux pays you $0.01 for every click, along with 100 percent of referral earnings. You can redeem your earnings through Payeer, PayPal, Skrill, Neteller, AirTM, and Bitcoin Explorer.
13. Ojooo WAD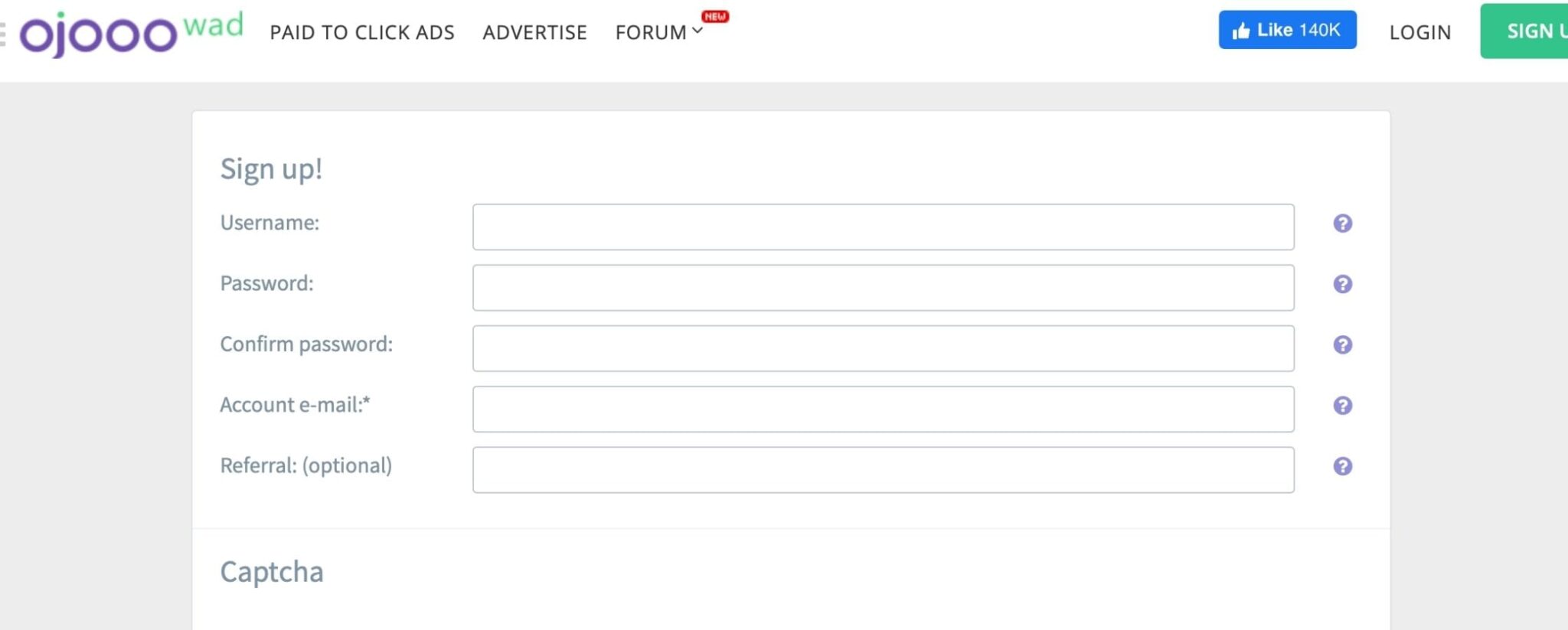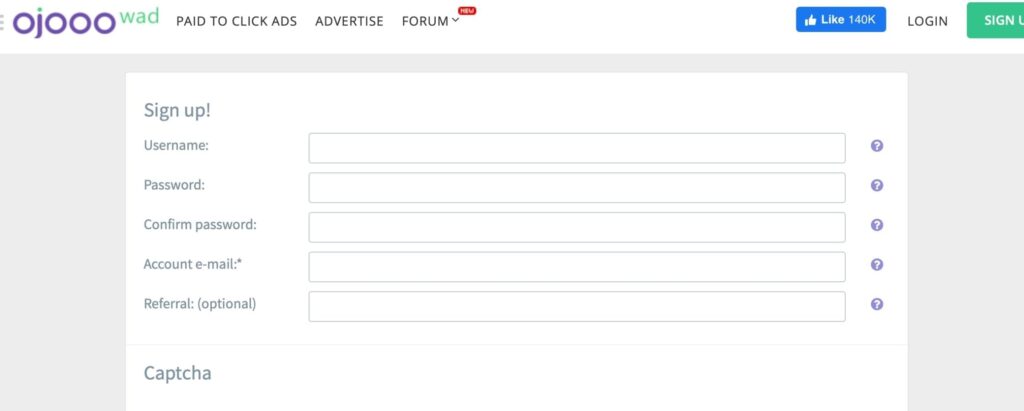 The name Ojooo WAD does sound quite strange, but that doesn't overshadow the fact that it's actually another great site that will pay you to click ads and links from its advertisers.
Ojooo WAD primarily pays you to view video ads that can earn you anywhere between $0.001 to $0.04 per view and click. Another benefit that this site offers is the minimum payout – you can claim your money once you have $2, which is quite low. You can get your money added to your Bitcoin wallet or receive it through Payza or PayPal.
Apart from viewing ads and clicking links on videos, you can even earn money by signing up for websites, answering quizzes, playing small games, and completing online offers.
Ojooo WAD also offers a referral service. You can earn money by referring others and earning through their clicks. The site offers indirect, direct, and rented referrals. They have got an affiliate program as well where you can earn $8 with 10 users in your downline.
All in all, viewing videos and clicking links is the best way to earn on this site, and luckily Ojooo WAD provides several opportunities to do so. I personally won't recommend you to take surveys as the payouts are significantly lower than if you registered on other better-paying surveys sites instead.
14. PrizeRebel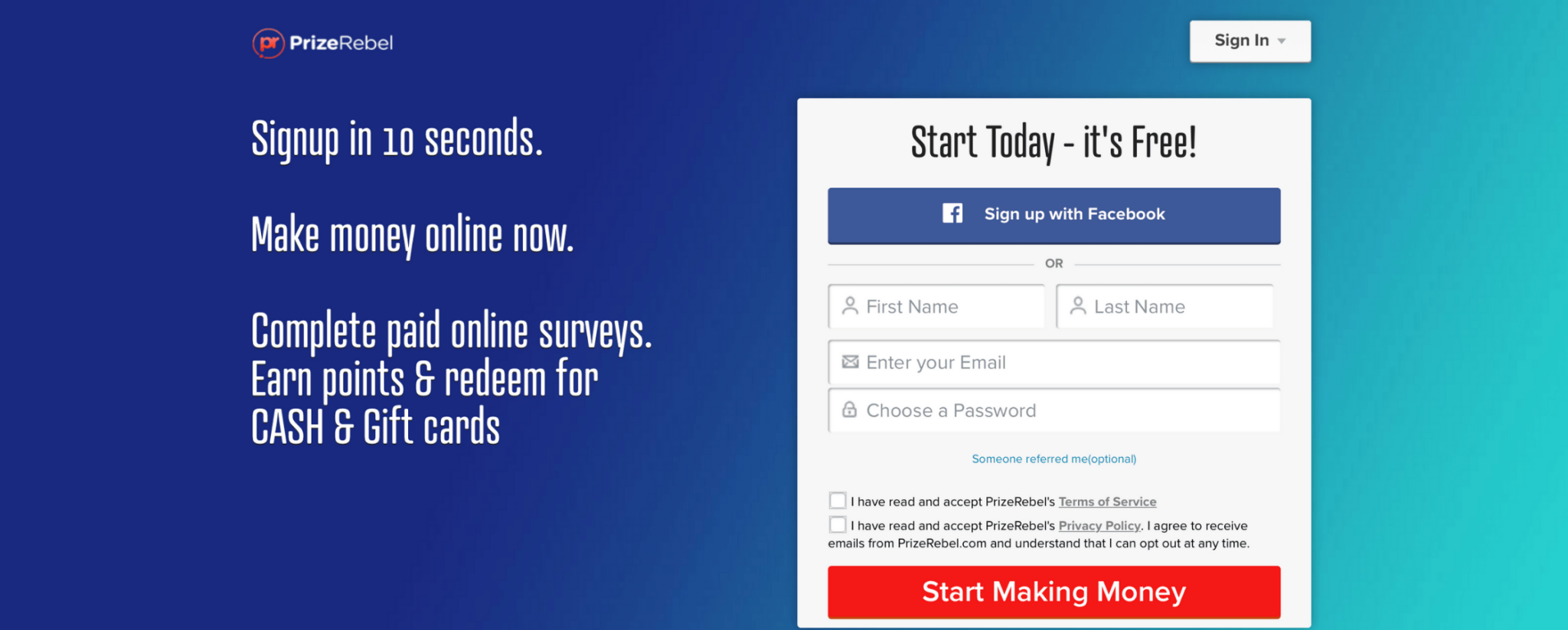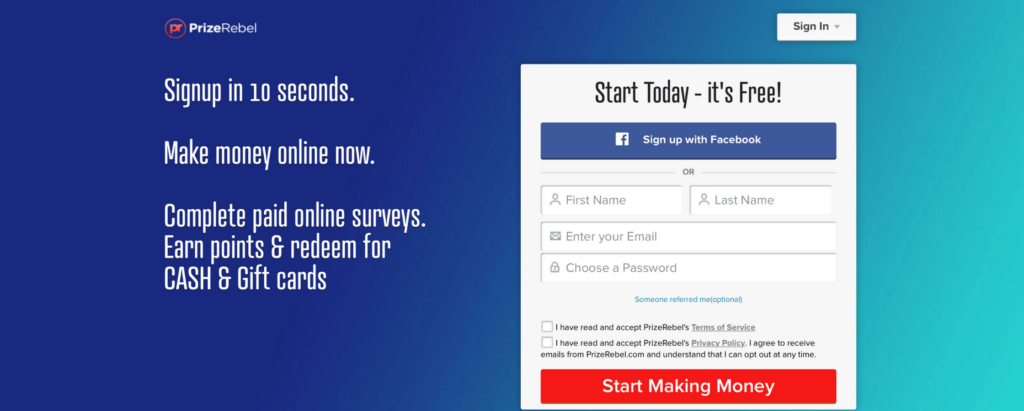 PrizeRebel is one of my top favorite ways to earn easy money online. It's a great free PTC website that has partnered with various research firms in the market that are actively looking to express their opinions on newly launched products.
There are several different tasks you can get paid to do on PrizeRebel, and the most popular one is by completing surveys. Nevertheless, you can also get paid to watch ads, click links, and complete other simple online tasks as well. The website pays $0.01 to $0.10 for every click and up to 30 percent referral earnings through Neteller, WebMoney, Skrill, and PayPal.
However, if you love to shop, you can even opt for the gift cards that PrizeRebel offers. They have more than 500 different gift cards available to you, including Walmart, Amazon, Xbox, Google Play, and even Steam gift cards.
Signing up on PrizeRebel is absolutely free. So why wait? Start receiving PayPal money and free gift cards right away!
15. FamilyClix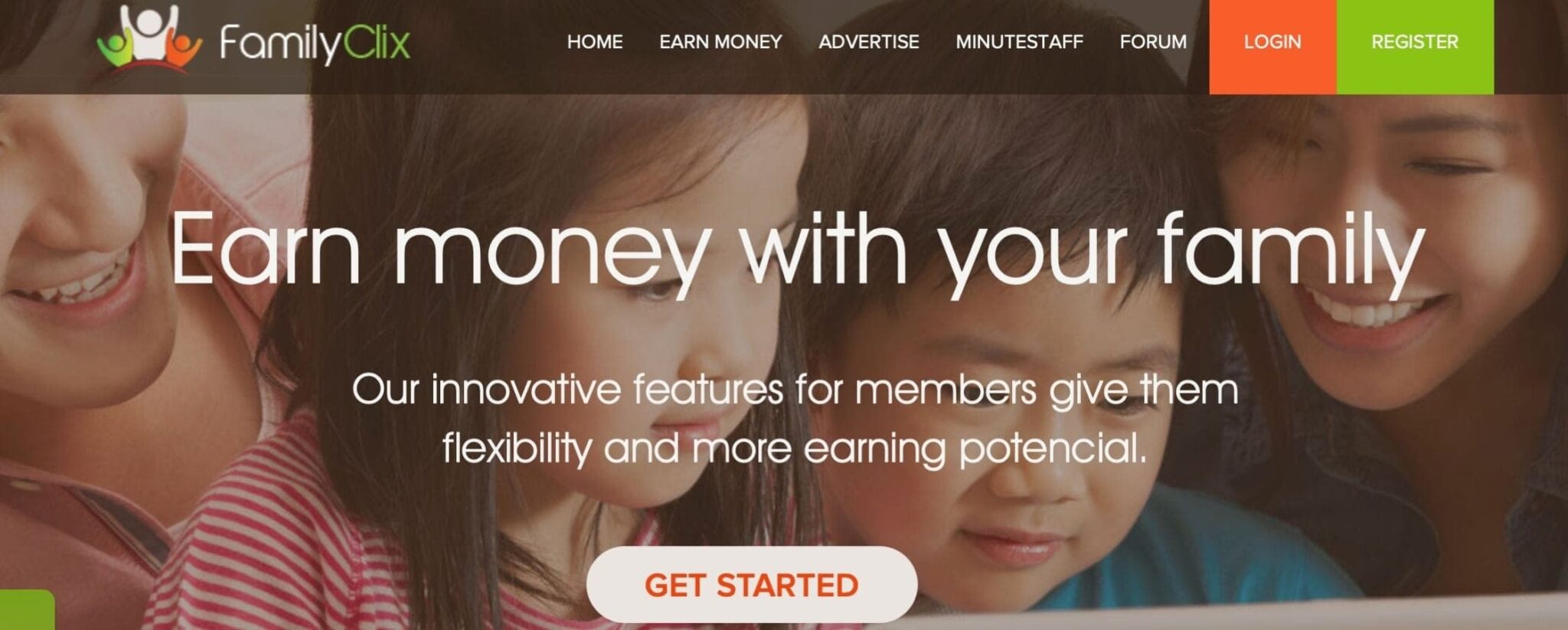 FamilyClix is slightly unique in the PTC world as it focuses more on involving all family members and earning through their site.
The majority of PTC sites restrict multiple people from registering and clicking links on the same internet connection. This is to prevent people from creating multiple accounts and earning more by basically cheating the system.
However, with FamilyClix, your entire family can jump in and earn money. Here are some ways through which you can earn from this platform:
Paid offers
Paid ads
Bonus games
Paid to sign up offers
ClixGrid Clone (a game through which you can win $0.05 that's credited directly to your account)
Referral contests (win up to $0.25 for every active referral).
Apart from this, here are some other benefits of FamilyClix:
Earn up to $0.02 for every click
Get paid $0.02 for every referral and up to $10 if your referral upgrades their account
Payment through Payeer, SolidTrust, Payeer, or Bitcoin
Minimum payout of just $2 ($5 for Neteller)
FamilyClix also links you to paid offers on other websites too. Thus, you will perhaps earn more by signing up directly with those websites.
In conclusion, FamilyClix is very similar to other PTC sites. While you do need to do plenty of clicking to actually earn money, the good news is that you won't run out of links!
16. InboxDollars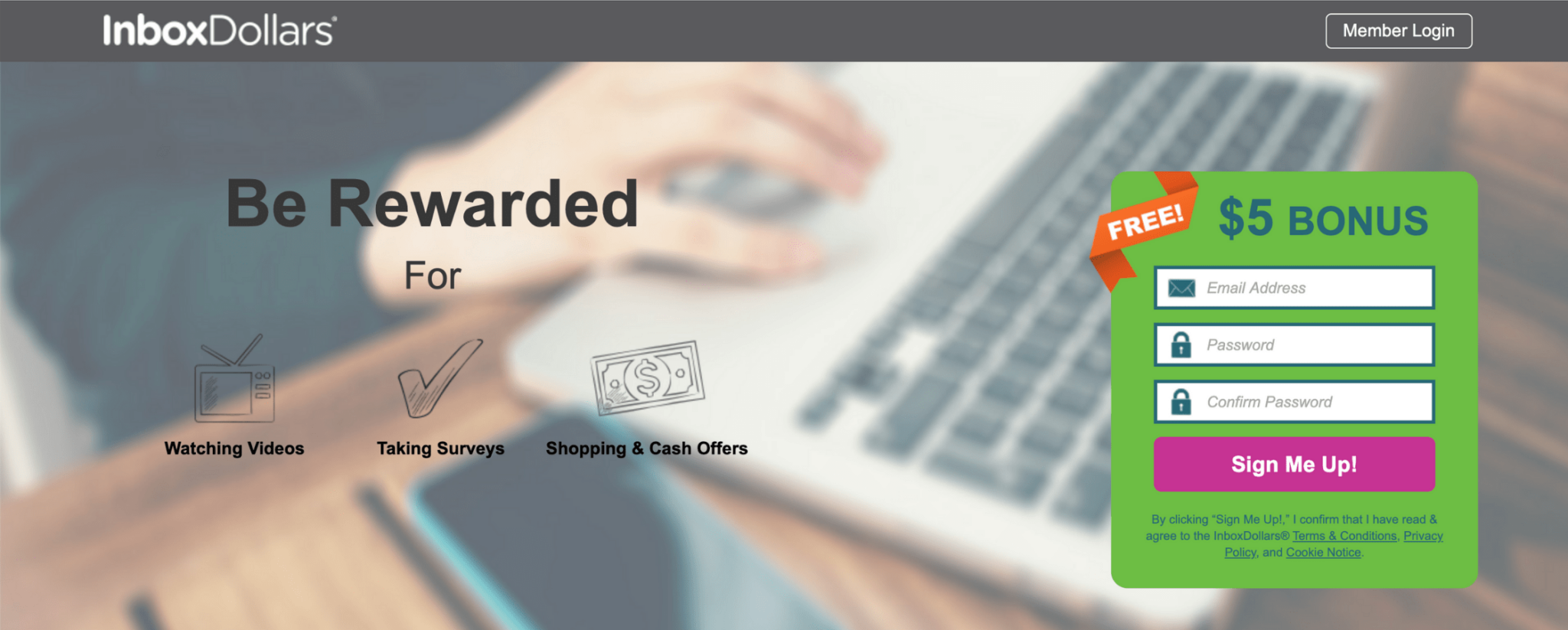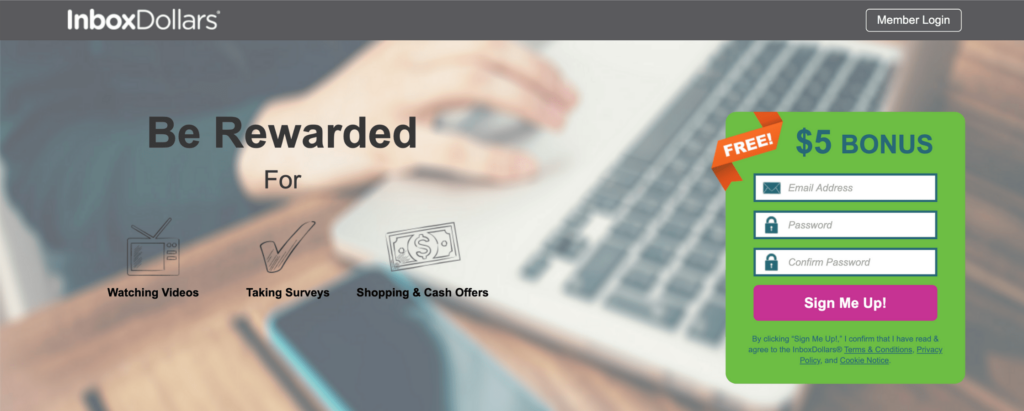 InboxDollars is another GPT site, which means there are several ways to earn gift cards and PayPal money through it. And if you want to get paid to click links, InboxDollars has got your back!
Just like Swagbucks, InboxDollrs will send you emails that you can read to earn money. The emails come from large brands and perhaps less popular businesses that partner with the site for promotional and marketing purposes. Hulu Plus, Vistaprint, Home Chef, and JustFab are some of the few companies that use InboxDollars to advertise their offers.
When you get a promotional email, most of the time, all you need to do is read through the email and click a link saying you did. Yes, it's that simple! Other times, you can earn money by clicking ads in the emails and browsing the website.
Last but not least, InboxDollar also pays you to click links to videos and watch them. A lot of these videos are product ads or movie trailers that can actually be quite entertaining to watch! You get a sneak peek into new products or movies you might not have heard of otherwise.
Receive an instant bonus of $5 when you register with InboxDollars.
Recommended: InboxDollars Review: Ultimate Guide
Final Thoughts
See how simple it is to get paid to click ads!
We hope you find at least a couple of the sites mentioned above to be worthy of your time.
While I don't recommend registering for all of them (as you will end up spending a lot of time spreading your earnings rather than focusing on just a few sites to grow your payments), we do suggest you pick out 3 or 4 of them that you wish to stick to.
Focus on only those and see your earnings increase rapidly.
Just make sure at least one or two of them are GPT sites that also offer other ways of earning along with getting paid for clicking ads.
Good luck and happy clicking!
FAQs
What is the highest-paying PTC site?
This is probably the biggest question on your mind when you are wondering about how to get paid to click unlimited ads. Here is a list of the 5 highest paying PTC sites:
•Get Paid
•Offer Nation 
•Ojoo WAD
•PrizeRebel 
•OptimalBux
How do I check for a scam site?
With several different money-making schemes and PTC websites online, you will probably experience some differences depending on the sites. As PTC websites have recently become quite popular, several scam sites asking for fraudulent clicks have surfaced as well. 
Check out this list of scam sites and steer clear of click fraud!
What are the red flags of a PTC site?
Keep an eye out for these red flags when you are trying to make money from a PTC site:
•High Pay – if you come across a display ad or an ad network that claims to pay you $20 for 2 clicks, you should think of it as a scam. 
•Lack of Proper Revenue Streams – If the PTC program doesn't earn money from consumers except for its own registered members, any profits you make would most definitely come from the buy-in fees of other investors.
•Upfront Payments – If the site asks you to pay a subscription fee or asks you to purchase a product in exchange for clicking on ads, it's most likely a scam. 
•Problem Cashing Out – If you are experiencing trouble in redeeming your earnings, it's a sign that the site doesn't have sufficient money to pay you. 
•Do Your Research – If the site is inactive, offline, or dormant, or if you detect any unusual activity, that kind of PTC site is most likely a scam.
Get Paid To Click