Disclosure: This post may contain affiliate links. If you click on a link I may make a small commission at no extra cost to you. You can read the full disclosure here.
Last Updated on December 26, 2022 by Chris Panteli
Get Free Coffee Samples
Renowned American singer and author Henry Rollins once wrote,
What goes best with a cup of coffee? Another cup

Henry Rollins, Black Coffee Blues
Do you agree with this sentiment? I think there is one thing that's better than another cup of coffee.
Free coffee samples delivered right to your door!
Did you know that the average American coffee drinker consumes three cups of coffee every day?
If you can get some of those cups for free, then you could save some money.
On average a cup of coffee in the US costs $2.70. If you drink three a day, that's a whopping $986 per year! Not including tips. With tips, you could be spending more than $1000 every year, just on coffee!
Think of all the awesome things you could do with that money if you could save it.
The good news is that it's possible to get some of those coffees for free! You just need to know where to look. Find out as we reveal 25 ways to get free coffee samples.
Getting Free Coffee Samples
Getting your hands on some exciting coffee freebies isn't as complicated as you may think. You simply need to follow the steps to redeem each offer and wait for your free coffee sample to arrive.
Freebie deals are straightforward to claim. Go to the website to redeem the offer and complete the requested information. That's it!
These samples can be an awesome opportunity for coffee enthusiasts to try new flavors, strengths, or simply get a coffee for free!
25 Ways To Get Free Coffee Samples
Free coffee samples are easy to get once you know where to look! To help you with that, here are 25 ways to get free coffee. Enjoy!
1. Nestle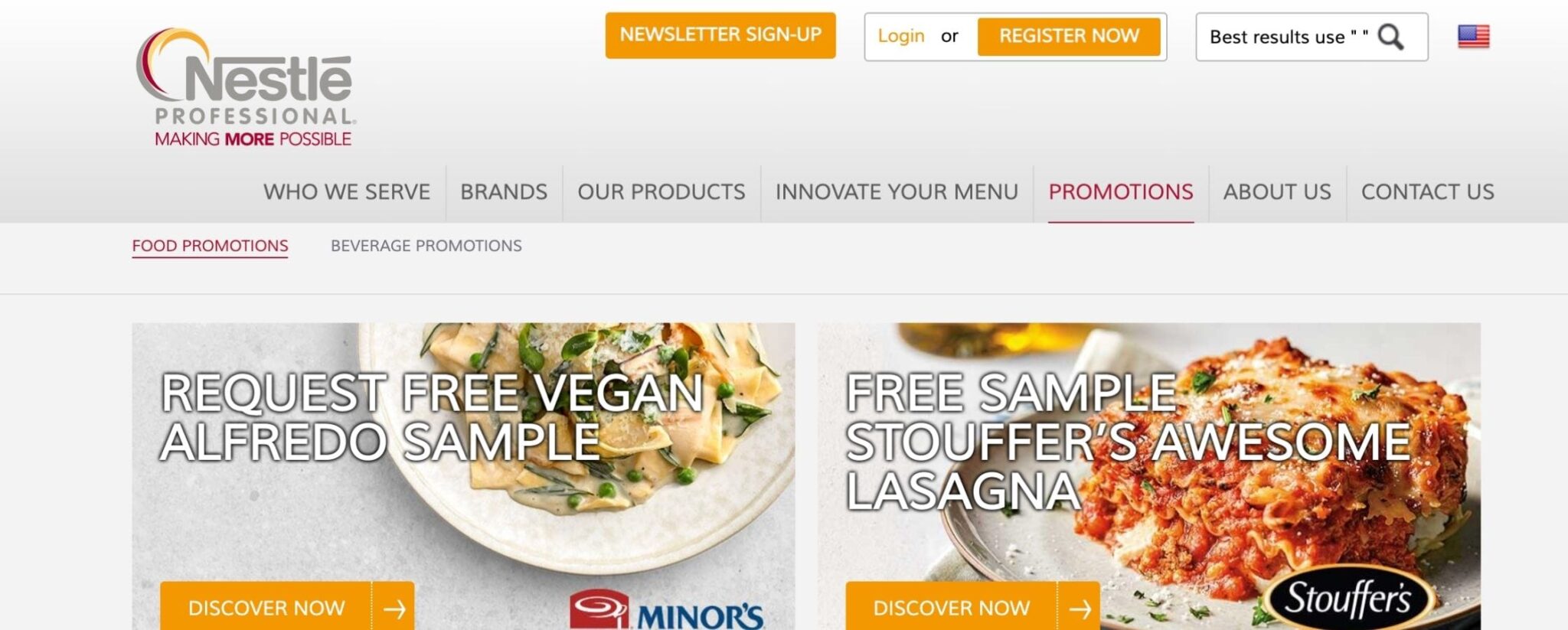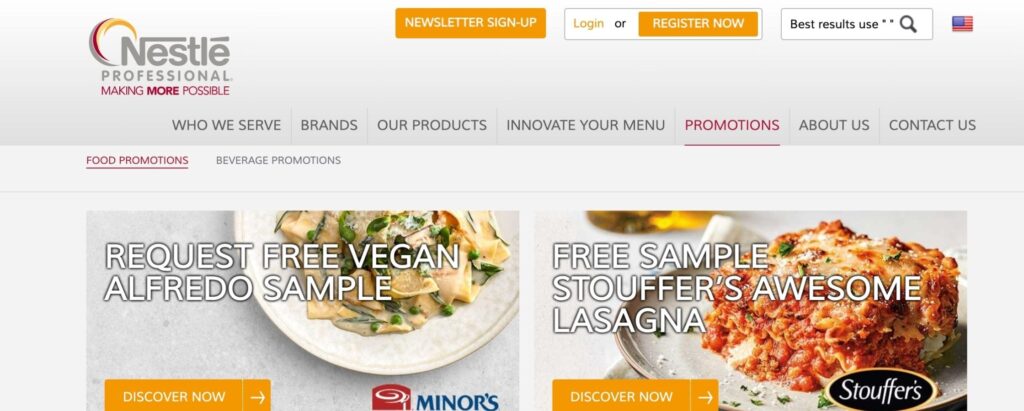 Food and beverage giant Nestle can trace its origins back to 1866. The brand we know today officially became Nestle in 1905.
Nestle began as a manufacturer of condensed milk. Today the range of products manufactured by Nestle has expanded to include items such as confectionery, chocolate, drinks, and most importantly, coffee.
Like many companies, Nestle gives away freebies. To claim yours, start by going to the Nestle website. Select the freebie you want and fill in the form. You will need to provide your name, address, email address, and telephone number. A painless way to get a free coffee!
2. Blue Bottle Coffee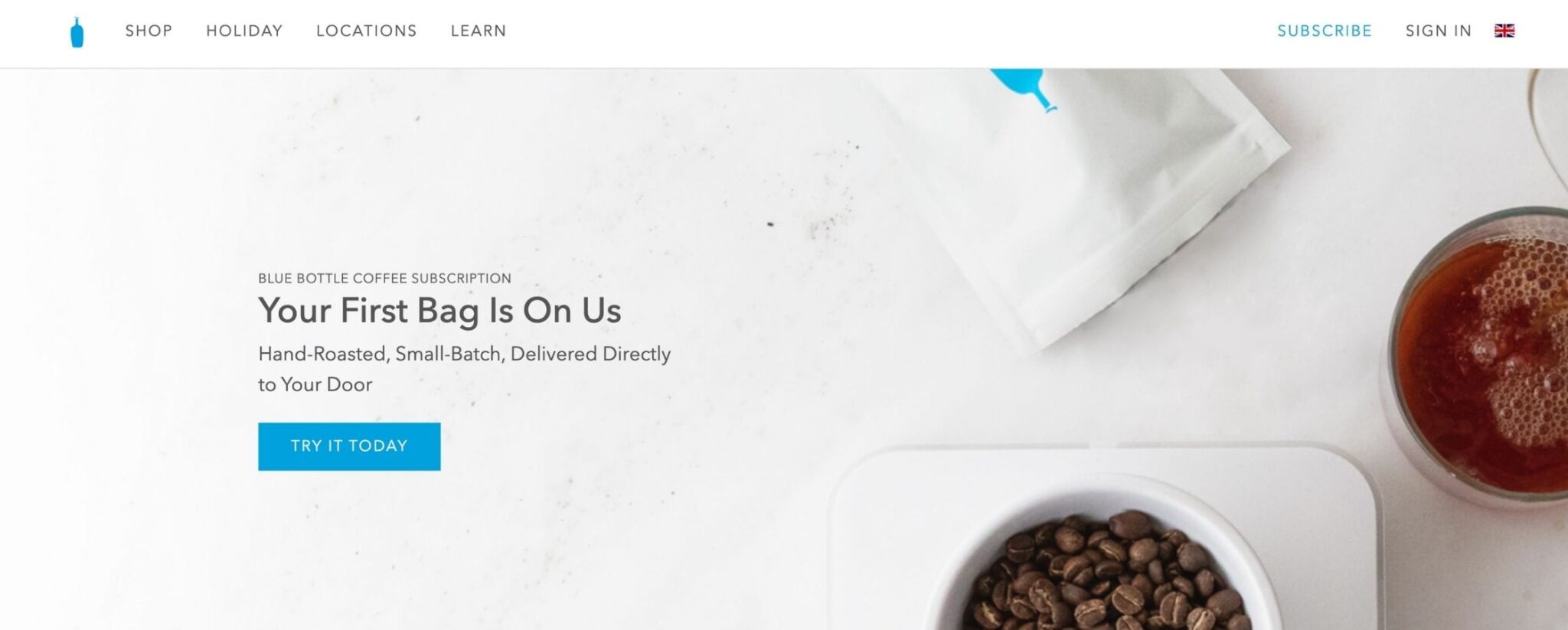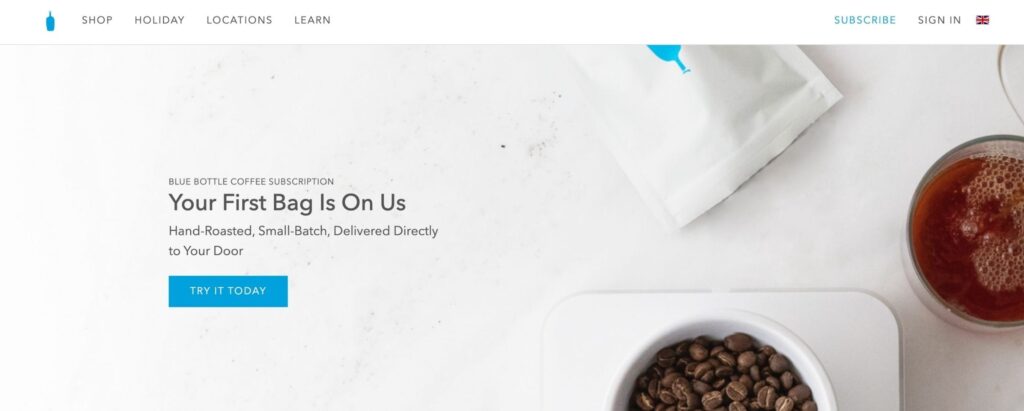 Blue Bottle Coffee gets its name from Europe's first coffee house that was opened over 300 years ago in Vienna!
The founder of modern-day Blue Bottle Coffee began in the early 2000s in California and was subsequently bought by Nestlé in 2017. Today they are an established worldwide coffee brand with a network of cafes across the US, Japan and, Korea.
To get your free coffee from Blue Bottle simply go to their website and sign up. You can receive a free 12-oz coffee pack of your choice. Choose from espresso, blend, or single origin.
Please keep in mind Blue Bottle is a subscription service. If you don't want to receive any coffee in the future or pay any charges don't forget to cancel the subscription!
3. Amora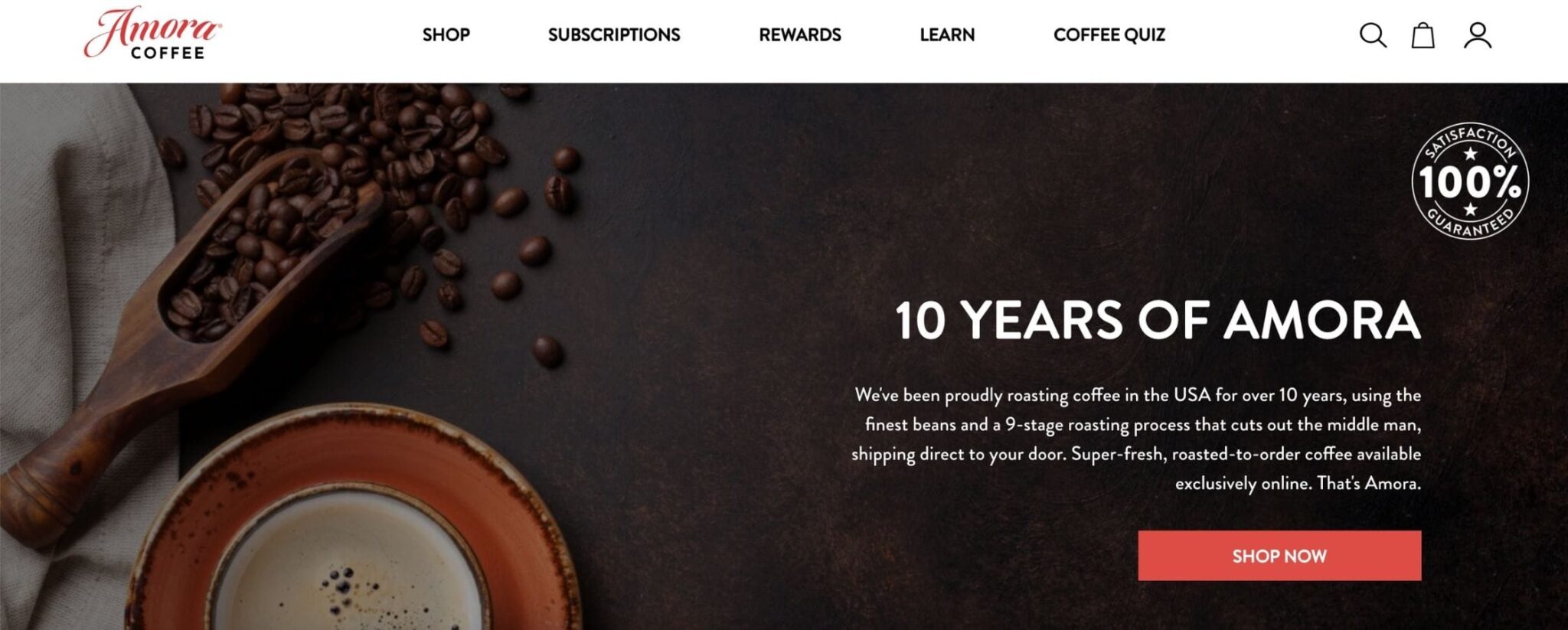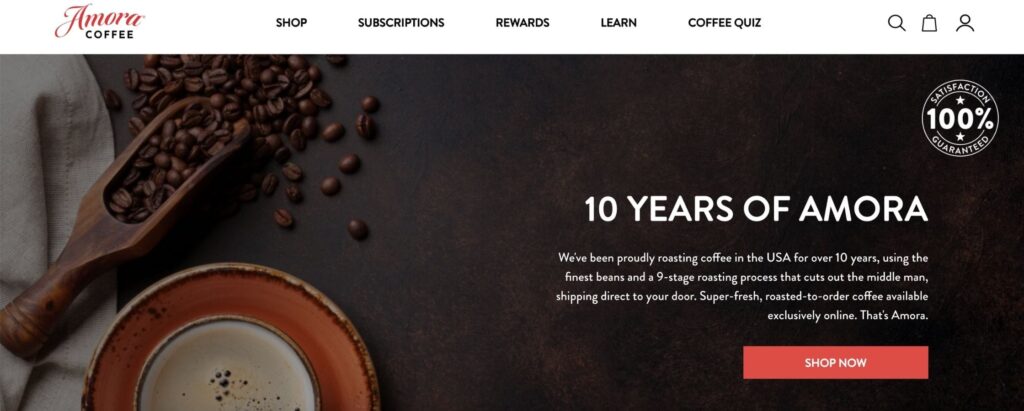 Amora coffee began in 2011 with a simple mission – to directly deliver the finest coffee straight to your door.
Since its beginning, Amora coffee has continued to deliver on that promise and in 2015 also added a range of teas. You can claim your free full bag of coffee by signing up for the Amora subscription service.
As long as you're a first-time customer you will get a free bag of coffee!
Once you've received your free coffee, if you want to cancel the subscription don't forget to do that immediately. You may have to pay a small charge for shipping and handling of $1 but otherwise, the actual coffee is totally free!
4. Kona Red Coffee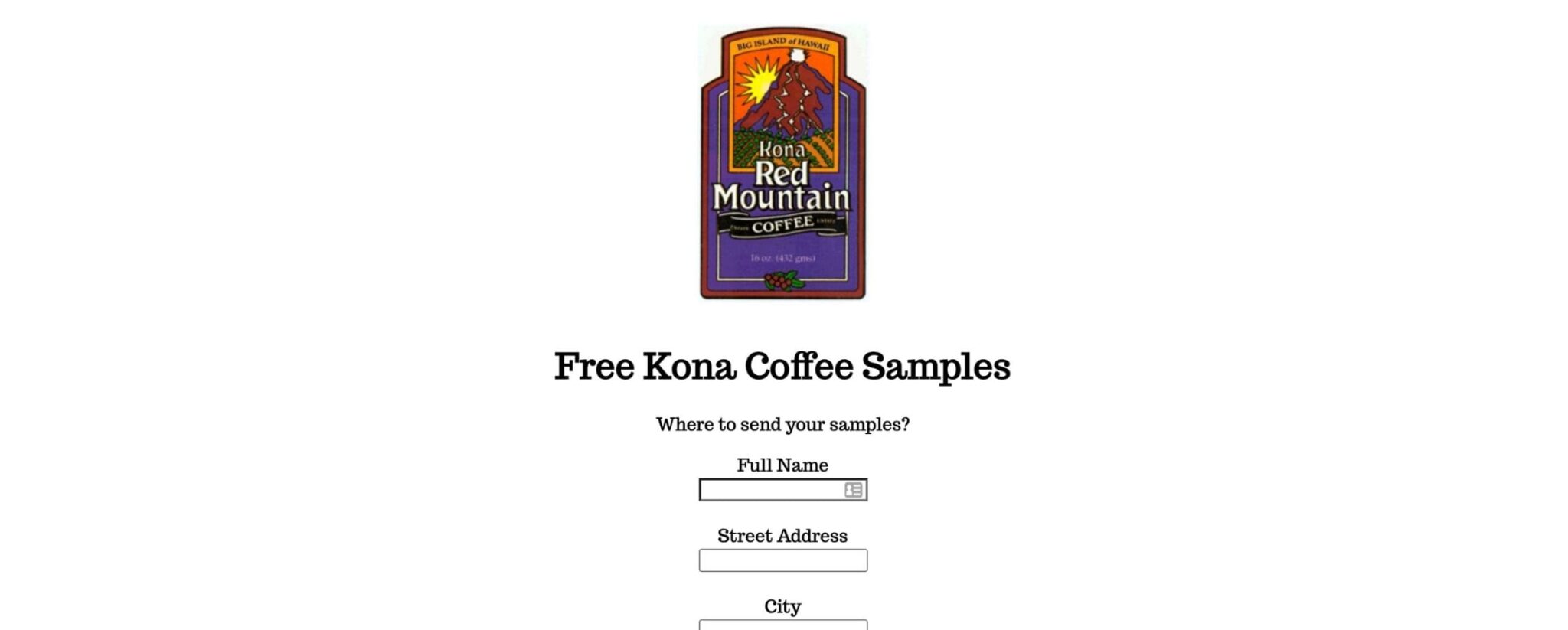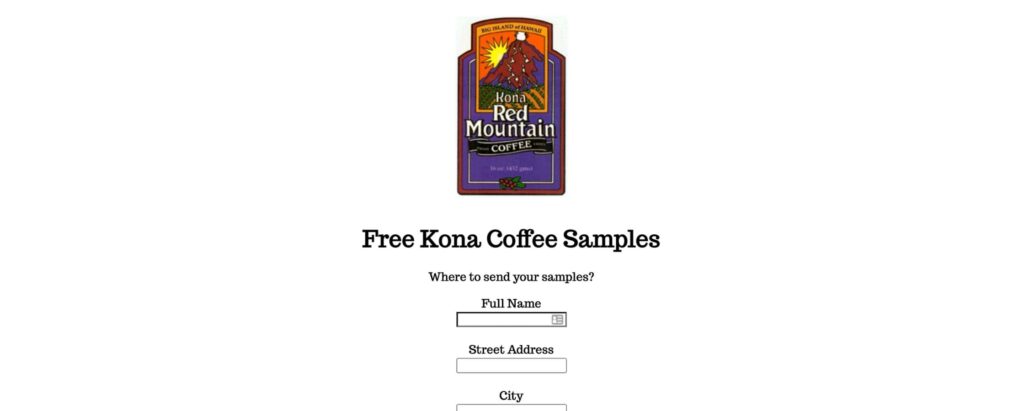 To claim a free Kona Red Coffee sample start by going to their website. Once on the website, you have a simple form to fill in with your name, address, and email address.
Click on submit and that's it! You will get your free coffee through the post.
5. Verified Gourmet Coffee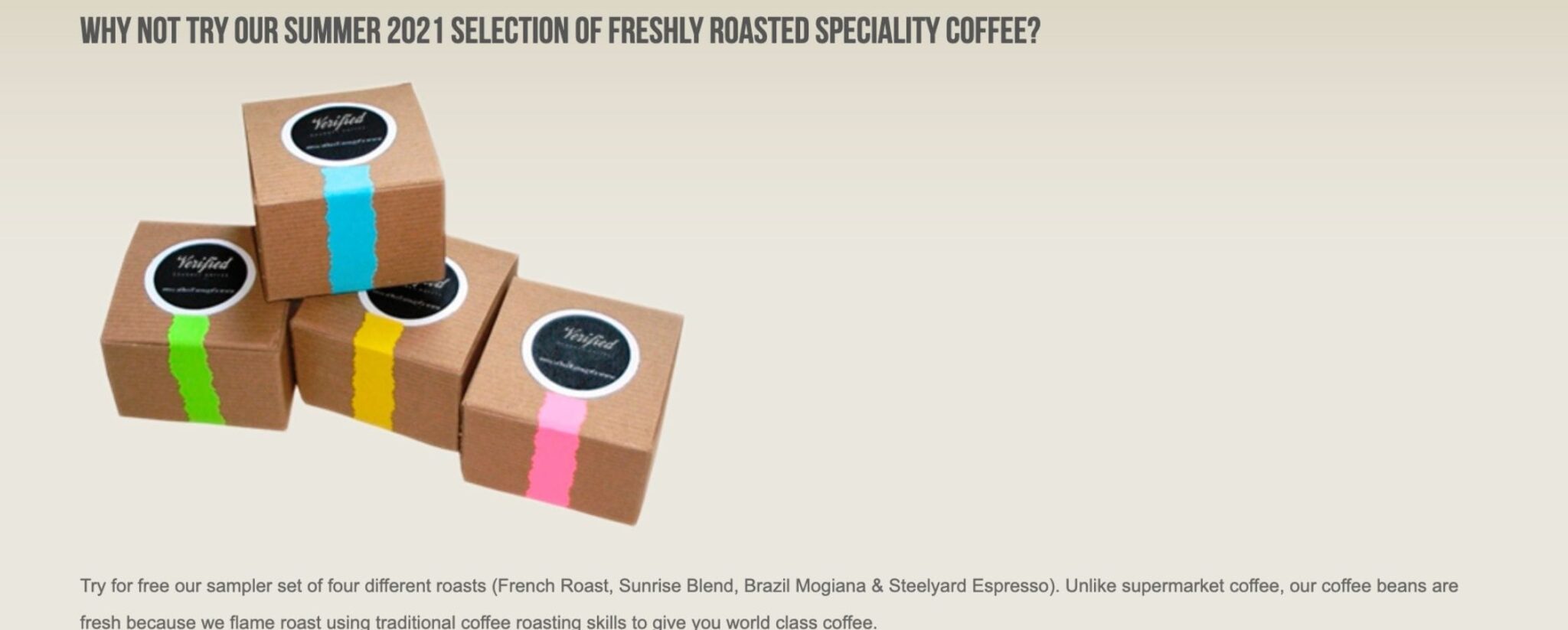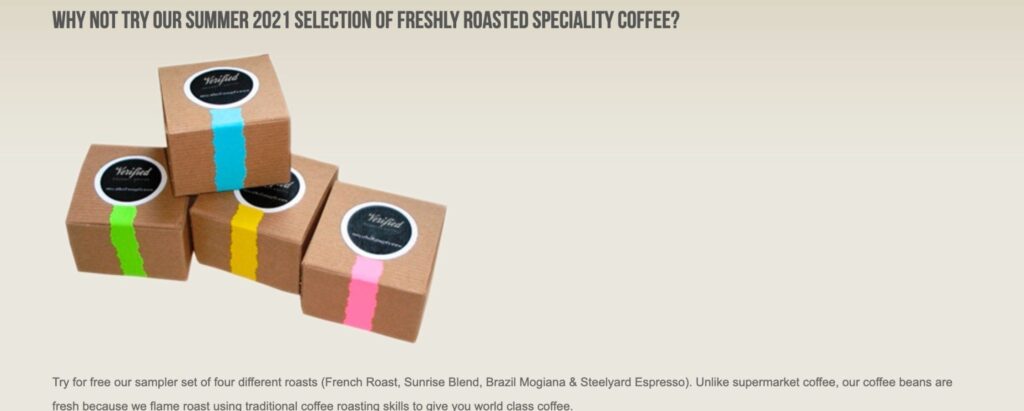 Verified Gourmet Coffee has been making specialty coffee in Wisconsin since 1990. They take great joy in supplying their customers with the best coffee using the finest arabica beans.
To get your free coffee sampler set all you need to do is complete the short order form on their website.
You need to give your name, address, and email address. Then you'll get your free coffee sample set in the post along with an order form should you wish to order any more in the future!
The coffee sample set includes 4 different roasts: French Roast, Sunrise Blend, Brazil Mogiana, and Steelyard Espresso. All the coffee beans are flame-roasted using traditional coffee roasting skills for some delicious coffee.
6. Vidacup Coffee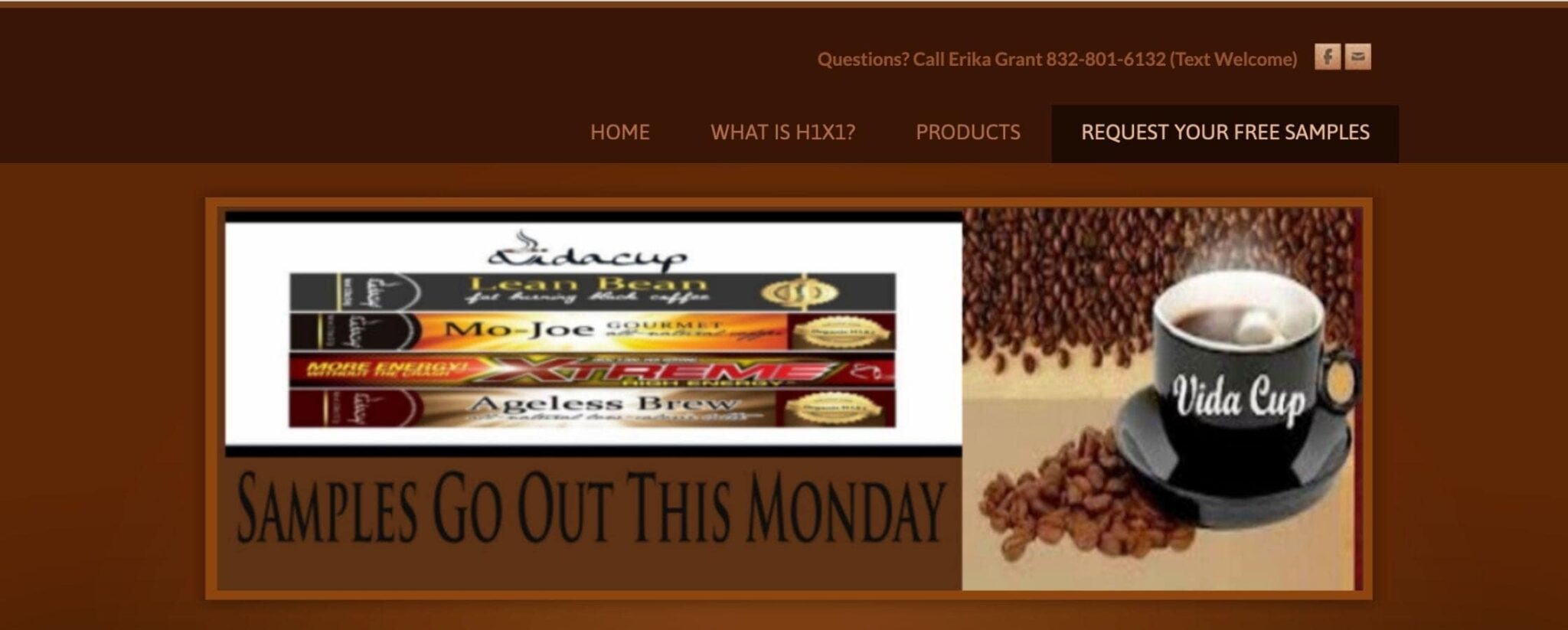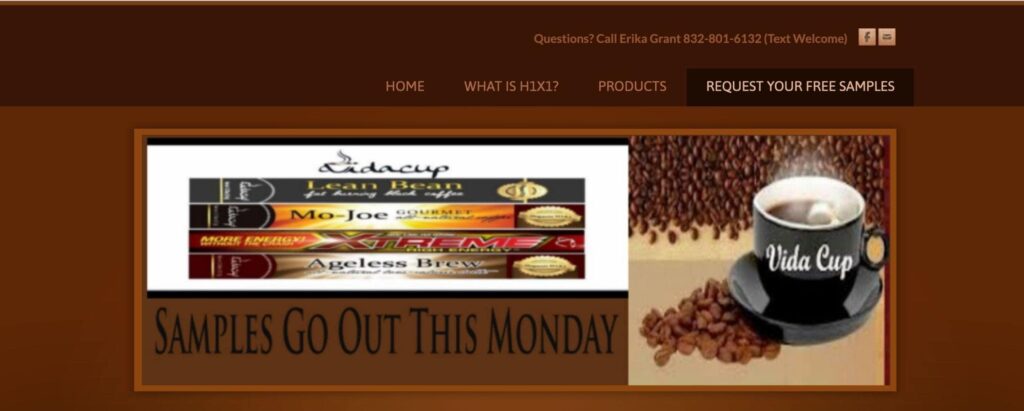 Vidacup Coffee promotes coffee that has been specially crafted using a unique formula. By carefully mixing the coffee with extra ingredients you can enjoy additional health benefits from your morning cup of Joe.
To try it out you can claim two free samples per household. Simply fill in the form with your name, contact details including address, and comment on which two samples you would like to receive!
7. Groundwork Coffee Co.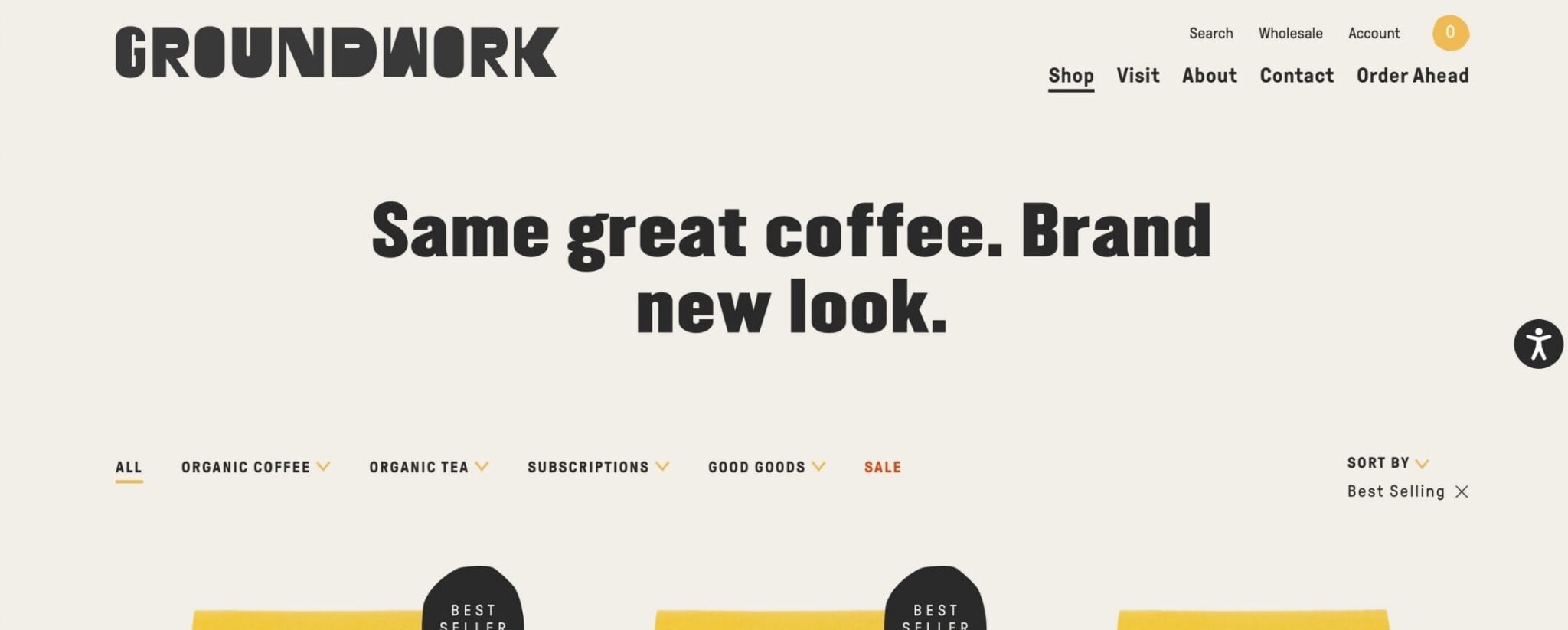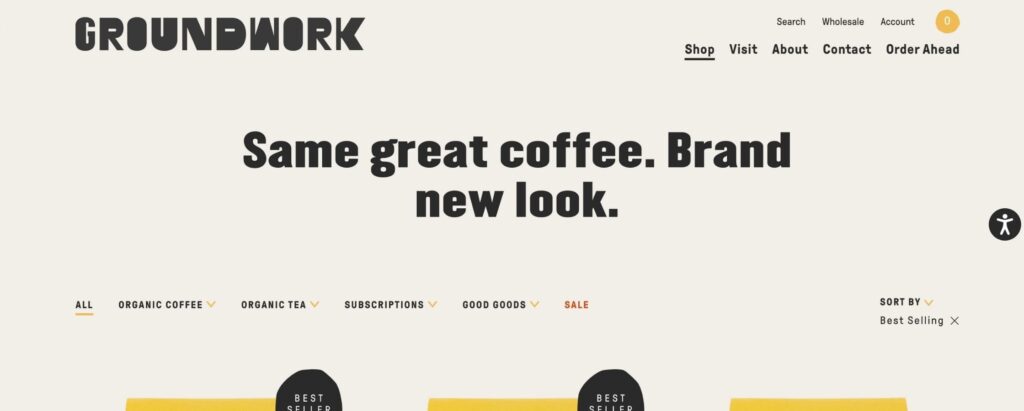 Groundwork ticks all the boxes if you want to buy ethically sourced coffee. All coffee beans are certified organic, ethically sourced, and purchased via direct trade. This means small independent coffee farmers are paid fairly for the coffee beans they produce.
You can claim a free 2-oz bag of Signature Blend or Single Origin coffee. Head to the website and when you get to the checkout use the code SAMPLE1990. Your coffee will be sent straight to your door!
8. PINCHme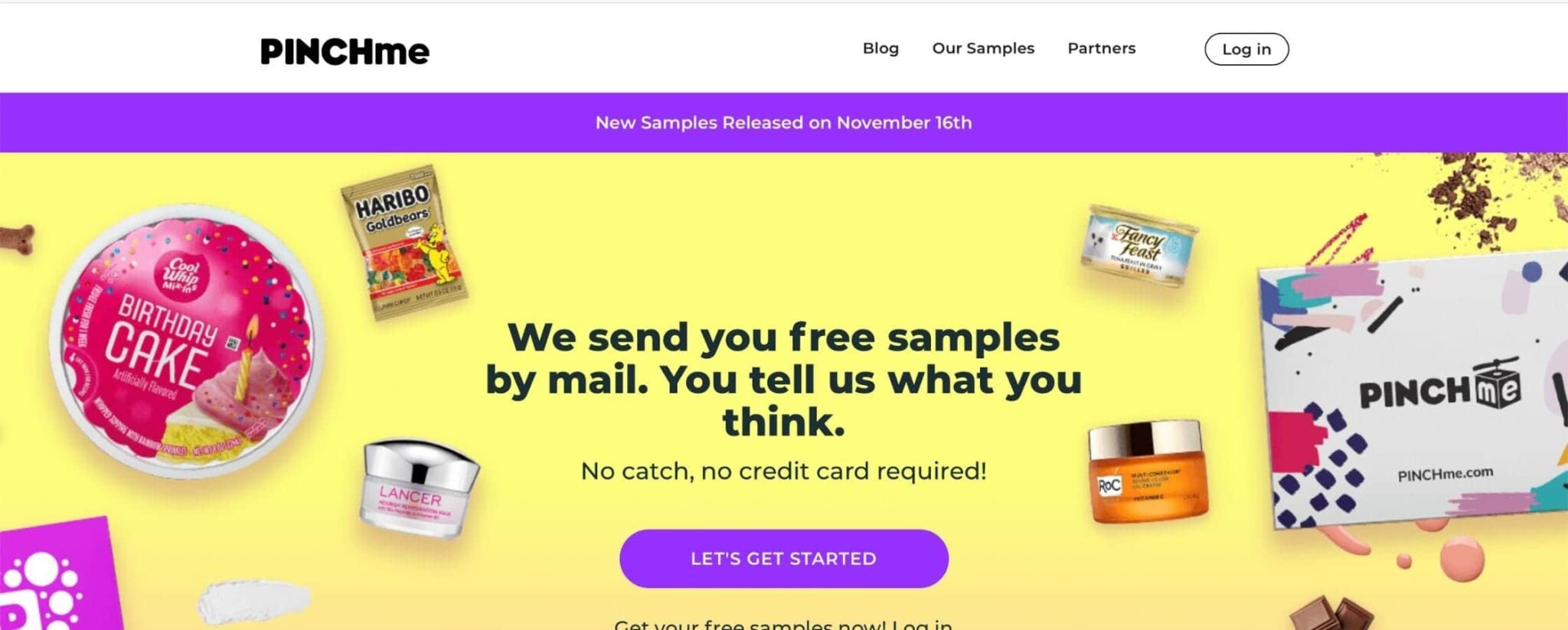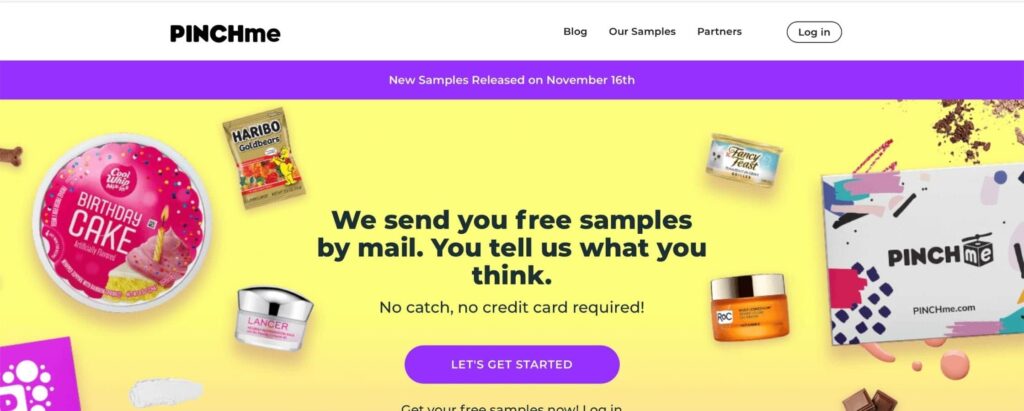 Since its inception in 2013, PINCHme has given away over 58,000 free coffees to nearly 8 million members! Not bad, right?
To get your free samples you simply need to sign up. Sign-up is free or you can log in with your Facebook ID.
PINCHme sends samples for all kinds of products but regularly sends coffee samples from big brands including Nestle and Starbucks.
9. Woods Coffee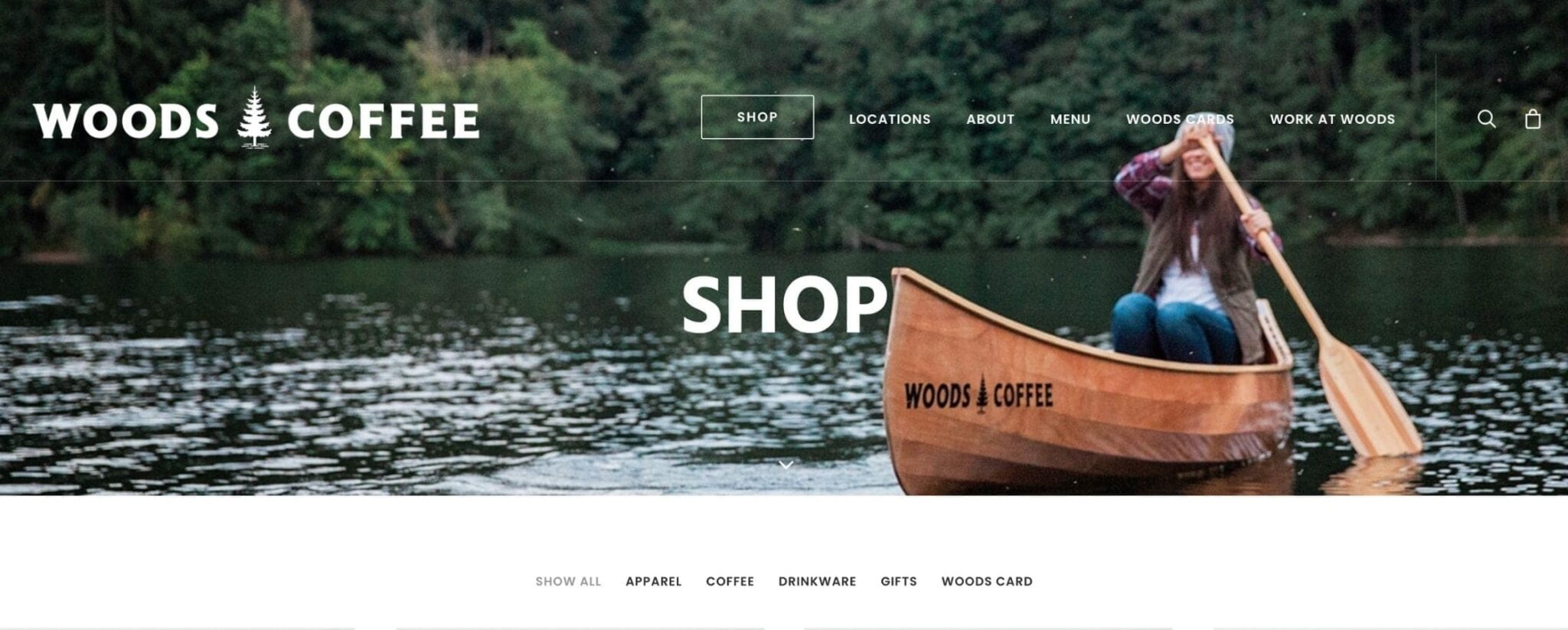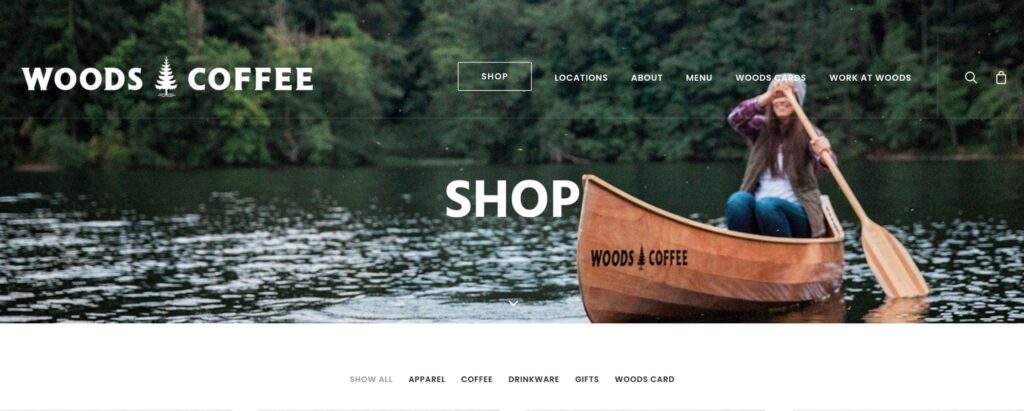 Woods Coffee started with a single coffee shop back in 2002. Today they've grown to numerous locations serving the Pacific Northwest.
Take advantage of the free offer for new subscribers to claim a free bag of coffee and pay just $0.99 shipping.
Woods Coffee is a subscription service which means to get your free coffee you must complete the sign-up process. Make sure to cancel the subscription before you get charged.
10. Camano Island Coffee Roasters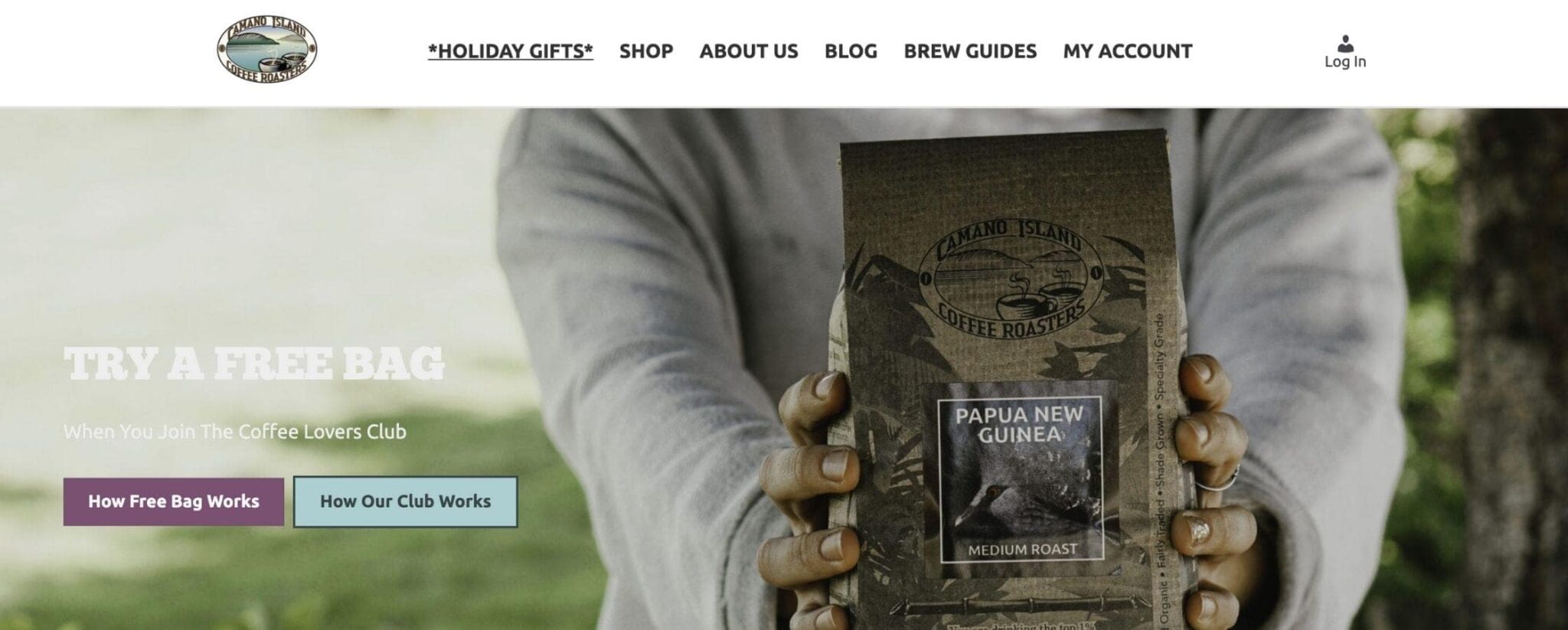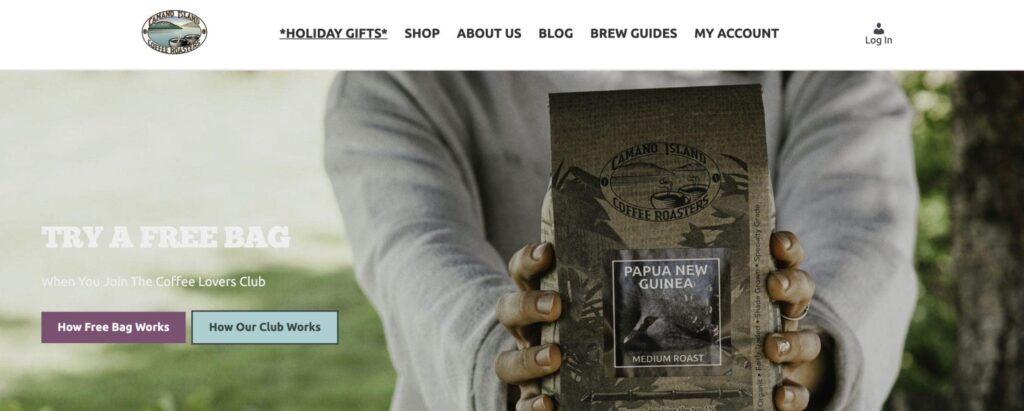 An ethical coffee retailer, Camano Island delivers organic freshly roasted coffee straight to your door!
To claim your free bag of coffee you must join the subscription plan. You must pay $0.99 for shipping, but the coffee is free!
Choose your free 1-lb bag of coffee in the first step. Not only can you choose from a selection of coffees, but you can pick what grind you would like.
After choosing your free coffee you must complete the remaining steps. Step two asks you to pick what subscription type you want in the future.
Step three gives you the chance to pick which varieties of coffee you want to receive. The final step allows you to set how often you will receive your shipment.
Once you've received your free bag simply cancel the subscription if it's no longer required.
11. Daily Goodie Box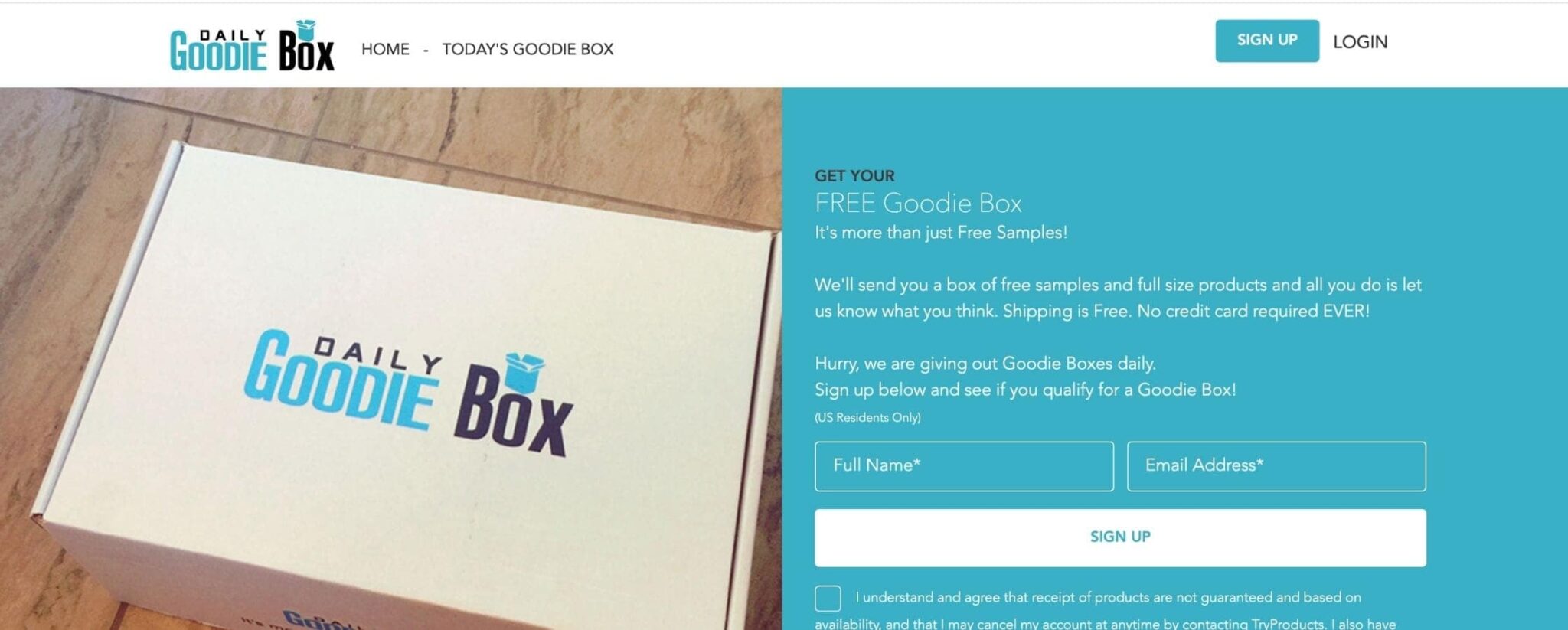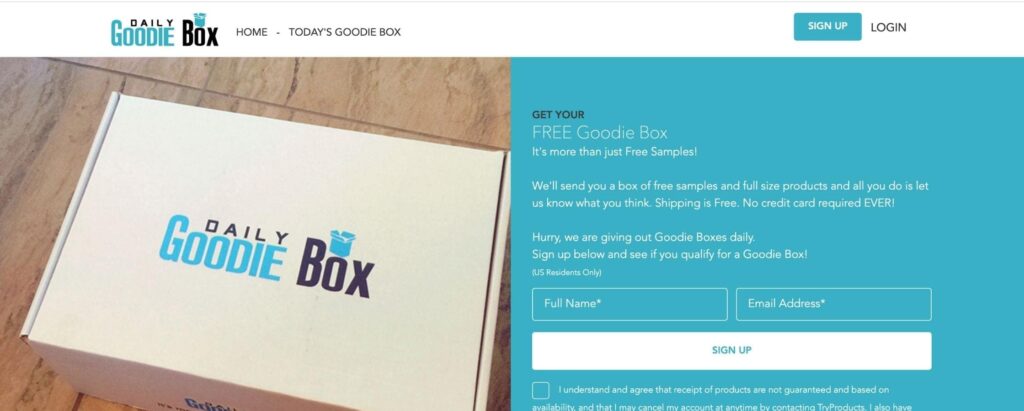 Free coffee samples and other products are regularly issued by Daily Goodie Box. You can quickly get started by giving your name and email address. Once your email address has been verified you can now complete your full profile including the delivery address.
Not only are you now eligible for a free daily goodie box. You can also sign up to receive other freebies!
Shipping is completely free and you will not need to provide any payment details!
In return for the free stuff, you simply need to give an honest review of the samples you've received.
12. ARCO Coffee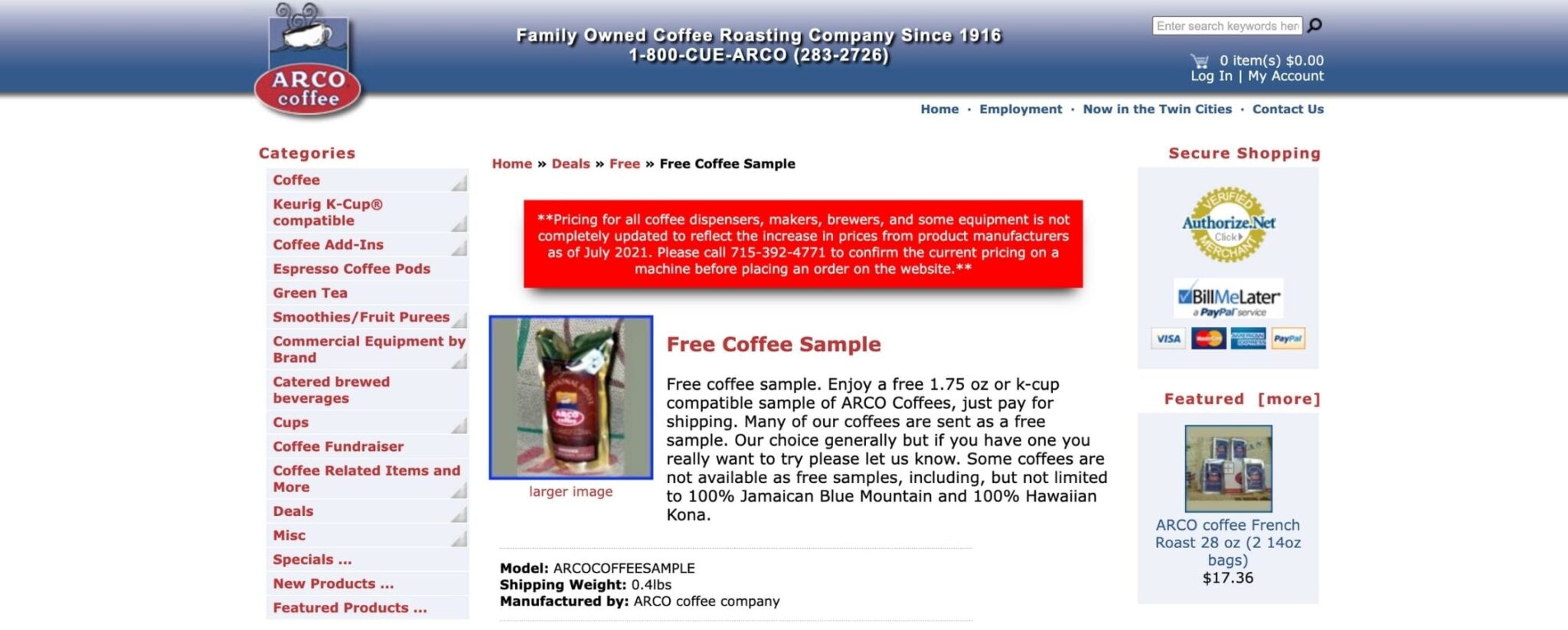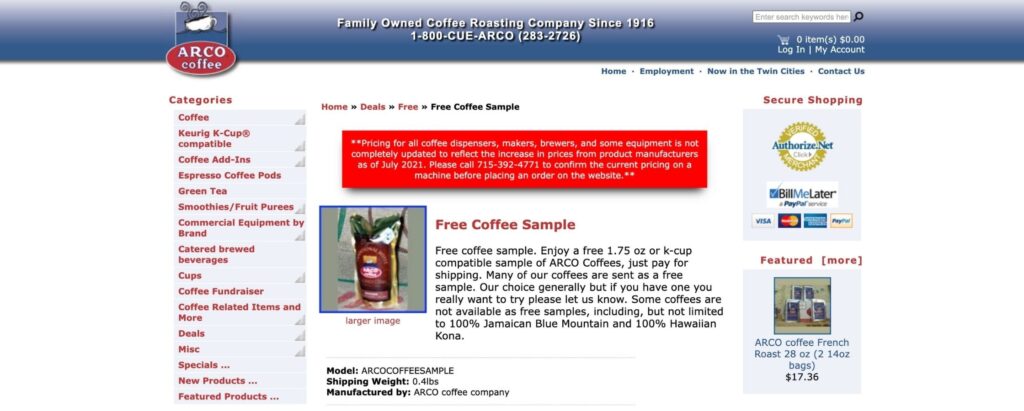 Over 100 years ago a gourmet coffee company was founded. ARCO Coffee started in 1916 and the family-owned firm has gone from strength to strength since.
Choose from a tantalizing range of organic coffee blends that are ethically sourced.
You can claim a free coffee sample directly from ARCO. Get a 1.75-oz or K-cup compatible sample delivered to your door.
Most free samples are chosen for you, but you can make a special request if there is one you wish to try. It's not a guarantee you will receive it, but ARCO will certainly try!
All you must pay is the shipping costs.
13. Tryazon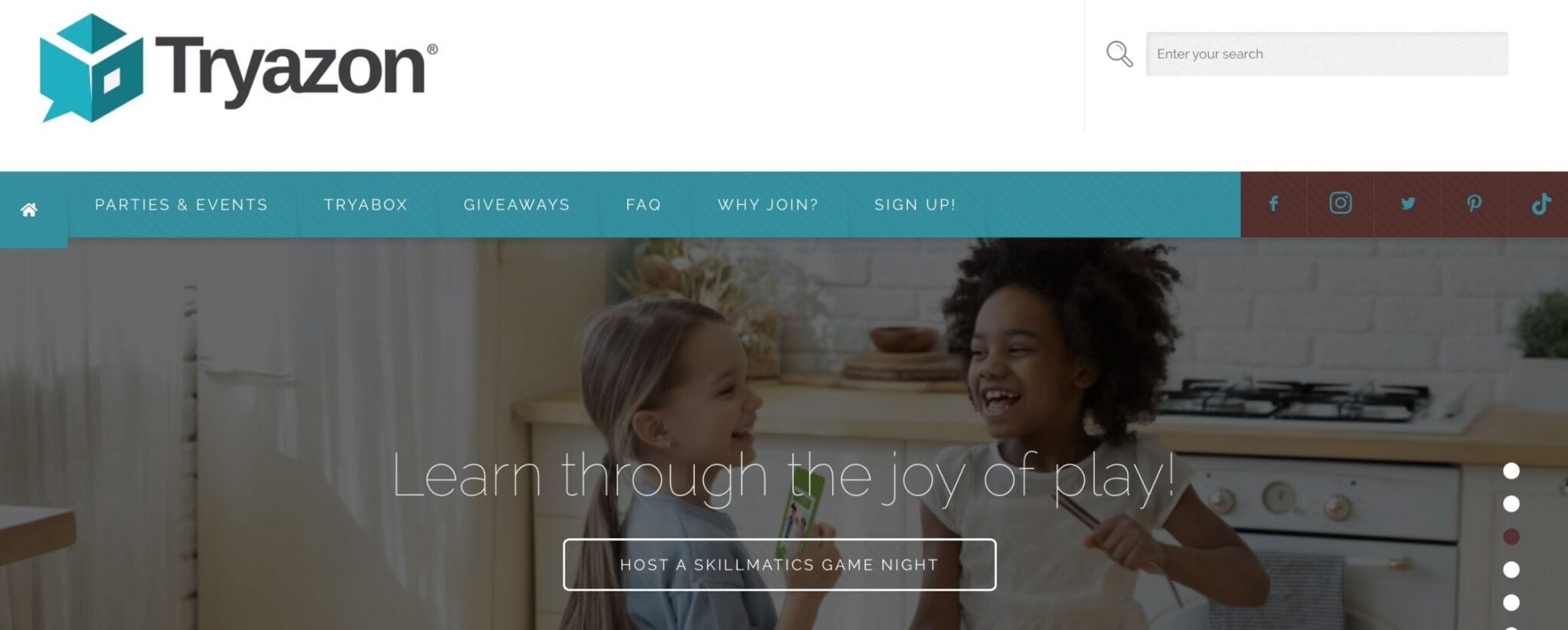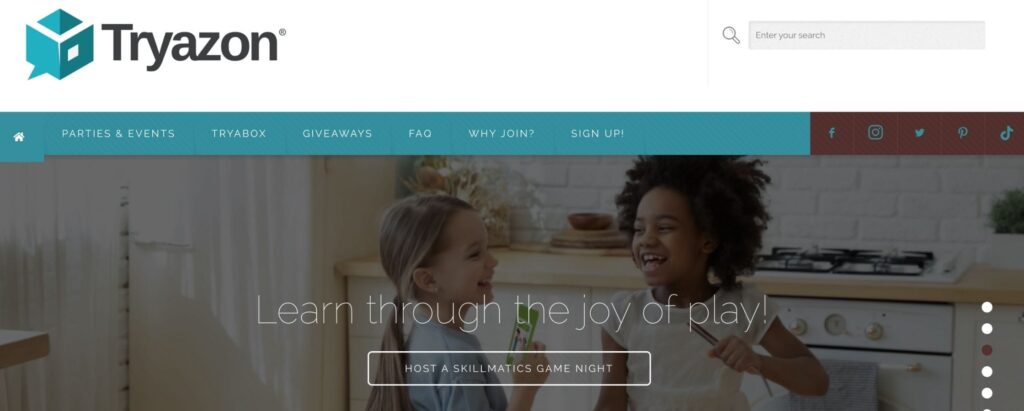 There are two exciting ways you can get free coffee and other products as a member of Tryazon.
First, sign-up to be a member. It costs nothing and you can get access to all offers as a member. The sign-up form only requires your name, address, phone number, and email.
Now you've joined you can either request a TryaBox or host a party! The TryaBox means you will receive a box of free samples.
Hosting a party means you get a party pack of samples to try with your friends. Not only do you get free stuff but you can have fun with your friends too! Great, right?
In return for getting all this amazing free stuff, you must do one thing – provide your honest opinions! That's it and you could be enjoying free coffee on a regular basis.
14. Yes Plz Coffee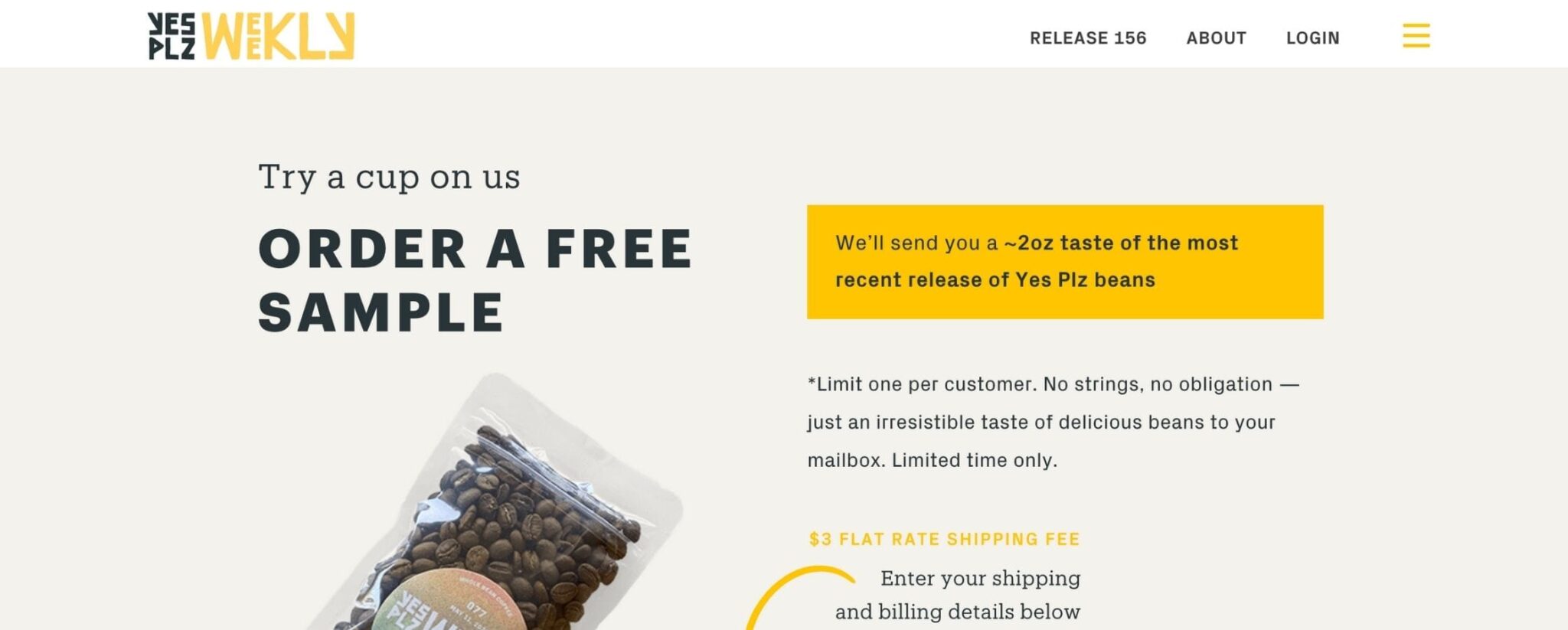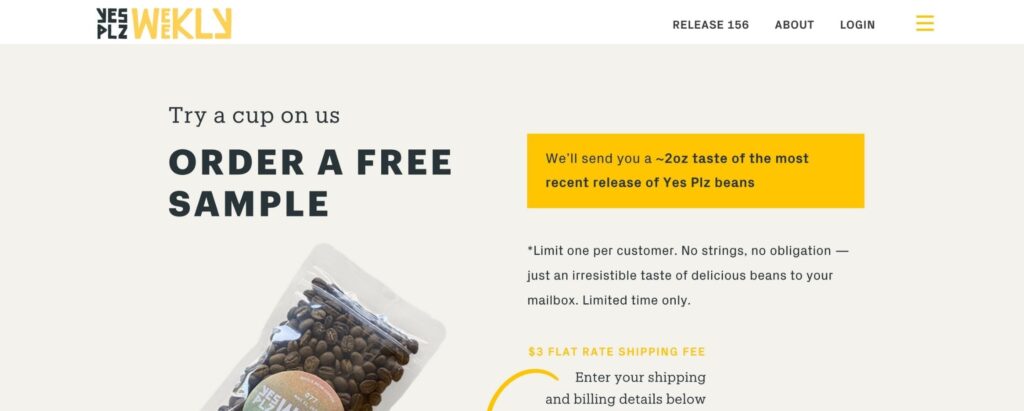 The founders of Yes Plz Coffee began their coffee journey over 20-years ago. After a variety of interludes that saw them experience coffee in Seattle, Chicago, and Mexico, Yes Plz Coffee was born in 2018.
Customers of Yes Plz can savor direct-to-consumer coffee that is unique and refined to deliver extraordinary taste with every cup.
You can claim a free 2-oz bag of coffee direct from Yes Plz. Fill in the order form with your name, address, and email.
Payment details are required as you must pay a $3 shipping fee. However, there is nothing else to pay for! All you need to do now is wait for your coffee to arrive and enjoy!
15. Olympia Coffee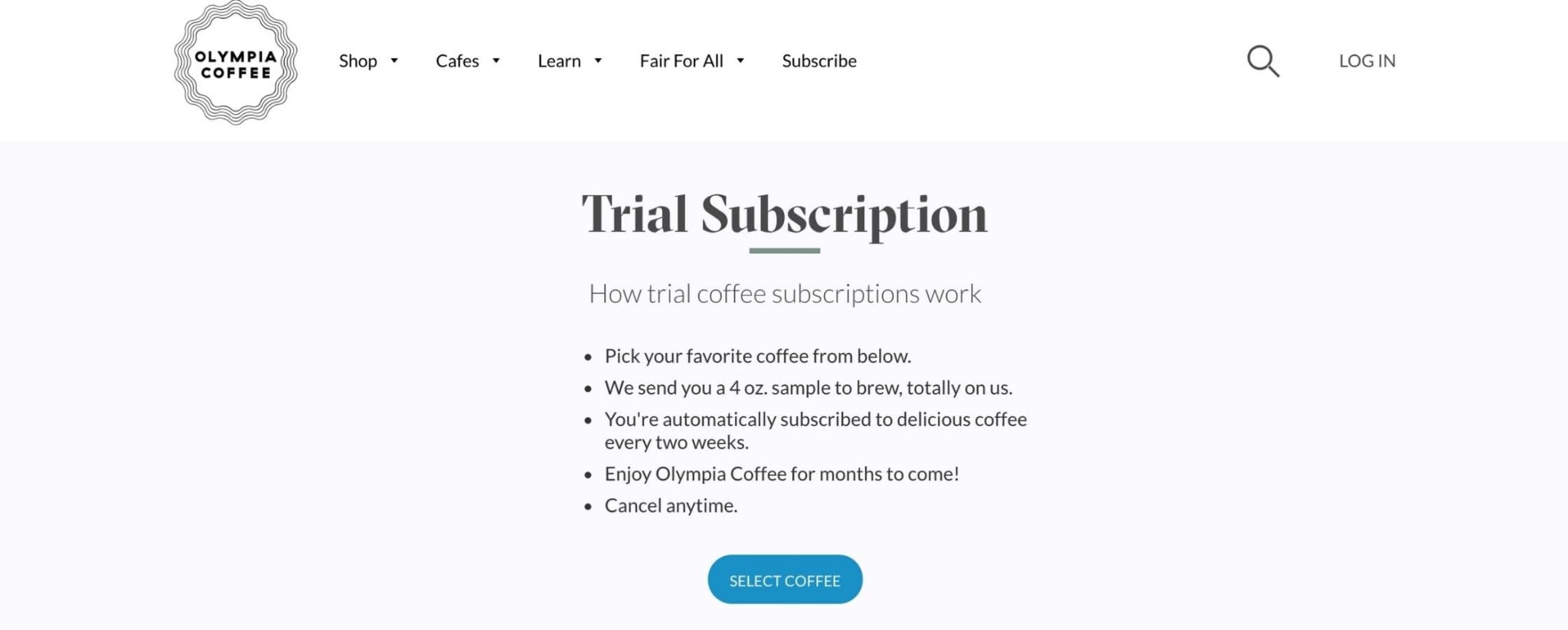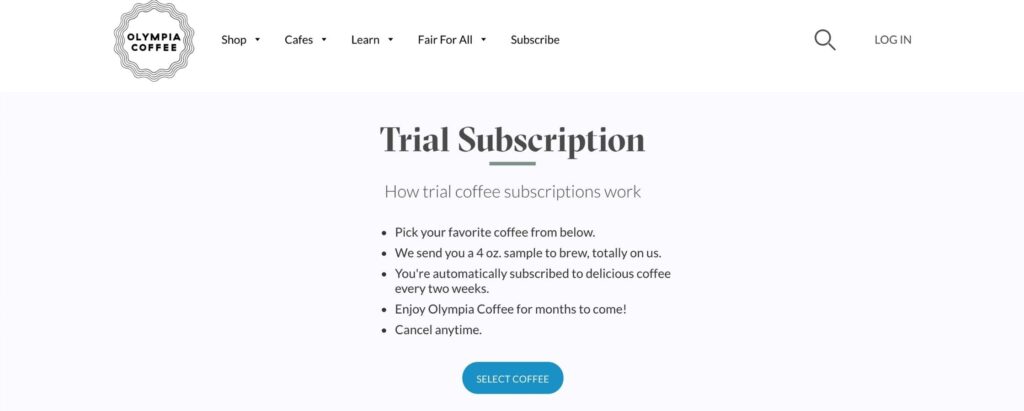 Olympia Coffee Roasting Co. had humble beginnings. Starting in 2005 as a wholesale roaster, they moved premises in 2007 to have a single coffee shop that allowed patrons to view the entire roasting process.
The next 15 years saw the brand enjoy expansions, multiple awards, and direct trade partnerships with coffee farmers worldwide.
Signing up as a member entitles you to a 4-oz bag of free coffee! First, choose which coffee you would like.
Once you've added the coffee to your basket, you must create an account. To create an account you only need to give your name, email, and choose a password.
Now go to the checkout, provide a shipping address, and BOOM! Free coffee is on its way to you. As the free coffee is part of a trial, Olympia does not charge any shipping fees!
You are signing up for a subscription service and even though the coffee offer is completely free, you must fill in your payment details. Remember to cancel the subscription if you do not want any more coffee from Olympia.
16. Sample Source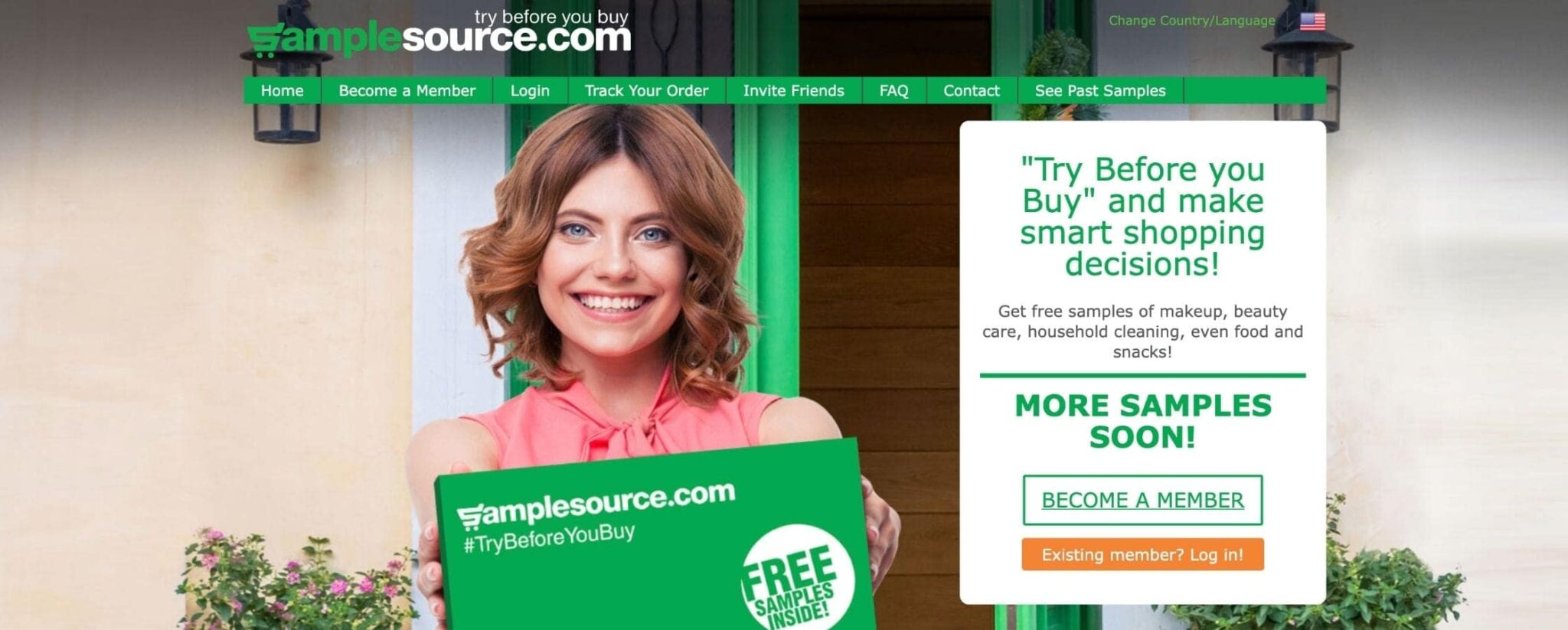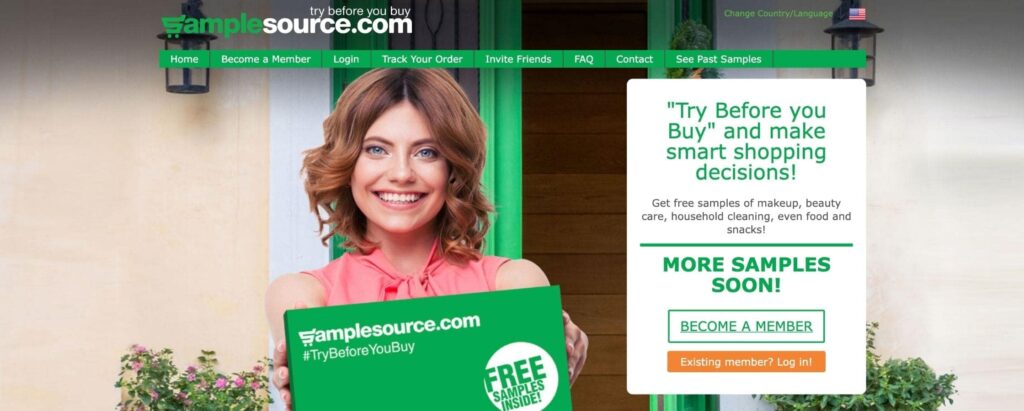 Sample Source is a website you can join for free and receive freebies from throughout the year.
Register for free and tell Sample Source about your interests and lifestyle. Based on your profile you will be offered free samples which often include coffee.
Once you've confirmed you want the samples they will be shipped to you free of charge! All you are asked to do is provide a rating of each sample. Brands use this data to improve their products. Simple!
17. Black Rifle Coffee Company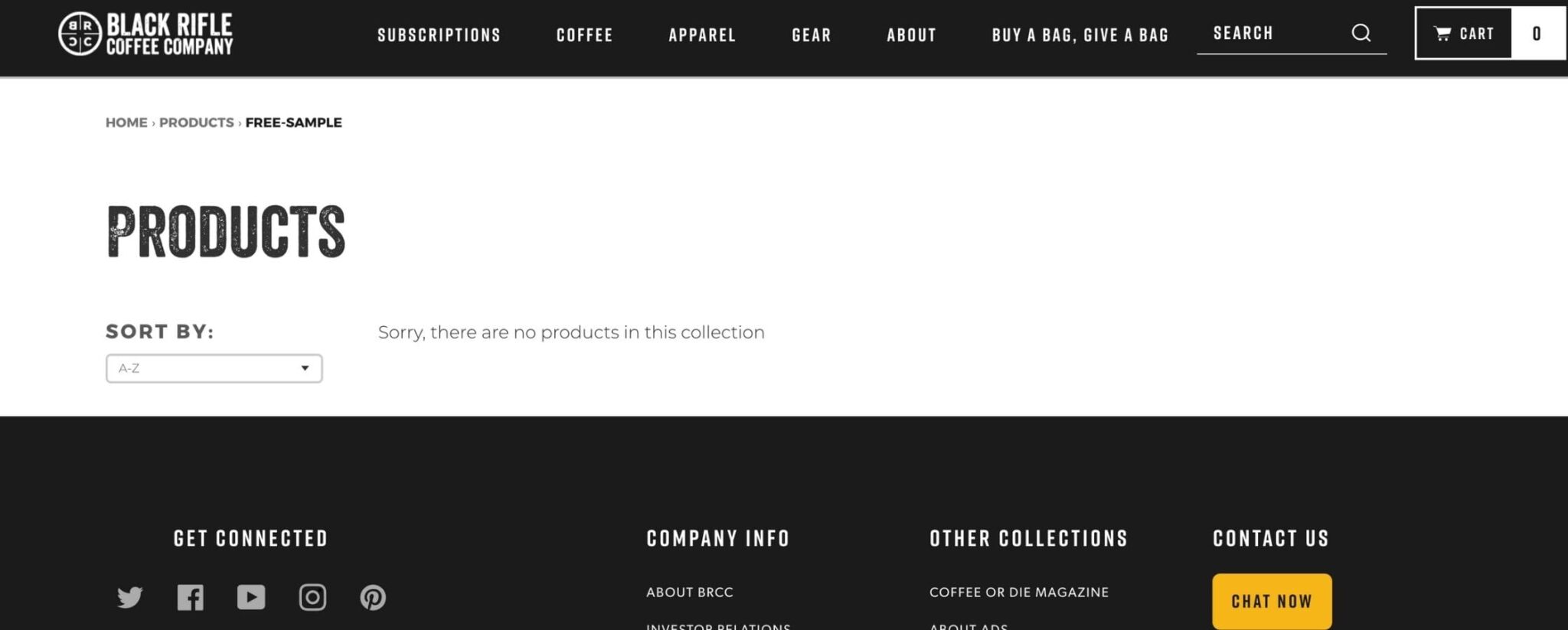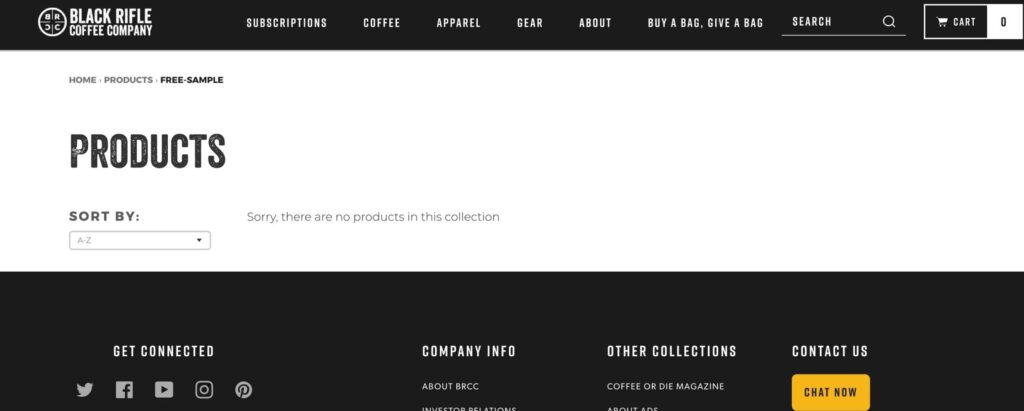 Black Rifle Coffee Company is veteran-owned. They strive to provide premium coffee whilst supporting veterans, law enforcement, and first responders.
High-quality coffee beans sourced from Colombia and Brazil are roasted 5-days a week at their US facilities.
Check the site often as free coffee samples are regularly available.
18. Peet's Coffee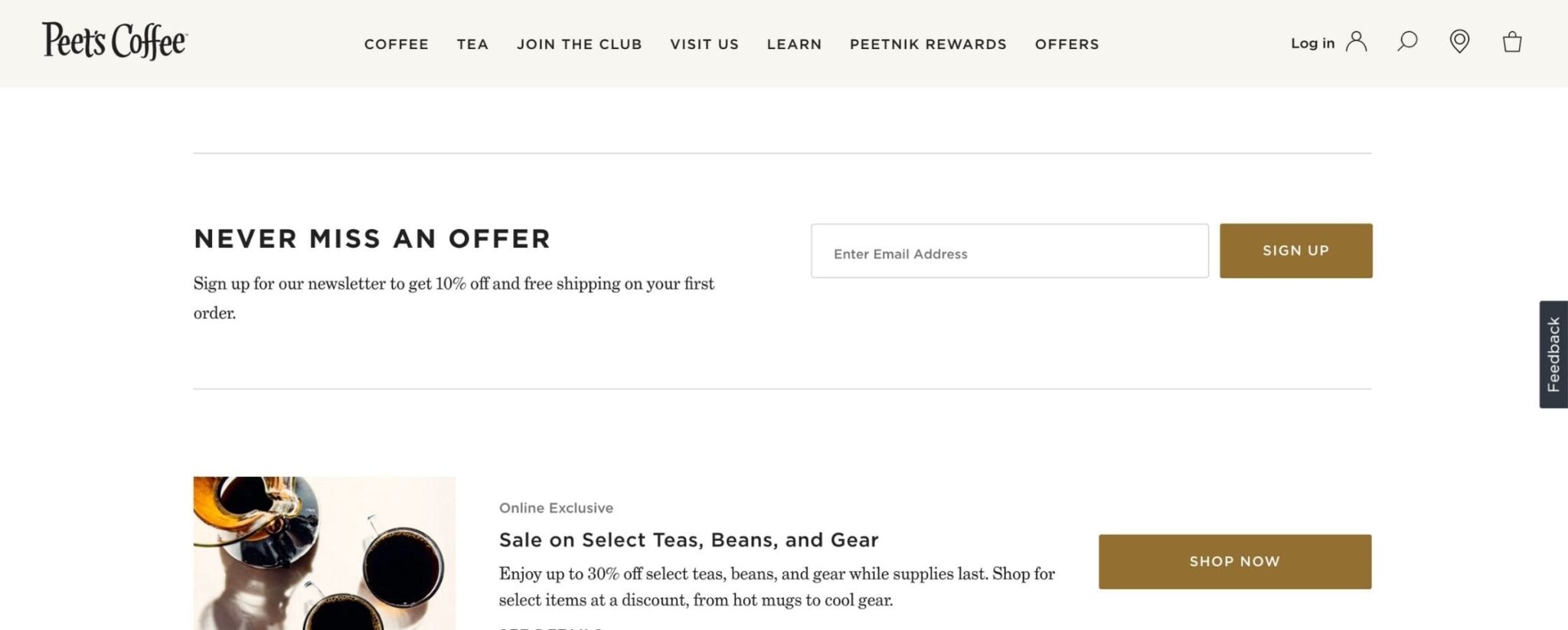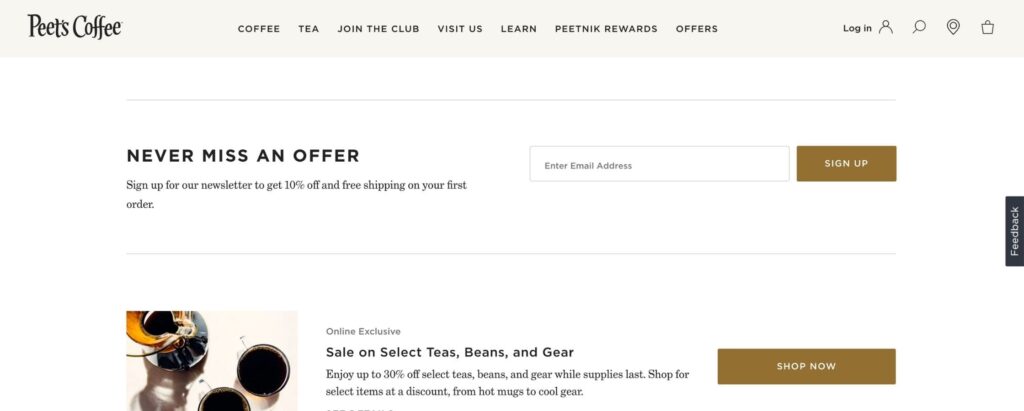 Alfred Peet founded Peet's Coffee in California in 1966. However, his journey to California took over 30 years and most of the world before he started a US coffee revolution.
Alfred's coffee odyssey began in Holland in the 1930s when he started work for his father's coffee and tea business. Next, Alfred took his coffee adventure to London, Indonesia, and New Zealand as he honed his craft.
By the 1950s, Alfred was based in California and quickly realized that the US coffee experience was sadly lacking. He began importing high-quality coffee beans, refined the roasting process, and developed the idea that coffee should go from roaster to consumer in the quickest way possible.
To give you an idea of how influential Peet's Coffee is, in 1971 three young entrepreneurs approached Alfred Peet for help with their coffee business.
He provided training in all aspects of roasting and blending. Alfred also provided the trio with roasted coffee beans to start their own coffee adventure. Inspired by Alfred, the trio built a company that today is a global coffee powerhouse – Starbucks!
Peet's Coffee regularly has freebies and offers available so remember to check back often!
19. Revital U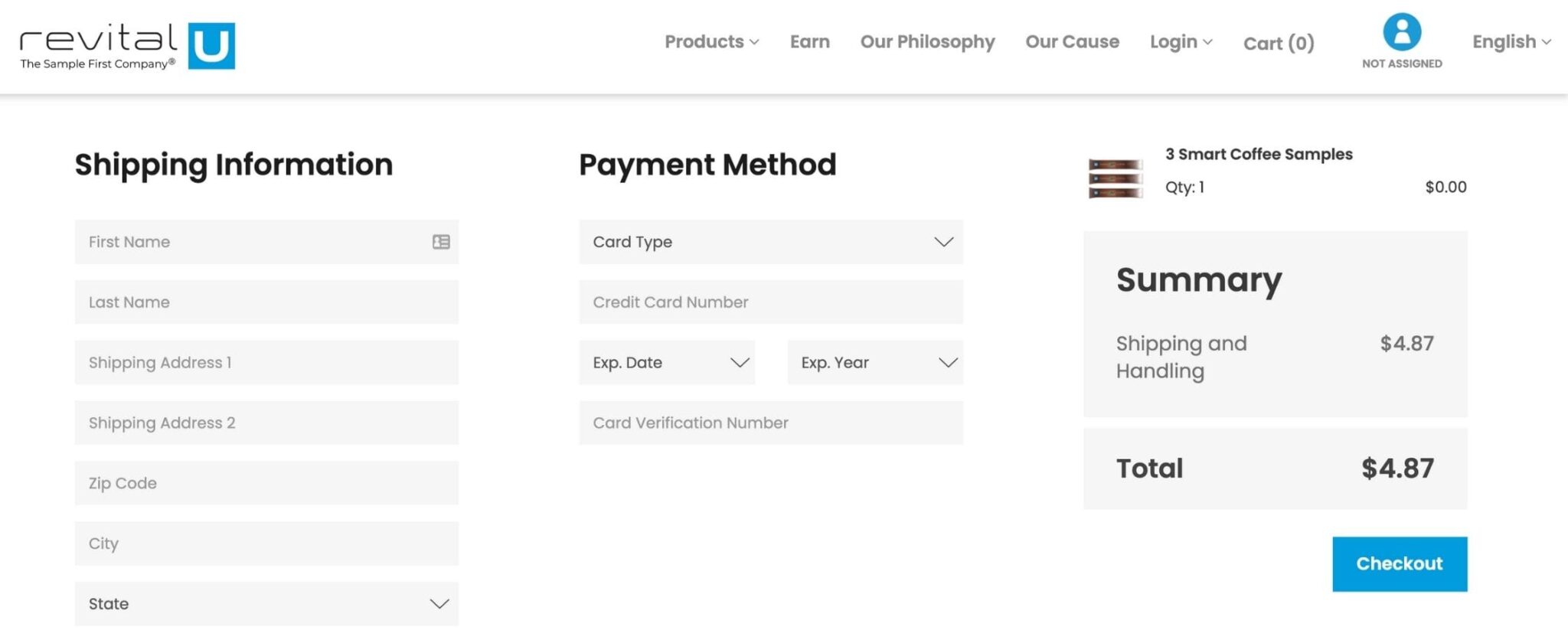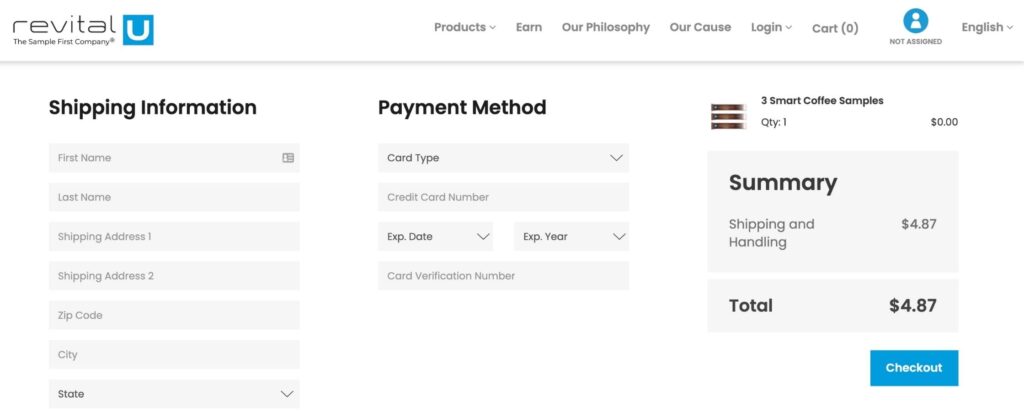 Revital U provides free samples for many products including coffee. The company aspires to create natural products featuring high-quality ingredients.
Smart Coffee has been crafted to boost energy, reduce your appetite, and maintain focus. To achieve this, the coffee uses 11 bio-optimized ingredients.
To get your free coffee samples fill in the shipping form with your name, address, and email.
You will need to pay shipping fees, but the coffee sample is free. Revital U will post the sample to you and you can be sipping on a delicious free cup of coffee at home in no time at all.
20. Nutracollagen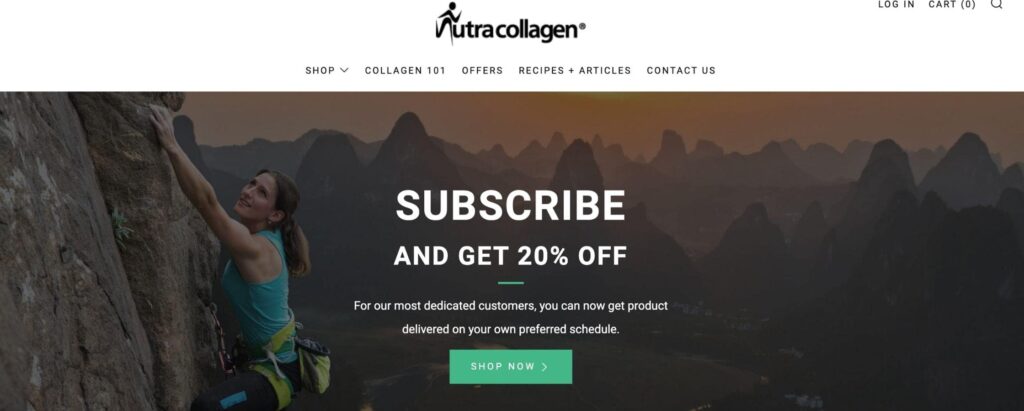 Health-conscious coffee lovers may benefit from trying Nutracollagen coffee. The coffee is gluten-free, sugar-free, and dairy-free.
Benefits of drinking this coffee include more peptides per serving, increased energy, and younger-looking skin!
Complete the shipping form and you will be sent five free brew packs. You must pay a $3.99 shipping fee, but there are no other charges!
The shipping form asks for your name, address, phone number, and email. That's it and you can receive a free coffee!
21. Mocafe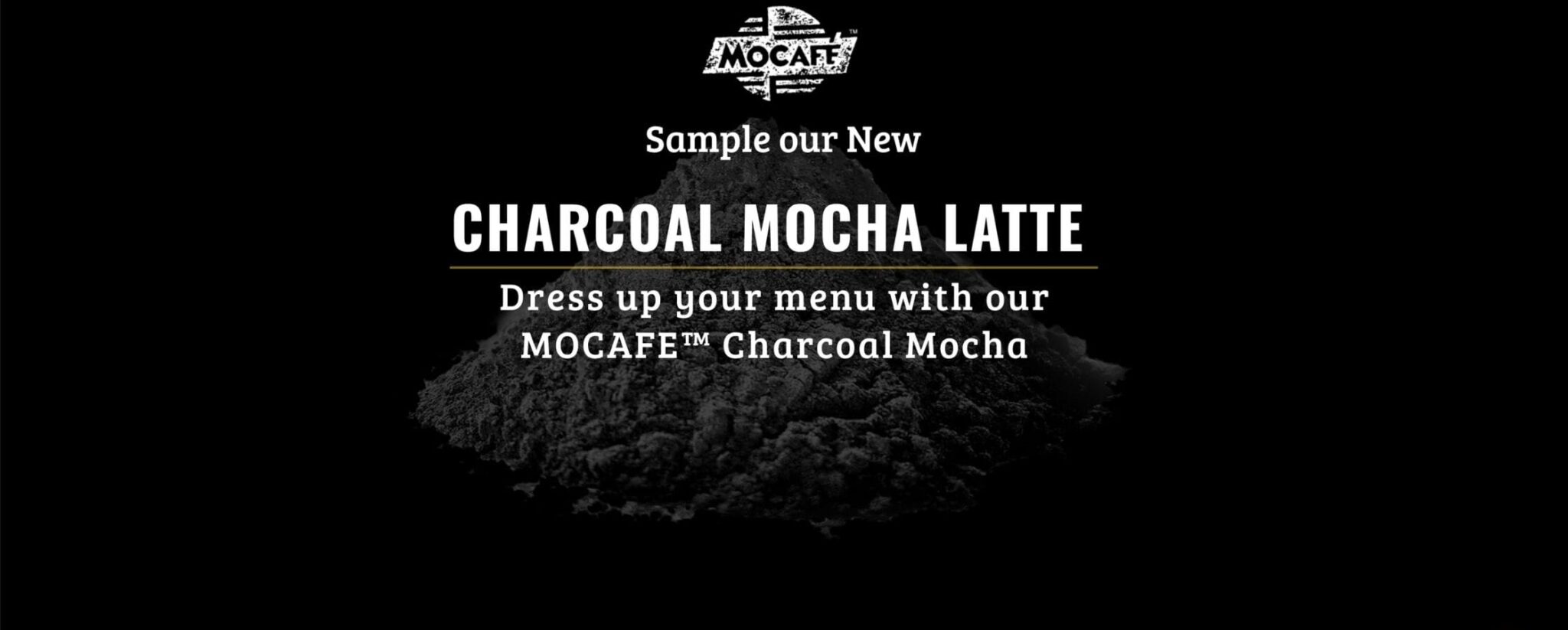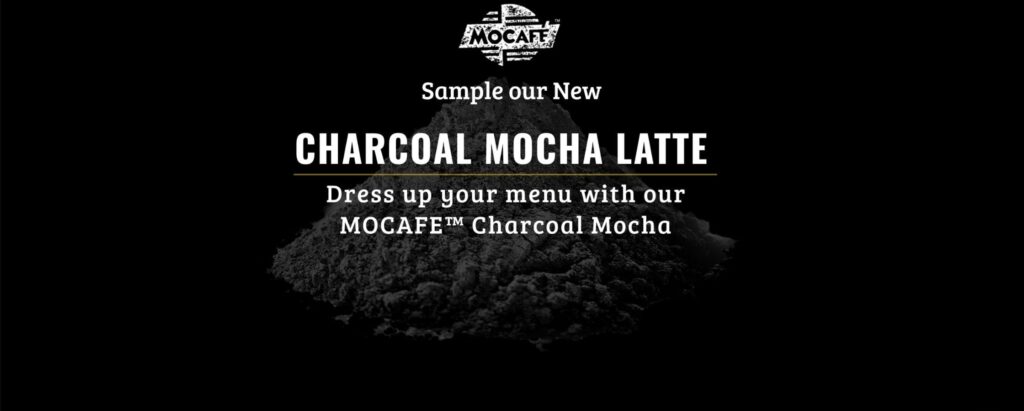 Mocafe has been producing outstanding mochas, ice coffees, and chai teas since 1996. Thanks to using top-quality ingredients from around the world, you can enjoy some tasty drinks.
You can claim a free Charcoal Mocha Latte by completing the form. All you need to give is your name, address, and email. Painless!
22. Dunkin' Donuts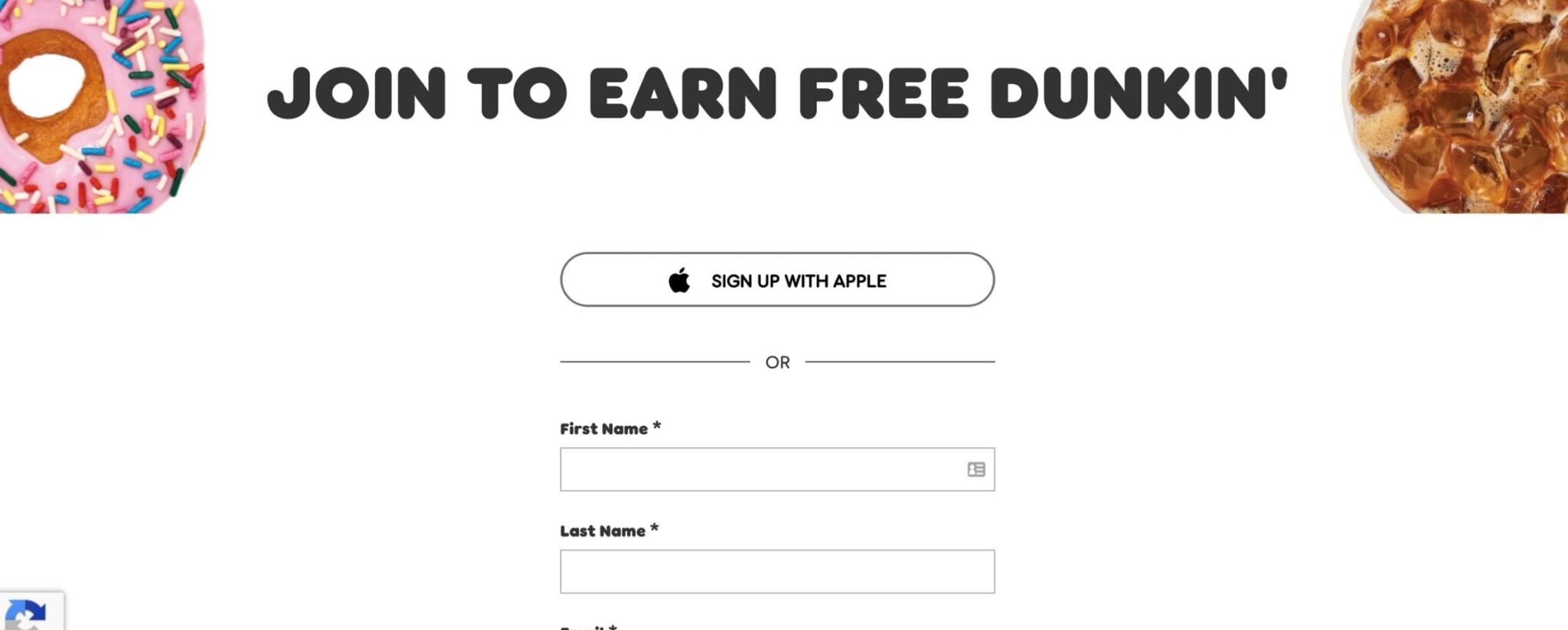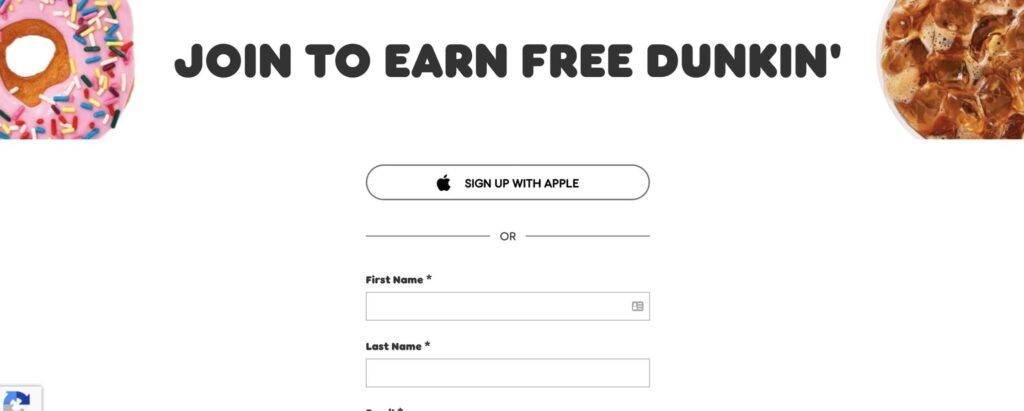 In Quincy, Massachusetts a small donut store called Dunkin' Donuts opened its doors for the first time in 1950. Today that single shop has grown to almost 10,000 stores!
Donuts may be in the name but the popular chain also sells excellent coffee.
If you frequent Dunkin' on a regular basis, then you should join the Dunkin' Donuts Perks program.
Joining is free and can be done in an instant by signing in with your Apple ID. If you don't have an Apple ID, then fill in a short form to create your account.
You just need to provide your full name, email, date of birth, phone number, zip code, and create a password.
As a member of the perks program, you will earn points for every dollar you spend. These points can be converted to free coffees!
23. Caribou Coffee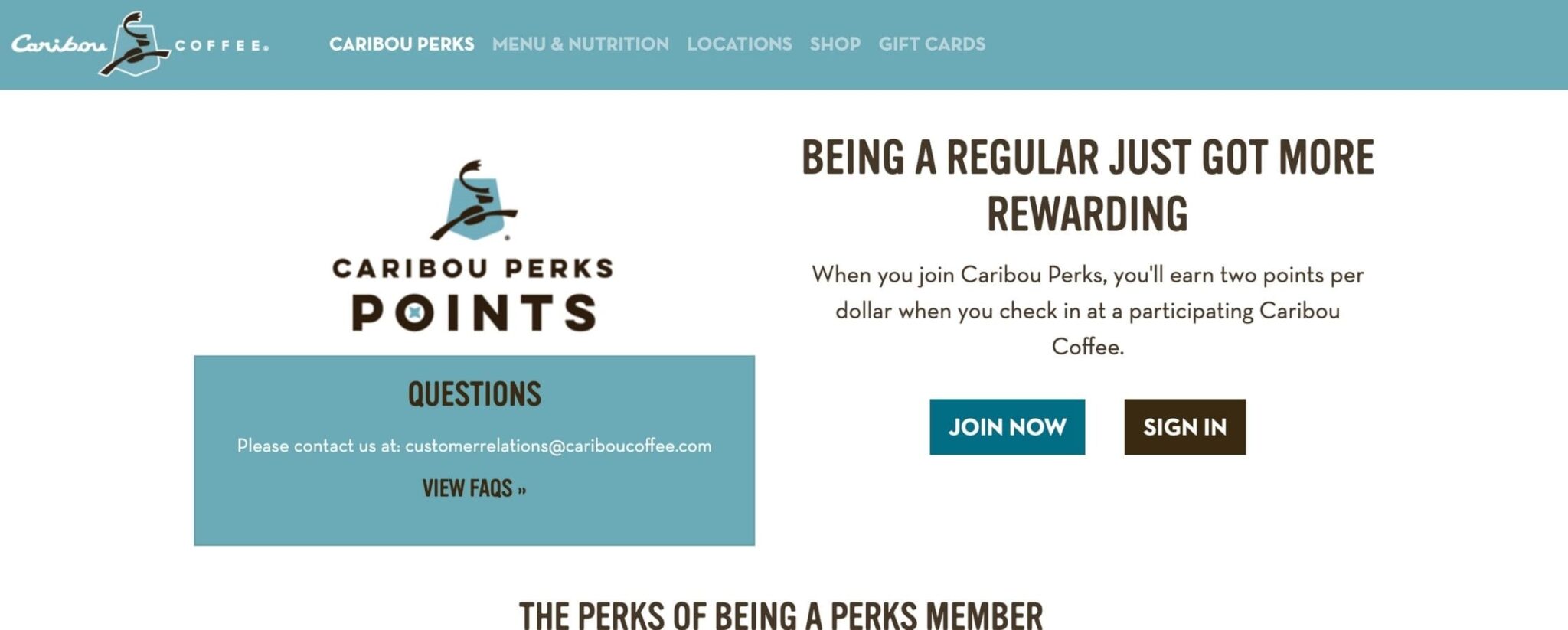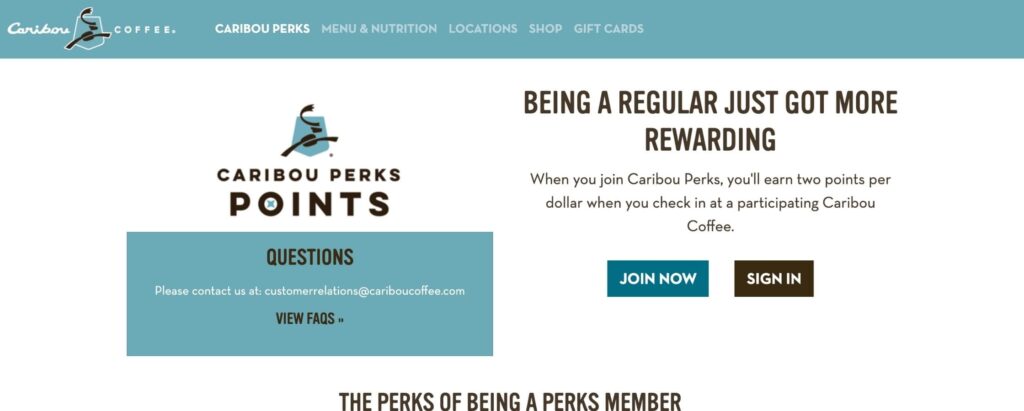 Founded in 1992, Caribou Coffee now has over 600 locations worldwide. Regulars of Caribou can join the Caribou Perks scheme.
You will get a free drink on your first trip to Caribou after joining the rewards program. A free coffee can also be claimed on your birthday!
The rewards scheme is free to join and to get started you just need to provide your email and phone number.
Other benefits of joining include ordering ahead, early previews of new products, and 2 points for every dollar spent!
24. Coffee Booster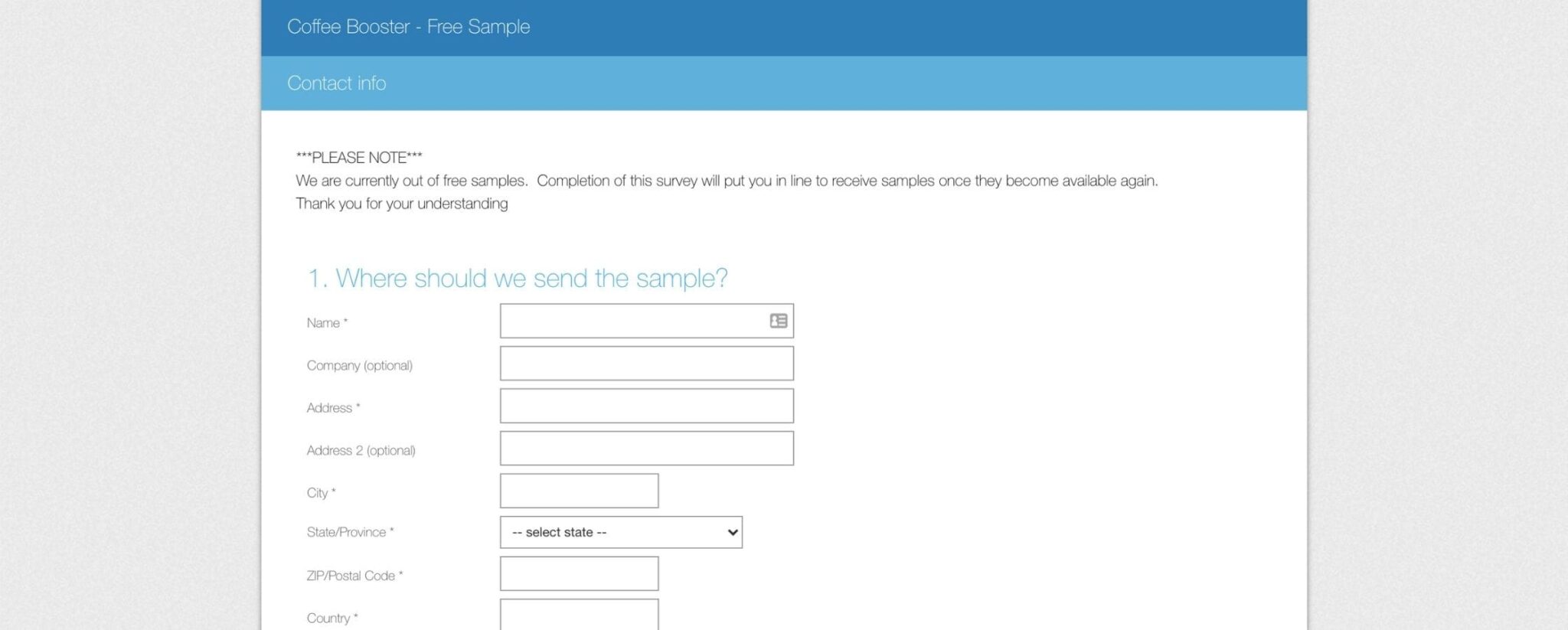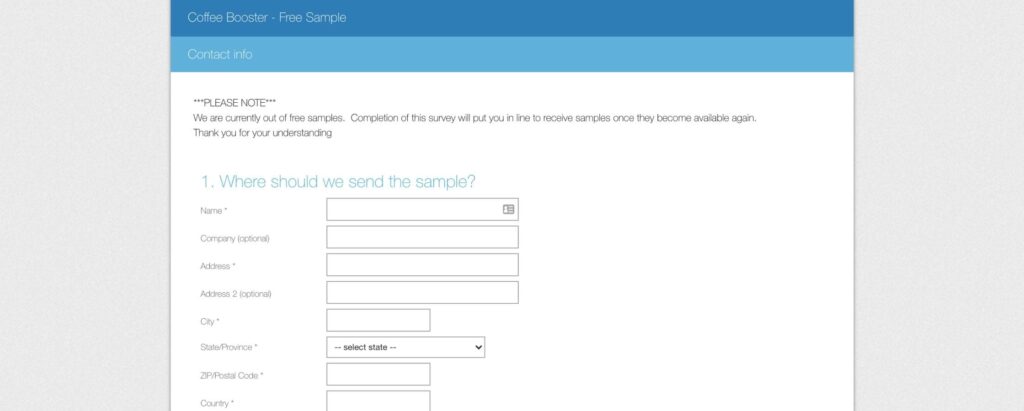 Coffee Booster regularly has free coffee samples available. To register your interest you simply need to complete a short survey form.
All you need to leave is your name, address, and email. Now you are in line to get a free coffee when available!
25. Freeosk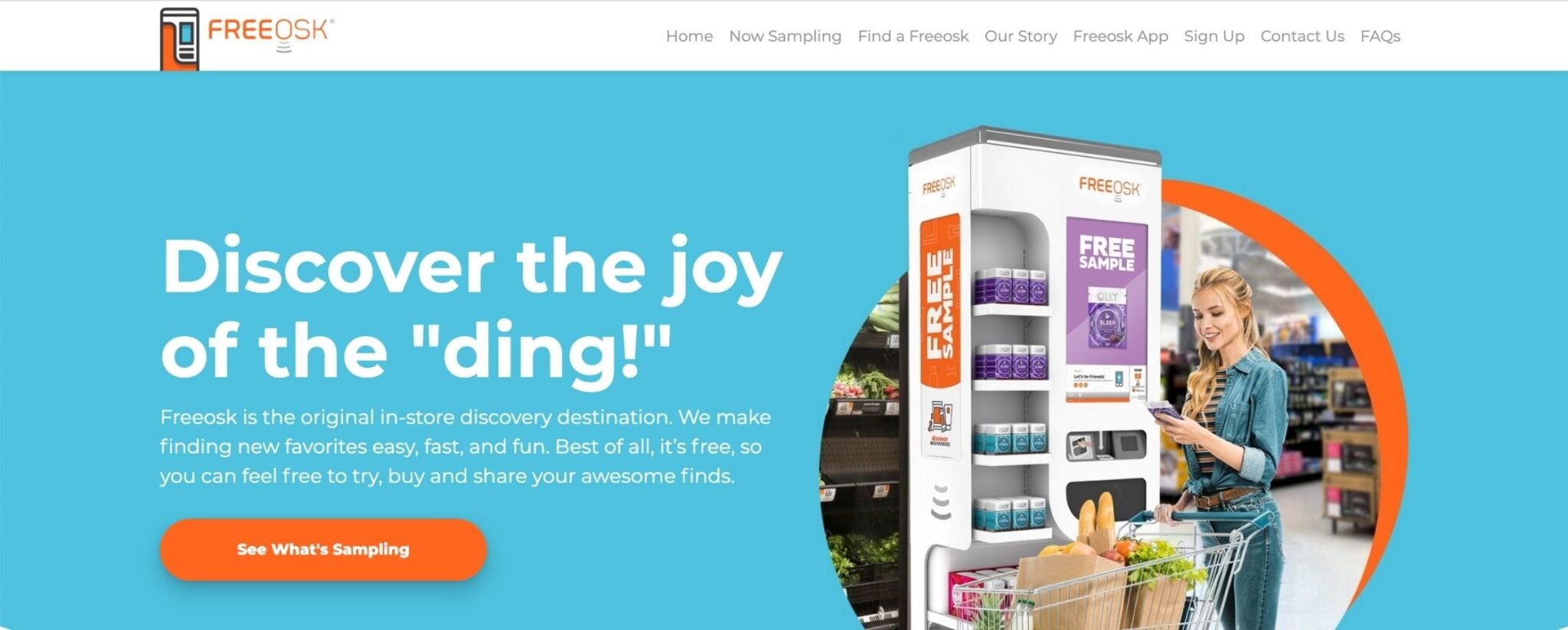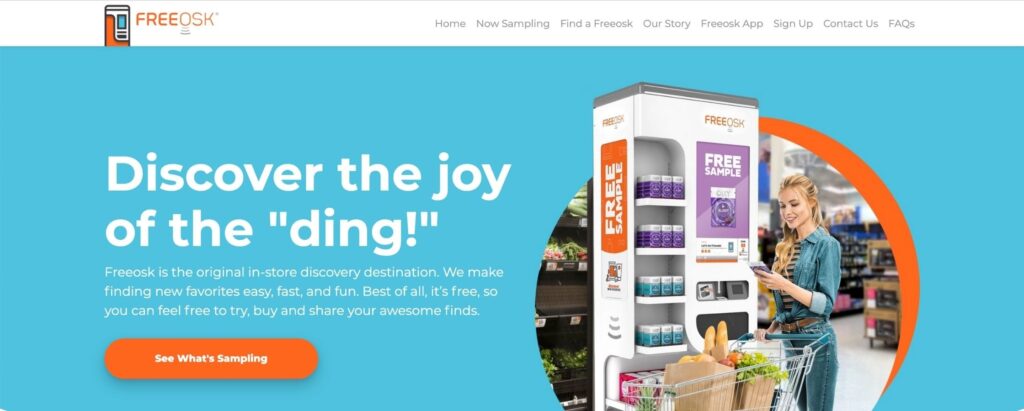 You can find Freeosk vending machines at more than 1,400 retailers nationwide. This includes big brands like Walmart, Safeway, and Sam's Club.
The idea is simple, the machine is filled with free samples that you can take! Coffee isn't always on offer, but when there is no coffee the other samples may still be of interest to you!
To make things easier download the Freeosk app from the Apple Store or the Play Store. Using the app means you can instantly see what samples and rewards are available.
Tips On Getting Free Coffee Samples
A great time to get free coffee is on National Coffee Day! The US marks this day on September 29 so make sure to add it to your calendar.
Coffee brands large and small often give away free coffees on or around this day. Starbucks, Peet's, and Dunkin' Donuts are just some of the big brands that usually get involved.
Most brands have a social media presence. Follow your favorites to take advantage of special offers including freebies. Keurig, Folgers, and Nescafe are well-known coffee powerhouses that regularly run promotions via social media.
One way to get free coffee samples that are often overlooked is to write to company's asking for samples. Don't worry, you don't have to figure out how to send a letter through the post!
Simply send an email to your favorite coffee brands and see what you get back. The worst that can happen is you get no reply! If you get a free sample make sure to post on social media tagging the coffee brand, the company may see this and send you another!
Local coffee shops often create their own blends. This means someone needs to check the taste! Volunteer to be a taster in exchange for free coffees. However, keep in mind you may not like the taste of some of these free coffees!
Top 3 Ways To Get Free Coffee From Starbucks
Starbucks is undoubtedly one of the world's best-known coffee brands. As an avid coffee drinker myself I love being able to get a free coffee from Starbucks! Here are my top 3 ways to get free coffee from Starbucks.
First, use the Starbucks app! The app is brilliant as once you've downloaded it and made your first purchase, you will get your first free drink! That's right, within 24 hours of downloading the app you could be sipping on a delicious free coffee!
Joining the Starbucks rewards program is another terrific way to earn points fast. And what do points mean? You guessed it right, free coffee!
The reward program tracks every single transaction you make and awards you those precious Starbucks points. All you need to do is keep buying those coffees and you can be enjoying freebies in no time at all!
Provided you qualify, a Starbucks credit card is an awesome way to earn free coffees and other perks. The credit card works exactly like any other. One difference is you earn free coffee and other benefits as soon as you start using the card!
If these 3 ways to get free Starbucks coffee aren't enough for you (is there such a thing as too much free Starbucks coffee?), then check out my guide 13 Ways To Get Free Drinks At Starbucks. You won't be disappointed!
Recommended: 67+ Genius Things To Sell At School To Make Money
FAQs
Can I claim more than one offer?
You can claim all these offers! One tip is to do one a week, that way you can look forward to free coffee every week! Most offers are one-time only or limited to one per household.
How do I cancel a subscription?
When claiming your free coffee from a coffee subscription service, you must cancel it within the time specified to avoid charges.
Check the conditions of the offer to find out how long you have to cancel it. Canceling online or via email is usually an option.
Are these coffee freebies legit?
Yes! All offers listed above are legit including many from world-famous coffee brands. Most only ask for minimal data in order to process your request. 
Payment details may be required to pay a shipping fee or if joining a subscription service. These are secure and you just need to cancel when no longer required.
Can I get free tea?
Many of the offers are from retailers that also sell tea. If you want some free tea, then look out for those offers when visiting each site.
Recommended: 343 Birthday Freebies Mega List
Get Free Coffee Samples