Disclosure: This post may contain affiliate links. If you click on a link I may make a small commission at no extra cost to you. You can read the full disclosure here.
Last Updated on October 23, 2022 by Chris Panteli
Gas Stations That Cash Checks
Where do you think of going first when you need to cash a check? The bank is most people's first answer.
But what if you don't have a bank account? Or it's 3 am, and you need to cash a check right now.
Gas stations that cash checks mean you get your money fast.
Many are open 24/7, so you can cash a check in the middle of the night. Gas stations also don't require you to create an account, although ID may be required; it's often not as strict as a bank!
If you have a check that you need to cash, then these gas stations that cash checks are the answer to your prayers.
Why Use A Gas Station To Cash Checks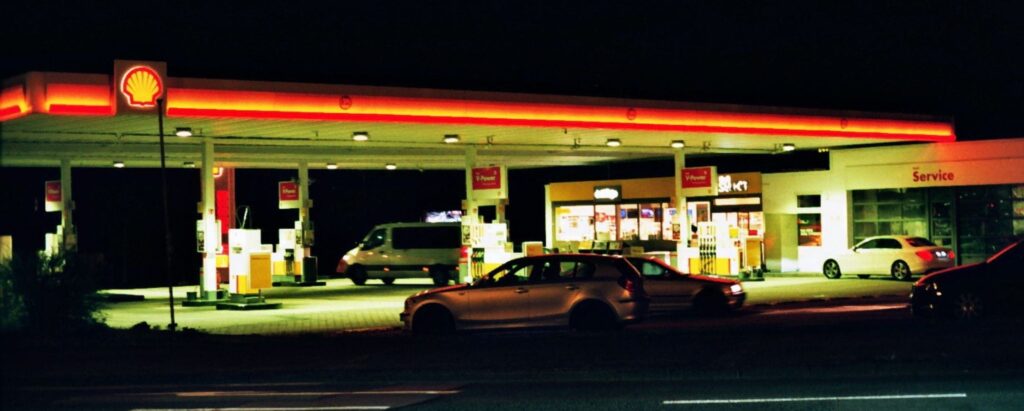 Gas stations aren't the obvious place to cash a check. So why use a gas station to cash checks?
It's simple really. For the convenience factor.
Banks are usually only open for limited hours and have strict ID rules. Plus, you might have to have a bank account with that region's bank.
Checks also take time to be processed. When cashing a check via direct deposit it takes up to 3 business days for the funds to clear in your bank account. That means having to rely on your credit card or debit Mastercard until you have cash again.
The biggest reason to cash checks at a gas station is you can get that cash now, in your hand, immediately. If you need groceries, fuel, or other essentials, then going to the gas station may be your best choice.
Gas stations are open 24/7 in most places. Although many still need to see ID, rules aren't as strict as banks. You can cash most checks at gas stations. American Express traveler's checks, tax refund checks, starter checks, and cashier's checks are some of the many types of checks that gas station checks cashing services can help with.
The downside to using gas stations to cash checks is the limit of the check amount they will cash up to. Many go up to $1,000, although a few cash checks up to $5,000. If you need a check-cashing for more than $5,000, then you must go to a bank.
Recommended: Can You Use Checks With An Old Address
23 Gas Stations That Cash Checks
Gas stations are all over. That means that no matter where you are there will almost certainly be a gas station nearby. If you need to cash a check, then head to one of the gas stations listed here:
1. Albertsons
Albertsons is a national chain with brands operating in 35 states across the US. Apart from grocery stores, the national chain also runs over 400 fuel centers, many with attached convenience stores.
You can cash checks at Albertsons, but there is a $1000 limit. Fees may apply so check with your local store first before heading over.
2. Chevron
Chevron is a global brand that operates almost 8,000 gas stations under the Chevron, Caltex, or Texaco brand names.
From humble beginnings in 1876 to becoming the energy behemoth we know today, Chevron is one of the world's biggest oil, gas, and energy producers.
Plenty of Chevron locations cash checks. However, there are some that don't. To avoid disappointment, make sure to call ahead and find out if check cashing is available at that Chevron location.
3. Citgo
Citgo gas stations can be found in 30 states across the US. You can cash checks at many of the 5,000+ Citgo gas stations. Plus, most have a convenience store attached if you need to get anything else while you're there.
Checks can be cashed at most Citgo's, but not all. Make sure to check before going to find out if your local Citgo cashes checks.
Motorists can join the Citgo rewards program. Rewards are given for purchasing fuel, food, drinks, and much more. Once you've earned enough points you can claim money off gas which can be a great money saver.
4. 76
A well-known gas station, 76, offers the ability to cash checks at many of its gas stations. Since its humble beginnings in 1932 the 76 gas station brand has enjoyed growth across the US.
Not only can you cash checks at a 76 gas station, but by downloading the My 76 app you can save money on gas too. The app is available on the Play Store and the App Store.
5. Dillons
Dillons doesn't let you cash a personal check, but you can cash any of the following checks at over 2,000 Dillons locations:
Child Support
Payroll
Government Check
Income Tax Refund Checks
Business Checks
Insurance Check
You can cash checks up to a maximum of $5000 at Dillons which is one of the highest check cashing limits around.
Cashing a check at Dillon's is super easy. You simply need to bring the check, your Social Security or Tax ID number, and an acceptable form of ID.
Most Dillons gas stations are connected to a food store. That means you can pick up groceries, visit the pharmacy, or grab a late gift when cashing a check.
6. Food City Supermarket
Anyone in Georgia, Kentucky, Virginia, and Tennessee can visit one of the 123 Food City Supermarkets to cash a check.
Food City cash checks up to $1000 for the following types of checks:
US government
Payroll
Stimulus Check
Rebate
You can get much more at Food City. As the name suggests you can buy groceries, medicine, or last-minute party supplies.
If you follow NASCAR you've probably seen the name Food City as the brand is a long-running NASCAR sponsor. That includes two of the most popular races on the NASCAR circuit. Race fans can head to Bristol Motor Speedway to see both the Food City 500 and Food City 300 races.
7. Fred Meyer
Fred Meyer gas stations can be found in Washington, Oregon, Idaho, Alaska, and California.
Checks up to a maximum value of $5000 can be easily cashed at Fred Meyer. You simply need to bring your check, ID, and Social Security or Taxpayer ID number.
The following types of checks can be cashed at the Money Services desk:
Payroll
Government
Income Tax Refund
Insurance Settlement
Business
Child Support
You can also pick up almost anything else you might need. Departments at Fred Meyer include home, baby, food, and more.
It's worth checking out the Fred Meyer website before visiting. That's because you can find exclusive coupons, cashback, and rewards. Not only can you cash your check, but you could save money too.
8. Sinclair
Sinclair has more than 1,600 gas stations covering 30 states across the United States.
If Sinclair gas stations are a regular feature on your route, then it's worth downloading the Sinclair DINOPAY app. Members that pay using the app can save 10¢ a gallon. In today's economy with gas prices soaring, that saving could be a huge help.
To find your nearest Sinclair gas station use the store locator to plan your trip.
9. GetGo
GetGo has over 200 gas stations at locations including Indiana, Maryland, Pennsylvania, Ohio, and West Virginia.
Visitors to GetGo can enjoy deliciously fresh food, free air for their tires, and free WiFi. These are a few of the great reasons that people keep returning to GetGo. Plus, by joining the Fuelperks program you can get cheaper gas.
10. King Soopers
King Soopers boasts over 115 stores with most having a gas station attached. You will find most King Soopers locations are in The Centennial State, Colorado.
To cash your check, you need to bring an acceptable ID, your Social Security or Taxpayer ID number, and the check.
Checks that King Soopers are happy to cash include:
Government
Payroll
Insurance Settlement
Income Tax Refund
Child Support
Business
The maximum amount you can cash is up to $5,000.
11. Hy-Vee Grocery
Hy-Vee covers a large area in the Midwest. Illinois, Iowa, Kansas, Missouri, Minnesota, Nebraska, South Dakota, and Wisconsin host more than 1,200 Hy-Vee fuel stations.
Apart from gas, Hy-Vee users can get everything else they may need from departments including a grocery store, pharmacy, and bakery.
If you join a Hy-Vee rewards program you can get coupons, cheaper gas, and other special one-time offers.
12. Love's Travel Stops
Love's Travel Stops spans 41 states with a whopping 510 locations. Apart from gas, visitors to Love's can also choose from a fantastic range of other products. Food, beverages, electronics, clothing, and unique Love's products can be purchased at Love's locations.
Most of these gas stations are found along highways and are especially popular with truckers. Love's only cash payroll checks and you will need ID to successfully cash your payroll check.
If you have any other type of check, then you will need to use an alternative gas station to cash that check.
13. Meijer
Meijer has over 200 locations in 6 states. You can visit a Meijer in Illinois, Indiana, Kentucky, Michigan, Ohio, and Wisconsin.
Not only can you fill up your car with premium gas at Meijer, but you can buy food, snacks, and coffee.
The only checks that can be cashed at Meijer are personal or business checks. You cannot cash any other type of check (Payroll, Government, Income Tax Refund, etc.) at any Meijer location.
When cashing a Personal or Business check it must be used for the purchase. However, you can cash up to $25 above the total purchase price when in-store or $5 for a gas station purchase.
14. Exxon Mobil
Exxon Mobil is a massive gas station operator with over 12,000 gas stations across the US. Chances are that wherever you are in the US there will be an Exxon Mobil gas station nearby.
Not all Exxon Mobil locations cash checks. Contact your local Exxon Mobil gas station before going to find out if they cash checks. If they do, remember to ask what type of checks are acceptable and what other documentation you may need to bring.
If you are a regular visitor to Exxon Mobil, then why not join their rewards program. Every time you fill your car up you can earn points. Those points can be used for a discount on fuel or in-store on selected items.
15. Pilot Flying J Travel Centers
Pilot Flying J operates in 44 states and 6 Canadian provinces. Plus, Pilot Flying J has an enormous 750 locations that employ over 28,000 people.
You can stop at any Pilot Flying J location for gas, a hot meal, or a much-needed cup of coffee.
Every location also offers 24hr check cashing. For a fee, checks up to a maximum of $999.99 can be cashed. Checks up to a value of $200 can be cashed for free provided you've put a minimum of 25 gallons of fuel in your vehicle within the last 2 hours.
16. Ralphs
Ralphs is found in California and boasts over 460 stores. Multiple departments sell everything you might need including groceries, furniture, and pet supplies.
You can cash the following checks at Ralphs:
Stimulus
Government
Business
Child support
Income tax refunds
Insurance settlements
17. Road Ranger
Road Ranger has more than 70 locations spanning Illinois, Iowa, Arkansas, Missouri, Indiana, and Wisconsin.
Food, drink, and gas are the main reasons to visit a Road Ranger. However, as well as check cashing, many of the Road Ranger stations are packed with other amenities. WiFi, showers, laundry services, and Amazon lockers are a few of the helpful amenities that can be found at various Road Ranger locations.
Check cashing is available at all Road Ranger locations 24hrs a day. You don't have to buy fuel to cash a check and checks up to a value of $999.99 can be cashed.
18. Safeway
Safeway has more than 1,300 locations covering 35 states. Stations vary, but many have additional services including a bakery, pharmacy, and deli.
Checks that can be cashed at Safeway include
Government
Stimulus
Payroll
Tax refunds
Social security
Unemployment
19. Phillips 66
Phillips 66 has a long history that began way back in 1875 with the first service station opening in 1927.
Today, the company is headquartered in Houston, Texas, and employs more than 14,000 people. Plus, you can visit one of over 2,400 gas stations in almost every state of the US.
Fuel, food, and rewards are on offer at every Phillips 66 gas station. Check cashing is offered at most locations, but not all. Remember to call ahead before visiting to make sure check cashing is available and what documents you will be required to bring.
20. 7-Eleven
7-Eleven began in 1927 with one mission – to bring 24/7 convenient shopping to the world. It's safe to say those aims have been achieved, because now, 7-Eleven and its many brands operate in 18 countries around the world boasting over 81,000 stores.
Checks including payroll checks must be loaded onto the 7-Eleven Transact card. This card is a reloadable prepaid debit card.
You don't need a bank account to use a Transact prepaid card and it offers several awesome benefits.
Cash can be withdrawn for free at any 7-Eleven ATM. You can use the card with any merchant that accepts MasterCard debit. Downloading the Transact mobile app lets you pay bills online or in-store. The card is reloadable and can be topped up at any 7-Eleven register.
21. Shell
Shell serves over 20 million customers every day at one of its approximately 25,000 gas stations.
Many Shell gas stations are independently owned. That means rules vary including whether they offer check cashing or not. A lot of locations will cash checks, simply call before your visit to make sure. ID requirements may vary by location as well so make sure to ask what you need to bring with you when cashing your check.
Like many gas stations, Shell runs a reward program that can save you money on gas. Members can save 5¢ per gallon which if you visit Shell frequently could mean significant savings.
22. Sunoco
Sunoco gas stations can be found in more than 30 states around the US. The brand has a long history that can be traced back to 1886.
In the 1920s the first Sunoco (then called the Sun company) gas station opened. Later, in 1998, the name changed to Sunoco and today there are over 5,000 Sunoco locations that can be used for gas, check cashing, and other services.
Motorsport fans will recognize the name as Sunoco has been the official fuel for NASCAR, IndyCar, and other notable racing series.
Sunoco stations are often independently owned. That means rules around check cashing vary. Many locations happily cash checks, just call ahead to ask what ID you need to bring.
23. Travel Centers of America
Travel Centers of America covers over 40 states across the US. Good food, snacks, gas, gifts, and check cashing are some of the services available at all Travel Centers of America.
Checks up to a maximum value of $999 can be cashed 24/7 at any Travel Centers of America location. Service fees do apply, but can be avoided by making a qualifying purchase.
What Do You Need To Cash A Check At A Gas Station
Most gas stations ask for at least one form of ID when cashing a check.
Typically, acceptable forms of ID you can use include:
Driver's license
US-issued Passport
State-issued ID
Tribal Nation or Reservation ID
Military ID
Resident Alien ID
Matricula Consular ID
Before heading to your nearest gas station to cash a check, make sure to find out what ID you will need to bring with you.
Some gas stations will also need to verify the check with the issuing bank or the company that has issued the check.
Recommended:
FAQs
Is it easy to cash a check at a gas station?
Yes! Cashing a check at a gas station is super easy to do. Simply go to your nearest gas station with your check and acceptable id. Now you can cash your check.
Can you really cash a check at a gas station 24/7?
Many gas stations are open 24/7. That means you can cash your check any time! 
Gas stations that aren't open 24/7 often open from 6 am to midnight. That's still plenty of time to cash your check.
Can you cash a check without an ID?
There are some gas stations that will cash a check without an ID. If you don't have an ID, then find a gas station that will cash a check without ID before going.
How can I avoid check-cashing fees?
Many gas stations offer to waive fees in certain circumstances. A common offer is buyers of a certain amount of fuel within a specified time will not be charged fees on check cashing up to a specific amount.
For example, fill your car with 25 gallons of gas in the last 2 hours and pay no fees on checks cashed up to a value of $200. It's always worth asking before cashing a check if you can make a purchase to avoid fees. Make sure it's a purchase you would make anyway otherwise you could still be wasting money!
Where else can I cash checks?
Checks and money orders can be cashed at lots of places. Credit unions or finance platforms like INGO Money are popular ways to get a money order or check cashed.
Other big-name retailers you can try include Circle K, Tops Grocery, or your local Walmart store.
Do all gas stations cash checks?
Not all gas stations cash checks. The brands listed in this guide offer thousands of locations that do cash checks. However, some are independently owned and choose not to offer this service.
Call customer service for any gas station company before visiting to ask what money service they provide and if check cashing is part of that.
Gas Stations That Cash Checks