Disclosure: This post may contain affiliate links. If you click on a link I may make a small commission at no extra cost to you. You can read the full disclosure here.
Last Updated on December 26, 2022 by Chris Panteli
Free Budget Printables
Budgeting is essential to being financially healthy. Do you want to achieve financial freedom? Yes, you shout! Excellent to hear. To help you reach your goals, whatever they may be, this guide to free budget printables is the best place to start.
Why should you use free budget printables?
According to a study by LifeUpswing, nearly 75% of Americans actively maintain a household budget. And while those statistics are promising for the nation's personal financial wellbeing, it still leaves room for improvement. For the nearly 1 in 4 people not currently budgeting, access to free budget printables is an excellent gateway into the world of better financial control and eventually; freedom.
I will talk you through some amazing and totally free budget printables including one from me!
And make sure to read to the end for information on our incredible 165-page budget planner – printable of course!
Totally Free Budget Printables
Families, people living alone, people living in shared accommodation, or anyone that needs to manage their money can all benefit from free budget printables.
There are lots of fantastic budgeting tools available online or as a downloadable app. However, for many people, there is no substitute for using a pen and paper!
Personal Capital
What are you going to do with all that extra money? Personal Capital is the smart way to track and manage your financial life. Have all your accounts in one place, plan for retirement, budget, and save smarter! And it's FREE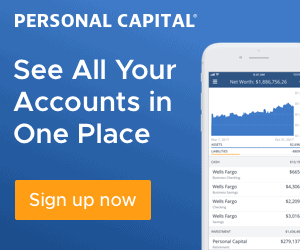 Sure, it might seem old-fashioned but there are lots of benefits to using free printables. For starters, if you are budgeting with others you can have it pinned to a fridge or noticeboard. That way everyone can easily access it at any time. No one has any excuse for not knowing the budget!
Although it may cost you a small amount to get paper, printer ink, and a budget binder, that cost is worth it if it means getting on top of your finances.
All these free budgeting printables will help you on the way to reducing and managing your expenses and achieving your financial goals!
Importance Of Tracking Your Budget
What are your financial goals? Perhaps you want to be debt-free! Maybe you want to have a decent emergency fund. You may want to start investing, saving, and hopefully buy a house. Or maybe you just want enough money to go out with friends every weekend!
Whatever your financial goals are, how are you going to achieve them?
The answer is by budgeting of course!
Creating a realistic budget means you can see where all your money goes every month. Spending on every bill, subscription, night out, or other entertainment can be tracked and checked at a glance.
The beauty of this is that you can identify spending that can be reduced. Bills too high – negotiate and save money. Subscriptions not needed – cancel and save money. Eating out 7 nights a week – cut down to 1 night and save money!
Any money you can save on spending can then be added to savings, investments, or to pay off debts faster.
All this means it's vital you track your budget and use all available tools to the fullest extent. Doing this means you can achieve your financial goals by your desired timescale.
Top tip: Check your budget regularly. Ideally, once a week if you can. Checking it often means you can quickly spot any unnecessary spending before it becomes a problem!
35 Amazing Totally Free Budget Printables
Before we dive into these amazing free printable budget planners it's important to mention that you check each one closely. They are not all the same and different budget worksheets will suit different situations. Enjoy!
1. LifeUpswing Monthly Budget Tracker
The first budget tracker on this awesome list has been created by me! I created my site to help everyone learn more about saving money, making money, and managing money in a more effective and lucrative way.
To help every visitor to my website get started I am giving away a free Monthly Budget Tracker (printable of course)! Plus, a special discount (more on that later).
Using my free Monthly Budget Tracker allows you to have more control over your finances. It also helps you track every outgoing which means you can spot problematic spending quicker. Plus, it's super easy to use!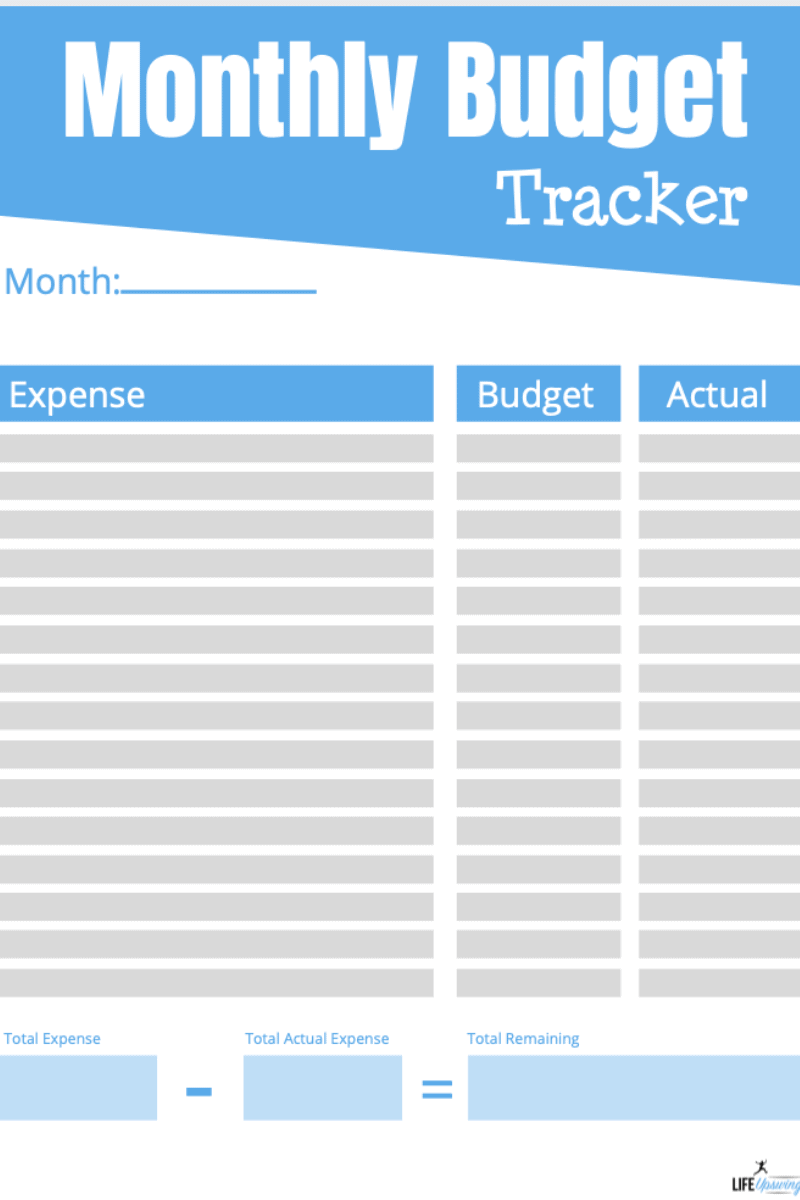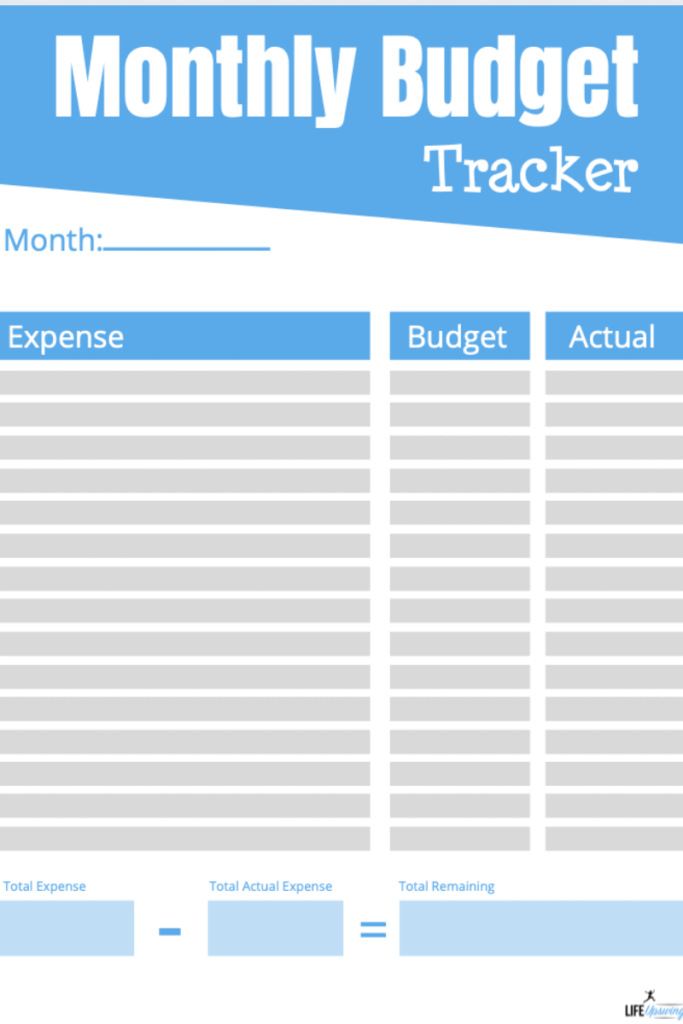 And you can get your first free budget printable sent straight to your inbox now.
Simply signup for my email list and I'll send it to you as a way of saying thanks. But keep reading, this is just the beginning. By the time you are through, you'll have enough free budget printables to balance the books of a small country!
2. Mom Van Up Vacation Budget Worksheet
Mom Van Up is all about helping people with their finances whilst enjoying adventures! What's holding you back from going on an adventure? Probably money right? Good news – Mom Van Up has created a free printable to help you budget for a vacation.
It's extremely easy to use – simply add up the cost of all planned vacations for the year, divide by 12 and save that amount every month!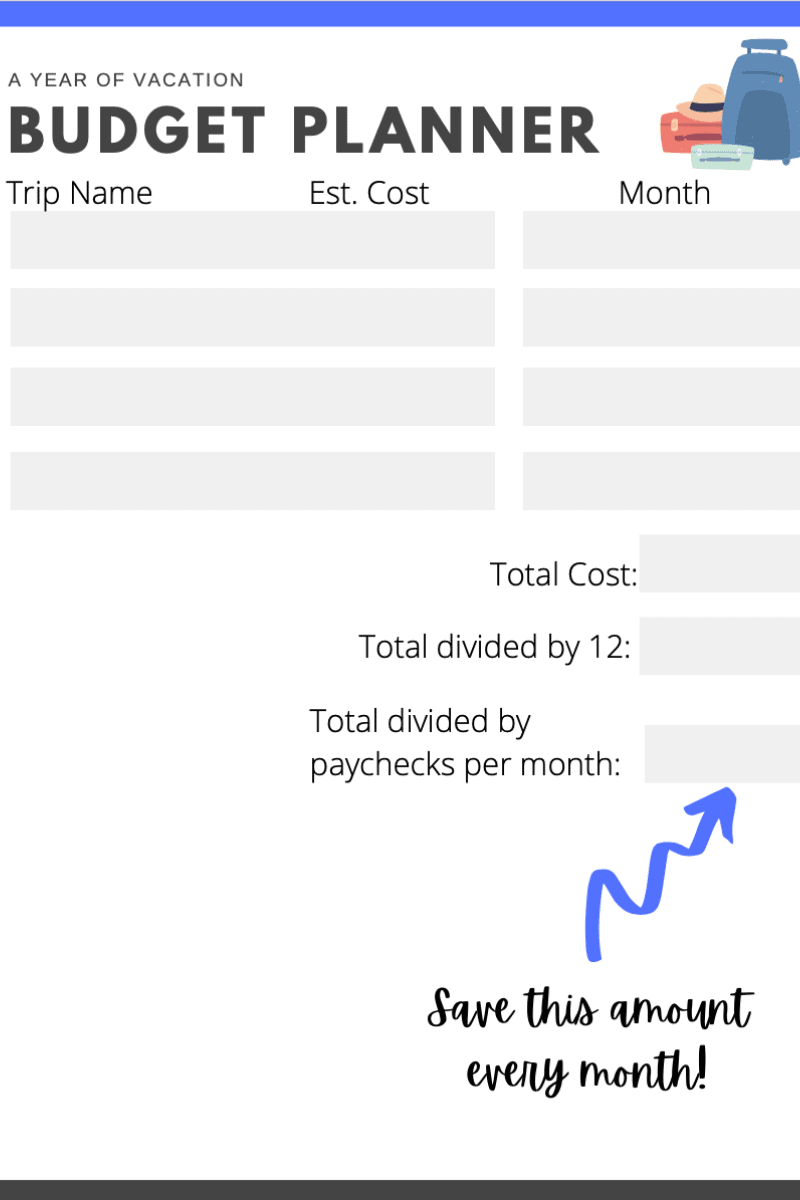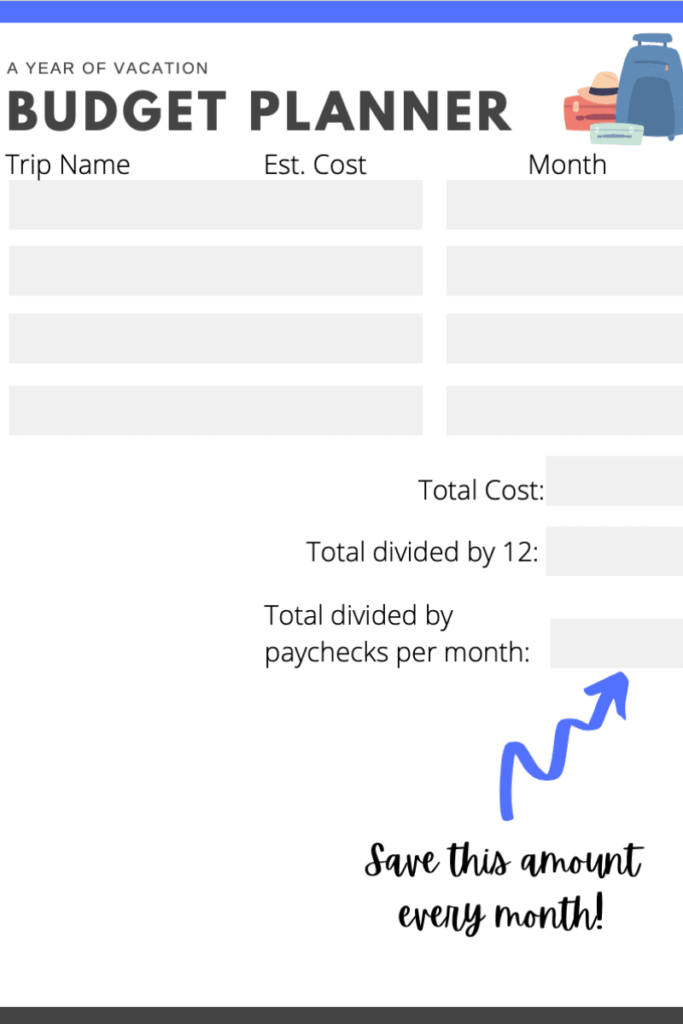 Neat right!
All you need to do is go to Mom Van Up, give your email address, and receive your awesome free vacation budget planner. Simply print it off and start planning your next trip!
3. A Country Girls Life Expense Tracker & More
If you visit A Country Girls Life you can print out a staggering 13 free budget printables! If you decide to print them all, then put them together in a convenient budget binder to make it easier to manage.
Included in the 13 free printables is an expense tracker, password tracker, debt repayment plan, and much more!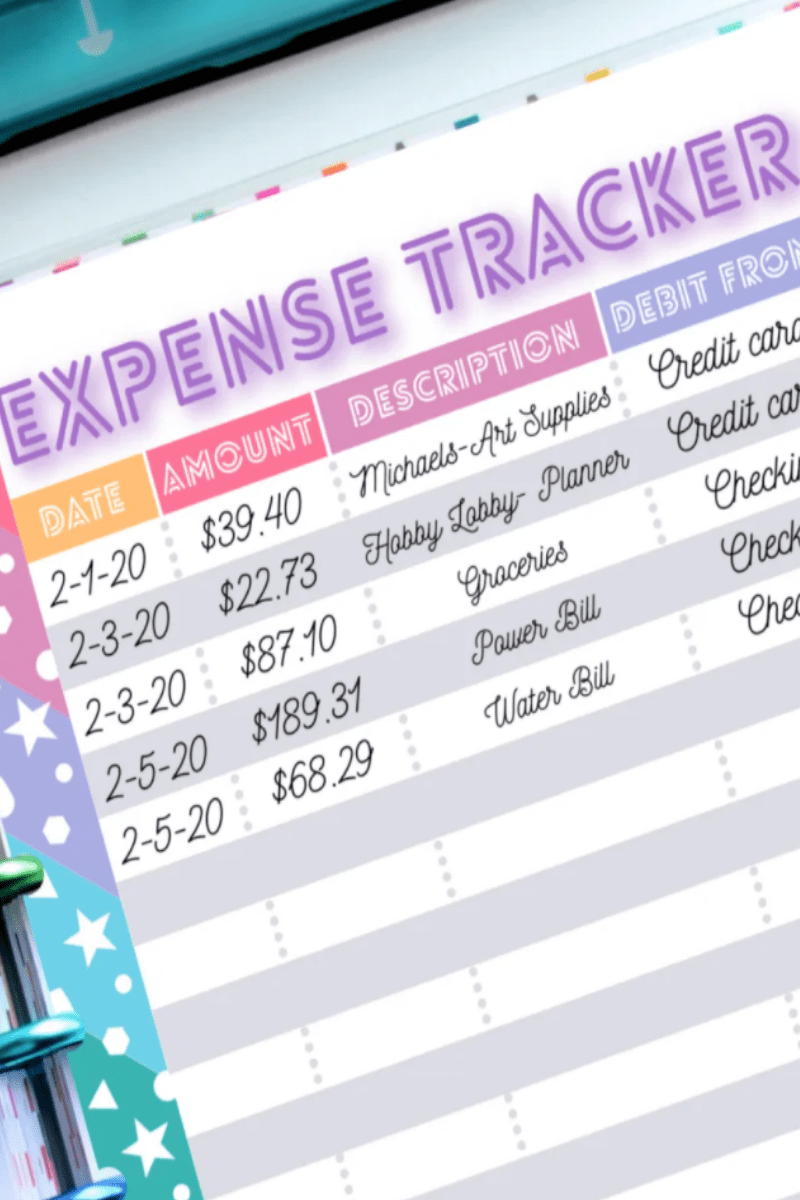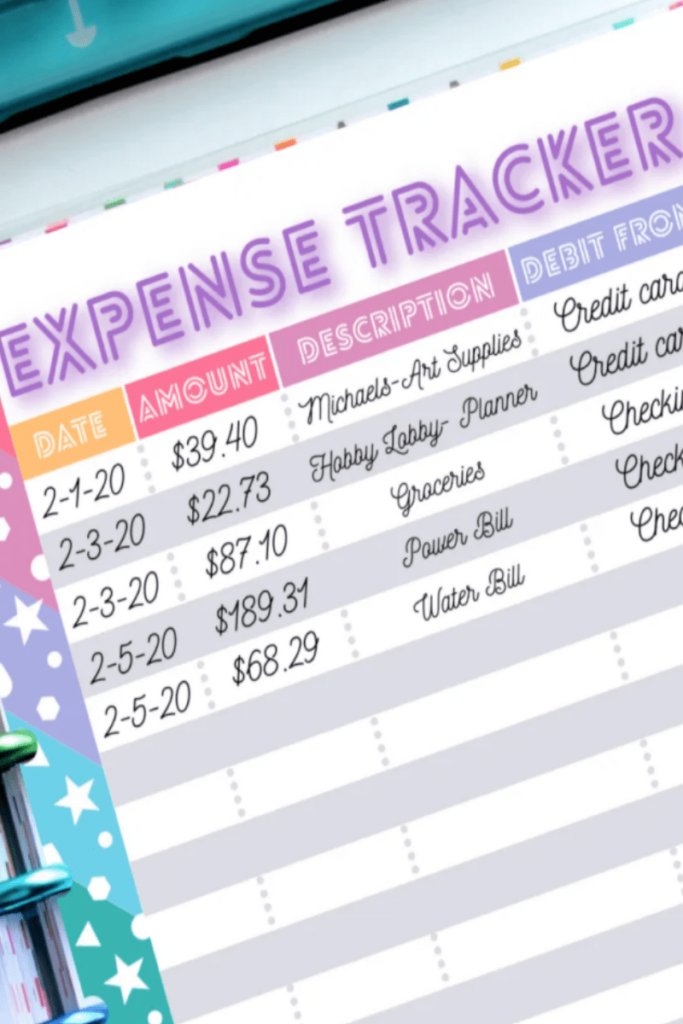 The expense tracker is a fantastic place to start as it allows you to easily see where all your money is going! Using this tracker, you can start finding ways to reduce your expenses and have more money to use for saving, paying off debt, or having some fun!
4. A Centsational Life Monthly Budget Planner
A Centsational Life has created some stunning free printables for everyone to use. Print off a monthly budget planner, savings tracker, and bill tracker! Let's have a look at the monthly budget planner: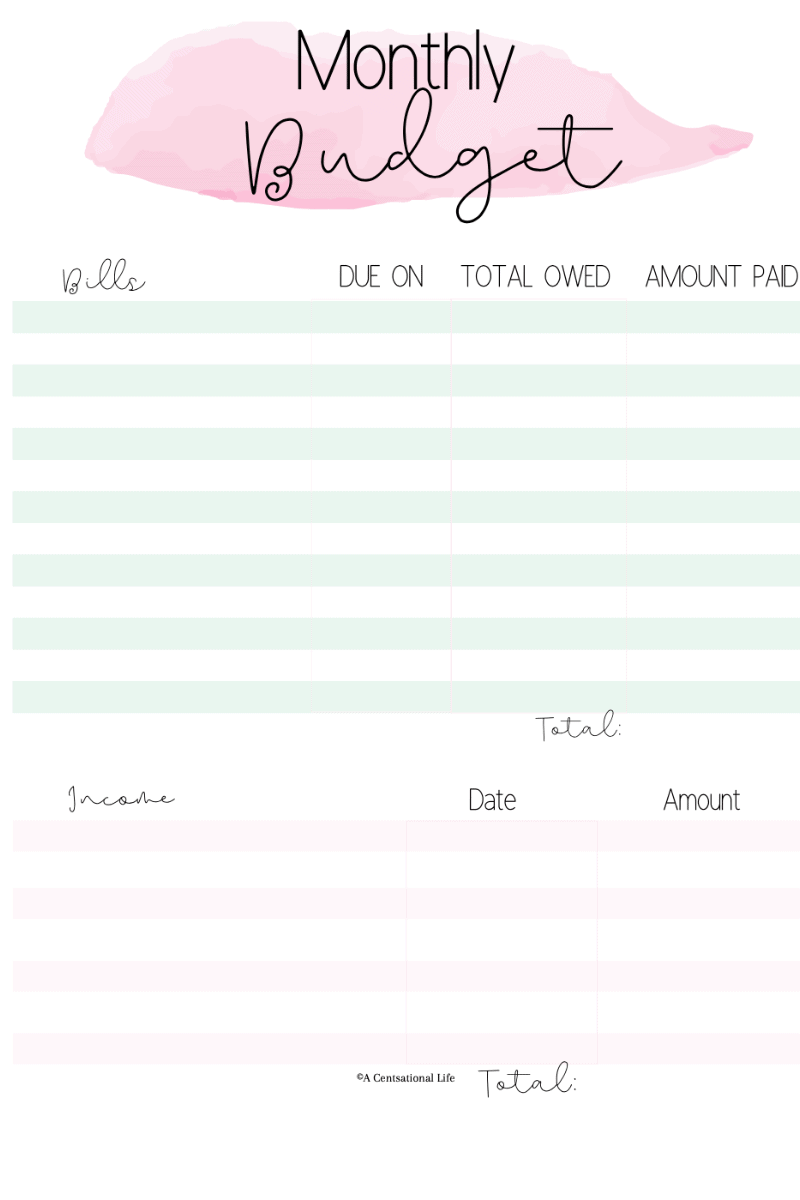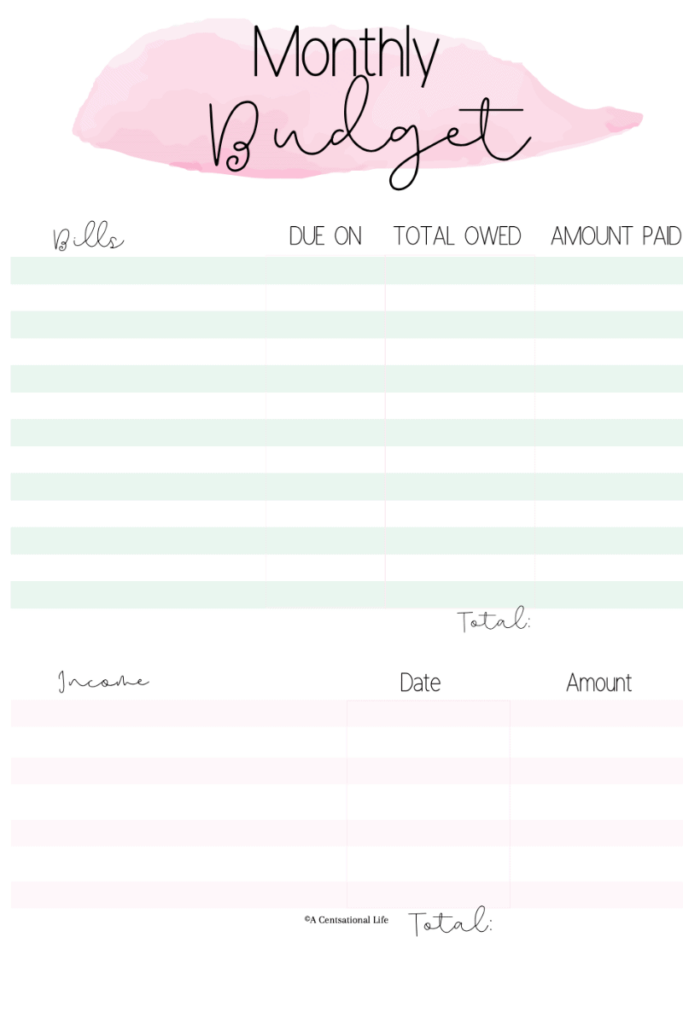 As you can see the design is classy, simple, and straightforward. Maybe you've put off doing a budget as you thought it might be difficult or involve creating intricate spreadsheets with complex calculations. I have news for you – creating a budget is easy!
You simply write down your outgoings and income to the exact cent. And hey presto you have a budget! Print off this free monthly budget planner to get started. Don't forget to check out the other free printables while you're there.
5. Blessed Home School Savings Goal Tracker
It's never too early to teach kids about money. When they are toddlers teach them about coins and notes using play money with a toy shop. Great fun for all!
As they get older it's time to get them involved with real money and how it works. One of the best gifts you can give your child is financial education. Teaching them about saving money from a young age will hopefully help them make better decisions when they reach adulthood and start spending their own money!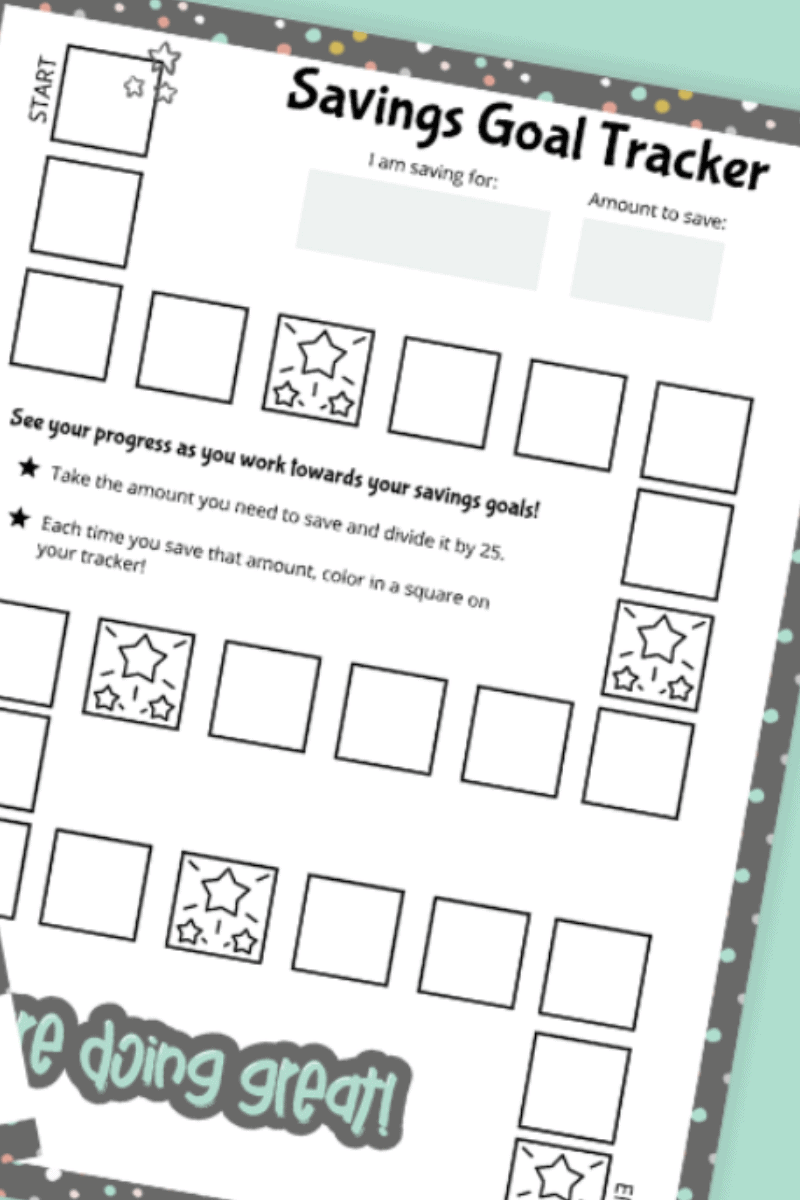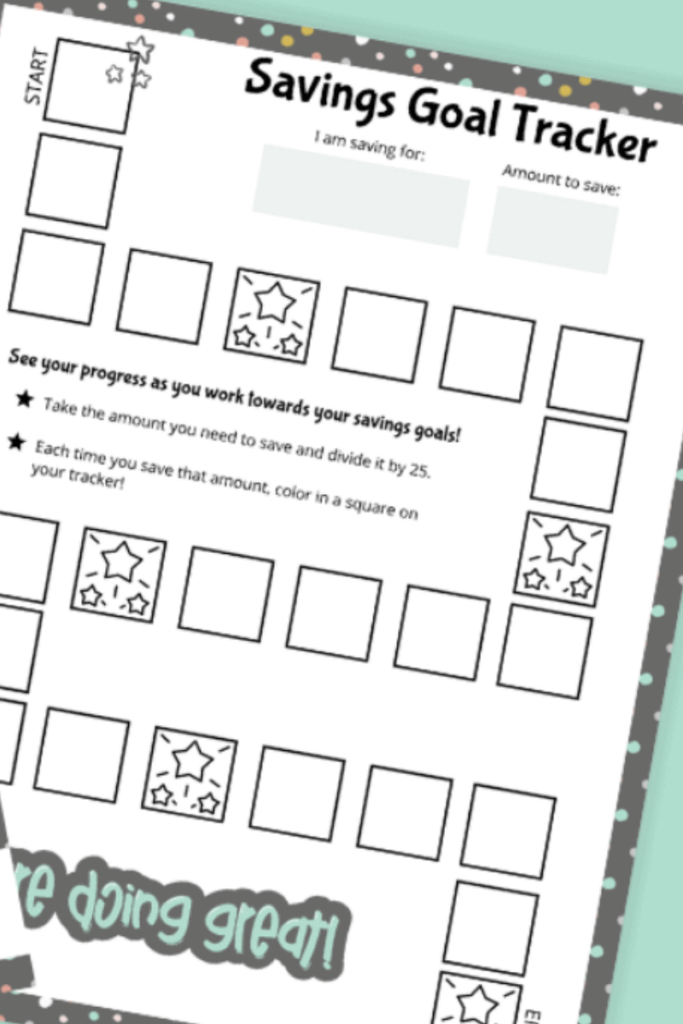 Blessed Home School has put together an amazing savings goal tracker just for kids. The tracker is brilliantly easy to use. Your child needs to decide what it is they want to save for, how much, and then divide the amount by 25. There are 25 squares to color in and once complete they've reached their target!
The tracker is free to print off and the simple design is fantastic for kids to use. Give it a go and help your kids start saving today!
6. A TO Zen Life
If you are looking for a detailed way of tracking expenses and creating a budget, then A To Zen Life may be the answer for you. You can print off a 2-page budget planner to create a thorough budget.
Page 1 is a monthly expense tracker. It's split into 2 sections covering fixed and variable expenses. You can use this to work out exactly how much you will be spending in a month.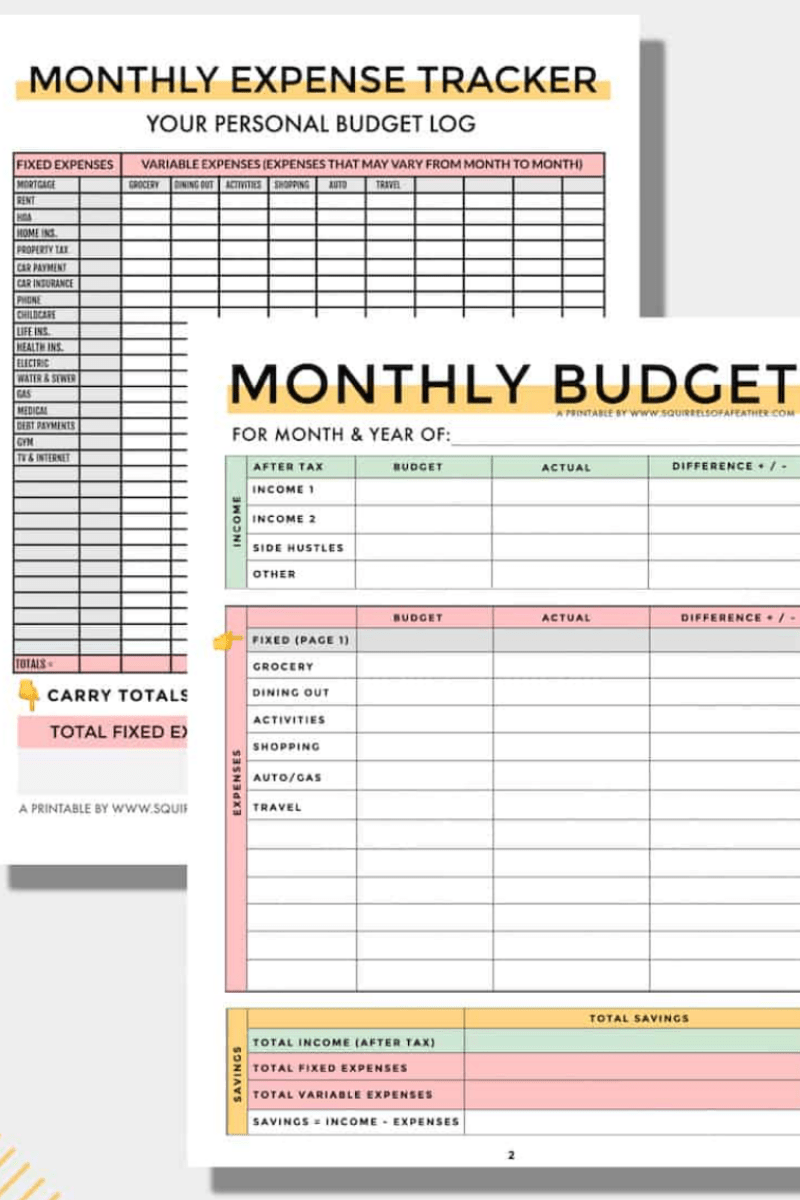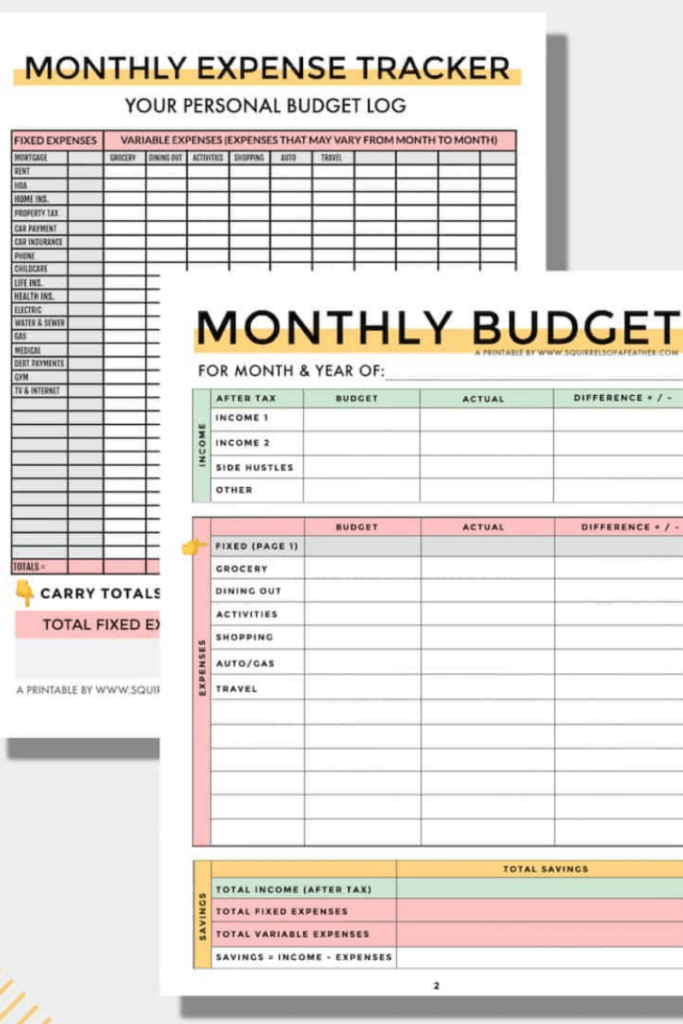 Moving on to page 2 you can now easily work out your monthly budget. The figures used on your monthly expense tracker will be important to fill in the monthly budget planner.
7. Money For The Mamas Full Budget Pack
A fantastic package of free budgeting printables can be found at Money For The Mamas. This 19-page free pack (yes 19!) covers all the basics in an easy-to-use format.
Included in this free pack are a net-worth tracker, monthly budget sheet, and debt tracker. As well as their smart design these sheets are super simple to use. The pack also contains some tips and encouragement to help you budget better. Here is a peek at the budget sheet: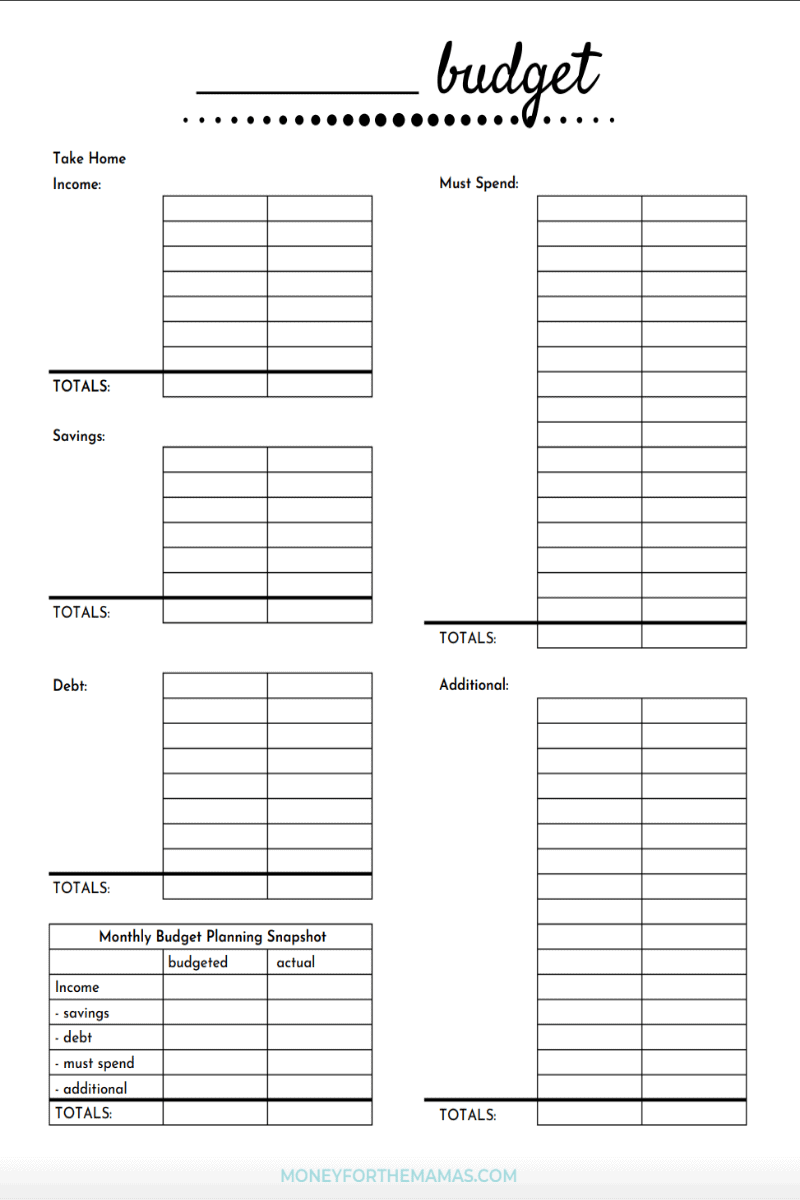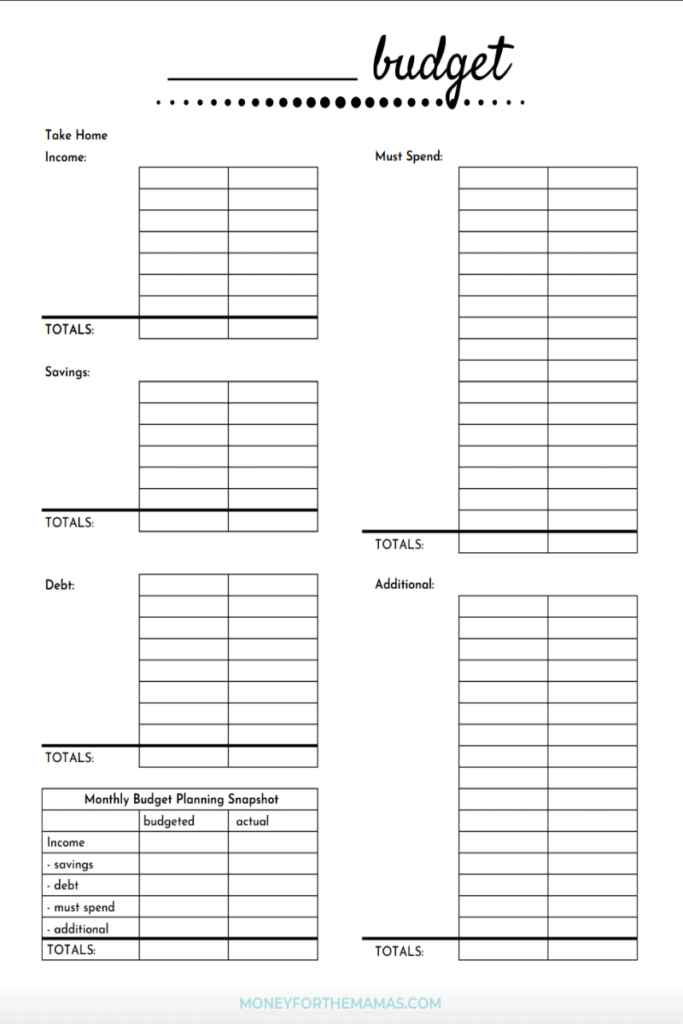 In this snapshot, you can see there is a gap to mark it as a weekly or monthly budget. The sections are clearly divided for income, savings, necessary spending, debt, and any additional spending.
As well as the budgeting sheets there are also some other useful sheets. Use the smart money goals page to clearly define what you are wanting to achieve.
Overall, this comprehensive package is of fantastic quality. Best of all – it's free!
8. Clementine Creative 1 Page Planner Printable
Clementine Creative offers a smartly designed 1-page monthly free budget planner. On the sheet, you can list what you expect to pay for each category and what you actually paid. Having a space to record actual costs means when you do the next month's budget you can easily refer back to what you paid the month before to make a more accurate budget next time.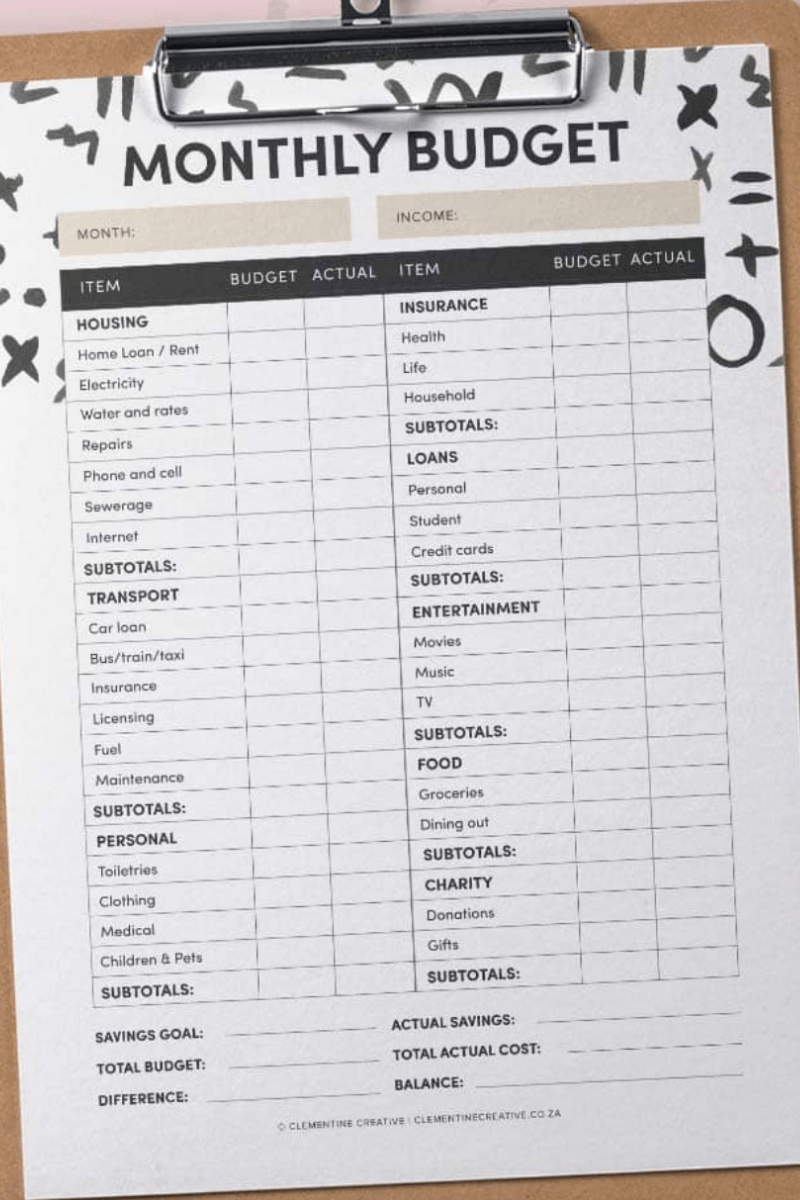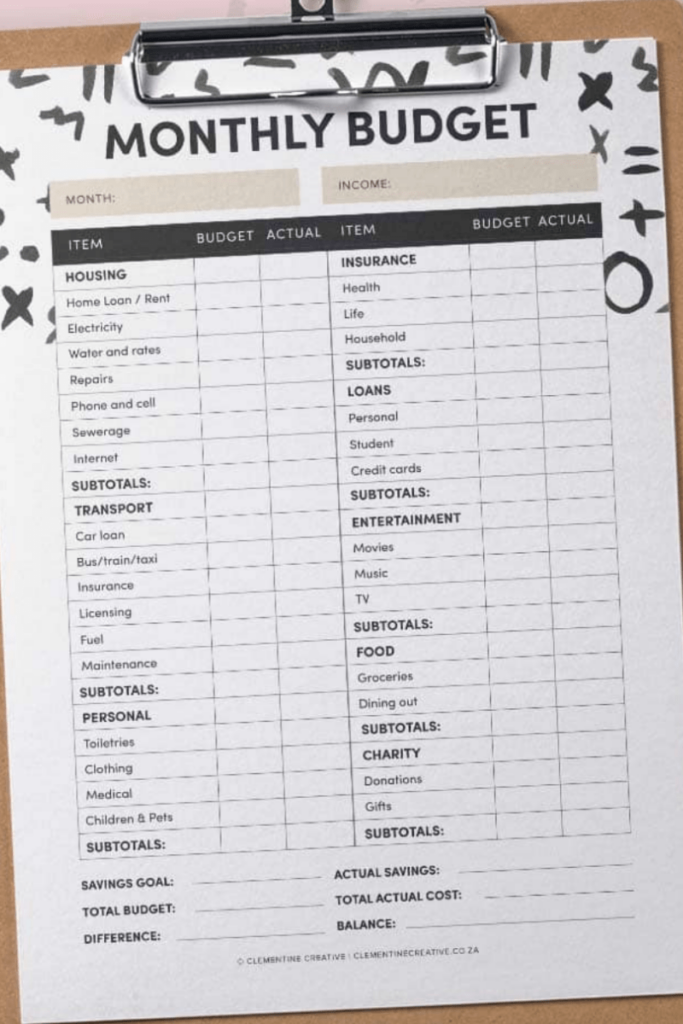 The design is nice and simple with clearly labeled categories. At the bottom, there is also space to record your savings goals, total actual costs for the month, and your balance left over.
Although this free budget printable is less detailed than some others, it's a fantastic starter budget sheet if you are just looking for something that is quick to use.
9. Healthy And Lovin It Food Budget Cost Sheet
After housing costs, one of the biggest expenses on the budget is food costs. If you eat out a lot, buy lunch on the go, and buy expensive brands when you go shopping, then you could be spending a lot of money every month!
To help you reduce your food bill Healthy and Lovin It has created a straightforward budgeting sheet focused on food costs.
You can easily record what you spend every time you eat out and where you went. There are also columns to record what you've spent online shopping and at the grocery store. The sheet is extremely easy to fill in and lets you see at a glance what you are spending on food.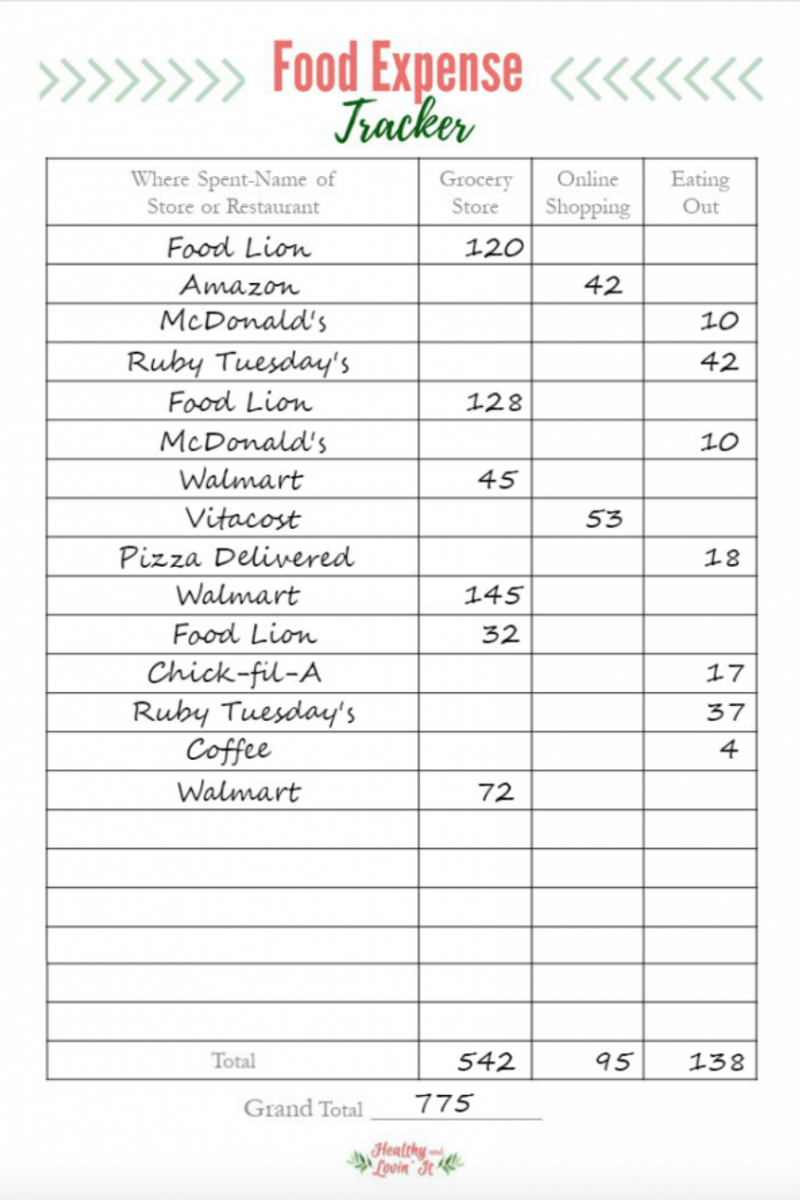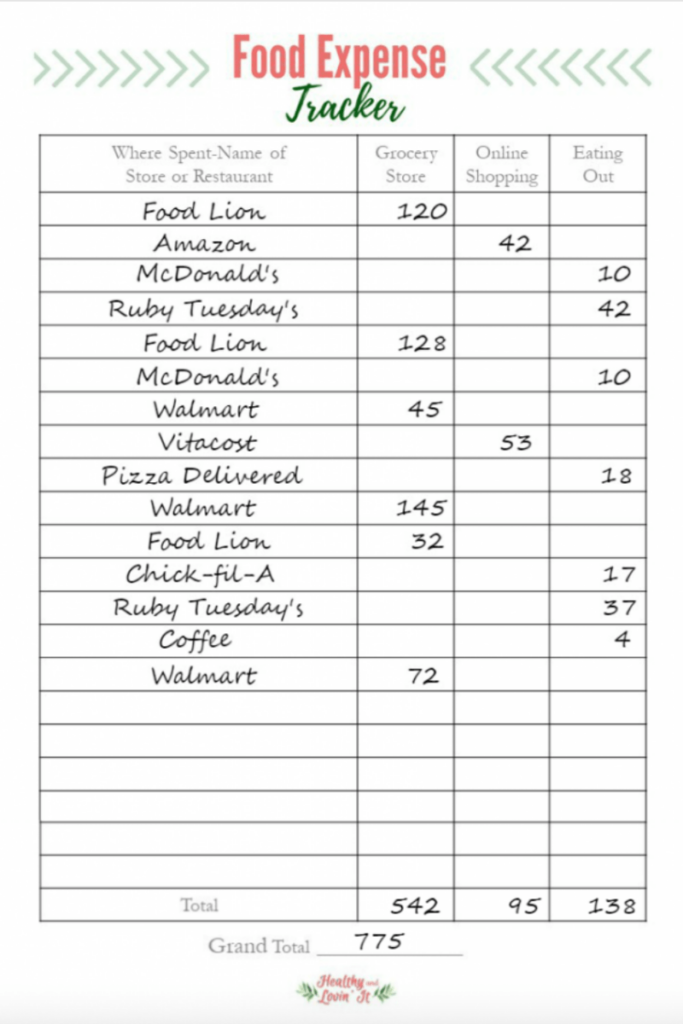 As shown, it's really easy to use and the sheet has a nice clean design. Using this can help you see where all your money is going which means you can make appropriate cuts to your food bill. Any money you save on food can be used for other things like paying off debt quicker or building savings.
To help with your grocery budget you may want to consider using a meal planner. Planning meals and shopping only for what you need is a great way to save!
10. Parent Portfolio Zero-Based Budget
This unique free budget printable offered by Parent Portfolio is called a zero-based budget. What is a zero-based budget? Simply put it means every single cent you receive in income is planned for. This means that at the end of the month there should be nothing remaining.
Parent Portfolio teaches that budgeting isn't just about accounting for every dollar. It's actually about having a plan for your money. Paying off debt, building savings, and having some fun should be all included in your budget alongside paying expenses.
For example, let's say your income is $2000. You may spend $1500 on expenses. The remaining $500 could be split between savings, investments, and entertainment. By the end, there should be a balance of $0!
By doing this it means every dollar you earn is used according to your own individual plan. Here is a quick look at the free zero-based budget: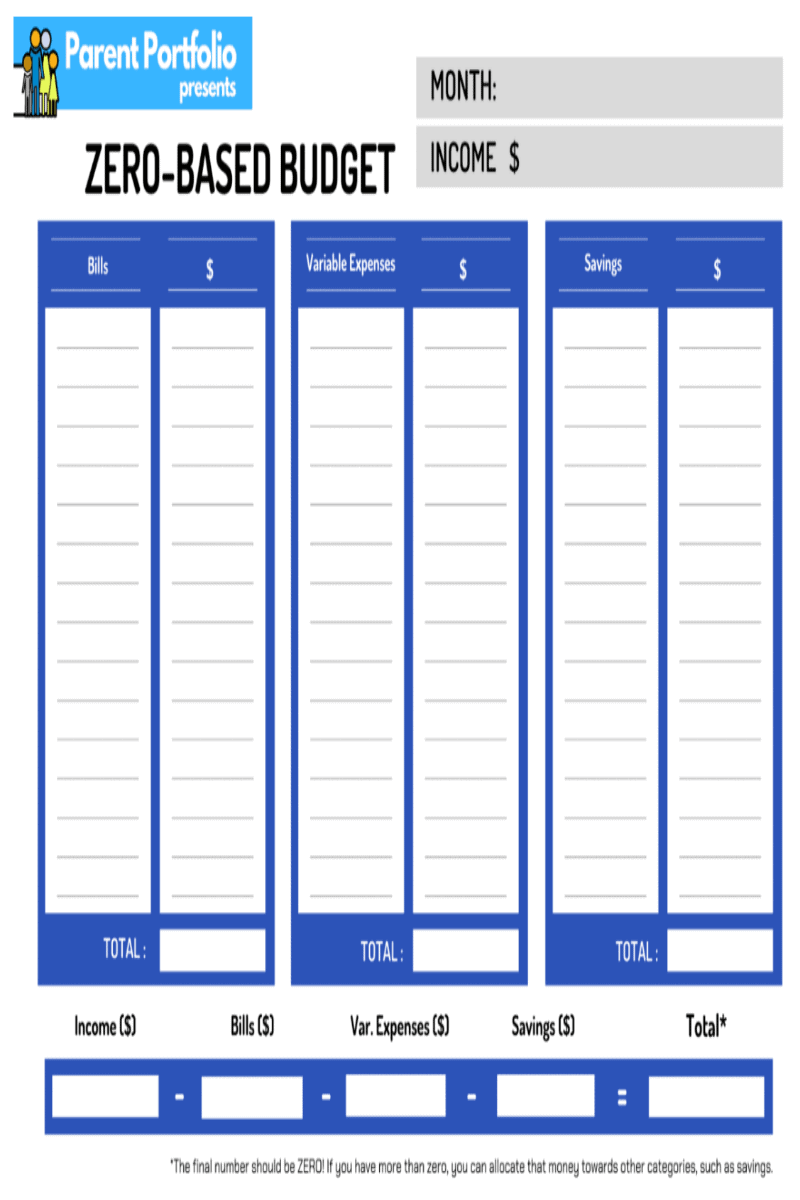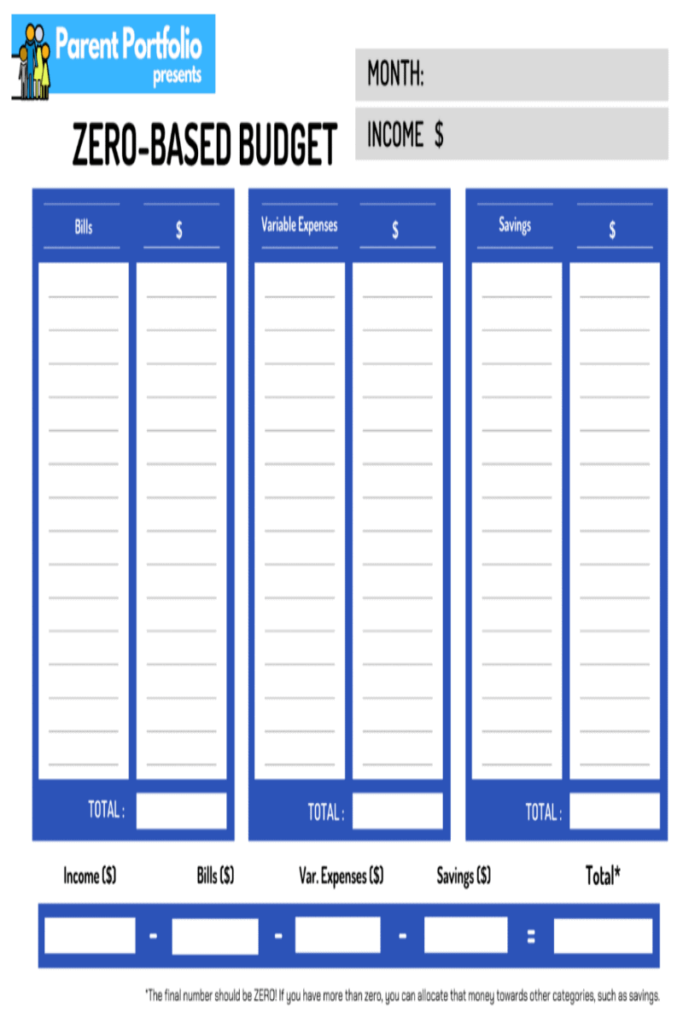 The free printable is split into 3 easy to read sections. Bills, variable expenses, and savings. All you need to do is fill in each one and by the time you get to the total box in the bottom right corner, it should have a $0 balance!
11. Frugal Wah Mom Bill Tracker
Frugal Wah Mom lets you download a 1-page bill tracker once you've signed up. Don't worry – the signup is free and so is the bill tracker!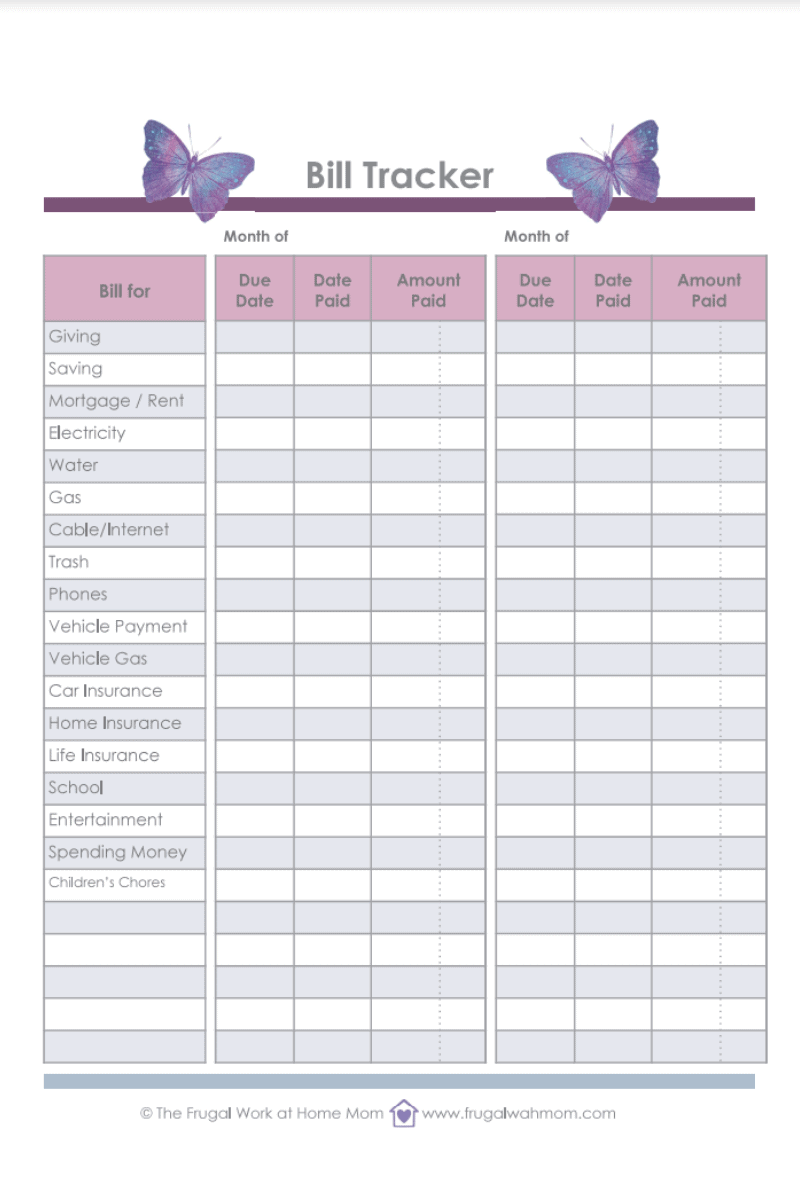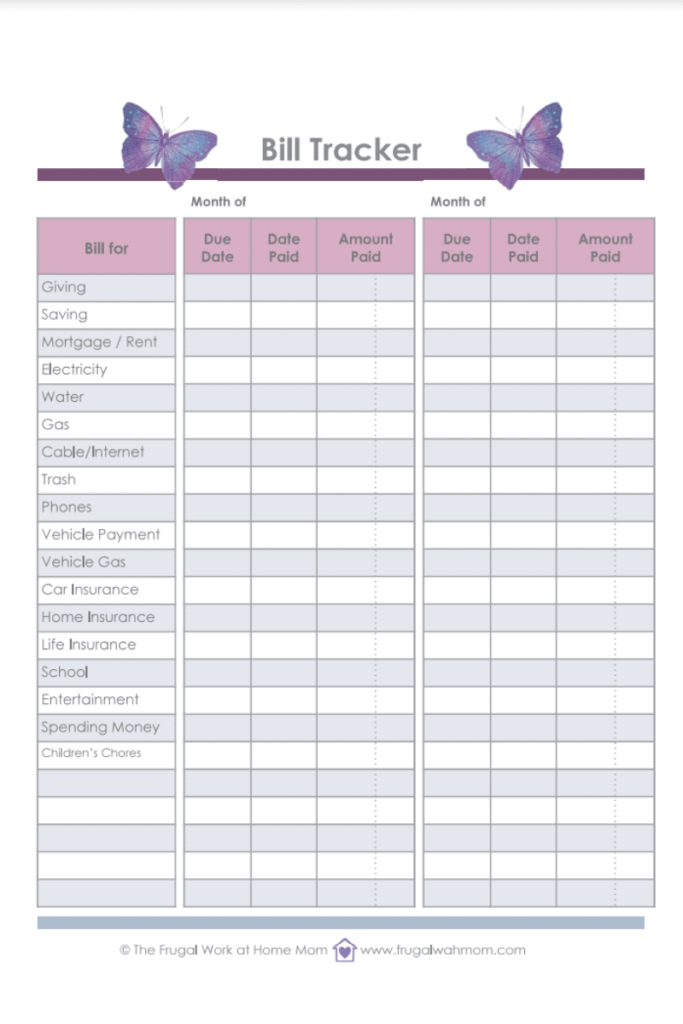 The single sheet has a column pre-filled with typical bills that everyone pays. There are blank boxes at the bottom to add your own as well. What makes this bill tracker a good one to use is that there is space to record 2 months' worth of bills side by side.
The benefit of this is that you can easily compare your bills from one month to the next. The ability to easily compare means you can spot potential savings quicker or notice out-of-control spending sooner!
12. Your Frugal Friend Blog Personal Budget Planner
At Your Frugal Friend, you can access some amazing content in their free resource library. To gain access you will need to sign up using your email address. It's completely free and you will then get an email containing the password for the resource library.
In the library, you will find a range of content covering lots of topics. Some of the budgeting printables you can download include a savings goal tracker, a vacation budget, and a debt freedom sheet.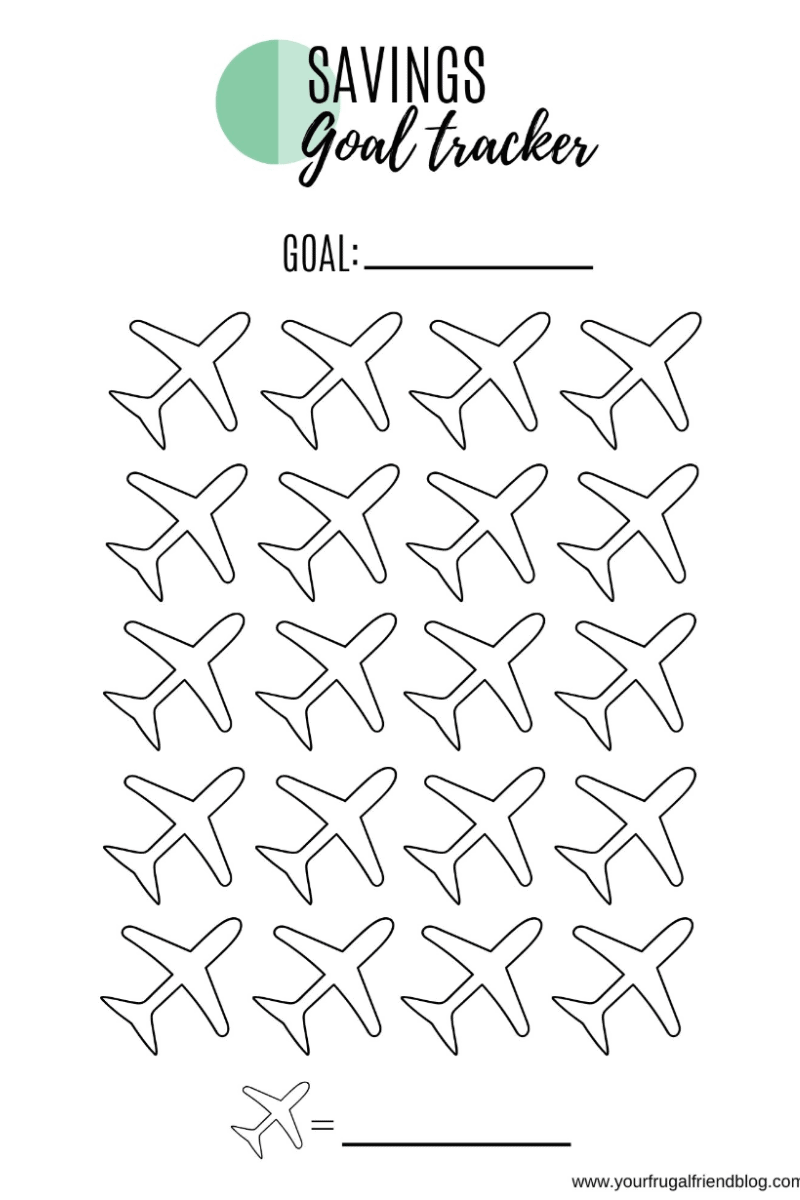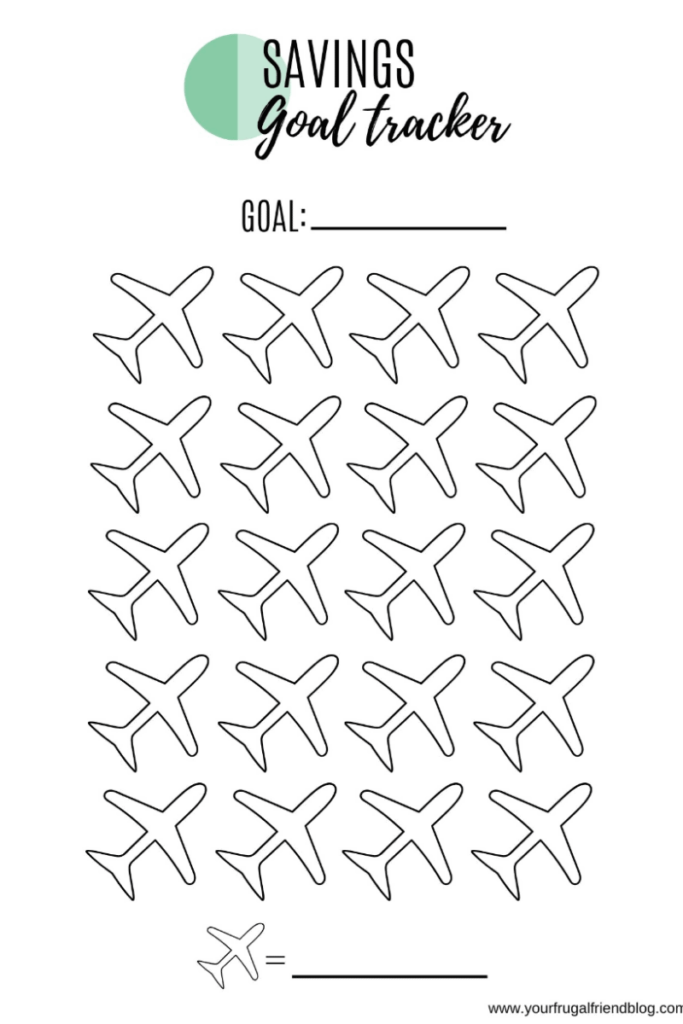 The Personal Budget Planner is a great free printable to start with. This 9-page budgeting planner includes some great advice on budgeting followed by pages including a debt tracker, savings goals, and a calendar to mark when payments are due.
13. College Life Made Easy Free Budgeting Printables
You don't actually have to be a student to use the free budgeting printables at College Life Made Easy. All you need to do is signup for free and you will be emailed the password to access the free resource library.
In the library, there are 13 budgeting sheets you can print off. The free printables include a bill tracker, a monthly budget, and a weekly budget. Depending on what you need you can print off some or all of them to use – all for free! Fantastic right!
Let's have a look at one of the monthly budgeting worksheets. As you can see below it's nice and easy to use. Simply fill in your income, expenses, savings, debts, and goals!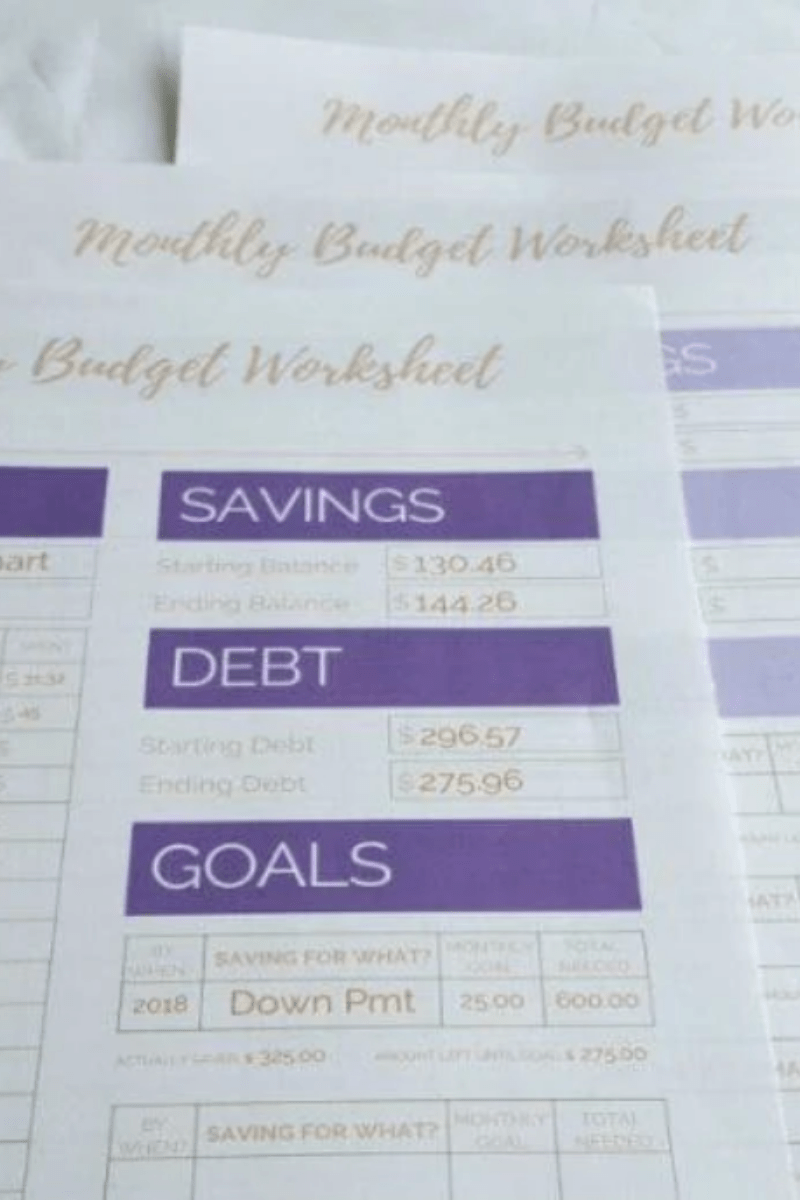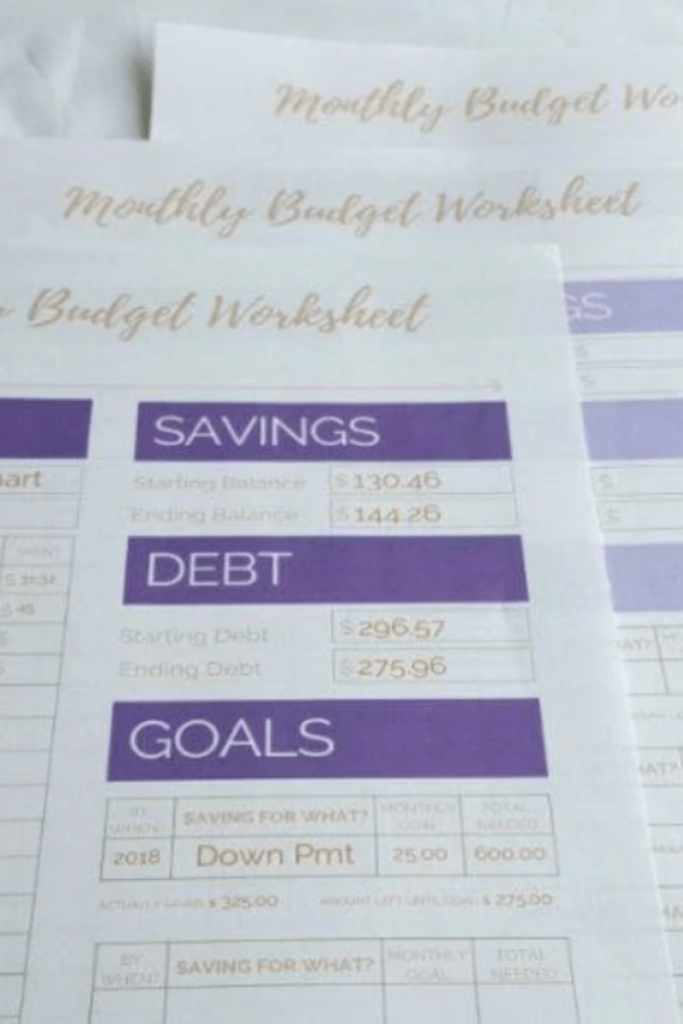 You can do this every month to maintain an accurate budget.
14. Halfway Homesteaders Money Tracker
Teaching your kids about money from an early age is recommended to help them become financially savvy adults. Halfway Homesteaders not only offers lots of great advice on how to teach your kids about money but also a free Money Tracker for your kids to use.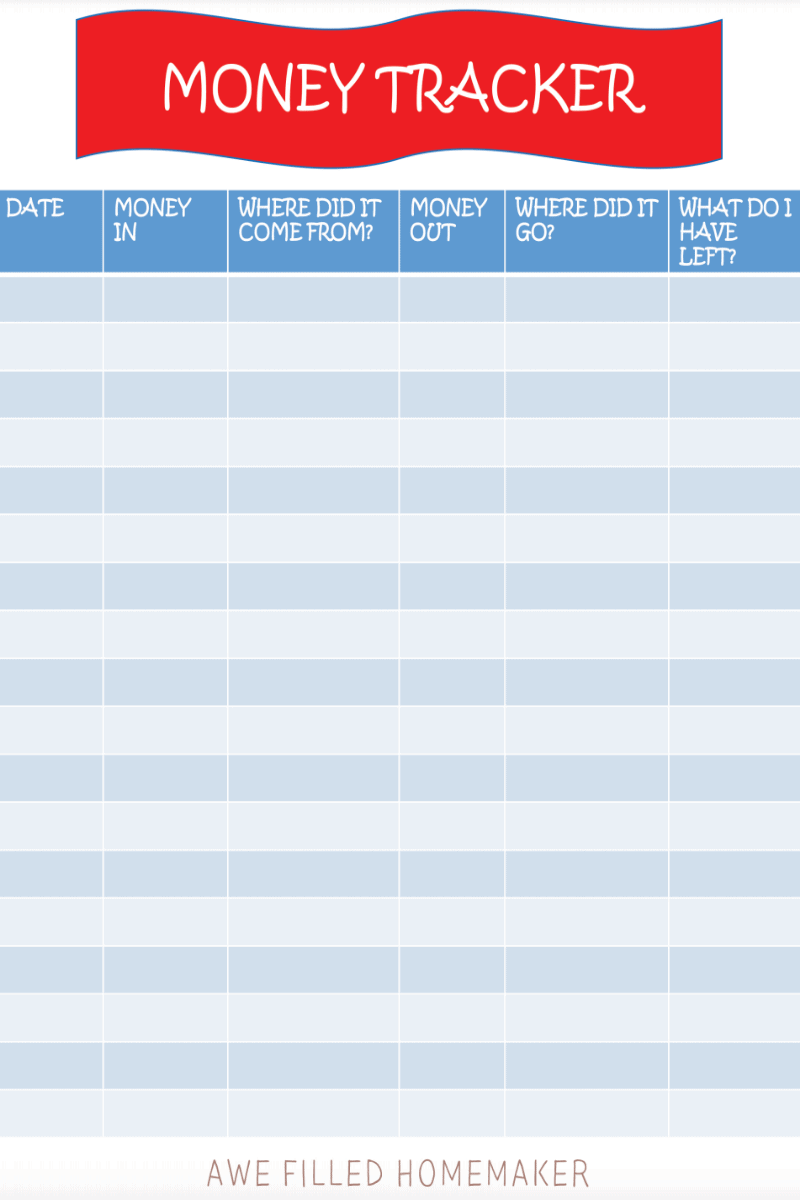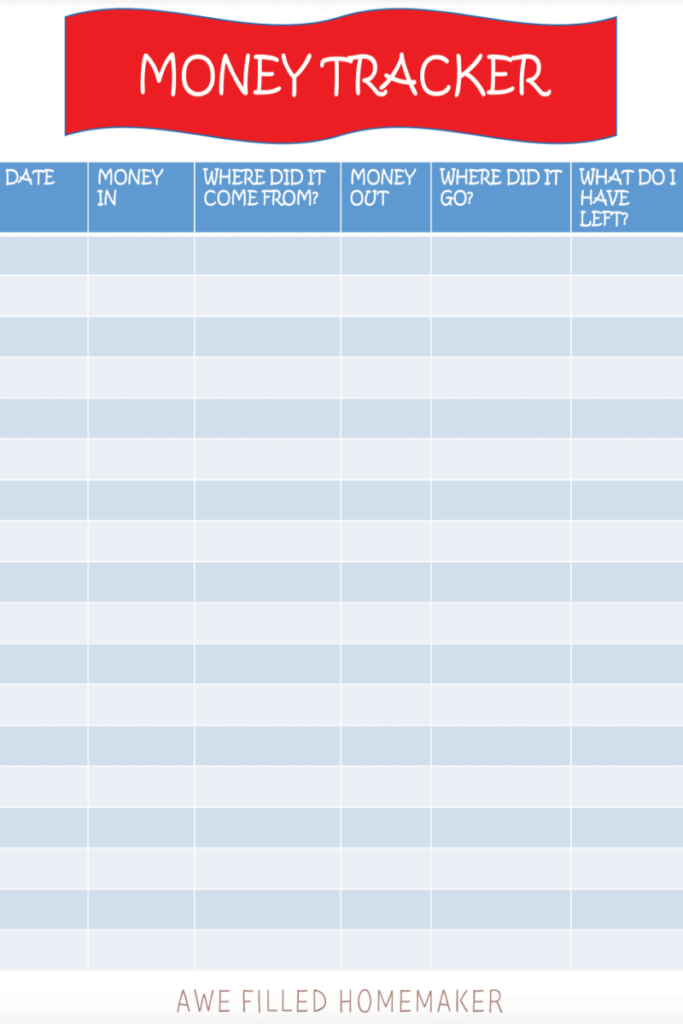 The money tracker is clearly split into easy columns for your child to fill in. They can fill in information about money that has been received and spent. Eventually, they can keep and maintain a record of the money they have remaining.
Helping your child learn how to track their spending will be an excellent way of helping them understand money.
15. Savvy Frugal Mom Budget Planner Printable
Savvy Frugal Mom offers a beautifully designed budget planner totally free! You will need to signup to receive it but it's free to join and takes less than 30 seconds!
The 6-page budget planner includes a monthly budgeting sheet, a savings, bill, and expenses tracker. Even if you decide not to use every page the monthly budgeting sheet allows you to record your income, expenses, and totals for the month. There is also a space to add your monthly goal!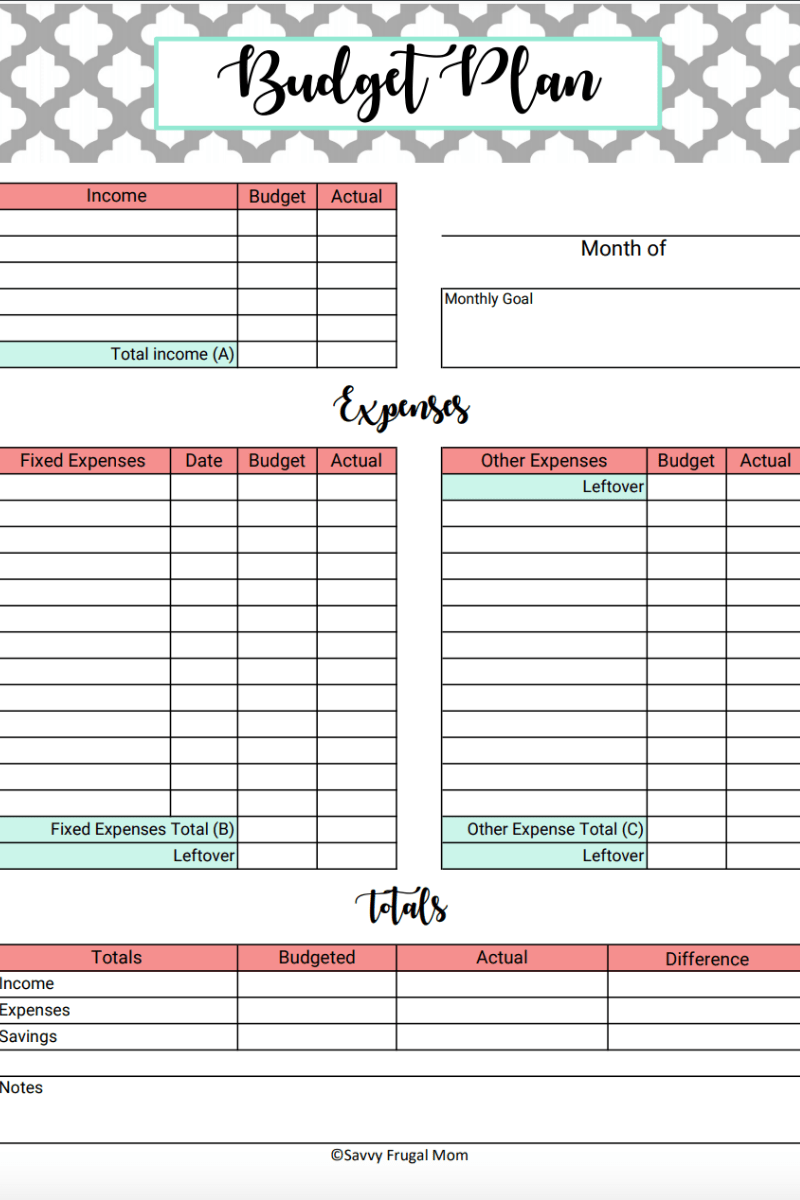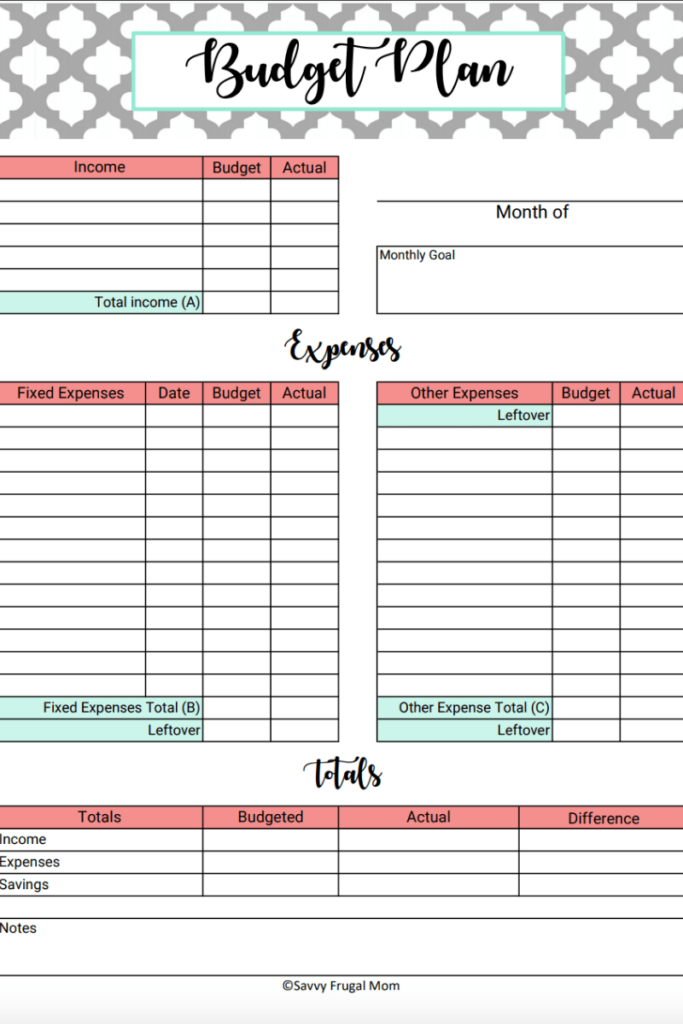 What would yours be? Save more, spend less, or start investing are all fantastic goals to have.
16. Simple Money Mom Yearly Bills Tracker
A simple freebie that can help you stay on top of your bills is from Simple Money Mom. Join the site for free to receive your free Yearly Bills Tracker.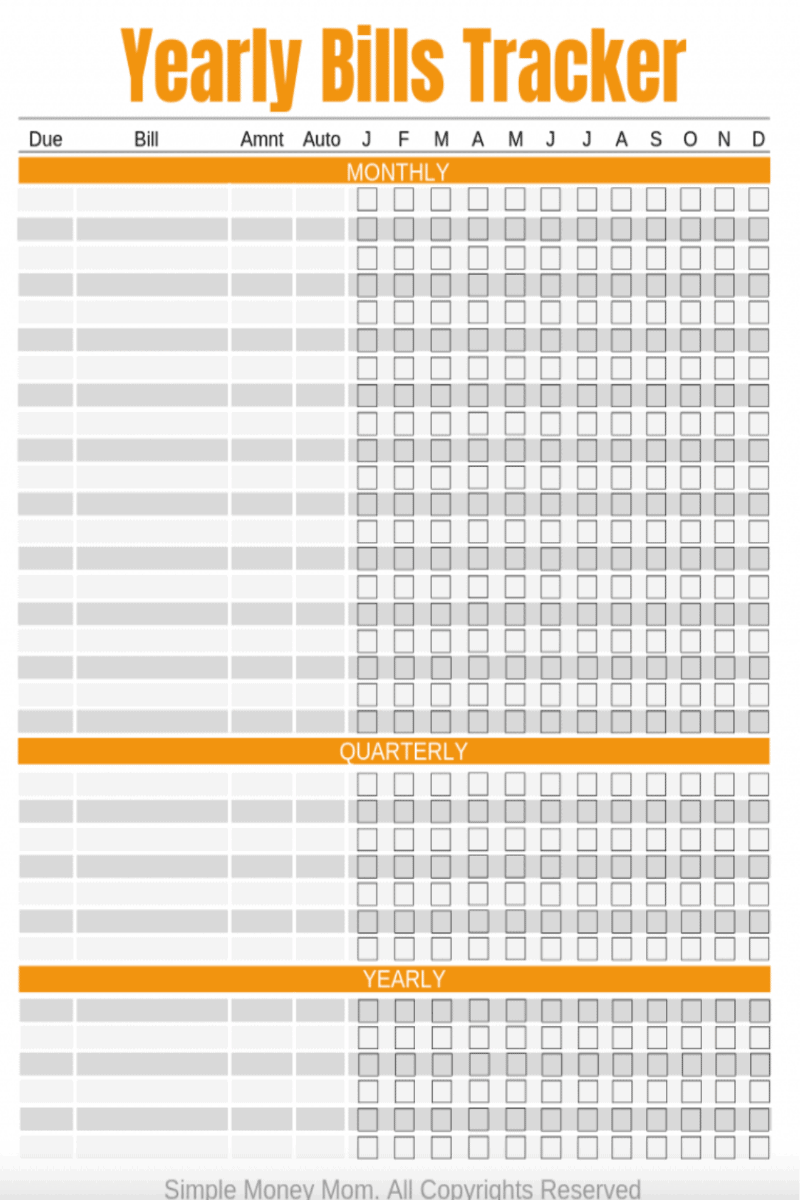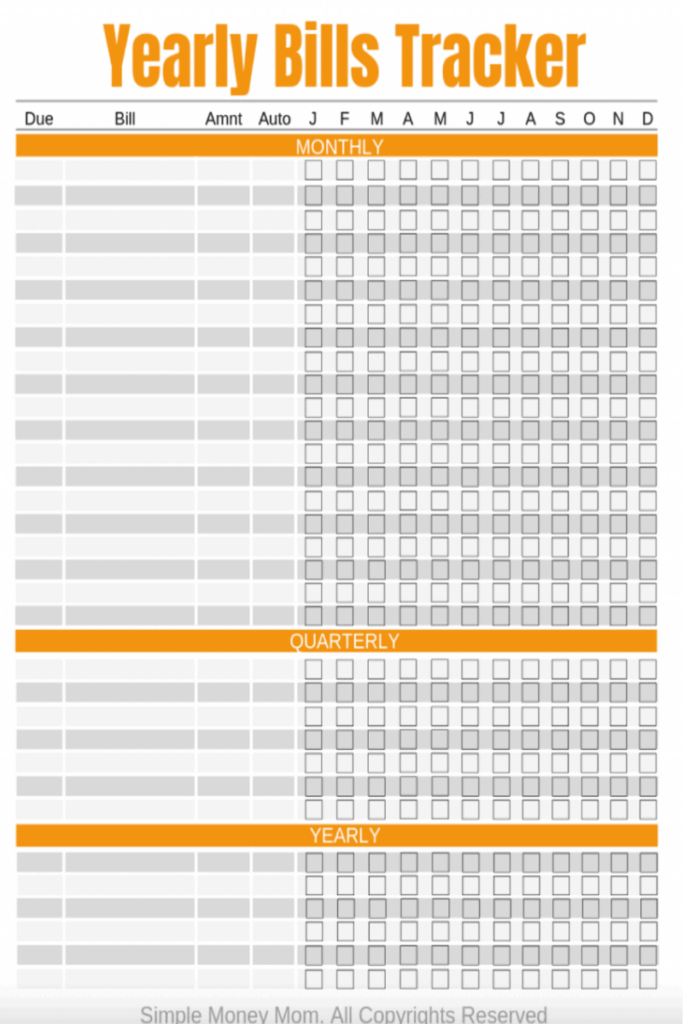 The tracker is split into monthly, quarterly, and yearly sections allowing you to easily record every bill. As each month passes you can tick off that month to show it's paid. Tracking your bills in this way is a great way to stay on top of them.
Another benefit of using a bill tracker like this is that it may make you more focused on your bills and encourage you to reduce them. Seeing what you are spending every month written down means you must actively think about them. Hopefully, this will jolt you into action! Any money you can save can be put to better use elsewhere. Maybe a well-deserved vacation perhaps!
17. Insane Freedom Sinking Fund Tracker
A slightly different free printable but one that can be essential for successful budgeting is this free Sinking Fund Tracker.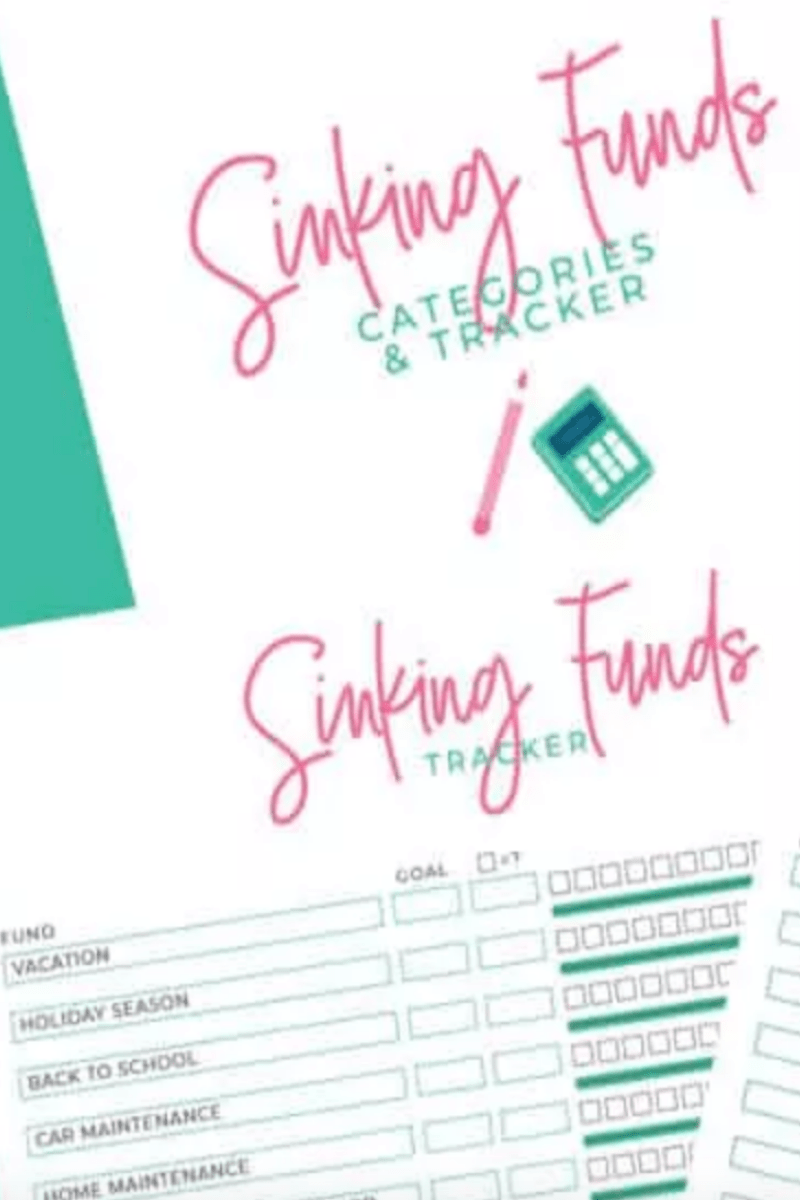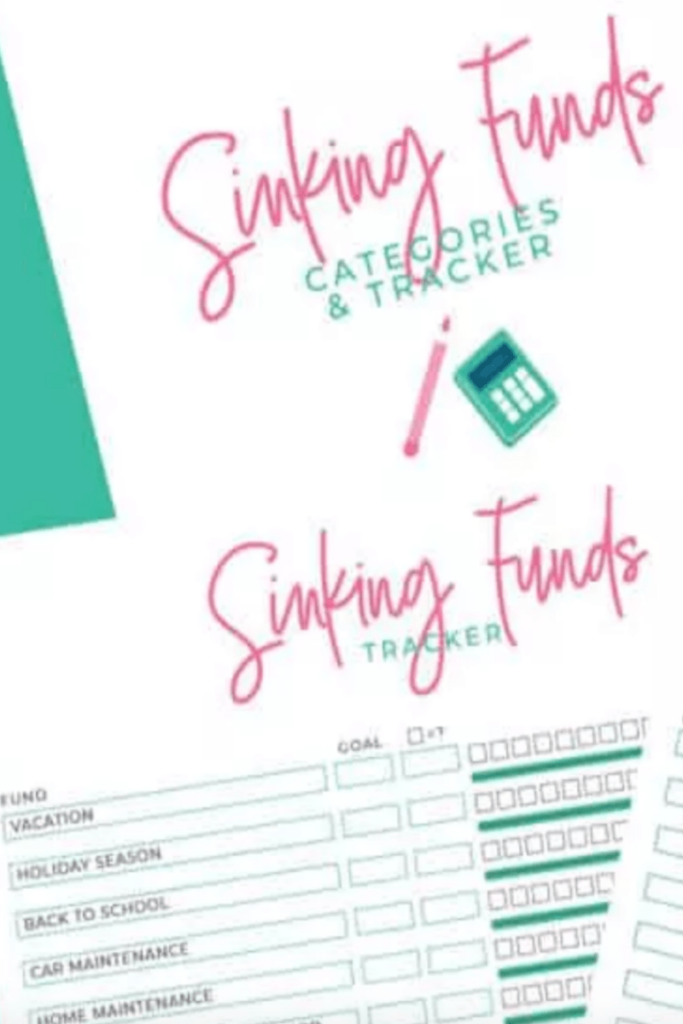 What is a sinking fund? A sinking fund is a pot of money you put aside to cover future expenses. These future expenses are ones you know will happen, but you may not know the cost. This includes things like Christmas, car insurance, and dental costs.
18. Savvy Honey Money Saving Challenge
Do you want to save money fast? At Savvy Honey you can print off their free Money Saving Challenge to do just that.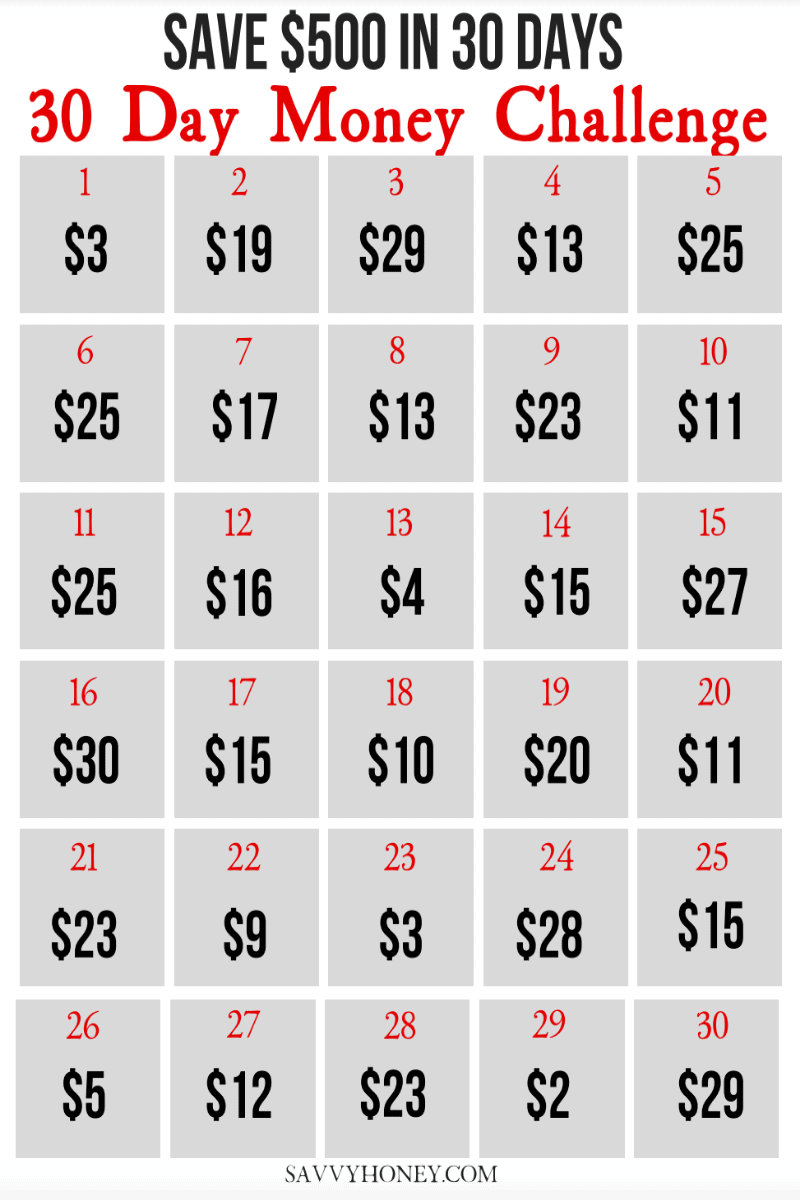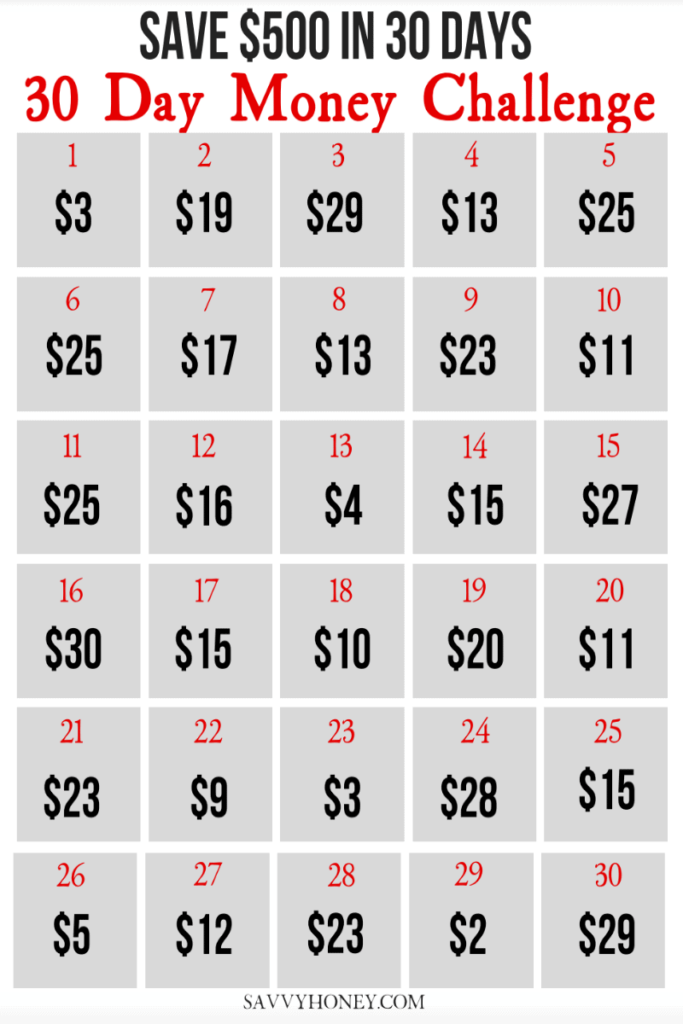 The free printable shows you how to save $500 in just 30-days. Amazing right! Don't worry – if that's too high or too fast for you, simply adjust the amount you want to save or how many days it will take you. Don't put yourself under pressure. All you need to do is follow the principles shown in order to save what you want.
Remember to successfully save, have a realistic goal in mind. A down payment on a car, a trip, new clothes, or building an emergency fund quickly are all great goals to have.
19. Intelligent Domestications Household Budget Planner Printable
At Intelligent Domestications you can print off a free Monthly Household Budget Planner and an annual version! Fantastic!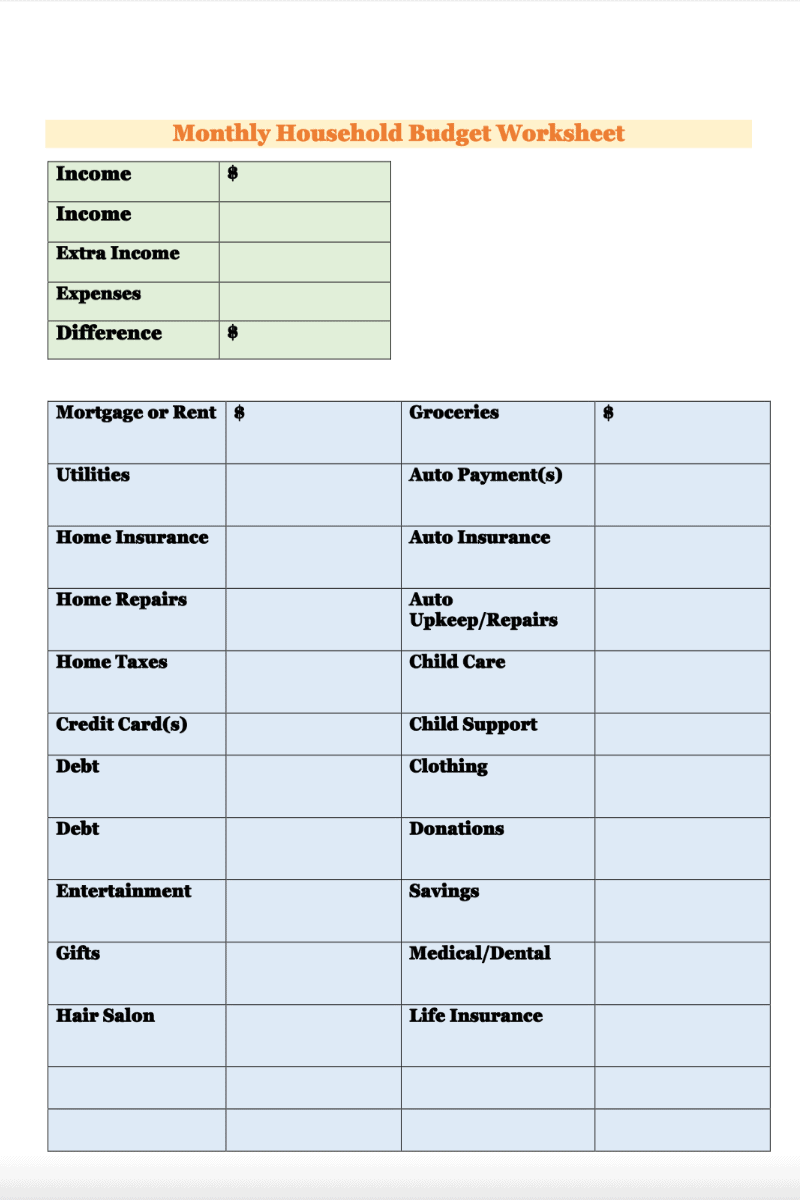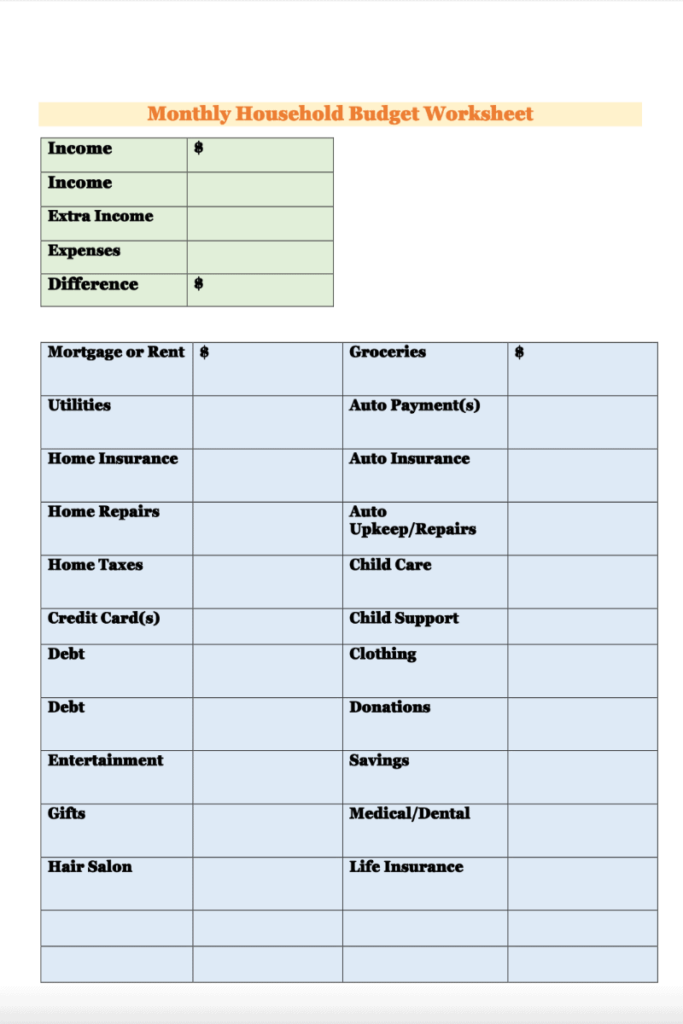 The Monthly Household Budget Planner is super easy to use. Fill in your income and expenses in the boxes provided. That's it, you now have a budget! Using this free budgeting printable is a great way for any household to start its budgeting journey. At a glance, you can see all your bills every month.
Pin it on the fridge or somewhere similar so the whole household can stay up to date with the budget.
20. From Mamma With Love Debt Tracker Printable
A free budget planner printable by From Mamma With Love gives you all the tools you need to start successfully budgeting. After completing a quick sign up you can receive your free 12-page printable!
To start with you can record your monthly bills and budget. This lets you easily see your monthly budget at a glance. Next, there is a weekly spending tracker which means you can keep an accurate record of your spending.
There is also a debt tracker that allows you to see how your debt is progressing. Having a visual aid is helpful when paying off debt as you can see how well you are doing!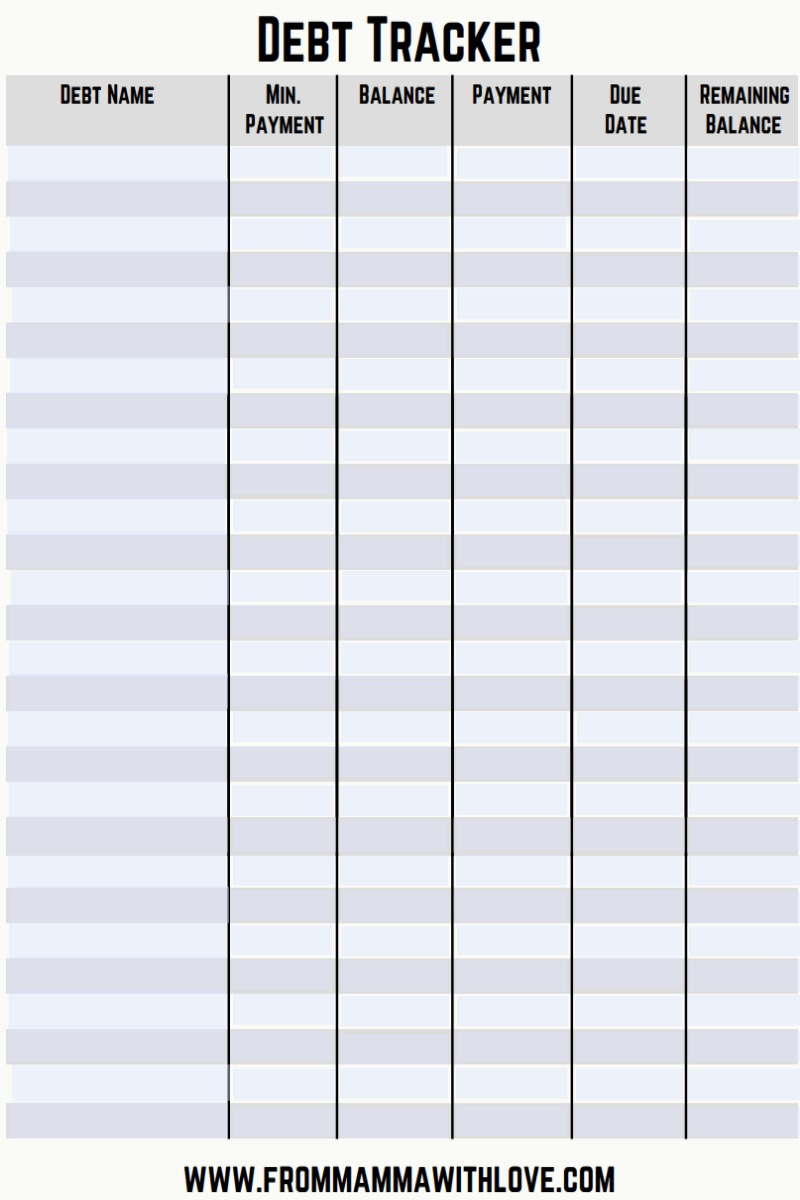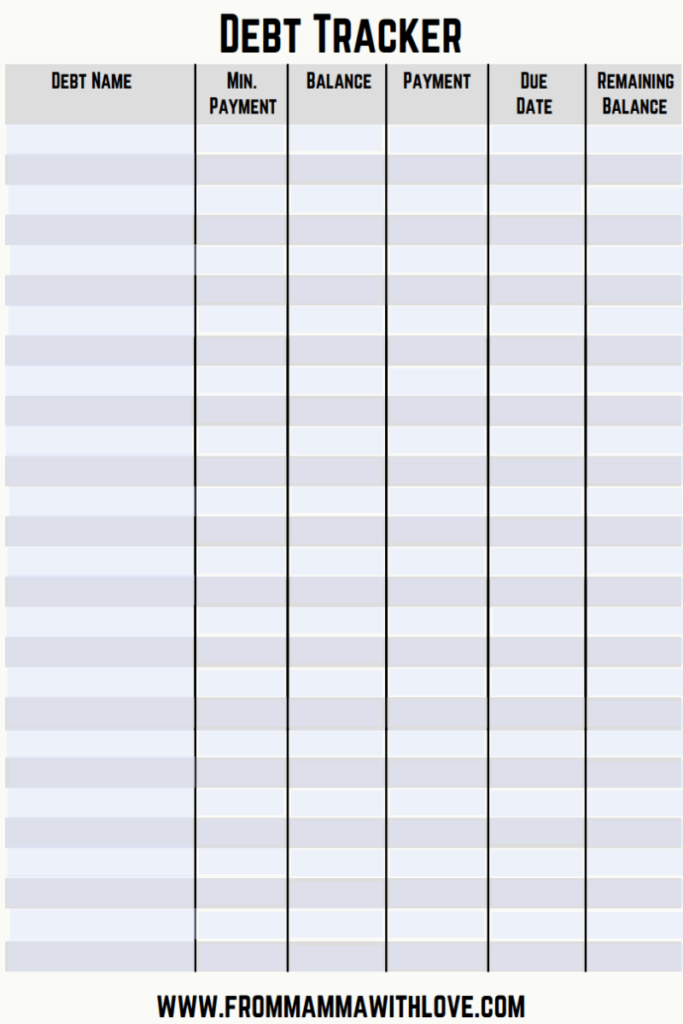 Would you like to save up to $1000? Of course, you would! As part of the planner, there is a yearly savings plan and tracker to help you do exactly that!
21. Organizational Toast Spending Log
Organizational Toast offers lots of marvelous budgeting advice. You can also download a free Budget Template and Spending Log.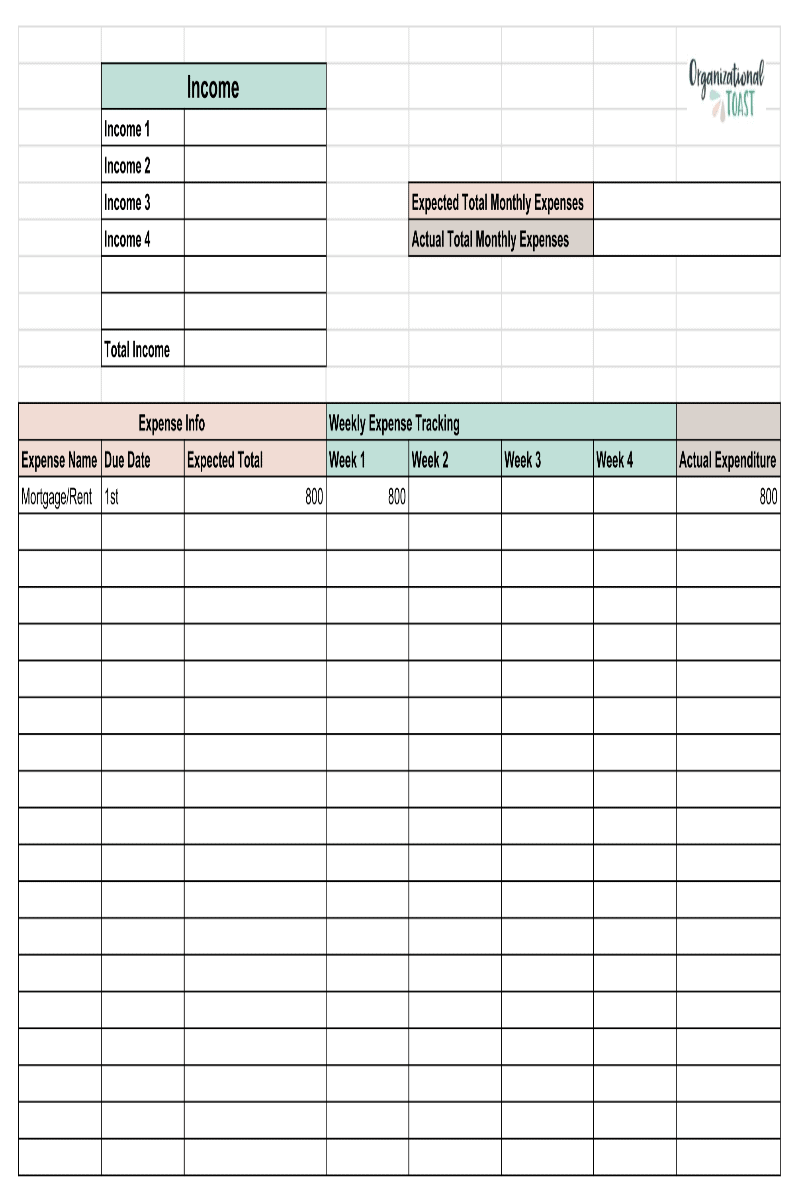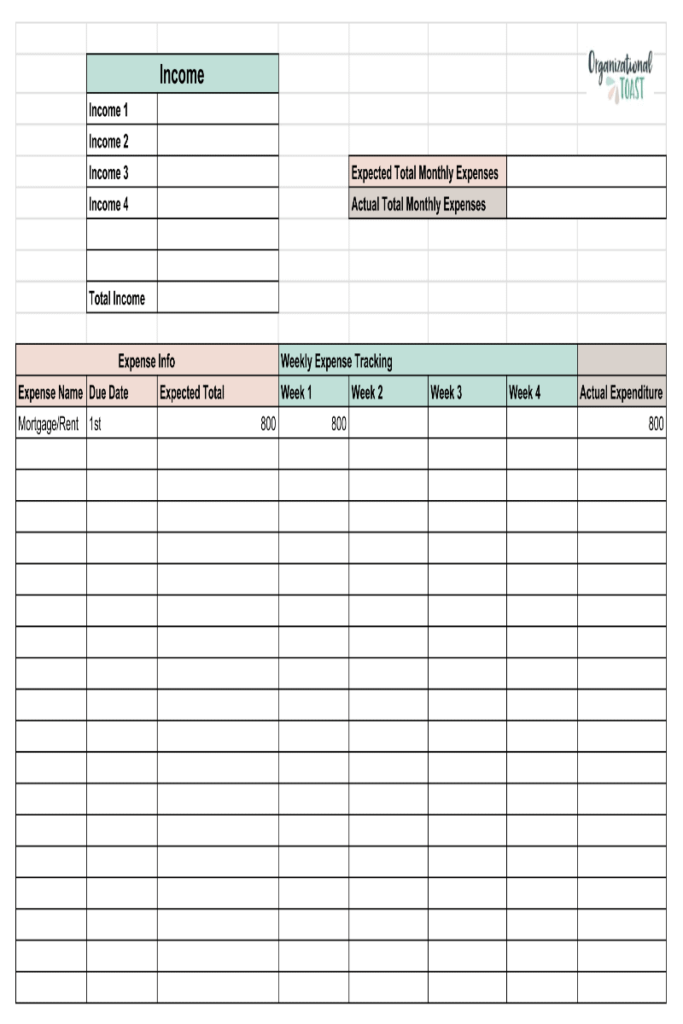 The free printable is designed much like an Excel spreadsheet. You can easily record all your expenses and income on the sheet. Use the weekly expense tracker to keep exact records of what you are spending every week.
Remember to use this data for the next month's budget to ensure continuity and accuracy.
22. The Remote Mom Free Debt Tracker Printable
Are you in debt? Do you want to get out of debt? If you answered yes to these questions, then a free Debt Tracker printable from The Remote Mom may be just the ticket!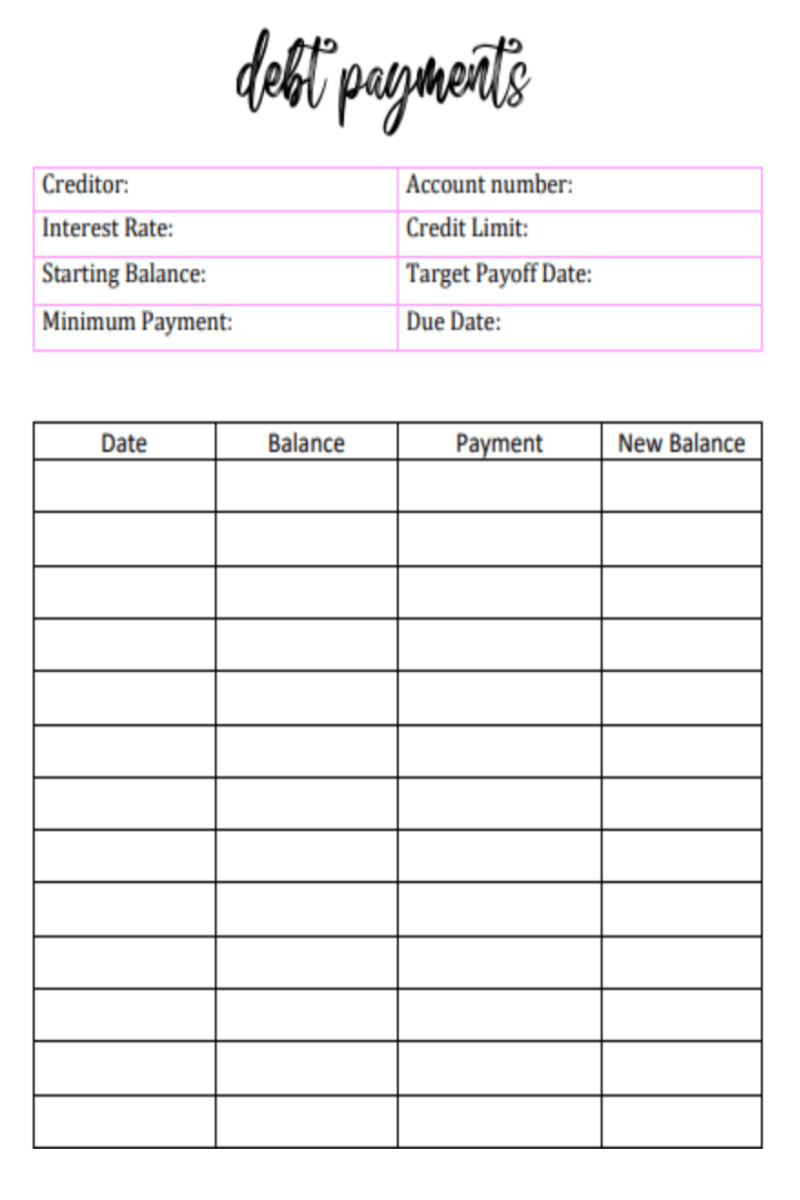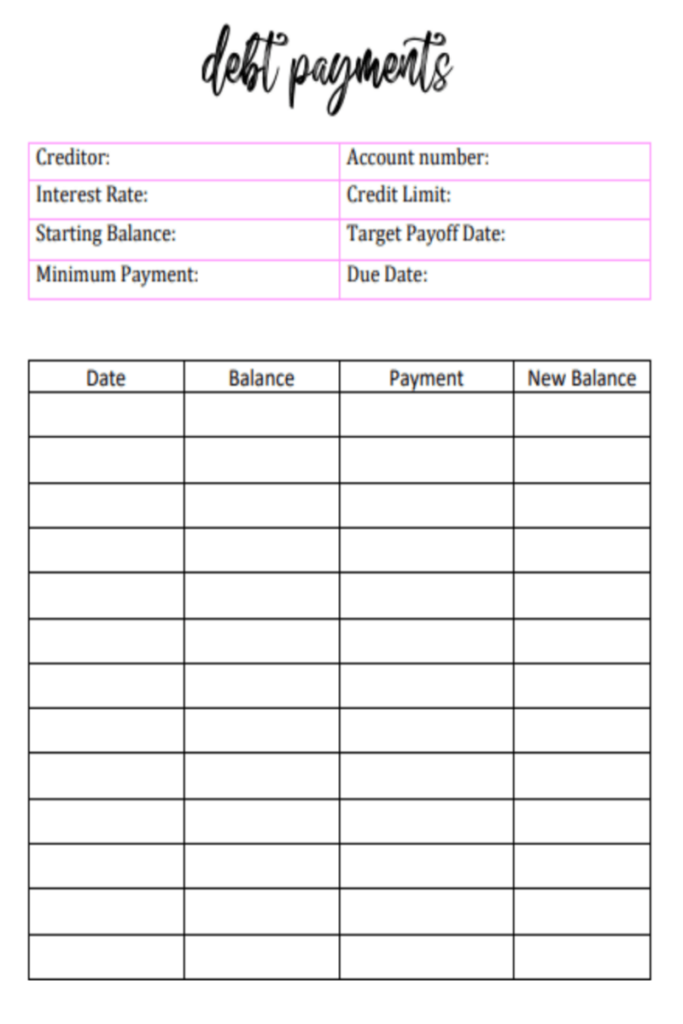 To start with you need to print off a sheet for every debt you have. For example, let's say you have 2 credit cards, 3 loans, and a mortgage. This means you must print off 6 debt trackers!
The tracker is extremely easy to use – simply fill in the amount of debt, payments made, and the latest balance. Watching the balance reduce each time you make a payment can be a great boost to your motivation for paying off debt. And your mental health!
Tip: When tackling debt think about how you want to approach it. There are methods that work really well. Check out the debt avalanche method or debt snowball method to see which might work for you.
23. Simply Stacie Budget Printable Pack
Simply Stacie lets you download a brightly colored pack of free printables. Included you will get a cover for each month to go in your budget binder. Now you've got your covers sorted what else is included?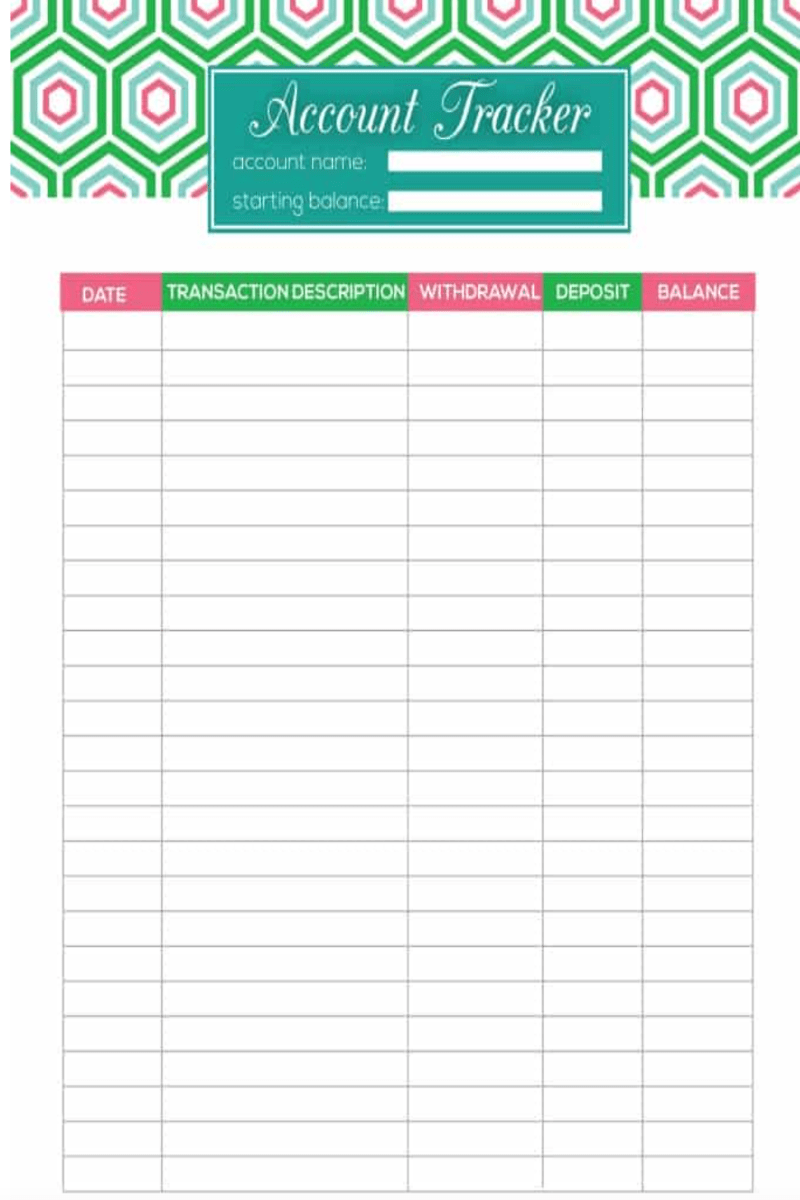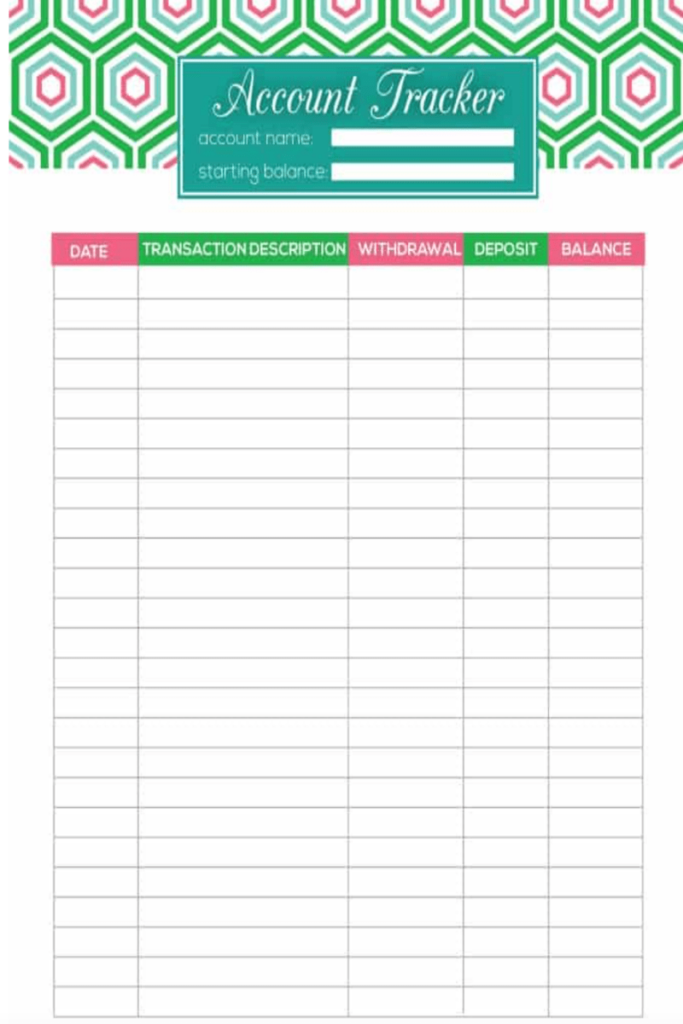 There is an Account Tracker that lets you record the ins and outs of your bank account. Use the Bill Payments Tracker and Log to record every bill that's due and tick off each month they are paid.
The Checkbook Register helps you monitor every check written and see at a glance what checks you've paid. There is a handy Debt Paydown Sheet that you can print off for every debt you hold. Using this sheet, you can track the balance of each debt and every payment made towards clearing it.
Use the expense log to record every outgoing over the month. Saving can be hard which means using the Savings Goals sheet can be a superb way to achieve your savings goals. Don't forget to add what you are saving for!
Finally, the Year At A Glance worksheet lets you record a quick summary of each month. Once you've got a year's worth of budgeting data this can be a wonderful tool to plan a yearly budget for the following year. If you see one month with unusually high expenses you can quickly go to that month and work out what went wrong! The ability to plan can be an awesome way to save money in the long run!
24. The Wallet Moth Budget Tracker
The Wallet Moth is a great resource for free budgeting printables. Their own template allows you to easily record your income and expenses.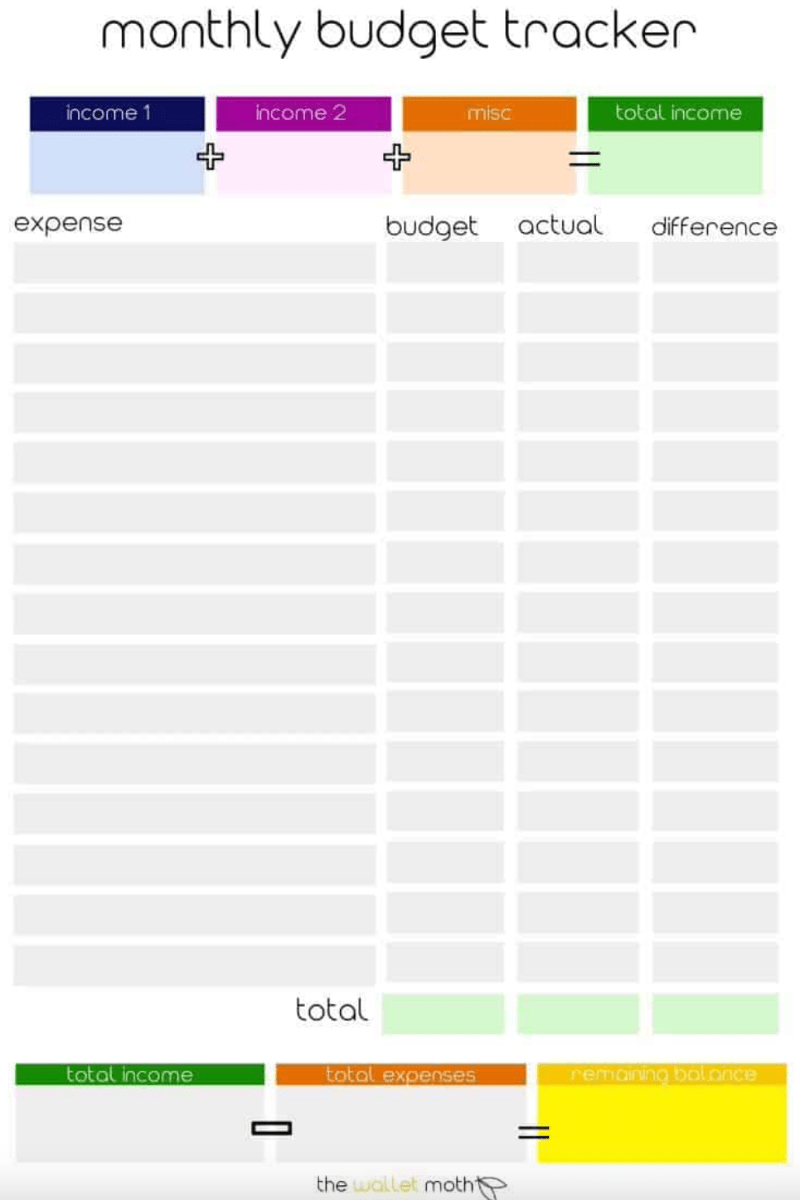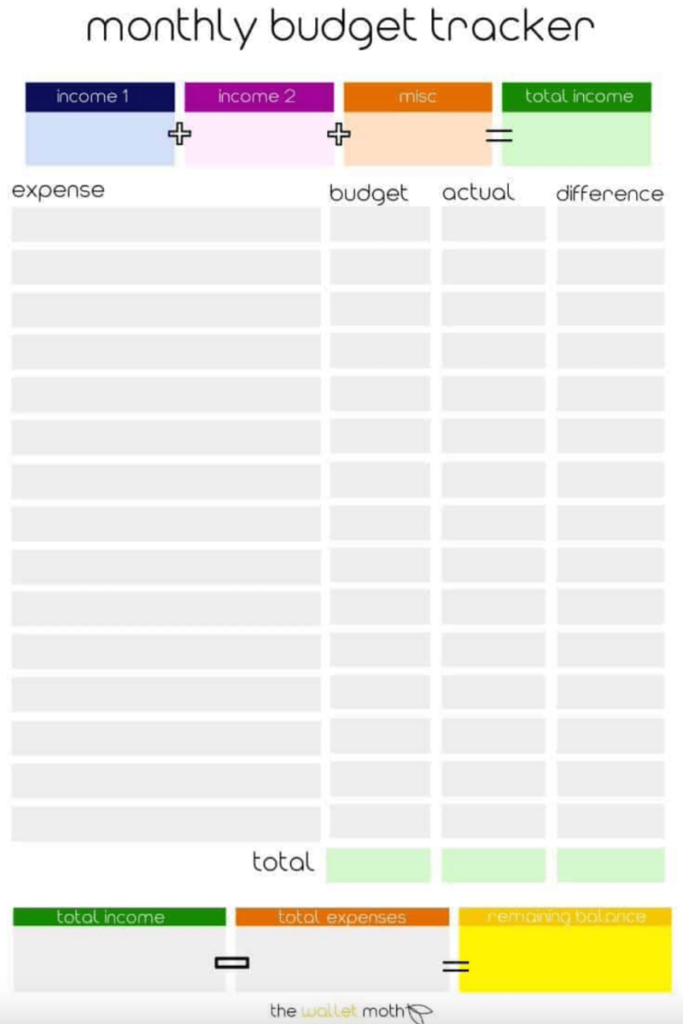 The tracker is nice and easy to use without any frills or in-depth sections to complete. For anyone needing a quick free budgeting template for a simple approach, this is a great choice.
25. Stack Your Dollars Free Budgeting Printables
At Stack Your Dollars you can access 9 sensational budgeting printables. All for free!
You could print them all off or just the Monthly Budget and Expenses Tracker. Have a look at them all to see which ones may help you.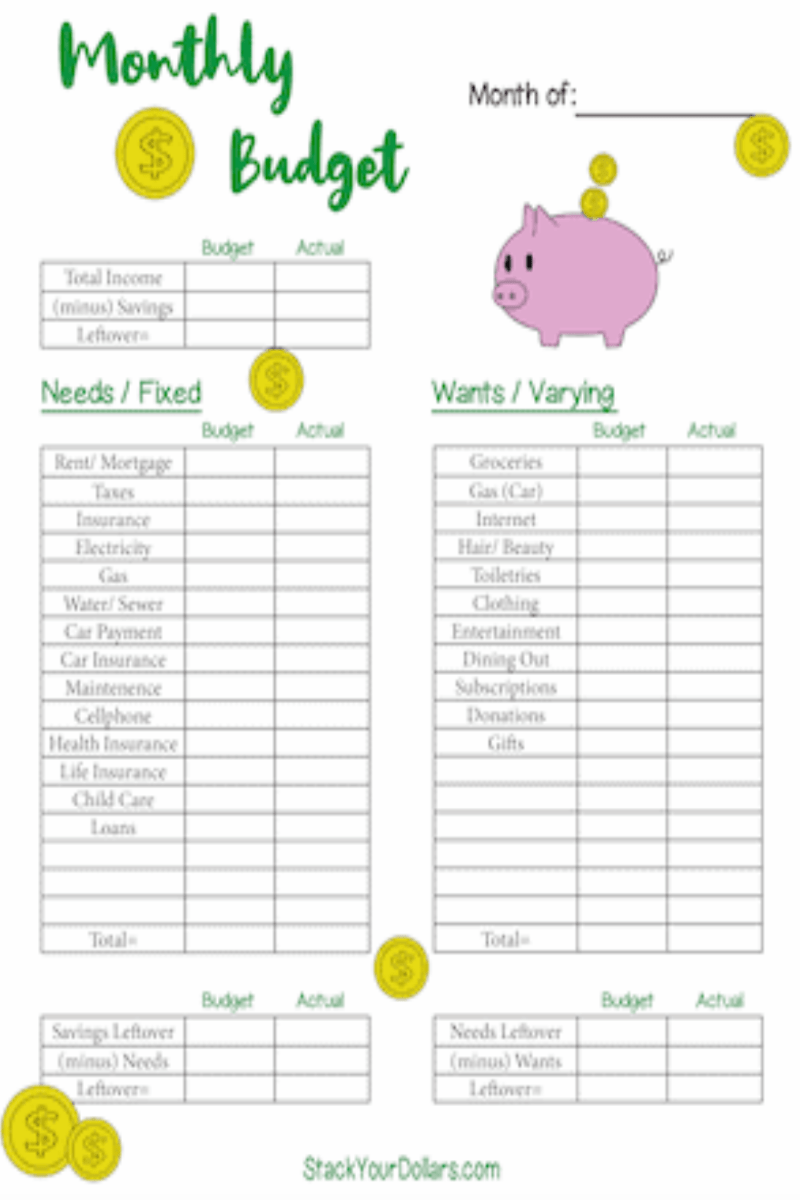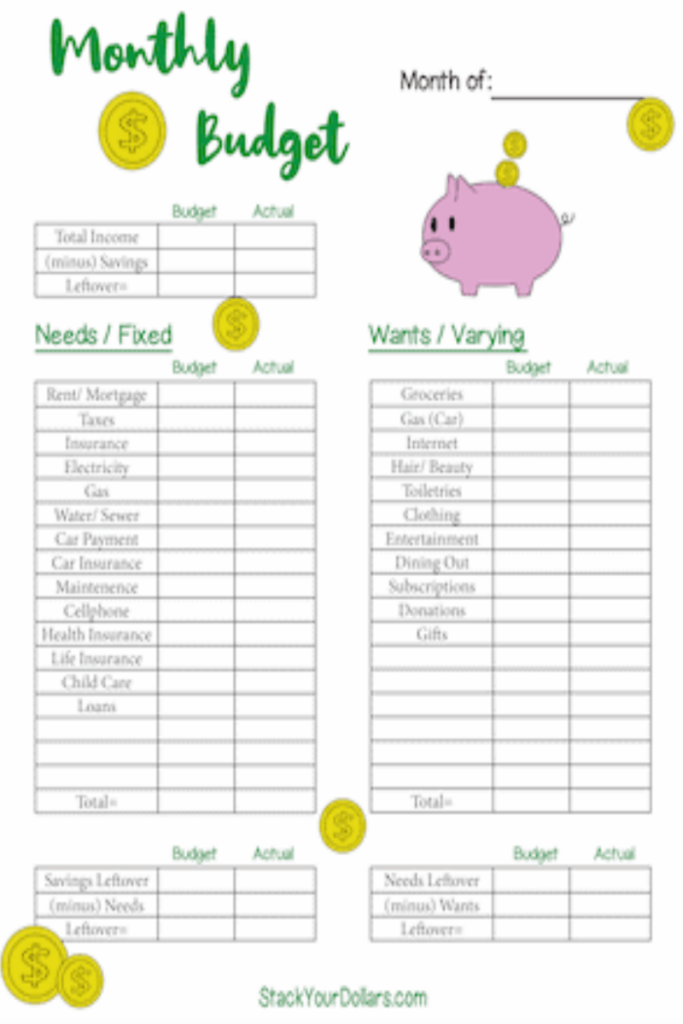 The Monthly Budget is split into easy-to-follow sections. You can record your income. Expenses are split into needs and wants. Needs include things that are paid at fixed amounts every month like insurance, housing, and energy costs. Wants are variable things like food, entertainment, and clothing.
Splitting expenses up like this can be a fantastic way of monitoring your spending – and there is even a cute pig to look at!
26. Mission To Save Holiday Budget Tracker
Whether you celebrate Christmas or other annual holidays you can be sure of one thing. They will cost you money! Mission To Save has created an awesome Holiday Budget Tracker that will help you be prepared for the holidays and not be caught out by extra expenses!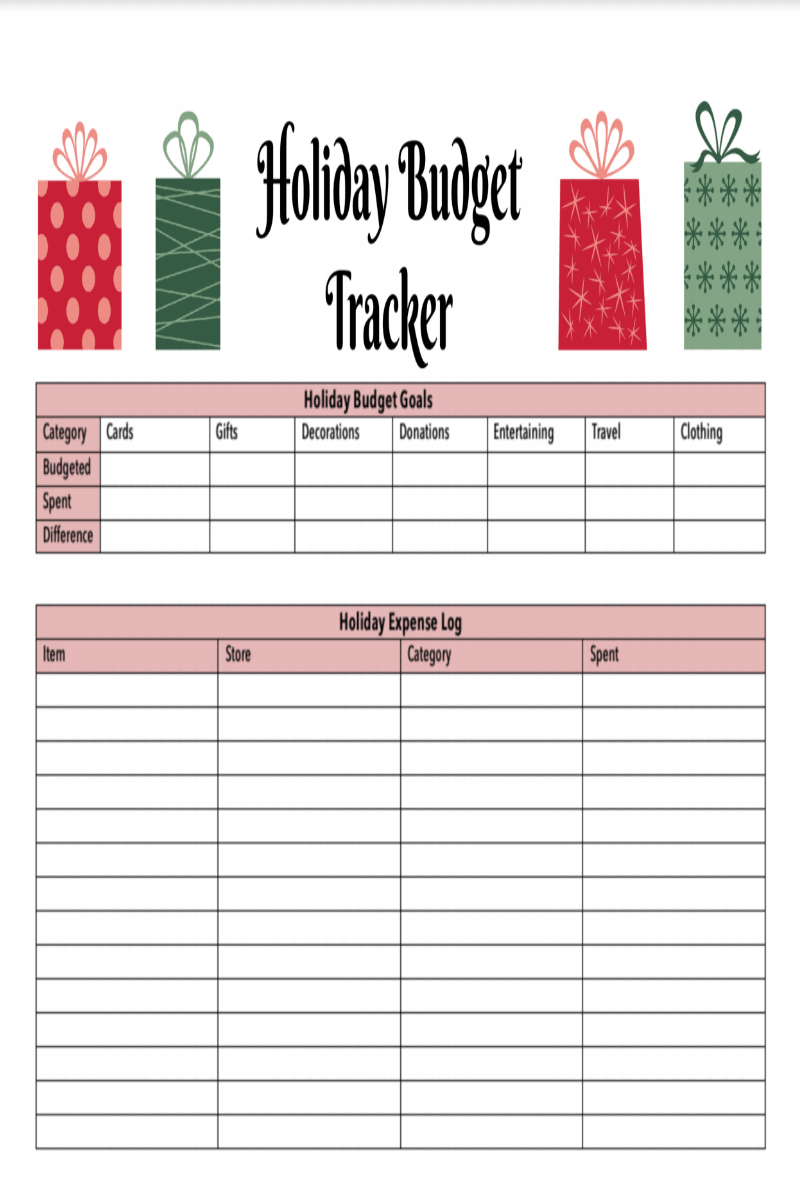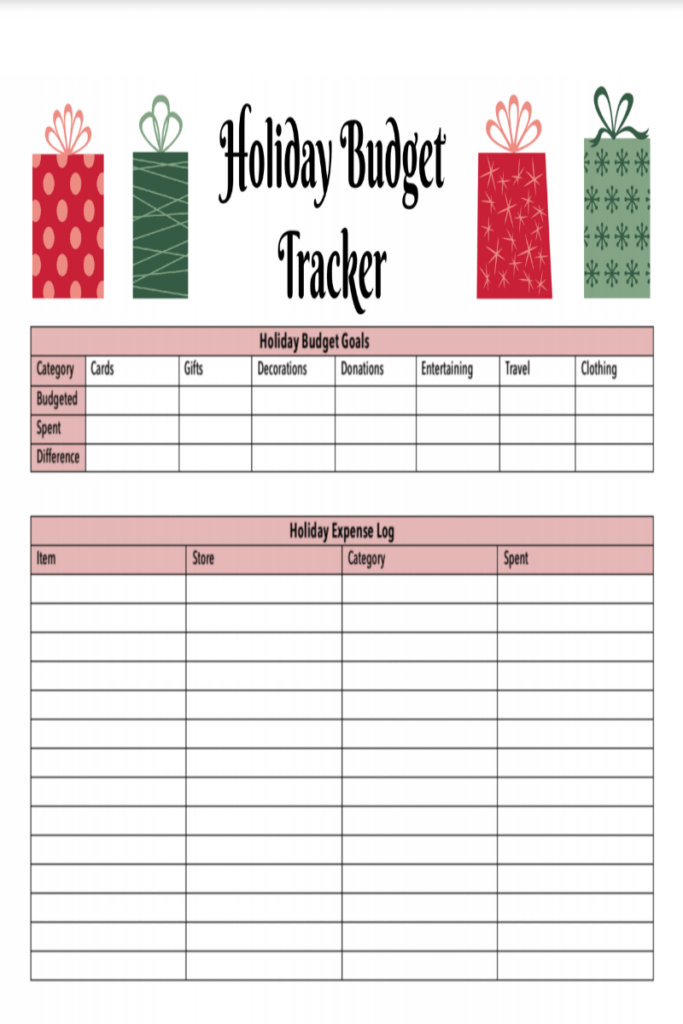 The tracker lets you add amounts you want to spend on things like gifts, cards, decorations, and more. You can also record every purchase made towards the holidays and make sure you stay on budget!
Whatever you celebrate this tracker should help you have happy holidays!
27. Cara Palmer Monthly Budget Planner
Cara Palmer lets you download lots of amazing free budgeting resources including a Monthly Budget planner.
The detailed budget planner is split into 6 sections covering expenses and debts.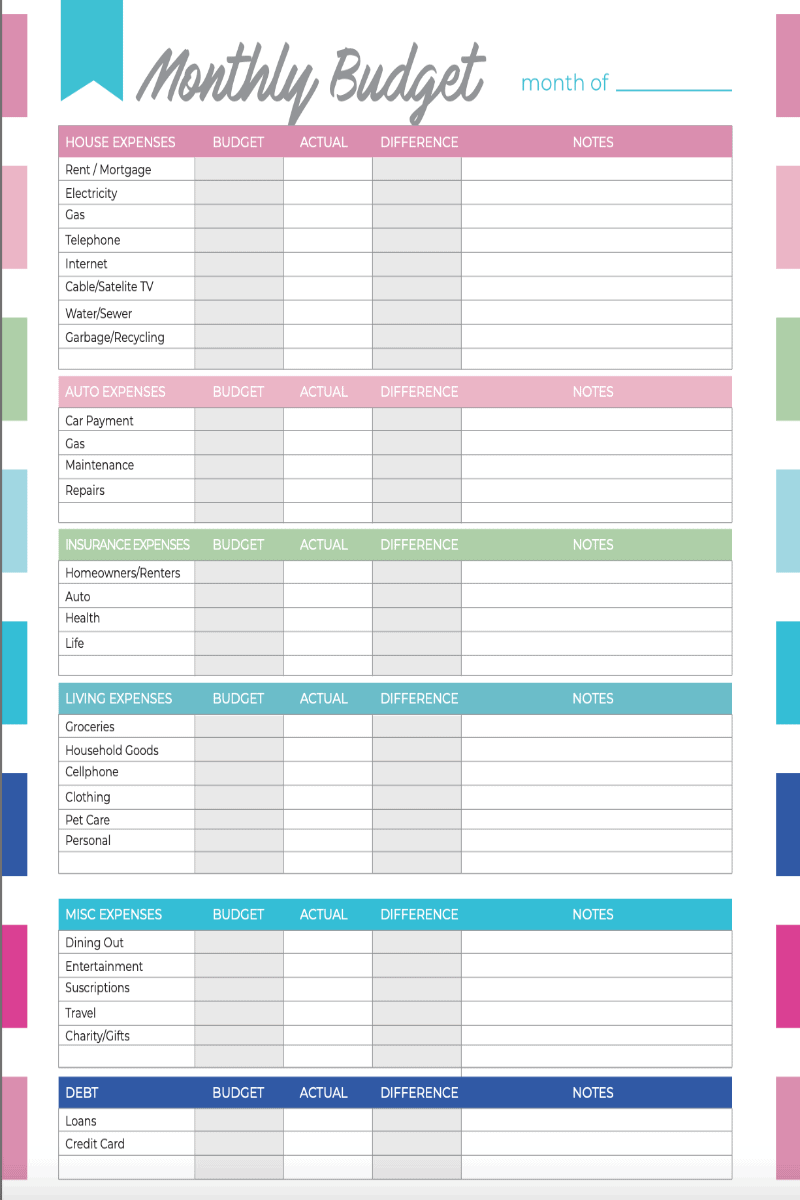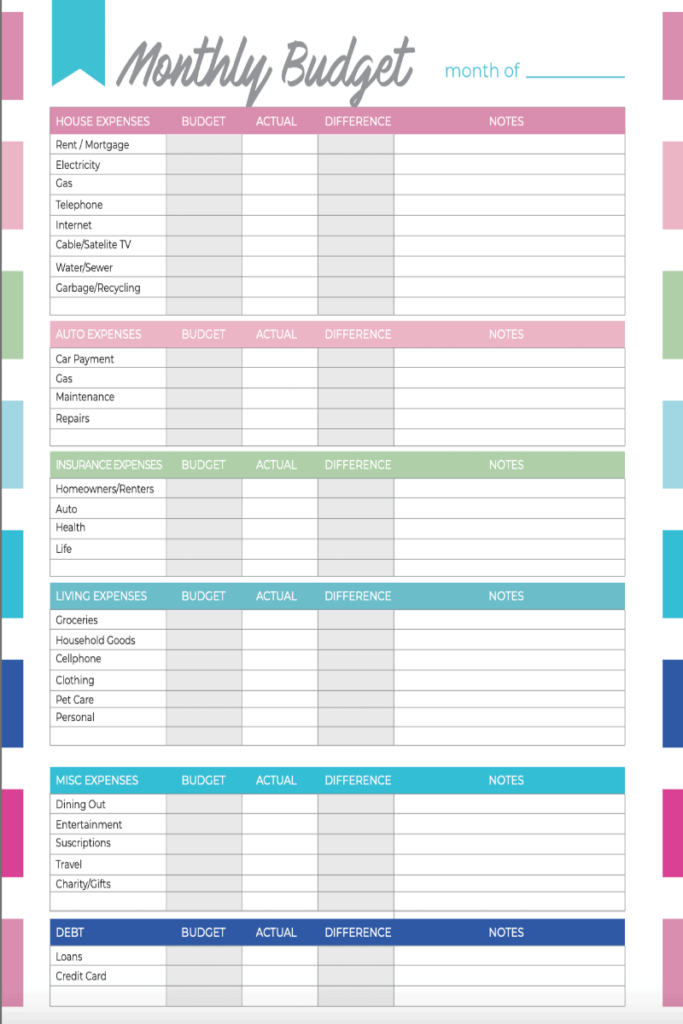 As you can see in the preview here there are spaces to put what you expect to pay, what you actually pay, and the difference. Using this each month means you can compare month to month what you are spending. Future budgets can be more accurate as you can easily see what's actually spent every month.
28. Hessun Academy Homeschool Budget Worksheet
A slightly different free printable is from Hessun Academy. If you are homeschooling your children, this Homeschool Budget Worksheet can be a wonderful tool to use. Children and their school costs can often be hugely expensive! Budgeting for them can mean your household budget doesn't get out of control.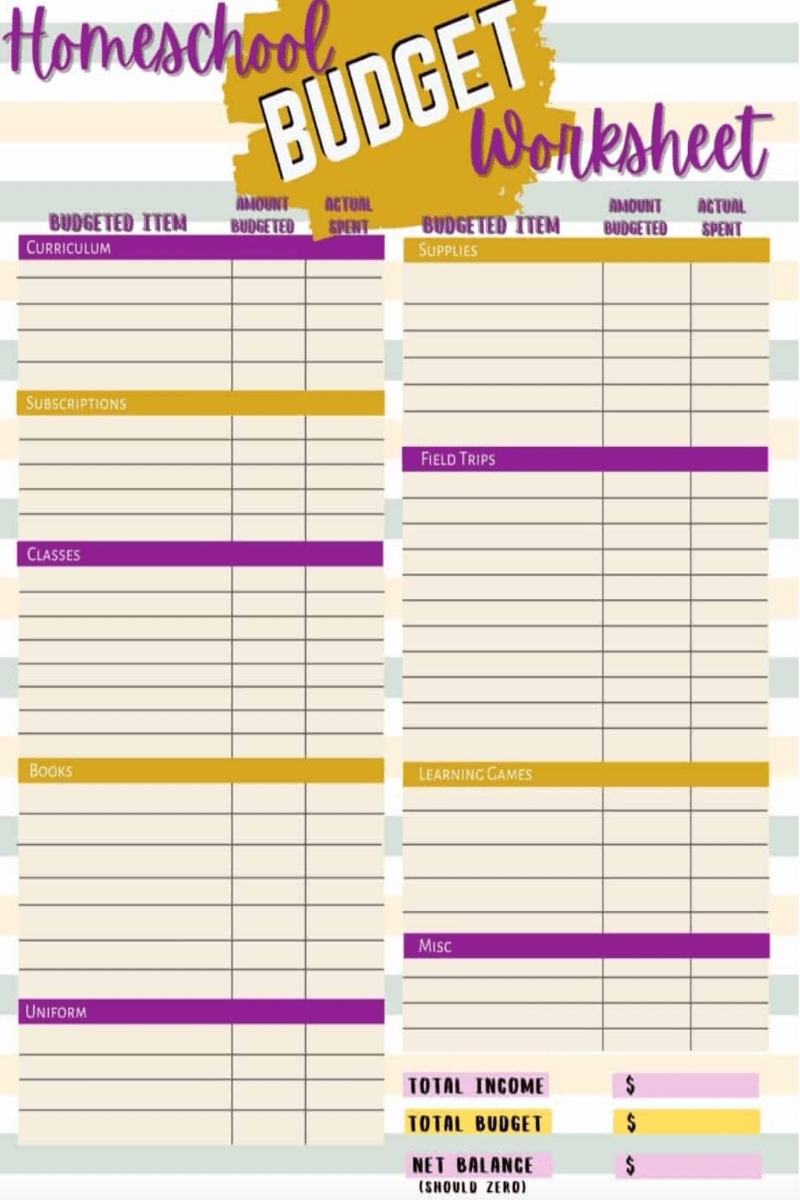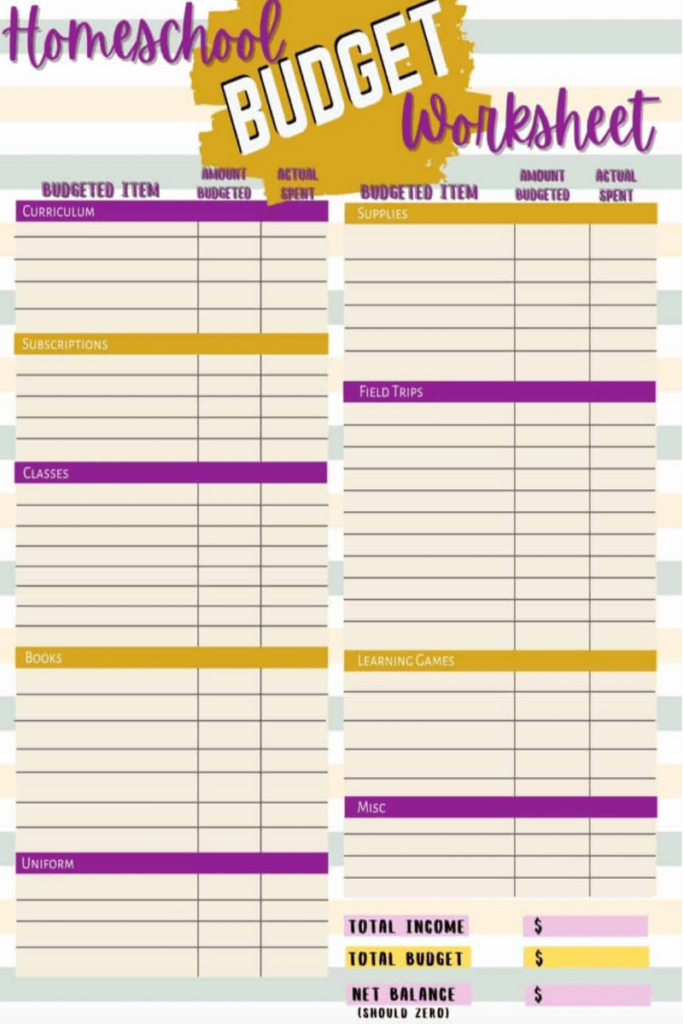 You can budget using the free worksheet for field trips, books, supplies, and anything else relating to your child's schooling.
29. Money Tamer Free Budget Printable
A smartly designed budget printable can be found at Money Tamer. After completing a quick sign up you can download the 3-page budgeting printable straight from the email.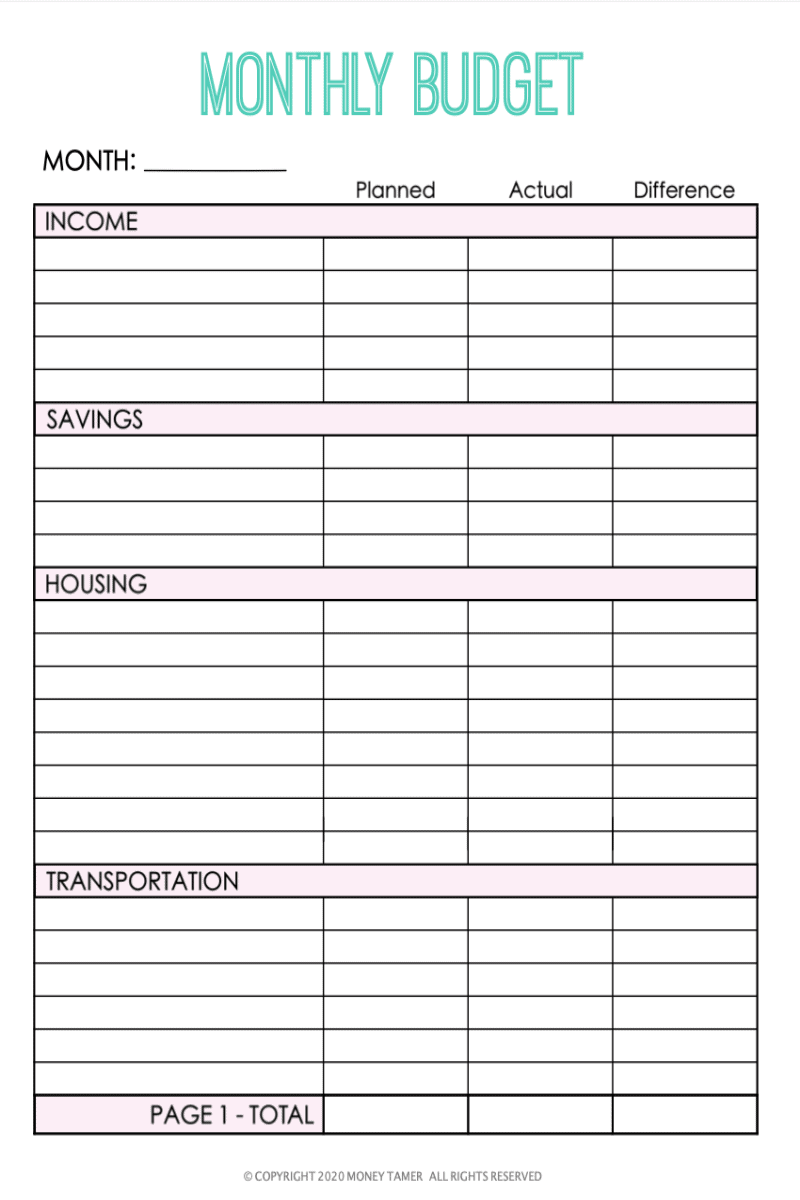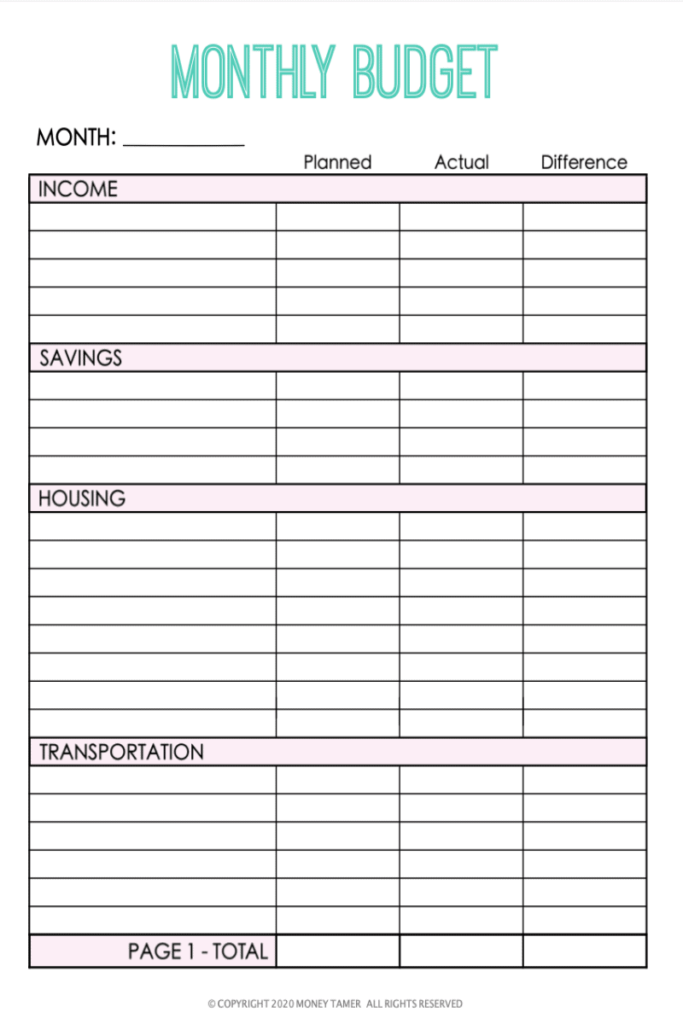 All you need to do is fill in each section with your outgoings putting a total at the bottom of each page. For your convenience expenses are split into groups including utilities, housing, and debt. There are also sections to record income, savings, and other miscellaneous costs.
It may not be the prettiest planner out there, but it is functional and will help anyone starting out budgeting get to grips with the basics. Plus, it's free!
30. Dollar Sprout Personal Finance Workbook
If you go to Dollar Sprout you can start by getting an amazing step-by-step guide on how to create a budget. You can then register for free to get your free Personal Finance Workbook. The workbook contains a staggering 35-pages of awesome content to help you succeed at budgeting.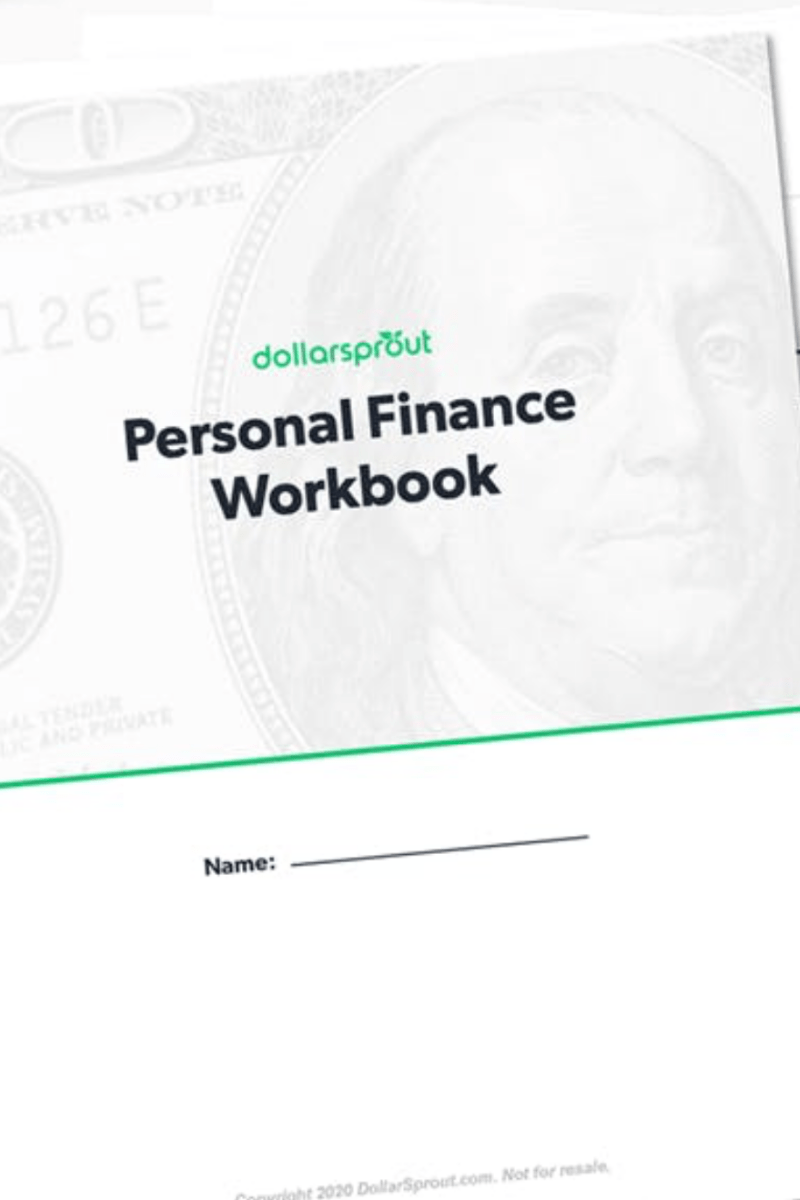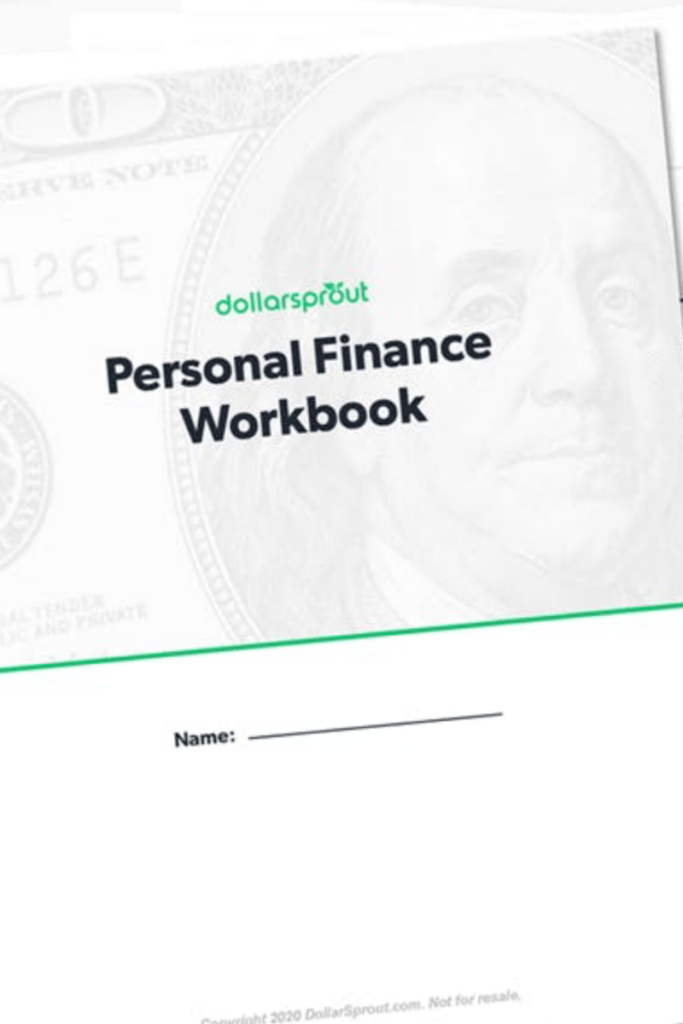 It has so much content that I don't have room to talk about it all here. To give you a flavor here are the highlights.
Use the Daily Expense Tracker to track daily spending. This can help identify trends and possibly save money if cuts can be made. Never miss a payment again thanks to the Bill Payment Calendar. For each month you can note what needs to be paid and tick it off once paid.
There is a ton of helpful advice included as well on things like goal setting and how to save money on groceries. Get yours today!
31. The Pay At Home Parent Free Printables
For the self-employed, The Pay At Home Parent has put together an amazing 21 free printables! These printables help you budget for your household and your business. A fantastic resource for anyone running their own business from home.
I don't have space to go through every sheet here but to give you an idea of what to expect here is a quick review of the Monthly Budget Sheet.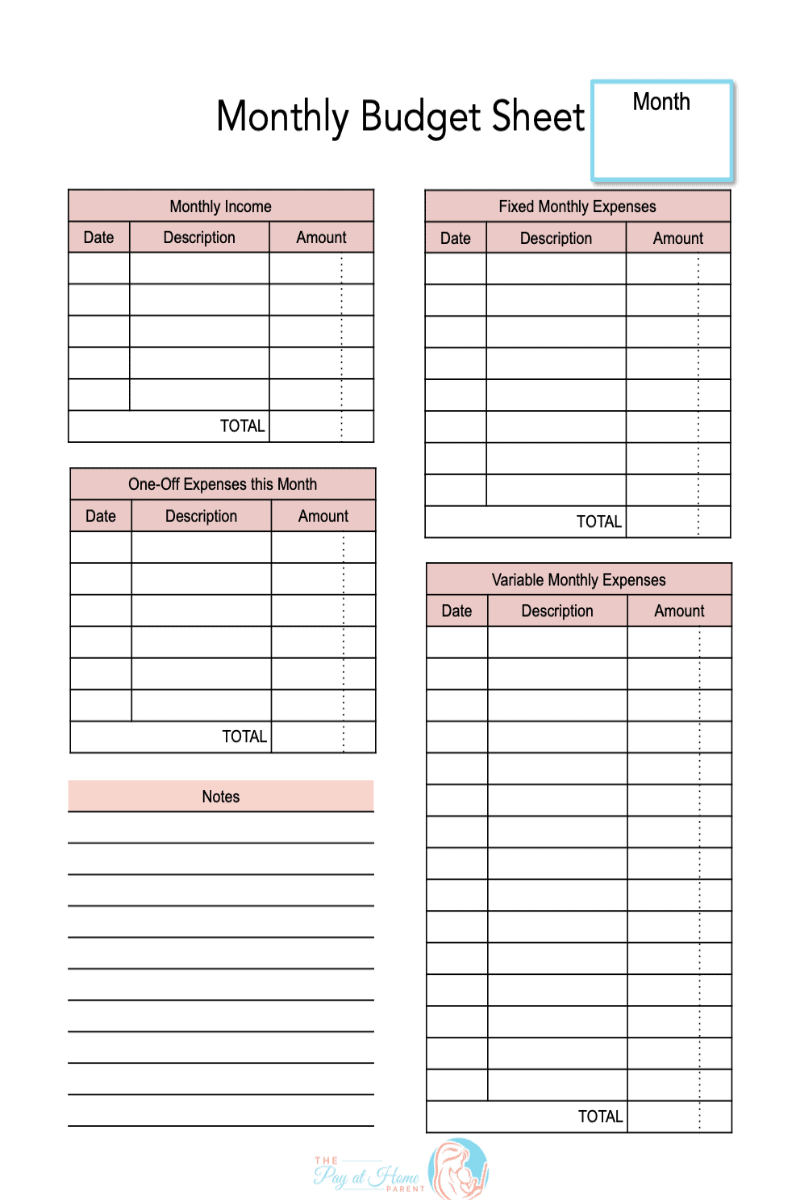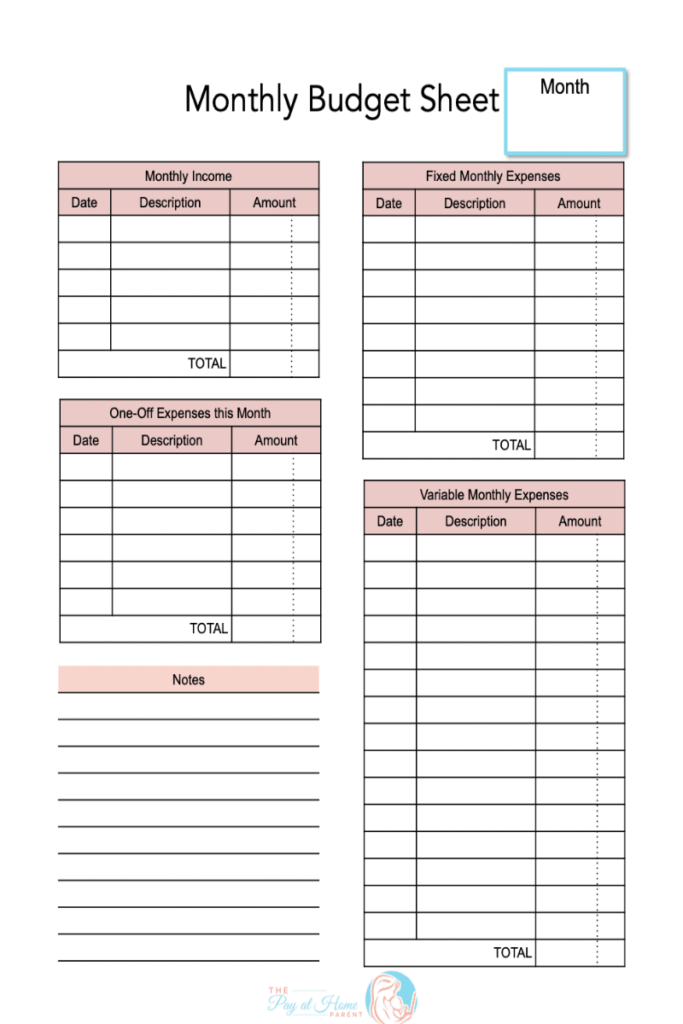 The Monthly Budget Sheet is split into 4 handy sections. Income, one-off monthly expenses, fixed monthly expenses, and variable monthly expenses. Recording your expenses in this way makes it much easier to spot problematic spending. If you have lots of one-off expenses you may need to check this to see if it was necessary!
32. Wherd My Sanity Go Budgeting Templates
At Wherd My Sanity Go you can print off 4 awesome budgeting templates. The Savings Tracker helps you easily track your savings every month. Use the Expense Tracker to see exactly where every cent is going! The Income Tracker allows you space to record your total income every month.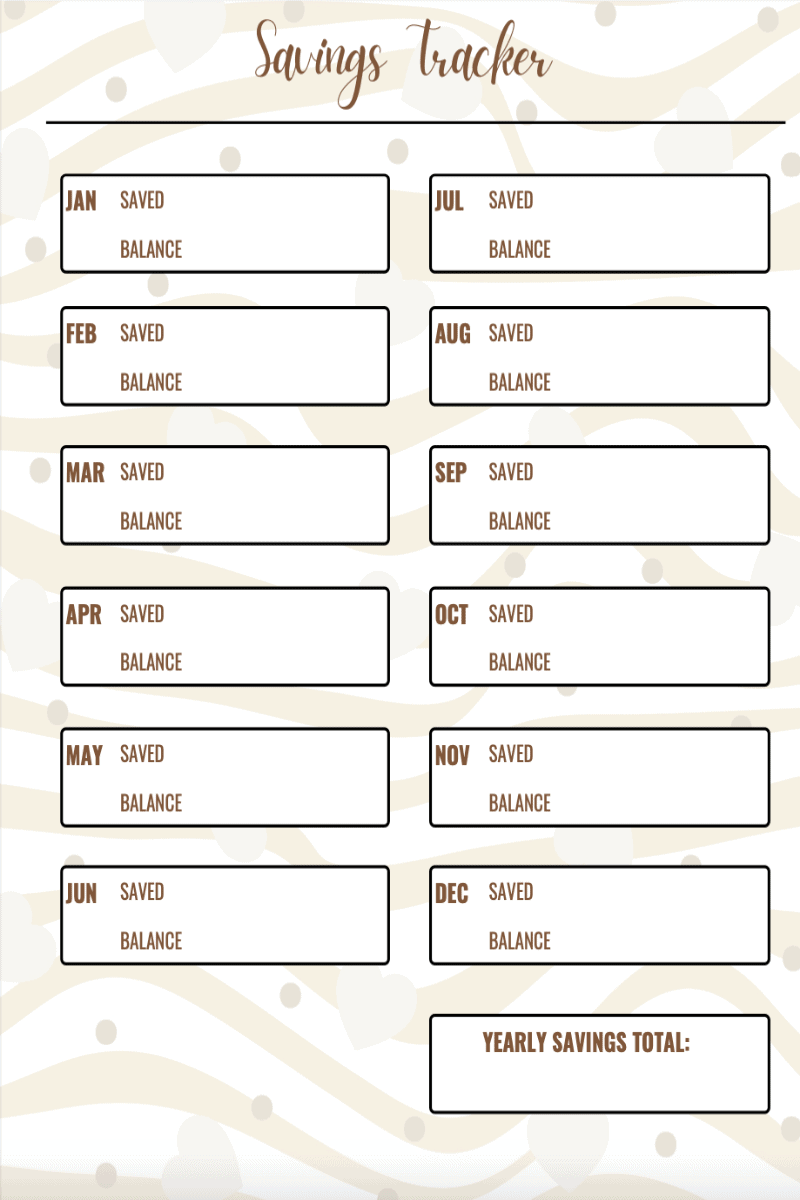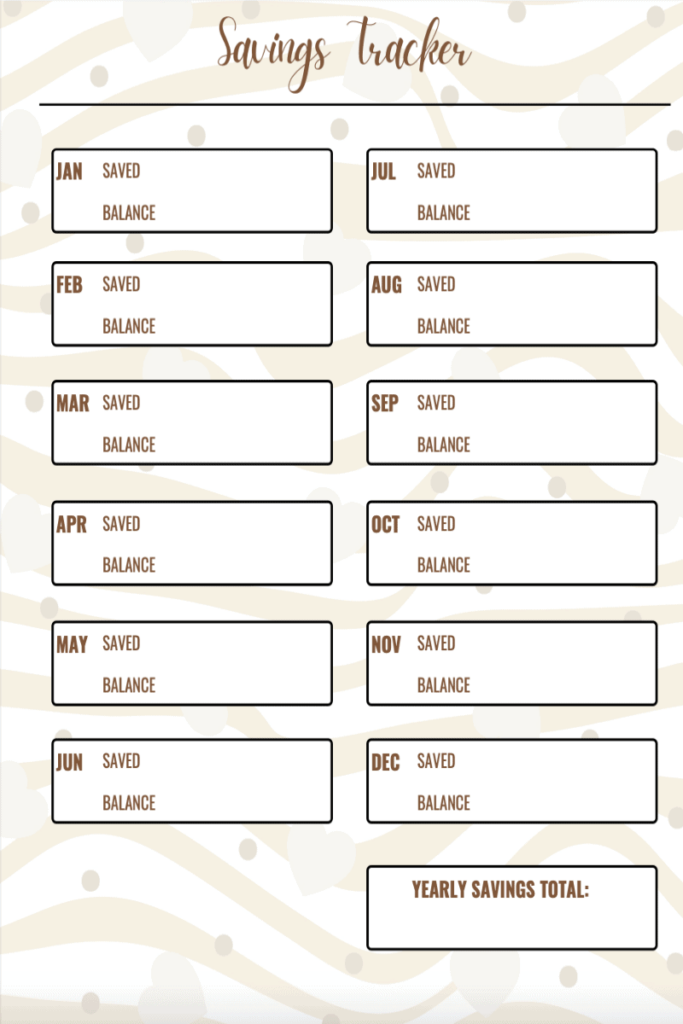 Finally, print off the Bill Payment Tracker and Checklist to accurately track all your bills and tick them off when paid!
You can instantly download them to print off. No signup is required!
33. Drug Store Divas Financial Goal Tracker
One of the best parts of budgeting is it helps you achieve your financial goals. For many people, an important goal they have is to build savings. Maybe you want to build an emergency fund or save up for a vacation. Maybe you just want some money for a shopping spree!
Whatever your savings goals are, knowing how to get started can be hard sometimes.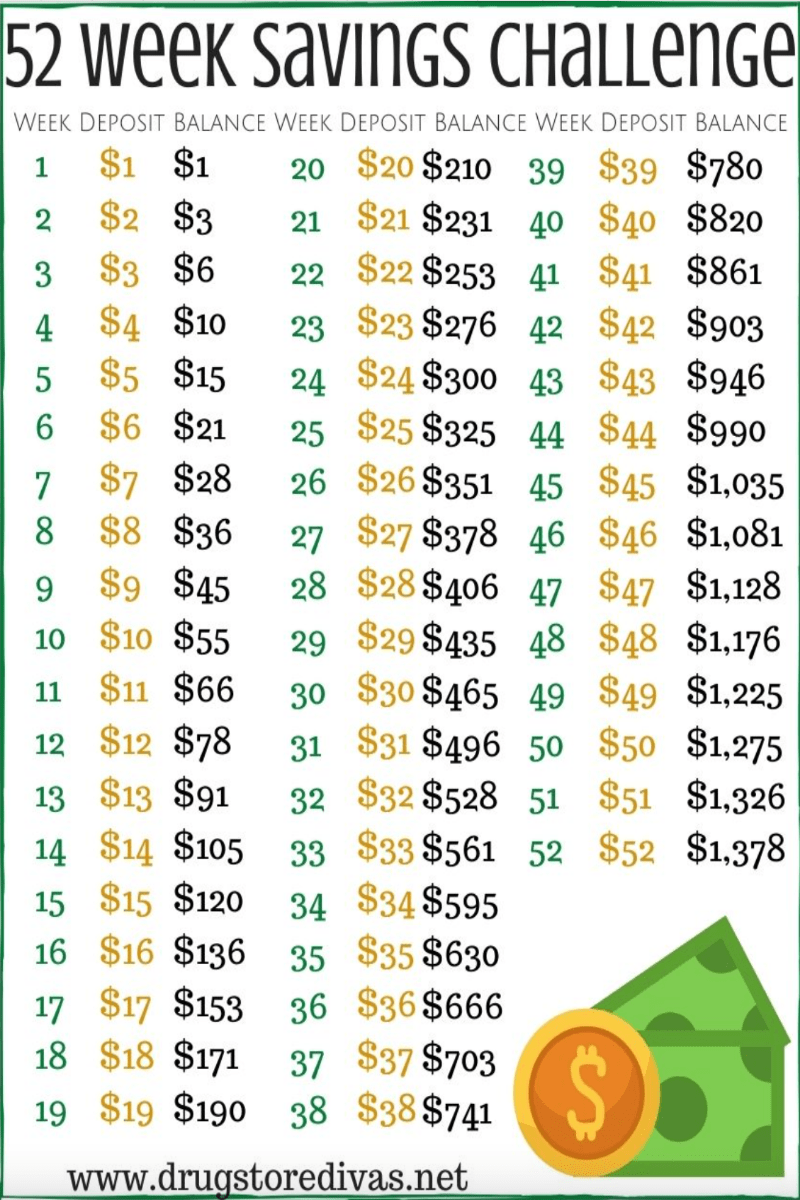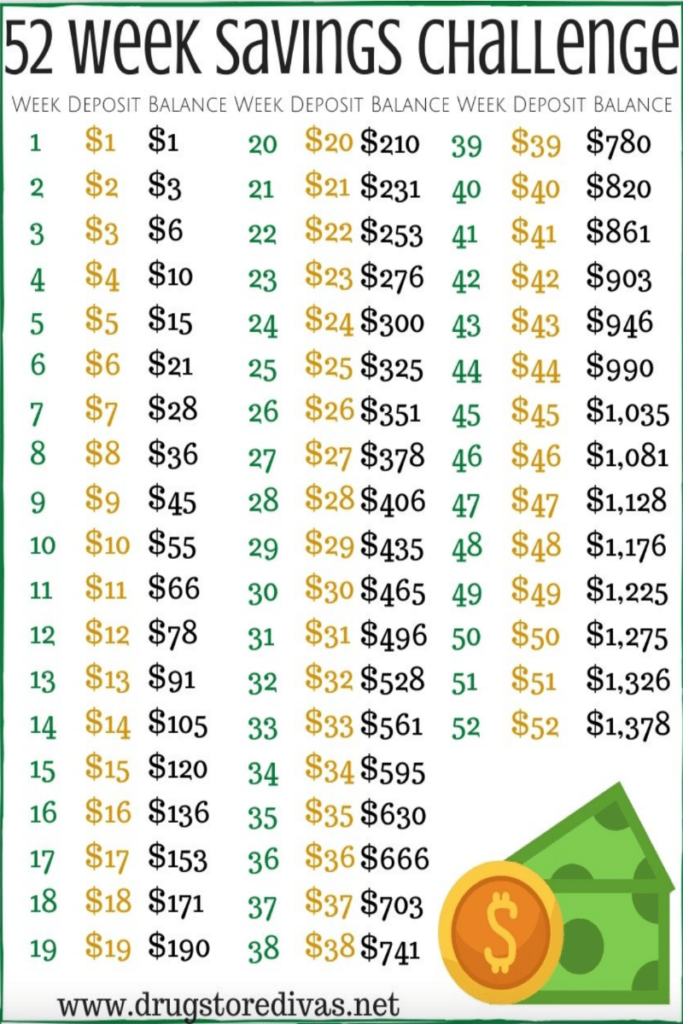 Drug Store Divas have created a wonderful free printable that anyone can use to save over $1000 in just one year! Awesome right! There is no need to signup, you can simply print it straight off from the site.
34. Savor And Savvy Budget Planner Printable
If you are looking for an in-depth budgeting planner then check out the Budget Planner at Savor And Savvy. The Savvy Budget Planner contains 31-pages of awesome material to help you craft a household budget fit for purpose.
Use the delightful vision boards to create your goals and keep them in sight.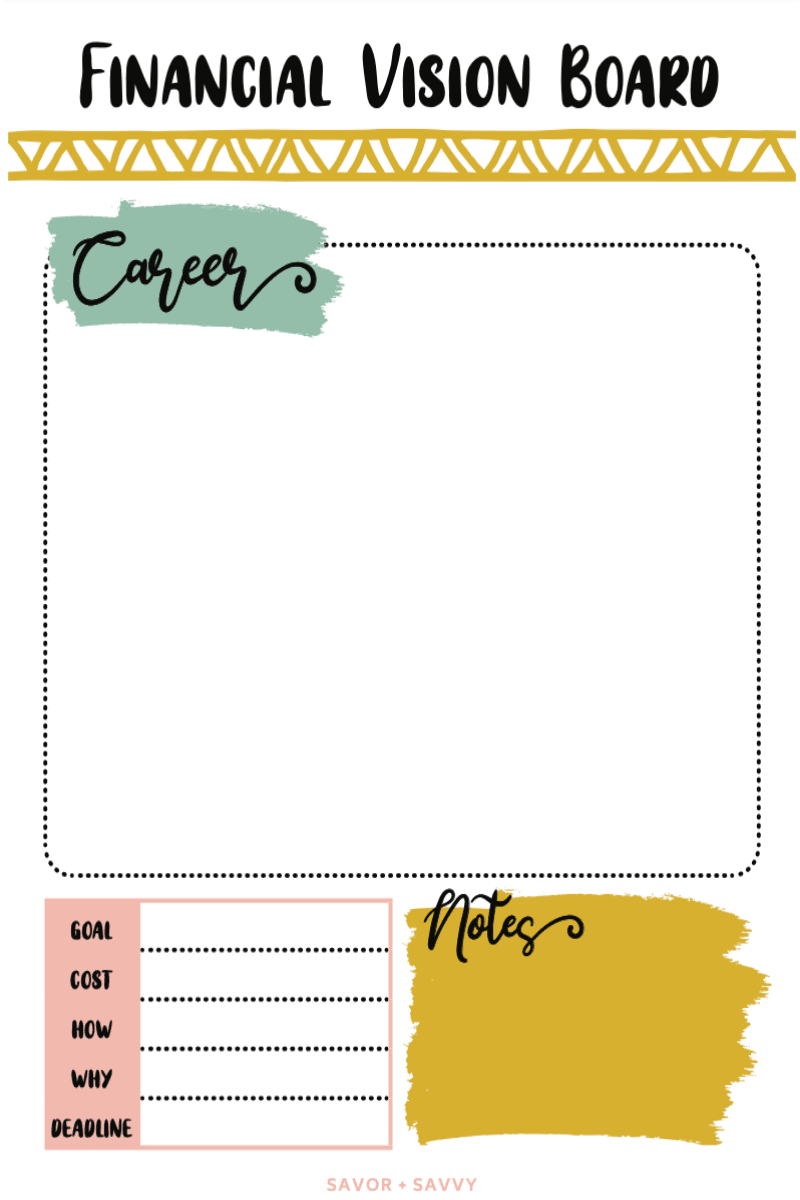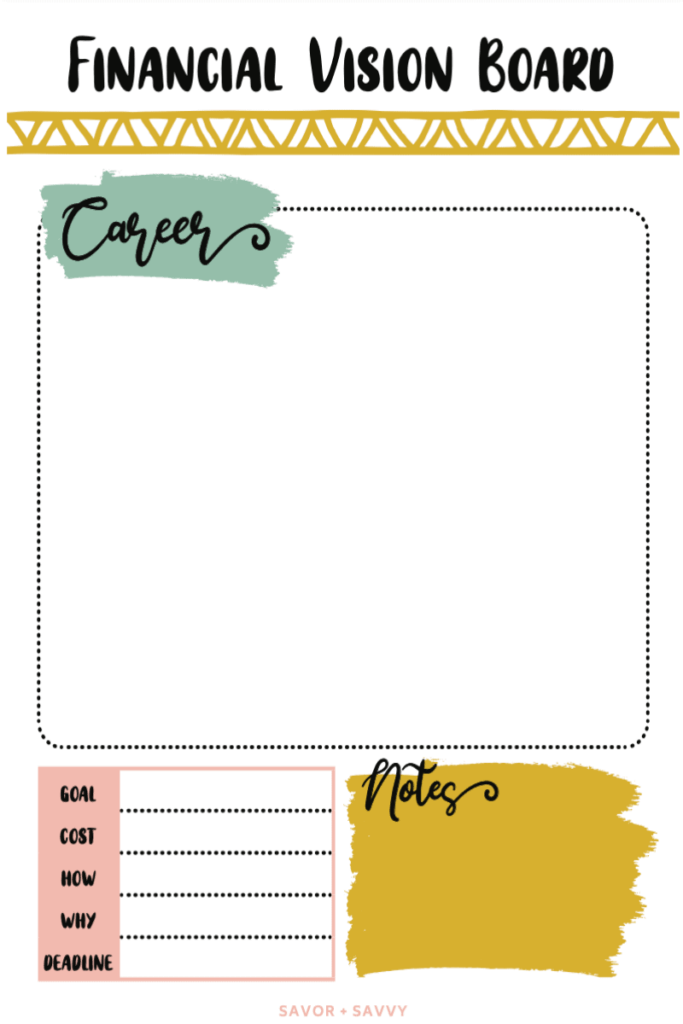 Included are lots of tools to track expenses and additional spending. The Monthly Budget sheets let you work out a detailed breakdown of your household's budget. Use the Daily Spending sheet to track every expenditure down to the last cent. Don't let those daily coffees start ruining your monthly plans! By seeing what you spend every day you can stop spending before it becomes a problem.
You can also use the Debt Payoff sheets to build a realistic plan to tackle your debt. Decide which approach you are going to use to pay off your debt (debt avalanche or debt snowball method) and start your journey to debt freedom!
35. Saving Talents Free Budgeting Printable
Saving Talents offers a totally free 3-page budgeting printable. Page 1 is for a monthly budget and you will need to print off 1 for every month. All expenses can be recorded here including housing costs, utilities, and groceries.
Page 2 is used to track spending annually and Page 3 for tracking monthly spending.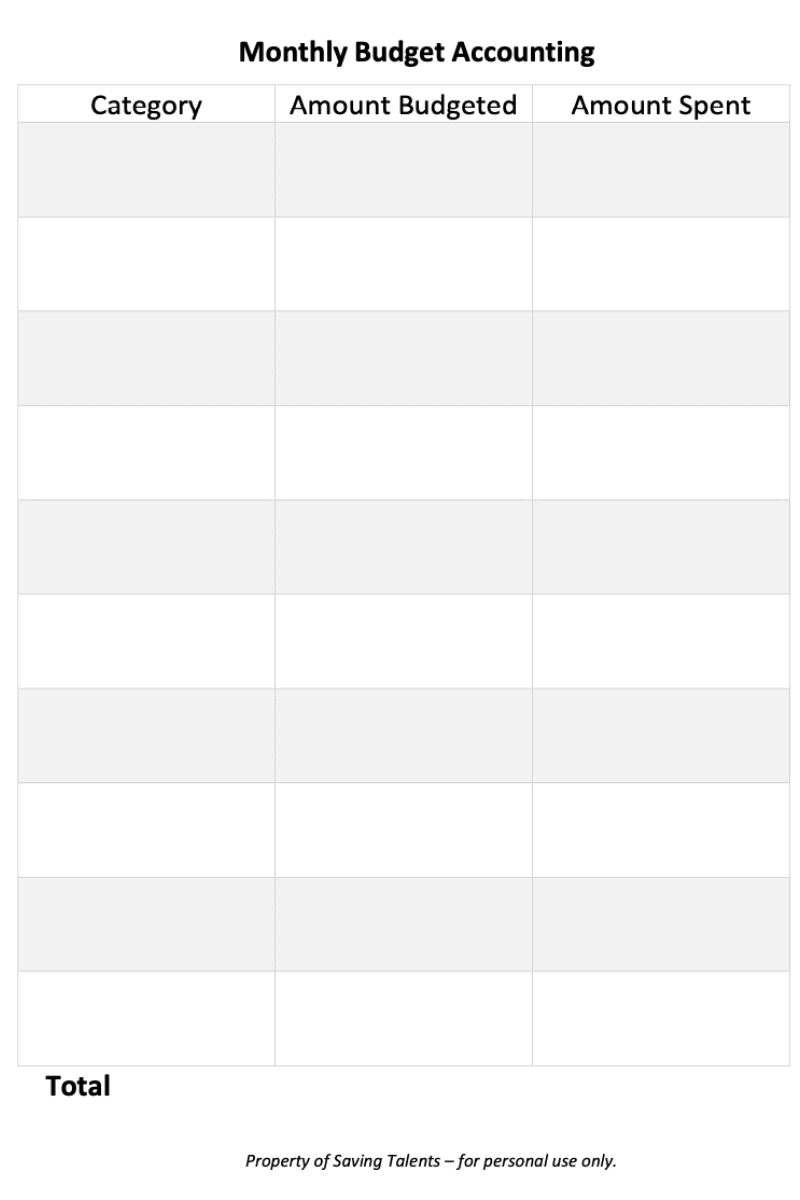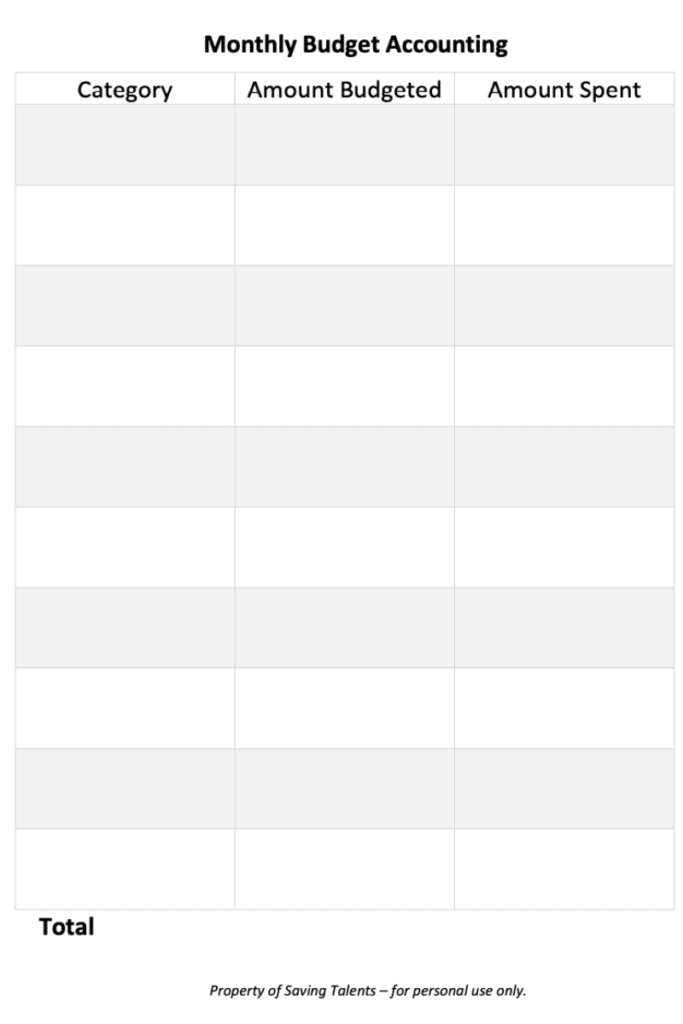 As you can see it's nice and easy to use. Ideal for anyone new to budgeting!
LifeUpswing 165 Page Budget Planner Printable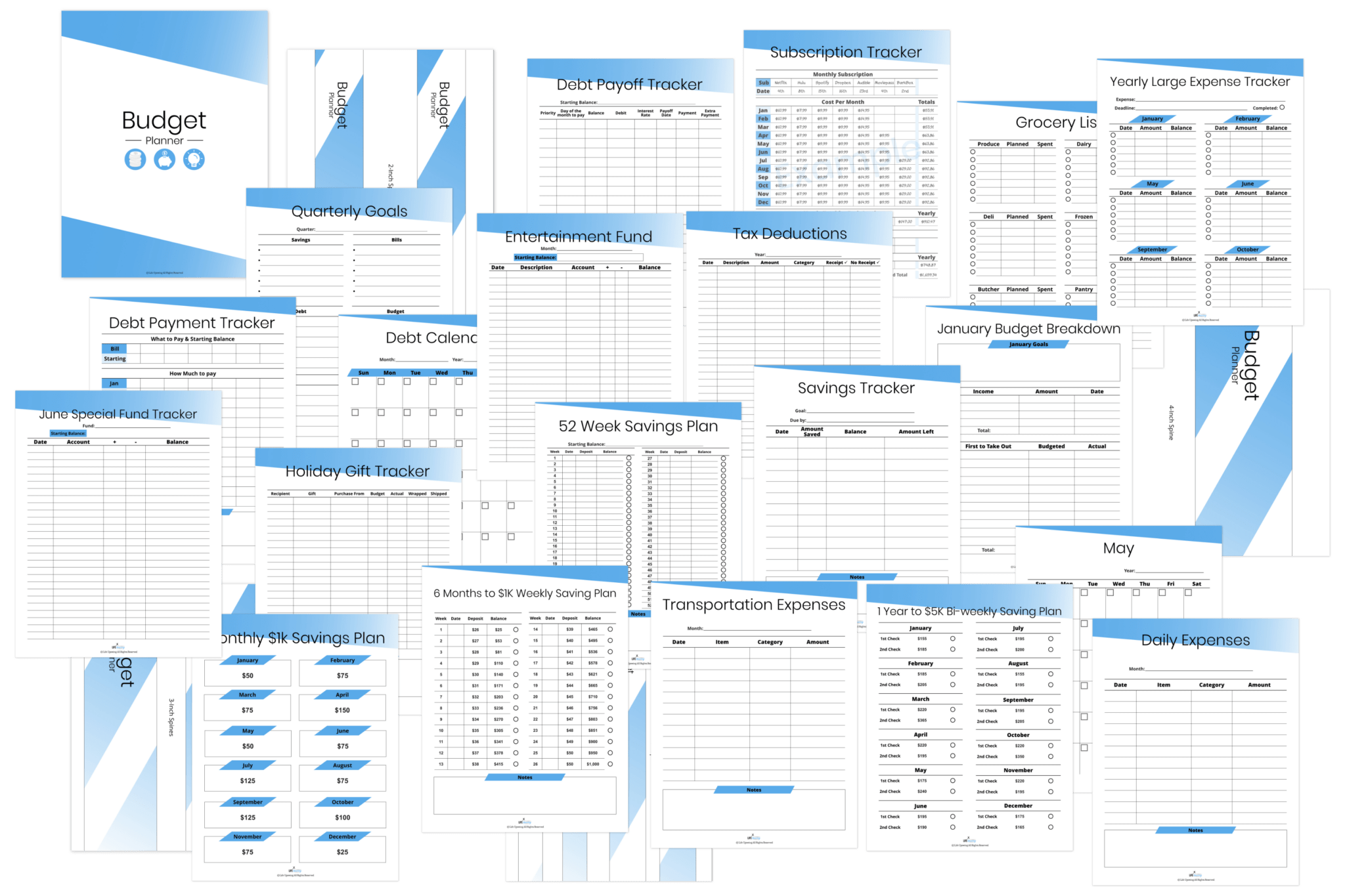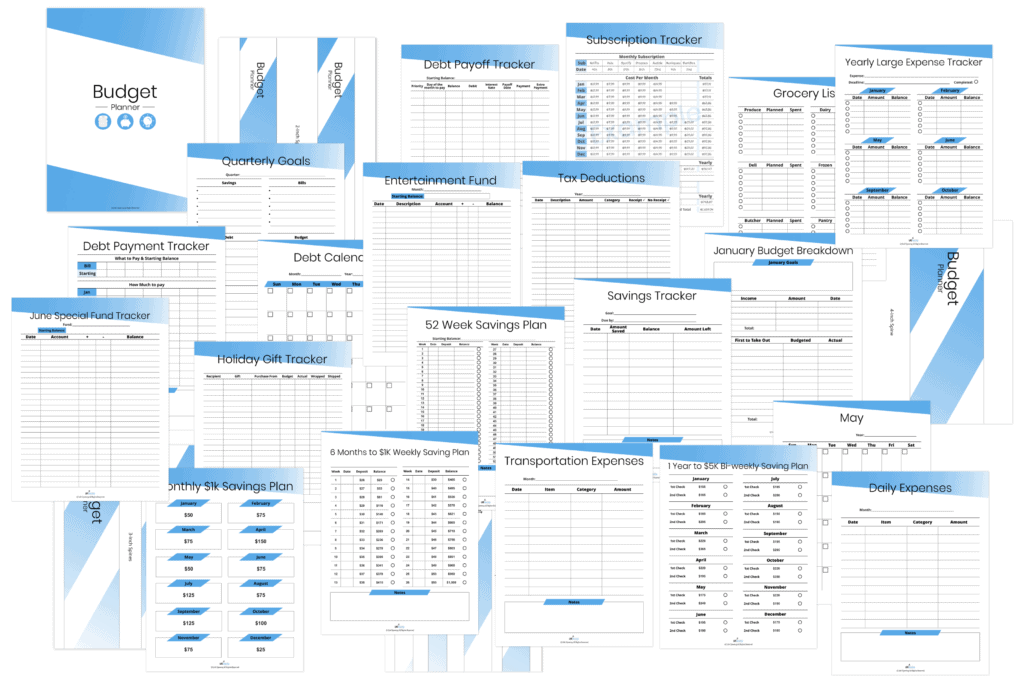 Before you go, I just want to tell you about an amazing discount on my 165-page Budget Planner – I have created this for seasoned budgeters to take it to the next level. If you use the discount code upswing50 you'll get a whopping 50% off the regular price.
The fantastic thing about this Budget Planner is the level of detail. All 165-pages add value to help you create a fantastic budget and achieve your financial goals.
LifeUpswing Ultimate Budget Planner Printable
Tap twice to load then open Video...
Use the goal-setting pages to help remind yourself what you are working for. The detailed expense and subscription trackers help you monitor expenditure down to the exact cent.
Are you in debt? Do you want to be debt-free? If you answered yes, then I've got you covered. The Budget Planner includes a debt tracker and calendar to help you get debt-free faster! Once you've paid off your debts think about all the great things you can do with that extra cash!
There is so much more included such as savings planners, monthly budget sheets, and expense sheets.
All of this combined adds up to a fantastic offer for my 165-page Budget Planner – and can really set you on the right path to achieving financial freedom!
Free Budget Printables Wrap Up
These amazing free budget printables can help everyone budget better. Whatever your needs are choose the right one for you and start a budget today.
Remember – a key part of successfully budgeting is knowing what your goals are. Decide these first and plot how to get there!
Paying off debts, building an emergency fund, buying a house, and traveling the world are all realistic goals with a little planning!
FAQs
How do I know which free printable is best for me?
If you are new to budgeting, you may want to try a few different ones. Some people like detailed budgets whereas others prefer the simple approach. Only you know what's best for you – my advice is to try them all and find one that suits you. They are free to print off, so you have nothing to lose!
What are the benefits of a free printable over an online budget tool?
Having a paper copy of a budget can be better in many ways. It allows you to easily let other members of the household look at it. If you want to compare previous budgets you can easily look at them side by side. Sometimes you may not be able to get online – at least you can still view your budget in paper form. There is nothing stopping you from having a digital budget as well!
Do I need any equipment?
All you will need is a pen, paper, and a printer. If you don't have your own printer check at a local library as they often have printing resources. You may want to create a budget binder in which case you need a binder and maybe some stickers to brighten it up!
Recommended: 343 Birthday Freebies Mega List
Free Budget Printables