Disclosure: This post may contain affiliate links. If you click on a link I may make a small commission at no extra cost to you. You can read the full disclosure here.
Last Updated on October 23, 2022 by Chris Panteli
Airbnb Cleaners
One of the first things guests look for when they stay at an Airbnb is cleanliness. And expectations are very high.
If you're currently cleaning your own Airbnb, you might be falling short of those expectations and missing out on repeat bookings.
Not to mention that unhappy guests are much more likely to leave a bad cleanliness review on your listing, which will drastically reduce your success.
If you're not sure if you have the time or budget for a cleaning team, this post will show you how affordable it can be to find great Airbnb cleaners for your rental.
Thinking about getting into Airbnb arbitrage for extra cash every month? Here's everything you need to know.
Why Do I Need an Airbnb Cleaning Service?
Although local Airbnbs are becoming more and more popular than hotels, guests still expect the cleanliness of a high-quality hotel stay. In fact, if your Airbnb gets consistently low cleanliness reviews, your account will be penalized.
If you're aiming for Superhost status (which you should be), you need to make sure you're getting consistently good cleanliness reviews.
The last thing you want to do is spend hours taking stunning Airbnb listing pictures, only to let guests down in person.
Now, you could clean your Airbnb yourself, and many vacation rental owners choose this route when they're starting out to keep costs down.
But hiring a professional Airbnb cleaner will save you time, and effort, and guarantee a sparkling result every time. And it's much more affordable than you might first think.
How to Find a Suitable Cleaning Company?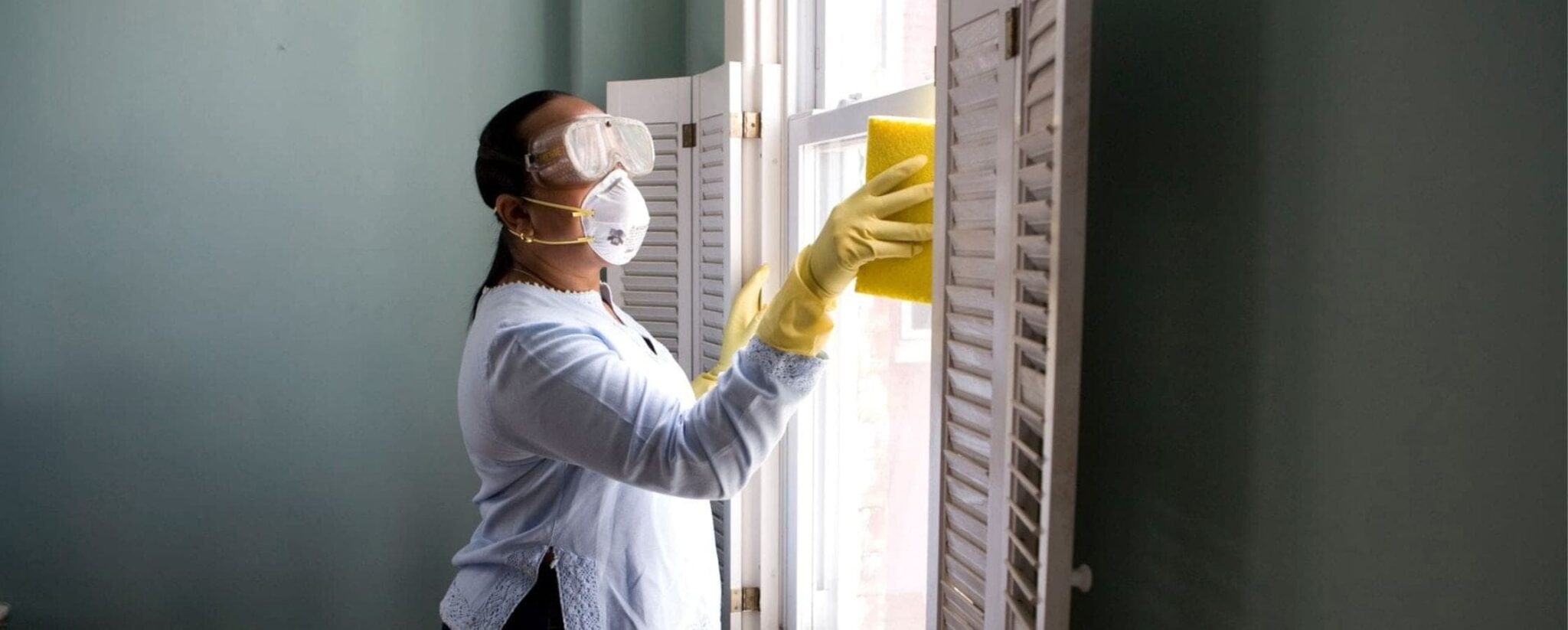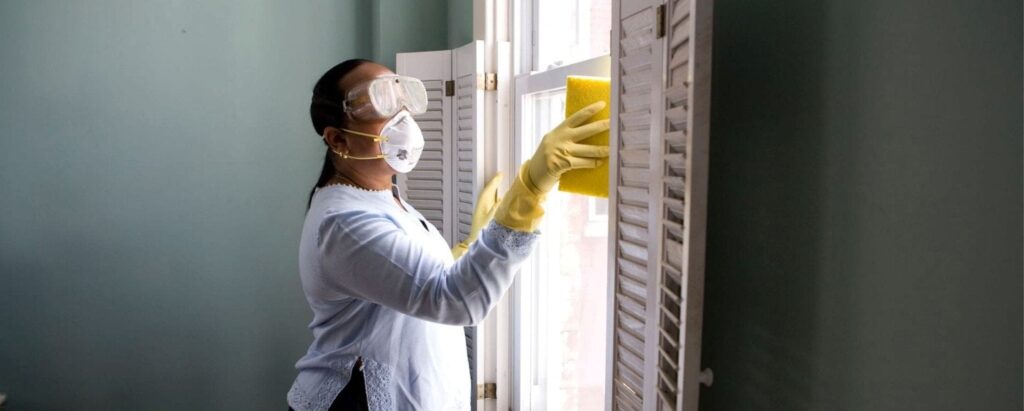 There are generally two options when it comes to hiring a commercial cleaning service for your Airbnb.
Airbnb personal maid service
An Airbnb maid provides a more personal service and means you can train the person to know your property and cleaning schedule well.
However, you are dependent on one person, so the chances of them canceling at the last minute are higher.
Airbnb professional management service
A professional management service will have a team of cleaners they schedule for you. They may also provide other services as part of a customizable package.
A management service can give more dependable scheduling but will likely be more expensive.
Whichever route you decide to take, there are several approved sites for finding the right cleaner for your vacation rental:
What Questions Should I Ask When Hiring an Airbnb Cleaning Service?
Once you've done some research and found some local cleaners that could be a good fit for your Airbnb, you'll need to interview to find the perfect fit.
Here are some important questions you should ask any cleaner or cleaning company before hiring.
🤔 What are your scheduling requirements and notice times?
Any cleaner you hire should have a strong scheduling system. Having cleaners cancel or not show up between guests is a nightmare, especially when you have self-check-in and guests enter a dirty house.
Your cleaner should have a consistent schedule and a contingency plan should they not be able to come last-minute. You should also know how much notice they need should you get a last-minute booking.
🤔 Do you have experience working with short-term rentals?
Short-term rentals aren't the same as normal houses. They're chaotic and much messier. You should hire a cleaner who is familiar with the rental industry so they'll get to grips with your cleaning requirements much quicker.
🤔 What is your turnaround time?
It generally takes around 90 minutes for Airbnb cleaners to turn over a three-bed rental. Ask your cleaner how long it will take them to clean your house so you can work out the time needed in between bookings.
🤔 Will you provide the cleaning supplies?
Hosts usually buy cleaning supplies in bulk and keep them in a locked cupboard within the rental. The cleaning crew then gets access to the closet when cleaning.
Some crews might provide cleaning supplies, but this will likely cost more, whereas buying cleaning supplies in bulk is very inexpensive.
🤔 Are your employees screened?
Whether you work with an independent cleaner or a management company, anyone with access to your property to work should be vetted to make sure they're trustworthy.
🤔 Do you charge a flat cleaning fee or by the hour?
A flat Airbnb cleaning fee is always preferable with cleaning for Airbnb properties because you know exactly what you're paying for each visit. You can then pay extra for additional services when needed, such as deep cleaning or linen washes.
As a rule of thumb, a one-bed house should not cost more than $150 per visit (excluding linen wash costs).
Remember, cheaper isn't always best. You want a quality cleaning service for your money.
What You Should Look For in an Airbnb Cleaning Crew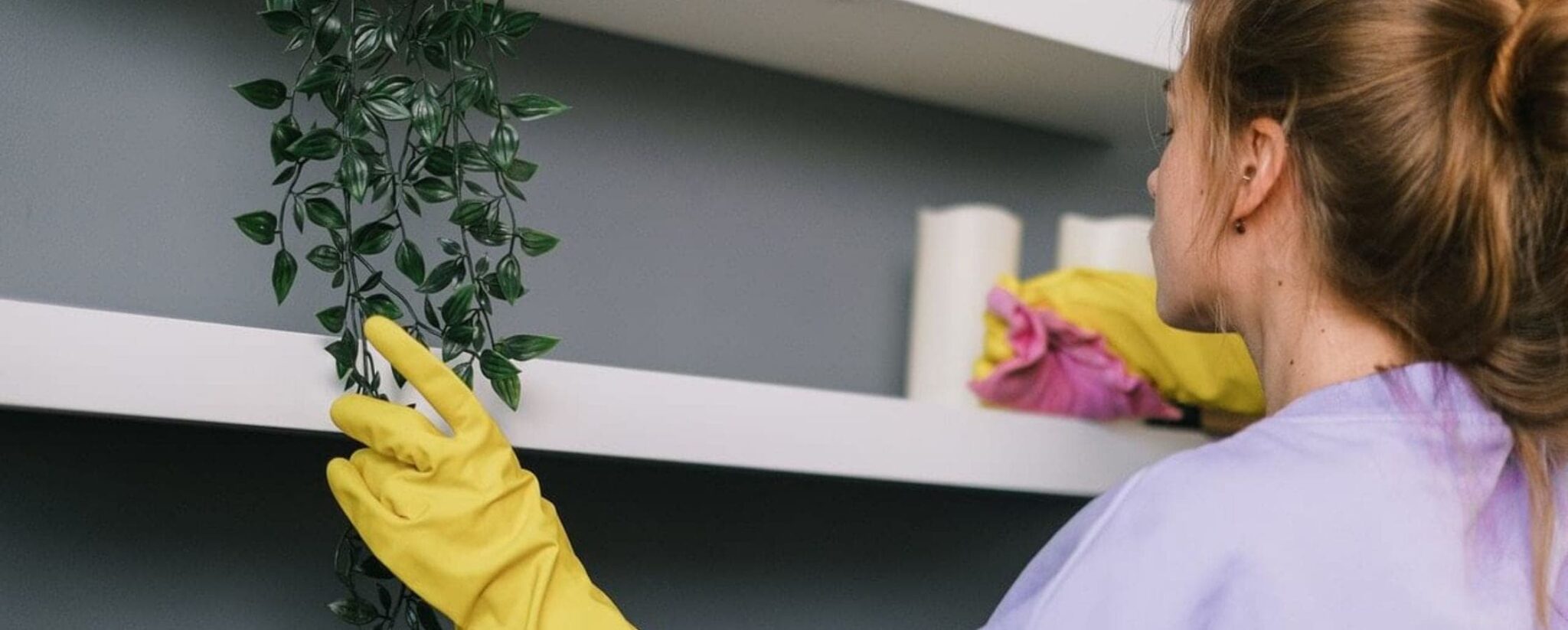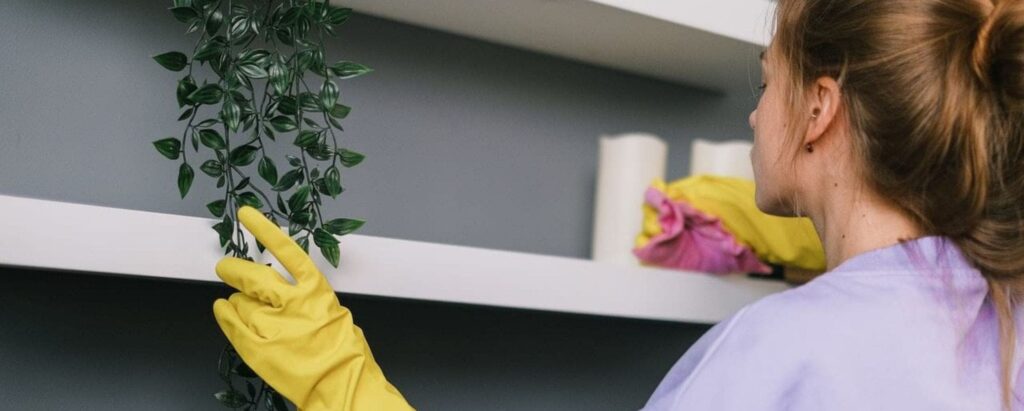 Each house is different, but there are some essential cleaning tasks you need to look for when hiring a professional cleaner. When you're getting a quote, make sure all of the following are included:
Strip and remake the beds.
Washing and putting away dishes and tableware. 
Thorough washing of toilets, showers, and baths. 
Emptying trash cans and recycling bins. 
Sweeping, mopping, and vacuuming all floors. 
Wiping down counters and high-touch surfaces, including door handles and light switches.
Important additional services to consider
The above cleaning services are the minimum your cleaning team should take care of. But there are some extra services you could include to impress your guests and keep your rental as clean as possible.
These will likely cost you extra, but adding a cleaning fee to your listing will help you pass on some of the cleaning costs.
Deep cleans: A deep clean is only needed once a month, but it's a good idea to clean all the places that get missed in a regular cleaning schedule. 
Washing linens: A laundry service is convenient and will ensure your sheets are always in the best condition. 
Property damage: If any damage has occurred to the property, it's helpful if cleaners take photos and communicate with you so you can make plans to get it fixed quickly.
Inventory reports: It's also very useful if the cleaning team can report on your inventory so you can restock cleaning supplies, toilet rolls, paper towels, etc. 
How to Automate Your Airbnb Cleaning Service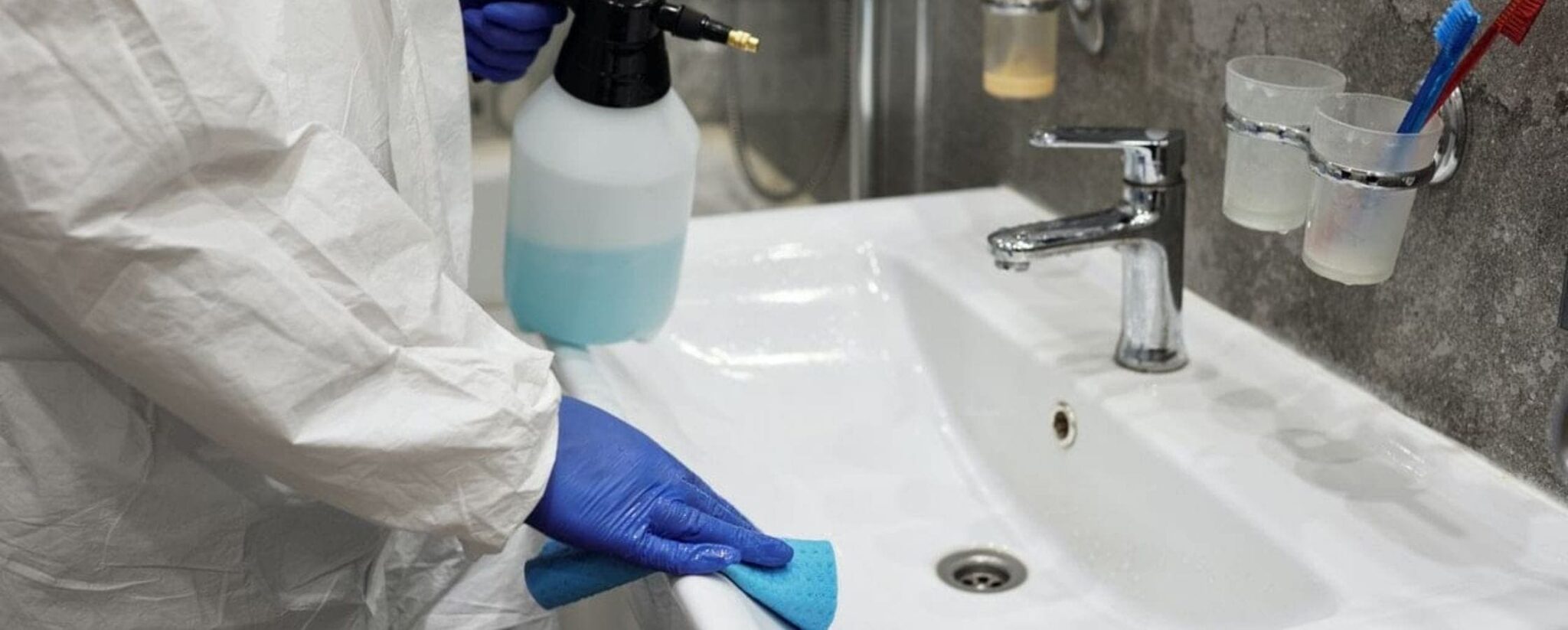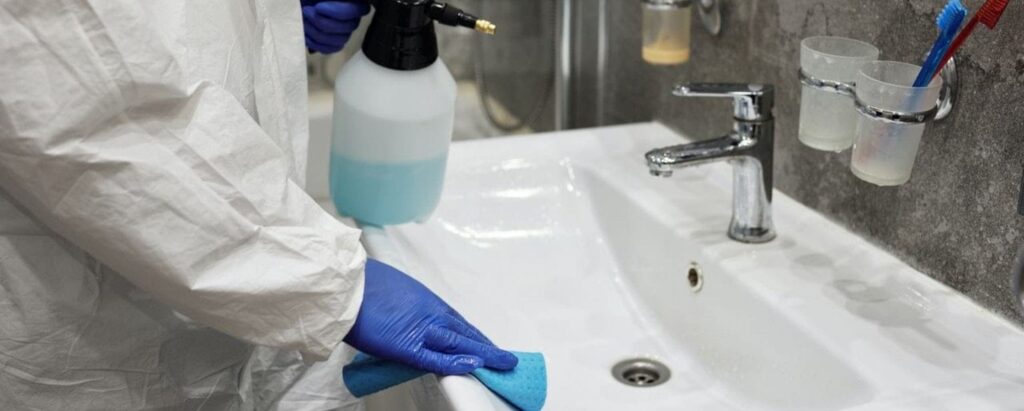 It's easy to automate your home cleaning service so you don't have to worry about scheduling them after every stay – all you need are a few tools.
An Airbnb management tool
Whether you have a single listing you rent out or you're building a portfolio, you should have an Airbnb management tool.
There are loads on the market, and they make the process of scheduling your bookings and keeping track of your cleaning schedule much easier.
HostTools is a good option for managing a cleaning team. It allows you to set up automatic texts and emails that notify your cleaning team when they need to clean after or before a new booking.
They also get automatic reminders on the day of the job so you get significantly fewer no-shows.
Turnover calendar
Whatever management tool you choose, make sure you have a turnover calendar. This will allow you to track your bookings and schedule in your vacation rental cleaning team between guest stays.
It's much better to have an online calendar tool because you'll be able to share it with your house cleaning crew to give real-time updates.
Smart lock
A smart lock is another tool you'll need to automate the house cleaning service. Although you can give your cleaner a key if you have a traditional lock, a smart lock will allow you to track exactly when your cleaners enter your property.
This is great because you'll know for sure they arrived on time to clean and there won't be any disputes.
Looking For More Ways to Improve Your Airbnb Property?
Whether you own one vacation rental property or ten, hiring Airbnb cleaners is something that should be high up your to-do list. Guests can tell when you use a professional home cleaning service, and they'll be more likely to leave a glowing review if your rental is spotless.
Just make sure you take the time to research and interview local cleaning teams to make sure you find the perfect fit for your property.
If you're looking for more ways to improve your Airbnb rental and get that Superhost status, check out our guide on the Airbnb essentials for setting up your home for Airbnb.
Airbnb Cleaners