Disclosure: This post may contain affiliate links. If you click on a link I may make a small commission at no extra cost to you. You can read the full disclosure here.
Last Updated on December 10, 2022 by Chris Panteli
Direct Shipping
Scouring the internet for freebies can be exciting! There are thousands of products you could potentially get for free.
A fantastic source of free stuff that you need to learn about is direct shipping freebies from Amazon! Sellers will happily send excess stock out – for free – to people that register with them for direct shipping.
What are Direct Ship Freebies?
Direct Ship Freebies from Amazon are a way for Amazon sellers to increase their profitability. Giving away unsold products for free makes financial sense when you consider inventory storage fees. Sellers are essentially reducing their costs by offloading their unsold products – and thus creating a greater margin of profitability for the products they do sell.
The great news is that you can get a piece of this action just by completing some simple signup forms!
To make this extra easy for you I have put together this comprehensive guide explaining how to find these offers, how to fill in the forms, and most importantly – how to avoid scams!
Are you ready to start receiving some exciting freebies? If so, read on!
Get $5 For FREE Right Now
Signup to the greatest rewards platform on the internet and earn a $5 welcome bonus…
Earn more with cashback on all your purchases, watching videos, playing games, and taking surveys. Some users can make an extra $200+ per month!!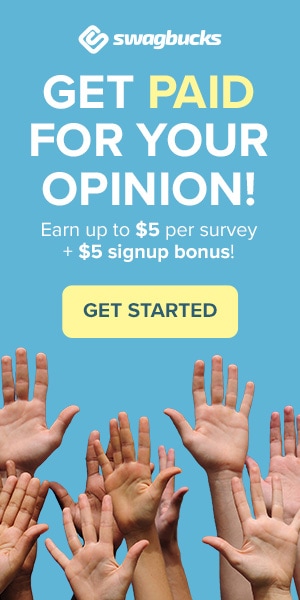 How To Get Amazon Freebies With Direct Shipping
Many sellers on Amazon are happy to send freebies to customers that have registered to receive them. To get your Amazon freebies with direct shipping you simply need to signup for all the offers you are interested in!
The signup process is extremely easy. You just need to fill in a Google docs form with some basic info and that is it!
Once registered you can begin to receive your freebies including free books, clothes, toys, electronics, and more!
Please note that the items you can potentially receive are not from Amazon. Third-party sellers often need to reduce the amount of inventory they hold and to do this will give it away for free!
Direct Shipping Vs Dropshipping
If you have ever searched online for ideas for a profitable side gig, then you will have definitely seen suggestions to start drop shipping. By 2027 the global dropshipping market is expected to be worth a jaw-dropping $591 billion!
Dropshipping and direct shipping may sound similar. However, they are actually very different ways of getting products into customers' hands.
Simply put direct shipping means the product has been sent directly to the customer by the supplier or product owner. Dropshipping means a seller has bought the item from a supplier or manufacturer. That supplier or manufacturer has then shipped the item to the customer.
What Is Dropshipping? Shopify and AliExpress Explained
Tap twice to load then open Video...
Many people use drop shipping these days to sell their products. It is especially popular with people selling art – artists and graphic designers can easily sell their work without needing to have a large supply of stock on hand.
These days website owners can use services like Shopify and Printify to quickly set up an online storefront for customers to make purchases. Customers are receiving the purchases from the supplier rather than the shop owner needing to ship their own inventory. That is dropshipping in a nutshell!
Get 30 Days FREE Printify Premium Access
I've managed to negotiate a sweet deal for my readers! If you use the coupon code LifeUpswing – You get 30 Days Of Printify Premium for FREE.

✅ Integration with Shopify, Etsy, eBay and more
✅ 10 stores per account
✅ Unlimited product designs
✅ Up to 20% discount on all products
✅ Mockup generator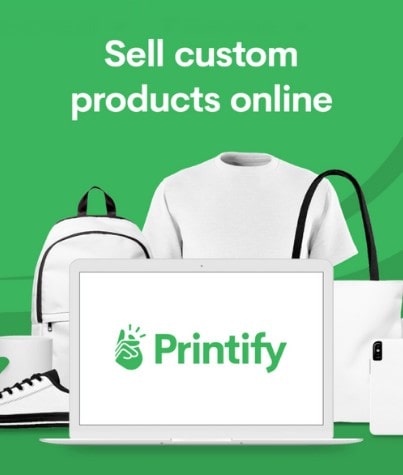 What Is Amazon Direct Shipping
First, it is important to know that these freebies are not sent to you by Amazon – they are sent to you by the seller. Amazon direct shipping means you are sent freebies from sellers that you have signed up.
As these freebies are not from Amazon it does mean you won't be receiving any Amazon products. If you were hoping for a Kindle, Alexa device, or an Amazon Fire Stick, then I am sorry to tell you these products are not included.
However, you can still get some amazing stuff including clothes, toys, and baby stuff. All for free!
Who Ships The Products
The freebies themselves are not sent out by Amazon – they are from sellers that need to unload some excess products from their inventory. Currently, there are more than 2 million third-party sellers on Amazon. That is a huge pool of sellers that may need to offload stock!
However, sellers that are opting to use Fulfillment by Amazon (FBA) have all shipping handled by the Amazon network.
Once the seller has chosen you to be sent free products, the seller will notify Amazon. Amazon will then pack and ship the items directly to you. Any customer service queries will also be answered by the Amazon team.
Knowing that shipping is handled by Amazon gives you a bit more confidence that these offers are genuine.
What Is Fulfillment by Amazon (FBA)
Amazon is easily one of the biggest marketplaces online. A key part of their success is their incredible network dealing with logistics. Fulfillment by Amazon (FBA) allows sellers to benefit from Amazon's existing network.
Sellers simply need to decide what they want to sell and list their items for sale on the Amazon platform.
Amazon will store the products, ship them, and handle all customer service inquiries.
As a huge number of third-party sellers are based abroad this makes business sense for them to use Amazon's vast warehouse and delivery network. Instead of shipping each individual order, they can simply let Amazon do it when an order is placed.
For example, 75% of new sellers are based in China. By keeping their products in the US, UK, or Europe these sellers are saving vast sums of money that would have otherwise been spent on shipping!
The ability to harness the power of Amazon's network means sellers can enjoy a higher margin of profit retention within their business. Products sold via FBA are eligible for Amazon Prime delivery. Amazon Prime members will be more likely to buy as they can get 2-day delivery.
Buyers that see the Prime logo know that Amazon is handling shipping, returns, and customer service queries. This gives buyers much more confidence in the product they are buying.
These factors and many more make FBA a very cost-effective way for sellers to market their products to a global audience with the backing of one of the world's biggest companies.
FBA Inventory Storage Fees
So, a seller has signed up for the FBA program – just how much are inventory storage fees?
Amazon calculates the storage fees based on the seller's daily average volume (measured in cubic feet) for the space their inventory takes up in the Amazon fulfillment centers. The volume measurement is calculated using the unit size when it has been properly packaged and is ready to be shipped in accordance with FBA guidelines.
Inventory storage fees are charged every month to cover the previous month's storage. Fees can vary depending on the time of year and product-size tier. There are also higher fees to pay for storing dangerous goods.
In addition to these fees if a seller has inventory in long-term storage, then there are further charges to pay. Amazon defines long-term storage as more than 365 days.
Fees are charged at different rates based on size and the time of year. From January to September standard-size items cost $0.75 per cubic foot. Oversize items cost $0.48 per cubic foot.
The cost of storage goes up from October to December. Standard size items cost $2.40 per cubic foot and oversize items cost $1.20 per cubic foot.

As you can see if someone holds a lot of stock that has not sold, they could pay a lot in fees! If they ended up with a long-term storage fee on top, then it could mean their business is not profitable.
Why Would Vendors Direct Ship Free Stuff
Sellers on Amazon are trying to remain as profitable as they possibly can. To do this they must manage their inventory and cut down how much they pay in storage fees.
Inventory that is not selling is still costing the seller storage fees. By direct shipping these unsold products the seller is cutting down on how much they are paying to Amazon. If they do it before the item has been stored for 365 days, they can also avoid the long-term storage fees.
It makes sense for sellers to ask Amazon to send the freebies to customers that have asked for them. Otherwise, the seller would keep paying fees to Amazon or the products would have to be destroyed which could incur more expenses!
Getting Free Stuff With Amazon Direct Shipping
There are some important things that you should know before you start signing up to get free stuff with Amazon direct shipping.
Warnings Before Getting Started
The first thing it is important to know is that you should not contact anyone directly asking for freebies. Simply fill in the request forms and wait to be sent products. Do not start harassing sellers asking for free stuff!
You should also avoid leaving reviews for products that you have received for free. Amazon banned this to prevent sellers from manipulating their ratings. Any accounts discovered leaving reviews for freebies could see their account closed! Reviews can also be removed and sellers penalized if found asking for reviews in exchange for a free product.
Something else you must keep at the forefront of your mind is that scams online are a huge problem. You must keep your data safe by not giving more information about yourself than necessary. If you think an offer is a scam, then do not signup for it!
You can investigate offers using Facebook groups, Reddit forums, and more to make sure they are genuine. Read to the end of this guide for more information on avoiding direct shipping scams.
What Freebies Can You Get
Did you know that there are more than 353 million products available to buy on Amazon? That is a combination of products sold by Amazon themselves and third-party marketplace sellers.
That is a huge potential of freebies you could get access to!
You have no influence on what freebies you may receive. However, there is an endless list of possible things that you could be sent – toys, clothes, office supplies, beauty products and more are some of the things that you could receive.
The fantastic news is that whatever you do get is completely free!
Lots of factors affect how many freebies you might get. It is possible to get one at a time or you could even get over 20 items from direct shipping! It all depends on how many products the seller needs to offload and how many people have signed up for direct shipping with them.
The only problem with receiving more than 20 things is finding space to store it all!
As the products are free if you do not need or like them, then you have a couple of options. Use them as gifts for friends and family who you know would appreciate them – this saves you some money as well!
You could also donate them to local thrift shops or charities.
If you can not give them away, then you could sell them on sites like eBay. Selling them means you get a little extra cash to use for yourself!
The freebies you receive may not be to your taste. Gift them, sell them, or donate them. Whatever you want to do is entirely up to you!
How Often Could You Get These Freebies
Using direct shipping is a great benefit for sellers to save money on fees they must pay to Amazon. Additional fees for products that have been stored for more than 365 days can be avoided entirely by sending products to you.
There are several factors that could affect when a seller will send out freebies.
Sellers want to maximize their profits which means they are not sending anything until as close to the date for fees to be charged as possible. Before sending out a freebie they will be hoping a customer makes a purchase!
Another consideration is how much stock they hold and how many people have signed up for direct shipping. If they have low inventory or little interest in direct shipping freebies, the seller may choose to destroy the products or pay the Amazon fees.
Keep in mind that you have no control over when or if you will receive any freebies. All you can do is fill in the form leaving your name and address. Hopefully, you will receive some awesome freebies from time to time!
Are These Freebies Legitimate and Legal
Yes! Freebies given away by Amazon sellers are totally legit.
Many sellers need to manage their inventory to avoid paying more fees to Amazon than they need to. Direct shipping gives these sellers a fantastic way to avoid these fees. Plus, you can get free stuff!
A win all around!
Even though these freebies are legit you still need to be mindful of the fact that there are scammers out there. To take advantage of these freebies requires giving some of your personal information like your name and address.
Make sure not to give out too much information. For example, you never need to give credit card info or bank details. If asked for this, then please avoid it as it is probably a scam!
Many direct ship offers are found on Facebook Groups or Reddit forums. Remember to do your due diligence and double-check the offers are legit.
If you think a direct ship offer is a scam, then you should not proceed. Do not fill out the form and find another legit offer. If you are not sure but want to fill in the form anyway make sure not to give your own details. Use a P.O. Box address, a different phone number, and a spare (segregated) email address.
It is your responsibility to manage your online safety and keep your data as safe as you possibly can. Approach all offers with caution and do not forget the golden rule – "if something seems too good to be true, it probably is!"
How To Get FREE Stuff With Amazon Direct Shipping
Now that you know how Amazon direct shipping works, you need to know where to look. Your first thought might be to search online to find these direct shippers.
You can do that of course but to help get you started quicker here are 3 of the easiest ways to find links to direct shipping freebies.
1. Facebook Groups
One of the best ways to find Amazon sellers offering freebies is in Facebook groups. A Facebook group is created for users that want to share information on specific topics.
The benefit of using these groups is that users can share offers with each other. You can also discuss with other members how to complete signups and how to find other offers that may not have been added to the group yet.
As someone that is new to Amazon direct shipping freebies the ability to ask more experienced users for advice can be a fantastic way to boost your own confidence in signing up for those offers.
A quick Facebook search reveals lots of direct shipping groups made up of consumers and Amazon sellers. The sellers use these groups to share the direct ship forms you need to fill out to register your interest. Consumers use the groups to share direct shipping offers that they have found.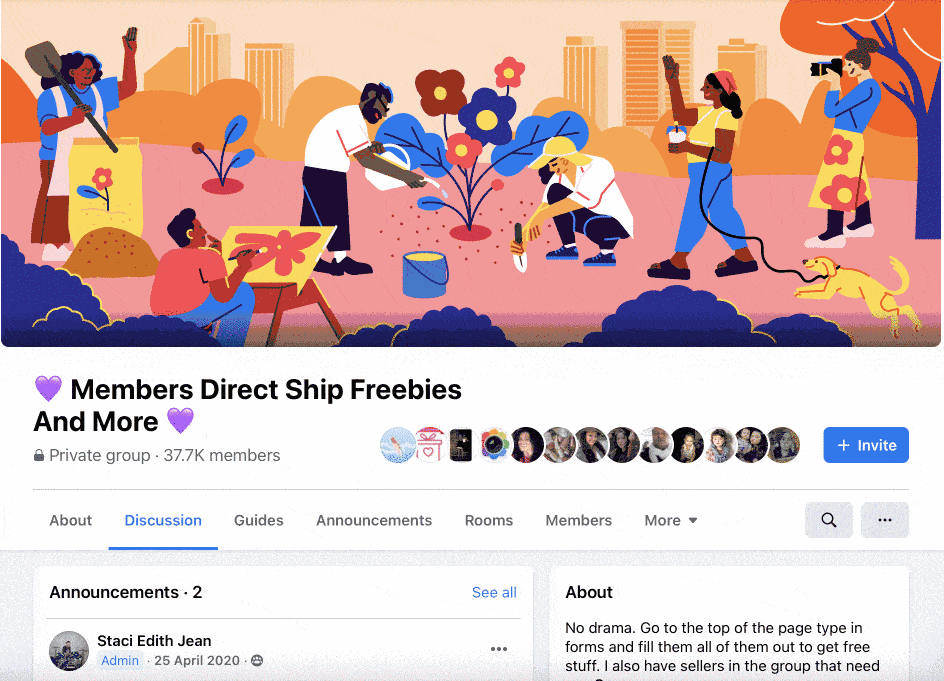 Facebook groups are also invaluable sources of other information such as scams to watch out for and whether a direct ship offer is legit or not.
There are a lot of Facebook groups you could join. Here are a few to get you started:
KC's Direct Ship Freebies & More – 15.1k members
Freebies & Direct Ships & More – 33.4k members
Direct Ship, Freebies, and Fun – 11.8k members
Direct Ship / Unicorn Gifts / Surprise Freebies – 26.6k members
Social Media Review, Direct Shipping, Freebies, And Gift Giving – 7.2k members
When joining each group remember to check the group rules. Each group will have its own standard for members that you are expected to follow. The groups also provide more information on direct shipping offers and the forms to fill in. Check them carefully before proceeding!
2. Freebie Websites
If you search online for freebie websites you will get thousands of results! To narrow it down here are some freebie websites that focus on Amazon direct shipping for you to check out.
A great site to get started with is Internet Steals and Deals. Look through one of the largest lists of direct shipping offers found anywhere with more than 391 to work through!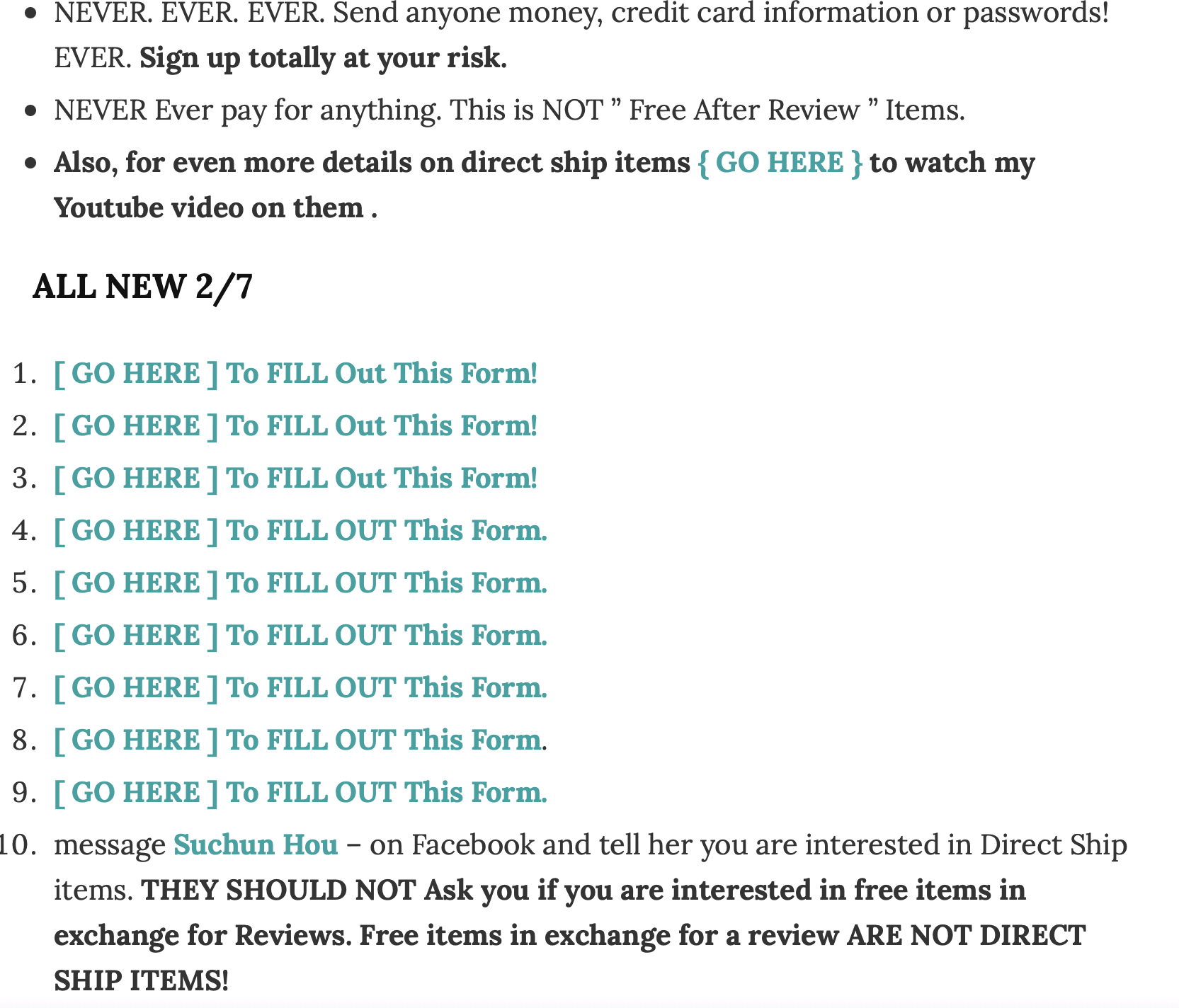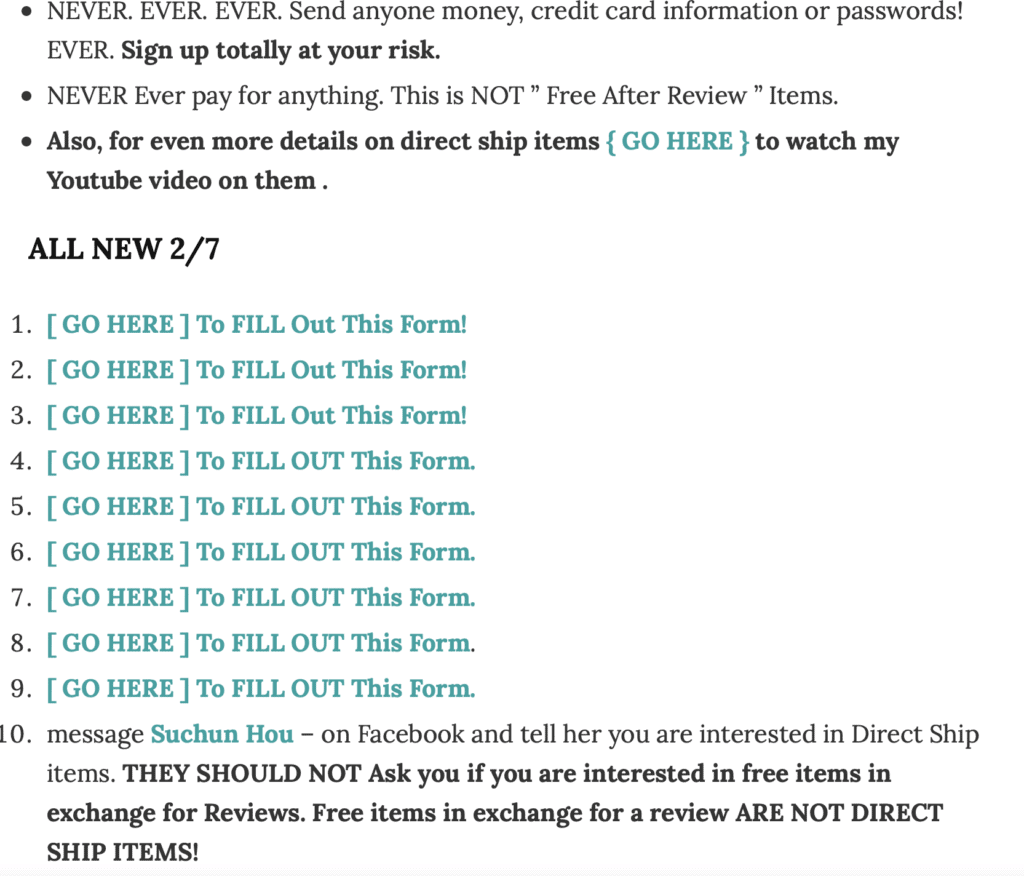 Apart from the massive list of direct shipping offers you can also browse through a huge amount of freebie content. Even if you get nothing from direct shipping you could find other freebies that will suit you!
The site is run by Becky 'the freebie lady' and is a fantastic source of more freebies than you can imagine! Check it out now to find those direct shipping forms.
Next, hop over to Consumer Queen for more direct shipping offers. At the time of writing this article, there are more than 100 direct shipping offers to take advantage of!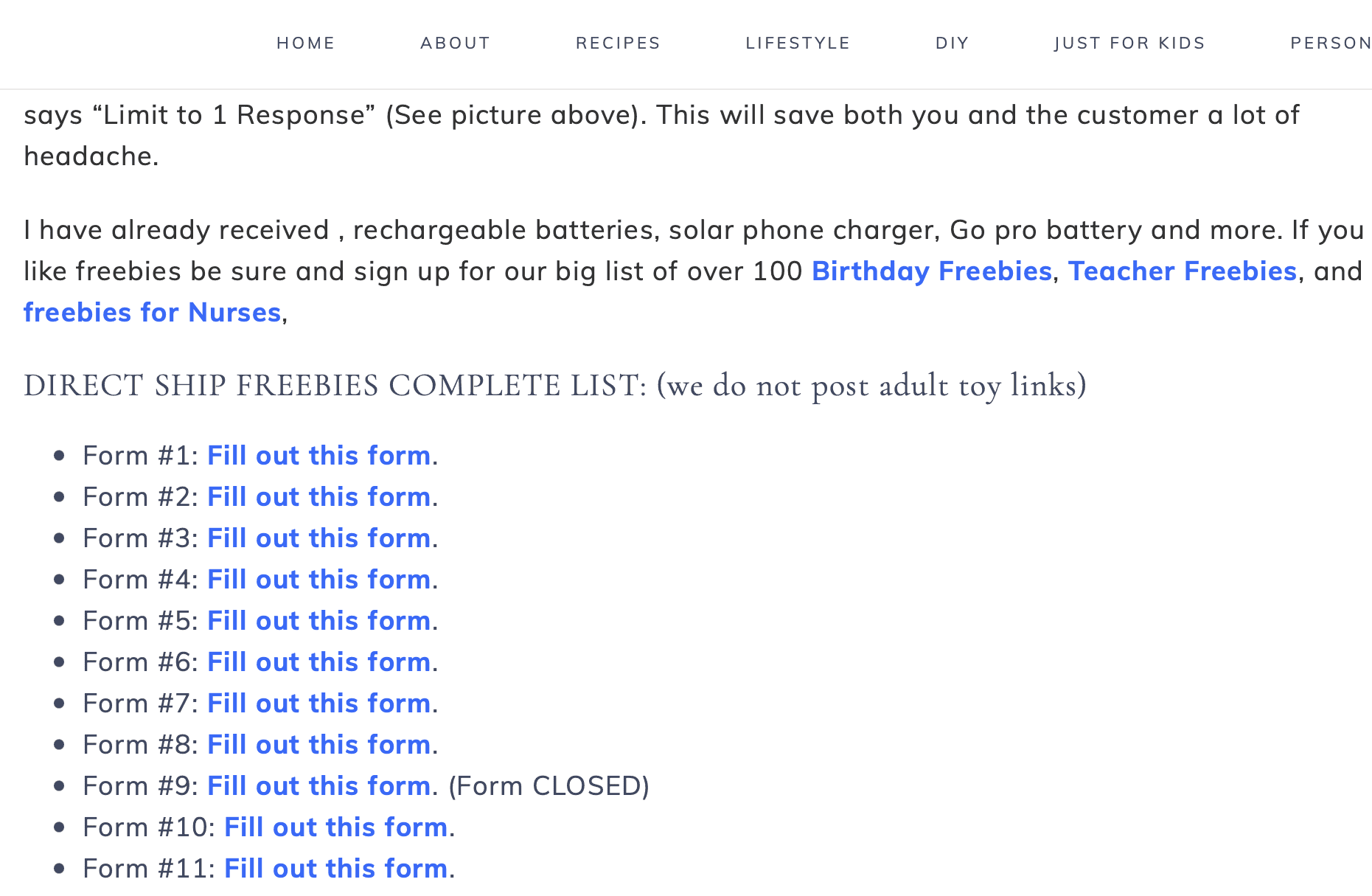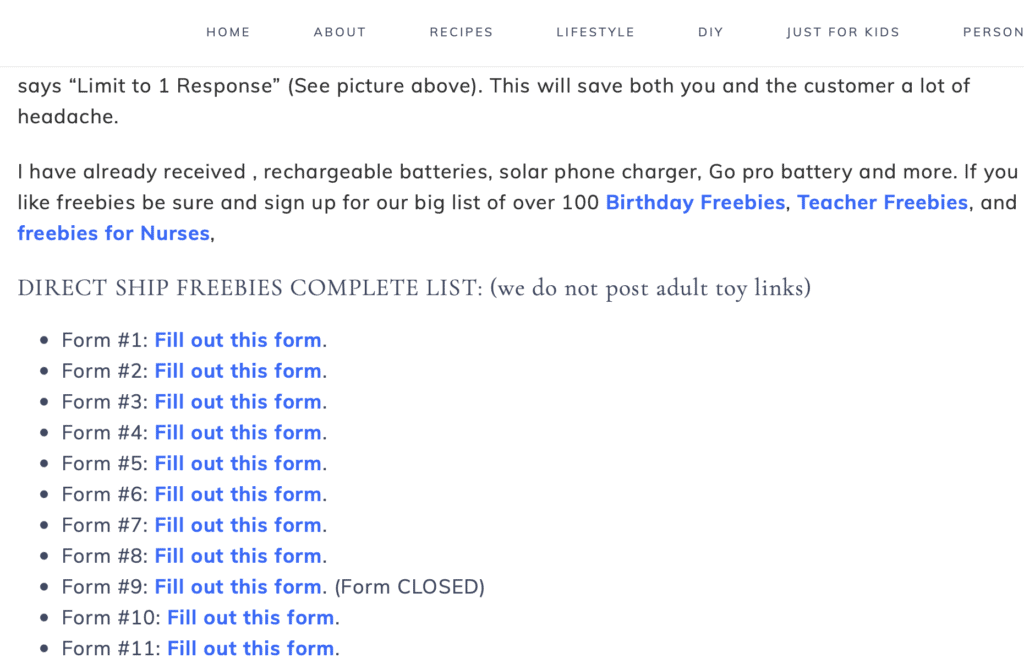 Consumer Queen has been helping people save money since 2008 through her blog offering many tips and advice on how to save money.
Gimmie Freebies has been helping consumers find the best and most legit freebies for more than 10 years!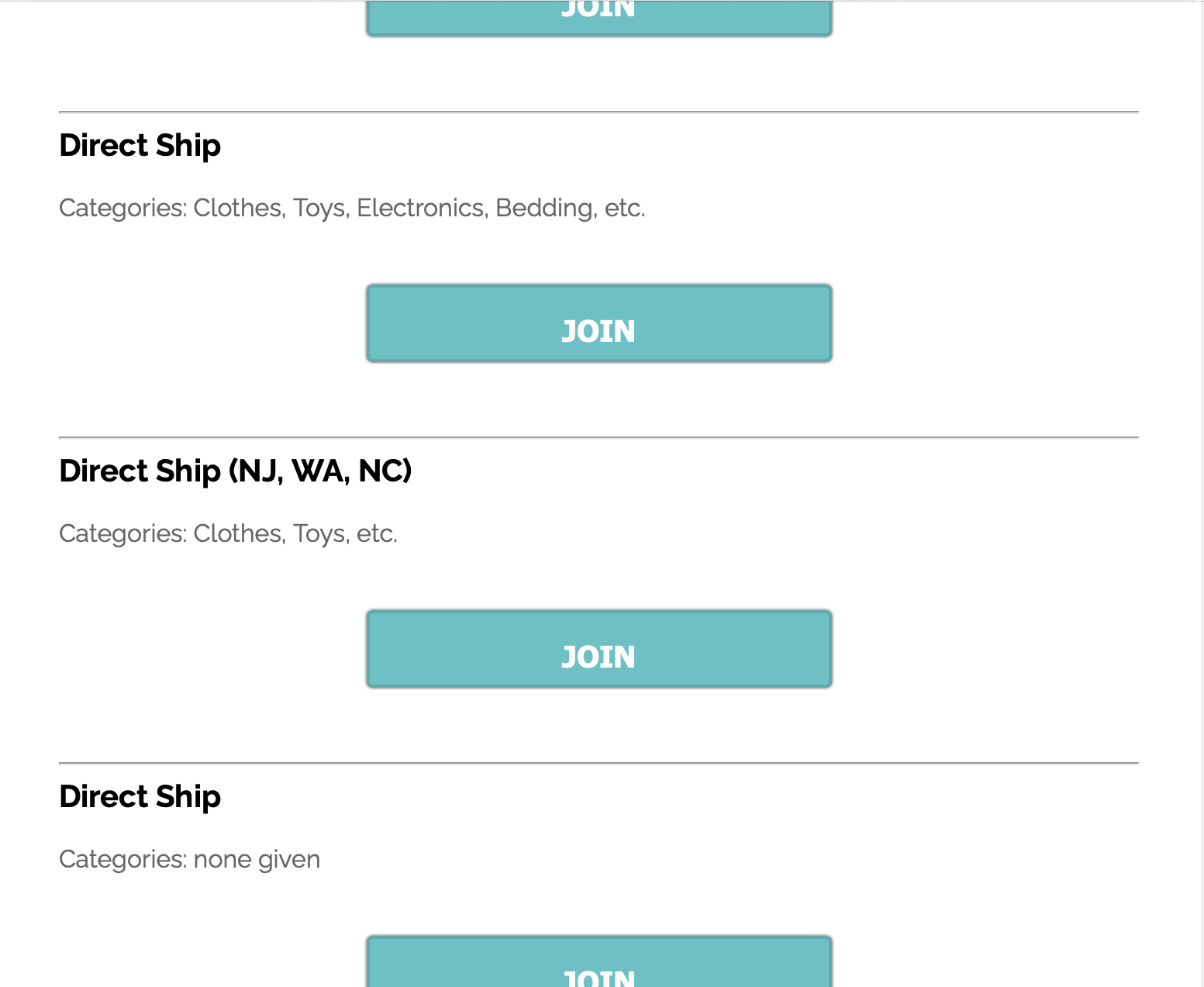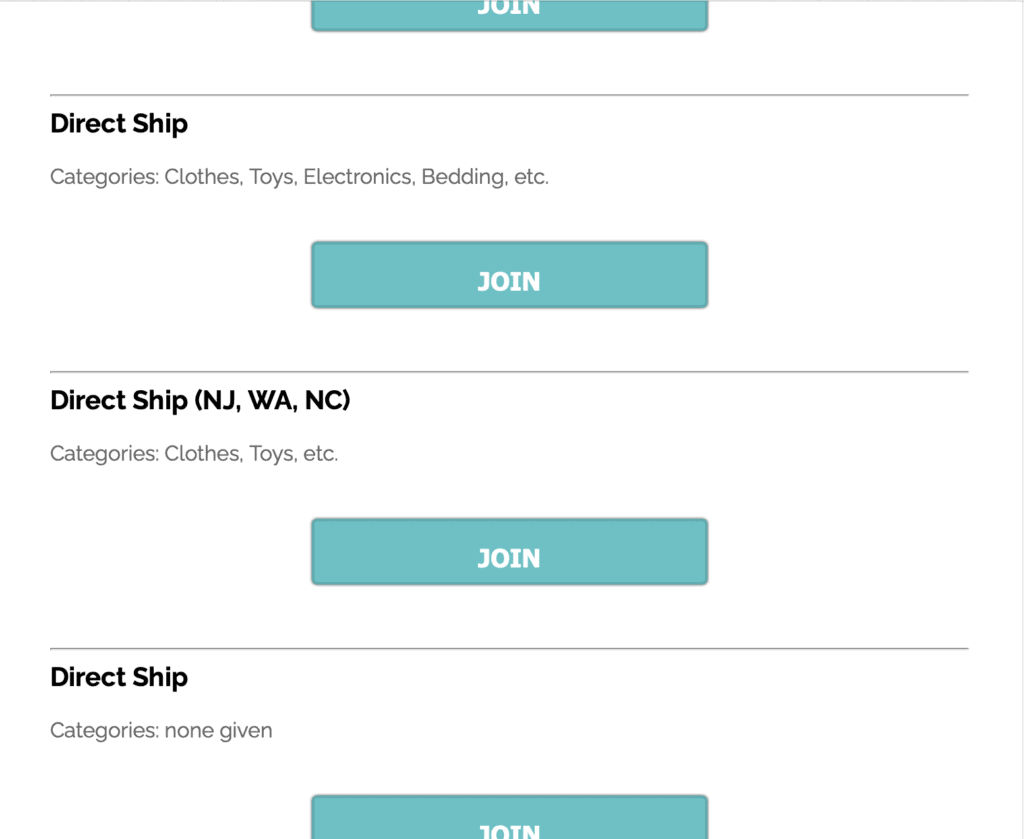 For each direct shipping offer listed they will show what you might get, how to join, and a link to the form. Work your way through each one to maximize the potential number of freebies you could receive.
The next site to tell you about is called Upfreebie. On the site right now is a long list of forms to fill in to register your interest in some freebies! On each form simply give your details to be eligible to receive free products.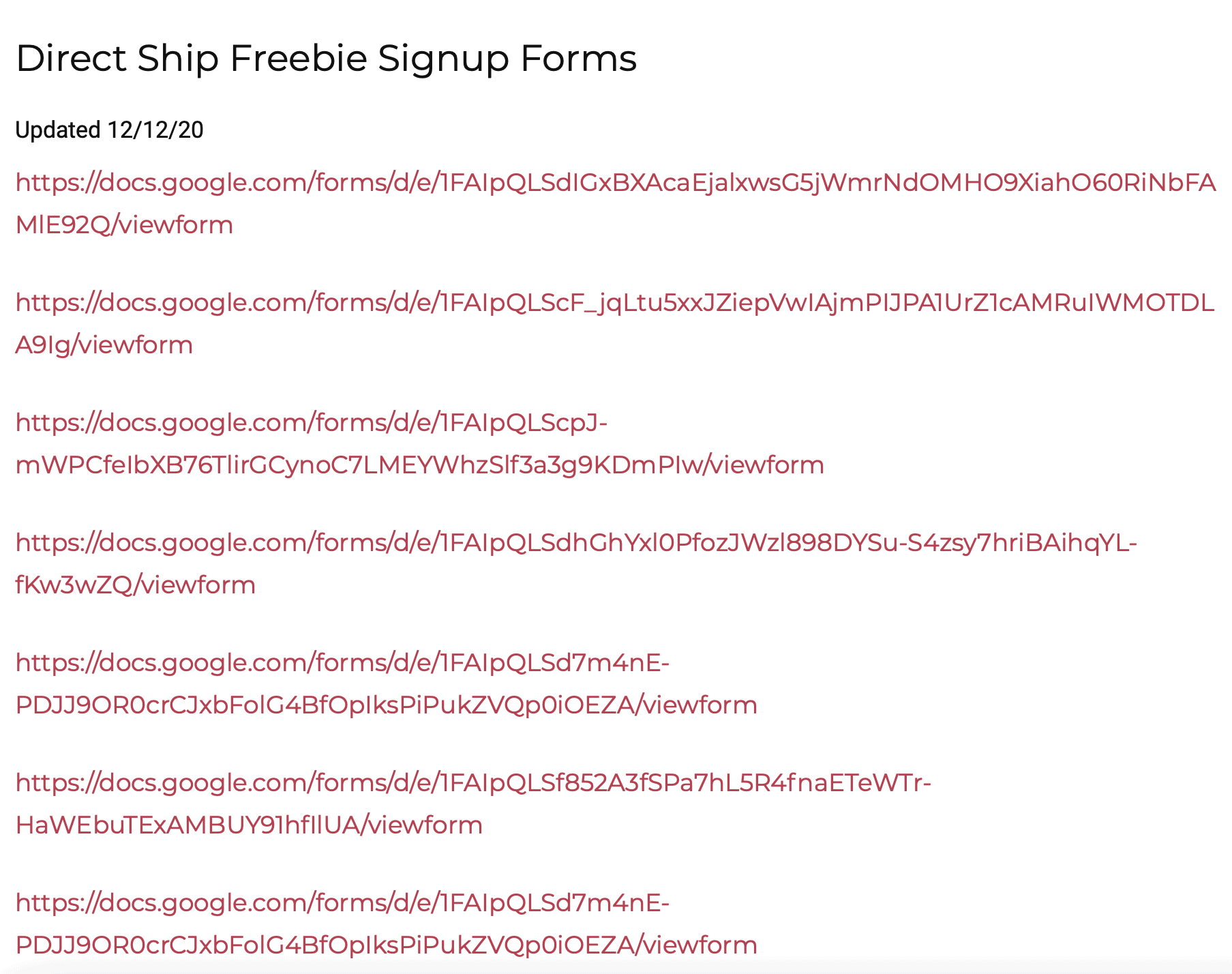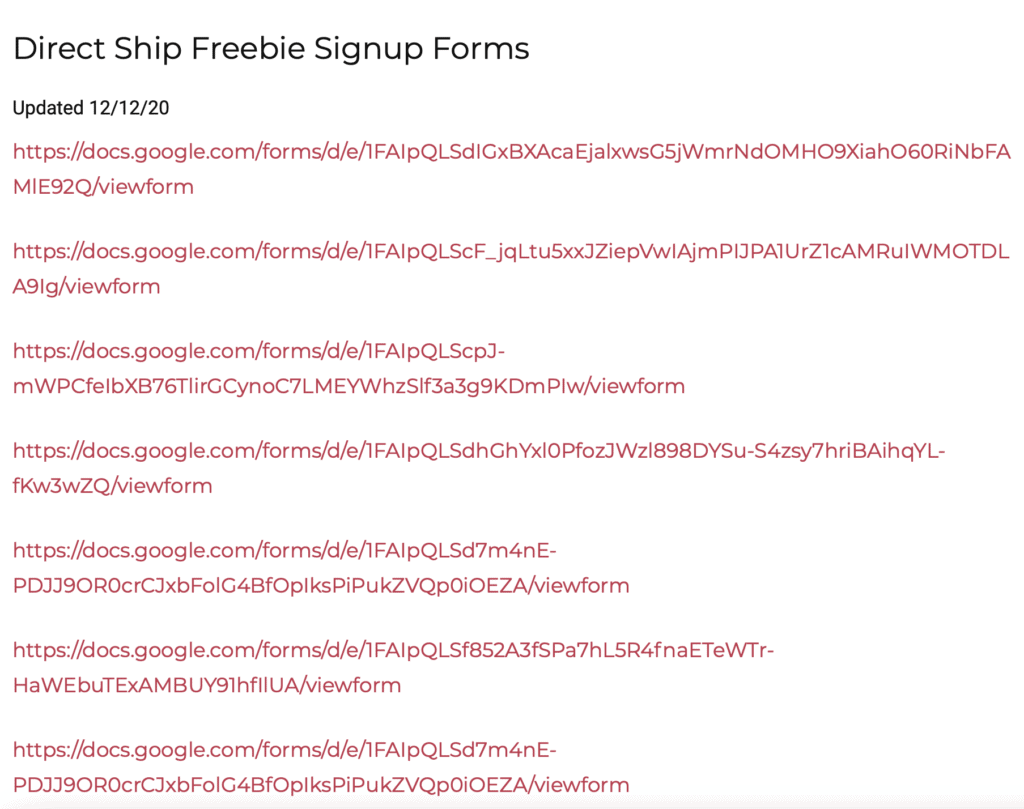 Shane's Freebies is the final site you should definitely have in your arsenal. The author Shane has put together a fantastic list of offers that you can signup for.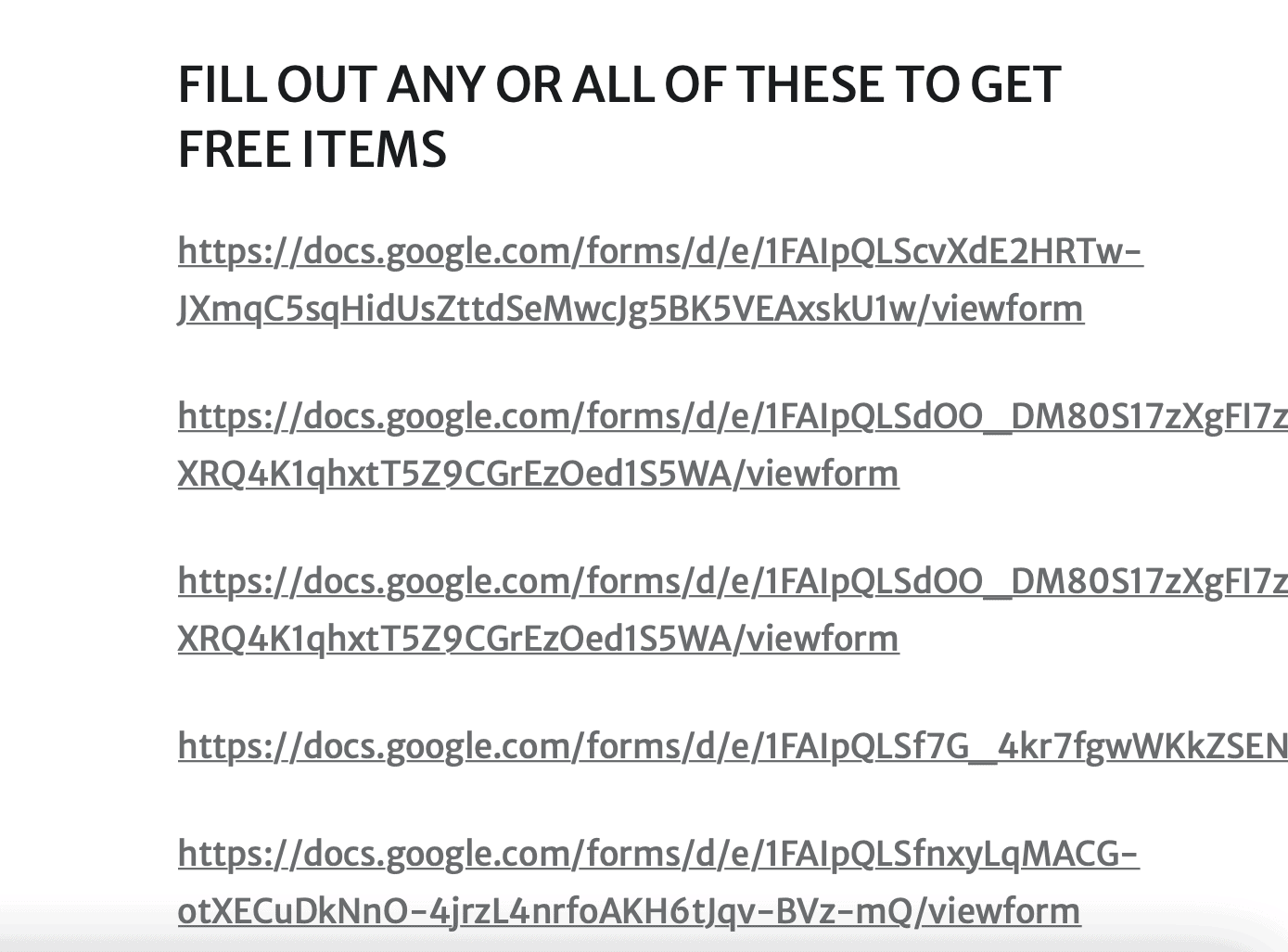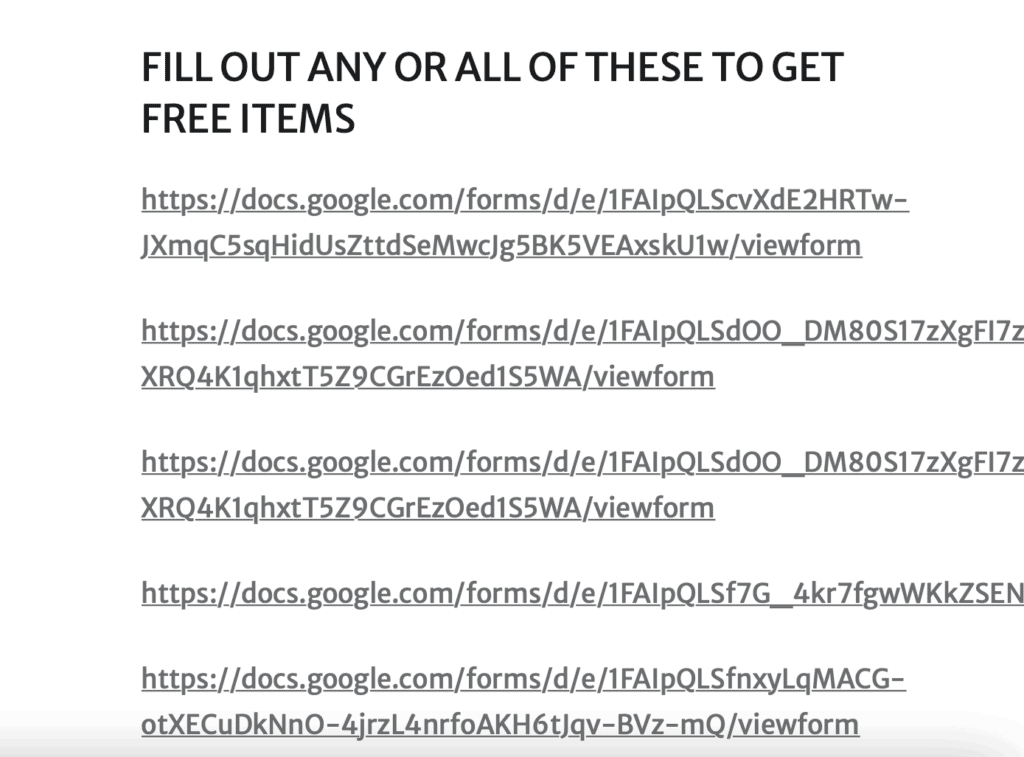 Clothes, toys, and more are all potential freebies that you could receive.
3. Reddit
Reddit is a social website that features content submitted by its users on individual forums called sub-Reddits. You can use the search feature on Reddit to find information on virtually any topic you can think of.
The good news is that you do not have to join Reddit if you just wish to find direct shipping offers. Feel free to browse as a guest if you have privacy concerns.
Start by using the search tool to search for terms like 'direct shipping offers', 'freebies', and 'Amazon direct shipping'.
The results will bring up relevant posts or communities that you can look through to find direct shipping offers. You can also join the sub-Reddits that are of interest to you to look through posts that still have available offers.
Please note – to join a sub-Reddit you will need to register yourself as a Reddit user. This is free and means you can engage with content on the site.
Each sub has its own rules that you must adhere to. They also provide details on commonly asked questions and helpful guides to get you started. Check out these wikis first as they help you avoid mistakes, find deals quicker, and know how to get started!
Go to r/freebies first on Reddit and from there search for direct shipping freebies.
How To Fill Out A Direct Ship Google Docs Form
A Google docs form is something that has been created by the seller. They are free to set up and can be done easily which is why they are preferred.
To create a Google docs form the seller would need a Google account that they can create for free. Next, the seller creates the form including all the information they want to capture.
As the form is online all the data is instantly available to the seller once you have filled it in. Simple stuff!
The good news is that you are not creating the form yourself. You just need to take a minute to fill it in.
Filling out the direct ship Google docs form is a relatively easy and quick process. Start by clicking on the link to open the Google docs form.
You will now be presented with a form to fill in. The seller may give further info on the products they send. They may also ask you to follow them on Facebook, Twitter, or other social media channels. Following them can be worthwhile to hear about further offers quicker.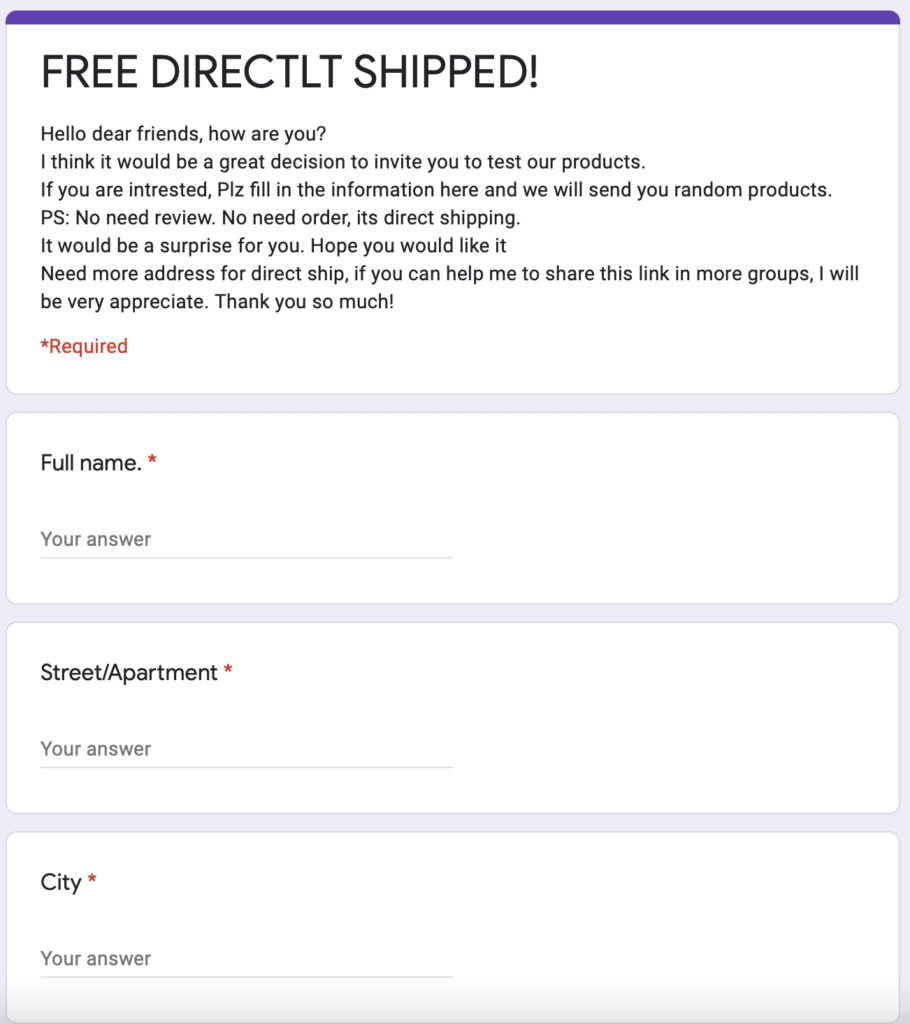 Once you have filled in the requested information the final step is to submit the form. That is it! In just a few minutes you have registered to receive direct shipping freebies. Nice and easy!
Remember to be careful about filling in these forms if you have not verified they are genuine. If you find a direct shipping form by searching online, then head over to the Facebook groups and Reddit forums to see if others have used it.
Taking a little time to research these offers can save you a lot of time in the future dealing with the fallout of being scammed!
What Information Should You Include
Every day you will access many websites and apps online either for work or personal use. Privacy and concerns over the safety of your data are a huge worry and for good reason.
Get The
ProtonMail Visionary

Plan Now

Stay safe online with the ProtonMail Visionary plan. Operating under Swiss privacy laws means you have some of the best protection in the world and it also includes up to 6 users, 20.00 GB of storage, up to 50 Addresses, and the ProtonVPN (which will keep your online activities private and secure).
If your data was ever compromised it could lead to all kinds of problems. That is why you must do your best to always share the minimum amount of data you need to.
Companies will try to extract as much information as they can because it helps them make more money!
When you are filling in direct shipping forms you shouldn't be required to share much information on them. All they should be asking you for is your name, address, email address, and contact telephone number. These are the only pieces of personal information that the seller should need.
Be extremely careful not to give away too much personal information. If a seller is asking for social security numbers, banking details, or more, then this is a sign it could be a scam you should avoid.
Make sure you never give your social security number or credit card number. Keep this information safe at all times!
How To Avoid Direct Shipping Scams
In 2020 American consumers lost approximately $59 billion due to identity fraud. Watching out for scams online is an essential part of keeping your data safe.
To avoid direct shipping scams there are a few simple things you can do to protect yourself.
Make sure to give as little information as possible. The most you should give is your name, address, email address, and contact telephone number. For extra security, you could use a P.O. Box address rather than your home address.
You could also set up a 'burner' email address. Use one of the many free email services to create an email address that is not linked to any of your accounts. Simply use this burner email for all your direct shipping forms.
Another tip is to create a secondary phone number that is used solely for direct shipping forms. That way your primary contact number is kept private.
It is important you do NOT give any credit card numbers, banking information, or your social security number. None of this information is relevant to requesting direct shipping freebies. If a seller asks for any of these details, then it is likely a scam you should avoid.
Make sure to do thorough research before completing any signup forms. Check Reddit forums and Facebook groups to see what people are saying. Have they received any freebies? Have they had any of their details leaked? Any other concerns? Look for any signs the offer may be a scam before you complete the form.
You will never know 100% that a direct shipping offer is genuine but if you follow these tips, then you should be able to avoid nearly all scams.
Do you want to make some

REAL MONEY

?
If you want to pocket commissions and make money while you sleep, then you can with this breakthrough software.

Using the incredible "Sleep-Sales Technology" you could have everything up & running BEFORE you go to bed tonight.

Direct Shipping: How To Get Amazon Freebies – Final Thoughts
Getting free stuff is not only exciting but it is a great way to save money!
Signup for as many direct shipping offers as you like and you could soon have lots of fantastic free stuff from a variety of sellers.
Remember to protect yourself by not giving away more of your personal information than absolutely necessary. Use Facebook groups and Reddit forums to your advantage to make sure offers are genuine and to find even more awesome direct shipping opportunities!
Don't be disappointed if it takes a while to receive something. You can't influence the direct shipping offers in any way. Simply be happy when you do get something as it is free and a nice surprise when it does arrive!
Recommended: 11+ Incredible Cheapest Ways To Live
FAQs
What Are Direct Ship Freebies?
Sellers often need to reduce their inventory to save money. To do this sellers will send products for free to customers. Direct ship freebies simply mean you are receiving free items from sellers.
As Amazon charges storage fees and long-term storage fees it is cheaper for sellers to give away some inventory. This means you can get free stuff!
Please note that these items are NOT from Amazon – they are from individual sellers.
What companies will send you free products?
Free products could be sent to you from any company that sells on the Amazon marketplace! Clothes, toys, beauty products, baby stuff, and much more could be sent to you – all for free!
Amazon Direct Shipping Pros
-Receive free products. You can't beat free!
-Items you do not want to keep could be resold or used for gifts. -Either way, this means you save or make extra money!
-You could try a product you may not otherwise have tried.
-If you are concerned about keeping your data safe the good news is that you can complete the direct ship forms and still keep your privacy!
Amazon Direct Shipping Cons
-Products are sent at random – this means you have no say in what you might receive!
-You have no way of knowing if a product will ever be sent.
-There is a possibility you could be sent too many items – you may run out of storage space!
-Scams exist and you could be targeted. Always be careful to keep your information safe.
Are Freebies really free?
Yes! These direct shipping freebies are completely free!
Sellers need to save money on Amazon storage fees. To do this it is cheaper for them to give away products rather than store them forever or pay for disposal.
Signup for these direct shipping offers to get your amazing freebies!
How long do you need to wait for freebies?

Freebies are sent by sellers when they need to reduce their inventory. Once you have given your details you simply need to wait to be sent any available products. There is no timescale for products to arrive as you can't request them.
If you get chosen you will be sent the items when the seller wants to.
Should you leave a review on Amazon for the freebies received?
Although leaving a review for a seller may be nice for their rating, it could see your Amazon account get closed!
As part of Amazon's terms and conditions, they state a review can not be given for a product that has been received for free. Please do not do this as you would not want to lose your Amazon account!
How many freebies can you apply for?
There is no limit on how many freebies you can apply for. Apply for as many as you like!
What could you do with unwanted freebies?
Some of the freebies you receive may be of no use to you. You might get clothes that do not fit. Perhaps you receive toys but have no children or you get office supplies that you can not use.
Once you have received the freebie it is yours. That means you choose what to do with it. You could gift it to someone, donate it to a local charity, or sell it on eBay.
Can I get any freebies from Amazon?
All direct shipping offers are handled solely by third-party sellers. None of these direct shipping freebies are issued by Amazon.
However, if you have an Amazon Prime membership this could entitle you to free things from Amazon. Often you can get Kindle books, music, and TV for free as part of your Amazon prime membership. 
At times other things may be given for free as well. Check your prime account using the Amazon app for full details to see what you may be entitled to.
If you don't have Amazon prime, then you could signup to see if it is of benefit to you. There is a free trial period available to try it out.
Should you have to hand over any banking information?
NO! You should not need to provide any banking information. Avoid any direct shippers that ask for this information as it could be an indication of a scam.
Your name, address, email, and phone number should be the only information you need to provide.
If you can try to set up a burner email address and a secondary phone number. This can help keep you a little safer from scams and at least protect your usual contact details.
Another excellent way to stay safe is to use a P.O. Box address rather than your real address.
These measures may seem drastic, but anything you are able to do to protect yourself is worth considering. Identity theft is not a joke and could cost you a lot of money to fix if you were unfortunate enough to be a victim.
Any direct shipping form that asks for credit card details, banking information, or social security numbers should be avoided!
If you do join any Facebook groups, then you may want to consider reporting any forms you come across that you believe are a scam.
Direct Shipping