Disclosure: This post may contain affiliate links. If you click on a link I may make a small commission at no extra cost to you. You can read the full disclosure here.
Last Updated on October 23, 2022 by Chris Panteli
Companies That Pay For Ideas
Have you recently had that eureka moment and wondered if there are companies that pay for ideas? Is your invention or business idea groundbreaking and simply needs to be in the world?
Maybe your idea is wonderful but you have no expertise in taking it from concept to reality?
How can I get paid for my ideas?
Companies are always looking for new, original, innovative ideas and inventions that have market feasibility and profit potential. If your idea meets these criteria then you have an opportunity to sell this directly to them. Some companies will offer partnerships, license agreements, royalty payments or simply buy the idea from you for a one-off lump sum.
Well, getting paid for your incredible idea might not be as unrealistic as you may have thought. In fact, there are countless companies out there who are actively seeking innovative and original designs, ideas, inventions, and techniques that they can introduce to the market.
The upside for them is profiting off an original idea that has scalable and widespread feasibility. And the advantage for you is that an idea can exist outside of your imagination and potentially earn you some money!
This article will recommend a number of companies that are known to accept or entertain the possibility of developing an idea, invention, innovation, or concept. The list is accurate at the time of publication and will be updated periodically. For each listed company it is recommended to do your own due diligence and research before submitting any idea you may have.
What To Do With Your Idea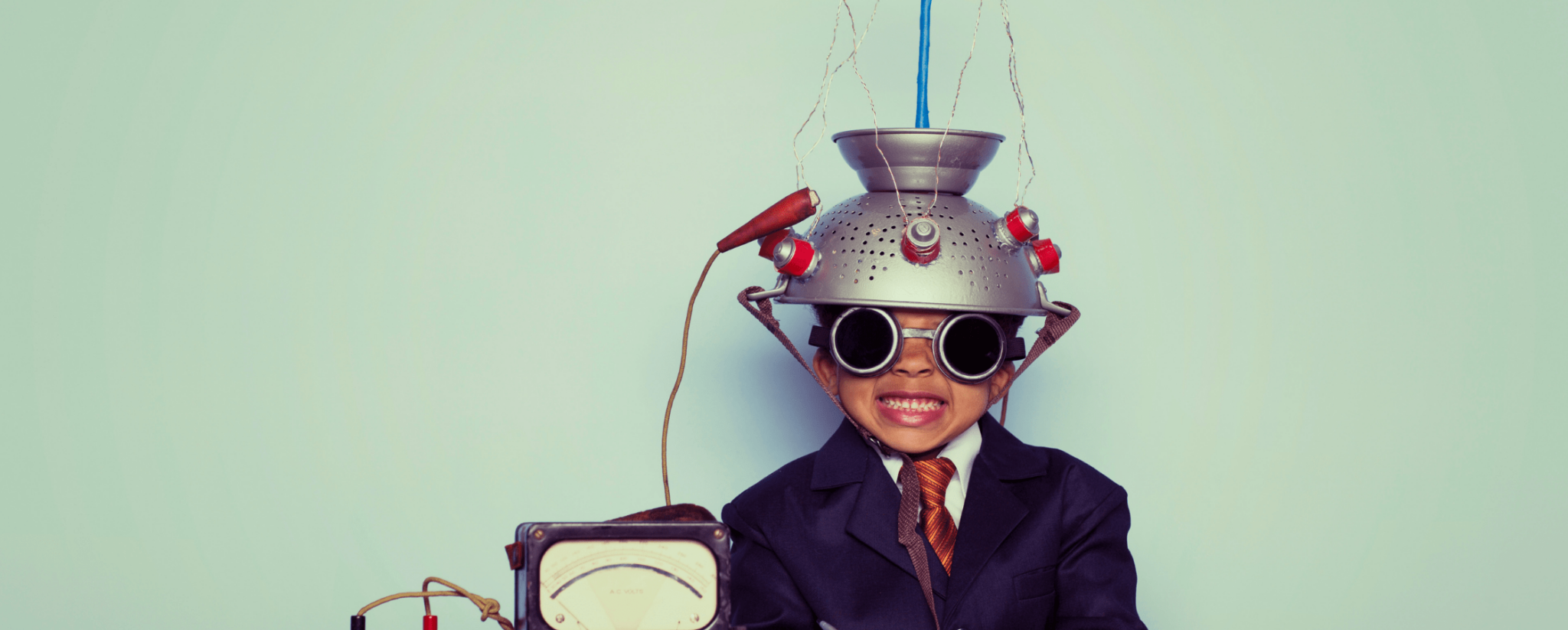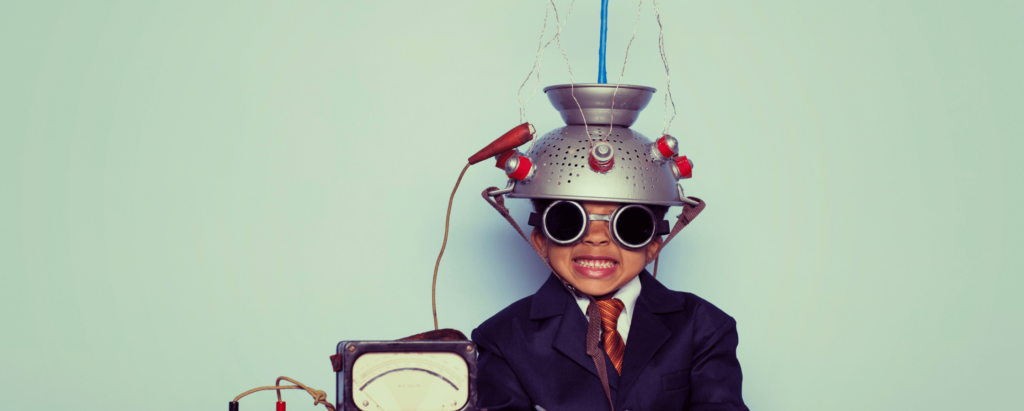 Having a new product idea or invention is an exciting prospect, especially when you think it's unique and has profit potential. But simply having an idea is one thing, making money from it is an entirely different kettle of fish.
I recently had an app idea (which we will discuss later in the article) and actually managed to get it to the MVP (Minimum Viable Product) stage before falling short of securing additional funding. The idea itself is still on my never-ending list of things to do, but without finding substantial investment it will no doubt be some time before it sees any further progress.
Unfortunately, the developmental costs for my innovative app idea would exceed $100,000, which is not feasible with my current financial situation.
So does this mean without having access to substantial finances even the greatest ideas are doomed to never see the light of day?
This entirely depends on a number of factors.
My idea was for an app, which would obviously involve high-level software development and skill in order for it to be produced. And if I were in a more lucrative financial situation then self-funding its development would have certainly been an option.
However, some ideas could be taken to market for substantially less financial input. And if the idea is more of an innovative business concept rather than a physical innovative product, this could be started by a hard-working entrepreneur for just a small personal investment.
Innocent Smoothie is a multi-million dollar company that is now part-owned by Coca-Cola. But this company was started from humble beginnings with three friends and an idea for naked ingredient smoothie drinks. They tested their idea at a music festival with two bins placed in front of a stall, one saying 'yes' and one saying 'no'. Customers voted with their empty cups and after finding the 'yes' bin full, they quit their day jobs the following day.
Whichever route you decide to take for getting your business or invention idea off the ground, there are a few steps you should definitely take:
As mentioned earlier, some of the companies that pay for ideas will require a patent number, and therefore you must go beyond these initial stages of development. It is recommended however that you at least have your idea documented with at least some basic research completed.
It is also a good idea to put together a product prototype – for which you can find more information on this great Entrepreneur.com article.
Why Would A Company Pay For Your Idea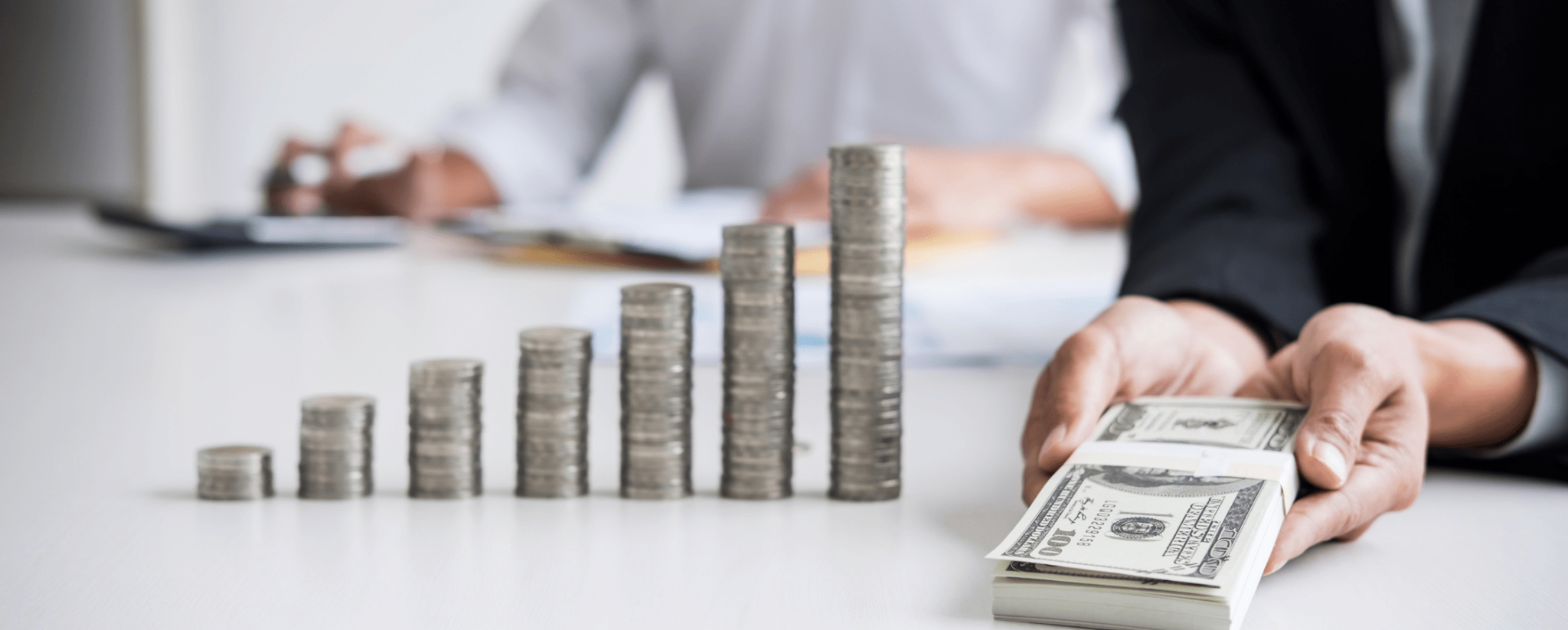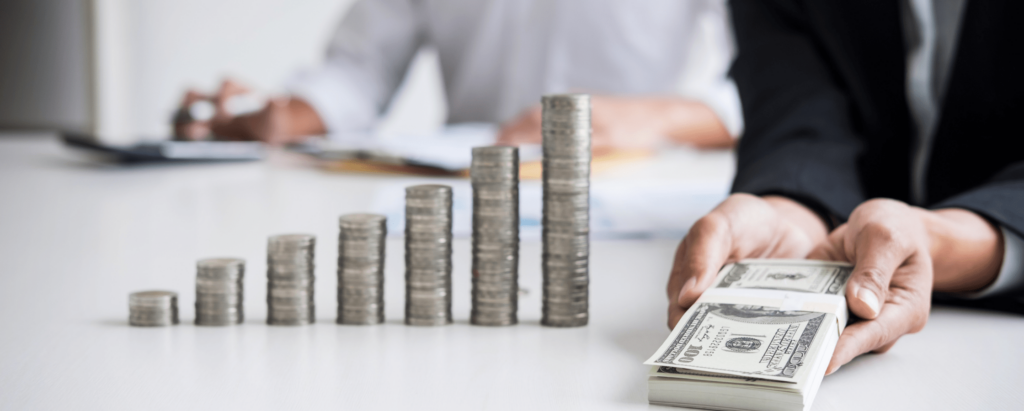 Now that you have determined your business or invention idea is commercially viable, the next step is to consider potential routes to market. There are 2 main routes, which include:
So why would a company be looking for you to sell them an invention idea?
Well, in the fast-paced world of innovation and competition, companies are constantly looking for ways to stay ahead, maintain relevance, and increase profitability. And this won't always be viable with in-house teams.
If your idea is good and has true market viability, then the question shouldn't be what companies might want to buy my idea, but rather, how much should I be looking to get for it?
In 1990 the Sloan Brothers licensed their invention 'The Battery Buddy' to MASCO Corp and generated upwards of $1 million dollars in royalties.
And while success in landing licensing deals is by no means guaranteed, the better your idea is, the more chance you will have. This is why it's so important to have done your research, due diligence, and to present your product or idea in a professional and appealing way.
Finally, the great thing about the upcoming list of companies is they are actively seeking inventions or ideas, or at the very least, have previously demonstrated that they will conduct business in this way. So unlike cold-calling, at least you start off with a fighting chance of landing the next great licensing deal.
Just make sure your idea is up to scratch as well!
Patent Vs No Patent
Some of the companies listed below will accept an idea as a formal submission and compensate you with royalties accordingly. However, some companies will stipulate that a patent number is required for a valid submission – and this essentially means you need to have patented your invention.
It is also important to note that perhaps contrary to popular belief, you cannot in fact patent an idea in its raw form. So if your invention is only at the idea stage of development you will be unable to submit it to the companies that have these requirements.
The US Patent Office has issued over 10 million patents
But don't fret, the idea can be patented as long as there are enough documentation and evidence to satisfy the request. If you provide relevant prototypes, abstracts, or drawings this can be enough to satisfy the criteria for a patent to be granted.
Your idea will also have to satisfy these criteria:
So the question is then should you apply for a patent for your invention idea?
If you meet the aforementioned criteria and believe in your idea then it is definitely recommended to at least begin the patent application process.
But remember, the process is timely and costly.
If the companies you are submitting to require a patent number then you may wish to consider the patent application process. Patent ownership will not only legally protect your idea but also provide you with a piece of intellectual property, which in itself is worth something.
The Patent Application Process
If you decide that your invention idea is worth patenting then you'll want to get the ball rolling on your application as soon as possible.
The patent application process can be summarised as followed:
The application process time varies depending on each application, but you can find a relatively accurate estimation using the USPTO website.
The cost of getting a patent for an invention idea varies depending on its complexity and the application process itself. It can be estimated to cost anywhere between $5000 and $40000 depending on the complexity of the idea and the quality of the patent attorney's work.
Use

LegalZoom

to file a provisional application for your patent!
This will establish your priority filing date with the Patent Office (USPTO) and means you can begin immediately labeling your invention as "patent pending."
Pricing starts at $199 + filing fee
To find the cost of filing a patent application, you can again use the USPTO website.
59 Companies That Pay For Ideas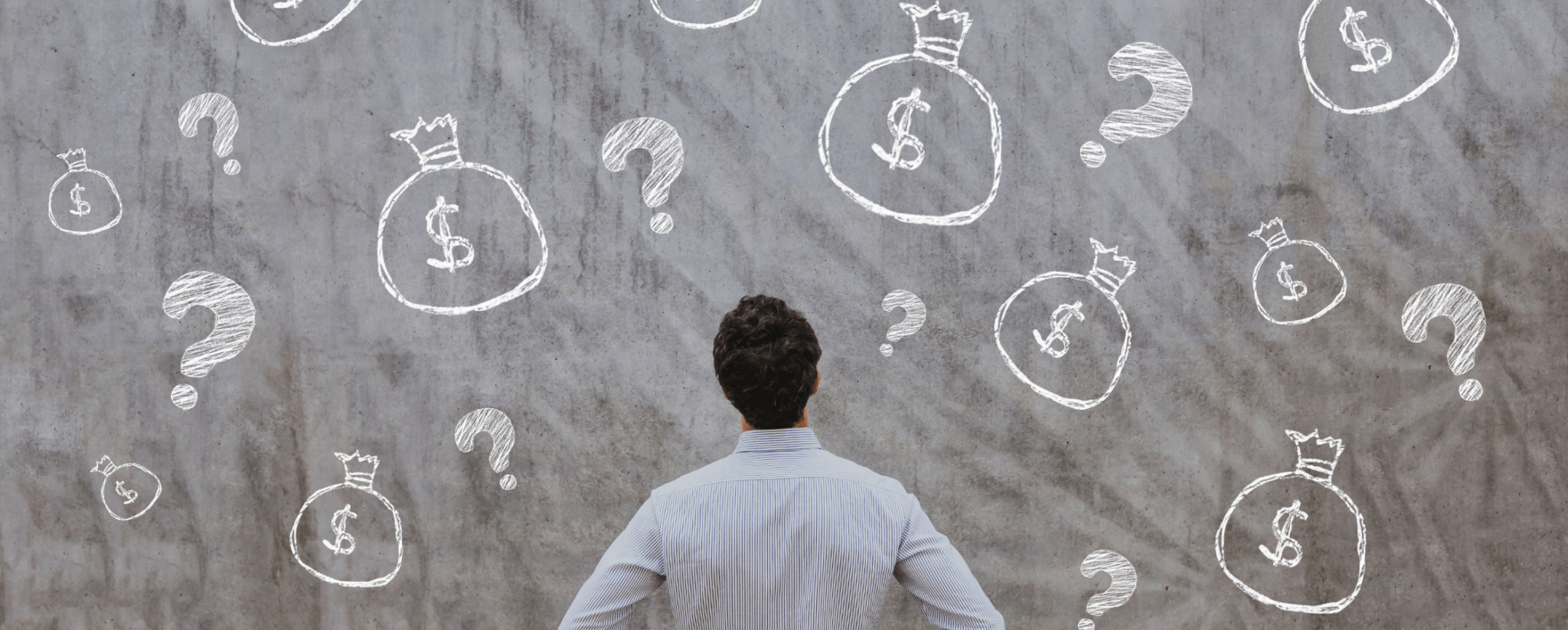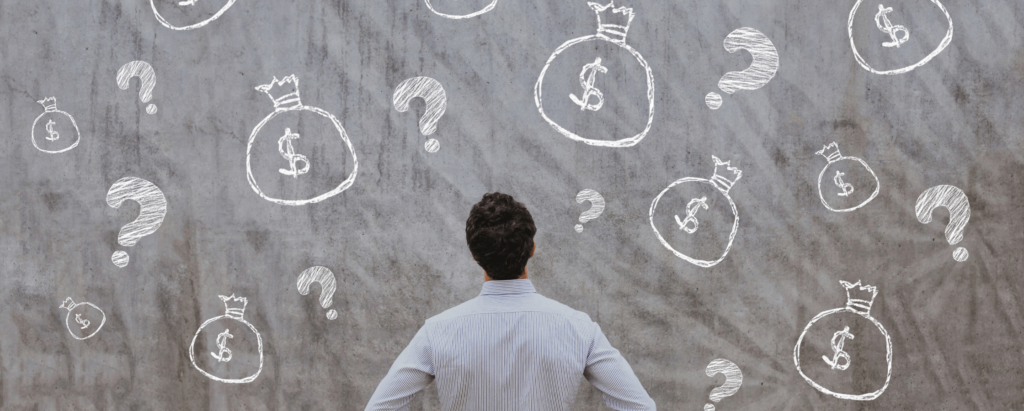 Here is the list you have all been waiting for, companies that pay for ideas – or at the very least will likely engage in a discussion with you to further the idea along the developmental process. In order to make this list slightly more navigatable I have sectioned it out into categories:
Industrial
This list of companies broadly operates in the industrial sector and produces products such as tools, hardware, and moldings. If you feel your invention idea fits into this niche then these companies are worth reaching out to for further discussions.
Tailor Made Products
One of the leading custom injection molding companies in the Midwest. They began with affordable high-end kitchenware products and have now, as a result of working with inventors, expanded their range to include pet and hardware. They are focused on penetrating multiple marketplaces and encouraging a drive for innovation. Tailor Made Products like you to be as complete as you can with your product and to be open to collaboration.
Worksafe Technologies
Providing engineering supported products and services they are in the business of protecting your business. They live off open innovation preferring elegant and simple solutions. The company often deals with every-day inventors and designers, who have managed to identify a problem that is not currently being satisfactorily solved. Worksafe Technologies prefer to work with ideas that already have some proof of success with real users and not just an idea on a piece of paper.
Easy Do Products
A British manufacturing company that primarily focuses on household cleaning products. They have the full capability to take a product from concept right through to production. Most of their output focuses on injection molding but they are open to ideas that fall outside of this arena.
Tovolo
Offering a wide range of innovative and stylish designs this company actively engages with public submitted ideas via its website. Categories for design ideas include cleaning, tools, food prep, outdoor, frozen, and beverage. When submitting an invention or design suggestion to Tovolo you must ensure your idea has a published patent number, otherwise, the suggestion will not be reviewed.
BD
This company has been leading in healthcare safety and technologies for more than a century and operates in sectors such as Diabetes Care, Medication Delivery Solutions, Pharmaceutical Systems, and Surgery. They accept ideas in the forms of drawings and literature only and must be sent via physical mail. They typically take between 4 and 6 weeks to process ideas and respond.
3M
This is a huge multinational conglomerate and is a science-based technology company committed to improving lives and doing business in the right way. They have a large foothold in worker safety, consumer goods, and US healthcare. You can submit your ideas directly on their website but I do not advise this method. The company does accept unsolicited ideas but automatically owns your idea upon submission – as per their terms and conditions. You should instead reach out and ask for an NDA to be signed before disclosing any details.
Crown
Headquartered in Philadelphia, Pennsylvania, Crown is a company that manufactures metal beverage and food cans, aerosol containers, closures and capping, and specialty packaging. They are the leader in metal packaging technology and have operations in 47 countries. They have an open innovation portal and have keen interests in shelf-life enhancement, improved manufacturing, new packaging technologies, and sustainable packaging. You can submit ideas directly on their website and they aim to respond within 30 days of receiving material.
Hillman Group
Initially a fastener company, now a top provider of complete hardware solutions, offering a wide array of products. Claiming to simplify the hardware buying experience and an industry leader to top home improvement and local hardware retailers. Hillman Group is happy to utilize ideas that inventors bring to the table especially when they are backed up with some knowledge and experience.
Hyde Tools
A leader in specialized hand tools for homeowners, trade professionals, and industrial users. Hyde is often the brand of choice for many and the name is synonymous with innovation. They love to work with inventors who have a passion for their ideas, especially when they have real-life experience with them.
Bosch
Bosch is a German multinational technology and engineering company and has operations in consumer goods, mobility, technology, and energy. This huge company is always looking to expand its portfolio of world-renowned designs through collaboration and cooperation. They even have a dedicated innovation submission portal where you can send your ideas.
Kikkerland
This company prides itself on innovative and unique products designed to solve problems for its customers. Kikkerland Design offers the world's largest collection of ingenious items combining form, function, and delight. They have a direct submission portal on their website for your ideas and pay royalties up to 5% for designs that are chosen to be produced.
Consumer Products
These companies mainly focus on consumer products and include some large multinationals as well as smaller operations.
Design Ideas
This is a product development and wholesale company that 'plays hard' to successfully create a full range of functional, fashion-forward, moderately priced home and office accessories, for the design-conscious consumer. They have an in-house design team but are happy to take outside submissions. Design Ideas believe in teamwork to create and deliver wonderful products for all to share.
Oxo
A manufacturer of kitchen utensils, office supplies, and housewares. Oxo believes there is always a better way to do anything. They take every opportunity to improve a product or a process to make your life better. They are always looking to spot the next great idea and are prepared to go through every submission in-depth to find it.
Garden Weasel
A company that's been in business for over 40 years and has products for every lawn and garden project needs. Their solutions are innovative, great value, easy to use, and durable. The website states they are currently not accepting new ideas, but in these situations, it's still worth firing off a well-crafted email. If your idea is clear, unique, and solves a problem, then a solid pitch may get your foot in the door.
Chef's Planet
At Chef's Planet, they are cooks just like you and me and they are keen to design products to fit an active lifestyle. Exploring ways to make cooking easier and more enjoyable for the busy family. They like you to have the right tools for the job. An 'inventor' friendly company, always looking for new ideas and happy to sign NDA's.
Joseph Joseph
A design and manufacturing business for functional products used every day. Their range of kitchenware is designed to help make cooking and food preparation tasks simple. They are sure they can provide you with just the item you've been looking for to master any recipe. They work with external designers as well as in-house.
Lifetime Brands
A leading global provider of kitchenware, tableware, and other home products. They believe a great idea can come from anywhere and anyone with a proposal deserves to be heard. They have an unwavering commitment to innovation and aim to make products that make your life easier.
Architec Brands
Designers of houseware and food preparation products using elements of architecture. Their creations are all about innovation, color, and fun. They like to work with a different inventor every year and are keen to hear new ideas.
Hampton Direct
Marketers of some of the world's most successful consumer products. They focus on developing, marketing, and branding innovative goods for household problems. If Hampton Direct believes in your product they like to invest in it 100% to get it to the marketplace more quickly.
All Star Innovations
With over 20 years of success, this company has established itself as the go-to partner for inventors. They have launched over 300 products and have partnered with retailers such as Amazon, Walmart, and Macey's. They are currently seeking product ideas in over 20 categories including Beauty, Automotive, Personal Care, Smart Home, Storage Solutions, and Lawn and Garden. They have a 4-step product submission process available directly on their website.
Unilever
A global company selling fast-moving consumer goods. With transparency being important to the company as well as the customer a list of product ingredients used in home and personal care products are made available on their website – their purpose is to make a sustainable living. If you have a new design or technology that could help them grow their business they are keen to work with you through Open Innovation.
Procter & Gamble
A multinational consumer goods corporation, whose brands are trusted by millions in living rooms, kitchens, utility, and bathrooms – passed down from generation to generation. Procter and Gamble believe that collaboration accelerates innovation and trusts that the biggest business wins come from working together.
Dorman Products
Headquartered in Pennsylvania, Dorman Products has been the automotive aftermarket solution since 1918. So if you have an invention idea in the automotive maintenance niche this could be the company for you. I only recommend this route as a last-ditch attempt with a great idea, because Dorman pays a cash price of up to $500 for successful submissions. And if the idea is really great, you could earn far more with a licensing or partnership agreement instead.
Sharper Image
Sharper Image is a household name and specializes in home electronics and lifestyle products. The company has a dedicated email address for product idea submissions and can be found on the customer service page of the website.
Henkle
This worldwide company operates in three main sectors including Adhesive Technologies, Beauty Care and Laundry & Home Care. They have a number of options when it comes to innovation partnerships and invention ideas. For startups, they offer mentorship and high-level investments in exchange for up to 20% ownership. If you already hold a patent for your idea then they have a submission portal where they will examine your proposal.
And if you have an innovative idea for Laundry & Home Care solutions without a patent you can submit it directly on the website.
Jokari Home Solutions
The great thing about Jokari is they are actively searching for the next big idea in housewares. The company has been turning invention ideas into best-selling products ever since it was founded. Jokari is built on the premise of hunting down great product ideas and licensing them out in exchange for royalty payments. It's what they did with their first-ever product and continues to do to this day. They have a dedicated submission portal for inventors on their website.
Kids
Who doesn't love the thought of designing the next big kids toy? Not only could you make an insane amount of cash, but think of the joy you could bring to little munchkins all over the world! Here are some awesome companies that pay for ideas in the kid's niche.
Play with a Purpose
Specialists in promoting products for active play and leading the way in action-packed entertainment. If you have an original idea to submit then Play with a Purpose may be interested in partnering with you to help bring it to life.
Creative Kids
This company is driven to bring superior products to market with a commitment to innovation and quality-driven toys. Inventors are encouraged to submit via email which is regularly reviewed to see if they can find the perfect fit for their company.
Hogwild
A purveyor of innovative novelty products designed for older kids (over 8yrs) leading up to adulthood. Hog Wild is always looking for new ideas and is happy to seek outside inventors for help from all walks of life. They promote that NDA's are gladly signed and enforced.
Thames & Kosmos
Highly regarded by parents and teachers as a useful resource for actively encouraging enthusiasm for science through Kosmos science kits. Varying from small single-experimental kits to immense, cutting-edge kits with hundreds of experiments. Ideas welcomed from the inventor community and you are actively encouraged to get in touch via their website where they have a location for inventor submissions.
Hasbro
Hasbro Toy Company is a multinational conglomerate that is keen to bring your inventions to life. They welcome ideas for games, toys, or new technology to create the world's best play experiences.
Basic Fun
Identifying themselves as creators of fun, makers of toys, and experts in play. They are keen to work with top-notch inventors who can bring innovation to their existing product line. As leaders in toy production and distribution, they will help bring your ideas to the next level.
Spin Master
A global toy and entertainment company, marketing consumer products for children and creating exceptional play experiences. Spin Master pride themselves on bringing families together through the joy of play. They are proud of their partnerships and associations with inventors around the world and are keen to push the boundaries and offer opportunities for further innovation.
Zing
Known for delivering high-quality toys for kids of all ages that stimulate imagination, activity, and physical coordination. Hoping to encourage through play a healthy and active lifestyle, Zing is always looking to work with inventors for new and exciting products.
Zuru
A world-leading toy company that stays true to its roots, whilst also believing in preparing for the future. They credit a large portion of their success to the 'inventor community' and are always keen to find the next great idea to help turn it into a global brand.
Far Out Toys
A rapidly growing force in the toy market and keen to launch exciting new brands. Far Out Toys are actively inviting individuals and companies to present them with their concepts. They believe they can be great partners, possessing resources and contacts to create and market first-class products.
Fat Brain Toys
A toy company whose mission is to provide education and learning toys that are carefully chosen to inspire creativity. The company designs world-class toys and games that spark curiosity and enhance the whole family's play experience. Fat Brain Toys are proud of their hospitality and quality products – proving what hard work can achieve.
Wham-O
A toy company whose brand is synonymous with play, fun, and sport. Offering a wide range of consumer products that interest people of all ages. Wham-O is keen to encourage the curious mind that sees beyond the ordinary. They are eager to see ideas for new and exciting products. With an open submission facility, they look forward to reviewing outside innovations.
B3
A company that is keen to increase outdoor activity and unite people in the pursuit of fun. Creators of Bean Bag Bucketz want to help you bring your ideas to life. If you have an idea that matches their vision they are keen to give you the opportunity to see your product be enjoyed by others.
Pets
The pet market is huge, at USD 225 billion in 2019, and expected to reach USD 358.62 billion by 2027. It's no wonder so many people are drawn to this industry with invention ideas. Here are some top-level companies that pay for ideas and could help bring your creation to life.
Coastal Pet Products
A manufacturer who designs and delivers pet products to an extremely high standard where quality is guaranteed. If you feel your product is a good fit for Coastal Pet Products, then they welcome your fresh and innovative ideas for consideration.
Petrageous Designs
Creators of a wide range of unique products for cats and dogs with the company's love of animals shining through in their fresh and creative ideas. Petrageous Designs are always looking for new products and are actively encouraging new inventors to help expand their horizons.
Spot
A company that believes in ethical products for dogs and cats including toys, dishes, waste management products, and other accessories. They take pride in providing pets and their owners with the absolute best. Spot is keen to work with product developers and inventors helping them to bring their ideas to life and easing the transition from vision to production.
Hyper Pet
An industry-leading brand in award-winning dog toys, dog collars, and leashes. They are dedicated to growing their expansive product lines and love to work with inventors to help make their ideas marketable to be mutually beneficial.
Miscellaneous
Not all companies that pay for ideas fit neatly into any one sector. So, here you will find a list of companies that collaborate and partner with inventors but operate across less niche specific industries.
Planetary Design
Products to complement a passion for the great outdoors and amazing coffee! Committed to quality – French Presses and drinkware that you can take anywhere and brew everywhere. Designers of reusable and refillable canisters that provide optimal dry goods storage. If you share their passions where coffee meets the outdoors they are happy to hear your ideas.
Idea Buyer
Promoting themselves as the perfect partner to launch your product idea. Idea Buyer is a company whose main focus is to turn your project into a business. If you're selected you will have the opportunity to be involved in a joint venture to take your idea to market.
Joseph Enterprises
Founded in California in 1981, Joseph Enterprises is a gadget company that is famous for The Clapper and the Chia Pet. They love to talk to inventors.
Eco Products
A green company that makes sustainable disposable products. Their challenge is for people everywhere to rethink single-use products. If you have a creative concept, they are looking for novel ideas that provide value to the business and the environment.
Suck UK
A design and development company that creates giftable products. Suck UK prides itself on innovation and quality you can trust. They love to receive ideas from designers. Their philosophy is that a good idea can become a great product.
Under Armour
A leading sports equipment company that manufactures footwear, sports, and casual attire. Their innovations are built to perform. They are happy to work with product developers to help bring your game-changing innovation to life.
General Mills
A multinational manufacturer and marketer of branded consumer foods. General Mills Worldwide Innovation network actively seeks partners who can help deliver breakthrough innovation.
Escalade
A sporting goods manufacturer and distributor. They are looking for ways to bring new ideas to the market and know that partnering is a basis for success. They are seeking opportunities to advance their long-term growth objectives and are keen for innovators to share their ideas with them.
SwimWays
Designers of products for water lovers by people who love water. New product ideas are critical to SwimWays. Many of their ideas are submitted by outside inventors or just someone with a new idea.
Rico
A one-stop sports shop for everything fans needs especially for the NFL, NBA, MLB, and the NHL. The company has earned a reputation for trust and integrity among its customers. They have set out their criteria for new product ideas and the submission process – if your proposal fits then you are invited to submit it.
Nautilus Inc
A worldwide marketer, developer, and manufacturer of fitness equipment. A company committed to helping people reach their fitness goals. Nautilus seeks ideas and innovative ways to create effective and high-quality exercise equipment.
Mustang Survival
They design, develop, and manufacture marine safety and climate protection products for users in the recreation, professional, and military markets. They are always pushing for the best products as they can mean the difference between life and death. If you have an original invention that you think can be part of Mustang Products and Solutions then review their New Product Idea Submission Process.
Quirky
An invention company that assists inventors in the development process. The company website lets people sell their inventions in an online shop or several retail stores including Home Depot and Best Buy, with whom they have partnered. If you choose to market your product with Quirky you receive a portion of the profit made. Every month Quirky picks new ideas to turn into new products.
Wilson
The Wilson Sporting Goods Company is a sports equipment manufacturer for a myriad of sports. In May 2020, it was announced that Wilson became the NBA official ball supplier. Always with an eye out for the next big game-changing idea, they are happy to receive submissions that are reviewed periodically.
Coleman
Coleman produces outdoor recreation products such as tents, shelters, airbeds, stoves, lighting – with new categories being introduced regularly that will inspire exploration of the great outdoors. They are interested to hear your ideas for outdoor products that fit with the company ethos.
Pro Performance Sports
Producers of sports training products with a mission to provide opportunities for aspiring athletes to fulfill their potential. They are interested in hearing ideas that you believe would be a good fit for the company.
Selling An App Idea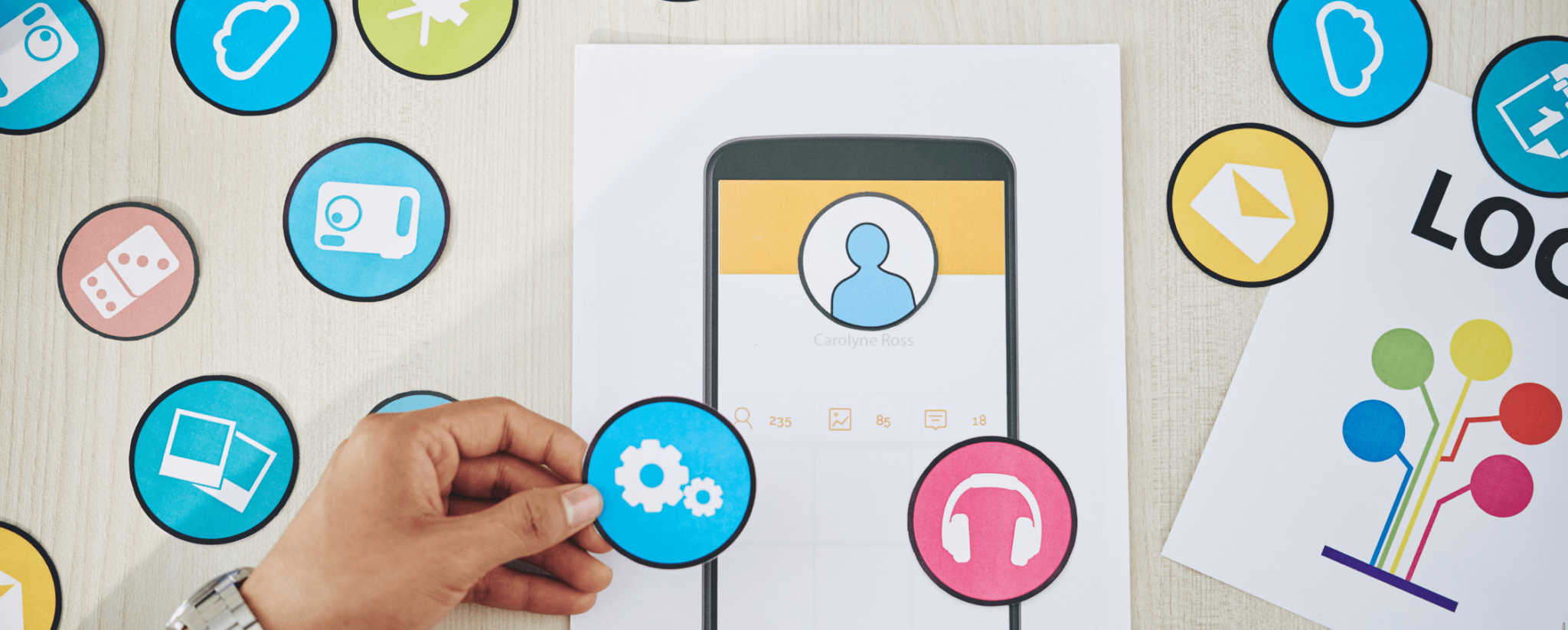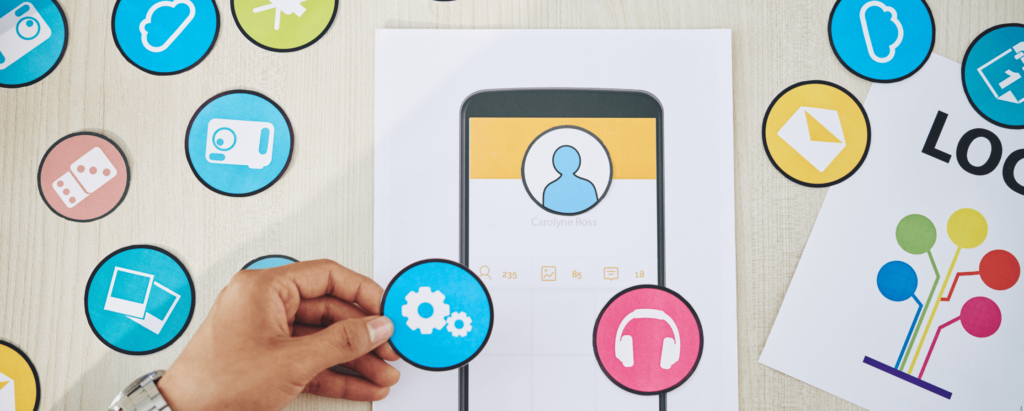 Who among us hasn't had an awesome idea for a new app?
I know I did, and I'll share some of the details about it coming up.
With regards to patents, apps are no different to invention ideas in the sense that once created they cause the smartphone to function differently – which means they can be used and therefore satisfies the USPTO criteria (as long as the app is inventive and no patents for the idea currently exist).
The problem with app development is the complexity required and therefore the significant costs involved. That's why it's far easier to find companies that pay for ideas when looking to make money in this market.
And it's definitely a market that has huge potential for vast profits, with the global industry expected to reach $366.34 billion by 2027. And while these figures are exciting, it's worth noting that 80-90 percent of mobile apps launched in the app stores are abandoned immediately after a single-use.
Before sharing a list of places you could potentially sell your app idea, I think it's worth sharing some details from my own personal journey.
After a considerable amount of research, it became clear to me that selling an app idea required a lot of work. Simply firing off an email with your idea outlined in a couple of paragraphs wasn't going to cut it.
To increase your chances of success it's best to provide as much detail as possible without investing money into actual development. I believe it's far easier to find investment for joint development once you have a proven MVP (Minimum Viable Product) – which is essentially a working version of your app that does not require full functionality.
This is the stage I managed to get to with my app idea before falling short of finding investment (more on potential investment partners coming up).
I was able to get some UX/UI designs produced from a great designer off Fiverr – which didn't break the bank and provided some really nice visuals to include within my business plan: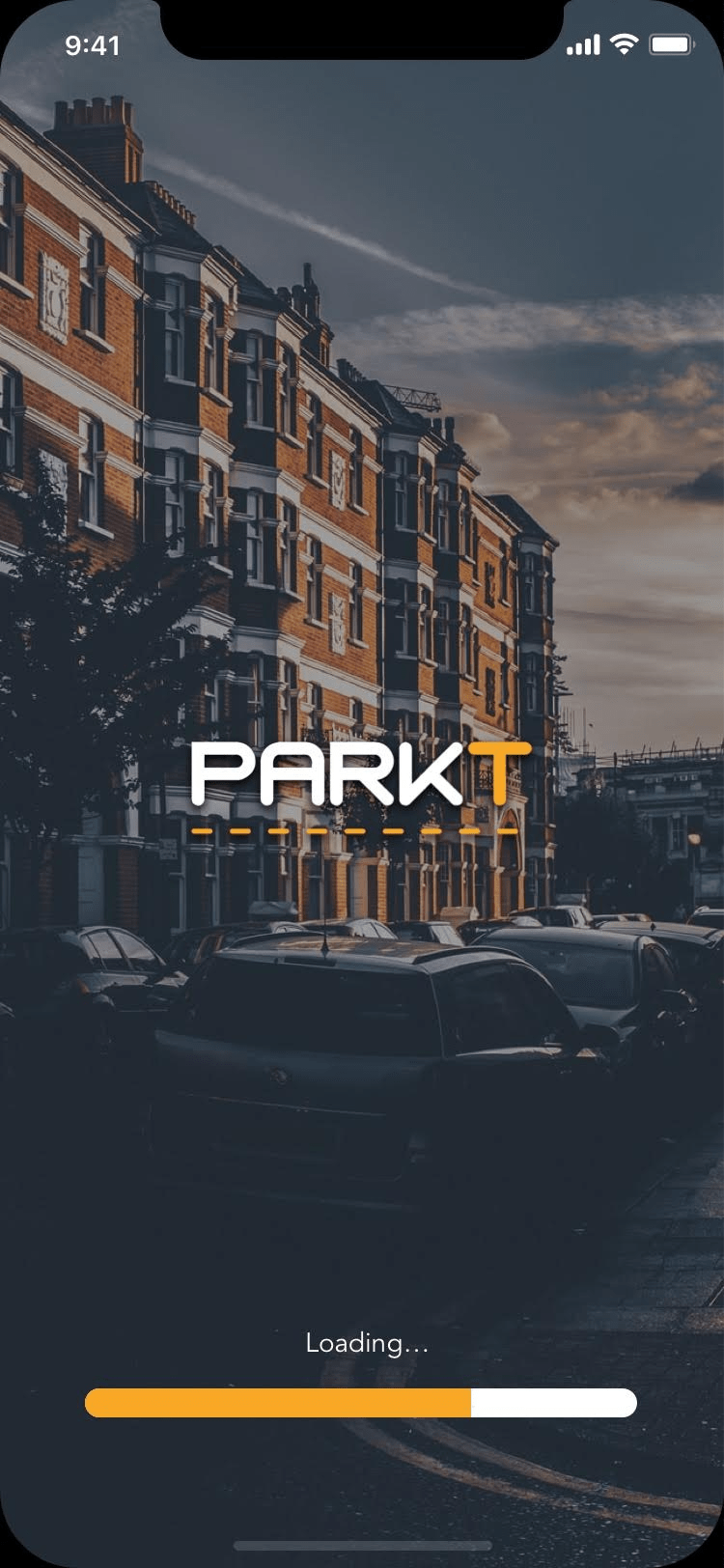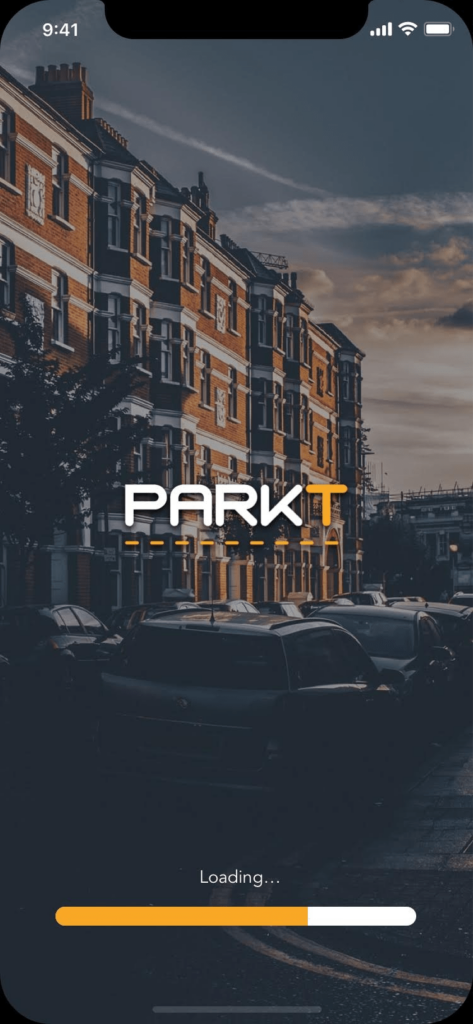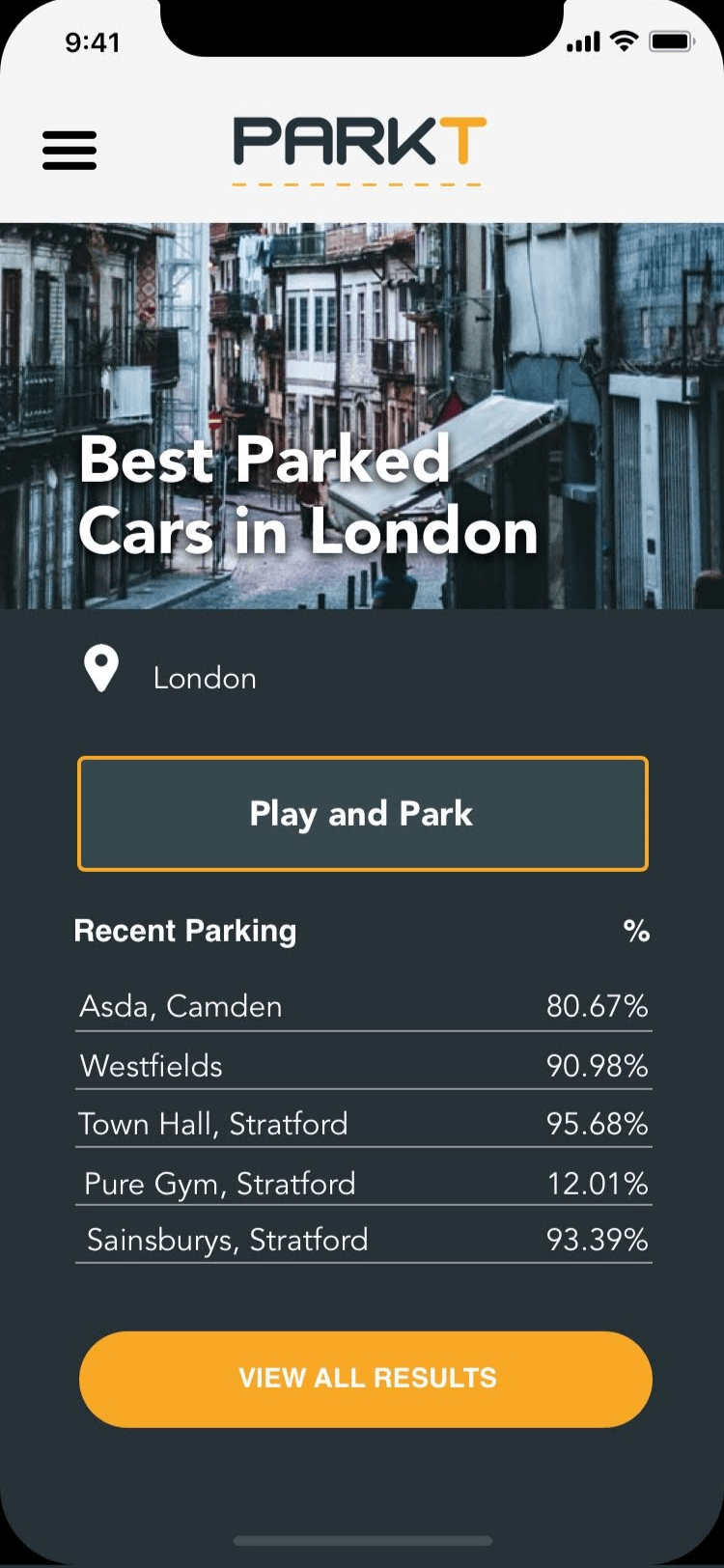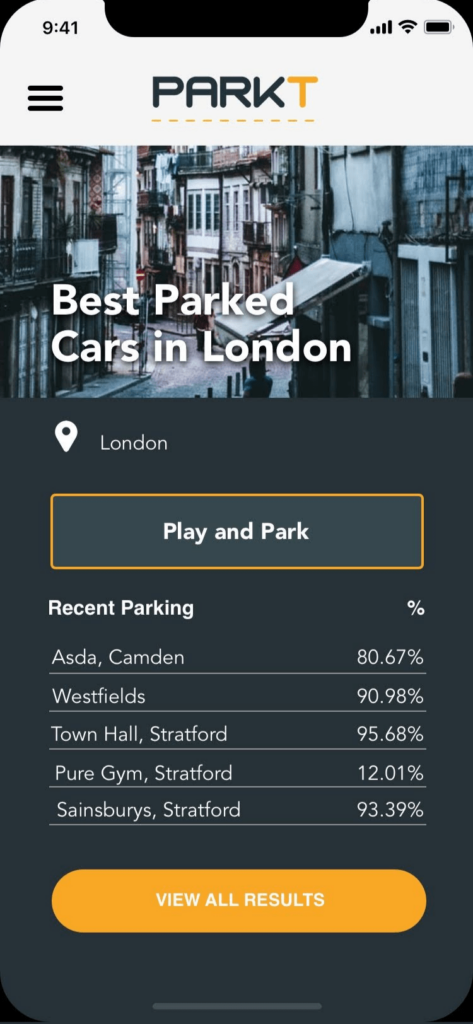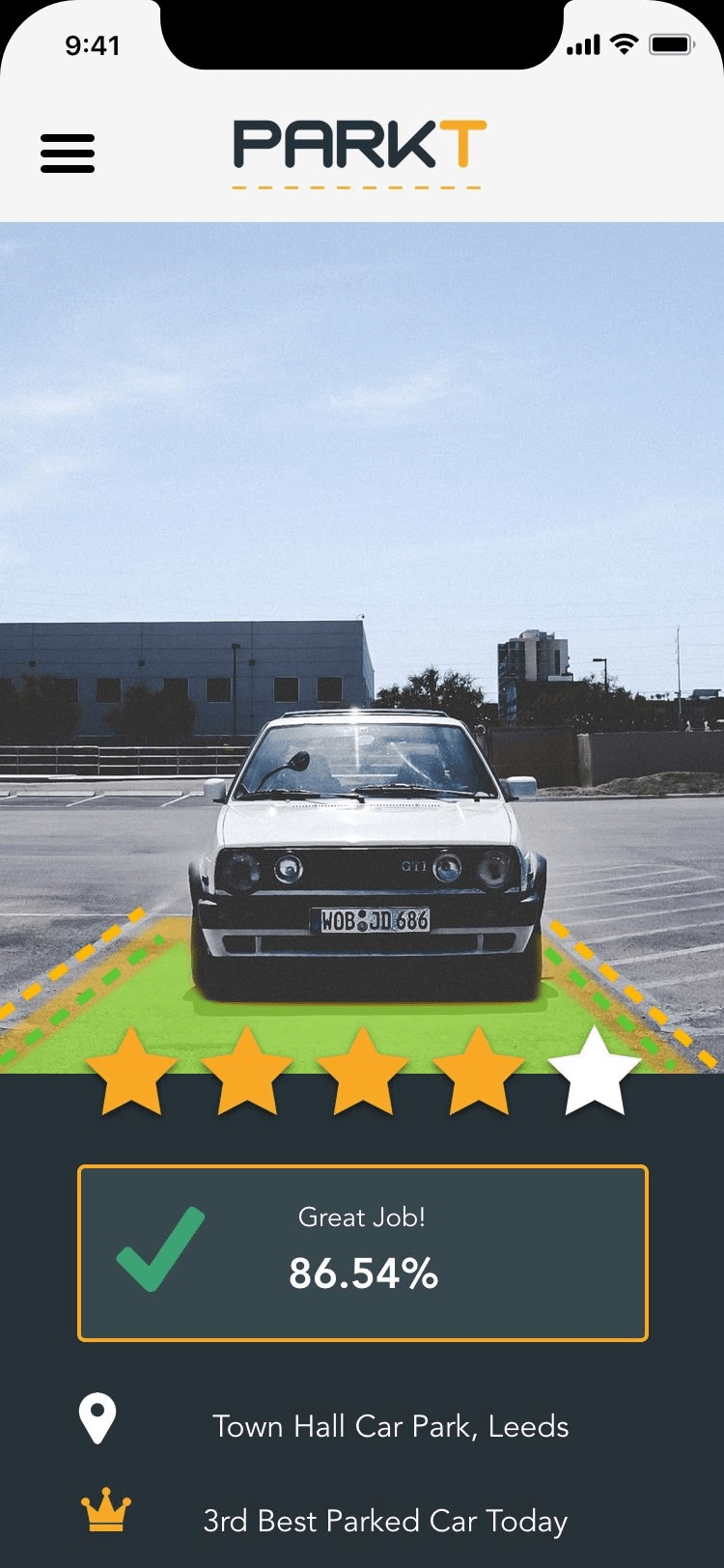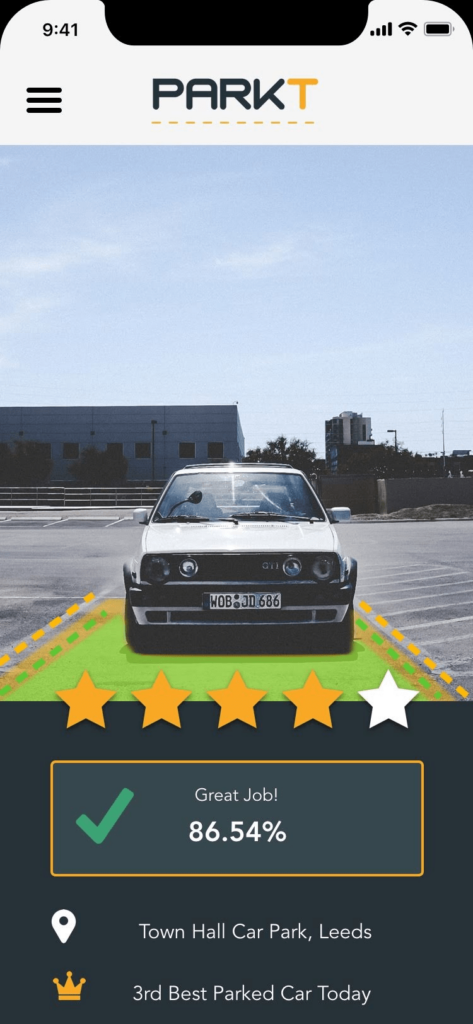 Without giving away too much about my Parkt app idea (you never know, development may still be an option in the future) it was essentially a gamified parking app that would be monetized through geo-tagged ads and in-app purchases. The competitive element would also allow for user engaged competitions as well as prizes and discounts.
The next stage of development meant I invested in having a basic MVP put together – and this required the use of AR to detect cars parked within a parking bay:
Unfortunately, the coding required to make this function even at the basic level was beyond the developer's capability. And any further progression would have required significant capital investment, which was not feasible at the time. And after lengthy attempts to find alternative funding, the idea was laid to rest.
If you think you could do better than me then here are a few places that could potentially buy your app idea or fund its development from the idea stage:
Some of these companies (I had conversations with almost all of them) will not buy your idea alone and require some investment on your part. My advice if you have insufficient funds is to offer the companies an equity split in exchange for them taking on the development costs. This is the approach I took (albeit to no avail) but I did manage to engage with some pretty big companies that at least showed some interest.
More Routes To Market For Your Idea
Selling your invention idea to companies that buy them might not be the best route for you to take. Your idea may not be exactly what they're looking for or the sort of deal on offer might not make financial sense to you and your business. Don't forget, these companies will be looking to maximize profits, and this will likely be at your expense.
That's not to say this isn't a great route for certain situations.
I love it when on 'Dragons Den' someone turns down an offer because they feel the equity is too much to give away – and the dragons always say 'a small percentage of something is better than nothing'. And this is so true, if it means getting your idea made and making some money, then finding companies that pay for ideas is a no brainer!
That being said there are some other routes to consider in getting your invention idea off the ground:
FAQs
How can I get paid for my ideas?
You can get paid for your ideas by selling them directly to companies, self-manufacturing, self-development, funded development, or joint venture development.
How can I sell my ideas for money?
If you wish to sell your ideas directly then consider approaching companies that pay for ideas. You may wish to consider negotiating a licensing agreement, equity ownership split, or simply sell the idea for a fixed amount.
How do you sell an idea to a company without them stealing it?
If you wish to discuss your ideas with companies whilst maintaining some form of legal protection against theft you will require the use of an NDA – which can be acquired via LegalZoom.
How do you legally protect an idea?
You can legally protect your idea by getting a patent. This will only protect your idea in the countries for which the patent application is made and approved. If you wish to legally protect a brand name or written material you will need to consider Trademark and Copyright protection.
How can I patent my idea for free?
You cannot patent an idea for free – there are inherent costs and fees involved with the application process. You can save money by making the application yourself, but this is not recommended.
Companies That Pay For Ideas