Disclosure: This post may contain affiliate links. If you click on a link I may make a small commission at no extra cost to you. You can read the full disclosure here.
Last Updated on July 27, 2023 by Chris Panteli
Cheap Date Ideas For Teens
Dating as a teen should be fun, exciting, and a part of growing up that you can look back on with fondness. One thing a lot of teens struggle with is not having enough money to go on a date!
The good news is that I have the ultimate list of cheap date ideas for teens here for you!
What are some cute cheap date ideas?
There are loads of cute and cheap date ideas for teens. When money is tight – which it often is as a teenager, you can still create a magical date where you both get to enjoy each other's company. The important thing is to make sure you are comfortable in your environment and have plenty of things to talk about.
Never again do you have to put off asking that special someone out due to a lack of funds.
Whatever the weather, no matter whether you can drive or not, or regardless of how much money you have in your pocket, there is an idea here that you can easily use to have a great date.
Inexpensive Dates For Teenagers
All the suggestions listed here are fantastic cheap date ideas for teenagers. If you are a teenage couple or parent reading this, there are a few things you should think about when deciding which date to go on.
First, you may need parental permission – from both sets of parents! Depending on the ages involved some parents may not be comfortable with their teenagers going on some of these dates.
Always make sure both sets of parents have no objections to the dating or the activity itself.
Parents may also want to set curfews and arrange adult supervision. Discussing needs beforehand makes for a much easier time as there will be no surprises or arguments when date night arrives!
The next step is to pick your budget. If you have no money at all, then simply choose from the dates that are completely free, or maybe you can convince the bank of mum and dad to help you out! (sorry parents!).
Get $5 For FREE Right Now
Signup to the greatest rewards platform on the internet and earn a $5 welcome bonus…
Earn more with cashback on all your purchases, watching videos, playing games, and taking surveys. Some users can make an extra $200+ per month!!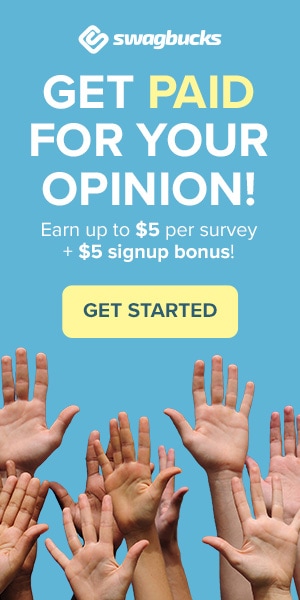 Once you know how much you can spend, focus on the cheap date ideas that are within your budget. I promise there are lots of great ideas to pick from!
You should also think about transport or any other things you may need. Can you drive yourself? Will you need someone else to drive you? Would public transport be an option? Think about how you will get there and home again when picking your date idea.
Finally, and probably most importantly – pick a date idea that you and your date will be interested in. There is no point doing an activity that one of you won't enjoy!
Learning the art of communicating now will be a great dating lesson that will serve you well as you get older. Talk to your date before agreeing to anything so you both understand what you enjoy and can plan an awesome date to remember!
51 Amazing Cheap Dates
The dates listed here can all be done cheaply or even for free! Each section will give you some awesome date ideas you can do at home or outside.
Ready to learn some impressive date ideas? Read on!
Ultra Cheap Date Ideas For Teens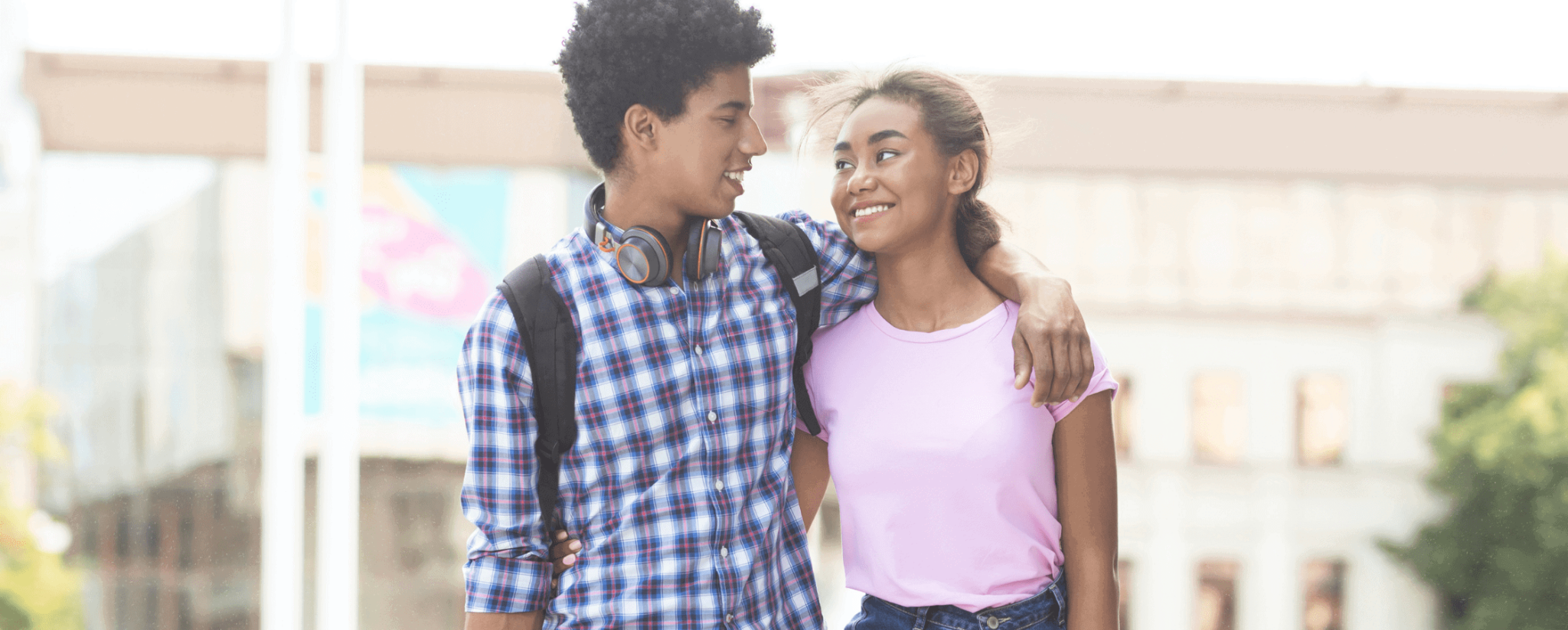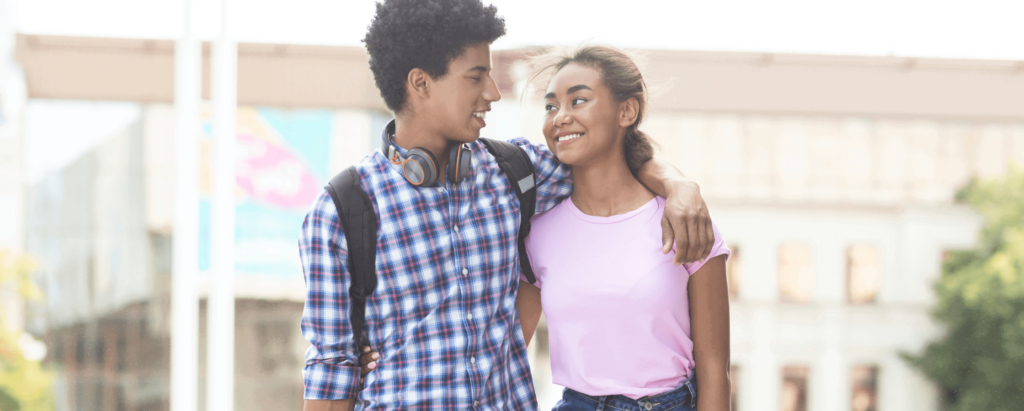 In this first section, you can find out more about some date ideas that are ultra-cheap. Despite being cheap date ideas, they are all lots of fun and will give you and your date a great way to bond.
1. Go For Ice Cream
Ice cream ticks all the boxes – going out for ice cream is cheap, fun, and everybody likes ice cream!
What is your favorite flavor? Chocolate, pistachio, or something more exotic will be available at your nearest ice cream parlor.
Even if your date has special dietary needs there are lots of ice creams available these days that can cater to all sorts of requirements. Dairy-free, gluten-free, and more can all be found if required.
This means all couples can enjoy a cute and cheap ice cream date. Unless they do not like ice cream of course but would you really want to date someone that doesn't like ice cream!
2. Go For A Starbucks
Popping to Starbucks for a coffee and a snack is a cheap and lovely way to spend a date. You can be in comfy surroundings and chat over coffee to get to know each other.
Spend the time asking about each other's interests or discussing the last movie you saw.
To help you make this date even cheaper check out my awesome guide – 13 Ways To Get Free Drinks At Starbucks.
Learn how to get free drinks, refills, and other amazing ways to save money on coffee!
3. Bike Ride
Most teenagers have a bike – please make sure your date does before suggesting this one! Or at least be prepared to ask to borrow one if need be!
Going on a bike ride is free, good exercise, and you can go anywhere! Head out for the day and go to a beach, an ice-cream parlor, or somewhere else you fancy.
Remember – always wear a helmet and carry water with you as well. Do not get hung up on looking cool – you wouldn't want to ruin a date by having a medical emergency!
4. Do A Puzzle
A great ultra-cheap date idea is to get together to do a puzzle. Make it cozier and more romantic by having some snacks and drinks while doing the puzzle together.
There are many awesome puzzles you could do as a couple. One of the cutest puzzles to do on a date is this 1000-piece red umbrella couple puzzle.
Lots of couples regularly do puzzles together – it is a great activity to bond over and good for your mind!
5. Sightseeing
Sightseeing is totally free to do and is lots of fun! Spend the day with your date exploring and finding hidden gems that you have never seen before.
Walk around your city or small town, head to the outdoors, or take each other to places you already know about.
There are lots of ways to sightsee and there are always new things to discover!
To make things more interesting why not sightsee without searching online for ideas. Simply pick a direction and start walking to see what wonders you can find!
6. Walk The Dog
If one or both of you have a dog, then arrange to take them for a walk together. If suitable, you could take the dogs to a local park to play – just make sure the dogs like each other first!
Taking the dog for a walk is a great date idea as it is free, good exercise, and you get to spend time with cute dogs!
If you do not have your own dogs why not ask friends, family, or neighbors if they would mind you taking their dog for a walk.
Recommended: Get Paid To Walk Dogs
7. Fly Kites
Flying a kite can be heaps of fun and super cheap! You only need a kite and some wind, and you are good to go!
If you live in an area that has wind all the time, then you could try this date idea anytime. Go to a local beach, park, or another local spot to make the experience more interesting.
Watch out for other people as you wouldn't want to run into anyone!
You could even make your own kites if you can buy the materials – and you could even do this together as a creative start to the kite flying date itself!
You might be able to make a kite by using things that are at your home already – remember to ask your parents before using anything though in case they need it.
8. Go Thrifting
Thrifting is a great way to spend a date. Give yourself a budget of a few dollars or whatever you can afford. Now you and your date can have a contest to find certain items up to that value or try to find the tackiest item that you can for a dollar.
Make it fun by doing these challenges and seeing who can buy the most for the least cash.
If you prefer you could take things more seriously. Try to find the best things to buy cheaply that can be sold for a profit. Check out local thrift stores, yard sales, or go to a flea market.
Both of you buy an item, then sell it using sites like eBay. Whoever makes the most wins and those profits can be used to pay for future dates (or if things go well, a wedding).
Recommended: Flea Market Flipping | The Ultimate Guide to $2000 a Week
9. Go To The Mall
Going to the mall may not seem like a cheap date idea, but it can be. You do not have to spend lots of money when you are at the mall. In fact, you don't have to spend any money at all if you do not want to!
Browse shops that are of interest to you, get a snack or a drink, and simply hang out together. A fun thing to do at the mall is people watching. Create stories about the people you see and invent some funny secrets for them!
The point of going to the mall is that you get to spend time together getting to know each other whilst having some fun as well.
10. Bake A Cake Together
Spending a date baking is not only cheap but is also entertaining and romantic!
Working together to bake a delicious cake will help you get to know each other and find out what the other's baking skills are like! By the end, not only will you have had loads of fun making a mess while baking, but you should also have a tasty cake that you can enjoy eating together.
The good news is that you do not need any baking skills to do this. Look for recipes online to find baking ideas that excite you!
Do not forget to clean up – especially if it's your parent's kitchen!
11. Go To The Zoo
Zoos are an awesome place to visit. Plenty of cuddly animals to see and a few scary ones too!
Take your date to the nearest zoo, buy ice cream, feed the animals, and have a great time.
If you have a car, check for any drive-in zoos in your area. These types of zoos or safari allow you to get up close to all the animals as they clamber over your car!
It is probably best not to take mom or dad's new car for this one!
12. DIY YouTube Tutorial
DIY is not just about home improvements. Although I am sure your parents would be happy if you put some shelves up!
Instead, search YouTube for some fun DIY tutorials. Craft your own lipstick, fashion some new clothing, or learn how to make stunning floral arrangements.
Make Your Own Lipstick Balm & Eyeshadow Makeup DIY Craft Do It Yourself
Tap twice to load then open Video...
Whatever you fancy doing and can afford the materials for there will be a suitable YouTube video available!
Give it a go with some music on in the background and you have got yourself a fun date activity.
Exciting Cheap Date Ideas For Teens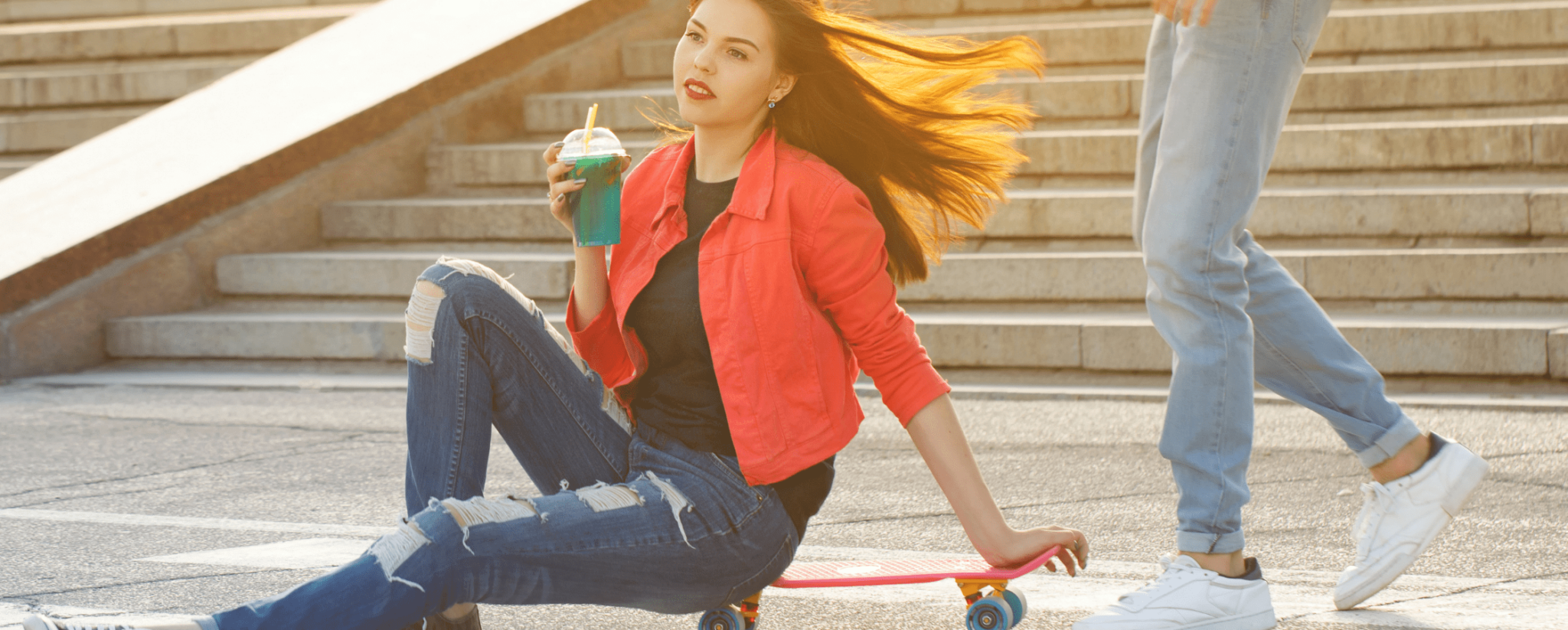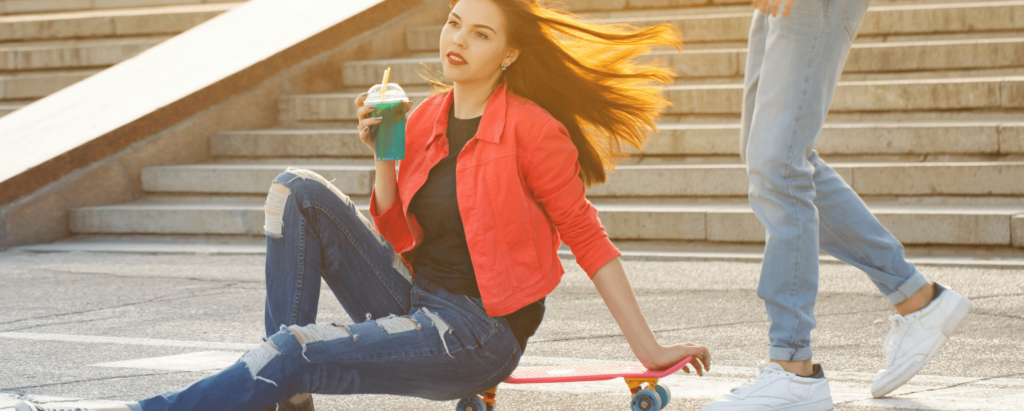 Do you and your date like activities that require a little more energy? If so, these exciting cheap ideas are great ways to spend time. You can both get to know each other whilst doing something fun like skating or bowling. Find out more now.
13. Go Ice Skating
A romantic yet energetic way to spend your date is to go ice skating! Or roller skating if there are no ice-skating rinks in your area.
You and your date can have fun skating and picking each other up when falling down. The good news is that if the weather is bad, it does not matter – simply find an indoor skating rink and your date can go ahead as planned!
Many rinks allow you to hire skates while you are there which means you do not have to spend lots on equipment.
Recommended: 32 Easy Things To Rent Out For Profit
14. Do A Hobby Swap
What better way to get to know your date, than by swapping hobbies? Find out how each other spends their free time and maybe learn a fun new hobby in the process.
Baking, gardening, playing video games, or painting are all fun and inexpensive hobbies.
By developing mutual interests, it could make future dates much easier to plan!
15. Go To The Movie Theatre
Going to the movies has been a cheap date idea for teens since the movies began! Grab some popcorn, get cozy, and settle in to watch the latest rom-com or action flick.
If you can drive, then you could go to an outdoor movie at a local drive-in movie theater.
Head over to Fandango to see what is on and when.
Tip – Can't afford to go to the movie theater? Have a movie night at home. Dim the lights, make your own popcorn, and have yourselves a cute movie night at home!
16. Comedy Show
Going to a comedy show can be a great way to let off some steam as you laugh the night away. You and your date can have a great night full of laughter whilst spending quality time together.
Use a service like Ticketmaster to find cheaper comedy nights within your budget. As a general rule, look for acts that are not well known. Lesser-known comedy performers will usually be cheaper.
Tip – Don't sit at the front unless you are comfortable with the comedian engaging with you during the act!
17. Go Bowling
Taking your date to the bowling alley can be lots of fun and is not too expensive. A great thing about bowling is that you can be a little silly when bowling but still competitive.
Just do not be a sore loser or you may not get a second date!
18. Go Fishing
Depending on where you live fishing may be something that you already do regularly.
Taking your date fishing is a lovely way to spend time. Pack a picnic, some drinks, and spend the day chilling by the river waiting for a catch.
Want to take things up a notch? Go boat fishing!
The beauty of fishing is that even if one of you doesn't like it, it doesn't matter. You can still spend a nice day together getting to know each other and relaxing in the outdoors.
Recommended: Make Money Fishing: Ultimate Guide
19. Visit The Water Park
In the summer you cannot beat spending the day at a water park. Lots of thrills on the various slides keeping you cool in the hot sun.
Not only are water parks heaps of fun, but it is an energetic way to spend your date. This means at the end you can relax in the shade somewhere with snacks and something refreshing to drink.
Just do not forget the sunscreen!
20. Go Kayaking
Kayaking can be hugely exciting and really gets the heart pumping! There are lots of wonderful locations that allow you to kayak with various degrees of difficulty.
Maybe avoid rapids if you are a novice!
One handy tool to use is the Go Paddling app. Download the app or use the website to find suitable kayaking spots. Go Paddling also provides lots of guidance on equipment, training, and planning your trip.
Have a look now for further inspiration!
21. Ride A Train Somewhere
Although this idea will cost some money, if you plan it right it could be ridiculously cheap. Search online for the best deals on train tickets.
Going for a train ride could be a fantastic adventure. Pack a picnic so when you get to your destination you can have a cheap lunch and explore a new place together!
Heading off to somewhere you have never been before can be an awesome way to build a bond with your date. Discover exciting places to picnic, swim, or explore, and then head home on the train.
Romantic Cheap Date Ideas For Teens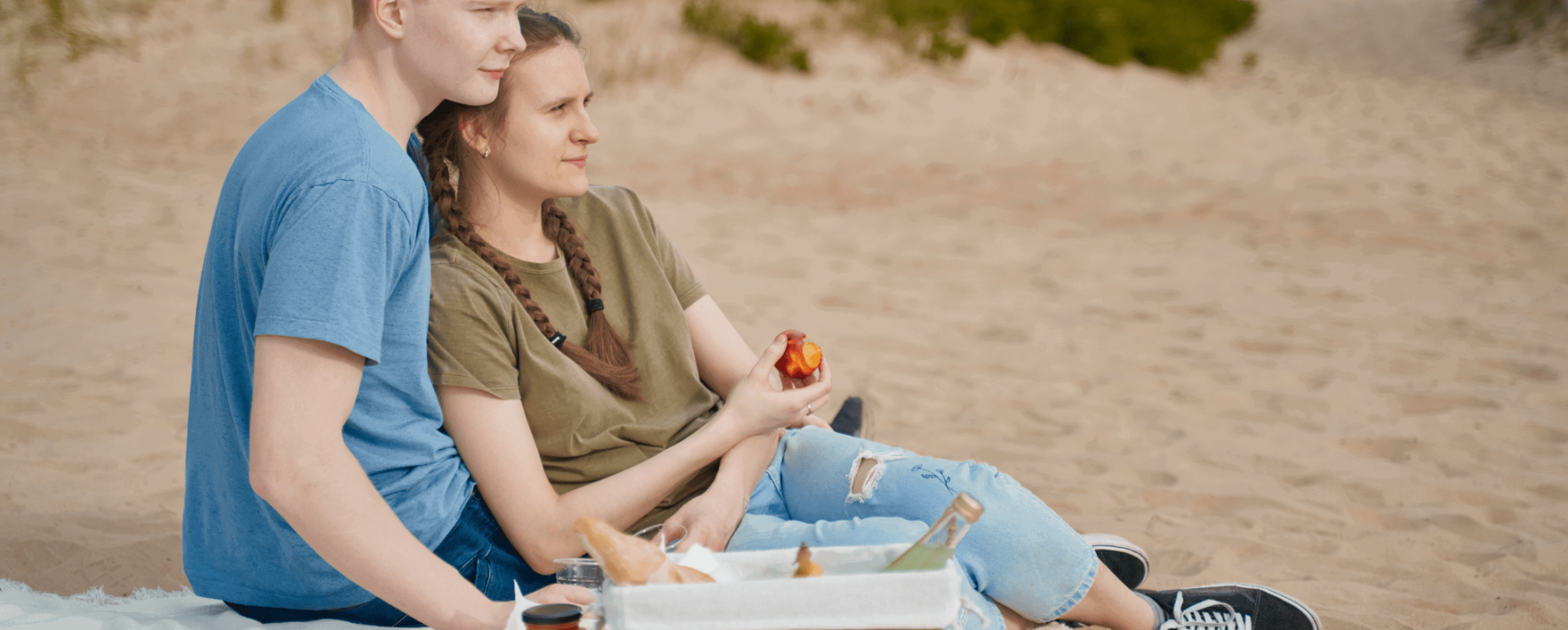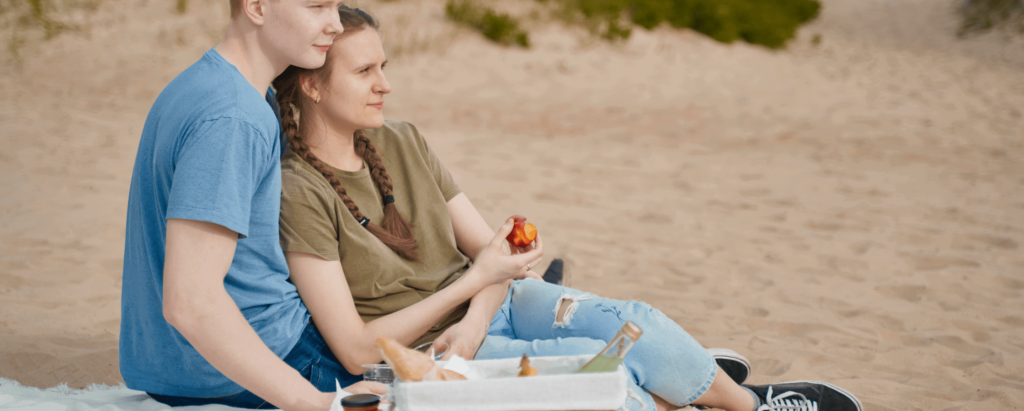 You have done the hard part and asked out that special someone. Now you want to make it as romantic as possible, but you do not have much money to spend.
Worry no more – the great news is that this section covers some romantic ideas that are low cost or even free! Enjoy!
22. Have A Picnic
A classic date idea is to go for a picnic. Even when you have some money you cannot beat putting together some favorite foods, heading off to a secluded spot, and spending the day enjoying each other's company.
Local parks, beaches, or nature reserves are great places to go on a picnic date. Picnics can be put together cheaply – sandwiches, cakes, and fruit are all excellent cheap food choices you can enjoy together.
Do not let the weather put you off. When it is cold or rainy simply wrap up warm or have a picnic in your living room if the weather is exceptionally bad!
23. Hammock In The Park
How can you make a date in the park better? With a hammock of course!
You and your date can easily set up a hammock anywhere it is safe to do so. Together you can spend the day relaxing, enjoying some food, and talking the day away!
These portable hammocks are ideal for dates like this. Lightweight, easy to set up, and super comfy! Plus, they can be used anywhere!
24. Botanical Garden Trip
Going to a botanical garden can be both romantic and fun! Spend time walking hand-in-hand through the trees and flowers. Sit and take in nature's beauty whilst getting to know each other better.
Take the time to learn about some of the wildlife found in the garden – this could even be helpful with school work!
25. Hiking
Getting outside is a great way to spend your time and even better on a date. So why not go hiking together?
Hiking means you are getting exercise, fresh air, and have the time to get to know each other. You do not have to go far – hike around your local areas. If you can drive – then head off to well-known hiking spots.
Follow your chosen hiking trail to see all that nature has to offer – wildlife, flowers, and jaw-dropping scenic views will all add to the romance of the date.
Just remember to pack food, plenty of water, and wear appropriate clothing to ensure the date goes well!
26. S'mores On The Beach
A tasty date idea is to take your date to the beach for some delicious s'mores.
Imagine the scene – you take a trip to the beach, it is getting darker, perhaps the sun is just setting. You light a small and safe campfire to roast some s'mores and watch the sun go down whilst listening to the waves crash over the shoreline.
Sounds awesome right!
Plus, all you need is the ingredients for s'mores, transport to the nearest beach (or other suitable places), and you have got a romantic yet cheap date!
27. Watch The Sunset
A cheap date most teens could do is watching the sunset (or sunrise). Arrange to go to a spot that has a great view. Go to a mountain, a beach, or somewhere similar to get the best view possible.
Apart from the money needed to get there, you should not need much else. Perhaps take a small picnic to make things more romantic!
28. Make Dinner
Cooking for your date is one of the most romantic things you can do. You do not have to be a master chef for this to be a success.
Make your date a meal that you know you can do well. Impress them with homemade food, sparkling conversation, and nice background music.
If you are feeling brave, then you could try cooking something new or asking your date what their favorite meal is and make that. Search online to find step-by-step guides on how to make meals you have not made before.
Tip – make sure to ask your date if they have an allergy or dietary requirements. You do not want to make them ill or there will be no second date!
29. Watch The Stars
Stargazing is an epic way to spend a date. Plus, it is totally free!
Get together with your date in the garden, park, or other open areas to spend time staring at the wondrous universe above. Hold hands and chat about your hopes and dreams.
If you really want to impress your date learn the names of some of the incredible constellations!
30. Paint With Each Other
Painting is so much fun and lets your creative side loose! As a challenge, you could try to do portraits of each other. Do not worry if art isn't your thing – make it a who can do the worst painting competition!
You could even purchase this inexpensive acrylic artist painting set. It won't break the bank and will provide you and your date with hours of fun!
The set includes paints, canvas, brushes, and a palette. It is ideal for beginners and you can have lots of fun mixing up the colors to create your masterpiece!
You also get a treasured memento of your date to keep – or you can throw it away if it is truly awful!
31. Go Skateboarding
Skateboarding may not sound romantic but consider this. If you are both inexperienced skaters, then you can have lots of fun figuring out how to skateboard.
Giggling together as you fall, landing on each other, or holding each other as you skate along can make this activity romantic!
To avoid serious injury make sure to always wear protective clothing including a helmet.
32. Take A Ferry Ride
If you live near a body of water that has a ferry crossing, then taking a ferry ride is worth looking into as a romantic date idea.
Ferry rides are usually extremely cheap to do or sometimes can be free! You could see some amazing things on a ferry ride such as dolphins, pelicans, or other wonderful wildlife. This will all depend on where you live!
Ferry rides in the summer can be a great way to spend a date. Being out on the water is relaxing and you get to (hopefully) see some awesome sights.
Stay At Home Cheap Date Ideas For Teens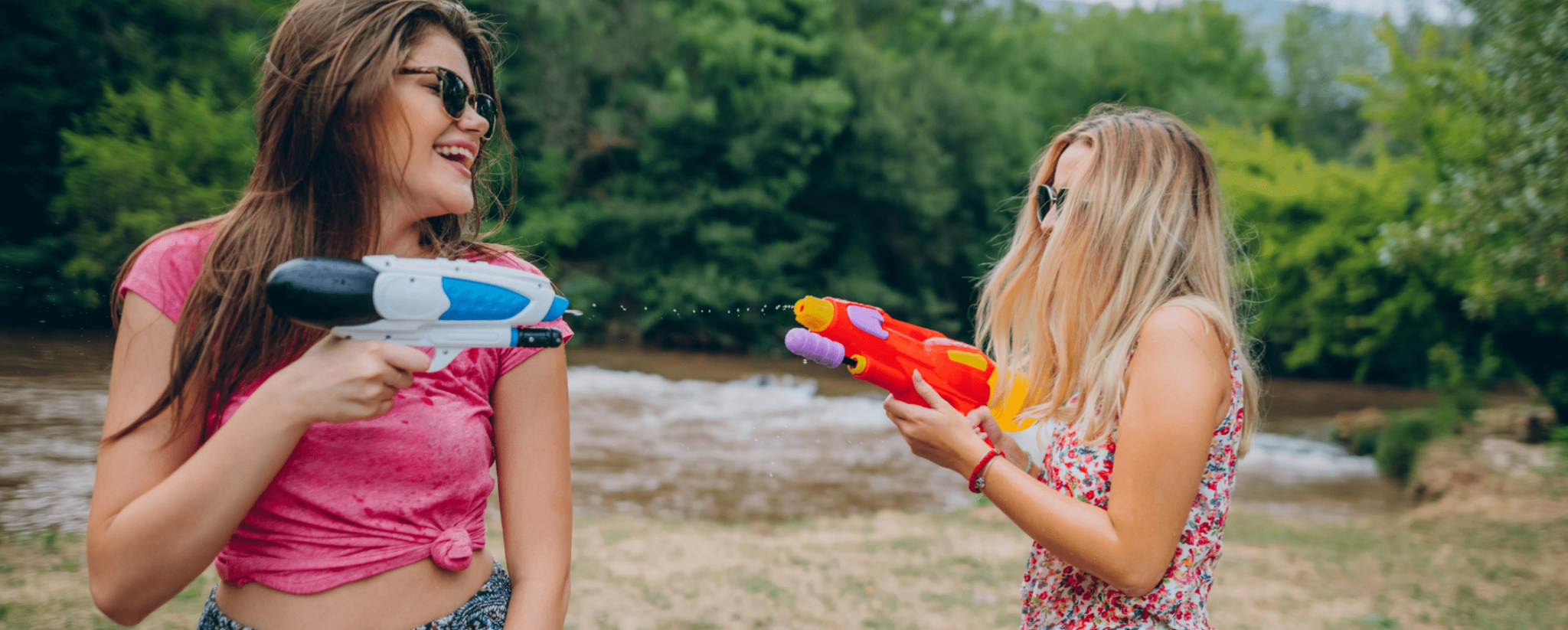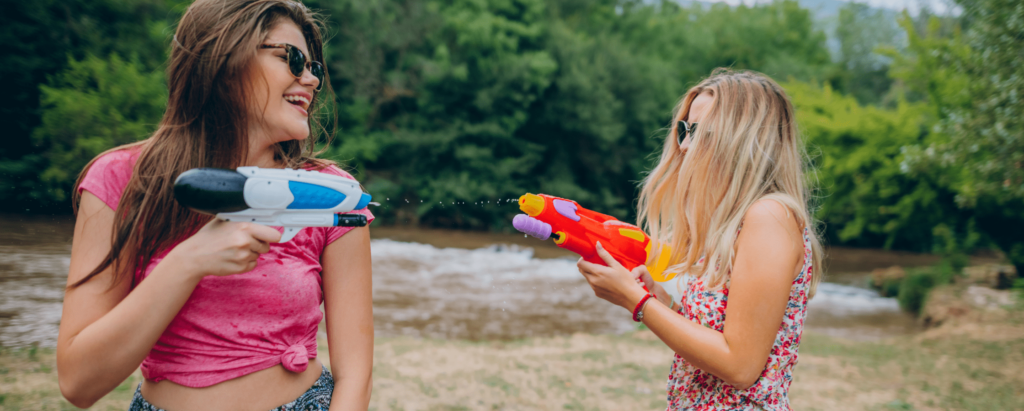 Many of the best dates can be enjoyed at home. The best thing about dates at home is that they are cheap! You also do not have to worry about transport. Here are some awesome stay-at-home date ideas.
33. Binge-Watch Prime Video
Prime Video has thousands of movies and TV shows you can choose to binge-watch. Horror, romance, action, comedy, and just about any other genre you can think of can be found on Amazon Prime Video.
Why not settle down with your date and binge-watch some shows or movies.
Make it super comfortable for them by getting their favorite snacks, drinks, and a comfy place to sit. You could do a 24-hour marathon or if that is too much simply stick to watching a few episodes at a time!
34. Do Yoga
An easy and free date idea is to do some yoga! Do not know how? Simple – search online using YouTube or other sites for yoga for beginners.
Romantic Partner Yoga for Couples
Tap twice to load then open Video...
If the weather permits you can do this outside in your garden. You do not have to buy special equipment or yoga mats. Simply put some towels down and you are good to go!
Keep in mind this is to have fun and have a good laugh as you try to follow the yoga instructor.
35. Have A Mini Book Club
If you and your date share a love of reading, then why not create your own mini book club!
You could meet at home and read books you already own – a great way to save money! Get comfy in your chairs with a hot chocolate while you read your favorite books and discuss your thoughts on them.
Making some tasty snacks, curling up together, and reading your favorite books is an extremely romantic date idea!
If for any reason you cannot do this at home, why not get together at a local bookstore or library. Most places allow people to sit and read there together. Then, when walking home you can discuss the book in detail.
36. Make A Blanket Fort
Dating is meant to be fun and a fun way to spend a date at home is by building a blanket fort! You do not have to stop at blankets – pillows, cushions, and boxes can all be used to make bigger and better forts!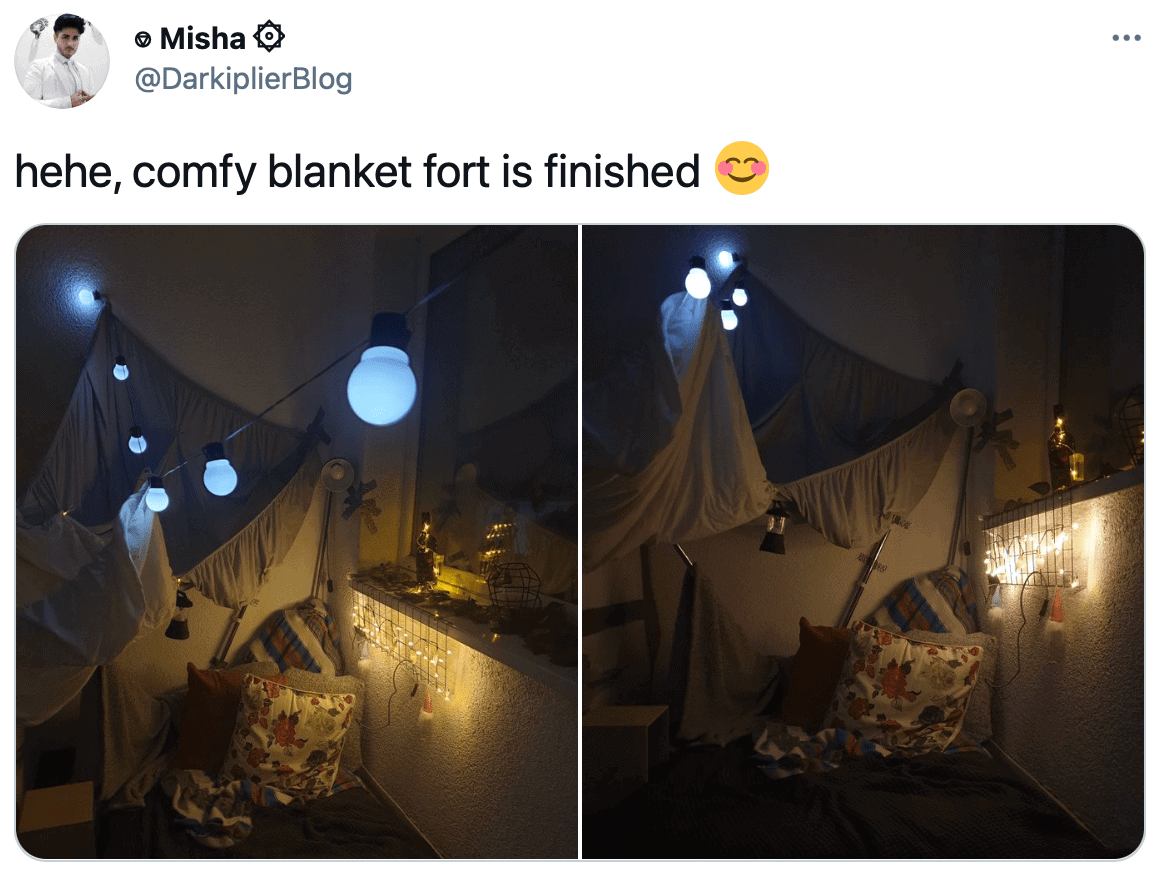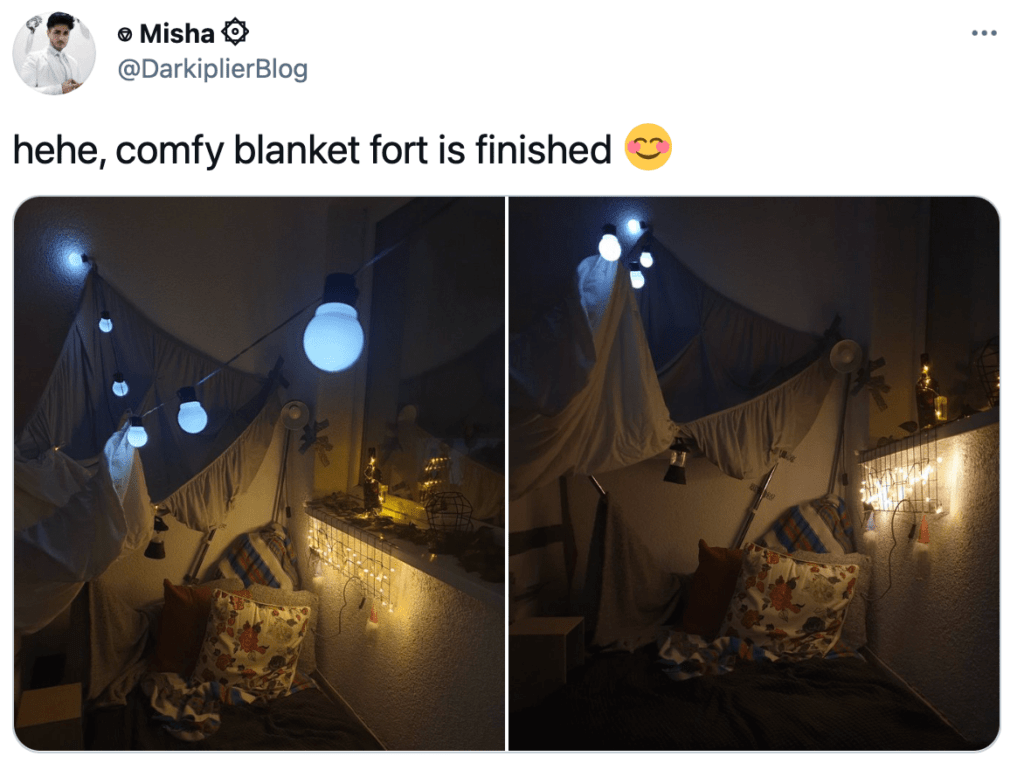 You could make a small fort to get cozy in or make things more competitive by seeing who can build the most creative blanket fort.
Go wild with your imagination and take some photos of your creations so you have a souvenir of the date.
37. Learn Origami
If you like learning new things, then why not make it into a date! Origami can be a great hobby to learn with someone. Pick an origami pattern to learn together and get frustrated together as well. By the end, you will hopefully both have had lots of fun!
Origami is cheap to get started and does not need any experience. Check out this origami paper kit with patterns to get started. It comes with paper and step-by-step illustrations of what you need to do.
In no time at all, I am sure you can create some origami masterpieces!
Make the date more memorable by having snacks, drinks, and a little music in the background to set the mood!
38. Car Wash
OK, washing a car may not seem like a fantastic way to spend a date, but hear me out.
First, you do not have any money to go out. A great way to get some money is by earning it! Earning it together means you both have some money to spend on a date. Plus, the work will be quicker to do!
Ask your parents or the parents of your date if they need their car washing.
Once you have done the job and got the money you could use it for a more conventional date. Go to the movies, buy ice cream, or get the ingredients you need for s'mores on the beach.
Whatever you want to do you can use the money for – this also means a better chance of a second date as you need to spend the money together!
39. Karaoke Night
Getting together for a karaoke night can be a great way to have fun and get to know each other. You could sing solo or do duets depending on how confident you feel.
Do not take it too seriously and simply have fun with it.
You can get a karaoke system for your home, such as this singing system that you can stream music to or use CDs. Once you have got the system you can use it again for future fun-filled karaoke nights!
40. Play Board Game
Monopoly, Cluedo, Scrabble, or Chess are a few board games that your date might enjoy. Do you have a favorite board game? If so, why not organize a date night to play your favorite board games together.
Both of you could bring your favorite and have a go at playing each one.
Cannot decide? Try this one – Talk, Flirt, Dare! A great board game for couples looking for something a little different and a fantastic way to get to know each other better.
41. Prepare A Scavenger Hunt
Scavenger hunts can be easily set up at home and do not have to cost anything!
You could set up the scavenger hunt around your garden or inside (if your parents do not mind!). Give your date the first clue and have fun working your way towards the end.
The final prize does not have to be anything expensive – it could be a small souvenir of the date like a handwritten note or even a chocolate bar!
42. Water Gun Fight
A water gun fight is a great light-hearted date idea that will not cost a fortune! It is also a great way to keep cool in the summer!
You will need to get some water guns for this but once you have them you can use them time and again. Take a look at these awesome water guns you can buy.
They are easy to use, safe, and perfect for water fights on those hot summer days!
Quirky Cheap Date Ideas For Teens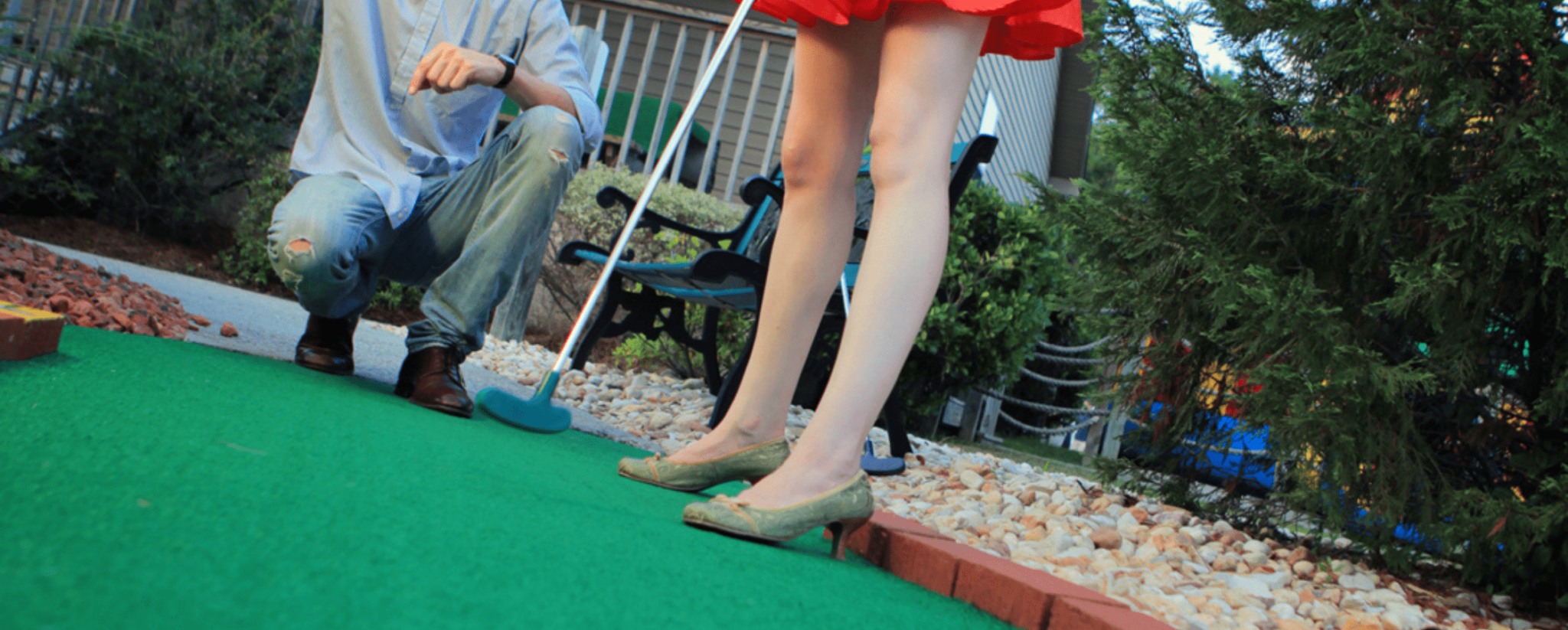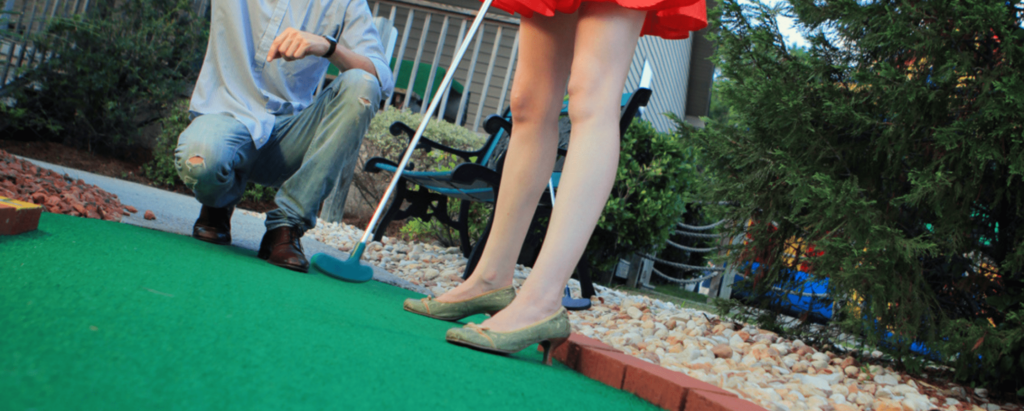 Making a date memorable is a great way to ensure a second date! Try some of these quirky ideas for something a bit different but still cheap!
43. Play Mini-Golf
Going to play mini-golf can be lots of fun. Many courses are inside which means it is a date idea that you can do any time of year.
Helping your date get past the obstacles or being super competitive and playing to win can be an excellent way to get to know each other.
Just remember to have fun and not be too competitive!
44. Go To The Museum
Depending on where you live you may have a great choice of museums to visit. Most museums are completely free which makes them an excellent date idea!
Many museums have interactive exhibits that will make the date more fun and interesting. Another tip is to see if the museum has outside areas that can be used for a picnic.
If the museum has a suitable garden space you could double the fun of this date by bringing a picnic with you. At the very least bring snacks and water to enjoy outside when you need a rest.
Going to a museum on a date means if you get stuck for a conversation you can talk about the exhibit and get that conversation flowing from there!
Check your local area to find museums to visit.
45. Go Fruit-Picking
Check your local area for any opportunities to go fruit picking. This might be at an actual fruit farm or anywhere that fruit grows wild that you can pick freely.
Spend the day picking as much fruit as you can. At the end of the day, you can relax and enjoy eating the fruit together!
Make sure to take plenty of water with you as fruit-picking can be thirsty work. Especially in the summer!
If you are feeling a little more adventurous, then do not just eat all the fruit you pick. Try using it to make something – Jam, cakes, or other fruit-based recipes are fun things to do together with the fruit you have picked. Maybe this idea could be used for a second date!
46. See A Local Play
Supporting local theater groups is something everyone should do. Why not do this by taking your date to see a local play?
Many locally produced shows are cheap or have discounted tickets for matinee performances.
Going to see a play gives you lots to talk about after as you discuss what you did and did not like. If you can afford it why not go for ice cream after to discuss the play and also because ice cream is delicious!
If you both have an interest in performing, then you could take this one step further and join a local drama group. Performing in a play together would be an excellent dating story!
47. Make A Time Capsule
Time capsules can be a great way to preserve some memories of your date. Together you could put in some photos, write a note, or add some souvenirs from your previous dates.
Buying a decent time capsule to use would be recommended. The time capsule I have linked is stainless steel, waterproof, and has room for small things like notes, trinkets, or photos.
Use this to bury your memories and dig it up at an agreed time in the future – or leave it for future generations to find!
48. Photo Booth
Make a list of all the photo booths in your area. For a few dollars, you and your date could drive around to several photo booth locations and take some fun and silly pictures.
To make things even more fun take some hats, different outfits, or just pull funny faces!
Visiting photo booths can be lots of fun and means you have some souvenirs from the date.
49. Trip To The Aquarium
A fun date idea is to go to the aquarium. Tickets are usually cheap which makes it a great cheap date.
Exotic fish, dangerous creatures of the deep, and the downright weird can all be found in an aquarium. Some of the creatures that are found underwater look like they've come from another world!
Getting to see all these amazing sea creatures gives you plenty to talk about while on your date. Maybe you can afford a souvenir at the end from the gift shop to have as a memento. If not, see if they have a photo booth at least!
50. Find A Haunted House
Getting scared is something that many people find fun! Ghosts, ghouls, and monsters jumping out at you can be a great adrenaline rush – make sure you do not scare your date by screaming too loud!
Haunted houses are more commonly found in fall, especially around Halloween time. However, certain places have them all year round. Often, carnivals have a haunted house – if a carnival comes to your area make sure to check it out.
Take your date to a haunted house for screams, laughs, and a great cheap date!
51. Visit An Animal Shelter
Check around your local area to see if there is an animal shelter you can visit. Many animal shelters welcome visitors to come and help out whenever they can or simply play with the animals.
Seeing how a date behaves around animals is a great indication of what type of person they are.
Even if the date does not work out, at the least you got to spend the day with some cute animals!
Cheap Teenage Dates Summary
As a teenager, you probably don't have much money. That means you need to use what you have wisely.
These cheap date ideas for teens are fantastic ways to still have memorable dates without breaking the bank!
You will find date ideas here that can be done cheaply or for no money at all! Remember to ask your date about their interests and using this list to tailor a date that will suit both of you.
Above all – have fun and you will certainly get that second date!
Don't forget when you've got to plan that second date to come back here for more ideas.
FAQs
What is the best idea for a first date?
OK, you are going on your first date – scary and exciting right! Try bowling, going for ice cream, or skating. These are great first-date ideas as they can be done inside so it does not matter if it's raining!
These activities are also excellent as they allow you time to talk but also keeps you busy. If you get a little nervous at first, then concentrate on the activity until you feel comfortable. By the end, the conversation should be flowing naturally!
Help! I am nervous and not sure what we could talk about?
First – take a deep breath! It is totally normal to feel a bit nervous when going on a first date. Especially when you are a teenager.
The conversation should come naturally once you both relax. You can talk about the activity you are doing or if stuck for ideas ask them some questions about themselves. A simple tell me about yourself is a wonderful ice breaker.
Other things you could talk about are school, movies, books, and music. Have fun!
What are the best free dates to go on?
If you do not have any money to spend, then pick a date that gets you outside. Hiking, a bike ride, or watching the sunset are great ideas for completely free dates.
They are good free dates to do because they give you the opportunity to talk whilst in a romantic setting.
What are the best dates to go on when the weather is bad?
If it is raining, snowing, cold, or you simply feel like staying indoors there are many great date ideas you can do. 
Take your date to see a local play, for a coffee at Starbucks, or to an aquarium. These ideas are cheap, fun, and can be extremely romantic!
If you prefer you could stay at home – binge-watching Prime Video, making a blanket fort, baking a cake, or having your own mini-book club are some of the simple and romantic things you can do at home with your date.
Cheap Date Ideas For Teens