Disclosure: This post may contain affiliate links. If you click on a link I may make a small commission at no extra cost to you. You can read the full disclosure here.
Last Updated on November 13, 2022 by Chris Panteli
Buying Land for Glamping
Glamping is a unique, luxurious way of experiencing the outdoors, and it's a growing market. But is it as profitable as it seems?
For savvy investors and Airbnb managers, buying land for glamping is a massive opportunity for making money and can quickly scale into a profitable business with an impressive ROI.
If you want to know more about the feasibility of glamping, how much you can make, and where to get started, this guide is for you.
If glamping isn't your style, you might be more interested in investing in an RV park. Head to our next guide to determine if this is a better business model for you.
How does a glamping business make money?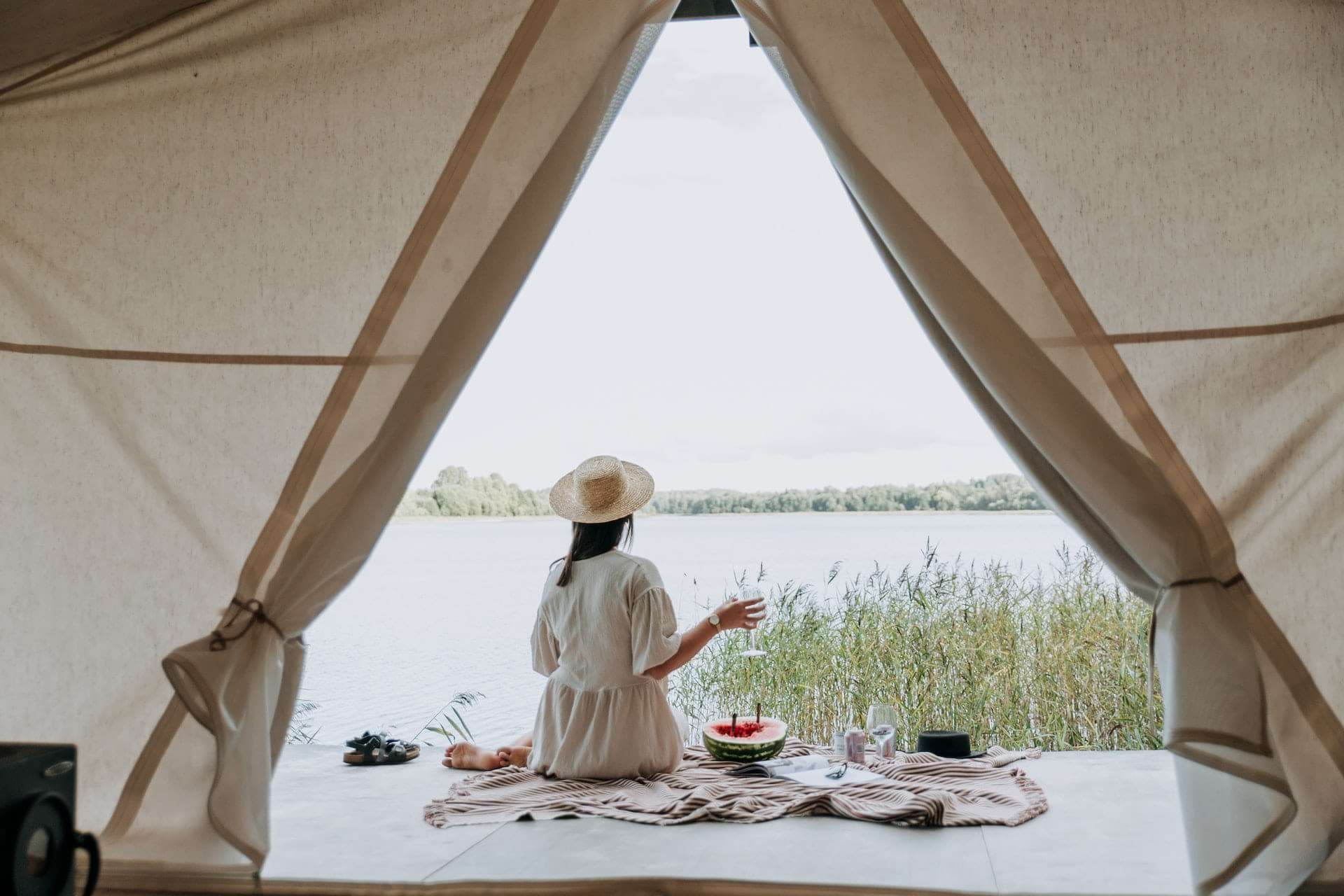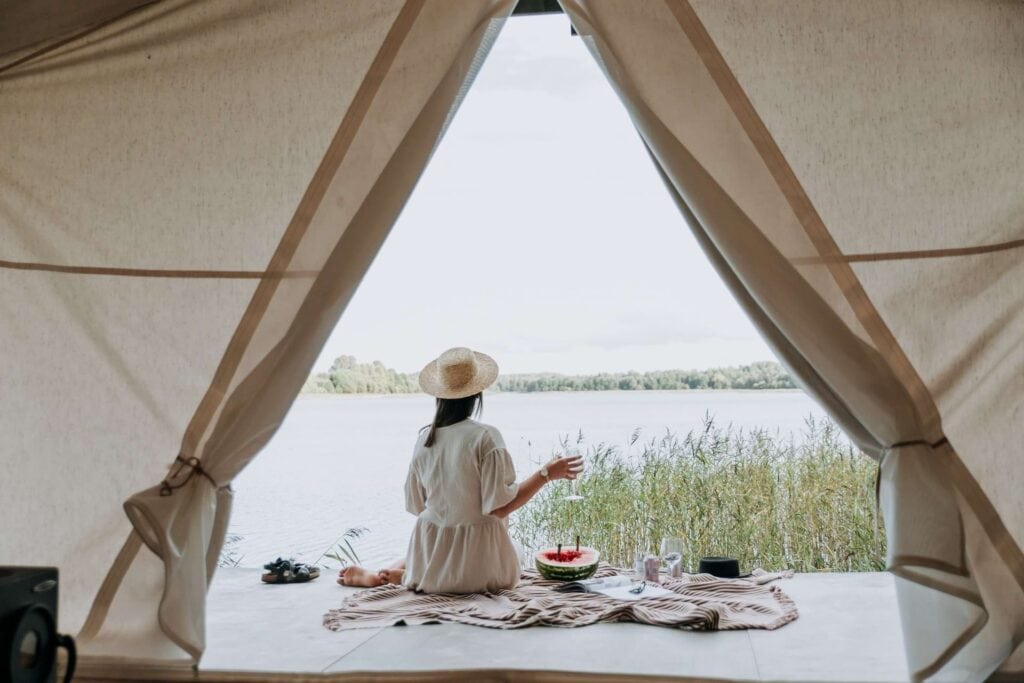 Glamping has a relatively low start-up cost compared to a fixed property business. When set up correctly, you have the potential to recoup your investment in the first year, so it's easy to see why it's a popular business model.
The glamping experience is a growing market valued at $2.7 billion. With an impressive market in North America and Europe, you can begin making a profit immediately and expect immediate interest in your Airbnb listing.
We'll take a look at the numbers you can expect to make later in the post, but it's essential to know that the success of a glamping business depends on the planning. You need to offer a unique experience to draw in as many guests as possible to fill up your calendar.
Can I Put Glamping Tents On My Land?
If an accommodation can be classed as temporary, it doesn't need planning consent. For example, renting out your RV doesn't require permission, but renting out a glamping pod does.
Most glamping tents aren't temporary, so the likelihood is that you'll need planning permission. If you decide to go with canvas tents or yurts that could technically be moved, you'd still need permission if you plan on leaving them in place for months at a time.
Check on your state and city's local restrictions and permissions to see what's needed to start a glamping business. It might be worth hiring a lawyer or rental expert to help you draft up your planning application to have the best chance of acceptance.
What to Consider Before Buying Land for Glamping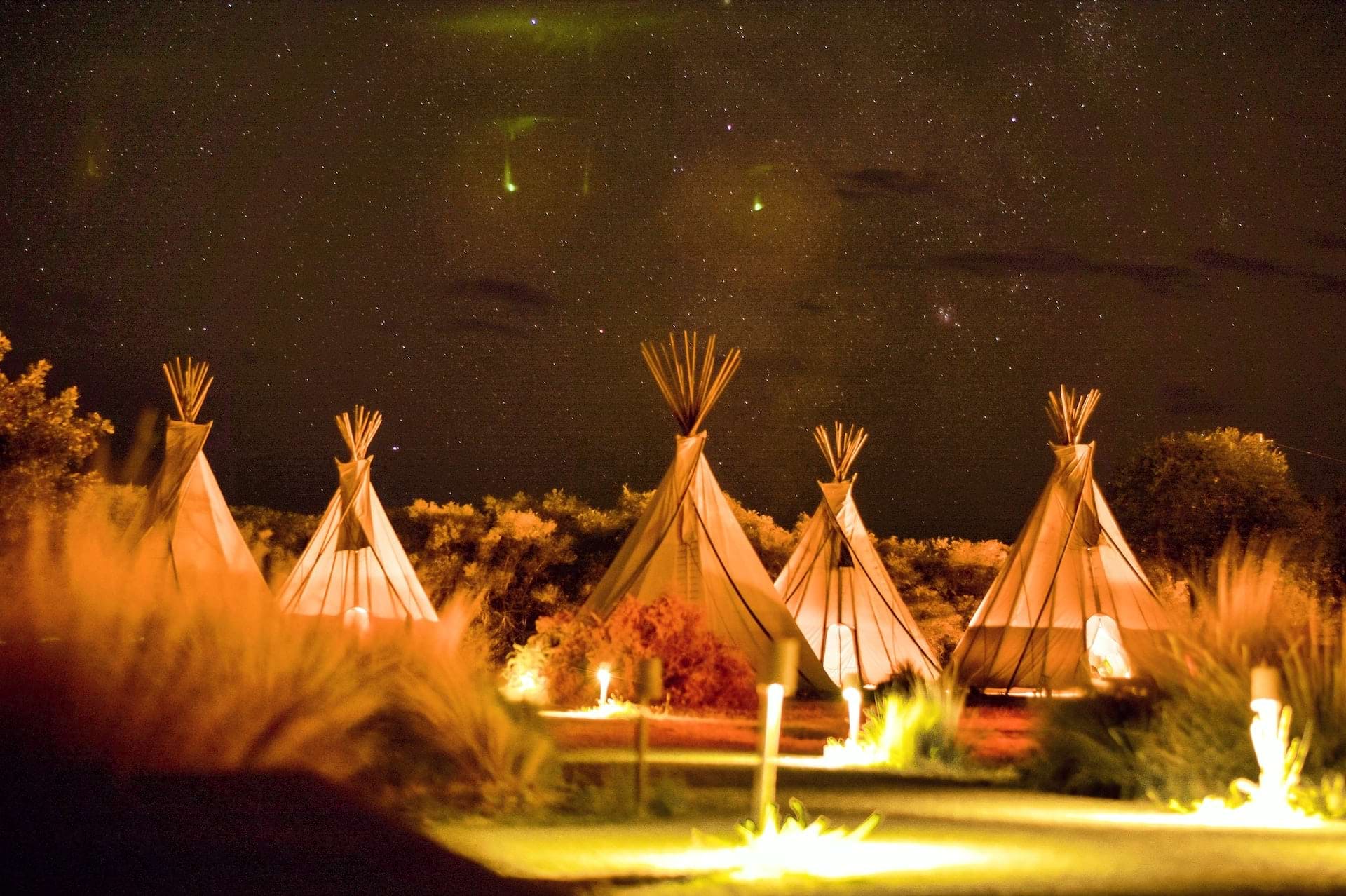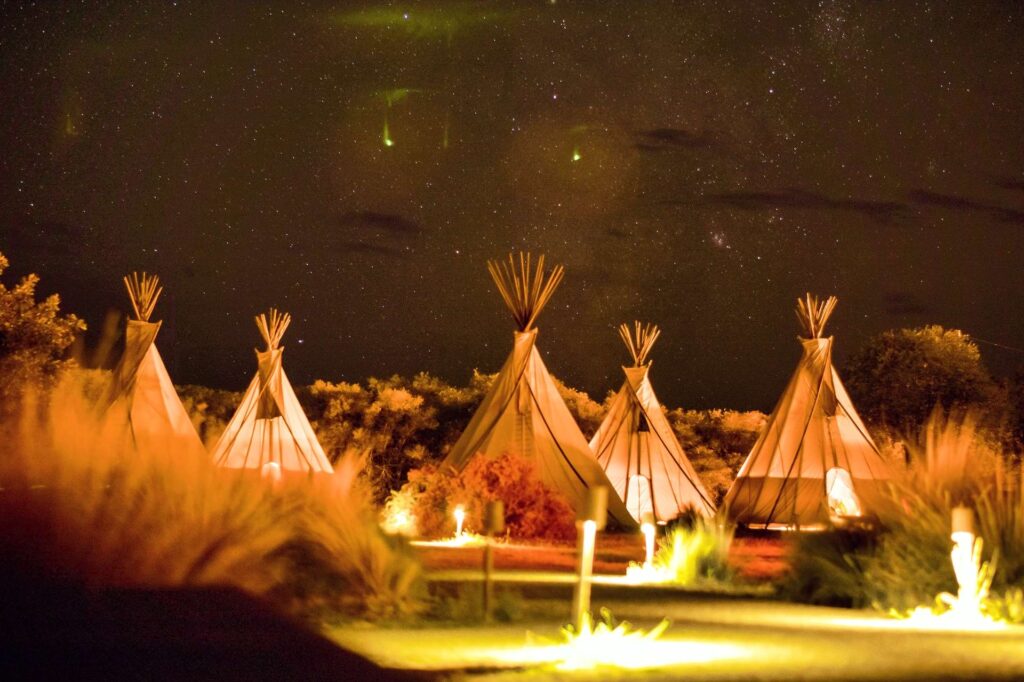 Before you think about planning permission or buying land for a campsite, there are a few things you need to consider.
How Much Land Do You Need For Glamping?
You'll need room to accommodate several glamping tents with an appropriate amount of space around each. People expect a little more room when glamping, so consider this when you're scoping out land to buy for glamping.
Around seven to ten acres is plenty for starting a glamping business. You could also be successful with less space and fewer glamping tents, so it's essential to figure out how many plots you need to make a profit.
Don't forget that your land also needs room for amenities, including toilet blocks, wash facilities, etc. Guests expect more amenities when glamping, so this will need to factor into your layout.
Best Types of Land for Glamping Sites
The type of land you need will depend on the type of experience you're providing. If you plan on having dozens of spacious canvas tents, you'll need a large, open area. However, a forest plot will be better if you want to create a forest getaway with a yurt surrounded by trees.
Shelter is always a great feature of glamping land. Even if you need a lot of space for glamping pods, shelter from trees, nearby hills, or other natural structures will help shield the tents from harsh weather.
Also, think about access. Most guests will arrive by car and need to reach the glamping site. The land needs to be solid enough to accommodate cars, and you'll need suitable parking areas.
Finally, don't forget about the location when buying land for camping. Whether guests want a treetop hideaway or a luxurious canvas tent, they'll want to be close to activities, towns, the beach, or other local attractions that give them something to do on their vacation.
Amenities and Services
The amenities and services you provide are just as crucial as the glamping tents themselves. At a minimum, you should provide three amenities to be a viable glamping site:
A drinking water supply
Waste drainage
Electricity
Guests will also expect shower facilities and well-kept toilet blocks. These should be in their own area away from the tents, but close enough so guests don't have to walk miles to use them.
One of the largest investments you'll make in a glamping business is installing the infrastructure for your amenities. This will include having mains supplied and companies to properly manage the facilities for you.
When you're creating a business plan for your glamping site, make sure to have dedicated zones for amenities, plans for management, and segmented sections for specific functions. This will go a long way in helping you with planning permission.
As well as the necessary amenities, you might also want to include additional ones in your plan to draw in more guests. These could include the following:
A communal glamping pod or game room
A cafe or kitchen area
A hot tub or sauna
Laundry facilities
No matter what facilities you decide to include on your glamping site create a detailed plan on how and where they will be installed and managed.
How To Get Planning Permission For A Glamping Business
First, you'll need to get to grips with your Local Planning Authorities (LPA's) position on tourism uses. Most authorities have a Local Plan that contains a policy for local tourism; others have plans supporting rural development and farm diversification.
Either way, you need to understand how to best approach the application to get the local authority on your side.
Next, you'll need to examine the National Planning Policy Framework (NPPF). Your LPA guidelines can't contradict the NPPF policies since they take precedence, so it's also best to understand these.
It should be met with positive feedback if you've got a good location and detailed plan for your glamping site. Glamping encourages local economic growth and doesn't cause damage to the landscape, so a well-drafted application should get approval.
How much money can you earn with a glamping business?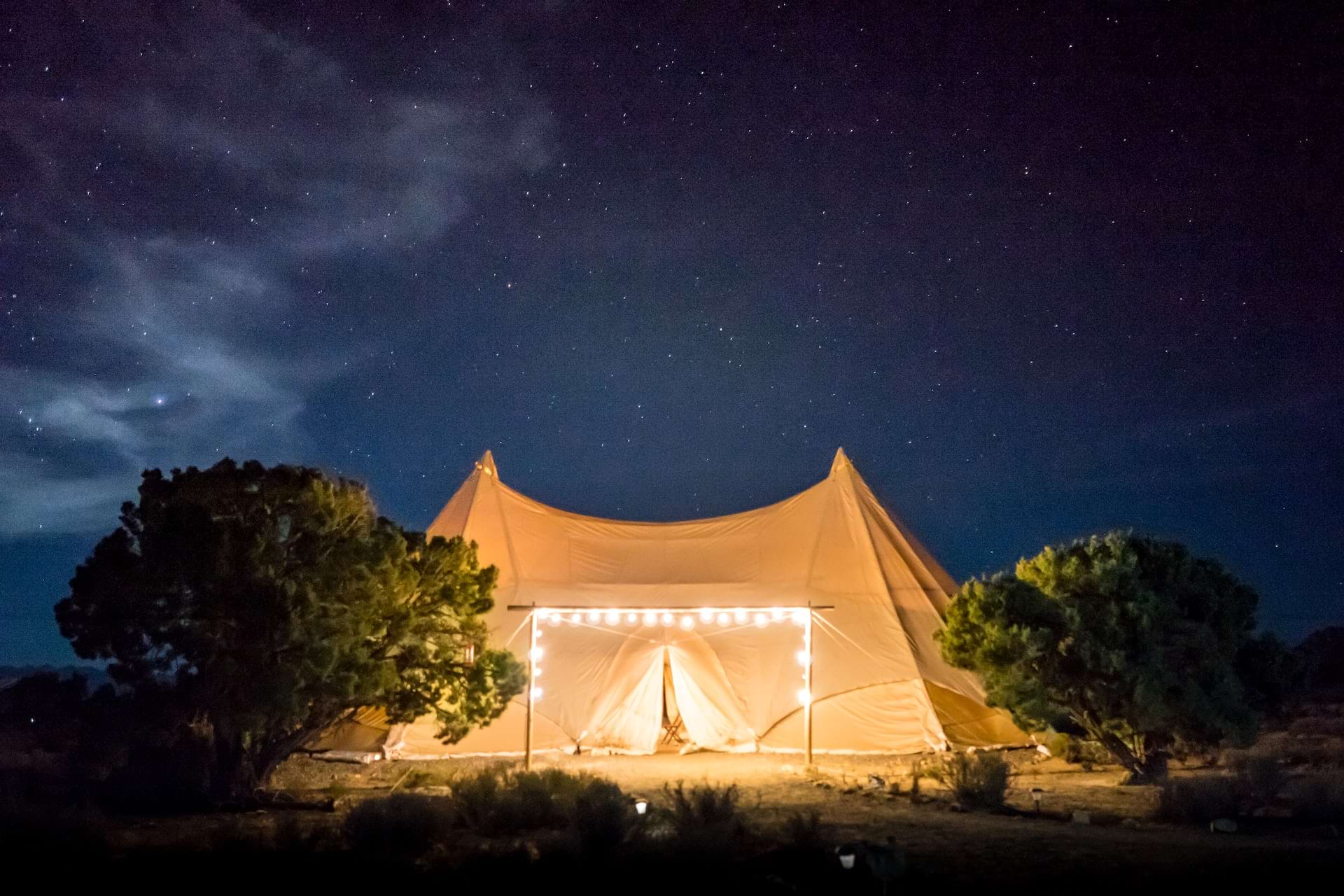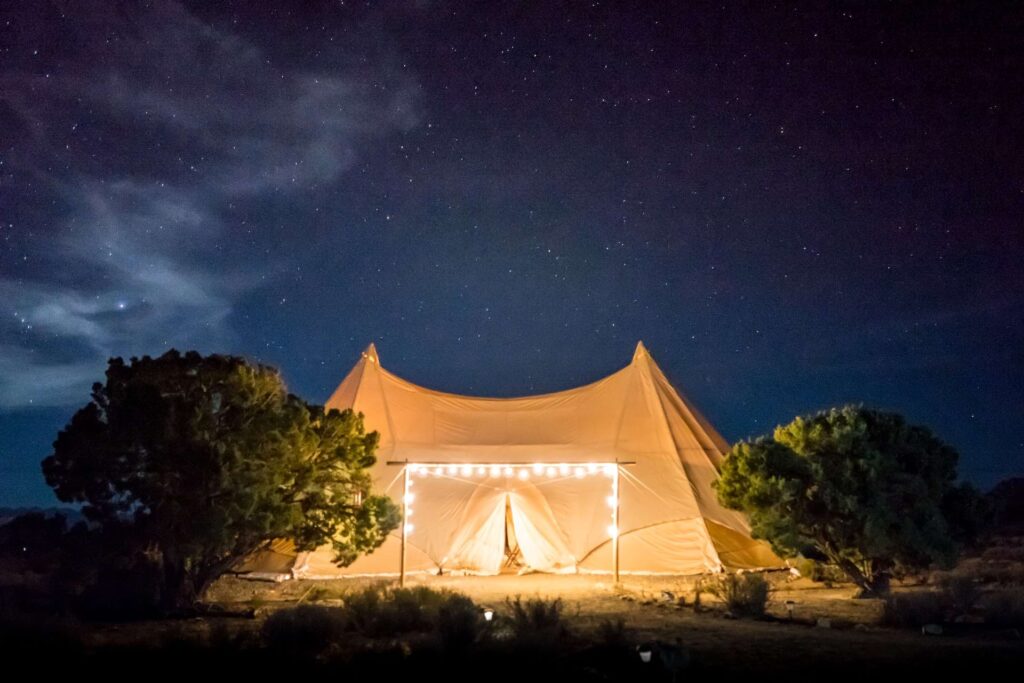 In the US, glamping sites make an average of $150 to $300 per night. With a typical occupancy rate of 60 and 70%, you could make $76,650 a year.
However, that's based on the average nightly rate. If you offer something unique, it's easy to make more per night. Plus, you'll be able to charge more during peak seasons.
With a typical glamping site costing around $20,000 to set up, it's easy to see how savvy business owners make a profit within their first year of owning a glamping accommodation site.
Cost of setting up a glamping site
When it comes to choosing the type of glamping tents for your site, there are a few options, each with a different average cost:
Bell tent: $2000 to $5000
Shed or tiny home: $4000 to $6000
A-frame glamping tent kit: $8000 to $10,000
Treehouse: $15,000 minimum
The best way to keep costs down is to find a site that's already set up for tent camping and spend your budget on upgrades and renovations. This way, main supplies, and amenities will already be on-site, and your job will be refurbishing rather than installation.
If you're on a budget, get started with one or two glamping tents or pods and reinvest as you start making a profit. It's easier to grow your business organically than to overspend on too many camping pods and try to run a business you can't afford.
Running costs typically take up about 20% of your revenue. This will cover the following:
Utilities
Restocking
Cleaning
Maintenance and repairs
Insurance and permits
Airbnb takes a 3% cut on all books; don't forget your marketing costs. Once you list on Airbnb, you'll need to invest in social media campaigns, a website, ads, and other marketing strategies to get the word out that you're a new glamping site.
Is a Glamping Business Right for You?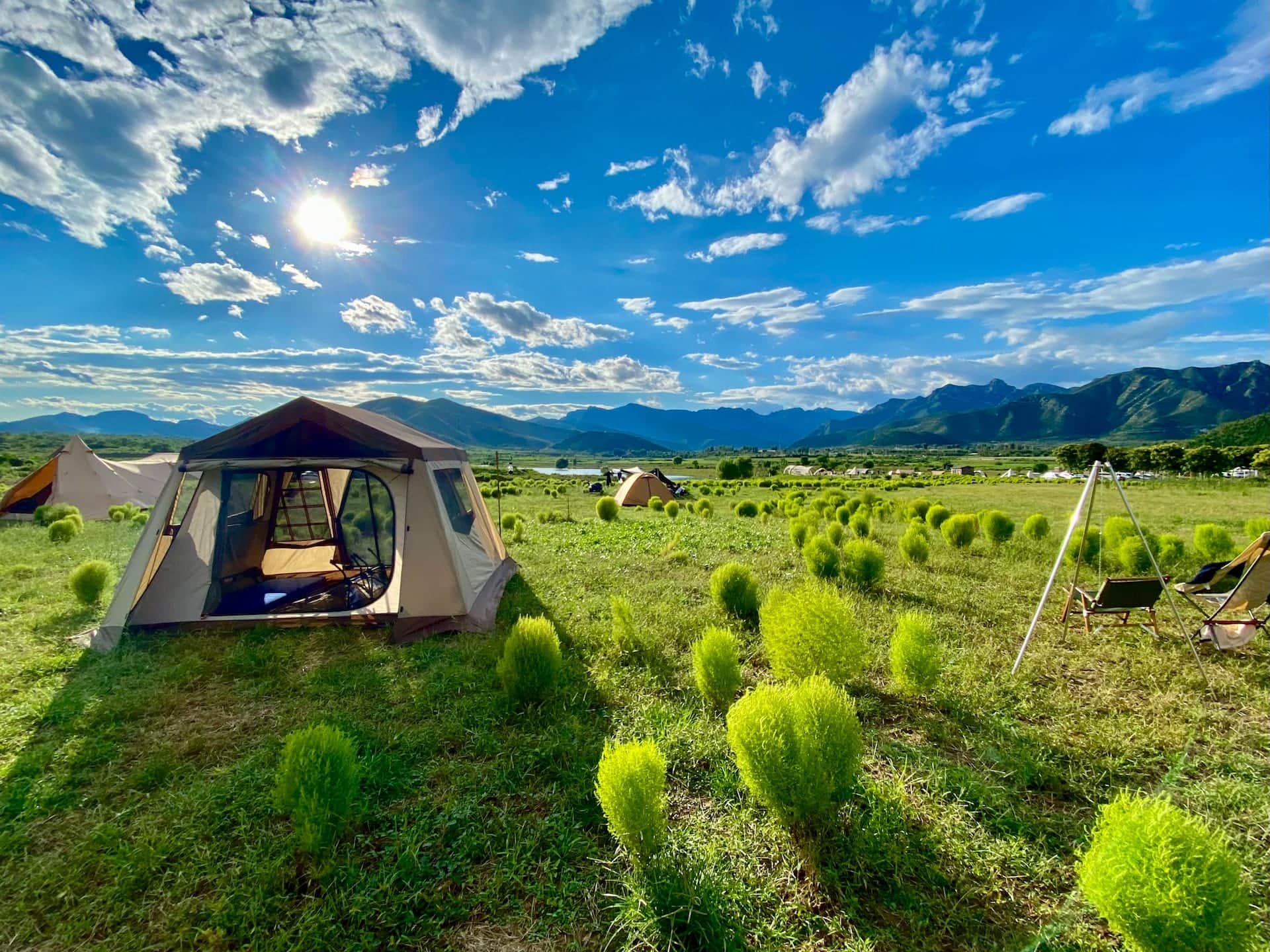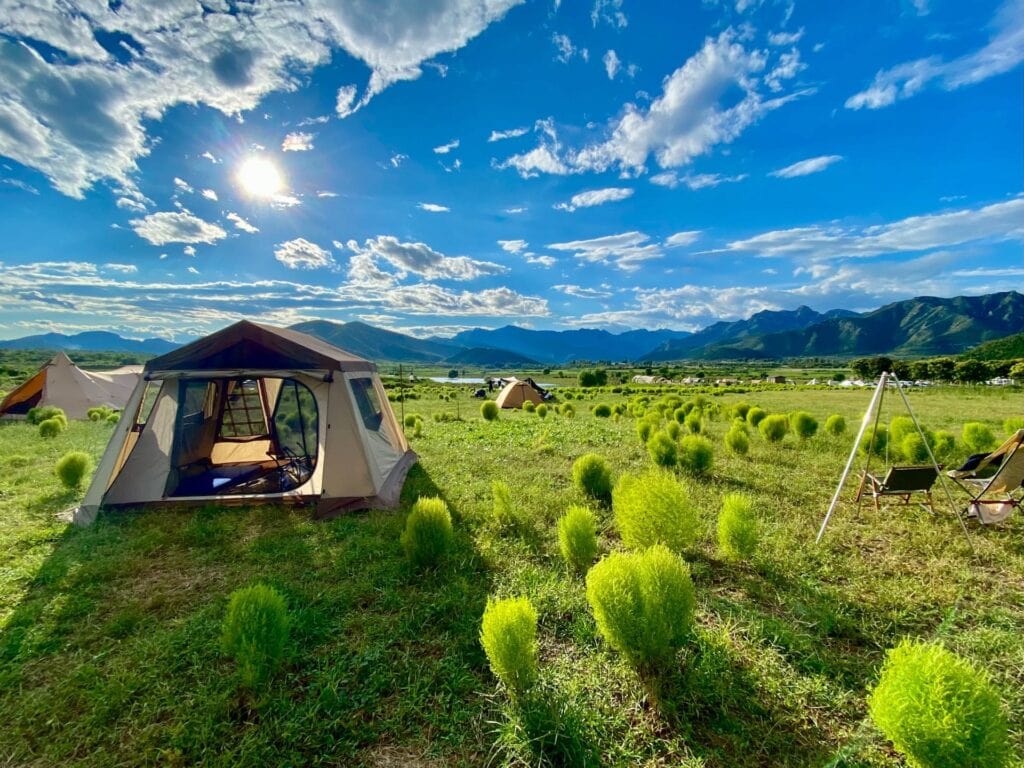 Buying land for glamping is a considerable investment and not something you should get into lightly. The key is feasibility. Find the best land in the best location with high demand for vacation rentals.
The glamping industry is massive and continues to grow each year. By putting together a solid plan, you can absolutely make money from a glamping business and turn it into a hugely profitable career.
Glamping isn't the only way to turn land into a money-making business on Airbnb. Mobile home parks are extremely popular, and this can be an easier way to make vacant land profitable.
Head to our next guide on investing in a mobile home park to learn more. 
Buying Land for Glamping