Disclosure: This post may contain affiliate links. If you click on a link I may make a small commission at no extra cost to you. You can read the full disclosure here.
Last Updated on October 23, 2022 by Chris Panteli
Best Selling Brands On Poshmark
Hey, you. Yes, you, Poshmark reseller. Do you want to know the best-selling brands on Poshmark?
Of course, you do, because it means you can earn more cash.
Knowing the best-selling brands on Poshmark means when you are scouring thrift shops, eBay, garage sales, or anywhere else you buy your inventory, you will be more likely to buy an item that will a. Sell and b. Sell for more.
Let's dive into the best-selling brands on Poshmark.
What Makes A Brand Popular On Poshmark
There are many reasons a luxury brand may gain popularity on Poshmark Inc. Affordability, quality, brand recognition, and current fashion trends all play a part in how desirable a new item is.
Consumers are increasingly concerned about sustainability and fashion's impact on the environment. Many consumers are now taking an interest in where clothes are made and how the manufacturing process affects the environment.
Brands like Brandy Melville use this as a key selling point. Brandy Melville sells clothes of only one size to reduce waste and be more sustainable. Sustainability is another consideration you must think about when deciding what to sell.
For example, most people these days wouldn't dream of owning a fur coat. If you try to sell these you probably won't sell any, and your Poshmark store may be avoided altogether.
Social media is another driving force of brand popularity. Influencers (or sometimes celebrities with large followings like Cardi B) on Instagram, TikTok, and other social platforms can overnight turn a brand into a billion-dollar success.
By following top influencers and fashion-conscious celebrities, you can keep your finger on the pulse for items that may suddenly become popular brands.
Recommended: How To Sell Faster On Poshmark
Best Selling Brands On Poshmark
Poshmark produces an annual Poshmark trend report that sellers can use to identify the best brands. Make sure to check every year to ensure your stock is on-trend. If you don't pay attention to the market, you may find sales drop.
You can also see what's trending at a glance when you visit the Poshmark homepage. If you don't feel like downloading a report, then looking at this data will tell you all the best-selling brands.
To give you some insight here are the best-selling brands on Poshmark today.
Women's


The women's clothing category includes more than just clothes. Handbags, shoes, jewelry, accessories, jeans, and makeup can all be found on Poshmark. These are the top brands covering the women's category now:
Lululemon Athletica
Louis Vuitton
Gucci
Nike
Free People
Chanel
Michael Kors
Zara
Tiffany & Co.
Kate Spade
Men's


Men can use Poshmark to buy a wide range of designer clothes. Other options for men include accessories, bags, grooming products, and shoes. Top brands for men are:
Nike
Adidas
Levi's
Gucci
Under Armour
Puma
Reebok
Vans
J Crew
Versace
Kids


The kid's section features a range of clothes including dresses, costumes, and pajamas. As you might expect in a kid's section, toys are sold. Other categories for kids are accessories, shoes, and bathing products. Kids brands that sell well on Poshmark include:
Disney
Nike
Old Navy
Cat & Jack
Carter's
Adidas
Crocs
Jordan
Gap
Squishmallows
Home


Home is a broad Poshmark department with a lot of categories and similar items may sell under multiple categories.
Bath, Bedding, Design, Games, Kitchen, Office, Storage, and Wall Decor are some of the categories you will find in the Poshmark Home department. Big brands for sale in Home include:
Rae Dunn
Bath & Body Works
Pottery Barn
Tupperware
Pyrex
Kate Spade
Ikea
Scentsy
Lilly Pulitzer
Urban Outfitters
Tips For Earning More On Poshmark
Knowing which brands are popular isn't enough to guarantee sales. To make more money from Poshmark here are some essential tips.
Know Your Audience
Simply selling top-selling brands won't be enough. You will find that some brands sell better than others.
When a buyer completes a purchase do some follow-up. Say thank you, ask what they would like to buy next, and give them an invitation to return to your page.
Build Your Brand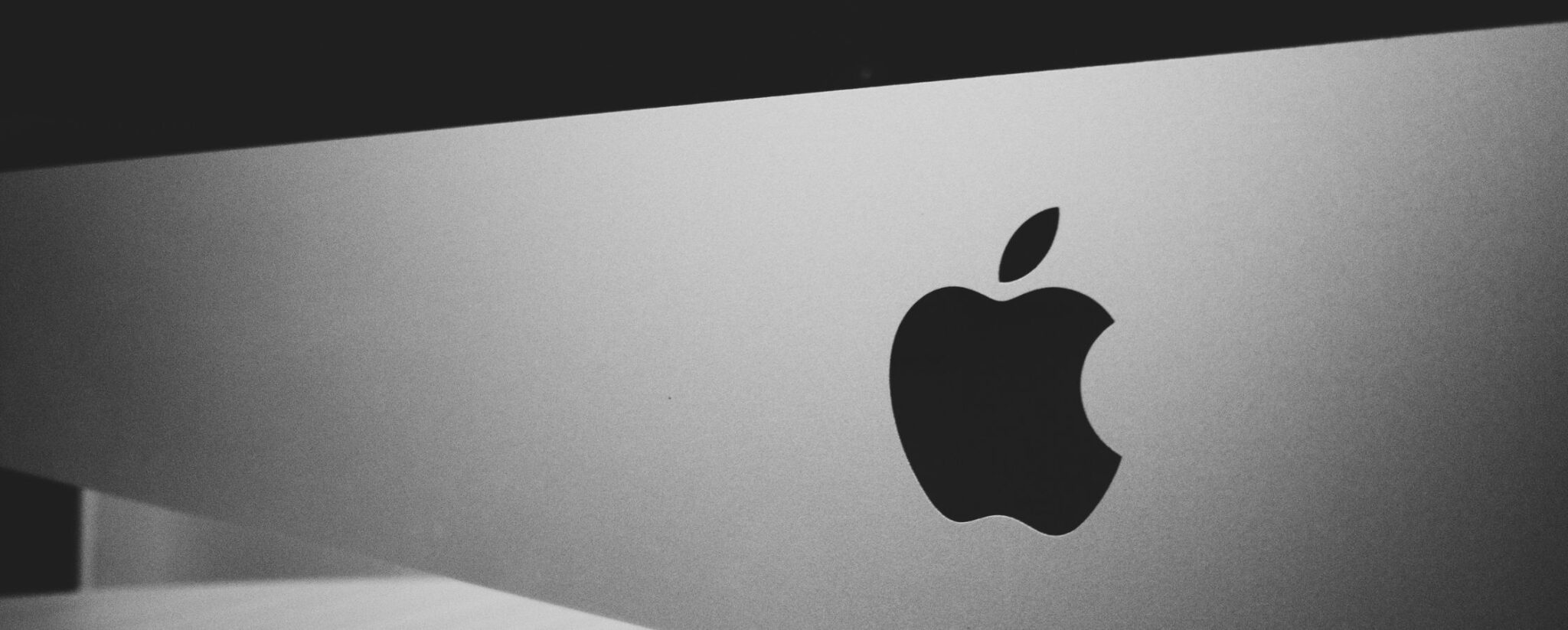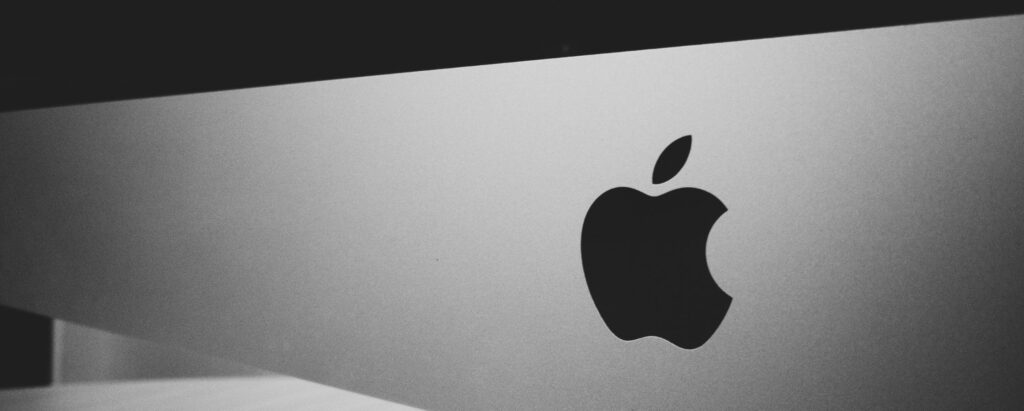 What's the first thing you think of when thinking about any big brand? Imagery will be the first thing that comes to mind.
Whether it's Nike's iconic Swoosh, Apple's instantly recognizable bitten apple, or the world-famous Golden Arches of McDonald's, all these brands share a common factor. They've created a brand identity that is instantly recognizable.
You must do the same when creating your Poshmark closet. Don't worry, you won't need a million-dollar marketing budget. Simply use tools like Canva to create professional cover photos and branding images.
If you want to be thought of as a professional seller, spending a little time creating your brand identity can be a big step towards success.
What if you aren't creative? Great news. Freelancing platforms like Fiverr make it easy to connect with other professionals. You could find a graphic designer to create your branding for you at a cost you can afford.
Pay Attention To Sales Trends
Your own sales data can be an invaluable resource. Check often to see what people are buying. If certain brands are selling well, then buying more options from that brand could mean more sales.
Marketing
You can craft the most amazing Poshmark closet the world has ever seen, but if no one knows about it you won't sell anything.
Promote your Poshmark closet as much as possible.
Send friends and family a link
Share on social media
Use Pinterest to connect with a wider audience
Customers that have already bought from you are much more likely to make another purchase. Therefore, one of the best things you can do is build an email list. When a person gives you an email address that means their interested. Emails can be sent with offers, new items for sale, or just to advise what's available.
You could even create a weekly or monthly newsletter that customers could subscribe to either free or for a monthly fee. That way you can make extra money and build a dedicated customer base.
Poshmark Parties
Poshmark parties are a real-time virtual shopping event that connects a Poshmark seller to a group of buyers. As part of your Poshmark account, a Poshmark seller can join any Posh party.
You can share your listings with every potential buyer at the Posh party. All buyers and sellers can share your listings with every follower they have as well. That makes Poshmark parties an incredible way to connect with new customers.
Alternatives To Poshmark
Poshmark is one of the biggest clothes reselling sites, but it's not the only one. Here are a few others you can try.
eBay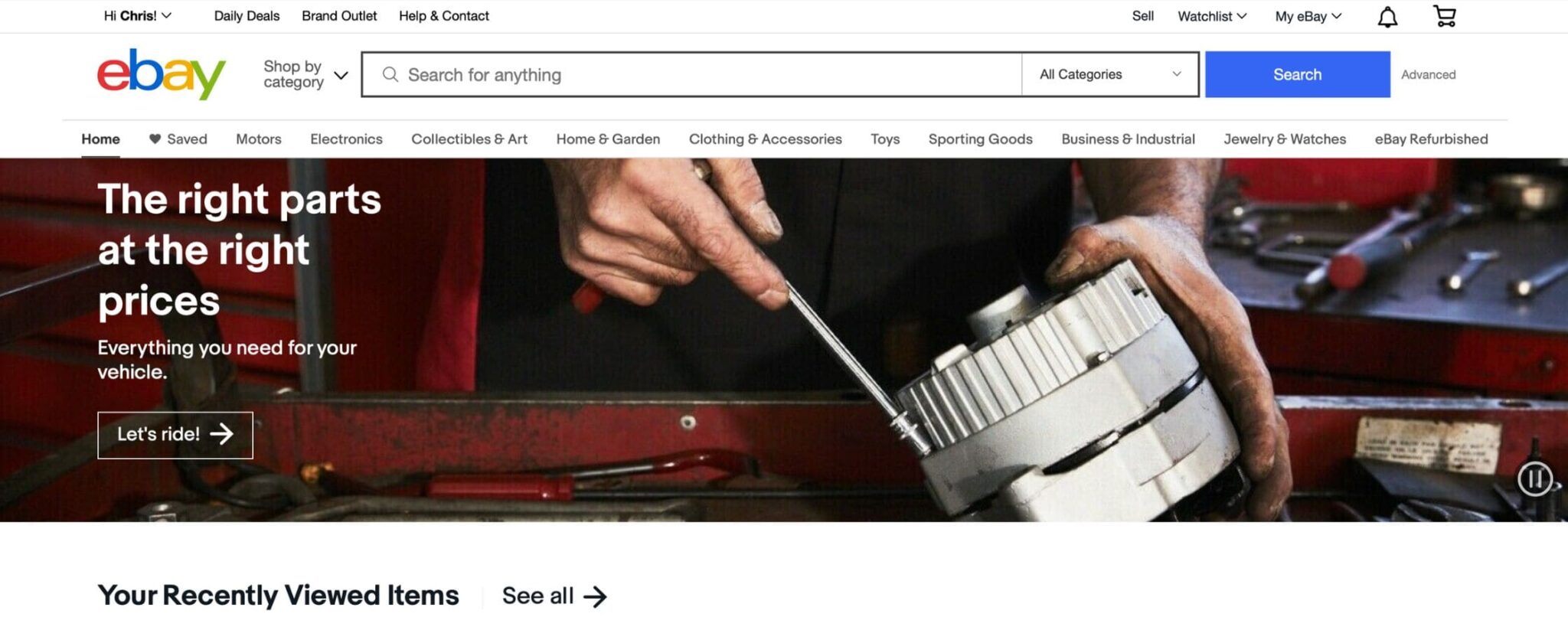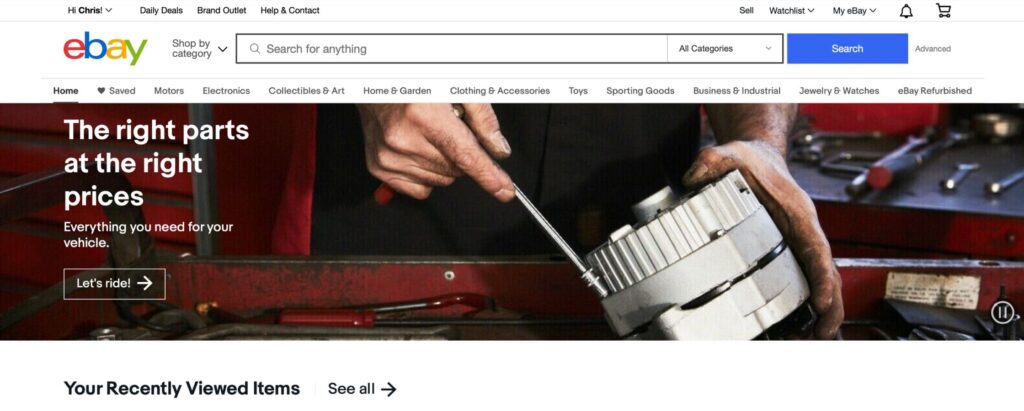 One of the internet's first auction sites, eBay launched in 1995 and today is one of the biggest selling sites online.
Starting an eBay store could be a great way to sell more stock. Make sure to create quality listings and consider fees and shipping costs when setting prices.
Mercari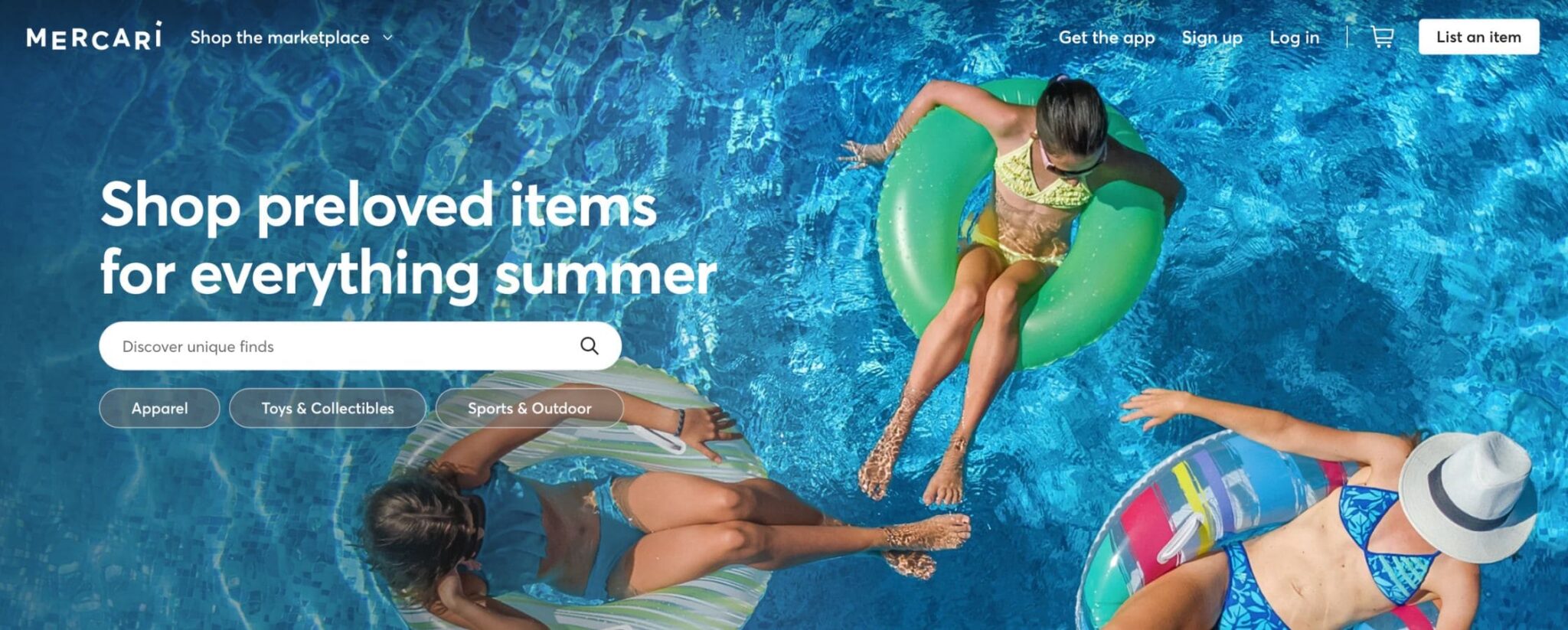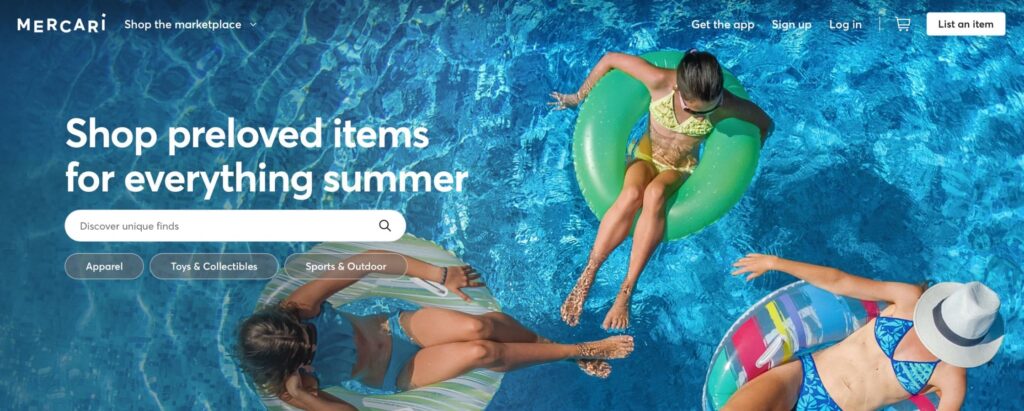 Mercari launched in Japan in 2013, then in 2014 entered the US market enjoying continual growth.
You can sell all kinds of things on the Mercari marketplace including clothes. When you're ready to claim your extra cash, you can pay $2 for an instant payout to your debit card. Alternatively, a direct deposit can be requested which takes 2-5 days.
To get started download the free app from the App Store or Play store.
Depop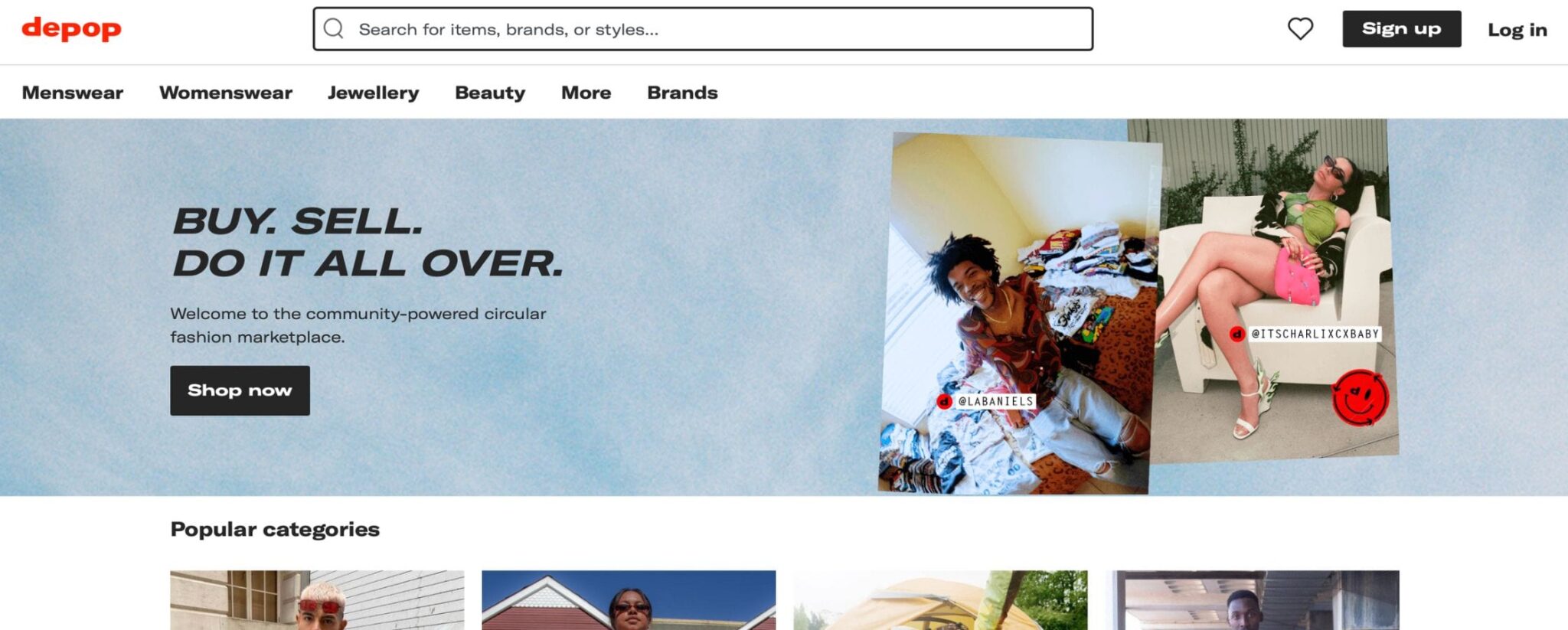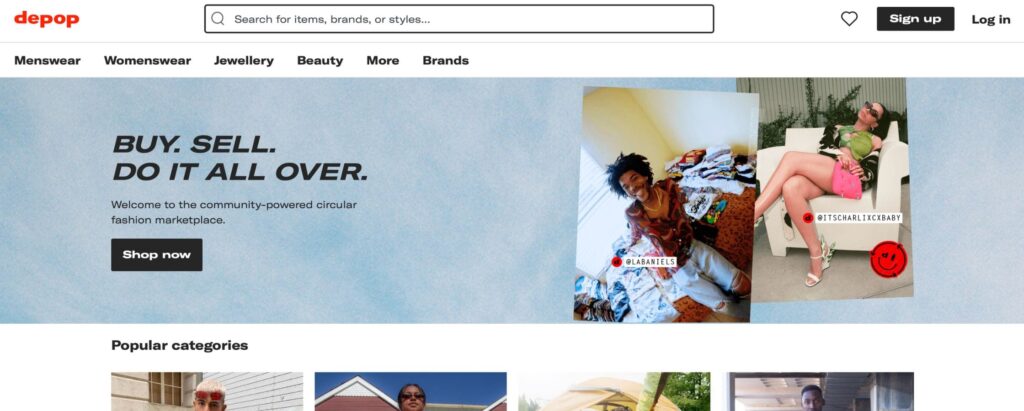 Depop is a marketplace that lets you see what friends and others are buying or liking. In turn, anyone following you can see which items you like or buy. That connectivity between buyers makes Depop a fashion marketplace that feels more like social media.
To start selling on Depop you must create a free account, list your items with up to 4 photos, and set your listing price.
For ease, there is a free app you can download from the App Store or Play Store.
ThredUp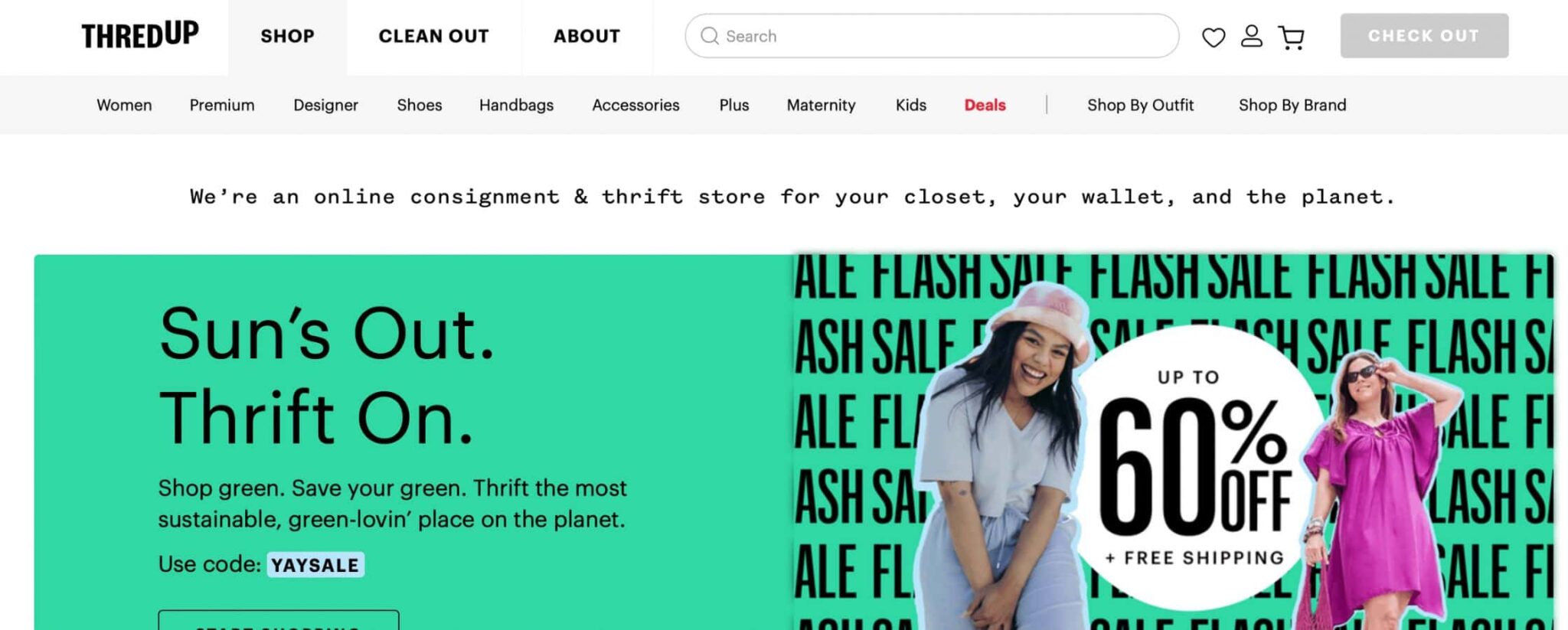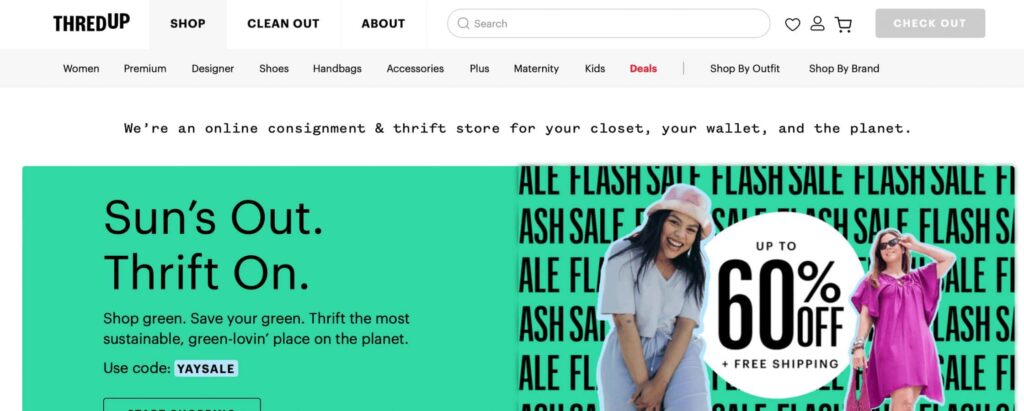 ThredUp is a resale platform that was created with one epic mission. To reduce fashion waste. By launching a dedicated second-hand clothing item marketplace, the hope is that waste is reduced and the fashion industry becomes more sustainable.
Selling on ThredUp is super easy. Start by collecting all the clothes you want to sell. Next, send them to ThredUp using a prepaid shipping label for FedEx or UPS.
It doesn't matter if you're in New York, Los Angeles, or Miami, shipping your stuff won't cost you a single cent.
ThredUp handles the selling, and you can collect your cash once the clothes have sold. Payouts can be made using PayPal or Stripe. If you prefer, you can take ThredUp credit instead and use the cash to buy more clothes.
Tradesy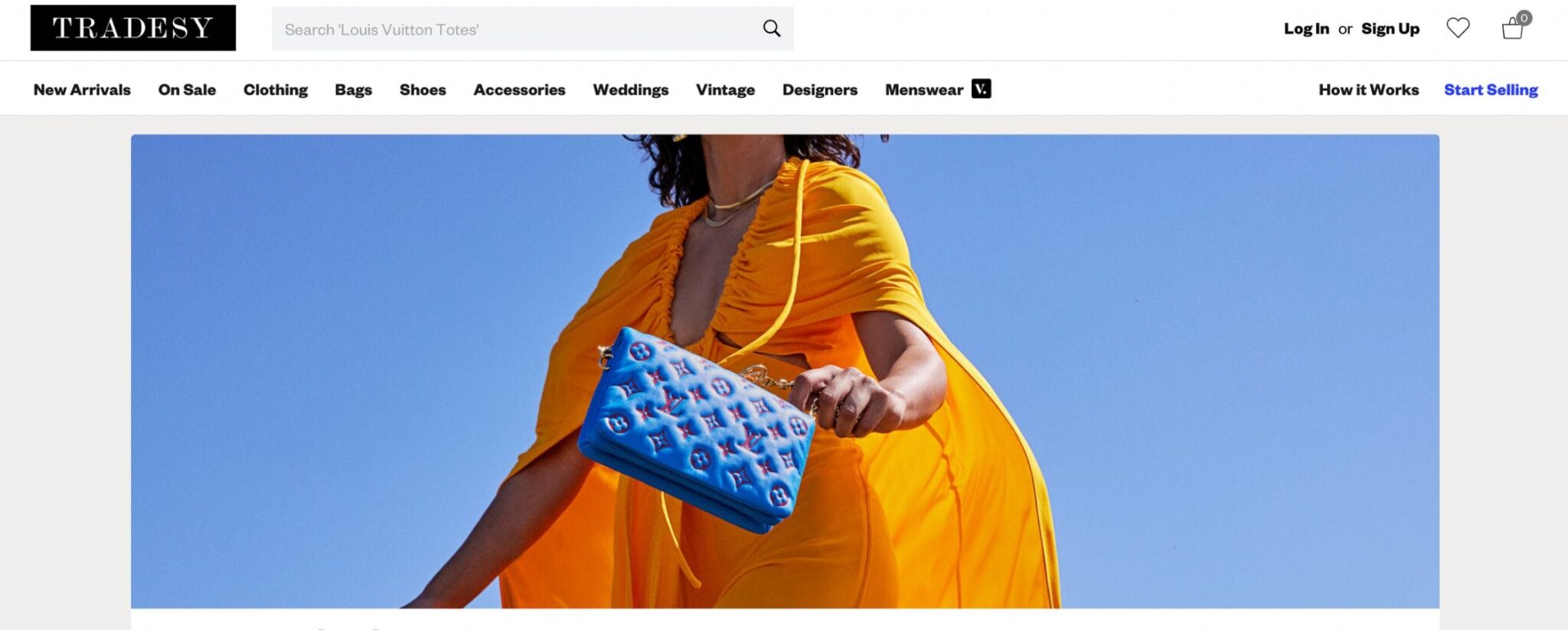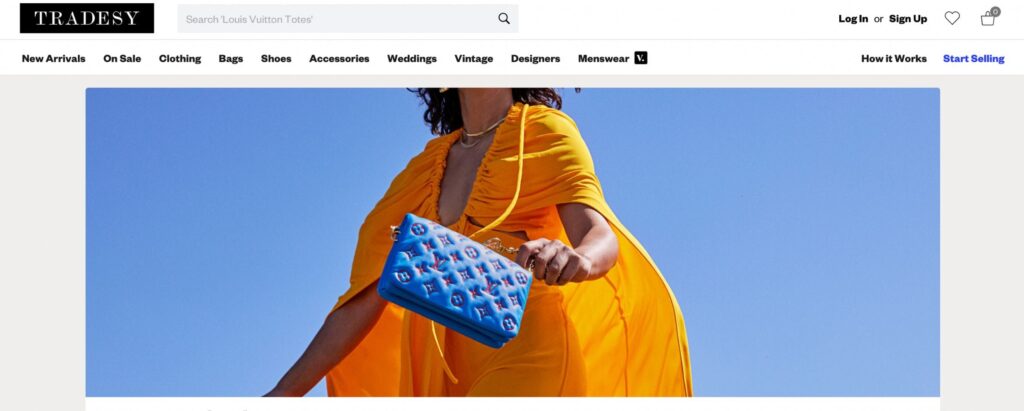 Getting started on Tradesy is straightforward. First, create your listings making sure to include quality photos. Next, set your prices, then ship them out when sold.
You can use your own supplies for shipping or request a shipping kit from Tradesy. To make things even easier you can use the free Tradesy app available in the App Store and Play Store.
When your earnings are available for withdrawal, you can choose payment via PayPal, debit card, or checking account.
TheRealReal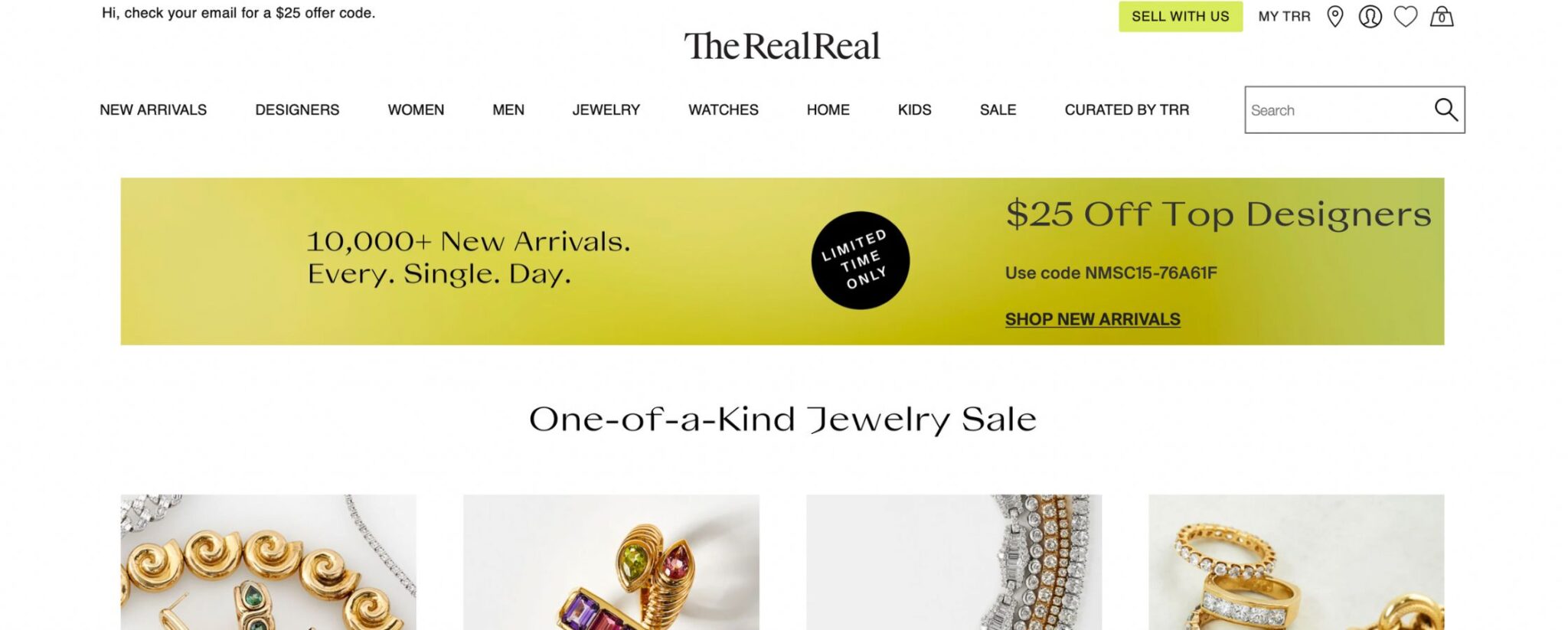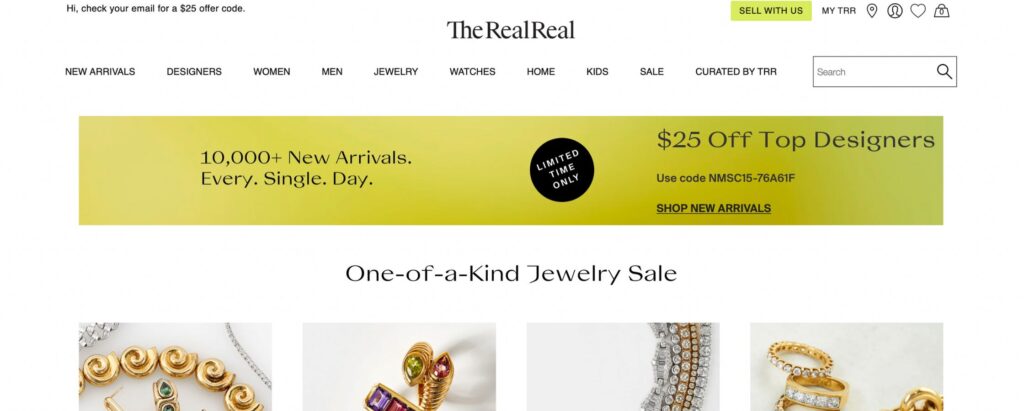 TheRealReal is a second-hand marketplace that focuses on selling luxury goods.
Start by creating your free TheRealReal account and arrange for your items to be sent to them. You can drop off your items, ship them, or have them collected. Whichever is easiest for you.
Once TheRealReal has received your items, they will begin the process of authentication. Hundreds of experts across the US carry out rigorous checks to ensure that all items listed are authentic.
Now your items have been listed for sale, you can collect your cash when the sale has completed. Payments can be made via check, direct deposit, or site credit.
Swap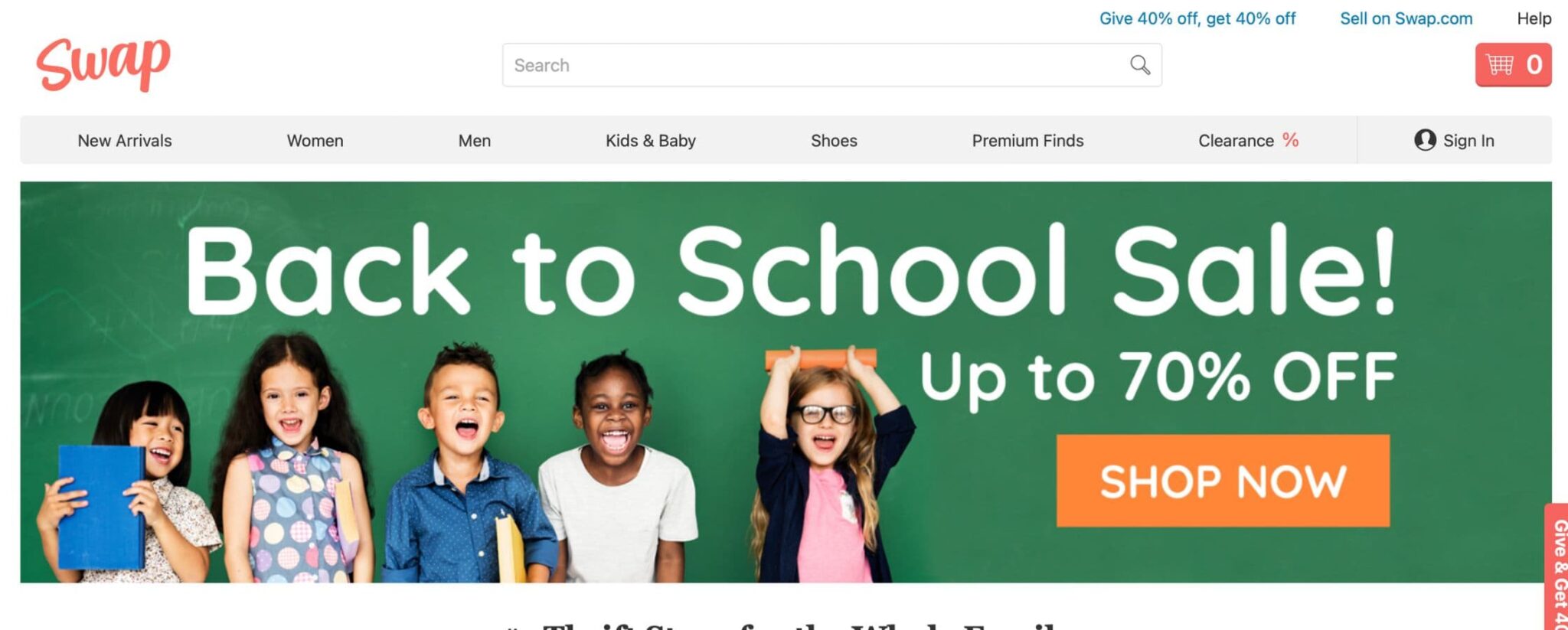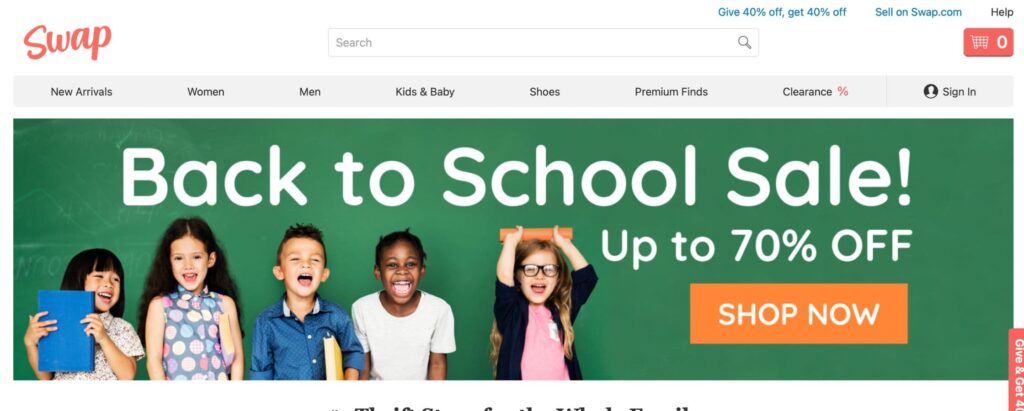 Swap started its second-hand marketplace back in 2013. Today the company is recognized as a leading online retailer with over 2 million items available for sale.
Selling on Swap is nice and easy. You will send your items to Swap first for inspection. Provided the items meet the standards for resale, Swap handles everything else. Pricing, photos, and shipping will be taken care of. That means you can put your feet up and collect your cash when a sale is made.
Sending your items to Swap won't cost you a dime either. Simply print off the pre-paid shipping label and send them for free.
Payouts are made to PayPal. If you don't have PayPal, then you can get Swap credit to use for purchases on Swap.
FAQs
Why am I not selling anything on Poshmark?
Selling regularly on any platform requires effort on your part. Check your listings and make sure they include good descriptions and quality photos.
Make sure your prices are competitive and you are doing everything you can to promote your Poshmark closet.
How long does it take to be successful on Poshmark?
Success looks different to everybody. First, set your own goals. $100 a day, $1,000 a month, or $50,000 a year. Decide what success looks like to you and go for it.
Reaching your goals could take a month or it might take years. One thing is for sure. By selling the best-selling brands on Poshmark you will have a much better chance of success.
Is it hard to sell on Poshmark?
Poshmark is competitive, but so is every other selling site. If you take the time to create a brand identity, build a following, and post high-quality listings, you can sell on Poshmark.
Can you make a living off reselling?
Yes! People do earn a full-time income reselling clothes or other second-hand items. Once you learn the art of creating listings that gain attention, and sales, then you can work on creating your own full-time business.
What other top-selling brand could I sell?
Ralph Lauren, David Yurman, Tory Burch, and North Face are other examples of high-demand luxury brands. Keep an eye on Poshmark to see when these brands are trending.
Where can I buy designer brands cheap?
To make the most profit finding designer brands to buy that are cheap and in good condition is a must.
Facebook Marketplace, your local thrift store, or a yard sale are all great places to find a luxury item for a bargain price. 
Best Selling Brands On Poshmark