Disclosure: This post may contain affiliate links. If you click on a link I may make a small commission at no extra cost to you. You can read the full disclosure here.
Last Updated on October 23, 2022 by Chris Panteli
Berrycast Review
In the modern world, it's crazy to think that there are still some people sending multiple emails or printing lengthy documents for their colleagues, customers, or other stakeholders.
Not only do these old methods take up valuable time, but they are damaging to the environment too. Plus, aren't we all tired of dealing with printer jams!
Berrycast not only solves these issues, but it can also make presenting more fun! In this comprehensive Berrycast review you will find out all about Berrycast and how it can help you launch your Hollywood career! Just kidding – although by the end you will know how to make epic videos; for your teammates rather than the Oscars.
Berrycast is offering our readers a massive 20% Off Pro Plan Subscription. And you can test it out with an awesome 14-day FREE trial. Just follow my link!
What Is Berrycast?
Berrycast is screen recording software that lets users supercharge their communications! You can record your screen, audio, and camera at the same time. This is an awesome tool for creating in-person explanations to go along with a video.
Sending lengthy emails or presentations is a thing of the past thanks to Berrycast. You can effortlessly communicate with anyone with one click!
Videos can be shared to any platform, password-protected for security, and organized using video organization folders.
Not only can you share information easily and quickly in video form, but you can also make the content more appealing. Add backgrounds, other images, and more using this seamless screen recorder.
Who Is Berrycast for?
Berrycast is for anyone that wants to record and share securely stored video messages. Coworkers, potential clients, and others can all enjoy watching you present material in a fun and engaging manner.
To give you some ideas of when using Berrycast can be valuable, here are some specific examples.
Teachers
Online learning is booming. You might be a school teacher, a college lecturer, or starting out your own tutoring business. Whatever type of teaching you are providing, one thing is sure. You need to be giving students quality online learning materials.
Using screen recording software like Berrycast means you can connect with students much easier. That's because videos can be shared with all students using just one link.
A visual explanation of complex topics or homework can be explained in a detailed tutorial. Students can watch videos as many times as they need to. This helps them understand difficult material and also saves time as they aren't asking for further help!
Medical Professionals
Healthcare professionals are increasingly using video technology to connect with patients. Studies have shown that more than 96% of healthcare professionals view video consultations as an adequate method of consulting with patients.
Berrycast means that medical professionals can give their patients a human touch. Videos can be securely shared with patients allowing them to get advice, instruction, and reassurance.
Taking the time to make videos for patients can give them a personal boost.
Students
It's not just teachers that benefit from using Berrycast, but students can too. Lessons can be watched repeatedly to maximize the learning experience.
Group projects can be managed much easier. Project members can make videos clearly sharing what part of the project they are working on and what's expected from all group members.
Assignment solutions and important projects can be easier for students to manage by using seamless screen recording. Students can make impactful videos sharing what they are working on from their own computer screen. Other members of the group can then reply in the conversation thread by making their own video.
Sometimes a video reply isn't needed and instead, the comment box can be used to write a reply to the video creator.
Personal Use
Recording videos for your own use can be a great way to improve yourself. Meetings, tutorials, and more can all be recorded to watch back later.
Making videos of yourself is also a great way to practice presenting. If your job involves presentations or you're a student that needs to present to the class, then practice with a video! Watch it back to see how well you do with maintaining eye contact, appropriate gestures, and staying composed.
Once you've made a collection of these videos you will be astounded at your progress from the first to last!
Getting Started on Berrycast
To get started go to Berrycast and click on 'Get Started' in the top right-hand corner of the page.
Now you just need to choose how you wish to sign in. You can log straight in with your Google or Microsoft ID.

Alternatively, you can create an account using your email address. You only need to provide an email address and a password, then click "create account".
To complete your account setup you need to give your name, select what you plan to use Berrycast for, and enter your role. Now click "complete" and you're in!
Once you've completed the onboarding process Berrycast will download to your device.
That's everything done and in just a few minutes your Berrycast account is ready to use!
Does Berrycast Have An App?
Once you've created your free account, you are then asked to download Berrycast. You have three options – download the desktop app, install the Chrome extension, or Microsoft team plugin.
You may be worried about slowing down your browser. There is no need to worry! Berrycast is a neat piece of software that won't affect the running of your browser. The widget sits discreetly at the side until called upon to start recording.
I've downloaded the desktop app and this is all you see until you need to use it.
Here you can see the Berrycast widget (the blue bar on the left) nestled above the Windows button in the bottom left-hand corner of my screen. When working, gaming, or watching videos, the widget is not noticeable at all!
To activate Berrycast you simply hover your mouse over the Berrycast widget and it will reveal the options available.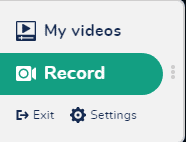 Again it's nice and simple. Record is highlighted and when selected will take you straight to the screen recording page.
Selecting 'My videos' will take you to your Berrycast account to watch any videos saved previously.
Choosing 'Settings' allows you to amend your Berrycast preferences. This includes notifications, your email address, and options when recording.
Sometimes you may want to log out of Berrycast and remove the widget. To do this click on 'Exit' and it will disappear! When you want the widget back on you can click the Berrycast icon on your desktop and it will open again immediately.
You can also use all Berrycast features directly on the Berrycast website. Click on 'Record' in the top right-hand corner of the page to get started.
Easy!
How To Use Berrycast
Berycast is ridiculously easy to use. You don't need any technical knowledge or to be a trained presenter!
There are three simple steps and you will have a video ready to share in minutes.
Select Your Screen Size
Choose the part of the screen you wish to capture and record. You can record the full screen or a specific part. That's it and Berrycast will start recording!
Record Your Video
Once you've picked your screen size, you will get a 3-second countdown. Now it's action time!
While recording your screen you can use your mouse to navigate any screens that you wish to show on the video. Audio will be recorded meaning you can record step-by-step instructions or explanations for the viewer.
Whether you need to provide personalized updates or specific instructions around a complex topic it will be like you are there with them! Amazing, right?
Another innovative feature that you can activate is the webcam. The viewer can then see you and hear you. You may not be ready for your big screen debut yet. That's fine! You can turn off the webcam feature.
However, letting viewers see you can be an awesome way to build trust and rapport. Depending on the project, going that extra mile may be worth it. For example, demonstrating product details to a potential client may be more effective if they can see you.
Time To Share
Now you've created your epic video it's time to share it! Sharing is super easy and can be done in a couple of clicks.
You can copy the link to the video and share it by email, text, or any collaborative platform you work on. Otherwise, you can share the video on the Berrycast platform by sending it to registered contacts that you added when creating your account. Easy!
Berrycast videos can be shared with anyone. The neat part is that the recipient doesn't need a Berrycast account. Simply send the link and they can watch the video!
The Berrycast Toolbar
While recording you can use the handy toolbar to manage your recording. The toolbar will pop up at the bottom of your screen when the recording starts.
The first icon is a red bin. Clicking this lets you delete the video. You do need to confirm the deletion. This is handy if you accidentally click the bin as you are asked to confirm before it deletes the video!
Deleting the video also stops the recording and you will need to start again from the beginning.
Next, you've got the"'Start over" button. Clicking this at any time restarts the recording from the beginning.
Remember, the recording starts automatically after 3 seconds. The blue 'Start' button changes when the recording starts. It then becomes the pause button if you need a moment before continuing.
You will see there is a pencil icon on the toolbar. Click on this to go to a secondary toolbar with some clever features.
The secondary toolbar looks like this:
You will see a few buttons. The back arrow allows you to switch back to the main toolbar. The other items are for writing or drawing on the page you are talking about. Maybe you want to draw the viewer's attention to something. You can use the pencil to draw an arrow, a circle, or even text.
Currently, you can perform this action using five different colors. The thickness of the pencil line can be changed by clicking the 'Sizes' button. The final icon is an eraser. Clicking the eraser deletes everything you've drawn on screen so don't click until you are finished!
If this was in a video tutorial, then I could draw arrows on the screen pointing at each aspect of the toolbar as I'm explaining it. It would look like this –
This feature means you can make fantastic tutorial videos with no room for misunderstandings!
There are three remaining icons on the main toolbar. A webcam button lets you turn your camera on or off.
Audio and volume can be controlled by the microphone icons.
The last part of the toolbar lets you know how long the video has been recording and lets you complete the recording by clicking done!
That's everything on the toolbar!
How Much Does Berrycast Cost?
First up, Berrycast is free to join and you can try it out for 14 days at no cost. After the free trial, there are three plans you can choose from – Starter, Pro, and Enterprise.
The Starter plan is completely free and ideal for personal use. You can make up to 10 amazing videos a month, note them, and edit them. All for free!
Berrycast is offering our readers a massive 20% Off Pro Plan Subscription. And you can test it out with an awesome 14-day FREE trial. Just follow my link!
Upgrading to the Pro plan is recommended for businesses and professionals. Users of the Pro plan can make unlimited videos and password-protect them. Custom branding can also be added making each video more professional. The Pro plan is currently priced at $9.99 a month. A small price to pay for a more efficient way of working and collaborating!
Enterprise includes everything that the other plans do plus additional security. End-to-end encryption, advanced security, and the capability to self-host all make the Enterprise plan suitable for businesses that need extra layers of security.
If you work with sensitive data, this may be the best plan to get. Prices for the Enterprise plan aren't fixed, but you can contact the Berrycast team to discuss your needs.
What Can You Do With Stored Videos
Hovering over stored videos in your Berrycast account will reveal a menu icon. The menu is represented as three dots stacked on top of each other. Click those dots and you will see the following menu –
Copying the link allows you to share the video with anyone. The link could be sent by email, embedded in a text message, or added to any other collaborative platform.
Clicking on 'Share' brings up the option to email the link straight to another user. Add their email address, a message, and password protection if needed.
Selecting 'Move' allows you to put the video into a folder, the 'Download' option will store the video on your local device, and 'Delete' will remove the video completely.
What Else Is On The Berrycast Dashboard
When logged in on the Berrycast website you will see on the left-hand side a dashboard. From here you can quickly manage all aspects of your account.
The 'All Videos' link will take you straight to all the stored videos in your account. Make sure you organize your videos into folders to find them faster.
Team management allows you to request others to join Berrycast with you. This is great for making sure your team has access to the same video recording software that you do.
Custom branding is the go-to option for making sure videos match your brand vision. You can add a logo, icon, and custom domain name here. There is also the option to change the primary, secondary, and mouse pointer colors. The ability to amend these is fantastic for branding each video.
Next on the sidebar, you will see a link to join the Berrycast affiliate program. Users that are willing can become Berrycast ambassadors. In exchange for promoting Berrycast, you can receive payments based on a percentage of subscriptions created from your affiliate links.
Settings are the last option that lets you easily change your name, email address, password, and profile picture.
3 Compelling Benefits Of Using Berrycast
Getting your message across clearly and concisely makes using Berrycast a must. To understand why the easiest way to communicate is by using video recording software, here is a breakdown of 3 top reasons to use Berrycast.
Save Money
Businesses of all sizes need to make a profit. One surefire way of boosting profits is by minimizing losses. A leading cause of financial loss for all businesses is human error.
Banking giants Citigroup accidentally sent $900 million with the courts currently ruling the money can't be returned! In the US, a staggering $3.1 trillion is lost due to mistakes made in data.
This is why video messages are a must!
Sharing explanations of complex concepts or other information by video makes misunderstandings much harder. Colleagues can watch the video and learn far more than reading through pages of material.
Each video can be tailored to the information you are presenting. Adding appropriate images and audio makes the experience more engaging for the viewer. This means less chance of a misunderstanding which could lead to a financial loss for the business!
Boost Efficiency
Picture this, you need to share with your team your latest idea. To do this you spend hours putting together a document outlining everything they need to know. You add diagrams, step-by-step instructions, and proofread them several times.
Next, you share the document with all team members via email and deal with multiple emails from each team member to answer various questions.
How much time will all this take?
You might have spent hours putting together the document and countless hours answering each email. Your team could also spend hours reading the document, understanding it, and emailing their questions to you.
Studies by the Mckinsey Institute show that workers spend about 28% of their working time just reading and answering emails!
By switching to technology like Berrycast this time spent on emails can be dramatically cut. No longer are you spending hours carefully crafting a document detailing every key point!
Now you can simply click one button and record a video message that will be clear and easy to understand. You can add graphics as needed to emphasize any points or to demonstrate anything the team needs to know.
Software like Berrycast also allows your team to reply by video with any questions. This is another tremendous time saver as you no longer need to answer individual emails. Instead, once you've got all the questions you can create a video reply to all coworkers answering each one. Magic!
Enhance Remote Working
Global circumstances mean remote working is more popular than ever before. Many companies are embracing the work-from-home culture and the opportunities it brings.
Collaborating with colleagues can be tricky when everyone is at home. Especially if the workforce is worldwide!
Thanks to software apps like Berrycast, teams can continue to effortlessly communicate with each other. It also means timezones aren't a hindrance to keeping in touch.
Users can create video messages for each other and upload them to the Berrycast platform. Each video can be replied to if required by video.
Berrycast allows users to organize videos in folders. This terrific feature means each project can have its own folder allowing team members to keep up to date. Specific content can be password protected as needed allowing access to authorized users only.
Berrycast Key Features At A Glance
Berrycast is packed with epic features that make video messaging easy! Here are the highlights:
Choose from a full-screen recording or selected area recording
Webcam can be turned on or off
Use password protection to protect sensitive videos
Folders allow you to organize all content
Share video links with anyone even if not a Berrycast user
Custom branding means each video can match your branding vision
Download the desktop app for quicker access
Add the Google Chrome extension or Microsoft teams plugin
Conversation threads allow team members to communicate with ease
There is no Berrycast watermark added to any videos created on the platform
These are the top features of the Berrycast platform. Keep in mind the easy-to-use toolbar and you've got yourself a fantastic screen recording software.
Berrycast is offering our readers a massive 20% Off Pro Plan Subscription. And you can test it out with an awesome 14-day FREE trial. Just follow my link!
Verdict
Berrycast is a wonderfully easy-to-use screen recording software. You can create an account and record your first video in minutes!
No experience or skills are needed. Simply create your free account and get started! Plans are affordable and allow you to scale up according to your business needs. Throw in custom branding and the ability to share videos with anyone via a link and you've got yourself a winning platform!
I've found Berrycast easy to use and fun as well! Now that I've used the software for an extended period of time I can effortlessly create videos that keep the team engaged. Adding backgrounds, branding, and being visible via my webcam all go toward making professional video messages. Although I don't think Hollywood will be calling me anytime soon!
FAQs
What is Berrycast?
Berrycast is an innovative screen recording platform. Users can make videos and send them to anyone. Sharing video content makes it easier to understand content rather than trying to explain using traditional methods such as extensive paper-based training materials.
Is Berrycast expensive?
Berrycast offers a 14-day free trial to get started and a Starter plan that is free forever! If you are a business owner, then upgrading to a paid plan is a must. This will unlock unlimited video storage plus other features. At $9.99 a month, the Pro plan will be affordable for most businesses. With the money saved thanks to video messaging reducing mistakes, it will pay for itself!
Is Berrycast secure?
Yes! Users of Berrycast can have confidence that their content is stored securely. Not only does Berrycast have a robust privacy policy, but video URLs are created using a hexadecimal structure (a mix of letters and numbers). By generating URLs using this method it means hackers have a minuscule chance of guessing the link to the online videos. Password protection can also be used adding an additional layer of security to each video.
Berrycast Review