Disclosure: This post may contain affiliate links. If you click on a link I may make a small commission at no extra cost to you. You can read the full disclosure here.
Last Updated on October 23, 2022 by Chris Panteli
AmzPromoter Review
AmzPromoter is a landing page builder that has been rebranded as "Landing Page Promoter."
By continuously checking the marketing activities of online merchants, it helps them enhance their sales and income.
This article aims to provide you with an overview of AMZPromoter but also delve deeper into the landing page characteristics, advantages, and drawbacks.
We hope we can cover all your questions so that you can close the tab with a good understanding of how its tools work and can decide if it is appropriate for you and your business.
How Do We Use A Landing Page?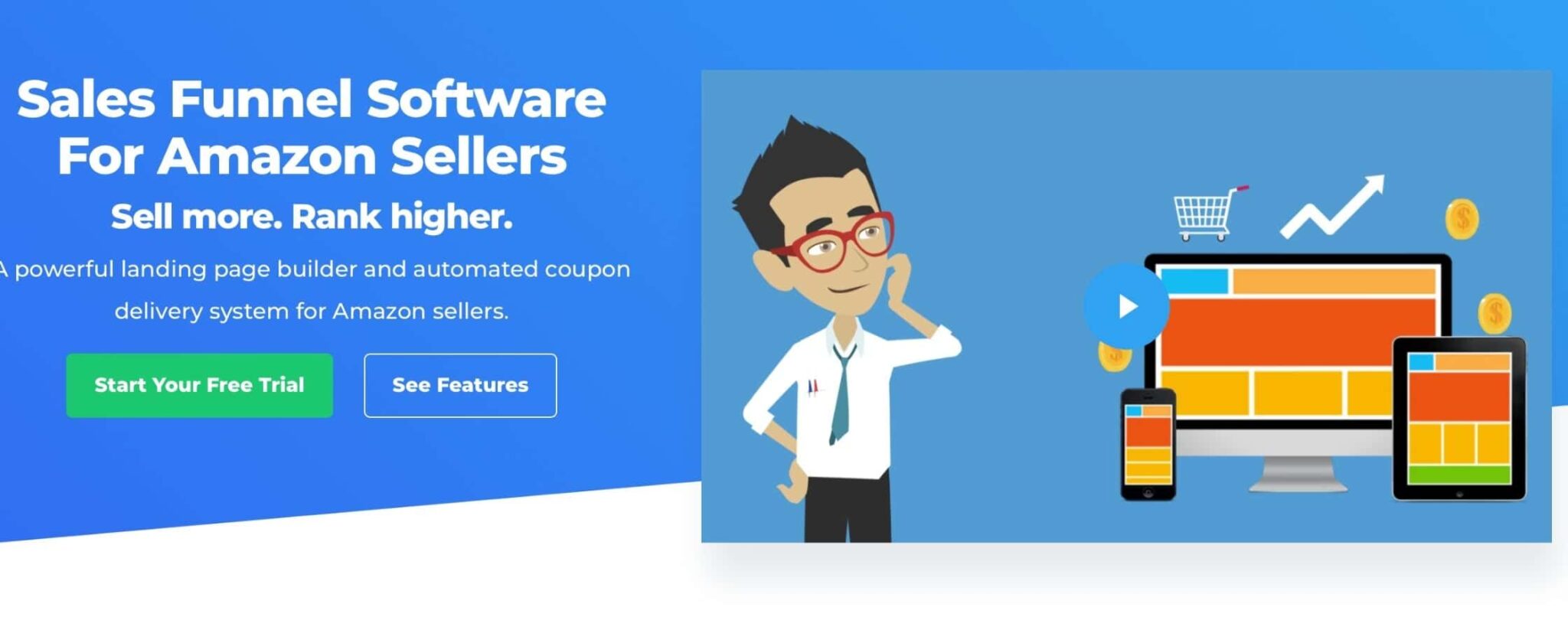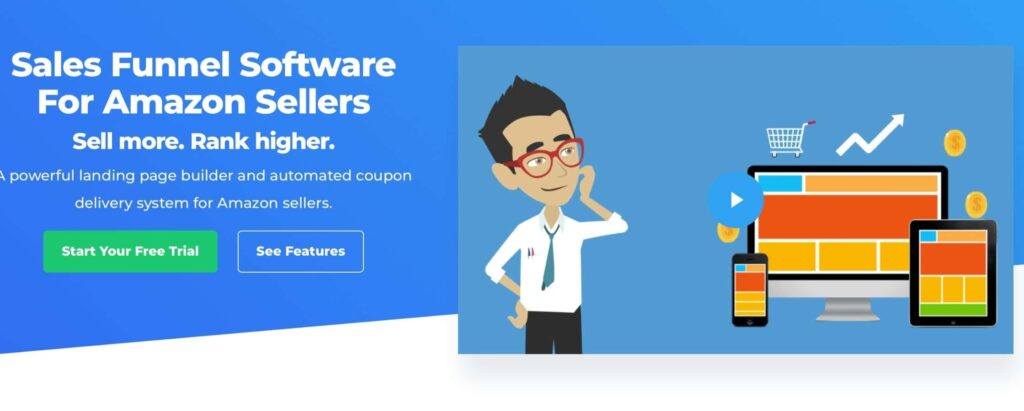 Landing pages are used to market and sell company products. They appear in search engine optimized searches, when a potential customer clicks on an ad, search result, email link, etc.
A landing page is the main page a business is using to promote and offer its selling items.
Whenever a prospective buyer opens an online ad or clicks on one of Google's page results or hyper-button on an email, a landing page opens in a new tab.
The landing page of each website is, therefore, promoted to potential clients through different online outlets like email, a blogger's article, and social media platforms.
You might also hear a landing page is called a lead capture or single property page. Other ways to refer to them are static and/or destination pages.
AMZPromoter Walkthrough Video
Tap twice to load then open Video...
What Do Landing Pages Offer?
Landing pages function as filters in the sense that they put a business' clients into categories and select those who have shown the strongest buying desire prior to redirecting them to the relevant product page on Amazon.
Most of the time, people are sent right away to the Amazon page, see the product listing and its price, and do not end up buying the item.
The reason why this happens is that without offering more information prior to sending them to the 'basket' page, it is very hard to keep a customer engaged with the product without having them look for other options that are available on Amazon.
As a result, the business' selling stats, overall online engagement, and rank in organic reach is negatively affected.
As online analytics and market research has proved, leading people from other websites and external links straight to the business' Amazon page is not an effective way to bring money and traffic to the business, especially when in contrast to using landing pages to market and sell your products.
Why Should A Business Opt For AmzPromoter?
In short, AmzPromoter is effective in developing effective landing pages that have all the optimization features necessary to market and sell a business' items sold on Amazon.
Not only that but these optimization tools help with ranking the specific products higher on the Amazon marketplace.
Moreover, AmzPromoter brings potential online customers from other online platforms and search result engines like Facebook and Google straight to the company's landing page.
Finally, using AmzPromoter can offer incentives like coupons to your online customers via email marketing campaigns.
How Does AmzPromoter Work?
Landing pages use funnel software and become an additional part of the purchasing journey of a customer.
The term 'funnel' is well-known in the marketing and sales sector and it essentially refers to a system that raises the chances of online buyers' engagement with your business' products and increases your selling prospects.
It is an efficient method of increasing external traffic and boosting your product marketing to enhance both your listed items on Amazon and their selling percentage.
Given that you have an Amazon account to sell items, an AmzPromoter landing page provides you with an additional chance to offer some extra information to your potential buyers about your items before directing them to the relevant listed products of yours on the Amazon marketplace.
The AmzPromoter Process
When a potential buyer clicks on one of your landing pages, the goal is for them to be persuaded by the coupon offer and enter their email address to receive it.
The promotional code they select corresponds to a single item and listing of yours and encourages the prospective buyer to go to your Amazon seller page and turn into a frequent customer.
AmzPromoter already has a system in place for delivering coupons to every Amazon seller and helps them encourage every customer to click on the Amazon products' listings of a business.
And, if you are wondering about the legality of all this, trading a customer's email address for a coupon does agree with Amazon's policy and terms of service.
Indeed, their coupon delivery system is organized in detail, and they can perfectly manage the service by offering a specific number of coupon codes for a specific amount of product listings.
So, when all the email addresses have been gathered, AmzPromoter's automated coupon code system starts by sending out emails to these customers with any update that is relevant to the coupon they selected.
Then, each customer can use this coupon, look for the Amazon listing they are interested in buying, add it to their basket, and eventually complete the order.
Who Is AmzPromoter For?
Landing pages provided by AmzPromoter are useful to many business people that are on Amazon.
Most of them are usually members or owners of bigger companies, but independent sellers also tend to use AmzPromoter to get their job done easier.
It is worth it for everyone to try out AmzPromoter, especially those who have not succeeded much in working on their own and have not sold products on Amazon.
And if you are a loyal Amazon seller who swears by the power of the Amazon marketplace, this landing page generator is the one you should go for.
However, new sellers might understandably be on a low budget at the beginning of their Amazon selling journey, so it is probably best for them to start with a less expensive landing page service.
Finally, if you are using Facebook Ads and Ads marketing in general to promote your products, AmzPromoter will be a big help for you when using the Facebook Ads customization tools to target a specific audience and/or demographic.
Filtering & Security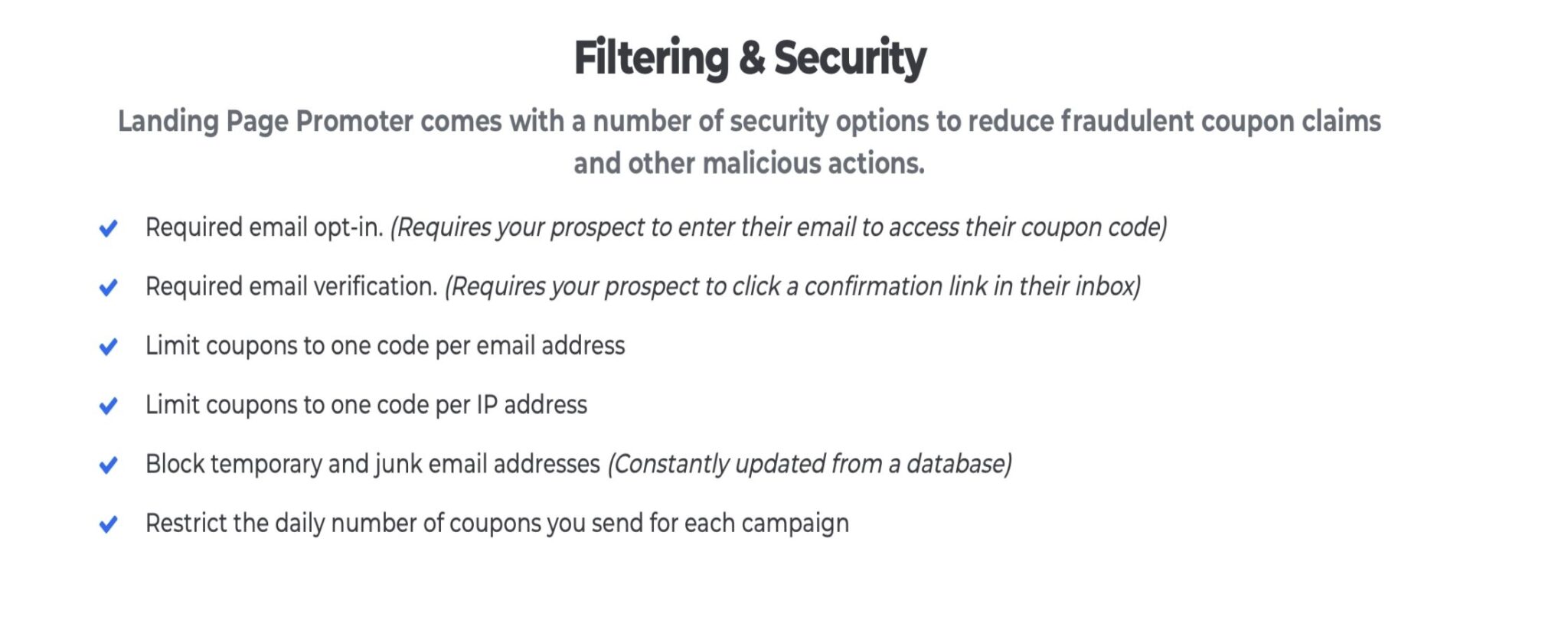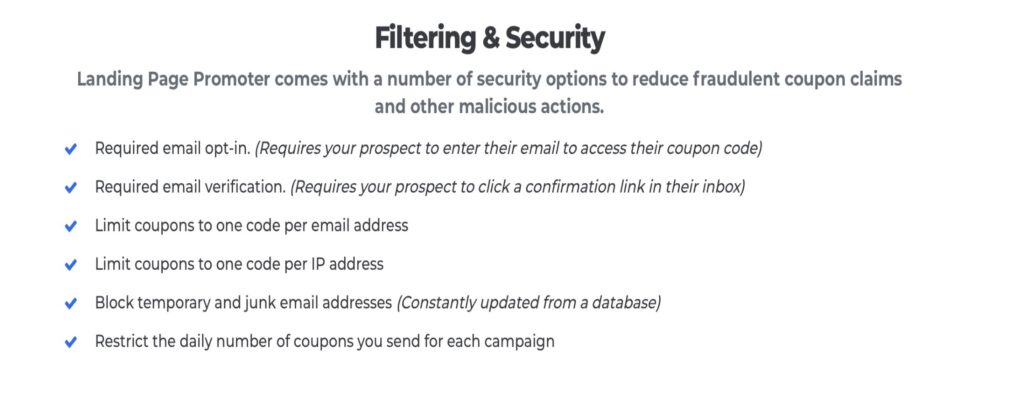 A landing page generator must be using a safe software and platform to provide a sense of security to its users.
As an affiliate of Amazon, AmzPromoter is able to do that for anyone who wants to grow their online engagement and increase their sales through the use of funnel software.
Without strong encryption, vendors are susceptible to online data theft and fraud, and customers can equally be in danger of their personal details and accounts being hacked.
According to AmzPromoter's reviews posted online, the website is fully prepared and has many cybersecurity systems to make its sellers feel safe.
And it is these systems that minimize the chances of customers trading their personal information for fraudulent coupon codes and proceeding to other fraudulent exchanges.
When you use a landing page as an Amazon business, you might face several safety issues.
To reassure you further, though, of the efficiency of the security systems of AmzPromoter, here are a few of the precautions it takes to ensure online security:
Optional Email
Buyers that want an offer need to provide their email address prior to receiving their promotional code.
Email Authentication Is Required
Prior to accessing a promotional offer, users must validate their email ID.
Specific Amount Of Coupon Codes
Each coupon can only be used once and by one person, restricting thus each customer to a single code per email and IP address, and imposing daily limitations on the number of coupons sent.
Disable Any Temporary Email Address
Users cannot create ephemeral email addresses solely for the purposes of getting a coupon code.
Pricing
There are three different pricing packages on AmzPromoter: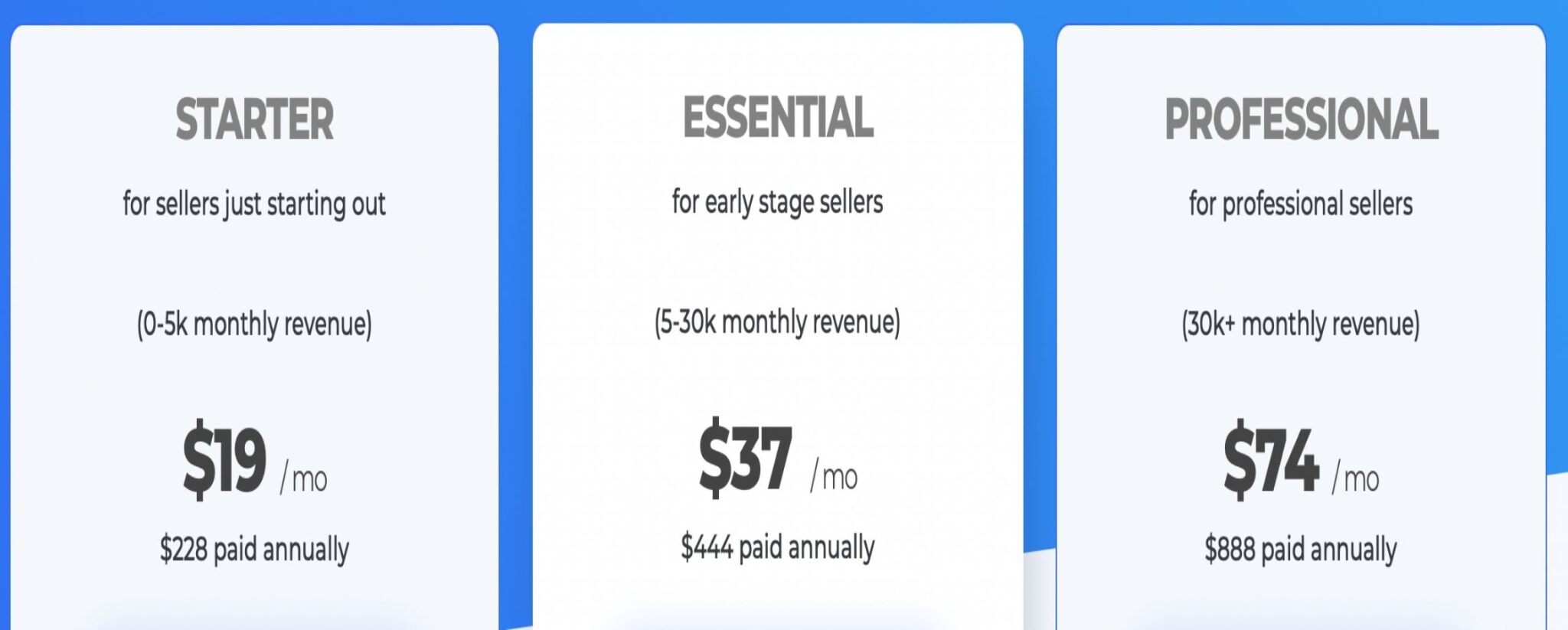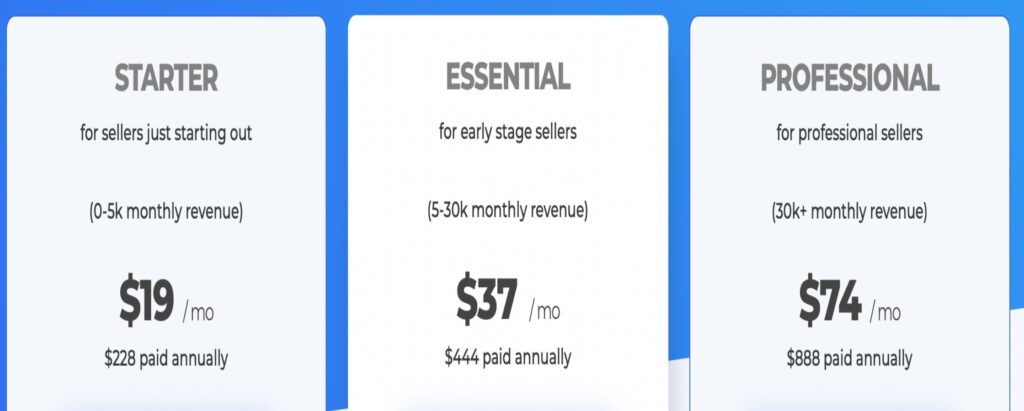 Starter – $19 / mo
Essential – $37  / mo
Professional – $74 / mo
This is an excellent strategy to provide subscriptions to several Amazon businesses that need a landing page generator to attract prospective clients and increase their revenue.
Before determining what's the best package is for you and your business, you should have figured out who your potential customers are and how they behave:
What is your specialty, and how hard is it to drive engagement? This question is important for you to answer as external traffic will not increase if you have not considered these parameters.
For new sellers, your income should be anywhere between $0 and $5,000 per month, while an income of $5,000 to $30,000 is typical for early-stage businesses, and $30,000 for those who are old in the game.
Features Of AmzPromoter
AmzPromoter provides a number of functions that set it apart from other landing page generators.
First of all, it is simple to use thanks to a variety of built-in features that allow merchants to spend less time marketing their products.
This aspect is particularly advantageous for professionals who have plenty of other things to do in their day-to-day lives, as AmzPromoter will do the job for you – promote your products and measure conversions and analytics, saving you both the time and the energy.
Having the proper AmzPromoter tools is bound to set you up for success. Getting subscribed to one of its plans will grant you access to the following tools:
Different Themes For Landing Pages
Landing page generator
Automated set-up for coupons
Mailchimp marketing campaign for coupon distribution
All the Analytics you need in one place
URL builder tool
And other amazing features!
Below is a further extensive overview of a few of the AmzPromoter's features that will help you realize why they are valuable tools for your Amazon business.
The Advantages
You can use the AmzPromoter page builder to quickly create your landing page. This is a simple thing to do that may be done in a few minutes, depending on how IT literate you are.
Forget about having to send out the coupon codes one by one as its software system automatically distributes the coupons via an email campaign.
To distribute coupons through AmzPromoter, all you need to do is build the codes to correspond to your products and upload them to the system. The rest will be done by AmzPromoter!
Easily collect the users' email addresses and store them for any marketing campaigns you might create in the future.
Thanks to AmzPromoter, you may protect their email addresses before referring them to your listings on the Amazon marketplace., something that will come in handy when it comes to new product launches.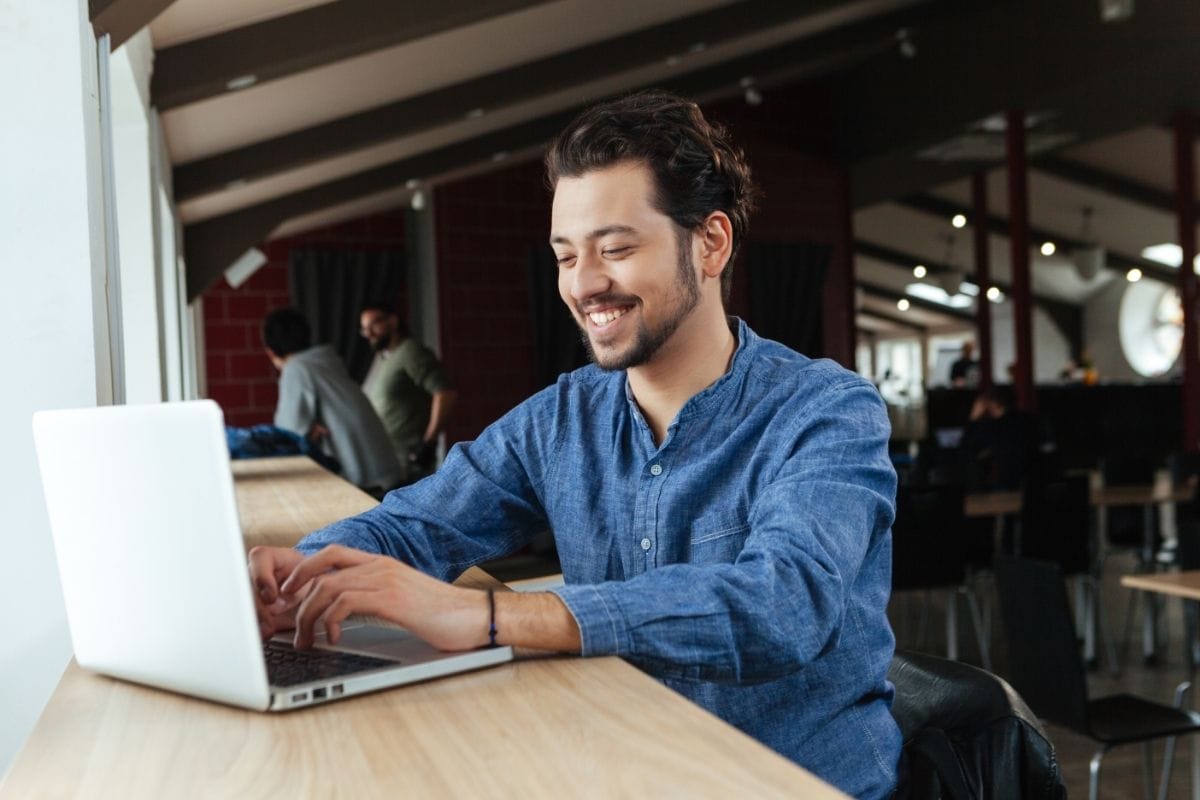 The Analytics dashboard on AmzPromoter tracks everything, and you can even sync it to your business' Google Analytics and Facebook Ads account to track the conversions generated from the search engine and social media platforms.
As a result, you can get a better picture of what works and what doesn't in your marketing strategy.
Disadvantages
AmzPromoter, like any other website, is a landing page builder with several limitations.
Pricing
The major disadvantage is the cost. Buying a plan on AmzPromoter will cost you significantly more than buying one from other similar services.
So, as we said, if you are a new seller, you should probably look for an alternative option for now.
Customer Service
While the price discrepancy certainly means that AmzPromoter comes with some extra features that other services will not offer you, their online customer support is another thing that comes with a price, as it is only included in certain pricing plans.
Therefore, there is a chance you will have to work out AmzPromoter on your own and without their customer support.
The Bottom Line
New Amazon sellers who do not want to invest in a costly plan will be better off with another page generator.
However, if the goal is clear and the desire to increase sales and save time is big, then AmzPromoter is definitely worth the extra dollars.
By sending visitors to your Amazon product page, AmzPromoter can improve your online selling stats.
Landing pages are an excellent approach to begin creating external traffic rather than depending solely on returning customers and people who will randomly see your products on Amazon.
At the end of the day, to sell your products, you need to lure your customers to your pages and website, and doing that in the simplest and most efficient way is best for you and your business.
AmzPromoter can help you do this, so if you are attempting to expand your business, give it a try.
AmzPromoter Review