Disclosure: This post may contain affiliate links. If you click on a link I may make a small commission at no extra cost to you. You can read the full disclosure here.
Last Updated on November 13, 2022 by Chris Panteli
Airbnb Tiny Home
The tiny house movement is gaining momentum on Airbnb. Guests love staying in unique properties that are better for the planet and have that undeniable cozy quality we all crave from a vacation rental.
There are dozens of Airbnb tiny homes to choose from, so we found some of the best ones across the US to share with you in this post.
These are the best tiny houses on Airbnb, from dreamy treehouses to converted shipping containers.
Snooping on your competition? This is a great place to start! If you want to improve your own Airbnb listing, check out our guide on writing a catchy listing title to get more clicks.
Why Tiny Houses are Awesome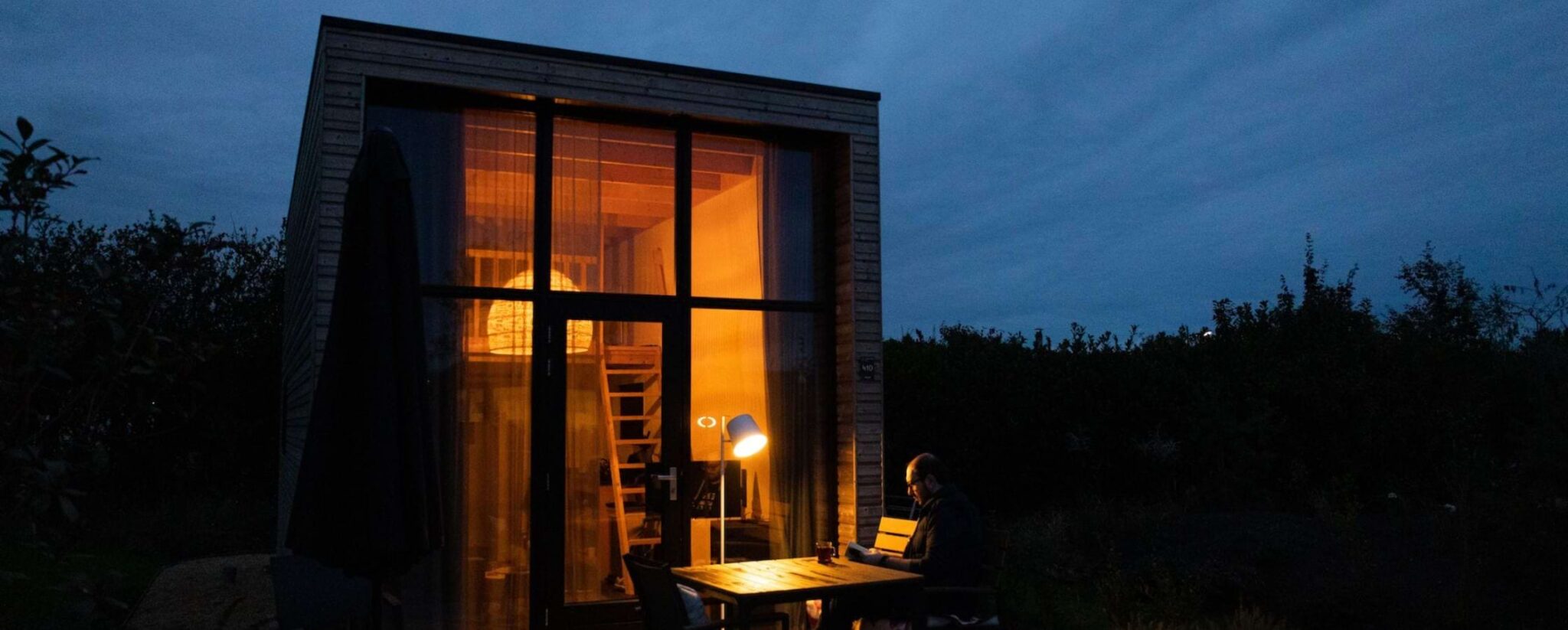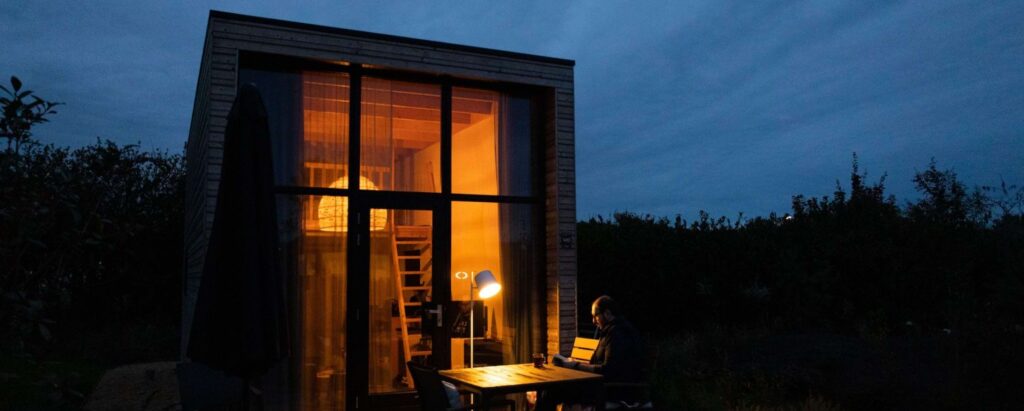 If you've never stayed in a tiny home before, there are a few unique reasons why they are so popular.
Sustainable
Environmental sustainability is huge right now, and vacationers are looking for ways to reduce their carbon footprint while traveling by vacationing closer to home, carbon offsetting, and staying in eco-friendly rentals.
Tiny home rentals are great for sustainability for a few reasons:
They use less material to construct.
They take less energy to heat and cool.
Many are built with sustainable, renewable materials.
Affordable
Since tiny homes have a much smaller footprint than your average holiday rental, they are also more affordable. And since they're easier to clean and maintain, there are usually fewer rules for guests to follow.
Cozy
Tiny homes aren't built for big groups of people but are an intimate way to spend a vacation with people you love. Most have just one or two rooms and are incredibly comfortable and cozy for romantic getaways.
Unique
From treehouses in the forest to pods overlooking the ocean, tiny houses are usually unique and interesting properties. It's not often you get to spend time in a tiny home, so people are willing to book months in advance to get the experience.
Things You Should Know Before Renting A Tiny House
Before you jump on Airbnb to find a tiny house rental to stay in, there are a couple of things to keep in mind.
Prices vary greatly
Many tiny homes are indeed more affordable than your average Airbnb house. But that doesn't mean they're all cheap to rent.
Prices vary greatly depending on the location, level of luxury, and amenities. You might pay $100 a night for a tiny house in the suburbs but $1000 a night for one in the middle of New York City.
Don't let price alone dictate which house you choose. Just because one is much cheaper doesn't mean it won't be a great vacation.
Check the location
You might be craving a true escape into the woods where you don't have cell service and no one can bother you. But after a day or two, you'll want some civilization and maybe something to do.
Once you've found a tiny house you love, check on the location to see what's in the area. Many tiny homes are located in trailer and RV parks; others are in the city; some are in the middle of nowhere. Make sure you know exactly where you are going. 
The "tiny" size varies
The average tiny home is around 400 square feet. But the definition of "tiny" varies a lot. Some tiny homes can comfortably accommodate a family, whereas others are built for just one or two people.
Check the square footage and available sleeping areas to ensure the tiny size won't cause headaches.
Make sure the layout is suitable
When you book a standard Airbnb, you get a bedroom, a bathroom, a kitchen, and a living space. Tiny homes really don't conform to standard layouts, so check to see what you're getting.
For example, loft bedrooms are common in tiny homes. It might not be for you if you don't think you can climb a ladder at night. Others don't have a separate living room, so if you're looking for space away from other guests, check the layout.
Best Tiny Houses on Airbnb
Let's take a look at some of the most incredible tiny homes currently available to rent out on Airbnb.
Want to stay in a literal treehouse? Caroline and Mike have you covered. The Sanctuary sits atop tall white oaks overlooking mountains and miles of forest.
It has a balcony on the side with rocking chairs, perfect for stargazing, and enough space to comfortably sleep four people. For a tiny house, the Sanctuary is quite spacious. It has a double bed in the loft room and a pull-out in the living area.
You'll get a real sense of space on the 16-acre lot, but it's within driving distance of downtown.
Architect Malek Alqadi designed this off-grid small cabin on Airbnb. It has a separate, open-air bedroom with unique views of the mountains that is the perfect spot for stargazing.
Folly Joshua Tree was built with a solar panel and EV charger with sustainability in mind. The minimalist design echoes the beautiful surroundings, and the giant windows will make you feel like you're sleeping in nature.
Outside the tiny cabin, there's a Bocce ball court, firepit, and telescope, so you'll have plenty to keep you busy on your trip.
Sitting just 300 meters from Poplar Beach, you can't get a better location than this converted 1967 Airstream. It's located on a 4000-square-foot lot, fenced in, and is a favorite among those who travel with pets.
Inside, there's a cozy queen bed, kitchen, dining area, and bathroom with a full shower. It's incredible how much hosts Matthew And Guliz have packed into this tiny home, and it does not disappoint.
This little done sat in the desert looks like something from a sci-fi film. But inside, the modern, bohemian style makes it a peaceful place to re-energize.
The dome has AC for the hot desert days and a wood-burning stove for when the temperature drops at night. Nothing quite beats the view of the stars you get sitting outside in the uninterrupted landscape of sand and mountains.
Dome in the Desert is famous, featuring in several high-profile magazines, including Apartment Therapy and Esquire. Hundreds of five-star reviews make it easy to see why this is one of the best Airbnb tiny homes to visit.
Tiny Home, Asheville, North Carolina
Nestled right on the edge of a wooded property in Nashville, this tiny home is perfect for nature lovers.
This quaint house looks small outside, but inside hides a queen bed, a full kitchen, and a full bathroom. You'll wake up to birds chirping and can spend some quiet days sitting on the deck admiring the scenery.
When you want to explore, the tiny home is close to trails that access the beautiful Blue Ridge Parkway and just five minutes from downtown Ashville.
A-frame homes on Airbnb are incredibly popular. This one combines the beauty of A-frame architecture with the convenience of a tiny home. Set back on a secluded wooded lot, this eclectic home has a Lego-inspired kitchen and plenty of games and activities to keep families busy.
Just a short drive from Matthew's Beach & playground and the Burke-Gillman biking/jogging trail, it's also in a great location for exploring the area.
Affectionately named "Tiny One," this Airbnb rental will make you feel like you're staying in a tiny converted barn. It features a cozy bedroom nook in the "loft," a kitchen, and a full-size bathroom.
Tiny One is a peaceful retreat in a calm, residential neighborhood. But Uptown Charlotte is just 15 minutes away by car, where you'll find a great selection of bars, eateries, and shops.
The Helm is a striking piece of modern architecture featuring a rooftop deck, two bedrooms, and two bathrooms, all squeezed into two converted shipping containers.
Although the outside is modern, the interior has a calming rustic feel with shiplap walls and comfy furnishings. There's enough space for six guests, and visitors are welcome to use the surrounding lawn for drinks and socializing.
This tiny cottage is the stuff of fairytales. Designed and built by hosts Jonathan & Rebecca, the house has reclaimed vintage cabinets, a claw-foot tub, and all the modern appliances you need for a relaxing stay.
Found right in the middle of Nashville's design district, this tiny home is within walking distance of bars, cafes, shops, and more. Although it's situated in a backyard down many steps, so access can be tricky.
Formerly an artist's studio, Little Sun Bird is a modern tiny home that is flooded with natural light. Surrounded by trees, it has an open-concept layout and deck for enjoying quality time with friends and family.
Enjoy the peaceful days and mountain air in this tiny home or venture just 15 minutes to downtown Asheville for a hot coffee and delicious food at all the local hangouts.
Down the garden stepping stones, surrounded by trees, you'll find this tiny farmhouse in Atlanta. This tiny home is a true escape and a peaceful retreat, featuring a fire pit, hot tub, and option for on-site couple's massages.
Inside, the rustic decor matches the stunning surroundings, with shiplap walls and re-purposed 250-year-old oak countertops. You won't want to leave this adorable tiny home!
The Lemon Door Micro-loft is a custom-built structure in the Historic Mississippi District. For a tiny home, it has a spacious feel with a mezzanine bedroom, cathedral ceilings, and a shared garden patio with a BBQ, perfect for warm evenings.
The Alberta Arts district and the Williams Corridor are a few blocks away, while downtown is just a short bus or bike ride away.
The Most Unique Listings on Airbnb
There you have it – the best tiny houses on Airbnb. From modern and industrial to rustic treehouses, it's a unique experience sleeping in a tiny rental property.
Guests no longer want mansions and penthouses when they go on vacation. Now, it's all about the unique experience hosts can offer, and tiny homes definitely deliver.
But these aren't the only unique properties you can rent on Airbnb. In our next post, we scoured Airbnb to find the most unique listings on the market – you won't believe some of the properties we found.
Airbnb Tiny Home